Intel Xe: One GPU Architecture To Rule Them All
Intel begins shipping out DG1 discrete graphics SDKs to developers and we have some official information to share.

Published Jan 9, 2020 11:00 AM CST
|
Updated Tue, Nov 3 2020 6:57 PM CST
5 minute read time
Introduction
Introduction: The Odyssey So Far
Intel has made a bit of progress in its Odyssey towards its Xe GPU architecture, with DG1 teased at CES 2020 through Tiger Lake. Not only that, but Intel held a graphics briefing at CES 2020 and I have the decks to go through since I wasn't on the ground in Vegas this year.
The updates from Intel show the progress of the Odyssey through 2019, and we get some new shots of the super-small Intel DG1 discrete graphics card as well. Intel is now seeding out the Intel DG1 SDK in hardware form, so developers can begin work on getting their software and games optimized for the Xe GPU architecture.
Intel is also planning a Reddit 'Ask You Anything' on January 16, 9-10AM PT for software enablement. You'll be able to get in touch with a bunch of people at Intel, where you'll get a better idea behind the Xe GPU and the software stack behind it. Let's dive right into Tiger Lake, Xe, the DG1 graphics card, and more.
Xe GPU: One GPU Architecture To Rule Them All
Intel will be scaling its new Xe GPU architecture between the ultra-mobile market through to the consumer gaming graphics cards, where it will battle AMD Radeon and NVIDIA GeForce graphics cards.
Xe extends into the Xe HP which will find its way into workstation, media transcode analytics while Xe HPC will handle cloud graphics, deep learning and training, and then HPC and exascale systems. I think the higher-end HPC versions of Xe will be the most interesting in the first-gen, while we should expect basic levels of performance from the Xe LP solutions.
Intel Xe-LP is optimized for low power envelopes like laptops, so in Intel's own words the first-gen DG1 discrete graphics card will be a 'low-power' solution. So the big take away here with the DG1 discrete graphics card is not a beasty Radeon RX 5700 XT or GeForce RTX 2080 Ti killer, but rather a low-power solution that if my sources are correct, will have GeForce GT 1030 level performance.
Tiger Lake: Powered By Xe GPU
Intel detailed its next-gen Tiger Lake architecture at CES 2020, with the Tiger Lake chips coming on 10nm+ with Intel Xe GPU cores. Intel using its new Xe GPU architecture on Tiger Lake CPUs means there's a huge uplift in graphics performance.
Intel is going to 'redefine mobility' with its huge leap in graphics performance thanks to Xe, with double-digit CPU performance increases helping the path to mobile domination, too. We can't escape the "massive" improvement in AI performance as well, with Tiger Lake shaping up to be quite the release from Intel later in 2020.
Intel DG1: Intel's First dGPU For Consumers/Gamers
This is what we're all here for -- Intel DG1, which is Intel's first dGPU (discrete GPU) for customers. If you're old enough, you are like me and remember the Intel i740 on AGP. I remember playing Trespasser at the time on an Intel i740 and beign floored (at least by some of what) Intel had achieved. The promise of the Intel i740 quickly died, and stayed buried for decades... until Xe.
Intel's first discrete graphics card is powered by the Xe GPU architecture, with Intel using dynamic tuning for power efficiency -- meaning it can go into low-power systems like notebooks, NUCs, and other gaming-ready PCs. It will have media and display engines that we're used to with AMD and NVIDIA, as well as be powerful enough for content creation and "gaming-optimized".
Lots of press-deck-chat here, but I think I need some sit down time with Intel and their various people and engineers, including chief architect Raja Koduri on some clarification here. But what we know is that Intel will have DG1 as its first dGPU for customers, and we should be excited.
Intel DG1 Released: Software Development Vehicle
This is something I actually broke back in October 2019, where I said I'd been "hearing from my own sources (a couple of them just to be sure) that the first Intel Xe graphics card will be a developer kit of sorts, and not a full-fledged consumer-facing product ready to take on NVIDIA and AMD.
Fast forward to today, and Intel says its DG1 is going out as a developer unit as a software development vehicle. Intel is sampling ISVs worldwide, allowing developers to optimize their software, and games, for Xe. This is the big deal here, is that Intel is ready enough with Xe that it can sample its customers (finally) so they can better-optimize their software and games for Intel's new Xe GPU architecture.
Since Xe will power both Tiger Lake and its own dGPU, Intel will need to work much closer with software and game developers on their architectures to ensure performance, and compatibility (as well as stability) are continuously improving. This isn't some release-once-let-it-sit deal, this is a decades-long shift by Intel and they'll need continuous work from here on out.
Intel Loves The Community (And So It Should)
One of the first things Intel did with Xe was begin its Odyssey, a journey with fans of Intel that could come along for this momentous ride. The fans and community have been a gigantic win for Intel, across Reddit, Twitter, Facebook, and thousands of forums and other online meeting places to discuss all-things Intel.
Intel has been listening to the community and their feedback and wish lists, with Retro Scaling being one of them -- a huge deal for retro games, and a sly win for Intel. Xe is a low-power part on the consumer graphics card side of things, so you won't be running Crysis or Remedy's 2019 hit Control maxed out.
But you can run retro-style games with much-improved graphics thanks to Retro Scaling. Not just that, but the Intel Graphics Control Center beta program has seen hardware-accelerated capture, combined desktop, and a sharing ability on Discord.
Reddit 'Ask You Anything' Planned For January 16
Intel loves their community so much that they've announced a new Reddit 'Ask You Anything' where you can dive in with people from Intel, ask questions, and be heard. We should expect more to be revealed about Xe, but it seems that the new Reddit AYA concentrating on software enablement. I hope Intel isn't hard-lining on that, and lets the gamers and community squeeze out some nuggets on Xe.
Our First Look At Intel Xe
Look Ma, It's Intel Xe!
Intel provided some images of its first-gen DG1 in SDV form, as a Software Development Vehicle with the #JoinTheOdyssey hashtag imprinted onto it. But wow, is it a great thing to see that Intel logo on a graphics card again -- giving me the nostalgic tingles of the Intel i740 that has a close place in my heart.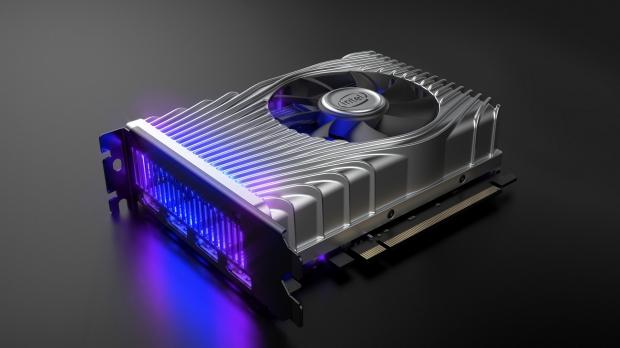 I've got all of the images of the Intel DG1 SDV that were sent over to me as the last page of this article, which is where all the real eye candy is. This card is the one going out to developers right now, but most likely won't be the one that you and I will see released later this year with the Intel DG1 graphics card.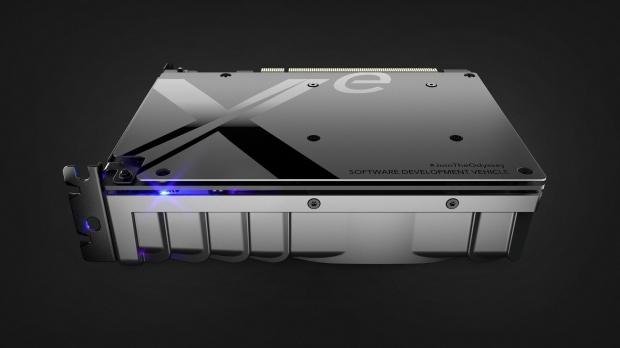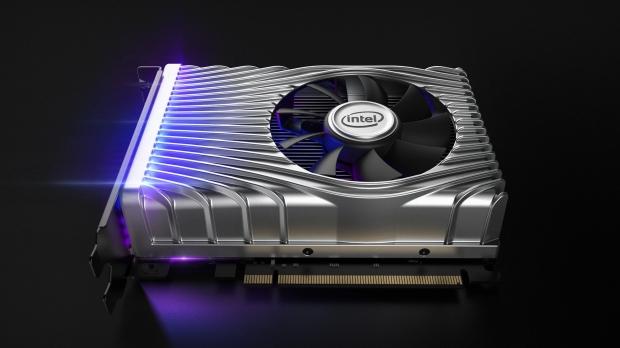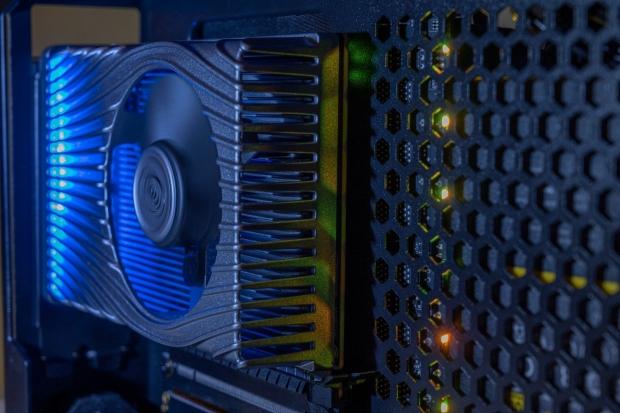 It's shaping up like a great-looking card, and I'm sure it's one of the better-looking SDVs that developers have received. Intel is far too early in the game to be showing off anything that the consumer will get in the end, and this reveal during CES 2020 was never meant to be that.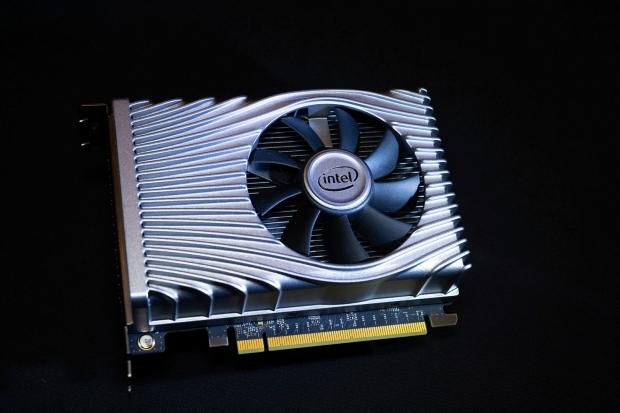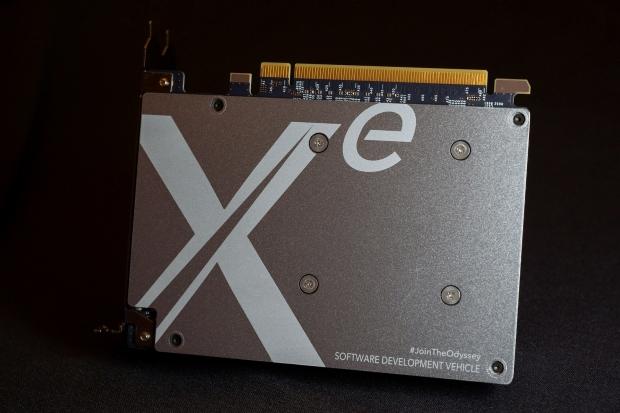 We will see more on Intel Xe and the DG1 in the coming months, leading into its huge 2H 2020 release. We'll have more on the Tiger Lake architecture as it arrives, too. It's an exciting time to be a tech fan this year: Intel Tiger Lake and Xe/DG1, AMD Ryzen 4000 series, Ryzen Threadripper 4000 series, and next-gen EPYC. AMD's new Zen 3 architecture and Big Navi, as well as NVIDIA's next-gen Ampere GPU architecture.
On top of that we have next-gen consoles that will be the most powerhouse consoles the world has ever seen, all powered by semi-custom technology from AMD. All the while, Intel is entering the GPU battle as player 3 and quickly becoming number 2 in the CPU business in the eyes of millions.
And I love it all. Let the companies fight each other with releases because as a technology addict and mega-enthusiast, I couldn't love this more. Now just give me Intel DG1 and a reboot of Trespasser, please?
We openly invite the companies who provide us with review samples / who are mentioned or discussed to express their opinion. If any company representative wishes to respond, we will publish the response here. Please contact us if you wish to respond.