AMD announces Ryzen 9 3950X and Threadripper 3960X and 3970X HEDT CPUs
AMD announces its 16-core 32-thread CPU to the world, the Ryzen 9 3950X, along with the Threadripper 3960X and 3970X HEDT and Athlon 3000G processors.
Published Nov 7, 2019 8:00 AM CST
|
Updated Tue, Nov 3 2020 6:57 PM CST
3 minutes & 16 seconds read time
AMD Ryzen 9 3950X
The AMD Ryzen 9 3950X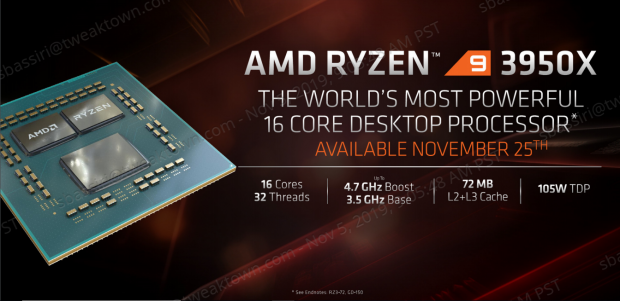 Today, AMD announces their 16-core 32-thread CPU to the world; the Ryzen 9 3950X. The new CPU boasts a huge 72MB cache, a very high 4.7GHz boost, and a 105W TDP. Considering this is a 16 core CPU, those numbers are quite good and could pose a big problem for Intel going forward. AMD has been able to keep up with Intel these past few years with lower clock speeds, but in this case, they could take a big swing at Intel with their high 4.7GHz Boost clock, which is higher than the 3900X.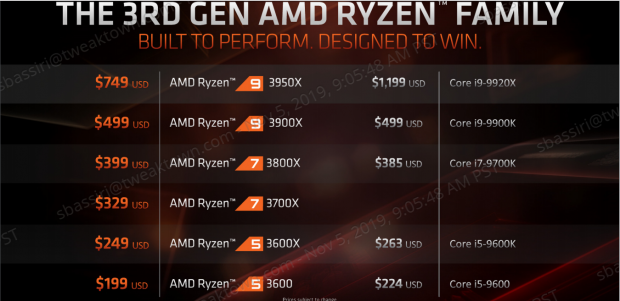 The new CPU will work in the AM4 socket, meaning it will work in existing motherboards, and pricing is quite reasonable. At $750, the 3950X is aimed at the Intel i9 9920X ($1.2K), which is priced significantly higher. The 3950X has 16 cores while the 3900X has 12, so the price isn't too bad considering the core increase and higher turbo speeds.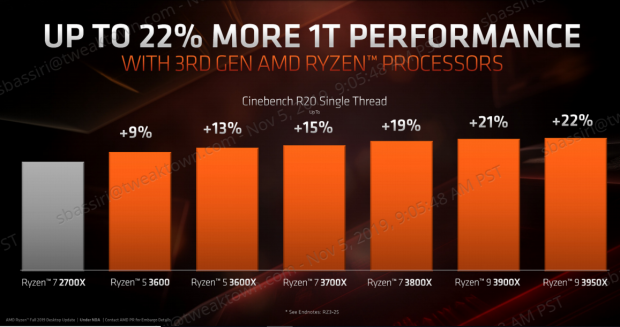 AMD is boasting 22% higher single-threaded performance, with the 3950X leading the way. If what AMD claims is true, Intel could have a real issue since single-threaded performance is one of the main things Intel has on their side.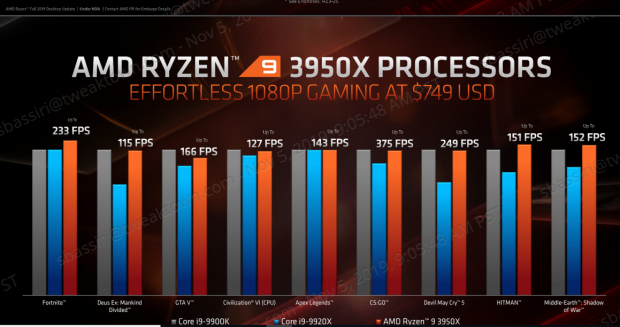 Here we have AMD's slides on their gaming performance, and we can see that with a bottleneck in place, the CPUs don't really matter as much, although we agree that the current Skylake-X CPUs aren't going to do well as Intel's mainstream gaming CPUs. These slides show AMD's 3950X is a versatile CPU compared to Intel's HEDT CPUs. We will evaluate these claims ourselves, but we don't expect too much deviance from these slides.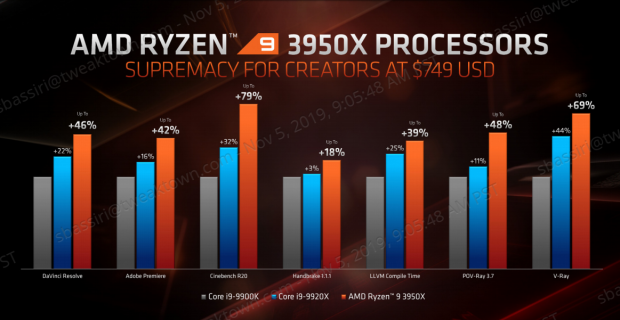 Here we see productivity benchmarks, which put AMD way ahead of the game. We don't doubt these numbers, although we will need to evaluate these for ourselves.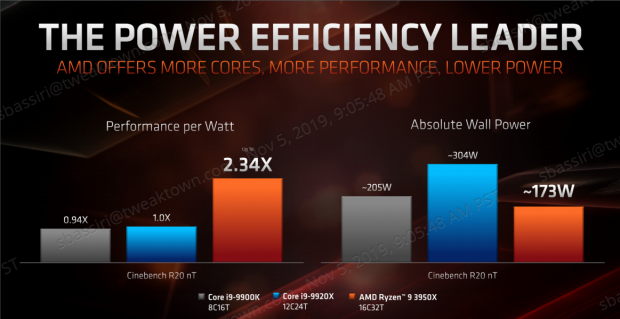 Considering the new process technology, we are not surprised to see AMD take the lead in the power versus performance metrics.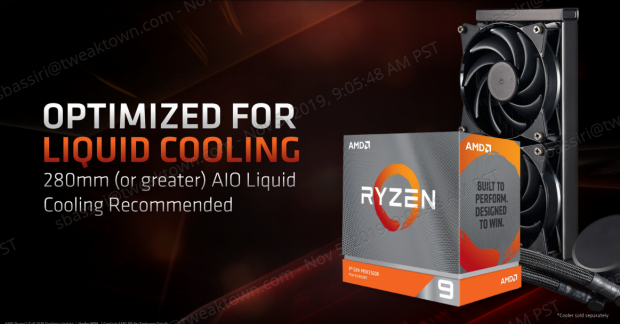 AMD's new CPU will not come with a cooler, but AMD recommends a 280mm all-in-one liquid cooler for the CPU. Using such a cooler will increase performance since auto-OC features like Performance Boost Overdrive will take advantage of lower temperatures to increase frequency.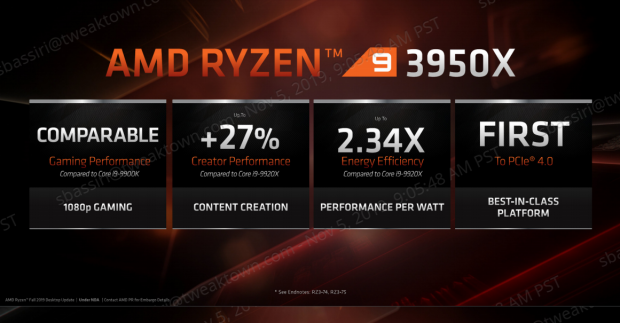 So far, we have learned the new CPU will provide comparable gaming performance, almost 30% better creator performance, over two times energy performance, and industry-first PCI-E 4.0.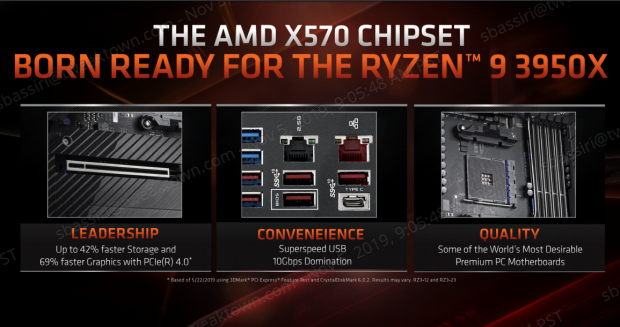 The new CPU will take full advantage of the X570 ecosystem with full PCI-E 4.0 support, tons of USB 10Gbps ports, and many premium motherboards.
Athlon 3000G
The Athlon 3000G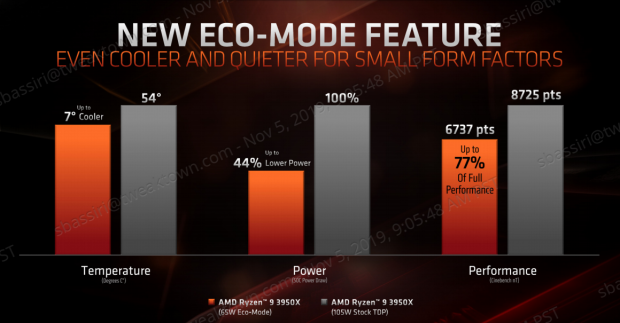 AMD also has a new Eco-Mode feature, which is meant to reduce power consumption. We don't really understand why AMD is marketing this since users can always just current or power limit their CPUs. Still, it's a nice feature for developing markets that need to limit power usage without killing performance too much.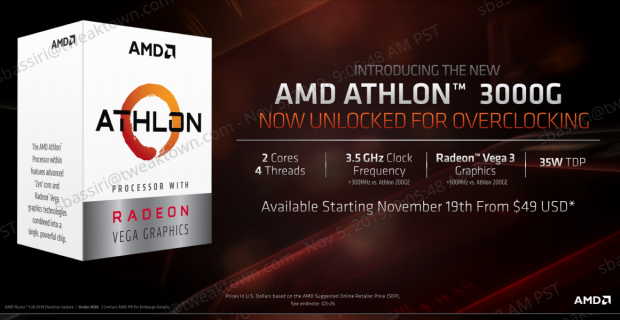 AMD's Athlon series of CPUs have always been a keen competitor to Intel's Pentium lineup, but in this case, AMD has totally unlocked overclocking of the new Athlon series. The unlocking of the series was something users had been asking for since Ryzen's conception, but it has now come to fruition.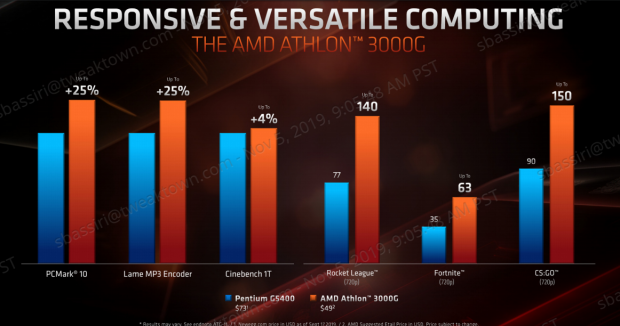 Performance increases are quite good with AMD looking as it has a steady and unwavering lead.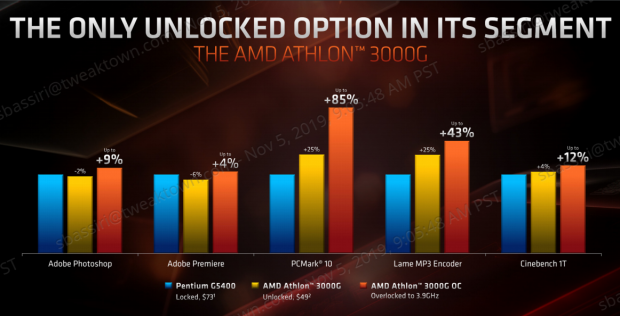 Here we have AMD toting its overclocking advantage.
New Threadripper
The New Threadripper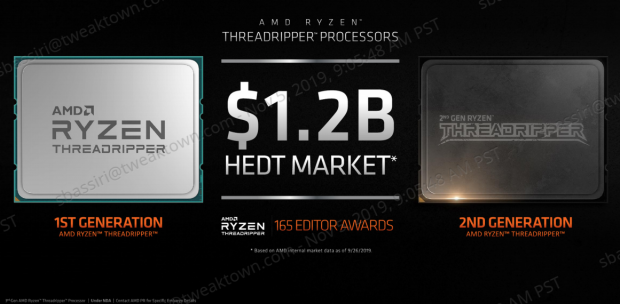 AMD isn't just moving their 16-core SKU into the mainstream consumer market, but they are also refreshing their high-end desktop lineup with new Threadripper CPUs. With a huge market in front of them, AMD is aiming at the 1.2-billion-dollar high-end desktop market.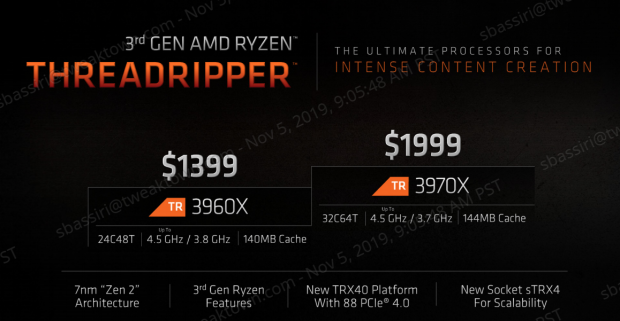 Two new Threadripper SKUs are now on the table; the 3960X and the 3970X at $1.4K and $2K, respectively. These new SKUs will do a solid job competing with Intel's high-end SKUs. They have huge cache numbers and excellent clocks. Core counts are similar to previous SKUs, although we expect higher core count variants in the future, something AMD won't confirm. However, motherboard VRM designs of new TRX40 motherboards say otherwise.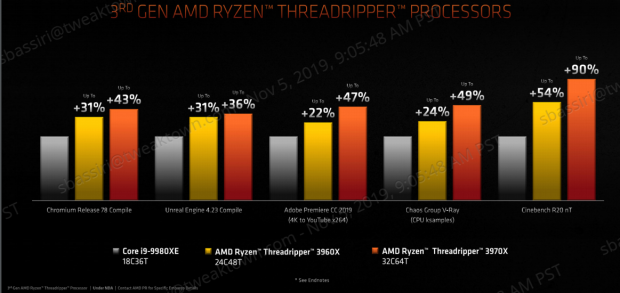 The third generation of Threadripper CPUs look quite good, and AMD has said that they expect to do very well against Intel's 10th generation X-series CPUs, so we will test these numbers out ourselves. Although the new Intel CPUs are not in the slide above, AMD did mention that they would be happy to see us benchmark them against their products, which means they are very confident in their new Threadripper products.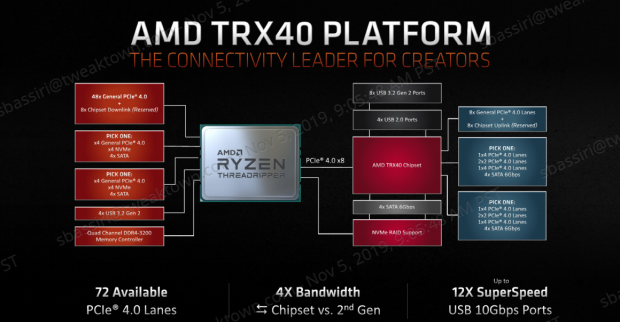 The new TRX40 platform is not backward compatible with the previous Threadripper products, but that might be its only problem. The new platform boasts the same PCI-E 4.0 as X570 and a huge number of USB 10Gbps ports. Did we mention its CPU to chipset link has not only been doubled in bandwidth but also in crosslink? It's x8 PCI-E 4.0 rather than x4 PCI-E 3.0.
We will have reviews inbound when all of these new products launch!