NVIDIA's Next-Gen Turing GPU: All You Need To Know
NVIDIA unveils its next-gen Turing GPU: powers new Quadro RTX cards with up to 48GB of GDDR6 on-board.

Published Aug 13, 2018 9:58 PM CDT
|
Updated Tue, Nov 3 2020 6:57 PM CST
5 minute read time
NVIDIA's Next-Gen Turing GPU Architecture
NVIDIA's Next-Gen Turing GPU
The new Turing GPU architecture is the most advanced GPU architecture NVIDIA has ever made, with NVIDIA having two "engines" at the core of the Turing GPU architecture. The first is the accelerating Ray Tracing, while the other side of Turing handles acceleration of AI Inferencing.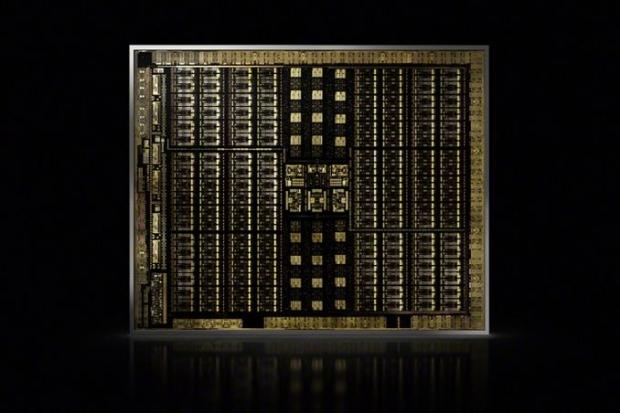 Turing is by and far not a gaming GPU in any way shape or form here, with NVIDIA unveiling not one but three new Quarto RTX branded professional graphics cards. The new Quadro RTX graphics cards all feature RT cores (Ray Tracing Cores) as well as Tensor Cores for deep learning acceleration, but NVIDIA hasn't been clear on whether the Tensor Cores have been tweaked under Turing compared to the Volta GPU architecture.
NVIDIA has also made fundamental changes to the way the Streaming Multiprocessor (SM) GPU units work, with Integer cores separated into their own indivudal blocks, a move that was used with the Volta GPU architecture.
Turing is an absolute beast coming in at 18.6 billion transistors and a huge 754mm2 die size. If we compare this to the Volta-based V100 GPU with 21 billion transistors and 815mm2 die size, we can see Turing has done quite a lot with what it has. Pascal in comparison has 11.8 billion transistors on a die size of 471mm2.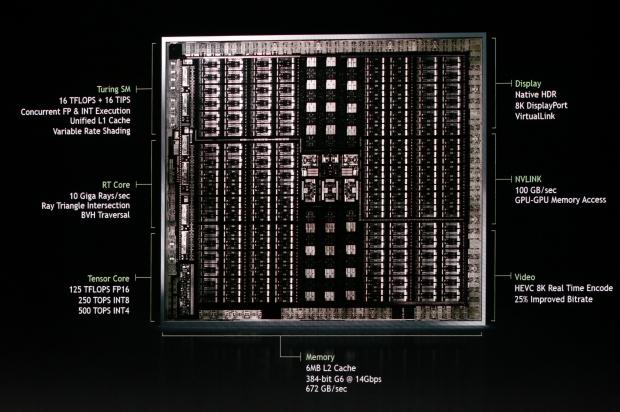 There are a huge 4608 CUDA cores on the flagship Quadro RTX 8000 card, but this is still down from the Volta-based TITAN V which packs 5120 CUDA cores based on the Volta GPU architecture. NVIDIA hasn't shown off proper performance metrics and benchmarks on the Turing-based Quadro RTX range of cards so once that happens we'll be able to properly compare the Volta-based cards (TITAN V, Quadro GV100, etc) against the new Turing-based Quadro RTX 8000/6000/5000 cards.
The big difference between Volta and Turing is that Volta uses HBM2 while Turing uses GDDR6, however even GDDR6 in its basic 14Gbps form is giving numbers that can beat the HBM2-based cards. There's also more framebuffer with 48GB of GDDR6 available on the flagship Quadro RTX 8000 compared to 16GB on the original Volta-based cards, and 32GB on the new Quadro GV100 and upgraded Tesla V100 unveiled a few months ago at NVIDIA GTC 2018.
Next-Gen GDDR6 Memory
NVIDIA is tapping the brand new GDDR6 graphics memory for the new Turing GPU architecture and Quadro RTX graphics cards, with NVIDIA using GDDR6 chips from Samsung. The first-gen GDDR6 that NVIDIA is using is tapped out at 14Gbps, resulting in a huge 672GB/sec of memory bandwidth which is only touched by the TITAN V which uses HBM2 and has 652.8GB/sec of memory bandwidth.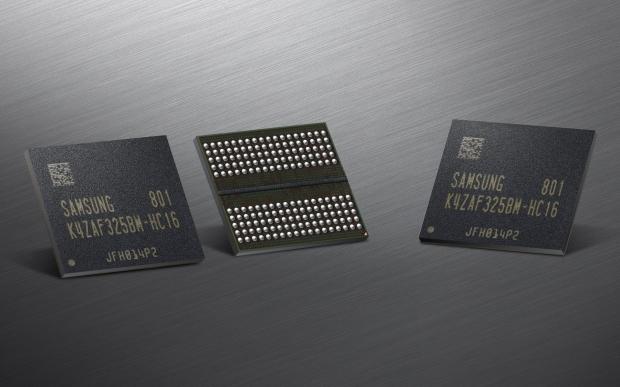 The current-gen Pascal-based GeForce GTX 1080 Ti has 11GB of GDDR5X with 11Gbps of bandwidth, while the TITAN Xp ships with 12GB of GDDR5X at 11.4Gbps of bandwidth. As for total memory bandwidth, the GTX 1080 Ti has 484GB/sec while the TITAN Xp has 547.7GB/sec... much less than the huge 672GB/sec offered by the new Quadro RTX 8000.
Turing Can Fix Superman's Mustache
Turing Is For The Visual Effects Industry
The new Turing GPU architecture is a true work of art and goes so under-appreciated in the world: GPUs are some of the most advanced pieces of technology created by the human race and get stuffed into PCs and servers across the world, sometimes without a second glance. But they power so much of what we do, see, and touch - and the new Turing GPU architecture is going to be taking that to the next level.
NVIDIA calls the new Turing architecture the "greatest leap since the invention of the CUDA GPU in 2006". This is because the Turing GPU architecture is infused with dedicated ray tracing (RT) cores, as well as AI-ready Tensor Cores (which were used in the Volta GPU architecture, introduced back in 2017). These two superpowers are joined by NVIDIA's improvements across the board in the Turing GPU architecture - and then we also have the new GDDR6 tech on-board.
NVIDIA is aiming at the visual effects industry with the new Quadro RTX range of cards, with the company promising "cinematic-quality interactive experiences, amazing new effects powered by neural networks and fluid interactivity on highly complex models". Here's hoping the Snyder release of Justice League can tap some of that Turing GPU power to fix the awful work on Superman's mustache in the movie. But, it was worth it for Mission Impossible: Fallout.
Jensen Huang, NVIDIA CEO, has also made big claims about ray tracing and has said that the new Turing-based Quadro RTX cards are "the Holy Grail of our industry" and he's right... he's damn right.
The New Quadro RTX Range
NVIDIA unveiled three new Quadro RTX graphics cards during SIGGRAPH 2018 which starts with the Quadro RTX, and is joined by the Quadro RTX 6000 and Quadro RTX 8000. The Quadro RTX 5000 packs 16GB of GDDR6 with 6 GigaRays/Sec, powered by 3072 CUDA cores and 384 Tensor Cores. Wee're looking at a price of $2300, while the other cards get very expensive.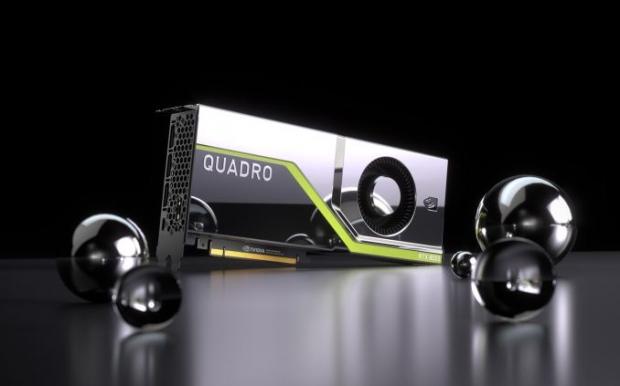 The higher-end Quadro RTX packs 10 GigaRays/Sec of performance, a huge 4608 CUDA cores and 576 Tensor Cores. It'll pack a much larger frame buffer of 24GB GDDR6, and a more commanding price of $6300. The new range of Turing-based cards comes with the flagship Quadro RTX 8000 that costs $10,000 and features the same specs as the Quadro RTX 6000 except it packs a game-changing 48GB of GDDR6.
If you mix into the mix NVLink, the memory doubles on each of the cards unlike SLI where the framebuffer is from a single card worth of VRAM. This means if you're using two of the flagship RTX 8000s you'll have a mind boggling 96GB of GDDR6. You would've spent $20,000 on it - but you'll have near supercomputer levels of performance in your desktop.
Quadro RTX 8000 - 48GB (96GB with NVLink) - 10 GigaRays/Sec, 4608 CUDA cores, 576 Tensor Cores

Quadro RTX 6000 - 24GB (48GB with NVLink) - 10 GigaRays/Sec, 4608 CUDA cores, 576 Tensor Cores

Quadro RTX 5000 - 16GB (32GB with NVLink) - 6 GigaRays/Sec, 3072 CUDA cores, 384 Tensor Cores
AMD Has Nothing To Combat Turing... What About Intel?
Navi Won't Help Either
NVIDIA is absolutely dominating the GPU market and has been for many years, with AMD limping to market with Polaris and crawling across the ground with Vega. The upcoming Navi architecture has been co-developed by Sony for the next-gen PlayStation 5, so don't expect it to run rings around Pascal let alone Volta or the new Turing GPU architecture.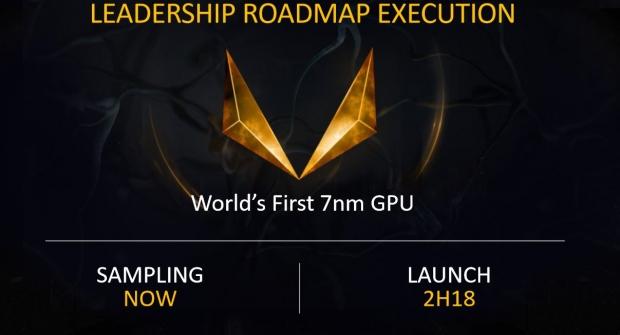 Vega will shift to 7nm in the coming months but NVIDIA is leading the charge with ray tracing and AI performance, with Radeon Instinct on 7nm the only thing to combat it. The new 7nm-based Radeon Instinct will ship with up to 32GB of HBM2, rocking what should be the new Vega 20 GPU. I was hearing early 2017 that the next GPU that AMD will have in order to make them competitive again will be the one after Navi.
NVIDIA has the GPU market in the palm of its hands now, and rightfully so - the company is executing perfectly at all levels. The new Quadro RTX series is a tour de force of technology, execution and delivery, and the constant marching forwards. There is no quiet moment, let alone a quarter or an entire year without a GPU release from NVIDIA... but AMD on the other hand has been in hibernation with Radeon for a year now, ever since the release of Radeon RX Vega and the near crumbling of RTG.
What About Intel?
Radeon Technologies Group recently lost its GPU architect in Raja Koduri to Intel, while Radeon marketing boss Chris Hook joined Koduri shortly after. It seems the only company that could combat NVIDIA at this level could be Intel.
Quadro RTX is such a huge leap that Intel would have to start on something more impressive than just ground level stuff, but give the company a generation or two and it could begin being the competitor to NVIDIA that we wish AMD was. AMD is fighting the good fight against Intel in the CPU market and while it might not be securing 30-50% of the market overnight, it is forcing Chipzilla to behave in ways that it hasn't before - scared.
PRICING: You can find products similar to this one for sale below.

United States: Find other tech and computer products like this over at Amazon.com

United Kingdom: Find other tech and computer products like this over at Amazon.co.uk

Australia: Find other tech and computer products like this over at Amazon.com.au

Canada: Find other tech and computer products like this over at Amazon.ca

Deutschland: Finde andere Technik- und Computerprodukte wie dieses auf Amazon.de
We openly invite the companies who provide us with review samples / who are mentioned or discussed to express their opinion. If any company representative wishes to respond, we will publish the response here. Please contact us if you wish to respond.