Wizardry and Ray Tracing
GDC last week was full of quite a few exciting new announcements from AMD, Crytek, and, of course, Sony with them finally announcing the price and availability of their VR platform. But Imagination Technologies is hot on their tails with their own news. They showed off more demonstrations of how powerful their new Wizard ray tracing architecture actually is, and how little power it uses.
They have a new architecture, called Wizard, which was introduced at GDC in 2014, that pairs four Rogue Universal Shading Clusters running at 600MHz (around the power of the GX6450 in the iPhone 6) with a ray tracing co-processor capable of churning through 300 million separate rays of light per second. And it can do it at a far lower power envelope than the typical GPGPU card we might have from NVIDIA or AMD. It can do that because it's specialized to do just that.
Imagination Technology is looking to shake up the mobile graphics industry by marrying a purpose-built ray tracing "co-processor" with their newest Rogue based GPU to help make mobile graphics comparable to current, and even future consoles. They do this with a hybrid rendering process with their own, open-sourced, low-level API called "OpenRL."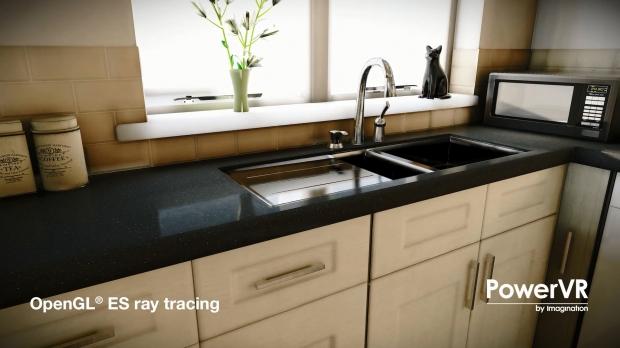 When combined with a traditional GPU, it's capable of producing some very convincing graphics with lighting that looks impressive, given the source is from a mobile-focused GPU. Wizard's magic comes from a hybrid rendering approach that uses an in-house yet open-source low-level API called OpenRL to implement ray tracing in a traditional rendering pipeline. That API can be utilized by any game engine though without hardware acceleration it would be at significant cost to your rendering resources.
Ray tracing is a way for individual light rays to better help illuminate and shade an entire scene. It's not just for making photo-realistic scenes for special effects or other mediums. It can be used in games to help make for better light based effects, in real-time. Shadows can be more natural, and reflections can use the innate properties of light to bounce off of different materials in a more natural way. Just about anything to do with rays of light can likely be done, potentially, more efficiently with ray tracing. They can also look better too.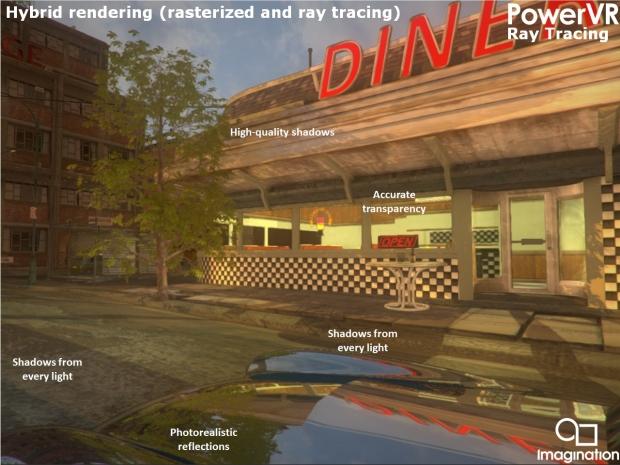 To help make it accessible, they've announced a new partnership with Unity that includes a lightmapping tool that allows for the implementation of ray traced lightmaps in real-time as you're working on your designs in the Unity engine itself.
The advent of DirectX 12 and Vulkan can help alleviate some of the problems by allowing context switching so that rays can be calculated using GPGPU code, or OpenCL even, but that still wouldn't be as efficient as targeted hardware acceleration like Wizard.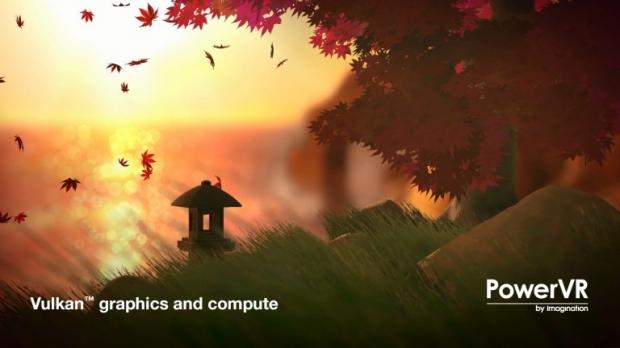 And now all Imagination Technologies GPUs fully support Vulkan in the latest update to their PowerVR SDK. That means that any mobile platform with their GPU inside can potentially take full advantage of the bare-metal API to create more complex and better looking games. They created a demo to show some of the new effects that are capable on their Rogue architecture.
The Gnome Horde demo, below, shows the differences between implementing OpenGL ES and Vulkan. Just like DirectX 12, the impetus is now on the developer to make it as efficient as possible, including memory management. The results can be staggering in the right hands, however. More efficient use of resources also means better power management and longer battery life while gaming.
The technology is now there to make ray tracing an actual, viable rendering method either in full, or in a hybrid method, but what do they plan on doing with this innovation? Ideally, we could see this being put into Apple's next products, as they already make great use of the latest series 7XT Rogue GPU. It could give them yet another leg up on their competitors, at least initially, and let them have a gaming experience that's unlike anything else on mobile. Wizard would also be right at home in micro-consoles as well, able to give you an actual console quality experience with better lighting than most games have now, and at similar or better performance.
Wizard is highly scaleable, though, and they can put it next to more than the four ASC's it's connected to in the demo units, scaling up into the multiple GFLOPs arena to potentially be a player in the big leagues; consoles and possibly much more. Unfortunately, nothing has been publically announced just yet, though we suspect that a few design wins (Apple) are in the works.