Introduction
Each year, we have a new iPhone announcement, the next year, we're introduced to the 'S' upgrade. It has happened for years now, with the iPhone 4 then iPhone 4S, the iPhone 5 and then iPhone 5S, and then again last year with the release of the iPhone 6 and now... the iPhone 6S. This time around, Apple has two new 'S' powered iPhones, with the iPhone 6S and iPhone 6S Plus.
This year, Apple not only unveiled the new iPhone 6S and iPhone 6S Plus, but we have a new much larger 12.9-inch iPad Pro, and something the late Steve Jobs said Apple would never do: have a stylus. The new Apple Pencil is a stylus for the 12.9-inch iPad Pro, with it featuring pressure sensitive technology that can be used simultaneously with a finger. It's an interesting device itself, something that sees Apple trailing behind Microsoft and its Surface line of Windows-powered tablets.
What Does the 'S' Stand For? On Apple's Planet, It Means Hope
Any Superman fan will recognize this quote from the recent reboot 'Man of Steel', and it's true here. The 'S' upgrade for the new iPhone has quite a bit going on, which is why we're going to break it all down for you. We'll first talk about the new iPhones, then we'll hit up the new 12.9-inch iPad Pro and the Apple Pencil, too.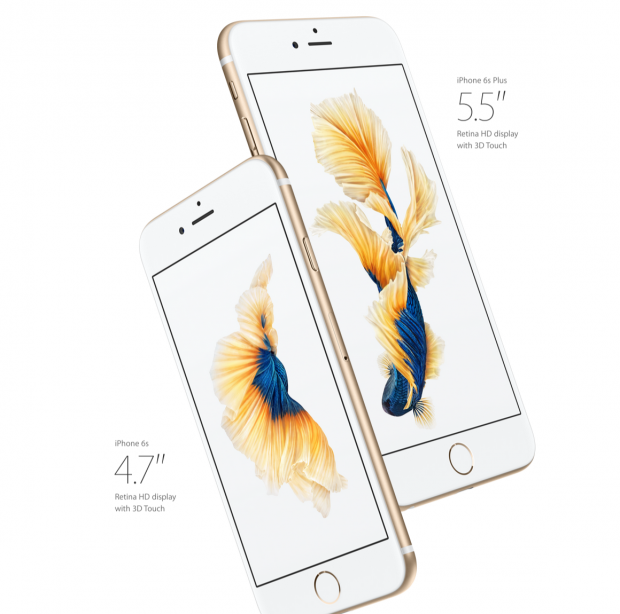 The new iPhone has a lot going on, but so does the new iPad Pro, which is one of the more exciting tablet releases from Apple since the original iPad all those years ago. But even after all of that, it's still not enough to topple what Microsoft has been doing in the Surface line, which is something that Apple didn't seem to be threatened of when Microsoft first unveiled them.
But we're on the eve of Microsoft unveiling its new Windows 10-based, Skylake-powered Surface Pro 4 range of tablets, so does the new 12.9-inch iPad Pro have what it takes to beat Microsoft at its own, established game? We won't know the answer to that for another couple of weeks, but the big difference is that the new professional-orientated iPad Pro is still based around Apple's mobile operating system, iOS 9, where Microsoft uses a full desktop OS thanks to Windows 10.
What Has Changed With the New iPhone?
Display Upgrades?
The new iPhone 6S continues to use a 4.7-inch display, with the same 1334x750 resolution providing a pixel density of 326PPI. The new iPhone 6S Plus has the same 5.5-inch 1920x1080 display as the original iPhone 6 Plus, with 401PPI.
Most were hoping for a screen upgrade, but Apple disappointed once again. But on the flipside, the 4.7-inch display on the iPhone 6S still has the same pixel density to that of a 4K display on a 13-inch laptop. The pixel density on the iPhone 6S Plus has the same pixel density as an 11-inch laptop with a 4K display. So it's not too bad, but it could've been better.
Camera Upgrades
The new 12-megapixel camera is a 50% upgrade on the sensor size when compared to the 8-megapixel shooter on the iPhone 6 Plus, but the front-facing camera has also been upgraded. The iPhone 6 and iPhone 6 Plus have a pathetic 1.3-megapixel front-facing shooter, which has been upgraded to a 5-megapixel shooter, representing a 400% increase in sensor size. Nice work, Apple.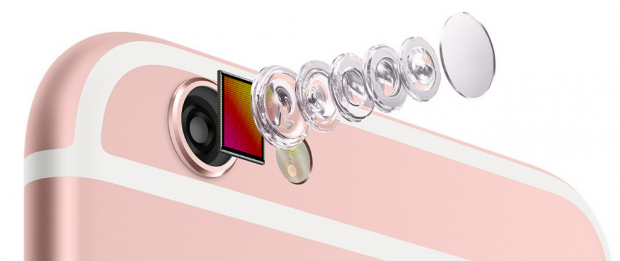 Both of Apple's new iPhones feature the same 12-megapixel shooter, with an f2.0 lens, Focus Pixels, and a dual-LED flash. But with LG, Sony and Samsung offering massive rear-facing camera megapixels, Apple isn't up there just yet. But if we also take into consideration Apple's always impressive image processing technology, the upgrade to a 12-megapixel shooter might just be enough.
Just one more thing. The iPhone 6S doesn't include OIS, or optical image stabilization, which is a massive omission that makes the iPhone 6S seriously lose out to the bigger iPhone 6S Plus.
Apple has included a new 'Live Photos' feature with the new iPhones, which records a 1.5-second video around both sides of photo so it is able to move. Nokia has had this feature for a while, but it's something new in the world of iPhones. Most people probably won't use it, but it's there if you want it.
'Desktop-Class Performance' From the New Processor
Apple has used its new A9 processor in the iPhone 6S and iPhone 6S Plus, which is a big upgrade on the A8 processor that powered the iPhone 6 and iPhone 6 Plus. Apple has said that the new A9 and A9X processor (latter used in the new iPad Pro), features "desktop-class performance".
The new A9 processor is 70% faster than the A7 processor in CPU tasks, while the GPU is 90% faster. Apple is calling the new A9 and A9X processors 'console class' when it comes to gaming, but we don't know any of the specifics just yet.
What Has Changed With the New iPhone? Continued
3D Touch - Big Potential
Something that is completely new in the new iPhone is something that we've seen from the Apple Watch and MacBook products from the company in the form of Force Touch. Force Touch is a pressure-sensitive technology that is able to tell the difference between a touch, and a press, providing vibrational feedback to the user when it detects a force touch. On the new iPhones, it's called 3D Touch.
3D Touch, which is a new part of iOS 9, and has many different uses. 3D Touch works with a slew of Apple-made apps, including Apple Maps, Safari, Messages, Apple Music, Mail, and Apps.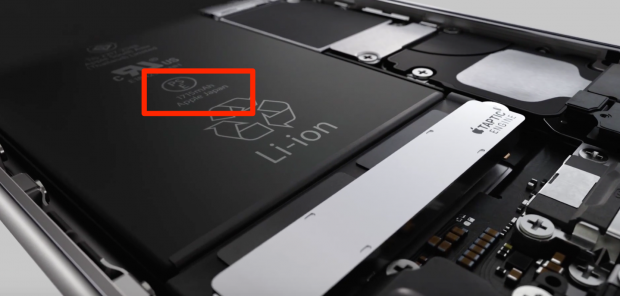 For example, using Apple Maps, you can deep press on a destination where it will take you directly to turn-by-turn navigation. Deep pressing on a track in Apple Music will automatically add it to a playlist, while deep pressing a link on Safari will preview the website. This feature got the crowd excited at the Apple launch event and it's something we expect to be quite popular.
Battery
The new iPhones have smaller batteries than their predecessor, but will that impact the battery performance of the new iPhone 6S and iPhone 6S Plus? Possibly. The older iPhone 6 and iPhone 6 Plus featured 1810mAh and 2915mAh batteries, respectively - while the new iPhone 6S and iPhone 6S Plus sport 1715mAh and 2750mAh batteries, respectively.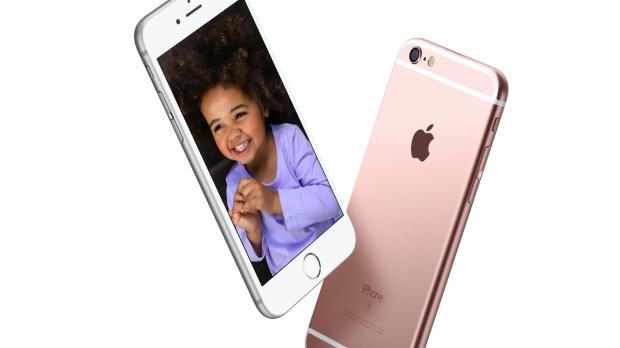 Apple says that there will not be reduced performance on the new iPhones, as they will have the same battery life as their predecessors. The new iPhone 6S Plus is said to have 24 hours of talk time over 3G, and 12 hours of use over 3G, LTE or Wi-Fi for web browsing. iPhone 6S Plus users should expect around 14 hours of HD video playback, and up to 80 hours of music playback from their 2750mAh battery.
The smaller 4.7-inch iPhone 6S on the other hand will have just 14 hours of talk time on 3G, 10 hours of Internet user over 3G and LTE with another hour over Wi-Fi at 11 hours total. We should see around 11 hours of HD video playback, and up to 50 hours of audio playback from the iPhone 6S.
Storage
When it comes to storage, the new iPhones will be made available in three different storage capacities, without expandable storage - which is nothing new for Apple. The iPhone 6S and iPhone 6S Plus will be offered in 16GB, 64GB, and 128GB models.
iOS 9
iOS 9 will arrive with the new iPhones, with both the iPhone 6S and iPhone 6S Plus both rocking Apple's latest and greatest mobile OS. iOS 9 is 'full of enhancements' that you will 'appreciate every day', according to Apple. One of the big changes is multitasking on the iPad, something that will make you 'ever more productive' according to Apple.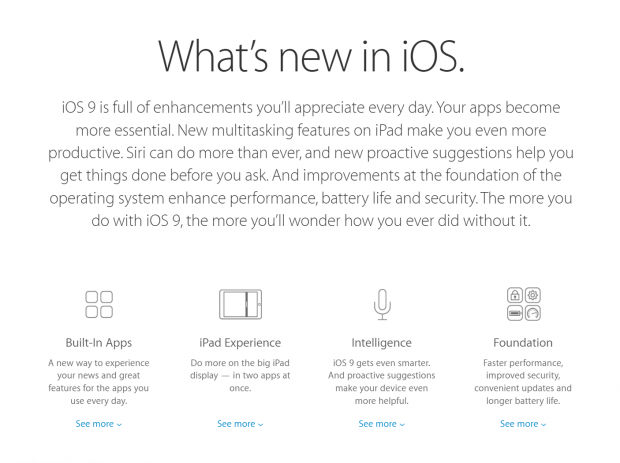 iOS 9 includes a news app that will be placed on your Home screen, where it will include articles that are chosen for you based on what you like, and the more you use news, the more it will get used to you and curate content based on your interests.
Apple has also spent considerable time beefing up Maps, which can now use public transport, with Maps guiding you around. There's a new Transit view that will show you lines and stations for trains, buses, trams, and ferries. The new Transit view will work between your OS X-powered Mac, and your iOS-based iPhone.
Apple has also used a new iCloud Drive that is built directly into iOS 9 that lets you access all of your files saved on your iCloud directly from your Home screen. Mail has also been upgraded on iOS 9, where you can now add drawings, comments or a signature to attached photos and documents. This is even better with the new Apple Pencil and the 12.9-inch iPad Pro.
Pricing
Right now, the iPhone 6 can be purchased from $549 outright on the Apple website, or $27.45 month with an annual upgrade. The bigger 5.5-inch iPhone 6 Plus is $649 outright, or $32.45 per month. Both versions of the iPhone are the stock 16GB models.
The new iPhone 6S and iPhone 6S Plus will cost the same as the current iPhones do now, but the new iPhones will be more expensive in Canada, Australia and other markets. The outright pricing in Canada for the iPhone 6S Plus are $1029, $1159 and $1289 CAD for the 16GB, 64GB and 128GB models, respectively.
If you're based in Australia, you'll be paying a huge $1229, $1379 and $1529 AUD for the 16GB, 64GB and 128GB iPhone 6S Plus models.
Apple Chases Microsoft with the iPad Pro
iPad Pro - A Competitor to Surface?
The rumors of a larger, more professional iPad have been around for a while now, but Apple squashed them all with the announcement of the iPad Pro. The new iPad Pro features a 12.9-inch display with a resolution of 2732x2048, giving us a pixel density of 264PPI.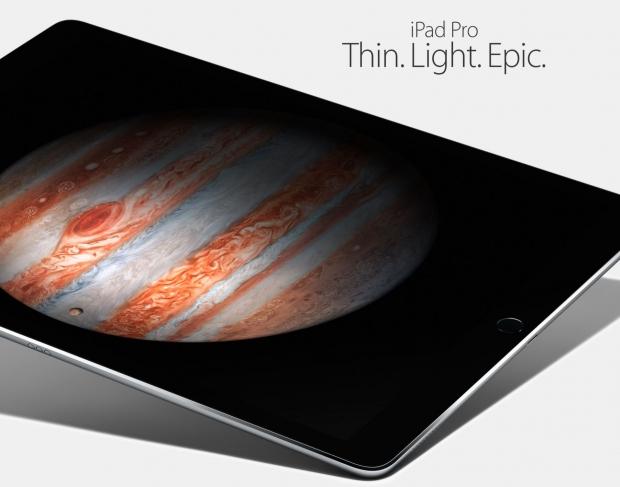 With all of those pixels, it makes perfect sense for Apple to finally step into the world of proper multitasking with the iPad Pro, which is now capable of doing so under the guidance of iOS 9. The width of the new iPad Pro is the same height as the iPad Air 2, which according to Apple's Phil Spencer, allows you to "do things that a smartphone doesn't do because it doesn't have to sit in your pocket".
The new iPad Pro features something quite special, where "for the first time in an Apple display, it has a variable refresh rate". This technology isn't new, as it's something Apple uses in its Retina 5K display on the latest iMac. The variable refresh rate will slow the display down when it doesn't need to refresh as high, such as when you're reading email or surfing the web, which will increase battery life.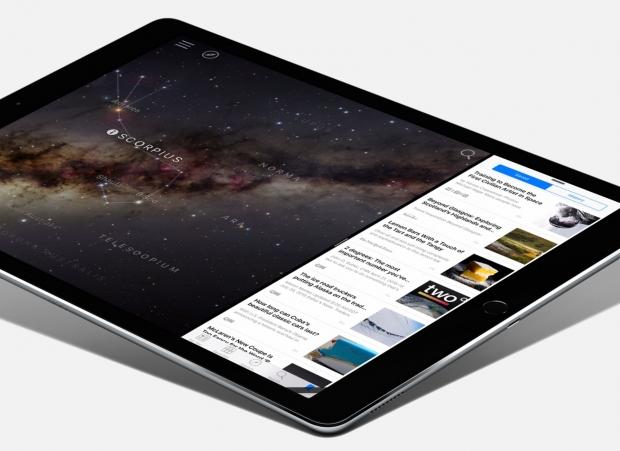 Inside of the new iPad Pro, is the new A9X processor which has the same "desktop-class" performance that the A9 processor inside of the new iPhones. The A9X processor is around 1.8x faster than the previous A8X chip inside of the current iPad. Graphics wise, we're looking at a 100% jump on the previous iPad.
Apple says that the new iPad Pro will last for around 10 hours on battery, even with the ability to stream three 4K videos simultaneously. Inside of the new 12.9-inch iPad Pro is a four-speaker audio system, with iOS 9 balancing the audio depending on how the user is holding it.
Finally, the iPad Pro is 6.9mm thin and weighs 1.57 pounds - so even with the larger 12.9-inch screen, Apple has kept the iPad Pro thin and light.
Hey Surface, Yeah You - Apple is Coming After You
When Microsoft unveiled the original Surface a few years ago, it didn't have the same traction as Apple had with its iPad. But over time, Microsoft has really seen the Surface grow into a formidable device, especially as it features a full desktop OS.
The new iPad Pro now includes something Apple calls a Smart Keyboard, which is "unlike any keyboard you've ever used before", because Apple has probably never used a Surface, obviously. The new iPad Pro has three new magnetic circles along the side of it, which acts as a new Smart Connector to attach the keyboard to the tablet, just like how the Surface keyboard attaches.
Another area that Microsoft has killed it with Surface is with the stylus, and while the late Steve Jobs said that Apple would never make a stylus - welcome to the Apple Pencil.
Apple Pencil
The new Apple Pencil that is made to work with the new 12.9-inch iPad Pro, where it increases the amount of scanning on the surface of the iPad Pro display in order to improve latency. Apple says that there's very little latency with Pencil, with the iPad Pro sensing when the Apple Pencil touches the screen as the A9X-powered slate's subsystem scans its signal at an astounding 240 times per second. This is twice the data points that it normally collects from your finger.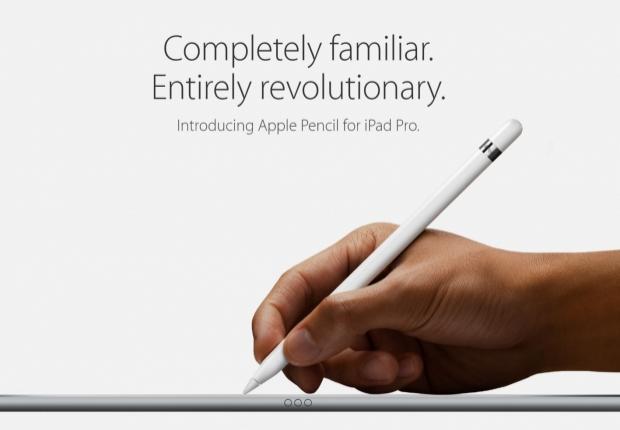 The sensor inside of the Apple Pencil will detect just how hard you are pressing down the Pencil onto the iPad Pro, so if you want to draw a very thin line you'd press down softly, or for a thicker line, you would press down harder.
There are two tilt sensors built into Apple Pencil, both of which can calculate the exact orientation and angle of your hand. So, when you're writing or drawing with Apple Pencil on your iPad Pro, each of the sensors are being detected by the Multi-Touch display to give you the most precise Pencil to iPad Pro responsiveness possible.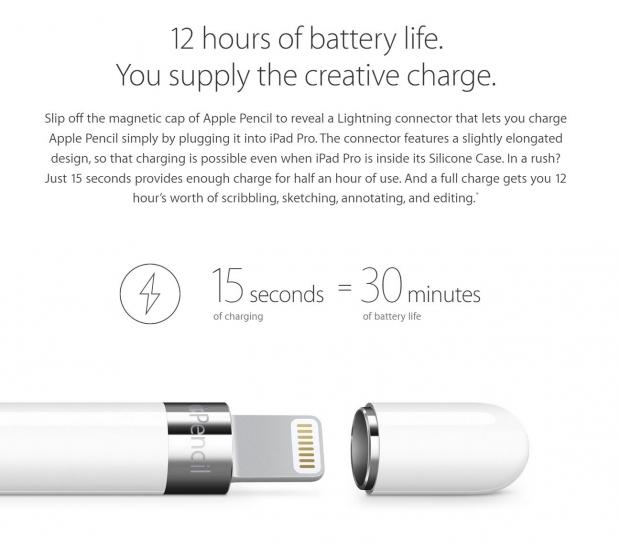 Apple's new Pencil can last for 12 hours, and is powered by the impressive Lightning connector which is in the end of the device under a lid. Better yet, just 15 seconds of charging results in 30 minutes of use, which is a huge deal. If you were down on Pencil battery, charging it for 60 seconds will provide another 2 hours or so of use. Another solid idea is that you can plug the Pencil into the iPad Pro to charge it.
Final Thoughts
Apple had much more to show off this year, with not only the announcement of the new iPhone 6S and iPhone 6S Plus, but the new iPad Pro is a great step for the company. The bigger 12.9-inch display is something the company has needed for a while now, as it has been stuck at 9.7-inch since the original iPad.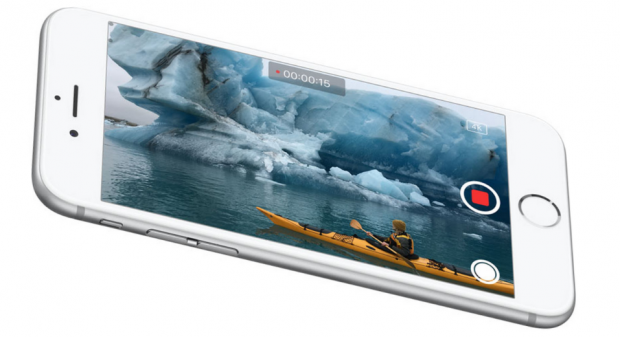 Starting with the new iPhones, we have enough upgrades inside of it for it to be exciting for Apple fans. If you're using an iPhone 5 or iPhone 5S, there's enough here to upgrade for. But if you own an iPhone 6 and want to move to the 6S, I don't think there's enough to justify close to $1000 for the upgrade. The same can be said for the iPhone 6 Plus to the iPhone 6S Plus. Apple fans may disagree, but that's my thoughts on that.
Then we have the new iPad Pro which is competing directly against the Surface from Microsoft, but I think Apple loses out to the Surface big time. iPad Pro is still only running iOS 9 and compared to the Surface, it can't compete with Windows. Windows 10 is a big deal right now, and we haven't even seen Microsoft unveil the new Windows 10-powered Surface Pro 4 yet.
Apple Pencil is part of that, as you're still stuck writing and drawing in mobile apps because of the limitation behind iOS 9. If Apple had baked in OS X into the 12.9-inch iPad Pro, I would've been more impressed. I think the larger 12.9-inch display on the iPad Pro is going to lure customers in, but not the 'professional' side of things which really, at the end of the day, is just improved multitasking and a stylus. But, I'm sure Apple will be able to spin it well enough and sell millions - that's what they do really well.
So, there you have it. We have two new iPhones, a larger 12.9-inch iPad Pro, iOS 9, and Apple Pencil all wrapped in a nice bow for you. Will you be upgrading? Which device, and what are you upgrading from? Let us know what you think in the comments below.