LG G4 vs. Samsung Galaxy S6 edge - The Battle of Android
If you thought the Galaxy S6 was the only high-end Android out right now, the G4 is here to show you the removeable battery and SD card slot aren't gone.

Published Jun 30, 2015 6:16 PM CDT
|
Updated Tue, Nov 3 2020 6:59 PM CST
8 minute read time
Introduction
After around one month using the Samsung Galaxy S6 edge as my daily smartphone, I've recently started playing with the LG G4 and now I think I'm torn. Both smartphones are the top of their class, being the best handsets the respective companies have released yet.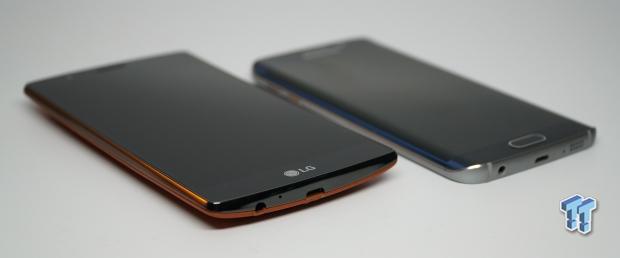 But one of the roads that Samsung took with the new Galaxy S6 and S6 edge is that it removed two of the biggest things that set them apart from Apple and the iPhone: a removeable battery, and the microSD card slot. These two omissions have really hurt Samsung in the eyes of consumers, but luckily LG didn't cut anything from the G4.
LG and Samsung are the two biggest Android smartphone manufacturers in the world, with the G4 being LG's biggest launch of 2015. Samsung will have another launch later in the year with the Galaxy Note 5, which is rumored to be accompanied by the Galaxy Note 5 edge.
One of the biggest things that sets the LG G4 and Samsung Galaxy S6 and S6 apart is their connectivity. Analogix was brought in to provide their next-gen SlimPort 4K connector in the G4, and it really is next-gen when compared to the 'what the hell was Samsung thinking' approach to connectivity on the S6. The S6 is not capable of outputting its captured 4K content onto a TV, where the G4 can do it with a single SlimPort cable. More on that later in the article.
A Quick Comparison Between G4 and S6 edge
We'll talk about this more, but here's a quick recap of what you'll find in the LG G4 and Samsung Galaxy S6 edge:
Samsung Galaxy S6 edge
Display: 5.1-inch Super AMOLED
Resolution: 2560x1440 (577PPI)
Processor: Samsung Exynos 7420 (8-core processor)
RAM: 3GB
Cameras: 16-megapixel rear/5-megapixel front
Software: Android 5.0.2 Lollipop
Battery: 2550mAh non-removeable
Connectivity: USB micro-B compatible
LG G4
Display: 5.5-inch IPS LCD
Resolution: 2560x1440 (538PPI)
Processor: Qualcomm Snapdragon 808 (6-core processor)
RAM: 3GB
Cameras: 16-megapixel rear/8-megapixel front
Software: Android 5.1 Lollipop
Battery: 3000mAh removeable
Connectivity: USB micro-B compatible with SlimPort TV out
Display Wars
LG has used a 5.5-inch display in the G4 with a resolution of 2560x1440, the same resolution used in the Galaxy S6 edge, except Samsung has used a 5.1-inch dual-edge display. LG's 1440p panel has a pixel density of 538PPI, while the Galaxy S6 edge sports a 577PPI display, edging out the LG display.
But this is where the two smartphones differ: LG has used the same 5.5-inch size from its G3 in the G4, while Samsung continues to use a 5.1-inch display for its Galaxy S6 and S6 edge. This is a very personal preference, as I really enjoy the size of the S6 edge's display. It's not too big, and it's not too small - it really is, just right. The G4 is bigger, but it honestly doesn't feel anywhere near as big as the iPhone 6 Plus, which feels gigantic in my hands.
Both displays are stellar, with 1440p really shining on either panel. Colors pop, text is beautifully clear, and everything just looks perfect. Watching 1080p or 1440p videos on YouTube has never been better, as Samsung and LG have put their best displays possible into these handsets.
Design & Internals
Both Phones Look Amazing
While Samsung has a radical change in the look and style of the S6 and S6 edge, LG continues playing its cards right with the G4, keeping the same style from the G3. The G4 has its power button and volume rocker on the rear of the phone, under its more-than-impressive 16-megapixel f/1.8 rear-facing camera. LG has opted for a Sony sensor, which is one of the best available.

LG has provided the option of replacing the back cover with a stitched real leather back, which my sample came with by default, and it feels amazing. But, I think the Galaxy S6 edge wins out here, as it has such a distinct look, and an even better feel in your hands thanks to its dual-edge display.
With the power button on the back, LG has had to compromise for people having their fingers instinctively going to the side of the phone to tap the power button to wake it up, by having a double-tap function on the screen waking the G4 up. It's smart, and it works, but after using the fingerprint reader on the S6 edge for weeks, I wish LG had used a fingerprint reader somewhere on the G4.
Internals - Both Sides Have Winners
Both smartphones pack quite a performance punch when it comes to their internals, with more than enough processing grunt inside of the G4 and S6 edge. But I've never been one to cave to benchmarks and recommend a phone "because it was faster than X phone". Never.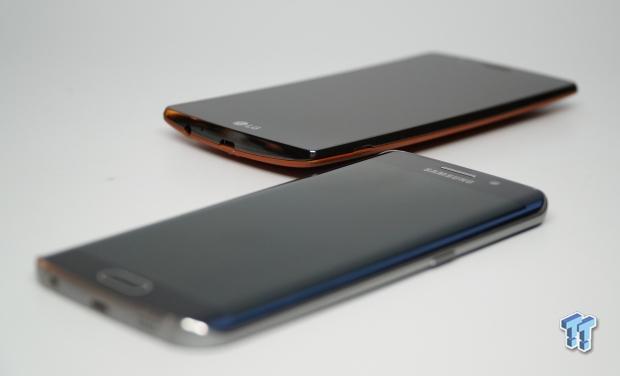 6-core smartphone? 8-core smartphone? These days, it's all in the marketing. Never buy a smartphone when a company says "it's faster than X phone" because it's all subjective. What percentage of smartphone owners will benchmark their smartphone? Probably less than 10%.
In saying that, both phones are the fastest yet - which I would dare say has a lot to say about both companies keeping their UIs relatively clean. LG has much more of its own style injected into the G4, with Samsung peeling multiple layers of TouchWiz off of the S6, especially when compared to the bloat fest that was the S5.
I never reached a time on either handset where I had to wait for something to load, or had any slowdown. That's how I like my smartphone experience.
Connectivity, Charging & 4K Video Output
Connectivity & Charging
The LG G4 has some serious connectivity prowess, with the use of a Qualcomm X10 LTE modem that's capable of a huge 450Mbps, if your provider can handle it. You'd want some unlimited goodness with that, of course.
Both handsets feature kick-ass Wi-Fi technology, with 802.11 a/b/c/n/ac, and dual-band. I have a 100Mbps fiber connection at home, and could easily max it out with either handset. Both smartphones were super quick on my home Wi-Fi connection too, which can't be said for all handsets.

Something where Samsung did some good compared to the G4, is in the form of built-in wireless charging. This is a first for Samsung, and I have to say, it's a big win in my book. My Galaxy S6 edge can be put onto any Qi-based wireless charger, and just... well, charge. It should be that easy, and it is with the S6 and S6 edge. The G4 on the other hand doesn't have wireless charging built-in, but you can buy an additional cover for it, which will provide wireless charging capabilities.
Both handsets feature quick charging capabilities, which can get the G4 or S6 from 0-10% to 100% charge in a little over an hour. This is something worth writing home about. I used both smartphones for a few weeks, and with the quick charging capability, I could quickly charge my G4 or S6 edge up to full charge while I had a shower and got ready for my next meeting or catch up with friends.
It might not sound like much, but when you're used to hours upon hours of charging up your phone, charging up a premium flagship smartphone in just over an hour is like magic.
4K Out? Sorry, Samsung.
Both the G4 and S6 have 16-megapixel rear-facing cameras that are capable of shooting 4K video. It looks gorgeous, and plays back on the 1440p displays like silk. But how do you get those videos off of your smartphone?
I had a few situations where I needed to show people something on my smartphone, but had so many troubles with playing back 4K content from my Samsung Galaxy S6 edge. Why? Because Samsung doesn't think shooting 4K and playing back that 4K video should be easy, because it's not.

In order to playback my 4K content from my S6 edge, I had to plug it into my laptop, transfer the video to my laptop, and then plug said laptop into a 4K TV in order to play it back. Both of Samsung's Galaxy S6 smartphones only support Miracast, and with Miracast not supporting 4K, you're completely stuck. You have to transfer your 4K content off of the phone, and onto another device before you can even play it back. And in this day and age, with a $1000+ smartphone, you simply shouldn't have to do that.
The G4, on the other hand, features Analogix's SlimPort technology. All you have to do to playback your 4K content on your G4 is use a SlimPort 4K cable, and plug it into your 4K TV and voila - 4K playback. It makes the G4 seem leaps and bounds better than the S6, and in this area, it really is. It feels as though Samsung, with all of the internal prowess, is stuck in the dark ages when it comes to getting your beautiful 4K video out of the smartphone, and onto a TV.
Storage & Final Thoughts
Storage - Why Samsung, Why?!
One of the reasons why the Galaxy S6 and S6 edge are two of the thinnest smartphones Samsung has ever made, is that the South Korean giant decided to use UFC 2.0, which is up to 2.7x faster in random read speeds than the Galaxy S5. Transferring files on and off your smartphone has never been faster, thanks to the UFC 2.0 found in the new S6 handsets.
But, Samsung had to kill something off, and that was expandable storage. So there's no microSD card slot in the S6 or S6 edge, which is another area where LG wins with the G4. The G4 not only features a microSD card slot, but it features a removeable battery, too.
Final Thoughts
After the first few weeks of using my Galaxy S6 edge, I didn't think an Android flagship smartphone would come out that could replace those thoughts I had. Up until the S6, I did not like what Samsung were doing with the Galaxy range of smartphones, because TouchWiz was just too intrusive. But the company scaled it back considerably with the new S6 and S6 edge, so much so that I actually became a large fan of Samsung's new handsets.
Then the LG G4 fell into my lap. What a gorgeous handset. It feels great, it packs the same internal punch that Samsung provides in the S6, the same external punch with its more-than-awesome 16-megapixel rear-facing camera, and so much more. It doesn't have wireless charging which is a miss, but it does feature quick charging if you have the right charger and cable.

But for me, I'm sharing so much more of my content instantly now. I got home from Taiwan this year for Computex and wanted to show my family some of my pictures and videos of my experiences, but I couldn't do that with the S6 edge. I wanted to show how amazing Taiwan looked in 4K, but I simply couldn't do it no matter what I tried - short of transferring super-large files onto my PC, and then playing it over the network from my media player.
With the G4 in tow, I hooked it right up to my 4K TV with the SlimPort 4K cable and within seconds I had everything that was on my G4 smartphone, on the TV - 4K video included. This is such a big win for the LG G4, and something I think Samsung did not think through. Do people not share their content with others anymore? Do you just want to stare into a 5-something-inch screen and enjoy that 4K content? No, I didn't think so.
Some people have large 4K TVs, and the only way to share your 4K content from your Samsung Galaxy S6 or S6 edge is to have a PC. That's not smart, nor is it easy, or intuitive. It's a huge stumbling block for Samsung, because the rest of the S6 is just so glorious. If we had wireless 4K video, then it wouldn't be a problem, but I want to experience my 4K video instantly, and this is something I can do thanks to the inclusion of SlimPort on the G4.
Other than that, I think I've become an even bigger fan of LG than I was just a few months ago. The G4 is a beautiful smartphone, but that doesn't make the S6 anything less. Right now, both of the smartphones are the top of their class, but it all comes down to you... the consumer. The choice then comes down to the display. The G4 with its 5.5-inch display doesn't feel that much bigger than the 5.1-inch handset in the S6, but it does make a little difference, depending on the size of your hands.
Both the Galaxy S6 and G4 are excellent smartphones, but if you live in the 4K world, you might want to jump on the SlimPort bandwagon and grab the G4. If 4K output isn't something you're interested in, then you will be over the Moon with either smartphone.
PRICING: You can find products similar to this one for sale below.

United States: Find other tech and computer products like this over at Amazon.com

United Kingdom: Find other tech and computer products like this over at Amazon.co.uk

Australia: Find other tech and computer products like this over at Amazon.com.au

Canada: Find other tech and computer products like this over at Amazon.ca

Deutschland: Finde andere Technik- und Computerprodukte wie dieses auf Amazon.de
We openly invite the companies who provide us with review samples / who are mentioned or discussed to express their opinion. If any company representative wishes to respond, we will publish the response here. Please contact us if you wish to respond.