TweakTown Interview with Alex Mei from OCZ Storage Solutions
This past week, we sat down with Alex Mei from OCZ Storage Solutions to discuss topics including past, present and OCZ's future as part of Toshiba.
Published
6 minute read time
Interview with Alex Mei from OCZ Storage Solutions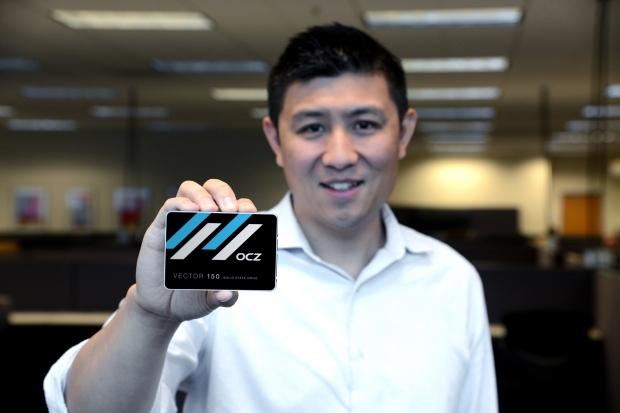 TweakTown: Thank you Mr. Mei for taking time out of your day to sit with us to answer the questions we've had.
Over the last two years, we've observed several acquisitions. Large established storage companies scooping up young fabless companies that specialize in flash-based products. OCZ has been both on both sides but just received the golden ticket in Charlie and the NAND Factory. At this point, is it possible to be a fabless, flash focused company and compete with the fab companies in the consumer or enterprise SSD market?
Alex Mei, CMO at OCZ Storage Solutions: I think it would be very challenging for any independent SSD maker to be viable over the long term without either direct fab access or a very strategic agreement with a fab. While the controller and firmware are critical components to the delivery of a quality SSD offering there is no changing the fact that a lot of the cost that goes into producing the drives currently resides in the raw NAND components.
TweakTown: OCZ Technology had a great reputation for the support staff. The company also has several unique ways of doing business that reminds me of a family business with more of an open door policy. Will OCZ Storage Solutions keep the support forum open and other support avenues, or will the company start to fall in line with the 'mega corporation' way of doing things?
Alex Mei, CMO at OCZ Storage Solutions: Absolutely. The new company, OCZ Storage Solutions, will continue to support both the client and enterprise markets and we think it is very important to have a direct dialogue with consumers not just to provide support, but also to share ideas and experiences with solid state storage and high performance computing in general, and we believe that the forums are a great platform for this interaction. Today we have built up two separate support organizations, which include our consumer tech and forum support team as well as a field applications engineering team that supports enterprise customers. Both teams believe that customer service is an integral part of our total solution, not just an extension of it. Ensuring that customers are supported is a high priority, and as a Toshiba Group Company we now have access to even greater resources allowing us to make further investments in service and support.
TweakTown: Toshiba has 1z nm flash on the market with 1y right around the corner. OCZ also has a long history of bringing new technology to market before the competition. Can we expect OCZ Storage Solutions to remain hungry for releasing new technology and push the edge of performance?
Alex Mei, CMO at OCZ Storage Solutions: That is a great question and really speaks to the original company's DNA makeup. In the past, the priority really was to bring the highest performing products out to market as quickly as possible. Today the new organization is more focused, and you can see that in the product line. Where there used to be countless skus, the new company realizes that we cannot be all things to all people, and focuses on delivering high-end solid state drives, even if that means a reduction in total products. So to answer your question, yes, we remain hungry to push the leading-edge and time-to-market, but not at the expense of quality and reliability. Together with Toshiba we now have much earlier access to the next generation NAND, which allows us to engineer new controllers and firmware that take advantage of the complete feature-set as well as make improvements to both SSD performance and endurance.
TweakTown: When it comes to new innovative storage products, native PCIe and NVMe look like the next big thing for both enthusiasts / power users, and in the enterprise datacenter. When can we expect to see OCZ's Indilinx branch deliver a controller based on PCIe or NVMe?
Alex Mei, CMO at OCZ Storage Solutions: I absolutely agree, both PCIe and nVMe both look very interesting for both the high-end client and enterprise markets. We are at a point when things are once again going to get very interesting in SSDs as we transition to these optimized interfaces and will see significant performance improvements as well as enhanced features. We have been working on a new controller that is native SATA and PCI Express and will support NVMe, codenamed Jet Express, and are targeting an unveiling early next year. We will leverage this next generation controller and variations of it to introduce not only enterprise products, but high-end client SSDs, and you can expect these next generation of drives to deliver robust feature-sets, extremely high bandwidth with consistent latency, and be available in new form factors. For example, we will introduce Jet Express based traditional PCIe edge cards and 2.5" PCIe drives.
TweakTown: OCZ also has long-standing relationships with other controller manufacturers. The company has released products with Indilinx, LSI SandForce, Marvell and even Samsung controllers in the past. Now that Indilinx is an in house unit, would OCZ consider bringing a product to market with a controller from another company?
Alex Mei, CMO at OCZ Storage Solutions: The short term answer is "yes." The previous company, OCZ Technology Group, did partner with many controller companies and the new company continues to work with a number of these partners today. We are planning some new products that utilize some third-party silicon, but in all of these cases we are involved in the firmware design as it gives us the ability to add our own features and differentiate the solution. That said, we are already working on those next generation products that leverage proprietary in-house silicon, like the Jet Express. The company has made some very significant investments in R&D and engineering and has a very strong foundation in SSD technology, with in-house controllers, firmware, and application software. The one big missing piece, up until now, has been the NAND. When Toshiba acquired OCZ all of that changed, and today we are now able to unify all the technologies together and now in a much more advantageous situation to bring to market homegrown solutions.
TweakTown: Before the Indilinx acquisition, OCZ released several products with SandForce controllers. At one time, the entire product lineup consisted of SF-1000 and SF-2000 controllers. At the time, OCZ was in a dominate position with market share in the US and from the outside looking in, it appeared that was the high point for OCZ. The early SF-2281 products shipped with an issue that caused BSOD errors in a number of end-user systems. From that point, again from the outside looking in, that was when OCZ started to derail. Would you say that SandForce played a significant role in the fall of OCZ Technology?
Alex Mei, CMO at OCZ Storage Solutions: SandForce has long been a strong partner for OCZ Technology and we still have a few products that leverage LSI SandForce controllers. There is no doubt that the BSOD issue caused problems for end-users and SSD makers leveraging this platform, especially OCZ, as the company had the highest volume of drives utilizing these controllers, but at the end of the day this was just one of a number of challenges that needed to be addressed. The company tried to best to support customers but the most frustrating part of the process was that we were not able to control all of the elements. That event reinforced the need to bring controller and firmware in-house, so that the company could not only engineer next generation products, but also address any issues that might arise directly with our own internal firmware resources.
TweakTown: Toshiba's SSD factory has a reputation of manufacturing very good drives. We know of two other companies that use the factory or used the factory at one time. Behind closed doors, both stated the reliability of the products were so good due to Toshiba's manufacturing. Will OCZ exclusively use Toshiba's manufacturing for SSD products going forward and has the company already shifted production to them?
Alex Mei, CMO at OCZ Storage Solutions: We have long respected Toshiba's quality and manufacturing and have already made the shift. During the transition, our ISO 9001 factory was acquired by a Toshiba manufacturing partner and continues to produce our drives. Moving forward we will continue to leverage Toshiba's expertise in this arena and as we grow both our client and enterprise business we are continually pushing to improve quality, and this includes designing for quality, tight supplier qualification and monitoring, further investments in test and validation, and continually improving quality processes. Today, quality is one of our core values, and at the core of everything that we do. We believe that we are responsible for exceeding our customers' expectations by improving quality of our products and our company each and every day.
We know that this transition has been a challenging one, not just for the team here at OCZ, but for all of our valued customers as well, many of which are TweakTown readers. I have personally worked with Cam and the team here for well over a decade and have always appreciated and respected their independent view of products and companies, as well as all of the end-user feedback and comments. We believe that a key part of delivering the very best "quality" throughout the organization is listening to customers, taking that feedback and designing products that are not only high performance and reliable, but "solutions" that really bring value to customers. I think that we are on the cusp of a very exciting period in SSD innovation, and we appreciate all of your input as we look forward to delivering quality solid state storage products to both the fast growing client and enterprise solid state storage markets.
TweakTown: Thank you Mr. Mei for your time today and helping us to better understand OCZ Storage Solutions position. I'm sure I speak for everyone when I say we're excited to see Jet Express as soon as possible.
PRICING: You can find products similar to this one for sale below.

United States: Find other tech and computer products like this over at Amazon.com

United Kingdom: Find other tech and computer products like this over at Amazon.co.uk

Australia: Find other tech and computer products like this over at Amazon.com.au

Canada: Find other tech and computer products like this over at Amazon.ca

Deutschland: Finde andere Technik- und Computerprodukte wie dieses auf Amazon.de
We openly invite the companies who provide us with review samples / who are mentioned or discussed to express their opinion. If any company representative wishes to respond, we will publish the response here. Please contact us if you wish to respond.