Thecus brings RAID 50 and RAID 60 to its NAS' - We check out the Performance Numbers
Two weeks before CES, Thecus announced RAID 50 and RAID 60 support. With one supported NAS in hand, Chris sees how the new RAID formats perform.
Published
5 minute read time
Introduction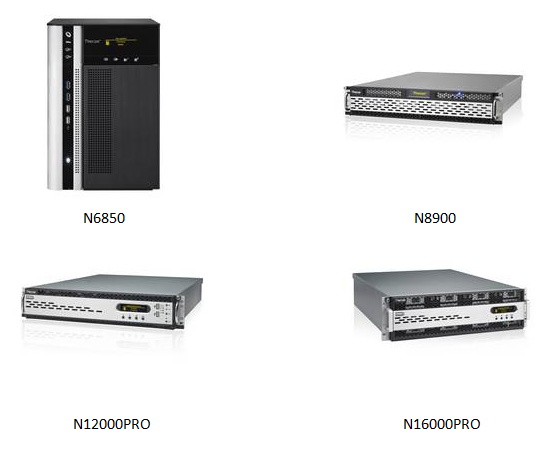 We've noticed a trend taking place in the network attached storage (NAS) market. With CPU performance on the rise, NAS manufacturers have taken enterprise features from larger servers and incorporated them into lower priced NAS products. The result is more features for less money when it comes time to update your company's storage solutions.
Over the last two years, we've seen a rise in features such as cloud access to data from a NAS, 10GbE connectivity, improved iSCSI support, and now RAID 50 and RAID 60 support.
From the Thecus press release:
RAID 50 combines the advantages of RAID 5 and RAID 0, to surpass the performance of both of these lower RAID levels. RAID 50 brings improved read speeds, significantly faster write speeds, greatly improved fault tolerance, reduced access time in random access operations, and greater storage capacity. RAID 60 combines the best of RAID 6 and RAID 0, to improve further on these advances.
Compared to RAID 10, RAID 50 and 60 require much less overhead storage capacity. Therefore, they cut system costs, power usage, and physical space demands, while still retaining the ability to survive multiple drive failures that would wipe out lesser RAID systems. The greater fault tolerance of RAID 50 and 60 also means little or no loss of performance while a failed drive is swapped out and restored.
Supported models with the new RAID levels are: N6850, N8900, N12000 Pro, and N16000 Pro. All four of these models also support 10GbE via an add-in card. The maximum capacity for the N6850 is 24TB, but the larger units support Thecus's new expansion units, and scale to 2.5 petabytes.
Today we're running Thecus's N8900 unit in RAID 50 and RAID 60 to see how well the new RAID level works on a unit we have in the office.
Test System Setup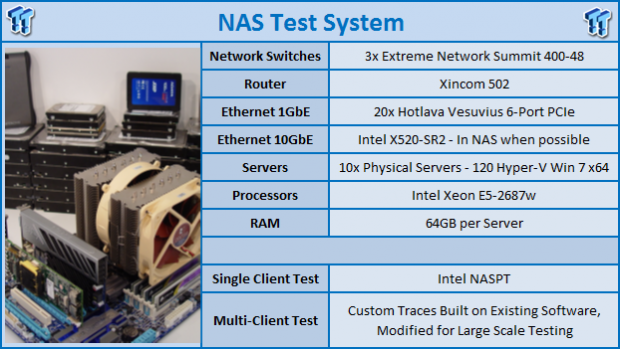 Our NAS test 'system' has migrated to a full 45u rack like you'd find in a datacenter. There are ten servers that attack the target NAS with 120 Hyper-V installations of Windows 7 64-bit, each with a dedicated gigabit Ethernet port. The systems feed to three Extreme Networks Summit 400-48 switches that link together via Extreme Network's proprietary link cable system. One switch has two 10GbE Xenpak adapters installed. When testing NAS products with 10GbE capability, the NAS connects to the switch via single or dual 10GbE courtesy of an Intel X520-SR2 installed in the NAS.
This level of testing wouldn't be possible without the help and support from several companies, many of which have little to do with NAS products. We would like to thank AVADirect, Antec, Corsair, GIGABYTE, Icy Dock, Kingston, LSI, Noctua, Rosewill, and Western Digital for their much-appreciated support.
Intel NASPT
The Intel NAS Performance Toolkit (NASPT) is a file system exerciser and analysis tool designed to enable direct measurement of home network attached storage (NAS) performance. Designed to emulate the behavior of an actual application, NASPT uses a set of real-world workload traces gathered from typical digital home applications. Traces of high definition video playback and recording, office productivity applications, video rendering/content creation, and more, provide a broad range of different application behaviors.
TweakTown Custom 120-Client Office Test
The TweakTown Custom 120-client Office Test uses 120 Windows 7 Hyper-V installations and custom software to stress each NAS with traces from Microsoft Office tasks. Both throughput (in Mbits per second) and latency (in milliseconds) are measured.
Western Digital RED - The NAS HDD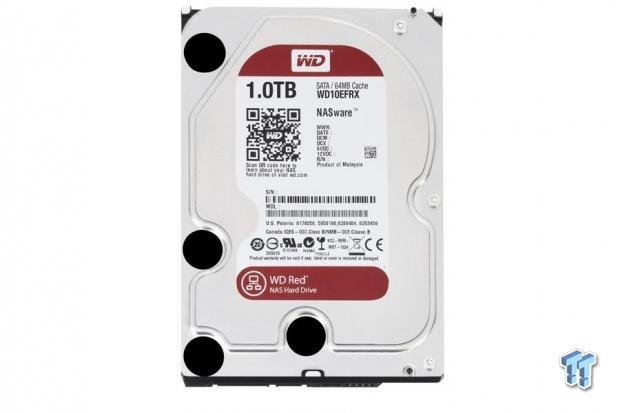 TweakTown uses Western Digital RED 1TB hard drives for all of our NAS tests. You can read our full review of the Western Digital RED 1TB here.
Our system shipped with six Toshiba 3.5" 1TB HDDs, and we used a combination of the included drives and WD Reds for out tests.
Supermicro SSE-X3348TR 10GbE / 40GbE Switch
With a switching fabric of 1284 Gbps through forty-eight 10GbE ports with RJ45 connectors and four 40GbE QSFP connectors, the SSE-X3348TR is our choice top of the rack network solution.
Benchmarks - Single Client CIFS Performance
Benchmarks - 8 HDD
We're swapping our format around to show the RAID 5, 50, and 60 tests. This is the first time we've used the new Supermicro SSE-X3348TR switch in a review, but in the coming weeks we'll move our multiclient CIFS test to 400 clients thanks in part to the SSE-X3348TR.
HD Video Playback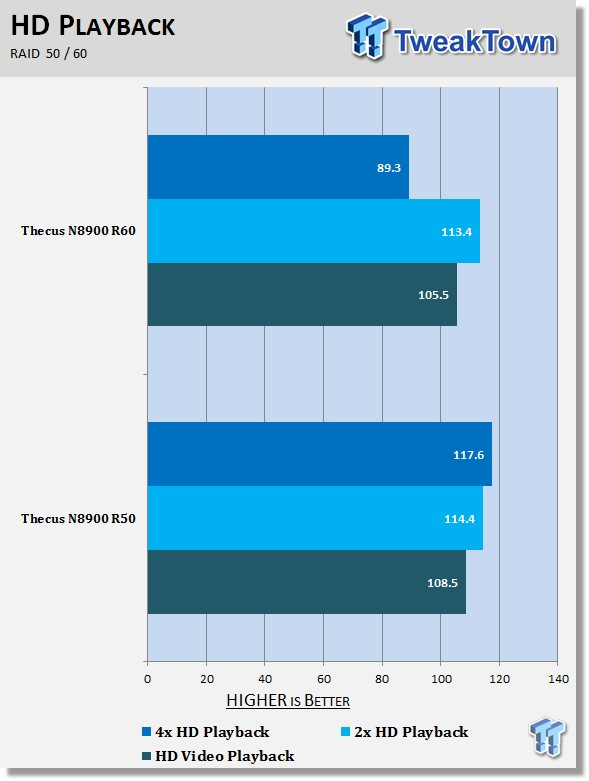 HD Video Play - 720p HD stream from Windows Media Player* 256kB reads
2HD Video Play - 2x playback
4HD Video Play - 4x playback
HD Video Record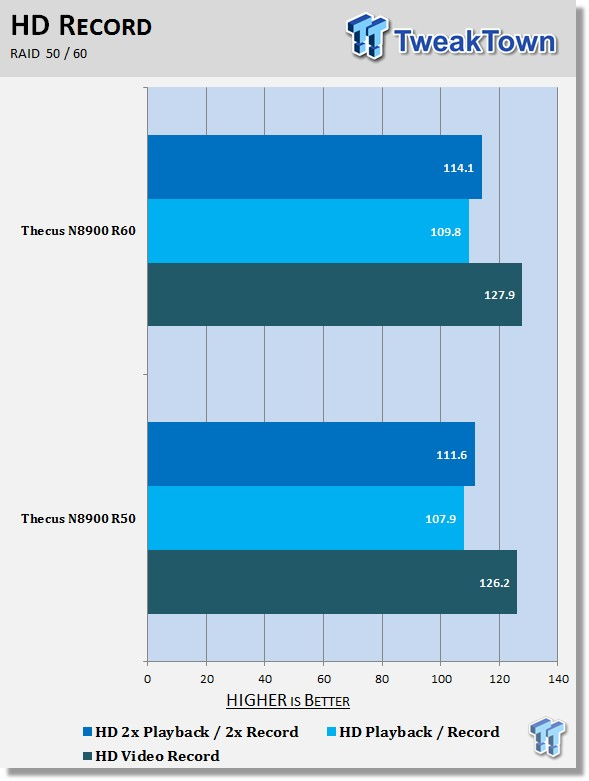 HD Video Record - 720p HD stream, 256kB writes
HD Video Play & Record - one playback, one record simultaneously
2x HD Video Play & 2x Record - two playback, two record simultaneously
Content Creation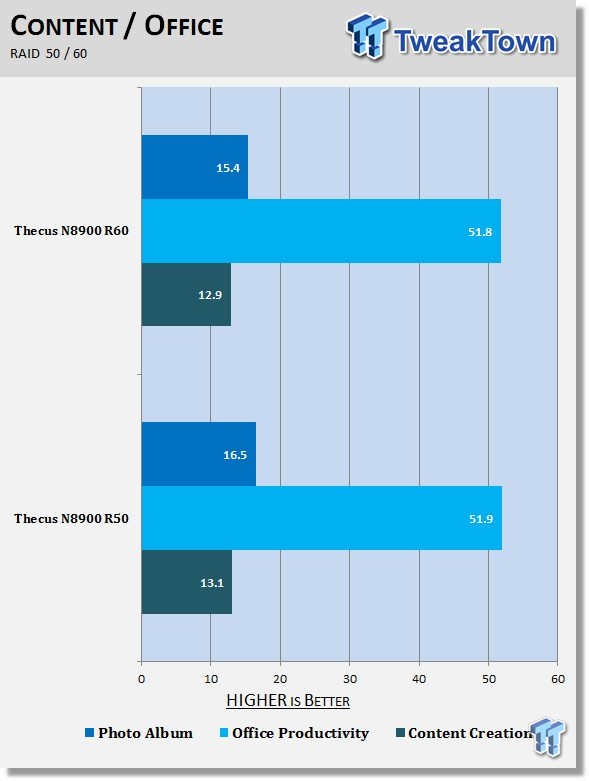 Photo Album - All reads - Wide distribution of sizes
Office Productivity - Reads and writes, 1kB & 4kB reads; Mostly 1kB writes
Content Creation - 95% writes; 1k, 4k, & little reads; Writes up to 64kB
File / Directory Transfer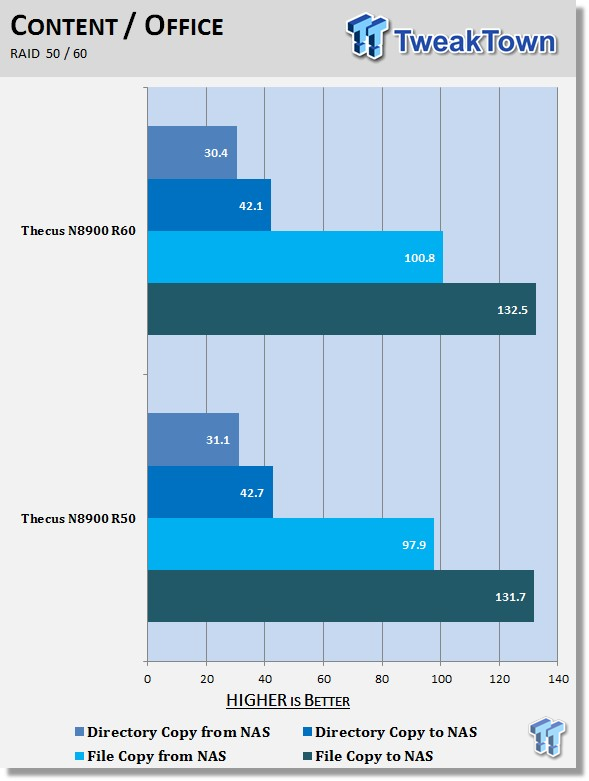 Directory Copy From NAS - 64kB reads
Directory Copy To NAS - Predominantly 64kB writes, wide scattering under 16kB
File Copy From NAS - 4GB file copy, 64kB reads
File Copy To NAS - 64kB writes
Single Client CIFS Performance Wrap-up
There isn't much of a performance difference between RAID 50 and RAID 60 using the Thecus N8900. This test was run with the host system running 1GbE, and the Thecus N8900 on 10GbE.
Benchmarks - iSCSI Enterprise Workloads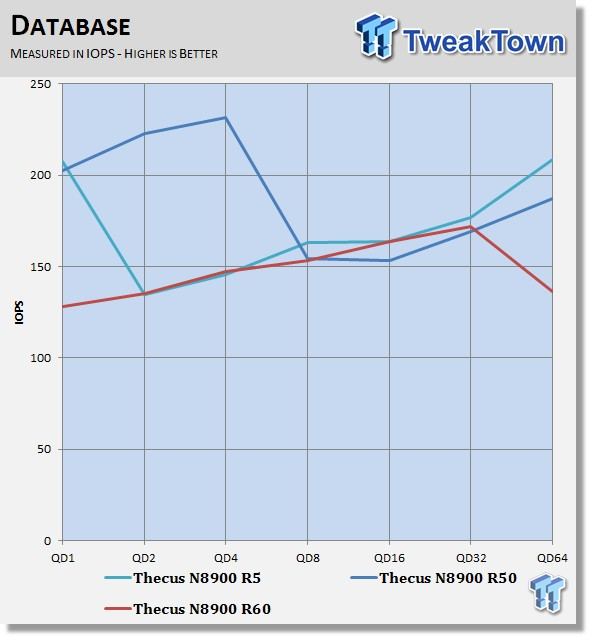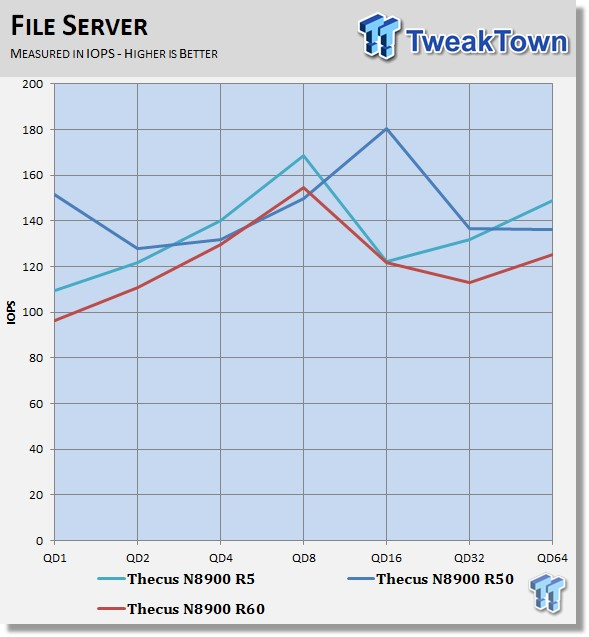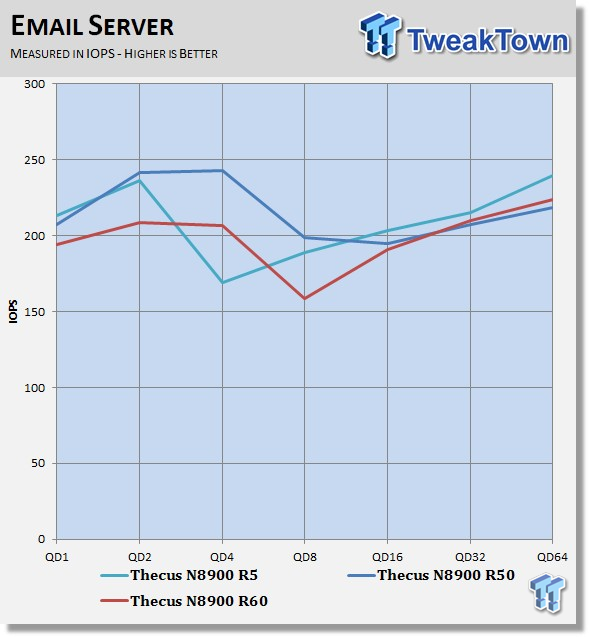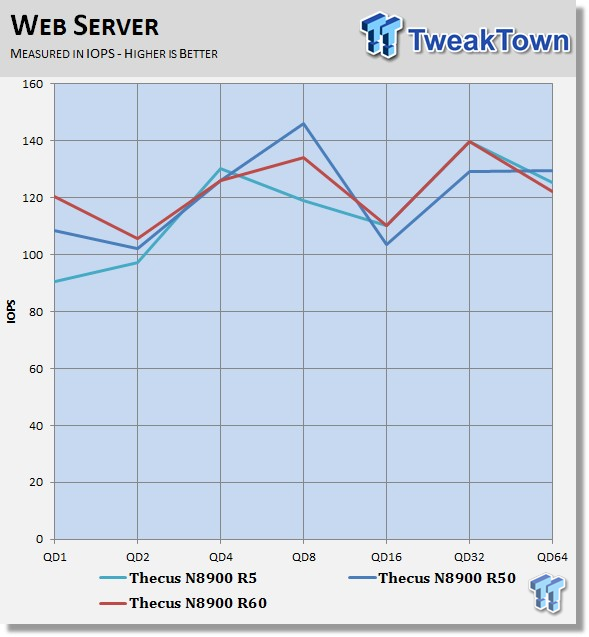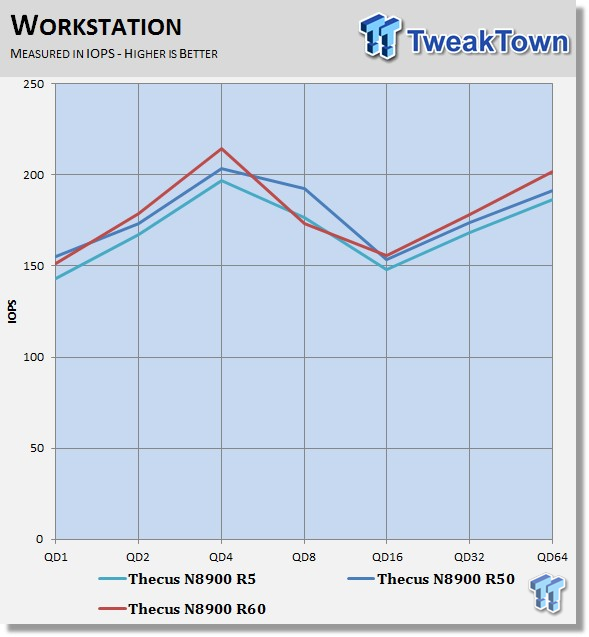 The Thecus N8900 in RAID 5, 50 and 60 delivers performance all over the place in the iSCSI IOPS tests.
Benchmarks - iSCSI Workload Latency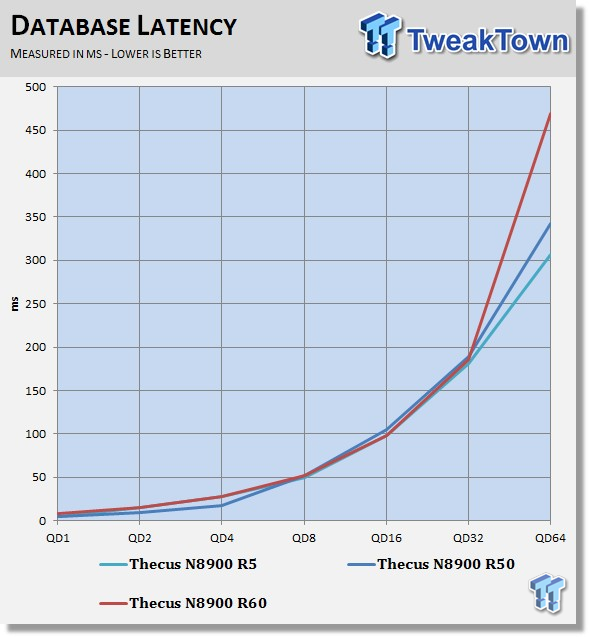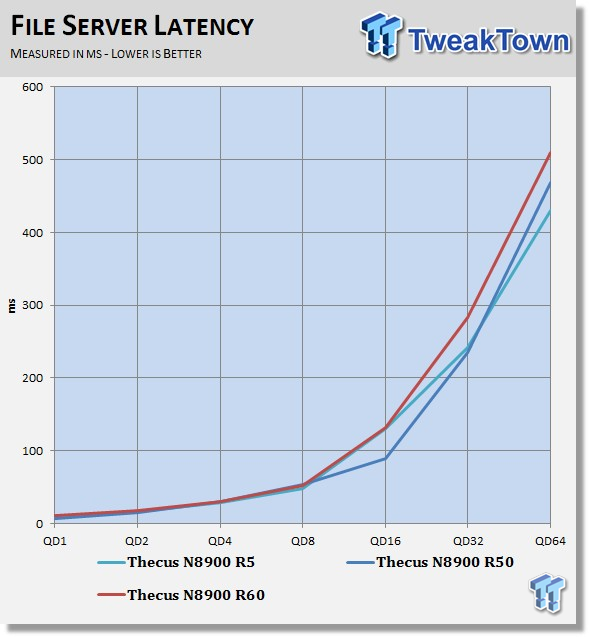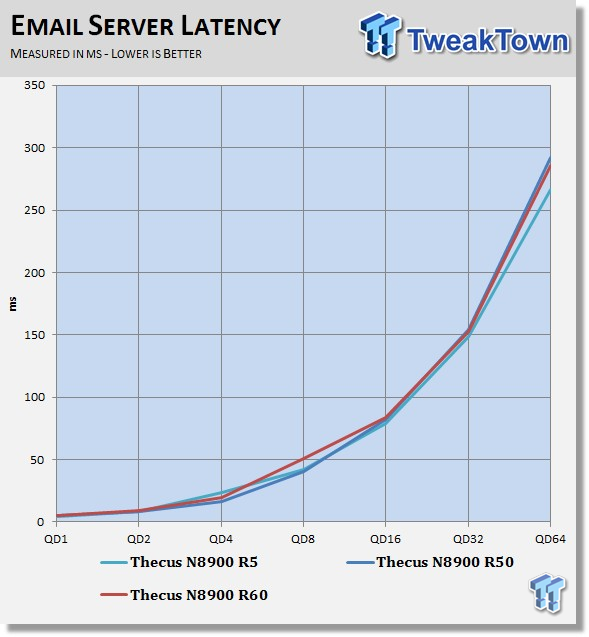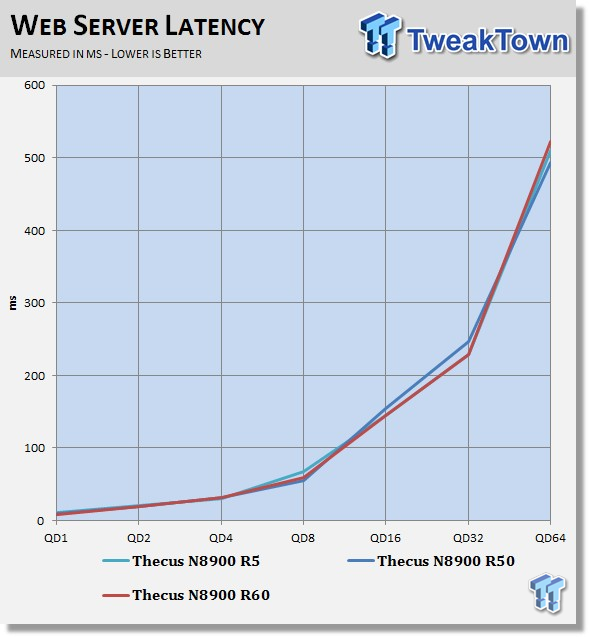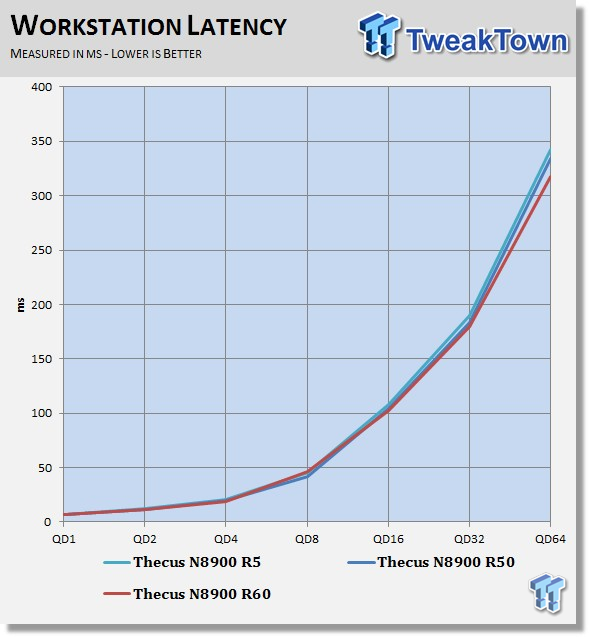 The latency tests give us a slightly better insight into the tests. Depending on the application, each RAID version has strong points in performance, but RAID 5 and RAID 50 seem to fair best for performance. RAID 60 does deliver higher redundancy.
Benchmarks - Multi-Client Test
The Intel NAS Performance Tool (NASPT) is an excellent way to determine NAS performance in a single user environment. Any review that only uses NASPT assumes that only a single computer will access the target NAS at one time. We took issue with this method of testing, and spent over a year designing, building, programming, and finally validating the TweakTown Multi-Client Test.
The test uses Microsoft Office data recorded to traces and played back to the NAS from up to 120 client Windows 7 installations (clients). We record total throughput of all clients, and average response time per client.
Over time, we'll populate the two multi-client charts with several NAS products from a span of categories. The products range from a dual Xeon server with 2x 10GbE to a two bay NAS with a single gigabit Ethernet connection. The products will fall into their performance categories based on performance, and not marketing material or opinion.
Throughput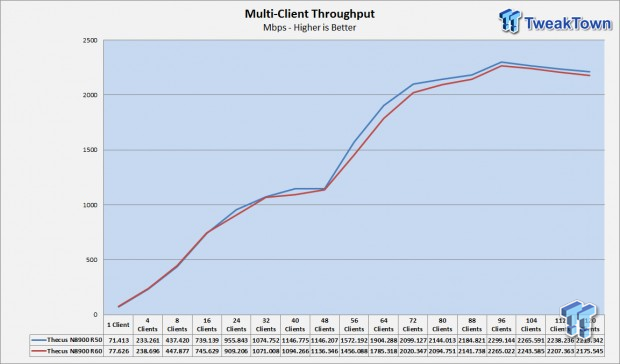 Latency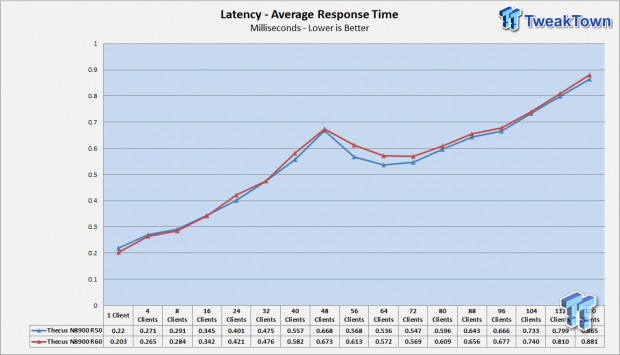 In the multiclient test, we see that RAID 50 and RAID 60 performance is very close in the Thecus N8900 with an Intel X520-SR2 10GbE card installed. RAID 50 takes a slight performance lead around 24 clients, but the performance is still very close.
Final Thoughts

Another day, another new feature from Thecus; a reviewer could make a good living just covering Thecus and the features the company adds. It seems like every month, one or two new features make it to the Thecus OS. For a stretch of time, many of the features centered on the consumer market, but with processor performance on the rise, Thecus increased the enterprise add-ons.
The Thecus N8900 is an older model, and we didn't see a large spike in performance with RAID 50 or 60 over RAID 5. Newer, more powerful models like the N12000 Pro and N16000 Pro might be a different story.
The N12000 Pro and N16000 Pro both use Intel's new quad-core Xeon E3-1275, quite a bit more processing power than the N8900's dual-core i3 2120. I think we need a new sample to take a deeper look at RAID 50 and 60 performances.
PRICING: You can find products similar to this one for sale below.

United States: Find other tech and computer products like this over at Amazon.com

United Kingdom: Find other tech and computer products like this over at Amazon.co.uk

Australia: Find other tech and computer products like this over at Amazon.com.au

Canada: Find other tech and computer products like this over at Amazon.ca

Deutschland: Finde andere Technik- und Computerprodukte wie dieses auf Amazon.de
We openly invite the companies who provide us with review samples / who are mentioned or discussed to express their opinion. If any company representative wishes to respond, we will publish the response here. Please contact us if you wish to respond.