Since last time we looked at the Guide to Buying Blu-rays from Overseas the Australian dollar has continued its meteoric rise against the green back, hitting an all time high of $1.10 and then settling around parity, only getting buffered by the economic uncertainty of Europe. Coupled with the Black Friday bargains in the US, it's never been a better time to import some new titles.
So let's jump into the latest instalment of this epic series, covering some of the later titles released only to import, but safe from the horrors of region coding.
Hook
Studio: Sony Pictures Home Entertainment
Country of Origin: United States
Purchase: Amazon.com
Region: A, B, C
Hook is certainly not in Steven Spielberg's top 10 films, but Spielberg's worst is better than most directors best, so it's at least worth a look.
Spielberg hasn't directed too many films that can be deemed truly family friendly (even if E.T. The Extra-Terrestrial would now fall under that category), so the unusually demographed Hook is something of a change. It does have significant flaws and I think the film was fatally miscast with Robin Williams as the titular character, but Dustin Hoffman as Captain Hook is an inspired choice and Bob Hoskins does the best he can with the role.
Despite the complete lack of bonus features, Sony has given the transfer a good spit and polish, whipping away memories of the terrible DVD release. At a cheap price, it's worth investigating.
Pulp Fiction
[img]2[/img]
Studio: Lions Gate Home Entertainment
Country of Origin: United States
Purchase: Amazon.co.uk
Region: B
Quentin Tarantino's 1995 smash hit Pulp Fiction has already been released in Australia by Roadshow Pictures, but this import version by Lions Gate features a significantly upgraded video transfer, director approved by Tarantino himself and a whole slew of new bonus features. True fans of the film will want to upgrade in a jiffy.
The last 15 years may have diluted the message a little and those whom had never seen the film might be left wondering what all the fuss was about, but in 1995 this film was a game changer. It had attitude and a razor sharp edge, not least did it truly launch the career of Uma Thurman and resurrected the stalled career of one John Travolta.
Tarantino is a talented guy, but history may mark Pulp Fiction as the height of his career.
Space Jam
[img]3[/img]
Studio: Warner Home Entertainment
Country of Origin: United States
Purchase: Amazon.com
Region: A, B, C
As an 11 year old in 1996 when Space Jam was released, I fell squarely in the films demographic, but being a fairly un-athletic kid, I cared squat for Baseball and even less so for Michael Jordan, although of course I knew who he was. Despite this, I've always had a bit of a soft spot in my heart for the film, no doubt spurred on by my insatiable desire to collect the entire tie-in Tazo collection in certain brands of chips (being a hoarder, I still have the complete set - Google for further information if you were born after '96).
Warner have given the film a reasonable remaster, even if the film's production methods aren't terribly conducive to creating a beautiful HD transfer. Despite the lack of newly produced bonus features, they've managed to port over all the previous DVD extras, so it's not all bad.
Looney Tunes: Platinum Collection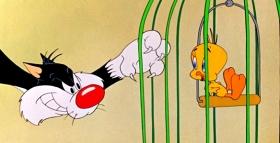 Studio: Warner Home Entertainment
Country of Origin: United States
Purchase: Amazon.com
Region: A, B, C
Despite my love of Disney's recent animated films, Warner Brothers edgier stable of Looney Tunes characters hold a much bigger place in my childhood than anything Walt could muster.
Over the last decade, Warner has embarked on a relatively extensive remastering process of the roughly 1000 animated shorts, featuring much loved characters such as Bugs Bunny, Daffy Duck, Foghorn Leghorn and Tweety and Sylvester. Approximately a quarter of them have been released on 'Golden Collection' DVD releases, but now the animation can truly be appreciated in HD on Blu-ray.
Many of the shorts aren't in the most pristine condition, but the quality is astounding to anyone that has grown up watching these on VHS or broadcast TV. However, the best draw card is the absolutely insane amount of extra features that Warner have produced for the set; new documentaries, featurettes, isolated scores, audio commentaries and more. This is a truly lavish boxset that animation aficionados will go crazy for. Hopefully it's under my Christmas tree this year!
For now, those high paid analysts say that the USD to AUD conversion of currency parity is likely to continue well into the future, so as we approach the bulk releases of the third quarter, we'll be sure to be back with a few more installments of the series.