Introduction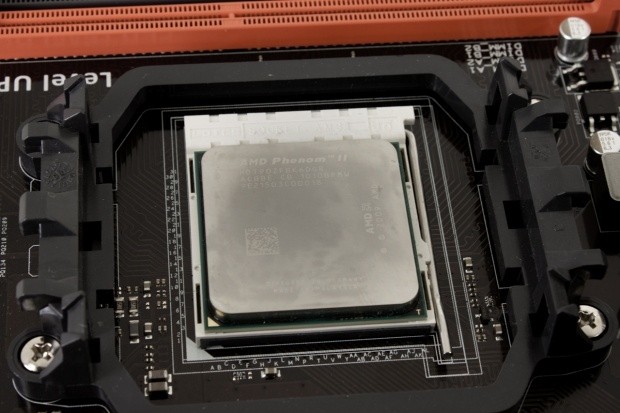 A few days after
our review
of the AMD Phenom II X6 1090T, we received a call from AMD. The call was some commentary on the actual review (okay, really it was of complaints).
The first thing that was said was that we were wrong in our premise that we needed more voltage to get higher clocks on the PII X6. At the time of this writing we cannot debate this claim. AMD maintains that their silicon is mature enough that the CPU does not need extra voltage to attain higher speeds. The claim about maturity is true; the PII CPU is a very mature design (bordering on old in CPU terms). It is also being made in FABs that have the lowest failure rate in the world.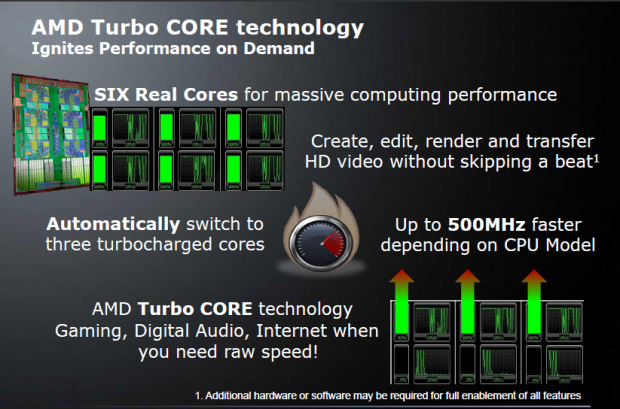 When Global Foundries was created they inherited from AMD FABs the ability to achieve a zero defect rate per wafer. So we know the silicon is good. The issue is that when we tested the PII X6 at stock voltages it would not clock over 3.4GHz. This is a very poor showing. It was not until we pushed to 1.42V that we saw the 3.9GHz used in the review. However, we are working on some alternate testing to verify AMD's claim (remembering the 62c thermal max).
Next was a complaint about the number of multi-threaded apps that we used. This one I take exception to. I mean, "Come on AMD; it is a six-core CPU. It should be able to handle multi-threaded apps. If it cannot there
IS
an issue". But I will not belabor that point. Instead I will talk about the market position that AMD now finds itself in after some poor management decisions (poor decisions in both my and many other analysts' opinions).
Honey we missed our exit
Honey, we missed our exit
When Hector Ruiz was in charge of AMD he decided to delay the move from 65nm to 45nm. At the time it was done to save money, but it actually hurt much more than people realized. It put AMD almost a generation behind in terms of process. This meant that AMD would not be able to push into higher performance CPUs in the same way that Intel was. They had to begin to cut things out to maintain die size and thermal envelopes.
The first thing to go was cache; AMD found that for the most part they could do away with this due to their much higher memory bandwidth than Intel's Northbridge bound systems. This was a good plan until Intel was able to push the FSB up to match memory speeds and also added in shared cache with the Conroe CPU. At that point AMD's decision came back to haunt them. Suddenly Intel had the lead in CPU performance and even memory bandwidth. This was something they had not enjoyed since the Athlon was launched back in the Slot A days!
Still, AMD has excellent engineers and an R&D department that is one of the best in the world. So we expected them to come right back and drop a bomb on Intel. Sadly this did not happen as the Phenom was very late to market and had a bug that killed up to 25% of its performance in certain applications. AMD lost some market acceptance and consumer trust; at least as far as their CPUs go. However, AMD was not stilling back and crying; they began to rework the Phenom.
Eventually, they hit the market with the Phenom II. This CPU was about two years too late, but it gave the performance that we should have seen when the first Phenom was released. As AMD could not compete with Intel's current high-end CPUs, they opted for a tried-and-tested approach. They went for the price/performance market.
If any of you remember the K6-2/3 days, AMD marketed to businesses and consumers by having a better performance per dollar than Intel. Sure, the Intel CPU was faster, but you had to pay significantly more to get it. So AMD made sure everyone knew that. At the time I worked for a shop that was 80-85% AMD sales. We had a huge DIY crowd and they gobbled up the AMD CPUs. Then the Athlon hit and sales jumped to 90-95% over the PIII and then especially the P4, but I am digressing here. The point is that AMD had a massive DIY following in those days that carried on through the Athlon 64, Opteron, Athlon X2, etc.
When the AM2 CPUs came out things fell off. People felt cheated; the AM2 was not a big step up over existing AMD CPUs. In reality it did not bring much more than DDR2 support (which at the time was not that good). Then Conroe hit and the rest you all pretty much know.
Hey, look at what we bought!
Hey, look what we bought!
Next on a list of poor decisions was AMD's purchase of ATi. Now, this decision did make sense; it was just very poorly timed. At the time of the purchase AMD was not flush with money. They had to borrow quite a bit and paid much more than ATi was realistically worth. This overspending put a serious hurting on AMD's ability to produce CPUs, upgrade processes and even research new products.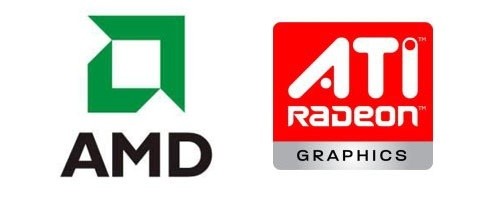 But all was not bad with this move. After the flop that was the 2900, AMD dropped the 3xxx and 4xxx series cards on us. Both of these were price performance leaders and brought DX10 and 10.1 to the market with them (granted, NVIDIA was first with DX10 support). But the sale put AMD into the red for almost three full years. It was not until the settlement with Intel that they posted a profit in the last quarter of 2009.
Still, after three years of loss and the splitting up of AMD's FAB assets, they are in the black and pushing out some of the best GPUs you can buy. That is if you are interested in gaming. For GPGPU computing they have some work to do, but that is for another article.
To make matters worse (well, better for AMD), AMD has these GPUs available at a much lower cost than their NVIDIA counterparts. AMD is also ahead on GPU process (unlike the CPUs) with almost a full year on NVIDIA at 40nm. So, while the buy was poorly timed and AMD paid way too much, in the end it has worked out very nicely and is the most profitable portion of AMD today.
Where are we now?
I hope you liked the little trip down memory lane with AMD and how they got where they are today. So, let me tell you a little about where I see them in the current market.
Some of you may not know this, but for a number of years I wrote for a publication called PlanetAMD64 and its sister site, Planetx64. These two sites were all about the x64 movement and in particular about AMD's push to bring this to the market. We had a great relationship with both AMD and Intel. Now, this was an oddity in the market as neither company likes to be publicly associated with what appears to be a fan site. Intel does not want to enter a biased slam fest and AMD does not want to look like they are supporting a potentially biased site.
Still, after we launched the non-brand specific name things changed and we maintained a neutral stance (I and TweakTown still do). However, things seemed to slow down after a review that talked poorly about the AM2 5000+. Things dried up somewhat for me and Planetx64 from AMD. They did not stop completely, but they did dry up. Now, as I am writing this I am staring at a full tray of CPUs from the top to the bottom all begging for attention!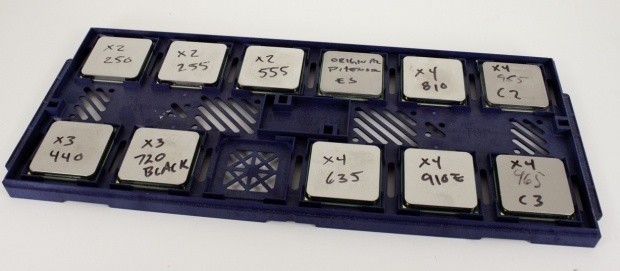 This means that AMD is back in the game and has the budget to sample this quantity of CPUs. It also means something else. It means that they are competitive in terms of market position. True, the Athlon IIs and lower end Phenom IIs are still not a match for Intel's upper end. But they are once again in the price performance column. What this means is that at the same price point (with a few exceptions), you can get a better performing AMD CPU. This lowers your CPU cost and allows you to put money into other components (like a better AMD GPU).
But as we mentioned, this is not always the case. For an example, let's take a look at the X6 1090T. It is a $300 CPU that performs less than 10% better than the Core i5 750 in most tests. The 750 is a $200 CPU. If you are a gamer, that extra $100 gets you a
HD 5870
over a
HD 5850
.
Before you hit the post button on that comment, yes, I am aware that you can also get an Athlon II X4 for significantly less than any of the Intel CPUs and end up with a HD 5970 in your system. But will that improve your gaming performance? Another question is; how will the decision to go with a lower powered CPU affect the rest of your computing experience? Well, that tray of CPUs is here to answer that question. We are going to be diving into it with both the 890FX and the 890GX to see if we can tell you what AMD has from top to bottom for you.
I would like to have some data ready for this article, but sadly I do not. However, we will also throw a few different GPUs into the mix just to see how well each level of CPU can handle the load. We will have the top-end 5970, a stock 5870, an MSI Lightning 5870 and an ASUS DirectCU 5850 all for the taking. We hope that this will settle a few questions we have in our heads about exactly where AMD does fit in the market and if their claims at price/performance leadership hold true.