AMD Threadripper vs. Intel Core i9 CPUs Clock for Clock
Which CPU wins, the AMD Threadripper 1950X or Intel Core i9 7960X? Let's find out right here.
Published Oct 22, 2017 11:46 AM CDT
|
Updated Tue, Nov 3 2020 6:58 PM CST
5 minute read time
Introduction, Specifications, and Pricing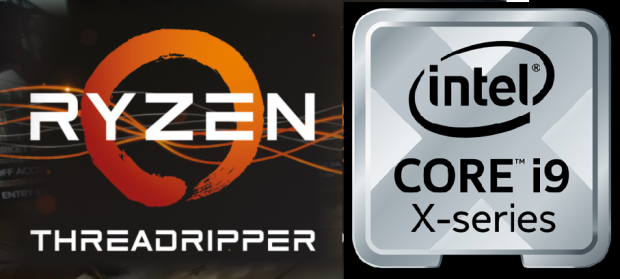 Until the release of Intel's High Core Count (HCC) CPUs a few weeks ago, we had no real idea of how Intel's high-end desktop CPUs competed with AMD's high-end desktop CPUs clock for clock. While we had the 10, 8, and 6 core Skylake-X parts, we only had 12 and 16 core Threadripper CPUs (of course we now have an 8-Core Threadripper part).
We now can compare the highest core count Threadripper CPU, the 1950X (16 cores and 32 threads), against Intel's second highest i9 Skylake-X CPU, the 7960X (16 cores and 32 threads). Both CPUs take full advantage of the major technologies their series offer, both CPUs can overclock to 4.0GHz on all cores, both CPUs can overclock memory to 3200MHz, and today we put them head to head in a blowout.
After we ran all of our benchmarks, we used the 1950X as a baseline and compared the percentage of overall performance, gaming performance, productivity performance, power consumption, and finally price.
Specifications
The Threadripper 1950X offers 16C/32T with a total of 40MB cache (32MB L3, 8MB L2, and 1.5MB L1), a 180W TDP, 64 PCI-E lanes, and Quad Channel DDR4 Support. The i9-7960X offers 16C/32T with a total of 39MB of cache (22MB L3, 16MB L2, and 1MB L1), a 165W TDP, 44 PCI-E lanes, and Quad Channel DDR4 Support.
Pricing
While you read this article, you should keep in mind that the current price for the AMD Threadripper 1950X is $999, while the Intel i9-7960X is $1784.
The CPUs and Test Setup
The CPUs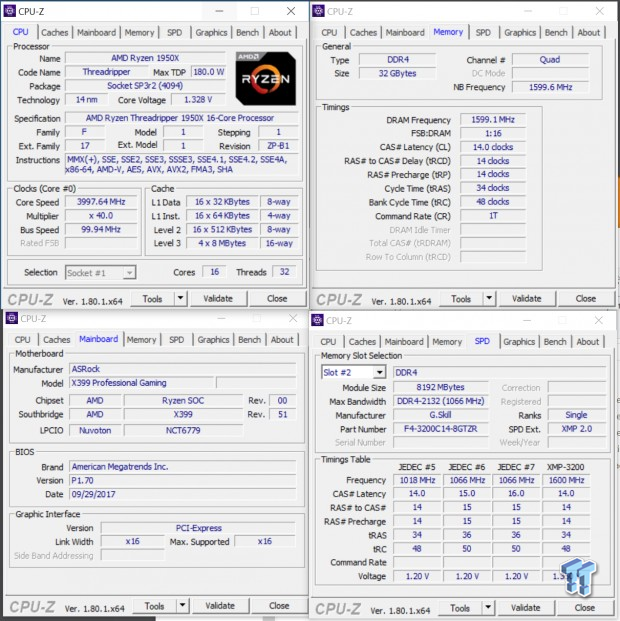 The Threadripper 1950X is clocked to 4.0GHz with a 100MHz base clock. Memory XMP is set on the G.Skill kit to 3200MHz C14, and that also increases the NB frequency (Infinity Fabric) to the same speed as the RAM, so from 1066 to 1600, which is a 50% increase. The CPU is fed 1.325v with LLC ON, there is a fan running full speed over the VRMs, and all radiator fans are going full speed at all times. I use the highest ranked motherboard from ASRock for the AMD Threadripper System and the Skylake-X system.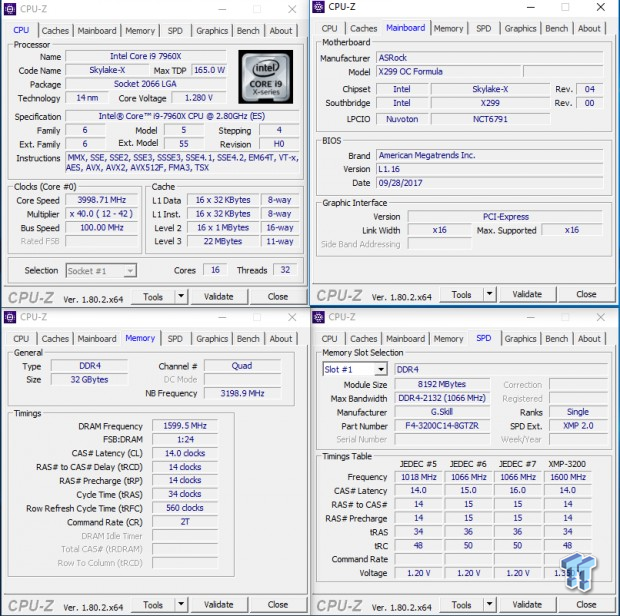 The Intel 7960X is clocked up to 4.0GHz using multiplier only overclocking. Memory speed is increased to 3200MHz per XMP, using the same exact kit that was used for the Threadripper testing. The Threadripper system also had its infinity fabric increased in speed by 50%, so I went ahead and overclocked the mesh speed from 2.4GHz to 3.2GHz, which is a 33% increase. An input voltage of 2.1v was used, and LLC was turned on. A fan was blowing right over the VRMs, and the radiator fans were always blowing full speed.
Test Setup
Clock for Clock Performance: CINEBENCH, wPrime, and AIDA64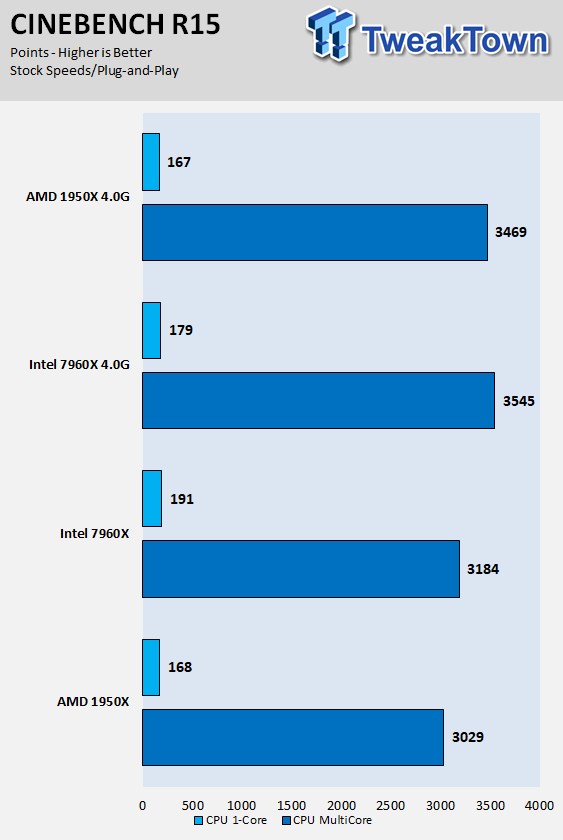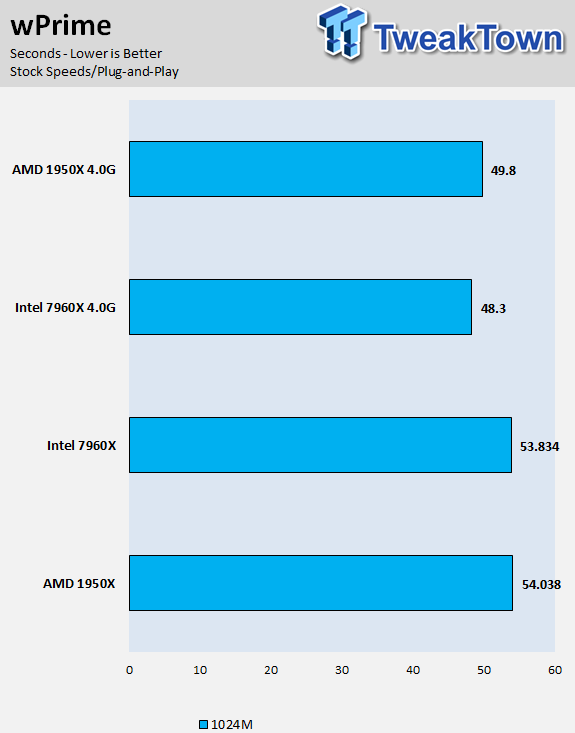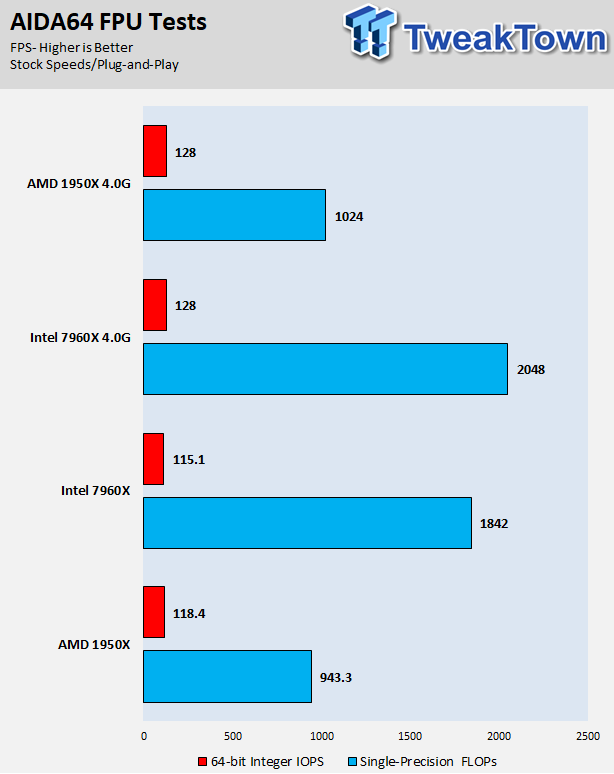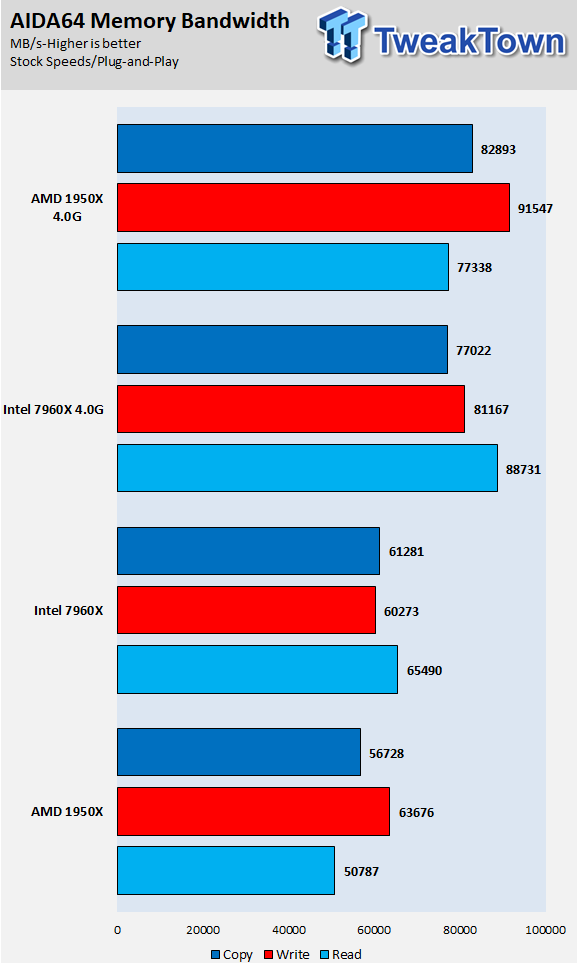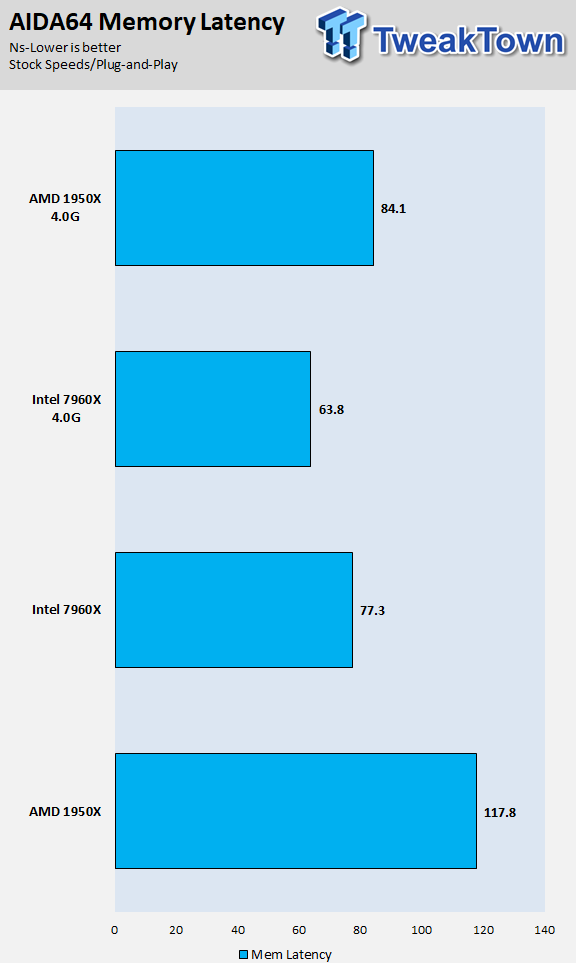 Once equalized, AMD's CINEBENCH multi-core and single core performance numbers are actually closer to that of the more expensive Intel CPU. We should note that by setting all cores to 4.0GHz, we negate any Turbo or XFR over 4.0GHz. In wPrime, we see that Intel still keeps its one-second lead.
We see that clock for clock AMD's Threadripper equals Intel's Skylake-X in 64-bit integer IOPS, but in SP FLOPs it is half as fast, but we saw the same type of activity at stock. Memory bandwidth is an interesting thing, AMD's reads and writes are faster, but Intel's copy is faster. Intel's memory latency is superior, but that is because Intel doesn't have an Infinity Fabric.
Clock for Clock Performance: Handbrake Video Transcoding, ScienceMark, and SuperPI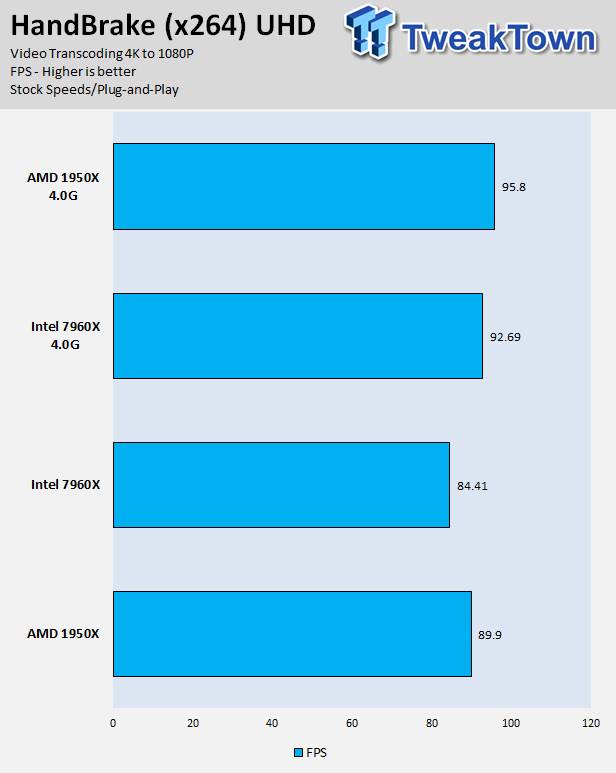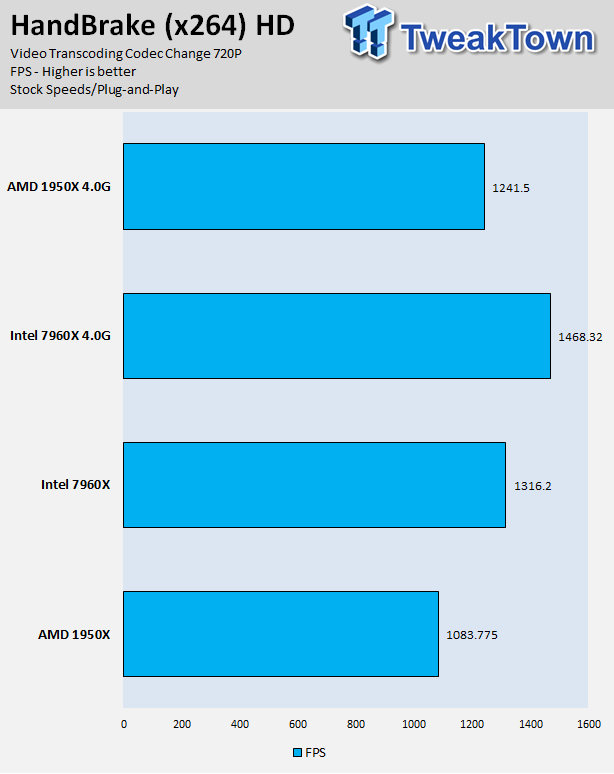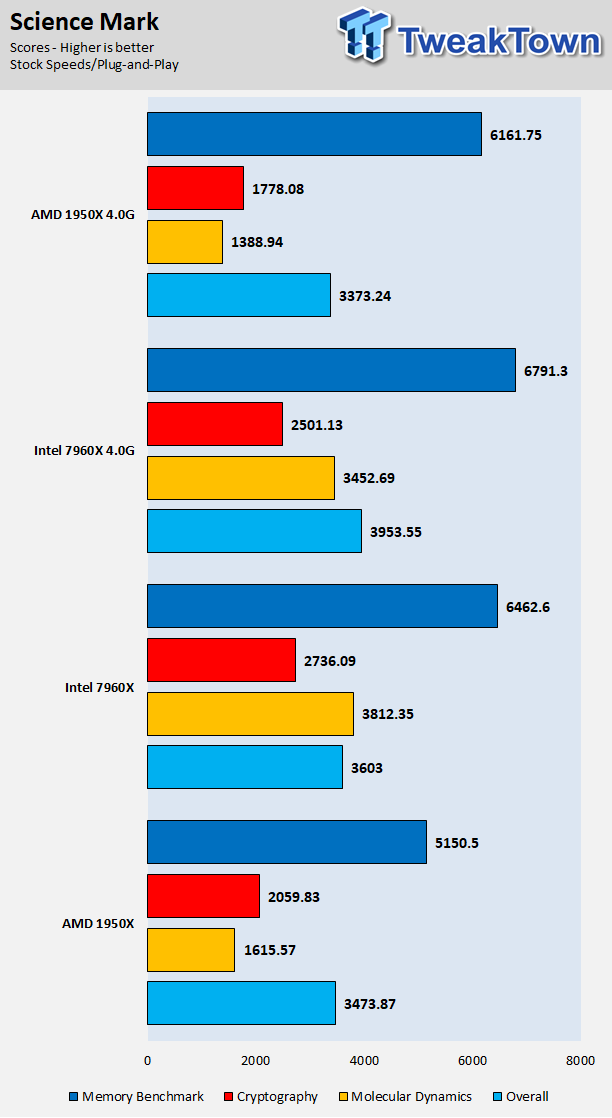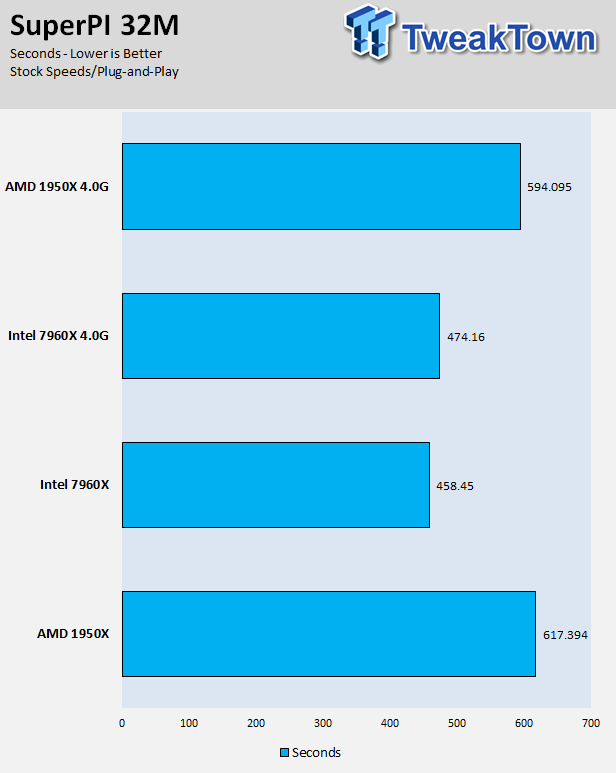 AMD had the lead in Handbrake 4K encoding at stock and maintains it in our clock for clock tests, but the margin is smaller. Intel had the lead in Handbrake transcoding, and the margin is still maintained when they are equalized.
In ScienceMark Intel's offering is faster. In SuperPU we see Intel's offering is significantly faster, and that isn't just because SuperPI is a single core benchmark, it also greatly relies on memory latency (where Intel shines).
Clock for Clock Synthetic Gaming Performance: UNIGINE and 3DMark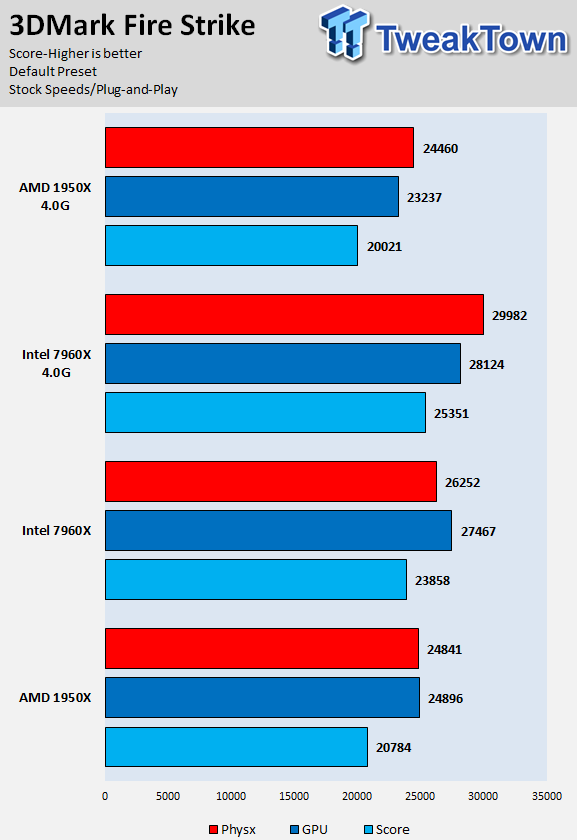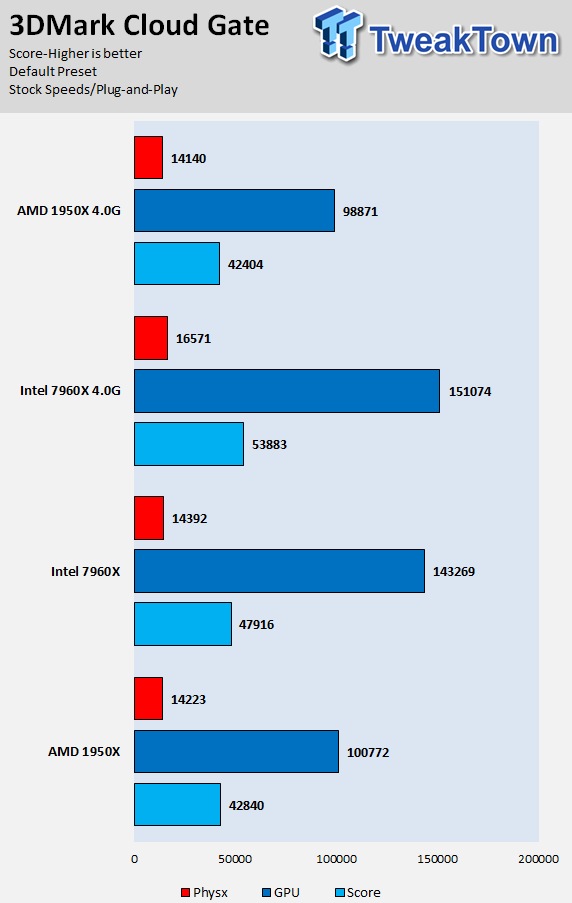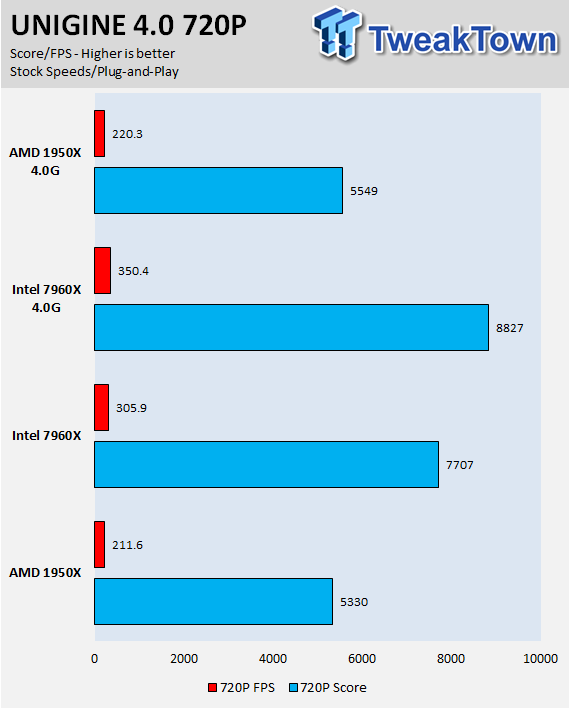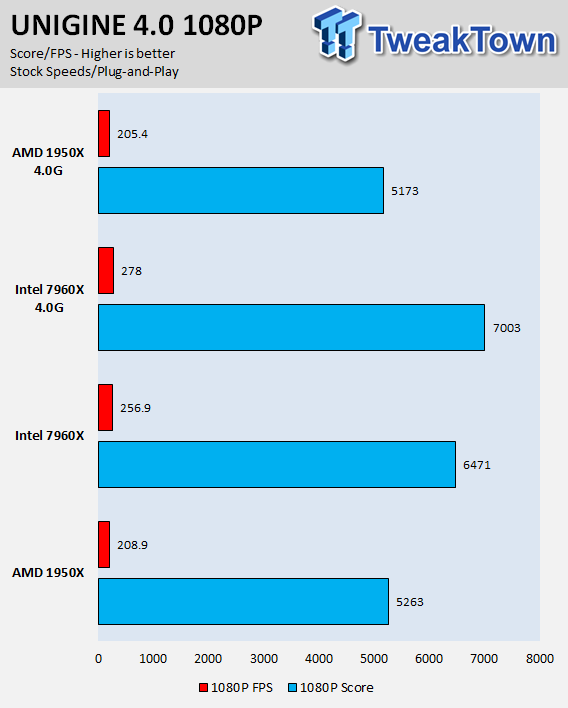 In FireStrike and CloudGate, Intel's offering wins. We also see that it also wins in UNIGINE at both 1080P and 720P, but the same was true when the CPUs were at their stock clocks.
Clock for Clock Gaming Performance: Resident Evil, Tomb Raider, GTA:V, Ashes of the Singularity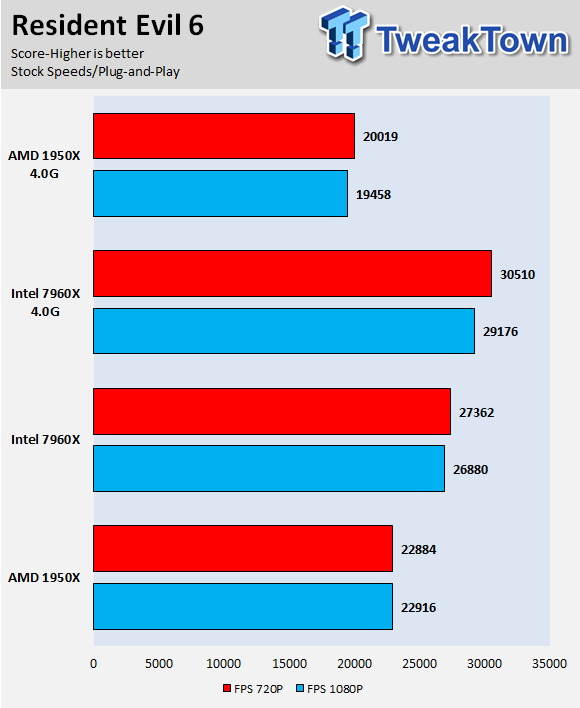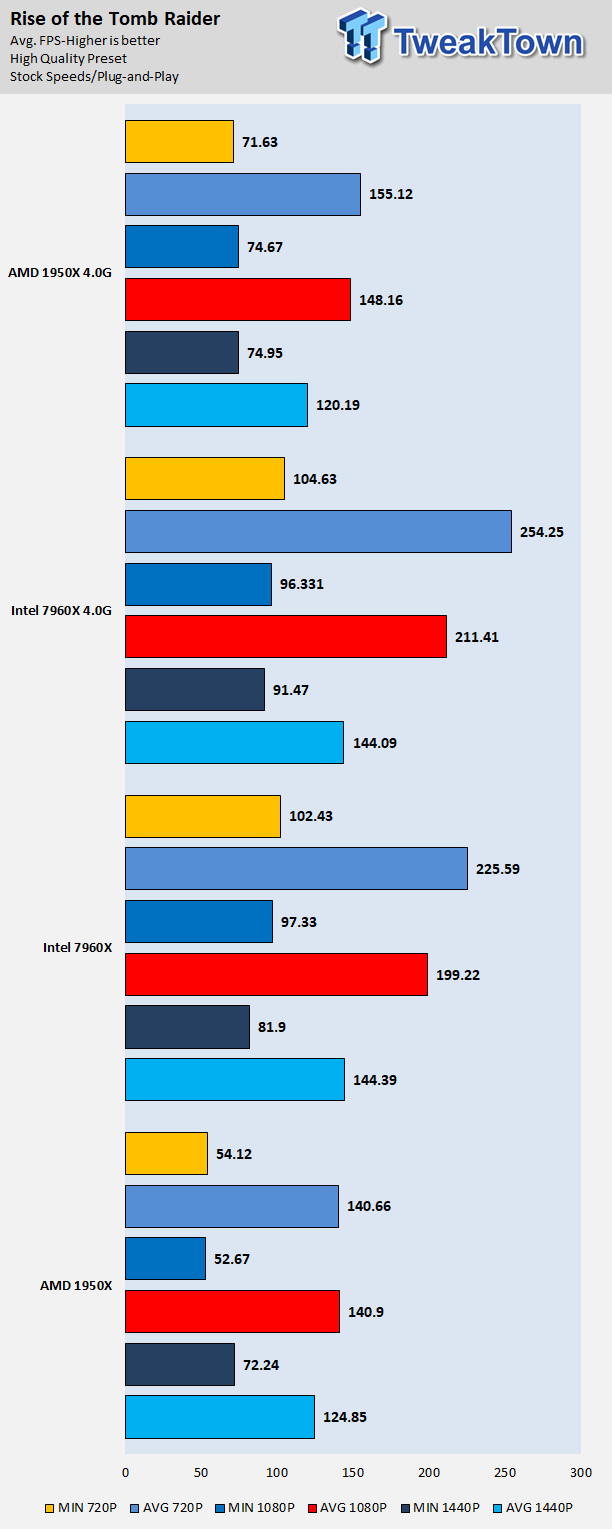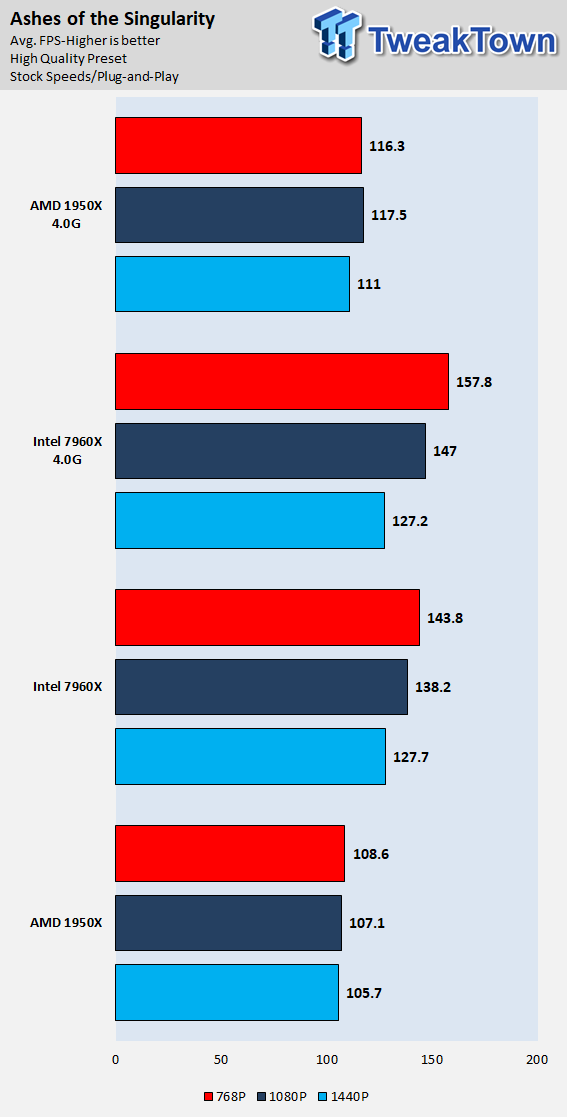 Intel takes the lead by an even larger margin than at stock speeds; the game tends to like Intel more than AMD. In GTA:V, both CPUs get a little bump over their stock scores, but the margin remains.
In Rise of The Tomb Raider, we see Intel's offering take the lead by a huge margin. However, AMD's minimum FPS rise more than Intel's do. Finally, in Ashes of the Singularity: Escalation, we fine that Intel still maintains the same margins, but AMD's offering gets a nice boost.
Power Consumption and Concluding Analysis
Power Consumption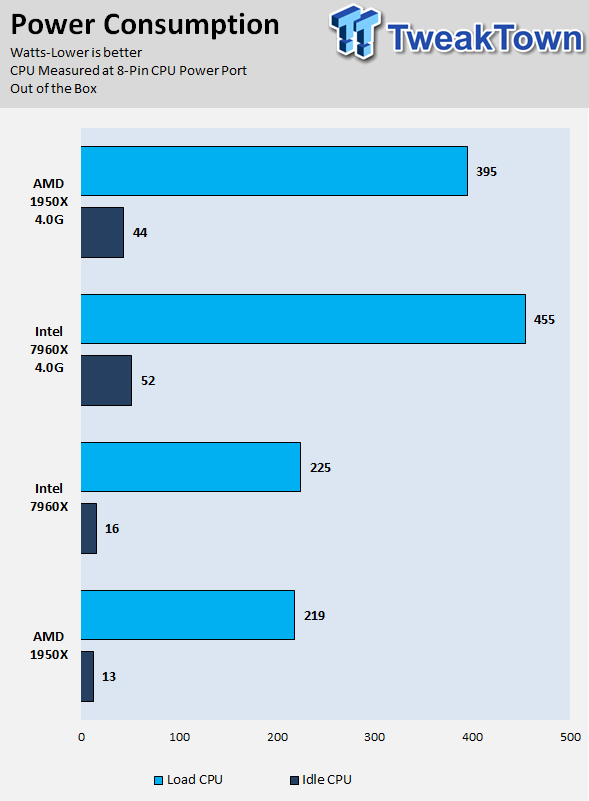 Intel's Skylake-X CPUs love to glump power, and that's partially due to the new mesh interconnect. While at stock the two CPUs have similar power consumption numbers when we overclock Intel's numbers shoot through the roof, which isn't an amazing thing.
Concluding Analysis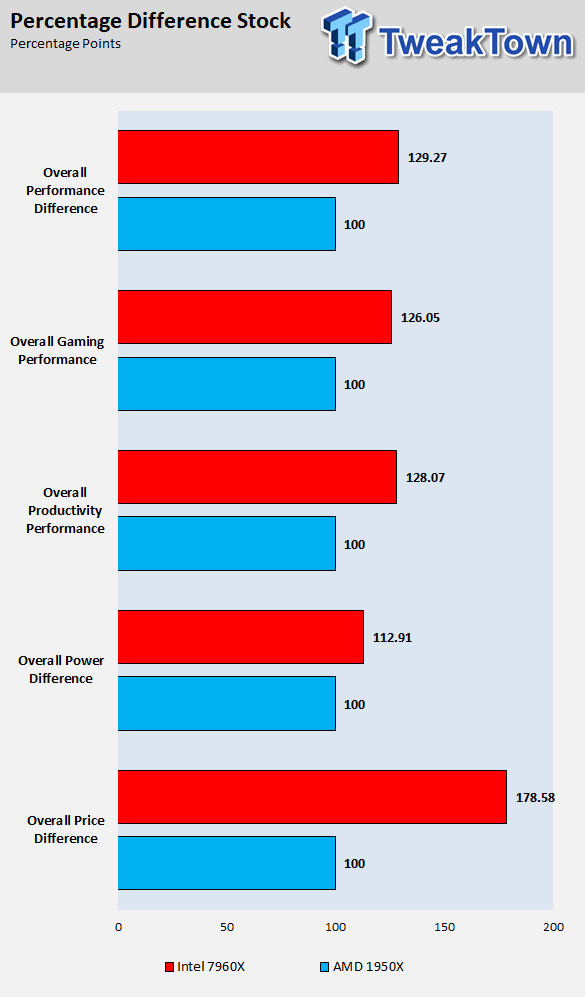 At stock, if we set the 1950X as the standard, we are getting roughly 29% more overall, 26% more in gaming, and 28% more productivity performance from the 7960X compared to the 1950X. However, the kicker is, you would also be paying 78% more for the 7960X, meaning you would be getting 30% more performance for 80% more cost. That actually isn't that uncommon in high-performance devices, and that's because as they break into these higher niche areas, price scales exponentially.
Once you remove buyers who value "price vs. performance", then you get into another subset of buyers. However, if you need 16 cores, and you don't want to sell a kidney for it, then at stock the 1950X is an extremely powerful option, especially for its price. If money is not an issue (for most it is), then Intel does offer a bit more.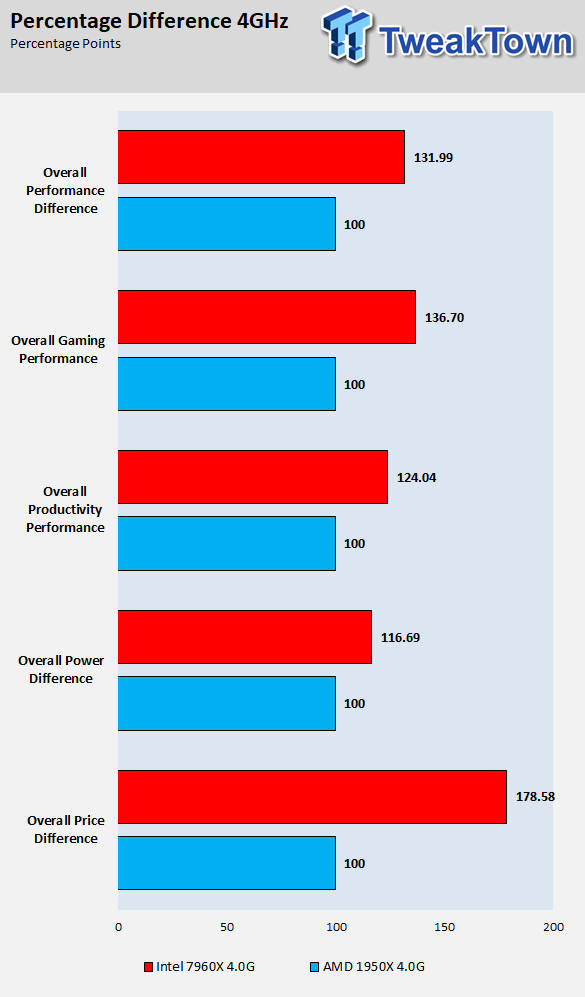 Now let's take a look at the same type of difference at the 4GHz clock for clock. The price gap remains, so the Intel costs roughly 80% more. We see Intel offer roughly 31% overall, 36% gaming, and 24% productivity performance increases over AMD. Compared to stock, Intel's margins increase 2% overall in overall performance and 8% in gaming performance. However, Intel's margin in productivity decreases from 28% to 24%, meaning Intel's margin over AMD at 16 cores has decreased 4% in productivity applications.
However, while Intel's power consumption was 12% higher at stock, it's now 16% higher overclocked (includes idle and load). Putting the Intel 7960X and AMD 1950X head to head, clock for clock, reveals three major trends. Intel's performance gains over AMD's decrease in productivity applications, but increase by a larger margin in gaming applications, resulting in a slight increase in overall performance.
At the same time, Intel's power consumption increases 4% while overall performance margins only increase 2%-3%. There are other factors to take into account, and this article isn't about telling you which CPU to buy, rather it's looking at how AMD's microarchitecture is doing against Intel's in the high-end desktop segment, so far, quite good.
PRICING: You can find products similar to this one for sale below.

United States: Find other tech and computer products like this over at Amazon.com

United Kingdom: Find other tech and computer products like this over at Amazon.co.uk

Australia: Find other tech and computer products like this over at Amazon.com.au

Canada: Find other tech and computer products like this over at Amazon.ca

Deutschland: Finde andere Technik- und Computerprodukte wie dieses auf Amazon.de