The Future of Storage is Small
Like it or not, the storage industry is going small. We'll explain how and why today.
Published Thu, Jan 7 2010 8:28 PM CST
|
Updated Tue, Nov 3 2020 7:02 PM CST
Introduction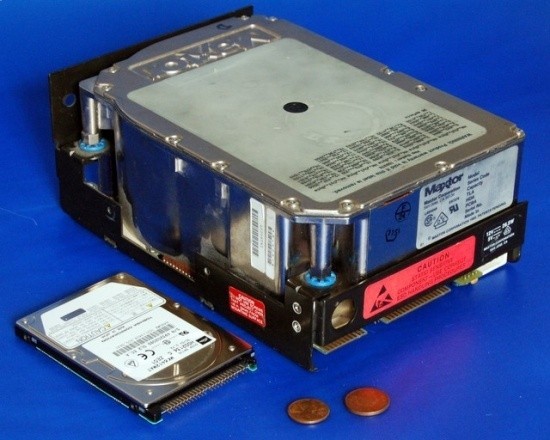 At one time hard drives looked similar to today's laser copy machines. As time passed personal computers became popular and the hard drive shrunk to the size of a floppy disk drive...an 8 inch form factor floppy disk drive. It was at this time when hard disk drives (HDDs) simply followed the form factors set by floppy disk drives (FDDs) and the two sizes were virtually interchangeable.
In 1988 PrairieTek broke with tradition and invented the first modern day HDD form factor that did not follow FDDs. The new form factor was dubbed 2.5 inch and it is now the common form factor used in most notebooks today. Oddly enough, 2.5 inch FF drives are actually 2.75 inches wide and can range in height from 7 to 15mm. A typical 2.5 inch form factor notebook is 9mm tall and can come with up to 500GB of storage capacity.
Today we are going to take a look at the 2.5 inch form factor, why the market is moving to it and some of the latest products to emerge in 2.5 inch form. We have a lot of data to cover, so let's get started.
2.5 Inch Form Factor Factors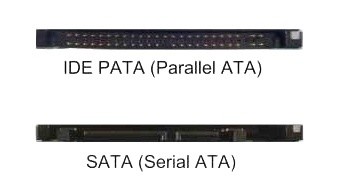 When we think of 2.5 inch form factor HDDs, we think of our notebook. This dates back to early notebooks that used 2.5 inch FF drives with a Parallel ATA (PATA) interface. In the above image you can see that the PATA power and data connector was spread out across the entire drive in both directions. The SATA power and data connectors took up roughly half the space of PATA and have allowed HDD manufacturers to get creative with the height of their drives.
Traditional platter drives still dominate all spectrums of the market and the taller a drive is, the more platters it can have. Technologies like perpendicular recording have allowed more data to be stored on each platter, something we refer to as areal density. The racing world has a saying that holds true for hard drives as well;
There is No Replacement for Displacement
. It is easier to add more platters to a drive than it is to miniaturize the size of the data on the platters. To achieve this, hard drive makers needed to make 2.5 inch drives larger.
7mm

When we reviewed the Intel X25-M, we made a note about just how thin the drive actually was. In the above image you can see the 7mm X25-M compared to a standard notebook 9mm drive. This was the first time I had ever seen a 7mm drive and at the time didn't give it much thought. Last month Seagate held a private briefing for the press that outlined their plans for a new 7mm line up of products.
The Seagate Momentus Thin Laptop Hard Drive is designed for a new category of notebooks. This new category of portable products rests between the ultra small size netbooks and the notebooks that we currently use today. The goal is to be able to bridge the price gap between the two categories that we have now. The Momentus is a single platter design that will cost less than 9mm products that normally use dual platters.
9mm

Here we see a traditional 9mm drive compared to a Seagate 12mm 15K.2. The 9mm drive market will remain the "standard" for the 2.5 inch form factor for many years to come. These drives allow for more platters than the 7mm drives, but are still small enough to work in a majority of products.
9mm is sort of like the Jack of All Trades when it comes to portable devices. They can operate at 5,400 or 7,200 RPMs and are able to hold up to 500GB of data at this time. Even more attractive is the current price of 9mm drives. You can walk into any Best Buy in the country and spend less than 100 USD for a Western Digital Scorpio Black with 320GB on 7,200 RPM platters. With prices like those, you really have to wonder just how low the price of single platter 7mm drives are going to go.
12.5mm and 15mm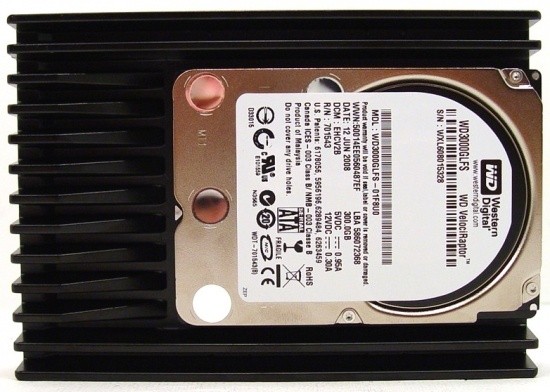 The largest two versions of the 2.5 inch form factor started out as enterprise products. The 12.5 and 15mm heights allow for capacity sizes of up to 1TB or spindle speeds of up to 15,000 RPMs. Most of the larger 2.5 inch FF drives were sold with a SAS interface, but that is starting to change.
When Hitachi released their first SATA 2.5 inch FF drive with 500GB of capacity, the first of its kind, it was in a 12.5mm package and designed for consumers. The drive saw little success since very few notebooks were able to accept 12.5mm drives. The Sony Playstation 3 did work with the Hitachi 500GB drive and many PS3 enthusiasts jumped at the opportunity to increase their systems capacity.
We are now starting to see more consumer large height drives come from drive manufacturers. The most popular by far has been the Western Digital VelociRaptor. WD sold these drives in a 2.5 to 3.5 inch adapter, but that was the point when PC enthusiasts were introduced to this standard that was previously reserved for enterprise servers.
2.5's for Everything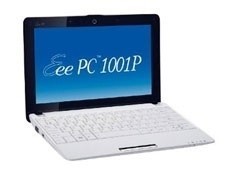 At the same time I was writing this article,
a little piece of news popped up
in the TweakTown news section. An Amazon site leaked some information on the new ASUS Eee 1001P "in between" note/netbook. I am still not sure what to call these, but I am sure the spinners at CES will come up with a catchy term for us to recite over and over again for the next year. What interests me about the Eee 1001P is the 160GB HDD spec that was shown. Seagate is launching a 2.5 inch form factor, 7mm tall drive that is designed for In Between Books and comes in 160GB. Seagate is also launching these drives at CES, so I wonder....
ASUS isn't the only company jumping into this new market segment, but they are one of the first to have their secrets leaked. I think these new 300-450 Dollar products will be quite popular. My mother is already researching these new devices for use in her college classes. I hate to say it, but my mother doesn't understand the difference between system memory and HDD space, so if she is already researching these then this is the worst kept secret of 2009.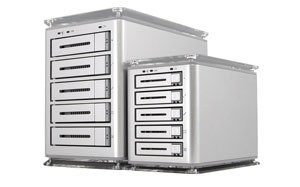 The bread and butter of the 2.5 inch FF market, the 9mm drives will branch out to many new sectors. QNAP has already released two NAS servers that use 9mm, 2.5 inch drives. SSDs are going to continue to invade both notebook and enthusiast desktop systems as well. The Corsair Obsidian 800D has support for 2.5 inch HDDs of all heights and the Proware miniEPICa DAS enclosure that we are reviewing next week also accepts 2.5 inch drives of all sizes.
More consumer products that utilize the 2.5 inch form factor are scheduled to be launched at CES, but you will have to wait for more of TweakTown's CES coverage to see those.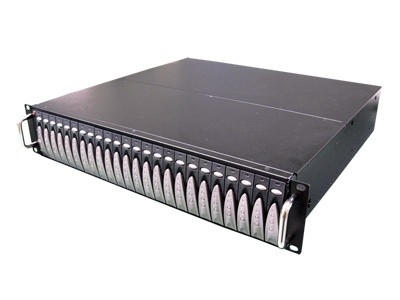 The 12.5 and 15mm drives are already wildly successful in the server market. Many companies are
marketing servers with dedicated pages
just for products that use 2.5 inch drives. In the above image we see a 2U rack mount server case that holds 24 2.5 inch drives. Typical 2U servers that use 3.5 inch FF drives can only hold 8. When you calculate that out to a 42U rack, the difference comes out to 168 3.5 inch drives or 504 2.5 inch drives. If a company was using 168 2TB drives, they would have 336TB of space. If they were using Western Digital's Scorpio Blue 1TB 2.5 inch 12.5mm drives, they would have 504TB of data storage space.
The Western Digital Scorpio Blue 1TB was designed and marketed as a consumer product, but that really just goes to show how far 2.5's have trickled down. Just last year 12.5 and 15mm drives were almost exclusively 10 and 15K SAS that sold for 400+ USD per drive.
I have yet to see or test the Scorpio Blue 1TB, but it is not because we haven't tried to get one in for a review. Our source at Western Digital tells us that the reason we have yet to even see a 1TB Scorpio Blue is because they are selling like crazy to OEMs. The press release that went out announcing the new king of 2.5 capacities stated that the Scorpio Blue 1TB would be available for around 250 USD retail. Apparently no one told Dell they are only listing the Scorpio Blue for sale in cases of 40 and that will set your back 12,491.99 USD or 312.30 Dollars each!
Benefits of 2.5
We have shown you all of the different sizes that make up the 2.5 inch family and some of the products that are already on the market. Now it is time to see why the market is moving in this direction.
Power Draw
To compare the power draw differences between 3.5 and 2.5, I chose to go straight to the high end, Seagate's 15,000 RPM Cheetah and Savvio drives. Seagate does a really good job when they publish the specifications for each of their products and we were able to find the power requirements very easily.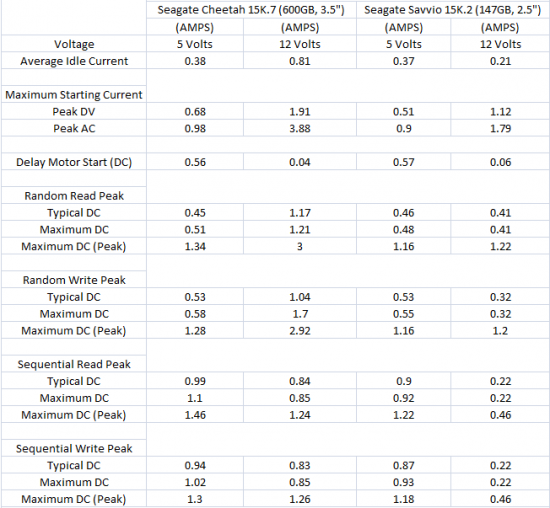 The numbers published by Seagate shows very little difference between 3.5 and 2.5 on the 5 volt side. The 12 volt power draw is where we see significant savings with the 2.5" FF Savvio 15K.2. In many usage scenarios the 2.5" Savvio 15K.2 pulls less than half the power of the Cheetah 15K.7.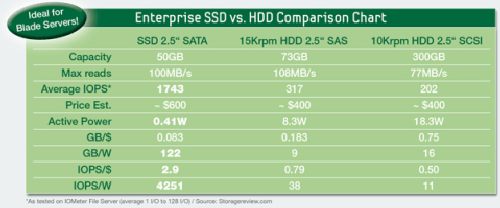 I was hoping to find the power draw numbers from Seagate's new Pulsar solid state drive, but since the drive has not been officially released, those numbers are still under wraps.
I was able to find some information on Samsung's website that shows their early 2.5" Enterprise SSD in a comparison with an early 15K RPM 2.5" SAS drive. These are older, first generation drives, but it does represent products that are still in use today. In Samsung's chart we see that further reductions in power drawn can be had from solid state drives.
Thermal Considerations
2.5" drives have smaller platters and lower inertia than 3.5" drives. The motor has less moving mass to rotate so it can work less while drawing less power. This leads to cooler operating temperatures per drive. In a server environment where hundreds of drives are in the same room, the benefits add up quickly.
Reduced Size = Double the Amount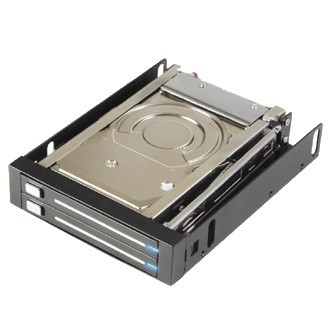 On the previous page we discussed how you can fit significantly more drives in a server chassis. Most notebooks only have one SATA port so you are not going to be able to add more drives to your notebook. Products like the
Vizo Arius II ARS-250
will allow you to install two 2.5" drives in the same space where a single 3.5" drive would reside in your desktop. More products like the ARS-250 are being released every week and we should see a flood of similar products released at CES.
Final Thoughts
It is still too early to make predictions about the demise of the 3.5" standard, but it is clear that the industry has chosen a new direction from the top to bottom. Transitions like this take time and it is easier to piggy back them with other changes, like moving from platters to flash memory. Several hard drive manufacturers have been quoted as saying that traditional platter drives have a lot of life in them, but they never said what form factor would carry them into the future.
As it sits right now, the highest capacity 2.5" drive is exactly half that of the highest capacity 3.5". Even though they are not exactly abundant, in the next two months we should see the Western Digital Caviar Blue 1TB drive sitting on the shelves of Best Buy's all over the country. Around the same time, companies like Hitachi and Seagate will follow suit and then the price war starts. Before you know it we will have 1TB 2.5" drives selling for 150 USD or less and 1.5TB drives not far behind.
NAS servers, DAS enclosures and enthusiast products should see a faster adoption rate of the 2.5" standard. Enthusiasts have already fallen in love with SSDs and that romance is going to burn wildly out of control after the products from CES 2010 are unleashed. The NAS and DAS market will see similar reduced power consumption benefits as enterprise servers, but on a smaller scale. Reduced power consumption means the cost of operation will be reduced.
The 2.5" form factor market is growing rapidly and it won't be long before we see wide spread adoption that breaks through to the mainstream. Solid state drives are going to play a key role in just how quickly that happens. We have already heard about SSDs that are going to set the market on fire, but their high cost will slow progress.
PRICING: You can find products similar to this one for sale below.

United States: Find other tech and computer products like this over at Amazon.com

United Kingdom: Find other tech and computer products like this over at Amazon.co.uk

Australia: Find other tech and computer products like this over at Amazon.com.au

Canada: Find other tech and computer products like this over at Amazon.ca

Deutschland: Finde andere Technik- und Computerprodukte wie dieses auf Amazon.de
We openly invite the companies who provide us with review samples / who are mentioned or discussed to express their opinion. If any company representative wishes to respond, we will publish the response here. Please contact us if you wish to respond.