Introduction
While we look at the biggest and best hardware at TweakTown, we sometimes need to step back and take a look at the whole market. While hardcore make up a percentage, it's not the biggest out there; office systems make up most of the PCs out there today, and coming up very close now is the Digital Home and Home Theatre PCs that are becoming a more common addition to the lounge room, this thanks to XP Media Centre Edition and Vista. Once a pipe dream using WMP to simply play back movies stored on the hard disk, we can now have a full PC setup with Digital TV tuner, Blu-ray, HD video playback all within a small form factor PC.
While small is important, powerful and energy efficiency need to come into play, and while powerful and energy efficient don't always fall into the same basket, AMD has really made a push for the HTPC of tomorrow using technology of today to get the most power out of their setups, and without compromising on power efficiency, thermal efficiency and acoustics. AMD has for quite some time provided the most power efficient processors on the market. In fact, the ULV versions of the Athlon 64 X2 processors have been able to draw as little as 45watts, and at speeds of above 2GHz. Now, that's something even the laptops would love to have running in them, yet they are desktop processors. How's that for efficiency?
Today we are testing out AMD's latest addition to its 45watt TDP family with a clock speed of 2.5 GHz; that's pretty efficient for such a powerful processor with Dual Core functions. Rather than just being a CPU review, today we are looking at the new Athlon 4850e processor as a HTPC component in conjunction with the AMD 780G chipset and Radeon HD 3450 graphics card. How well does it perform in the HTPC and gaming department? Let's have a bit of a squiz.
Processor and Components
In today's article we are going to encompass an entire platform rather than just a single CPU. The Athlon 64 4850e is a direct descendant of the same K8 architecture that has been around since the 2003 launch of the original AMD Athlon 64 processor line. While this isn't a bad thing, there is something to be said about updating the technology.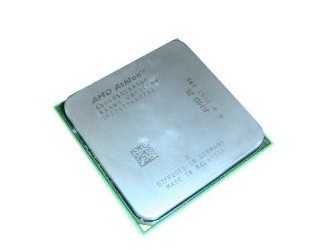 The Athlon 4850e is part of AMD's line-up of power efficient 45watt TDP processors. Originally these were given the Athlon 64 X2 BE-xxxx series naming, however AMD has decided to go towards the older naming scheme for its Athlon 64 based processors, since it's not quite easy to change naming schemes. Using the older style gives people the ability to gauge the actual speed performance between this CPU and older versions.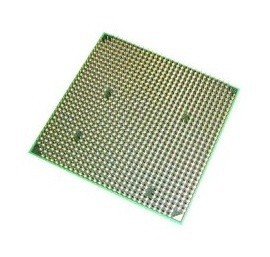 The package of the CPU is identical to that of the older Athlon 64 X2 processors; it uses the same AM2 socket design, and being based on the older AMD K8 architecture the CPU uses the older memory controller which runs on a divider based on the CPU speed. This means that the memory does not always run at the full speed that it is rated for. Because of the 2.5GHz CPU speed, when running memory at DDR2-800 the memory only runs at 712MHz, which reduces the overall performance of the system compared to a system based on a Phenom processor with a set memory controller interface speed.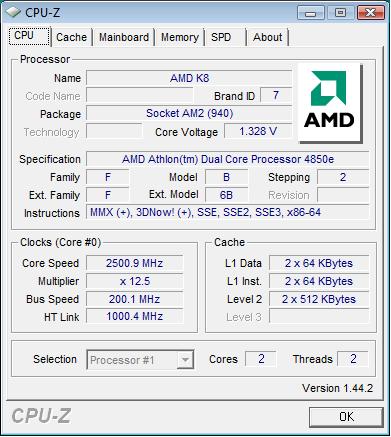 From the CPU-Z screenshot you can see that the new 4850e isn't properly recognised. While it doesn't have the info on the screen, the CPU uses a 65nm SOI process, but its code name isn't given to us.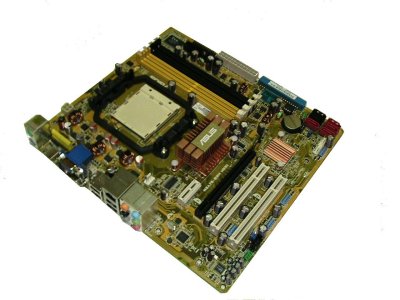 The chipset of choice for the AMD platform is the 780G. The AMD 780G is the second generation of integrated graphics processor based chipsets from the now AMD chipset department, which is comprised of the ATI engineers who produced the Xpress chipsets when AMD and ATI were separate entities. AMD's 780G has a built in HD 3200 graphics engine that supports DX10 and Vista Aero desktop out of the box.
Being an IGP chipset, you have to shave system memory with it in order to make it work. Depending on the amount of memory you have, the system will allocate between 32MB and 512MB of system memory in order to gain a frame buffer. One of the biggest features of the chipset is the ability to use both the IGP and a discrete HD 3400 series graphics card to allow for a faster system; this will make low end systems a little bit more capable in 3D gaming. We will touch on this a little bit later.
The board we have been given today for our testing, not only for the CPU but with regard to Hybrid Crossfire is an ASUS M3A78-EMH HDMI Micro ATX motherboard. ASUS has put just about every function on this board, and despite the fact that is a Micro ATX format, the layout is extremely clean. The 24-pin power connector finds its way behind the four colour coded memory slots. The IDE port and SATA ports are located at on the right hand side of the board. The 4-pin power connector gets moved to the top left of the board behind the rear I/O PS/2 ports.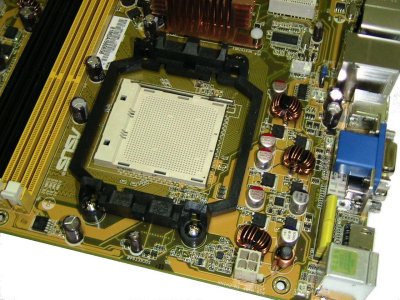 The board's CPU socket is extremely clean of components, however this board uses the older electrolyte capacitors and non-solid state chokes which tend to reduce power consumption no thanks to lower operating voltages. Though a 3 phase voltage regulation system is used, this will handle the 4850 perfectly, and even the X3s for that matter, but X4s with 120watt TDPs might be struggling.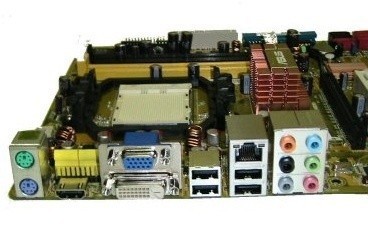 Moving along to the rear I/O ports, the ASUS board has them all. For the video output of the 780G there are three options here. First, you have a standard RGB port for older CRT and LCD monitors, then there is a DVI-I video port for connecting to HD LCDs and some older TVs. Lastly, there is a HDMI port for connecting to the latest generation of HD LCD and plasma TVs. HDMI has revolutionised the connection of video devices thanks to the high-def video and audio signals sent though a single cable, allowing PCs to connect to TVs seamlessly.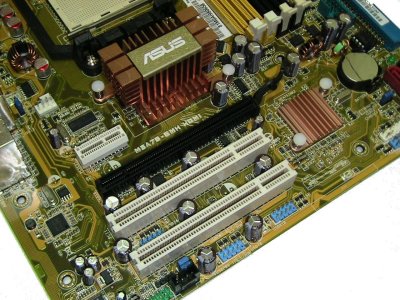 Lastly we look at the expansion slots. Being a Micro ATX board you can't expect much in this regard, however you get a PCI Express x16 slot for a discrete GPU card (or in conjunction with Hybrid Graphics if you have a compatible graphics card). A PCI Express x1 slot supporting 2.0 protocols make up the last of the PCI-E slots and two legacy PCI slots make up the expansion possibilities.
Processor and Components - Continued
Processor and Components Continued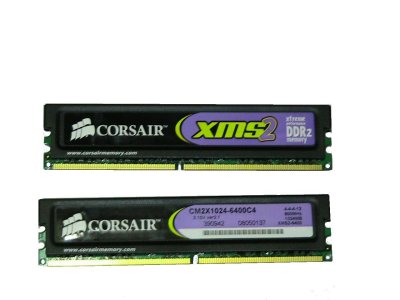 Moving along to the memory we were supplied. We have Corsair's 2GB Dual Channel memory kit supporting DDR2-800 speeds with low latencies and a standard 1.8v operating voltage. The kit gives us a total of 2GB of system memory. With the onboard graphics sucking between 32MB and 512MB for its frame buffer on a sliding scale, the more system memory you can put in there, the better.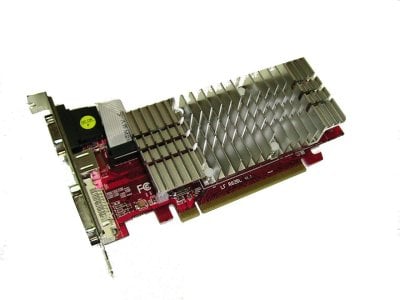 Now we get along to our discrete graphics card. Now, I hear a few of you asking "Why would we have a discrete graphics card if we have a motherboard with onboard graphics?" - This is simple; 780G is AMD's first chipset to support Hybrid Crossfire. A little refresher course is in order I think.
Crossfire is AMD/ATIs version of NVIDIA SLI for combining two or more graphics cards together in order to produce a better 3D processing engine which allows the sharing of workload, similar to how Dual Core CPUs work. Now we have the first AMD chipset that allows you to do this, providing you have a certain ATI graphics card to combine the power of the Integrated GPU with the power of the discrete GPU. What does this mean?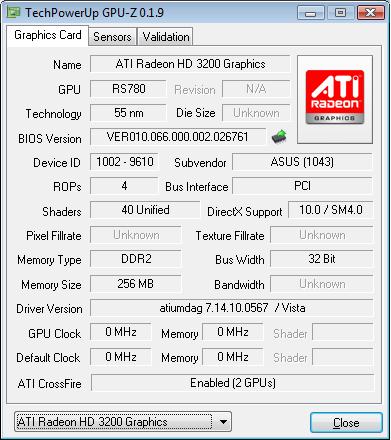 Simply put, when the system is in 2D mode, very little is required to run the windows desktop; this can easily be handled by the integrated GPU. When 3D applications start to come into play, it is necessary to get more power, since Integrated GPUs are limited because of the amount of system memory they can use along with the limited memory bandwidth they have at hand. Since the CPU needs to share this bandwidth, you need a bit of a kick in the pants, and Hybrid Crossfire is what allows us to do this.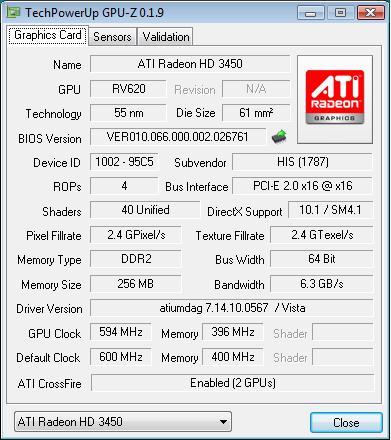 As a standard setup, when the system is in Windows just idling, the integrated graphics handles the desktop rendering, shutting the external graphics card off. This reduces the amount of power required. When the 3D applications start, the discrete graphics card is enabled through a command along the SMBus. When this happens, the two graphics cards will work together to render the 3D scenes.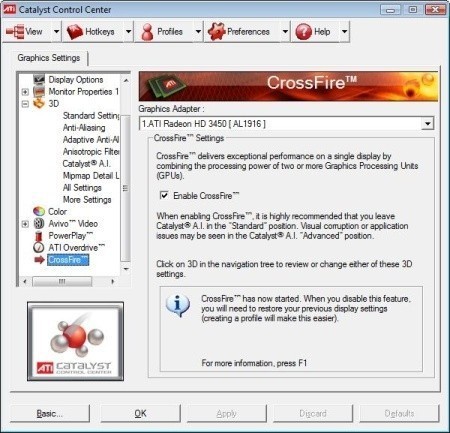 The graphics card we were supplied was a passively cooled ATI Radeon HD 3450 from HIS. The large heatsink on the graphics card will be extremely important as we plan to use the system as silently as possible. We plan to run with only one fan on the CPU at as low RPMs as possible; so, the GPU needs to be able to run silently. Thanks to the passive cooler, it can. Furthermore, it'll run with a better power profile as opposed to a higher-end offering. This system is going for speed, stealth and power friendly goodness.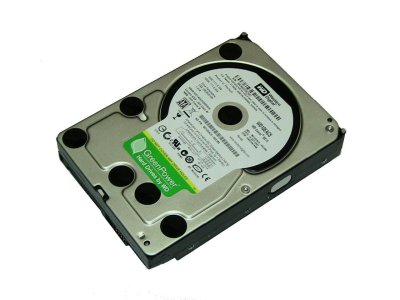 The hard disk we decided to use for our test system was actually a last choice; we were simply going to use our standard 500GB Seagate hard disk we normally use, however we were supplied with a Western Digital Green Power 1TB drive for another article we are going to be doing very shortly. This drive runs with lower power, and has better power management features when the system is at idle, such as a low power spin down allowing the drive to conserve as much power as possible, as well as running quieter than most hard disks on the market.
Test System Setup and Memory Performance
Test System Setup
Processor
: AMD Athlon 4850e (Supplied by
AMD
)
Motherboard
: ASUS M3A78-EMH HDMI (Supplied by
ASUS
)
Memory
: 2x 1GB DDR2-6400 Corsair (Supplied by
AMD
)
Hard Disk
: 1TB Western Digital Caviar GP (Supplied by
GAP Marketing
)
Graphics Card
: IGP and HIS HD3450 (Supplied by
MSI
)
Cooling
: OCZ Vanquisher (Supplied by
OCZ Technology
)
Operating System
: Microsoft Windows Vista
Drivers
: ATI Beta Vista Drivers 8.47
Our test system today is simply the HTPC. We won't be doing any tests other than that of the HTPC itself. We will be using both the IGP on its own, discrete graphics and then with Hybrid Crossfire. We will also be doing power usage tests along with our usual tests.
EVEREST Ultimate EditionVersion and / or Patch Used:
2006
Developer Homepage:
http://www.lavalys.com
Product Homepage:
http://www.lavalys.com
Buy It Here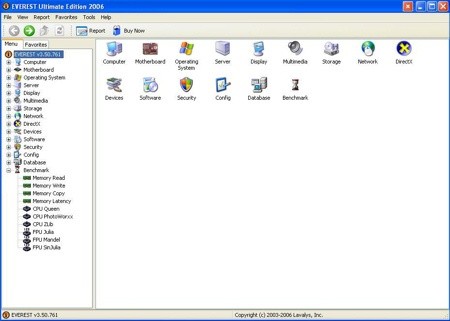 EVEREST Ultimate Edition is an industry leading system diagnostics and benchmarking solution for enthusiasts PC users, based on the award-winning EVEREST Technology. During system optimizations and tweaking it provides essential system and overclock information, advanced hardware monitoring and diagnostics capabilities to check the effects of the applied settings. CPU, FPU and memory benchmarks are available to measure the actual system performance and compare it to previous states or other systems.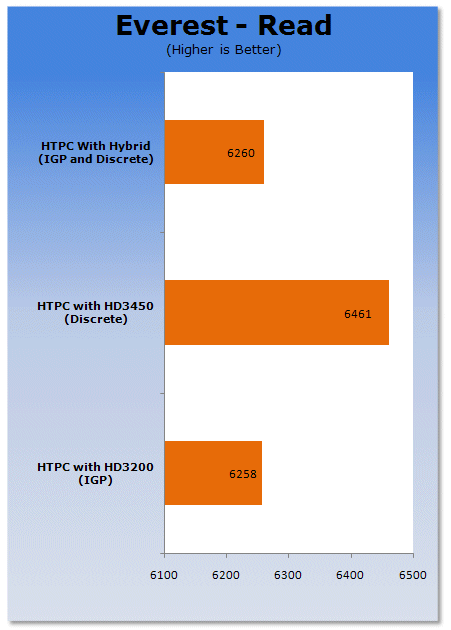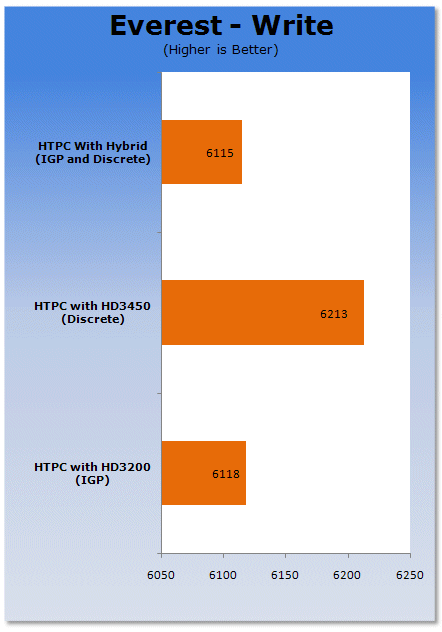 With the onboard graphics enabled, the overall memory score takes a hit because some of the memory and bandwidth are allocated to the IGP. With the discrete only enabled, we see the memory pick back up. With Hybrid Crossfire we see memory take a hit again once again; this is one of the disadvantages of Hybrid Graphics, you get the extra power of the external GPU, but the IGP still sucks system memory.
Benchmarks - PCMark05
PCMarkVersion and / or Patch Used:
1.2.0
Developer Homepage:
http://www.futuremark.com
Product Homepage:
http://www.futuremark.com/products/pcmark04/
Buy It Here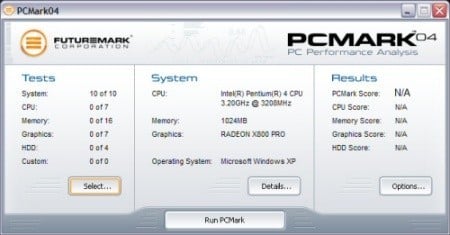 PCMark is a multipurpose benchmark, suited for benchmarking all kinds of PCs, from laptops to workstations, as well as across multiple Windows operating systems. This easy-to-use benchmark makes professional strength benchmarking software available even to novice users. PCMark consists of a series of tests that represent common tasks in home and office programs. PCMark also covers many additional areas outside the scope of other MadOnion.com benchmarks.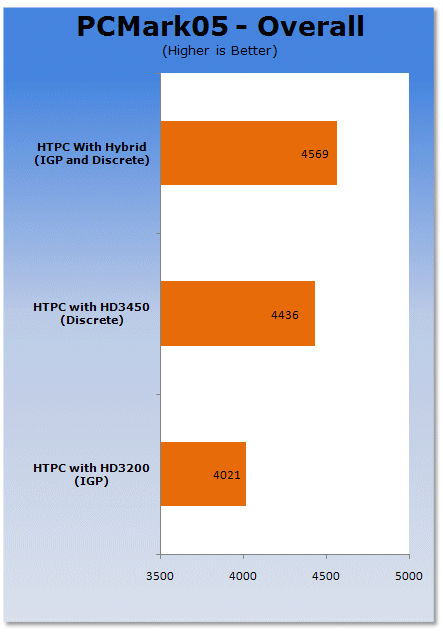 Pressing into PCMark05, we see that the IGP and the 3450 graphics modes perform almost identically, however with Hybrid running the system gets a bit of a kick in the pants.
Benchmarks - Adobe Premiere Elements 3.0
Adobe Premiere Elements 3.0Version and / or Patch Used:
3.0
Developer Homepage:
http://www.adobe.com
Product Homepage:
http://www.adobe.com/products/premiereel/
Buy It Here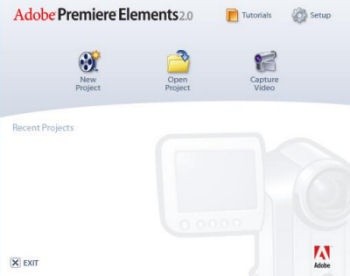 Our test with Adobe Premiere Elements 3.0 is performed with a raw two hour AVI file. It is then compressed into DivX format using the latest version codec. We measure the time it takes to encode and then record CPU usage.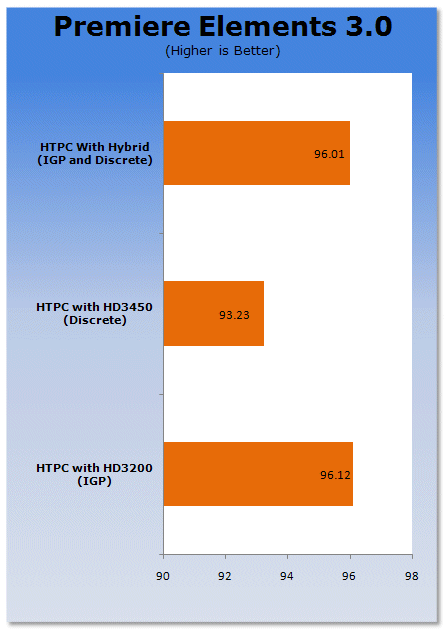 Both Hybrid and IGP modes slow the system down here as the aim is CPU speed and memory bandwidth. In both IGP only and Hybrid mode, system memory and bandwidth has been stolen for frame buffer duties.
Benchmarks - 3DMark06
3DMark06Version and / or Patch Used:
1.1.0
Developer Homepage:
http://www.futuremark.com
Product Homepage:
http://www.futuremark.com/products/3dmark06/
Buy It Here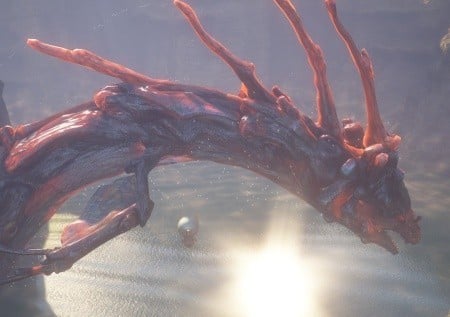 3DMark06 is the very latest version of the "Gamers Benchmark" from FutureMark. The newest version of 3DMark expands on the tests in 3DMark05 by adding graphical effects using Shader Model 3.0 and HDR (High Dynamic Range lighting) which will push even the best DX9 graphics cards to the extremes.
3DMark06 also focuses on not just the GPU but the CPU using the AGEIA PhysX software physics library to effectively test single and Dual Core processors.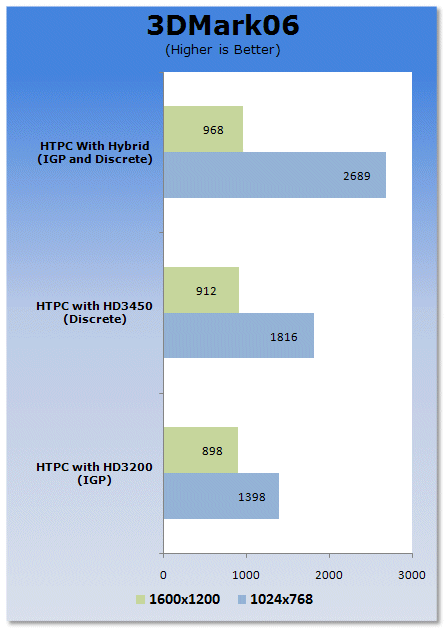 3DMark06 shows that the IGP graphics of the 780G is able to do some basic DX10 work, however it's still not enough to be considered a good GPU for most of today's 3D games. The 3450 does boost over the 780G IGP, but the real benefit is from running in Hybrid mode, allowing quite a bit of a gain in the overall score.
Benchmarks - Prey
PreyVersion and / or Patch Used:
1.2
Timedemo or Level Used:
Hardware OC Demo
Developer Homepage:
http://www.humanhead.com
Product Homepage:
http://www.prey.com
Buy It Here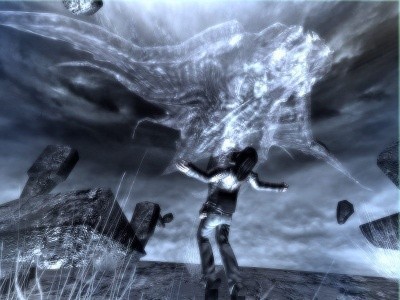 Prey is one of the newest games to be added to our benchmark line-up. It is based off the Doom 3 engine and offers stunning graphics passing what we've seen in Quake 4 and does put quite a lot of strain on our test systems.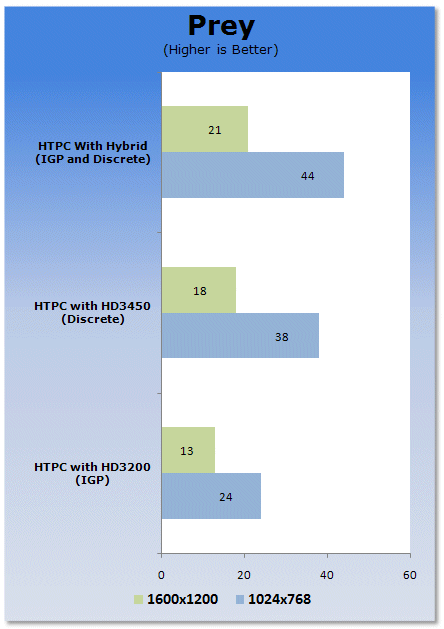 Pressing into our first real world game we see that the IGP is able to play Prey, but it was jumpy below 30FPS. The 3450 is able to play Prey quite ok at just over 30FPS, but again hitting up Hybrid mode is the best way to play games on a budget system like this.
Benchmarks - Battlefield 2142
Battlefield 2142Version and / or Patch Used:
1.25
Timedemo or Level Used:
Custom Timdemo
Developer Homepage:
http://www.dice.se/
Product Homepage:
http://www.battlefield.ea.com/battlefield/bf2142/
Buy It Here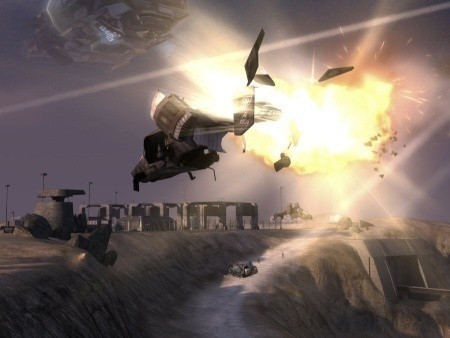 In Battlefield 2142, players choose to fight for one of two military superpowers - the European Union or the newly formed Pan Asian Coalition -in an epic battle for survival.
Armed with a devastating arsenal of hi-tech weaponry, including assault rifles, cloaking devices and sentry guns, players will also take control of the most lethal vehicles known to man. Massive Battle Walkers wage fierce combat on the ground, while futuristic aircraft rule the skies. When taking on this futuristic armor players will need to use their wits and an arsenal of new hi-tech countermeasures like EMP grenades and smart mines to level the playing field.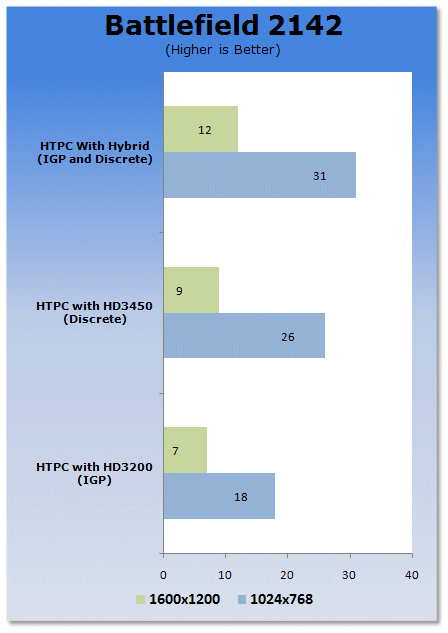 Moving on to Battlefield 2142; both the IGP and 3450 are unplayable, however with Hybrid enabled the performance does pick up. It would be playable, but a bit laggy in heavy multiplayer environments.
Benchmarks - Far Cry
Far CryVersion and / or Patch Used:
1.3
Timedemo or Level Used:
Benchemall Default Demo(
download here
)
Developer Homepage:
http://www.crytek.com
Product Homepage:
http://www.farcrygame.com
Buy It Here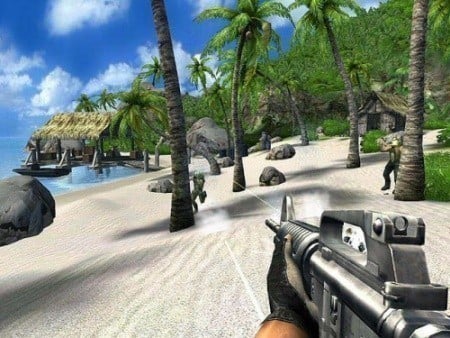 While Far Cry is now one of our older benchmarking games, it is still able to put pressure on most computers systems as it is able to utilize all parts of the system. Utilizing PS2.0 technology with the latest versions supporting Shader Model 3.0 with DX9c and offering an exceptional visual experience, there is no denying that even some of the faster graphics cards get a bit of a workout.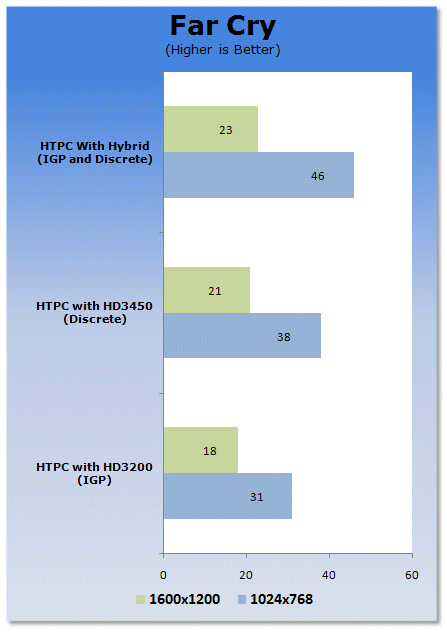 Being an older game we can see that the IGP is able to do some pretty good results and is quite playable on the 3450, but Hybrid Crossfire does pick up the performance.
Power Consumption Tests
Power Consumption
We are now able to find out what kind of power is being used by our test system and the associated graphics cards installed. Keep in mind; it tests the complete system (minus LCD monitor, which is plugged directly into an AC wall socket).
There are a few important notes to remember though; while our maximum power is taken in 3DMark06 at the same exact point, we have seen in particular tests the power being drawn as much as 10% more. We test at the exact same stage every time; therefore tests should be very consistent and accurate.
The other thing to remember is that our test system is bare minimum - only a 7,200RPM SATA-II single hard drive is used without CD-ROM or many cooling fans.
So while the system might draw 400 watts in our test system, placing it into your own PC with a number of other items, the draw is going to be higher.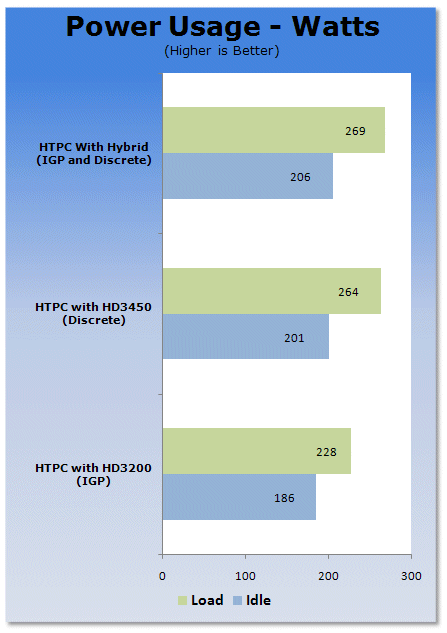 With the IGP only graphics, the power results are the best across the board. The 4850e and the 780G are very power efficient together. With the IGP disabled and the 3450 installed, the power requirements do go up a bit, but still within a good range for a HTPC. With Hybrid enabled, we see only a 2watt jump compared to the 3450 only GPU tests.
Final Thoughts
It's clear that AMD has really been working on getting power efficiency on its processors and chipsets to a point that they are in direct contention with the competitors. In fact, AMD has the most power efficient chipset available on the market so far with the 780G. A 4850e based HTPC is really worth your investment.
AMD's Hybrid graphics has been what I would call a moderate success. While we have only used a rather low powered discrete GPU in conjunction with the onboard HD 3200 GPU, adding in something like a 3600 series GPU would result in far better gaming performance, but power usage would go even further up on the scale, as would heat generation. Considering we only had one fan running in low power mode on this system, its acoustics were extremely easy to tolerate. In contrast it was not the dominant background noise in the entertainment area.
As for AMD's latest Athlon 64 offering, the 4850 for all its low power draws puts out some serious calculations. At 2.5GHz it's a definite high powered monster for a HTPC. No video playback was lagged, and load times with Vista Home Premium were right on what we would expect for a system with this hardware configuration. In fact, its load times were the same as a Phenom X4 clocked at 2.5GHz.
Overall, the AMD HTPC/low cost PC is what we would consider a success for light gaming or digital home storage. It's nice to see AMD cover the CPU market from different angles.