Hands On With DTS HD Master Audio
Ben talks about the benefits of listening to the best in modern day audio standards for movie lovers alike.

Published Wed, Apr 16 2008 11:00 PM CDT
|
Updated Tue, Nov 3 2020 7:04 PM CST
Producer / Publisher:

none
Introduction

Yesterday, Sony Computer Entertainment finally gave home theatre fanatics what they had been clamouring for since late 2006, when the PlayStation 3 console launched. With the delivery of the latest console firmware, version 2.30, owners whom have an amplifier capable of outputting PCM sound will benefit from improved sound with Blu-ray movies encoded in DTS HD Master Audio.
Before the update, the console could only access the 'core' of the audio track, resulting in a lossy output from inside the lossless container. We'll talk more on this later.
For reviewing Blu-ray movies here on TweakTown, I use a combination of two Blu-ray players; the Sony BDP-S500, which is Sony's flagship stand alone Blu-ray player (which at the time of release in November 2007, retailed for $1299), and the PlayStation 3. The idea behind obtaining a stand alone player was so I could access the higher functions that Blu-ray could perform, which would be delivered via firmware upgrades, which was the expectation upon release. I say expectation, because Sony never formally announced upcoming features, but Sony staff littered forums with hints and users calls to technical support indicated to 'expect them soon'. So it wasn't merely a pie in the sky wish.
However, whilst the BDP-S500 has received numerous firmware upgrades, they have all been bug fixes. The unit does not have an Ethernet connection, does not feature BD Profile 1.1 or 2.0, does not have any persistent storage, and does not decode DTS HD MA - all features of the PlayStation 3. Clearly, the PlayStation 3 is still the preferred entry for anyone wanting to obtain Blu-ray. And for the going rate of the console (the best I have seen is $678 AU from Sony Central), it represents immense value for what you are getting, and I have no hesitation in calling it the best consumer electronics device the industry has ever seen.
DTS HD Master Audio Explained
What is DTS HD Master Audio?
This audio codec is one of two lossless audio codecs which is built into the Blu-ray specification. The other is Dolby TrueHD. Both work on the same principal; they both use the master audio recording of the film, and using lossless compression (similar to what FLAC is to WAV) to generate a smaller file size, and is variable in data rate. For example, if there is silence in any one audio channel, rather than encode that silence, it will discard that information and resume again when the silence ends. But it's important to note that there is no compression here, it's bit-for-bit master recording. This is in slight contrast to PCM sound, which is also built into the Blu-ray spec. PCM is uncompressed sound, but there is no fancy losslessness, so files are bigger, taking up precious space on the disc.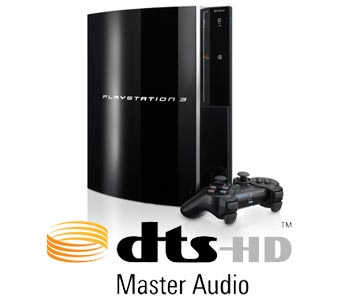 The way that the PlayStation handles the aforementioned formats is to simply 'unzip' both TrueHD, and now DTS HD Master Audio, and output them to an amplifier in uncompressed PCM form. There is nothing lost in the transition. Allegedly, the PlayStation 3 lacks the necessary hardware to bitstream the raw information to the amplifier, this just means that anyone who has an amplifier that can play PCM can also benefit from these audio codecs.
The DTS HD Master Audio codec is the best option of all three, because of a very smart design by the DTS engineers. Embedded in each DTS HD MA audio track is a 1.5 MB/s 'core' track. This means by having just one audio track, those with standard DTS amplifiers, or standard TVs will still hear the core track, whilst owners with a DTS HD MA certified amplifier (or in the PlayStation 3 case - just a PCM amplifier), will be able to extrapolate additional information with greater enhanced detail.
This is in contrast to the Dolby TrueHD codec, which if it features on a Blu-ray disc, needs to be joined by an additional standard Dolby Digital soundtrack, to meet disc standards. By DTS only employing one audio track to suit all needs, it means more disc space can be allotted to the image, and extra features.
So, now we know what DTS HD MA is, and what it does, let's see how it performs with TweakTowns' first look.
DTS HD Master Audio in Action
Every Twentieth Century Fox and MGM Blu-ray features a DTS HD Master Audio track, as does all new Roadshow titles (from
Rush Hour 3
onwards). So this means there are around 40 DTS HD MA equipped Blu-ray movies on the market right now. Let's take a look at a few of them.
Independence Day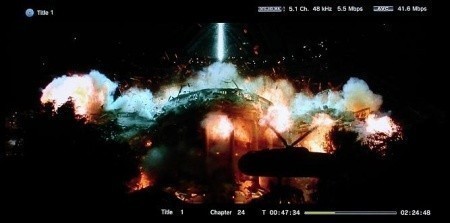 I reviewed this title a few months ago at my previous site,
DVDBits
. Being one of my favourite films (don't laugh - I kill you!), I am quite versed in how it has traditionally sounded, but nothing quite prepared me for what unveiled.
For starters, and to be rather general, it felt like a veil has been lifted off the soundtrack. This veil prevented me from hearing the full depth and scope that I now hear. I heard sounds that I had never before. There was a little more clarity to the vocals in the centre channel, and much less compression heard in the music, and more detail in the rear tracks.
The booming bass that the film is known for became a little less boomy, but more detailed. It now sounds more like a crunchy and responsive bass which is less boomy, and definitely more powerful.
The down side is I think I have done permanent damage to my hearing, but to the credit of my amplifier, it wanted to truck on. Onto the next one.
Die Hard 4.0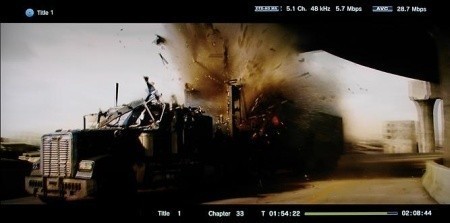 For those that have seen the movie, I think they would agree that the F-35 fighter jet Vs the semi-trailer which punctuates the climax of the film, was the highlight. It also sounded very, very good before, so let's see how it sounds now.
The same benefits I heard with
'Independence Day' could also be heard here. The definition in sound is so utterly clear, it is scary. Again, it felt like the track could now breathe, no longer constrained by a bitrate a third of what it was consistently hitting now. The bass track was again so much more powerful, but also more detailed, and alternated in intensity where before it was more of a jumble of bassiness.



Final Thoughts



I tried a few more discs as the night progressed; titles such as 'Ronin', 'The Simpsons Movie', 'X-Men 3: The Last Stand' and 'Speed'. I was not disappointed by the new found sonic benefits of any of them. And they all uniformly displayed the same kind of attributes I found as with 'Independence Day', and 'Die Hard 4'; that is, more detail and depth to the overall sound, slightly more detail in the vocal clarity, and much crisper bass performance.

To say I am impressed is an understatement. What's more, it's made Twentieth Century Fox's decision to rail against almost every other movie distributor, and use DTS HD MA on every title; a wise one, and one that will pay dividends to their overall quality standard moving forward.

The days of lossy audio in home theatre are over; now the onus is on home theatre fans to embrace these new technologies, and if they truly love the art form, there is absolutely no reason why they shouldn't.

I look forward to reviewing movies for TweakTown for a long time coming, and as hardware keeps progressing, I hope I can continue to stay on the forefront and help guide your home entertainment decision making. But for now, an investment in a PlayStation 3 is one of the smartest moves you could make. Join us in a bluer world!

PRICING: You can find products similar to this one for sale below.

United States: Find other tech and computer products like this over at Amazon.com

United Kingdom: Find other tech and computer products like this over at Amazon.co.uk

Australia: Find other tech and computer products like this over at Amazon.com.au

Canada: Find other tech and computer products like this over at Amazon.ca

Deutschland: Finde andere Technik- und Computerprodukte wie dieses auf Amazon.de
We openly invite the companies who provide us with review samples / who are mentioned or discussed to express their opinion. If any company representative wishes to respond, we will publish the response here. Please contact us if you wish to respond.