Introduction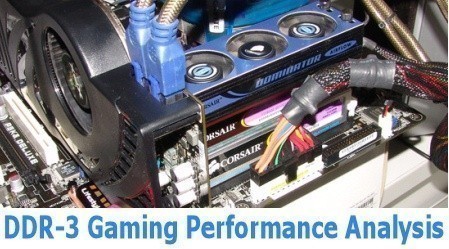 Upgrading memory is always somewhat of a pain - it never really yields the performance increase like new CPU or a graphics card, making it harder to justify the extra cost when buying more expensive modules.
DDR-3 makes the decision even harder as it carries an extreme cost at the moment but do those dollars actually translate into extreme gaming performance? Technically speaking, in pure megabytes per second, it is fast, thanks to the attainable speeds 1500MHz double data rate and beyond which can be achieved, without too much effort. However, the big issue with DDR-3 memory right now is the fact that its latency is high, much higher comparatively to more finely tuned DDR-2.
What does this all really mean for the gamer, though? Are we going to be pushing an extra 1FPS? Maybe 10? It all remains to be seen.
In our latest performance analysis we are going to have a look at what upgrading to DDR-3 really means for gamers. So, strap yourself in for the ride of your life! Alright, to be clear, we do not actually promise this will be the ride of your life and you do not really need to strap in, that is optional.
Let's continue on and see if there is any sense in buying DDR-3 memory right now if you are a gamer.
Benchmarks - Test System Setup and 3DMark05
Test System SetupProcessor(s):
Intel Core 2 Duo E6600 @ 3GHz (333MHz FSB x 9)
Motherboard(s):
ASUS P5K3 Deluxe and ASUS P5K Deluxe (Supplied by
ASUS
)
Memory:
2 X 1GB Corsair XMS3 DDR-3 1066MHz and 2 x 1GB Crucial DDR-2 1066MHz (Supplied by
Corsair
)
Hard Disk(s):
Hitachi 80GB 7200RPM SATA-2
Operating System:
Microsoft Windows XP Professional SP2
Drivers:
Nvidia ForceWare 158.22 and DX9c
The chances are that if you're buying DDR-3 memory, you're also looking at some of the fastest equipment on the market.
Teamed up with the ASUS P5K3 Deluxe (which uses the Intel P35 Express chipset) we have with us the Corsair XMS3 modules along with the XFX 8800 Ultra XXX edition, which is the fastest graphics card currently on the market. One of the key reasons we selected this graphics card was for its performance - it will help us avoid the VGA as a bottleneck.
We will be looking through similar benchmarks to our ATI Catalyst driver articles. We tested in a range of different settings - the only setting to look out for is DDR-3 at 1500MHz with 9-9-9-24 timings. At this speed, the CPU was actually running about 400MHz faster at 3.39GHz, which is obviously going to influence the results, but there is little we can do about that with the dividers available to us.
Let's not delay and have a look if DDR-3 is going to be doing anything for the gamer in terms of improved performance.
3DMark05Version and / or Patch Used:
Build 130
Developer Homepage:
http://www.futuremark.com
Product Homepage:
http://www.futuremark.com/products/3dmark05/
Buy It Here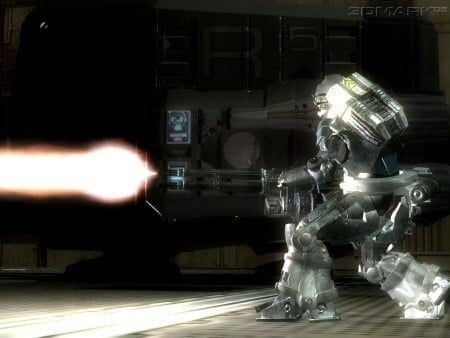 3DMark05 is now the second latest version in the popular 3DMark "Gamers Benchmark" series. It includes a complete set of DX9 benchmarks which tests Shader Model 2.0 and above.
For more information on the 3DMark05 benchmark, we recommend you read our preview
here
.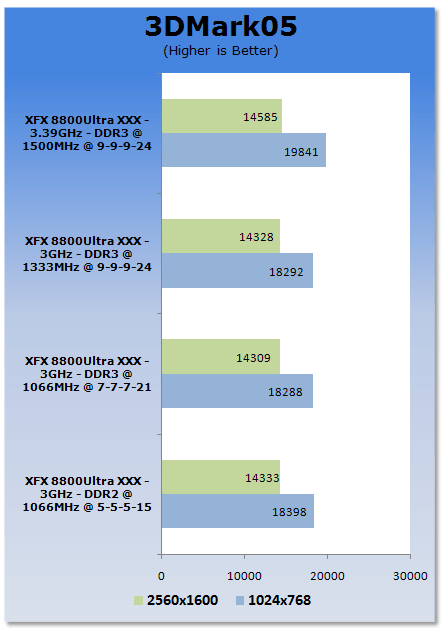 The more aggressive timings of the DDR-2 means at clock for clock it runs slightly better than the DDR-3 offering.
When we start moving up, and at 1333MHz DDR, it evens out and then than we move up to 1500MHz DDR and let the CPU go with it, the biggest gains are seen.
Benchmarks - 3DMark06
3DMark06Version and / or Patch Used:
Build 110
Developer Homepage:
http://www.futuremark.com
Product Homepage:
http://www.futuremark.com/products/3dmark06/
Buy It Here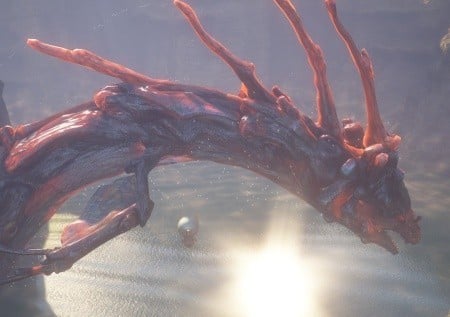 3DMark06 is the very latest version of the "Gamers Benchmark" from FutureMark. The newest version of 3DMark expands on the tests in 3DMark05 by adding graphical effects using Shader Model 3.0 and HDR (High Dynamic Range lighting) which will push even the best DX9 graphics cards to the extremes.
3DMark06 also focuses on not just the GPU but the CPU using the AGEIA PhysX software physics library to effectively test single and Dual Core processors.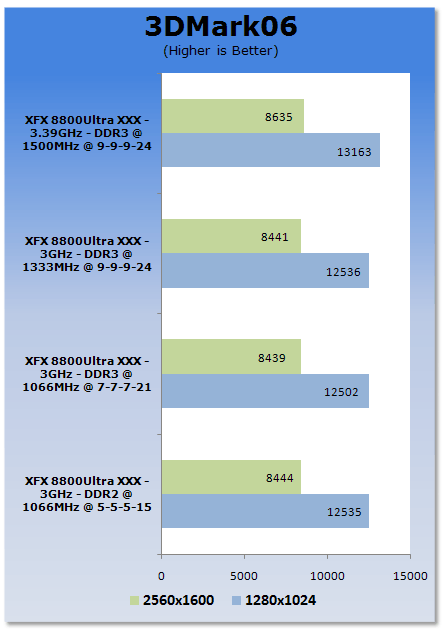 The difference between the memory speeds when the CPU is at the same speed we get very little difference. We again see the most gain happens when we of course increase our CPU speed.
Benchmarks - RyderMark
RyderMarkVersion and / or Patch Used:
Beta 2
Developer Homepage:
http://www.candellasoftware.com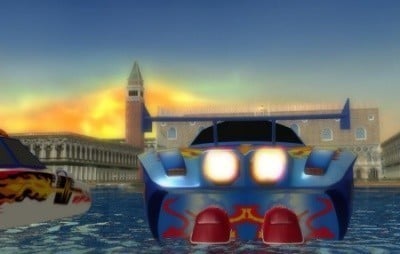 RyderMark is a new 3D benchmark application by Candella Software designed to take on the 3DMark series from Futuremark.
We are testing using the early Beta 2 version which was sent to us by the developers. For a closer look at the benchmark software,
take a look at our preview
.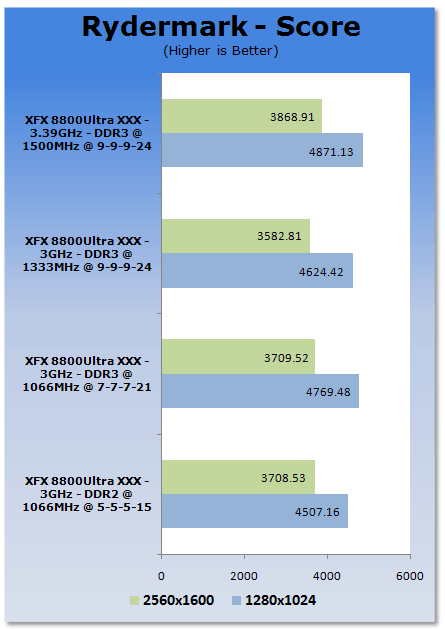 From on overall score perspective we can see that DDR-3 seems to yield a performance increase in RyderMark but being only a synthetic test, it is not a true indication of real-world gaming performance.
Benchmarks - Half Life 2 (Lost Coast HDR)
Half Life 2 (Lost Coast HDR)Version and / or Patch Used:
Latest from Steam
Timedemo or Level Used:
Custom Timedemo
Developer Homepage:
http://www.valvesoftware.com
Product Homepage:
http://www.half-life2.com
Buy It Here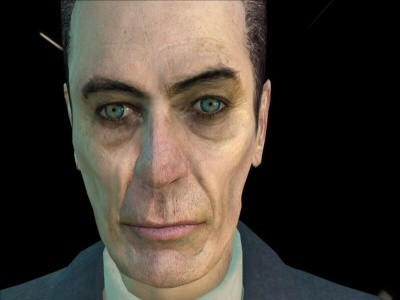 By taking the suspense, challenge and visceral charge of the original, and adding startling new realism, responsiveness and new HDR technology, Half-Life 2 Lost Coast opens the door to a world where the player's presence affects everything around him, from the physical environment to the behaviors even the emotions of both friends and enemies.
We benchmark Half Life 2 Lost Coast with our own custom timedemos as to avoid possible driver optimizations using the "record demo_name" command and loading the timedemo with the "timedemo demo_name" command - For a full list of the commands,
click here
.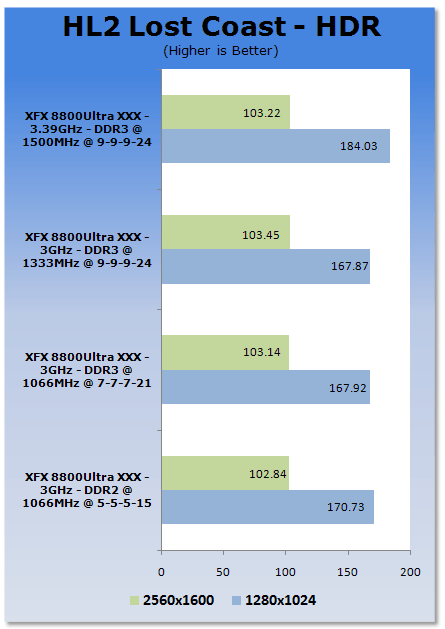 At the highest resolution we see that only the DDR-3 modules are over 103 FPS while at the lower resolution the tighter timings on the DDR-2 give it the lead. We again see the overclocked CPU yield a performance increase but only at the lower resolution.
Benchmarks - Prey
PreyVersion and / or Patch Used:
Unpatched
Timedemo or Level Used:
HardwareOC Custom Benchmark
Developer Homepage:
http://www.humanhead.com
Product Homepage:
http://www.prey.com
Buy It Here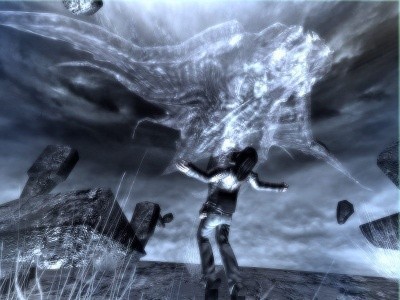 Prey is one of the newest games to be added to our benchmark line-up. It is based off the Doom 3 engine and offers stunning graphics passing what we've seen in Quake 4 and does put quite a lot of strain on our test systems.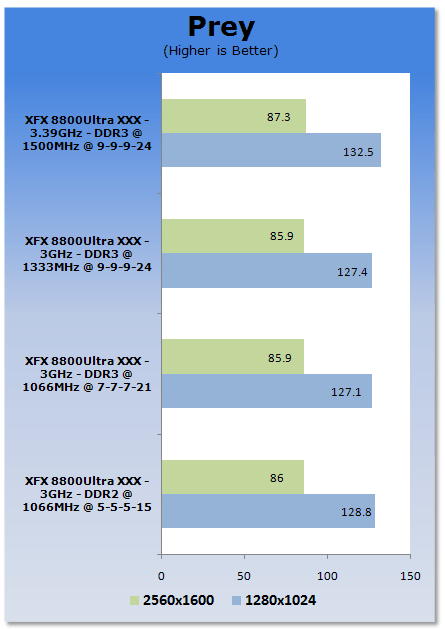 While the lead is only slight the DDR-2 again outperforms the DDR-3 offerings, it's only when you overclock that the DDR-3 modules come out in front.
You can also see that there is very little difference between DDR-3 at 1066MHz and 1333MHz due to the high timings of the latter.
Benchmarks - Company of Heroes
Company of HeroesVersion and / or Patch Used:
1.5
Timedemo or Level Used:
Built-in Test
Developer Homepage:
http://www.relic.com
Product Homepage:
http://www.companyofheroesgame.com
Buy It Here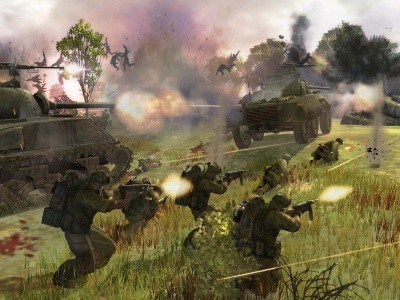 Company of Heroes, or COH as we're calling it, is one of the latest World War II games to be released and also one of the newest in our lineup of benchmarks. It is a super realistic real-time strategy (RTS) with plenty of cinematic detail and great effects. Because of its detail, it will help stress out even the most impressive computer systems with the best graphics cards - especially when you turn up all the detail. We use the built-in test to measure the frame rates.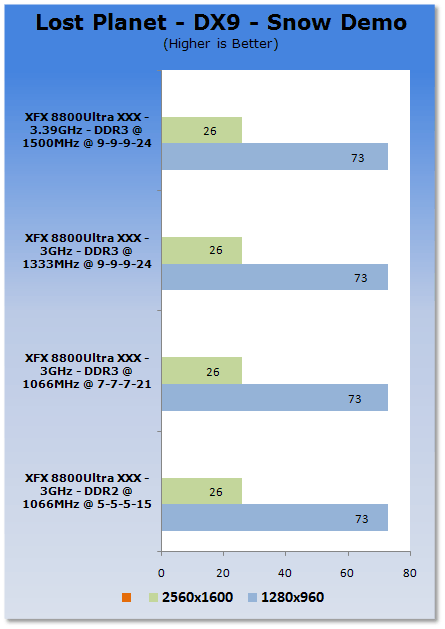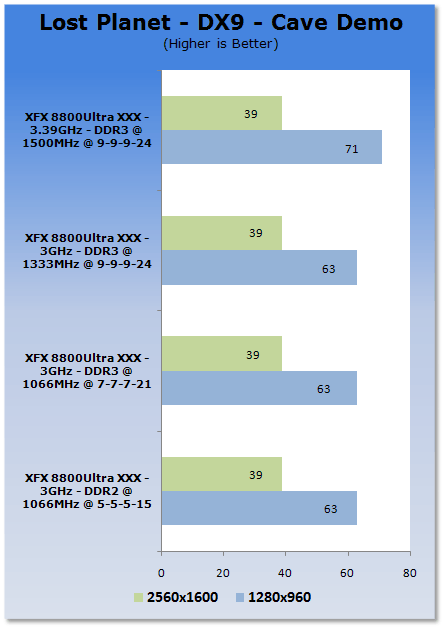 We see at the lower resolution the DDR-3 modules are slightly faster in the minimum department which is the most important. It's only when overclocked though we can see that we are able to break a 30 minimum frame rate.
Final Thoughts
The bottom line is at the moment DDR-3 is not yielding any real-world performance gain, especially on our focus topic - gaming.
The thing to remember is though, it will never really yield any gain, much like DDR and DDR-2 memory technologies. What gives us the gains are the pieces of equipment that surround the memory and what they can do - such as, processors with a higher front side bus hence offering higher 1:1 clock speeds. The memory itself is not giving us the direct gain but coincided with the newer processors, front side bus or the new Intel X38 chipset (which is going to offer more bandwidth), we are able to see those all important total gains in system performance.
If you've got the money and want to go DDR-3, then by all means go ahead and build a system based on this memory technology. However, we would suggest you wait for the X38, which is designed more for it (and will offer better performance and overclockability), as opposed to the P35. Although, on a whole, it is the future and you're going to be buying it sooner or later anyway if you're an upgrade maniac, like most of our readers.
Then there is of course the people who buy the best because they want their PC to be future-proof for the next few years - in three years time you might want to chuck some more memory in the system and DDR-3 is more than likely going to be easier to get your hands on compared to older DDR-2.
If you're on a P965 chipset at the moment with a decent graphics card and CPU and want to get some more frames, don't even contemplate a new motherboard or DDR-3, you are far better off thinking about maybe an extra 2GB of memory and / or a new graphics card upgrade. Prices will fall on DDR-3 just like everything else, more modules will pop up and higher front side buses will be up for the taking. DDR-3 isn't going anywhere but forward thought there is no reason for your average Counter Strike Source player to run out and spend big dollars upgrading to a DDR-3 system.
Remember, buy smart and think how your wallet would want you to!