TweakTown's Rating: 90%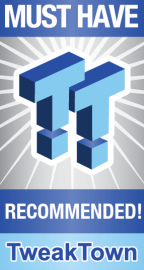 The Bottom Line
If the H20 is an available option for your OEM system, take it.
Introduction & Drive Details
Intel's newest iteration of an Optane reinforced SSD is designated H20. The H20, as the name suggests, is the successor to the Intel H10. The H10 found its way into countless OEM PC platforms as a pathway to a better user experience than a stand-alone SSD typically provides. The H10 was, and still is, the storage foundation for a massive number of OEM mobile and desktop systems. Intel's two-in-one SSDs with Optane caching are especially beneficial for delivering an unrivaled user experience on low-power mobile devices like notebooks, tablets, and laptops.
Low power devices, like laptops, are typically at a real disadvantage in terms of user experience or, as Intel calls it, "Performance where it matters most". Low power devices need to strike a balance between power consumption and performance, or as we call it, user experience. Another term we can use is responsiveness. This is where having some Optane on board comes to the rescue because, in the world of non-volatile storage, Optane is the king of responsiveness.
Like its predecessor, the H10, the H20 is a single 2280 PCB SSD composed of an Optane SSD and a NAND SSD in tandem. The H20 provides improvements over the H10 that include a new SSD controller, a new Optane Memory controller, and Intel's newest 144-layer flash. In simplified terms, the H20 is a 32GB Intel Optane Memory SSD in front of a 1TB Intel 670p NAND SSD running on a Gen3x4 interface.
The Intel H20 is an OEM-only SSD. It will not be available over retail channels, so you will not be able to buy one, except in maybe a one-off scenario. With that in mind, the purpose of this review is to provide our readers with some context as to what the H20 has to offer you when you go to buy your next OEM system. When shopping for your next laptop, etc., you will undoubtedly come across Intel Optane + SSD storage configurations.
The H20 is a special SSD that has been optimized for 11th Gen Intel Core and EVO platforms. This hybrid SSD needs a special M.2 port to function as intended. The port must be capable of bifurcating 4x PCIe lanes into 2x2 lanes. Optane takes two lanes, and the NAND takes two lanes. It's very specialized, which is why the drive is intended to be utilized on Intel-based OEM platforms.
The good folks at Intel sent over just such a laptop for our H20 review. The laptop is an HP Spectre with an 11th Gen i7 CPU and a 1TB H20 SSD. This Tiger Lake-based laptop delivers the goods in a big way, and we would have to say it delivers by far the best user experience we've gotten from a mobile device. However, we cannot quantify what the H20 can do if running on a laptop. We don't test SSDs on a laptop for obvious reasons.
It just so happens that we can run the H20 on our newest desktop SSD testing platform. Our newest SSD test rig has at its heart an 11th Gen Core i9 11900K CPU and can provide 2x2 PCIe bifurcation over the Z590 PCH. Perfect for testing the H20 and directly comparing it with the latest SSDs on the market. So, needless to say, we yanked it from the laptop and tested it on our newest platform.
Before we dive into the review, we want to reiterate again what performance where it matters most actually means. Simplify it down to its core, performance where it matters most, or user experience, is most directly a function of 4K random read performance at queue depths of 1-4. The computing world as currently structured is mostly random access in nature. Sequential numbers, while important, are not nearly as important for a good user experience as are random. The single most important performance metric is 4K QD1 random reads. Period.
With all this in mind, let's see what the Intel H20 brings to the table. Does it deliver performance where it matters most?
Drive Details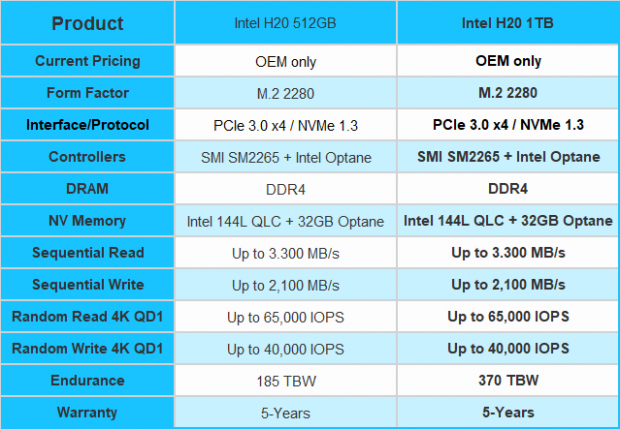 Jon's Test System Specifications
Free SSD Software
Intel MAS/Macrium Reflect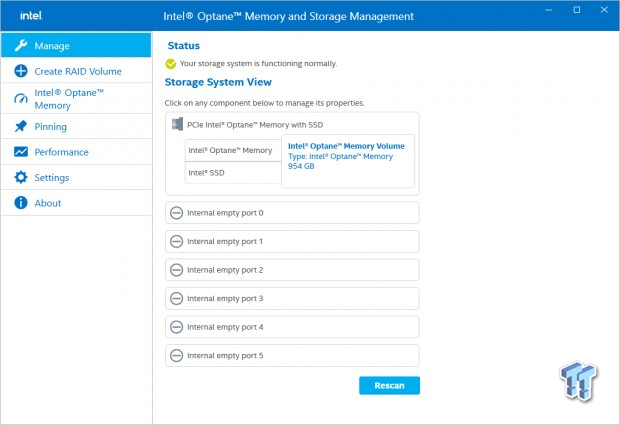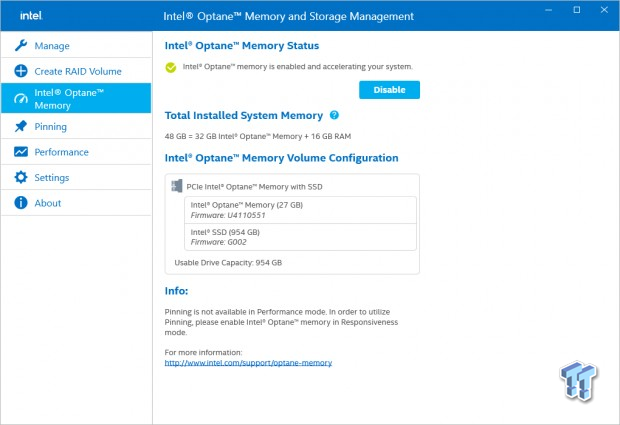 The H20 relies on Intel's RST driver to function as a single device. It requires version 18.1 or higher to operate as intended. Optane caching is enabled within the RST GUI. There are two modes, performance and pinned. Performance mode is what we are using.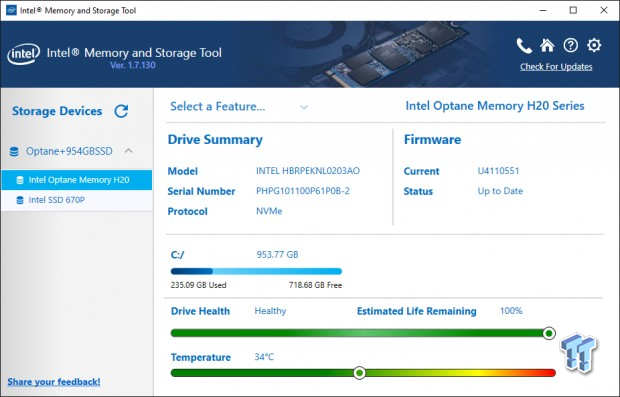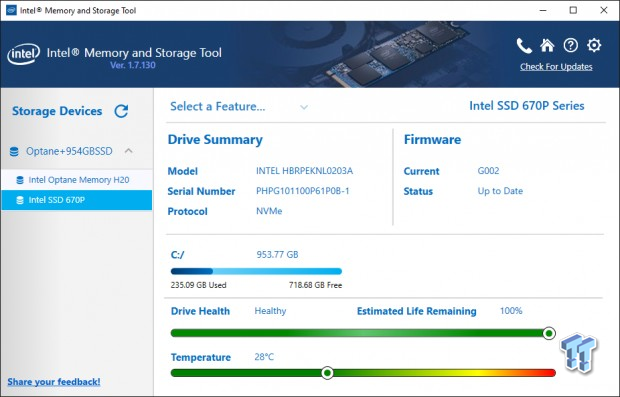 Intel offers a nice SSD Toolbox to complement its SSDs.
If you need to clone, there is freeware for that here.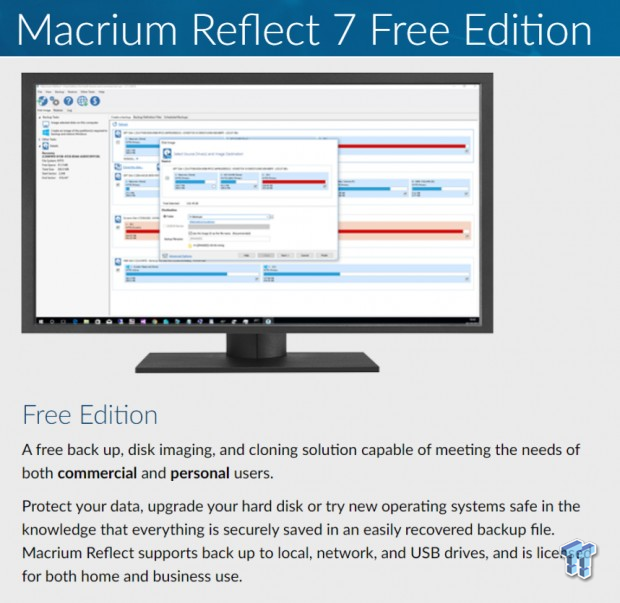 Synthetic Benchmarks: CDM & Anvils
CrystalDiskMark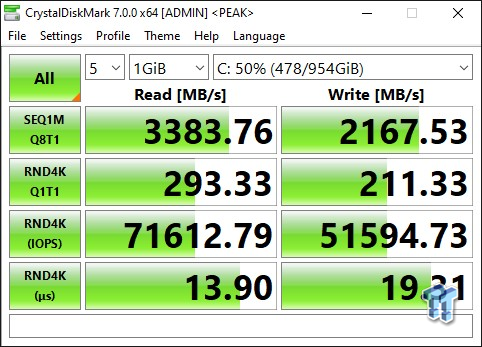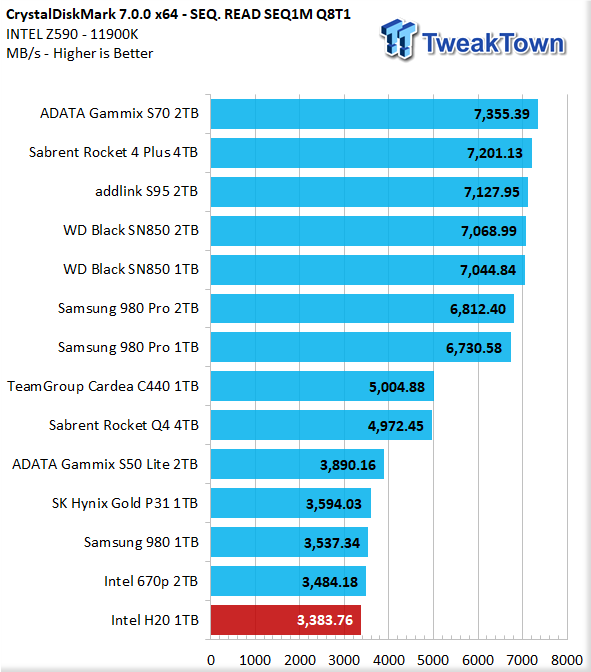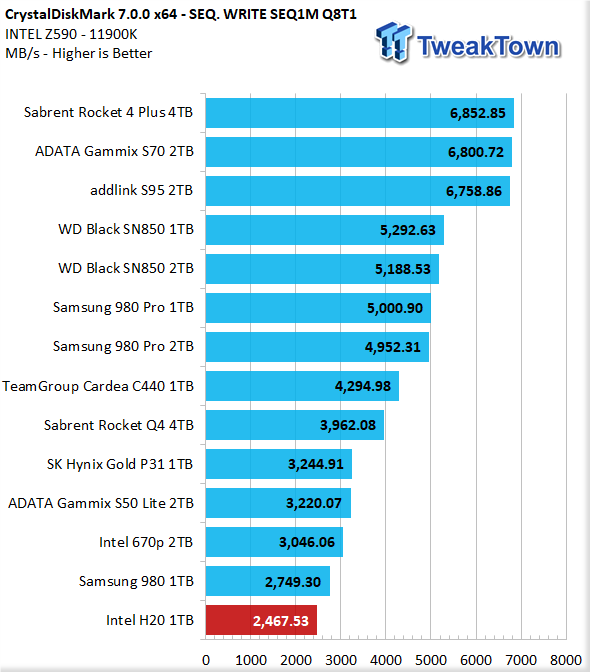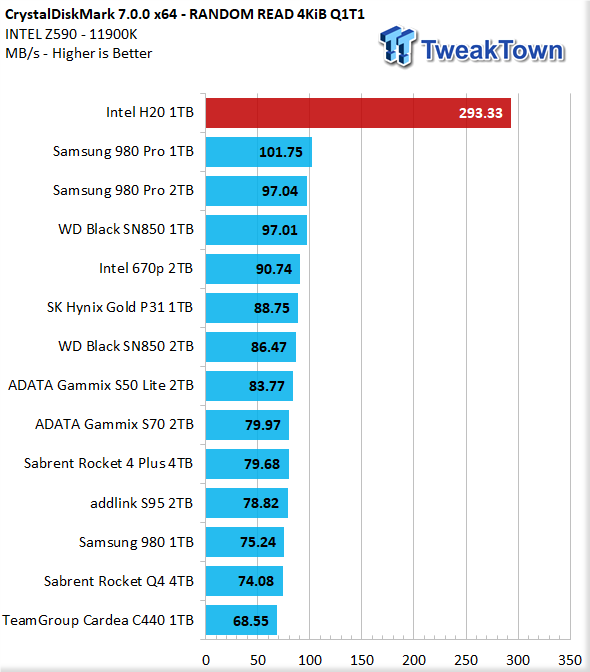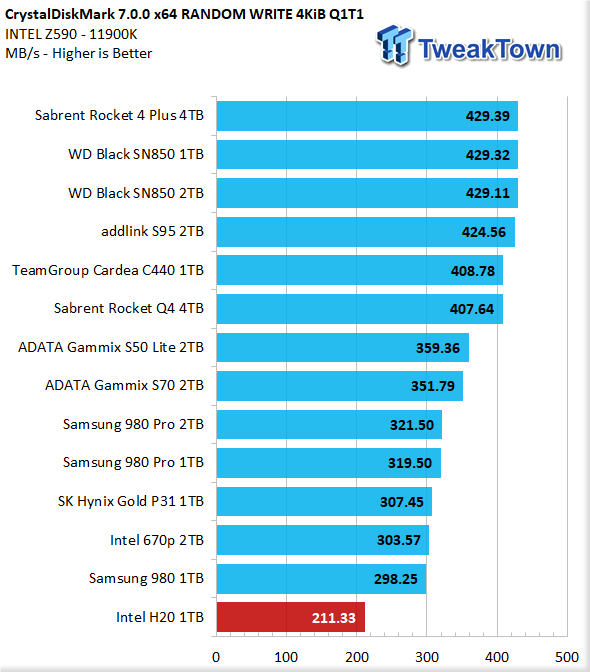 Not surprisingly, the H20 isn't serving up sequential eye candy or random write performance for that matter, but it is, however, delivering the goods in a big way where it matters most. 4K Q1T1 random reads. The H20 serves up 3 to 4x the performance (where it matters most) of the drives in our test pool. This result indicates the H20 will be something special as it relates to gaming and user experience.
Anvil's Storage Utilities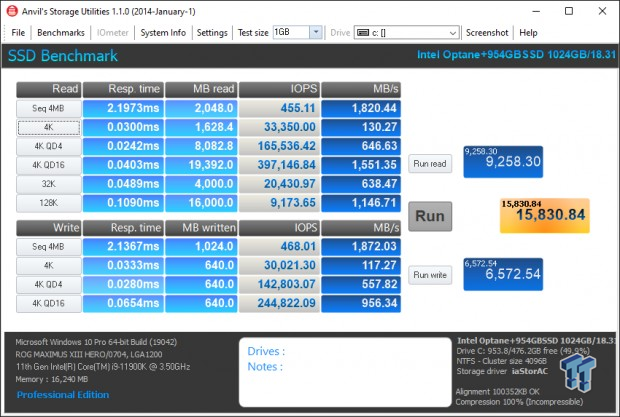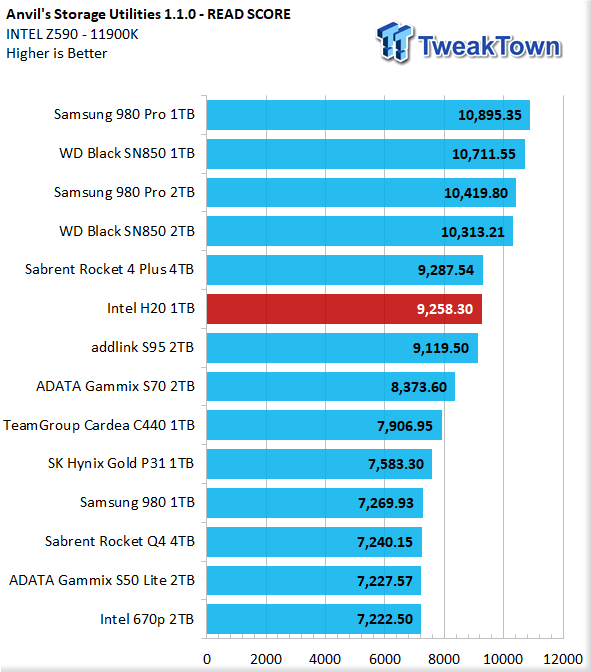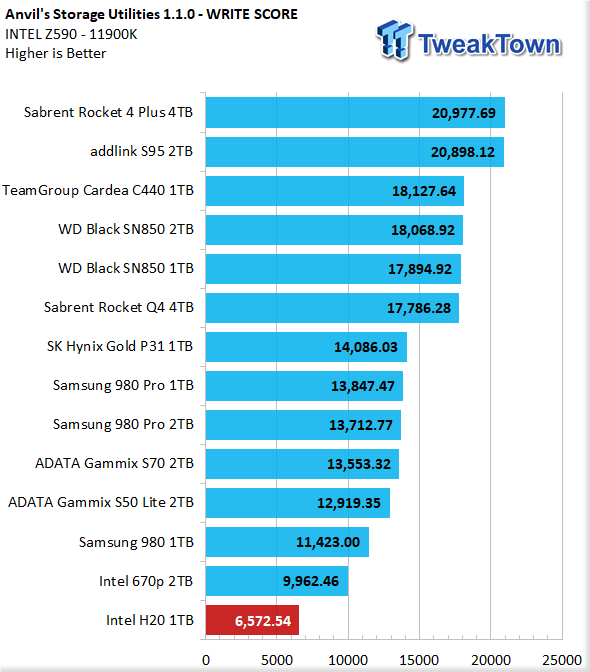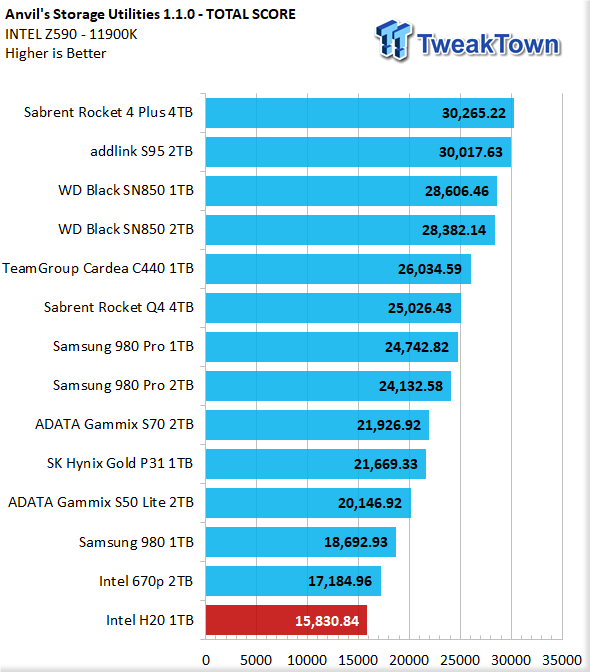 Read performance is what we are primarily looking at when we evaluate an Anvil's benchmark. Despite the huge scoring handicap of such a low 4MB sequential read number, the H20 still manages to deliver a total read score of more than 9K. Aside from the first sequential number on the read portion of the test, the H20 is delivering numbers that cannot be matched by the NAND-only SSDs in our test pool. Once again, performance where it matters most.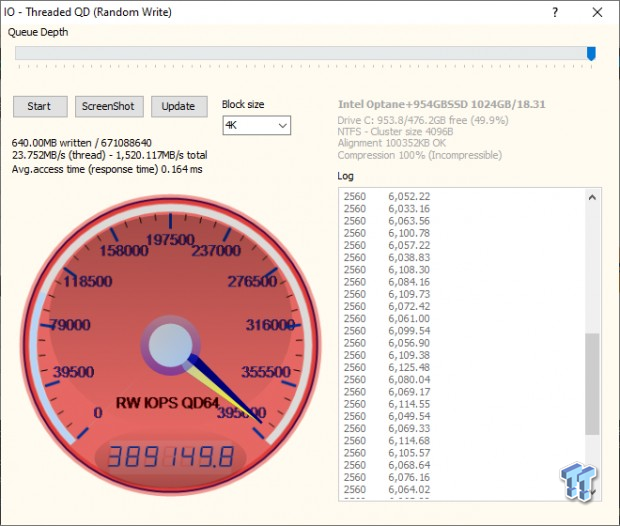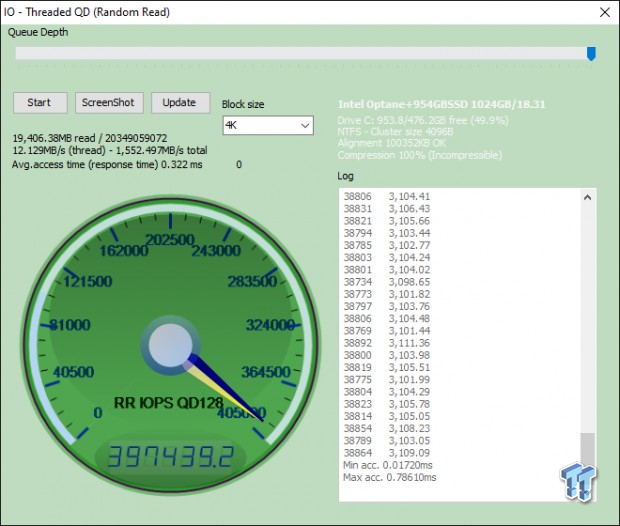 Max random IOPS for the H20 come in at roughly 400K/400K. Not bad at all.
Synthetic Benchmarks: AS SSD & ATTO
AS SSD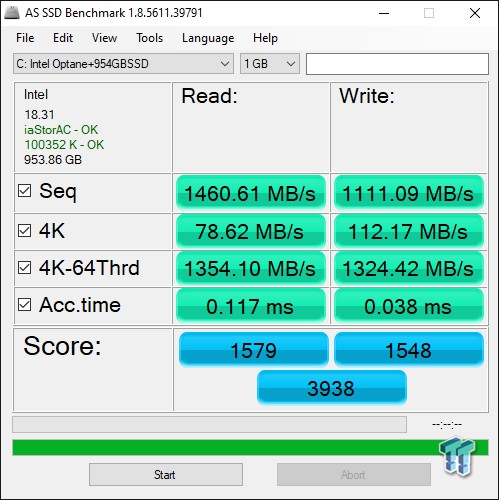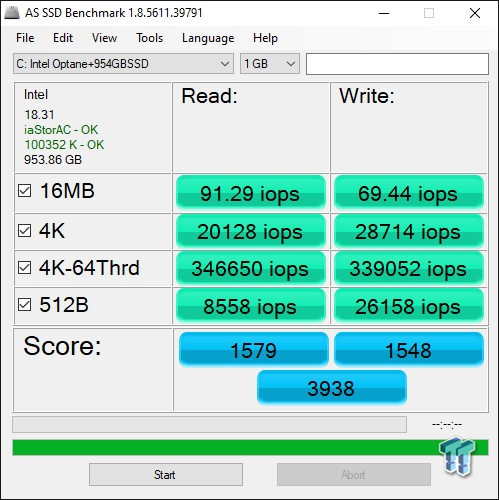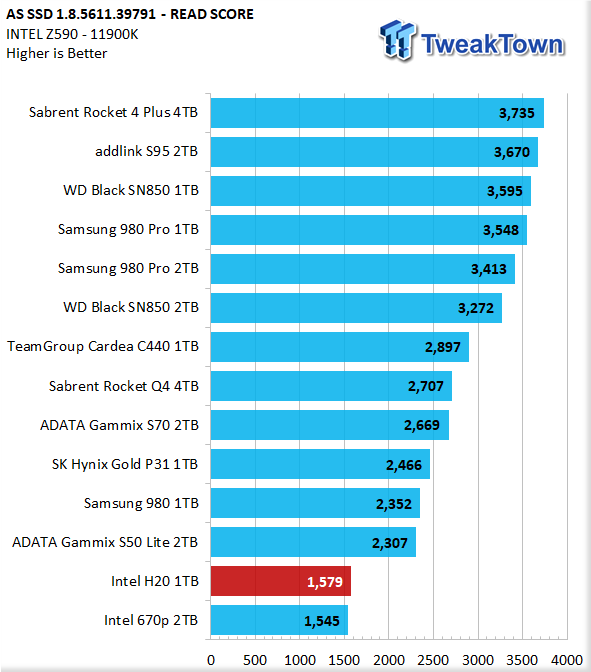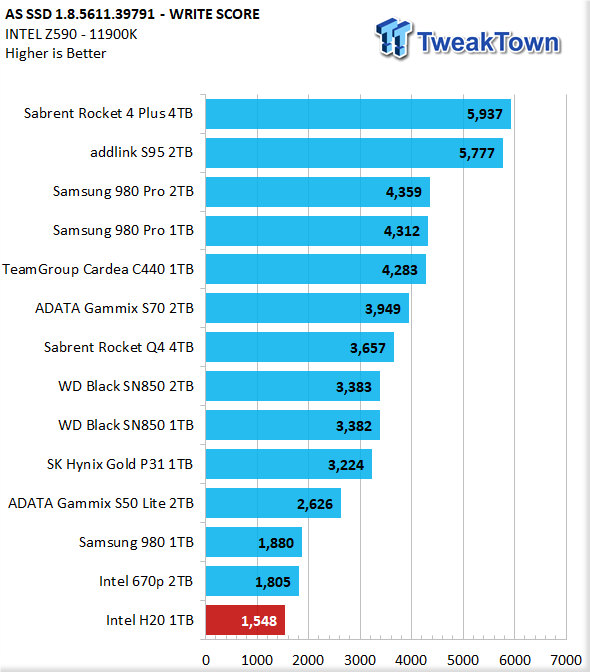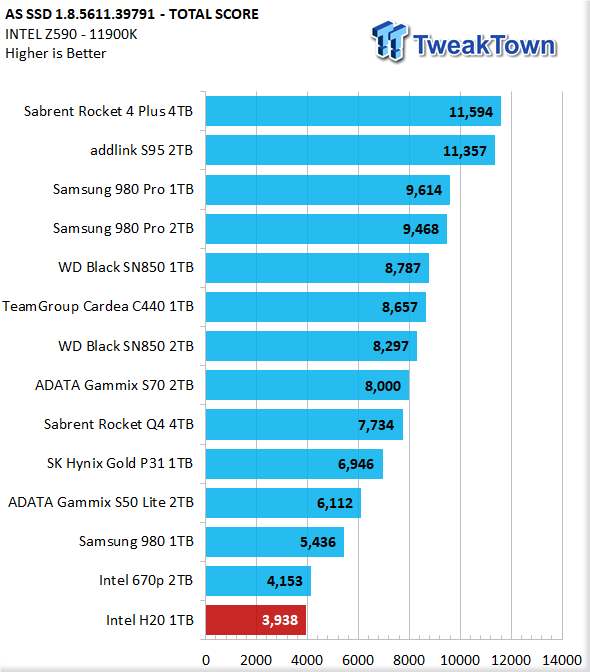 AS SSD plays nicely with some SSDs, but the H20 isn't one of them. The Optane part of the drive, for some reason, cannot cache any of the data generated by this particular benchmark.
ATTO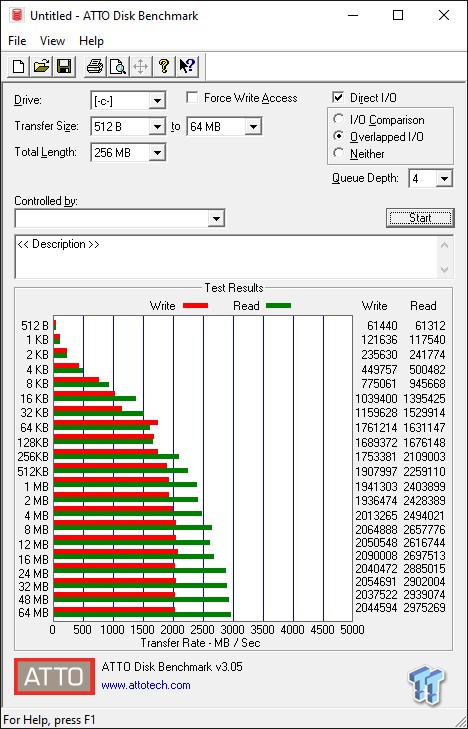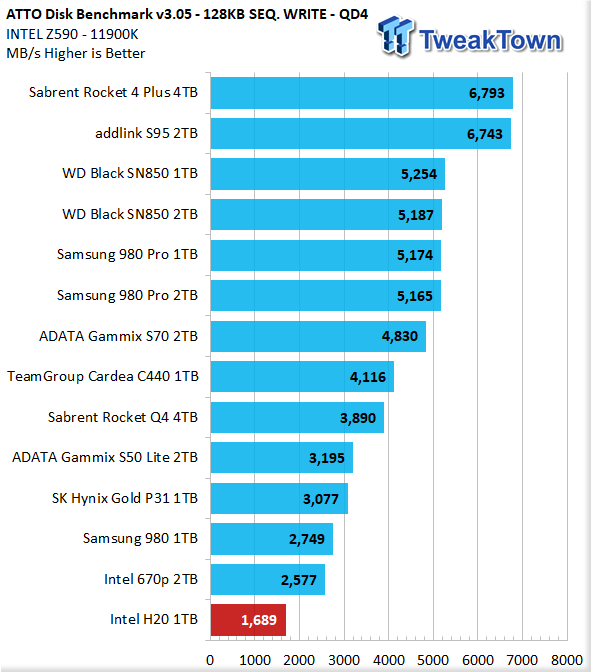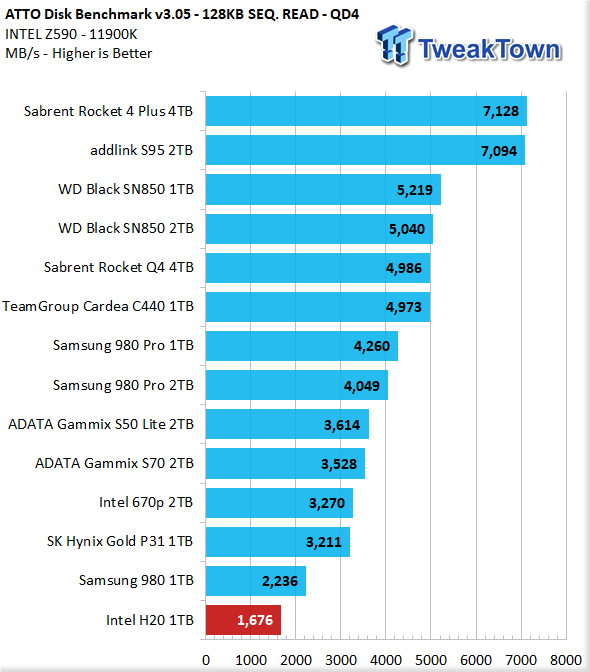 We are looking for two things primarily when evaluating ATTO results. First, we are looking for 50 MB/s read/write at 512 B transfers. The H20 gives us that and then some. More importantly, we are looking for full read speed at 128K transfers. As fully expected, the H20 isn't serving up anything good sequentially, but it's not intended for that purpose, as we've already explained.
Real-World Testing: Transfer Rates & Gaming
Transfer Rates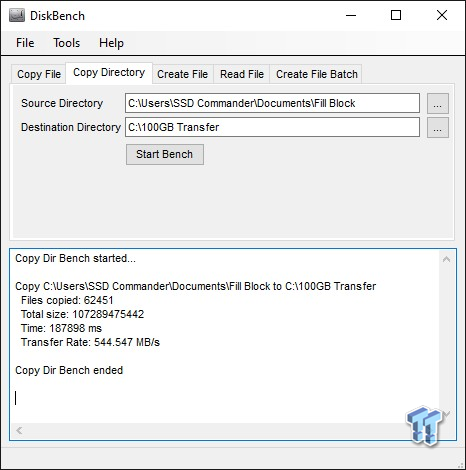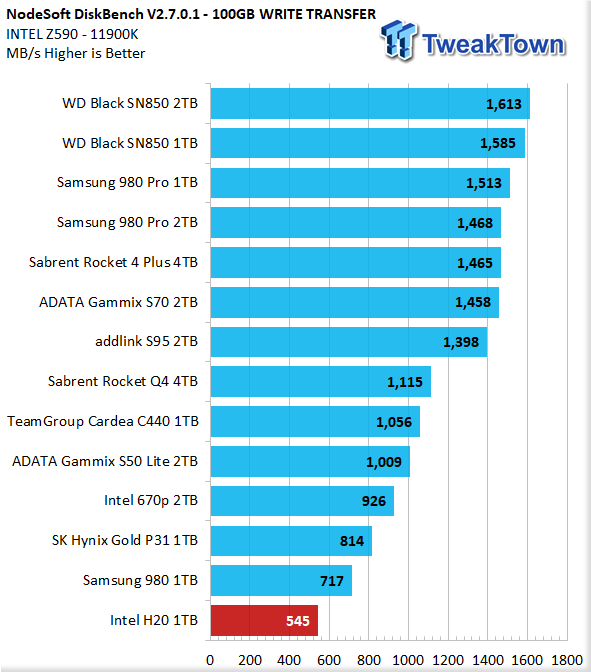 As expected, transfer rates are bottom of the barrel. Our 100GB data block cannot be cached by the H20, which means it's effectively transferring on 2 PCIe lanes instead of 4 like the rest of the SSDs that comprise our test pool.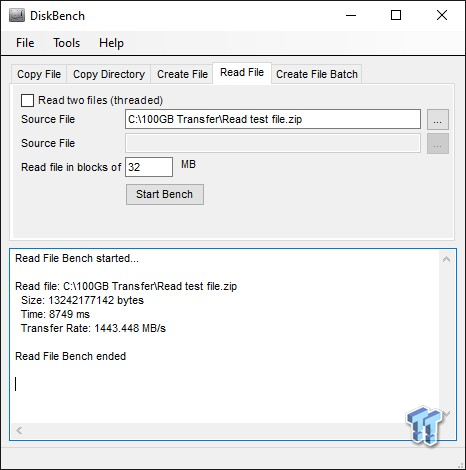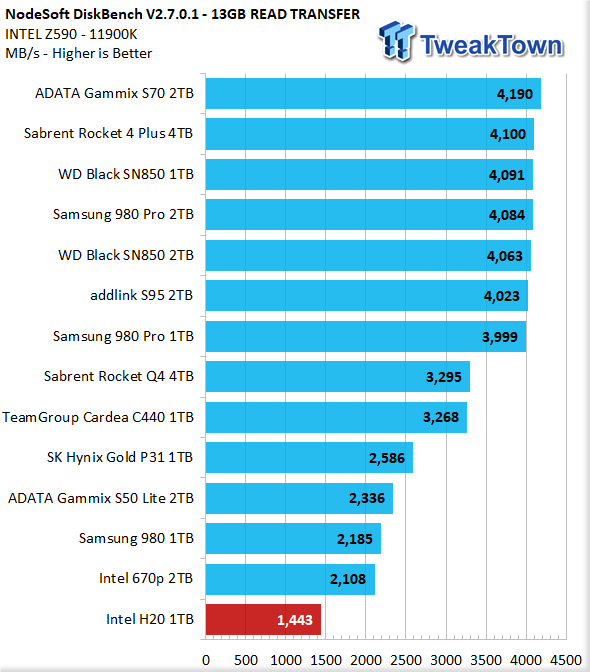 We are incurring the same issue when reading our test block to the host. Again, this is not what the H20 is meant to do.
Game Level Loading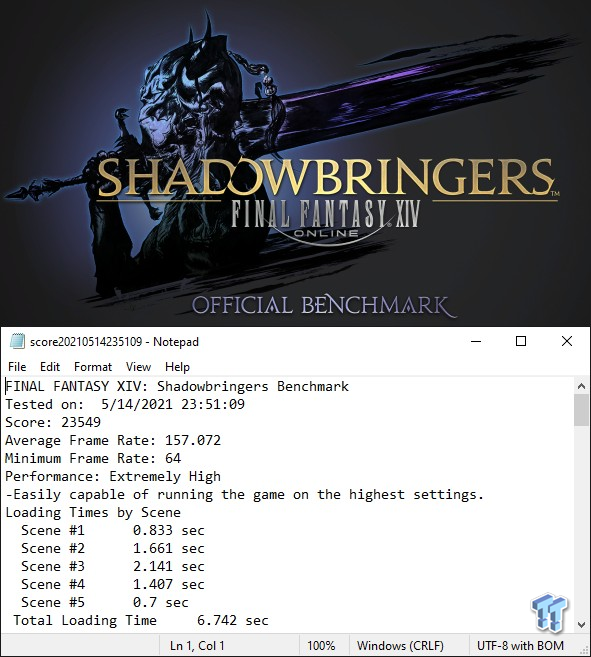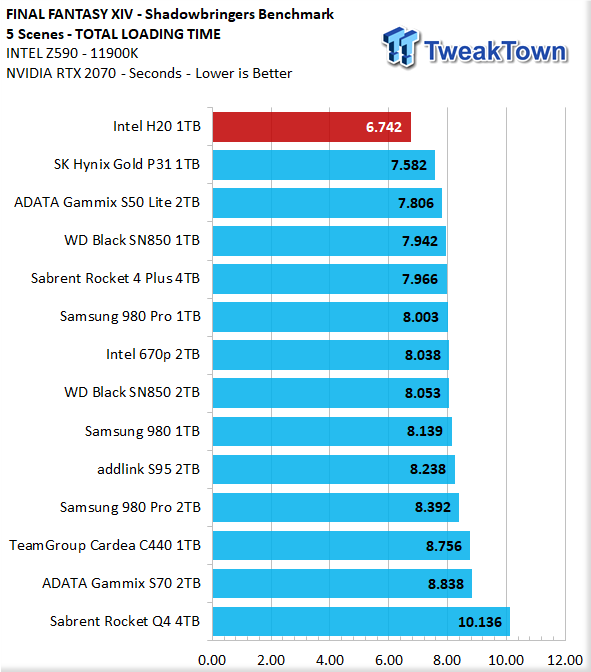 Gaming is a performance metric that matters to the majority of consumers, especially to the enthusiast crowd that TweakTown caters to. Here is where the H20 shines due to its superior random read performance at low queue depths. Performance where it matters most.
Real-World Testing: PCMark 10 Storage Tests
PCMark 10 Storage Test is the most advanced and most accurate real-world consumer storage test ever made. There are four different tests you can choose from; we run two of them.
The Full System Drive Benchmark and the Quick System Drive Benchmark. The Full System Drive Benchmark writes 204 GB of data over the duration of the test. The Quick System Drive Benchmark writes 23 GB of data over the duration of the test. These tests directly correlate with user experience. Of the two tests, we feel that the Quick System Drive Test most accurately replicates a typical user experience.
PCMark 10 Full System Drive Benchmark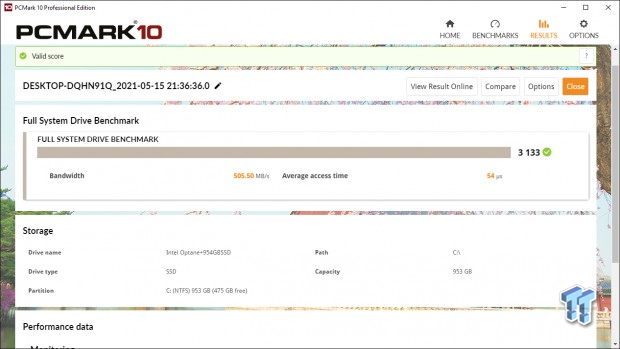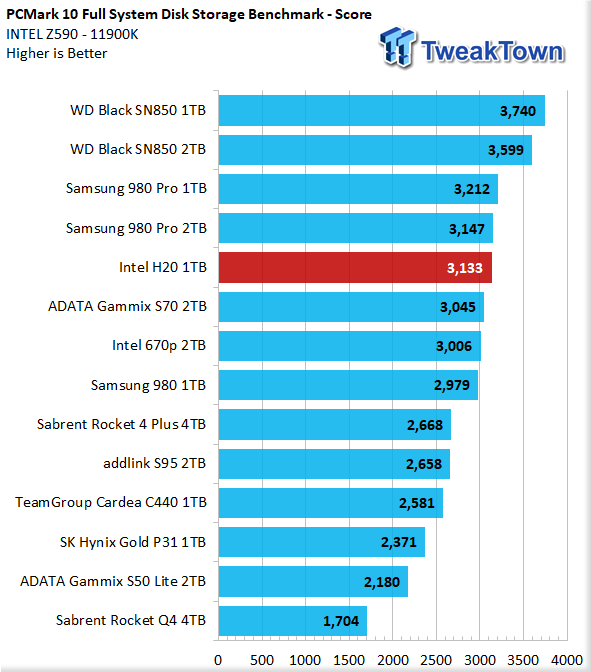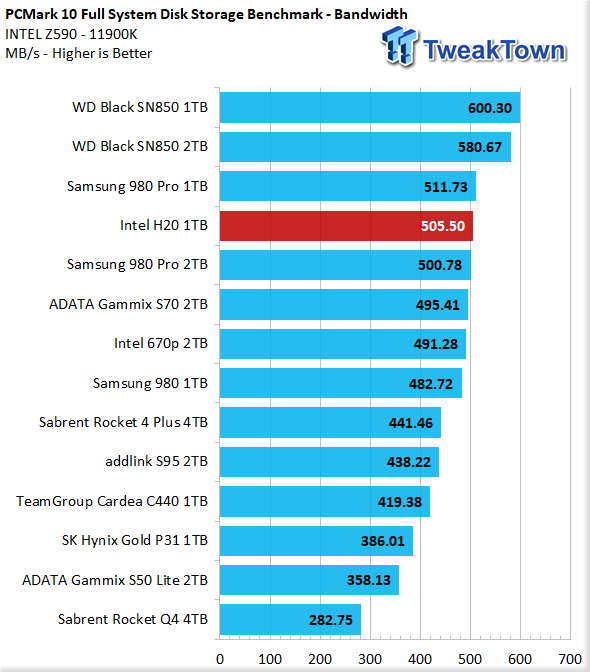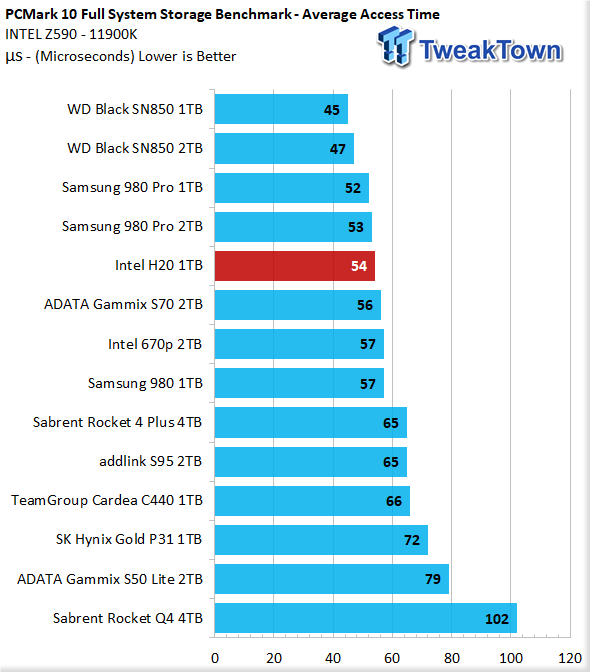 This particular test writes over 204GB data and covers a broad range of common consumer tasks, including booting Windows 10, file transfers, Adobe and Office applications, and startup times for games including Battlefield V, COD Black Ops 4, and Overwatch. Unlike synthetic numbers, this is comprehensive real-world data which is why we use it to rank SSDs in terms of user experience.
We weren't expecting the H20 to do this well because of the amount of data this test uses. Yet here it is, delivering some of the best numbers we've seen to date with what could be argued as the most important test of what an SSD is really made of. Impressive.
PCMark 10 Quick System Drive Benchmark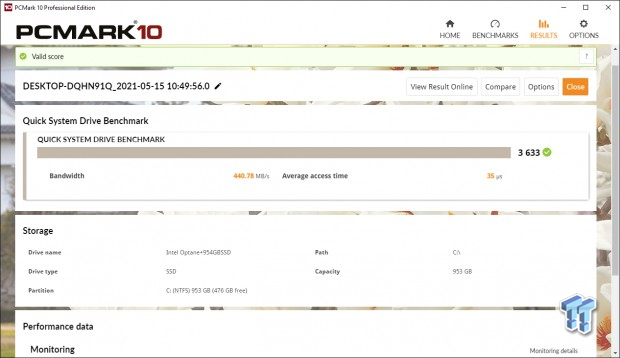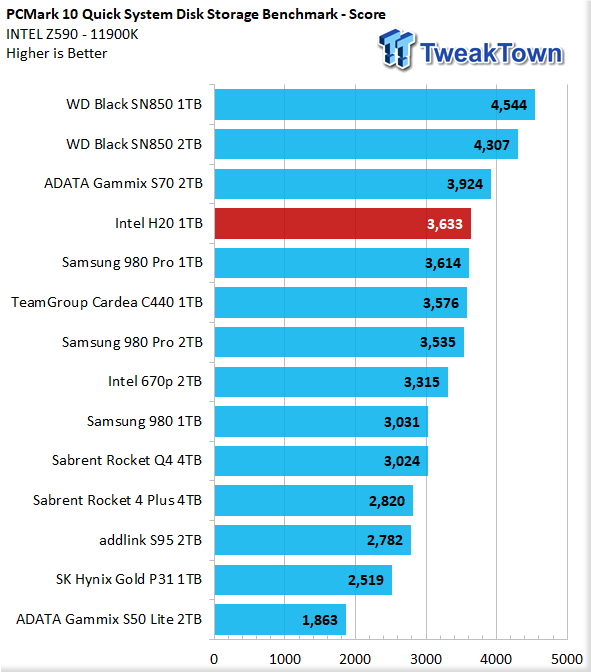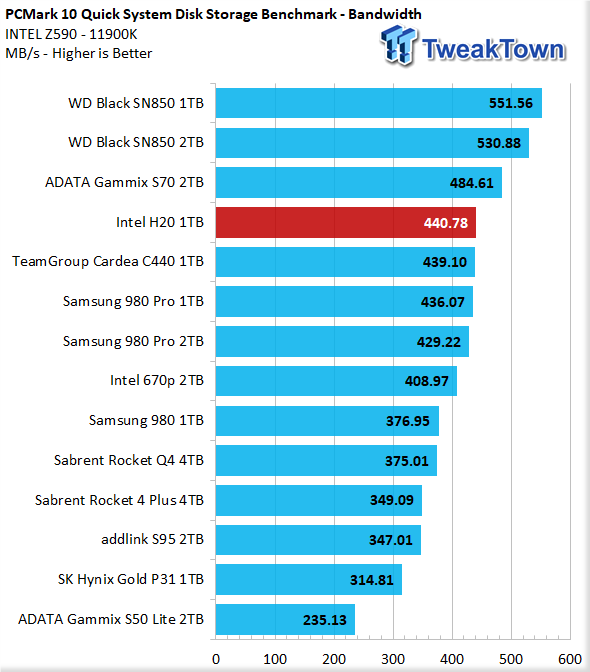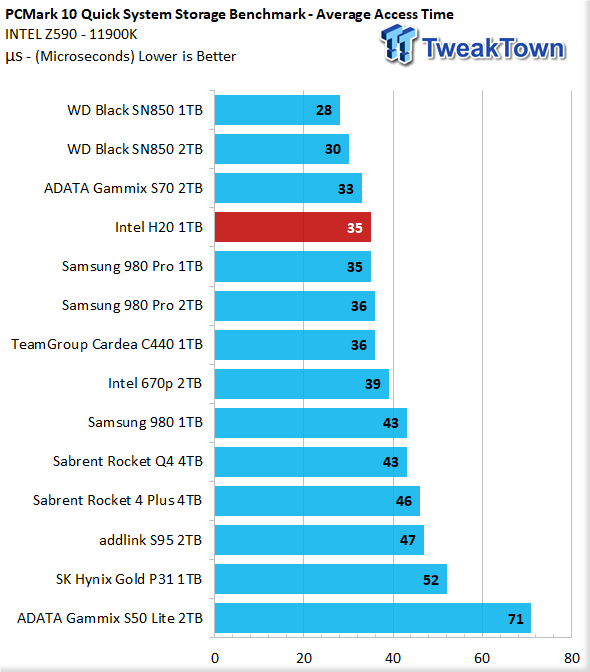 We figured this test would be right up the H20's alley, and indeed it does slice through this set of traces with ease. We expected to see good things here, but we did not expect to see a 4-channel Gen3 QLC SSD beating Samsung's mighty 980 Pro. Wow.
Final Thoughts
The H20 shows us that a little Optane can go a long way when you are seeking a premium user experience. The H20 is all about responsiveness, or performance where it matters most. The H20 is about things like instant on for your mobile devices. It's about long battery life, seamless multitasking, and exceptional performance in real-world usages. You want data security? The H20 is delivers there too with Pyrite 2.0 security. The only real knock against it we have is that it's an OEM-only product.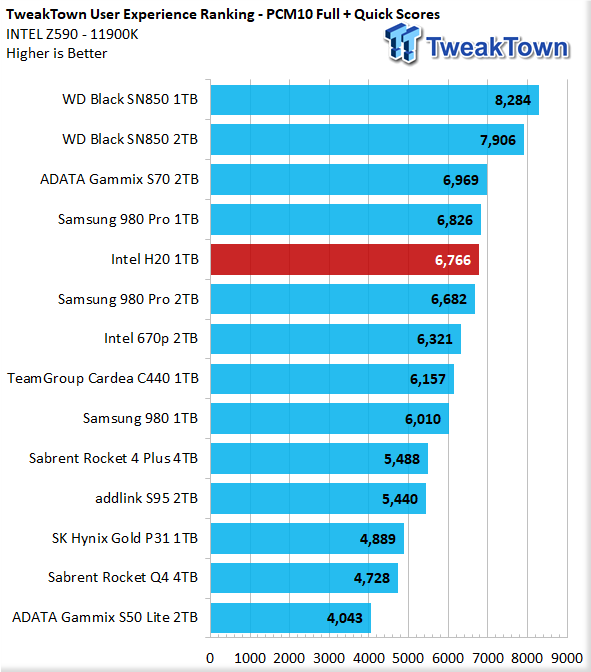 We rank SSDs in terms of overall user experience (performance where it matters most) as expressed by PCMark 10 storage testing. The Intel H20 stands tall on our list of the best of the best, clearly demonstrating that it will indeed deliver as advertised.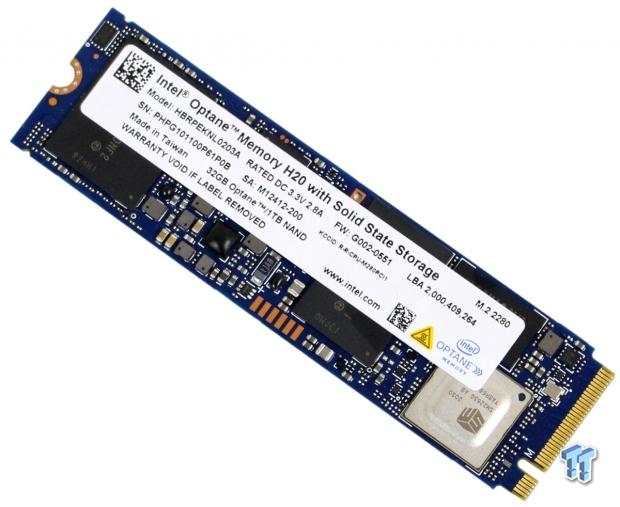 As we take a quick look back at our test results, we can point to several places where the Intel H20 shows itself to be something special. The H20 started off right out of the gate with absolutely dominating 4K Q1T1 random read performance as measured by CrystalDiskMark. We got another healthy dose of read performance when we tested it against Anvil's. Then the H20 demonstrated its gaming prowess by delivering a lab record for an M.2 SSD. And to wrap it all up, the H20 clearly demonstrated that it can deliver some of the best overall user experience money can buy.
Pros
Responsiveness

Gaming

Consumer Workloads
Cons
Sequential Performance

Transfer Rates

OEM Only
| | |
| --- | --- |
| Performance | 90% |
| Quality | 95% |
| Features | 85% |
| Value | 90% |
| Overall | 90% |
The Bottom Line
If the H20 is an available option for your OEM system, take it.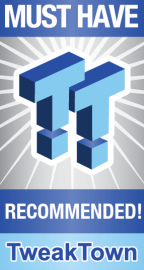 We openly invite the companies who provide us with review samples / who are mentioned or discussed to express their opinion. If any company representative wishes to respond, we will publish the response here. Please contact us if you wish to respond.