TweakTown's Rating: 94%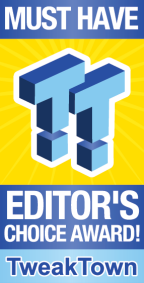 The Bottom Line
Aruba has leveraged its extensive knowledge in enterprise networking to deploy a fantastic SMB platform focused on ease of use and low TCO.

Aruba is one of the most well-known vendors in the enterprise networking space and is recognized as a leader in the industry. Building out their platforms, Aruba, as recent as last year, took it upon themselves to engineer and deploy a new platform for small business users that takes all the tedious management out of the equation and replaces it with a cloud connected management solution.
InstantOn has emerged as a serious player with a full hardware portfolio behind it. This is a boon to the often-competitive business market where small businesses need to focus on the consumer experience, which often requires hardware levels above your off-the-shelf networking equipment to reach a secure network infrastructure that exceeds consumer needs.
Wi-Fi 6 is a large part of these emerging networks. The increase in throughput, available channels, and efficiency improvements means these devices can handle more traffic quicker.
The Hardware

The InstantOn platform offers a variety of wired switch hardware for your deployment. For our setup, we have the 1930 switch in the 24-port 195W PoE configuration. This switch carries an MSRP of $349.99.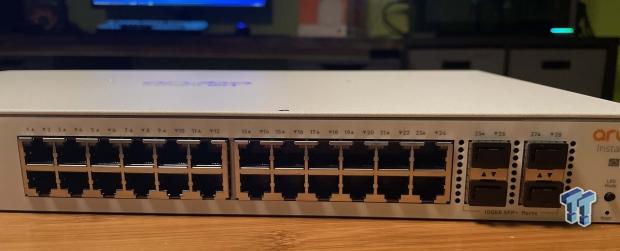 A closer look at the switch shows 24 copper RJ45 ports support 1GBe and four 10Gbe SFP+ ports. To the right of that, we have an information panel split up into LEDs to denote cloud connectivity and switch health.
The 1930 switch has the power supply built-in that offers a line-level power input that supports both 110 and 220v.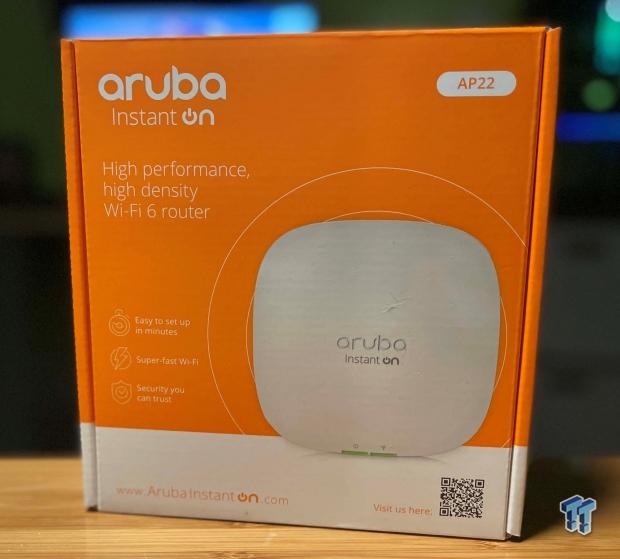 The AP22 is Aruba entry to Wi-Fi 6 within the InstantOn platform. This is a Wi-Fi Certified 6 dual-band solution that offers a 2x2 configuration for both 2.4GHz and 5GHz bands. This means we have 1.2GBps available on the 5GHz band and 574Mbps available via 2.4GHz. Uplink is Gigabit ethernet with support for the 802.3af PoE standard.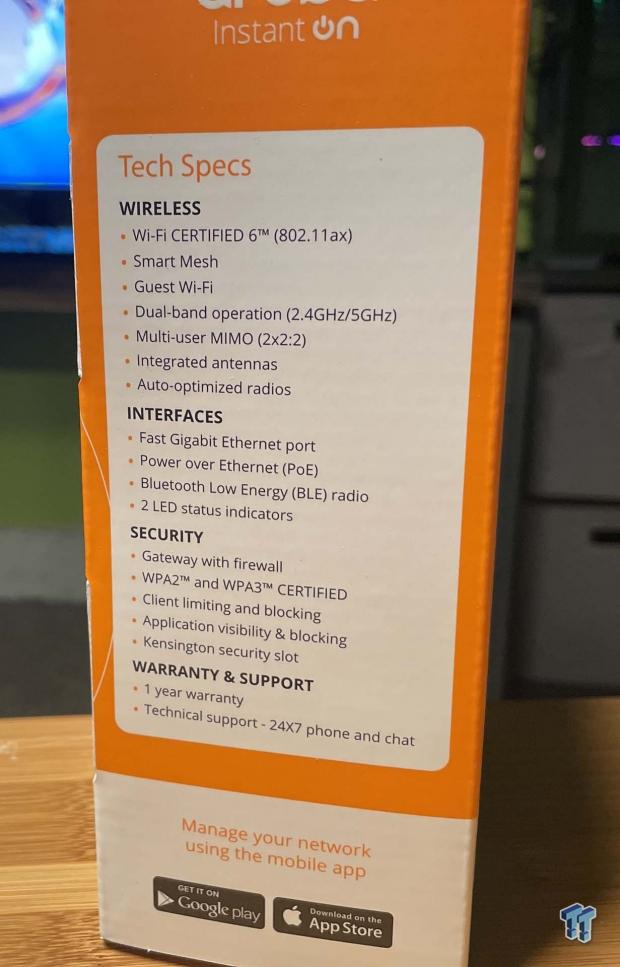 The spine of the packaging offers tech specs, including interface security and warranty.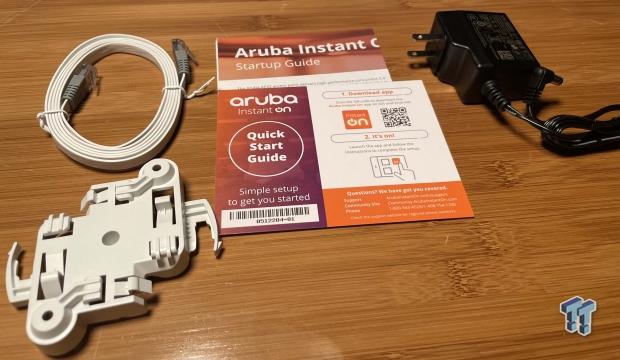 Accessories included with the AP22 include a power adapter for those not using PoE, ceiling mount hardware, and ethernet cable.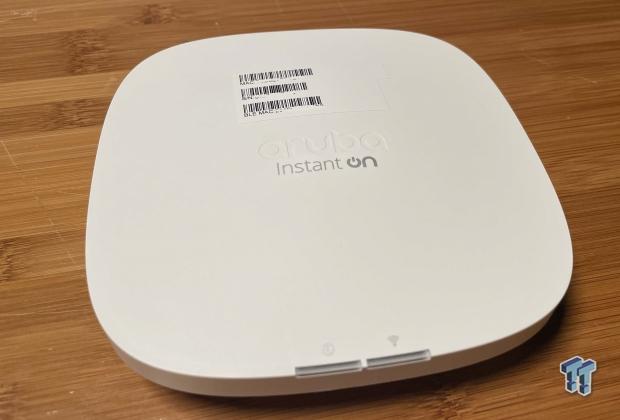 The AP22 is a rather small device that offers two LEDs on the front edge showing network connectivity and power.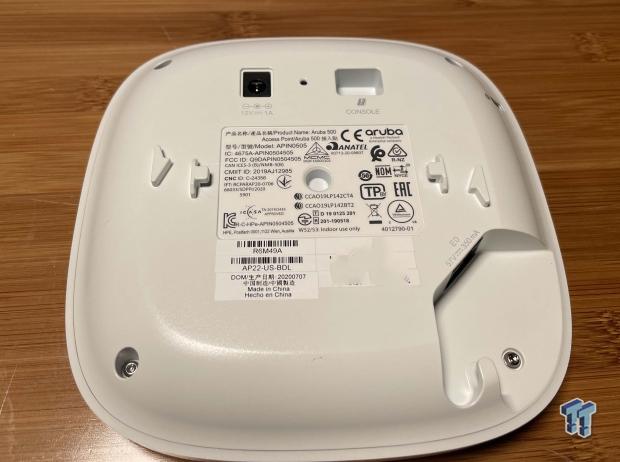 On the bottom of the unit, we find the power input for those not using PoE and the USB console port to the right. The bottom right is where you will find the RJ45 port.
The Software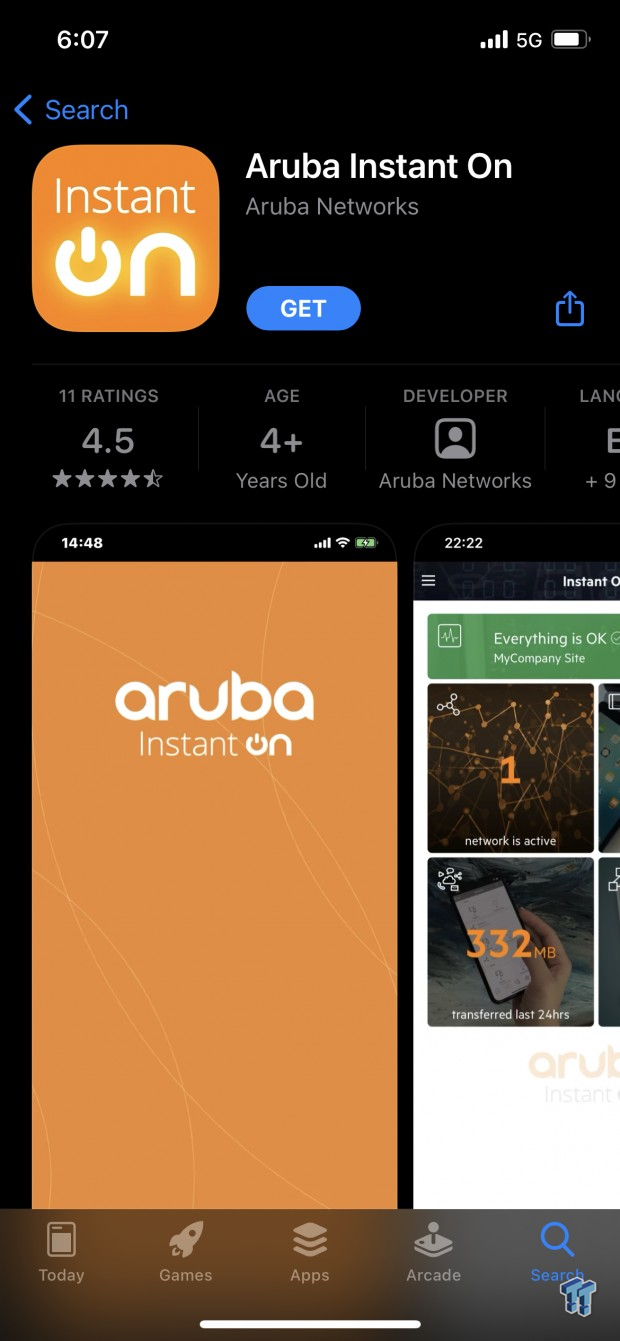 Software for InstantOn setup is available on Android and iOS platforms. In this review, I am using the iOS version on an iPhone 12 Pro.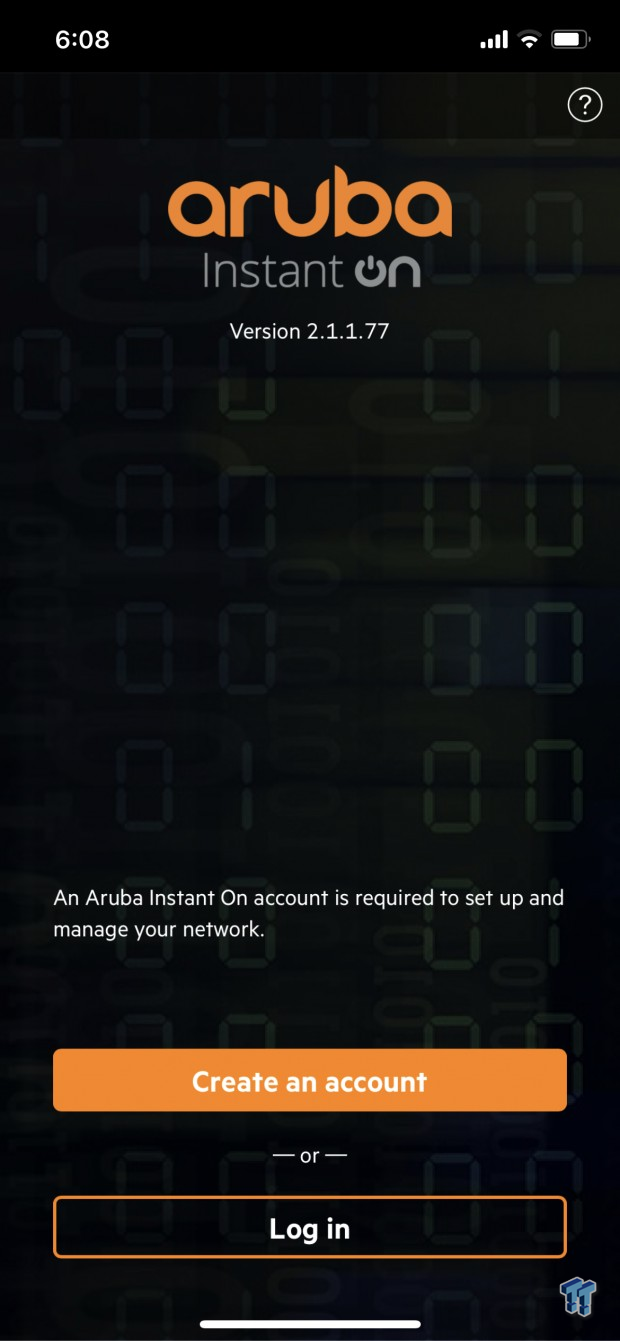 Starting setup, you will first need to create an account with Aruba InstantOn.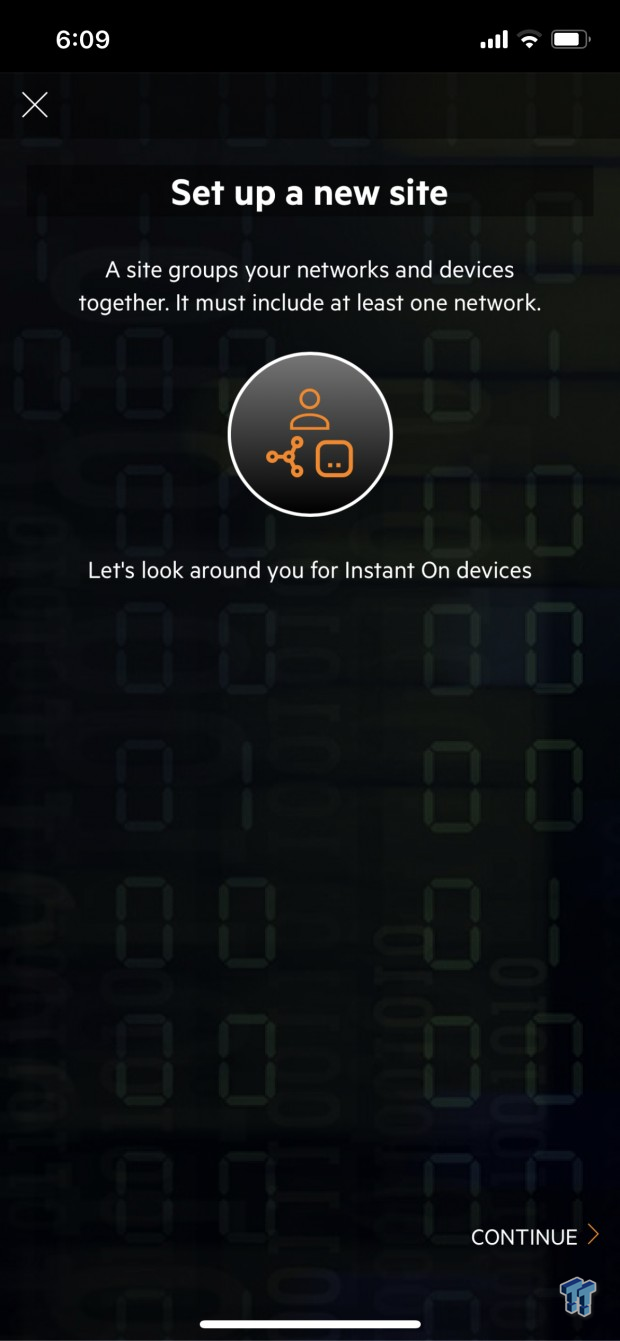 After your account is created and confirmed, we can move into creating our first site. A "site" is just a group of devices and the deployed networks within, so do not overthink this as you set up your hardware and go for simple names that mean something to you.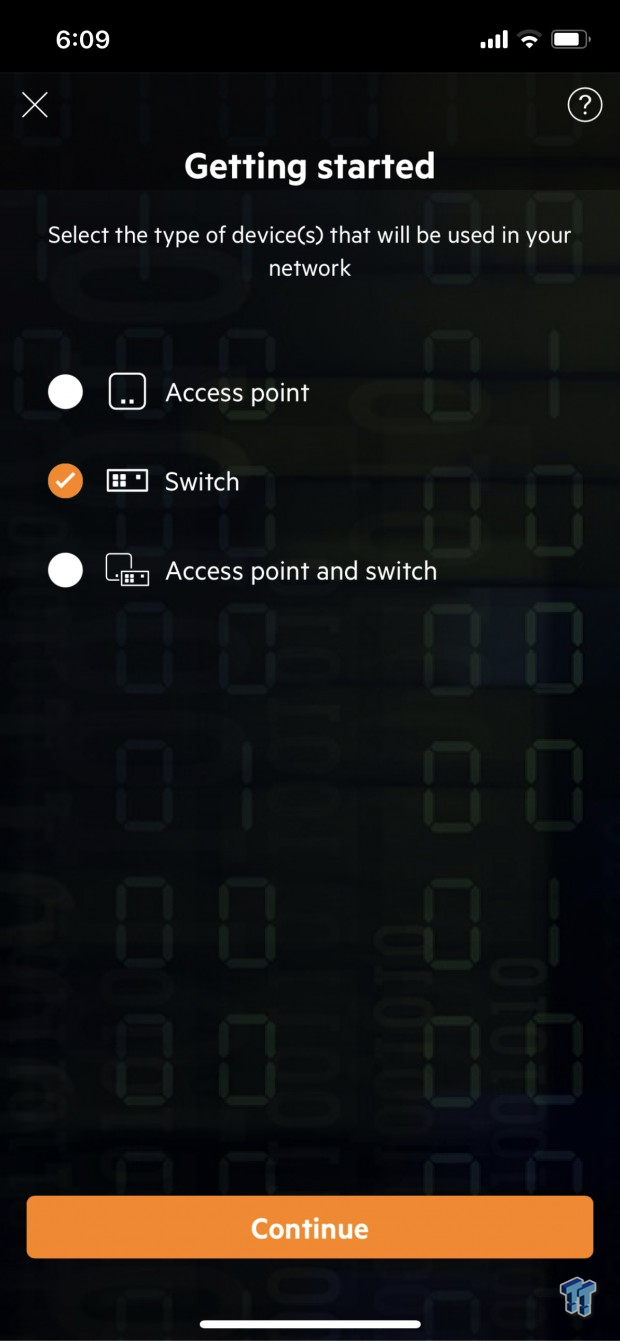 To start our site build-out, we started with the 1930 Switch as the only device connected. Within the app, we tell InstantOn to search for switches only.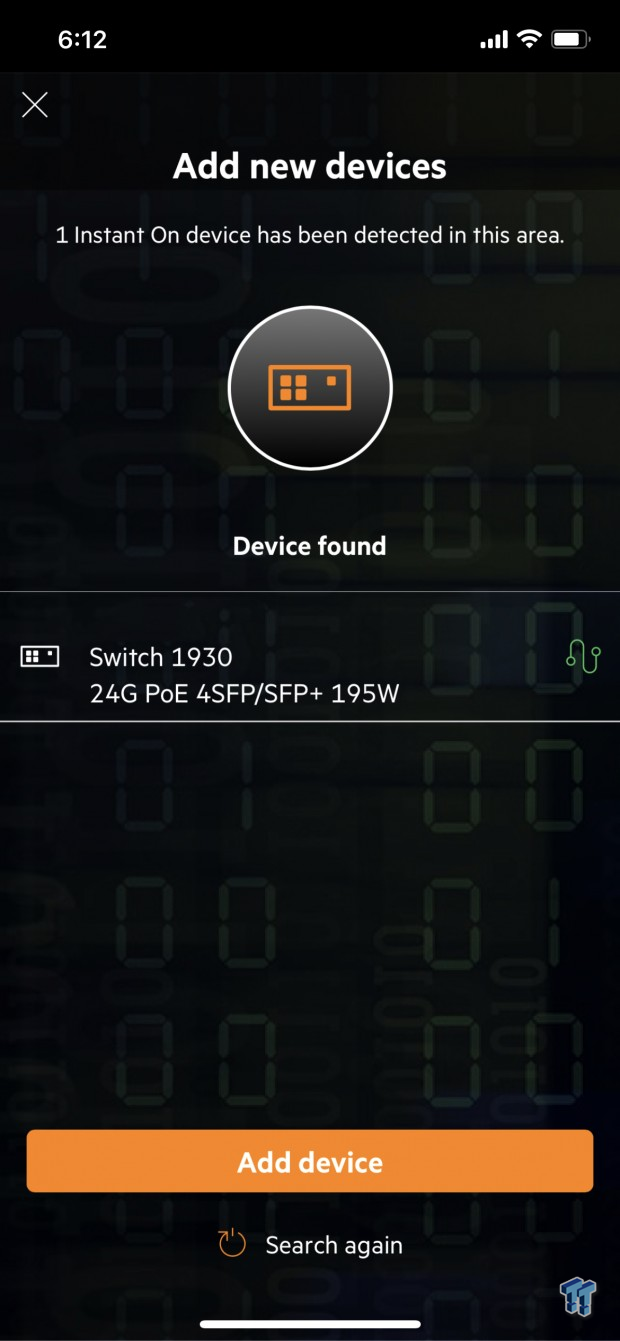 After a few seconds, the app has found our switch, and we proceed to add it to the current site.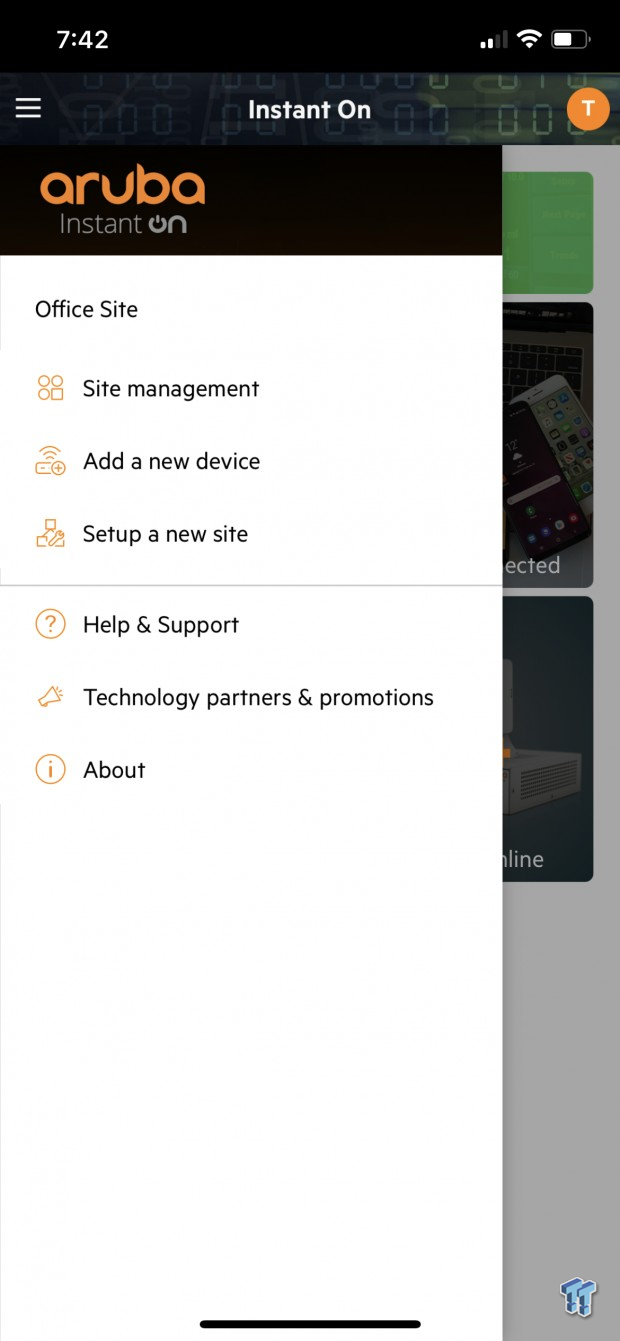 With the setup of our first device complete, you can move inside the app to the menu above and select add new device. From there, make sure all of your deployed access points are powered on and tell InstantOn to search for APs.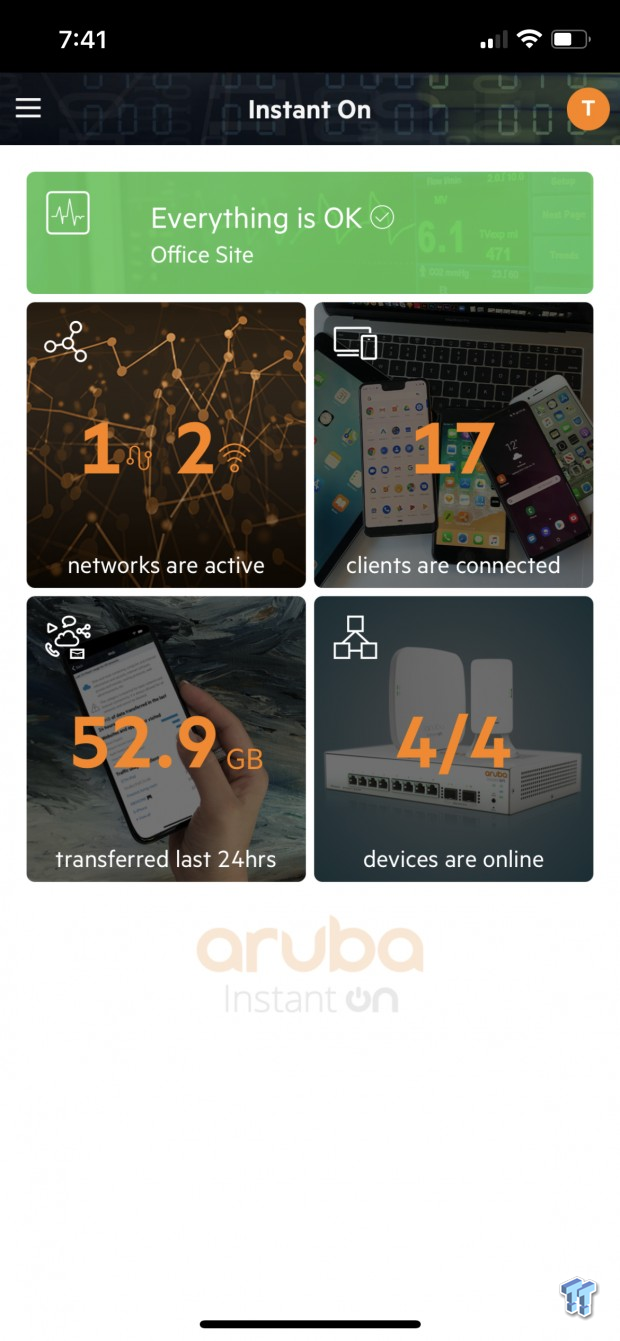 Once your network setup is complete, the app will land you on the above dashboard. This offers a quick overview of network operation, the networks you have active, devices present on the network, and even clients connected.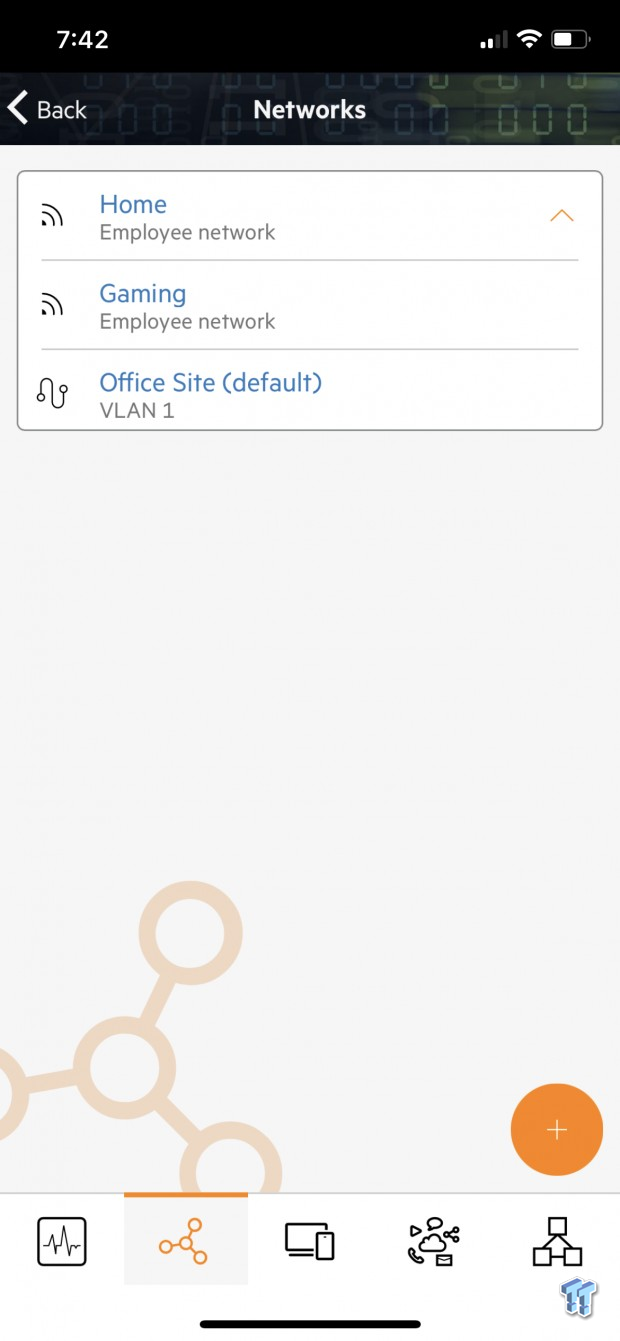 Network setup allows you to create multiple SSIDs within a site. These networks can have different settings, and they can also be on different VLANs, effectively separating them from seeing each other.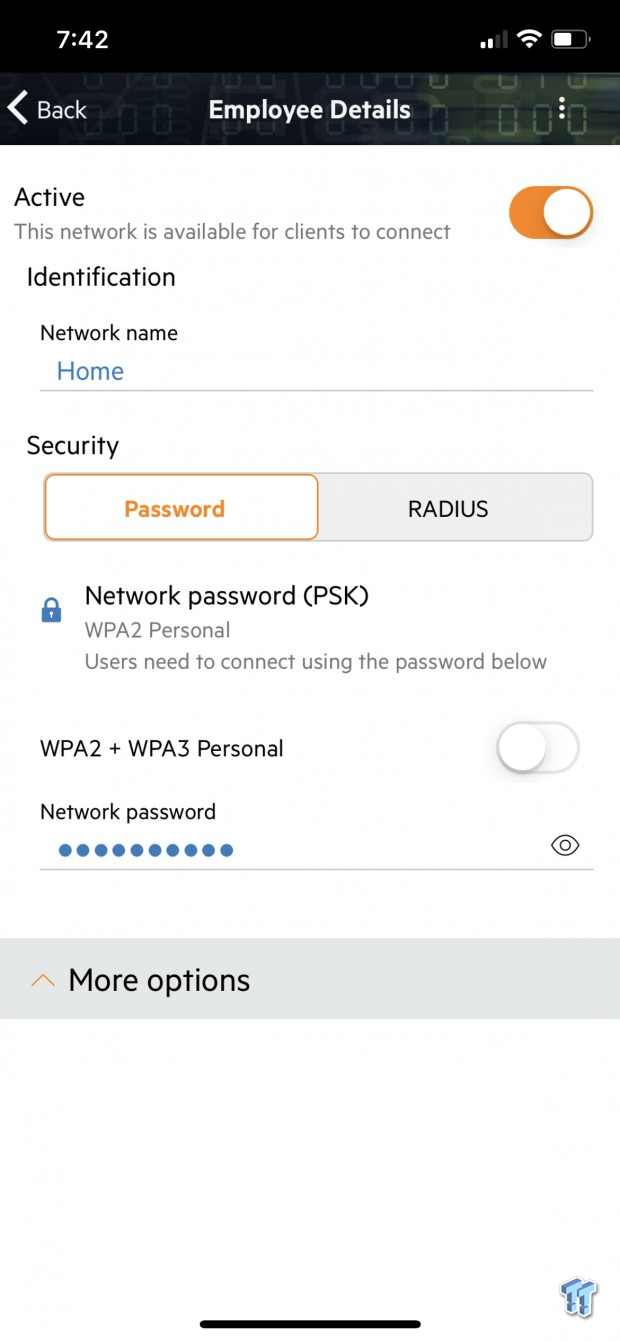 Basic options with network setup allow you to configure the SSID with a network name and the password below. You can also choose to use WPA3 for increased security.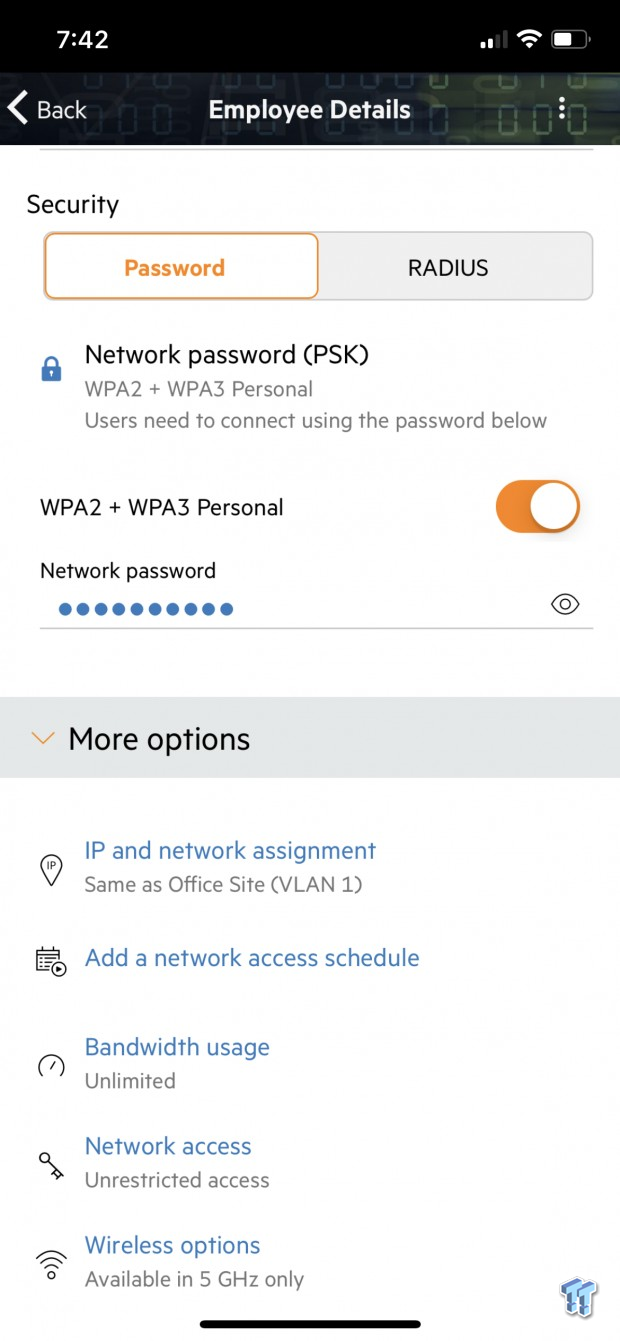 More in-depth options for the network include the ability to manage the IP and VLAN ID or set a schedule for when the network is turned on, such as during business hours. You can further restrict network access to certain devices and limit bandwidth if you so choose. The last option is wireless options, where you can choose the bands your network is available on.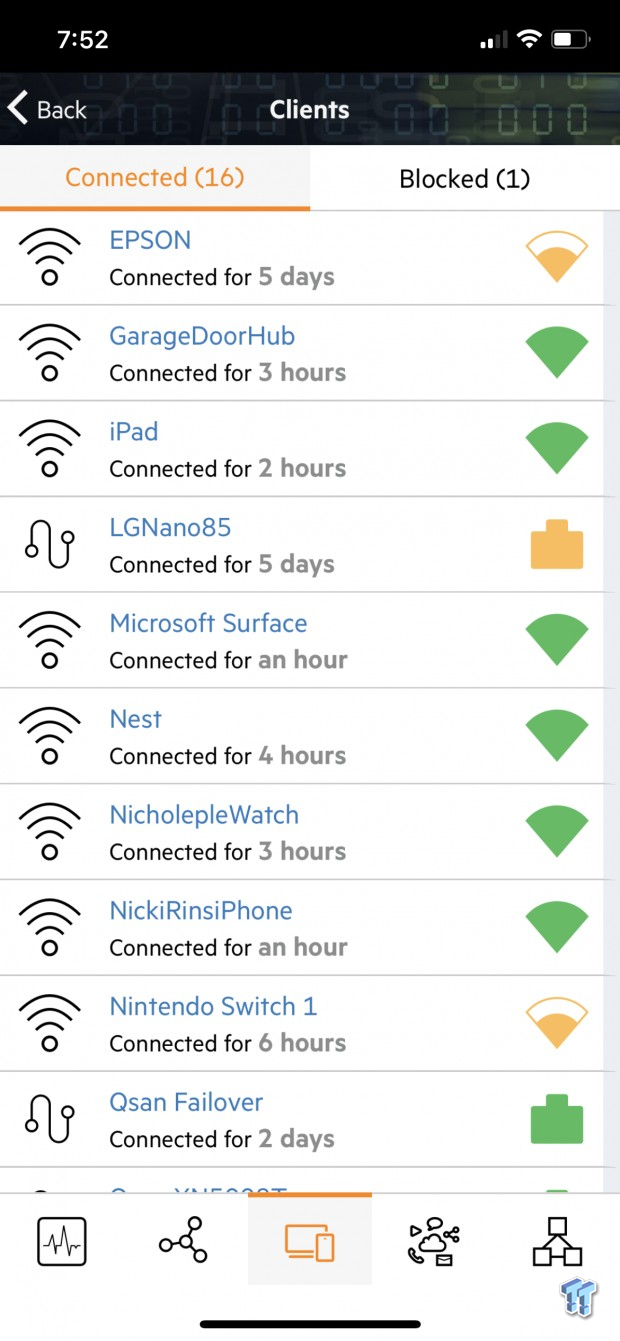 Within the client menu, you can see all devices connected, connection rate by color, and type with the shape of the connection.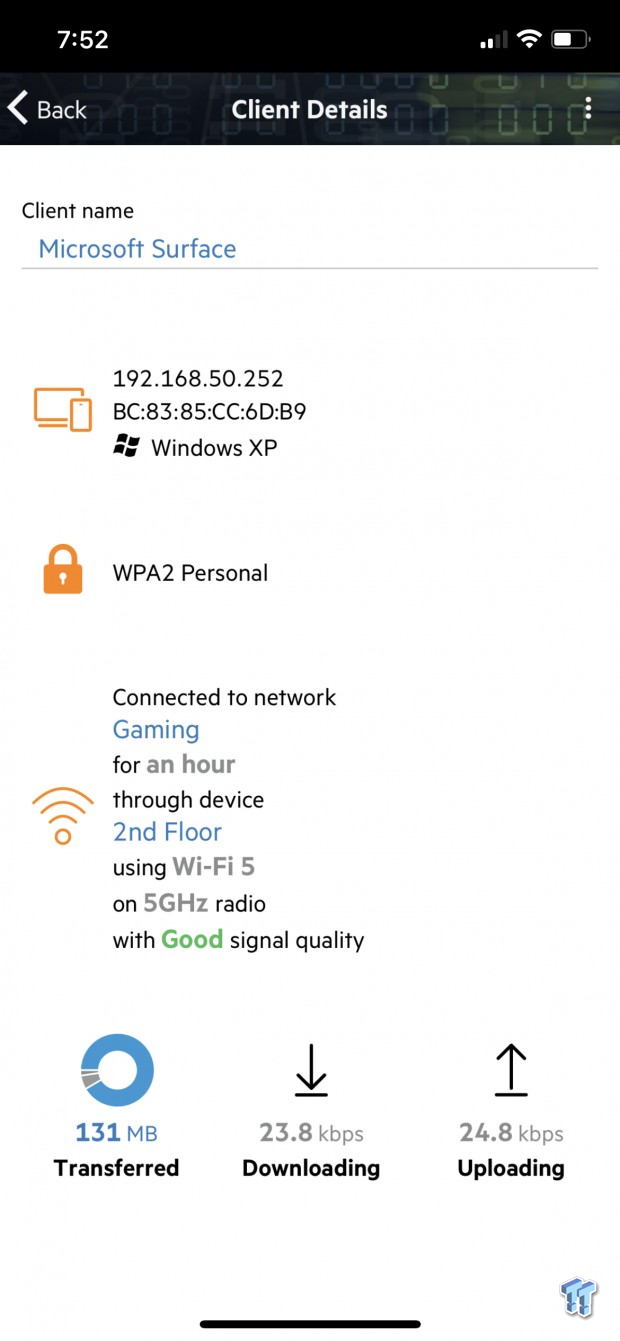 Selecting a client shows you the amount of data the device has used, current data rates, and what AP it is connected to.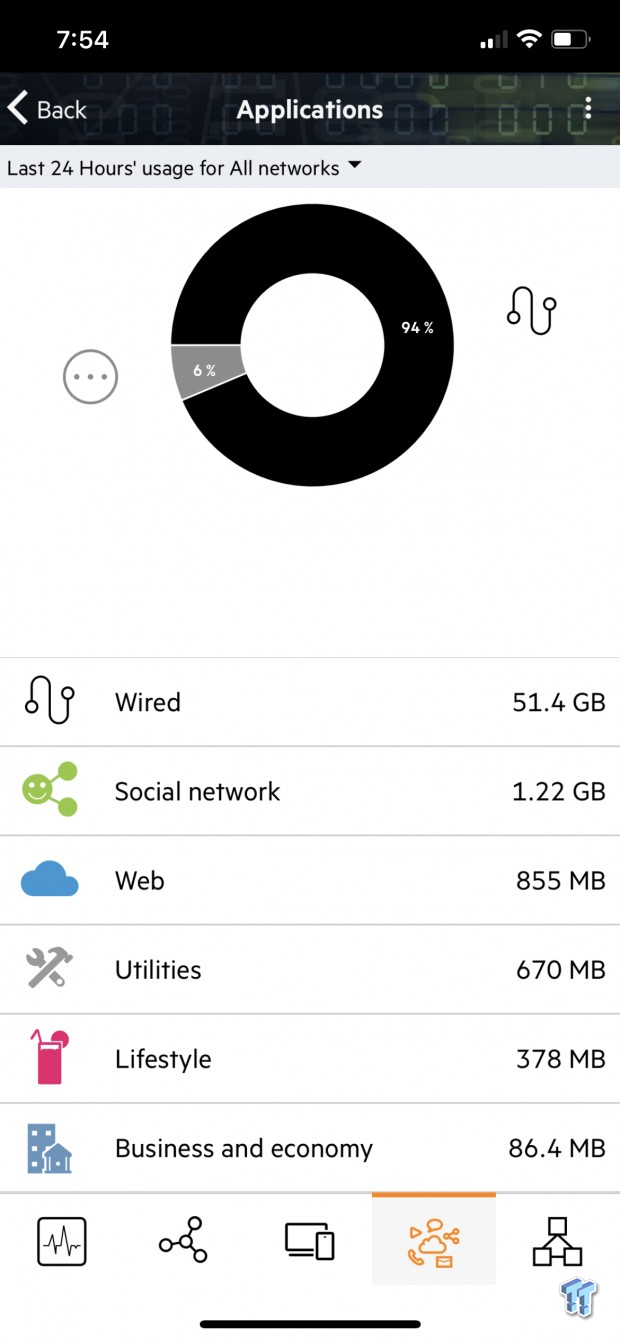 InstantOn also allows filtering of data and, by default, will categorize it and show you what clients are using any data.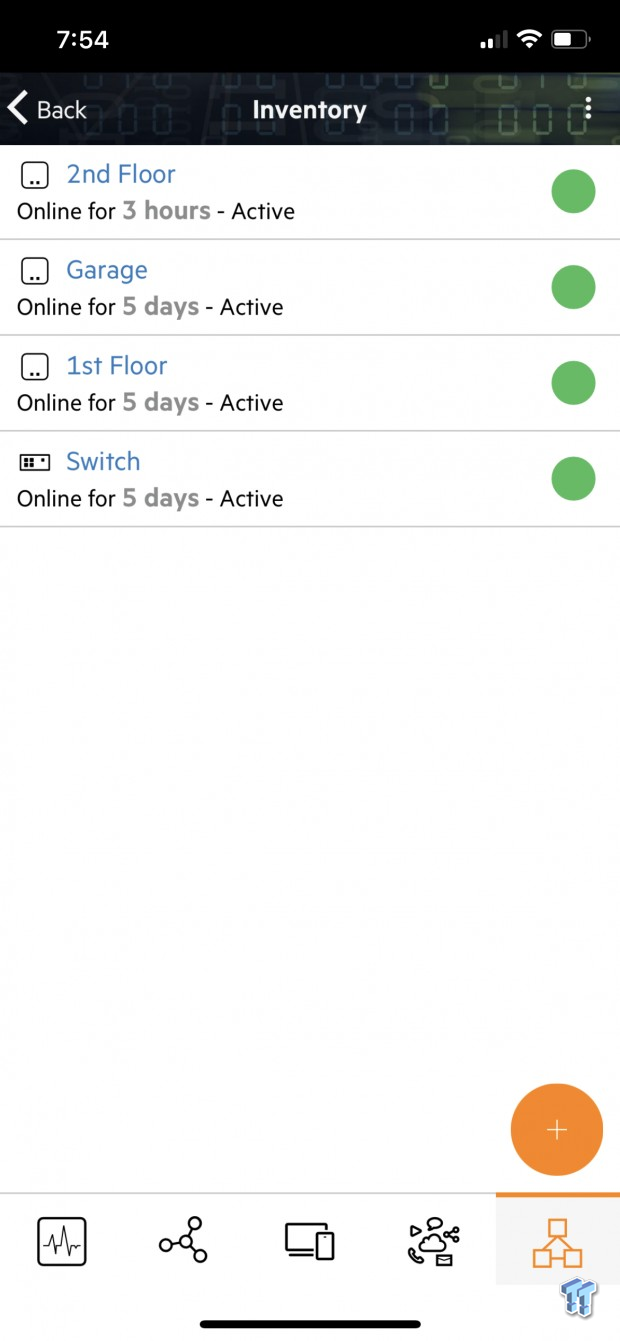 Within the inventory menu, you can see all your connected hardware and its status.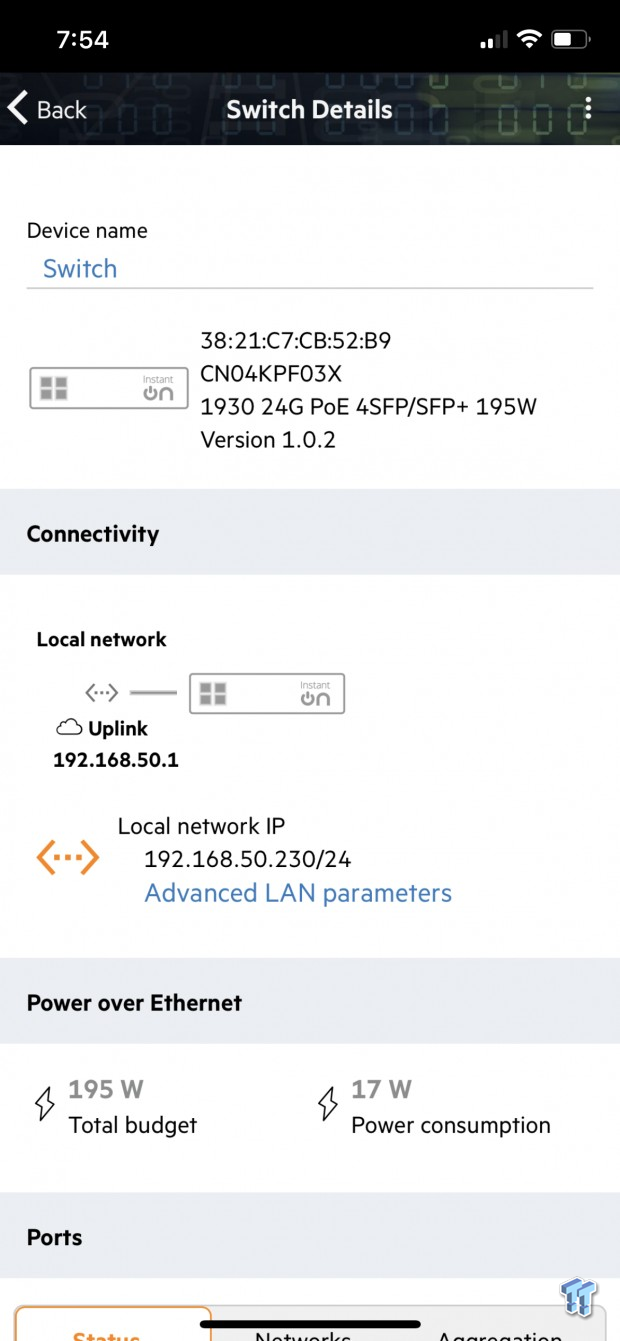 InstantOn will allow you to name all your hardware with the box at the top. Further down, you can configure LAN parameters and view PoE budget and usage.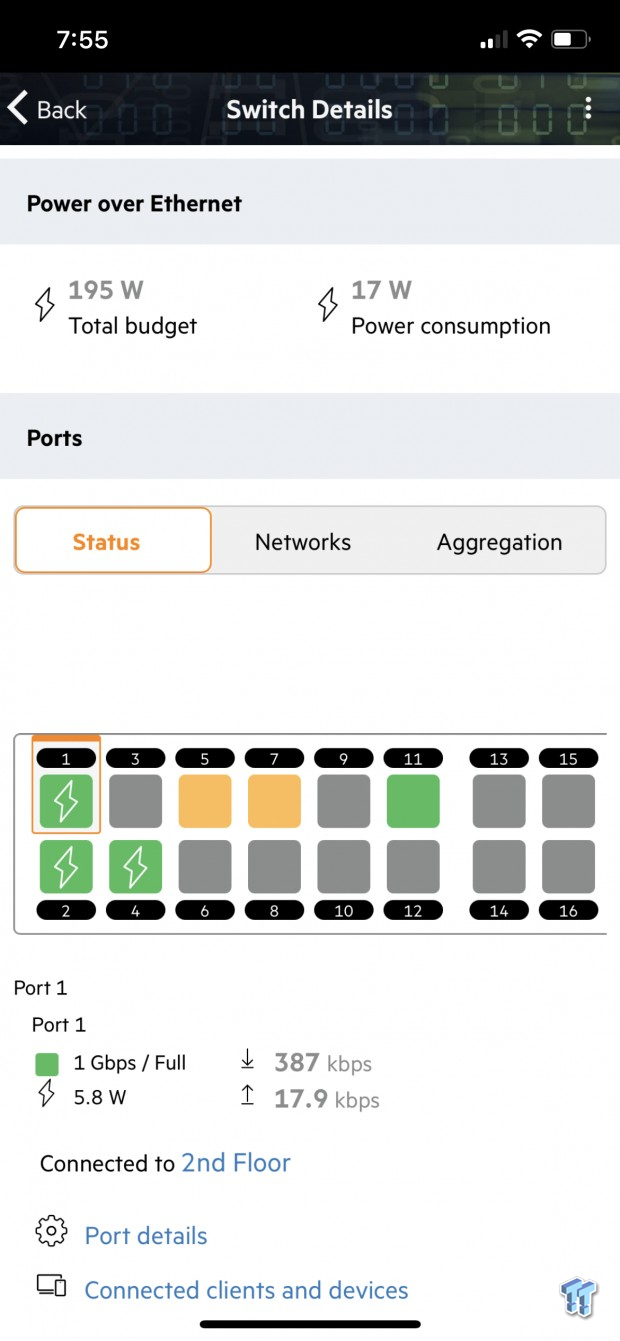 Further down, we can see what ports are connected, what ports are drawing power from our PoE budget, and the link rate coded by color.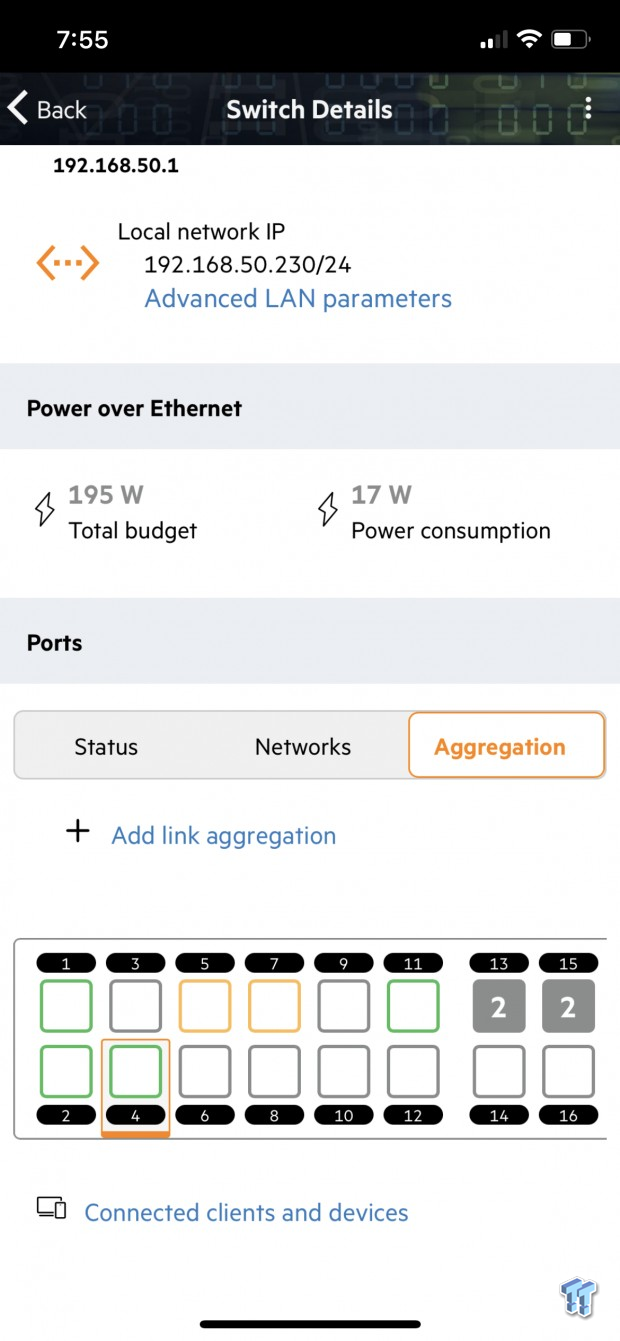 If you slide over to the aggregation tab, you can create LinkAgg as easily as selecting the ports on the screen.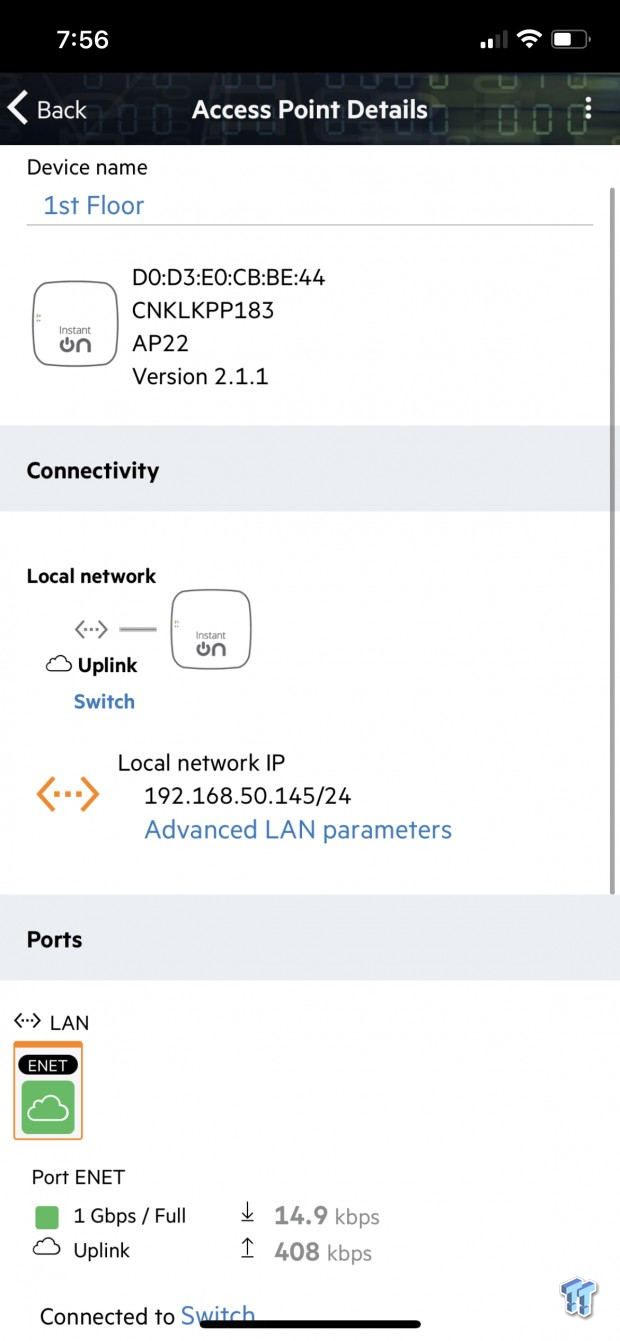 A similar setup is available for Wireless APs. With the AP22, you can see the uplink speed and current data rate.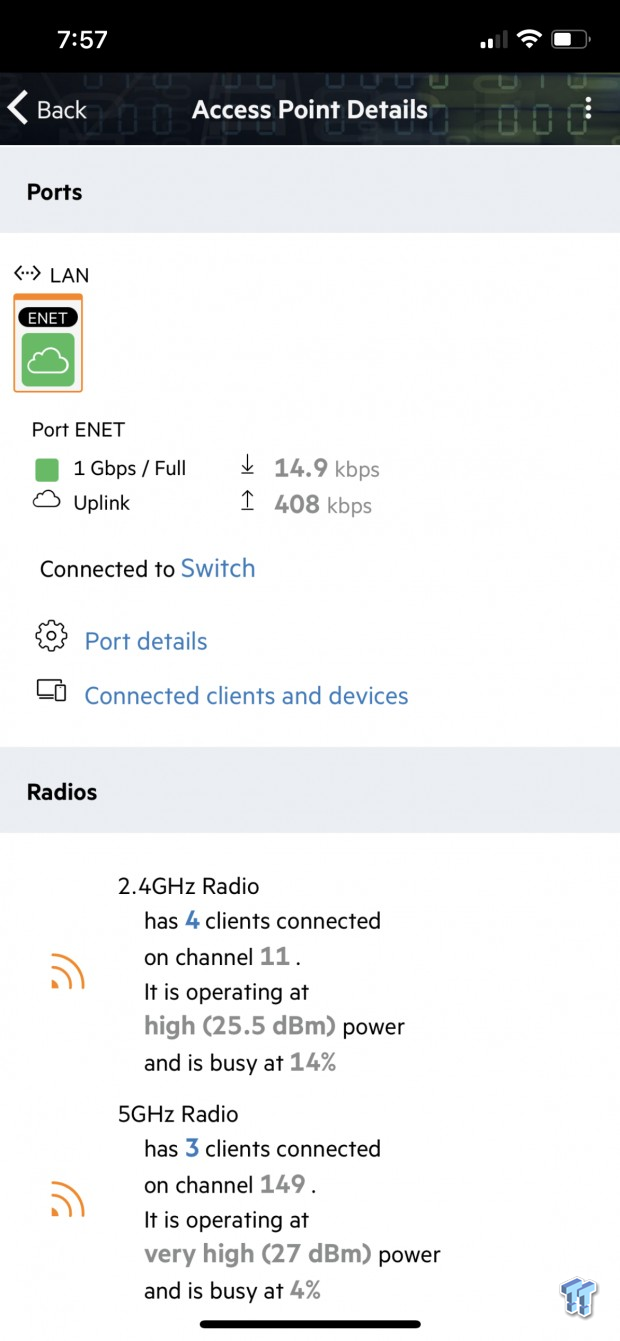 Looking at the Radios section, you can get an idea of the number of clients connected and the current power rate of the AP on each band.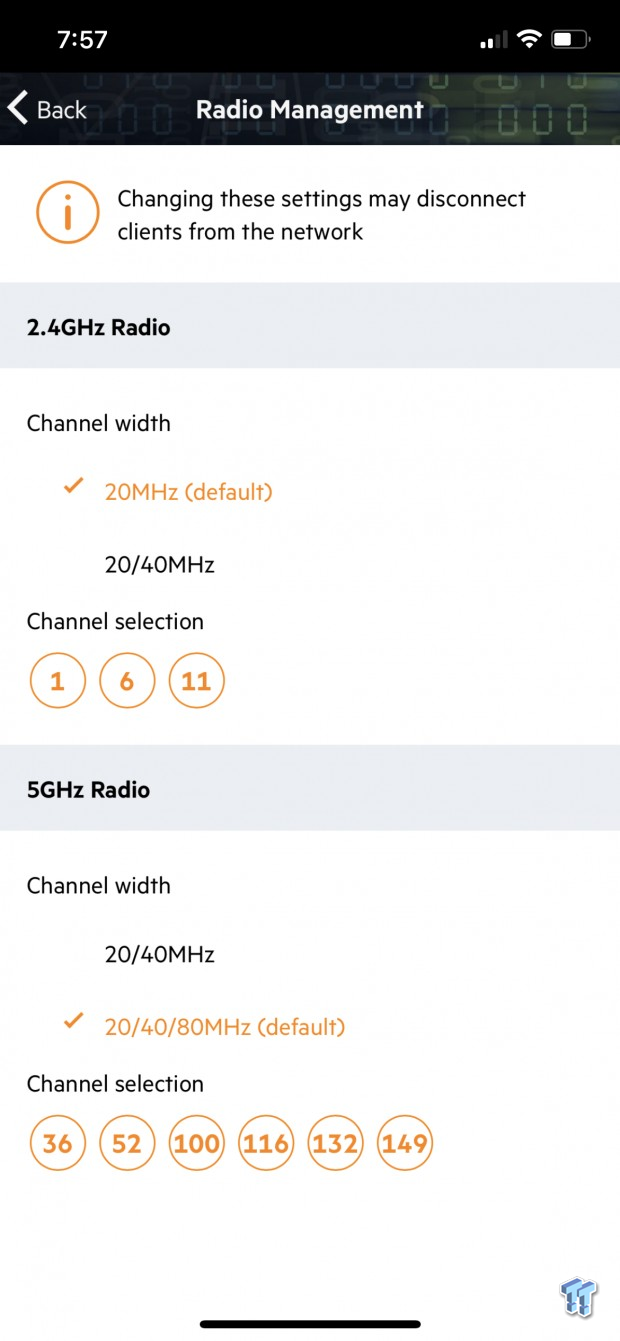 Further into the detail, you can select which channels each AP operates on if you so choose. This is especially helpful in congested areas where certain channels are more often used, especially with consumer-level routers.
Testing and Final Thoughts
I ran a few tests with my consumer networking test setup. This includes our desktop test system that is equipped with Killer E3100+ Killer AX1650 and our iPhone 12 Pro for mobile tests.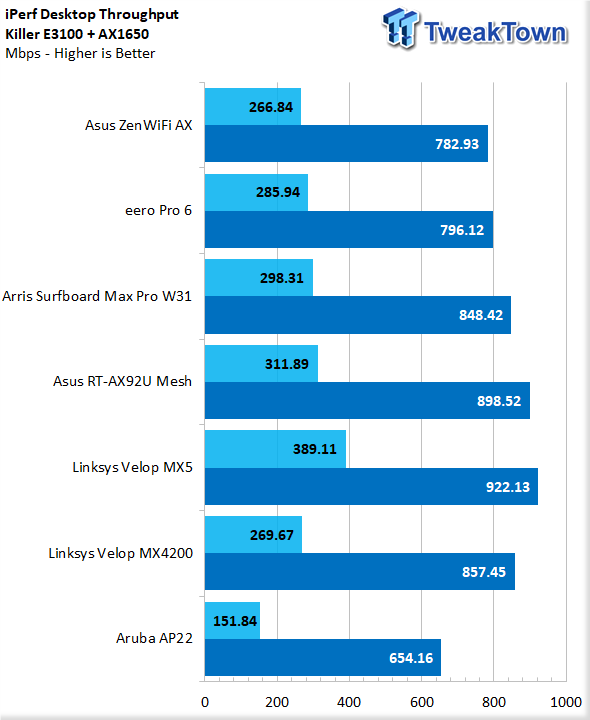 Typical desktop throughput for the Aruba AP22 came in at 151Mbps for the 2.4GHz band and 654Mbps for the 5GHz band.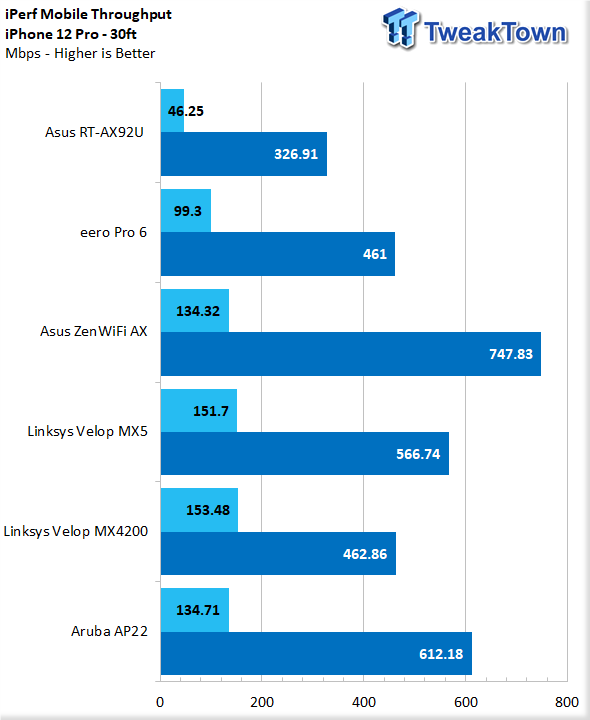 Mobile throughput at 30ft saw the AP22 produce decent results; 134Mbps with 2.4GHz and 612 Mbps using the 5GHz band.
Setting up networking equipment can be intimidating, especially for a small business, but it does not have to be. With InstantOn, Aruba has deployed a platform that is nearly impossible to mess up, but it does require several steps, which I have outlined above, to reach an optimal experience.
In daily use, even with three APs in my own setup, transitions are seamless, and devices that are connected to AP3 communicate without issue to devices that may be on AP1, an area where I've had issues in the past with other platforms. The 1930 switch, on the other hand, has plenty of available throughput and power available to handle a plethora of connected clients and devices. In my three AP setup with the Aruba InstantOn AP22 deployed in three rooms, our budget is only down 17 watts leaving around 175+ watts available for additional PoE devices.
Performance of the AP22 is on par with expectations and in testing, showed ~650Mbps of real-world throughput with the 5GHz band. I will say the design of the Aruba AP22 is defined to be efficient over offering outlandish specs.
Aruba says the design utilizes 80MHz channels over the new spec 160MHz we see on consumer routers because it's less perceptible to congestion. It allows AI built into the InstantOn platform to get your connected clients onto quicker channels that offer a more efficient transaction. This enables a better consumer experience and typically coincides with the focus of small businesses.
| | |
| --- | --- |
| Performance | 90% |
| Quality | 95% |
| Features | 95% |
| Value | 95% |
| Overall | 94% |
The Bottom Line
Aruba has leveraged its extensive knowledge in enterprise networking to deploy a fantastic SMB platform focused on ease of use and low TCO.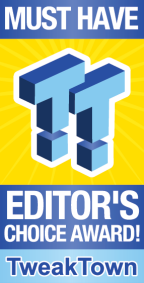 We openly invite the companies who provide us with review samples / who are mentioned or discussed to express their opinion. If any company representative wishes to respond, we will publish the response here. Please contact us if you wish to respond.