AMD Ryzen 9 5900X (Zen 3) CPU Review
Zen 3 is here! Join us as we look at the AMD Ryzen 9 5900X processor and compare it against the Intel Core i9 10900K and others.

Published Nov 5, 2020 8:00 AM CST
|
Updated Fri, Nov 6 2020 11:49 AM CST
7 minute read time
TweakTown's Rating: 95%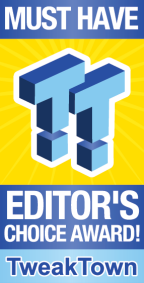 The Bottom Line
AMD won't be denied and the 5900X shows the fruits of their hard work over the last few years!
Introduction and Pricing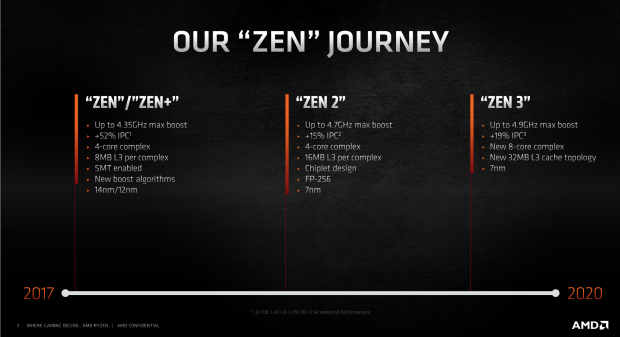 It's been 1344 days since AMD pushed the Zen architecture to market and that first jump from Excavator to Summit Ridge was huge, pushing an impressive 52% gain in IPC. This move also brought several technologies to the Zen platform, most notably the CCX, SMT, and new boost algorithms.
The following year, we met up with Pinnacle Ridge, Zen+ in the Ryzen 2000 series, a die shrink to 12nm increasing efficiency across the board. Zen 2 launched mid-2019, moving to the 7nm process node for Ryzen 3000 series, a 15% gain in IPC came along with it, but AMD also moved to an upgraded chiplet design for the CCX and IOD, which also included doubling the L3 cache to 16MB per CCX.
This takes us to today, Nov 5th, 2020. Let's meet Zen 3!
Pricing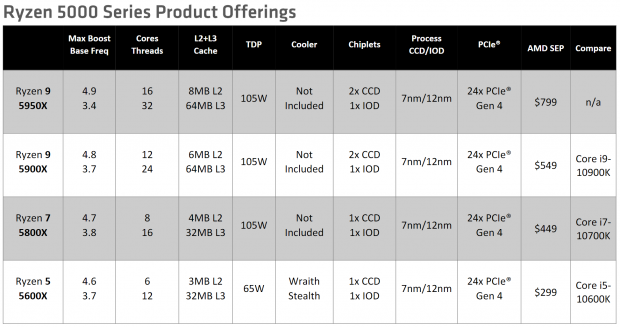 Above, we have the launch day product stack for AMD Zen 3. This includes the Ryzen 5 5600X 6C12T part at the mainstream $299 price point and Ryzen 7 5800X 8C16T in the mid-range $449 slot. Ryzen 9 5900X takes the flagship position behind only the Ryzen 9 5950X in the enthusiast slot; $549 and $799, respectively.
You can read our Ryzen 5 5600X review here.
Zen 3 Architecture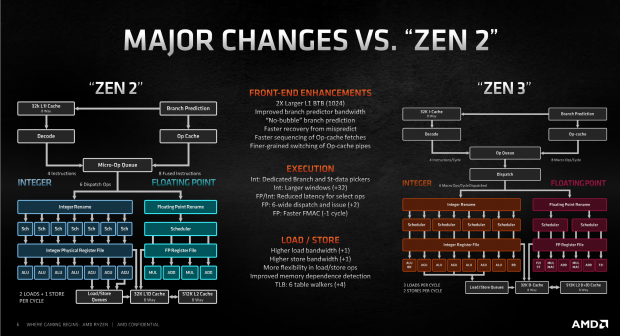 Zen 3 offers the largest IPC gain since the initial launch of the Zen architecture nearly 3.5 years ago at 19%. Major improvements between Zen 2 and 3 are outlined in the slide above, including larger L1 BTB at 1024, improved bandwidth for branch prediction, and quicker, more efficient switching of Op cache.
Gains come from increased execution efficiency with dedicated branch and st data pickers, larger integer windows, and lower latency through floating-point and integer operations. The floating-point is now one cycle quicker with three loads and two stores per cycle with higher bandwidth for both operations; load and store.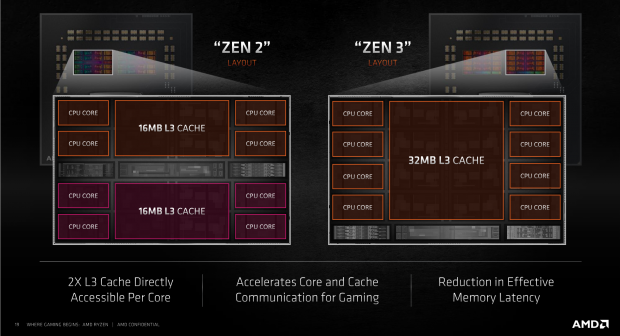 Substantial changes were made going from Zen 2 to Zen 3. Among these were design changes at the SoC level. Seen on the left, Zen 2 was a union of two CCX per CCD, each being 4C8T with 16MB of L3 cache. Zen 3 moves to a unified CCX where one core complex equals an 8C16T design with 32MB of L3 cache.

The topology of Zen 3 has gone largely unchanged from Zen 2 Matisse products. Reads still operate at 2x write through the infinity fabric. IOD comes unchanged from Zen 2, providing a known reliable platform with plenty of ports and lanes. Clock ratios between CCX and IOD remain the same.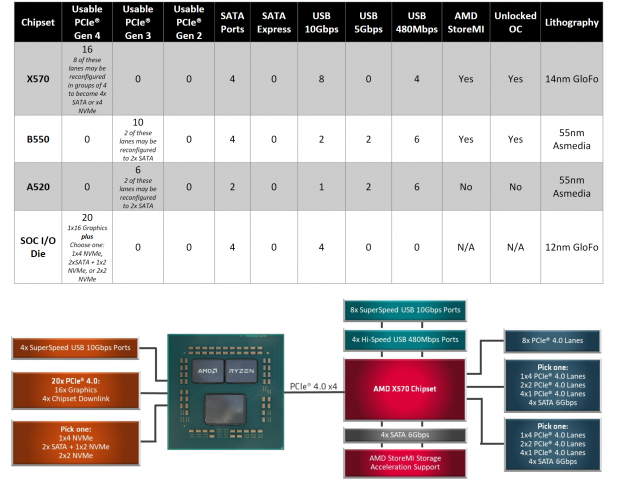 Already available chipsets, including B450, X470, B550, and X570 are supported, making Ryzen 5000 an easy upgrade for many users.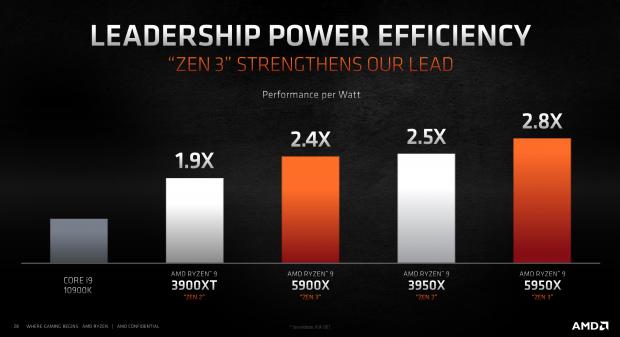 Increased performance within the same TDP leads to a huge gain in performance per watt. As seen in the slide above, AMD claims a 2.8x advantage in efficiency with its 5950X and 2.4X with its 5900X compared to the 10900K from Intel.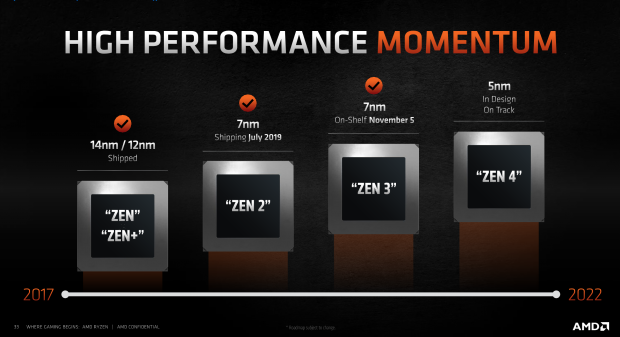 AMD noted they don't intend to rest on their laurels with Zen 3, ramping up the design process for Zen 4, set to be on the 5nm architecture, and released somewhere near 2022.
Packaging and Test System
Ryzen 9 5900X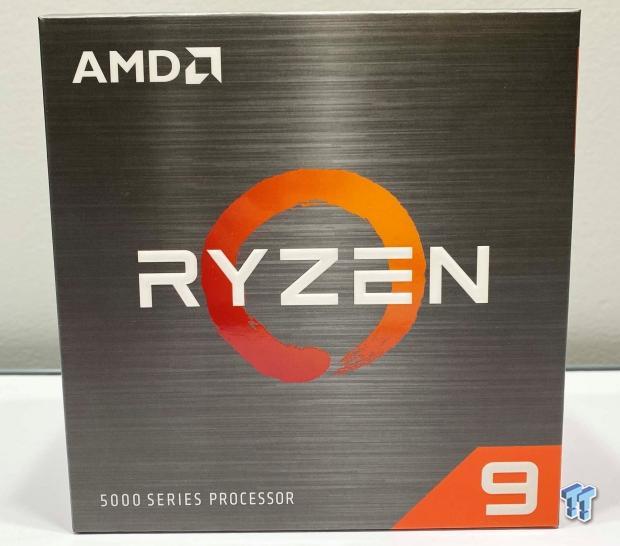 For those that remember the packaging from Ryzen 9 3900X or XT earlier in the year, 5900X is a little simpler. The box isn't as substantial, with thinner material being used and cardboard retainer inside the foam from the previous generation. That said, we have the "9" designation in the bottom right corner and the Ryzen logo centered.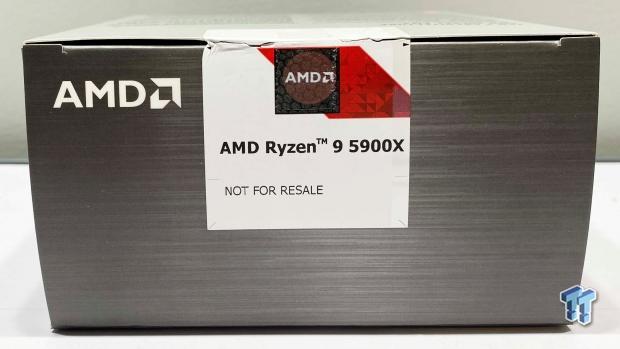 The top of our boxes offered the model number with no additional information.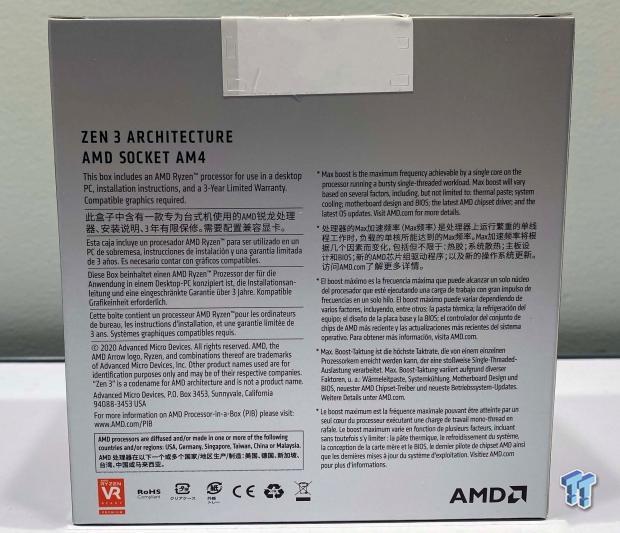 The back offers information about the processor in several languages.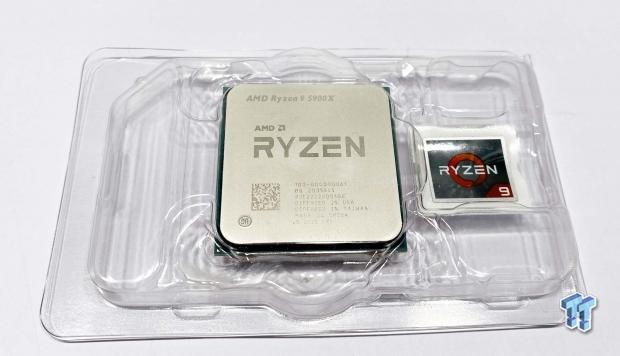 CPUs were packaged in a locked plastic retainer, sticker alongside for your chassis.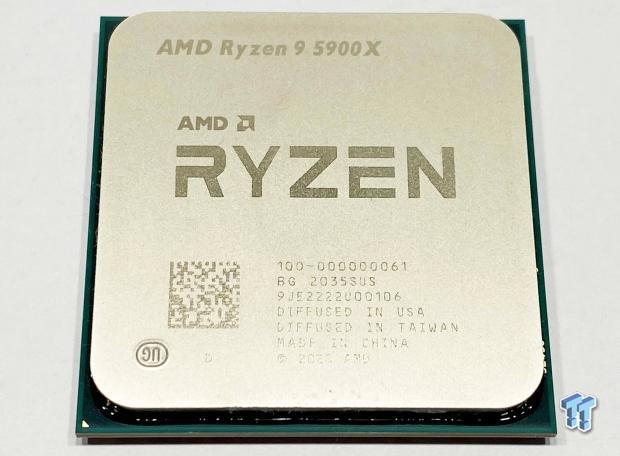 A closer look at the 5900X, we have model number scribed across the top, Ryzen logo centered. Diffused in USA at the bottom means GloFo in New York made the CCDs while Diffused in Taiwan is for the IOD made by TSMC in Taiwan.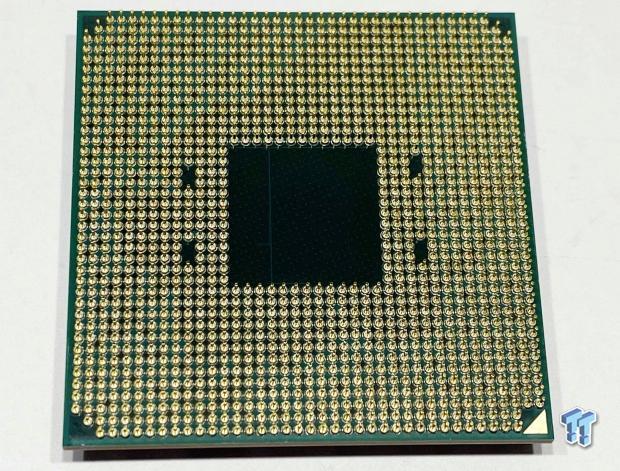 The bottom of the CPU offers the 1331 pin arrangement designed for the AM4 socket.
Test System
WPrime, Cinebench, RealBench and AIDA64
WPrime, Cinebench,RealBench and AIDA64
WPrime
WPrime is a leading multi-threaded benchmark. In our setup, we will manually set the number of cores for the CPU under test.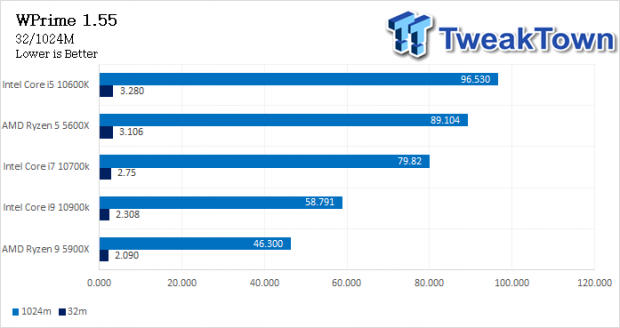 Getting into the performance of Zen 3, the 5900X starts quite impressive in WPrime. Here, we have a 46.3 second time for 1024M and 2.09 seconds for 32m.
Cinebench
Cinebench is a long-standing render benchmark that has been heavily relied upon by both Intel and AMD to showcase their newest platforms during unveils. The benchmark has two tests, a single-core workload that will utilize one thread or 1T. There is also a multi-threaded test which uses all threads or nT of a tested CPU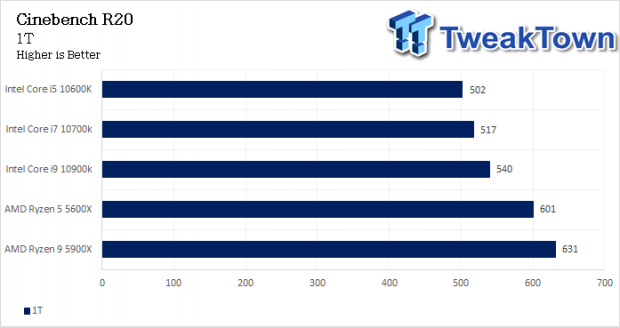 Cinebench is commonly used as a test to show IPC gains in processors normalized to a certain clock speed. You can find our bench of all of these processors normalized to 4GHz down below. The image above is showing each CPU running at defaults. That said, the 5900X is amazing here, scoring 631 points in 1T, 90 points higher than the 10900K.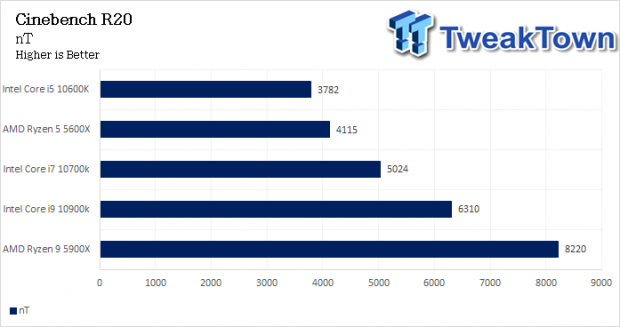 Looking at nT scores, the 12 thread design of the 5900X pushes out in front, scoring 8220.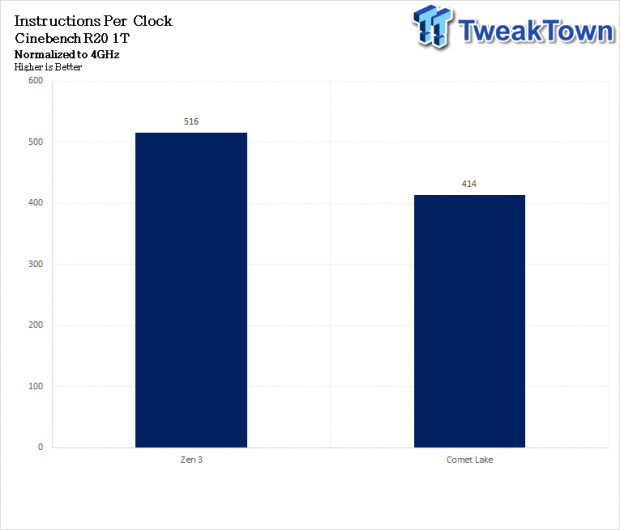 Here's our test with the 5900X straight up against the 10900K operation normalized to 4GHz, showing the IPC gains with Zen 3. As you can see, the 5900X is still quite a bit quicker than its Intel competition.
RealBench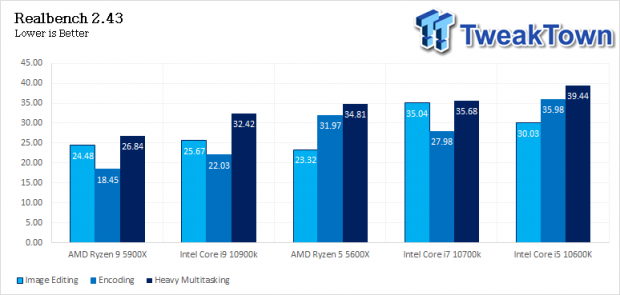 With RealBench, the 5900X again does remarkably well. What we are looking at here is Heavy Multitasking, which combines both of the other tasks simultaneously; this shows the 5900x about 6 seconds quicker than the 10900K.
AIDA64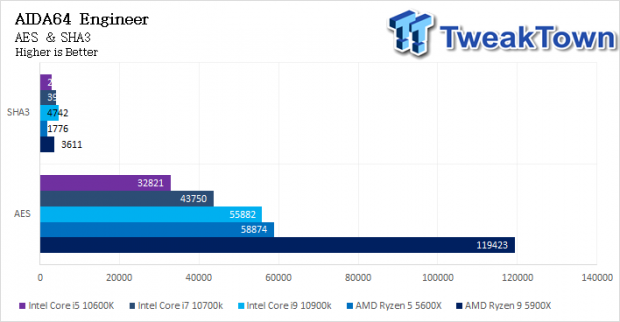 Tasks using AES certainly benefit from the 5900X being used, doubling the capabilities of the 10900K.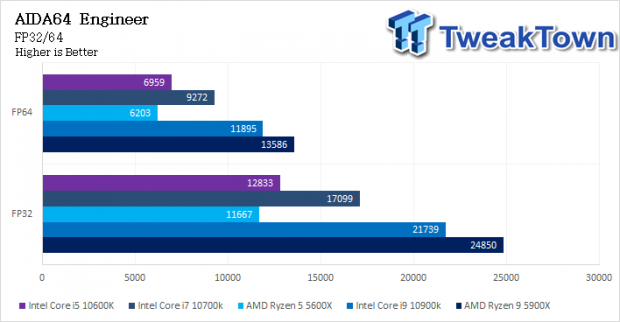 FP32 and 64-bit ray tracing again gives the edge to the 5900X, scoring 24850, about 3K higher than the 10900K.
Unigine and UL Benchmarks
Unigine Superposition
Superposition from Unigine is a DX12 based benchmark. We test with the 720p LOW preset as this removes all but the most basic GPU loading, with all of the FPS coming from the CPU.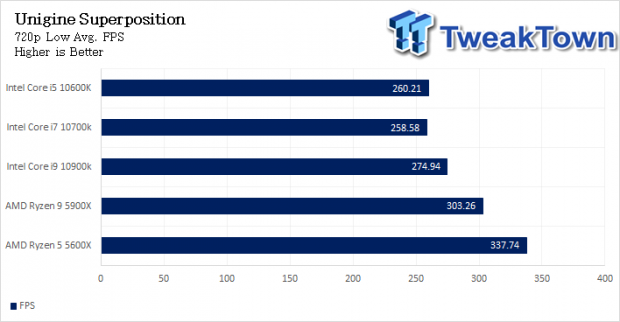 With Superposition, the 5600X is by far the winner, but the 5900X is right behind at 303 FPS, 28 frames quicker than the 10900K.
PCMark 10
PCMark is a benchmark from UL and tests various workload types to represent typical workloads for a PC. Everything from video conferencing, image import, and editing, along with 3D rendering, are tested.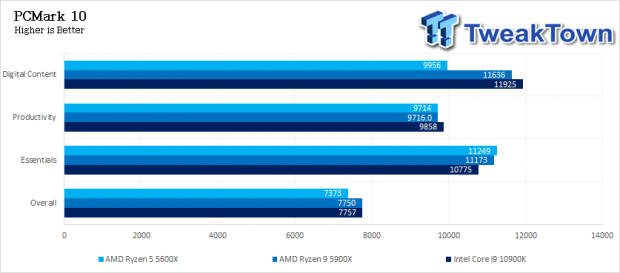 PCMark does give a few wins to the 10900K with Digital Content and Productivity workloads. Overall, the processors come out even in this test.
VRMark Orange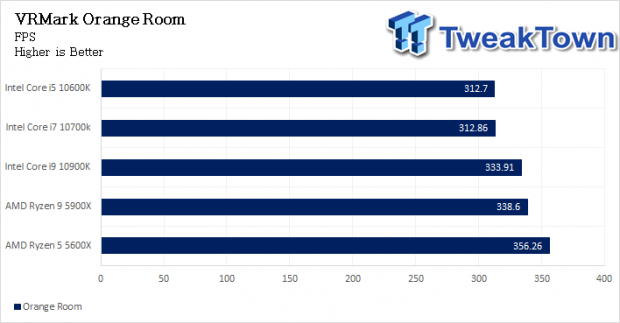 VRMark gives us 338 FPS for the 5900X, only to be outdone by the 5600X at 356 FPS.
3DMark Timespy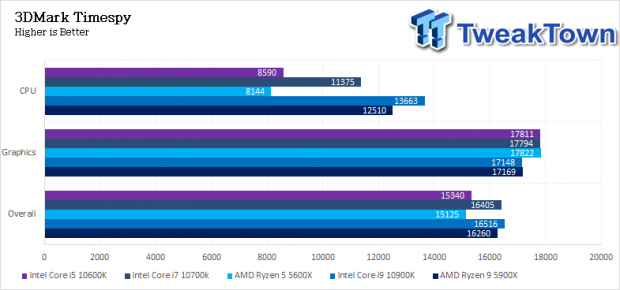 3DMark Timespy CPU gave the edge to the 10900K by nearly 1100 points, right behind was the 5900X at 12510. Overall, the 10900K and 5900X comes out very close, the edge given here to the 10900K by 300 points.
3DMark Port Royal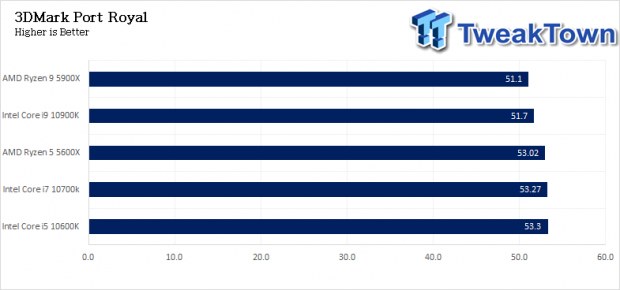 Port Royal had all of the CPUs within two frames of each other.
3DMark Firestrike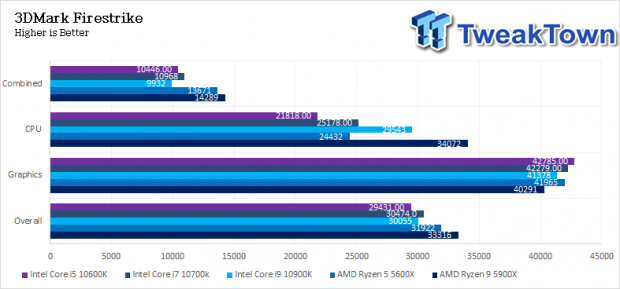 Firestrike Physics/CPU nods to the 5900X with a score of 34072; the 10900K 5000 points back at 29543.
Overclocking and Gaming
Gaming Performance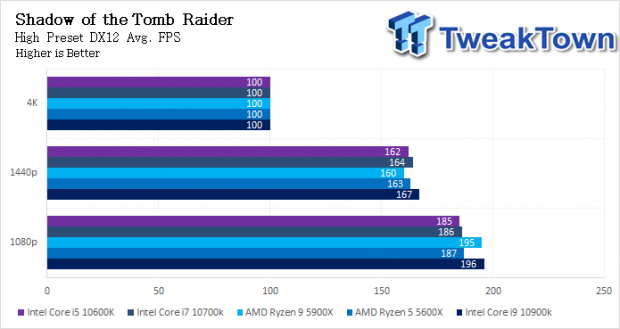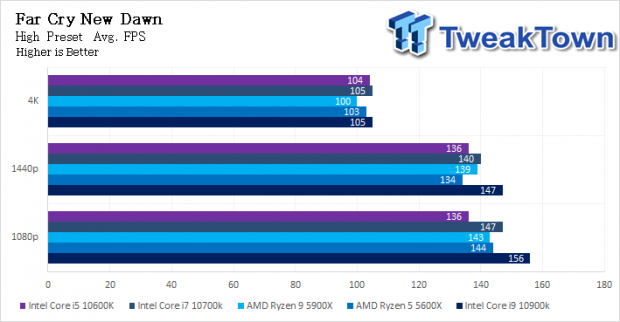 As you can see from the charts above, any gaming done at 4K pretty much evens all these processors out across the board; you are limited by the GPU even when that GPU is an RTX 3080. Looking at 1080p, we do see some variance between each CPU. In Tomb Raider, that equals a 1FPS difference between the 10900K and 5900X.
Far Cry has similar results with a little more movement at 4K; they are still so close there is no real winner. Down at 1080p, we see the 10900K offers 13FPS more than the 5900X.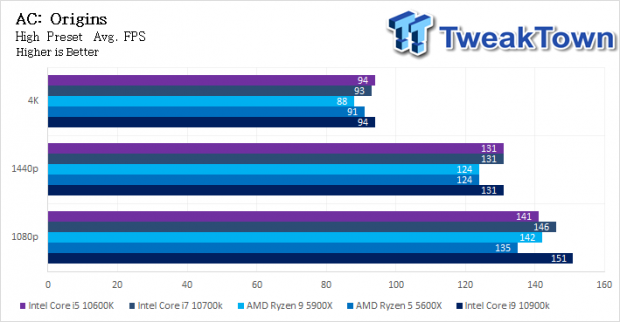 AC:Origins is a little old but has a built-in benchmark, and like the games above, I already own it. 4K like before shows little difference between the CPUs but down at 1080p, we see the 10900K at 151 and the 5900X at 142.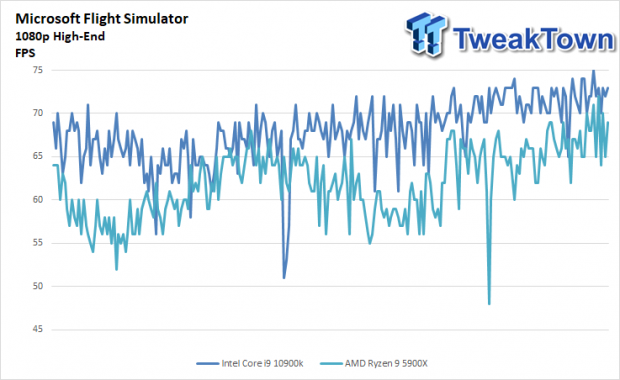 I decided to get away from Ubisoft games and move into a more recent title with Flight Simulator. I used FRAPS to log frame rates over a 4-minute flight from Portland Intl USA towards a local airport called Skyport. This benchmark was run at 1080p on the high-end setting with auto-pilot engaged from start to finish.
As you can see from the chart above, initially, the 10900K does well, pushing near to 70FPS, and the 5900X catches up as the flight starts to cruise but drops off to only what I assume is a thermal event because it ramps back up from there.
Overclocking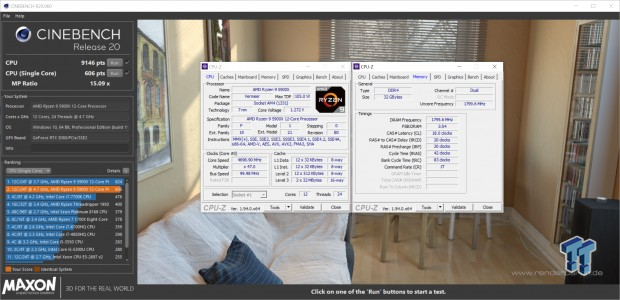 Overclocking with Zen 3 follows the same lines as the 3000 series Matisse processors. Using my admittedly new knowledge of overclocking on AM4, I was able to get the 5900X to 4.7GHz at 1.27v LLC5 on our ASUS Crosshair Hero VIII.
It should be noted we are still on a very early AGESA version, so as it matures, we may see better numbers.
Power, Thermals and Final Thoughts
Power Consumption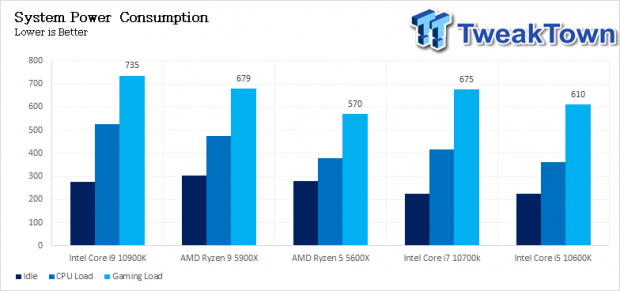 Power consumption at idle with our RTX 3080 was 300 watts for the 5900X, CPU load during Cinebench pushing to 475 watts, and gaming in Tomb Raider topped out at 679 watts.
Thermals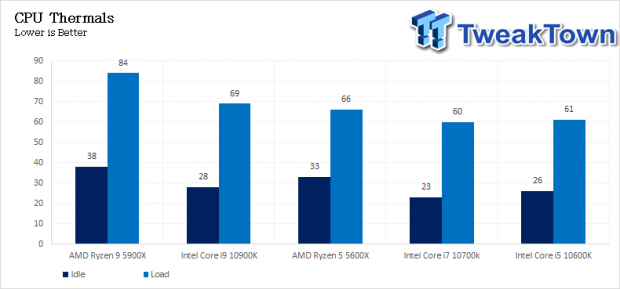 Thermals with our AIO were 38c for the 5900X, with a peak of 84c in testing.
Final Thoughts
TLDR; Zen 3 is legit.
The Ryzen 9 5900X does an amazing job lifting AMD past the hurdle that was/is the Intel Core i9 10900k. Competing in the $549-$599 space, enthusiasts looking at this solution will certainly enjoy the benefits brought by this 12-core monster. It's a CPU that takes top honors in every workload from image editing and encoding to benchmarks like Cinebench and Wprime. In gaming, the 5900X plants Zen 3 right alongside top offerings from the Comet Lake Intel platform.
What We Like
IPC Gains: Zen 3 delivers! A huge gain in IPC, 19% gen over gen, and a huge 84% IPC gain since 2016!
In Socket Upgrade: This is a huge deal for many of you, and AMD deserves credit for sticking to AM4 with Zen 3.
What Could Be Better
Temperatures: As seen in our testing, the 5900X even operating under defaults gets hot. For those wanting to run this processor optimally, it's worthwhile to invest in high-end cooling.
| | |
| --- | --- |
| Performance | 95% |
| Quality | 95% |
| Features | 95% |
| Value | 95% |
| Overall | 95% |
The Bottom Line
AMD won't be denied and the 5900X shows the fruits of their hard work over the last few years!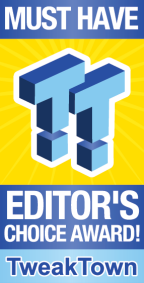 We openly invite the companies who provide us with review samples / who are mentioned or discussed to express their opinion. If any company representative wishes to respond, we will publish the response here. Please contact us if you wish to respond.