TweakTown's Rating: 92%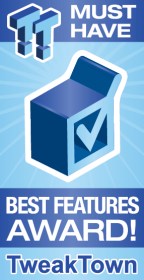 The Bottom Line
4TB of NVMe goodness and blazing speeds make the Rocket Q highly desirable.
Introduction & Drive Details
Not so long ago, 2TB M.2 NVMe SSDs were considered exotic and out of reach for most enthusiasts/consumers. Everyone wanted one and only now have 2TB M.2 NVMe become mainstream. We are seeing history repeat itself as 4TB M.2 NVMe SSDs are starting to appear on the scene. Think about it, 4TB of NVMe goodness on a drive the size of a stick of gum. Amazing.
So far, Sabrent is the only consumer SSD retailer that has 4TB M.2 NVMe SSDs for sale. This is because, as we see it, Sabrent has positioned itself as a leader in solid state storage. Sabrent has gone from relatively unknown to an industry leader almost overnight. Part of the reason for Sabrent's meteoric rise is due to what we call forward-thinking as perfectly demonstrated by having the only 4TB M.2 NVMe SSDs on the market.
Sabrent's TLC and QLC 4TB SSDs are glorious, in our opinion. They are both among the best performing SSDs ever made. This is no surprise, as Sabrent partners closely with Phison Electronics, who are one of the industry's leading controller/SSD manufacturers.
The drive we have on our bench today is powered by Phison's blazing fast E12S eight-channel controller and Micron's 96-Layer 4-bit (QLC) flash. Both the controller and the flash are cutting edge hardware technology. This combination in a 4TB capacity is fast, really fast. The 4TB QLC model we are testing is even faster than the award-winning 2TB version we reviewed recently.
Now, let's take a closer look at Sabrent's latest and greatest.
Drive Details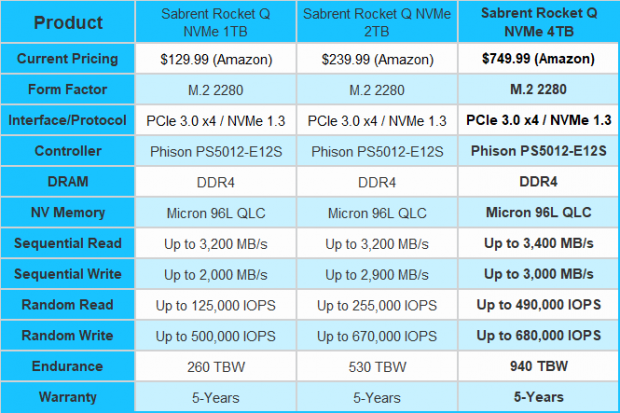 Plenty of endurance. Enough that consumer users will never need to worry about wearing their Rocket Q out.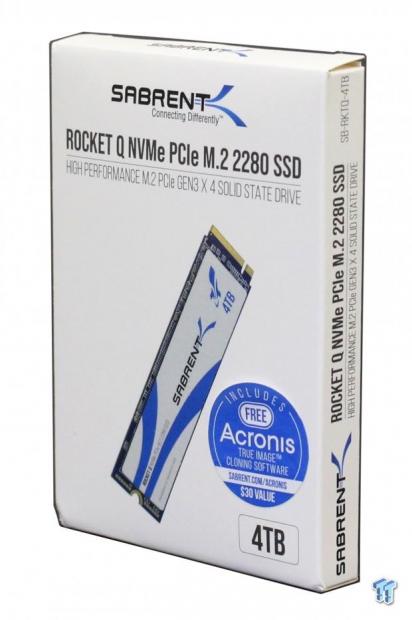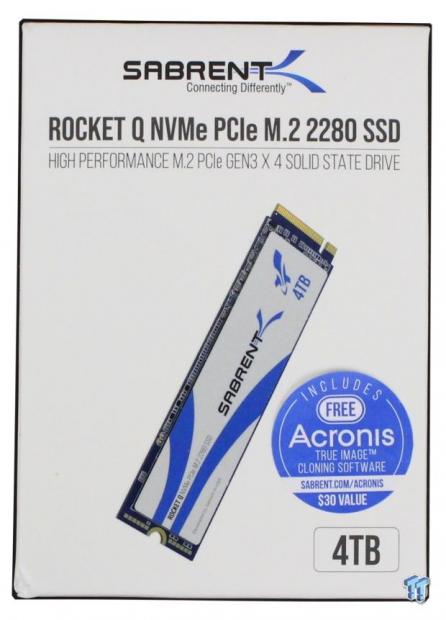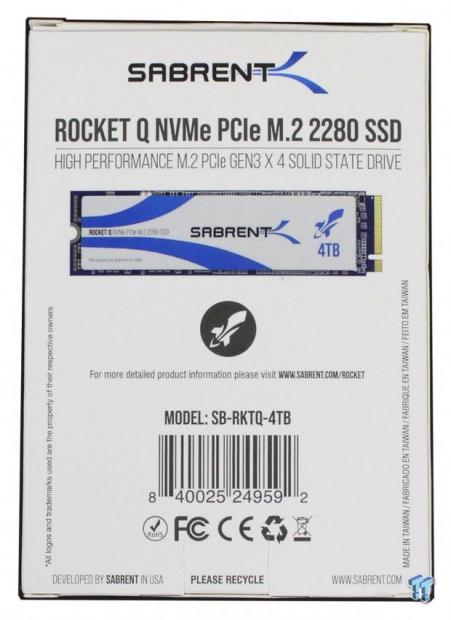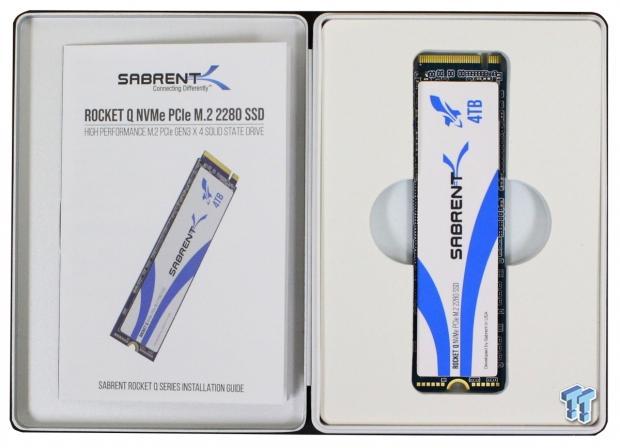 Sabrent's 4TB Rocket Q NVMe SSD ships in the same unique packaging we've become accustomed to seeing from Sabrent. The drive is well protected by an aluminum clamshell container and a dense foam cutout. Included with the drive is a printed installation guide. The controller side of the drive features a metallic label to enhance thermal capabilities.
Jon's Test System Specifications
SSD Toolbox
Sabrent SSD Toolbox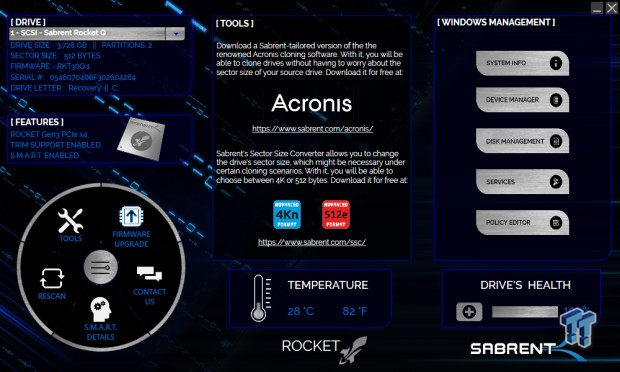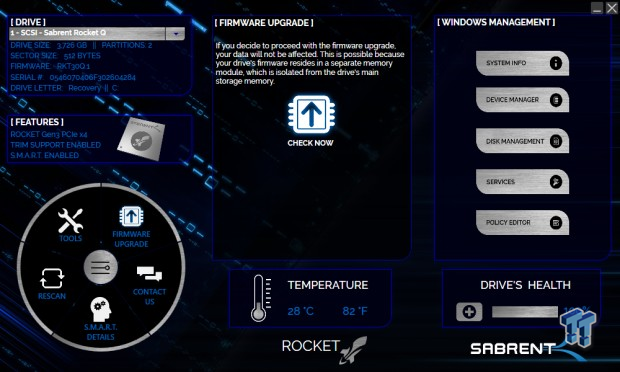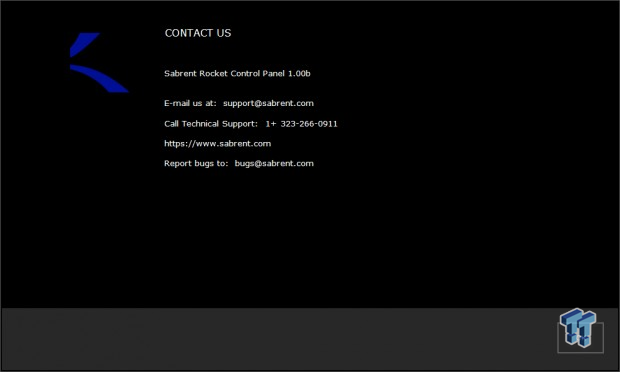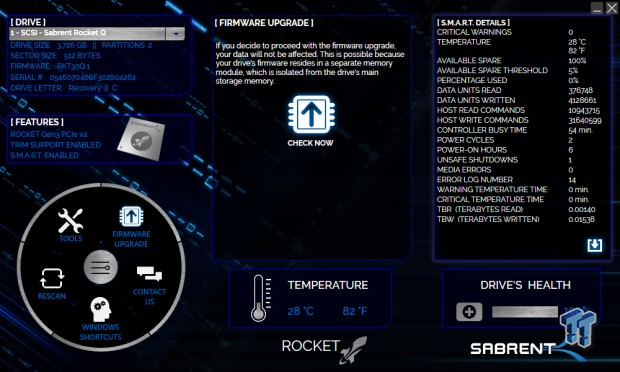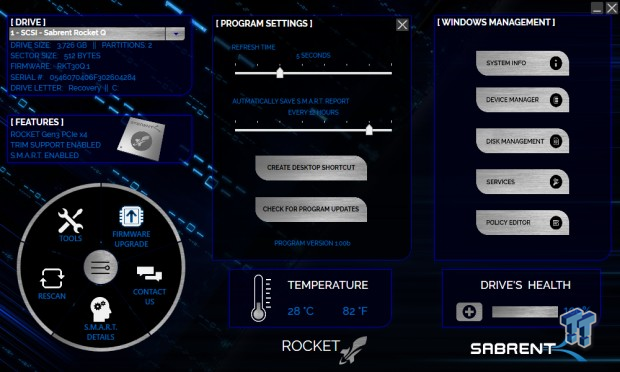 Sabrent has developed a full feature SSD Toolbox. Sabrent's toolbox facilitates monitoring of SSD health, temperature, and SMART details. With Sabrent's SSD toolbox, you can update firmware, register your SSD and download Sabrent's custom-tailored version of Acronis imaging software.
Be sure to register your SSD with Sabrent within 90 days, and the factory warranty period will increase from one year to 5 years.
Synthetic Benchmarks: CDM & Anvils
CrystalDiskMark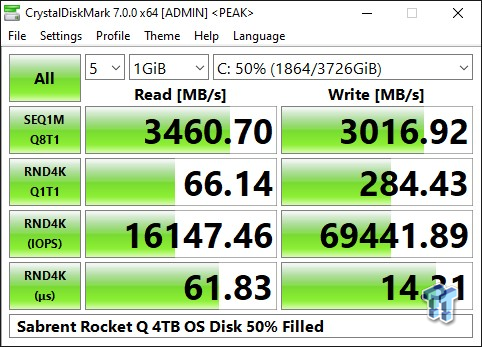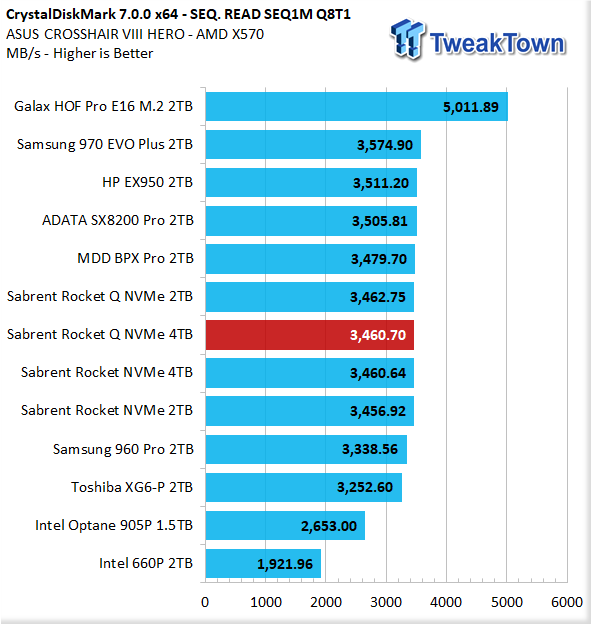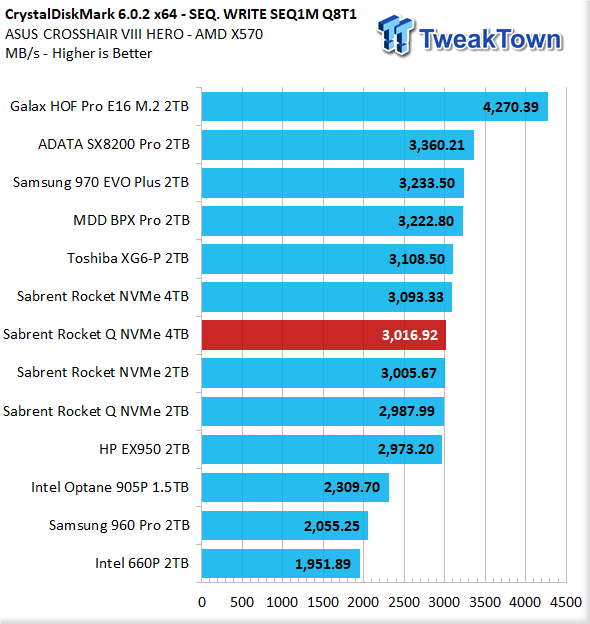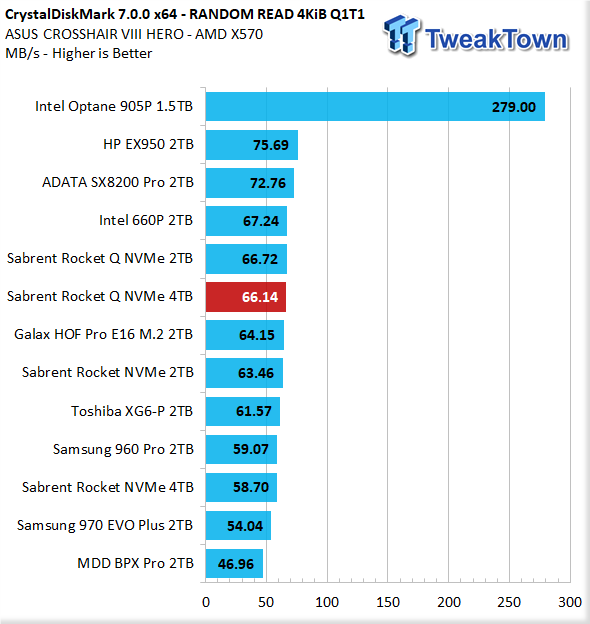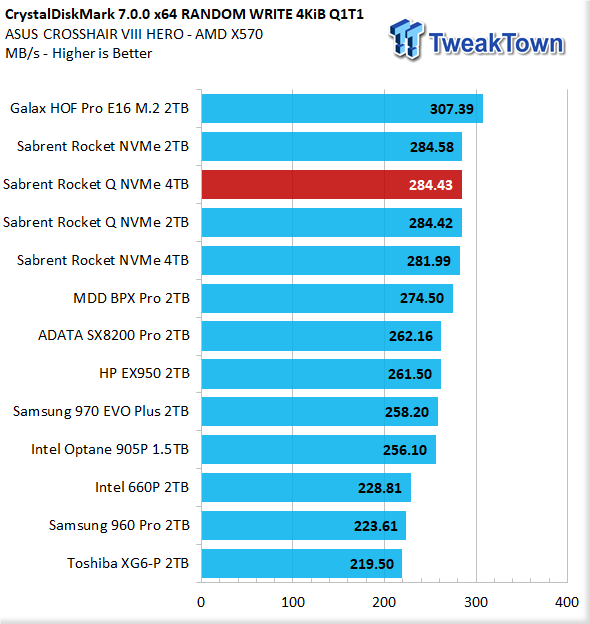 Fantastic performance across the board. We easily eclipse factory sequential specifications, and more importantly, the Rocket Q 4TB is serving up outstanding QDT1 randoms. Performance like this really blurs the line between TLC and QLC.
Anvil's Storage Utilities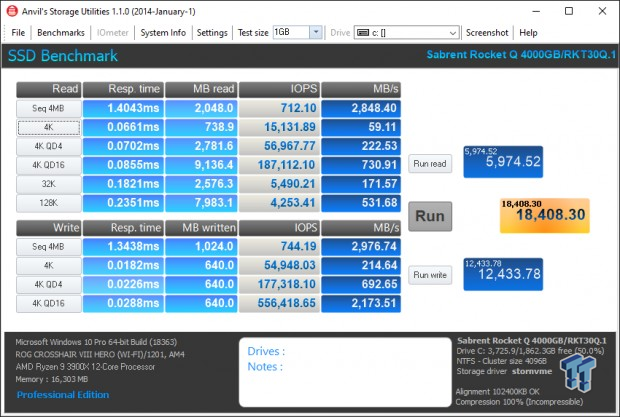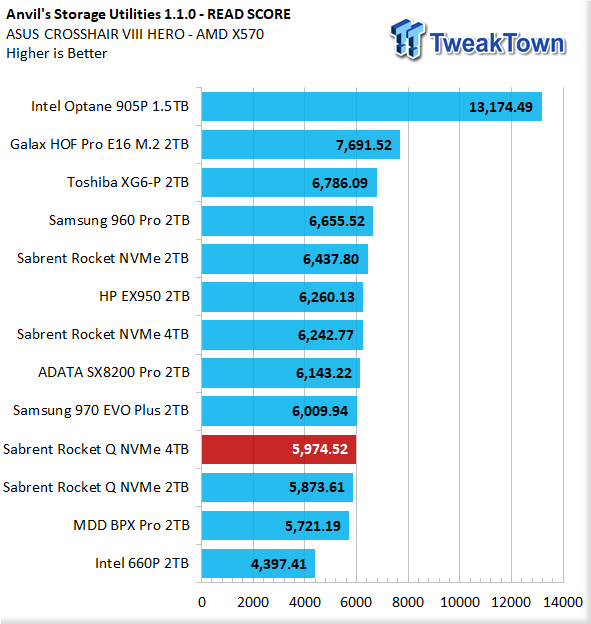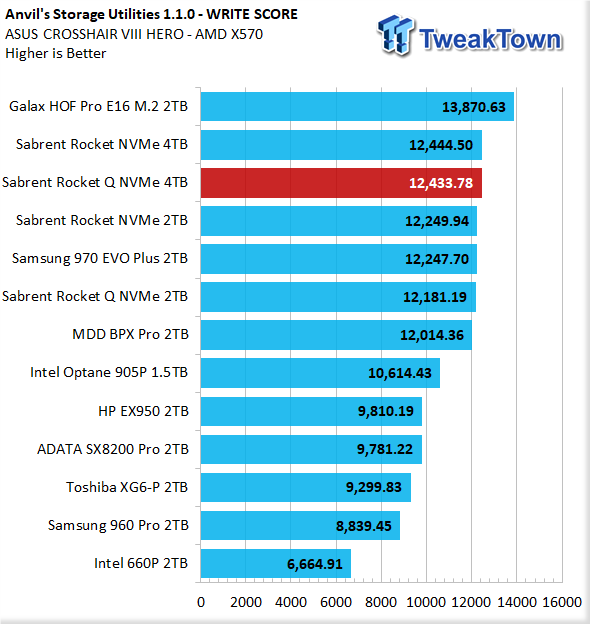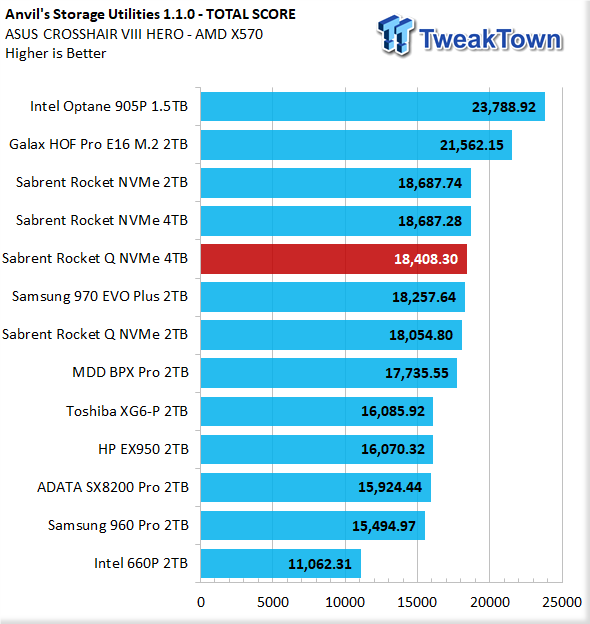 A score of over 18K is always impressive. However, we are more interested when an SSD can deliver a total read score of 6K or higher, and it's close enough that we will call it 6K. What we are looking for most of all is 15K plus IOPS 4K QD1 random read, and the Rocket Q gives it to us. Impressive.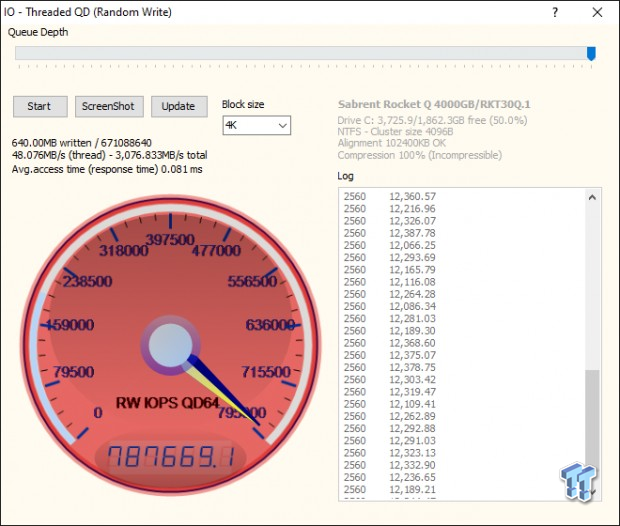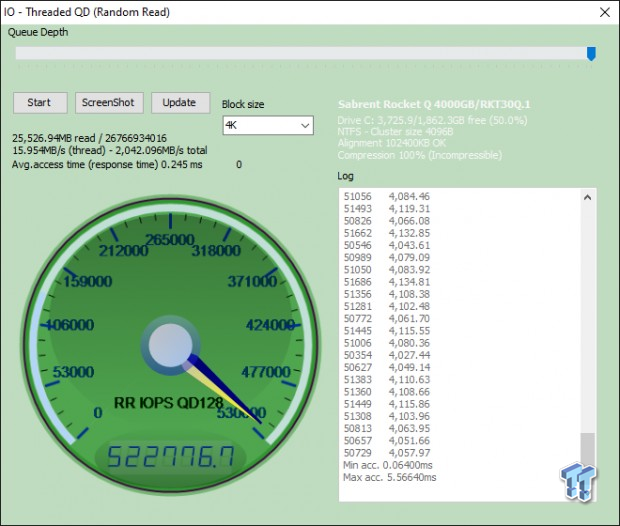 Max random IOPS results are outstanding. Well above factory specs.
Synthetic Benchmarks: AS SSD & ATTO
AS SSD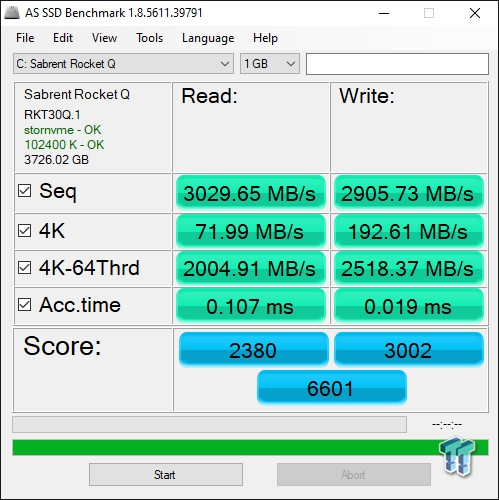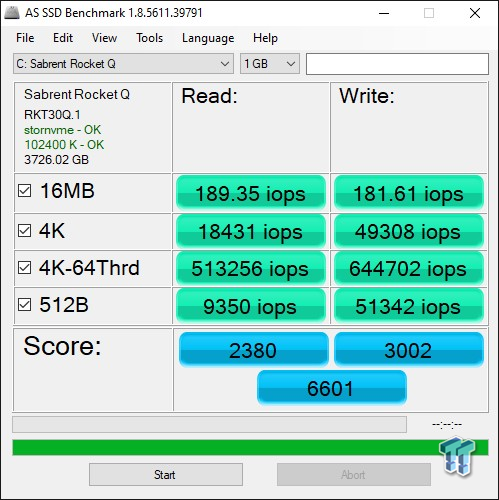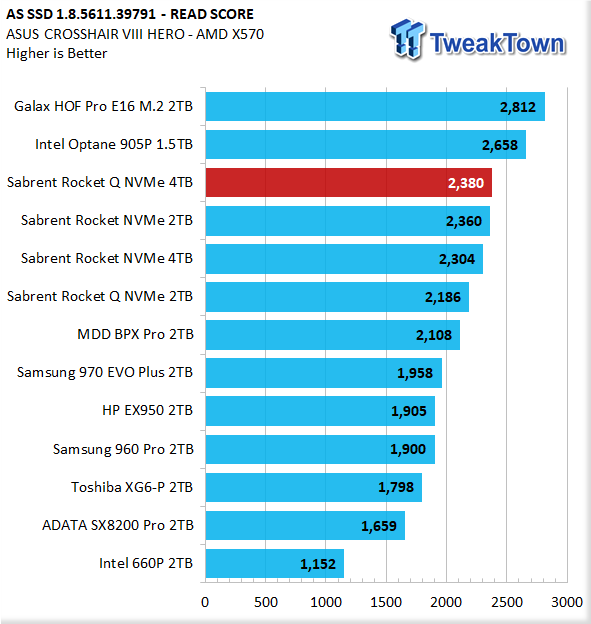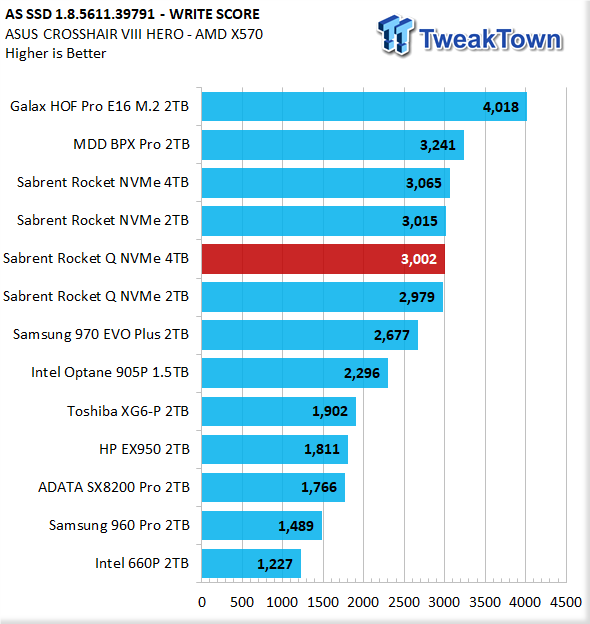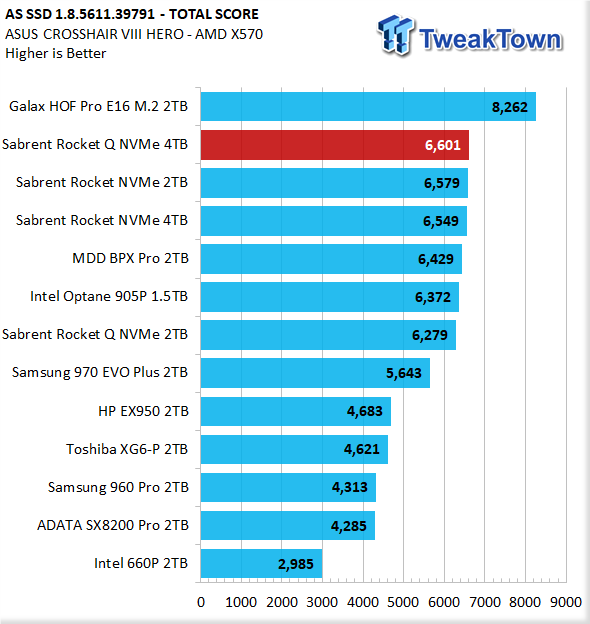 Phison powered SSDs get along well with the data generated by AS SSD, and the Rocket Q is no exception. The 4TB Rocket Q delivers the best total score we've seen to date for a 2TB plus Gen3 SSD. Impressive for any SSD, let alone a QLC SSD.
ATTO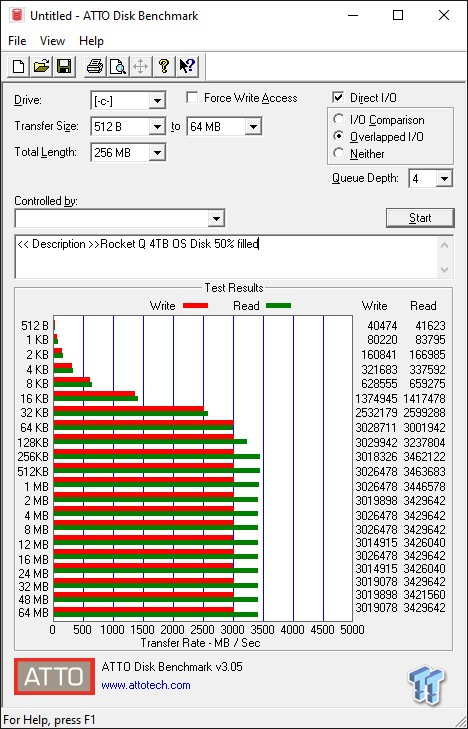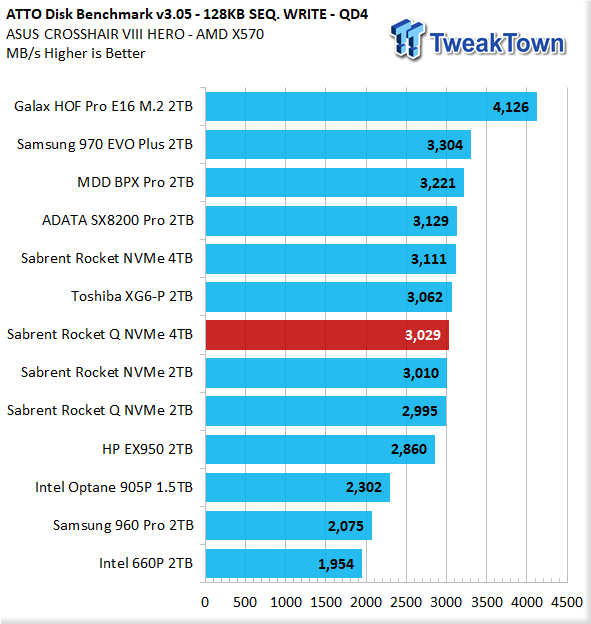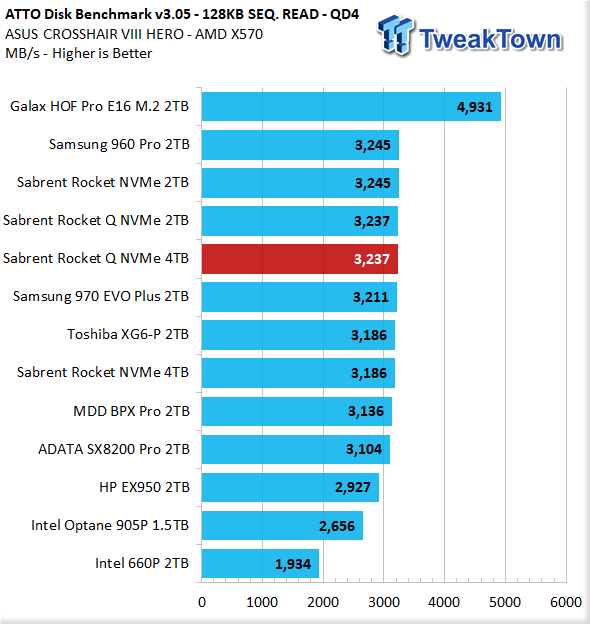 Exceptional small-file performance and nearly full speed at 128K transfers. Exactly what we are looking for, and exactly what the Rocket Q is delivering.
Real-World Testing: Transfer Rates & Gaming
Transfer Rates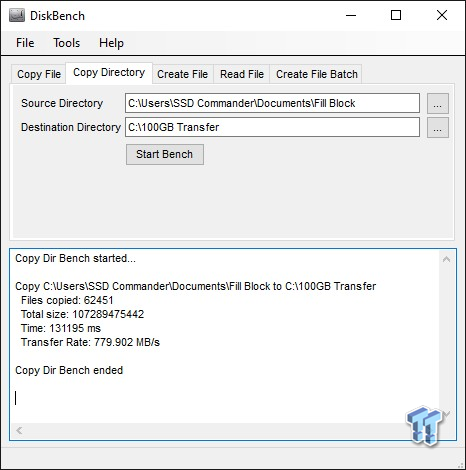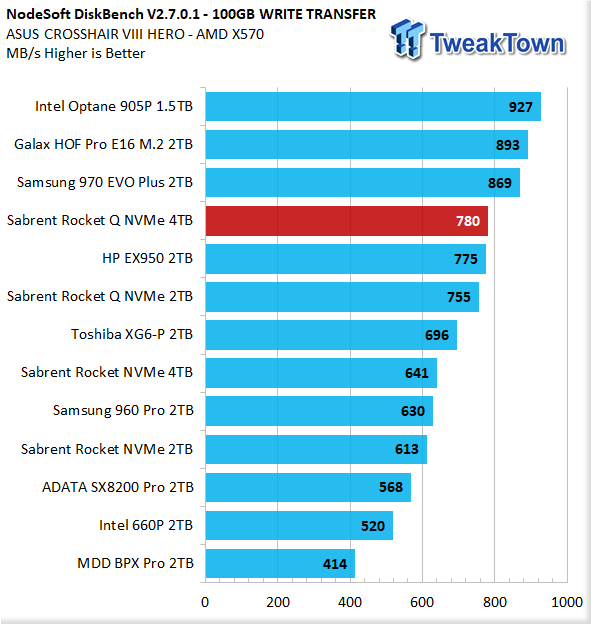 Truly amazing performance for a QLC SSD. This gives you a good idea of just how fast Micron 96L 4-bit flash really is. The Rocket Q is easily besting most of the TLC SSDs on our chart. This is a 100GB transfer, not some little test.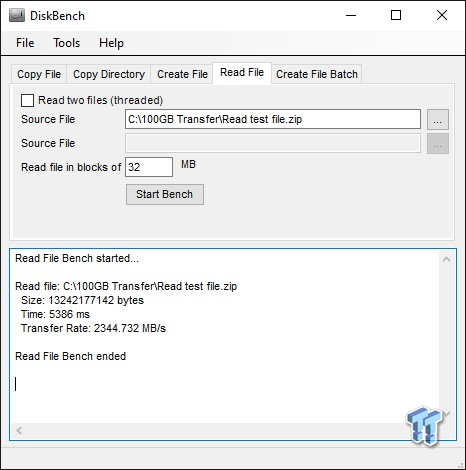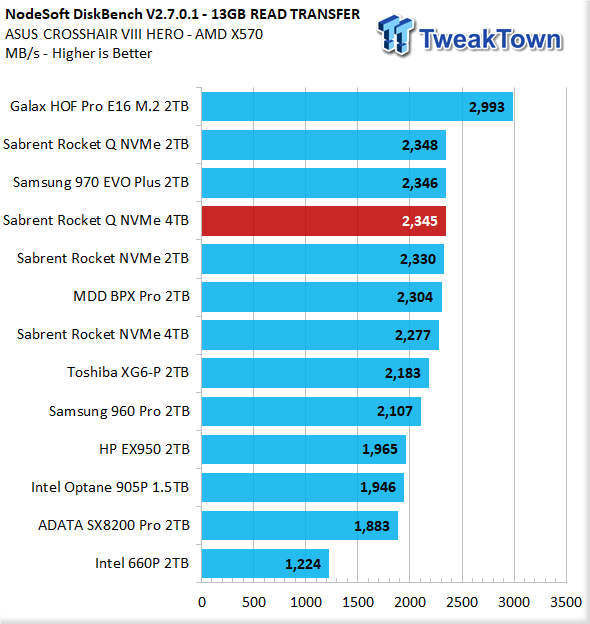 Again, we see the Rocket Q serving up data at an incredible rate. The only thing that can do it better is Gen4.
Game Level Loading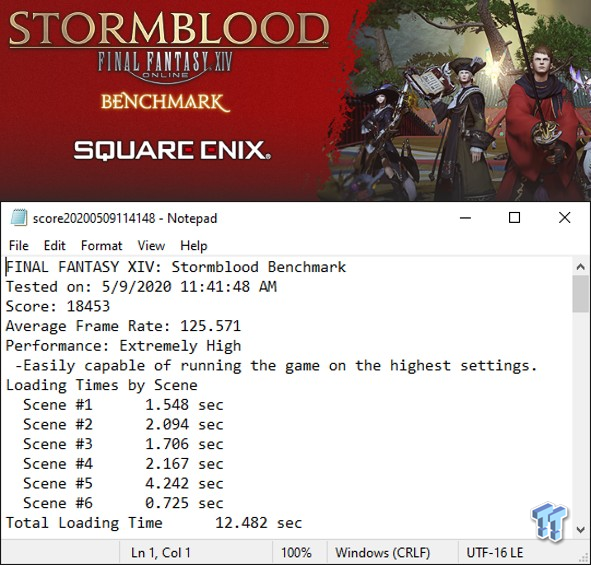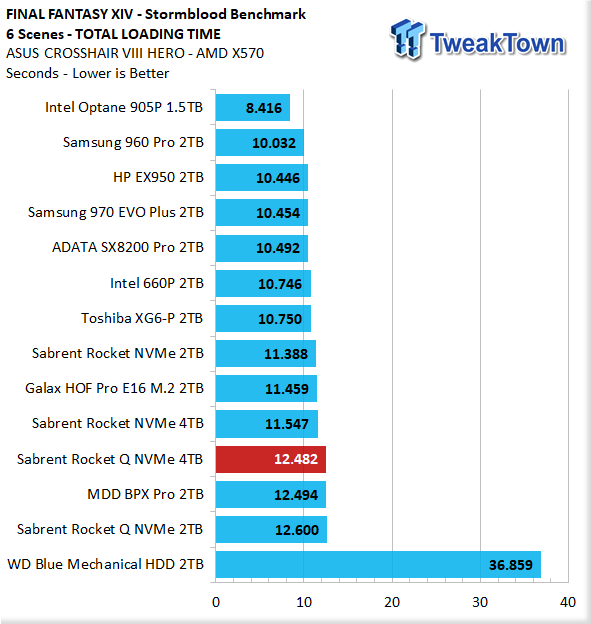 We are looking for sub-11-seconds here but do not get our wish. Still, the best we've seen from a Phison/QLC powered SSD. It's not exactly what we want, but it is still plenty fast all things considered.
Real-World Testing: PCMark 10 Storage Tests
PCMark 10 Storage Test is the most advanced and most accurate real-world consumer storage test ever made. There are four different tests you can choose from; we run two of them. The Full System Drive Benchmark and the Quick System Drive Benchmark. The Full System Drive Benchmark writes 204 GB of data over the duration of the test. The Quick System Drive Benchmark writes 23 GB of data over the duration of the test. These tests directly correlate with user experience. Of the two tests, we feel that the Quick System Drive Test most accurately replicates a typical user experience.
PCMark 10 Full System Drive Benchmark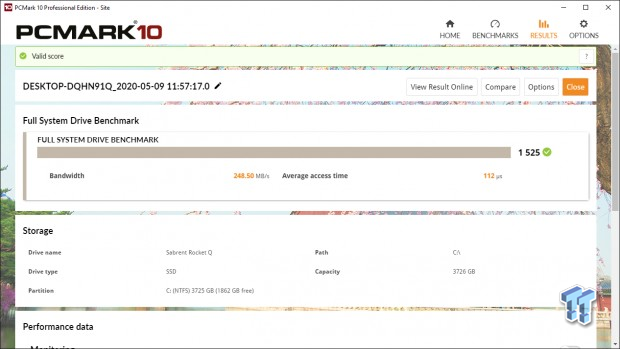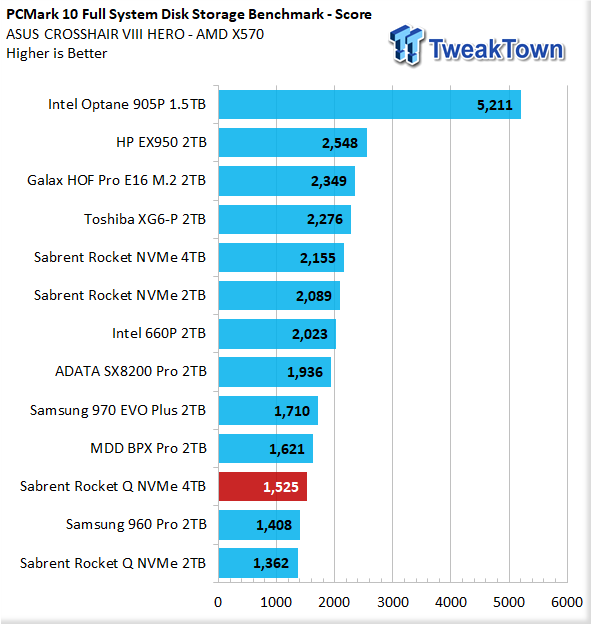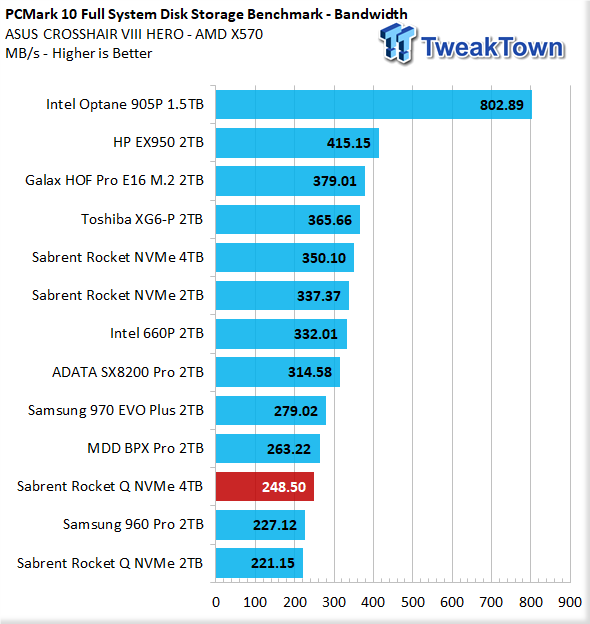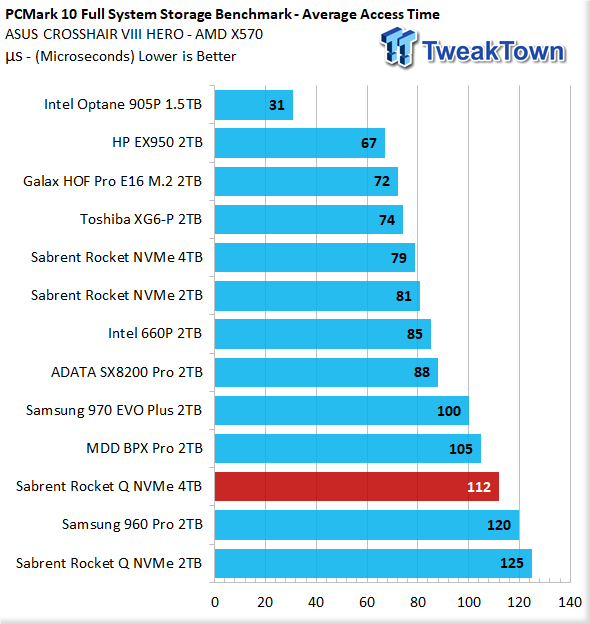 Although significantly better than the 2TB Rocket Q, the 4TB version still doesn't like really heavy workloads. This is fine because the next test is far more indicative of typical consumer user states.
PCMark 10 Quick System Drive Benchmark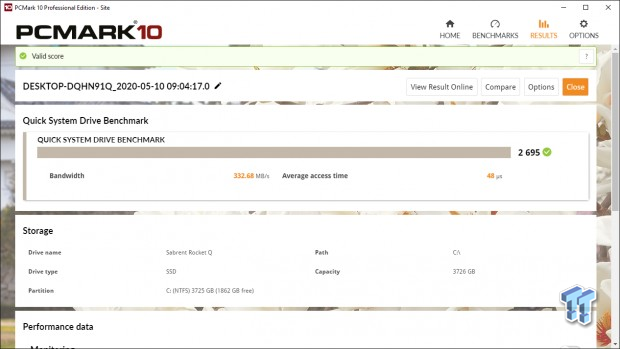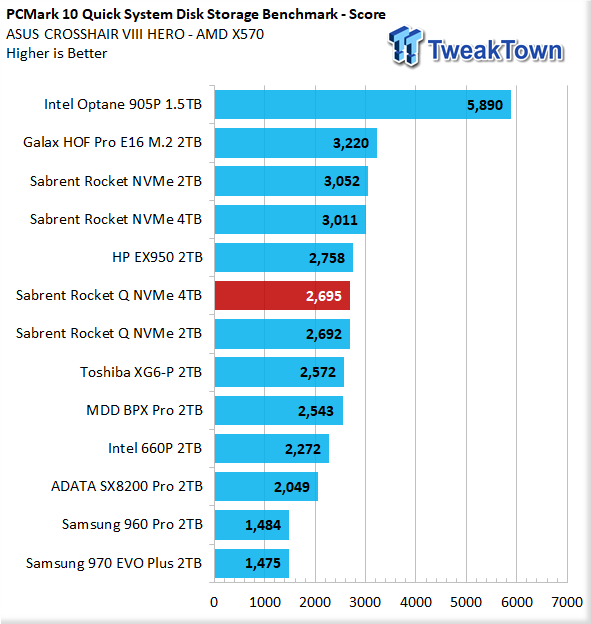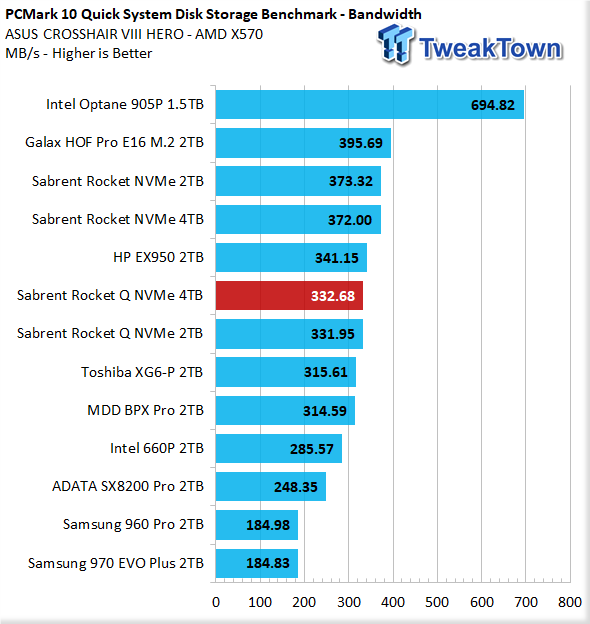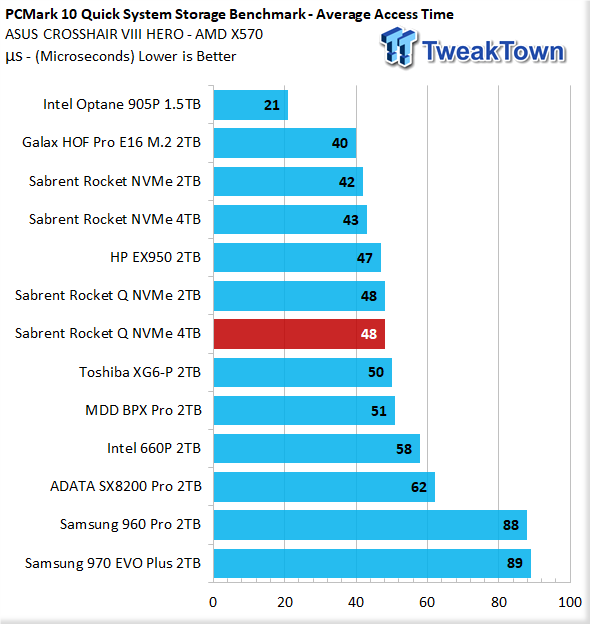 This is where we want to see good numbers most of all, and this is where we find the Rocket Q NVMe 4TB delivering outstanding performance. Just look at all the competitors; the Rocket Q is beating like a drum. Outstanding.
Final Thoughts
Sabrent is to be commended for once again, giving us more than anyone else. 4TB of NVMe goodness on a gum stick sized SSD is incredible, to say the least. Capacity is king, as is NVMe, and no one else has given us both thus far. Being first in this industry is not easy to do, especially when you are competing with multibillion-dollar companies. Yet, Sabrent, with a little help from Phison, is doing just that. Impressive.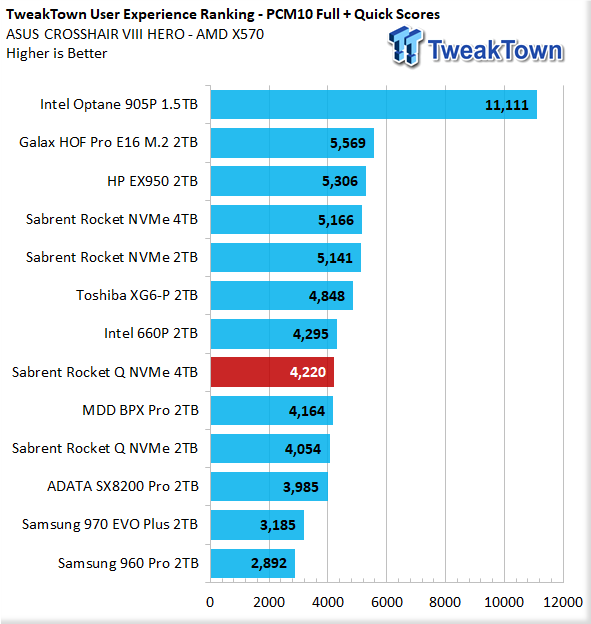 As we've seen from every Sabrent SSD we've tested to date, the 4TB Rocket Q delivers an excellent overall user experience.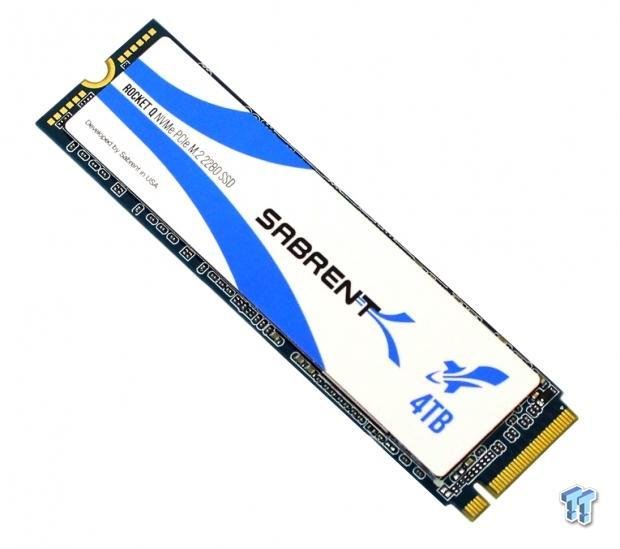 A quick review of our testing reveals several highlights where the 4TB Rocket Q stands out from the competition. Sequential speeds generated by the Rocket Q are among the best we've seen from a QLC based SSD; in fact, it delivers more than many TLC SSDs can. 15K QD1 random read IOPS as demonstrated with Anvil's is again outstanding, as is the best Gen3 score for a 2TB plus with AS SSD.
Then we were treated to the best write transfer rate for a QLC SSD and ultra-fast read transfers that are a cut above. Last and most important in our view, is how the Rocket Q 4TB delivers a user experience that rivals anything Gen3 as demonstrated by our PCMark 10 Quick Storage Testing.
Unrivaled M.2 capacity and blazing fast performance have earned Sabrent's 4TB Rocket Q NVMe SSD TweakTown's highest award.
Pros
Capacity

User Experience

5-Year Warranty
Cons
| | |
| --- | --- |
| Performance | 90% |
| Quality | 98% |
| Features | 99% |
| Value | 80% |
| Overall | 92% |
The Bottom Line
4TB of NVMe goodness and blazing speeds make the Rocket Q highly desirable.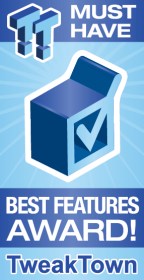 We openly invite the companies who provide us with review samples / who are mentioned or discussed to express their opinion. If any company representative wishes to respond, we will publish the response here. Please contact us if you wish to respond.