NZXT C850 Gold ATX Power Supply Review
NZXT's C850 Gold ATX PSU gets ran through our range of tests to see how it holds up. Join us as we take a close look.

Published
Manufacturer: NZXT (NP-C850M)
9 minute read time
TweakTown's Rating: 94%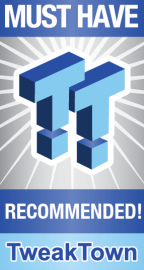 The Bottom Line
NZXT has taken the E850 which we already liked, removed the digital CAM integration, and kept the performance. This is a solid power supply for anyone looking to build a high-end gaming rig or mid-range workstation.
Introduction, Specifications, and Pricing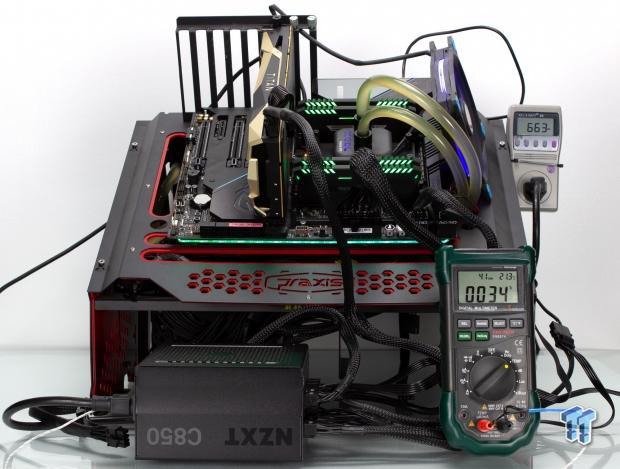 NZXT has been in the PC game for quite a long time, and they integrated PSUs into their component lineup quite some time ago as well. NZXT has done a pretty good job of working with reliable supplier choices to ensure the PSU models they offer are robust and competitive on the market.
Today we have the new "C series" Power supply rated at 850W. Recently we looked at the NZXT E850 Digital Power Supply which performed very well and is actually the same PSU as we have today but with a digital component which enables CAM integration. The CAM integration comes down to monitoring, Fan control, and OCP adjustment via CAM software. NZXT took some well-deserved flak from me in that review as the CAM integration was less polished than we would like. Overall, requiring software that is a full monitoring and RGB control interface adds the potential for conflict with other RGB software as a supplemental layer atop what would normally be there. The C series eliminates that and offers a PSU without all the monitoring or need for CAM.
The key features of the NZXT C850 are as follows:
Hybrid Silent Fan Control provides reduced noise and optimized heat dissipation with fanless, silent, and cooling modes.

Fluid Dynamic Bearing fans benefit from the lubrication of the bearing surface to provide effortlessly quiet and reliable fan rotations.

High-quality construction, including all-Japanese capacitors

80 PLUS Gold delivers up to 90% power conversion efficiency for less waste heat

Delivers precise & stable voltage while ensuring optimal efficiency under load

User-selectable silent operation with 0 RPM fan when operating under 100 watts

Powerful enough to support 2080ti and Vega 64 GPUs, the C850 can support multi-GPU configurations

All the essentials delivered by a modern PSU: complete protection and fully modular design
This all looks standard for what you would expect for a gold-rated supply at the wattage we are testing. The selectable "hybrid fan" mode is standard as well, although not every PSU gives you the option to enable such a feature.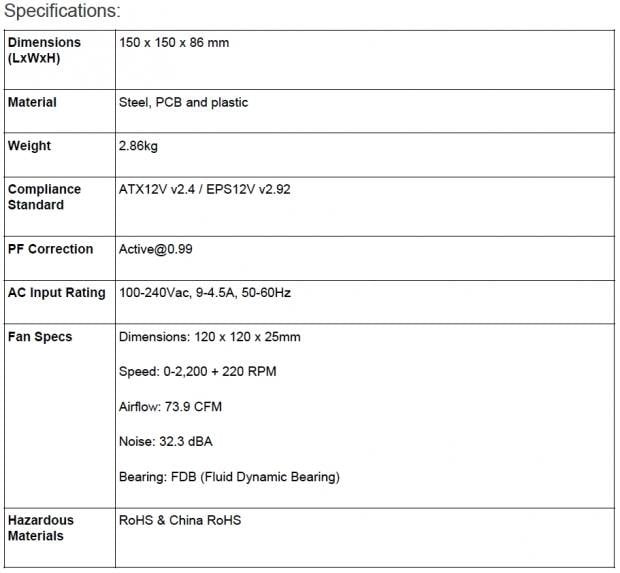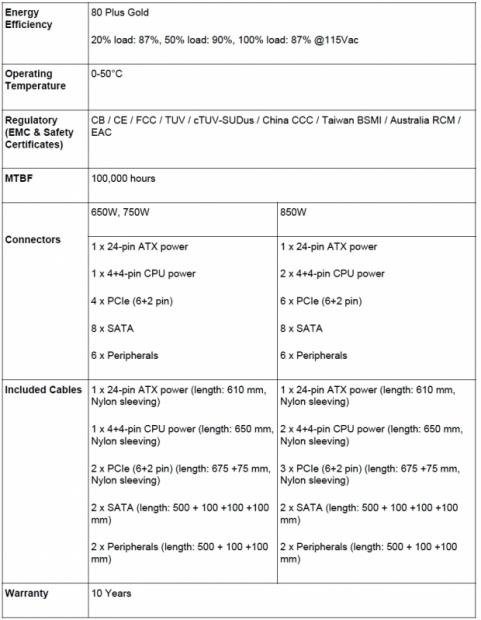 The C series, or C850 as this PSU is labeled, carries a part number of NP-C850M. The PSU is very compact at 150mm length, which is not as tiny as the XPG Core Reactor series (140mm) we looked at recently, but it is close and should have very few chassis it will have trouble fitting. The warranty from NZXT for the C series PSU is ten years, which is standard fare for the market, but it does mean that by the time the capacitors have aged to the point of replacement, is when your warranty will be exhausted.
The C850 comes to the market at $129.99, while the other models come in at $119.99 for the C750 and $109.99 for the C650. Since we are testing the C850 today, we will focus on its competition. The C850's price point is great for its rating as it matches the XPG Core Reactor we looked at recently. The 20-dollar deficit means that the C850 is going head to head with the 750W contingent of stout supplies. So, if NZXT delivers a robust experience and does not blow up on me, I think we could see a great value unit for enthusiast users.
Shannon's Power Supply Test System Specifications
Packaging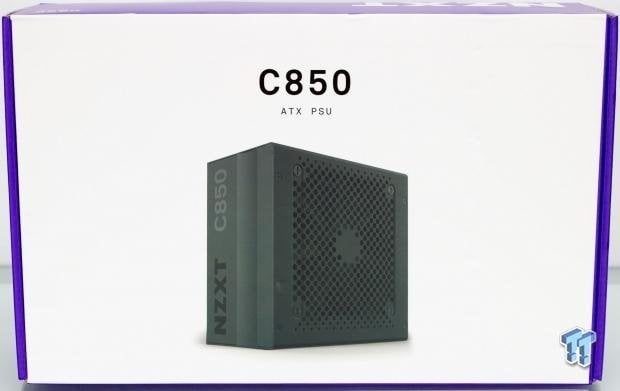 In NZXT style, the C850 packaging is super clean and has just enough information to inform you of what you are getting inside. This applies to the front, at least as it is dominated by an image of the PSU with a three-quarter shot showing the visible side along with the fan grille. Above this, there is only C850 and ATX PSU. I must say simplifying things with a complete lack of ancillary iconography, or other marketing bluster is nice and refreshing. It also has an add-on effect of having a premium minimalist feel much like you get with Apple devices. Even if I despise apple, I give credit where due, and their packaging is the gold standard.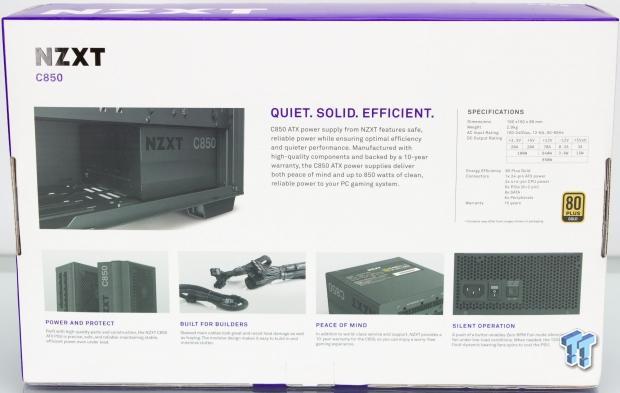 Moving to the rear is where things kick-off. NZXT includes all of the absent marketing in the back, where it shows some of the key features along with the specifications for the C850 PSU.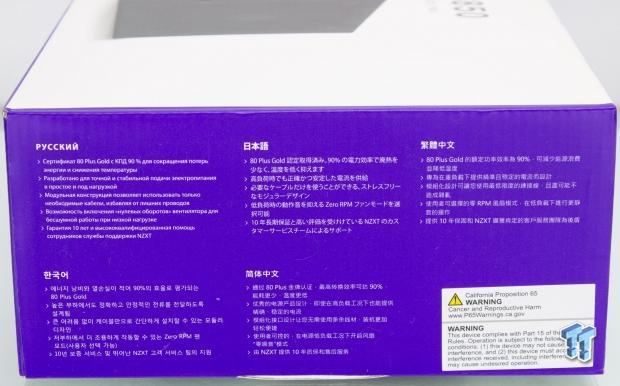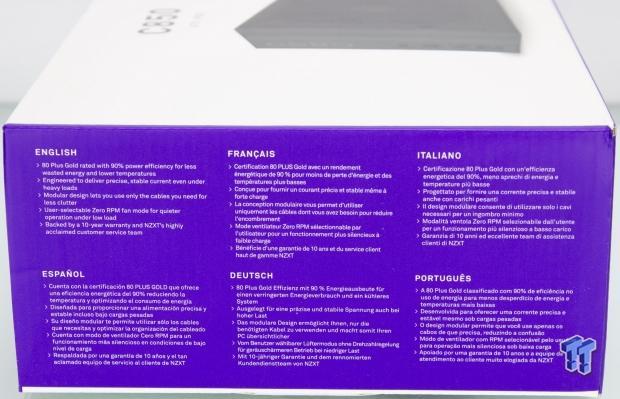 The two thinner sides of the package show five key features NZXT has selected and translated into eleven languages.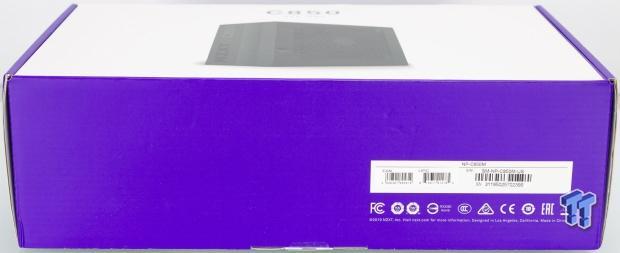 The flap used to open the C850 packaging is where we find the inventory control labels along with the compliance and certification iconography.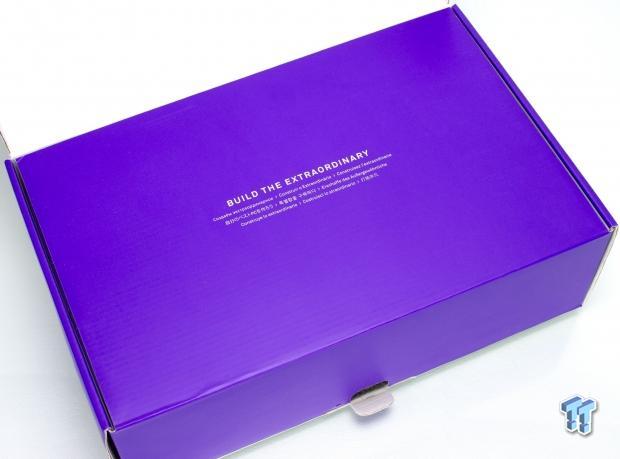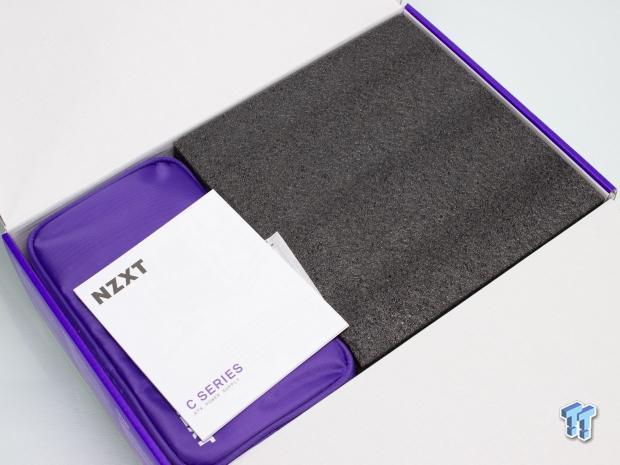 Opening the main flap, we see the second layer of cardboard flap in the purple NZXT color. This extra flap simply says, "Build the extraordinary," and that is in 10 languages, including the main English entry. Once the second flap was opened, you now see the manual and the silica gel packet atop the soft foam encapsulated halves which keep the PSU safe. Here we also see the purple NZXT bag that holds the modular cable set.
Hardware & Documentation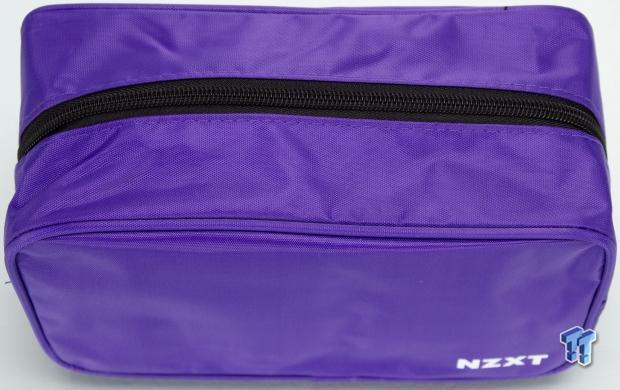 The C850 cables come in the same purple zipper bag we saw with the E850 model. This is a solid quality bag similar to the quality of a school backpack, so you should be able to rest assured that this will stand the test of time and is an efficient free way to store spare cables for your supply.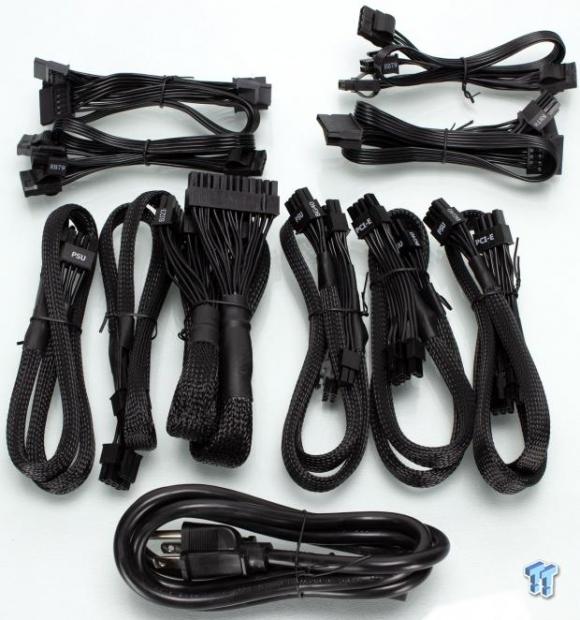 The cables provided with the C850 are as follows:
Main AC input cable

24-pin ATX cable

2x 4+4 EPC CPU power cables

3x dual 6+2 GPU PCIe Cables (six total 6+2 connectors)

2x SATA power cables (eight total SATA power connectors)

2x PATA (Molex) power cables (six total PATA power connectors)
This cable array is the same as the E850, but sans the USB cable since this unit does not have a CAM interface. This connector array is more than enough to realistically overload the supply if you intend to do so, which we will soon.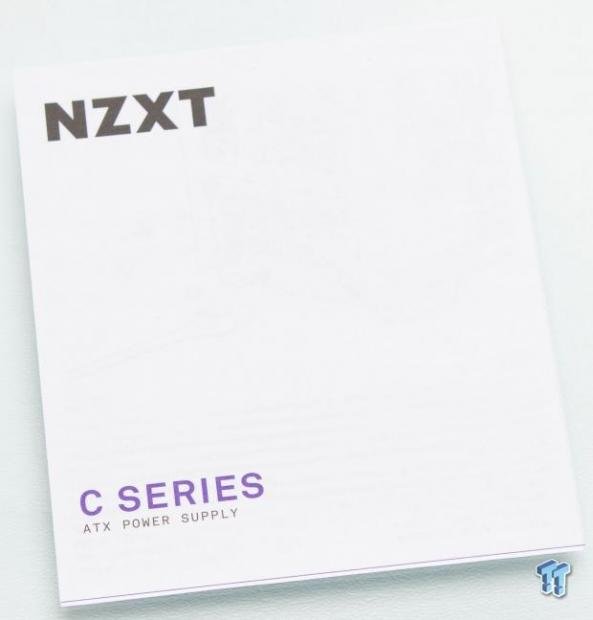 The manual is a multi-fold large page for the C series, and it covers the specification along with connector type and usage.
NZXT C850 Gold Power Supply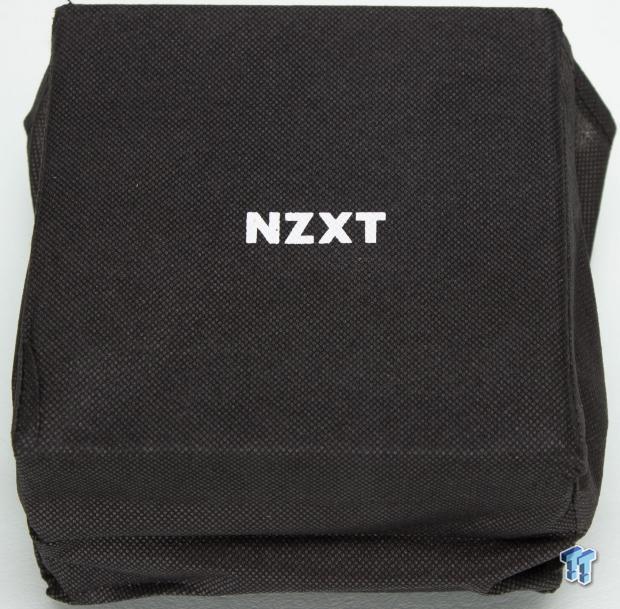 The PSU comes out of the soft foam shell housed in a fabric bag to help avoid abrasion damage during shipping. The bag is decorated with the NZXT logo and has a simple fold-over and tuck flap to close it up.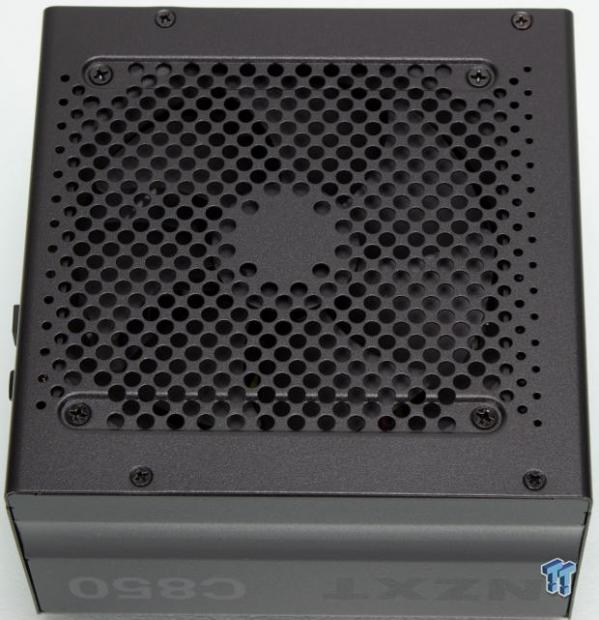 The grille section is where we look first, and we can see that NZXT opted to design their fan grille opening into the PSU chassis itself. The grille is an array of circular holes to help provide adequate airflow while keeping a sleek overall aesthetic, minus a standard grille that may stand out from the design.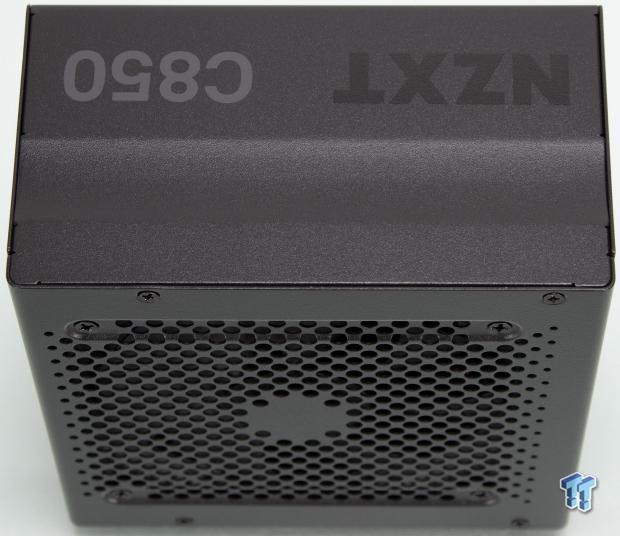 Here we flipped the C850 ninety degrees to view the side, which would be visible through the main chassis window. And here is where I see an issue that jumped out at me, the logo and name design was applied upside down. This means if your chassis has no PSU shroud or has a window, the logo will be upside down. I have spoken to NZXT about this, and they are revising the design on a future run to correct this issue as it was an oversight. For most users, this will not be an issue as most chassis have a solid PSU shroud, but it's a pretty interesting aesthetic oversight.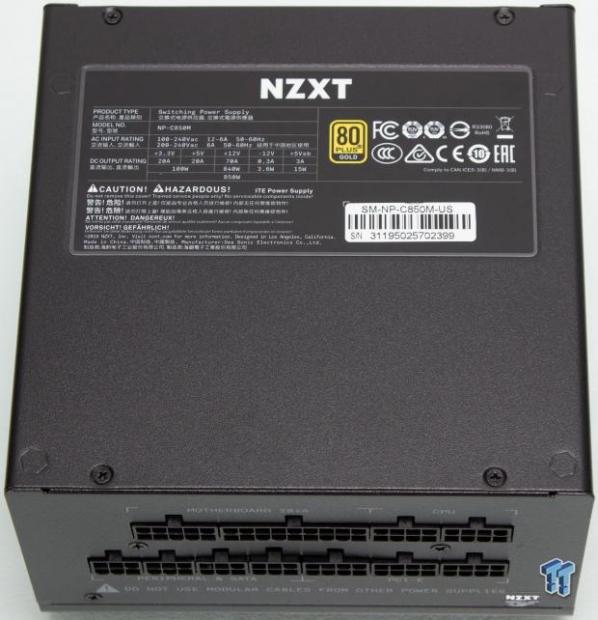 Flipping over to the main label side and we see the spec label along with serial number and compliance and certifications directly on the label.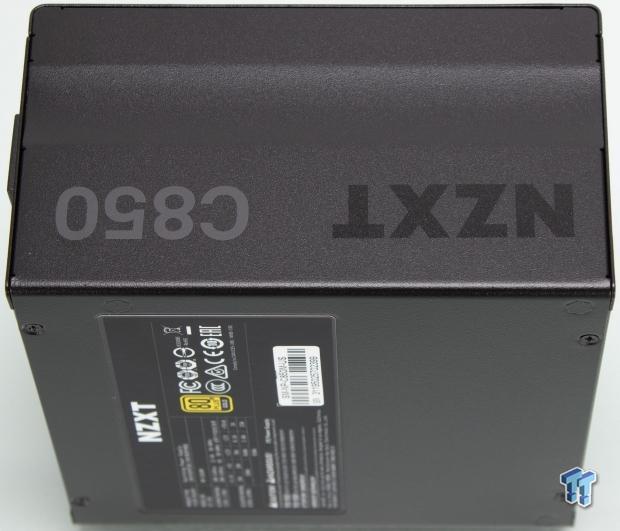 Flipping over to the opposing logo side and we see that even with the fan positioned upwards, the logo is upside down from the main chassis view. This means Cases such as NZXT H series will be fine, and the logo will be visible right side up through the cable management area, but if your chassis has the window mentioned above in the shroud or no shroud at all, it will be upside down.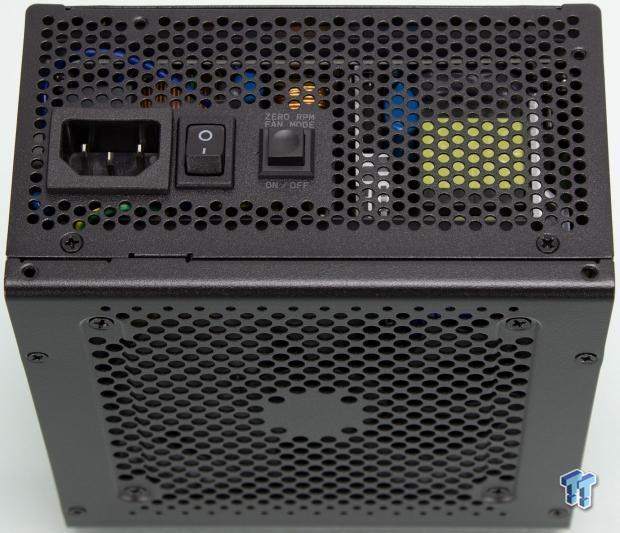 Flipping to the input side, we find the Main AC input for the C850. Also, here are the mains toggle and the zero RPM fan mode switch. The switch is not momentary, so if you enable it, it stays enabled, which is nice vs. a soft button.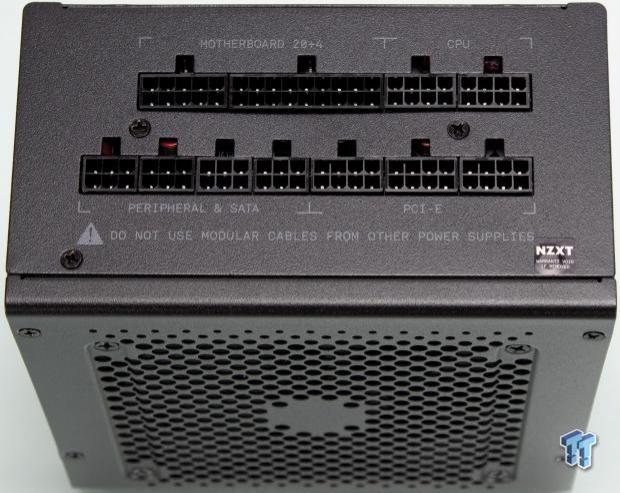 Now we taker a look at the modular output side of the C850. The connectors present on the supply match the cables provided, which means you could use every connector on the supply if you needed it. Some PSU's I have seen skimp on peripheral cable connections and can only support a mix of cables, so this is nice. Now that we know we can max this unit out, I say let's strap it to the bench and see what it can do.
Real World Test System & Observations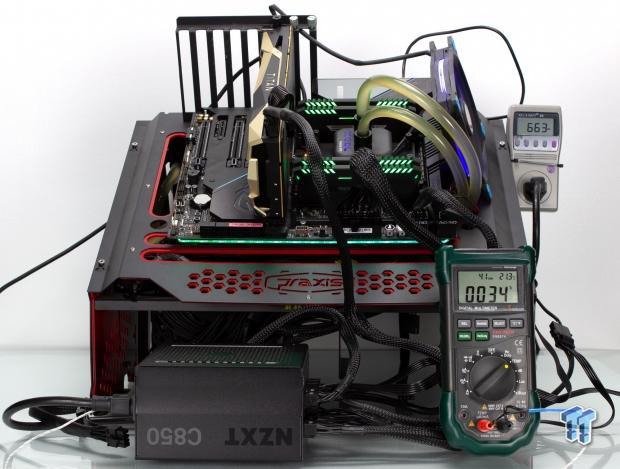 First up, we pushed the 2990WX 32-core CPU with a manual overclock to pull more amperage intentionally. Our default single GPU installation is the TITAN V, which by its right, can pull a decent amount of power on its own. We observed wattages between 640 - 690 Watts during this run, and it held rock stable during several hours of testing. Much to my surprise, the C850 reached an excellent 34C top-end temp with occasional blips to 35C.
This is quite good, but the fan was more audible than others I have tested, which is likely caused by a more aggressive fan ramp up, so it's a trade-off between noise and thermals. Overall, when in a chassis, I don't think it would be louder than a similar liquid cooling setup to what we are running if you had this sort of 24/7 loading.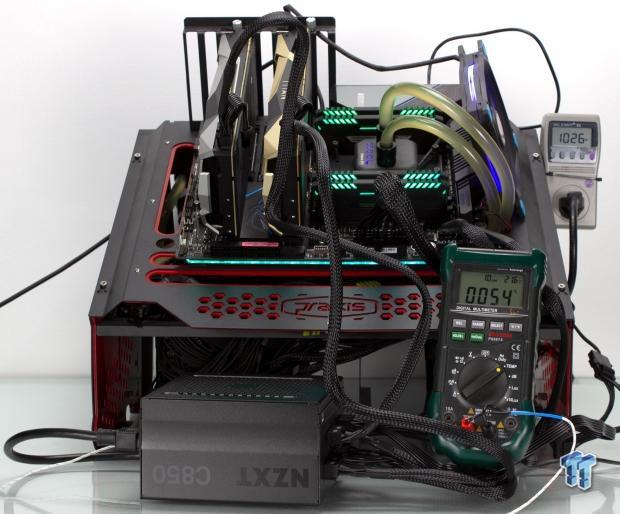 Adding a 1080 Ti to the mix, and we were able to push north of 1000W. Now the fan has really ramped, and temps are higher than I would want to see in everyday use, but then again, we are pulling well over what I would expect anyone to put an 850W under. This is more the type of load where I would recommend a 1200W supply to be sure under full burn you are at an optimal efficiency range.
Also, do keep in mind that this is with a 32-core CPU pushed to its limit, so a mainstream rig with these two GPUs would likely pull into the 800W range, which would fit fine in the power range of this PSU as most users will not be putting the entire system under a full burn unless it's a workstation. IF it is expected to be put under a 24/7 render workload for its lifetime, I would recommend still a 1000W supply.
While I would love to push it further, I feel like adding yet another card with the thermals we see already would just be begging to trip some protections, and I think this result is well above good enough to prove that the C850 can hold its own.
Final Thoughts
When NZXT informed me that their C series of PSU was coming, I was a bit excited as I am not a fan of digital supplies with software only due to the potential conflict as every device seems to have software these days. And the E850, while CAM has improved quite a bit, I still like to have the option to go without it. The C series seems to give us the quality and performance of the E850 without the need for software to monitor it or worry about it.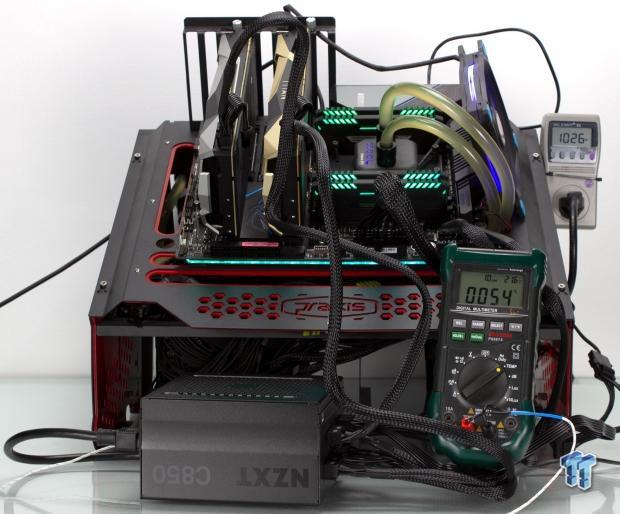 What we like
The C850 is a good-looking supply with aesthetics that should match any build. The PSU under a heavy load kept chugging along even if the fan did complain a bit. The C850 pulled a seriously heavy load, which was well over its specification and did not lose stability or error on a single workload during hours of testing. The C850 is a good value for its asking price as it goes head to head with many 750W supplies or semi-modular 850s. The C850 simply does what it should without much fuss.
What do we think could be better?
I think it's evident that we would like to see the logo be oriented the correct way so that your PSU does not look goofy when installed in a chassis that does not have a PSU shroud. However, NZXT is fixing that, but it's still worth noting. The fan noise was more audible than other 850W supplies I have tested in the past, but I do think that under normal gaming loads, the supply would not be loud over other system components.
I would also like to see NZXT embrace the new trend of all 12V only connections having the same connector to make cable management more straightforward as it allows you to connect to the modular interface via whatever spot works best for your design.
At the current asking price of $129.99, I feel like the C850 holds its own, especially when considering similar feature sets. The C850 at least at the time of writing is priced alongside popular brands such as Corsair or EVGA, but at 750W, whereas for the same money, you can get an NZXT 850W. Granted, I did find a Seasonic semi-modular 850W for the same price, but then you are giving up modularity.
Shannon's Power Supply Test System Specifications
| | |
| --- | --- |
| Performance | 93% |
| Quality | 90% |
| Features | 95% |
| Value | 96% |
| Overall | 94% |
The Bottom Line
NZXT has taken the E850 which we already liked, removed the digital CAM integration, and kept the performance. This is a solid power supply for anyone looking to build a high-end gaming rig or mid-range workstation.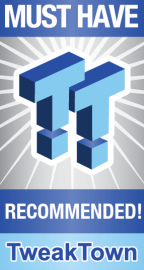 We openly invite the companies who provide us with review samples / who are mentioned or discussed to express their opinion. If any company representative wishes to respond, we will publish the response here. Please contact us if you wish to respond.