Introduction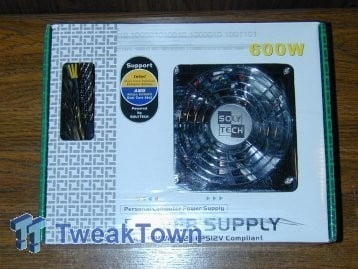 Many folks may not have heard of a company called "APEX", and of those who have, odds are good that you've heard it as an OEM provider. Indeed, APEX has been providing OEM/ODM power supplies and enclosures since 1998, shipping well over a million units a year.
With this background, the folks at APEX have decided to delve into the retail market. With modern computer systems needing more and more power all the time, it isn't much of a surprise that more manufacturers are jumping onto the retail bandwagon and showing the world what they are capable of.
So while a solid background in OEM shows a certain level of experience, let's take a look at this company's offering and see if they have a product that can handle the needs of the enthusiast based retail market. We've come to expect a lot from our power supplies of late, so let's see if APEX can meet those demands!

In The Box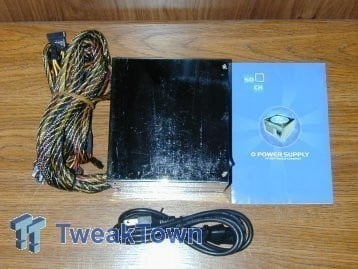 Once we've gotten through the shrink wrap and opened the box, we are greeted with what we would expect to see. Besides the power supply itself, we have a small manual and the new power cord. Since this unit isn't one of those new-fangled modular types, there really isn't much else we are going to need to get started.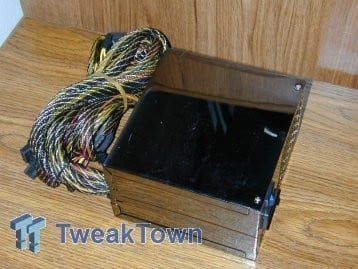 The power supply has a very shiny chrome-like finish and should go far in making a statement inside a windowed enclosure. With more folks moving to this type of casing, overall looks of the power supply plays an important role in our buying decision. After all, we wouldn't want to spend good money on a big window only to have an ugly black blob sitting there would we?
For those interested in the base numbers of this unit, we have a total load limit of 600 watts. The unit is rated at a constant 585 watts draw and can handle peak loads of the rated 600 watt level. It has a dual 12v rail system with a maximum limit of 44 amps, 22 amps from each rail. It can handle a load of 30 amps on the 5v rail and has a limit of 24 amps on the 3.3v rail. These load limits will make this power supply a good choice for those using both newer systems needing a lot of 12v juice, or those with older Athlon XP systems that have a need for a lot of power from the 5v rail.
This model also uses an active PFC, so for those who feel this is important you will have the capability built into the unit. It is also compatible with both ATX v2.2 and EPS systems.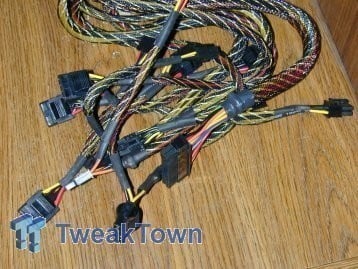 Taking a look at the cabling shows a good deal of versatility. We have a 20+4 pin primary coupling, both 4-pin and 8-pin supplemental couplings, two PCI-E connectors, two SATA connectors, six 4-pin Molex connectors and two FDD connectors. While I could stand for a couple more Molex connections, the overall layout is very acceptable. There are a few items of note, however, with regards to the wiring harness.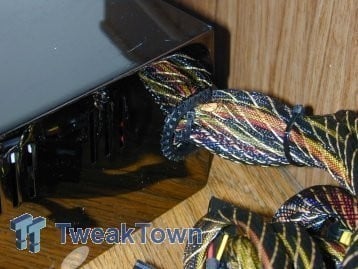 To begin with, the wiring harness as a whole is very well thought out. The entire setup is covered with a flexible mesh and the area where the cabling leaves the housing is protected by the plastic grommet that keeps the wires from having any contact with the metal unit. This is something that all power supply manufacturers should take note of.
The above photo also gives you a good look at the mirror finish of the housing. You'll see that the wood grain of the desk shows prominently on the side panel of the power supply.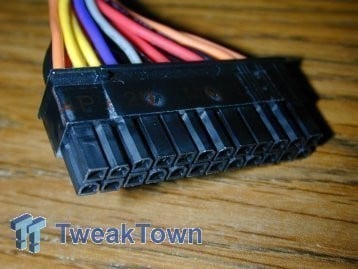 While this model claims to have a "20+4" main power coupler, which it does, it isn't of a type that many have probably seen before. There is no latching mechanism on the module, just what appears to be a piece of tape that holds the 20-pin and 4-pin modules together. If you have plans on interchanging this unit between a older and newer motherboard, take note that you will probably want to get some sort of taping material beforehand to modify the coupling back to a 24-pin variety.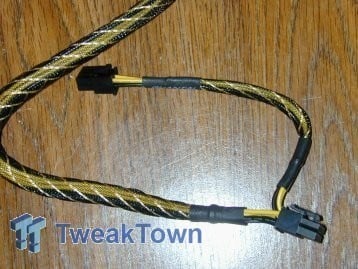 Another strange design is the supplemental power adapters. Both the 4-pin and 8-pin couplings are on the same wiring harness. While I haven't tested any motherboards yet that require both of these connections, if you happen to have a board that needs both, make sure that they are positioned in close proximity to each other or you'll run into problems.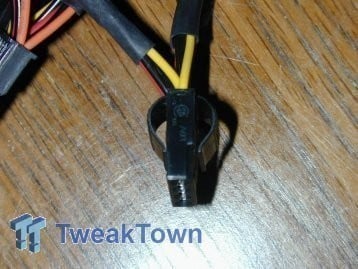 This shows something that has been getting more popular lately, and I still enjoy it. The two plastic tabs you see surrounding the Molex connector make removing the power to your peripherals a breeze. Simply squeeze the two tabs together and it will gently pull the Molex out of the device. I have found that this tab setup is compatible with almost all devices, the only exception found to date being video boards that require a Molex connector. In these few cases, the tab on one side either needs to be removed or folded back.
Moving to the housing of the power supply, we see that the layout of the back of the unit is very simplistic. With only a power toggle switch and a power connector, you won't have to worry about little things like changing the voltage for different parts of the world. While not a huge thing, I have made a costly mistake once before, so there is obviously a need for this type of forethought.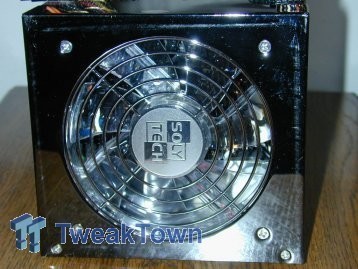 As far as cooling is concerned, you will find a large 120mm LED fan installed in the bottom of this unit. It is controlled internally and will pick up speed when the unit shows higher than average temperatures within the housing.

Testing
I've been playing with power supplies for quite a while now and I guess in my old age, I like to sometimes make things interesting. My normal method of testing a PSU was to get the system up and running, get a burning session on a CD-RW running in the background, then cranking up something along the lines of Quake 4 and run a long-winded demo. Once everything is cranked up, I'll measure the voltage levels along the power rails to see how close they remain to specifications. The thought behind this method of testing is to see if the power supply can maintain acceptable power levels while under stress.
While I will continue to use this methodology, I also decided to compare these results with the power levels at system idle just to see how much the unit drops off while the system is under a load. This should give us a little more in depth picture of what the PSU in question is capable of. After all, with power supplies becoming a very important component in modern computers, it pays to know ahead of time what works and what doesn't.
But before we dig into the multimeter readings, lets take a quick look at the test system being used:
DFI LANParty UT nF4 Ultra-D motherboard (nVidia nForce4 Ultra chipset)
AMD Athlon FX-53 processor (Supplied by
Newegg.com
)
2x 512MB Mushkin "Redline" PC3200 memory (Supplied by
Mushkin
)
GeCube X1900XTX graphics card (Supplied by
GeCube
)
Four case fans + Thermaltake CPU cooler using 80mm x 38mm high performance fan
All right then... the system is running and the tasks are chugging along. The processor is at default speed and voltage is set to 1.5v. The memory is running at 2.9v and all other levels are set to default. The motherboard is an absolute power hog and the video card has sent many lesser power supplies to an early grave. Let's see what this thing can do!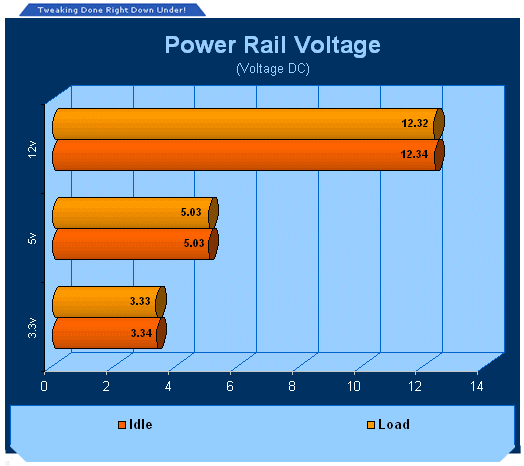 As the graph shows above, all power rails maintain a very steady voltage level at all times. While I have certainly tested power supplies that have gone to higher levels, few have managed to maintain this consistent of a power flow between idle and stress conditions. While monitoring the voltage levels, both the 3.3v and 5v rails were rock steady. The 12v rail showed small fluctuations, but nothing more than 0.02v movement.
As a side note, I did my normal testing step and ran the test system for a week under varying stress conditions and I never noted any times of instability. Overall, this should prove to be a solid contender if you happen to be looking for a 600 watt range power supply.

Final Thoughts
Once everything is said and done, the APEX power supply does a very fair job holding its own. In terms of sheer performance, there were absolutely no issues with instability and the power levels across all rails was very solid. While you won't be overpowered across any rail, neither will you be lacking.
The aesthetics of this model stand high as well. With the chrome style finish, you should have no problems at all regardless of what lighting scheme you choose in your custom enclosure. Of course, you may run into one issue... the need to occasionally get out a buffing cloth and wipe it down, but this isn't something that is unusual with any mirror finish product you use in a PC.
While it does have a lot of good points, this isn't a perfect design. I was a bit disappointed with the main power coupling. Granted, it does have a 20-pin and 4-pin capability, but it also lacks any means to connect the two again if you switch between systems. Having to hunt down some sort of heavy-duty tape isn't what I would call "
user friendly
". I am also just a bit concerned about the supplemental power couplers being on the same harness. Even if your current motherboard doesn't need both of these connectors, your upgrade model may. Having them both so closely connected as they are has the potential for causing problems.
As far as cost is concerned, I have found this model online for as little as $65USD (after rebate), so it isn't going to empty the wallet. If you are concerned about this low cost, remember that APEX has been in the OEM market for quite some time. This area of the market specializes in creating a product for a reasonable amount of money, so it is good to see that their retail product line has these same goals.
Bottom line... With so many power supplies on the market, it can be more than a little difficult to choose what will work in your system. While there are many comparable items available, you will be hard pressed to find one with these features at this price. For solid power across all rails, good looks and a price tag that won't leave you wondering who stole your wallet, the APEX SL-8600EPS will meet your needs.
- Pros
Price
Aesthetics
Meshed wiring harness
"SLI Ready"
Dual SATA and Dual PCI-E
Molex tabs
- Cons
20+4 connector is taped
8-pin and 4-pin supplemental on same harness
Only 6 Molex
Rating - 8.5 out of 10 and TweakTown's "MUST HAVE" Best Value Award!