QNAP Guardian QGD-1600P Hybrid NAS Review
The Guardian from QNAP opens up a new market of hybrid appliances. Let's see what it's all about.

Published Tue, Feb 18 2020 10:20 AM CST
|
Updated Tue, Nov 3 2020 6:57 PM CST
Rating:

89%
Manufacturer: QNAP (QGD-1600P-8G)
Introduction
It is quite easy to say QNAP is one of the most innovative when it comes to NAS hardware. They have the broadest range of platforms from entry-level Realtek and Marvel solutions to mainstream Intel Celeron, both dual and quad-core, and then SMB and higher models that take advantage of AMD Ryzen and Intel Core desktop platform processors.
Taking a step back, the Guardian is one of the most innovative solutions to come from any NAS vendor. QNAP has blended its QTS and QSW platforms to form the QGD-1600P, a 16-port Layer 2 switch mated to a two-bay NAS.
The hardware breakdown includes a Gemini Lake Intel Celeron J4115 that operates at 1.8GHz with a boost up to 2.5GHz. It's paired with either 4GB or 8GB of DDR4 2400, depending on the model purchased. Storage can be expanded via the internal 2.5" drive cage, and this supports either 2x 2.5" hard drives or SSDs with a maximum z-height of 9mm. Optionally the QGD-1600P can be outfitted with several PCIe expansion products, including but not limited to the QNAP 10GBe solution, Wi-Fi 5 card, or the m.2 breakout board. Two USB ports are made available on the front of the unit, along with a single USB 3.0 and HDMI.
On the L2 switch, the breakdown includes 16 ports, all supporting gigabit ethernet. All 16 support PoE and PoE+ at 30 watts and ports 1-4 support PoE++ up to 60 watts with a total PoE budget of 370 watts. Adding on, this solution offers a single management port and two SFP for network expansion. Total Non-Blocking throughput is 16Gbps with a fabric capacity of 32Gbps. The QGD-1600P does support both Web and CLI interfaces.
The MSRP of the QNAP Guardian 8GB comes in at $699.99 with a two-year warranty.
QNAP Guardian Hybrid Appliance
Packaging and a Closer Look
The packaging is similar to the NAS platform we have seen from QNAP. Features are listed to the left with an image centered, model number to the right.
Accessories include the power cable, ethernet cable, and reading materials. We also have drive screws and rubber feet.
The Guardian uses a 1U form factor with all 16 ports to the right, management to the left.
Getting in closer, the switch portion offers labels for each port along with a callout for 1-4 that supports PoE++. The reset for the switch and host are to the right.
The NAS portion has a small backlit screen with controls to the right next to HDMI and USB 3.0.
The backside offers power input and PCIe expansion.
Opening up the unit, drives are installed top right into the cage, while PCIe devices go just below. Memory can be upgraded at this point if needed.
Test System Setup and Web Management
Tyler's Test System Specifications
The setup has moved to QFinder Pro, and as you can see, our unit showed up with no issue. From here, you can begin the configuration of the system.
Smart Install can be done via HDMI or through the web interface.
If done through the web interface, you have the option of setting up the drives along with time zone, etc.
Once inside, the layout is what you would expect from a QTS platform with a few specialized applications installed. The control panel offers all the standard QNAP options from user account and groups to shared folders and backup setup. You can manage hardware controls like fan speed and drive spin down. File Station is your onboard file management solution, and storage and snapshots will allow you to set up your arrays, iSCSI, and SSD cache.
One of the most prominent features of the QNAP Guardian is the ability to install your favorite firewall router OS in a virtualized environment and then setting up the L2 switch to handle Wired and Wireless LAN connectivity. To do this, we use VM Installer, choosing one of the three options available.
After choosing your configuration, we move to switch setup. Choosing which port we want to be our WAN connection first, I chose port 14 because I want ports 1-4 to power access points.
We then choose which ports should be denoted to LAN connections.
Once complete, Pfsense will be installed on a VM and booted for the first time. You can plug in your WAN and LAN connections and continue setup.
One of the final steps to setting up Pfsense is going through WebGUI and configuring it to your liking. This will include time zone, admin username, and password. After, you can connect any PoE Aps you have to the LAN ports and run through their configuration process.
Benchmarks
Sequential Performance
Testing for the QNAP Guardian was completed with a pair of Seagate 600 Pro SSDs.
Starting off, we found solid sequential read performance, easily hitting the limit of the network interface. QD2 through QD128, we top out at 118 MB/s.
The same can be said for write performance as we see 118 MB/s again from QD2 through QD128.
Workloads
Into workloads, we see Database for both RAID 0 and 1 reach over 10K IOPS. RAID 0 actually hits 12K IOPS at QD32.
File Server, too, shows equal performance reaching 10K IOPS in RAID 1 and 11K IOPS RAID 0.
10K IOPS appears to be a hard wall for RAID 0 in Email Server.
Web Server touched just above 7K IOPS for both RAID 0 and 1.
Workstation was our last test scenario, and the Guardian came away with nearly 12K IOPS in RAID 0 and a touch over 10K for RAID 1.
Final Thoughts
I was quite excited for the Guardian coming into this review just based on its potential, and now after having used it for the last month and a half, I'm just starting to see how powerful this platform can be. Build quality is fantastic, a full steel frame wrapping up the internal components, all RJ45 ports are shielded, and there is enough separation between the NAS and Switch that you can shut down the NAS and still have the switch function normally.
Diving right in, I set up the Guardian with Pfsense to run my home network. I have since added a few access points to bolster my wireless range. After a week or so, I was able to get performance testing out of the way and switch out the SSDs for higher capacity internal drives, letting the Guardian take over my archival and media storage needs. Within the last week, I have been able to add a second VM to the Guardian, running Windows, to handle media archiving directly, and up to this point, it has run flawlessly.
As you have seen in our performance testing, the Guardian was easily able to push to the limits of the Gigabit interface, reaching 118 MB/s read and write in both RAID 0 and RAID 1. Workload testing showed Database and Workstation as the two best workloads for the Guardian, both reaching 12K IOPS. File and Email Server were right behind at 10K IOPS.
The only cons I could think of for the Guardian is the limited storage capacity with 2.5" hard drives. The 9.5mm z-height restriction leaves you with a top capacity of 4TB using 2TB drives. That said, you can get away with higher capacity options using SSDs, or there is the optional USB expansion chassis from QNAP as well.
Pricing has come out quite promising for QNAP - the Guardian with 8GB memory has an MSRP of $699.99. For comparison, a pretty standard 16 port L2 switch will go between $300-$400, add to this a two-bay NAS with PCIe expansion for another $300 if we're lucky, and we're about even.
| | |
| --- | --- |
| Performance | 85% |
| Quality | 90% |
| Features | 95% |
| Value | 85% |
| Overall | 89% |
The Bottom Line
The Guardian isn't for everyone, but for users that need a hybrid solution, QNAP has set the bar high for performance and functionality here.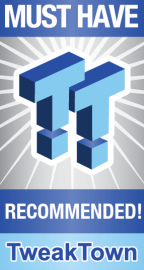 We openly invite the companies who provide us with review samples / who are mentioned or discussed to express their opinion. If any company representative wishes to respond, we will publish the response here. Please contact us if you wish to respond.