Galax HOF Pro 1TB NVMe PCIe Gen4 M.2 SSD Review
Galax brings Gen4 SSD performance to its HOF (Hall Of Fame) line of products with the new HOF Pro M.2 SSD.

Published Tue, Dec 3 2019 11:03 AM CST
|
Updated Tue, Nov 3 2020 6:57 PM CST
Rating:

95%
Manufacturer: Galax (HONA1K4T9BG56C4LWXWCXN)
Introduction & Drive Details
Galax is a brand that many of you reading this have probably never heard of before. They serve mostly the Asian markets and have a small presence in the Western Hemisphere. Galax is mainly known for its line of graphic cards that range from low-end bargain products up to their top of the line HOF (Hall Of Fame) product lines. Galax may be unknown by most enthusiasts in the west, but they are very well known to the overclocking community where Galax HOF graphic cards and DRAM are highly sought after.
Galax states that "Only for Better Performance" has always been their design philosophy for the HOF series. The SSD we have on the bench today bears the HOF moniker, and Galax has even one-upped it with a HOF 'Pro' designation, indicating that this SSD is the absolute pinnacle of performance even for a HOF product.
Galax HOF products are typically white themed pieces of hardware with exotic looking thermal solutions, and the Galax HOF Pro M.2 SSD is no different. This Phison Gen4 E16 variant has a stunning white PCB and comes with an exotic looking aluminum heat sink. The hefty aluminum heat sink has an integrated copper heat pipe that gives the drive what we would describe as a dangerously attractive look.
Galax, unlike most others, does not attach the included heat sink to the HOF Pro. They leave it up to the consumer to decide whether to utilize the included heat sink or not. We really like this approach because there are instances where it is more desirable not to utilize a heat sink. The other thing we like is that there is no label over the drives controller that might interfere with heat transfer and would also detract from its gorgeous white PCB.
Galax's HOF Pro Gen4 M.2 x2280 NVMe SSD is available in two capacities, 1TB and 2TB. Let's dive in and see what kind of performance a HOF Pro Gen4 SSD can deliver.
Drive Details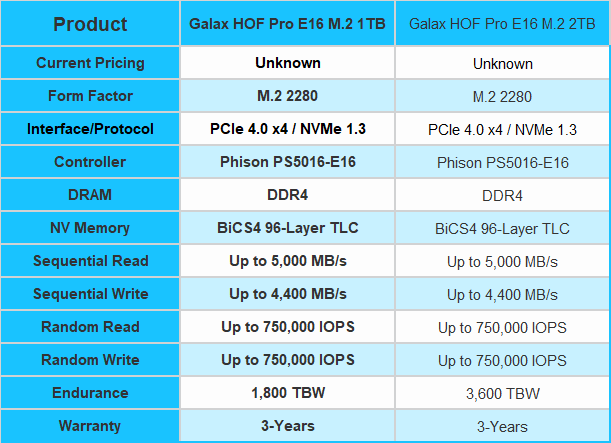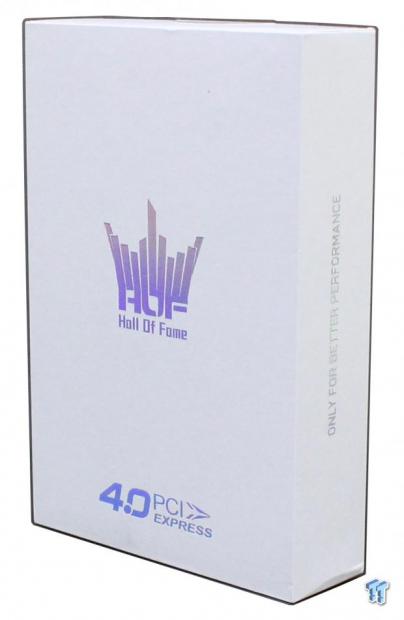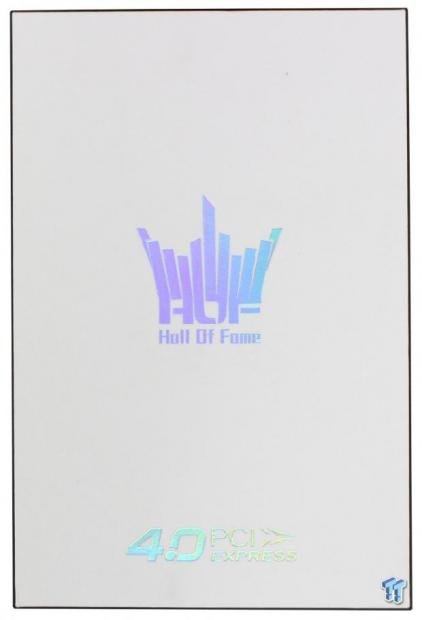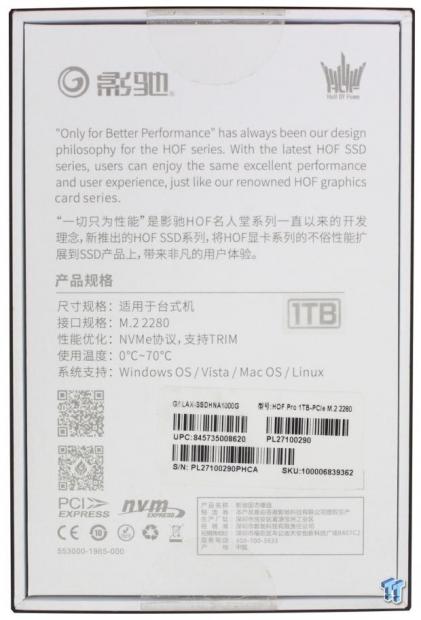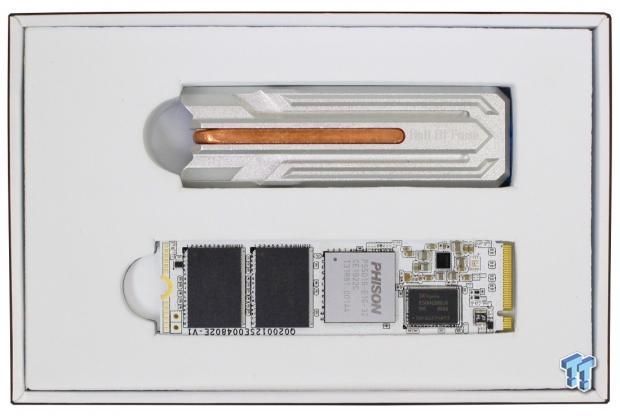 We were unable to find pricing in US dollars for the HOF Pro. The drive and heat sink ship in an attractive presentation type box. As mentioned, the drive itself has a unique white PCB. The included heat sink is substantial and easily snaps onto the drive. There is a thermal pad (not pictured) that is protected by a piece of peel-off plastic that must be removed before attaching the heat sink.
We chose to do all our testing without the heat sink to see if we would experience any throttling under heavy load. The drive did not come close to overheating even when we filled it with a half-terabyte of data. The highest temps we saw while testing were in the 50c range, which is well below the drive's 82c throttle point.
Synthetic Benchmarks: CDM & Anvils
CrystalDiskMark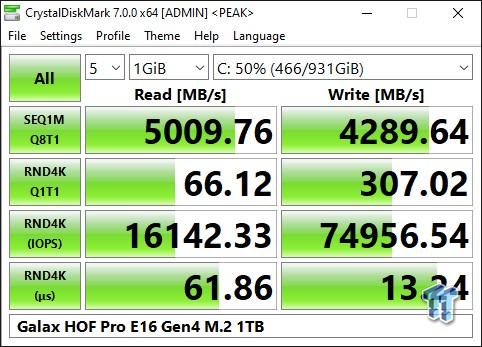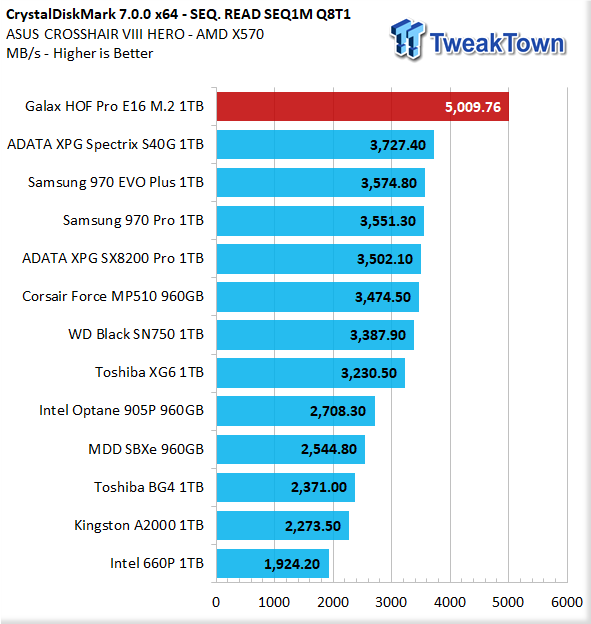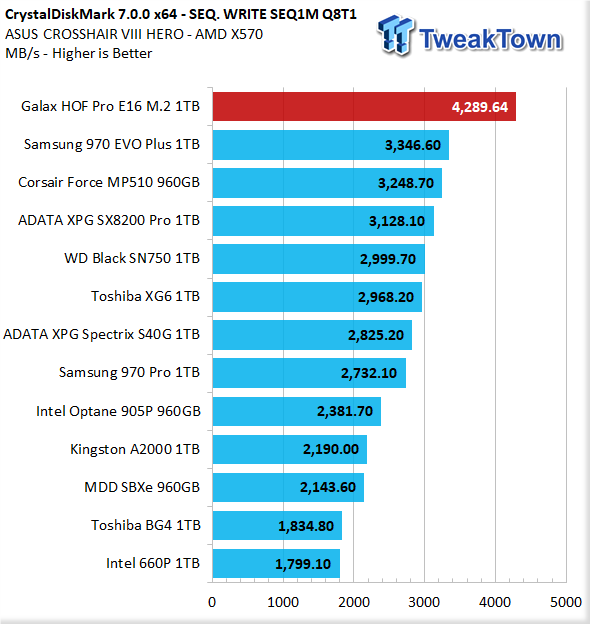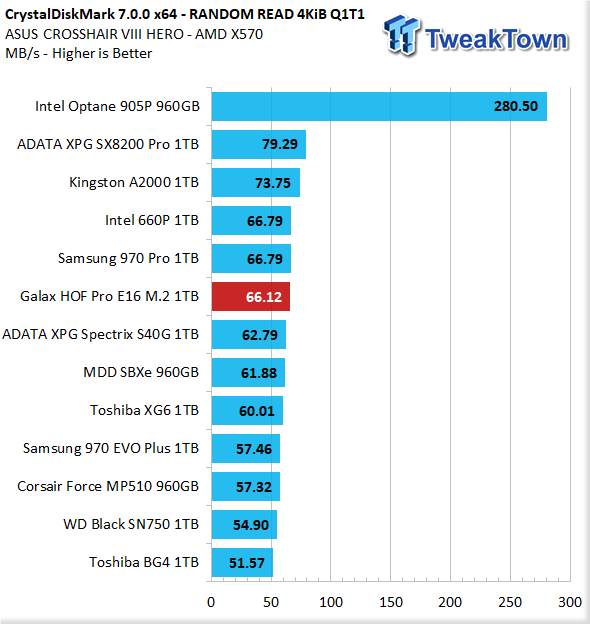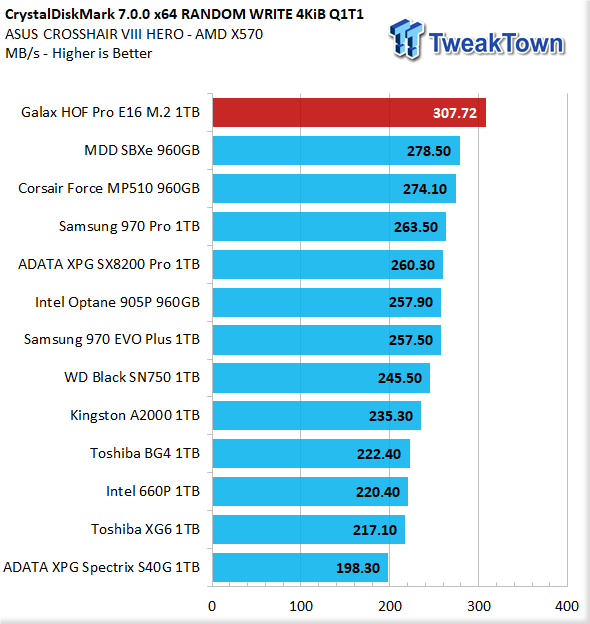 We can hit advertised sequential speeds with the usual caveat regarding E16 sequential write speeds. There are actually two caveats since we've switched to CDM version 7. The first is CDM 7 doesn't use the same file size, or queues as version 6, which was used to establish factory sequential specs. Secondly, sequential write speeds of 4,400 MB/s are only attainable when the drive is empty or almost empty, and we test as OS disk 50% filled.
We want to take note of the HOF Pro's Q1T1 random read speed of 66.12 MB/s as it is slightly better than any Phison E16-based SSD that we've tested to this point.
Anvil's Storage Utilities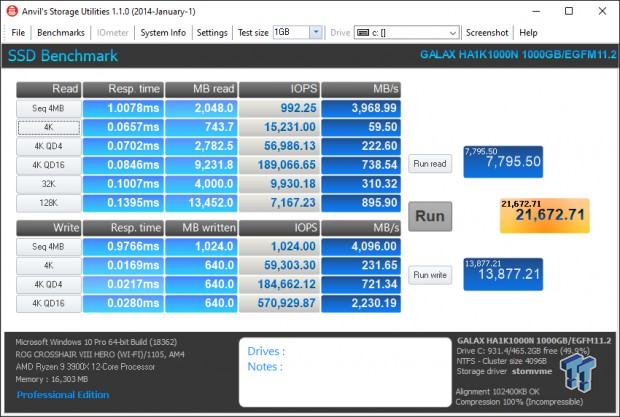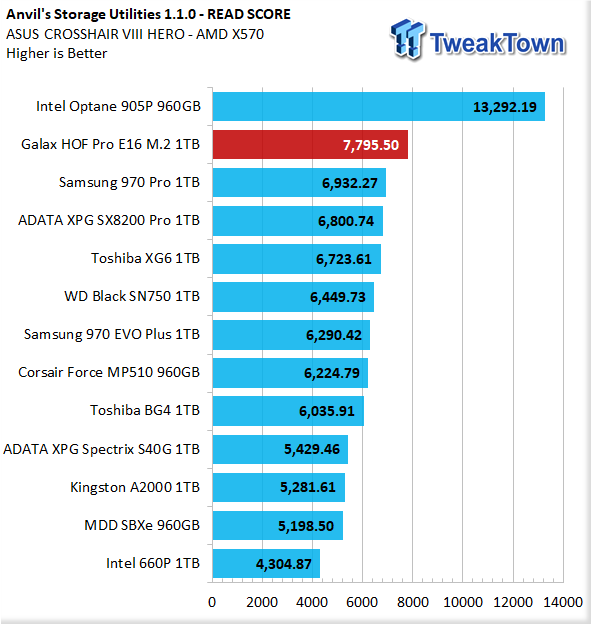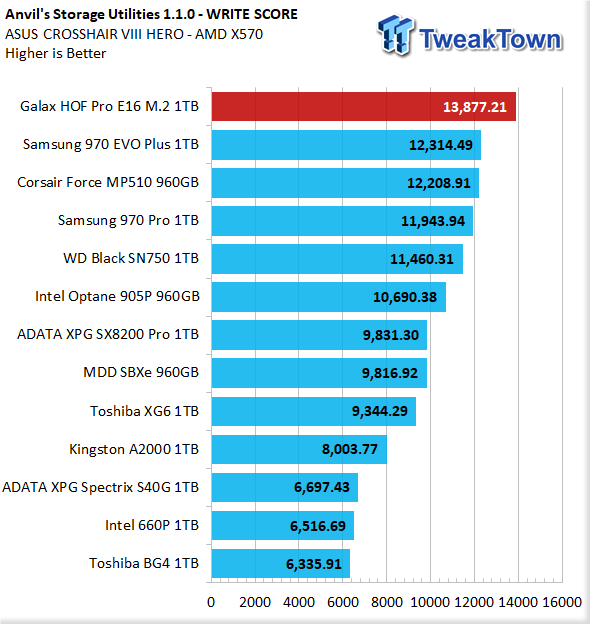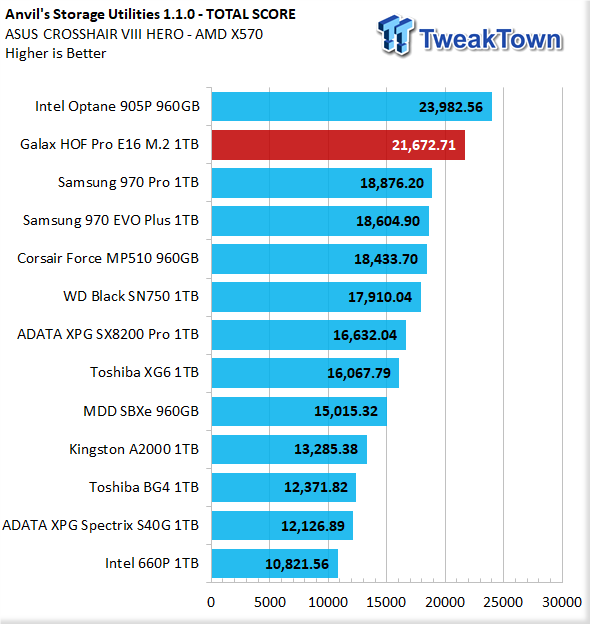 When assessing Anvil results, our attention is focused on the total read score first. The reason being, read performance matters most in relation to user experience. Typically speaking, 80% of the data digested by consumers is read back while only 20% is written anew.
As we've repeatedly seen, Phison E16-based SSDs like the HOF Pro currently deliver the best overall read performance for your Gen4 enabled AMD platform. Excluding Optane, of course. And there is more good news for owners of Phison E16-based SSDs because they also enjoy the best overall write performance of ANY consumer-based non-volatile solid state storage device.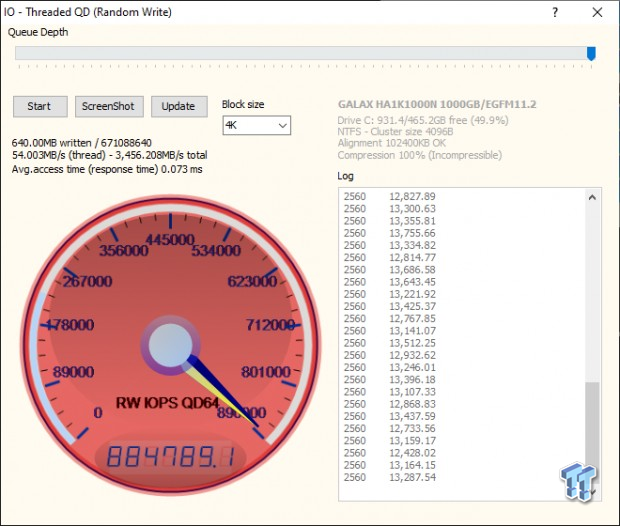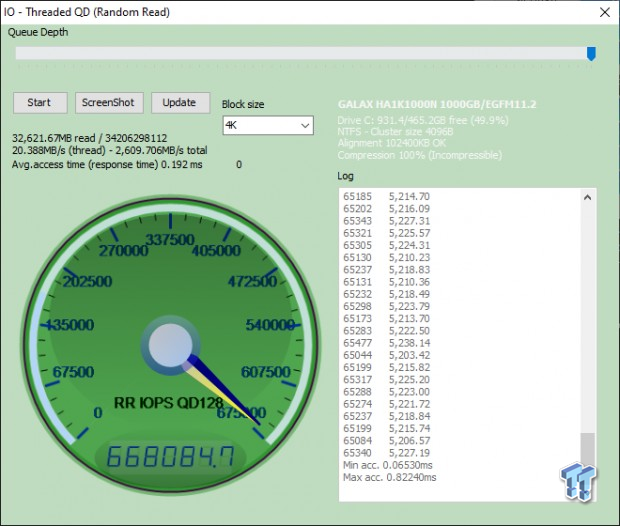 While virtually meaningless to the end-user, we are hitting nearly 900K random write IOPS at QD64 and a solid 668K random read IOPS at QD128.
Synthetic Benchmarks: AS SSD & ATTO
AS SSD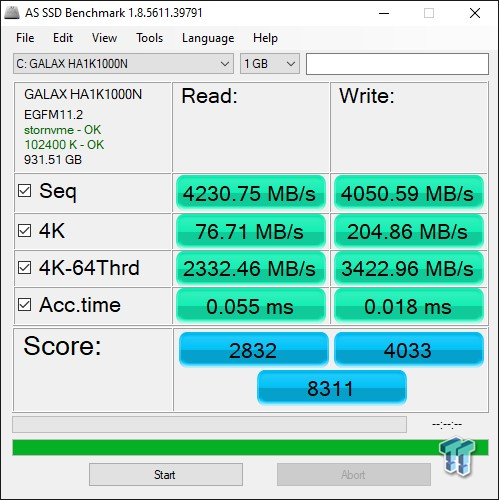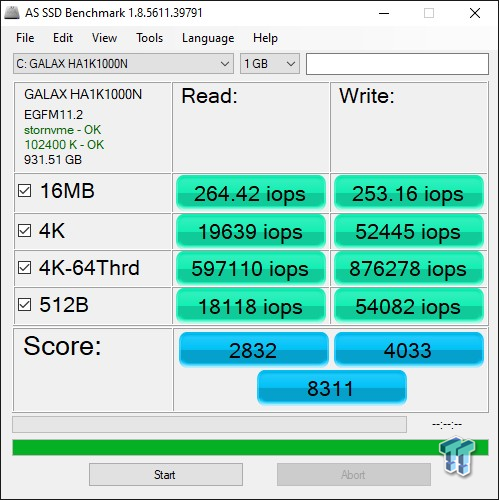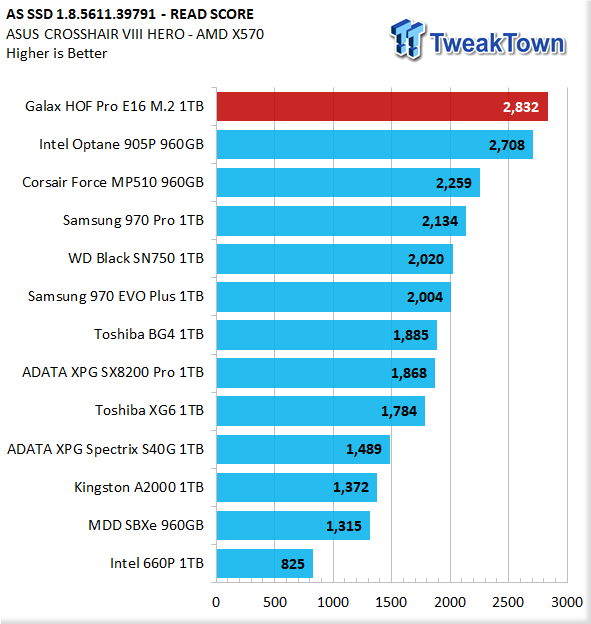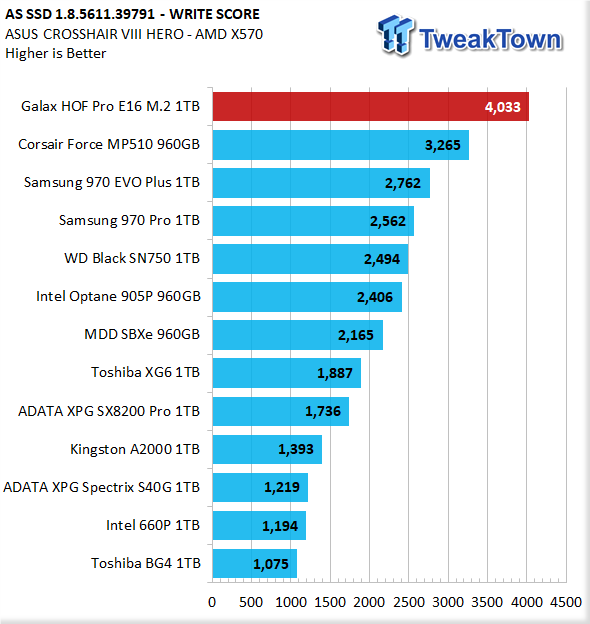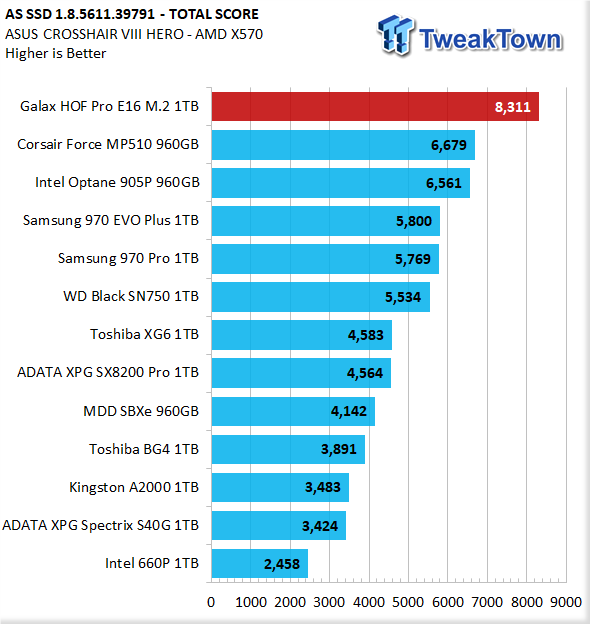 AS SSD is still one of the most popular SSD tests in the world. It can bring many SSDs to their knees, but not Phison E16-based SSDs like the Galax HOF Pro. The HOF Pro takes no prisoners; not even Optane stands a chance against this Gen4 beast. A total score of 8,311 is a new lab record.
ATTO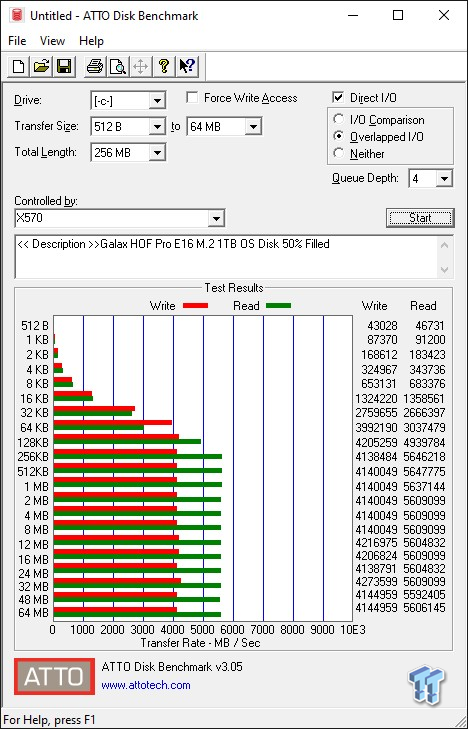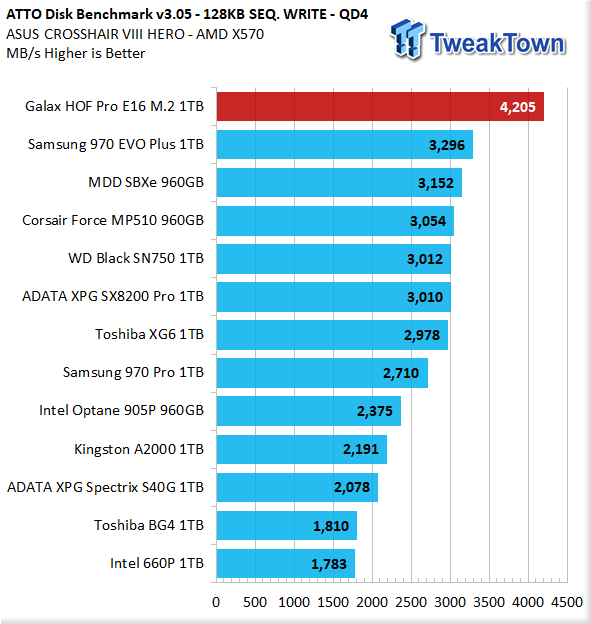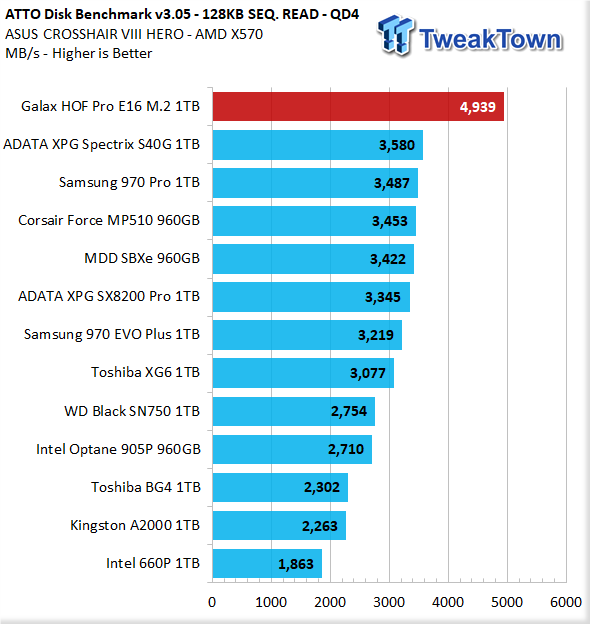 ATTO is one of the oldest and still one of the best tests ever devised for evaluating sequential performance with various file sizes and queue depths. Although valuable data is provided across the board, our focus is sequential performance at 128 KB transfers.
A quick look at our charts illustrates what we've come to expect from Gen4 SSDs like the Galax HOF Pro; absolute domination when serving up or writing down sequential data.
Real-World Testing: Game Loading & PCM8
Game Loading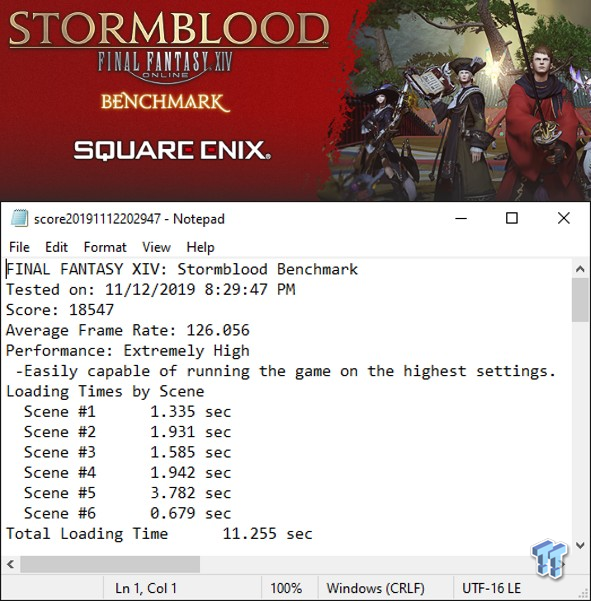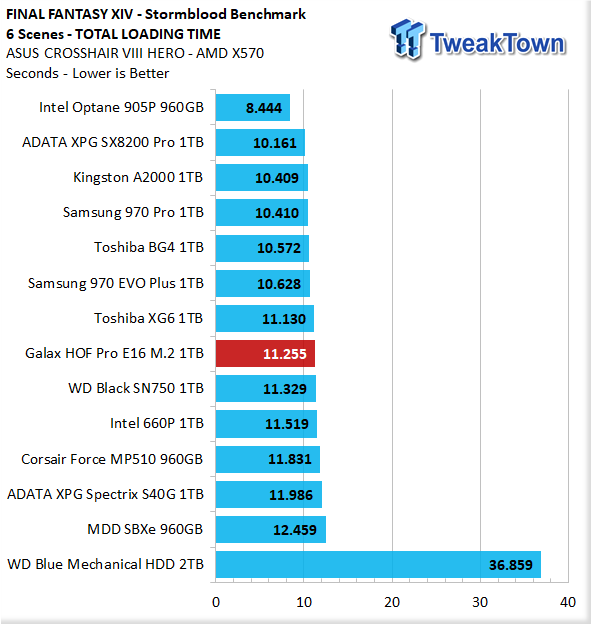 The Galax HOF Pro slots in exactly where we've come to expect Phison E16-based SSDs will. It's not the fastest when launching game levels, but it still does well enough that we can't really complain.
PCMark 8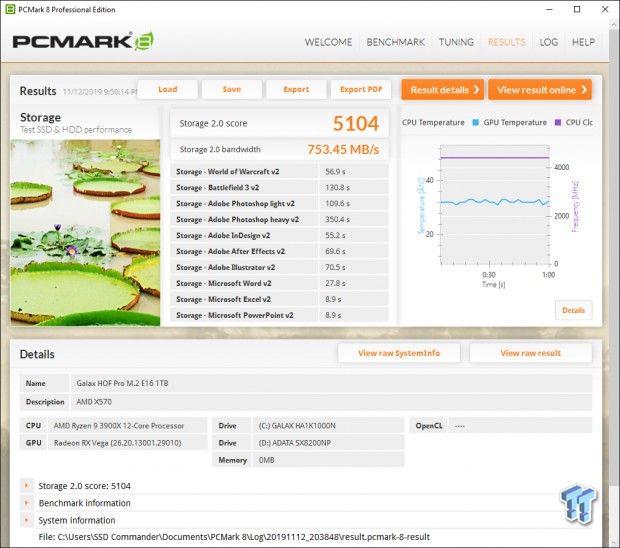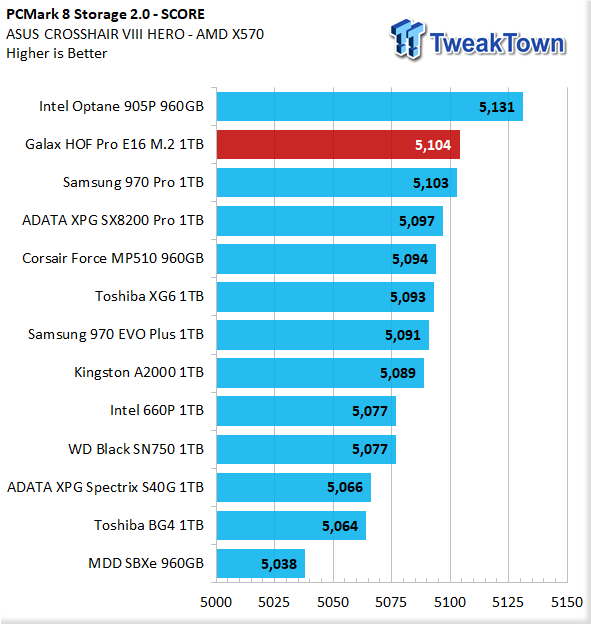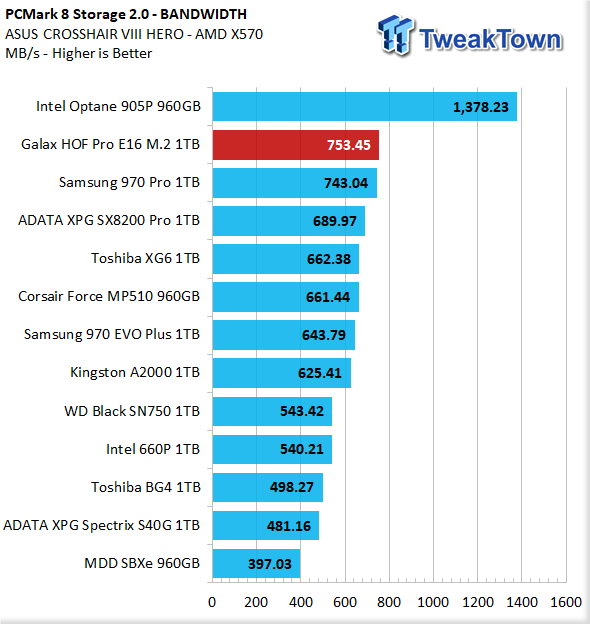 As impressive as the benchmark results to this point have been, the results of our PCMark 8 testing takes the cake. As we've explained many times, we consider PCMark 8 storage testing to be the most important test there is for overall storage performance evaluation.
For the first time, an E16-based SSD scored higher than Samsung's 970 Pro. Up to this point, all the E16-based SSDs we've tested have tied the 970 Pro in scoring at 5103. They have been able to deliver more bandwidth than the 970 Pro, but never a better score. A single point in this test is hard to come by, but the HOF Pro has done it by delivering a score of 5104 along with the best storage bandwidth of any flash-based SSD we've tested on our X570 platform.
These results again reinforce our assertion that other than Optane, Phison E16-based SSDs will deliver the best user experience currently available for your Gen4 enabled AMD system. Period.
Real-World Testing: Transfer Rates
Transfer Rates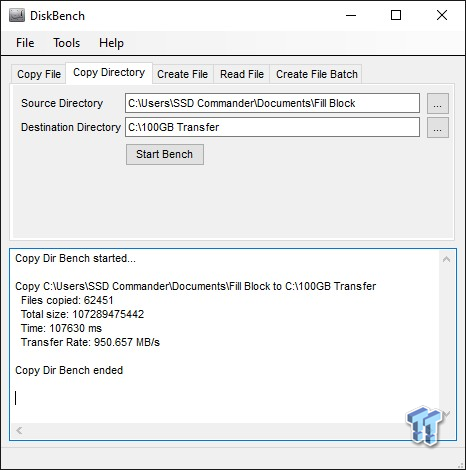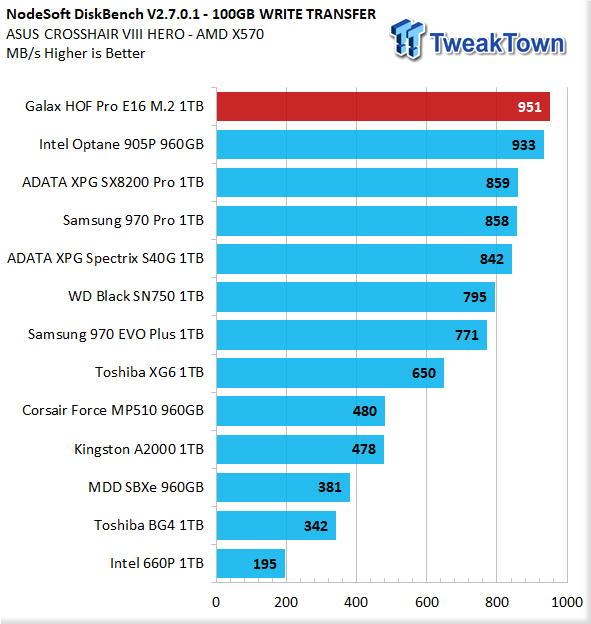 Step aside, Optane, the Galax HOF Pro is coming through! Our test transfers 100GB of data composed of more than 62,000 files. This is a hardcore test that crushes lesser SSDs, but not the HOF Pro. Its Gen4 interface allows it to defeat all comers, while at the same time setting a new lab record.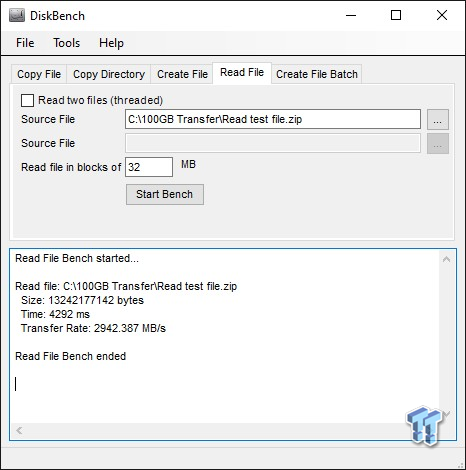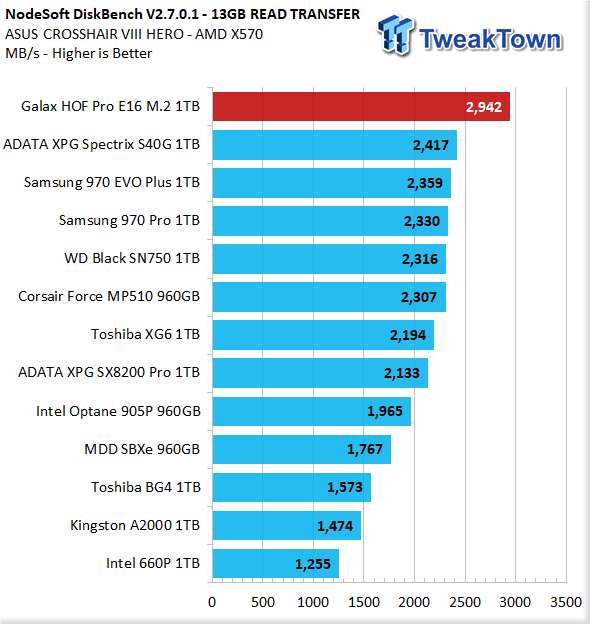 As expected, the Galax HOF Pro serves up our data at a rate of over 500 MB/s faster than any Gen3 SSD in existence.
Final Thoughts
After reading this review, many of you will undoubtedly want to get your hands-on Galax's exotic looking Gen4 HOF Pro M.2 SSD. However, if you live outside of Asia, this is not going to be easy to do. Galax does have an online presence where consumers in the west can buy some of their products, but the HOF Pro M.2 SSD isn't one of them. Galax, if you are listening, please make your Gen4 HOF Pro available for purchase outside of Asia. Thank you.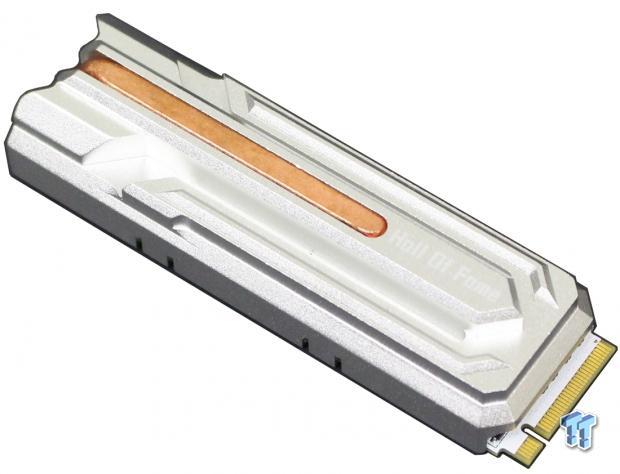 Galax HOF products are well known for delivering some of the best performance money can buy, and the HOF Pro M.2 SSD is no exception. The HOF Pro M.2 SSD looks stunning and, more importantly, delivers stunning performance, as evidenced by our test results, where we witnessed some lab records fall.
We will again point out that we did all our testing with the bare drive and experienced no heat issues whatsoever. We really like the included heat sink as it looks mean as hell, but you can be comfortable in knowing it is not required to be mounted for throttle-free performance in most consumer usage scenarios.
The Galax HOF Pro 1TB NVMe PCIe Gen4 x4 M.2 SSD is TweakTown approved and highly recommended.
Pros
Overall Performance

High Endurance

Separate Heatsink
Cons
No SSD ToolBox

Availability in the West
| | |
| --- | --- |
| Performance | 100% |
| Quality | 100% |
| Features | 90% |
| Value | 90% |
| Overall | 95% |
The Bottom Line
Dangerous looks and dangerous speeds. Galax's HOF Pro M.2 SSD lives up to the hype.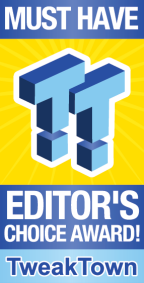 We openly invite the companies who provide us with review samples / who are mentioned or discussed to express their opinion. If any company representative wishes to respond, we will publish the response here. Please contact us if you wish to respond.