TweakTown's Rating: 93%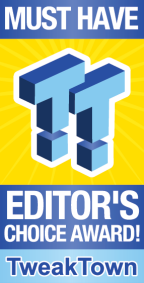 The Bottom Line
Don't let the size of the Razer Seiren X fool you. Its small compact design combined with its great audio quality and reasonable price should turn some gamer's heads.
Introduction
Want to get rid of that headset microphone and move towards something that not only looks awesome on your desk but also comes with great quality? Then perhaps the Razer Seiren X is your new microphone.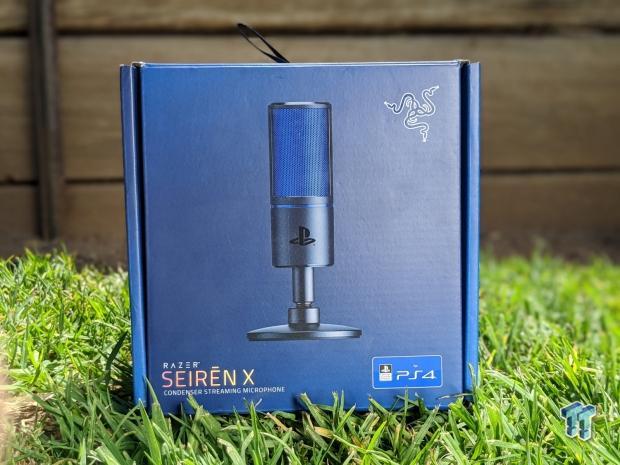 While most gamers would think that bigger means better (and in some cases it does), the Razer Seiren X represents why that sometimes just isn't the case. The Razer Seiren X also shows why bigger can actually sometimes be worse for gamers. With fantastic audio quality, a professional grade built-in shock mount, plug-and-play installation process, and sleek design, gamers and streamers alike will be more than impressed with what Razer has done with the Razer Seiren X.
Side note: You may have already noticed that Razer Seiren X I'm testing here is the PS4 Edition. It should be noted that the only difference between the traditional Razer Seiren X and the PS4 Edition is the color scheme, PS4 logo and mic button lighting up blue.
Razer Seiren X Specification Details and Close-up
Razer Seiren X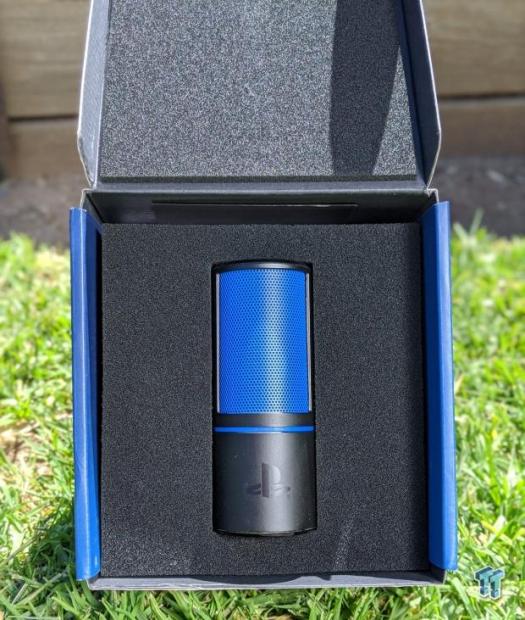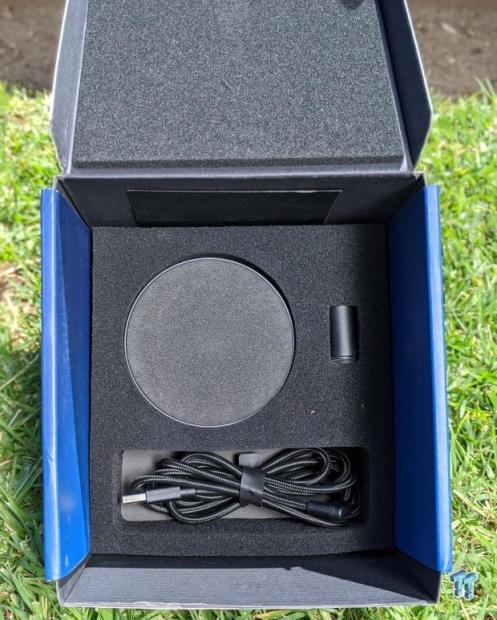 Opening the Razer Seiren X was just like opening any other Razer product, easy, straight forward and a pleasure. The packaging is made of thick foam material that is sturdy and holds everything in place.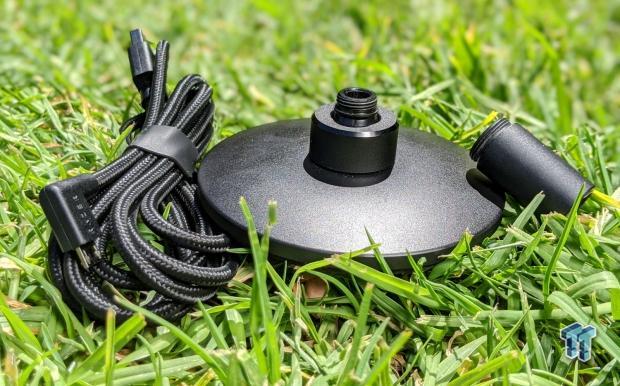 Above, we have the shock mount and (no pun intended); it's shockingly heavy. The weight of this mount is considerable; this provides the microphone with a heavy base that absorbs vibrations from any bangs or object placements on your desk.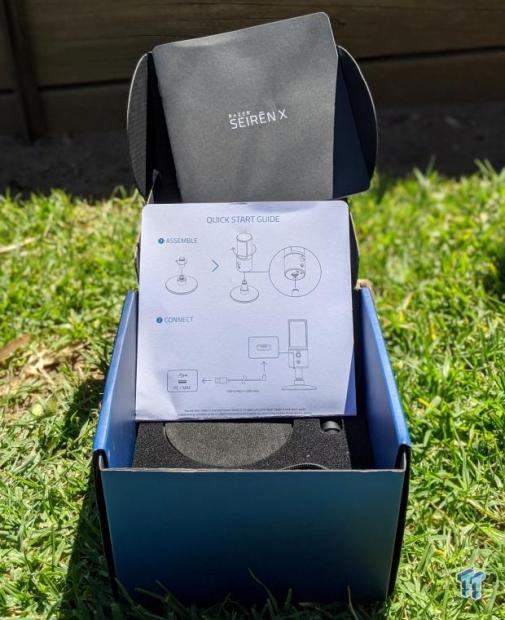 Here we have the quick start guide that shows how you can quickly assemble the microphone and connect it to your PC.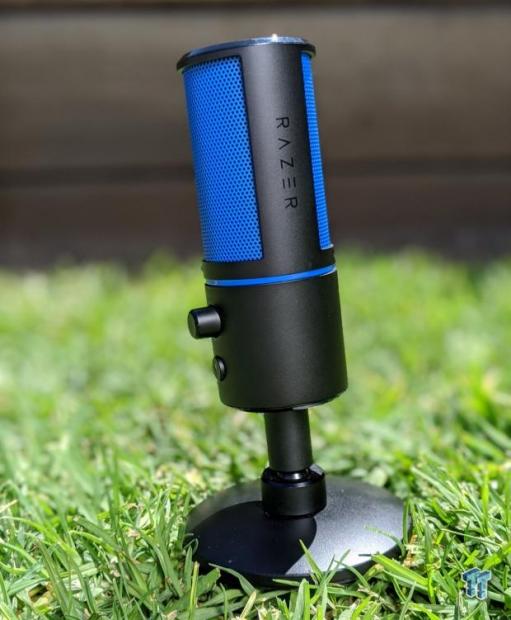 Following the assembly instruction, the microphone should look like this once pieced together. From this image, we can see the gorgeous reflective Razer writing on the side of the mic, the headphone volume control, and the microphone mute button.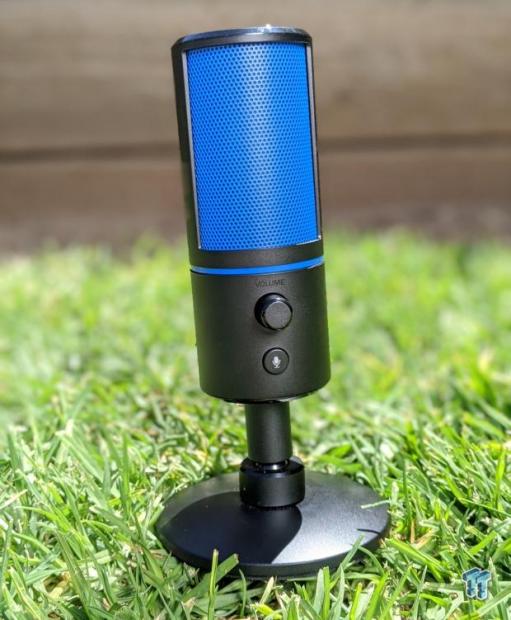 Here we get a much better look at the back of the microphone, showing off the headphone volume control and the microphone mute button. The microphone button glows a nice blue color when not activated, and when muted, it switches to a solid red.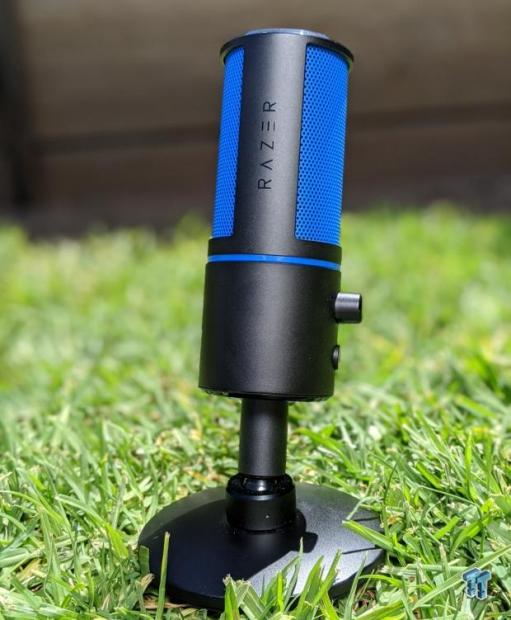 Testing
Testing the Razer Seiren X
After unpacking the Razer Seiren X and plugging it into my PC, I immediately measured the distance from my keyboard to the location of the microphone that I placed it in. For testing, I measured 20cm directly back from the space bar on my keyboard. I decided to do this because I felt as if most gamers leave their microphone at approximately this same distance.
Keeping the microphone in this same spot, I recorded the dB (decibel) the Seiren X picked up through Open Broadcaster Software (OBS). It should be noted that throughout my testing, I had my Windows microphone volume set to 75. Why 75? Well, at 100, the Seiren X was picking up almost everything in my test environment, and to ensure a sterilized and fair test environment for the following tests, I had to reduce the volume.
Moving along, I then proceeded to measure the distance from the microphones location to my PC, which is located on my desk next to me. The microphone was placed precisely 45cm away from my PC case (be quiet! Dark Base Pro 900 Rev 2). I then turned the cases fans up to max and measured the dB. The Razer Seiren X was picking up a fluctuating -50 to -45 dB. These test results will not be the same for every user and are more of an approximation due to every user having a different PC case, different desk material, extra fans for more cooling, etc.
For my next test, I kept the Seiren X in the same location on my desk and then measured the distance between the mic and my ceiling fan. The fan is located 2m away from the mic. I then proceeded to turn the fan on its lowest setting and record the dB the airflow was producing. The Seiren X picked up -58dB, which is barely anything at all. I was extremely impressed by this, as airflow from fans can be a problem for some microphones.
Technical Specifications
The technical specifications have been taken from the official Razer website.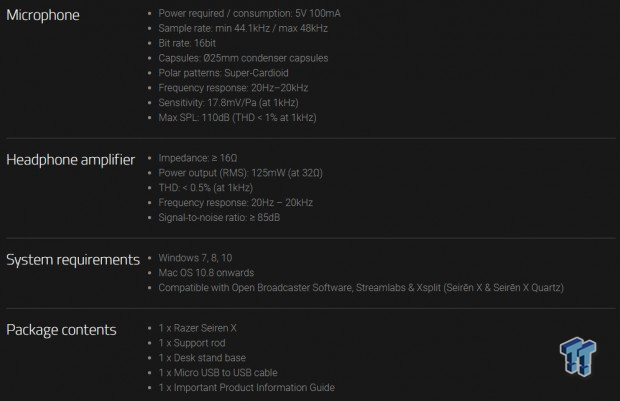 Basic Software Setup
Setting up the Razer Seiren X is extremely easy. Simply assemble the mic as instructed with the guide, plug the provided cable into a USB slot, and then follow the below instructions for optimization: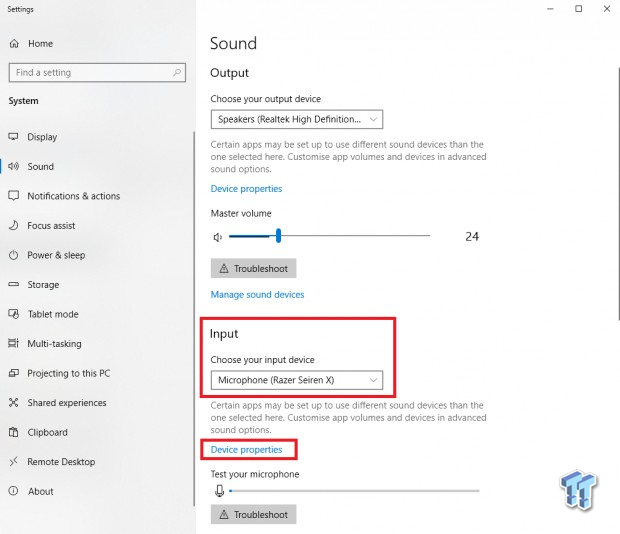 If your PC hasn't automatically selected the Razer Seiren X as the default input device, then you will have manually do it. This can be done by typing in the taskbar on Windows 'Sound Settings'. Clicking the option that pops up will take you to the window that is seen in the above picture. From here, you want to navigate down to the 'Input' tab and then select Razer Seiren X as your designated input device.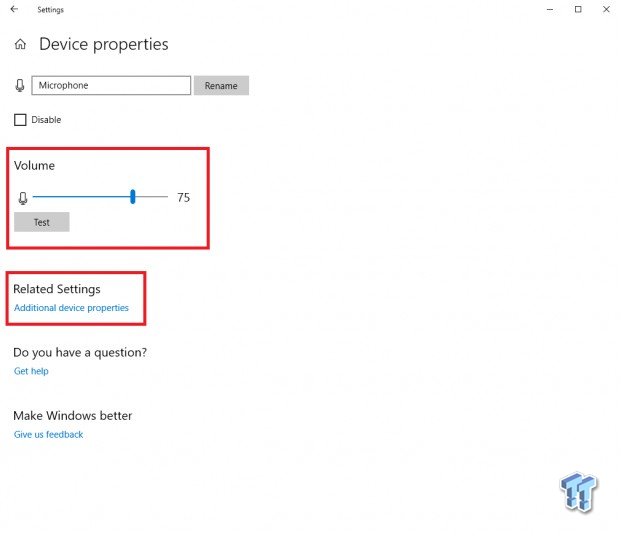 Now click on 'Device Properties,' as seen in the first image. Clicking on this will open the tab seen above and is where you will be able to change the sensitivity of your microphone. Having a friend on a live chatting service such as Discord or TeamSpeak can really help here because you want to be asking your friend if your microphone is too sensitive so you can adjust it, respectively. If you can't get in contact with someone to help you out, don't worry, I have a fix for that too.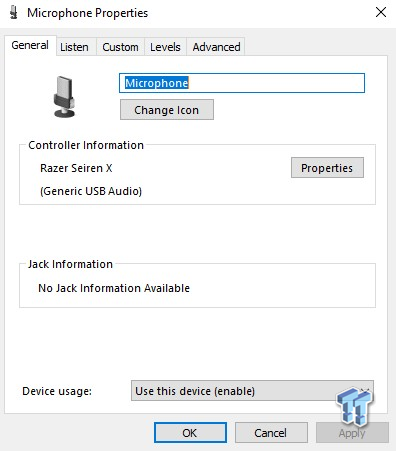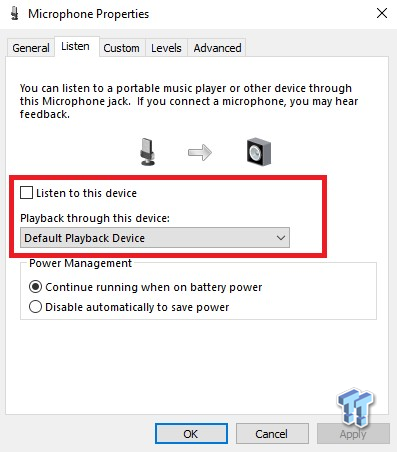 Looking at the second image, you want to click on 'Additional Device Properties,' this will open up a smaller window with multiple sub-tabs. Clicking on the 'Listen' sub-tab will take you to the above window, where you will be able to select 'Listen to this device.' Selecting the checkbox and choosing your output source for the sound (preferably headphones) will let you listen to what the microphone is picking up. This will allow you to adjust your volume level respective of your environment.
What's Hot, What's Not, and Final Thoughts
What's Hot
Throughout my time using the Razer Seiren X, I really started to appreciate the small compactness of the mic. Due to its height of only 18.5cm, I'm able to clearly see my keyboard and all of the keys when typing. While if I had a taller mic such as a Blue Snowball in the same location, my vision would be impeded.
I have also accidentally knocked the mic several times throughout testing, and due to its weighted shock mount, it holds itself in place and has a hard time tipping over. The mount also drowns out a lot of the sound that can be produced when placing objects of weight on your desk. It also does a great job of absorbing the murmur of your PC if you have that located on your desk.
What's Not
There really isn't that much negative about the Razer Seiren X, but if I was to cherry-pick some aspects of it that could be improved, I'd say this: The lack of a switch that determines the settings on the microphone for different use cases. The tipping angle seems quite pointless, as the angle of which its position barely reduces or increases pick-up. Finally, the fact that it picks up keyboard strokes, and it was almost being impossible to remove them with setting tweaks.
Final Thoughts
All in all, Razer has done an absolutely fantastic job with the Razer Seiren X. It's great for streamers who need a microphone that is easily portable and isn't too expensive.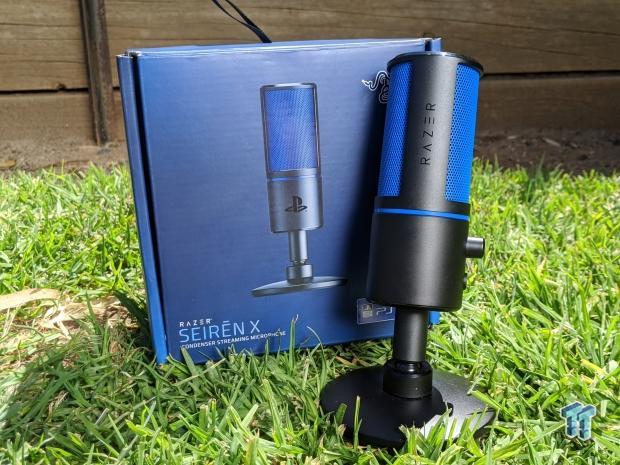 The quality is a bit better than the $99.99 you will be paying, and the easy and fast setup means you can jump right into streaming or playing games with your friends within minutes. While the Razer Seiren X isn't the best microphone on the market, it's a great purchase for an entry-level streamer or gamer who wants to upgrade their microphone from a standard headset mic.
To wrap it this all up, the Razer Seiren X is a compact, easy to use gaming microphone that sits solidly in the microphone market at a competitive price. It's audio, build, and overall quality is a direct compliment to its sitting price, which makes it a microphone that gamers should certainly consider if they aren't looking to fork out large amounts of money for a top of the line model.
| | |
| --- | --- |
| Performance | 90% |
| Quality | 96% |
| Features | 90% |
| Value | 96% |
| Overall | 93% |
The Bottom Line
Don't let the size of the Razer Seiren X fool you. Its small compact design combined with its great audio quality and reasonable price should turn some gamer's heads.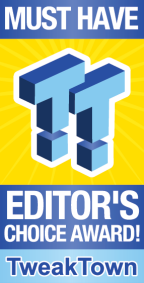 We openly invite the companies who provide us with review samples / who are mentioned or discussed to express their opinion. If any company representative wishes to respond, we will publish the response here. Please contact us if you wish to respond.