ASUS ROG Crosshair VIII Formula (AMD X570) Motherboard Review
Take a look at ASUS's top of the line AMD X570 motherboard, the Crosshair VIII Formula, loaded with a huge VRM and a very high-end feature set.
Published Sep 11, 2019 5:06 AM CDT
|
Updated Tue, Nov 3 2020 6:57 PM CST
8 minute read time
TweakTown's Rating: 95%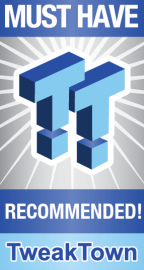 The Bottom Line
Loaded with a strong VRM, an excellent EKWB VRM waterblock, and 5G LAN, the ASUS ROG Crosshair VIII Formula is perfect for watercooling enthusiasts who want to jump on the AMD X570 chipset.
Introduction, Specifications, and Pricing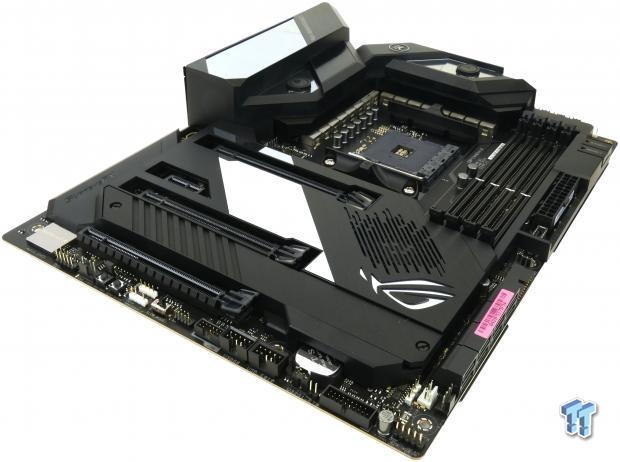 Today we look at ASUS's top of the line X570 motherboard, the Crosshair VIII Formula. The high-end Formula series from ASUS has usually come with an EKWB VRM block, and the X570 variant is no exception to the rule.
The Formula series also has high-end OC features, and in this generation, we are unsure if ASUS will release the Extreme, which is the top of the line motherboard or the Apex, but for now the high-priced Formula is what ASUS has for extreme overclockers and enthusiasts alike. Let's see what ASUS has in store for us with the X570 Crosshair VIII Formula.
Specifications

The Crosshair VIII Formula features two PCI-E 4.0 M.2 slots, a 2.5G NIC, a 2.4Gbps WIFI controller, an Intel Gbit NIC, tons of 10Gb/s USB, and high-end audio.
Pricing
The Crosshair VIII Formula costs around $649.
Packaging and Crosshair VIII Formula Overview
Packaging and Overview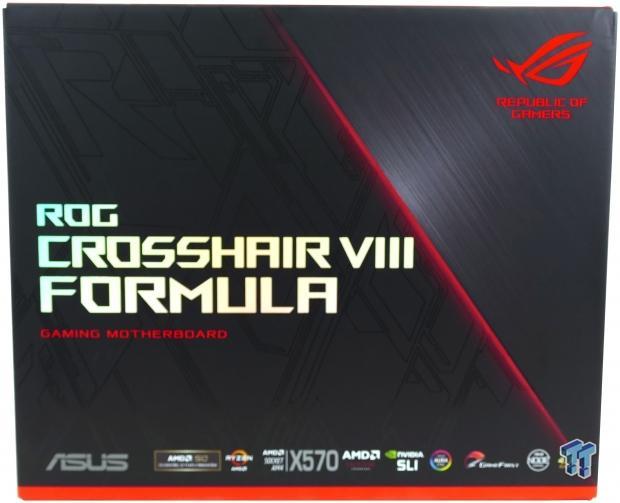 Box and packaging are top notch, and very similar to that of the Crosshair VIII Hero.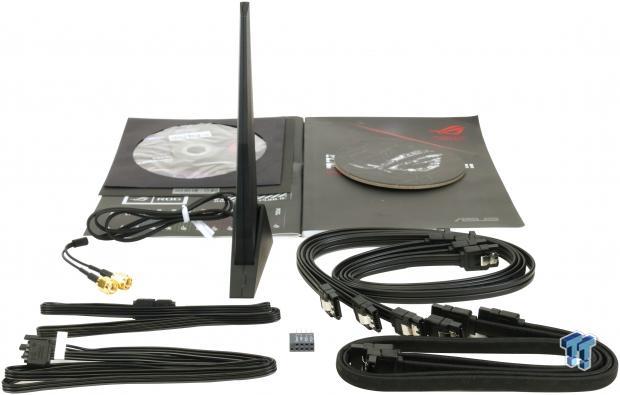 The accessory package includes two braided SATA6Gb/s cables, four SATA6Gb/s cables, RGB Extension cable, addressable RGB LED extension cable, Q-Connector, WIFI Antenna, ROG Coaster, ROG Stickers, and the typical manual and driver DVD.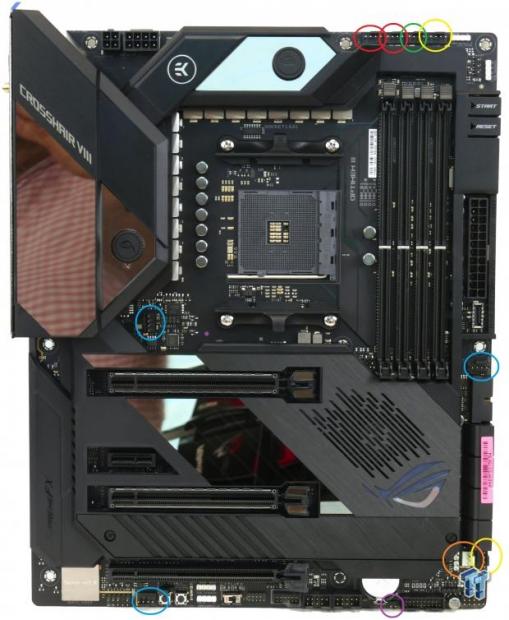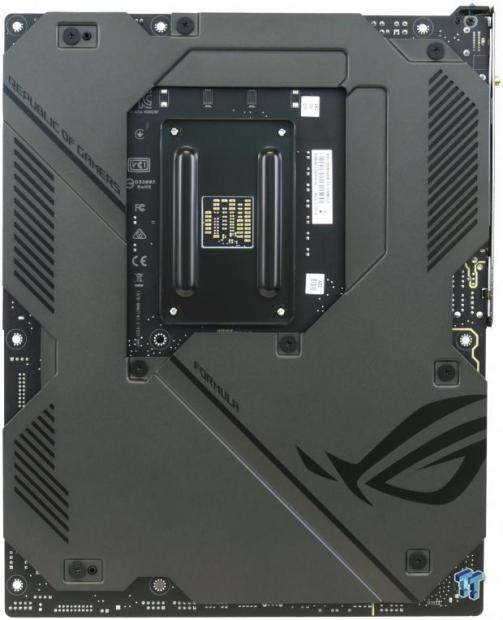 ASUS put in eight fan headers, and that can be supplemented by the ASUS NODE. The NODE is a device that is proprietary to ASUS and can expand fan control, temperature monitoring, and RGB LED support. The two headers circled in yellow offer up to 3A of output, and the one at the bottom of the motherboard runs full speed by default. All other headers support up to 1A output, and they are circled in red, blue, and green. The red headers share control while all other headers support individual speed control, but all headers are hybrid PWM/DC mode headers.
The header circled in green runs full speed by default. The motherboard also has a temperature probe input header circled in purple. There are also headers circled in orange and they are for water cooling and can monitor input and output temperatures as well as flow rate. The motherboard has a sleek black aesthetic and most of the PCB is covered by shields. The rear of the motherboard also has a metal shield, and it helps to cool the back of the VRM as well as keep the PCB straight.

The rear IO panel features four USB 3.0 ports, seven USB 3.1 (10Gbps) type-A ports and one type-C, clear CMOS button, BIOS Flashback button, WIFI antenna, 2.5G LAN, 1G LAN, and 7.1 gold plated audio outputs with S/PDIF out.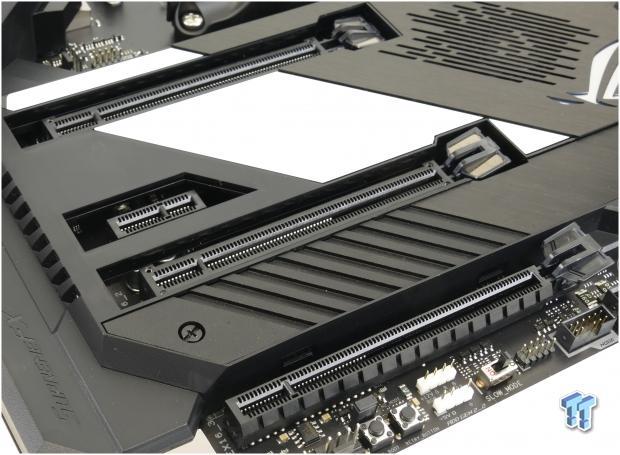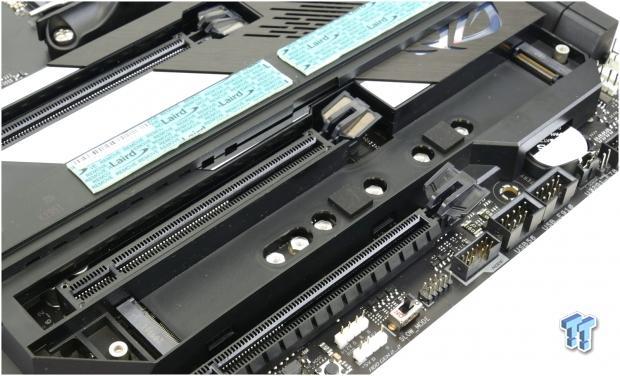 Here we find the PCI-E slots and they run at x16/x0/x4 or x8/x8/x4, with the bottommost x16 slots wired to the chipset. All PCI-E slots operate at PCI-E 4.0 speeds. There is also a sole x1 slot. We find two M.2 slots that operate at x4 PCI-E 4.0/SATA6Gbps. Both M.2 slots have heat sinks.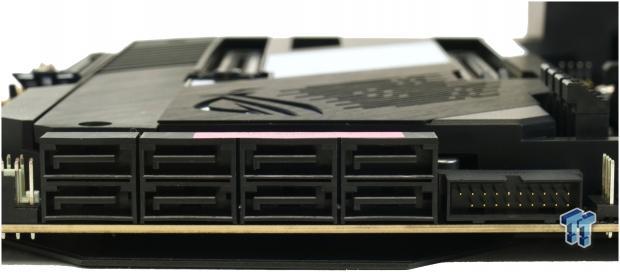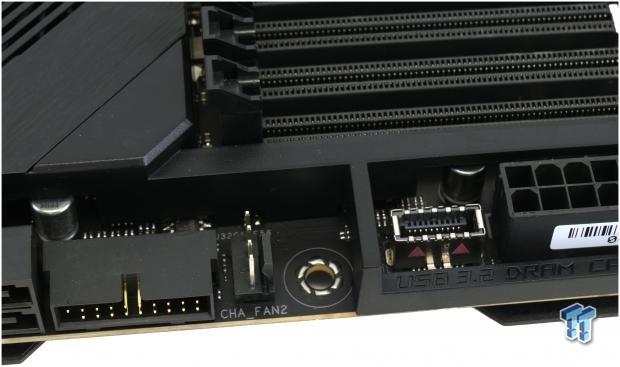 ASUS implemented all eight of the SATA6Gb/s ports offered by the chipset. One of the USB 3.0 internal headers is angled at 90 degrees. There is one USB 3.1 type-C header angled straight up on the motherboard.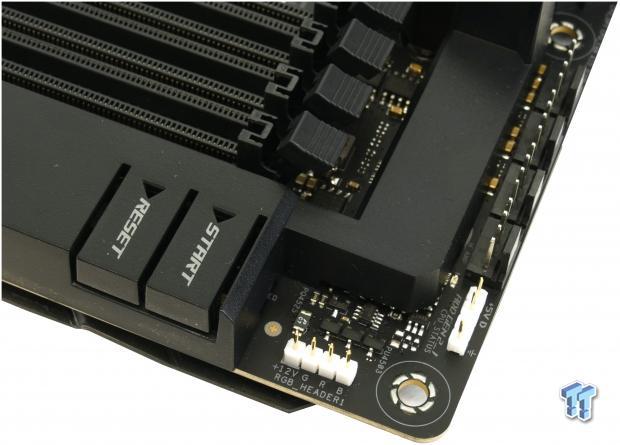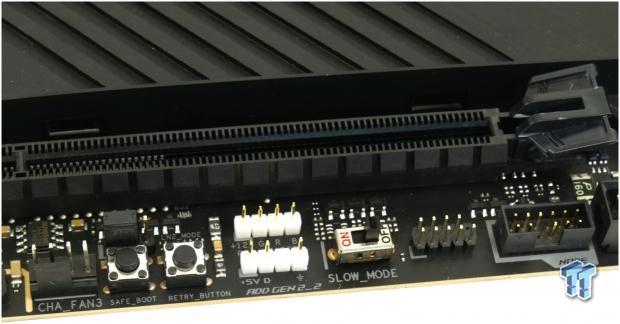 At the top of the motherboard, we find an addressable RGB LED header and a normal RGB LED header, as well as our start and reset buttons. At the very bottom of the motherboard, we find our NODE connector, slow mode switch, addressable RGB LED header, RGB LED header, safe boot button, and retry button. We also can find our LN2 jumper here, which will unlock extra features when put into LN2 mode for liquid nitrogen overclocking.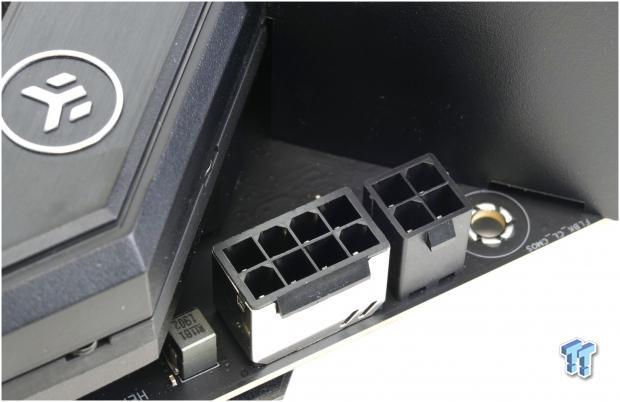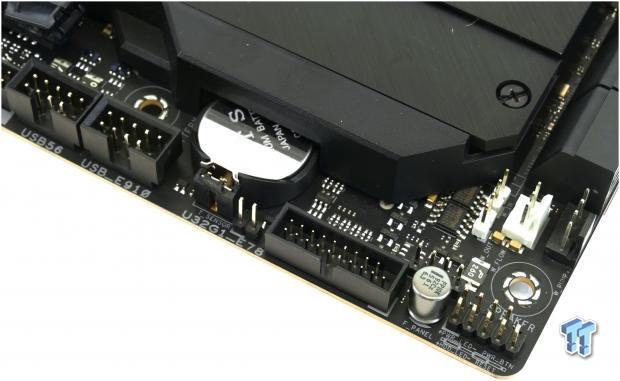 The motherboard offers one 8-pin CPU power header as well as a 4-pin CPU power connector. At the bottom right corner of the motherboard, we find a USB 3.0 internal header, as well as two USB 2.0 internal headers.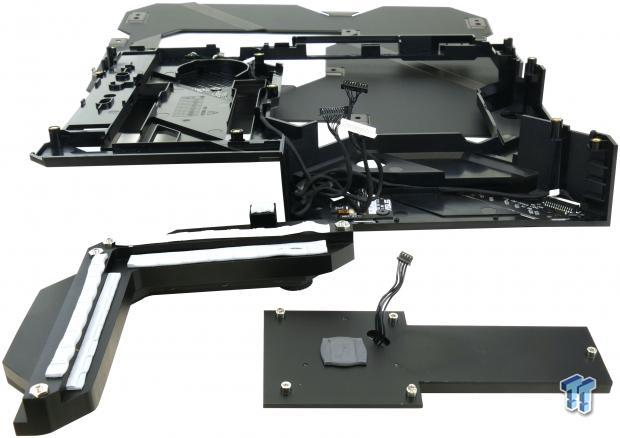 The heat sinks are well attached to the motherboard. The CPU VRM block is actually a waterblock made by EKWB, and is one of the main selling points of this motherboard. The chipset heat sink has a fan built into it.
ASUS Crosshair VIII Formula Circuit Analysis
Circuit Analysis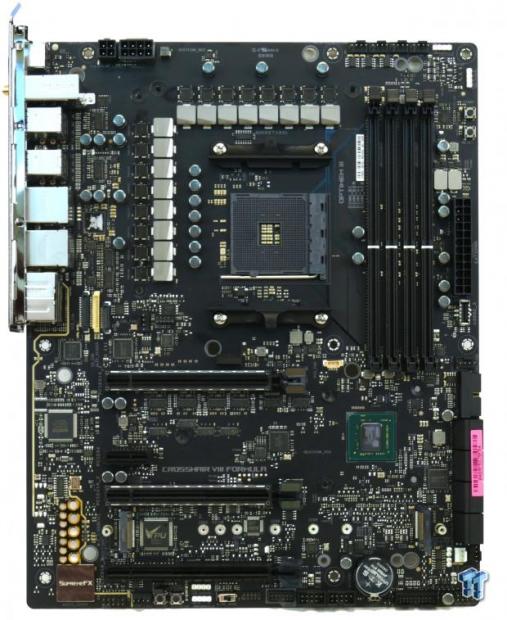 The Crosshair VIII Formula shows us the goods with the heat sinks removed!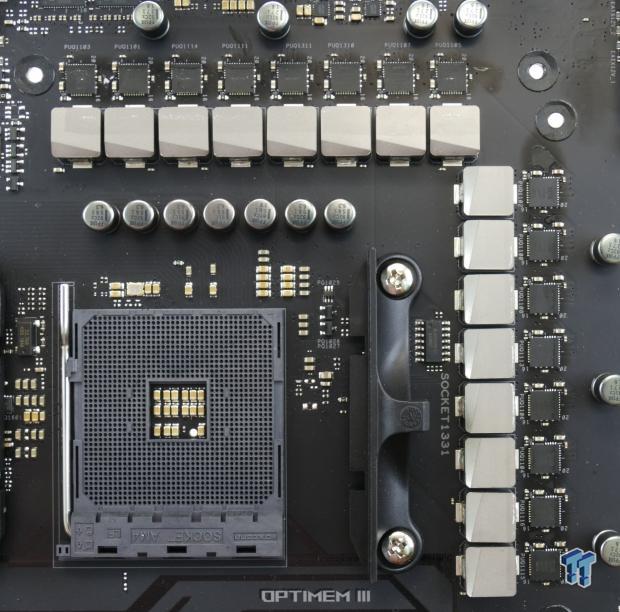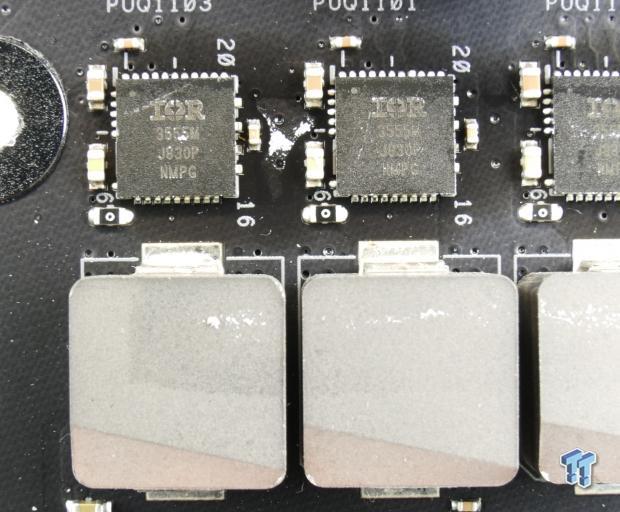 The VRM is in a 14+2 phase configuration, and it's a 7 phase VRM doubled to 14 phases through doubling components. ASUS says that this method offers quicker response to large transient loads, and that's why they opted to not use doublers. The PWM controller is most likely an IR35201 rebranded to an ASP for ASUS. The power stages are rated 60A and they are the IR3555. The two SoC VRM phases utilize the same 60A PowIRstages. The VRM is overkill, which is a nice thing.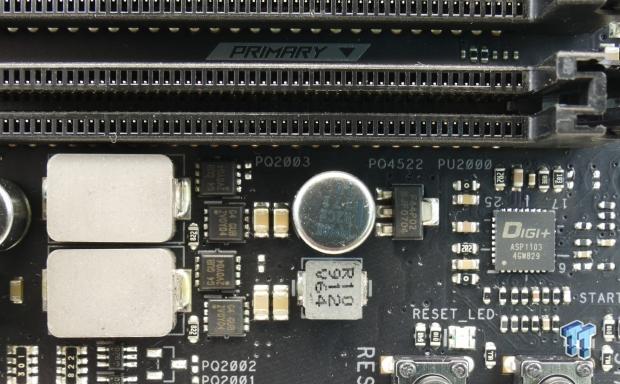 The memory VRM uses an ASP1103 PWM controller with two phases made up of On Semiconductor small form factor PowerPAKs. The memory VRM is more than enough to satisfy memory overclocking requirements.
ASUS Crosshair VIII Formula Circuit Analysis Continued
Crosshair VIII Formula Circuit Analysis Continued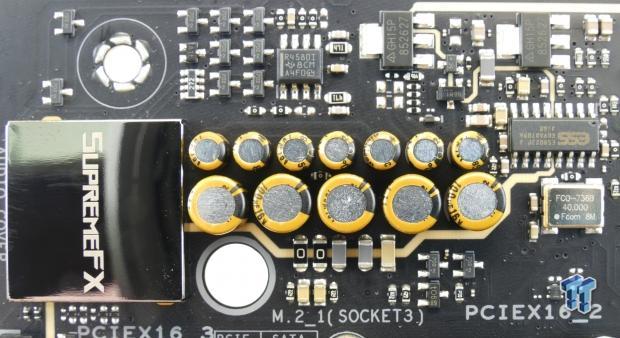 Audio hardware includes a Realtek ALC1220 along with an ESS SABRE ESS9023 DAC to improve audio output. ASUS also added in some gold series audio capacitors, a DC anti-thump circuit, and a Texas Instruments RC4580 amplifier to improve audio quality.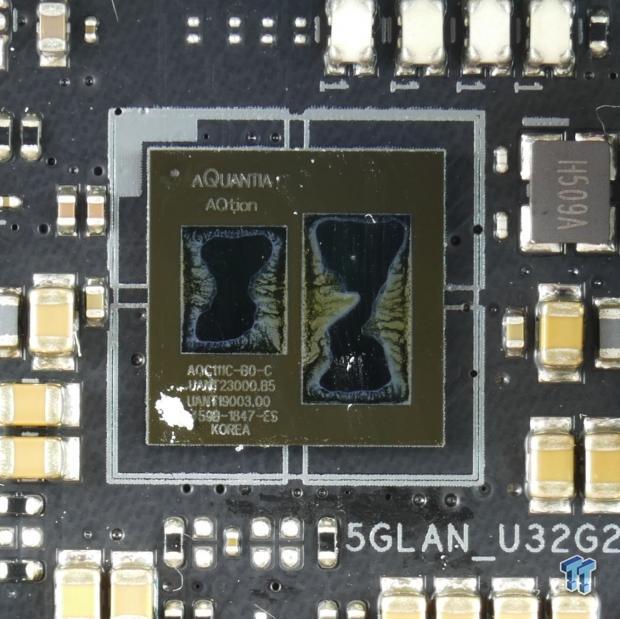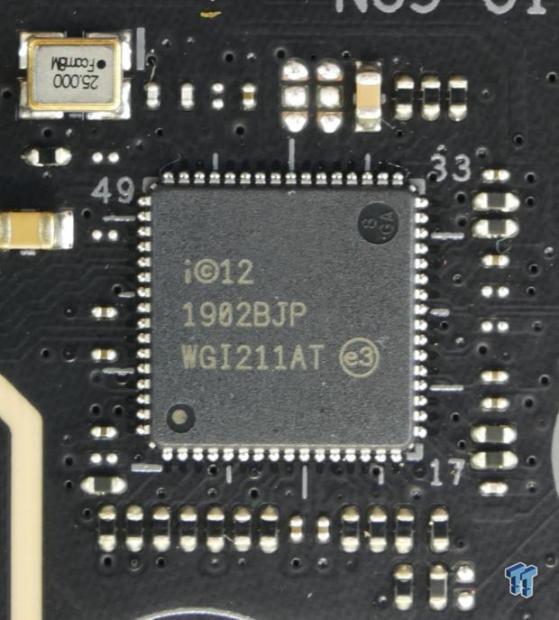 Normal Gbit LAN comes from an i211AT Intel NIC, but there is also a 5Gbit NBase-T controller from Aquantia, the AQC111C. We saw this same AQC111 chip on the Maximus XI Formula.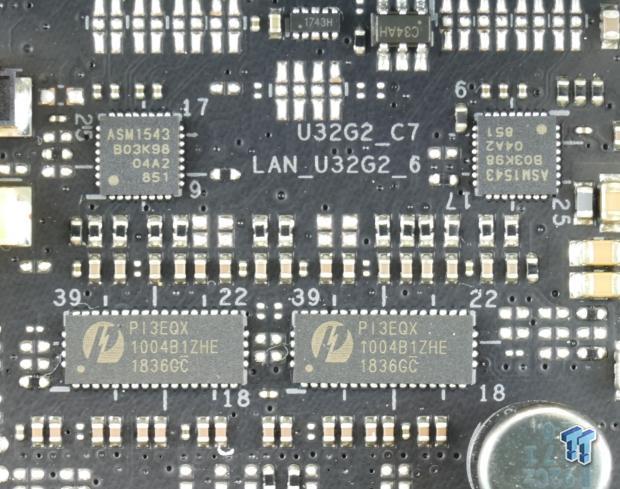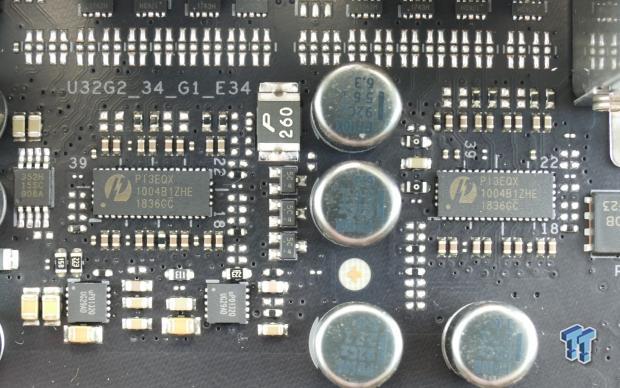 There are four Pericom PI3EQX USB 3.1 (10Gbps) near the rear IO panel, we find that there are also two ASM1543 type-C controllers, although we aren't sure why. You only need one ASM1543 for one type-C port, but this motherboard only has one on the rear IO panel.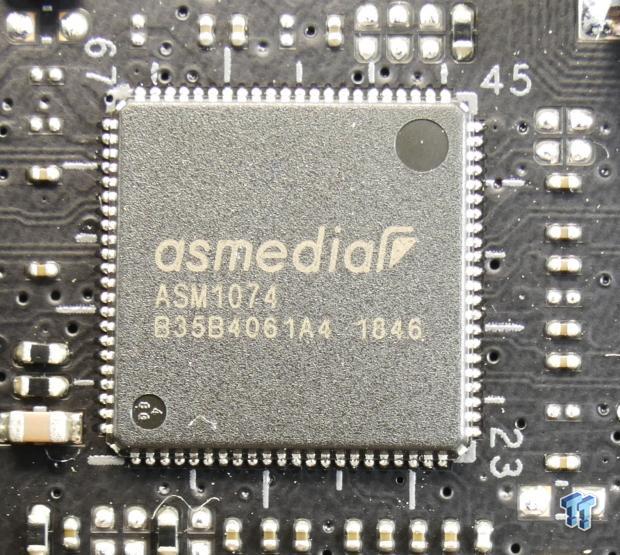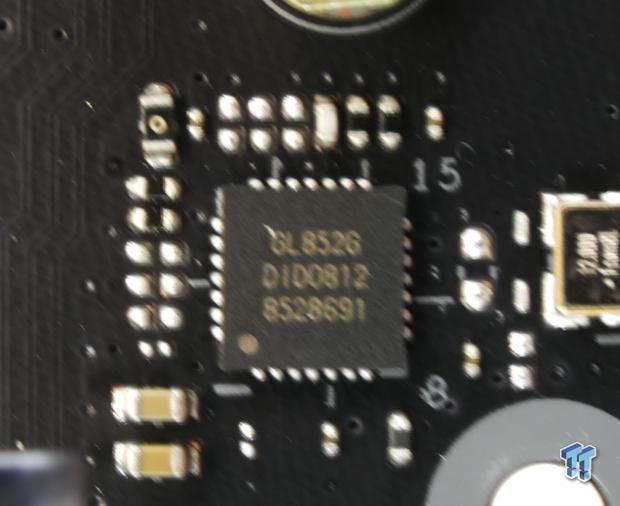 An ASMedia ASm1074 can be found near the rear IO and it is used as a USB 3.0 hub to support the four rear USB 3.0 ports. A GL525G is also found on the motherboard and it provides the two USB 2.0 internal headers.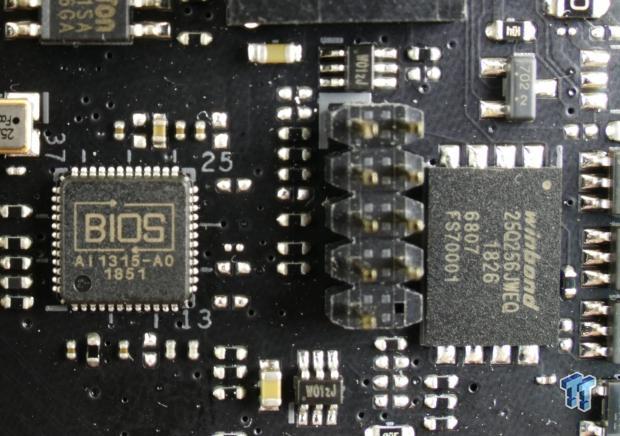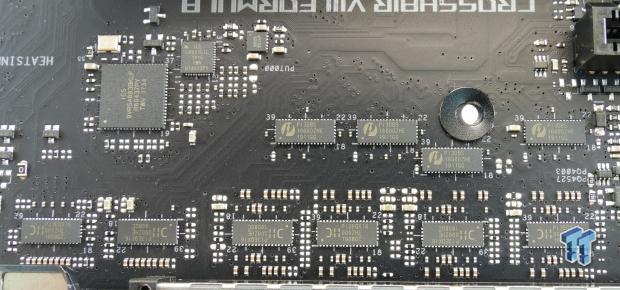 ASUS's iconic custom BIOS chip is found on the motherboard, which provides their USB Flashback technology. ASUS decided to up their game and implemented a 256Mbit (32MB) BIOS ROM so that CPU support will easily be achievable down the line, as AMD's BIOS size will increase over the typical 16MB standard. We find a whole lot of Pericom PI3EQX16 PCI-E 4.0 re-drivers, six to be exact, which are capable of improving the signal of 12 PCI-E 4.0 lanes.
We only expected four for the x8 between the first and second PCI-E slots, but it looks like ASUS decided to add in two extra for the M.2 slot that utilizes CPU PCI-E lanes since the M.2 slot is a bit further down on this motherboard than on others. Two clock generators help PCI-E 4.0 clocking as well. We find four Pericom PI3DBS PCI-E 4.0 quick switches that move x8 PCI-E 4.0 between the first and second x16 slots.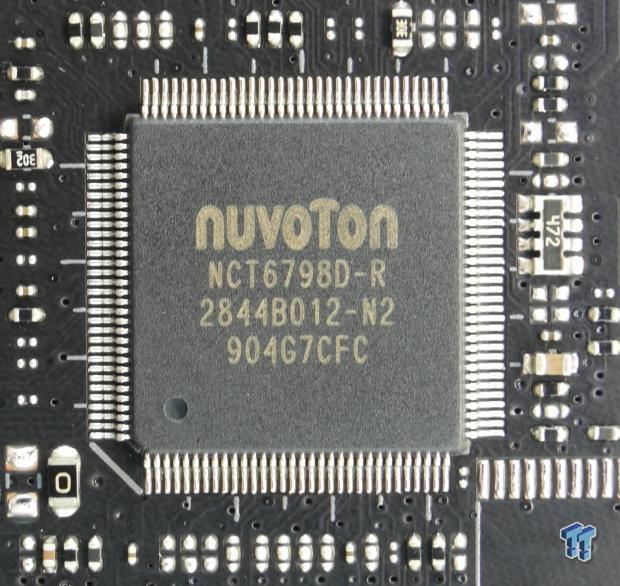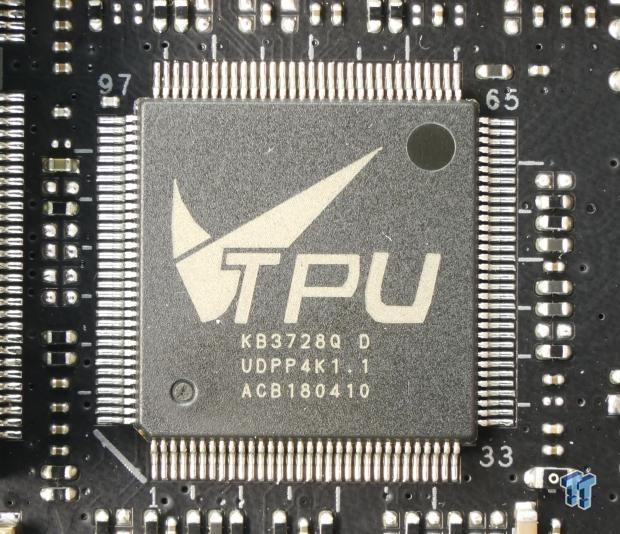 The main SuperIO is the nuvoton NCT6798D, and it provides fan control and support. A separate chip labeled TPU helps expand GPIO for fan control and other custom features of the motherboard.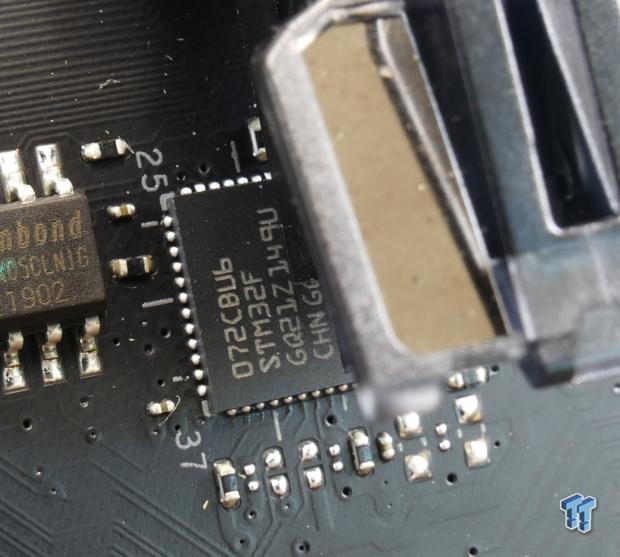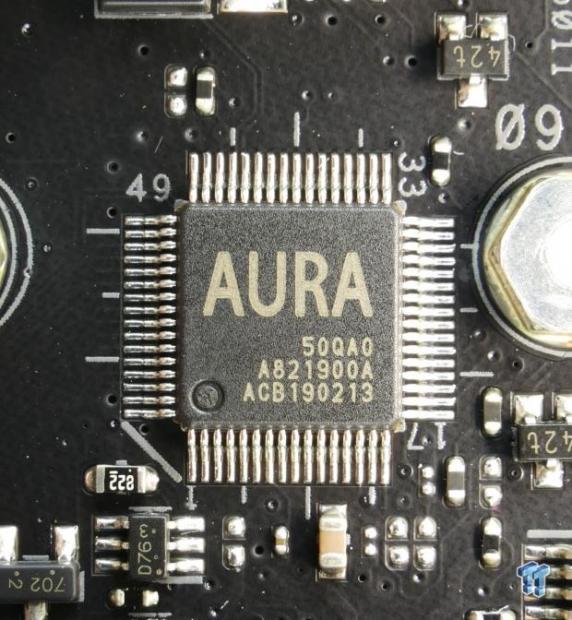 A chip labeled STM32 is the common microcontroller found on ASUS motherboard to provide the special OLED function. An AURA chip is also found on the motherboard and it provides RGB LED support.
BIOS and Software
BIOS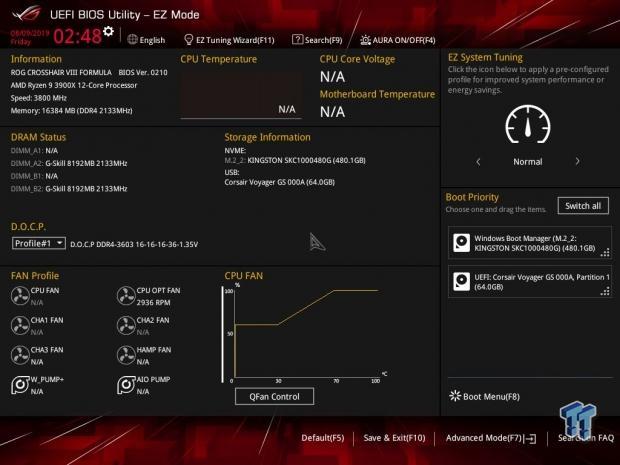 The UEFI BIOS is much like ASUS's past signature UEFIs, layout and navigation are the same, and there is an EZ Mode and an Advanced mode. Overclocking settings are all present along with some of ASUS's signature features such as memory overclocking profiles that you can only get on this motherboard. ASUS's fan control is present in both GUI form and in the form of a manual input menu.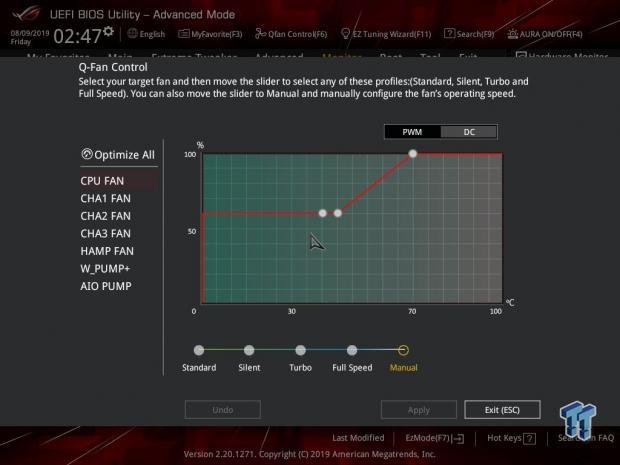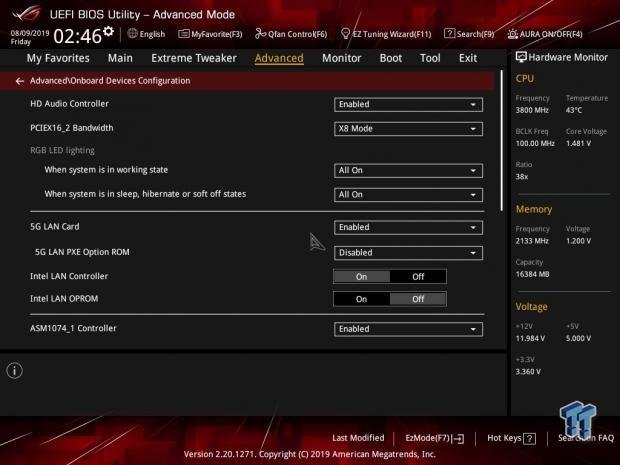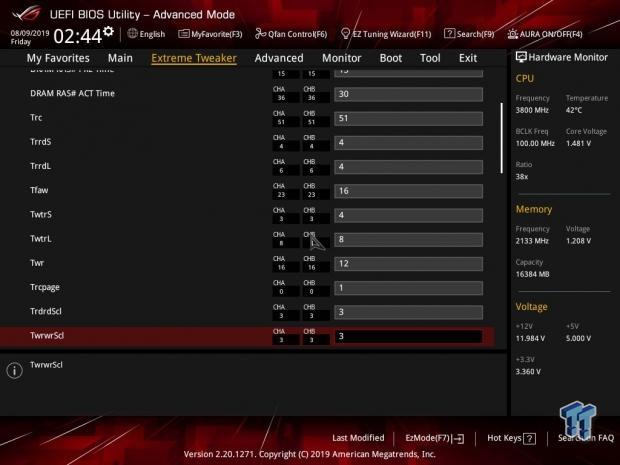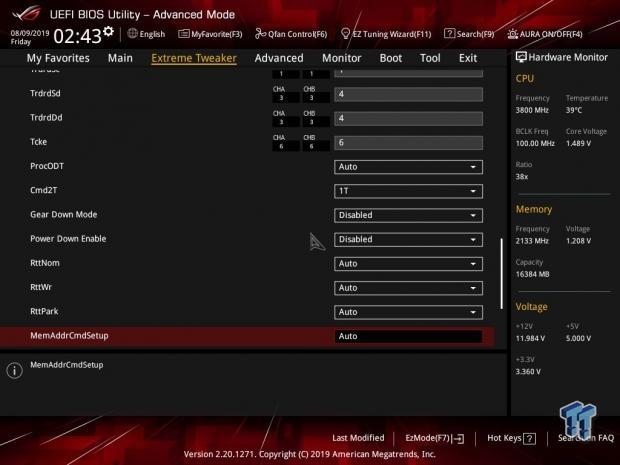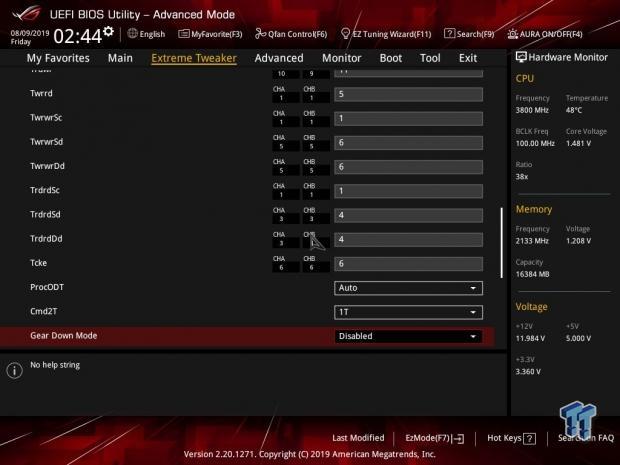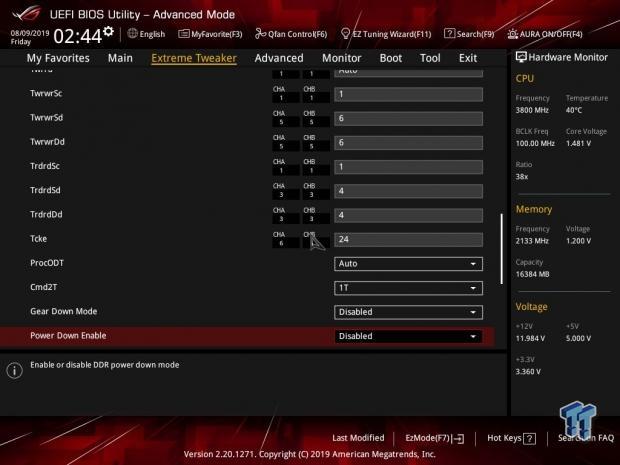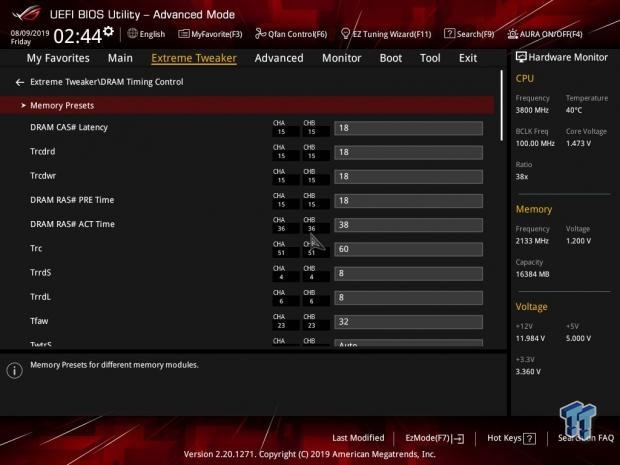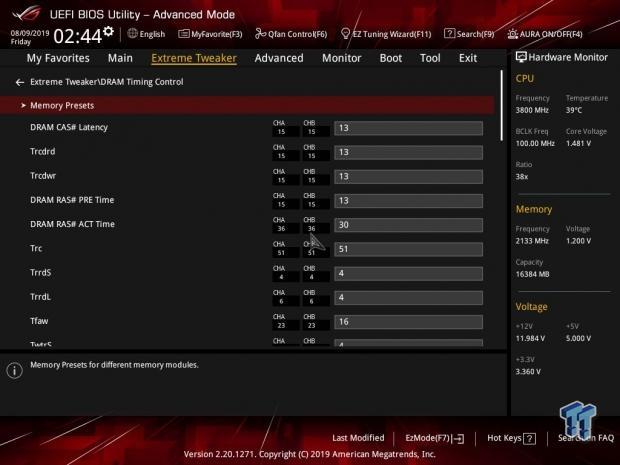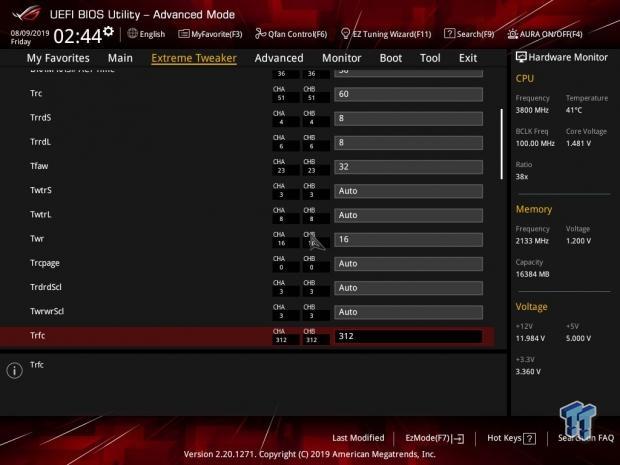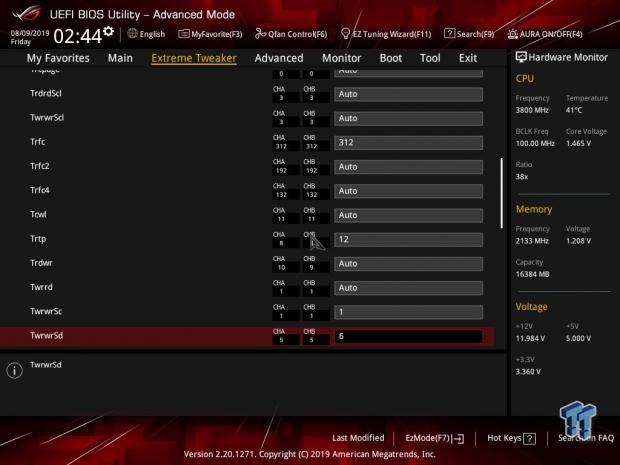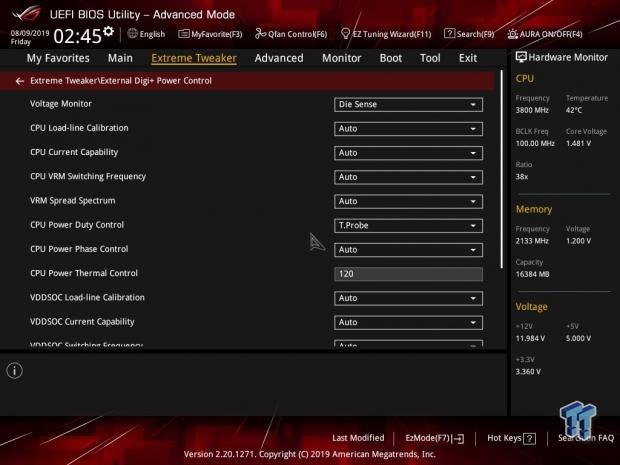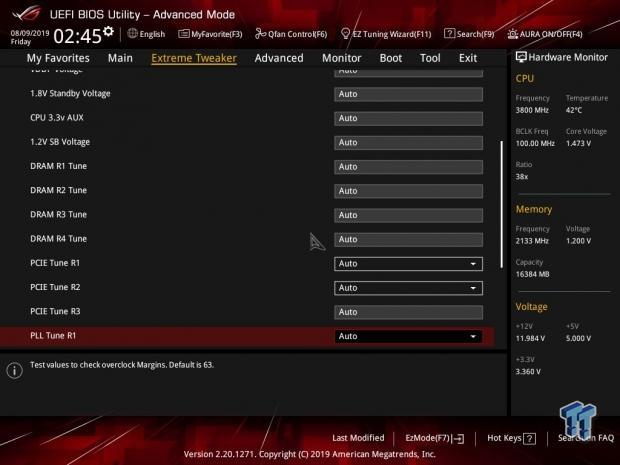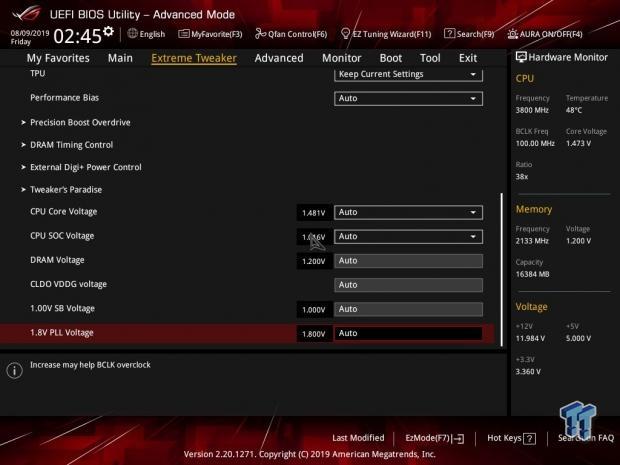 Software
Software includes Dual Intelligent Processors 5-Way Optimization that includes TPU, EPU, DIGI+ VRM, Fan Expert 4, and Turbo App. You also get Mem Tweakit, RAMCache III, RAMDisk, GameFirst V, Sonic Studio III, Sonic Radar III, and Overwolf.
Test System Setup
Steven's Motherboard Test System Specifications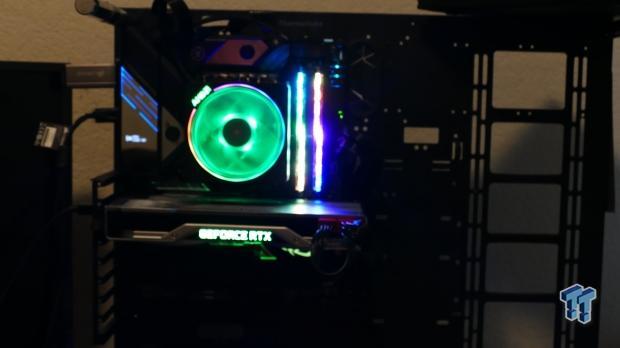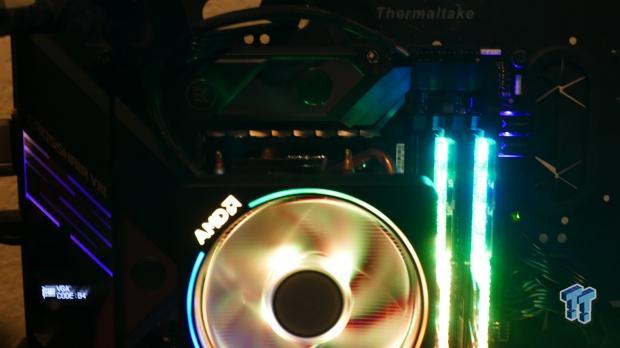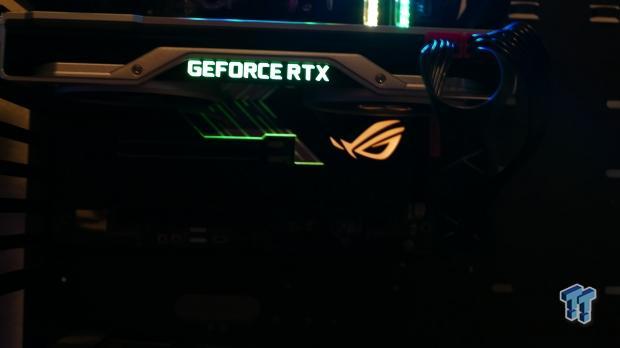 We can see the OLED and the RGB lighting on the motherboard. ASUS uses a special material that diffuses the RGB lighting, and ASUS is using addressable RGBs to improve the lighting effect.
Overclocking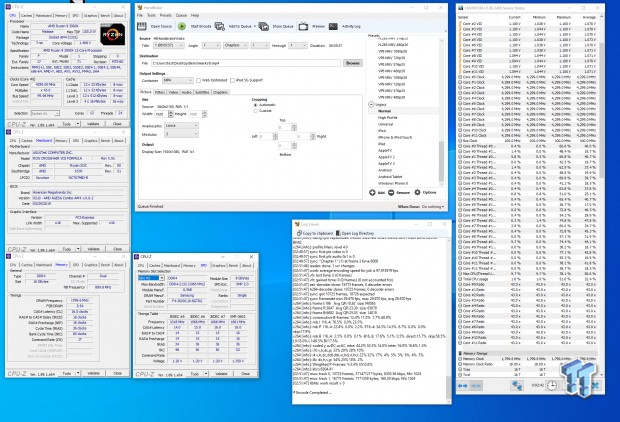 Overclocking this motherboard was straightforward, and the motherboard was able to take our CPU on all cores to 4.3GHz at 1.4v, something not all motherboards have been able to do.
Memory overclocking is pretty straightforward, we just turned on D.O.C.P., which is like ASUS's version of XMP for AMD platforms, and things went smooth. We used LLC level 7 and increased current capacity.
CPU, Memory, and System Benchmarks
CINEBENCH R15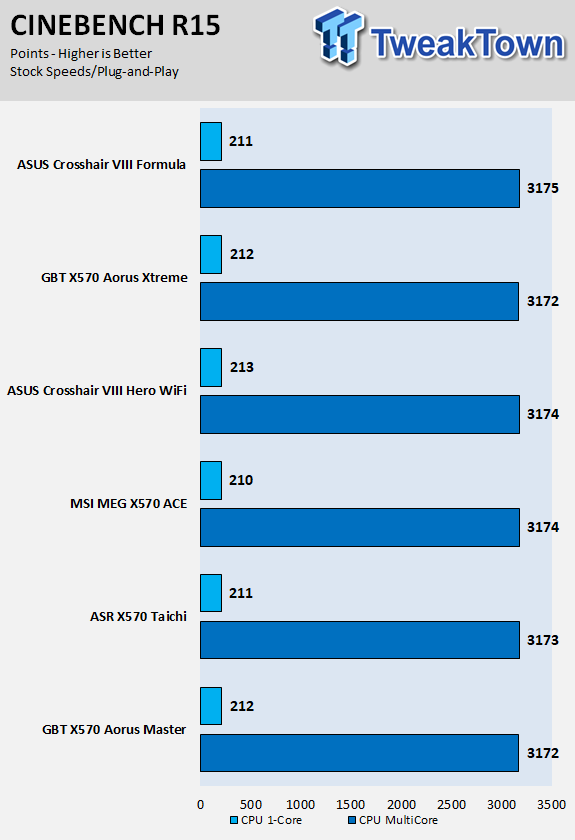 wPrime
AIDA64 FPU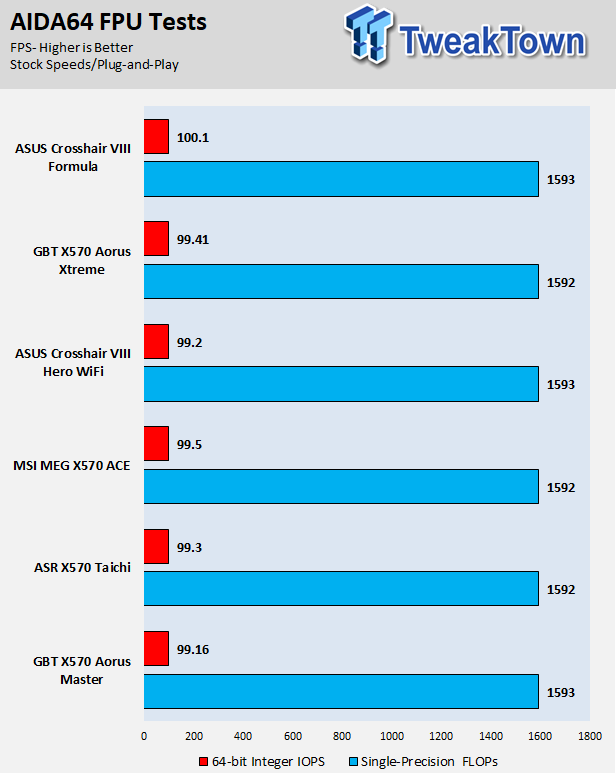 AIDA64 Memory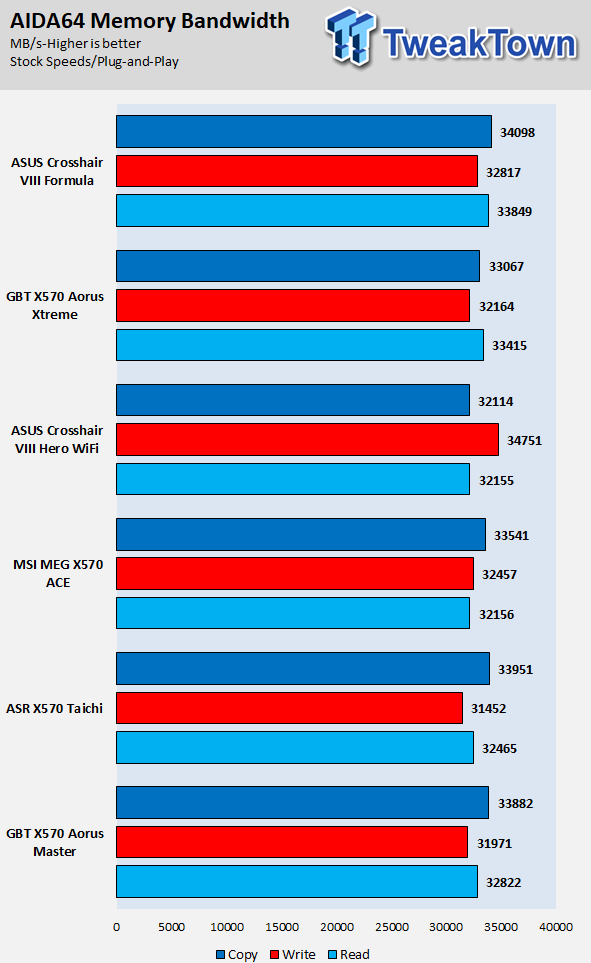 ScienceMark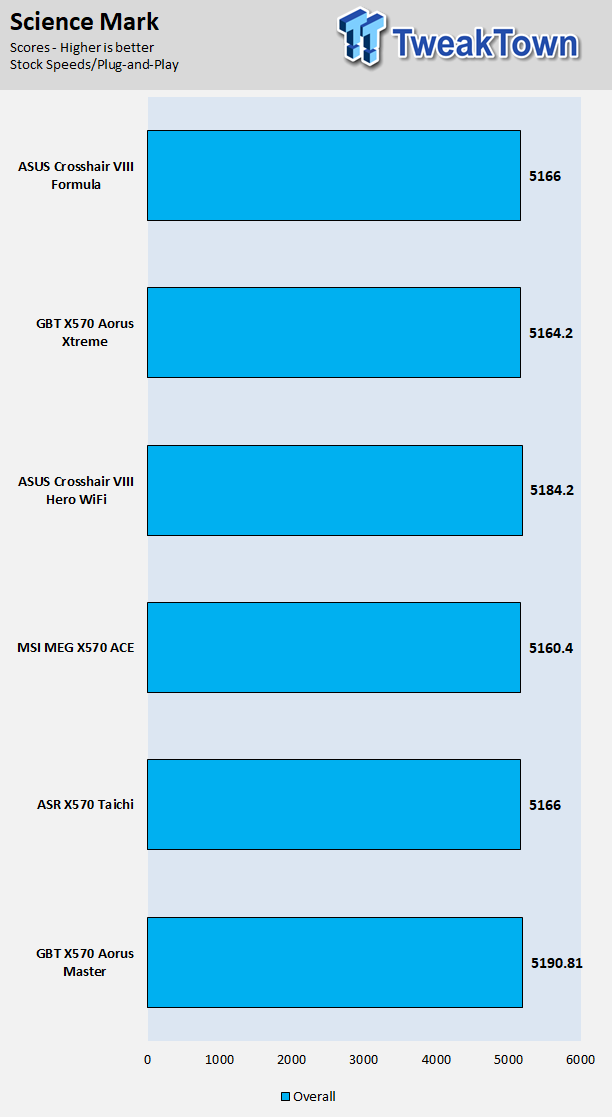 HandBrake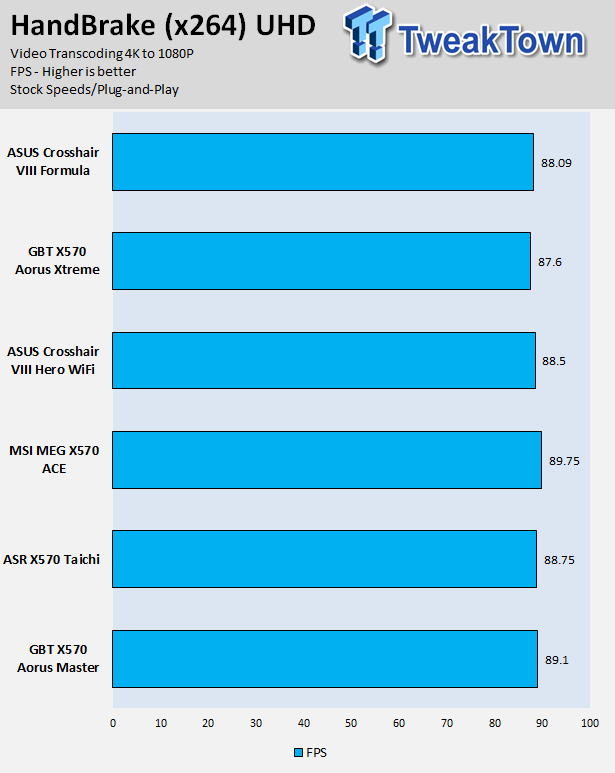 3DMark: Fire Strike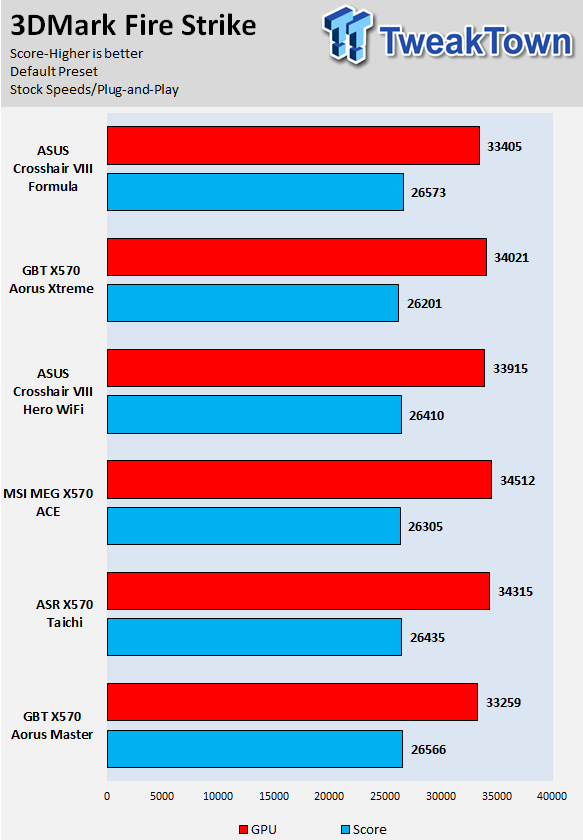 3DMark: Cloud Gate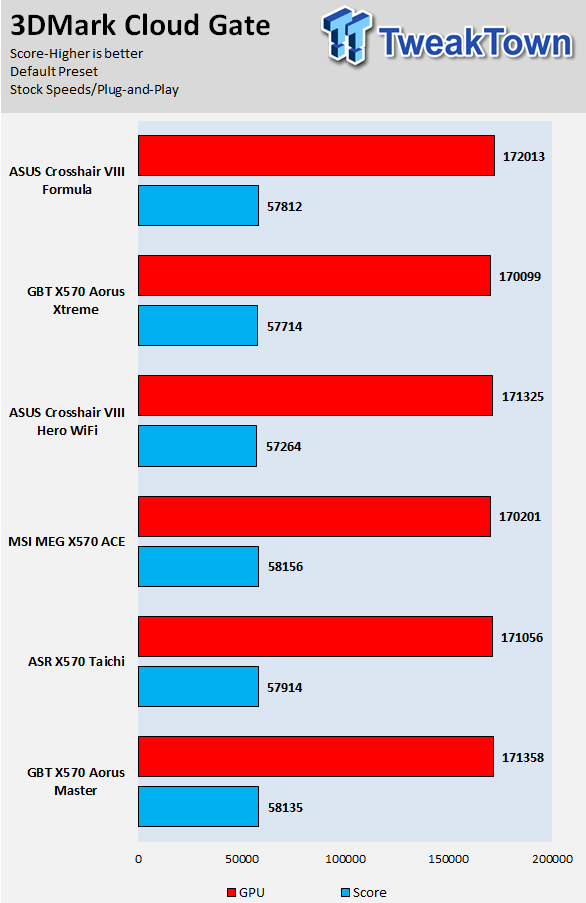 ResidentEvil 6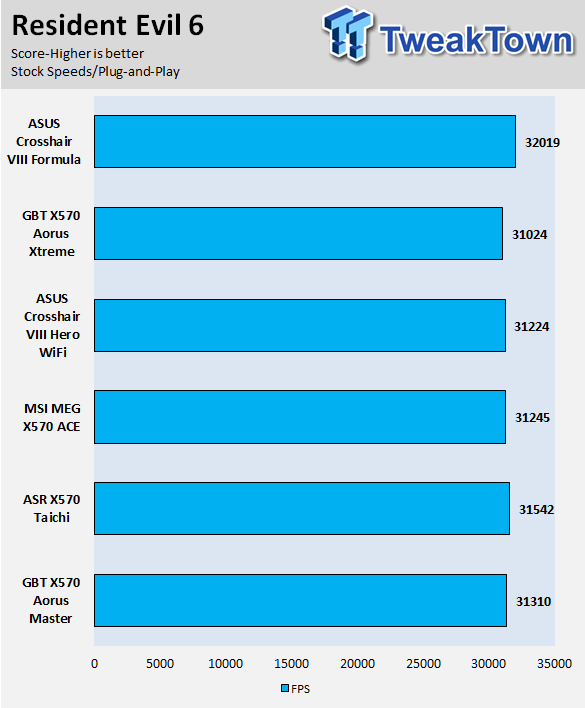 AMD's UEFI is standardized in the backend, all manufacturers have the same AMD CBS menu where you can do things behind the scenes. Overall, performance was solid on the Crosshair VIII Formula.
System IO Benchmarks
CrystalDiskMark SATA6G:

CrystalDiskMark M.2:

ixChariot Network Throughput:

Storage and network performance are solid, no issues with the motherboard's performance. The motherboard uses re-drivers for the M.2 slot connected to the CPU since the M.2 slots are a bit further down than on other boards.
Audio
Sound Judgment by Ear: Excellent audio implementation, the DAC really adds some oomph to the ALC1220. There are five ratings for audio: 1. Problems, 2. Okay, 3. Acceptable, 4. Very good, 5. Excellent 
Power Consumption: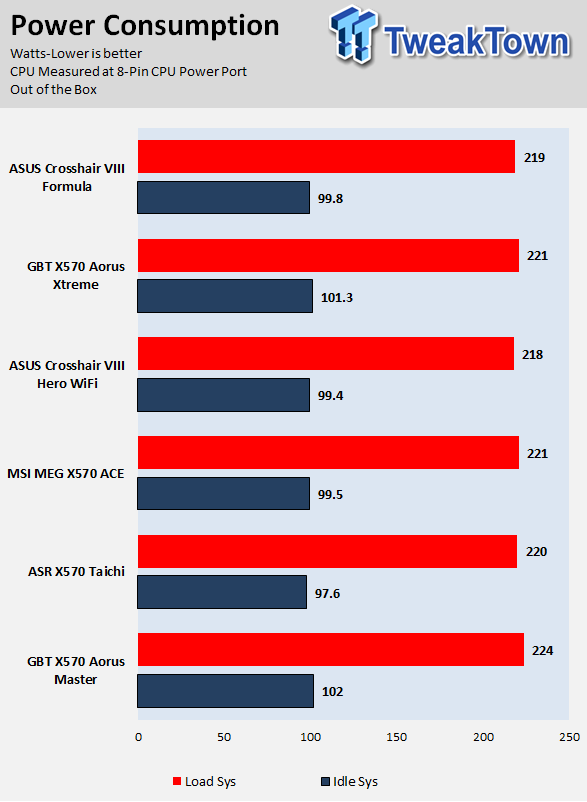 Power consumption is actually quite good, and even with the 5G NIC, perhaps because ASUS is using the USB variant of the chip instead of the PCI-E one.
What's Hot, What's Not & Final Thoughts
Here are key points about the ASUS Crosshair VIII Formula.
What's Hot
Excellent VRM and EKWB Heatsink: As if 16 IR3555 60A power stages wasn't enough to fuel your high-performance Ryzen CPU, ASUS took the initiative to add on a watercooling block from EKWB. The hefty block will cool the VRM to very nice temperatures when added to your watercooling loop, but even without utilizing the waterblock as a waterblock the VRM will still be passively cooled. ASUS is also toting that its direct phase system, where two power stages are teamed to a single phase, will help improve transient response for large transient loads.
Lots of native USB 3.1: The Crosshair VIII Formula might have the most USB 3.1 10Gbps ports on its rear IO compared to other X570 motherboards. Boasting a hefty eight rear USB 3.1 ports, all from the CPU and chipset, ASUS has outdone a lot of the competition when it comes to upgrading rear USB to the new standard.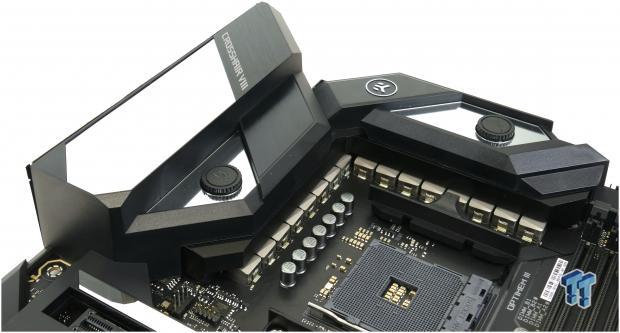 OLED Display: ASUS introduced their OLED display a few generations ago, and we actually really like this little feature. Not only does it help make troubleshooting easier by matching codes to the CPU, memory, and other system components, but it can also be customized to display other system parameters such as temperature or CPU speed.
What's Not
Price: At $650, the Crosshair VIII Formula is one of the more pricey X570 motherboards. While it does come with a watercooling block, the block doesn't extend to the chipset so a fan isn't needed. The motherboard also lacks the 10Gbit LAN many of higher-end X570 motherboards have.
Final Thoughts
The Crosshair VIII Formula is pricey, but it has a lot to offer. For starters, it has an EKWB VRM cooling block, and it features a lot of platform features as well as custom features. We really like the inclusion of overclocking features such as ASUS's Retry and Safeboot buttons, as well as the LN2 jumper, hole in the socket, and VRM design.
The VRM is very pricey, and uses very high-end components. The UEFI is loaded with features, including custom profiles for memory overclocking. The aesthetics are awesome as well. If you are in the market for a high-end X570 motherboard with a VRM waterblock, a high-end VRM, and a ton of USB 3.1 on the rear IO, give the Crosshair VIII Formula a look.
| | |
| --- | --- |
| Performance | 93% |
| Quality | 98% |
| Features | 98% |
| Value | 89% |
| Overall | 95% |
The Bottom Line
Loaded with a strong VRM, an excellent EKWB VRM waterblock, and 5G LAN, the ASUS ROG Crosshair VIII Formula is perfect for watercooling enthusiasts who want to jump on the AMD X570 chipset.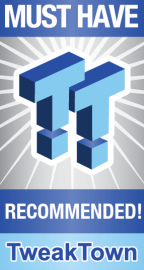 We openly invite the companies who provide us with review samples / who are mentioned or discussed to express their opinion. If any company representative wishes to respond, we will publish the response here. Please contact us if you wish to respond.