Antec PRIZM Cooling Matrix Review
We have deemed Antec's PRIZM Cooling Matrix the 'next evolution in cooling', as it has a sleek design, awesome ARGB lights and fantastic performance.

Published Aug 1, 2019 10:00 AM CDT
|
Updated Tue, Nov 3 2020 6:57 PM CST
6 minute read time
TweakTown's Rating: 96%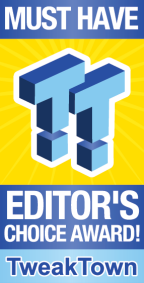 The Bottom Line
The PRIZM Cooling Matrix is the next evolution in cooling. Why settle for boring when you can have more performance, better ARGB lighting, and a look that we have found nowhere else. Antec has taken us back a few years to when cooling was important, and we love them for it!

Those who have recently bought a chassis or some form of a CPU may have noticed that the performance of the cooling in both has gotten more and more limited over the years. In the pursuit of silence to appease the masses, it has become a struggle to find the types of cooling we saw just a few years ago.
In many of our AIO reviews, we are continually slamming companies on the fact that they offer products at three times the cost of an air-cooled solution, but gets beat in thermal testing. If makers offered a version of products for the overclockers as well as one for the masses, it would not have given Antec a place to hop into the market with a first of its kind product to help those looking to boost performance where any dual 120mm fan setup can be used.
What we have in hand is a dual fan kit that is built into a GPU cooler looking shroud, made to fit in just about any chassis as well as any 240mm AIO. The fans inside of the shroud are PWM controlled, offers a maximum speed of 1800 RPM with 77.2CFM and 1.83 mmH2O of static pressure.
Spinning on fluid dynamic/hydraulic bearings, the lifespan is listed at 45,000 hours of use. The shroud this system uses is dressed up to make for quite the show to go along with the boost in cooling performance. The main body of the shroud is made of plastic with buts of aluminum alloy as trim on the sides. On top of that, Antec also made sure to include ARGB LED lighting, controlled either by the motherboard or with a pair of buttons on the inline controller hub.
What we have for you to look at today is the Antec PRIZM Cooling Matrix, which is designed to work with and be supported by ASUS, MSI, GIGABYTE, and ASRock motherboards. For those of you who remember AIOs were in a heated battle to top the charts in reviews, it takes a product like this to gain that ability. While one could opt for the basic RGB fan options, they tend to have the same issues as the stock solutions, as nobody wants to offend your ears with a bit of noise.
However, Antec not only delivers in performance, but they also do it with a ton of style and make sure that everyone knows with a single glance, who made the cooling solution that is on your cooler or in your chassis. If like us, you desire performance over everything else; you likely need a PRIZM Cooling Matrix in your life.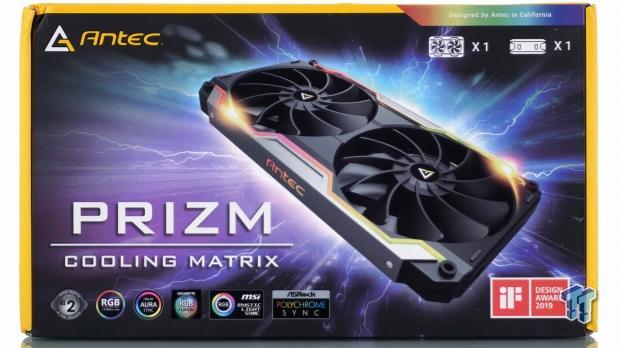 The packaging of the PRIZM Cooling Matrix is busy and bright and will attract attention when sitting on a shelf. The front of the box offers the names of the company and the product on the left, while the right is used for an image of the illuminated product. Not only do we see a couple of the included parts, a mention of the iF Design Award, but there are also mentions of the two-year warranty, as well as compatible motherboard software.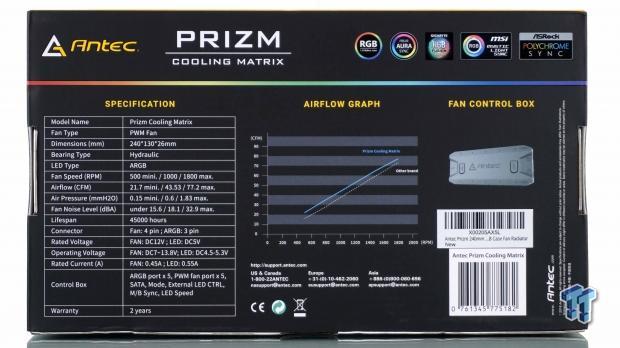 On the back, we see more of the compatibility shown at the top of the panel, but the majority of it is used to divulge important information. First, we have the specifications on the left, which are identical to what is seen on the product page, and includes all things you would want to know. In the middle is an airflow graph, where Antec shows the advantage of the PRIZM over whatever fan it was they used to compare it to. You can also find support information as well as a look at the control box, which is shown at the right.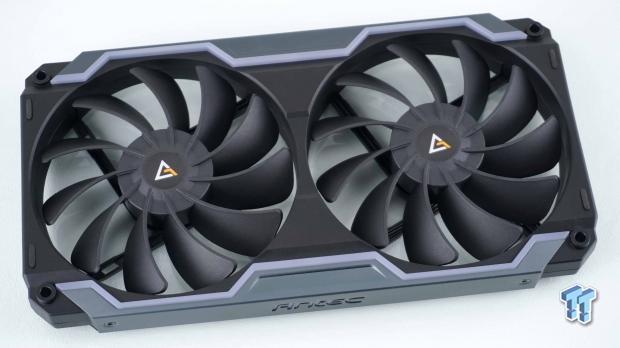 Fresh out of the box, we see a pair of eleven-bladed, 120mm fans, supported in a frame which makes for an assembly of parts that mount all as one. The main portion of the shroud is made of black plastic, while on either of the long sides, gray aluminum bits are added, along with angled sections of white plastic, which is ARGB backlit. We find only four mounting holes versus eight we would typically need to mount a pair of fans, and there are also small foam pads near the ends for anti-vibration measures.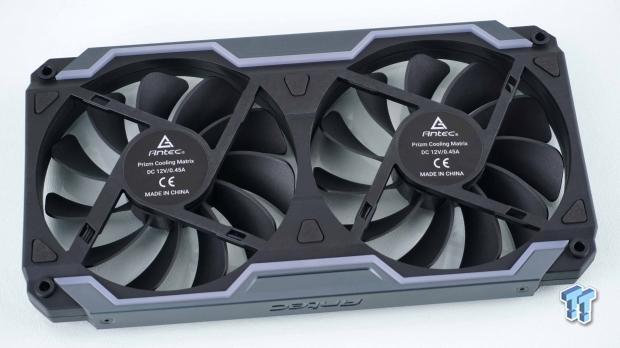 Flipping the PRIZM onto its face, we get to see the underside of the setup. The trim and styling is a direct match to what we saw on the top, and this is because the PRIZM Cooling Matrix can be installed as intake or exhaust, so either side may always be in view. The big difference, other than seeing the frames for the fans now, is that there are now six, much larger, foam pads used to isolate the PRIZM from whatever it is attached to.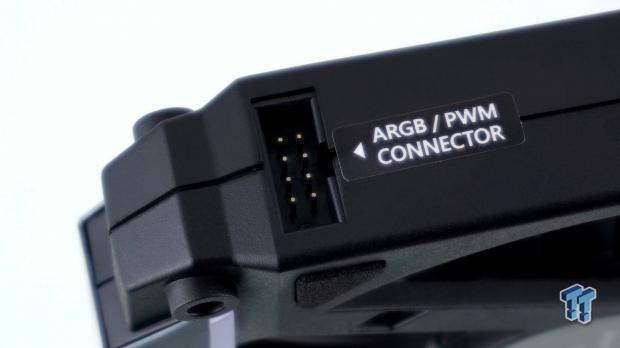 Connectivity to the PRIZM has been simplified as much as it possibly could, all down to this single 8-pin connection. These pins deliver power and PWM signal to the fans, while still leaving room for the ARGB control from the motherboard or the control box.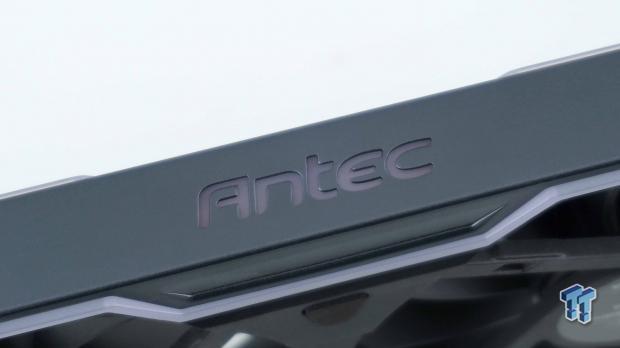 Both sides of the PRIZM offer the Antec name and are backed with ARGB LED lighting; however, Antec did something brilliant. On one side, the name is readable as you see it now, but on the other side, it is inverted. No matter if intake or exhaust, it can be installed so that the brand is readable on both sides, and not upside down.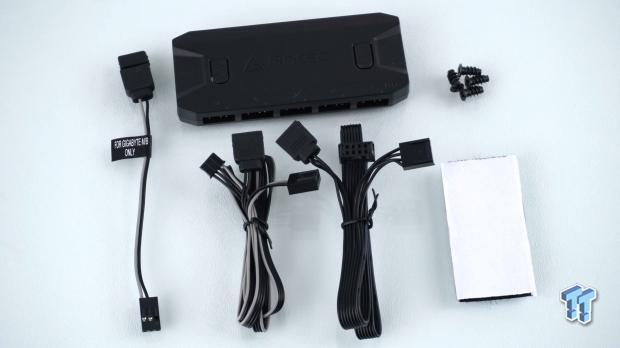 The hardware kit that comes with the PRIZM Cooling Matrix is quite robust and inclusive. At the top is the five port fan and ARGB controller, where fan power runs down one side, while ARGB connections are on the other. The top of the box offers two buttons, one to cycle through roughly forty modes, while the other addresses the speed of the modes.
For connectivity sake, there is a special Cable for GIGABYTE boards (excluding Z390 models), but the other boards will need the other two sets of cables to connect everything together There are four chassis fan screws included to mount the PRIZM, and there is a Velcro pad which allows the control box to be installed as well. There are no instructions in the box, to obtain those, you need to download them from the product page.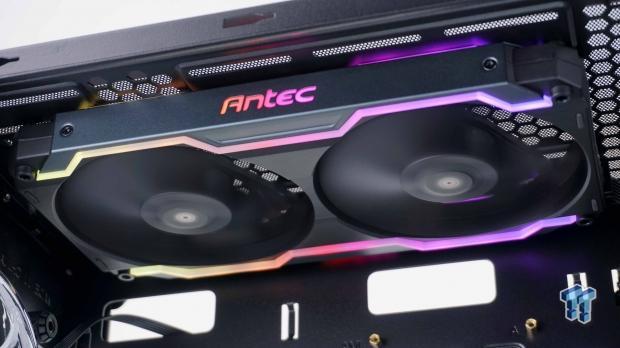 While there are many solid color options, as well as all of those colors shifting to another single color as the lights run across the PRIZM Cooling matrix, we kept cycling through until we ran into the rainbow mode to show off its potential. Of course, when connected to a motherboard, your options could be more limited to what the software has, but there is no doubt that the PRIZM Cooling Matrix looks amazing while pushing a ton of air and delivering 47 dB into the room when at full speed.
In our testing, we tried the PRIZM Cooling Matrix in two scenarios. First was to put it into the chassis as we saw in the earlier image, and give it a listen, feel for the airflow, and then look and see if there are any differences with our old chassis test system we used before Shannon took over that segment. In an enclosed chassis, where we replaced the intake fans with this product, we lowered the chassis internal temperature by three degrees, but the components stayed within a margin of error.
However, when we applied it to the ZOOMFLOW 240 we last tested in the realm of AIOs, we gained nearly five degrees improvement. Of course, there is more noise associated with the PRIZM Cooling Matrix than when we used the stock fans, but with that much improvement under overclocked conditions, we are delighted with the performance it offers.
While performance is key to us when it comes to replacing any fans or buying new fans to fill empty slots, Antec made sure that was not the only thing going for the PRIZM Cooling Matrix. With stylish lines, angles, and the look of a GPU cooler, aesthetically this solution is much more attractive to many potential customers than just plain old fans stuck to a chassis or a cooler.
However, Antec took it even further to deliver ARGB lighting, and did so thinking about even the logo orientation under any circumstances. We tip our hats to Antec on this one, as not only does it deliver a brilliant amount of lighting, the default modes will keep anyone happy, and with motherboard control, it will match what the rest of the system is doing with the LEDs.
Upon release to the world, we were told that the MSRP would be set to $69.99, and considering quite a few three-fan RGB kits cost near $100, the price does not seem that bad. However, if this product is something you want to rush out and grab, we found it currently on sale. Both Newegg and Amazon have the PRIZM Cooling Matrix on sale for $49.95 and $49.68 respectively, but only Amazon has Antec listed as the seller.
At $70, we would have a hard time putting a sugar coating on this design, but at just $50, it is tough to pass it up. If you are looking for a boost in airflow, don't mind a bit of noise, but also what stylish ARGB lighting and easier mounting, the Antec PRIZM Cooling Matrix is the answer, and we have no issues recommending you buy one and try it for yourself.
Chad's DDR4 Dual-Channel Test System Specifications
Motherboard: ASRock X299 OCF
CPU: Intel Core i7 7740X - Buy from Amazon
Cooler: LEPA NEOllusion - Buy from Amazon
Video Card: ZOTAC GeForce GTX 970 AMP. Extreme Core
Storage: Samsung XP941 256GB
Case: Thermaltake Core P3 - Buy from Amazon
Power Supply: Corsair RM750 - Buy from Amazon
OS: Microsoft Windows 10 Home 64-bit - Buy from Amazon
Software: CPU-Z 1.78.3 x64, Super Pi Mod 1.5XS, 7-Zip 16.04, AIDA64 Engineer 5.92.4300
| | |
| --- | --- |
| Performance | 95% |
| Quality | 100% |
| Features | 100% |
| Value | 90% |
| Overall | 96% |
The Bottom Line
The PRIZM Cooling Matrix is the next evolution in cooling. Why settle for boring when you can have more performance, better ARGB lighting, and a look that we have found nowhere else. Antec has taken us back a few years to when cooling was important, and we love them for it!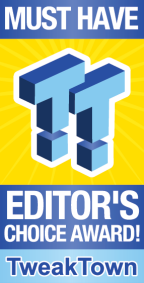 Antec Prizm Addressable RGB Cooling Performance Fan Matrix
Today
Yesterday
7 days ago
30 days ago

-

-

-

* Prices last scanned on 12/4/2022 at 12:46 am CST - prices may not be accurate, click links above for the latest price. We may earn an affiliate commission.
We openly invite the companies who provide us with review samples / who are mentioned or discussed to express their opinion. If any company representative wishes to respond, we will publish the response here. Please contact us if you wish to respond.