Synology DS1019+ NAS Review
The DS1019+ adds a full-featured five-bay platform to Synology's portfolio.

Published
5 minute read time
TweakTown's Rating: 82%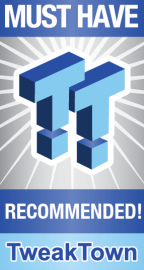 The Bottom Line
The DS1019+ is a solid upgrade for those already in the DSM ecosystem or a SMB that needs the capacity five-bays can provide.
Introduction
Every year, like many NAS vendors, Synology updates its product lineup. This year we have seen a few new models come into the picture with DS119j and DS1819+ being added in late '18 and DS2419+ being added in February. Following that mid-February launch, that same day Synology introduced the DS1019+, today we have it in house.
The 1019+ is a five-bay NAS platform built on the Apollo Lake architecture, this platform has been in use for a few years at this point with products like the 918+,718+ and 218+ taking advantage of it. With the 1019+, we were hoping for a jump into Gemini Lake and improved AES-NI throughput along with support for DDR4 and USB 3.1.
While this didn't come to fruition, we did get a few upgrades, the first being the added drive bay. While this doesn't seem like much it has the ability to add 14TB of storage to your array. The second upgrade fresh from the factory is doubling of the memory from 4GB in the 918 to 8GB in the 1019+.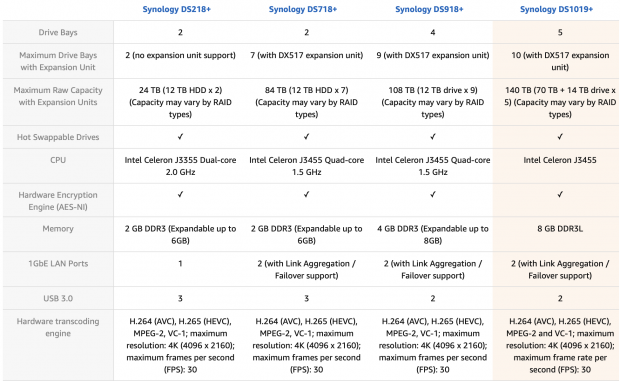 The rest of the specs shake down like this; Celeron J3455 Quad Core 1.5GHz boost up to 2.3GHz, supports Hardware encryption and transcoding. 8GB of DDR3L over two slots so 2x4GB from the factory, this can be upgraded by the user if needed. Again, five bays supporting both 2.5" and 3.5" HDD and SSD, Dual m.2 NVMe on the bottom of the unit for cache, dual RJ45 Gbe ports, dual USB 3.0 port and a single eSATA for the Synology drive expansion.
MSRP of the Five-Bay Synology DS1019+ comes in at $649.99 with a three-year warranty.
Synology DS1019+ NAS Appliance
Packaging and a Closer Look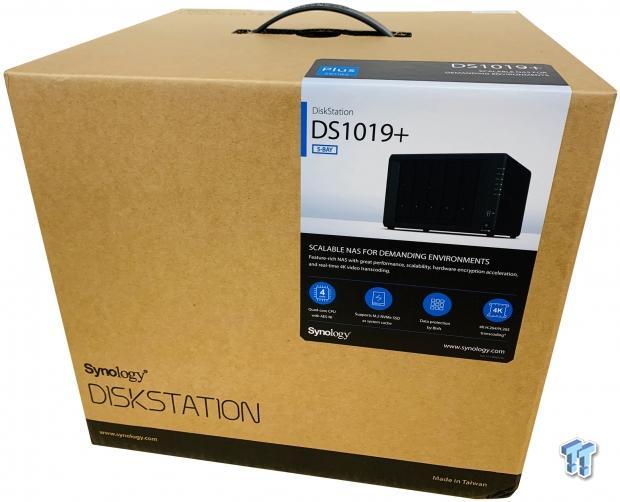 Packaging follows what we have seen in past appliances from Synology. Brown box with Synology branding, a sticker at the top right offers model and specifications.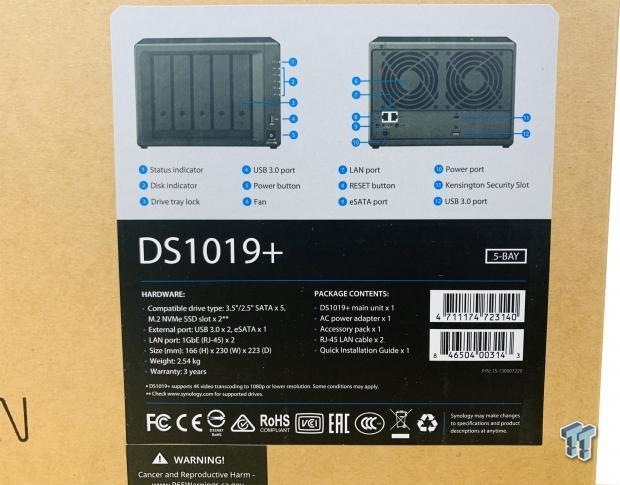 A secondary sticker offers model specifications along with package contents and diagram of the I/O.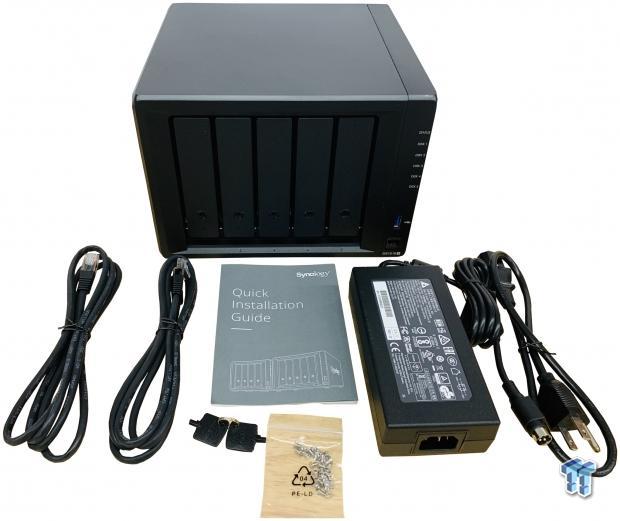 Scope of delivery includes the NAS, two cat5 cables, power adapter, and accessories.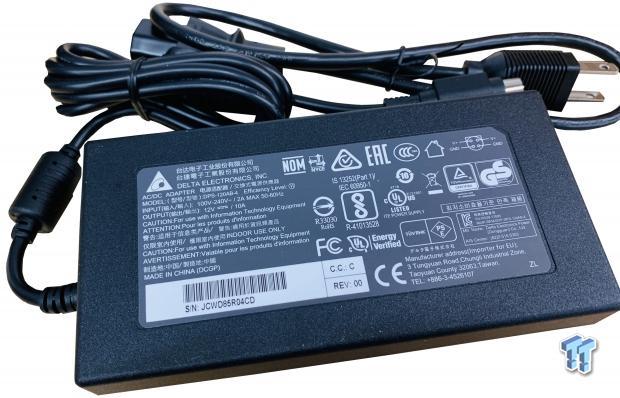 The power adapter for this unit operates at 12v 10A with 120w capacity.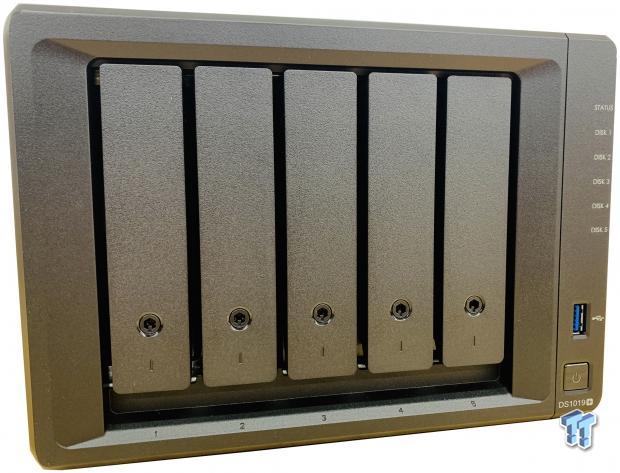 The front of the NAS offers all five bays up front, each lockable. To the right, we have LEDs for Status and all five disks below a USB 3.0 port and power button.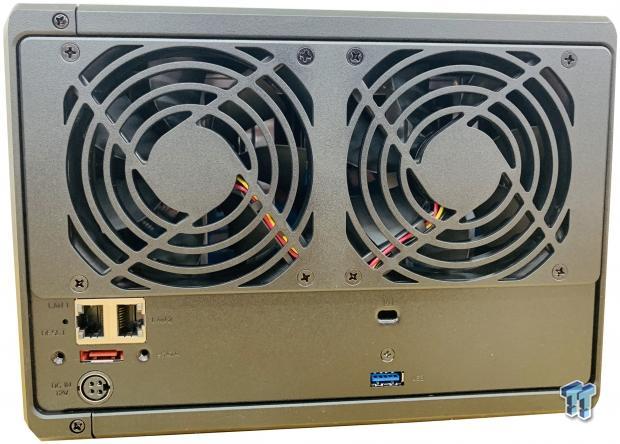 The backside offers dual LAN on the left along with eSATA in red and USB 3.0 in blue. Dual fans keep the unit and drives cool in operation, and the Kensington lock slot secures the unit to the desk or tabletop.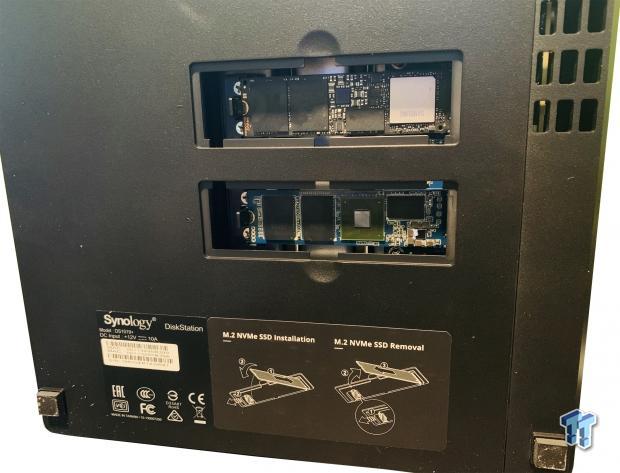 On the bottom of the DS1019+ we have dual m.2 NVMe slots, each support a 2280 drive.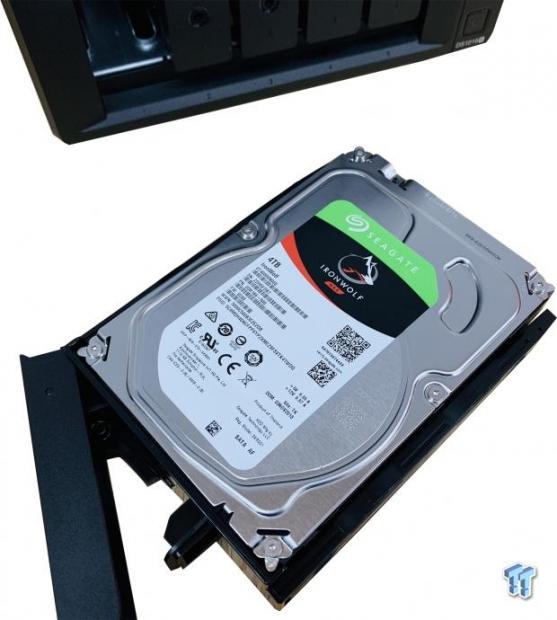 For testing, we are using 4x 4TB Ironwolf drives.
Test System Setup and Web Management
Tyler's Test System Specifications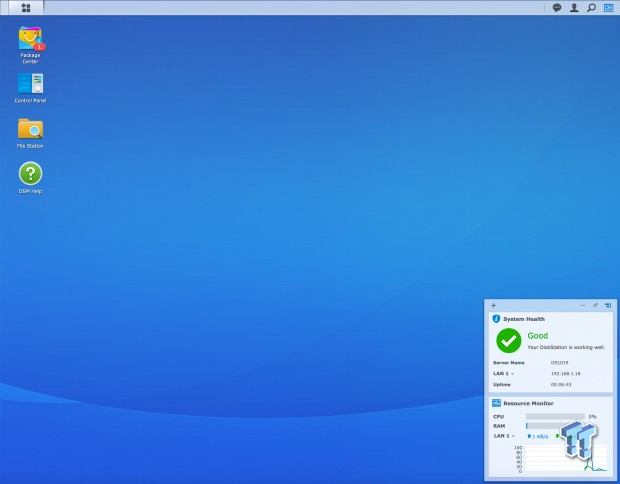 The setup hasn't changed with Synology; you can use find.synology.com to load up setup from any web browser. After you go through initial steps updating the NAs and installing the latest OS, we land here, on the dashboard. From here, we have icons for Package Center, Control Panel and File Station top left we have the four squares which open up to advanced options and to the far right we have users, search and notifications.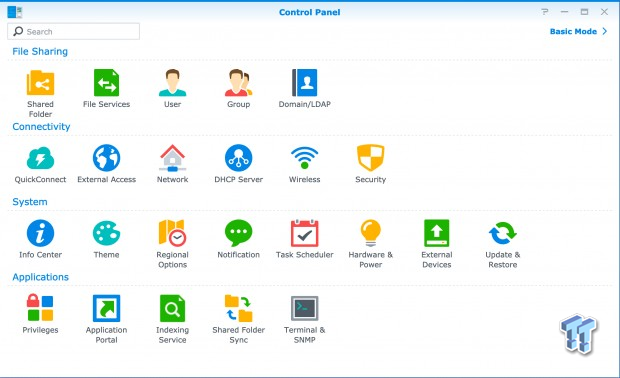 In the control panel, we have file sharing and its options that include users and groups, shared folders and file services. Connectivity helps with quick connect setup, network settings, and security. System offers theme services, power options, and system update and last we have applications that include privileges, indexing, and terminal.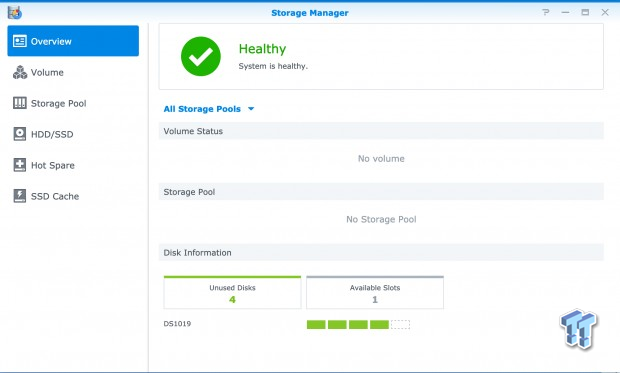 Storage manager gives an overview of disk and volumes creates, to the left we have volumes, storage pools, and SSD cache.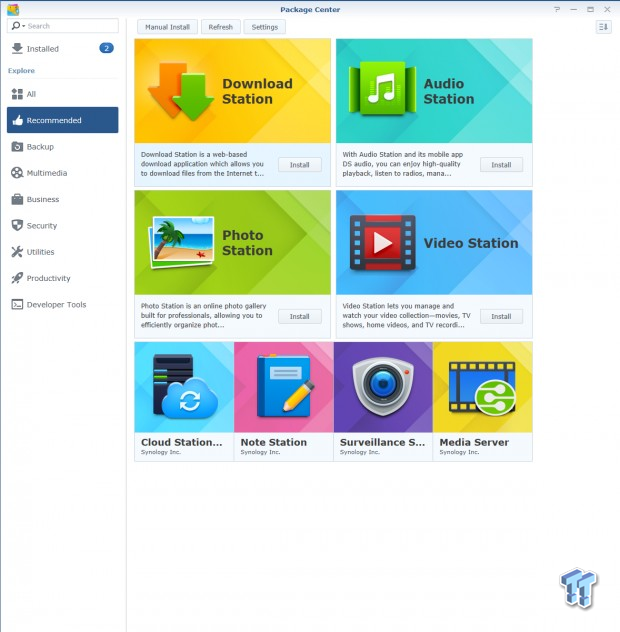 Package center offers a wide range of options to add functionality to the NAS. Synology designed apps include; Download, Audio, Photo and Video station. Down below we have a surveillance station and media server.
Benchmarks – Single Client Throughput, Sequential Performance, and Workloads
Single Client Throughput
HD Video Play - 720p HD stream from Windows Media Player, 256kB reads
HD Video Record - 720p HD stream, 256kB writes
File Copy from NAS - 4GB file copy, 64kB reads
File Copy to NAS - 64kB writes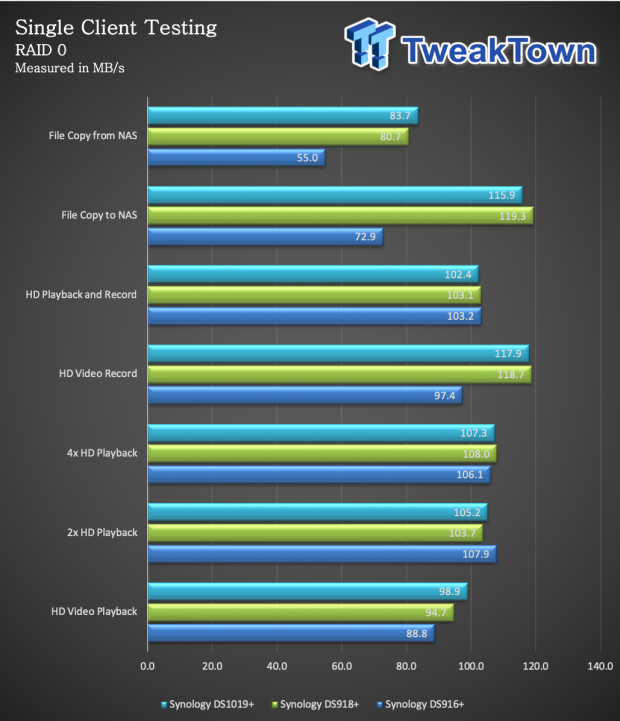 Testing the 1019+, we have two additional Synology appliances for comparison. HD Video Playback gives a slight advantage to the 1019+ at 98.9 MB/s and moving to file copy operations we see 115 MB/s to the NAS and 83.7 MB/s from.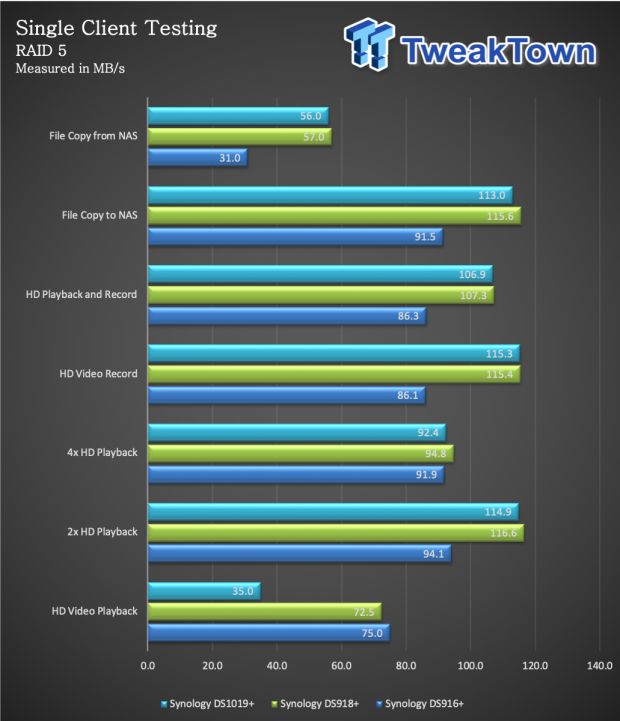 RAID 5 had the 1019+ coming in at 113 MB/s in File copy to and 57 MB/s from, 2 and 4x playback reached 114 MB/s and 92 MB/s respectively.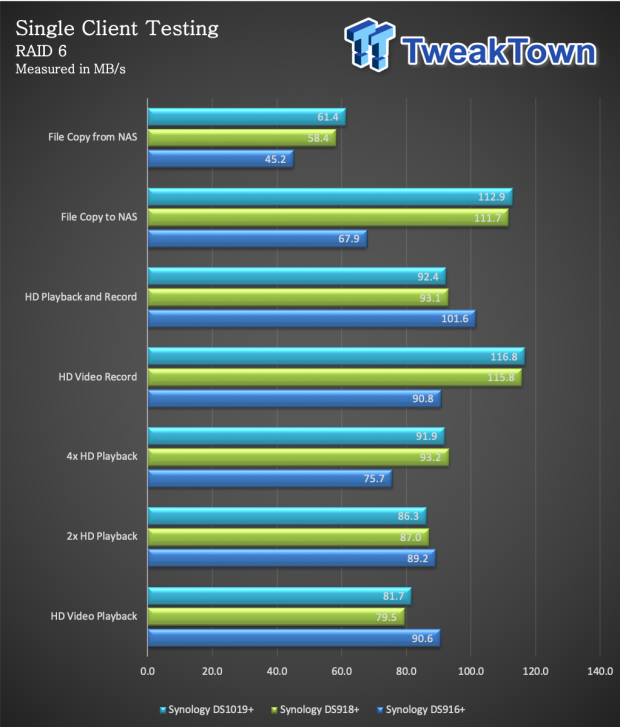 Last, we have RAID 6 giving us 81 MB/s in Playback and 112 MB/s for File Copy to and 65 MB/s from the NAS.
Benchmarks – Sequential Performance

Testing sequential performance of the 1019+, I added in both caching with two NVMe SSDs and Encryption. Starting with RAID 0, we see 116 MB/s read and 116 MB/s write as our baseline, no encryption or cache in use. Adding Encryption, we see performance drop to 115 MB/s read with no change to write performance. Offsetting the Encryption, we add NVMe cache and performance returns to 116 MB/s read and write.

The baseline for RAID 5 was the same 116 MB/s read and write. Adding Encryption and cache showed no difference in sequential performance, but we do see some changes in 4K Q8 and 32 as performance went from 3 MB/s to 60.6 MB/s with cache and 38 MB/s to 50 MB/s.

With RAID 6, we again baseline at 116 MB/s. Performance dipped to 112 MB/s read, and 111 MB/s write adding Encryption. Enabling the NVMe cache, we see performance bounce back to 116 MB/s. 4K shows similar with 66 MB/s as our baseline, while adding Encryption slows this to 2 MB/s. Adding in the NVMe cache, we get back to 58 MB/s.
Benchmarks – Workloads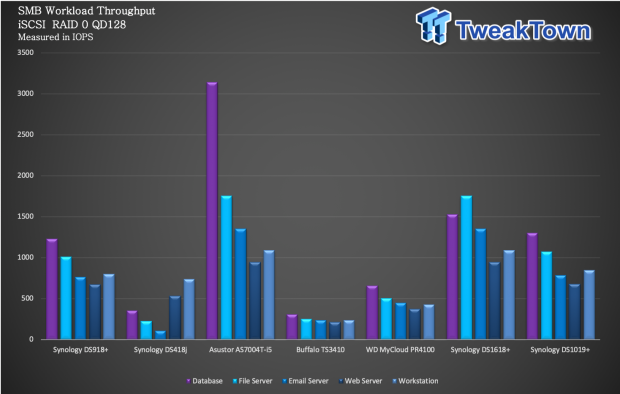 Last, we have workloads with a broader comparison. RAID 0 showed a nearly identical performance curve to the 918+, the 1019+ slightly quicker.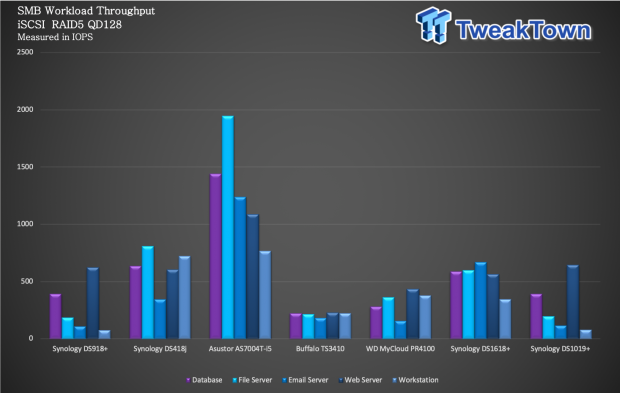 The 918+ seems to take a performance advantage in Database and Web Server with the rest going to the 1019+ in RAID 5.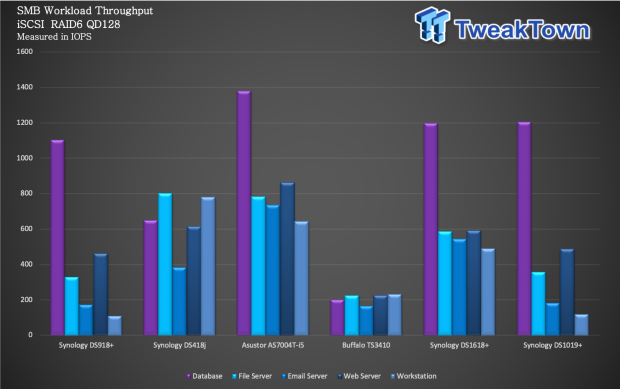 RAID 6, we see a more significant gap between the 918+ and 1019+ across the board.
Final Thoughts
After testing I'm quite pleased with the DS1019+, build quality hasn't changed, and neither has the iconic design of the DiskStation. Synology still offers the metal structure and plastic enclosure we have become used to, each drive bay is lockable and has its own activity LED to the right.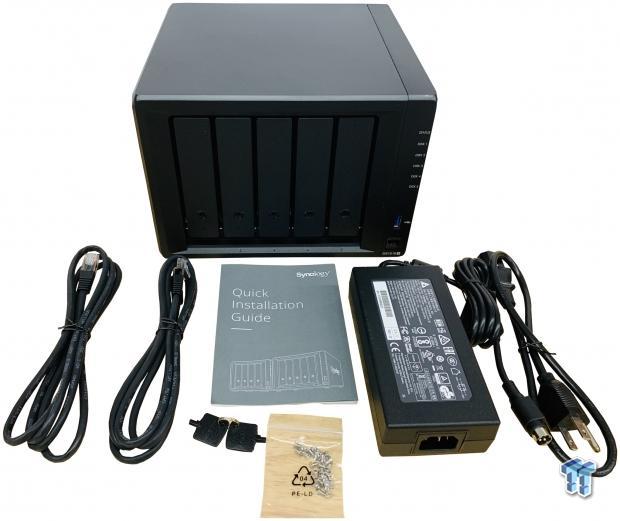 With this solution taking advantage of the same platform as the entire DS+ lineup, Apollo Lake, it's no surprise we have a nearly identical performance curve. That said, the DS1019+ is an attractive option for anyone coming into the DSM ecosystem or anyone that is still on the lower tiers, such as the 218+ or 718+. For users rocking the 918+, this solution is not an upgrade, nor do I think Synology intended for it to be.
With that, performance of the 1019+ reached a peak of 116 MB/s in sequential read and write while workloads had it on par or slightly better than the DS918+ with a peak of 1300 IOPS in database, 1100 in File Server and 800 IOPs in Workstation.
Closing this out, the DS1019+ is a great solution and certainly bolsters Synology's portfolio, but it also highlights the need for the market to break past gigabit ethernet as its standard connectivity. As seen in testing today, sequential performance was pegged at 116 MB/s read and write throughout most test scenarios, and NVMe cache only made a discernable difference in 4K workloads. Hopefully, as the consumer networking market changes with WiFI 6 introducing 2.5Gbe to the masses, we see NAS vendors move in the same direction.
| | |
| --- | --- |
| Performance | 82% |
| Quality | 81% |
| Features | 85% |
| Value | 80% |
| Overall | 82% |
The Bottom Line
The DS1019+ is a solid upgrade for those already in the DSM ecosystem or a SMB that needs the capacity five-bays can provide.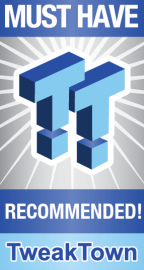 We openly invite the companies who provide us with review samples / who are mentioned or discussed to express their opinion. If any company representative wishes to respond, we will publish the response here. Please contact us if you wish to respond.