TweakTown's Rating: 86%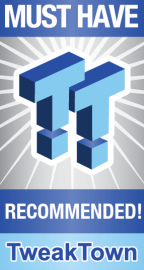 The Bottom Line
The RT-AX88U comes at a price buts it's a solid entry into 802.11ax with top notch features.
Introduction
As home networking has evolved over the last decade, nothing has brought Wi-Fi up to speed more than 802.11ac. With Wi-Fi 5 as they now call it, we saw new technologies like MU-MIMO, Beamforming, Mesh along with Wave 2 allow more users and more overall throughput on consumer platforms. With that said, 802.11ac is at its end of life, and while many vendors will continue to push new solutions to market, the focus has now come to getting the cost down, so everyone can upgrade.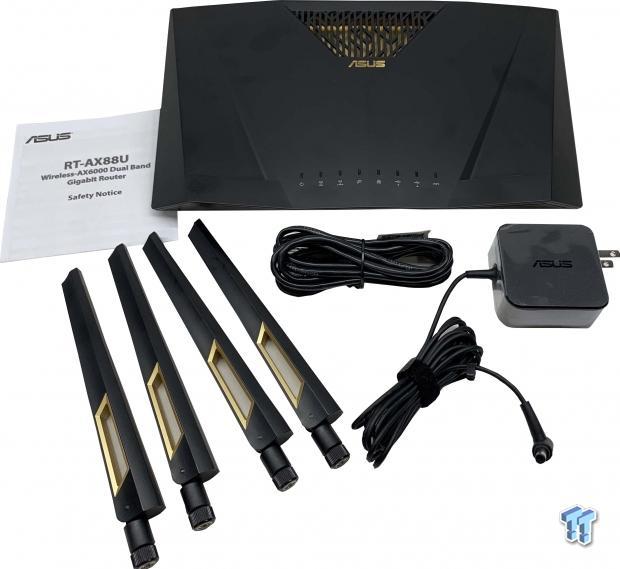 802.11ac was really the driving technology behind opening up our homes for DIY security, smart home functionality and just allowing more devices to connect and communicate at once. With 802.11ax or Wi-Fi 6 this is the first generation to be designed around the current atmosphere of connectivity, so while we will have increased throughput as per usual, we will also see bi-directional MU-MIMO and 1024QAM at work along with OFDMA which will increase the efficiency of the Router or Aps when deployed in a dense environment.
August 30th, 2017, ASUS announced its first 802.11ax platform, the RT-AX88U. Today, we have this unit in house for review. That being said, we currently have no client devices for 802.11ax so while performance will be tested, it will be up to current generation standard with the Intel 9260 160MHz 802.11ac solution. Getting into the AX88U, design follows last year's AC88U with a new colorway of black and gold.
This is a Broadcom platform with the BCM49408 at the heart, a four core SoC operating at 1.8GHz paired with 1GB of memory and 256 MB of flash memory. This 4x4 design is powered by the BCM43684 Radio offering 1148Mbps on the 2.4GHz band and 4804Mbps on the 5GHz band. Adding to this we have an eight-port switch with LACP and Link Aggregation capabilities along with two USB 3.0 ports.
MSRP of the ASUS RT-AX88U comes in at $349.99 with a one-year warranty.
ASUS RT-AX88U Wi-Fi 6 Router
Packaging and a Closer Look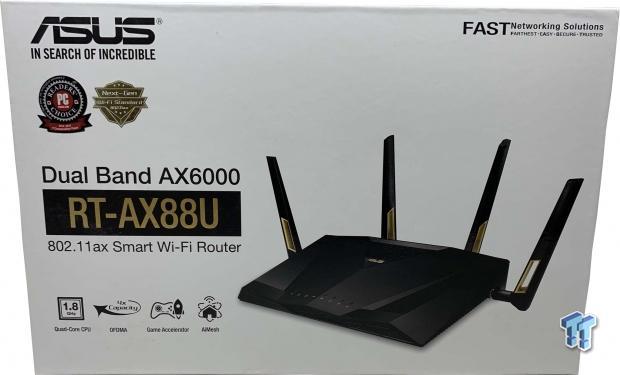 Packaging follows what we have seen in the past from ASUS, an image of the router on the front with a bit of marketing surrounding model number to the left.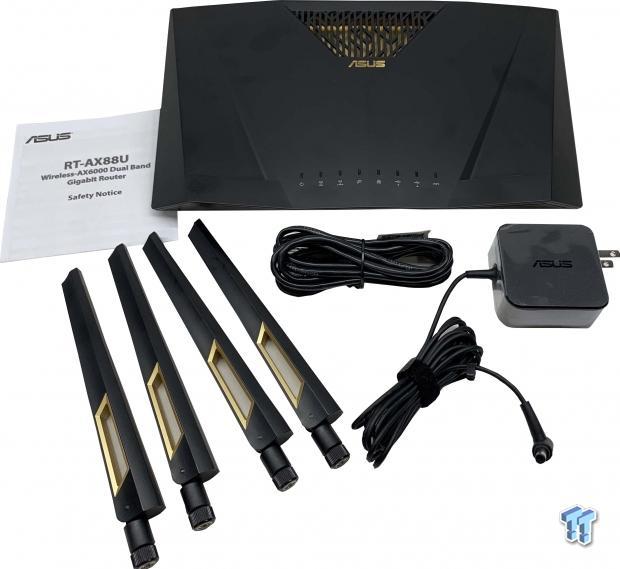 In the package, we have the router, ethernet cable, and power adapter. Down below the four antennas.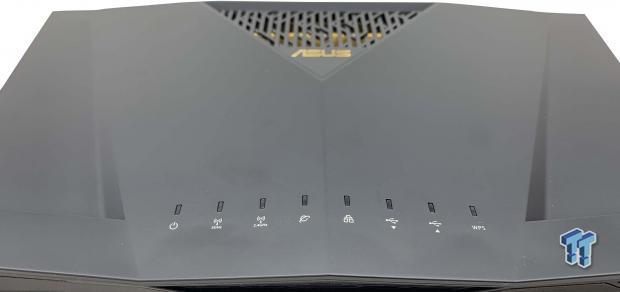 The front bezel of the router offers information on power both wireless bands and internet connectivity. Further down we have activity lights for both USB 3.0 ports and WPS.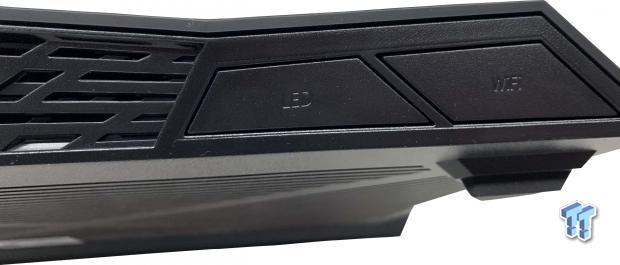 Under the nose of the router to the right, we have buttons to enable/disable the LED and Wi-Fi.

While under the left side of the nose, we have a USB 3.0 port hidden behind a door.

The backplane is stacked with ports. On the left, we have USB 3.0 and WAN followed by the antenna, eight LAN ports, and second antenna. At the far right, we have WPS, reset and power input.
Test System Setup and Web Management
Tyler's Test System Specifications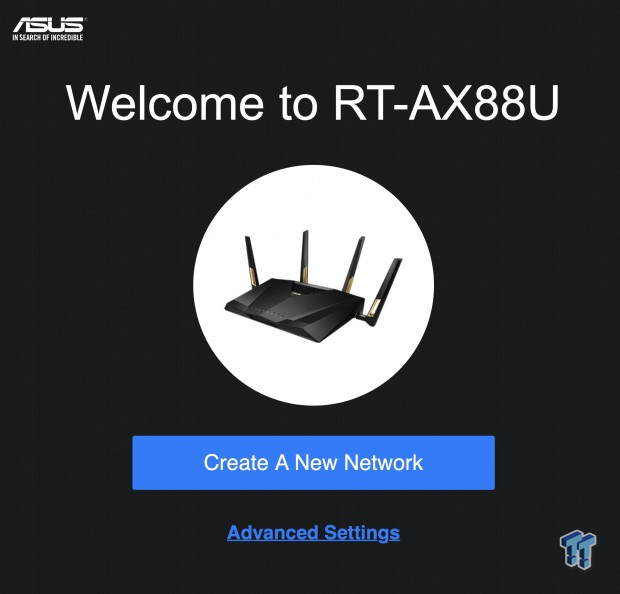 Setup hasn't changed too much for now. We still start with the ASUS screen above.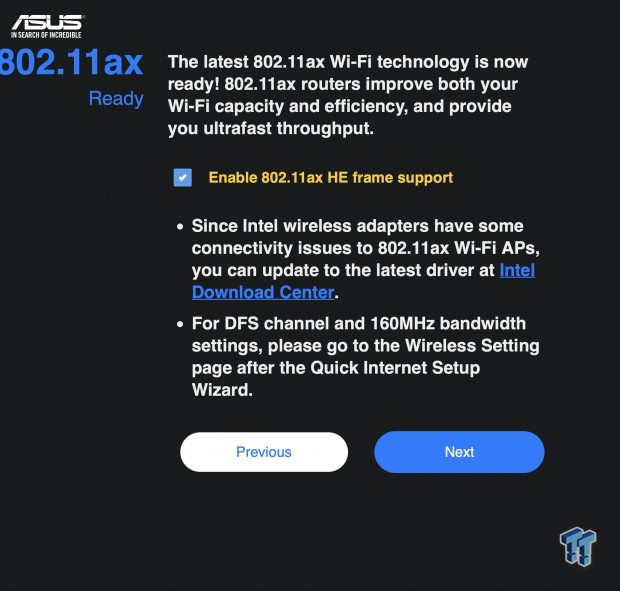 Moving through setup, you will be greeted with a message for enabling 802.11ax HE frame support.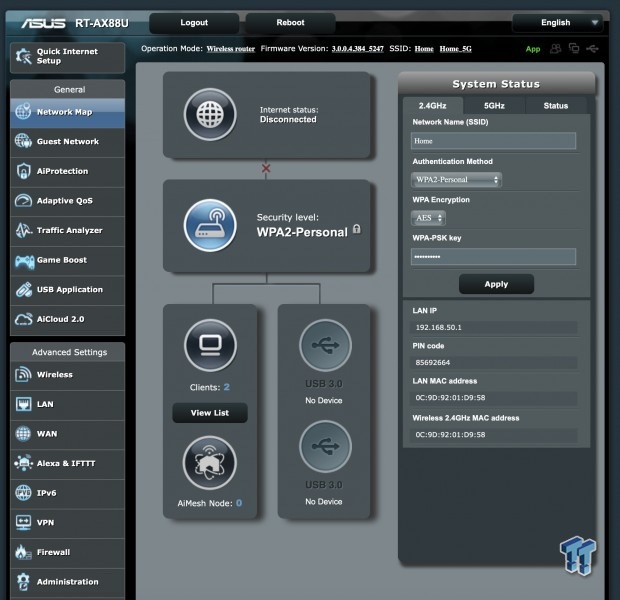 Once we are in, you will notice the interface is similar to past 802.11ac units. We have navigation on the left side pane with a dashboard interface in the center. For testing, this router was on firmware 3.0.0.4.384_5247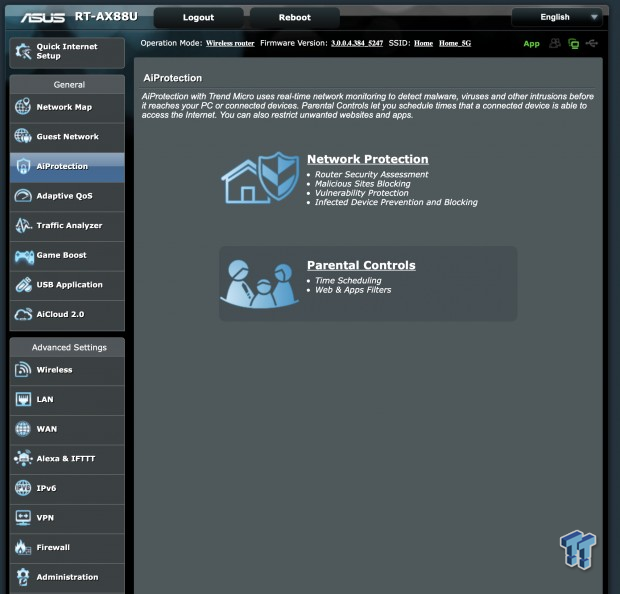 Moving down the list, we have AiProtection from Trend Micro along with parental controls.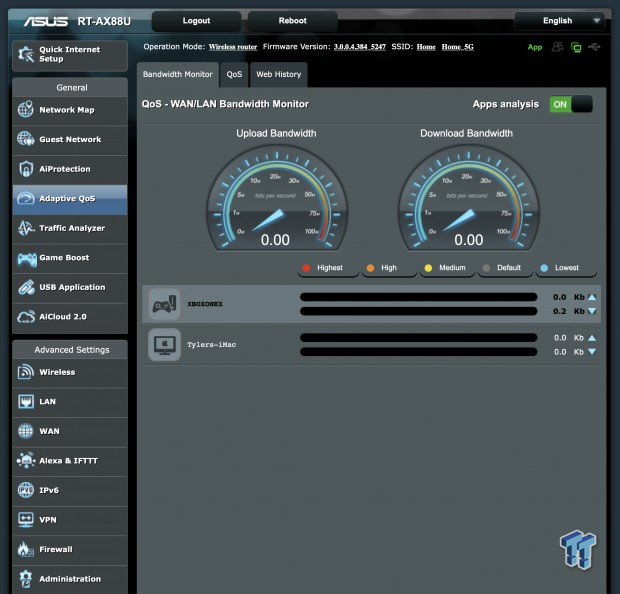 Adaptive QoS is still a staple in the ASUS interface; this includes bandwidth monitoring and Web History.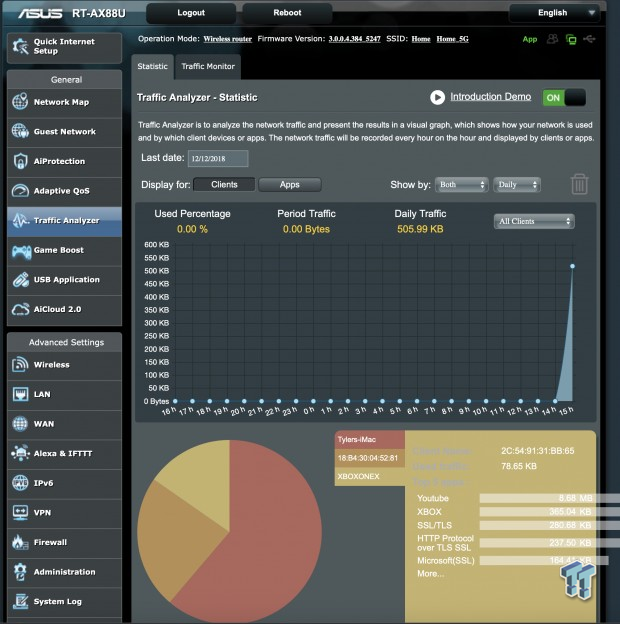 Traffic analyzer gives higher insight into past and current traffic for each device.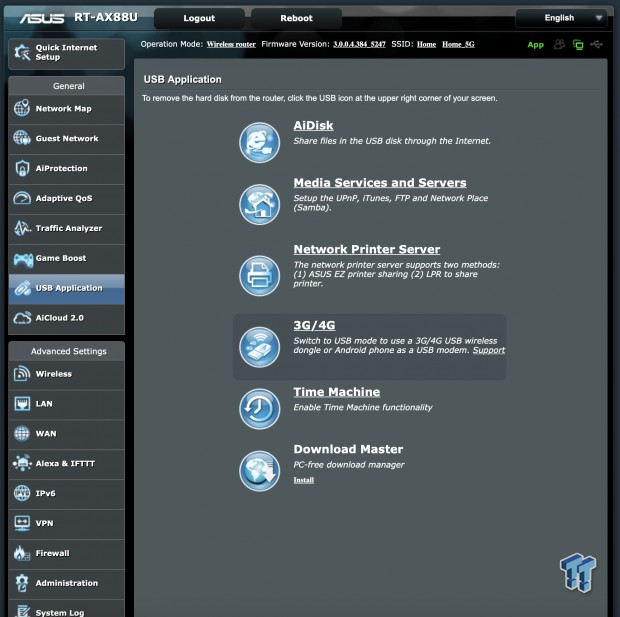 Like many ASUS solutions, we still have USB application support with AiDIsk and media server's, printer and time machine along with 3G/4G WAN.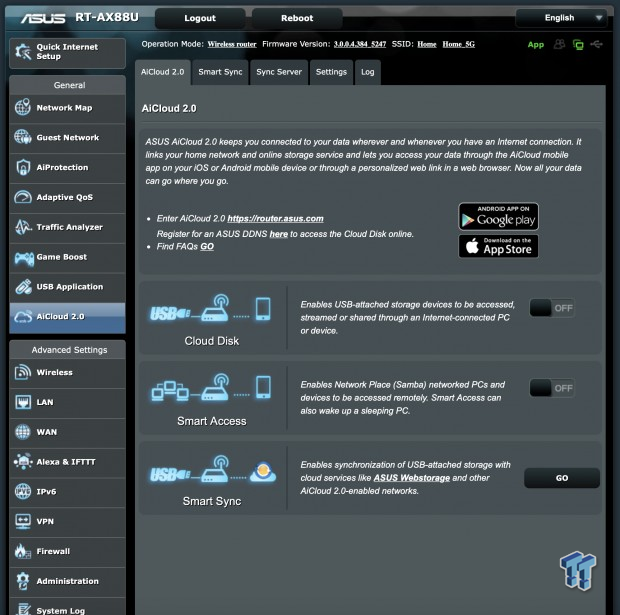 AiCloud takes ASUS storage platform to another level allowing you to access connected USB drives anywhere in the world.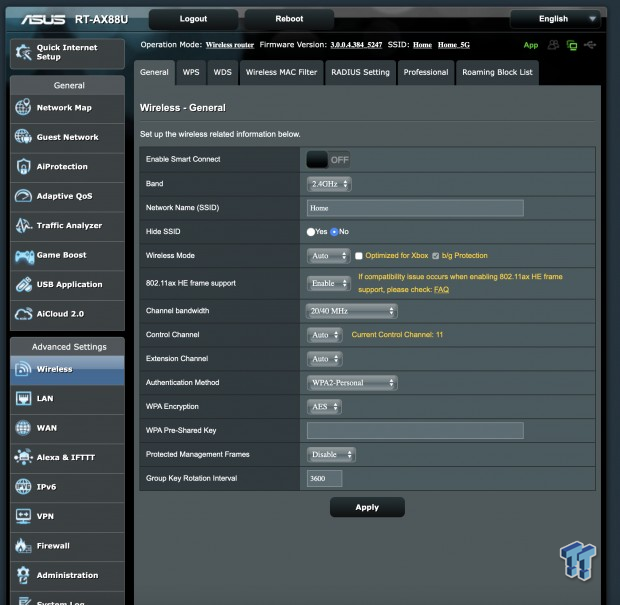 Moving to advanced settings, we have Wi-Fi options with a drop down for changing bands. Across the top, we have higher level settings for WPS, WDS and Mac Filters.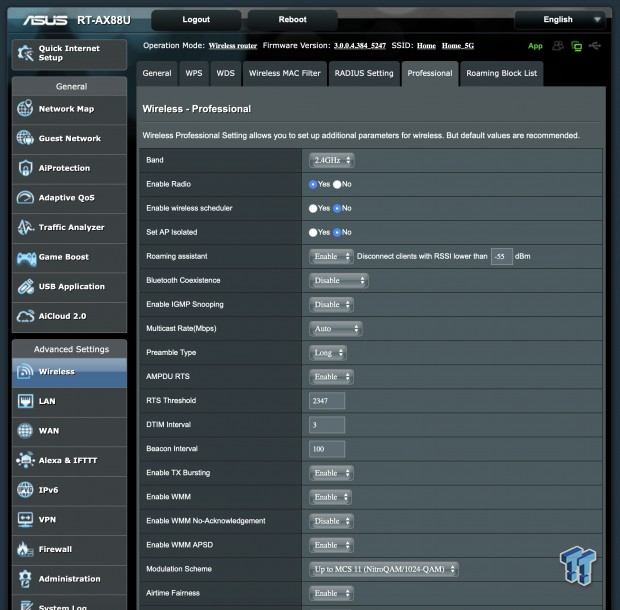 The professional menu item allows you to configure high-level options.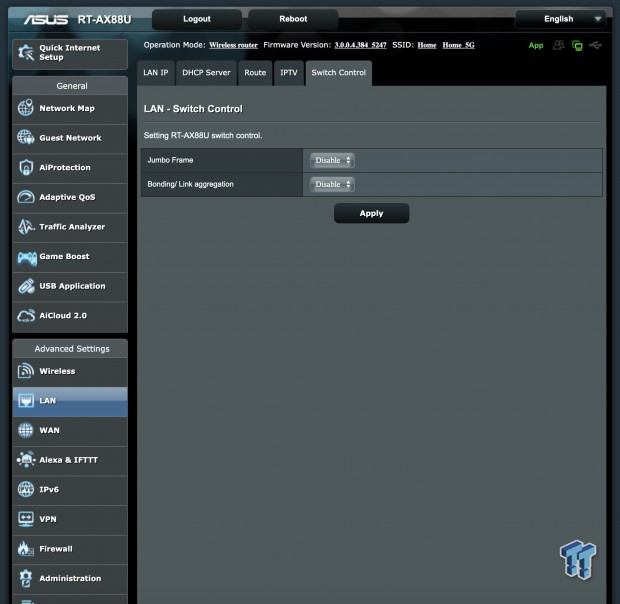 Moving to LAN, we have the typical options across the top with LAN IP, DHCP server settings but the last menu option allows you to turn on Jumbo frame along with link aggregation.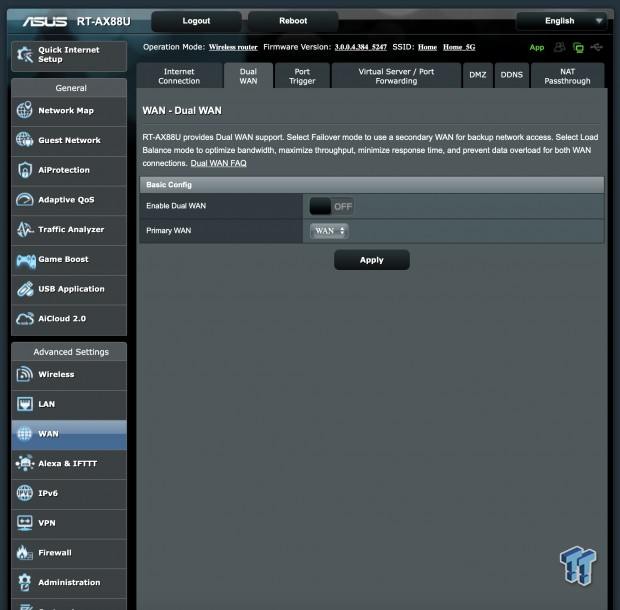 We then move into WAN where you can enable Dual WAN for redundancy along with typical passthrough and DMZ options above.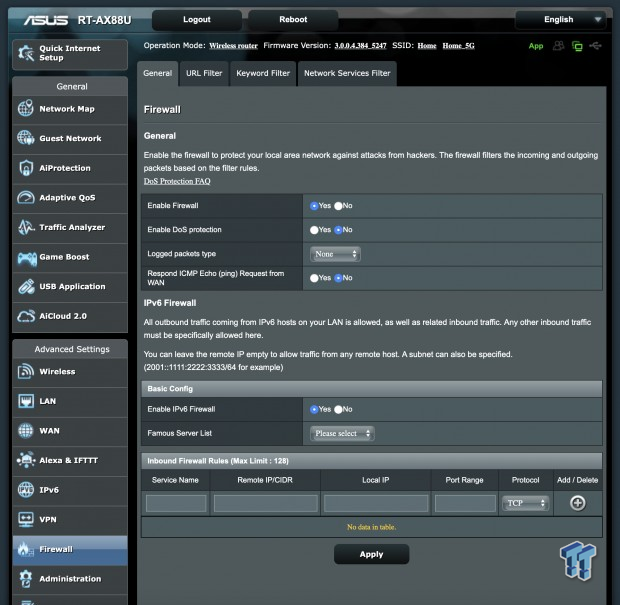 Next up, we have the built-in firewall with the basic configuration at the top and more in-depth options in tabs above.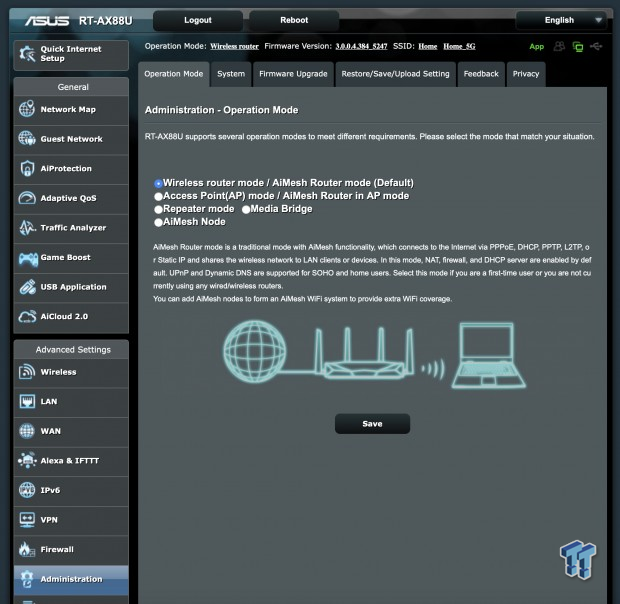 Last, we have Administration allowing you to select the operation mode. Along the top, we have system, firmware and restore options as well.
Testing – LAN and WLAN Throughput
LAN and WLAN Throughput
As mentioned in the beginning, 802.11ax testing is currently done with the Intel 9260 2x2 solution. Peak rates of this solution are 300mbps on the 2.4GHz and 1.73Gbps on the 5GHz band using 160MHz.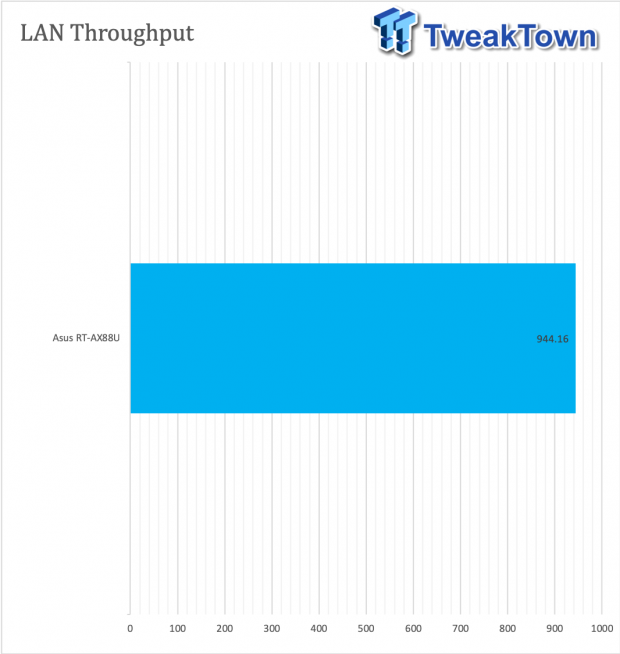 With the AX88U being our first Wi-Fi 6 solution, we start anew with fresh charts. In LAN throughput the AX88U reached 944.16Mbps.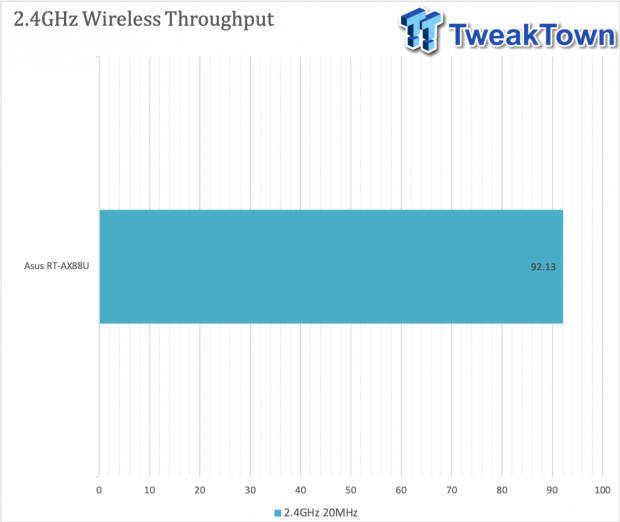 We then moved into WLAN testing starting first with the 2.4GHz band. Here we reached 92.13MBps with the AX88U.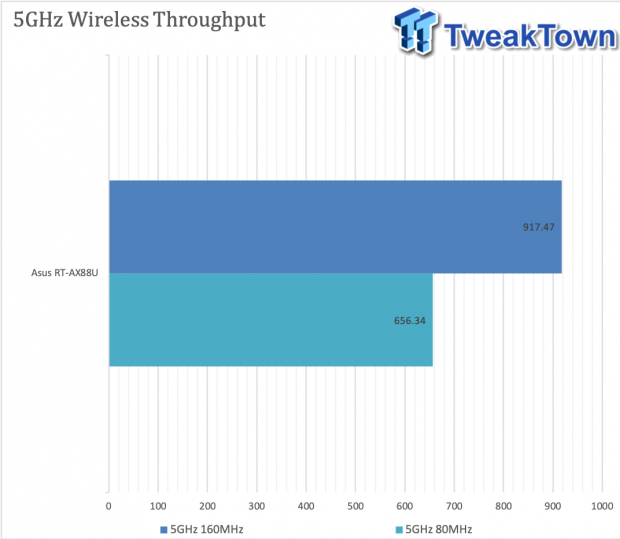 We follow this up with both 80 and 160MHz testing on the 5GHz band with the AX88U reaching 656MBps in 80 and 917Mbps using 160MHz.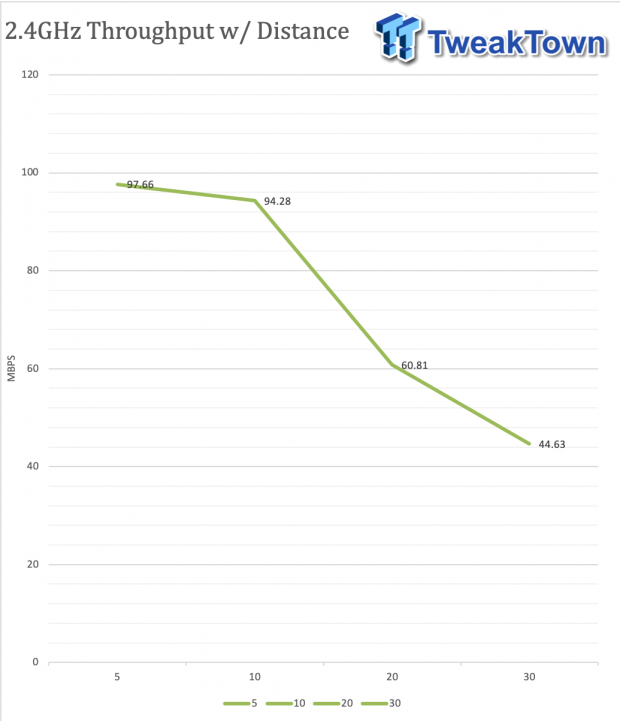 Testing now moves over to mobile throughput using our iPhoneXR by physically moving from 5 ft to 30ft testing each distance. As you can see in 2.4GHz we start at 97.6Mbps at 5 feet and moving out hold 94Mbps at 10. 20ft shows the first performance drop to 60Mbps and 30ft ends with 44Mbps.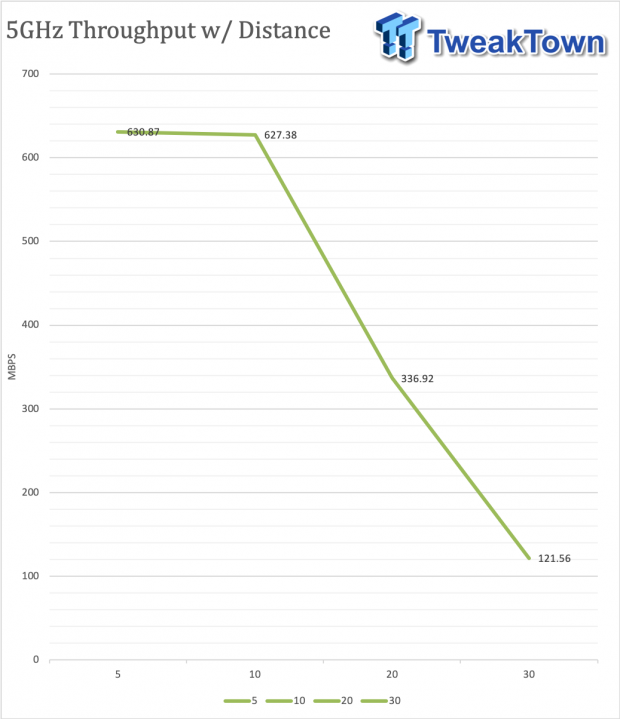 With 5GHz we start at 630.8Mbps and at 10 lands at 627Mbps. Moving out to 20 feet we see performance drop to 336MBps and end at 121Mbps at 30 feet.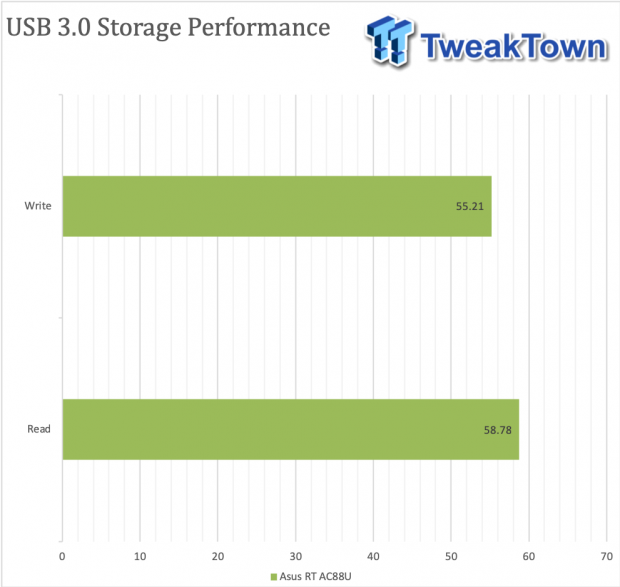 For our last test, we check file performance of the included USB 3.0 ports with a 256GB flash drive from SanDisk. With the AX88U, we see 58 MB/s read, and 55 MB/s write.
Final Thoughts
I've been using the AX88U since the beginning of the year, it's covered my entire home network quite well in this time period and as its set to be replaced for new models coming in the one big take away for me is how stable it has been. Build quality is solid top to bottom and taking the design of the AC88U and bringing it over with a new colorway really offers additional brand recognition for those looking to upgrade. Black and Gold certainly won't be for everyone, but the colors aren't piano but rather matte, so they don't catch your eye with help from the sun.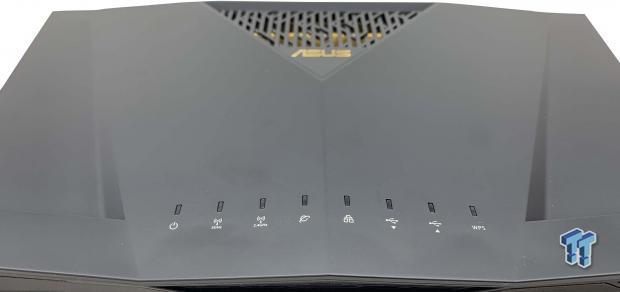 The performance was on par with the expectation of a solution that is working without efficient clients and the means to reach its full potential. That said, these routers are still and will always be limited by the wired ports, and ASUS has started to change this by allowing for LACP and Link Aggregation on their AX routers. With that said, I was able to reach a peak of 92MBps on 2.4GHz and 656MBps on 5GHz 80Mhz performance we have seen from 802.11ac solutions in the past, but adding in 160MHz, we bumped to 917MBps real-world data pixies floating in the air and a slight bit of potential this was held back by the wired connection.
The interface hasn't changed much in the last few years, but it has become a bit more stable as iterations have passed. With this, we still have all the great Traffic, and QoS features we have become accustomed to with ASUS solutions along with Trend Micro security and one of the only platforms to consistently support USB WAN with 3 and 4G dongles. Adding to this ASUS does have one of the more friendly USB application suites, allowing you to NAS your router adding USB drives with media and SMB server options along with AiCloud that now allows access to your drives anywhere in the world.
With the current MSRP sitting at $349.99 the ASUS RT-AX88U sits midrange of its own product lineup and the current market. People who are upgrading should note while 802.11ac solutions are dropping in price looking forward 802.11ax will be where it's at. This is evident with vendors such as Samsung already adding 802.11ax chipsets to their phones with Apple sure to follow later this year.
| | |
| --- | --- |
| Performance | 85% |
| Quality | 87% |
| Features | 90% |
| Value | 81% |
| Overall | 86% |
The Bottom Line
The RT-AX88U comes at a price buts it's a solid entry into 802.11ax with top notch features.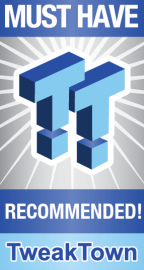 We openly invite the companies who provide us with review samples / who are mentioned or discussed to express their opinion. If any company representative wishes to respond, we will publish the response here. Please contact us if you wish to respond.