ADATA XPG Spectrix D41 DDR4-3200 32GB Memory Kit Review
The ADATA XPG Spectrix D41 RGB DDR4 is a great kit of RAM and hits a perfect performance to cost ratio.

Published Wed, Aug 22 2018 10:00 AM CDT
|
Updated Tue, Nov 3 2020 6:57 PM CST
Rating:

95%
Manufacturer: ADATA

A few months back, we had our first look at the XPG Spectrix series, with the Spectrix D40 DDR4. The main push for the new family of RAM, on top of the top-quality ICs, used and XMP 2.0 compliance, was a uniquely designed heat spreader with a lot of style, but more importantly to most was the inclusion of RGB lighting. Again we are dealing with Spectrix memory, but this time the script has been more or less flipped completely.
The XPG Spectrix D41 is why we are here right now, and while most of what we saw in the original Spectrix offerings are still found here, styling and RGB lighting have been changed. Gone are the tall heat spreaders, in favor if sleeker, angular heat spreaders, which can be found in Titanium Gray or Crimson Red finish. Speed ranges from 2666 to 3600MHz at this time, with plans to jump to 5000MHz once motherboards are capable. Densities can be had from single 8GB and 16GB sticks, all the way up to four stick kits. The voltage required ranges from 1.20V to 1.35V depending on both speed and density, but the timings are relatively low across all of the offerings. As they should, this RAM is XMP 2.0 ready, and even comes with a slower profile for AMD users or those with Intel CPUs with weak IMCs.
Out of many options, were have the AX4U320038G16-DT41 memory, but as the part number alludes to, we have a pair of boxes to test quad-channel performance with 32GB in total density. With four 8GB sticks of 3200MHz memory sporting timings of 16-18-18-36 2T, and 1.35V needed to run this XMP 2.0 profile, we expect the XPG Spectrix D41 to hold its own in our testing. Also, keep in mind, ADAT/XPG delivers their memory with a full lifetime warranty as well, should anything go wrong.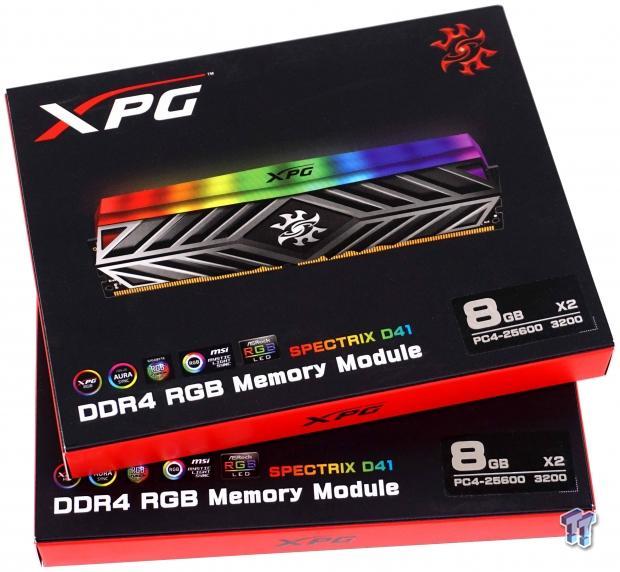 Both of the boxes are attractive to the eye if found hanging or shelved in a retail setting. The large XPG and Spectrix logo at the top, all of the indications at the bottom of capabilities, the name of the memory, and its speed and density are nice and all, but it is the brilliant image of the stick in the middle that will seal the deal.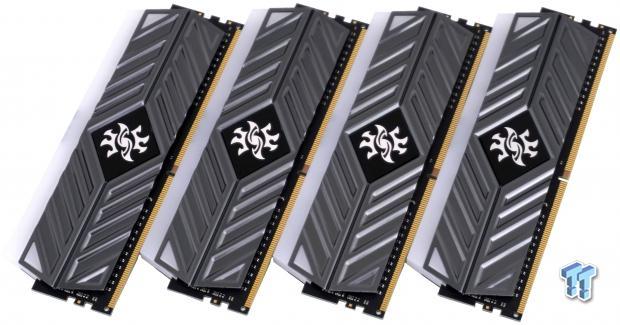 Keep in mind that Crimson red is an option for all of the XPG Spectrix D41 kits, but we have the Titanium Gray versions in our lab. Starting with black PCBs, delivering a high-end feel, covered with angular designs on the hairline finished metal spreaders ups the bling factor. Large Spectrix logos are placed right in the middle, and the light bar at the top is made of opaque plastic, which is exposed on the sides of the sticks, as well as being the top edge of them.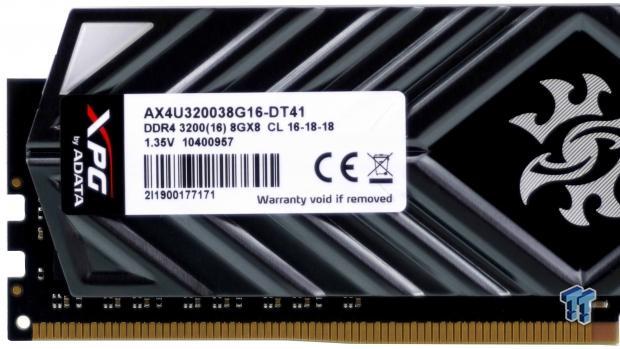 The sticker on the reverse shows the specific set of RAM we have to test. We have two kits of 16GB DDR4, which is rated at 3200MHz. Timings and voltage are also listed, and while no mention of the length of the warranty, we do see that removal of the sticker will void it.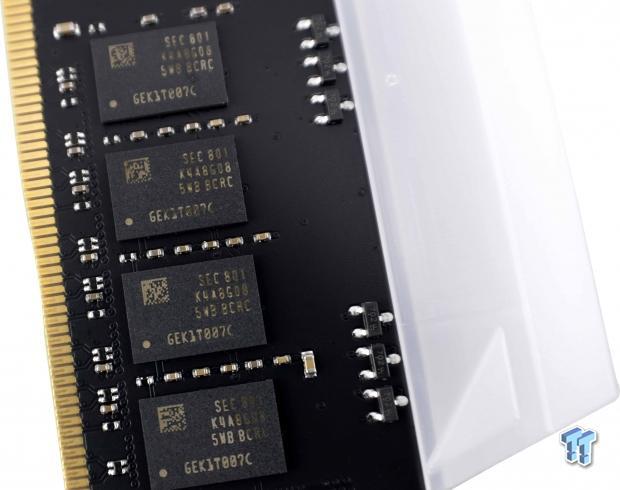 Thaiphoon Burner software does not support Skylake X processors, but in this instance, we were able to remove the heat spreaders easily. Doing so exposed the Samsung K4A8G085WB BCRC ICs used. While these may not be the coveted best of Samsung ICs, you will see there is plenty of meat left on the bone.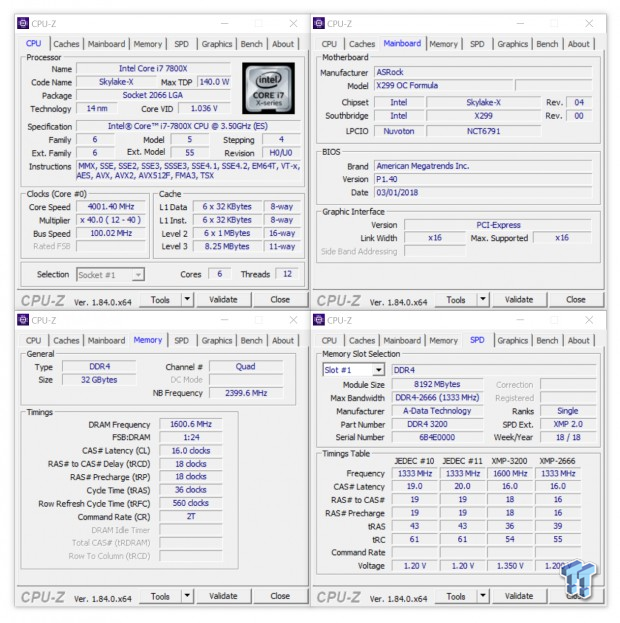 Once installed with a bit of tinkering in the BIOS, the XMP 2.0 profile delivers what we expected to see. At this point, we have 3200MHz with the proper timings applied. As for the voltages, the VDIMM is set to 1.35V, while the VCCIO required is 1.20V and the VCCSA is set to 1.35V.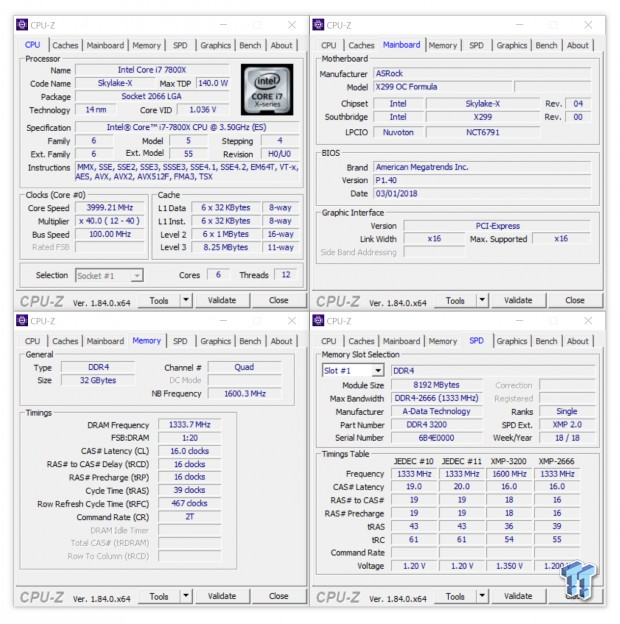 With the Spectrix D41, there is also a second XMP 2.0 profile you can use. Once set, this profile offers a speed of 2666MHz with timings of 16-16-16-39 2T. To accomplish this, voltages have changed, in a good way. VDIMM required is only 1.25V, and the VCCIO and VCCSA voltages dropped to 1.10V and 1.20V respectively.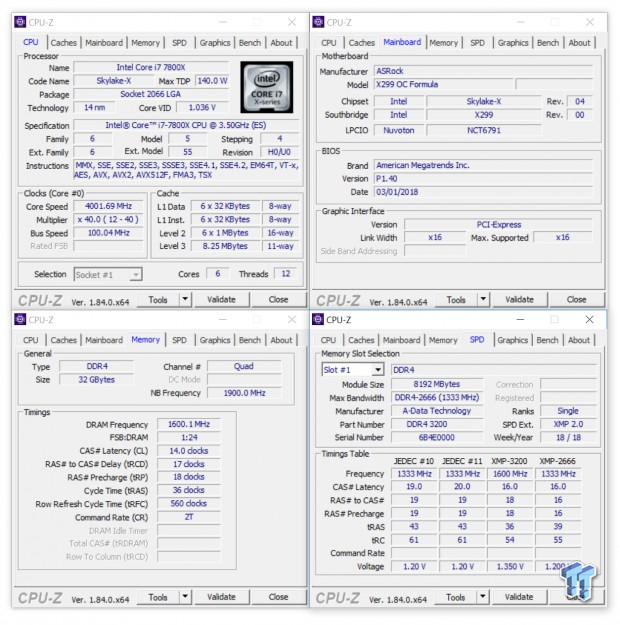 Opting back, starting with the original XMP 2.0 profile, then trying to reduce the timings, what you see is as far as we got with stability. Still, at 3200MHz, we got the timings down to 14-17-17-36 2T. Voltages were increased to 1.45V for the RAM, 1.30V for the IO, and SA was increased to 1.40V.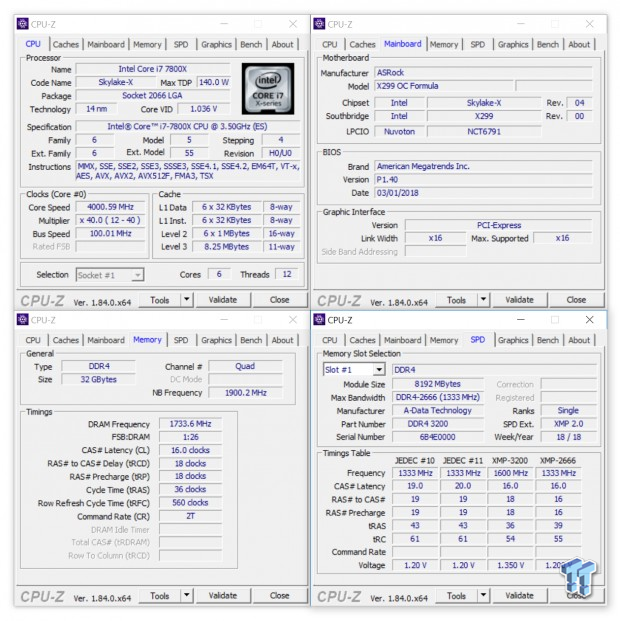 Pushing for the highest overall speed, we were able to gain another 266MHz over what the kit is specified to run. Voltages remained the same as the test above to obtain the 3466MHz stability. We did see 3600MHz in windows, but with any load on the sticks, it ended with a BSOD.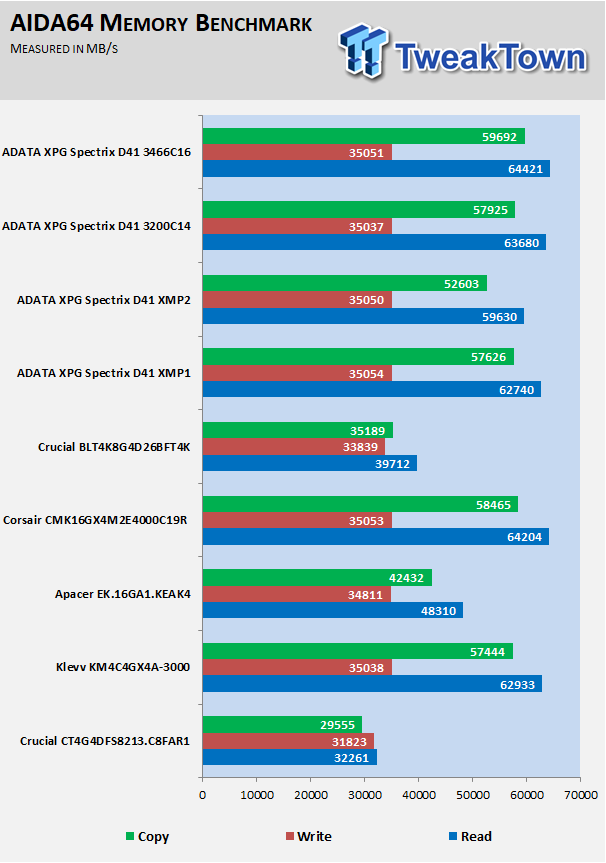 When it comes to testing the bandwidth with AIDA64, the first XMP profile delivers decent results. However, we do see similar results from the slower KLevv memory below it. The second XMP profile is better than we had expected, and either way we overclocked the memory brings results similar to the Corsair 4000MHz kit.
Using AIDA64 as one of the metrics to test with, we see that the Ballistix Tactical Tracer RGB memory plays into it above the 2133MHz kit, and below the 3000MHz set, as expected. Lowering the timings helped thing a little, but overall speed does push the results past the 3200MHz Apacer, but nowhere near the 3000MHz KLevv memory.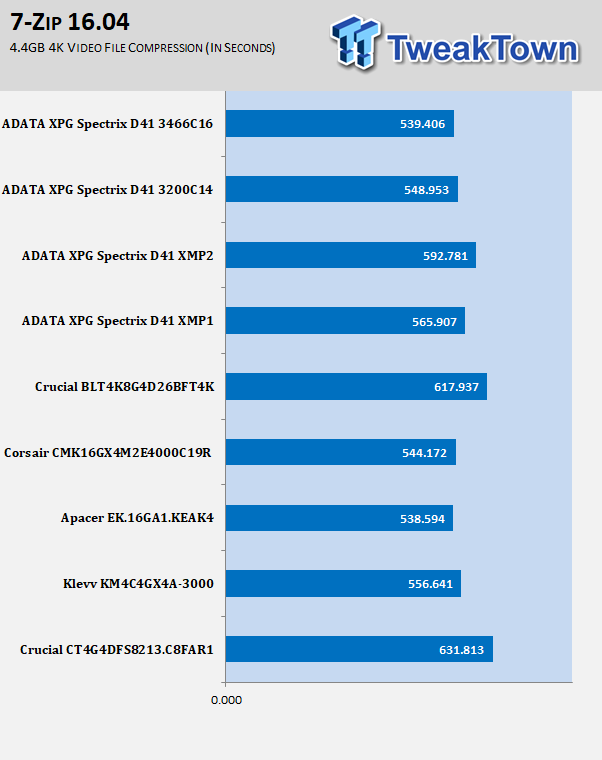 SuperPi times are excellent. XMP 1 is very close to the 4000MHz kit, and the XMP 2 profile is better than others of similar speed in this chart. With the Spectrix D41 overclocked, we get the best results currently on the chart.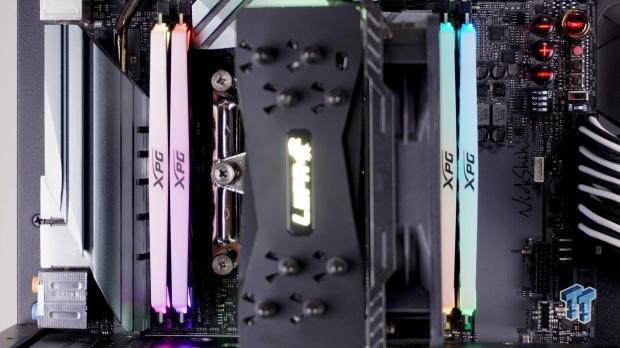 Compressing files seems to put the Spectrix D41 into perspective, where we would expect to see it. XMP 1 is about where it should be but is beat by other slower kits, and XMP 2 does not bode well at all. With lowered timings, the RAM jumps into action, but overall speed puts this RAM in second place overall.
From everything, we have seen thus far, we know three things for sure. The memory looks fantastic, even when sitting on the table. The performance is attractive to users of XMP profiles as well as those who want to get every last drop from their RAM. Lastly, we still have the RGB LEDs to cover, which can be controlled with ASUS, GIGABYTE, MSI, and ASRock motherboards, and for those without it, there is the same XPG RGB SYNC application we saw with the Spectrix D40. So whether you have the right motherboard or not, you do have plenty of effects and modes to play with.
One thing we did like better in the D40 over the D41 is the presentation of RGB LEDs. In the D40 kits, the plastic is nearly transparent, and we were looking at bright and colorful displays of color. In the Spectrix D41, the plastic used is opaque, which dulls the effects if there is any light on or around the memory. In a dark room, the LED displays are sufficient, but it is something to be mindful of in this era of everything being illuminated in some form or another. We took a single snapshot of the memory, which can be seen below, which drives home what we are saying about the intensity, but also shows off eight of the many colors available, all at once.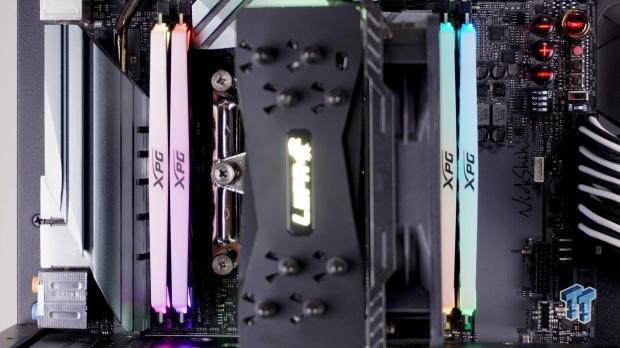 We like the lower profile design this time measuring in at only 45.8mm in height, and we certainly dig the design of the heat spreaders with the large Spectrix logo on both sides. We also like the fact that not only can you grab these kits in various densities and speeds, but if the Titanium Gray we showed you does not match your build, you still have the option of Crimson Red as well. When it comes to buying a set, or two as we have, we found a 16GB kit on Newegg at $189.99. Comparing to similar sticks on the market in speed, density, and timings, this is on the high-end of pricing, but not the highest we see. As received, with 32GB in total, the price is much closer to $380, which is much more affordable than other kits from the more prominent name brands like Corsair and G.Skill. All in all, we do feel that the XPG Spectrix D41 RGB DDR4 is worthy of the effort, and packs enough punch to deliver in aesthetics and performance for the cost.
Chad's DDR4 Quad-Channel Test System Specifications
Chad's DDR4 Dual-Channel Test System Specifications
Motherboard: ASRock X299 OCF
CPU: Intel Core i7 7800X - Buy from Amazon
Cooler: LEPA NEOllusion - Buy from Amazon
Video Card: ZOTAC GeForce GTX 970 AMP. Extreme Core
Storage: Samsung XP941 256GB
Case: Thermaltake Core P3 - Buy from Amazon
Power Supply: Corsair RM750 - Buy from Amazon
OS: Microsoft Windows 10 Home 64-bit - Buy from Amazon
Software: CPU-Z 1.84.0 x64, Super Pi Mod 1.5XS, 7-Zip 16.04, AIDA64 Engineer 5.97.4600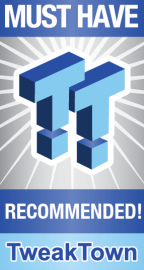 | | |
| --- | --- |
| Performance | 94% |
| Quality | 96% |
| Features | 98% |
| Value | 90% |
The Bottom Line: The XPG Spectrix D41 RGB memory is attractive just sitting there, and once the RGB LED lightshow begins it only gets better. Taking on faster memory and leaving room to overclock is a huge bonus, especially since they do not cost what the faster kits do!
PRICING: You can find products similar to this one for sale below.

United States: Find other tech and computer products like this over at Amazon.com

United Kingdom: Find other tech and computer products like this over at Amazon.co.uk

Australia: Find other tech and computer products like this over at Amazon.com.au

Canada: Find other tech and computer products like this over at Amazon.ca

Deutschland: Finde andere Technik- und Computerprodukte wie dieses auf Amazon.de
We openly invite the companies who provide us with review samples / who are mentioned or discussed to express their opinion. If any company representative wishes to respond, we will publish the response here. Please contact us if you wish to respond.