MSI Z370 GAMING PRO CARBON AC Motherboard Review
MSI's Z370 GAMING PRO CARBON AC motherboard impresses for the amount of features it packs in relation to its solid price tag.
Published
12 minute read time
TweakTown's Rating: 92%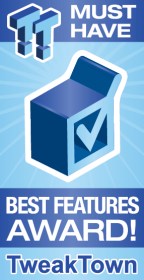 The Bottom Line
MSI's Z370 Gaming Pro Carbon AC strikes an excellent balance between high-end features and a reasonable price.
Introduction, Specifications, and Pricing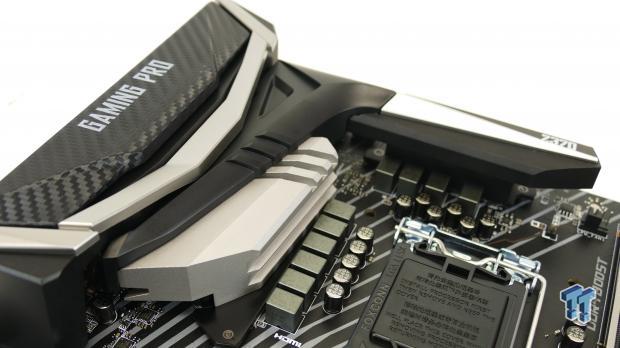 MSI's Gaming Pro Carbon lineup of motherboards are positioned to be the go-to motherboard for gamers and enthusiasts alike. If we ask people what makes a motherboard a gaming product we get a few answers depending on what gamers expect.
Audio and networking are important, then we also get overclocking support, and even RGB LEDs as answers from some people when it comes to what they want in a motherboard for a gaming machine.
The Z370 Gaming Pro Carbon AC is designed to provide a varying level of each gaming requirement at a reasonable price, so let us see how it does.
Specifications

The Z370 GAMING PRO CARBON AC offers two M.2 slots, USB 3.1 on the rear IO, Intel GBit NIC, Wireless AC, USB 3.0, SATA6Gb/s, and a plethora of other top-of-the-line features.
Pricing
The Z370 GAMING PRO CARBON AC costs $199.99, and it's MSI's second highest motherboard for the Z370 chipset.
Packaging and Z370 GAMING PRO CARBON AC Overview
Packaging and Overview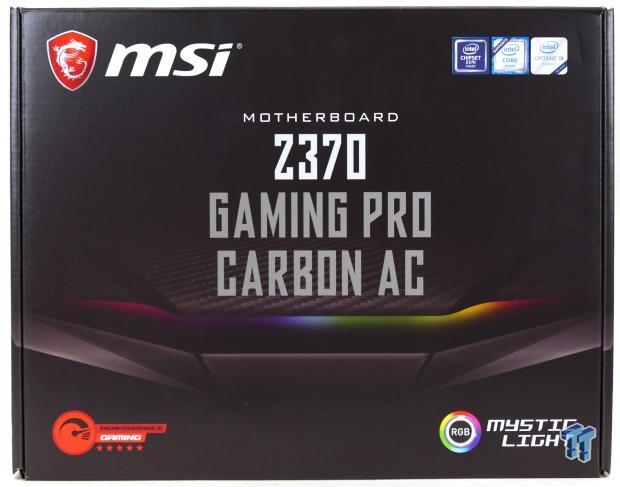 The box for the Z370 GAMING PRO CARBON AC is simple and shows some color to resemble its RGB LED capabilities. Packaging is basic but done well.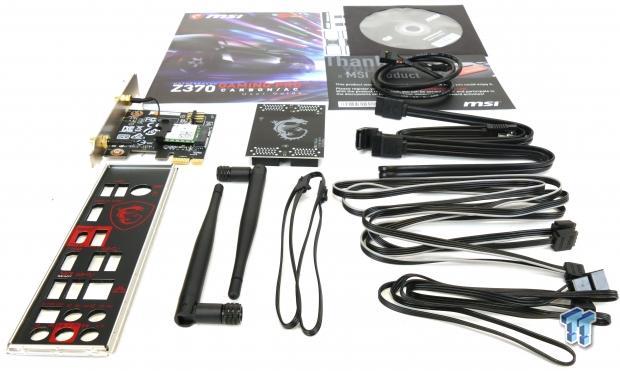 The accessory package includes two SATA6Gb/s cables, RGB LED Y-Splitter/extension cable, JRAINBOW extension cable, Corsair RGB LED extension cable, IO shield, WIFI antenna, SLI HB bridge, Wireless AC card, Wireless AC card USB 2.0 cable, cable labels, manual, and driver DVD.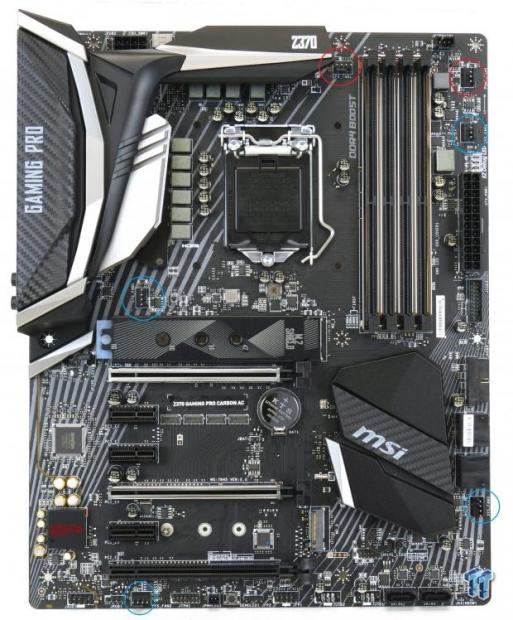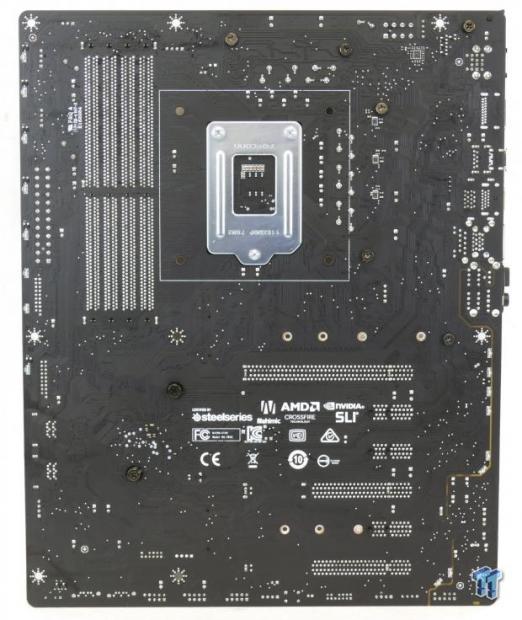 The Z370 GAMING PRO CARBON AC has a total of six fan headers, each one of them is a PWM/DC mode header that offers either mode of operation. The CPU and Pump headers are circled in red, and they operate in PWM mode by default, and I believe the pump fan header operates at full speed by default. The four system fan headers operate as DC/voltage mode headers by default, but you can switch to PWM mode in the UEFI.
The UEFI and MSI's Command Center Utility in Windows both offer control over all the headers on the motherboard. The back of the motherboard is bare of components except for some drivers for the CPU's VRM.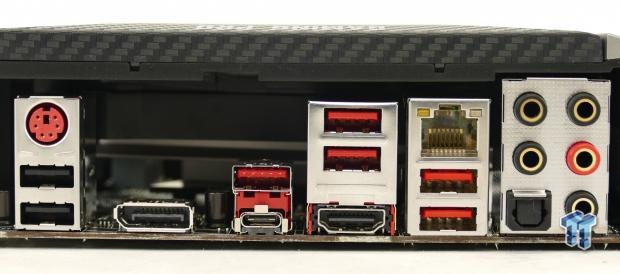 The rear IO panel features PS/2 Keyboard/Mouse, two USB 2.0 ports, DisplayPort, HDMI, USB 3.1 type-C, USB 3.1 type-A, four USB 3.0 ports, 1Gbit LAN port, and 7.1 gold-plated audio outputs with S/PDIF out.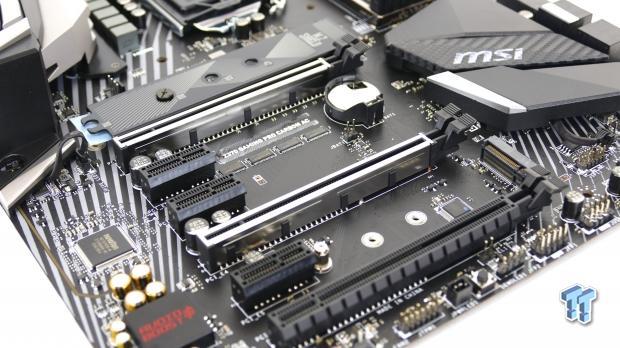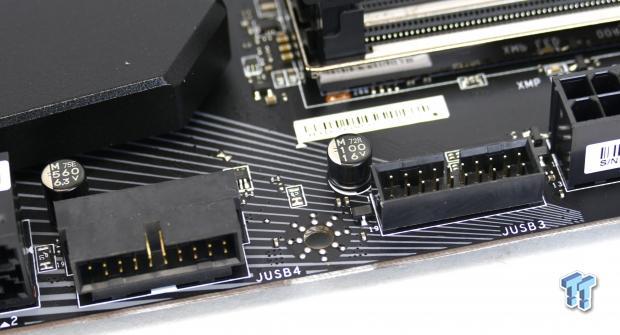 The PCI-E layout is simple; the top two metal reinforced PCI-E x16 slots operate at x16/x0 or x8/x8. The last x16 slot is x4 PCI-E 3.0 routed to the PCH, and the PCI-E x1 slots are x1 PCI-E 3.0 routed to the PCH. You get two internal USB 3.0 headers, one is right-angled, and one is angled straight up.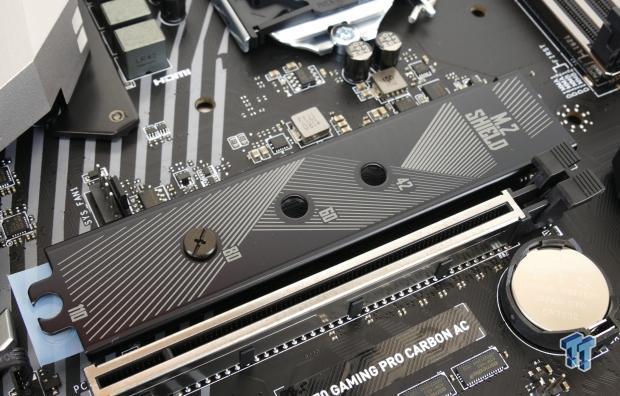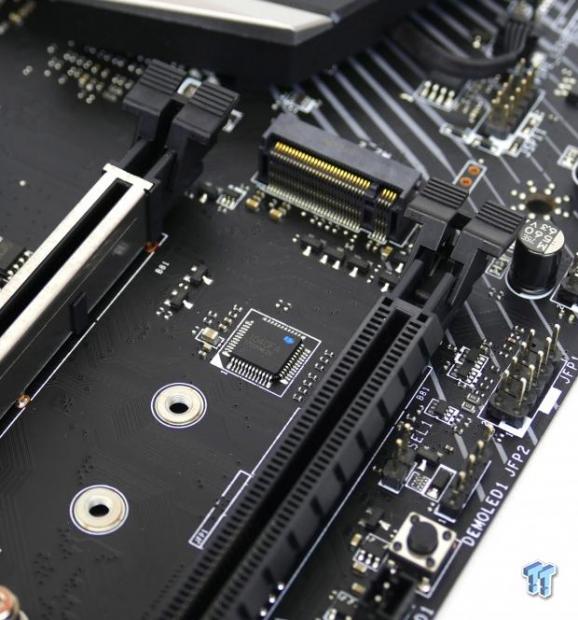 You get two PCI-E 3.0 x4/SATA6Gb/s M.2 slots on the motherboard. Each of these two slots shares some bandwidth with the SATA ports; the manual has a detailed description of how SATA ports and the M.2 slots share bandwidth. The top slot has an M.2 shield, which is used to help reduce M.2 drive temperature.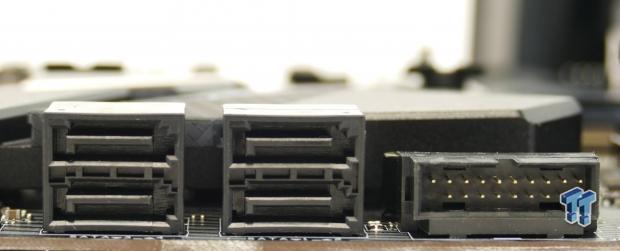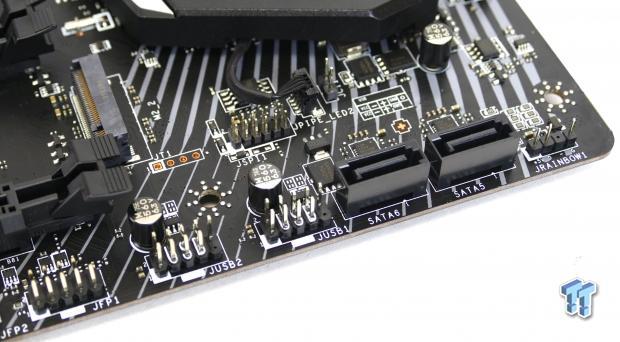 Four of the SATA6Gb/s ports are right-angled while two others are angled up straight. We also find the JRAINBOW (MSI's digital/addressable) LED header in the lower right-hand corner. Two of the USB 2.0 internal headers are located near the SATA ports.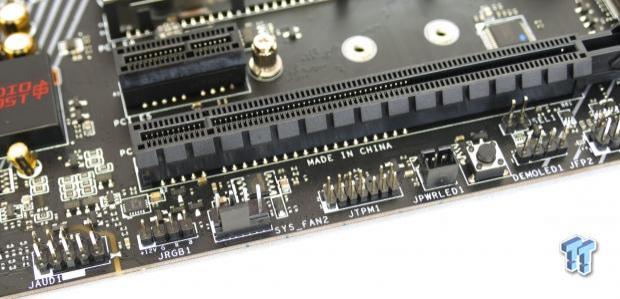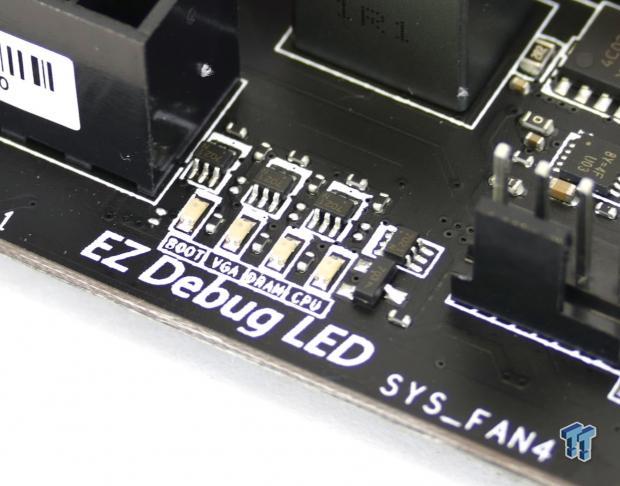 You get a selection jumper for the demo LED button, which controls onboard LEDs without software. The jumper allows the button to switch between modes and colors for those modes. A 5050 RGB header is located in the lower left corner near the audio header, and another is located at the top of the motherboard. EZ Debug LEDs provide some diagnostic capability.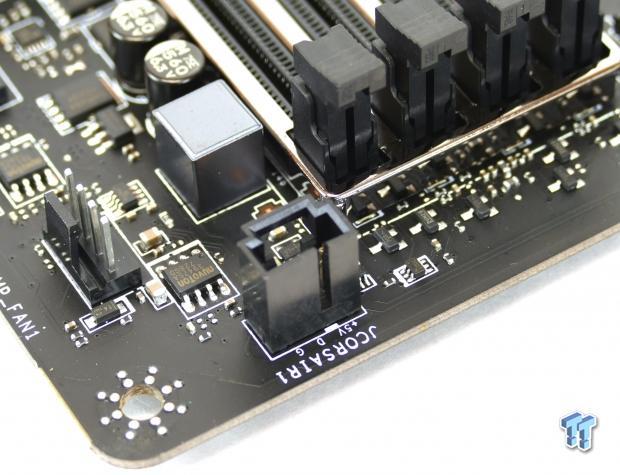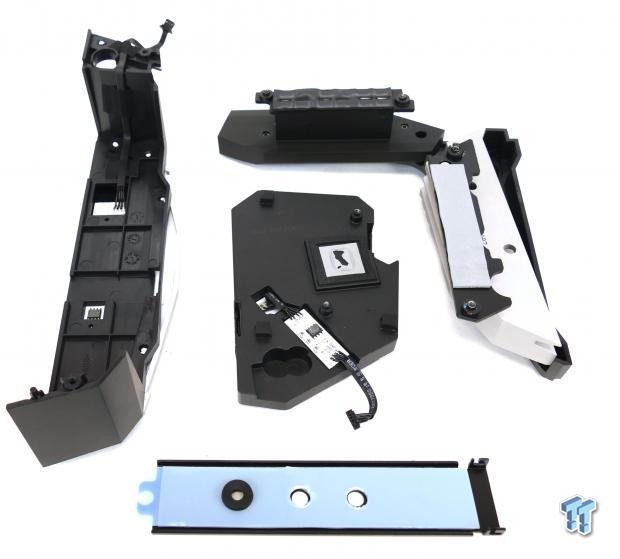 MSI has a second type of addressable/digital RGB LED header called JCORSAIR, and it's specifically designed to control Corsair branded RGB LED strips and fans. The heat sinks are strong and make decent contact with the VRM, but I would check to make sure the screws are tightened all the way.
MSI Z370 GAMING PRO CARBON AC Circuit Analysis
Circuit Analysis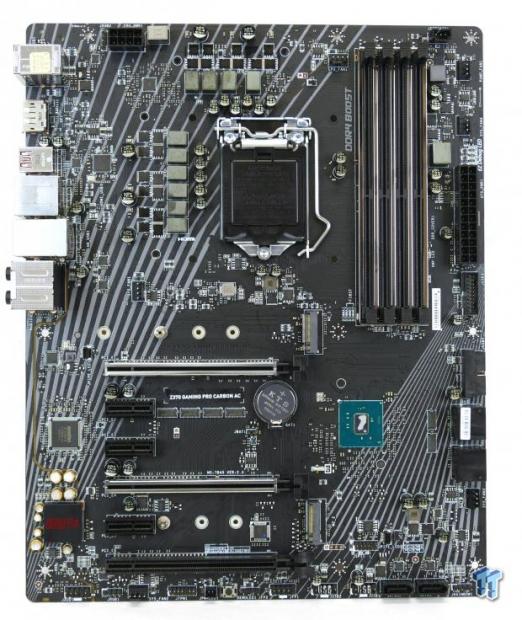 The Z370 GAMING PRO CARBON AC reveals its secrets when the heat sinks and shields come off.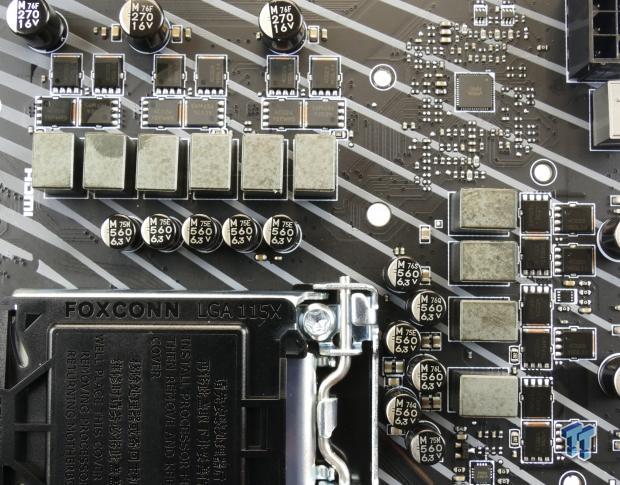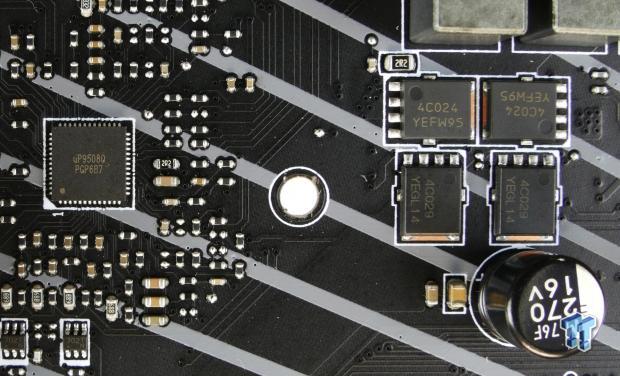 The VRM on the motherboard is in an 8+2 phase configuration and uses double the number of MOSFETs per phase for the CPU VCore and a doubler for the iGPU with a two low one high configuration. A UPI semiconductor solution is used for the VRM, and the main PWM controller is a uP9508Q, which seems to be able to flex one of it's PWM outputs.
It offers 3+2 phase operation, but here we see it in a 4+1 phase mode, and the second PWM channel is doubled to 2 from 1 for the iGPU. Our MOSFETs are On Semiconductor NTMFS4C024N for the low-side and NTMFS4C029N for the high-side, you could get up to 45A per phase output if the inductor allows for it.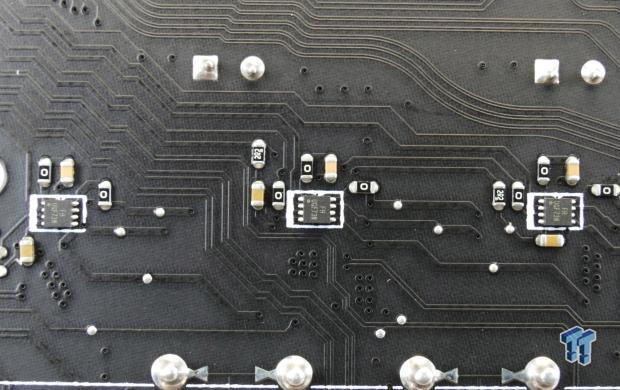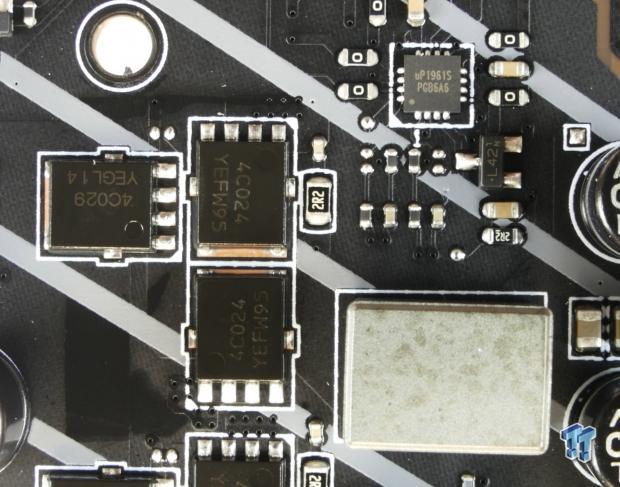 We find four UPI drivers for the VCore, three on the rear of the PCB and one on the topside. The iGPU phases get two low one high MOSFET setup instead of one low and one high for the VCore phases. They also get a doubler with two integrated drivers, the uP1961 for control from the main PWM.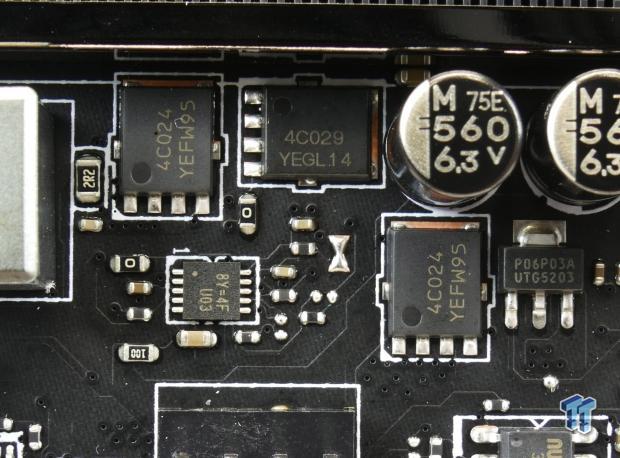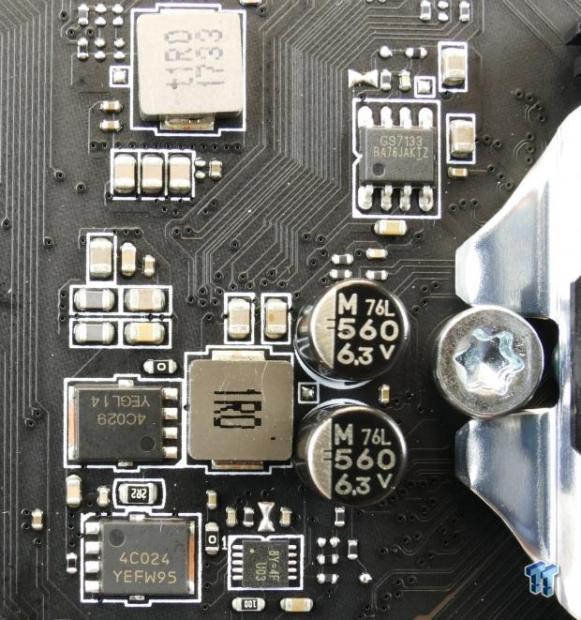 The memory VRM gets a one high two low side configuration for the single phase memory VRM using the same MOSFETs as the CPU VRM. The memory VRM uses a Richtek RT8125E single phase integrated PWM controller. The VCCSA also uses a single phase RT8125, and the VCCIO uses a linear VRM.
MSI Z370 GAMING PRO CARBON AC Circuit Analysis Continued
Z370 GAMING PRO CARBON AC Circuit Analysis Continued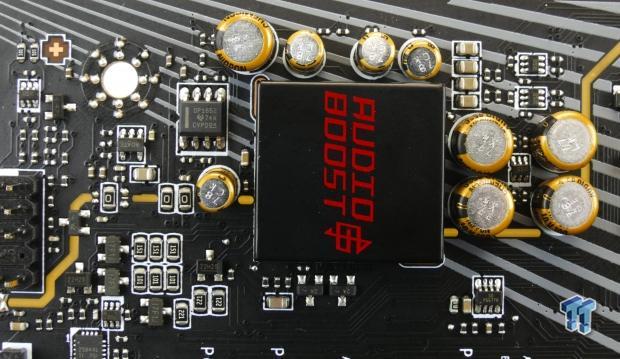 MSI uses a Realtek ALC1220 120dB SNR audio codec with integrated headphone amplifier (rear IO), and it's located under a metal EMI shield. A Texas Instruments OP1652 provides amplification for the front panel HD audio header. There are also Nippon Chemicon gold series electrolytic capacitors for the audio outputs and physical PCB division for the audio section.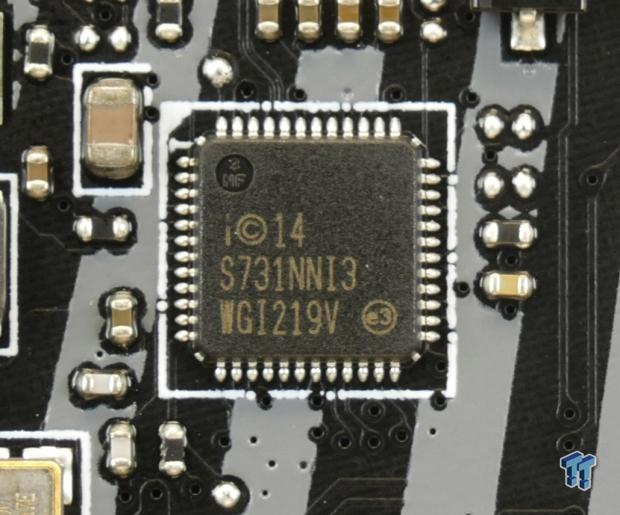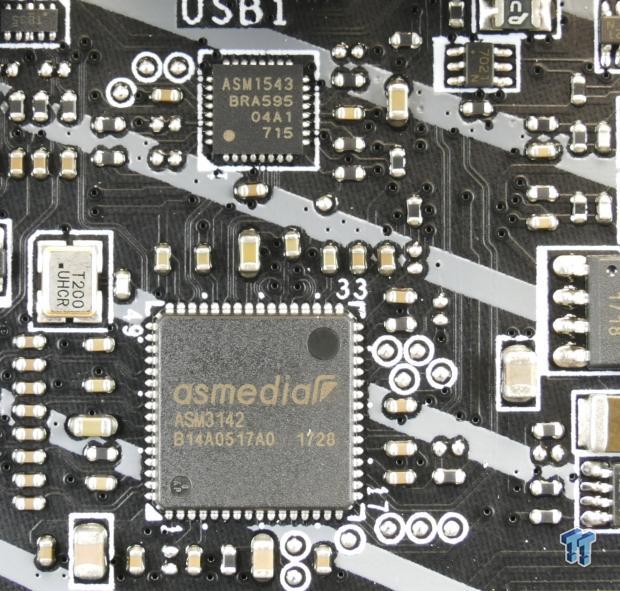 The wired NIC uses Intel's i219v consumer PHY that works with the MAC in the PCH to produce a 1Gbit NIC. Wireless AC and Bluetooth are provided by an Intel 8265 Wireless AC controller located on a card. The rear IO has two USB 3.1 ports that are provided by an ASMedia ASM3142. An ASMedia ASM1543 provides type-C port switch and CC logic capabilities.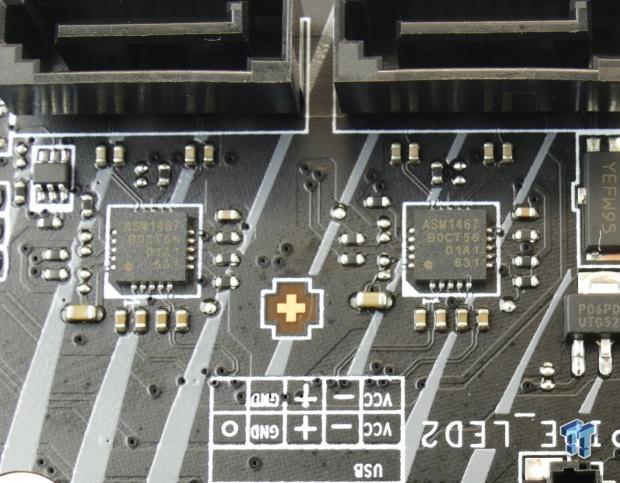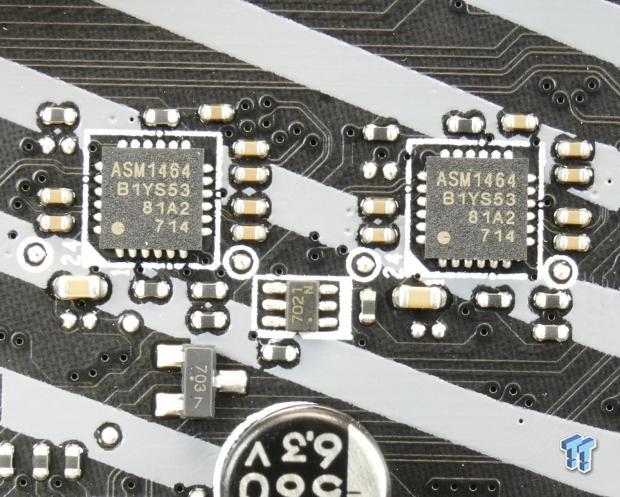 The motherboard also provides multiple re-drivers for the USB 3.0 and some SATA6Gb/s ports. The ASM1467 and NGFF re-drivers and the ASM1464 are USB 3.0 re-drivers.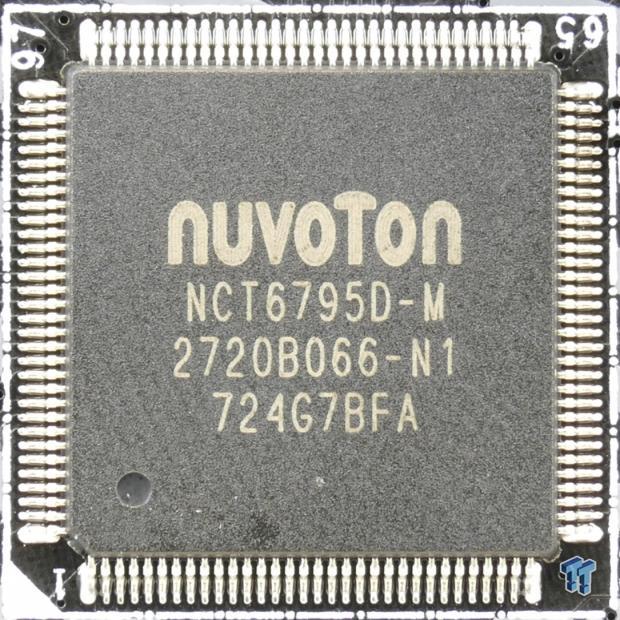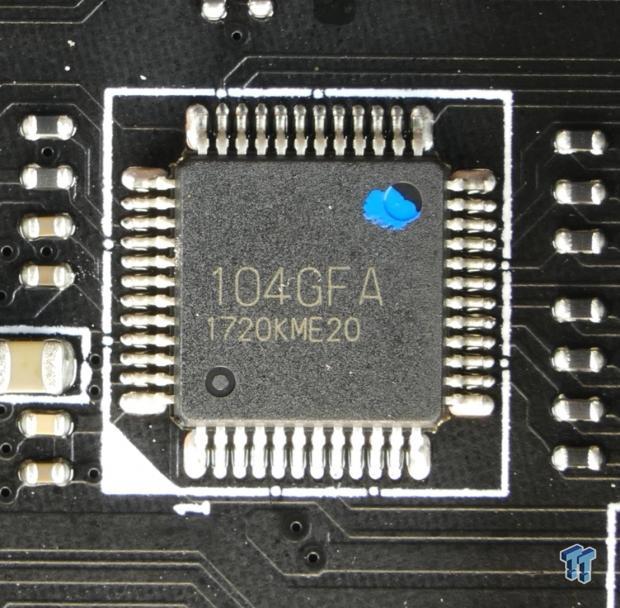 The main SuperIO controller is the nuvoTon NCT6795D, which provides PS/2, fan control, and hardware monitoring. A microcontroller labeled 104GFA is a suspected contender as the main digital/addressable RGB LED controller for the built-in RGBs and the headers.
BIOS and Software
BIOS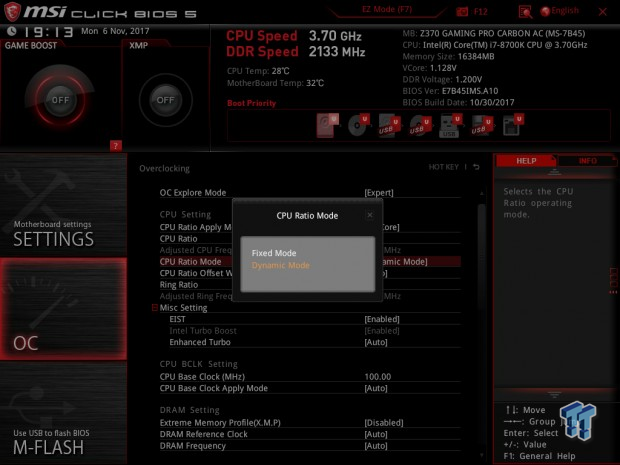 The UEFI BIOS on the motherboard is much like those on other MSI motherboards. It offers a wide range of settings, and even includes options to secure erase SSDs. Fan control is provided through a GUI and is well designed.
Overclocking settings are plentiful, and I like the ability to choose between putting the CPU into dynamic versus fixed mode. If in the fixed mode the CPU multiplier always stays steady, and you should use override VCore, but if you are in the dynamic mode you should use adaptive VCore, so it drops with CPU frequency.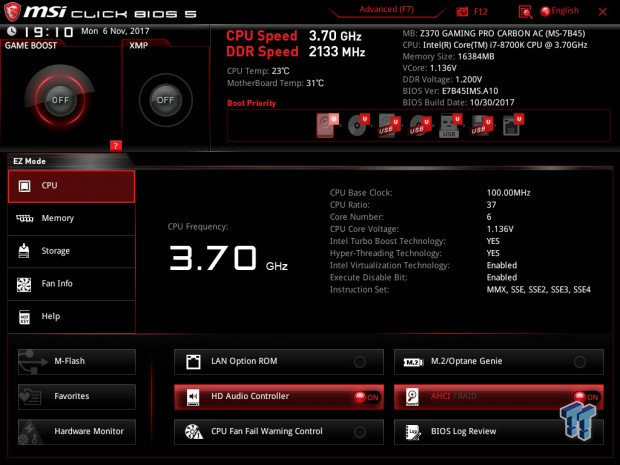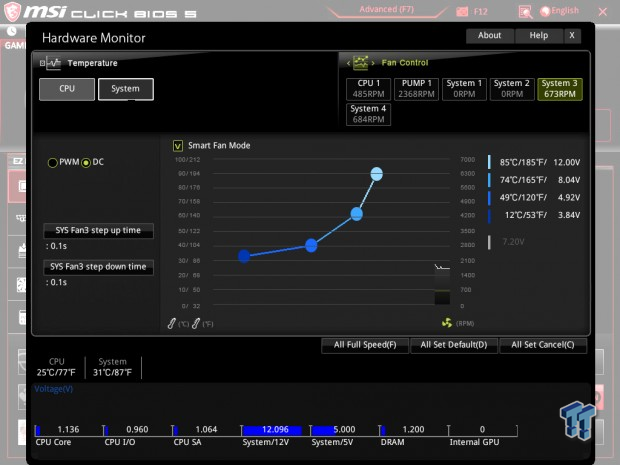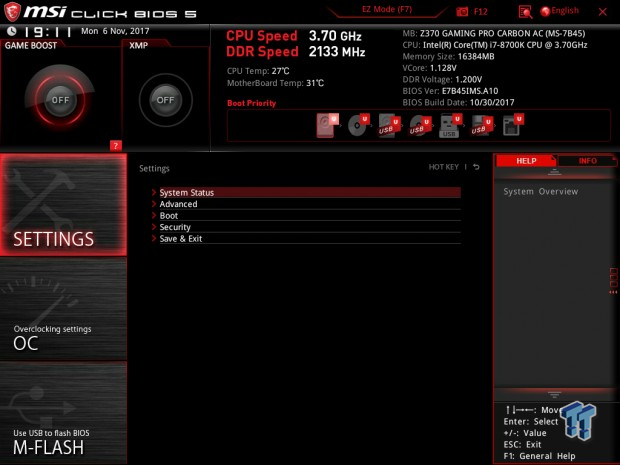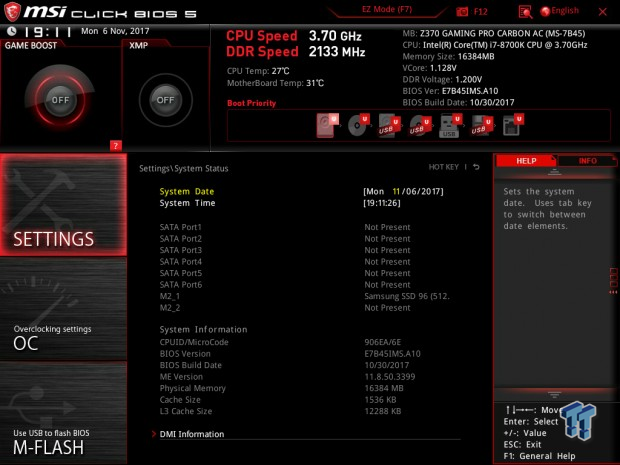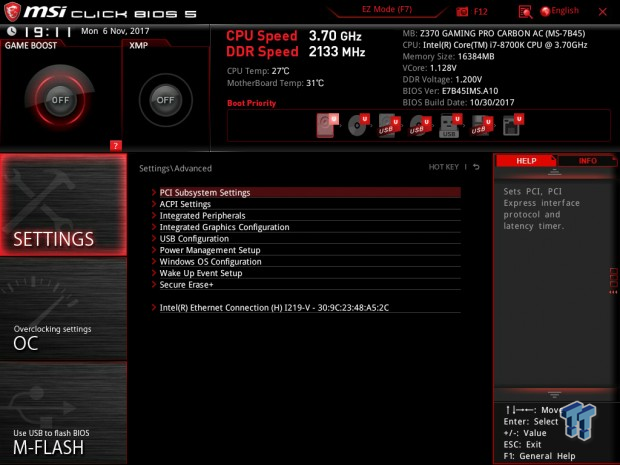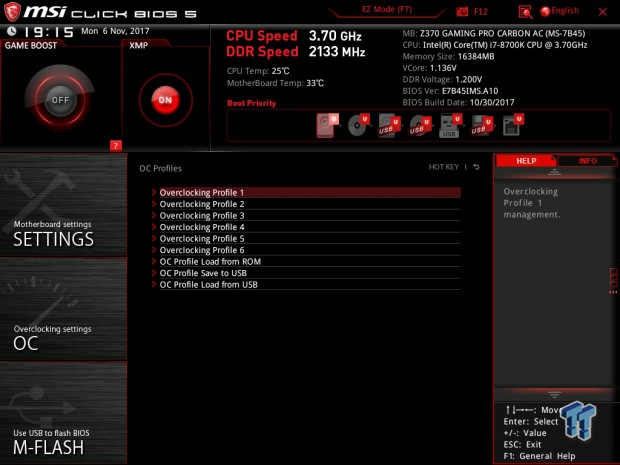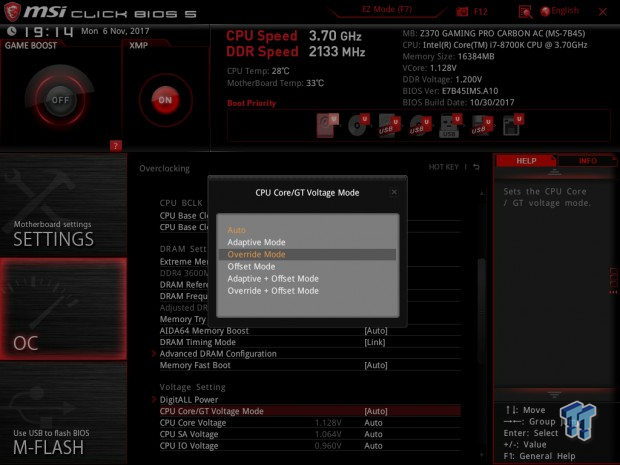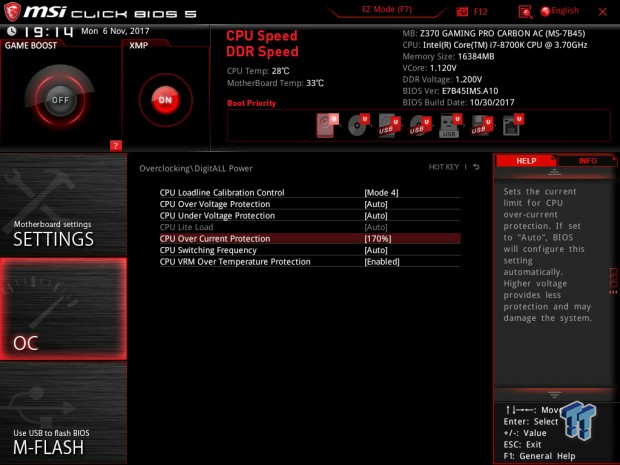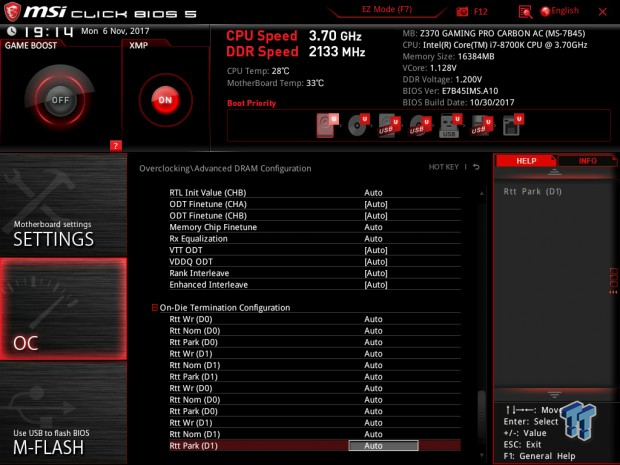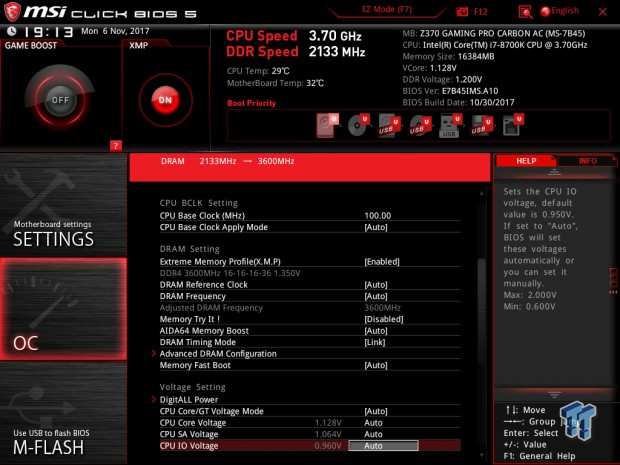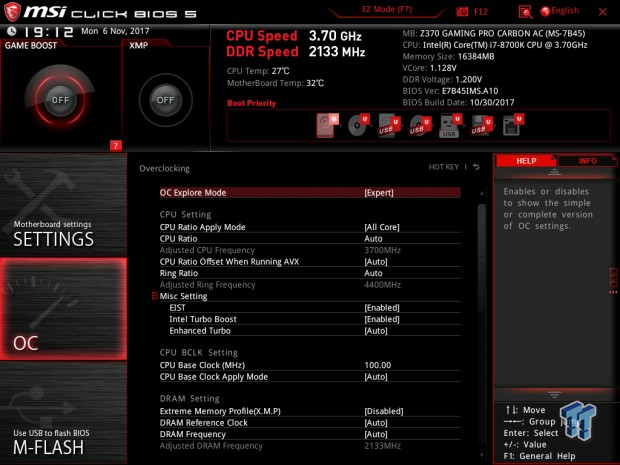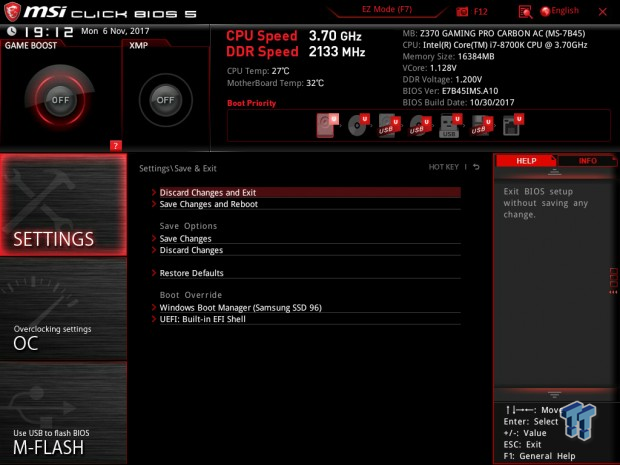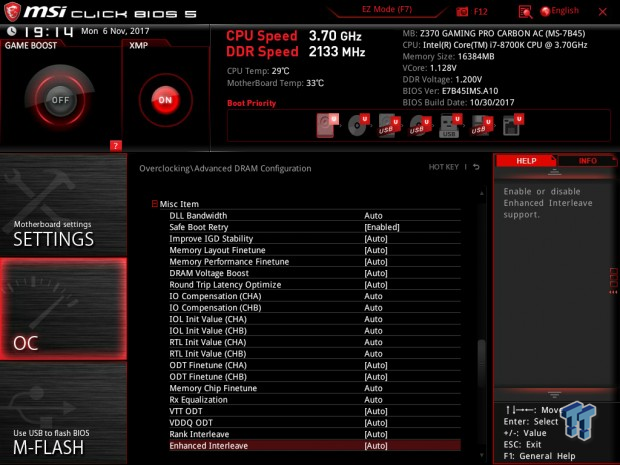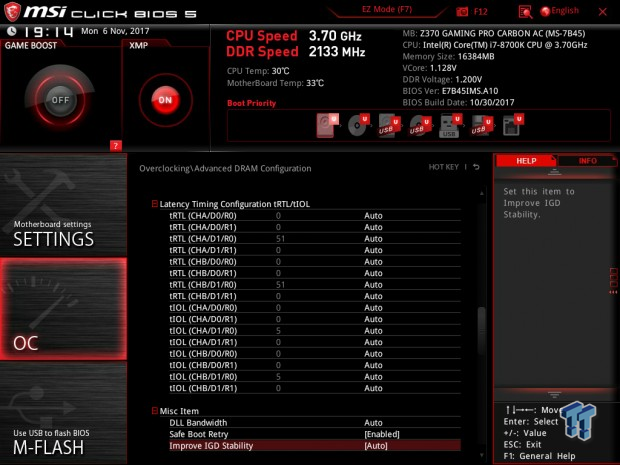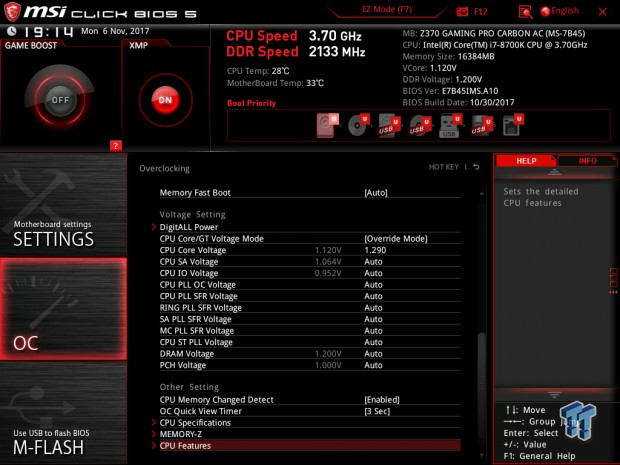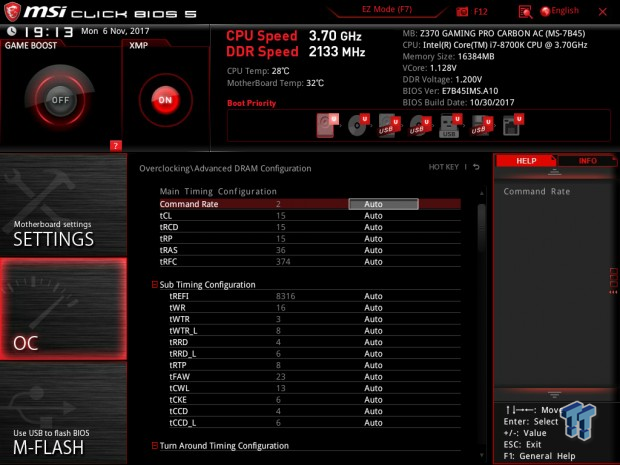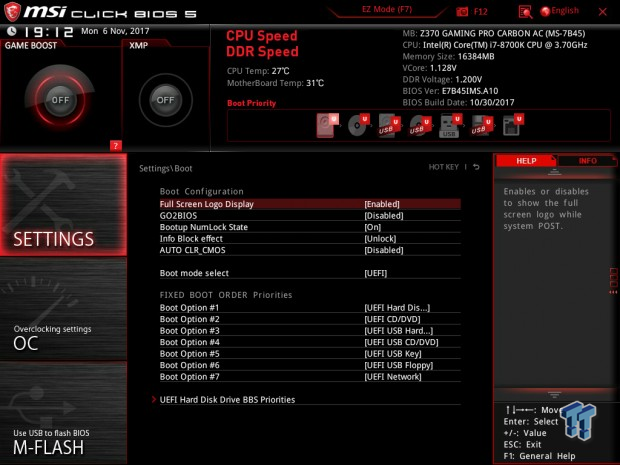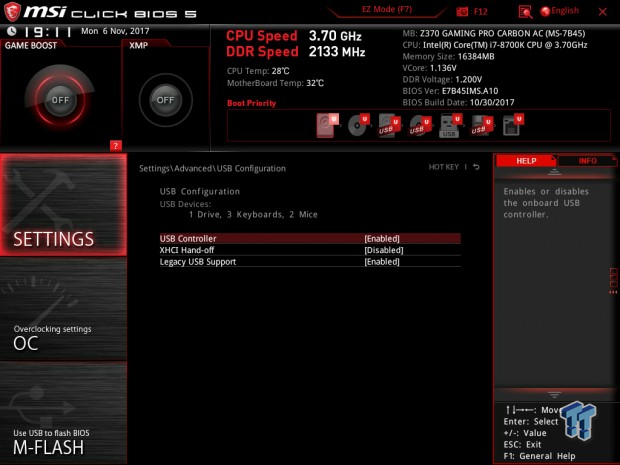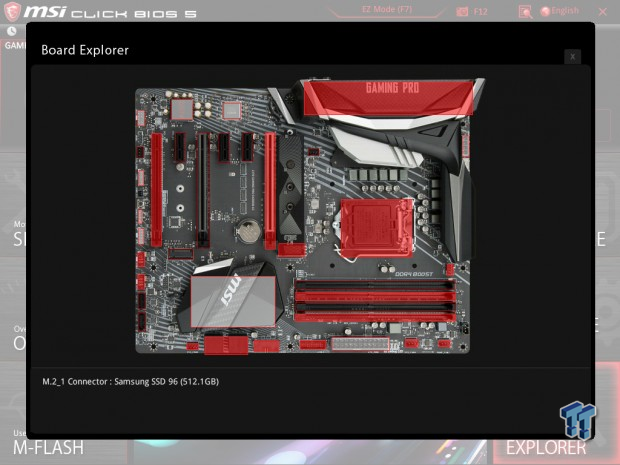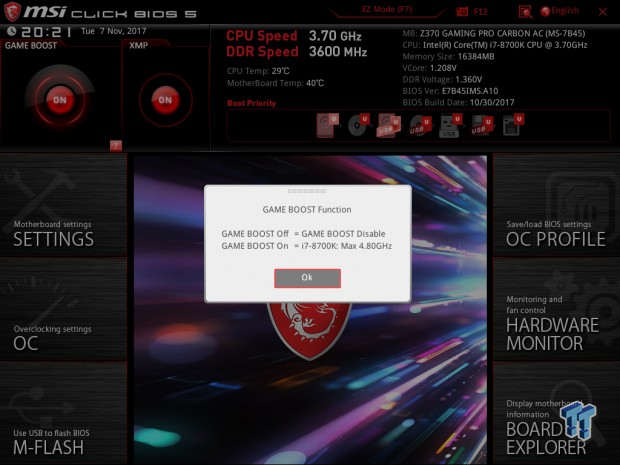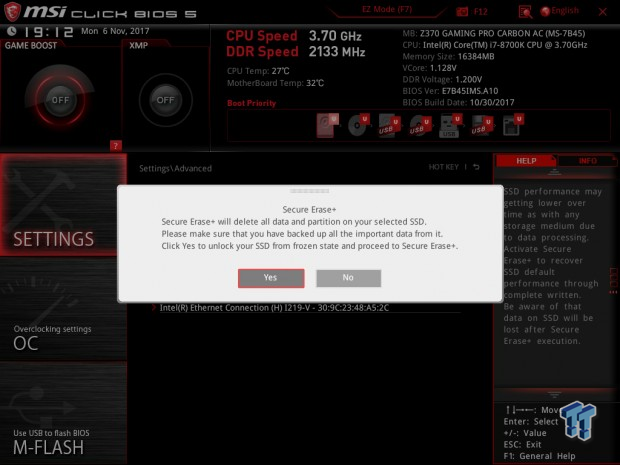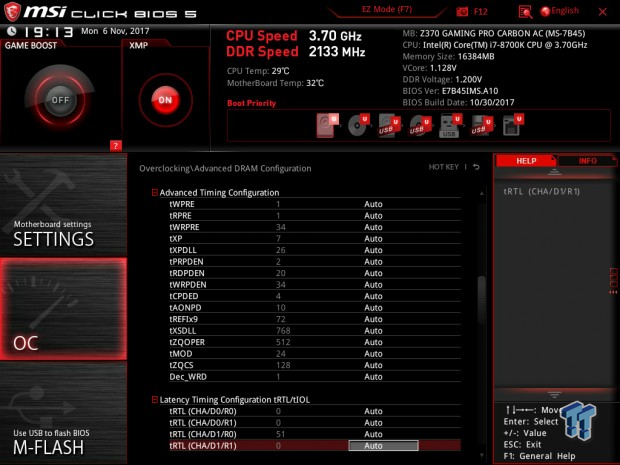 Software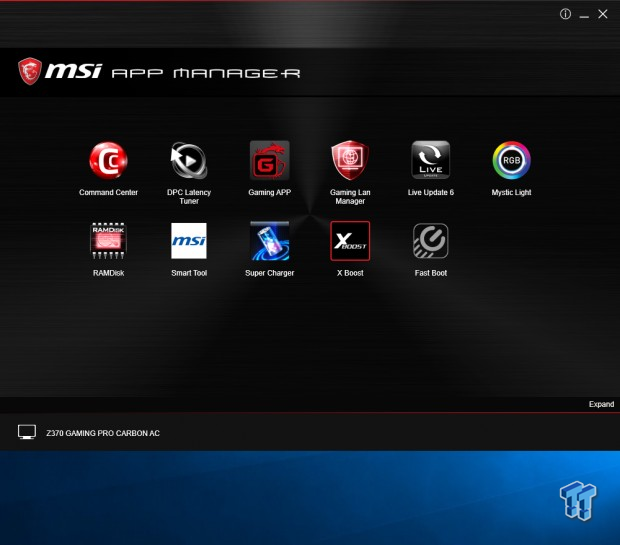 MSI includes LiveUpdate 6, Mystic Light, X-Boost, Command Center, MSI Gaming APP, RAMDisk, Nahimic 2, DPC Latency Tuner, TriDef VR, MSI Smart Tool, APP Manager, SuperCharger, Fast Boot, and SteelSeriesEngine 3.
Test System Setup
Steven's Motherboard Test System Specifications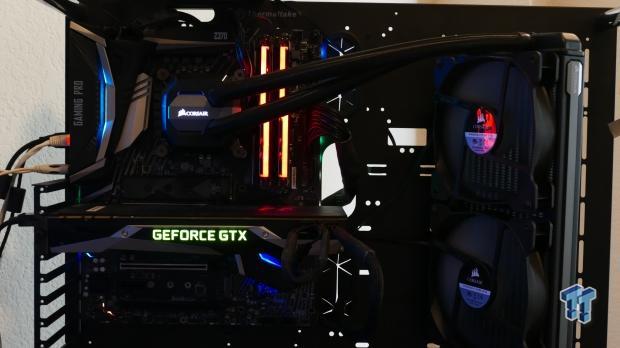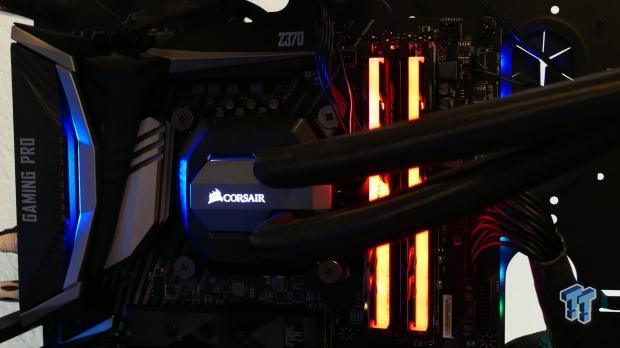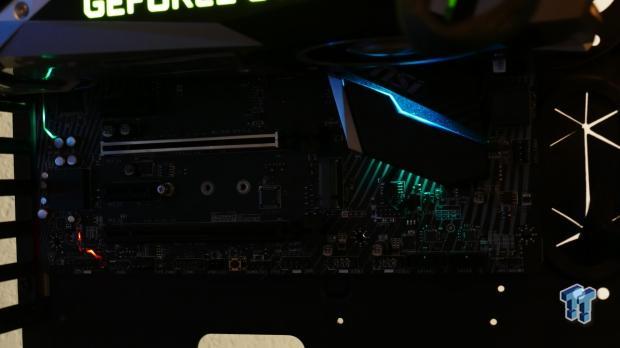 The Z370 GAMING PRO CARBON AC has multiple built-in RGB LEDs, and they look nice. They aren't super bright, and they don't overpower the rest of the LEDs.
It also seems that the RGB LEDs on the back of the PCB and in some of the shields are digital/addressable, meaning individual LEDs can change color without all of the LEDs in the group changing colors, which is a nice feature.
Overclocking
Overclocking Results
CPU Overclocking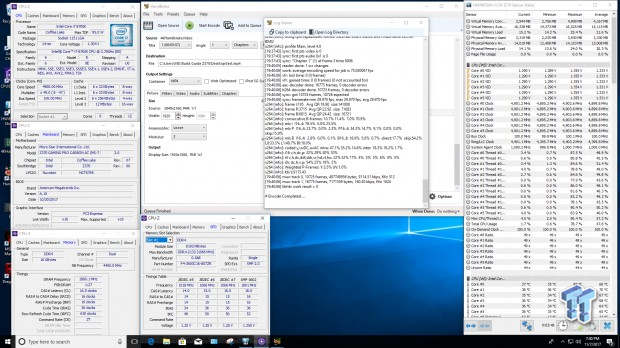 The Z370 GAMING PRO CARBON AC has a decent VRM, and since I had it actively cooled, I had no issues overclocking. I set VCore to 1.3v with mode 4 LLC, increase current capability for the PWM, and enabled XMP. The kit had zero issues overclocking up to where we expect it to be, although we don't know how it will do with a delidded CPU or under subzero cooling.
Compatible Memory Overclocking Kits
In this section, I overclock four memory kits only using XMP, if the kit works then the results are below. I welcome memory vendors to send in their kits to be tested on each motherboard.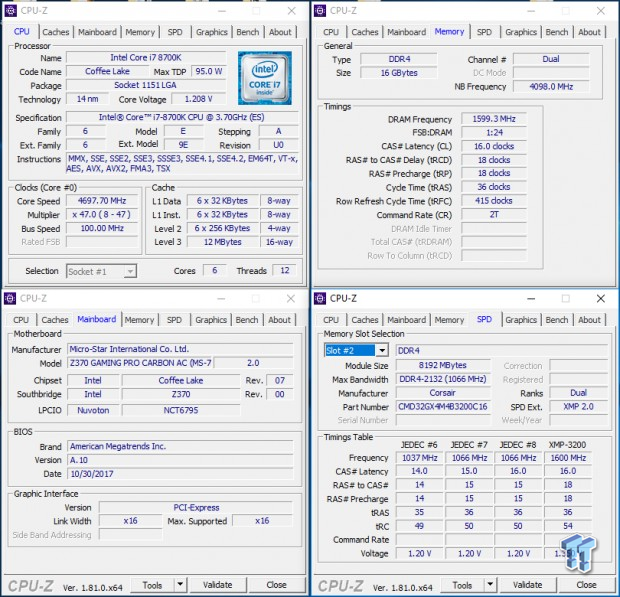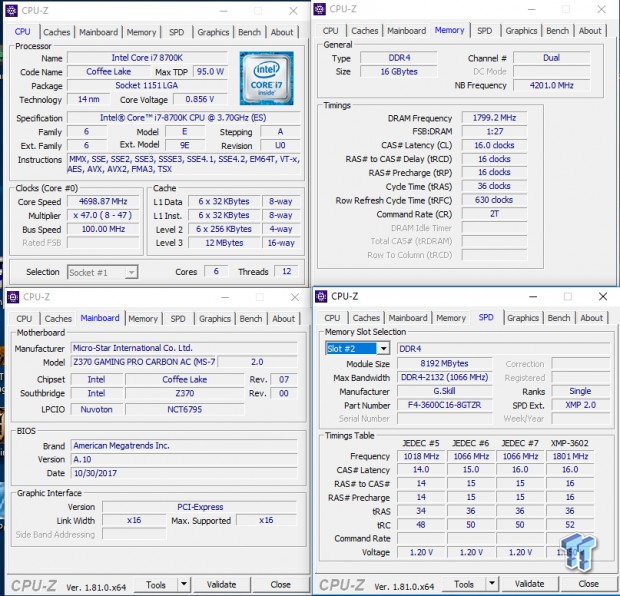 The board easily overclocked the Dominator Platinums to 3200MHz and the TridentZ to 3600MHz using just XMP. G.Skill TridentZ RGB 3600MHz 32GB (2x8GB) and Corsair Dominator Platinum 3200MHz C16 (8GBx2) overclocked with ease.
CPU, Memory, and System Benchmarks
CINEBENCH 11.5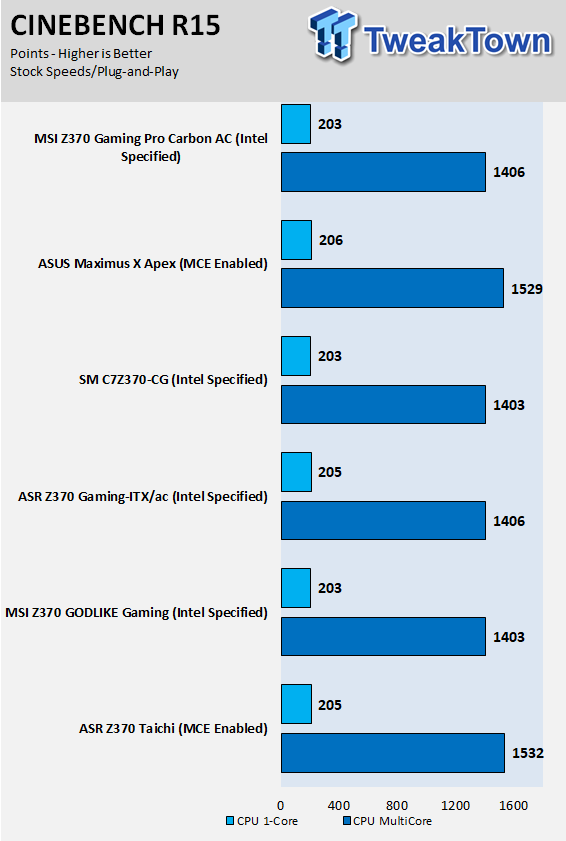 wPrime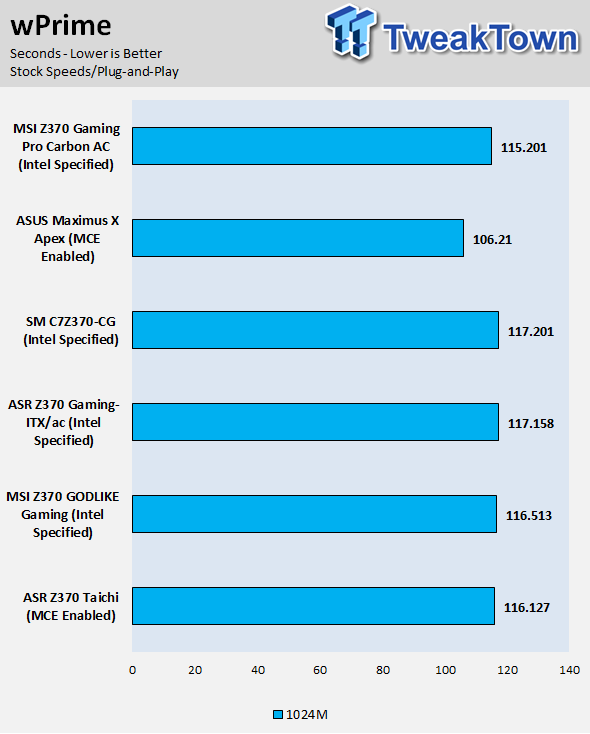 AIDA64 FLOPS and IOPS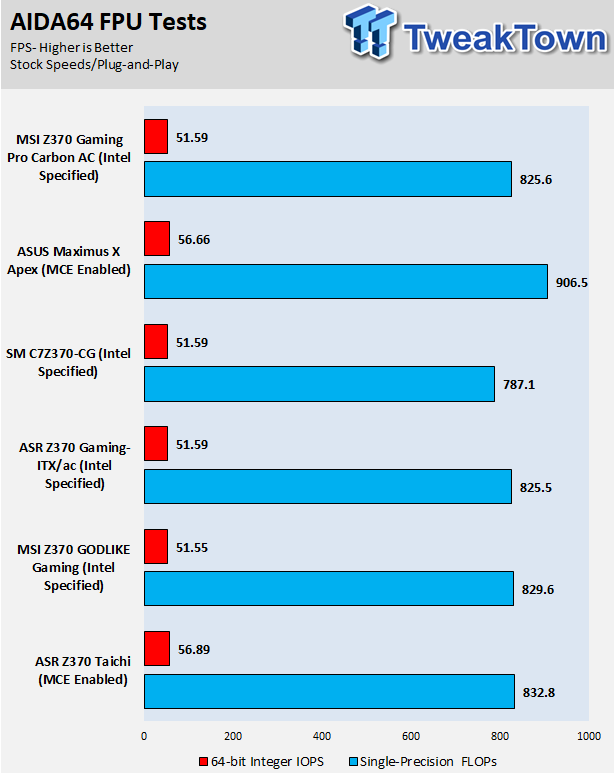 AIDA64 Memory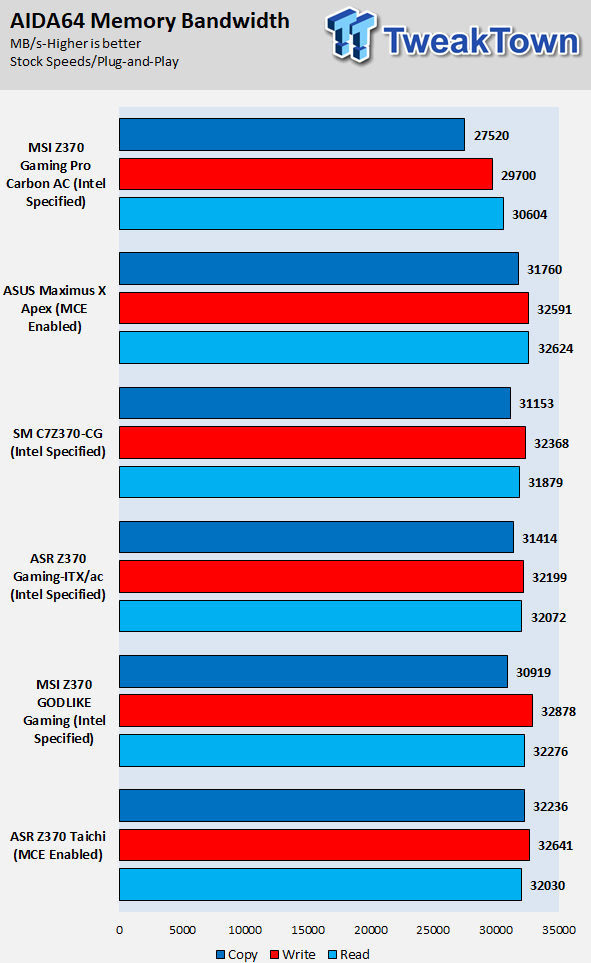 ScienceMark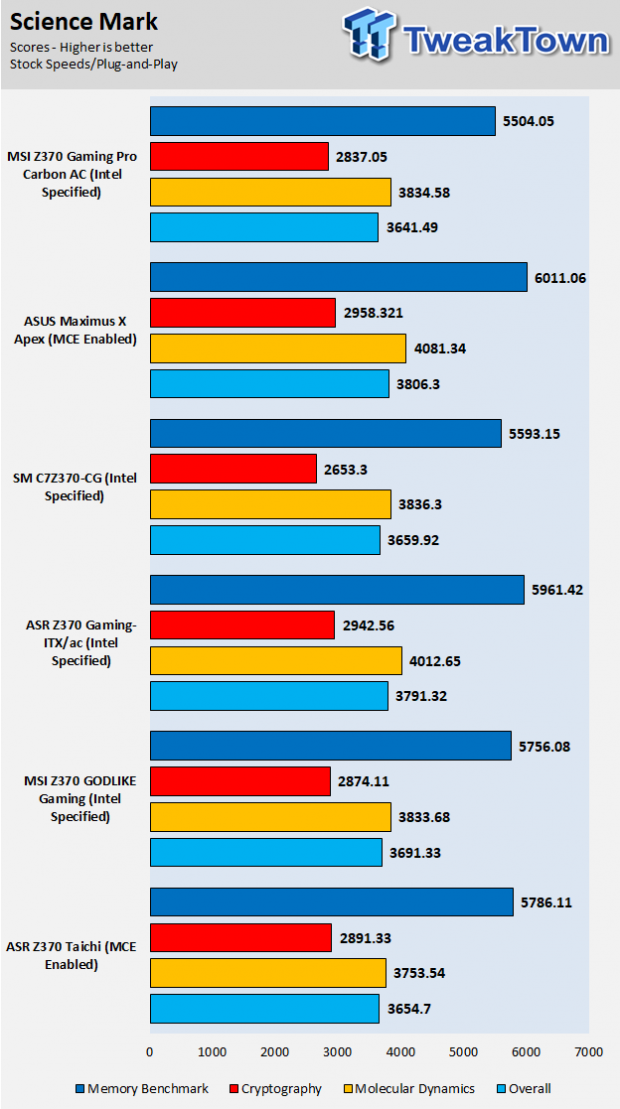 HandBrake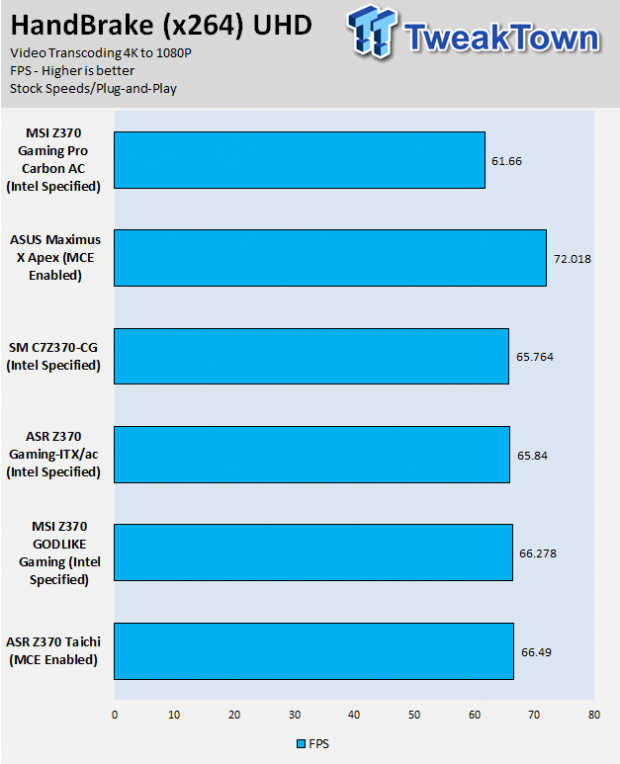 3DMark: Fire Strike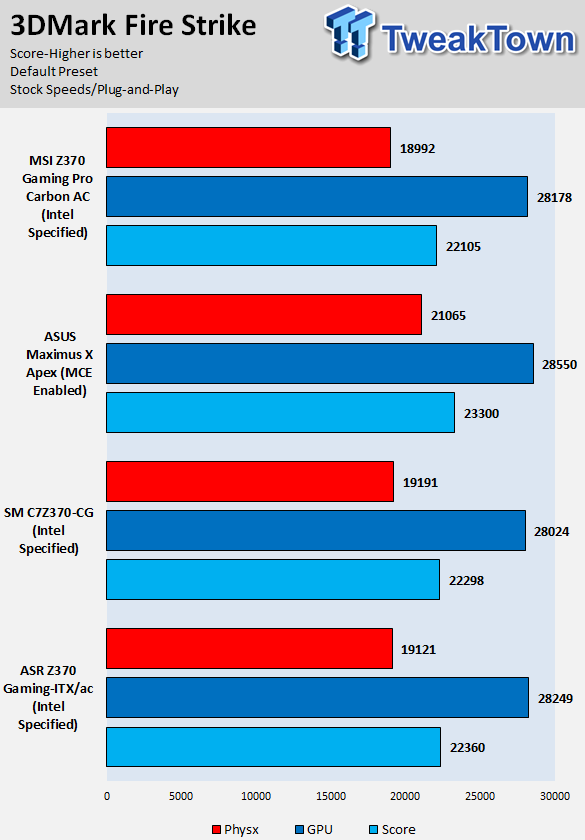 3DMark: Cloud Gate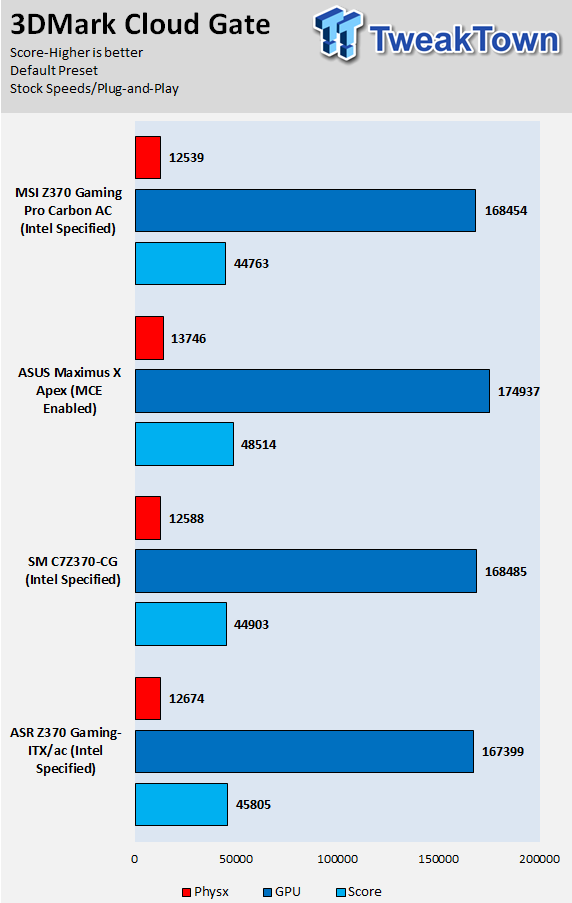 ResidentEvil 6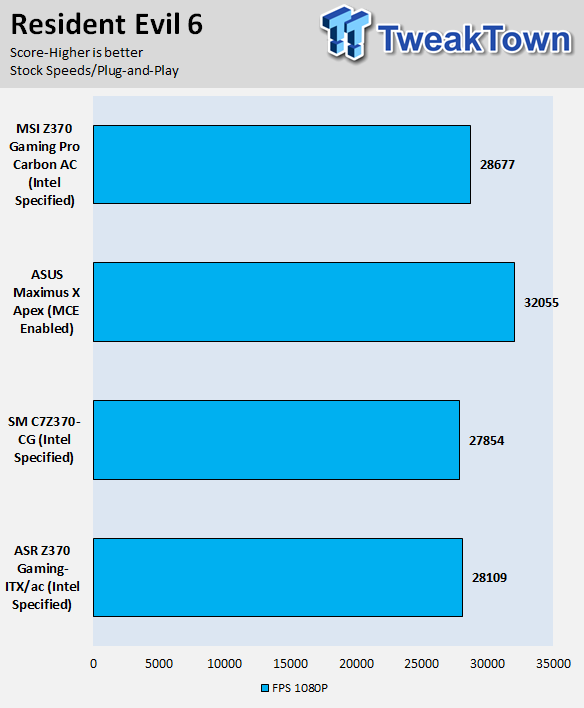 These tests are done out of the box, so I have decided to include whether or not the vendor has implemented some type of default overclocking, such as multi-core enhancement. Multi-core enhancement is when the motherboard vendor pushes all cores to maximum turbo speeds instead of just one or two.
MCE, as I will call it, can cause instability if your CPU isn't great, and we would hope vendors would have it off by default, but it does offer a free performance boost out of the box. Some motherboards also might increase the BCLK a bit over stock to score higher, and some might even mess with the turbo boost table. If we standardize settings, then most motherboards should perform the same, but in this case, we haven't.
Overall, the Z370 GAMING PRO CARBON AC offers solid performance numbers across the board, there are some regions where performance isn't crazy impressive, but overall, I didn't see any big performance pitfalls or issues. The motherboard does offer built-in auto-overclocking that works quite well, but you have to turn it on in the UEFI or through Command Center in Windows.
System IO Benchmarks
CrystalDiskMark SATA6G: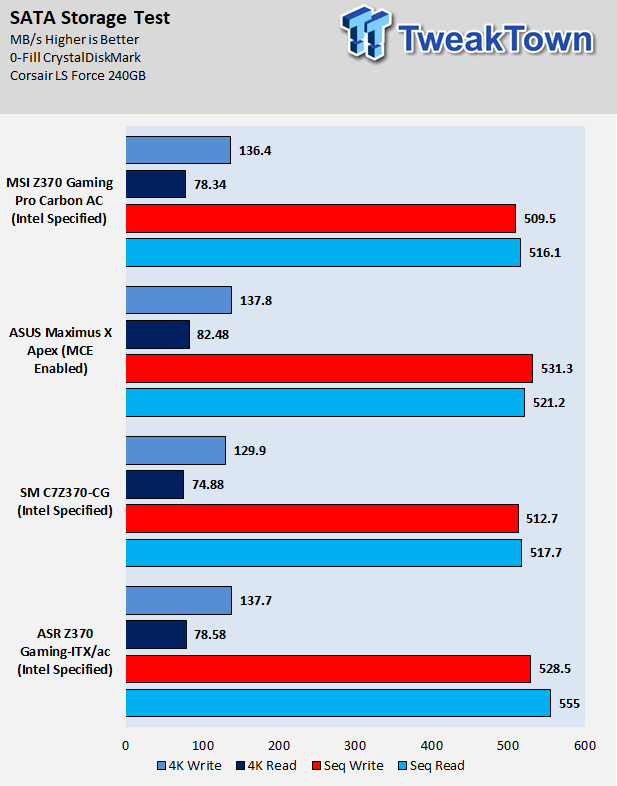 CrystalDiskMark M.2: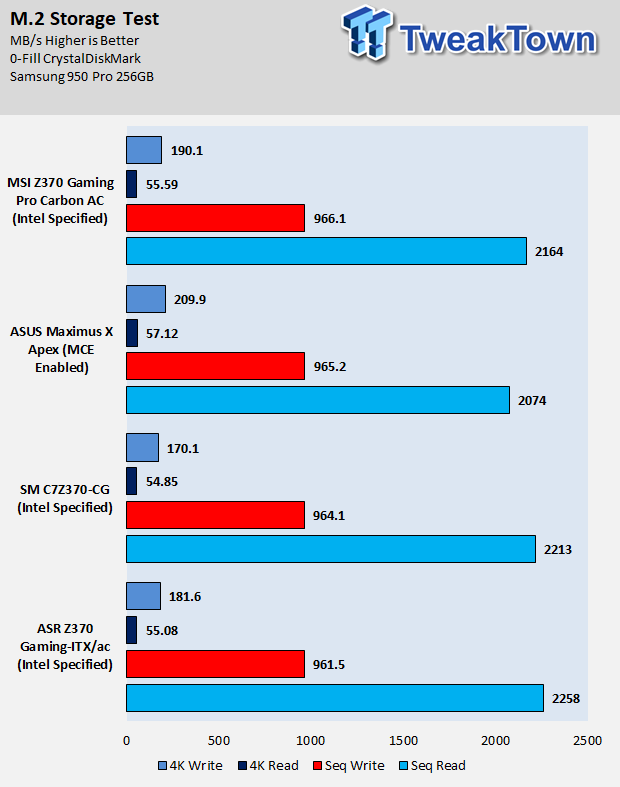 ixChariot Network Throughput: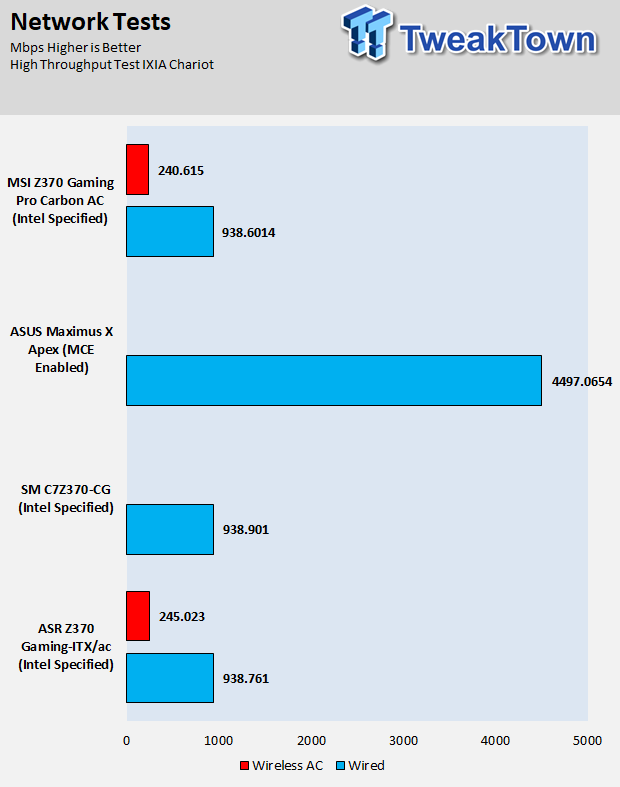 The Z370 GAMING PRO CARBON AC's M.2, SATA, and Networking performance are all well rounded and score exactly where they should.
Audio RMAA 5.5:
I disable all audio features, set the correct bitrates, and then test the audio with a loopback test.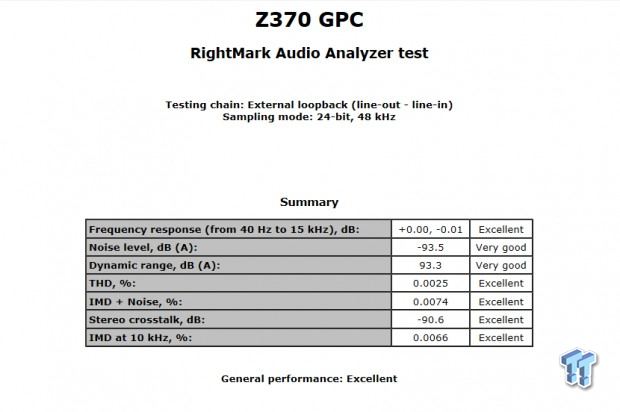 Sound Judgment by Ear: Excellent, very clean implementation with admirable results. There are five ratings for audio: 1. Problems, 2. Okay, 3. Acceptable, 4. Very good, 5. Excellent
Thermal Imaging and Power Consumption
System power is measured at the wall with an AC power meter.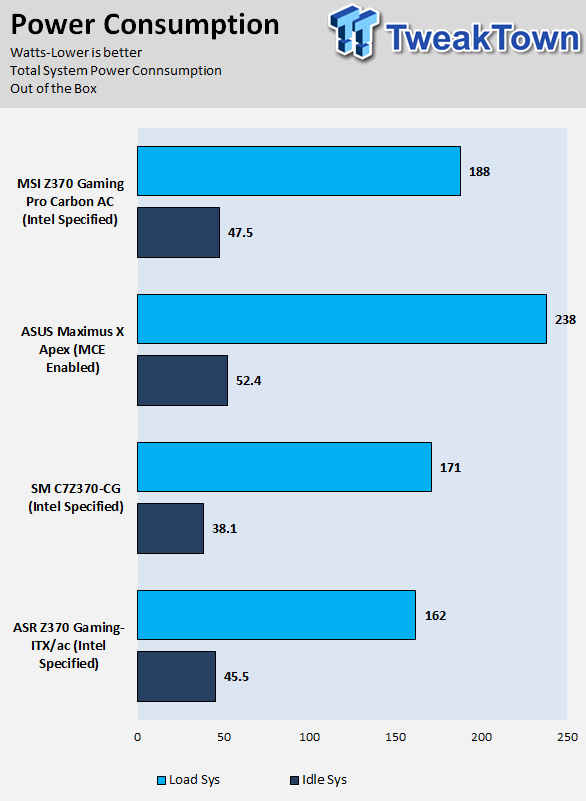 Note on Thermal Images: In the temperature section, we use our Seek thermal imaging camera to capture the surface temperatures of major components on the board. I look at the VRM and then all other things that light up the screen. If there is something to worry about, then I will state it. Otherwise, I will just show the hotter running parts of the board for fun. Unless some component is over 80-90C, then there isn't anything to worry about.
All systems will act differently, so I will look for commonalities, such as how far from the VRM the heat spreads through the PCB and the difference in temperature between the front side and backside of the PCB. Keep in mind, the majority of the heat from the VRM goes into the PCB as it is a giant soldered on copper heat sink. A larger difference in temperature between the back and front of the PCB points towards a more effective heat sink.
Thermal Testing at Stock Speeds:
The image on the left is always at idle, and the image on the right is at load. During ALL TESTS, fans to the right of the motherboard from the (Corsair H110i) radiator are left on automatic mode (ramps with internal block temperature). Additionally, a 120mm fan is situated right above the VRM, and it blows down at a medium rate (very quiet). Thermal Images are taken at loop 15 of Intel Burn Test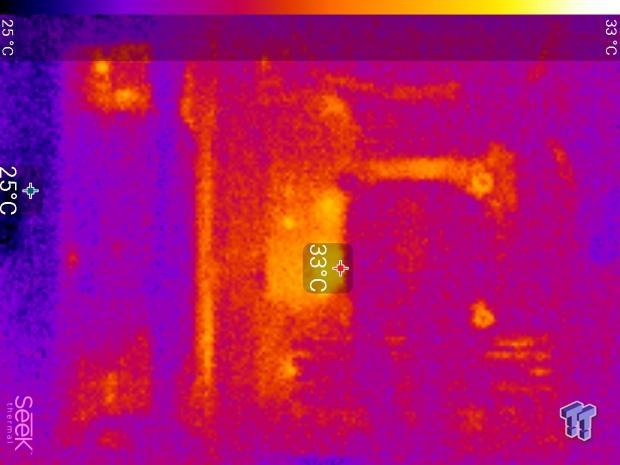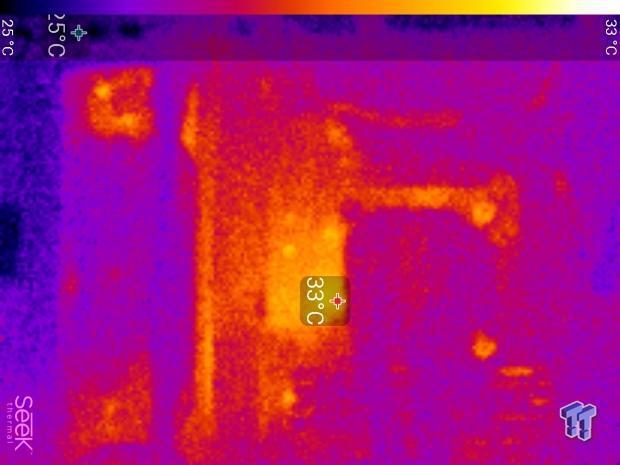 Full frontal.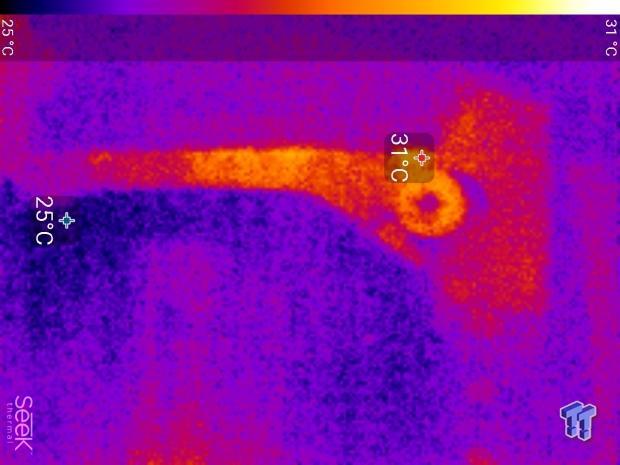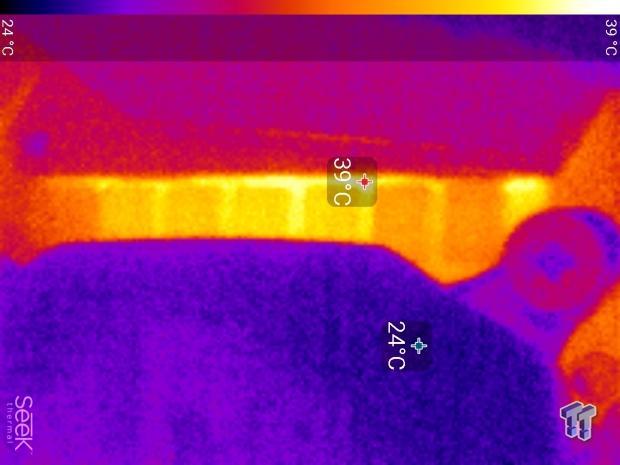 Up-close of the front of the VRM.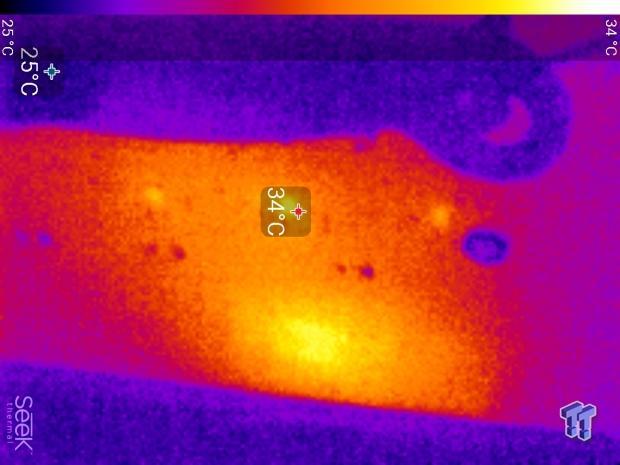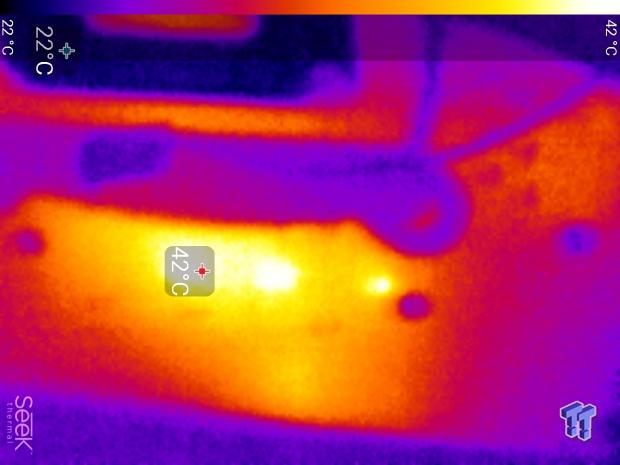 Up-close of the back of the VRM.
Thermal Testing at 4.9GHz/1.3v Overclocked Speeds:
The image on the left is always at idle, and the image on the right is at load. During ALL TESTS, fans to the right of the motherboard from the (Corsair H110i) radiator are left on automatic mode (ramps with internal block temperature). Additionally, a 120mm fan is situated right above the VRM, and it blows down at a medium rate (very quiet). We standardize this test with a 4.9GHz on all cores with 1.3V real under load and take pictures at the 80% mark of HandBrake rendering a 4K video.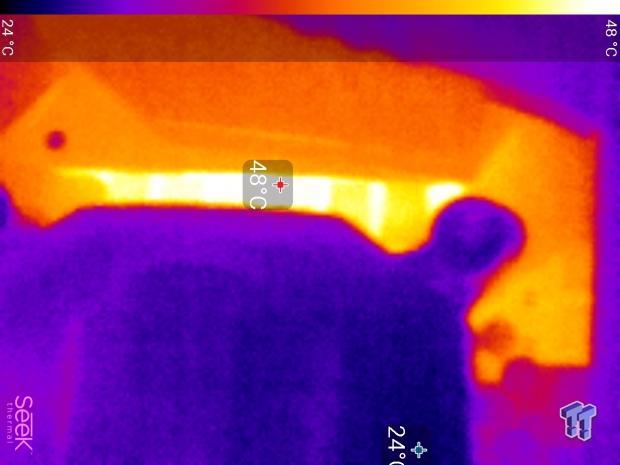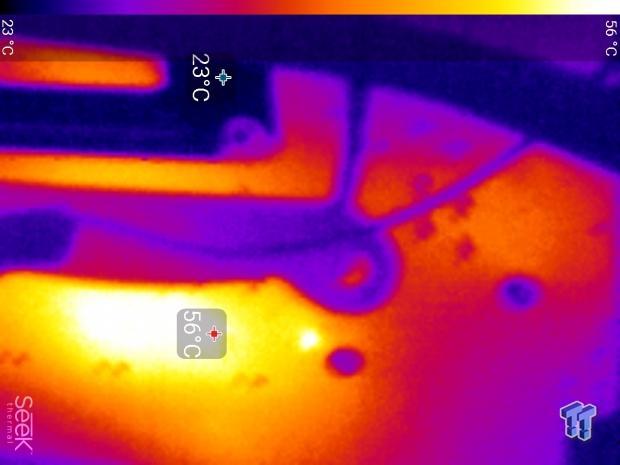 Up-close of the front and back of the VRM.
The Z370 GAMING PRO CARBON AC's VRM does heat up, but not to crazy unacceptable levels, especially not at stock. It does run a bit warmer than other VRMs we have tested thus far. We do control the airflow, so it's not like we test on a test bench without proper airflow, so our results are not worst case. I would say this VRM can get the job done, but I highly recommend active cooling on a test bench or positive air pressure in a case so that the VRMs are actively cooled.
Anything under 60C is great, 60-80C is acceptable, and anything above 80C is a bit worrisome (if at stock).
What's Hot, What's Not & Final Thoughts
Here are key points about the MKSI Z370 GAMING PRO CARBON AC.
What's Hot
Solid Aesthetics: The carbon fiber style MSI has used here is one of the better ones they have implemented over generations. It has a raised texture, and it matches the rest of the motherboard quite well. MSI's dedication to bringing solid and simple black motherboards with integrated RGB LEDs is one that many gamers and builders alike have come to appreciate.
RGB Crazy: You do get integrated RGB LEDs in heat sinks, in the IO, and even underneath the motherboard, but the Z370 Gaming Pro Carbon AC also has three types of RGB LED headers. For starters you get two RGB LED headers, one at the top of the motherboard and another at the bottom. Then you get a JRAINBOW header, which is MSI's version of a digital or addressable RGB LED header. However, MSI wanted to add some extra special sauce and teamed up with Corsair to provide a JCORSAIR header, which works with Corsair's RGB LED products.
WIFI Card: With the WIFI card as an add-in card and not built into the motherboard you can reuse the card in the future when you upgrade to another platform, or you can even use the card in another machine if you please.
Re-drivers: Re-drivers are designed to take a signal and improve its quality, allowing the signal to traverse a longer distance without losing as much integrity. MSI is known for using re-drivers when many other vendors do not, and we find many of them near both internal USB 3.0 headers and even near two SATA6Gb/s port (straight angled ones).
What's Not
VRM Airflow: You should have either positive case air pressure or a fan blowing in the direction of the VRM is you are going to attempt overclocking with Intel's 6-core parts.
Final Thoughts
MSI's Z370 Gaming Pro Carbon AC is a very well equipped, mid to high-end motherboard for the Z370 platform, and it has many surprised. Whether it's the three types of RGB headers with Corsair collaboration or the re-drivers that many people gloss over, the motherboard hits the nail on the head in many different areas. The motherboard is also only $10 more expensive than the non-WIFI edition, making it an excellent value.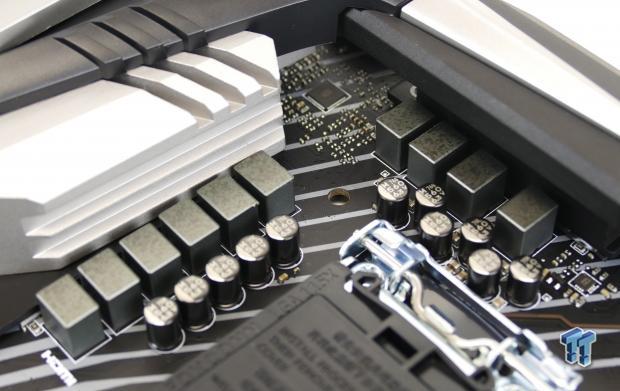 The only area where I felt MSI could have done better was in the VRM area. MSI's Z270 Gaming M7 and Gaming Pro Carbon had very similar VRMs to what I found here, meaning they didn't upgrade the VRM from their previous models. However, you should still be fine with this VRM and Intel's 6-core parts, but I would look a bit more at improving case airflow (positive air pressure) or have a fan pointed at the heat sink (which has been improved) if on a test bench when overclocking the new CPUs.
Overall, I was impressed with the motherboard and thought it provided an excellent balance of price, performance, and features.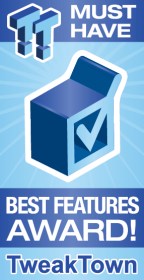 | | |
| --- | --- |
| Performance | 89% |
| Quality | 90% |
| Features | 95% |
| Value | 95% |
The Bottom Line: MSI's Z370 Gaming Pro Carbon AC strikes an excellent balance between high-end features and a reasonable price.
PRICING: You can find products similar to this one for sale below.

United States: Find other tech and computer products like this over at Amazon.com

United Kingdom: Find other tech and computer products like this over at Amazon.co.uk

Australia: Find other tech and computer products like this over at Amazon.com.au

Canada: Find other tech and computer products like this over at Amazon.ca

Deutschland: Finde andere Technik- und Computerprodukte wie dieses auf Amazon.de
We openly invite the companies who provide us with review samples / who are mentioned or discussed to express their opinion. If any company representative wishes to respond, we will publish the response here. Please contact us if you wish to respond.