BIOSTAR X370GT7 Motherboard Review
BIOSTAR's AMD X370GT7 AM4 motherboard manages to impress for its quality. If you are considering a Ryzen build, take a look.
Published
9 minute read time
TweakTown's Rating: 92%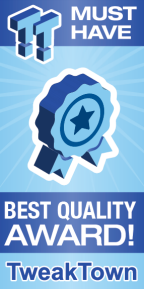 The Bottom Line
BIOSTAR's X370GT7's VRM ICs, M.2 cooling, and RGB LED use are of the highest quality.
Introduction, Specifications, and Pricing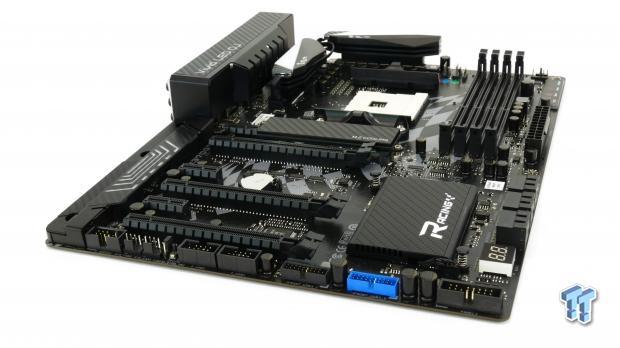 BIOSTAR recently released some epic Z170 and Z270 motherboards, but many remember them as one of the better motherboard brands for AMD-based products. Keeping up with its reputation for solid AMD motherboards, BIOSTAR has released a few X370 based motherboards. At the top of that pack is the X370GT7, and we have one here today.
The X370GT7 offers excellent aesthetics matched with premium features and a quite hefty looking VRM. While BIOSTAR is more known for budget products, the X370GT7 is anything but budget. It looks and feels high-end, and follow me as I find out how it does.
Specifications

The X370GT7 features a Gbit LAN, 32Gb/s M.2, USB 3.1, HDMI 2.0, and Lighting Charger Technology.
Pricing
The X370GT7 costs $209.99.
Packaging and X370GT7 Overview
Packaging and Overview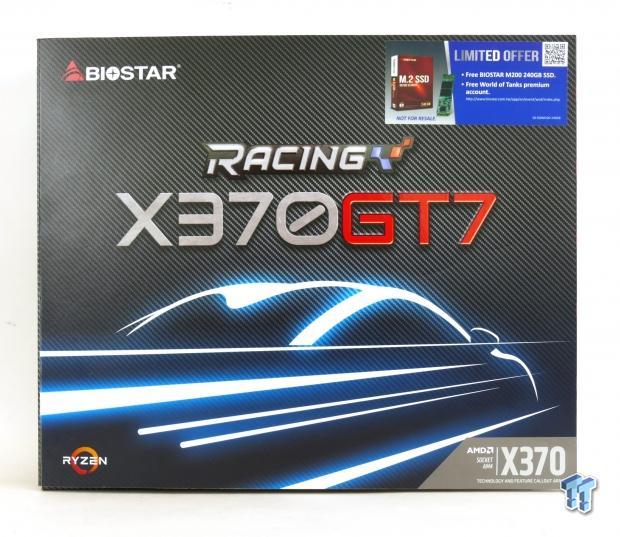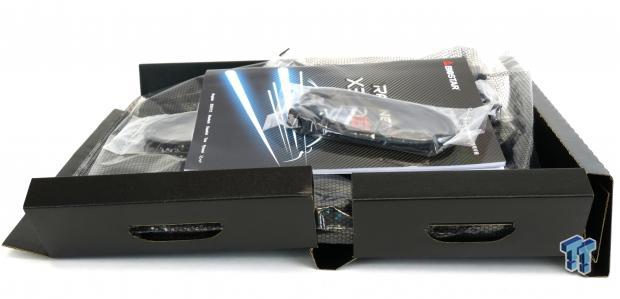 BIOSTAR's bundle and packaging are identical to that of their Z270 motherboards. It feels high-end, and the motherboard is well protected from the elements.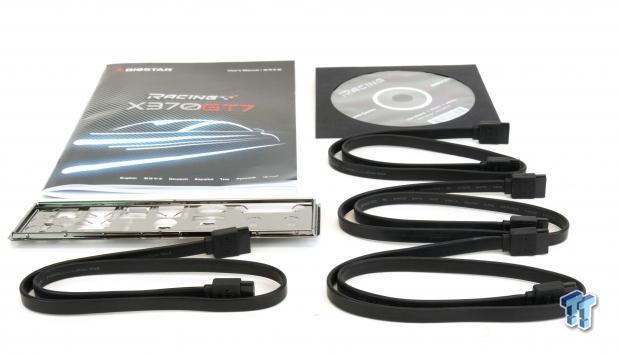 The accessory package includes four SATA 6Gb/s cables, IO shield, a 240GB M.2 drive (ours came installed on the motherboard), driver DVD, and manuals.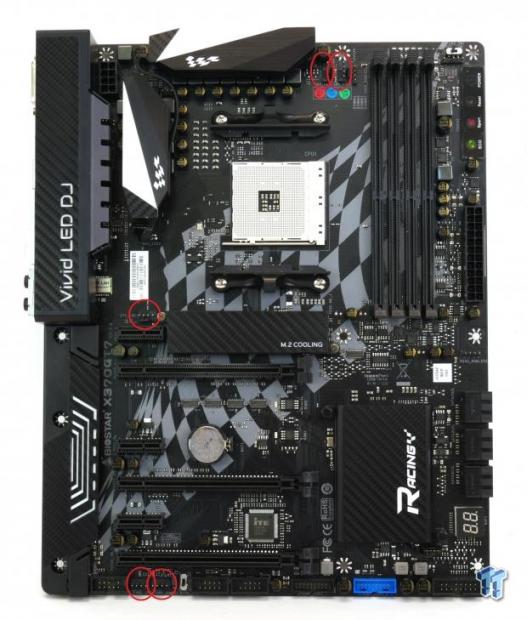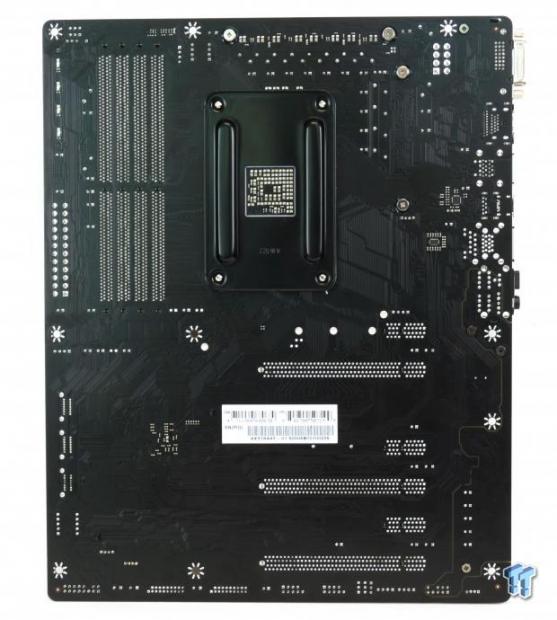 BIOSTAR offers five fan headers on this motherboard, but they all seem to be limited to PWM-only operation. That means that 3-pin DC mode fans will run full speed. The motherboard's black aesthetic makes it perfect for those who want a color neutral theme so that they can pick their own color. BIOSTAR has done an excellent job in the past with diffusing the light from their RGB LEDs so that the white panels actually turn a color rather than reflect light. Their diffusion is top notch, and in my opinion, the best RGB LED diffusion around. I am not a fan of writing their marketing terms on the shield and PCH heat sink, but at least it's done tastefully. The back of the motherboard is clean for the most part except for a few IC that control the USB 3.1 type-C port on the rear IO.

The rear IO panel features PS/2 keyboard/mouse, DVI, HDMI 2.0, DisplayPort, four USB 3.0 ports, USB 3.1 type-A (not colored red or light-blue), USB 3.1 type-C, Gbit LAN, and gold plated 7.1 channel audio outputs with S/PDIF out.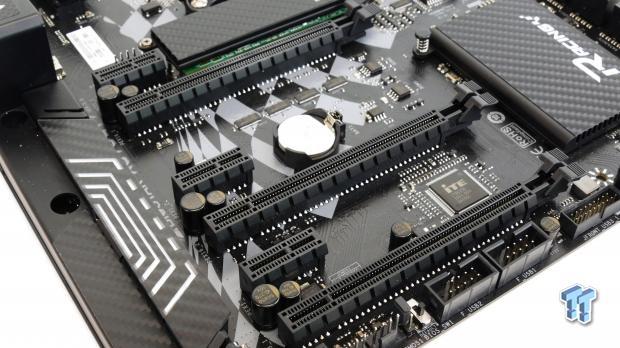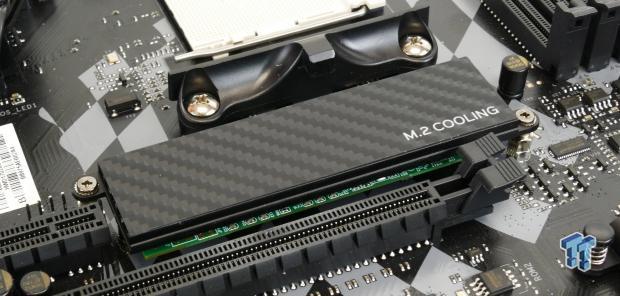 The PCI-E layout is very similar to that of other X370 motherboards. The first and second x16 slots operate at x16/x0 or x8/x8 PCI-E 3.0. The last x16 slot is electrically x4 PCI-E 2.0, and the remaining x1 slots are x1 PCI-E 2.0. The M.2 slot operates at 32Gb/s and offers heat sink to cool down your drive.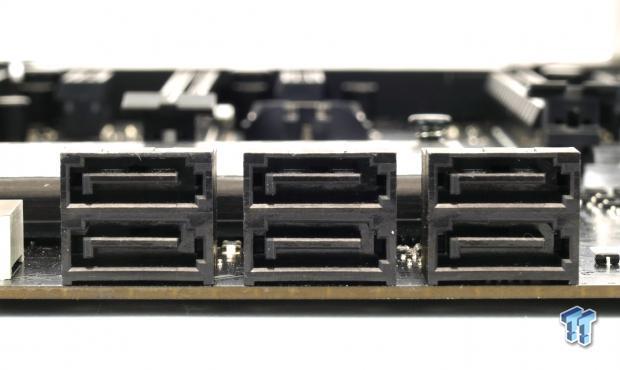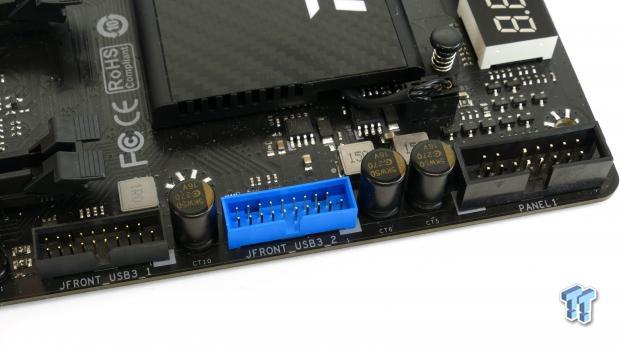 The motherboard offers six SATA6Gb/s ports. The motherboard has two USB 3.0 internal headers. The blue one offers a lightning charger, which offers 1.5A at 12v or 2.4A at 5v.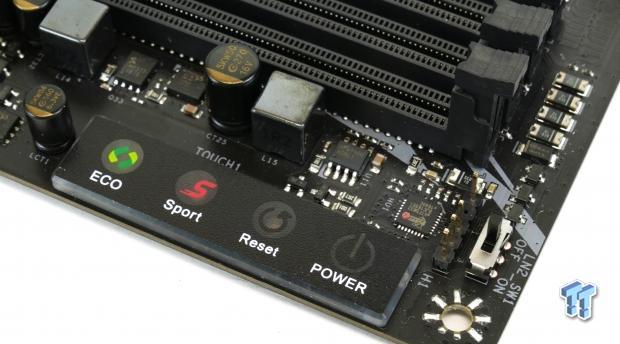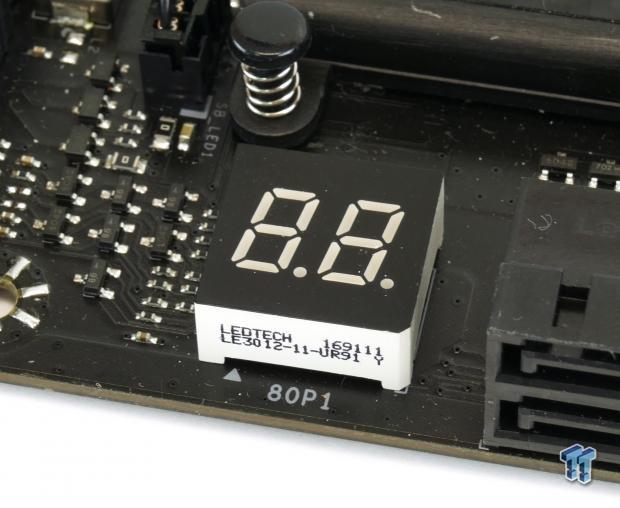 The motherboard also offers a touch sensitive panel for the power button, reset button, Sport button, and ECO button. An LN2 mode switch will automatically down clock the CPU to 800Mhz when engaged. The POST code display near the SATA ports is a welcomed addition.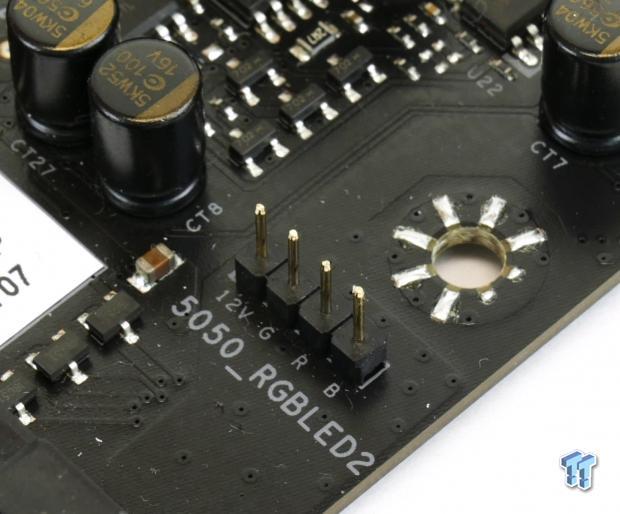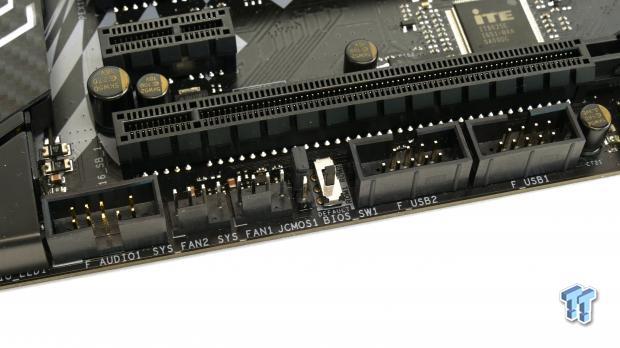 The motherboard has two RGB LED headers, one located near the CPU fan headers and the other between the SATA ports and the 24-pin power connector. Two USB 2.0 ports are located at the bottom of the motherboard. To the left of the USB 2.0 internal headers are a BIOS selection switch and a clear CMOS jumper.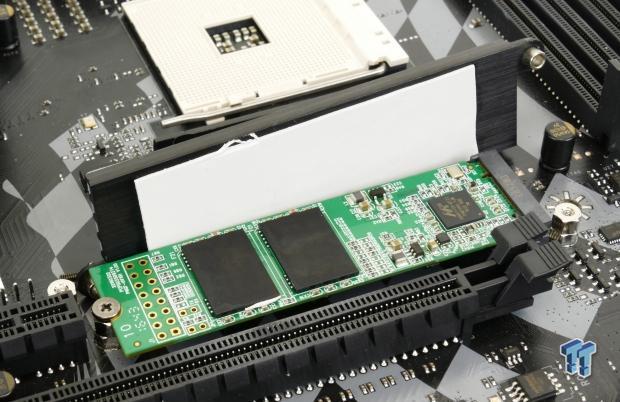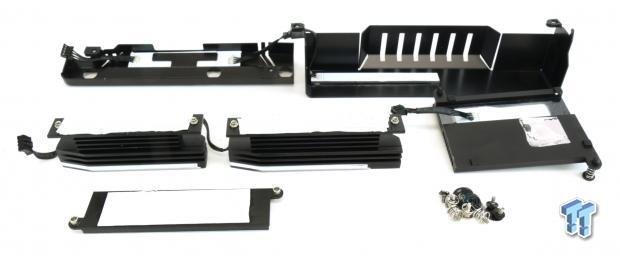 The included M.2 SSD can pre-installed on our review sample, and the M.2 heat sink is thick enough to be useful. All the heat sinks and shield use screws, except the PCH heat sink which uses push pins.
BIOSTAR X370GT7 Circuit Analysis
Circuit Analysis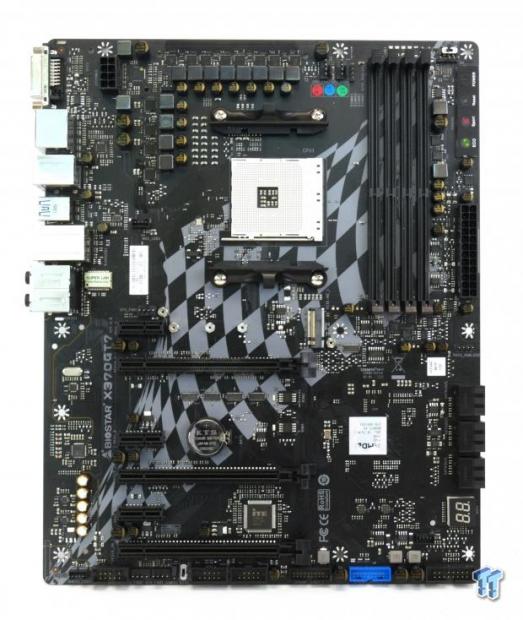 The X370GT7 looks good in the nude.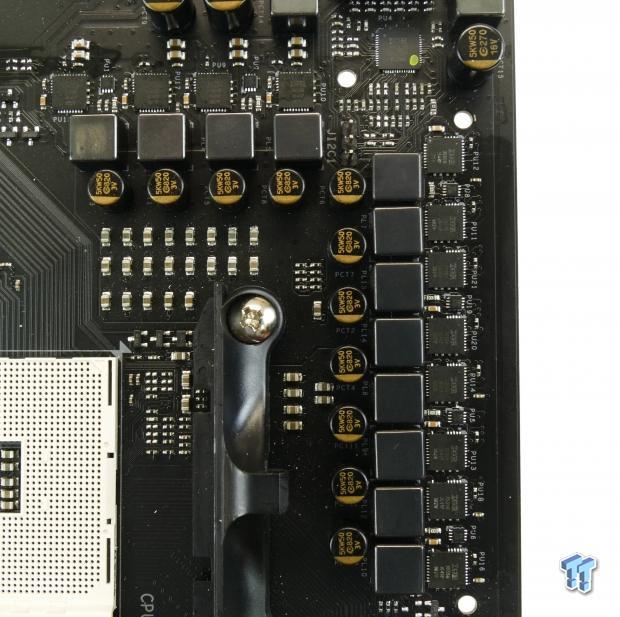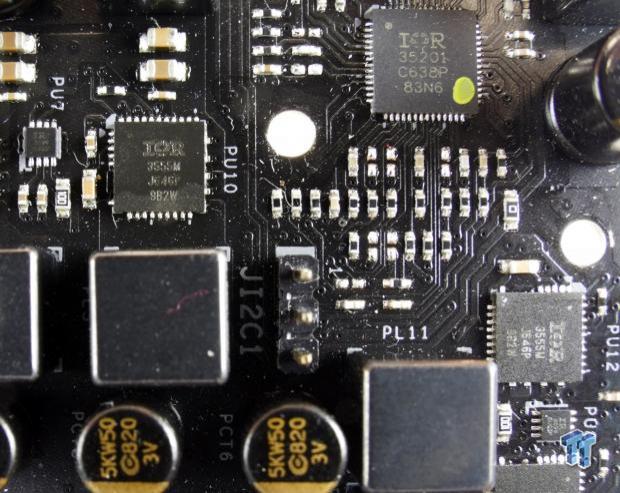 Hot damn! That is an expensive VRM; it uses all International Rectifier control and power stage hardware. It starts off with the fully digital IR35201 working in 6+2 phase mode. Four of the six main phases are routed to four IR3599 doublers, which then output to two IR3555.
The IR3555 are International Rectifier's second-generation of 60A fully integrated power stages. They are some of the highest rated power stages on the market. I don't know much about the inductors, but the capacitors are rated 5K. The SOC rail gets two PWM channels, which are then routed to two IR3599, and then to four IR3555M.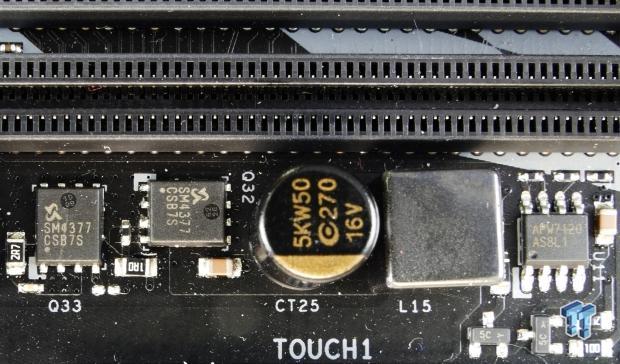 An Anpec APW7120 single phase PWM with driver output to two Sinopower SM4377 PowerPAK MOSFETs for a single phase memory VRM.
BIOSTAR X370GT7 Circuit Analysis Continued
X370GT7 Circuit Analysis Continued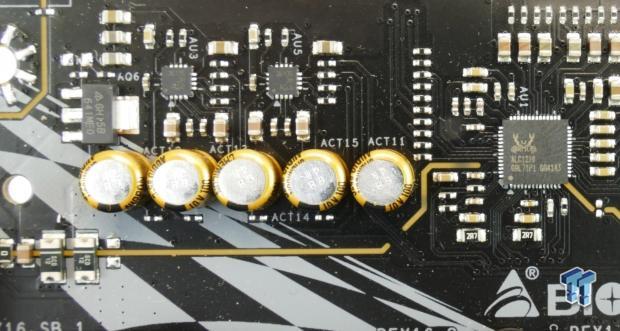 BIOSTAR is using the ALC1220 and two sense amplifiers for the rear and front headphone outputs. Five Nichicon Gold series audio capacitors and physical PCB division help to improve overall audio quality.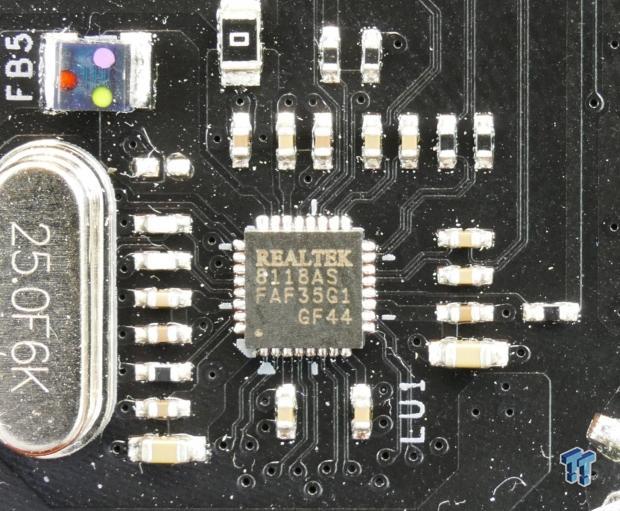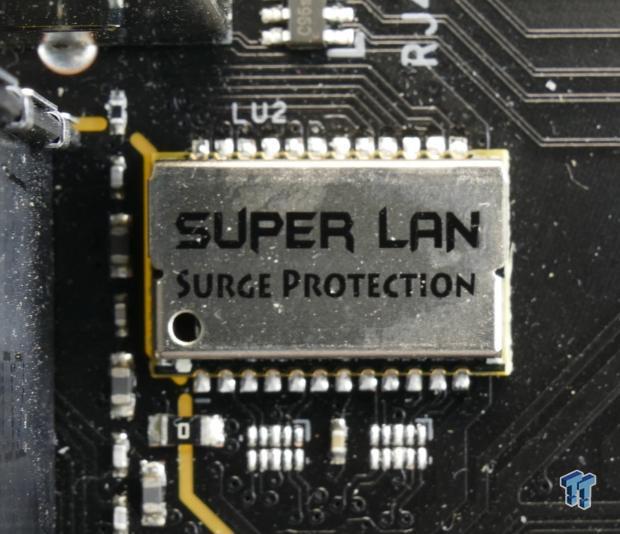 BIOSTAR is using a Realtek RT8118AS instead of the RT8111 series; it offers a few more features than the common Realtek Gbit NIC. A surge protection IC labeled "Super LAN" is located near the RJ-45 port.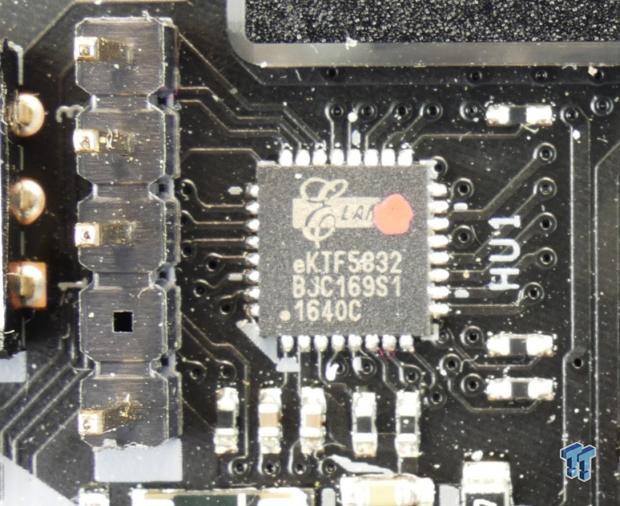 An SATA based 240GB M.2 drive is provided in the package. It is a single sided module, so the M.2 heat sink is more effective. An ELAN eKTF5832 touch controller is used to control the touch panel.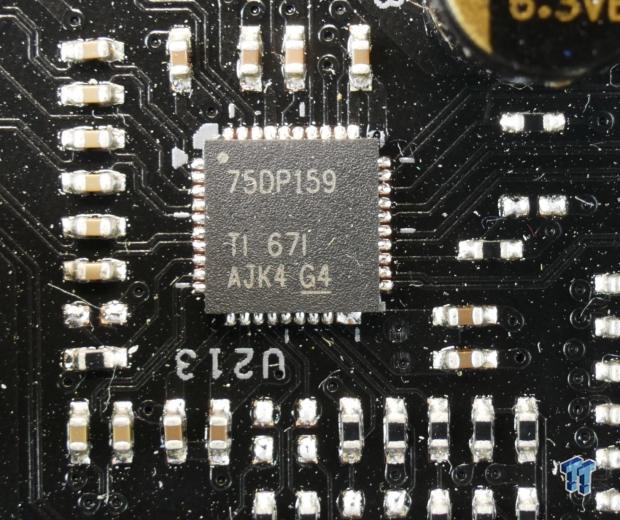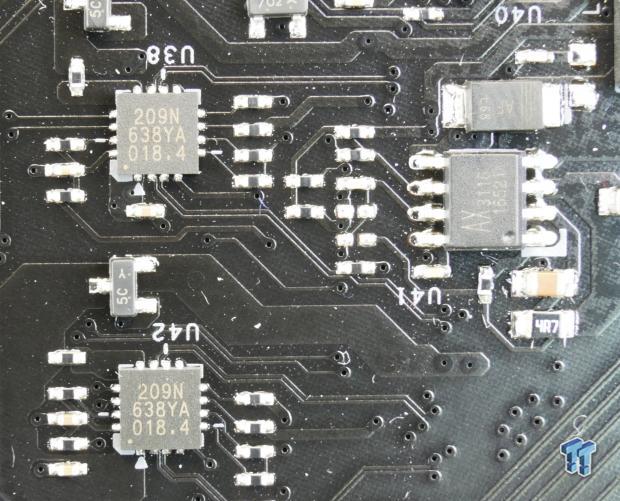 A Texas Instruments SN75DP159 DisplayPort to HDMI retime is used to produce the HDMI 2.0 port on the rear IO panel. Two IC's labeled "209N" seem to be USB 3.0 redrivers for the Lightening Charger USB 3.0 internal header. Two Axelite AX3116 5A step-down converters work to improve current capabilities for the Lightening Charger USB 3.0 internal header.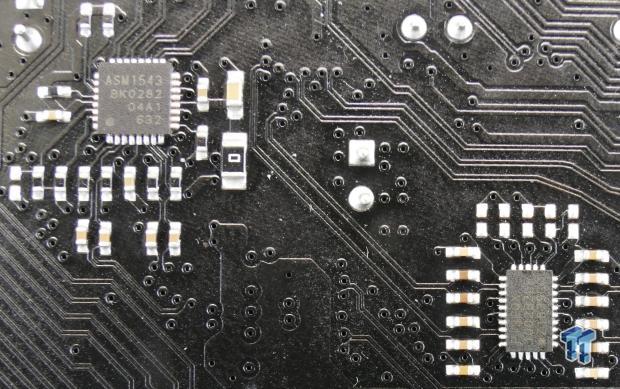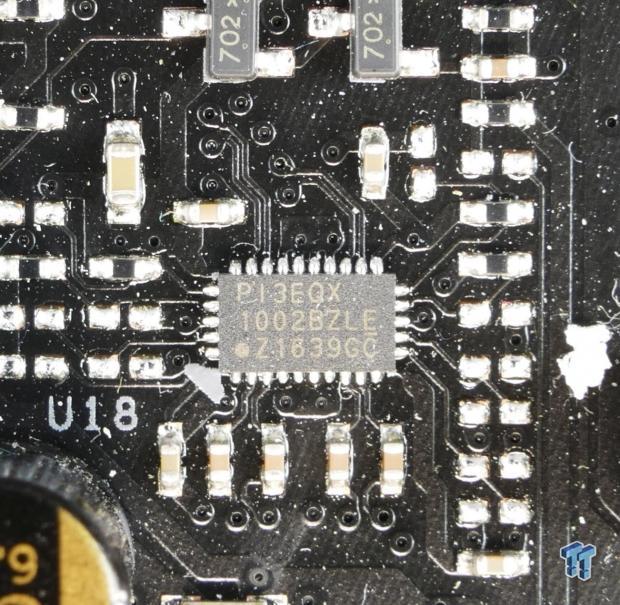 An ASMedia ASM1543 USB 3.1 type-C switch and controller is used for the rear USB 3.1 type-C port. To improve the signal quality of the USB 3.1 from the chipset, two Pericom PI3EQZ100 re-drivers are used.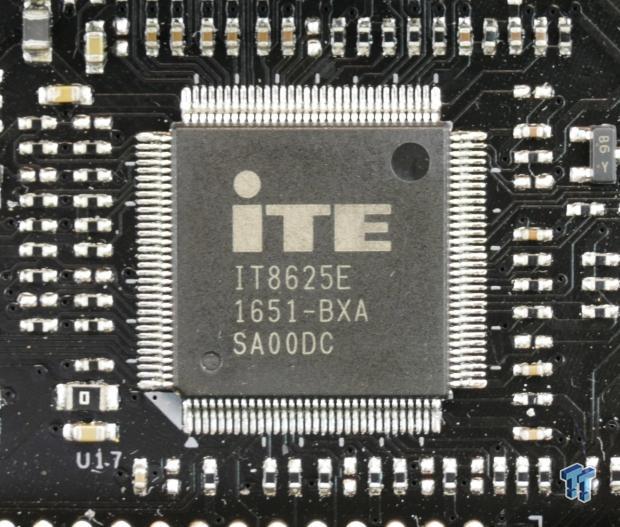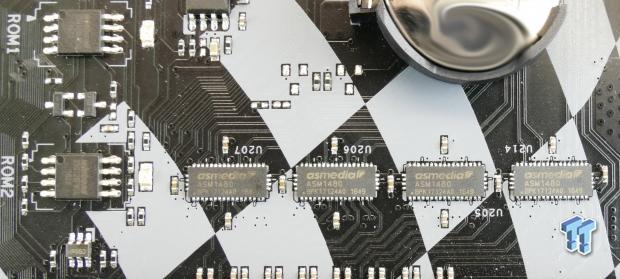 An ITE IT8625E SuperIO is in charge of system monitoring and fan control. It also provides the PS/2 port on the rear IO. Four ASMedia ASM1480 are used to switch x8 PCI-E 3.0 between the first and second x16 slots.
BIOS and Software
BIOS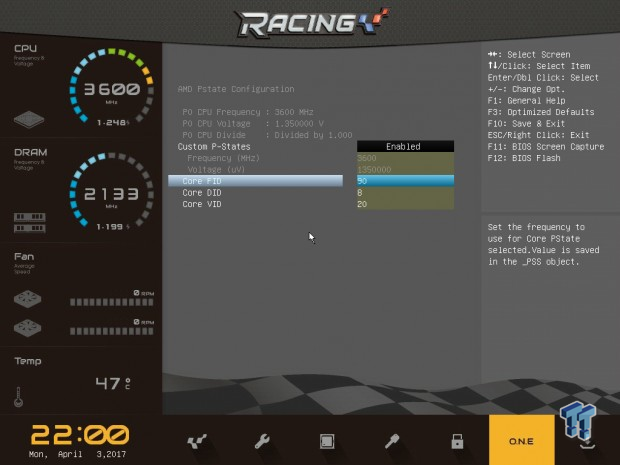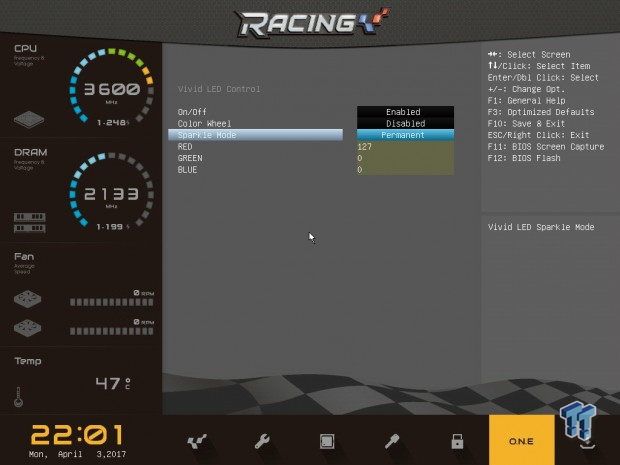 BIOSTAR's UEFI offers a good layout and feels polished enough to compete against Tier 1 motherboard makers. However, CPU overclocking requires you to change the FID, DID, and VID and no I am not joking. You basically want to keep the DID low, and just increase the FID by pressing the "+" key. You will see the final frequency in real-time, so you won't have to calculate anything. I didn't need to change the VID, but you can do that the same way. There are LLC and manual adjustment for other voltages, and memory overclocking is also present. BIOSTAR does offer full UEFI based fan and RGB LED control.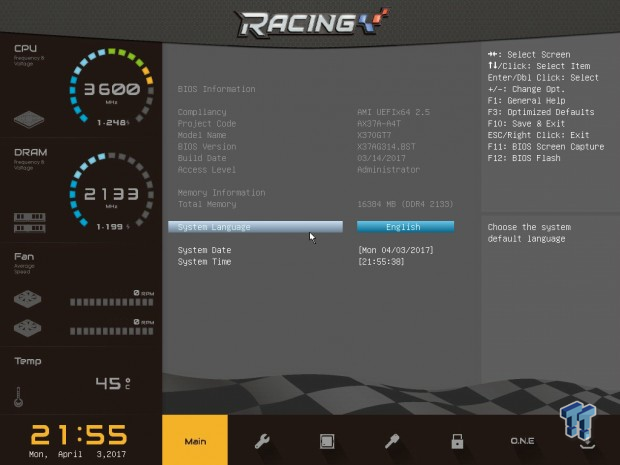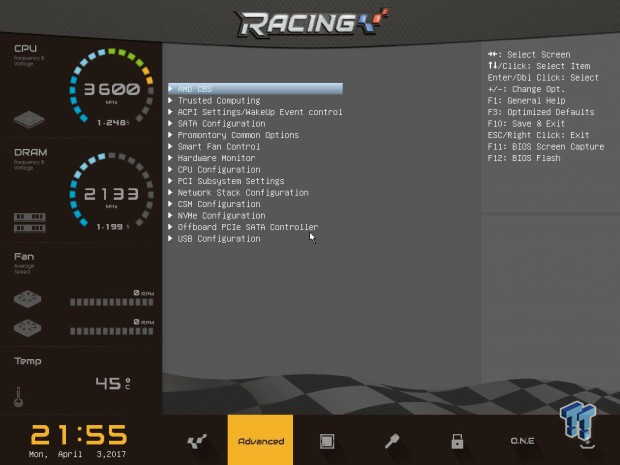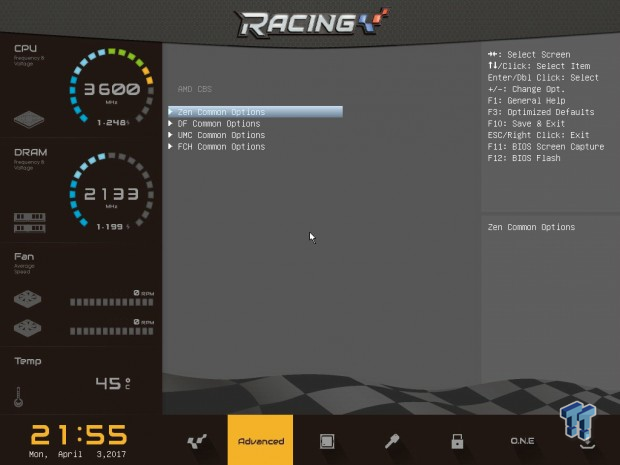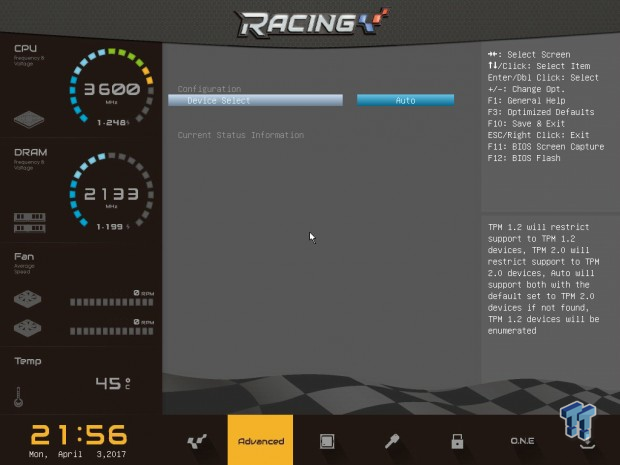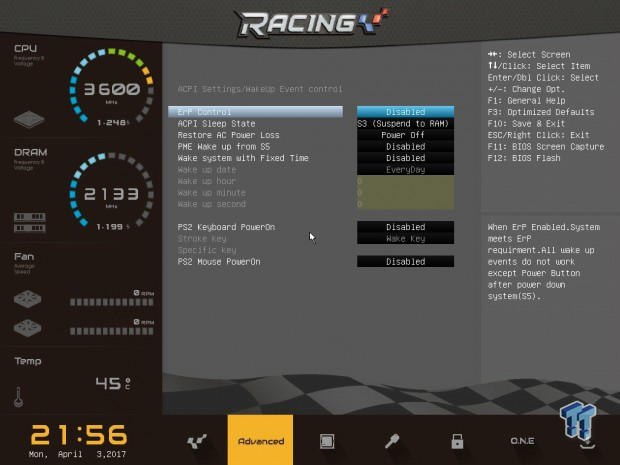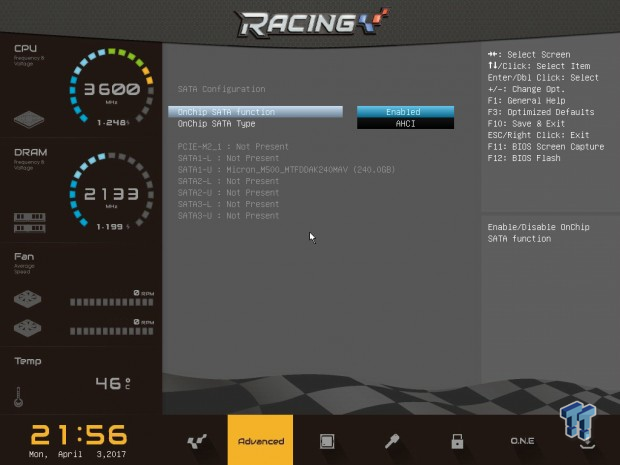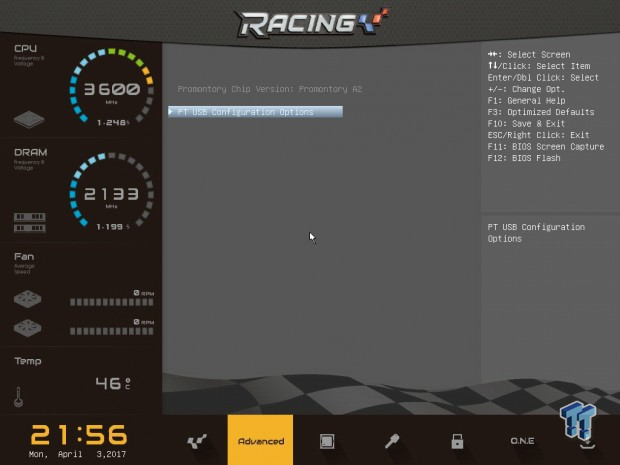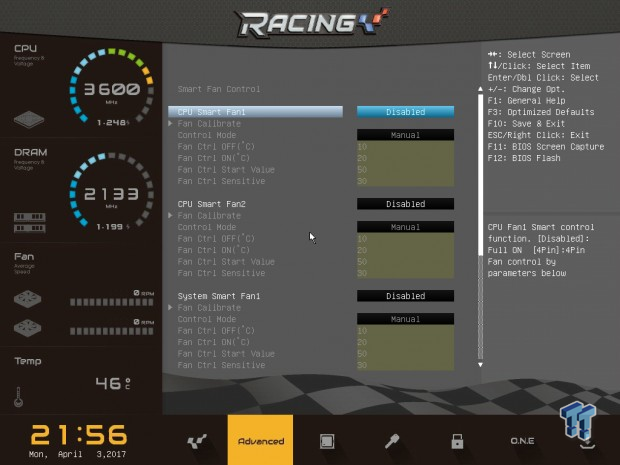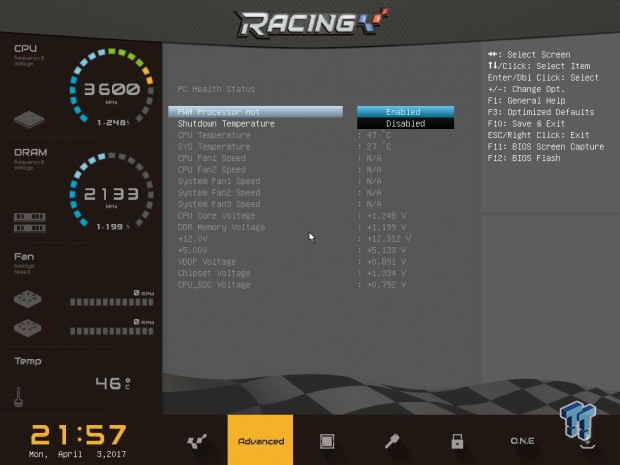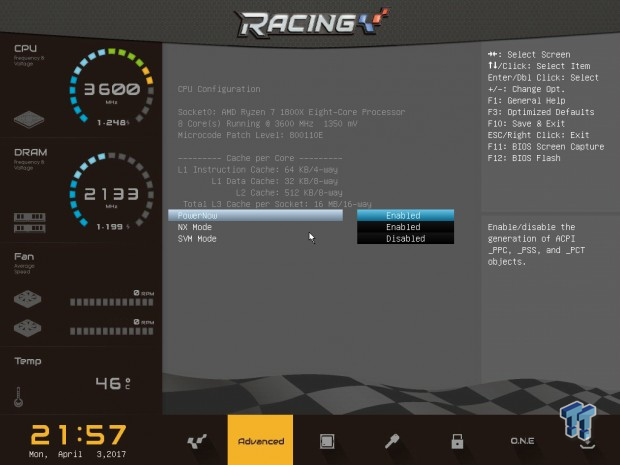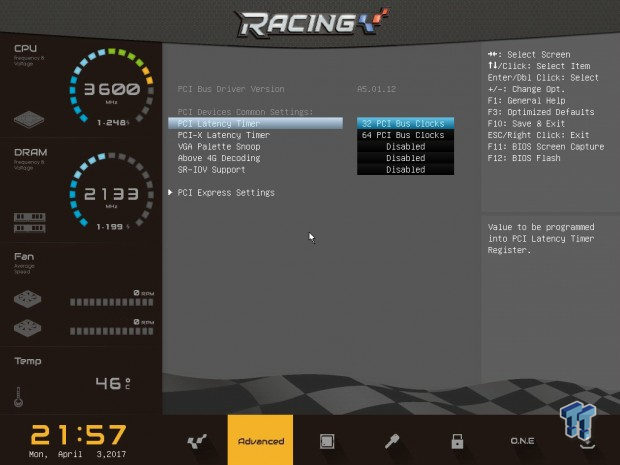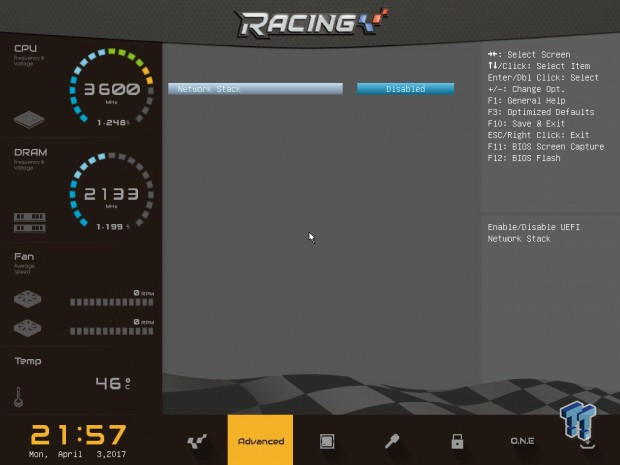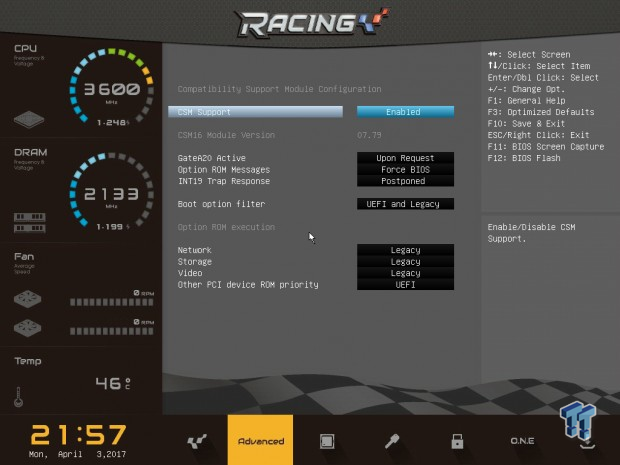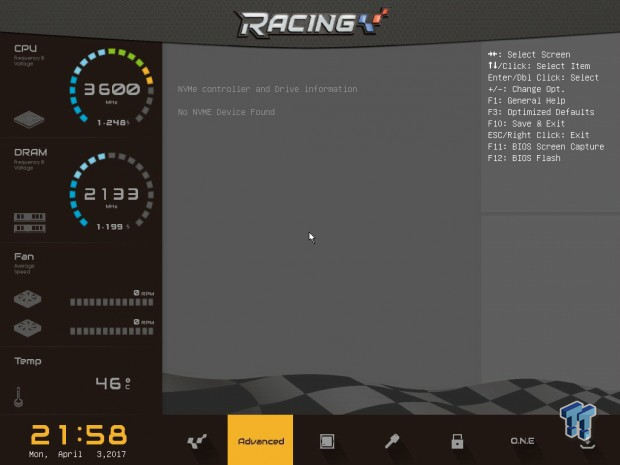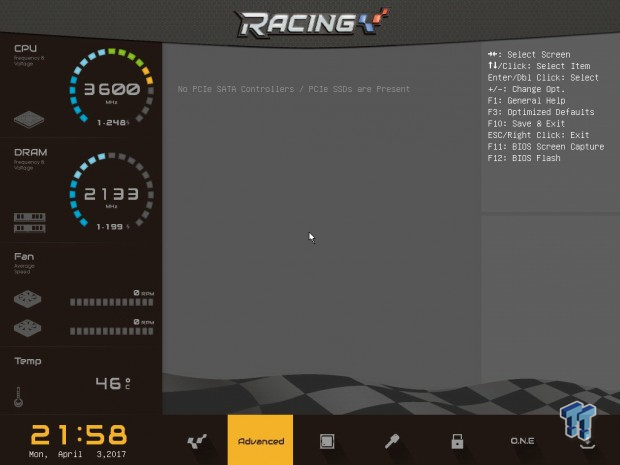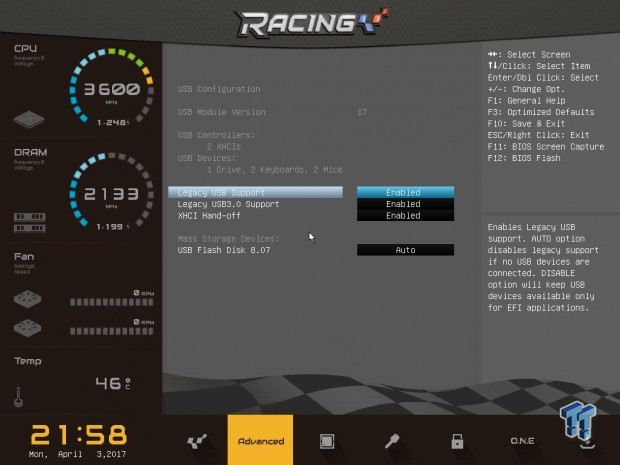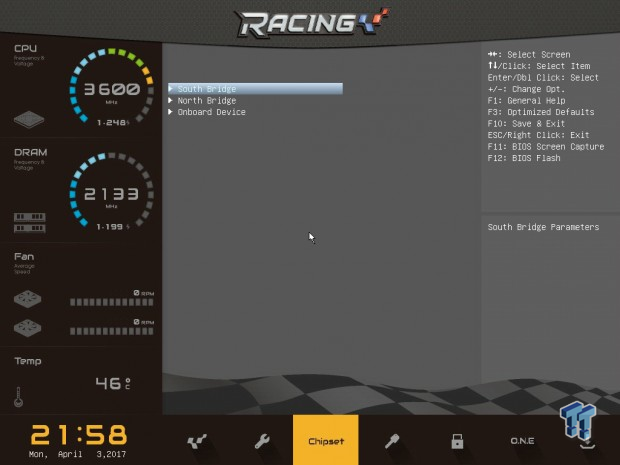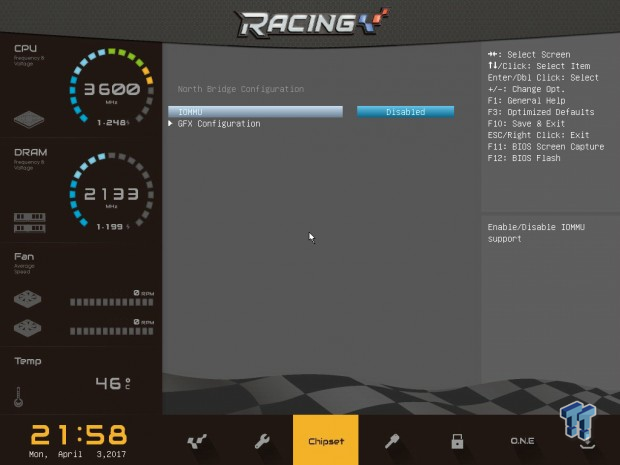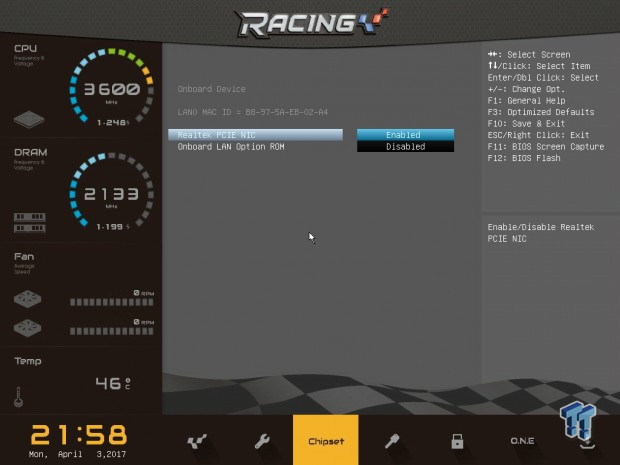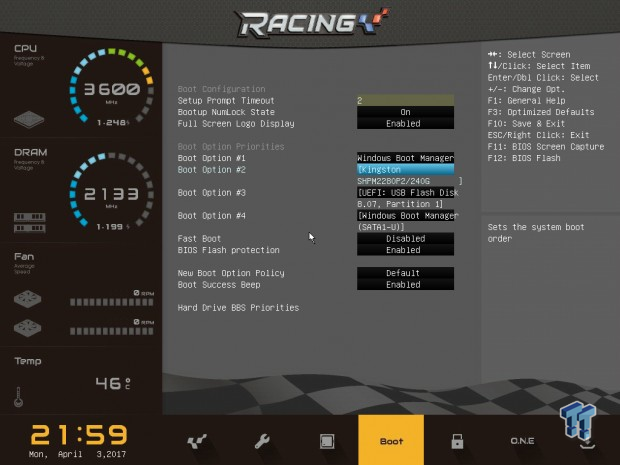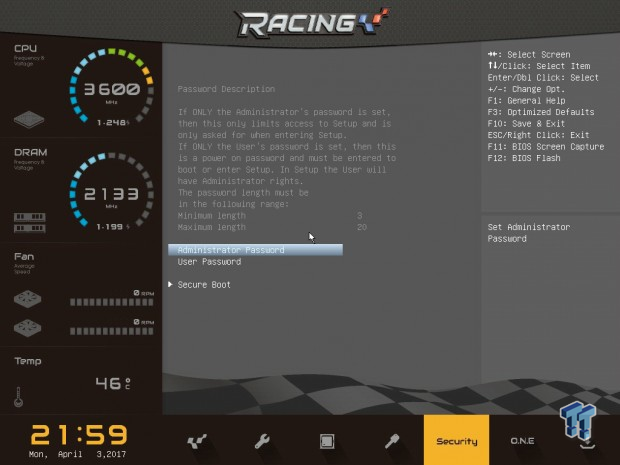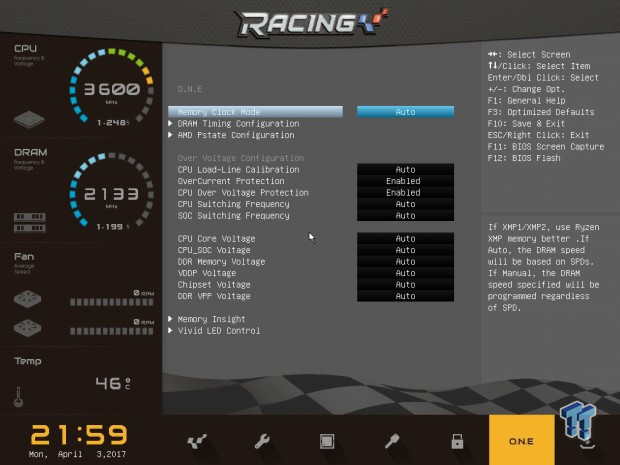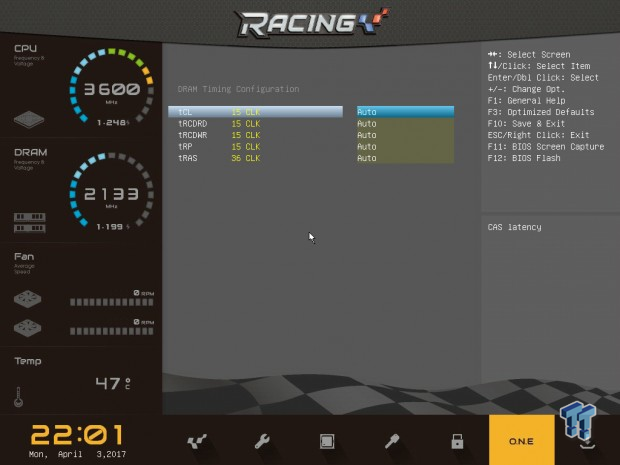 Software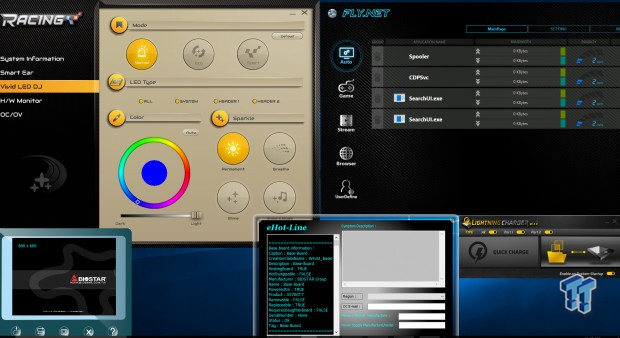 BIOSTAR's software suite includes Racing GT, BIOS Screen, eHot-Line, Lightening Charger, and Fly.Net.
Test System Setup
Steven's Motherboard Test System Specifications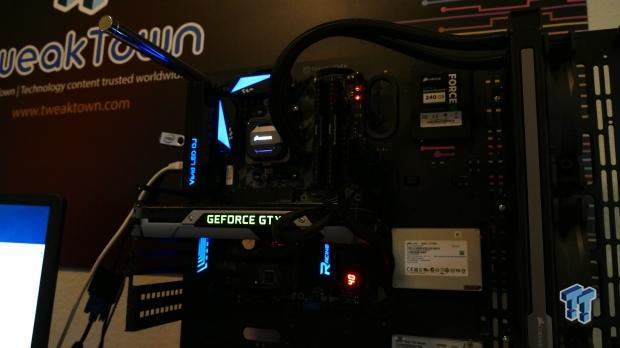 I am in love, and it's not the first time. I fell in love the first time with BIOSTAR's Z170GT7's RGB LED heat sinks, and I am so happy so see them improve upon their lighting effects.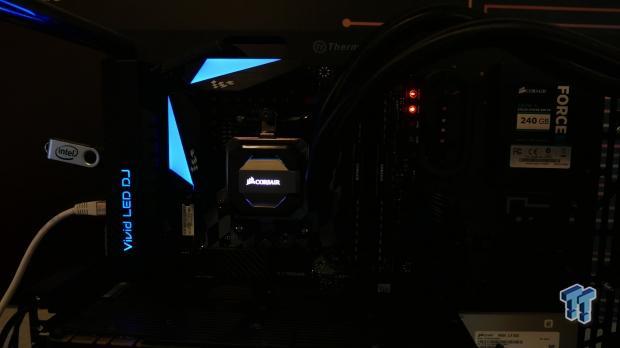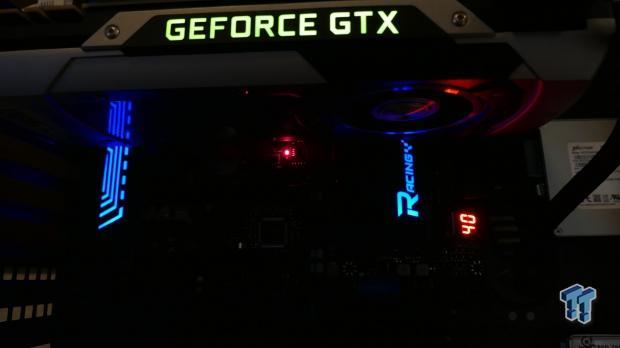 The VRM heat sinks have perfectly diffused panels. The lighting that comes out of the slits in the audio section is just brilliant, and you won't be disappointed. I just wish BIOSTAR didn't advertise their features or any text with lighting, but every motherboard has its issues.
Overclocking
Overclocking Results
CPU Overclocking
AMD's Ryzen platform is quite new; AMD and its partners are working very hard on fixing issues and getting things to work across the board. The CPU also doesn't validate that much higher than its maximum stable frequency. Memory overclocking is topped at 3200MHz on most motherboards, and bus adjustment is also very tricky.
Don't get me wrong, the CPU can overclock, mine does 4.0GHz, and the best I can get a kit is to 3000MHz. I will go through and tell you exactly what I did to achieve my maximum stable overclock, and as AMD's ecosystem of compatible memory kits becomes larger, I will add in a memory compatibility section.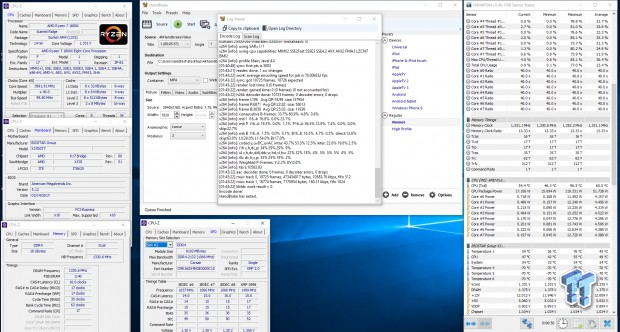 AMD overclocking is quite simple, but BIOSTAR does not make it that easy. You have to enable CPU overclocking, go into the CPU menu, and change FID value with the "+" key to change the CPU's frequency in 25MHz increments. I did not need to change the VID, but I did set LLC to level 4. Memory overclocking was a bit easier, but I was not able to hit 2933. Instead, I set XMP and set the multiplier to achieve 2666MHz.
CPU, Memory, and System Benchmarks
CINEBENCH R15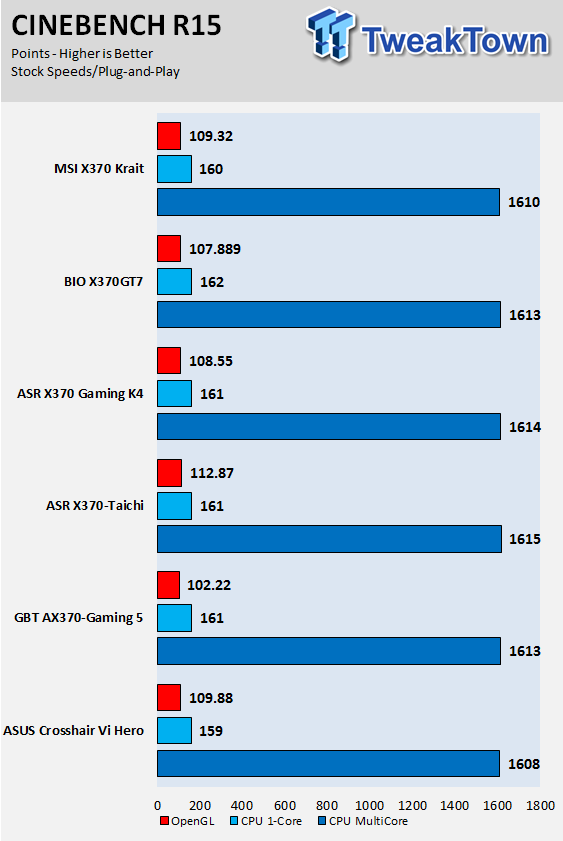 wPrime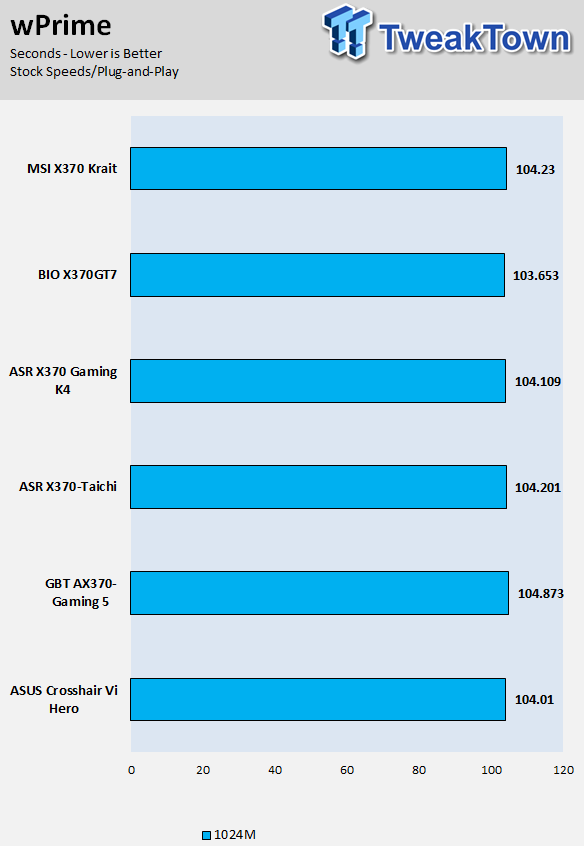 AIDA64 FPU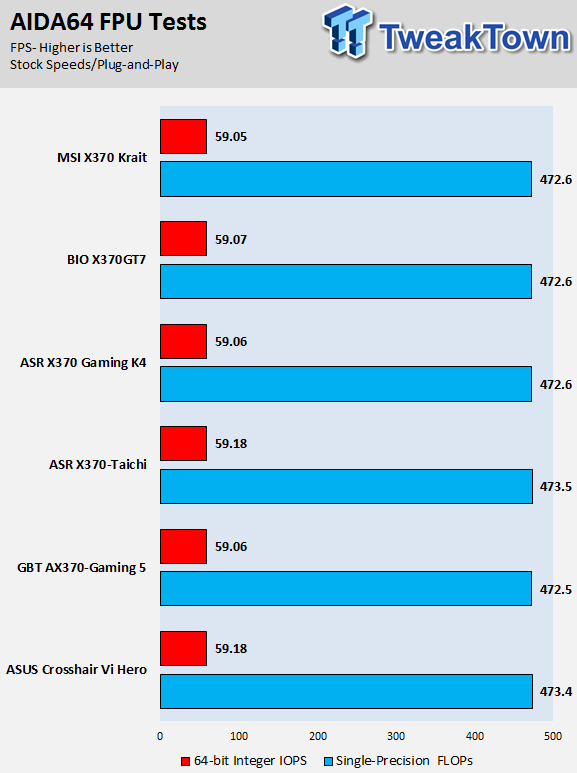 AIDA64 Memory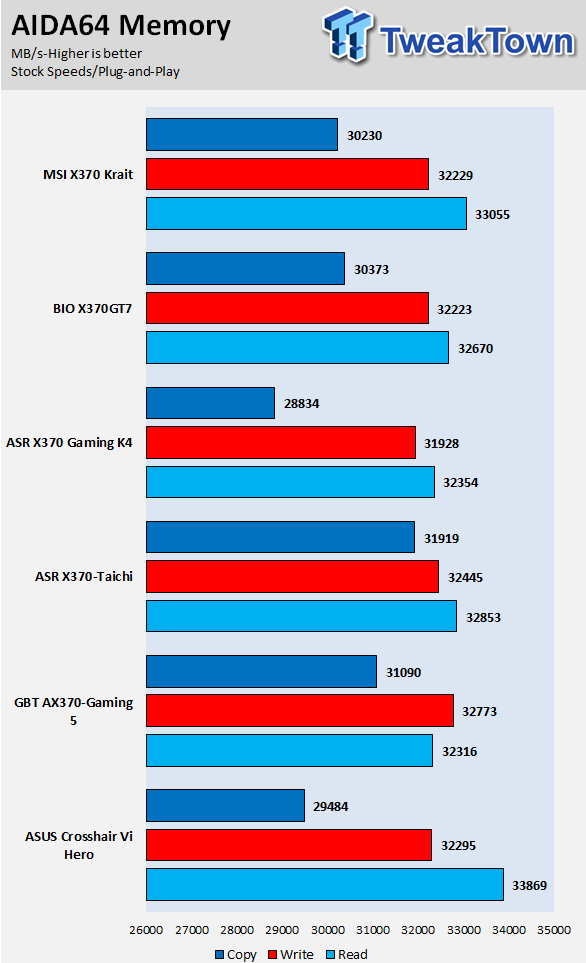 ScienceMark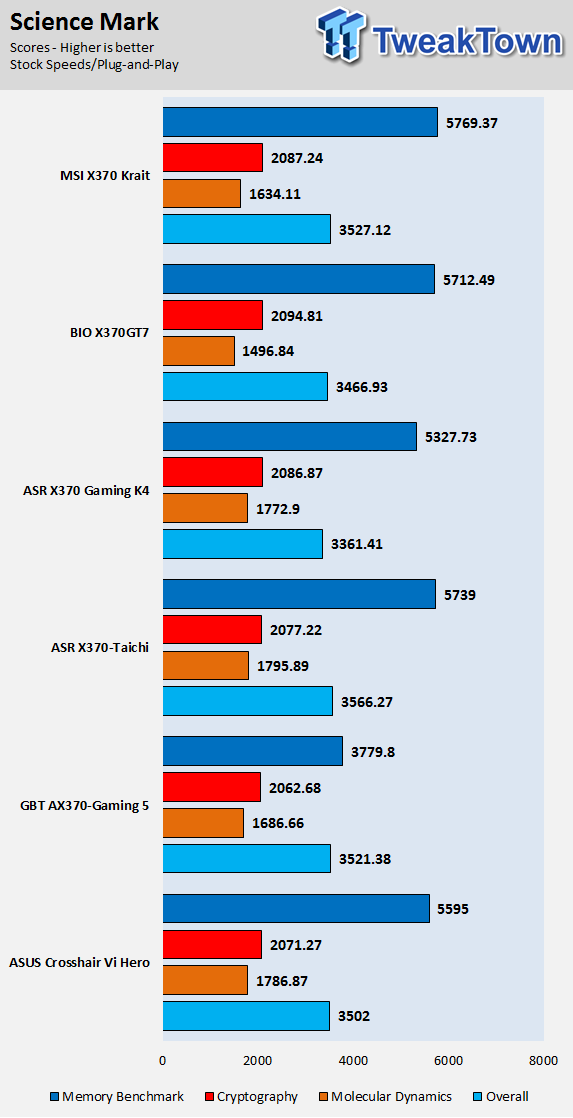 HandBrake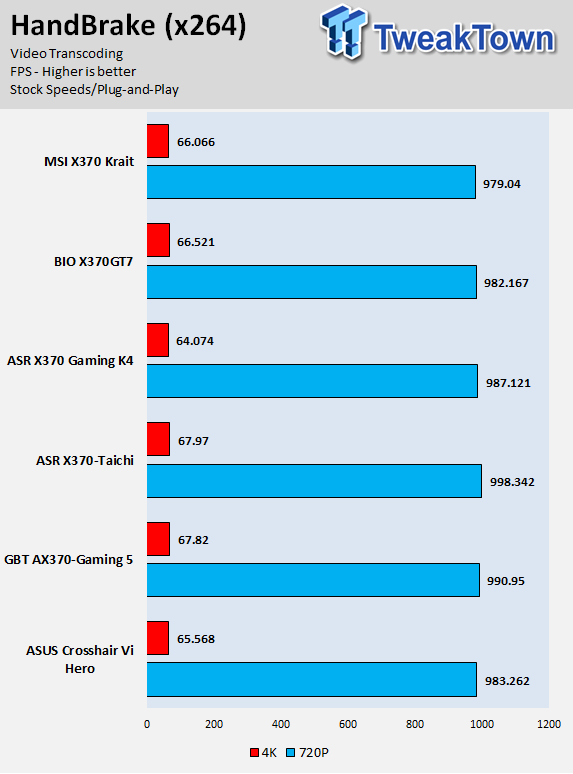 SuperPi 32M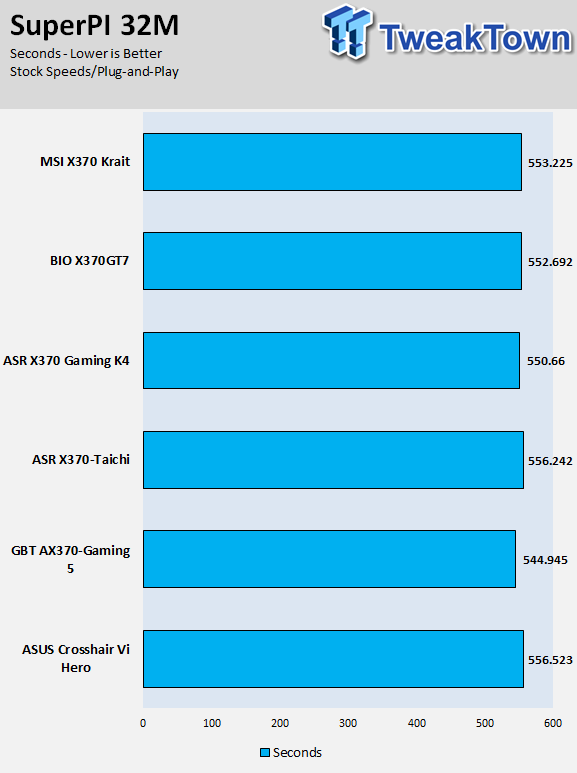 3DMark: Fire Strike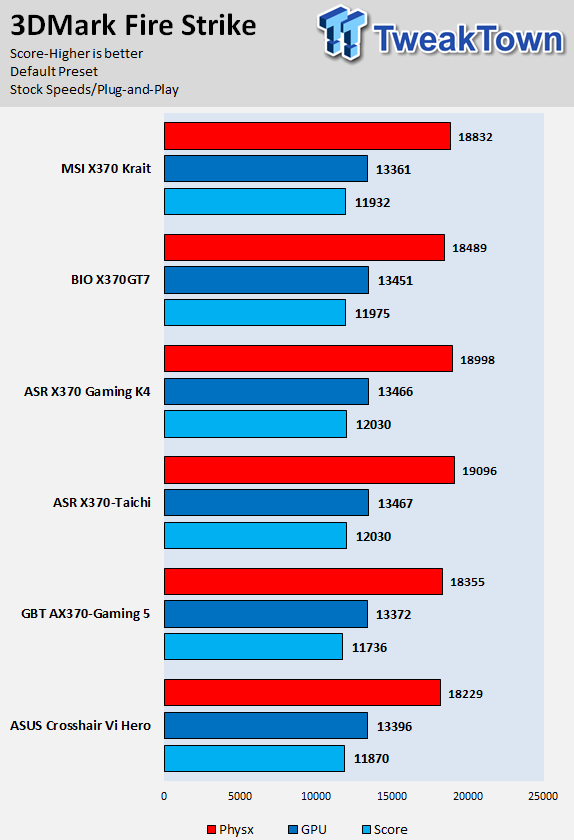 3DMark: Cloud Gate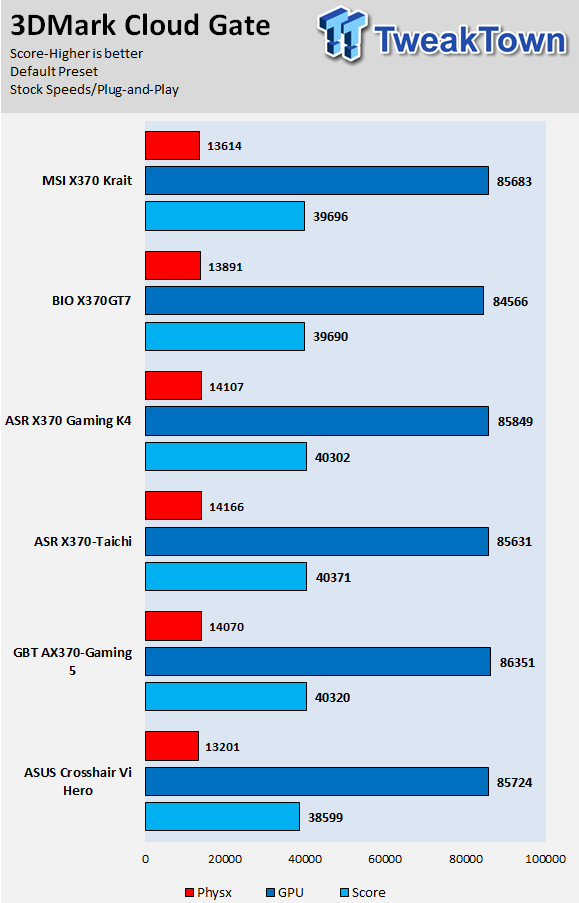 ResidentEvil 6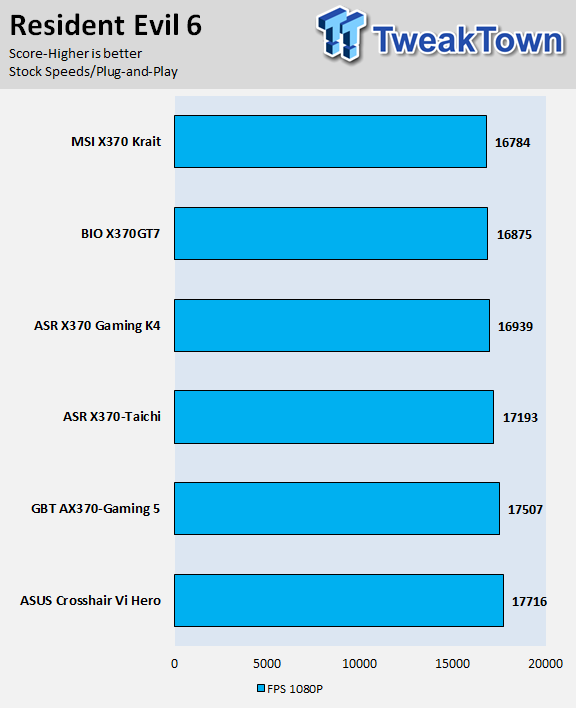 The X370GT7's performance is decent compared to the other motherboards. Its BIOS build date is a bit older than some of the other boards in the charts, and that probably is what accounts for the performance disparity. You won't notice any real difference in performance in real-world and its performance is pretty decent compared to some of the other motherboards.
System IO Benchmarks
CrystalDiskMark SATA6G: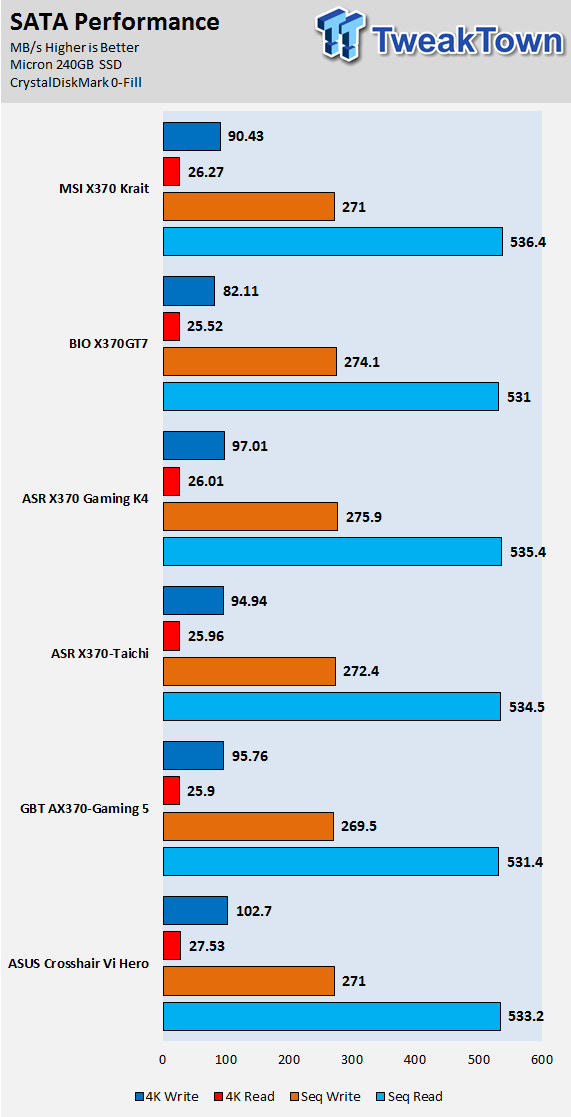 CrystalDiskMark M.2: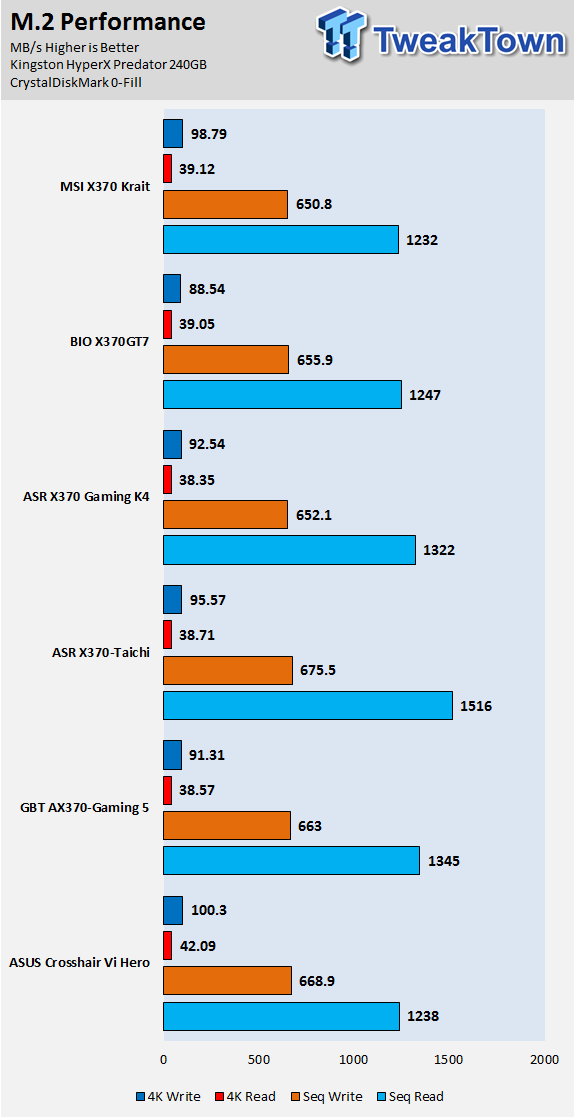 ixChariot Network Throughput: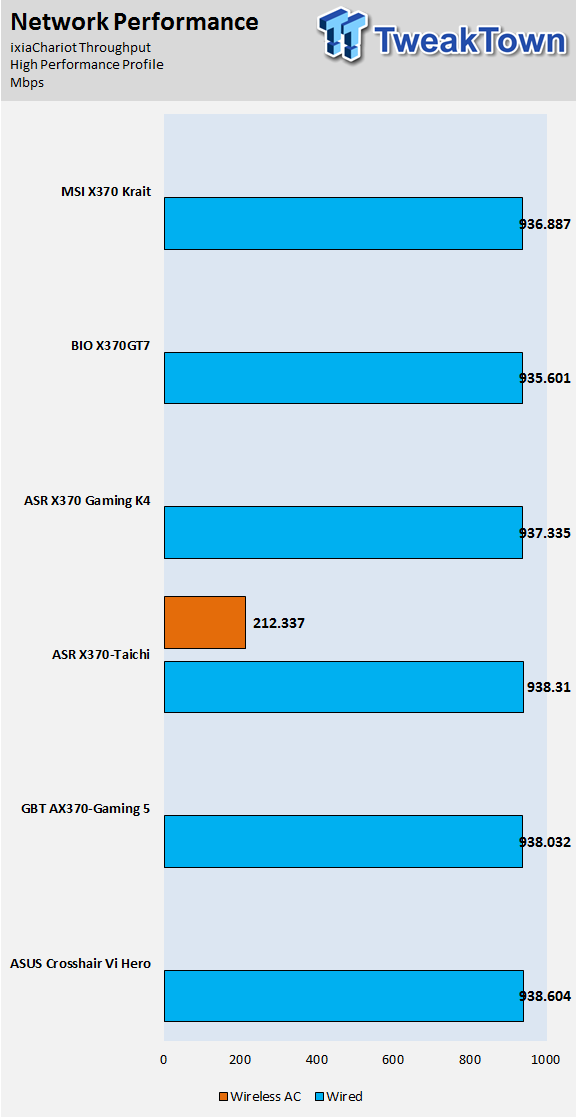 The X370GT7's storage and network performance are solid.
Audio RMAA 5.5:
I disable all audio features, set the correct bitrates, and then test the audio with a loopback test.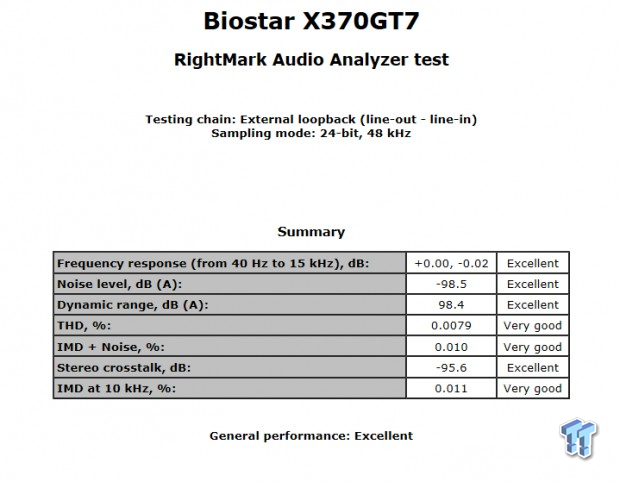 Sound Judgment by Ear: Excellent. BIOSTAR's ALC1220 implementation is quite good. There are five ratings for audio: 1. Problems, 2. Okay, 3. Acceptable, 4. Very good, 5. Excellent
Thermal Imaging and Power Consumption
System power is measured at the wall with an AC power meter.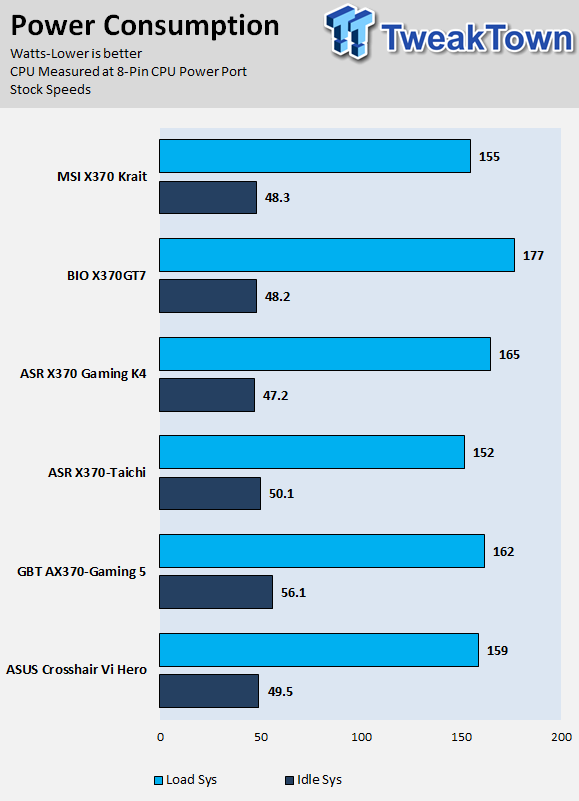 Note on Thermal Images: In the temperature section, we use our Seek thermal imaging camera to capture the surface temperatures of major components on the board. I look at the VRM and then all other things that light up the screen. If there is something to worry about, then I will state it. Otherwise, I will just show the hotter running parts of the board for fun. Unless some component is over 80-90C, then there isn't anything to worry about.
All systems will act differently, so I will look for commonalities, such as how far from the VRM the heat spreads through the PCB and the difference in temperature between the front side and backside of the PCB. Keep in mind, the majority of the heat from the VRM goes into the PCB as it is a giant soldered on copper heat sink. A larger difference in temperature between the back and front of the PCB points towards a more effective heat sink.
Thermal Testing at Stock Speeds:
The image on the left is always at idle, and the image on the right is at load. During ALL TESTS, fans above the VRM that cool the CPU cooler's (Corsair H110i) radiator are turned on to high (12v).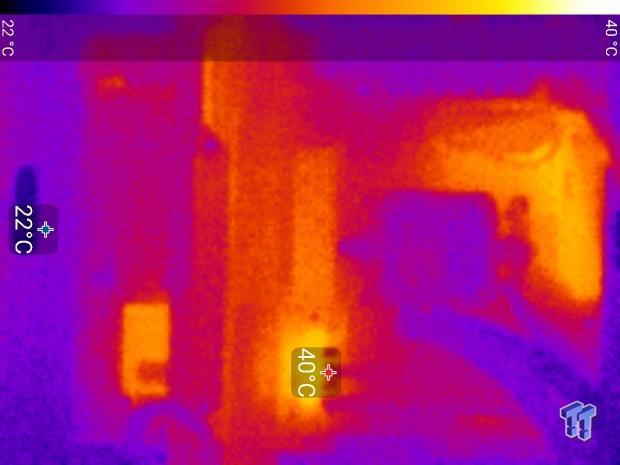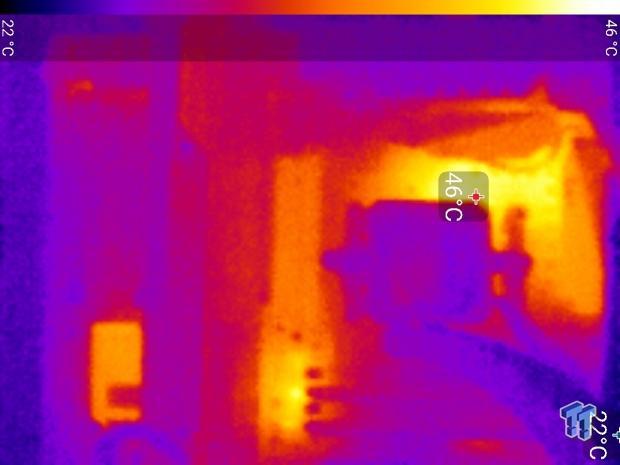 Full frontal.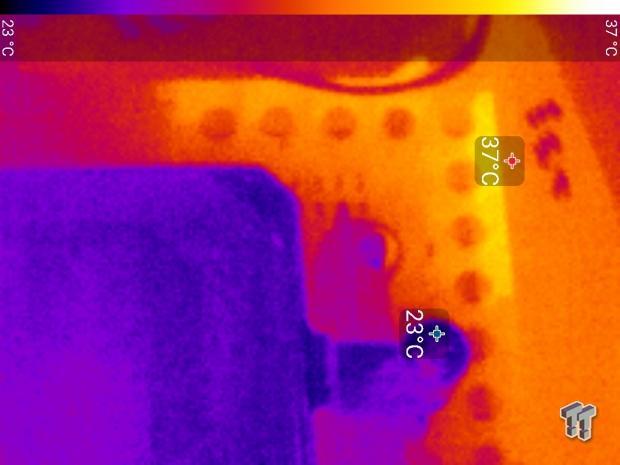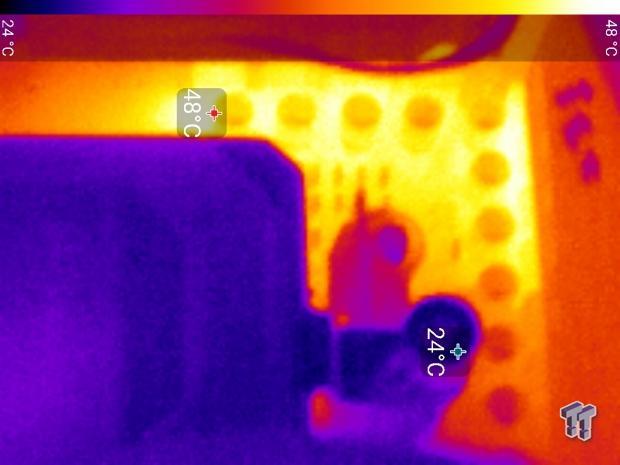 Up-close of the front of the VRM.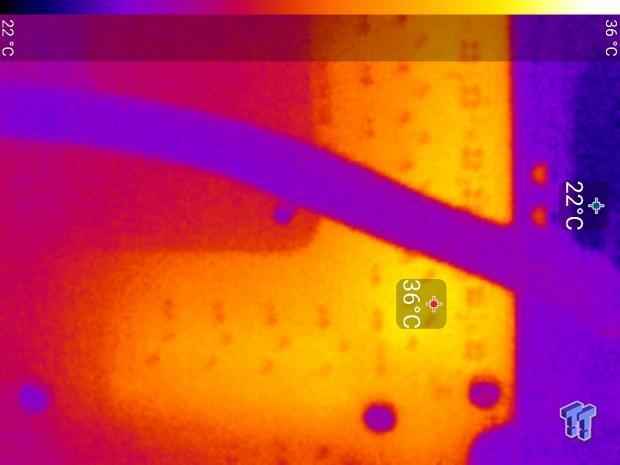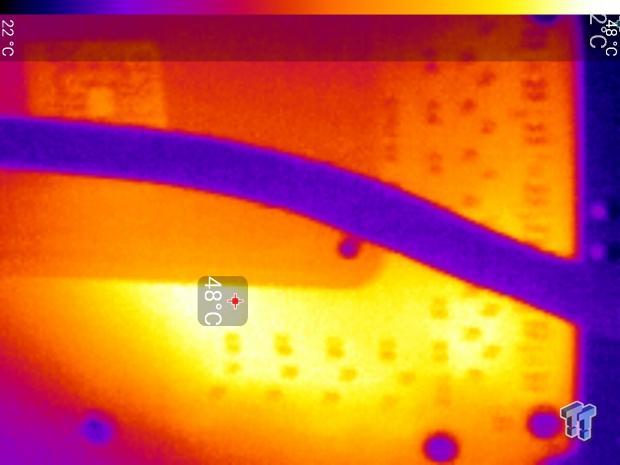 Up-close of the back of the VRM.
The X370GT7's thermal performance is excellent, but I expected that because of BIOSTAR's use of high-quality power stages and high-performance PWM. It's an aggressive VRM and can handle any Ryzen overclock.
Anything under 60C is great, 60-80C is acceptable, and anything above 80C is a bit worrisome (if at stock).
What's Hot, What's Not & Final Thoughts
Here are key points about the BIOSTAR X370GT7.
What's Hot
Lovely RGB LED Use: There is one thing that BIOSTAR beats most of its competition in; the proper implementation of RGB LEDs. The motherboard also has a few RGB LED headers for LED strips. The light from the integrated RGB LEDs is well diffused, and you don't see individual RGB LEDs.
VRM IC Quality: The VRM uses some of the best components in the business, especially on the power stage and PWM controller side of things. An all-International Rectifier VRM is really what you want for Ryzen because of the higher power consumption.
Lightning Charger: BIOSTAR's lightning charger isn't some gimmicky software application, there is actual hardware behind the scenes. The USB 3.0 internal header uses re-drivers to improve signal quality over longer cables and offers special PWM controllers to offer 1.5A at 12v or 2.4A at 5V to fully support the latest quick charging technologies.
OC Features: A POST Code display is very useful for Ryzen overclocking, but power and reset buttons are a nice touch. The motherboard does offer automatic overclocking and ECO downclocking. The motherboard also offers dual BIOS ROMs with a selector switch.
What's Not
Low USB on Rear IO: BIOSTAR's decision to offer less rear IO USB and more GPU outputs for unreleased processors is an odd one for such a high-end product.
Final Thoughts
The BIOSTAR X370GT7 is a solid, high-quality motherboard with a lot to offer. If all the features weren't enough, you get a free 240GB M.2 SATA SSD bundled with the motherboard (for $279)! At $209.99 (with BIOSTAR VIVID LED fan), it is an excellent buy if you need the SSD or just want a high-quality, beautiful motherboard.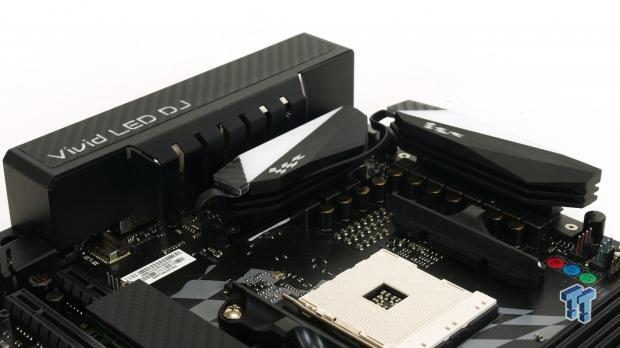 BIOSTAR has really ramped up its quality and features, and they have done a great job crossing over features from their recent Intel motherboard to their new AMD motherboards. Some X370 motherboards don't use the best audio controllers, or they cut corners in some other areas which the consumer might not notice, but BIOSTAR isn't doing that here. In fact, the X370GT7 is a symbol of BIOSTAR's strength on the AMD battlefield.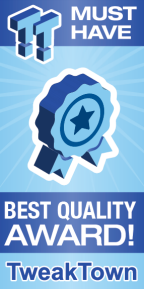 | | |
| --- | --- |
| Performance | 91% |
| Quality | 95% |
| Features | 90% |
| Value | 92% |
The Bottom Line: BIOSTAR's X370GT7's VRM ICs, M.2 cooling, and RGB LED use are of the highest quality.
PRICING: You can find products similar to this one for sale below.

United States: Find other tech and computer products like this over at Amazon.com

United Kingdom: Find other tech and computer products like this over at Amazon.co.uk

Australia: Find other tech and computer products like this over at Amazon.com.au

Canada: Find other tech and computer products like this over at Amazon.ca

Deutschland: Finde andere Technik- und Computerprodukte wie dieses auf Amazon.de
We openly invite the companies who provide us with review samples / who are mentioned or discussed to express their opinion. If any company representative wishes to respond, we will publish the response here. Please contact us if you wish to respond.