ASUS ROG Crosshair VI Hero (AMD X370) Motherboard Review
Our first AMD Ryzen-based motherboard review is of the ASUS ROG Crosshair VI Hero (AMD X370). It just so happens to be one of the best out there too.
Published
13 minute read time
TweakTown's Rating: 93%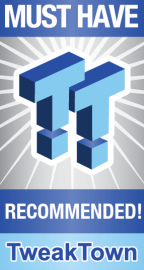 The Bottom Line
ASUS's latest Crosshair installment might be their best yet and is one of the best motherboards for your Ryzen CPU.
Introduction, Specifications, and Pricing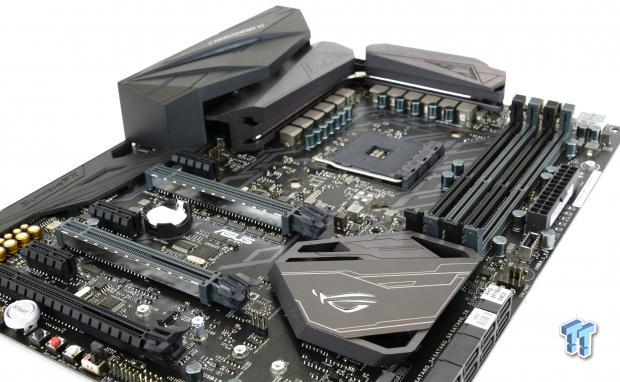 Our first X370 motherboard review is on the motherboard that AMD provided inside our Ryzen reviewer's kit. The Crosshair VI Hero is ASUS's current top offering for the AMD AM4 platform and uses AMD's X370 chipset. The X370 chipset and Ryzen CPU ecosystem is no longer similar to that of Intel, or anything we have seen before.
The chipset, be it X370 or B350, are IO extensions of the CPU, they are basically South Bridges without system management capabilities. Things such as the BIOS and HD audio connections, which have almost always been on another chip, are now integrated into the CPU. In fact, the one reason the motherboards require a chipset is to authenticate the CPU and provide secure operation. AMD even has chipsets that have almost no IO, such as the X300, that allows overclocking and multi-GPU capabilities.
If you want multi-GPU capabilities, you have to go with an X series chipset. The Crosshair VI Hero is the result of a long line of ROG based products on the AMD side of things. They are designed to be the best overclockers and are loaded with the latest ROG features. The Crosshair VI Hero was launched on March 2nd and has since taken multiple world records. It's also one of few motherboards with an external clock generator, which is required for FSB/BCLK/bus speed adjustment.
Let's take a look at what ASUS has to offer for your high-end Ryzen rig.
Specifications

The Crosshair VI Hero offers USB 3.1 on the rear IO and through an internal type-C header, 12 USB ports on the rear IO, Intel LAN, high-end audio, multi-GPU support, eight SATA ports, M.2, and even two RGB headers.
Pricing
The Crosshair VI Hero costs around $255.
Packaging and Crosshair VI Hero Overview
Packaging and Overview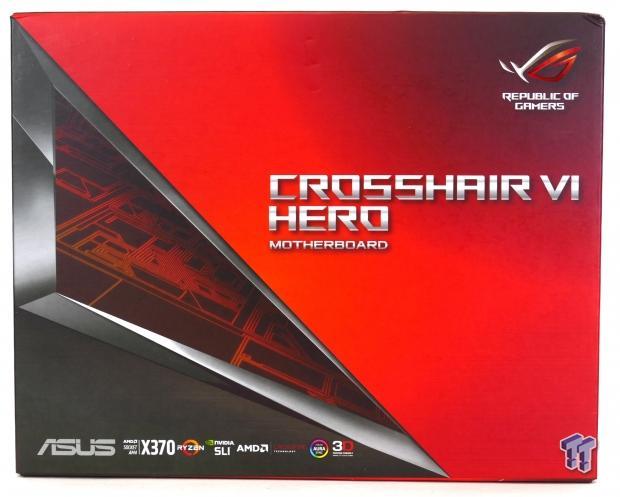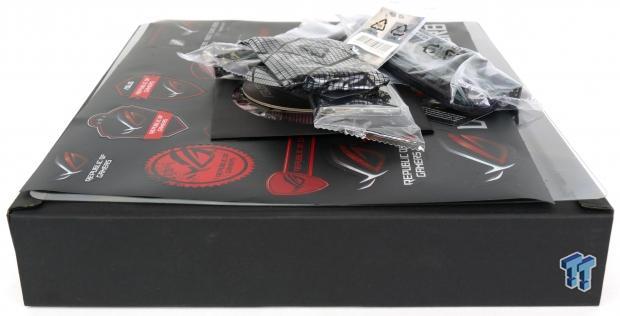 ASUS's box design is similar to that of ASUS's Z270 ROG offerings, and packaging is also similar. The packaging does a great job of protecting the motherboard from the elements.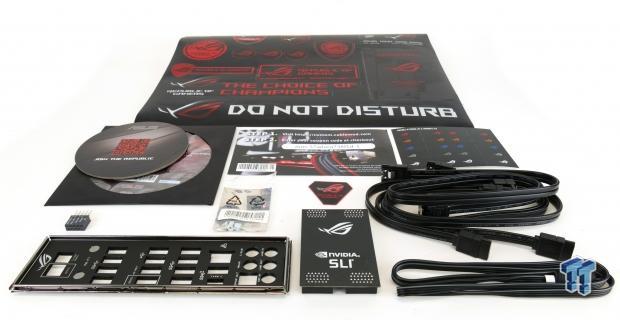 The accessory package includes ROG stickers, a ROG coaster, ROG cable stickers, a cable mods coupon, a Q-Connector, M.2 screws, four SATA6Gb/s cables, an RGB LED extension cable, an SLI_HB bridge, an IO shield, and a ROG case badge.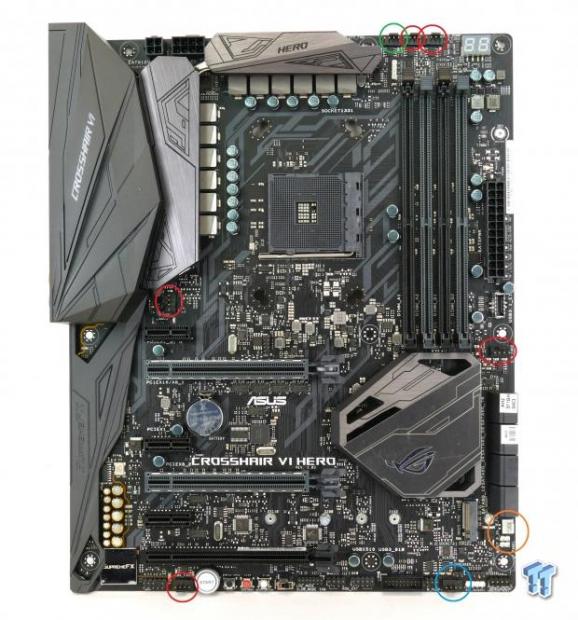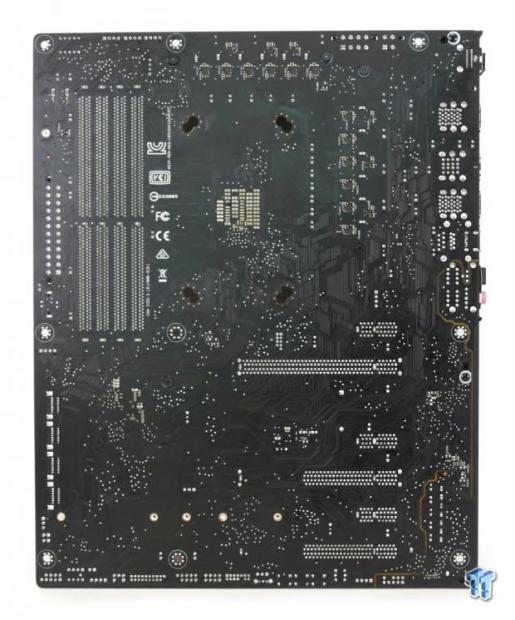 ASUS offers eight fan headers on the motherboard. All of them offer automatic (and manual) PWM/DC mode detection except the CPU_OPT connector circled in green. The W_PUMP+ header circled in blue offers 3A of output. The CPU and CPU_OPT header share control while the W_PUMP and AIO header also share control. I have also circled a group of headers dedicated to water cooling features in orange; I will delve further into their functionality later in the review.
The aesthetics of the motherboard are color neutral, so with the built in RGBs, you can customize the color of your motherboard to match the rest of your rig. The back of the motherboard is bare except for some VRM parts. The mounting mechanism of this specific sample was not included because it was part of a test kit I got from AMD, it came with Noctua's mounting. Your model will come with standard AM4 mounting.

The rear IO panel features a BIOS Flashback button, a clear CMOS button, space to install an M.2 WIFI card, eight USB 3.0 ports, four USB 2.0 ports, USB 3.1 type-A, USB 3.1 type-C, 1Gbit LAN, and 7.1 gold plated audio outputs with S/PDIF out.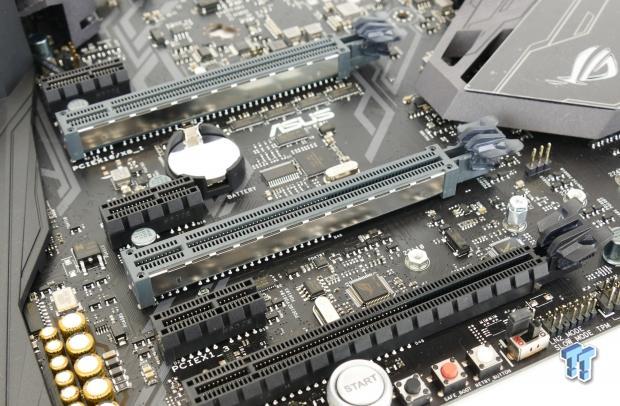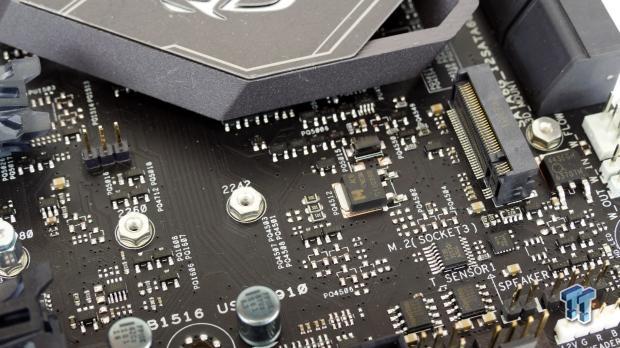 The PCI-E layout is very simple. The first two x16 PCI-E 3.0 slots which are reinforced in x, y, and z-axis operate at x16/x0 or x8/x8. The bottommost x16 slot is electrically x4 PCI-E 2.0 connected to the X370 chipset and shares bandwidth with the two x1 slots. The motherboard has a single 32Gb/s M.2 slot connected to the CPU.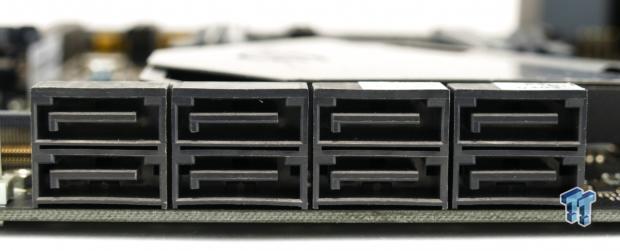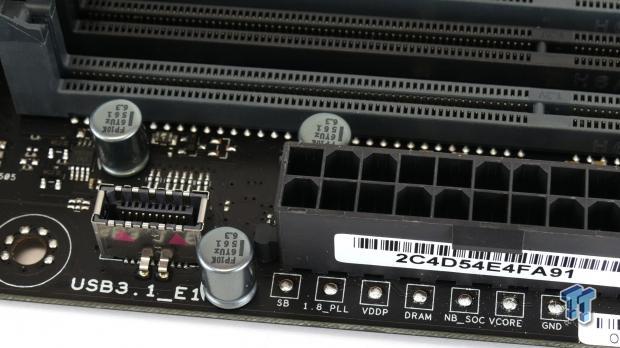 The X370 chipset offers eight SATA 6Gb/s ports. The motherboard also provides a USB 3.1 front panel connector, which is routed to the X370 chipset. Voltage read points are located below the 24-pin connector.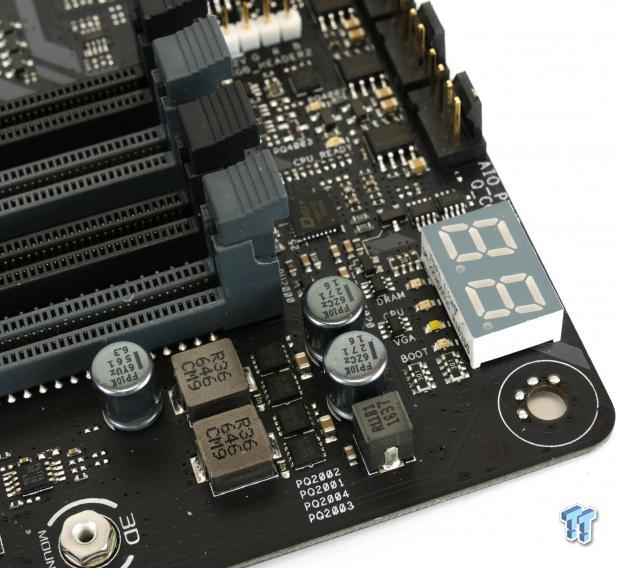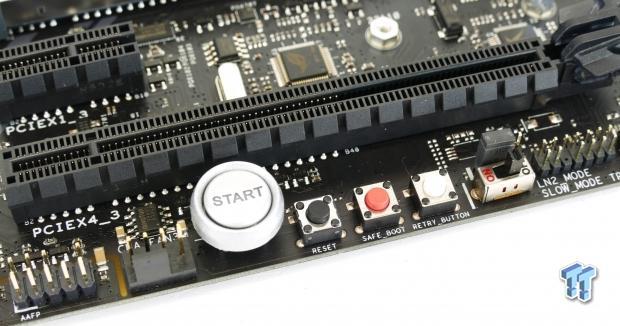 The POST Code connector sits above four boot LEDs so you can quickly diagnose boot issues. At the bottom of the motherboard is the power button, reset button, safe boot button (failsafe boot settings), retry button (re-applies settings and reboots), an LN2 mode jumper, and a slow mode switch.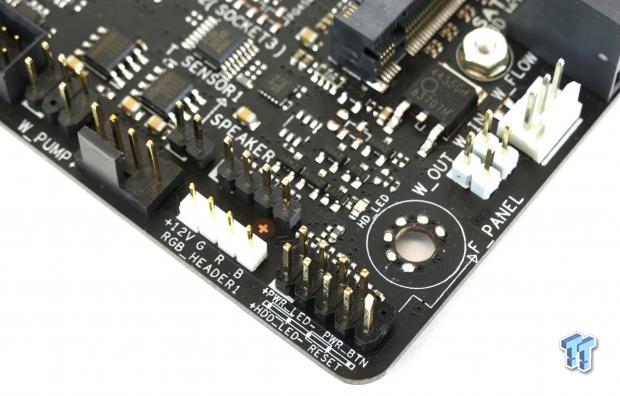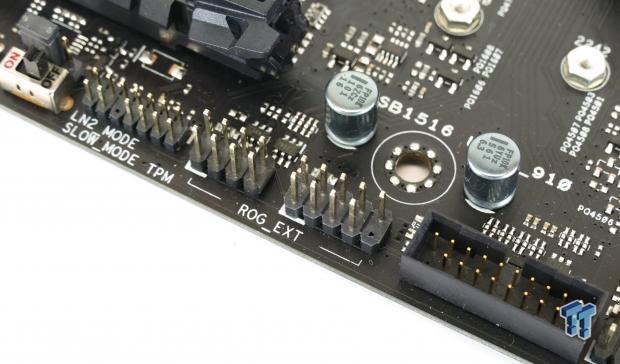 At the bottom right corner of the motherboard are an RGB LED header, front panel headers, water temperature sensors (W_IN and W_OUT), and a water flow tachometer header. The motherboard also features a USB 3.0 internal header and ROG extension headers in case you want to attach ROG accessories (part of it is a USB 2.0 internal header).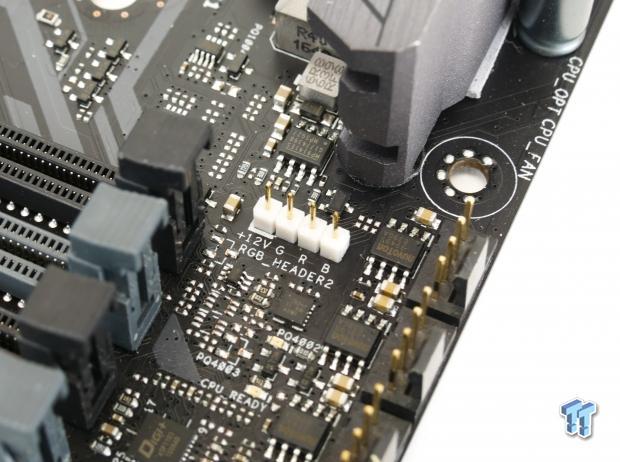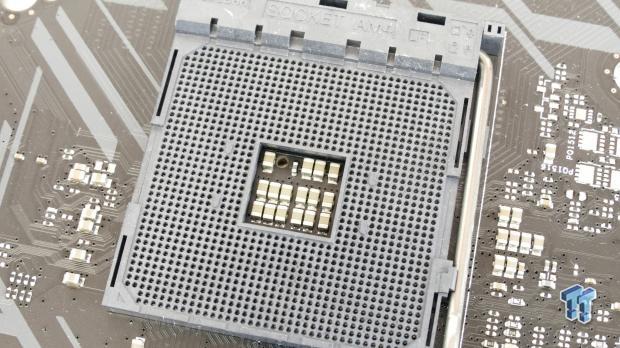 At the top of the motherboard is an RGB LED header, it's location here is great for both AMD's Wraith coolers with RGB LEDs and RGB LED strips located at the top of the case. In the center of the CPU socket is a hole, which can be used to place a thermocouple for precise CPU temperature during LN2 overclocking. I should also mention that ASUS has given buyers of the Crosshair VI Hero the ability to mount AM3+ coolers; the motherboard has mounting holes for both sockets.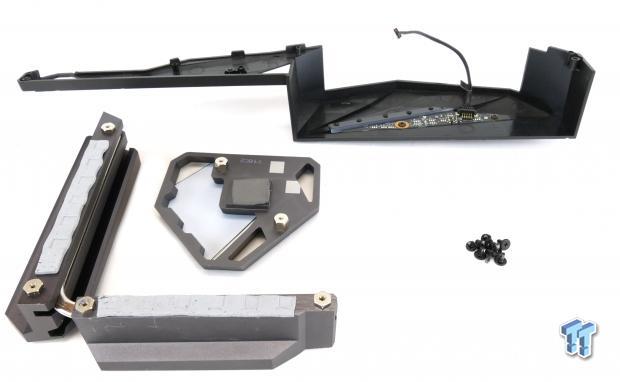 The heat sinks are beefy, and the IO shield has an integrated RGB LED strip.
ASUS Crosshair VI Hero Circuit Analysis
Circuit Analysis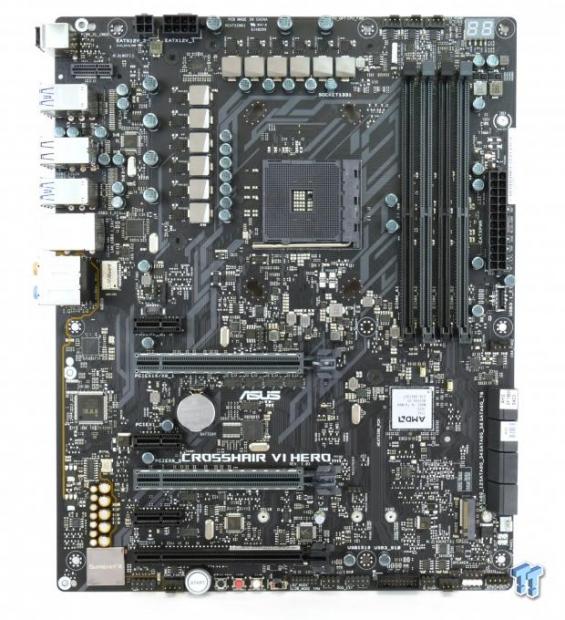 The Crosshair VI Hero looks slick without the heat sinks.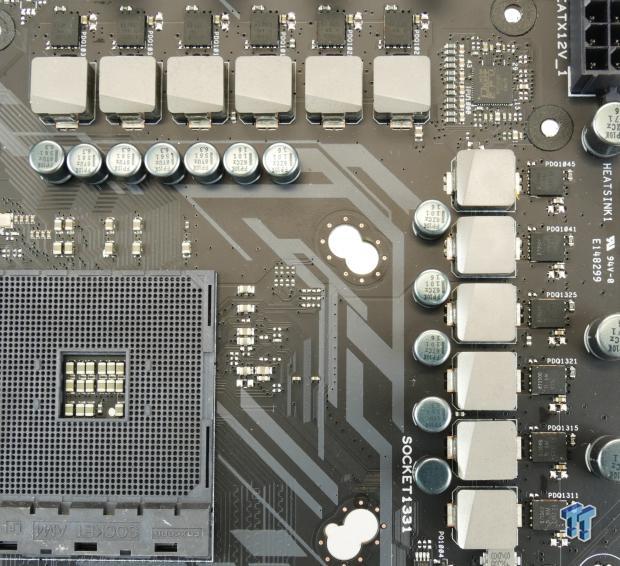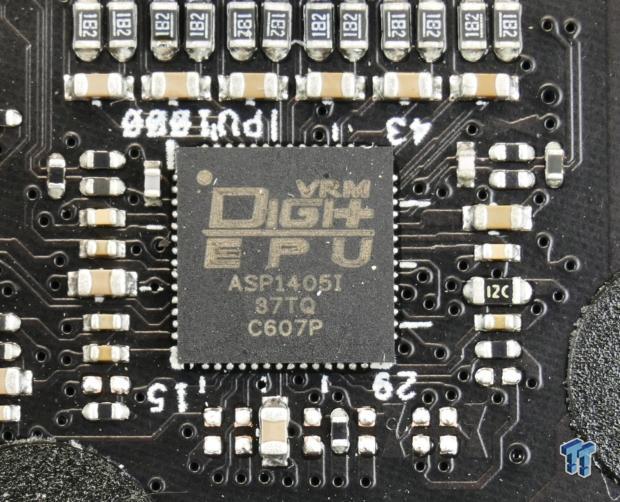 The VRM on this motherboard is in an 8+4 phase configuration. The four phases starting at the "Socket 1331" PCB marking area are for the SOC voltage for the CPU, while the remaining eight are for the CPU's main core voltage. A single PWM, marked ASP1405, is used, and it provides 4+2 phases which are doubled to 8+4 through the use of doublers and drivers.
The ASP1405 is most likely an IR35201(6+2) or similar International Rectifier (recently acquired by Infineon) digital PWM, which would be an upgrade to what ASUS uses on their Z270 motherboards. The use of this type of PWM is warranted considering Ryzen's high VRM power requirements when the CPU is overclocked on all cores.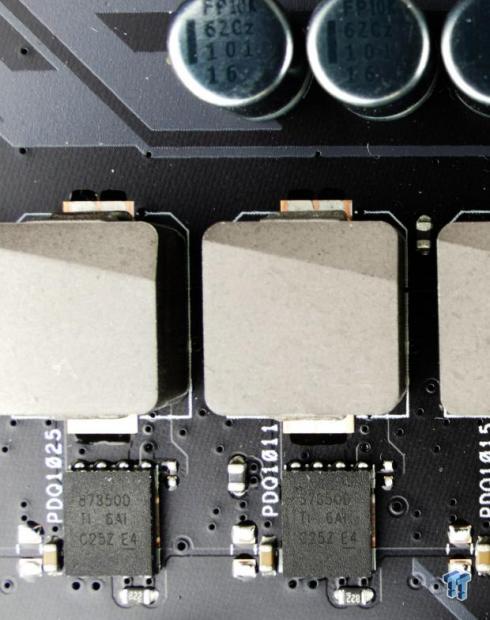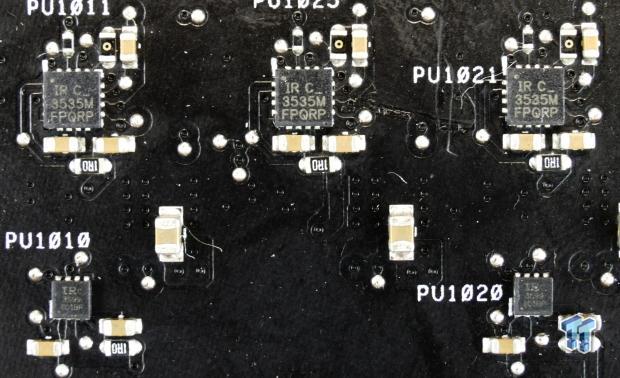 Each of the CPU's main and SOC voltage rail phases gets its own Texas Instruments CSD87350Q5D NexFET power block. These power blocks integrate the high-side and low-side MOSFET into a single package, are rated at 25A continuous output at 90% efficiency and can operate upwards of 40A. They are what have been used on high-end Intel motherboards for a while, and it is nice to see ASUS use them here.
The inductors are ASUS's micro-fine alloy model, and the capacitors are 10K FPCAP Japanese solid-polymer capacitors. The tiny ICs in the back of the VRM area of the PCB are IR3599 doublers/quadruplers used as doublers. Each IR3599 takes in a single PWM signal and outputs two. The two PWM signals from each IR3599 go to two IR3535 single phase drivers that then control the NexFETs.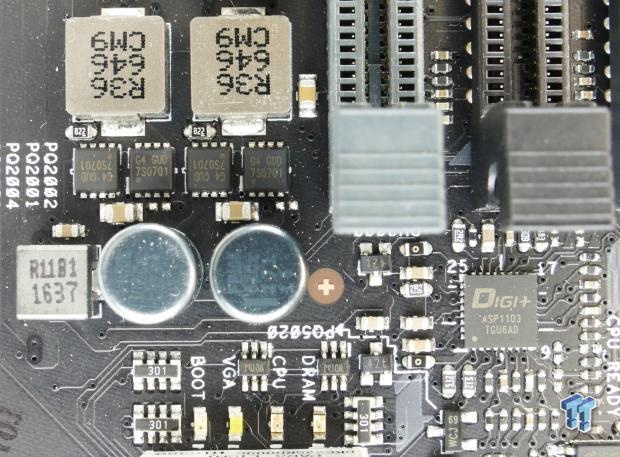 The memory VRM on this motherboard is identical to that of the Maximus IX Apex, ASUS's top Intel overclocking motherboard. Each of the two phases uses a single high and low-side MOSFET, and the phases are controlled by an ASP1103 PWM (unknown origin).
ASUS Crosshair VI Hero Circuit Analysis Continued
Crosshair VI Hero Circuit Analysis Continued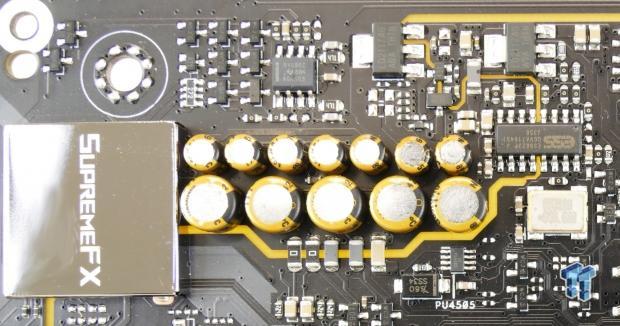 ASUS's ALC1220 implementation is a bit different than many other vendors for Ryzen. They use the ALC1220, which offers 120dB SNR and an integrated headphone amplifier, but they improve the output with an ESS Sabre ESS9023P DAC, a Texas Instruments RC4580 buffer, and a high-precision clock source.
They do have a custom de-pop circuit which you can enable or disable in the UEFI. Nichicon Gold series electrolytic audio capacitors and audio PCB isolation improve audio quality.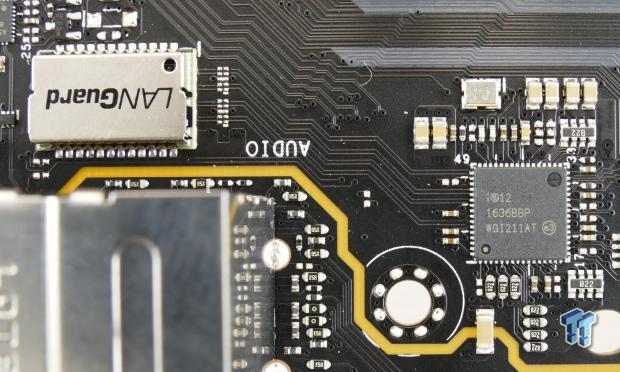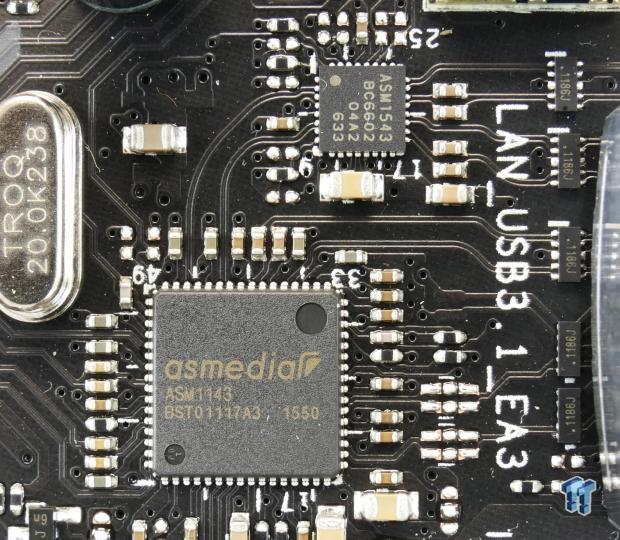 On Intel motherboards we usually find something like an i219v, which is a small PHY that works in conjunction with the integrated Gbit MAC in the PCH, you won't find that on Ryzen motherboards. Ryzen motherboards don't have integrated LAN in their chipsets, which isn't a bad thing, but it means that vendors have to implement full NIC solutions such as the Intel i211AT we find on the Crosshair VI Hero.
ASUS also added LAN Guard to protect the NIC from ESD. To expand upon the integrated USB 3.1, ASUS has added an ASMedia ASM1143 USB 3.1 controller along with an ASMedia ASM1543 type-C control chip for the rear panel USB 3.1 type-C port.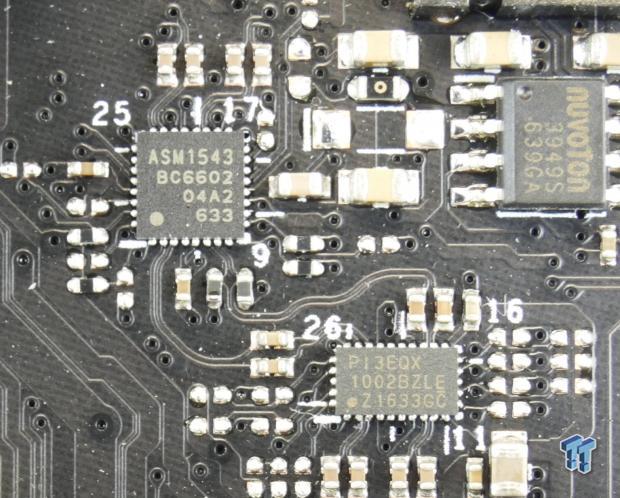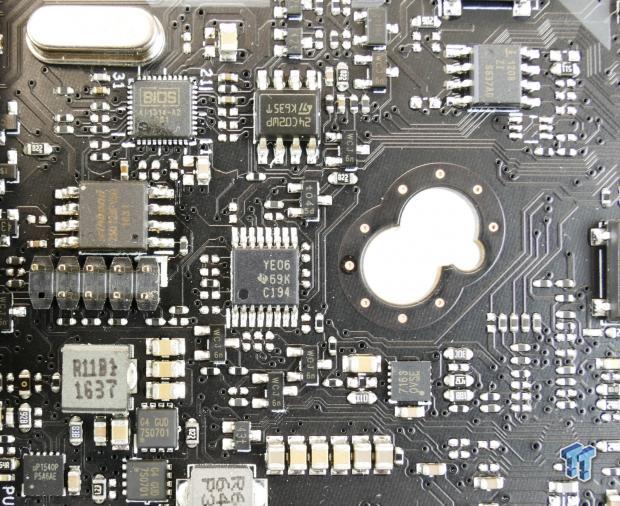 We can find another ASMedia ASM1543 type-C control chip and a Pericom PI3EQX USB 3.1 single-port re-driver for the internal USB 3.1 front panel header; they improve the output from the X370's integrated USB 3.1 controller. The SPI link that connects the BIOS to the system is in the CPU for Ryzen, this is part of AMD's new SOC design, making the chipset almost obsolete.
ASUS uses a single 128Mbit ROM (same density as current Intel high-end offerings), and a chip labeled BIOS implements ASUS's BIOS Flashback recovery feature.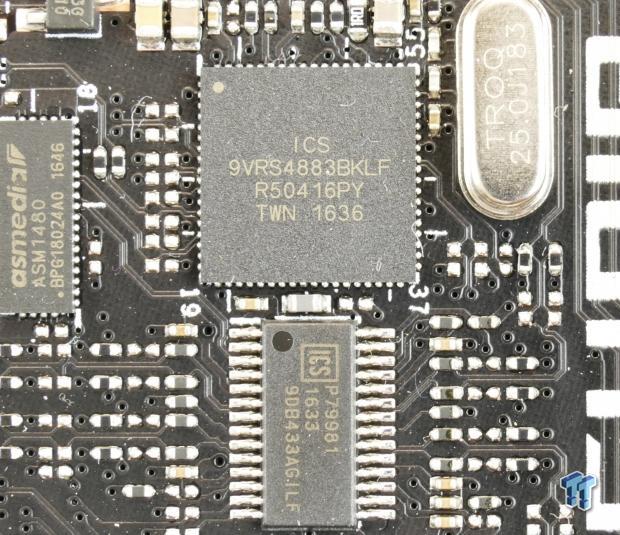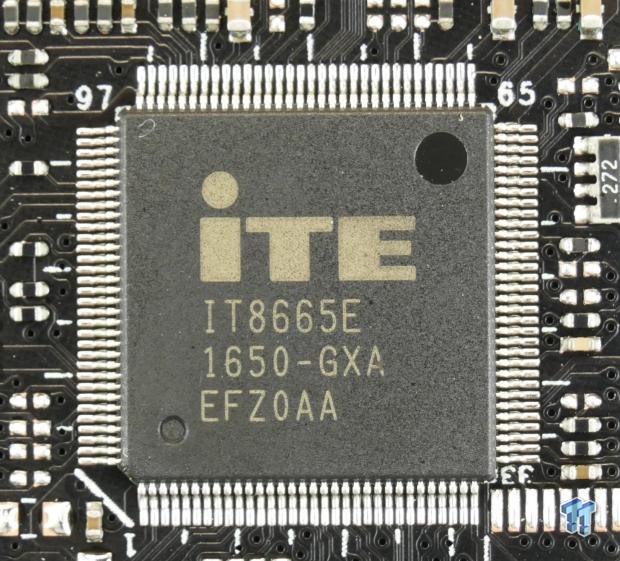 There are two ICS clock buffers in the image on the right; they provide the ability to increase the BCLK to reach memory speeds above 3200MHz. You won't find separate clock buffers that allow BCLK adjustment on most motherboards. The ITE IT8665E is the main SuperIO on the motherboard.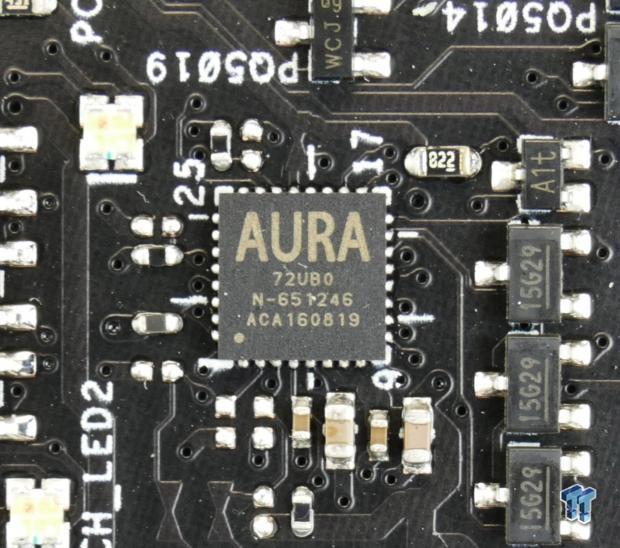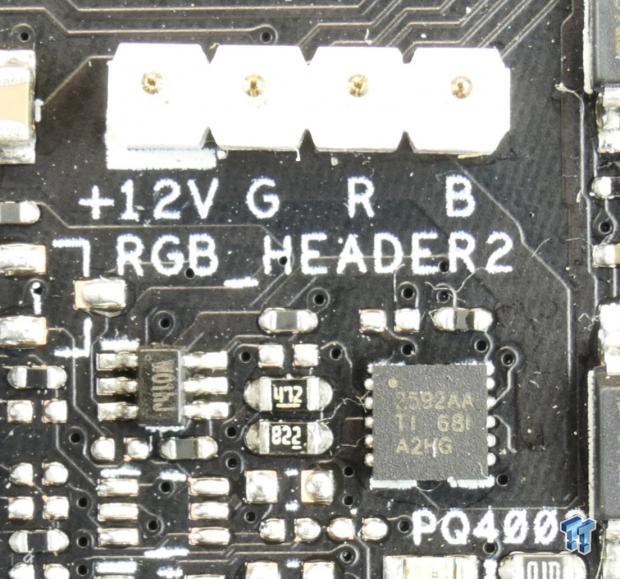 The IC labeled AURA provides RGB LED control on the motherboard. You will find a little Texas Instruments IC labeled 2592AA near each RGB LED header; it is an eFuse that will protect the RGB header if you insert the strip backward.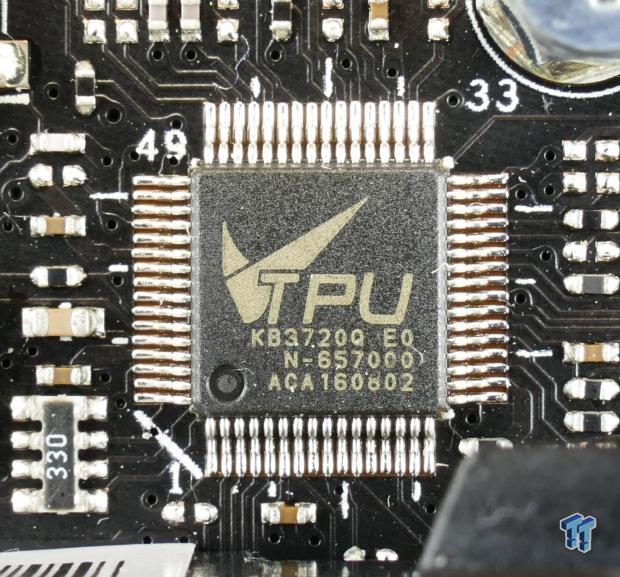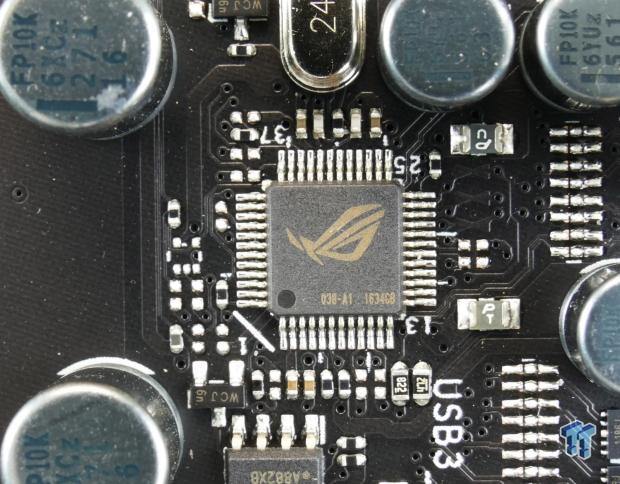 A chip labeled TPU provides extra basic features in the overclock realm, it's a custom embedded controller. Other chips with the ROG label provide other exclusive ROG functionality like KeyBot.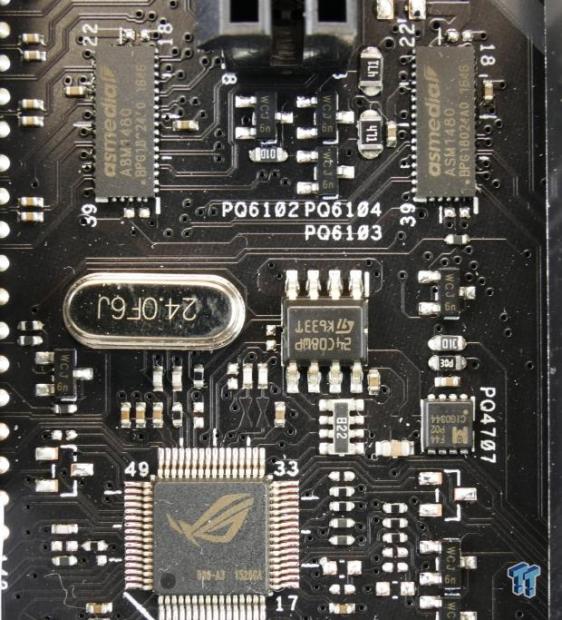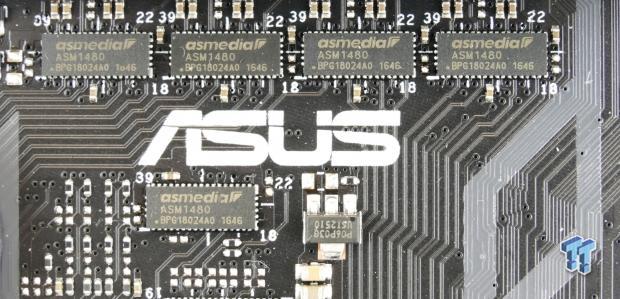 We have two ROG controllers on the motherboard; the second is pictured above. The motherboard also has many ASMedia ASM1480 quick switches that move around motherboard bandwidth.
BIOS and Software
BIOS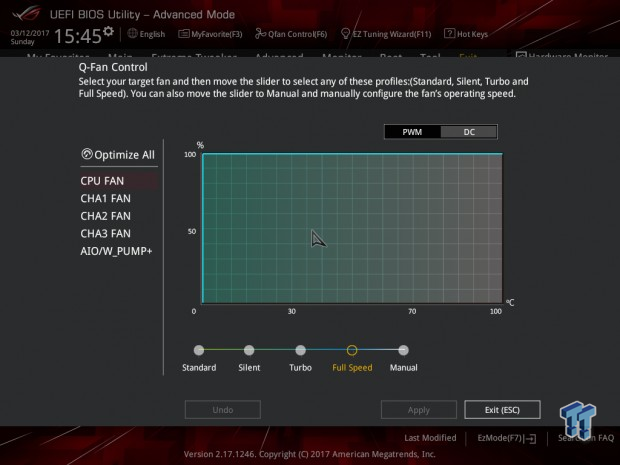 ASUS's UEFI is very similar to that of their Intel ROG offerings. However, many of the settings are different because the platform is much different. ASUS still offers overclocking presets through DOCP, which is almost like AMD's version of XMP. I was able to use their built-in functions for overclocking.
Fan control in ASUS's UEFI is also top-notch, with a full GUI and manual input options as well as multiple temperature control options. ASUS's UEFI actually lets you pick two temperature sources for fan control, a new feature.
ASUS has also provided AMD's full backside settings so that you can tune pretty much every characteristic of the CPU under the AMD CBS menu.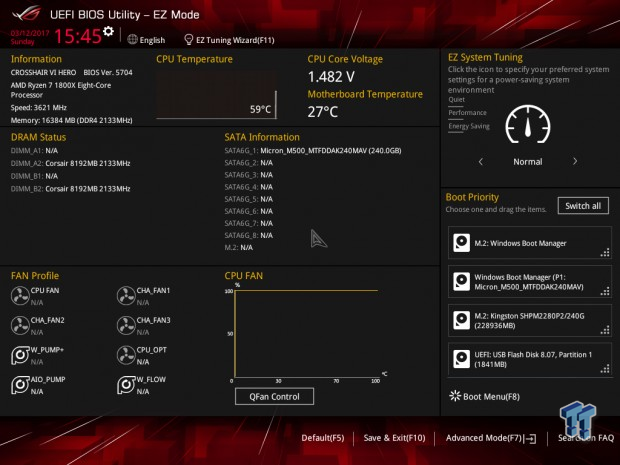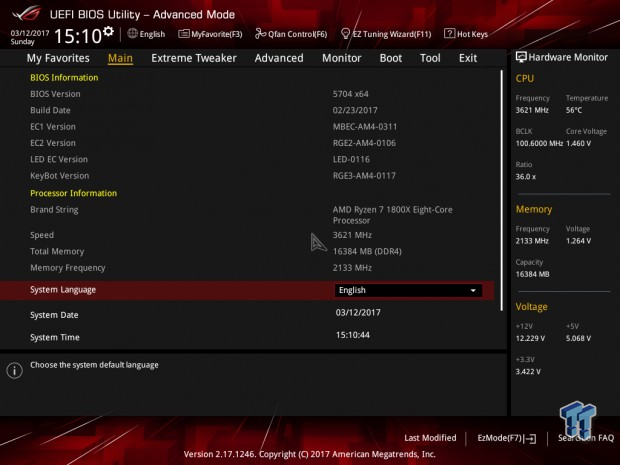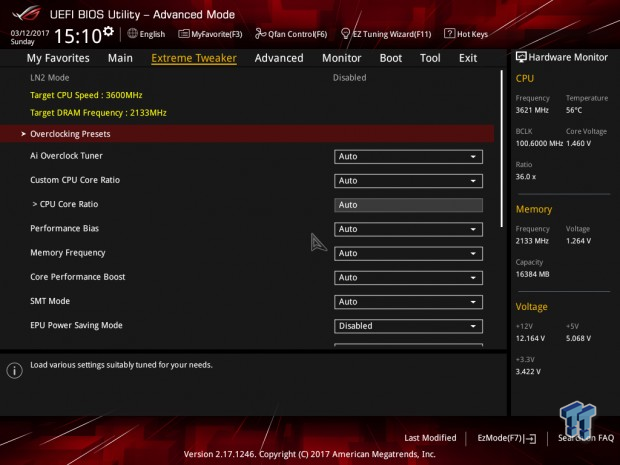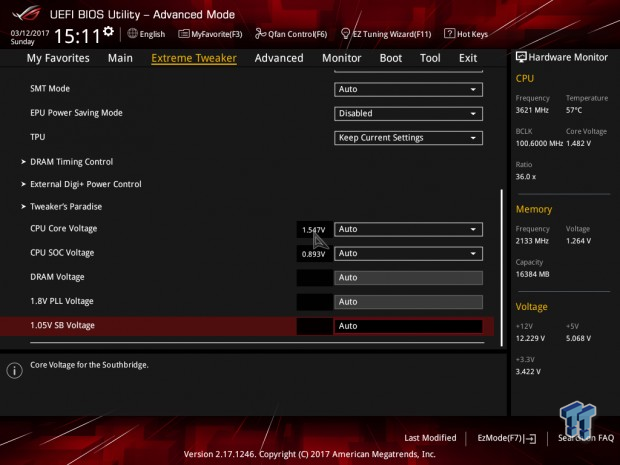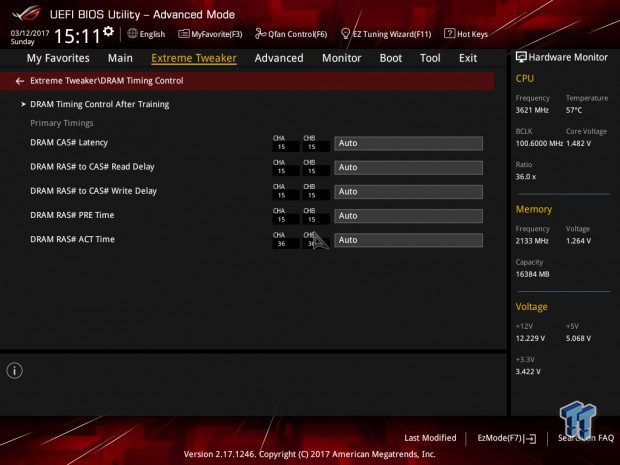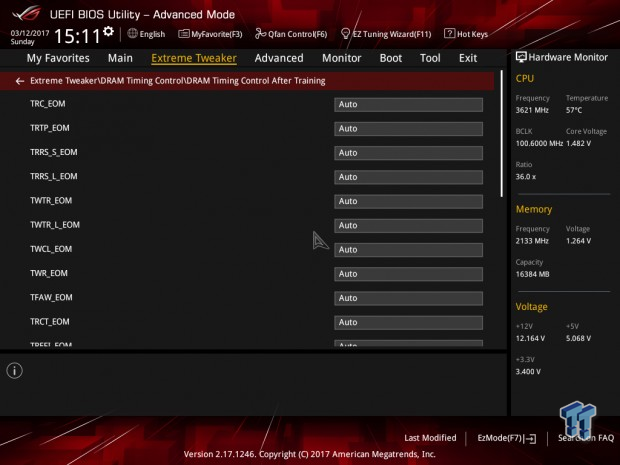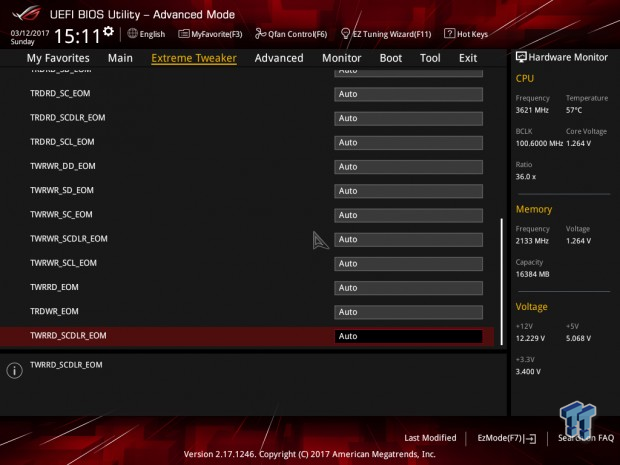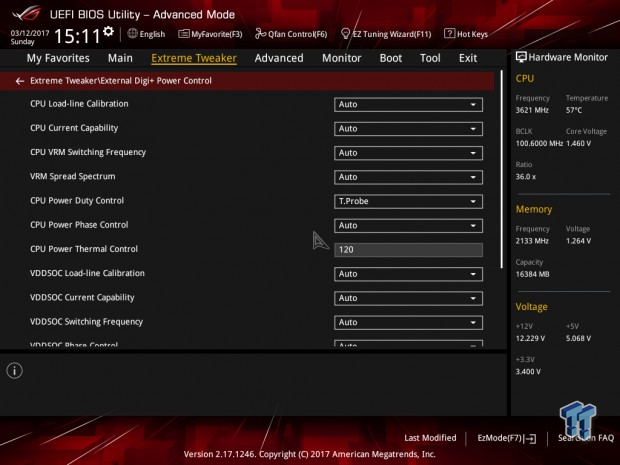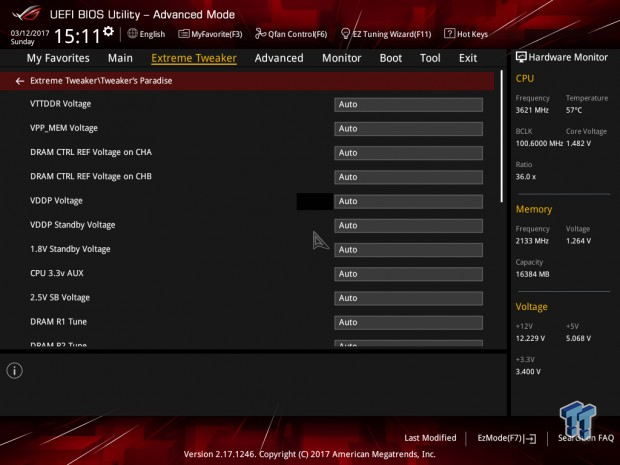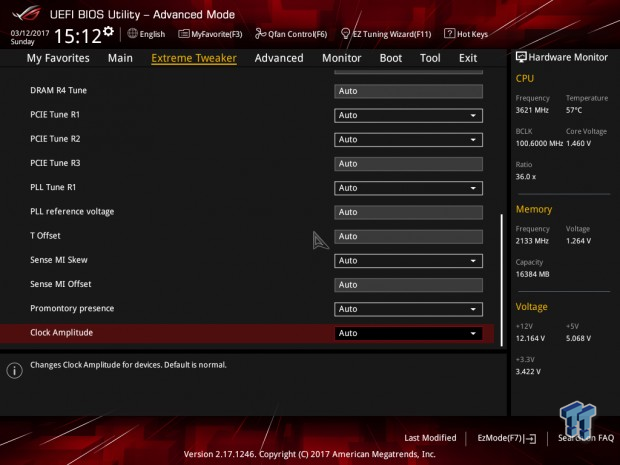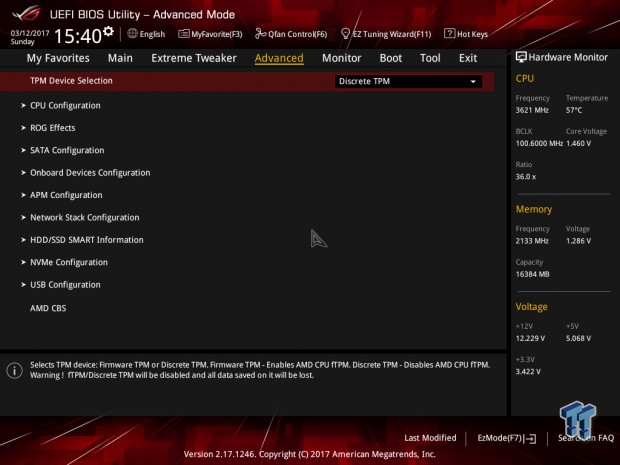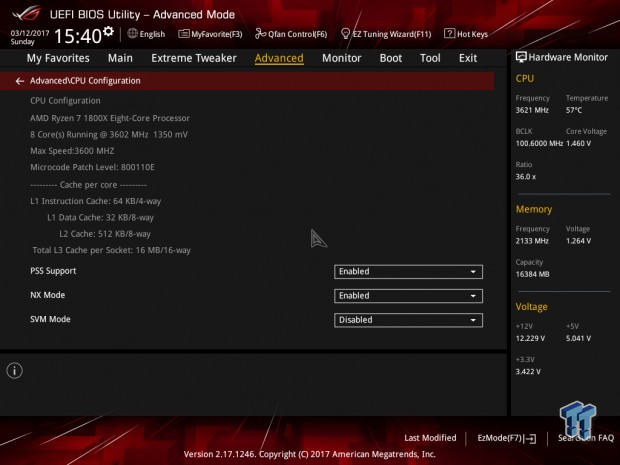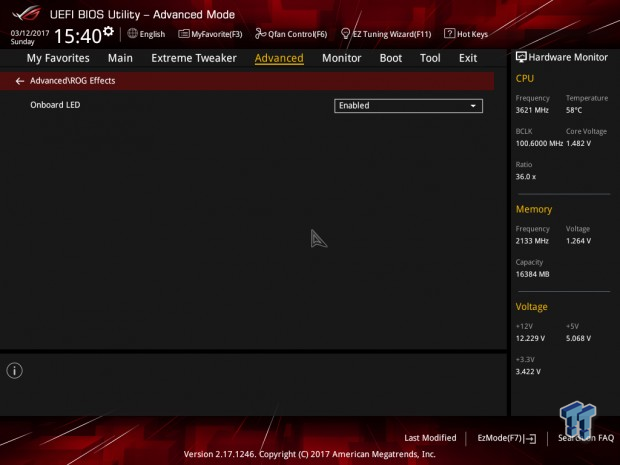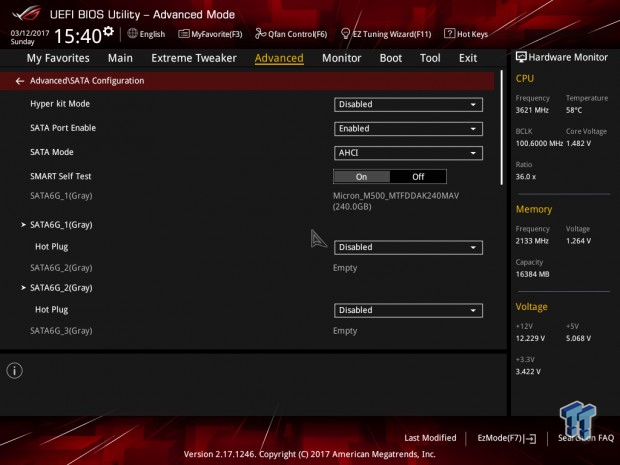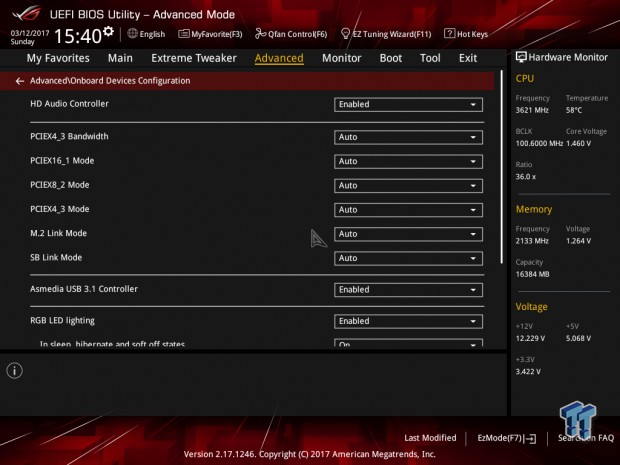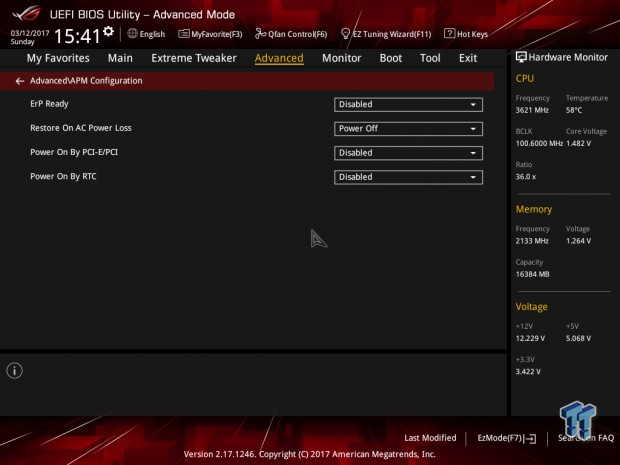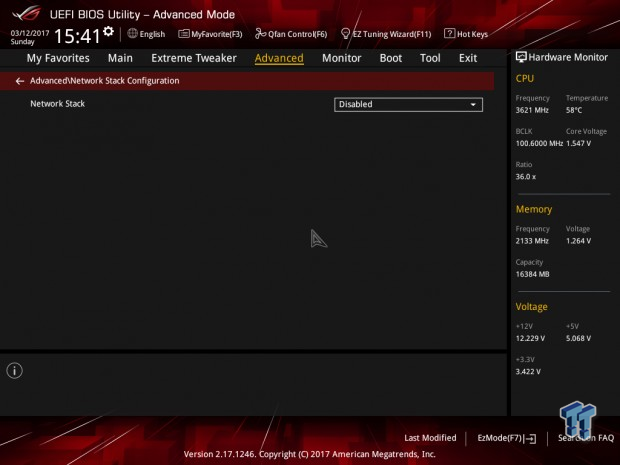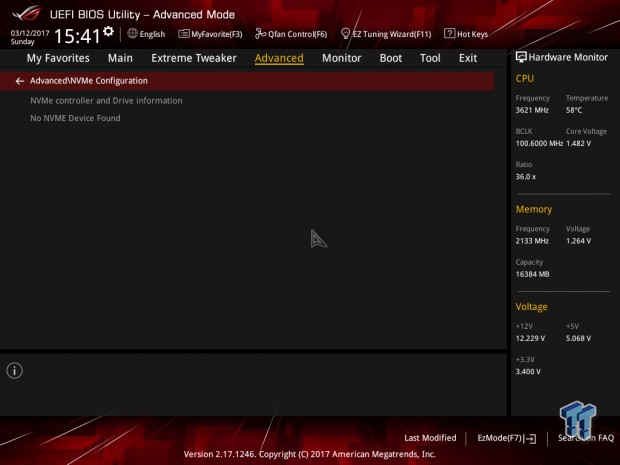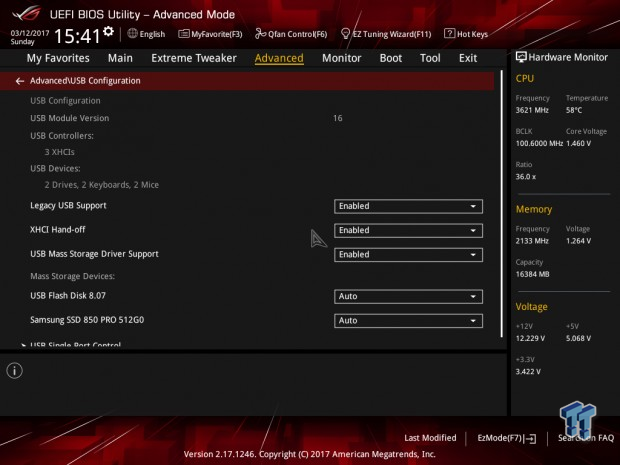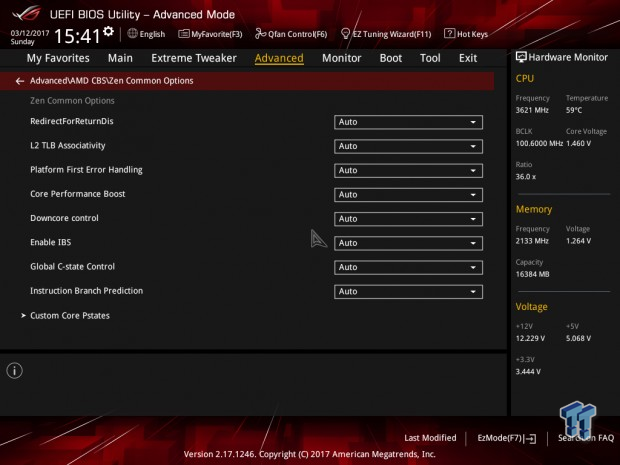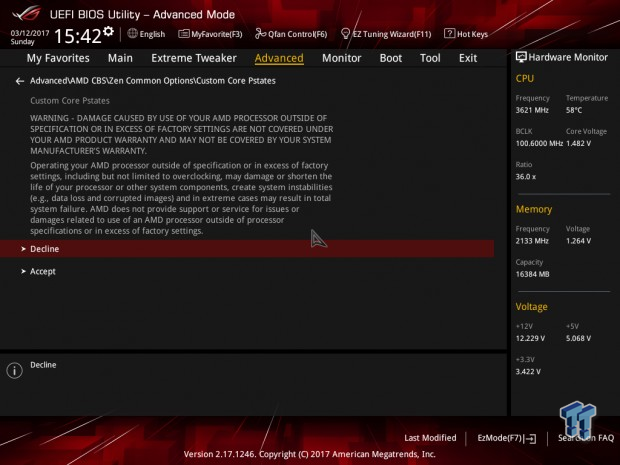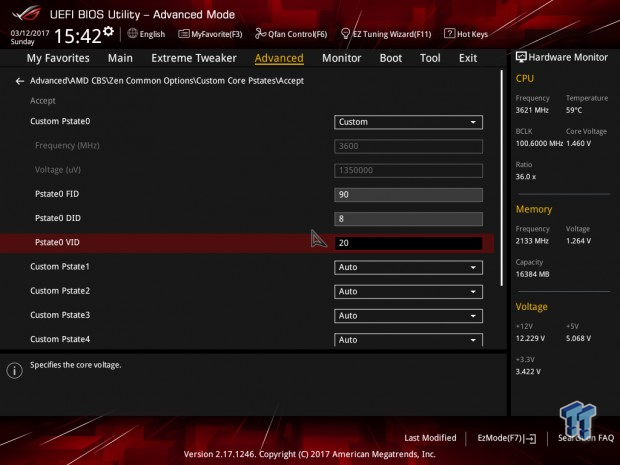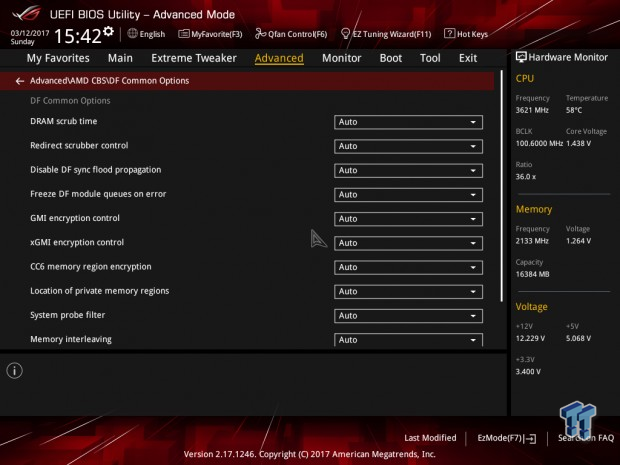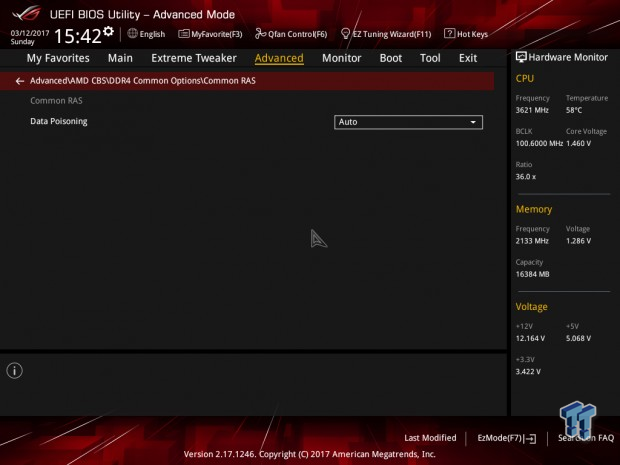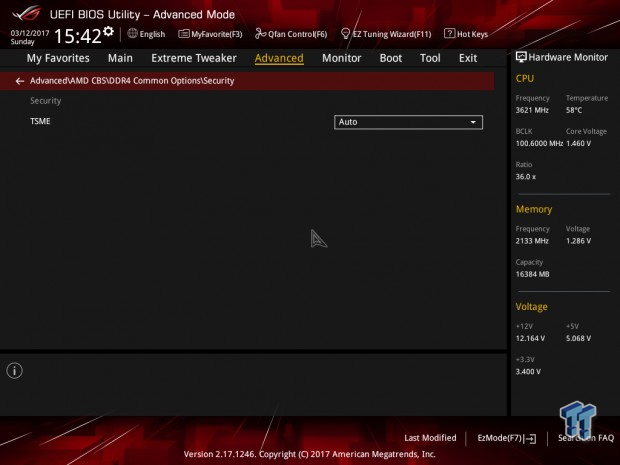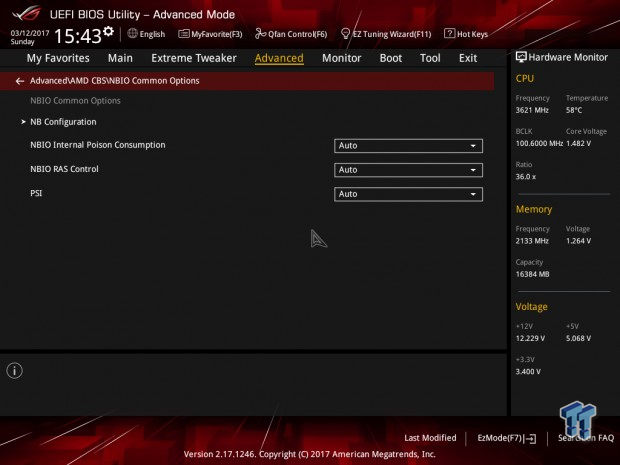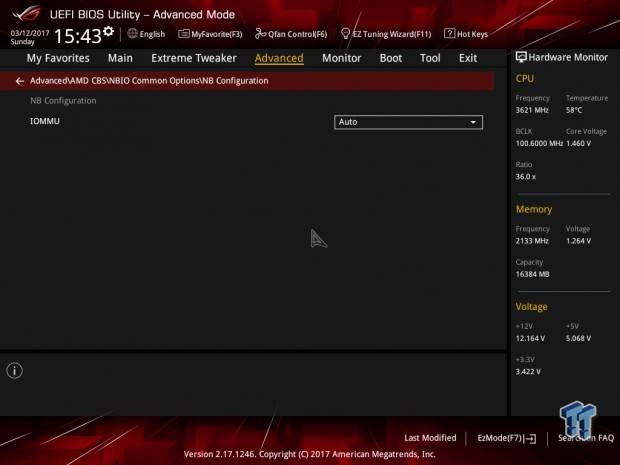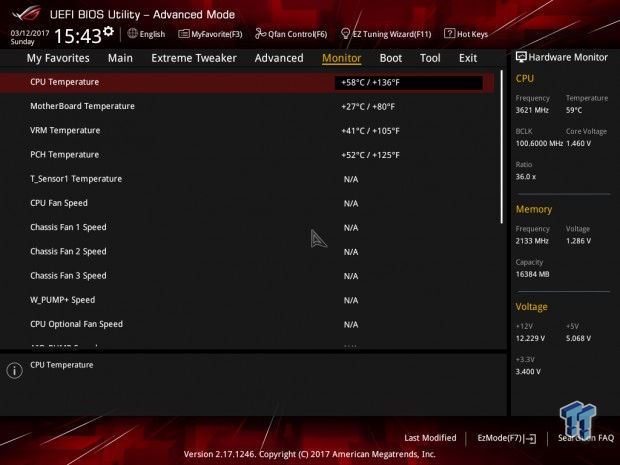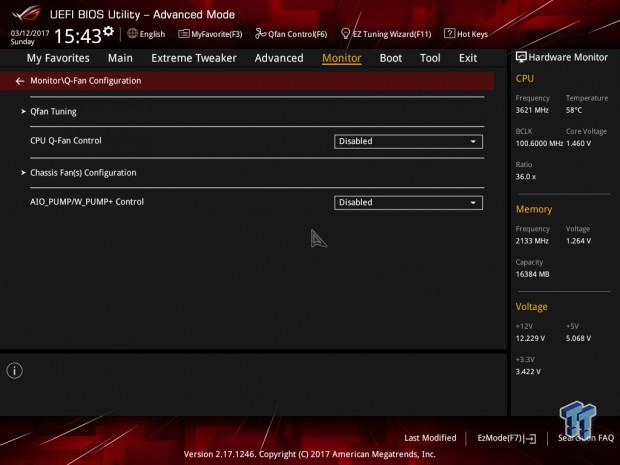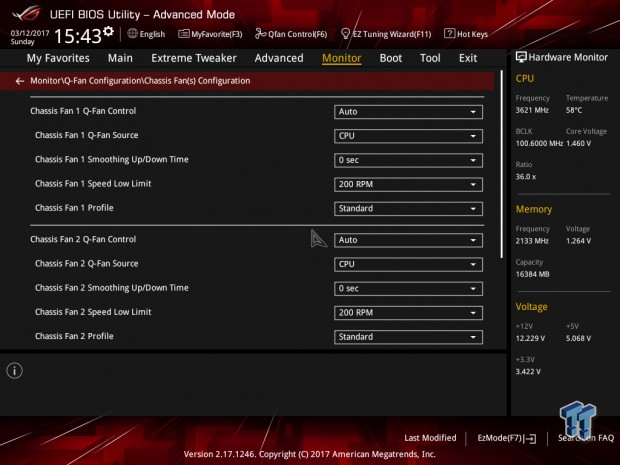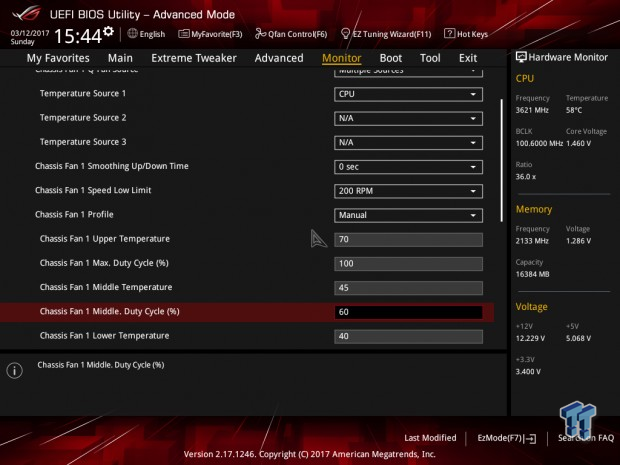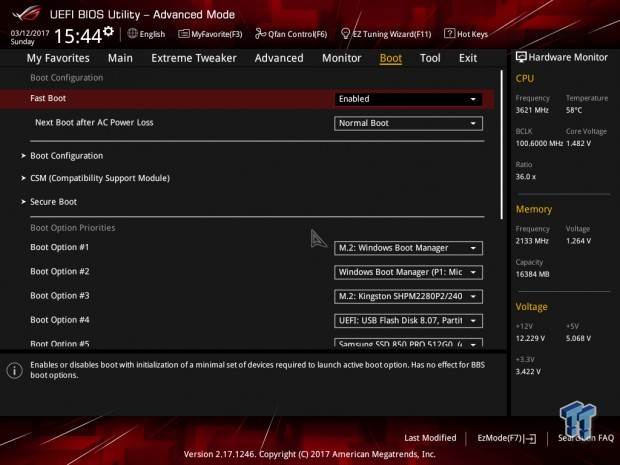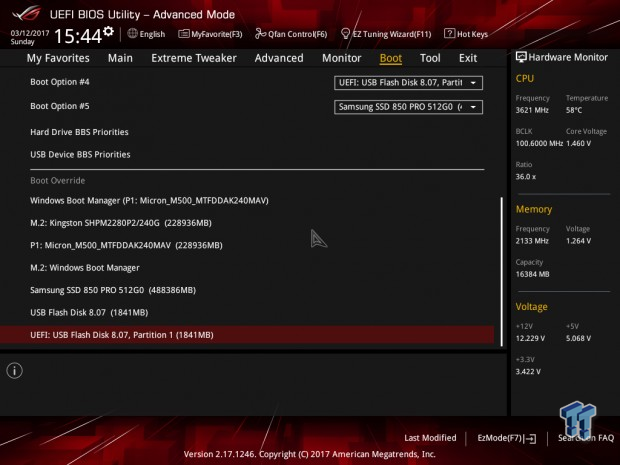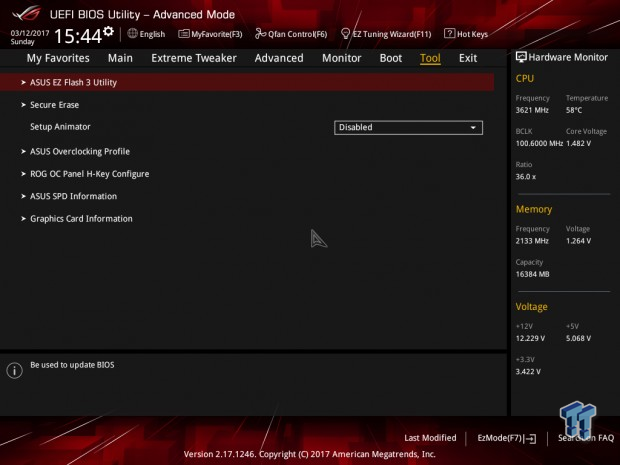 Software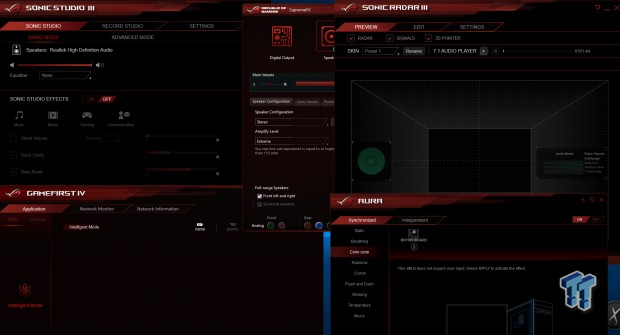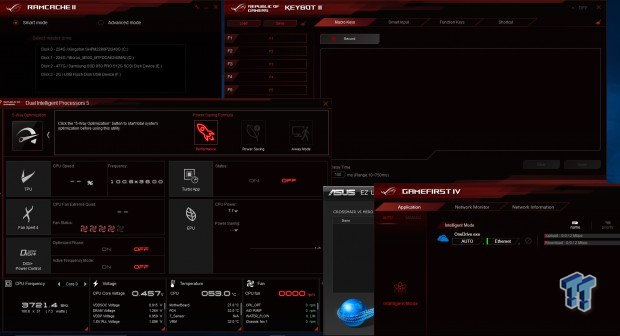 ASUS's software suite is very extensive and includes Sonic Studio III, Sonic Radar III, AURA, GameFirst IV, RAM Cache II, KeyBot II, and DIP 5. Dual Intelligent Processors 5 (DIP5) includes many other software applications including TPU, Fan Xpert 4, DIGI+ Power Control, EPU, and Turbo APP just to name a few. ASUS's AMD software offerings are almost identical to that of their Intel offerings.
Test System Setup
Steven's Motherboard Test System Specifications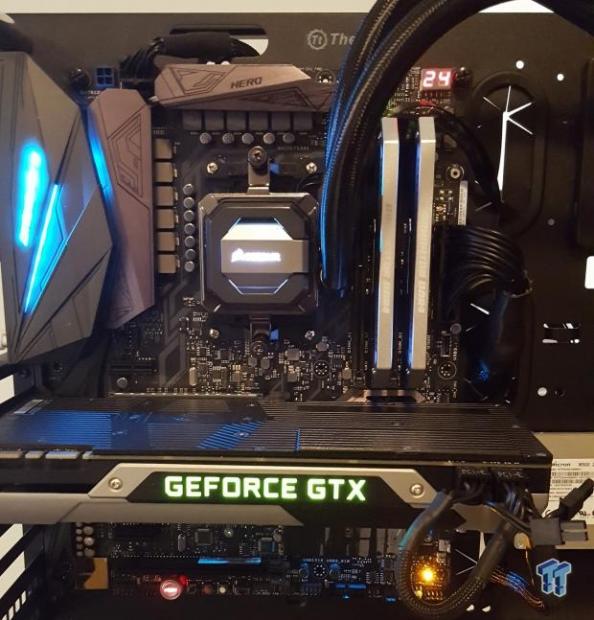 The Crosshair VI Hero's aesthetic are color neutral with tasteful RGB LED selection. You can choose your own color theme.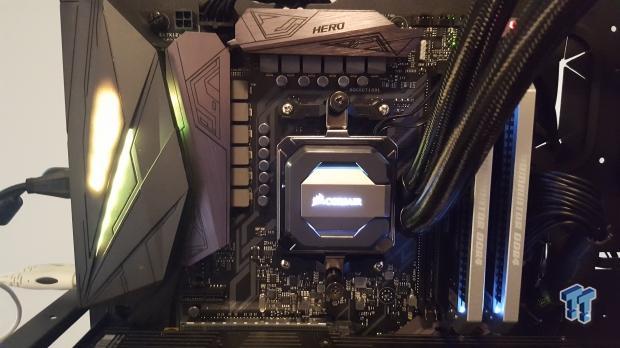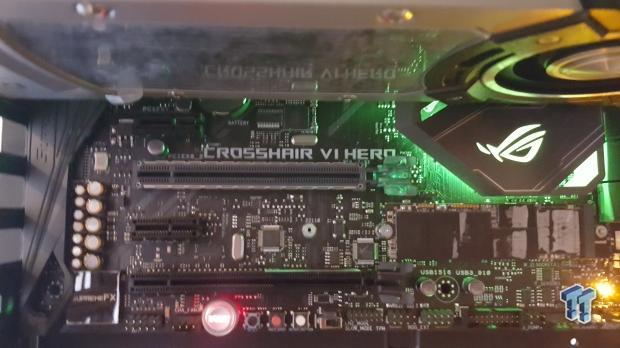 There are built in RGB LEDs in the IO panel shield, and under the PCH, the glowing effect is quite nice in both areas.
Overclocking
Overclocking Results
On the Intel side of things I do this section, I test maximum CPU frequency, maximum stable frequency, and I go through many different memory kits and see if their XMP works. Well, AMD's Ryzen platform is quite new; AMD and its partners are working very hard on fixing issues and getting things to work across the board. The CPU also doesn't validate that much higher than its maximum stable frequency.
Memory overclocking is topped at 3200MHz on most motherboards, and bus adjustment is also very tricky. Don't get me wrong, the CPU can overclock, mine does 4.0GHz, and the best I can get a kit is to 3000MHz.
I will go through and tell you exactly what I did to achieve my maximum stable overclock, and as AMD's ecosystem of compatible memory kits becomes larger, I will add in a memory compatibility section.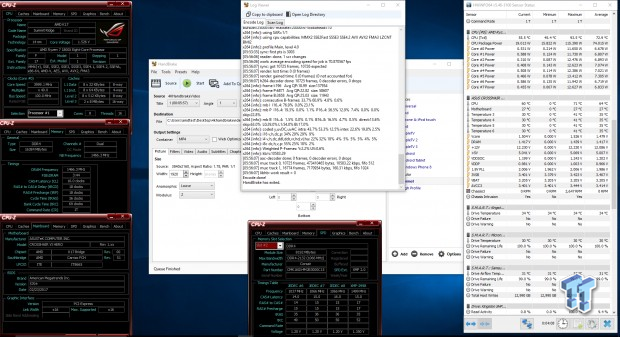 To achieve the overclock you see above, I set all CPU cores (all eight with SMT enabled) to the 40x multiplier. I actually didn't need to set the core voltage, ASUS and AMD's auto rules were good enough to increase the core voltage enough so that I didn't need to set it myself. They also seemed to not overvolt the CPU, as I measured the VCore. I will say that CPUz VCore readings are incorrect, it's best to use a digital multimeter and the voltage read points.
Memory overclocking was done by setting DOCP, a setting in ASUS's UEFI that increases the memory to its "XMP" level, here it applied the 29.33x multiplier and set theDRAM voltage and timings. The motherboard is also one of a few that has an onboard clock generator, allowing bus speed increases.
CPU, Memory, and System Benchmarks
CINEBENCH R15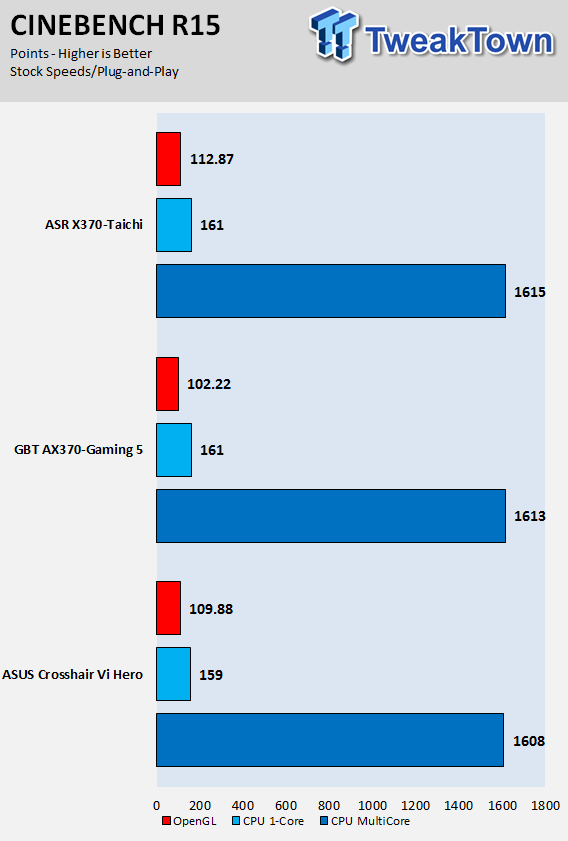 wPrime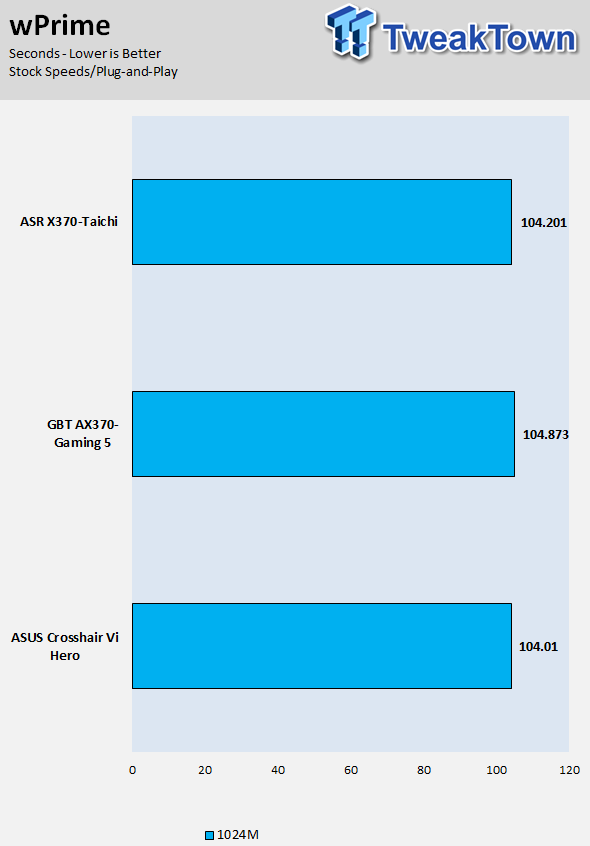 AIDA64 FPU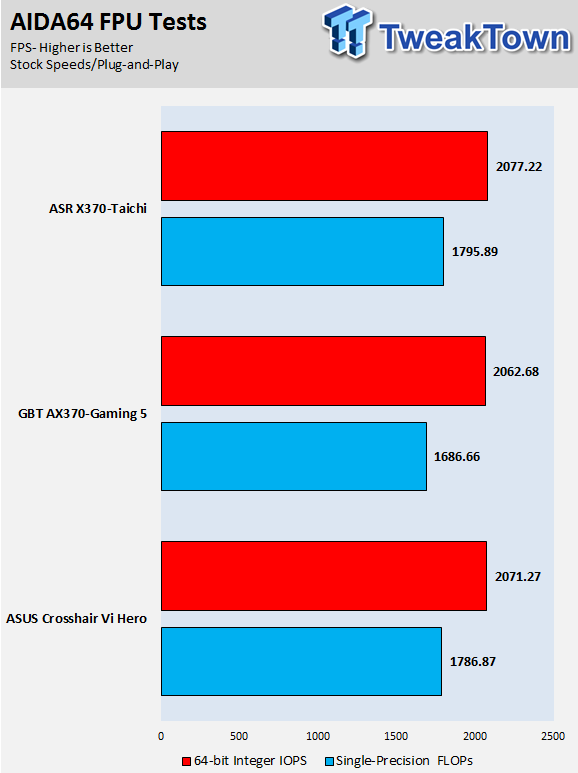 AIDA64 Memory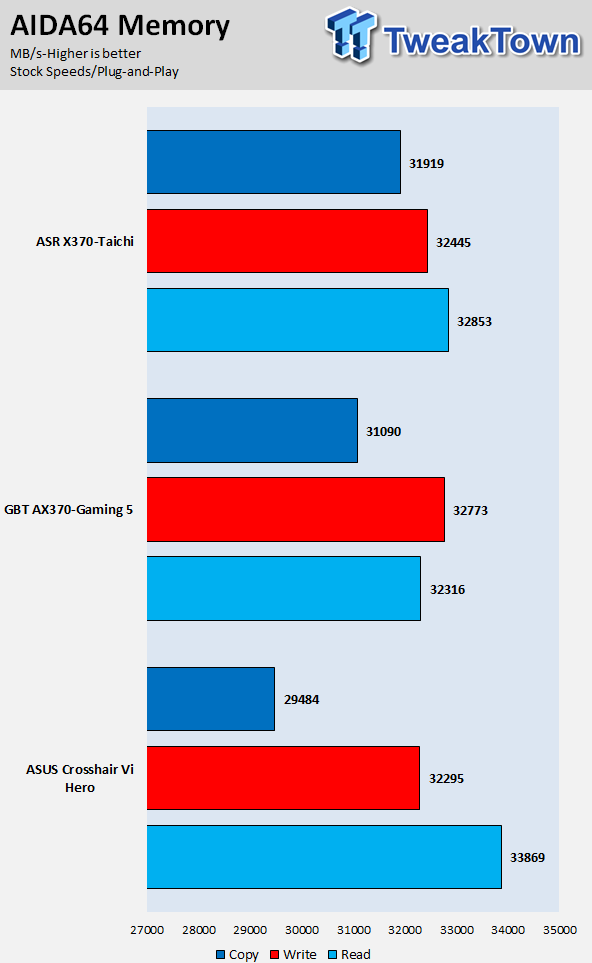 ScienceMark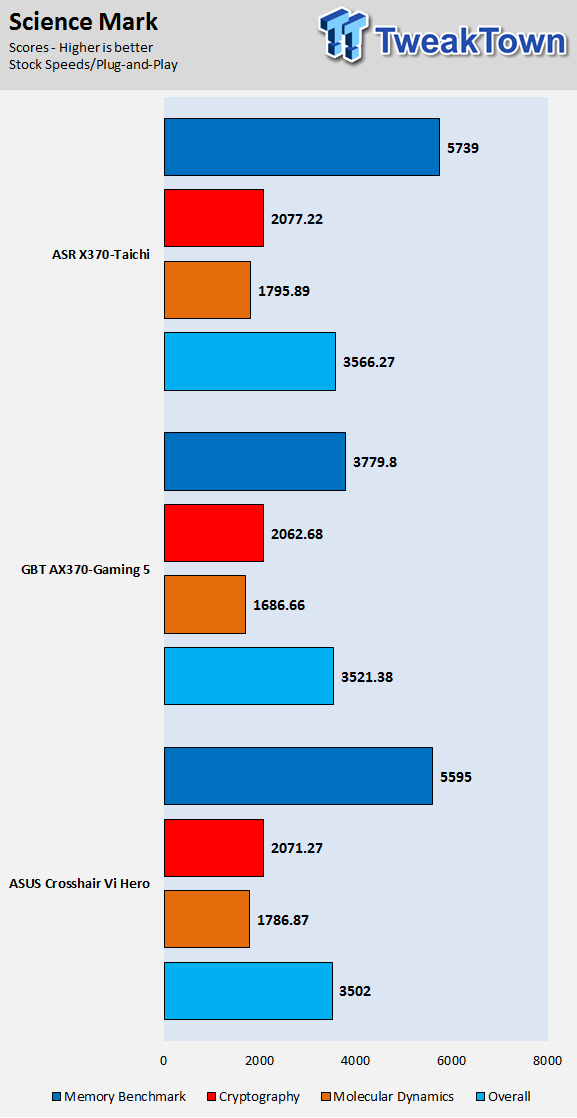 HandBrake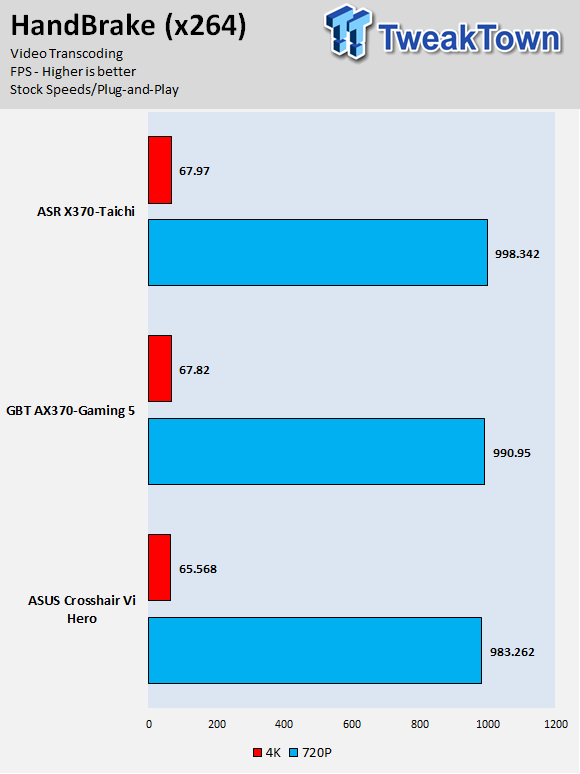 SuperPI 32M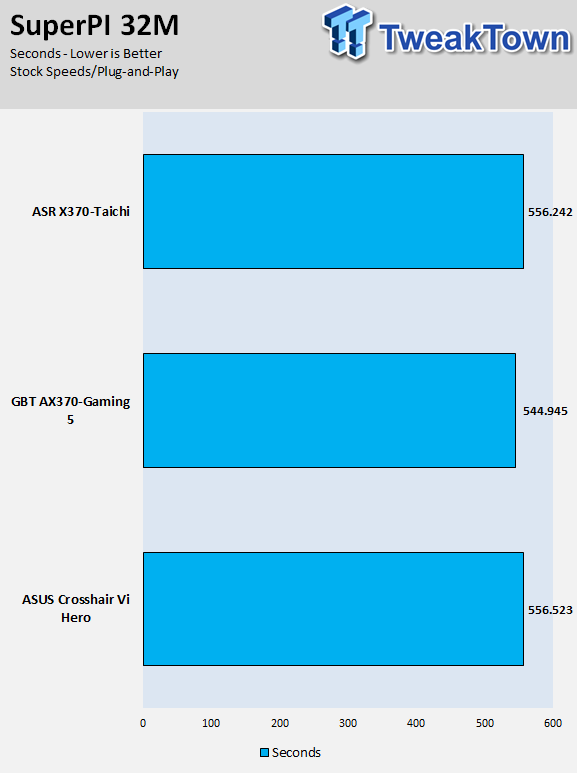 3DMark: Fire Strike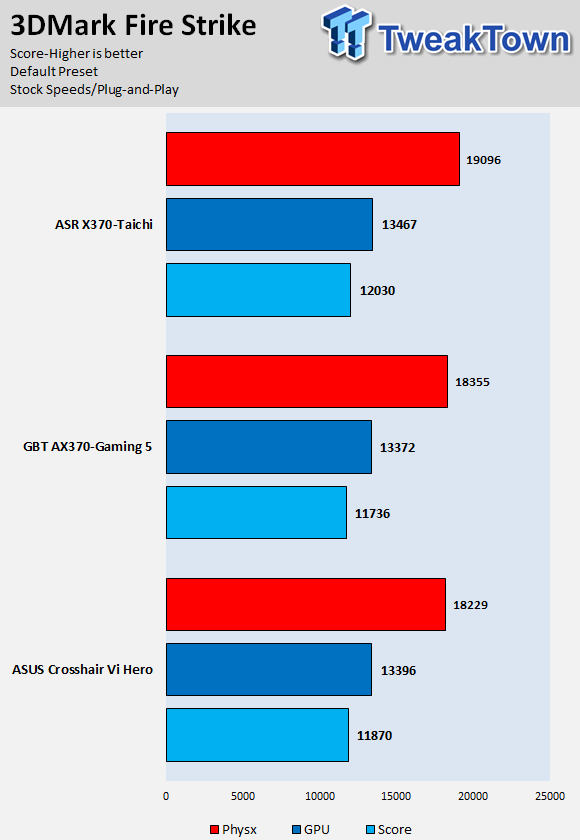 3DMark: Cloud Gate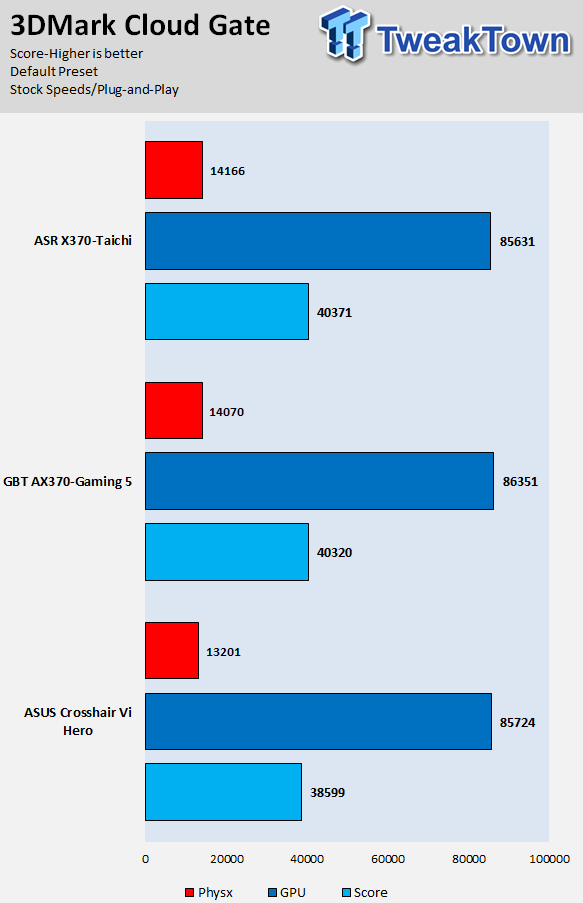 ResidentEvil 6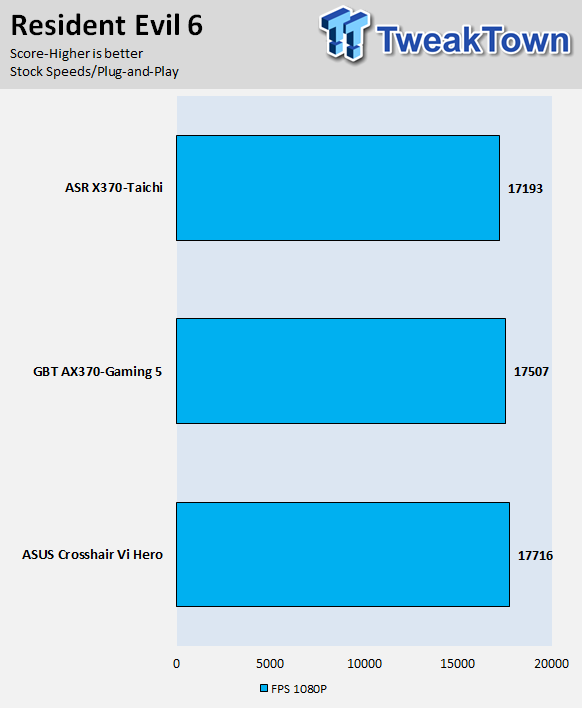 The Crosshair VI Hero has excellent performance all around. It seems that all the motherboards in the charts do well in some benchmarks, average in others, and poorer in a few. It seems that tuning and the constant microcode updates change the performance in different benchmarks.
Overall, the motherboard performed admirably.
System IO Benchmarks
CrystalDiskMark SATA6G: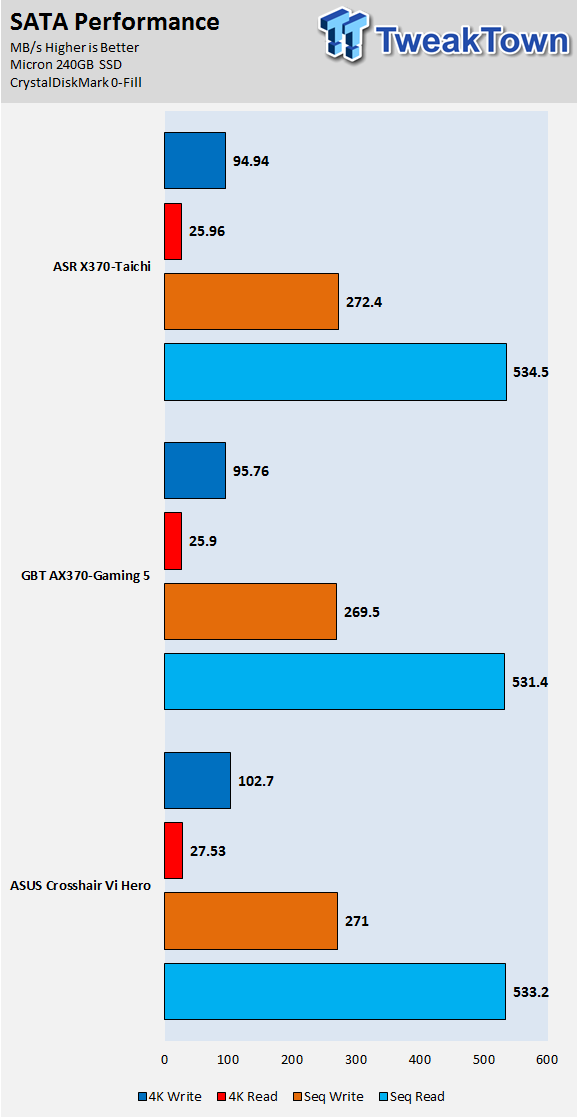 CrystalDiskMark M.2: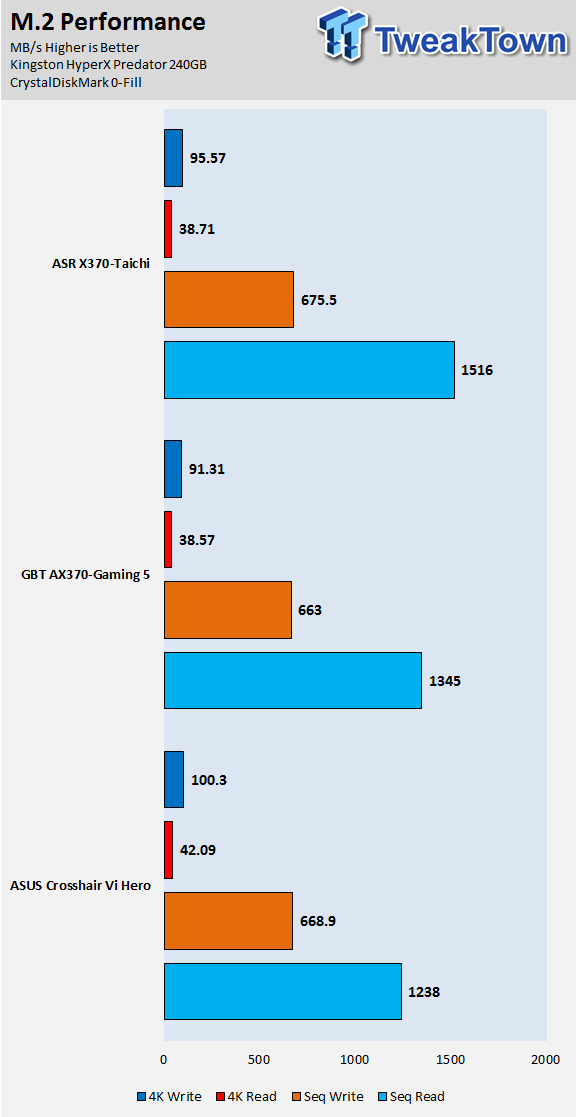 ixChariot Network Throughput: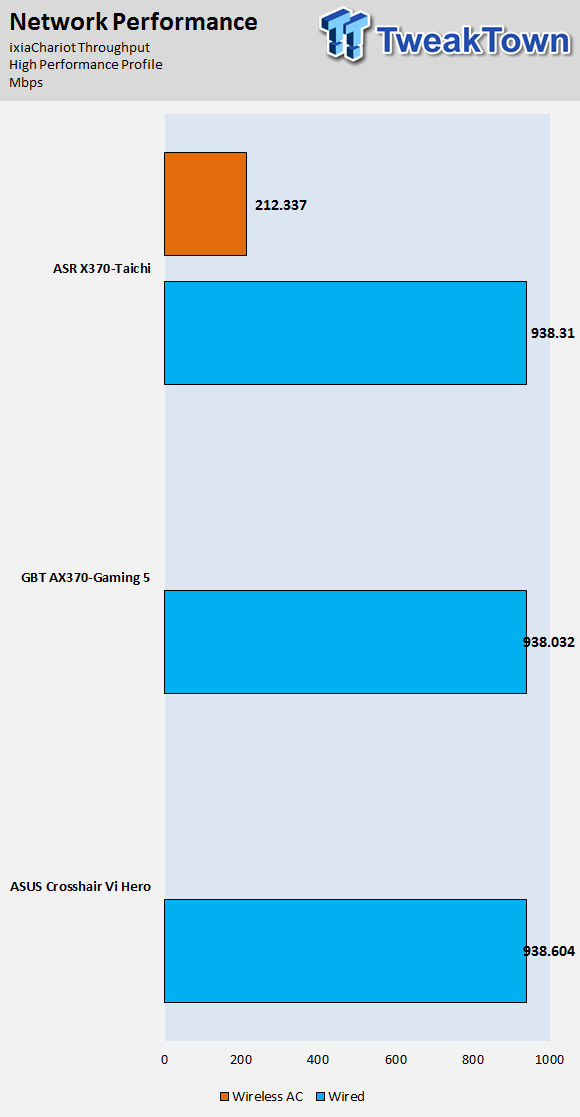 The Crosshair VI Hero's SATA performance was excellent. The Hero's M.2 performance was the oddball, it's sequential read was a bit low, but its 4K writes top the charts. It seems that vendors are still getting their stuff together in this regards, or it could be the distance that the M.2 slot is from the CPU since the CPU is what provides the bandwidth. Network performance was solid.
Audio RMAA 5.5:
I disable all audio features, set the correct bitrates, and then test the audio with a loopback test.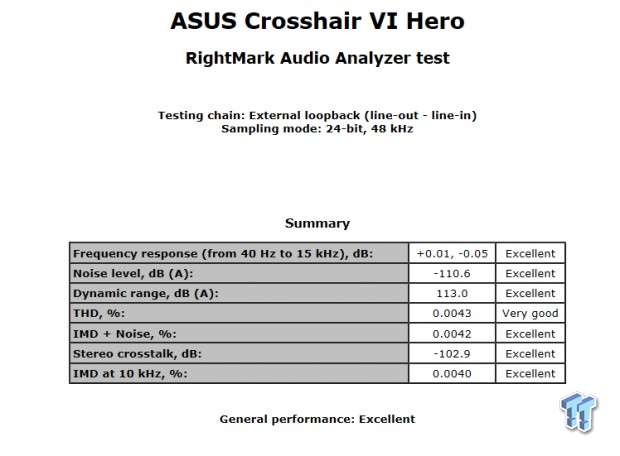 Sound Judgment by Ear: Excellent. ASUS's ALC1220 implementation is excellent and sounds awesome. There are five ratings for audio: 1. Problems, 2. Okay, 3. Acceptable, 4. Very good, 5. Excellent
Thermal Imaging and Power Consumption
System power is measured at the wall with an AC power meter.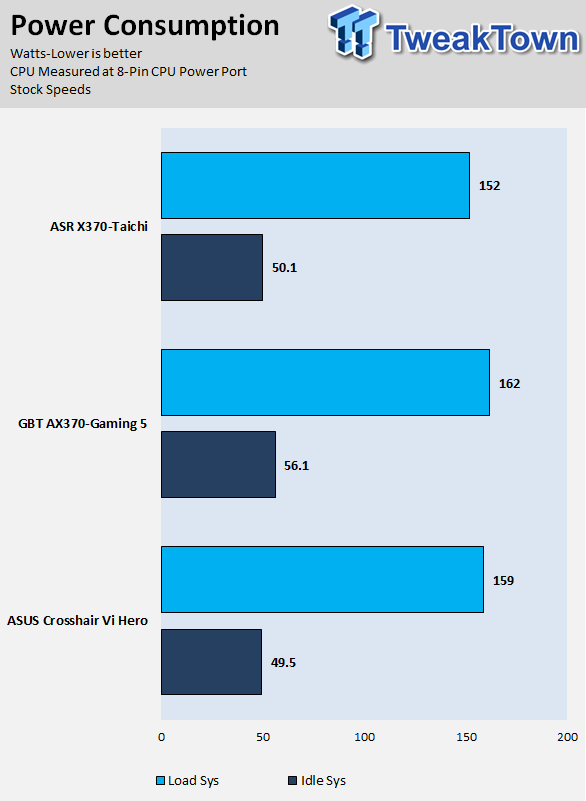 Note on Thermal Images: In the temperature section, we use our Seek thermal imaging camera to capture the surface temperatures of major components on the board. I look at the VRM and then all other things that light up the screen. If there is something to worry about, then I will state it. Otherwise, I will just show the hotter running parts of the board for fun. Unless some component is over 80-90C, then there isn't anything to worry about.
All systems will act differently, so I will look for commonalities, such as how far from the VRM the heat spreads through the PCB and the difference in temperature between the front side and backside of the PCB. Keep in mind, the majority of the heat from the VRM goes into the PCB as it is a giant soldered on copper heat sink. A larger difference in temperature between the back and front of the PCB points towards a more effective heat sink.
Thermal Testing at Stock Speeds:
The image on the left is always at idle, and the image on the right is at load. During ALL TESTS, fans above the VRM that cool the CPU cooler's (Corsair H110i) radiator are turned on to high (12v).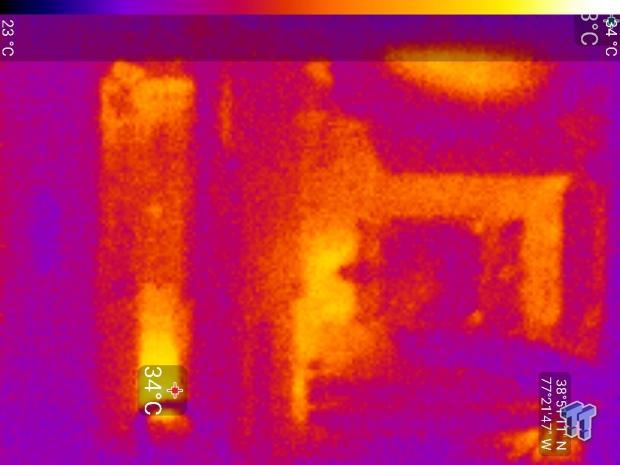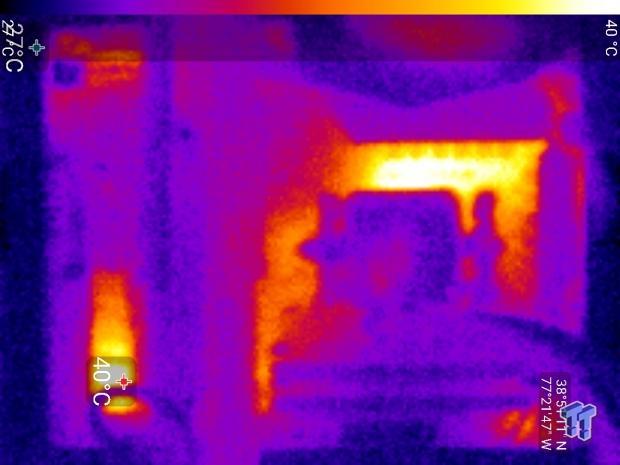 Full frontal.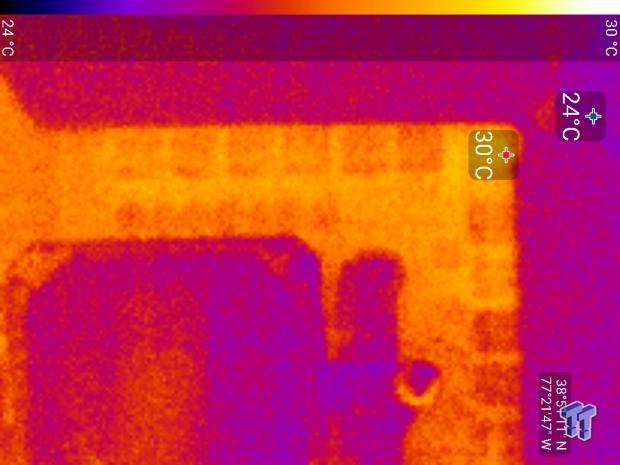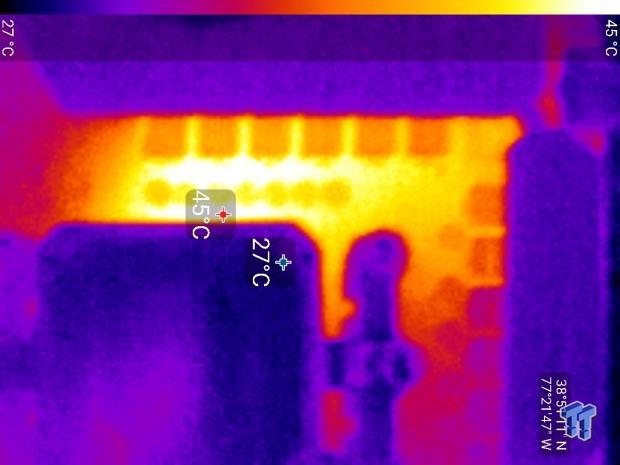 Up-close of the front of the VRM.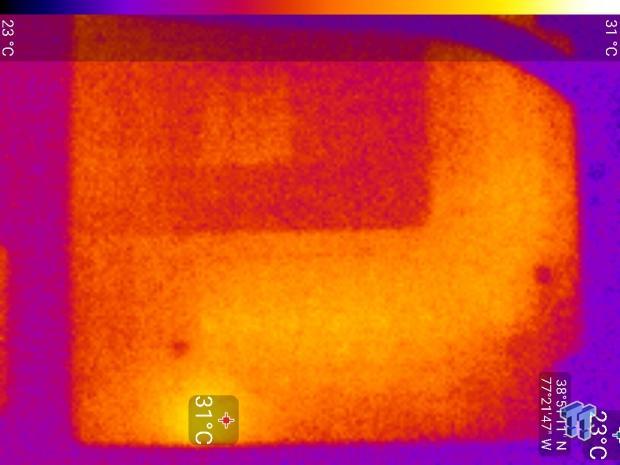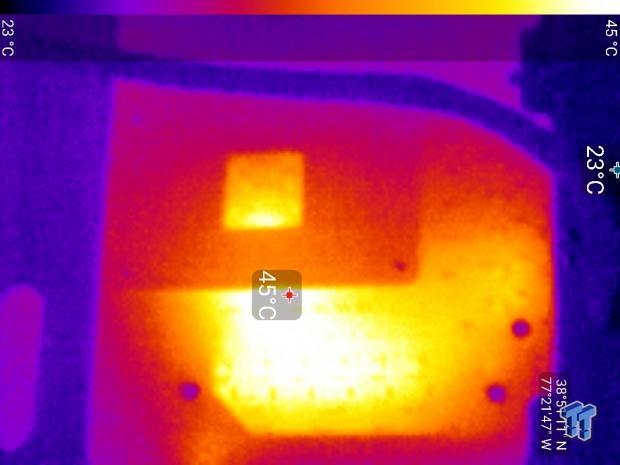 Up-close of the back of the VRM.
The Crosshair VI Hero's thermal performance is quite good. Ryzen pulls a decent amount of power, more than Skylake and around the same as Broadwell-E. The Ryzen motherboard VRMs are very important, and ASUS's choice of quality parts results in great thermal performance.
What's Hot, What's Not & Final Thoughts
Here are key points about the ASUS Crosshair VI Hero.
What's Hot
Solid Overclock Design: The Crosshair VI Hero is a ROG product, so it should have the best overclocking features ASUS has to offer, but ASUS did a lot of things right on the motherboard. For a launch product, ASUS made the right move to add a clock generator for bus speed increases. Other manufacturers are coming out with motherboards with an extra clock generator, so right now this is one of your only options if you want to change the bus speed, but you might want to wait for AMD's BIOS improvements. I also believe that voltage read points, a POST code display, and an easy to reach clear CMOS button are important for Ryzen overclocking, and the Crosshair VI Hero has these features.
Tons of USB: The rear IO panel has 14 USB ports. Eight are USB 3.0, four are USB 2.0, and two USB 3.1. You also get a USB 3.0 internal header and a USB 3.1 internal header. Lovers of the universal serial bus standard will go nuts for this motherboard.
Aesthetics: ASUS's black/gray/gunmetal aesthetic design is really excellent for those who want to customize the look and feel of their build. While the motherboard looks great without lighting, the RGB LEDs and headers allow for classy lighting customization of your next rig.
Audio: ASUS added an external DAC to the ALC1220, an extra buffer, and added solid supporting hardware to improve upon the ALC1220. The final result is excellent motherboard audio.
Fan Control: ASUS is known for their fan control, and on the Crosshair VI Hero you get eight fan headers that can operate as either PWM or DC headers. You also get one header with 3A of output current capability. ASUS does have external temperature probe input headers, but the neat thing this round is that they added the ability to use two temperature sources to control your fans.
What's Not
Pricey: While the motherboard is currently sold out, it costs $255, putting it at the top of the Ryzen motherboard price pole.
Final Thoughts
The ASUS Crosshair VI Hero is pretty much the benchmark motherboard at the moment. It has all the platform features people want, its overclocking features and overall performance are sound, and it has features that no one had thought of before launch. Adding in AM3+ mounting holes so that users could mount their own coolers and adding an external clock generator so the bus speed could be altered are features not many of us didn't think about before launch.
The motherboard's performance is also solid, and as the microcodes are updated the numbers will go up and down just like the other motherboards will.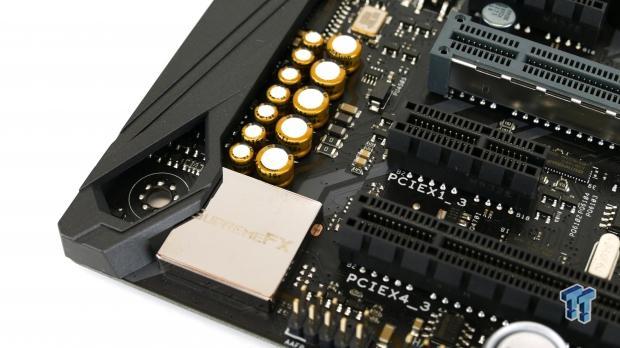 The motherboard also looks awesome and has a very high-end feel to it. The RGB LEDs are integrated well, and there are multiple RGB headers to cut down the distance your LED strip's cable has to traverse.
Overall, the ASUS Crosshair VI Hero is an excellent all-around motherboard, which might cost a lot, but is worth it if you will use all its features.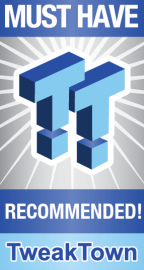 | | |
| --- | --- |
| Performance | 92% |
| Quality | 94% |
| Features | 95% |
| Value | 89% |
The Bottom Line: ASUS's latest Crosshair installment might be their best yet and is one of the best motherboards for your Ryzen CPU.
PRICING: You can find products similar to this one for sale below.

United States: Find other tech and computer products like this over at Amazon.com

United Kingdom: Find other tech and computer products like this over at Amazon.co.uk

Australia: Find other tech and computer products like this over at Amazon.com.au

Canada: Find other tech and computer products like this over at Amazon.ca

Deutschland: Finde andere Technik- und Computerprodukte wie dieses auf Amazon.de
We openly invite the companies who provide us with review samples / who are mentioned or discussed to express their opinion. If any company representative wishes to respond, we will publish the response here. Please contact us if you wish to respond.