Halo Wars 2 Xbox One Review
Microsoft returns to the RTS genre for Halo again. Can they prove that Halo could have made it as an RTS after the first game disappointed? Let's see.
Published
5 minute read time
TweakTown's Rating: 75%
The Bottom Line
Halo Wars 2 is not a bad game, but it just fails to do anything that really makes it excel and a must play. The Blitz multiplayer mode is an interesting innovation, but not enough to stop the campaign leaving a slight tinge of disappointment with the package overall.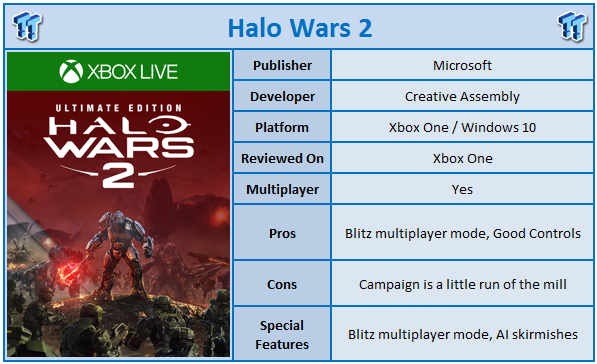 When Microsoft first announced the original Halo Wars game, there was a certain irony to it, and in some ways, Halo had gone full circle. During its E3 unveiling many moons ago, before Microsoft acquired the exclusive rights, Halo was shown as an RTS game. A genre that Bungie had already made its name in with games such as Myth.
There was always doubt as to whether the Halo universe had been expanded enough beyond just being a first-person shooter, to carry a game where the main character was not Master Chief. As it turned out, the skeptics were somewhat right, and Halo Wars turned out to be a game that while not being mediocre, did not capture the imagination as some of the FPS games. Not to give up on the idea, Microsoft has again gone back to the Halo Wars franchise, but this time with well-known RTS developer, Creative Assembly.
Halo Wars 2 picks up right after the end of Halo 5. A UNSC crew aboard the Spirit of Fire have awoken from a cryosleep, and are located near where the Halo rings first formed. Due to their cryosleep, they are oblivious to recent events in the Halo universe; they trace a signal on the Ark only to be ambushed by a new enemy force known as the Banished (the main enemy of the game). And from there, it becomes not only a fight for survival, but also that the dangerous Halo ring is destroyed.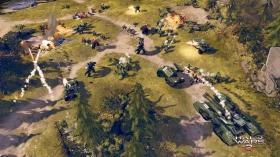 While not being the most popular genre of recent years for development teams and publishers, RTS games have somewhat evolved since the heyday of titles such as Command and Conquer to be less about building up a huge army and demolishing the enemy, to a much quicker battle. This is reflected in Halo Wars 2 with most missions taking under an hour to complete, with some even clocking in under the 30-minute mark.
This does keep the action going, and the game seems to have a knack for knowing when you are trying to build up a large army instead of trying to achieve the objective. Resource management becomes the key, especially in those missions where you are not afforded a base. A strategy of sending forces in without thinking will lead to failure, but the game is built in such a way that even having significantly fewer forces can see you victorious with the right strategy.
To help with this, the game features leader points which unlock as you perform tasks or strong actions in combat. These leader points might give you the edge in a battle such as being able to call in help, upgrading troops, or healing troops you already have in combat. This encourages you to keep the action going, and it is one area that fans of traditional RTS games are likely to shy away from Halo Wars 2 and look elsewhere.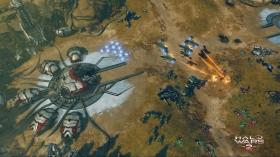 The campaign itself offers 12 missions and the first time through should see you taking about seven or eight hours to complete. We have to be honest in saying that this did feel somewhat short to us. During our campaign play, a few hours in, we checked how many missions were left only to be shocked that we were already about halfway through. There are some missions which rely on overpowering the odds in the AIs favor in a way that feels they are designed to lengthen the campaign and these missions can be somewhat frustrating because of it. However, as the developers have allowed saves to occur at any point of the game, it's not as bad as it could have been.
The missions that make up the campaign task you generally with one of three missions; defending a friendly base or area, scouting out a location to defeat enemy bases, or taking control and defeat a strong enemy opponent. Missions also include optional objectives and completing these can unlock skills, much like the first-person shooter games, which can radically change the way the game plays. However, overall, the campaign felt a little bit disappointing. Unless you are a Halo super fan (and if you are, you likely have already bought the game), not much happens in the story that will excite you. Halo 6 will probably pick up after these events so for that reason it's worth finding out what happens, but it certainly is not memorable.
One thing that Halo Wars 2 does (just like its predecessor) is to prove that it's possible to have a good RTS control scheme on a console controller. Halo Wars 2 is Xbox Play Anywhere (meaning you buy it on Xbox and you get access to it free on Windows, and vice versa), so we also got a chance to try it with a keyboard and mouse. Regarding control, it did not feel like the keyboard and mouse combination was light years ahead of the controller, more that Creative Assembly has clearly catered well to both control schemes. There is a lengthy tutorial to play through to learn the controls, and there is no doubt this made the campaign easier to get into than if it was not present.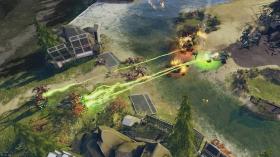 On the multiplayer side of the equation, there is much more that feels new and different for RTS fans. One mode, in particular, Blitz, has captured much of what was changed in Halo 5 for the Warzone game mode has been ported over to Halo Wars 2. During each battle, you will start with a deck of cards. These decks can be customized by either earning them through missions or multiplayer or purchasing them as micro transactions.
As you progress through the game, you will slowly gain more cards. The random nature of this takes away some of the strategic element of an RTS game (such as the base building) and instead allows you to focus on the action. And action packed is what this game mode is with the key requirement being gaining hold of multiple capture points throughout the map to earn points for a victory. It turns out to be very much a tug of war game, where you always have to strategize whether it's best to return to base to get more health or defend the points you have already captured. On paper, this mode sounds like nothing new or different, but it's one of the most interesting game modes we have played in an RTS for quite some time.
Other multiplayer game modes include those which feature regularly such as skirmish and deathmatch for those just looking to try and defeat the other team. But there's also team objective ones such as Stronghold which tasks you with capturing bases in a set time limit, and Domination, which as the name implies, has you trying to dominate the map. These modes don't use the card systems of Blitz and follow along more of a traditional RTS gaming path.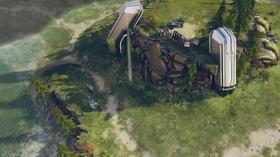 Visually the game does the job it needs to, however, zooming right in on the characters does not give the level of intricacy you might expect from a current generation console game. That said, the action on the screen can be so frenetic that stopping to admire how enemies or player characters look is nearly impossible. It is easy to tell different units just by looking at them, a key requirement in an RTS game - and the hero characters present throughout do have unique traits and looks. The frame rate remained solid throughout, even when zooming through the world trying to control multiple battalions of soldiers. The soundtrack is the typical Halo fare, and the characters respond to your taps with various quips.
Halo Wars 2, just like its predecessor, is not a stunning game, but it's also not a bad game. Creative Assembly has put together a title which ticks all the boxes for both a Halo and RTS game, but nothing feels like it has been taken to the next level which would make this a must play title. Fans of the original game will find much to love here as will Halo fans, but if you do not fall into that category, then it might be worthwhile waiting to see if Microsoft releases a trial or free weekend for the game.
With two attempts now made to turn Halo into an RTS game having middling results, we have to wonder if it just proves Halo does not suit the RTS framework as much as it does the shooter genre.
| | |
| --- | --- |
| Gameplay / Controls | 75% |
| Graphics | 75% |
| Audio | 70% |
| Value | 80% |
The Bottom Line: Halo Wars 2 is not a bad game, but it just fails to do anything that really makes it excel and a must play. The Blitz multiplayer mode is an interesting innovation, but not enough to stop the campaign leaving a slight tinge of disappointment with the package overall.
PRICING: You can find products similar to this one for sale below.

United States: Find other tech and computer products like this over at Amazon.com

United Kingdom: Find other tech and computer products like this over at Amazon.co.uk

Australia: Find other tech and computer products like this over at Amazon.com.au

Canada: Find other tech and computer products like this over at Amazon.ca

Deutschland: Finde andere Technik- und Computerprodukte wie dieses auf Amazon.de
We openly invite the companies who provide us with review samples / who are mentioned or discussed to express their opinion. If any company representative wishes to respond, we will publish the response here. Please contact us if you wish to respond.