For many PC gamers, Civilization represents one of a number of things. It may have been the very first game they played, the very first strategy game they played or the game that finally showed them that video games are something cool. The fact is that over the past two decades, nothing has come close in terms of scale and scope to the Civilization series that Sid Meier cooked up and after this latest iteration, nothing still comes close. Civilization V improves upon the success of Civ IV and Revolutions whilst introducing some brand new options and features that keep the game fresh.
For those who do not know what Civilization is, the game is all about world domination in one of a number of ways. You are asked at the start of each game which civilization you would like to lead from many of the worlds most famous and oldest such as the Indian, British and American civilizations. From there it is up to you to lead your civilization from nothing through to world domination and greatness.
How you achieve this can be different in each game. As you would expect, you can use military might to take over the world, but this leads to you not being seen as the most successful leader. Other ways to win include a tech victory by winning the space race or forming the United Nations and getting every civilization in the world to declare peace and love each other. Obviously some methods of victory are easier than others and they are all affected by the difficulty level selected.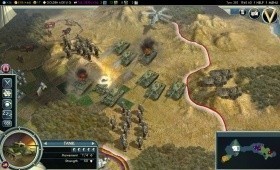 One thing that really sticks out about civilization is that there are two modes in the game; single player and multiplayer. There are no variations to single player. You start up the game and try to build your civilization to conquer the world. However, this is not entirely a bad thing and keeps the status quo of previous titles and even with this fact we are sure you will be spending hours upon hours trying to win the game.
Traditionally the learning curve for Civilization V has been extremely high. You've not only had to learn a whole bunch of game mechanics, but you have also had to become accustomed in ways to enhance a civilization and understand tech trees and various options for the military as well. It's no wonder that Civilization has always been seen as the thinking mans game.
However, this has changed in this most recent iteration. The game is constantly giving helpful information as to how to play and a tutorial mode has been included. During battles the game displays whether it is likely to be a victory or not and if so, by how much. This allows you to on the fly decide whether to take an enemy on or leave it to diplomacy to sort your situations out. You can also tell units to search the world themselves eliminating some of the micro management we have seen in the series during the past.
There have also been other changes, especially with combat. Certain units can now launch weaponry across the map and do not have to be right next door to take each other on. For example, the nuclear bomb can be sent across the map well away from your city to take out enemies. This turns the Civilization series upside down. The tradition of get close and take each other is gone; instead replaced with how to best strategise the battle without actually getting up close.
[img]2[/img]
The other major change is Government policy which allows you to set policies for your civilization to live under and these may provide military bonuses, or better diplomatic skills for example. The final change to the series (aside from Revolutions) is the introduction of famous people. They can assist your civilization in a number of ways, or you can choose to eliminate them and as a reward get a golden age for your civilization. They don't seem to have the same impact that they did in Revolutions, but they are a welcome addition all the same.
The graphics engine has also had an overhaul. DirectX 10 graphics are on offer to those with the correct operating systems and graphics cards and on the highest detail the game is stunning to say the least. However, we were surprised to learn and see that the game will actually run quite well on some older hardware with a few graphical tweaks turned off. The voice acting at times can seem a bit cheesy and the soundtrack for each civilization, stereotypical, but all in all the graphics and sound fit the game well.
[img]3[/img]
Aside from this, the formula remains much the same. Those who are familiar with Civilization will pick up the game and get into it right away, whilst the new players will appreciate the help that is on offer in tutorials and other tips. Firaxis has once again proven that the grand daddy of all turn based strategy games is still the best and has also offered enough options to make it a worthy upgrade to this now world famous series. If you have a spare six months or so where you can eat, breathe, and sleep 'civ', then this game is definitely for you. If not, it doesn't matter, if you pick this game up you will be instantly hooked and dreaming of civilizations in your sleep in no time. Well recommended!