SAPPHIRE Nitro Radeon RX 460 OC 4GB Review
SAPPHIRE fills out its Polaris range with the new Nitro Radeon RX 460 OC graphics card, offering cheaper 1080p gaming.

Published
8 minute read time
TweakTown's Rating: 82%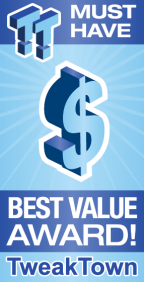 The Bottom Line
SAPPHIRE's new Nitro Radeon RX 460 4GB is priced at just $139, nailing the 1080p gaming scene. With in-game visual settings at medium, hitting 1080p at 60FPS just became a whole lot cheaper.
Introduction, Pricing & Availability
I received both the SAPPHIRE Nitro Radeon RX 470 4GB (and the 8GB version), as well as SAPPHIRE's Nitro Radeon RX 460 4GB at the same time, but the NDA on the Radeon RX 460 is four days later, so here we are - with yet another new graphics card launch. In the last week, we've seen NVIDIA launch its incredible new Pascal-based Titan X which costs $1200 - but has the performance numbers to back it up, and AMD's launch of the mid-range $179 graphics card in the form of the Radeon RX 470.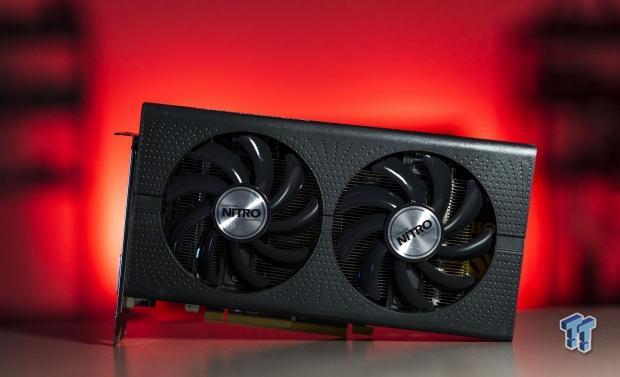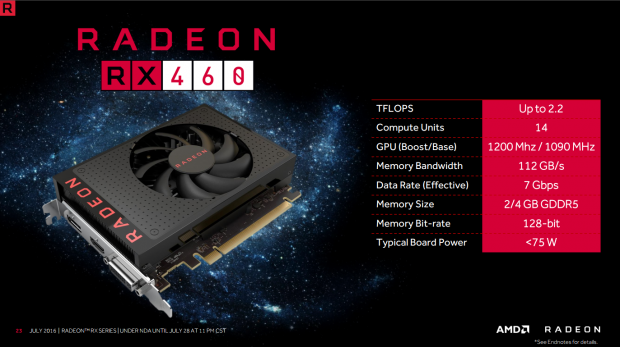 Well, why not throw another one on the pile, guys? Yeah, thought so. So here we are, back again with another graphics card from AMD in the form of the Radeon RX 460. AMD has now filled the sub-$250 market with next-gen Polaris-based offerings, starting with the new Radeon RX 460, filling the middle with the RX 470 and then we have the RX 480. The Radeon RX 460 is a peculiar beast, as it has AMD betting the farm on the 80% of the market that cannot afford to spend $300 or more on a graphics card - let alone $1200 for the new Titan X.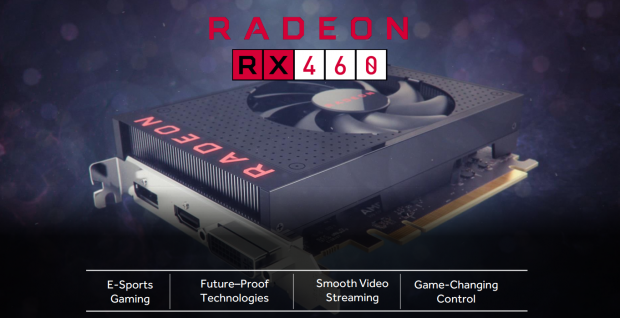 AMD is aiming the new Radeon RX 460 at the eSports, casual, and 1080p gamers, all while offering them future-proof technology through HDR, 4K, and VR support.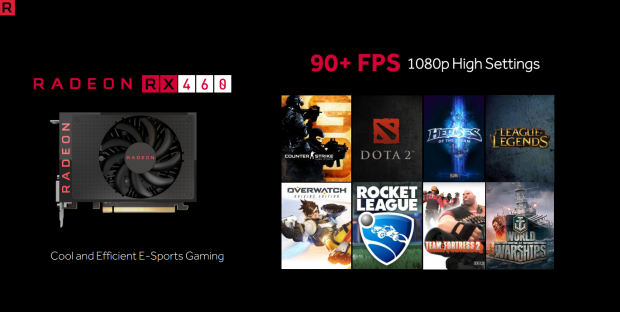 AMD promises 90FPS or more at 1080p on High settings in hugely popular games like CS:GO, League of Legends, Overwatch, DOTA 2, Rocket League, and more.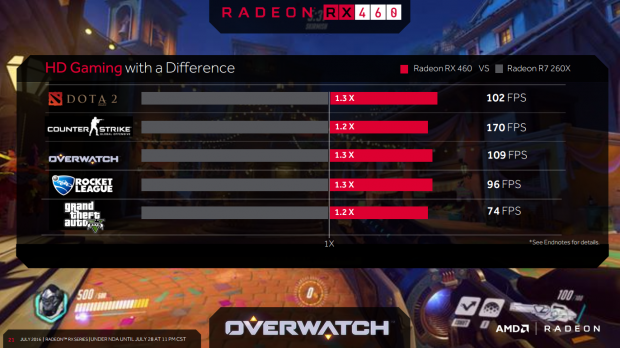 As for the numbers, we're looking at 170FPS or so in CS:GO, and 109FPS for Overwatch. Not too damn bad at all, AMD.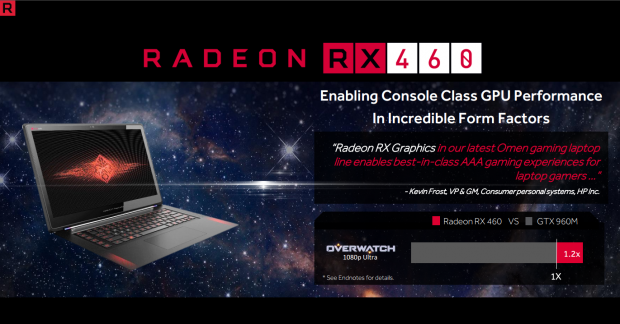 Not only will desktop gaming PCs receive the new Radeon RX 460, but it will enable "console class GPU performance in incredible form factors" and that has me excited to see where AMD could take the Radeon RX 460.
Pricing & Availability
AMD has placed a price of $109 on the Radeon RX 460, while the SAPPHIRE Nitro Radeon RX 460 model we have here today sitting at a price of $139.
Specs, Cooling Tech & Detailed Look
Specifications
The new Radeon RX 460 is the lowest-end card on the new Polaris architecture that AMD has made, with 896 stream processors, 14 compute units, and 48 TMUs. We have the Polaris 11 GPU (not the Polaris 10 that powers the Radeon RX 470 and RX 480) on the Radeon RX 460, with the GPU clocked at 1090/1200MHz for base/boost clocks, respectively.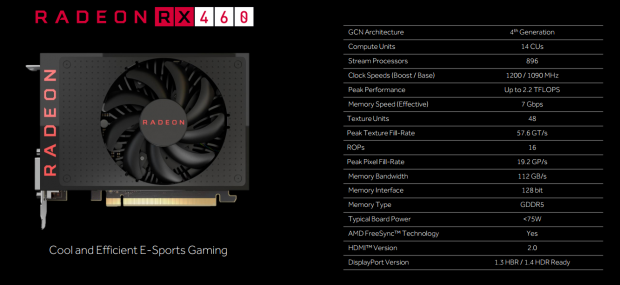 We have 4GB of GDDR5 RAM at 7GHz on a 128-bit memory bus resulting in 112GB/sec memory bandwidth.
SAPPHIRE has made some adjustments to the GPU regarding overclocking, with the boost GPU clock set at 1250MHz, a 50MHz increase from the stock clocks on the AMD reference design of the Radeon RX 460.
Detailed Look
Let's take a look at the box, and of course the SAPPHIRE Nitro Radeon RX 460 itself.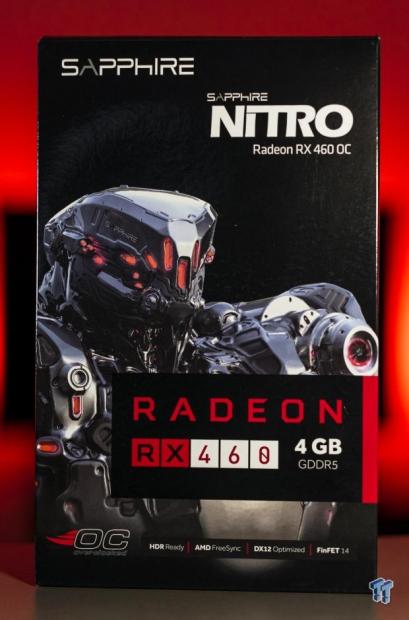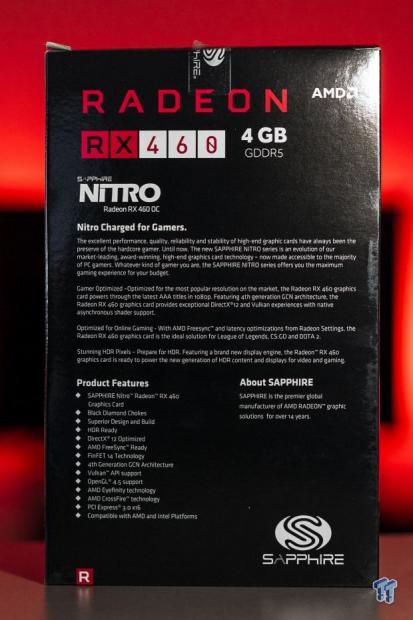 We have a decent looking box, but nothing flashy, just the way it should be at this price point.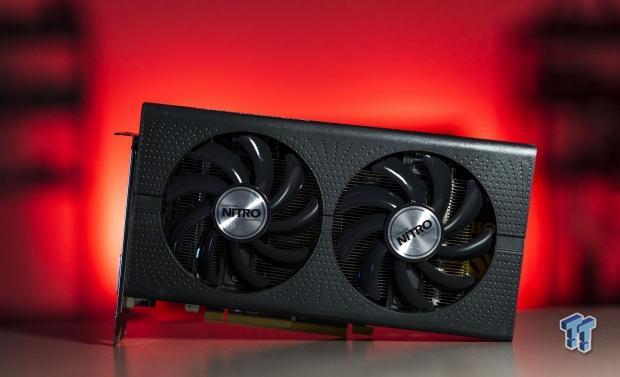 The SAPPHIRE Nitro Radeon RX 460 in the flesh, rocking its Nitro cooler and dual fans.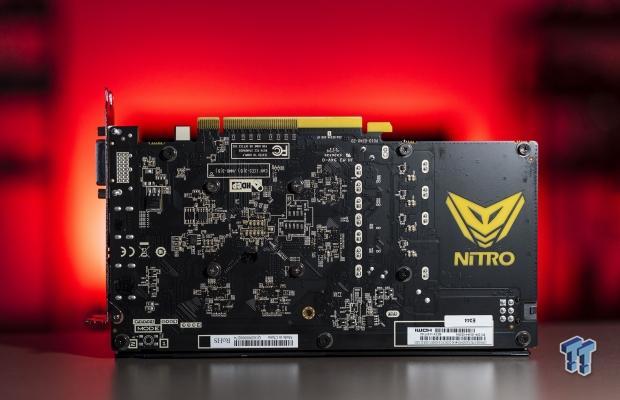 The back of the card has some Nitro branding, which is a nice touch to a cheaper graphics card.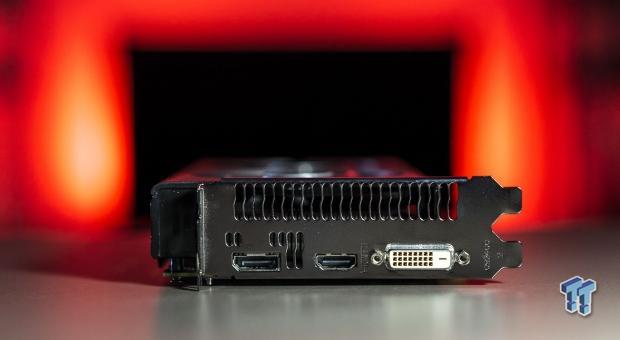 SAPPHIRE has provided 1 x DisplayPort, 1 x HDMI, and 1 x DVI port for display connectivity.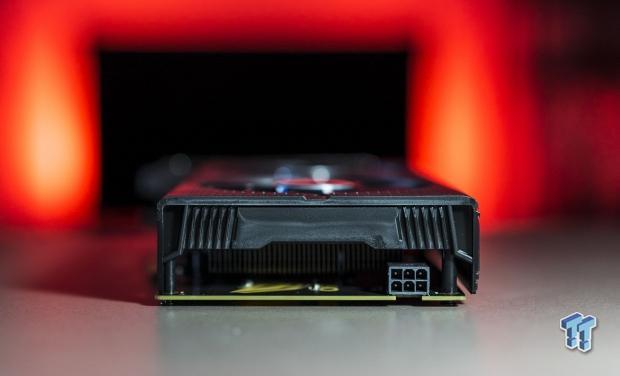 The custom Radeon RX 460 from SAPPHIRE uses a 6-pin PCIe power connector.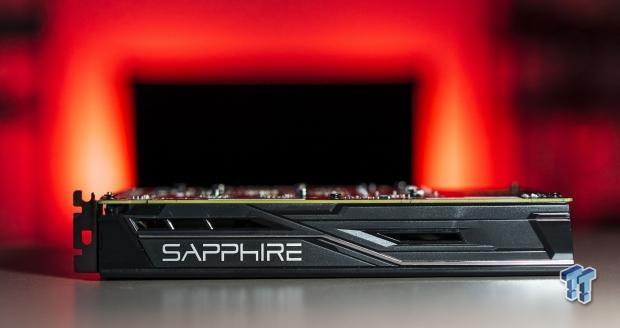 From the top of the graphics card, we can see some SAPPHIRE branding and some nice silver and black accents.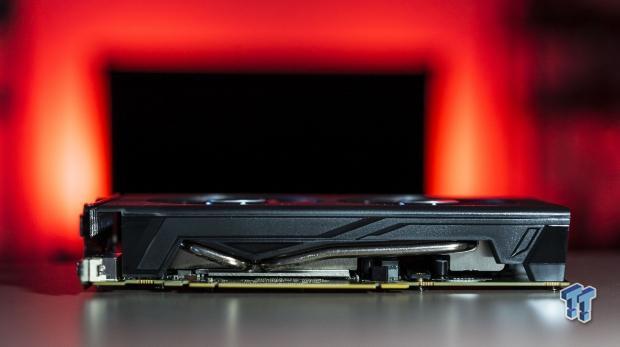 And finally, the bottom of the card where we can see the heat pipes running to the Polaris 11 GPU and VRMs.
Testing Methodology & Test Setup Configuration
Testing Method
For the purposes of testing the SAPPHIRE Nitro Radeon RX 460 OC 4GB, and for all future graphics card reviews and articles, we've changed up our benchmark suite. I've removed Battlefield 4, GRID: Autosport, BioShock: Infinite, and Grand Theft Auto V. In their place, I've got Far Cry Primal and The Division.
I've also added in some DX12 testing, with Hitman and Ashes of the Singularity. This will provide us with enough variety, but I'm on the hunt for new benchmarks all the time. The second that Battlefield 1 drops, we'll be including that in our GPU reviews, while I'll also be keeping an eye out on the release of Deus Ex: Mankind Divided.
Test System Configuration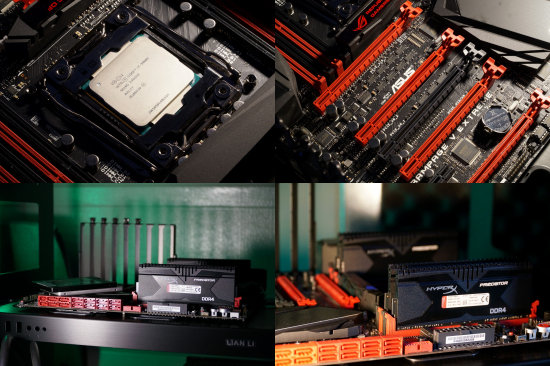 Corsair sent us over their kick-ass AX1500i PSU, which provides 1500W of power for our 3 and 4-way GPU testing that we have coming very soon.
Anthony's Video Card Test System Specifications
Benchmarks - Synthetic
3DMark Fire Strike - 1080p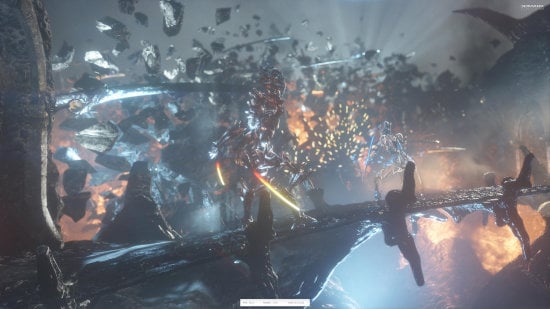 3DMark has been a staple benchmark for years now, all the way back to when The Matrix was released and Futuremark had bullet time inspired benchmarks. 3DMark is the perfect tool to see if your system - most important, your CPU and GPU - is performing as it should. You can search results for your GPU, to see if it falls in line with other systems based on similar hardware.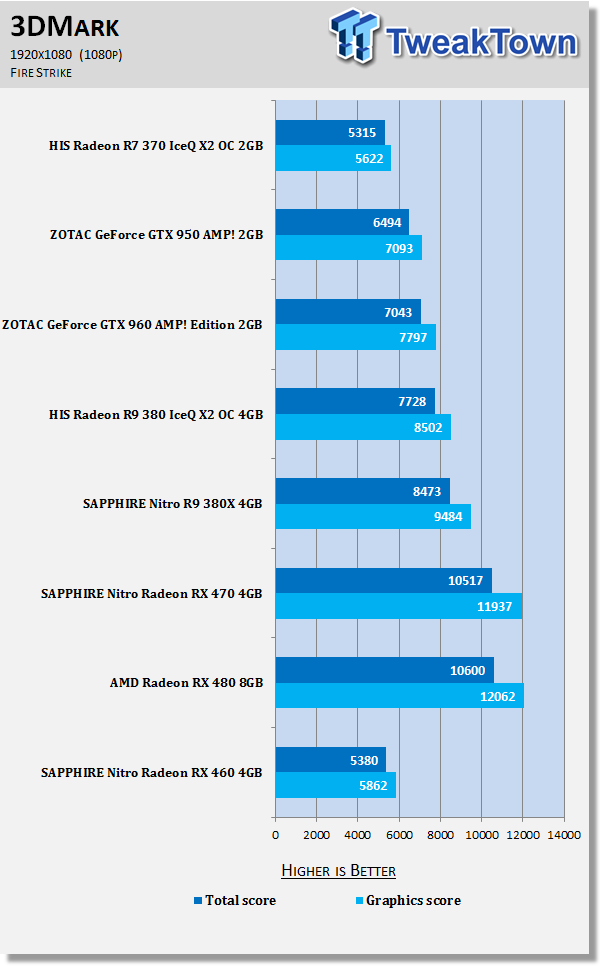 3DMark Fire Strike Extreme - 1440p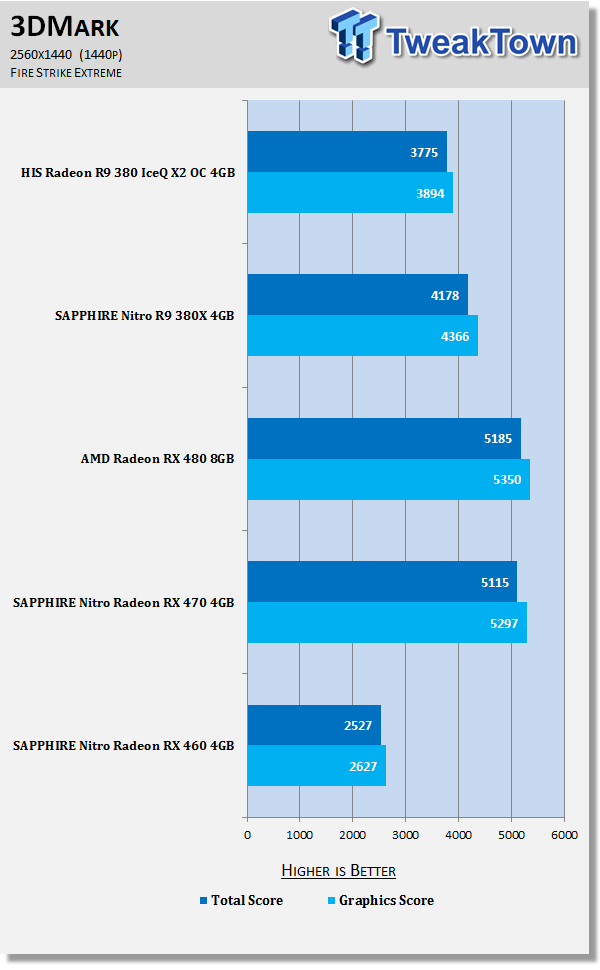 3DMark Fire Strike Ultra - 4K (3840x2160)
Heaven - 1080p
Heaven is an intensive GPU benchmark that really pushes your silicon to its limits. It's another favorite of ours as it has some great scaling for multi-GPU testing, and it's great for getting your GPU to 100% for power and noise testing.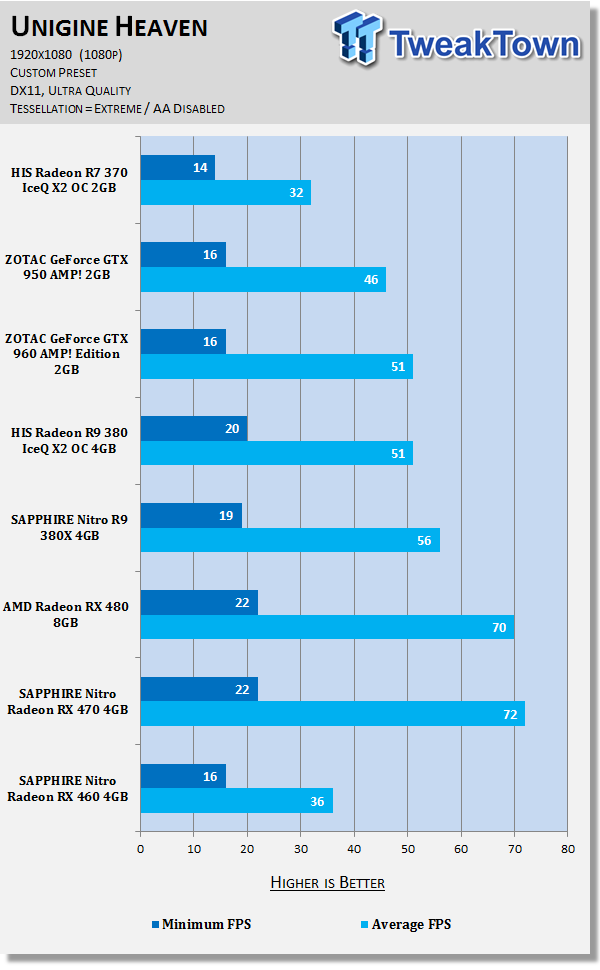 Heaven - 1440p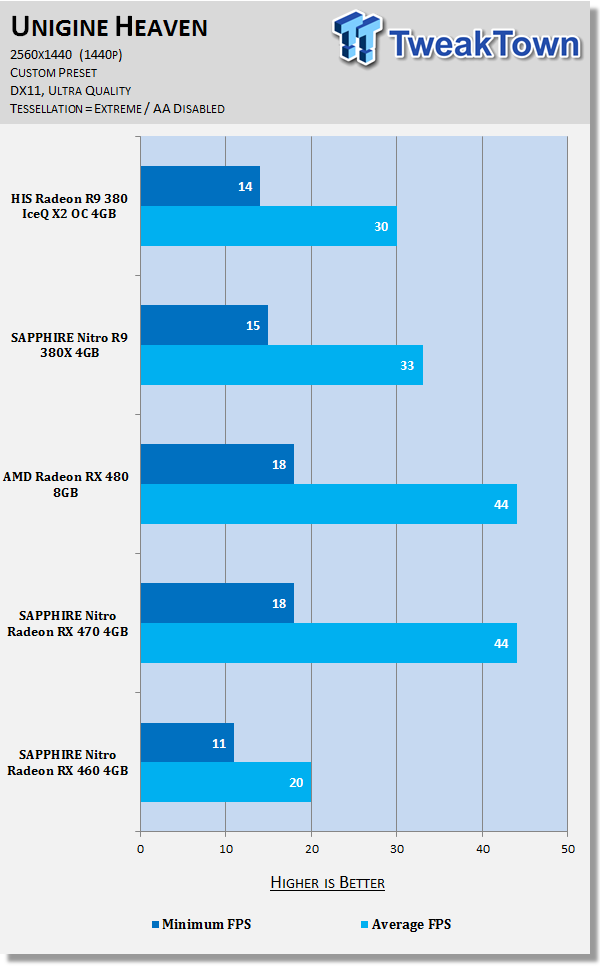 Heaven - 4K (3840x2160)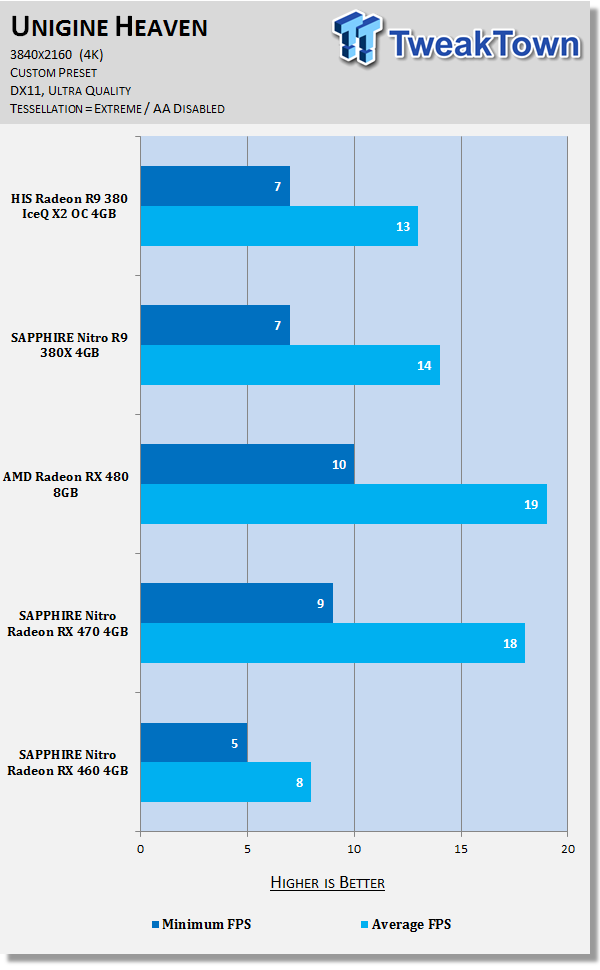 Benchmarks @ 1080p
1080p Benchmarks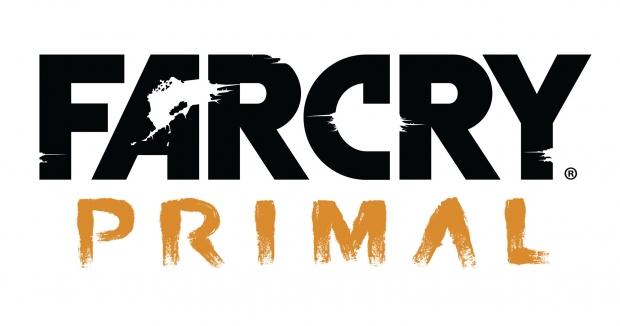 Far Cry Primal is a game built on the impressive Dunia Engine 2 with wide open, beautiful environments. It might look stunning, but the performance is actually quite good - but most cards will be stressed at 1440p, and especially so at 4K and beyond.
You can buy Far Cry Primal at Amazon.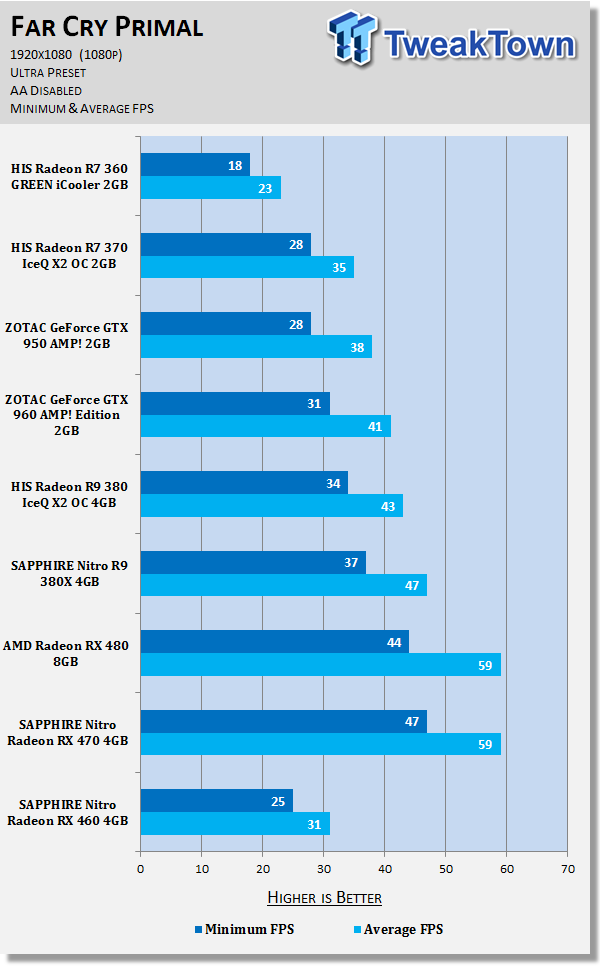 We recently changed over to Metro: Last Light Redux, with developer 4A Games making the Redux version of Metro: Last Light the 'definitive' version of the game. Redux had a fresh coat of paint on the already impressive 4A Engine, and it really pushes our GPUs to their limits.
You can buy Metro: Last Light Redux at Amazon.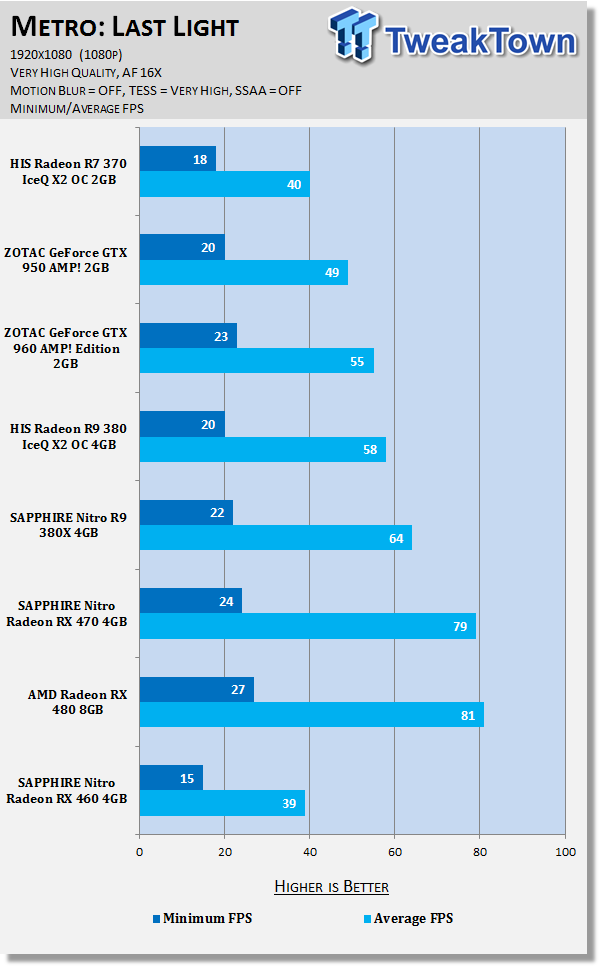 Middle-earth: Shadow of Mordor is one of the most graphically intensive games we test, with Monolith using their own Lithtech engine to power the game. When cranked up to maximum detail, it will chew through your GPU and its VRAM like it's nothing.
You can buy Middle-earth: Shadow of Mordor at Amazon.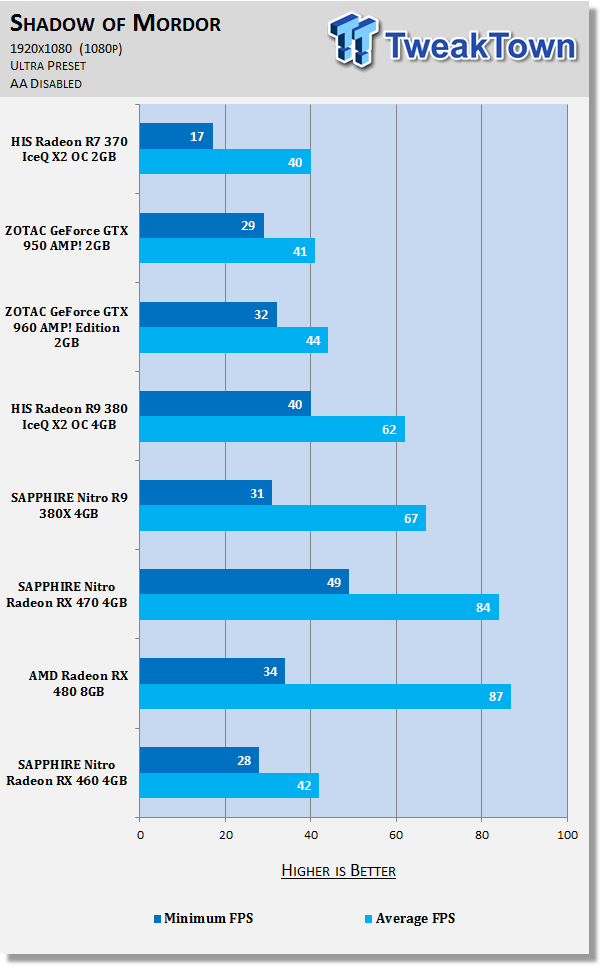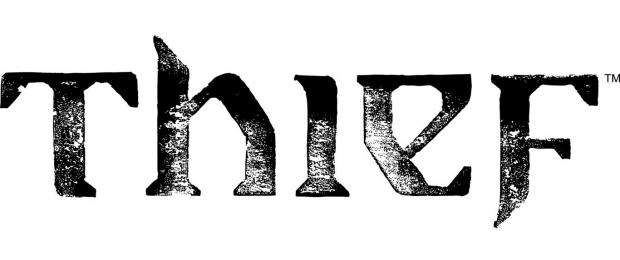 Thief has been around for quite a while now, with the latest version of the first-person stealth game powered by Epic Games' older Unreal Engine 3. While it's old, it has some great multi-GPU scaling that we use to test out our various GPU setups.
You can buy Thief at Amazon.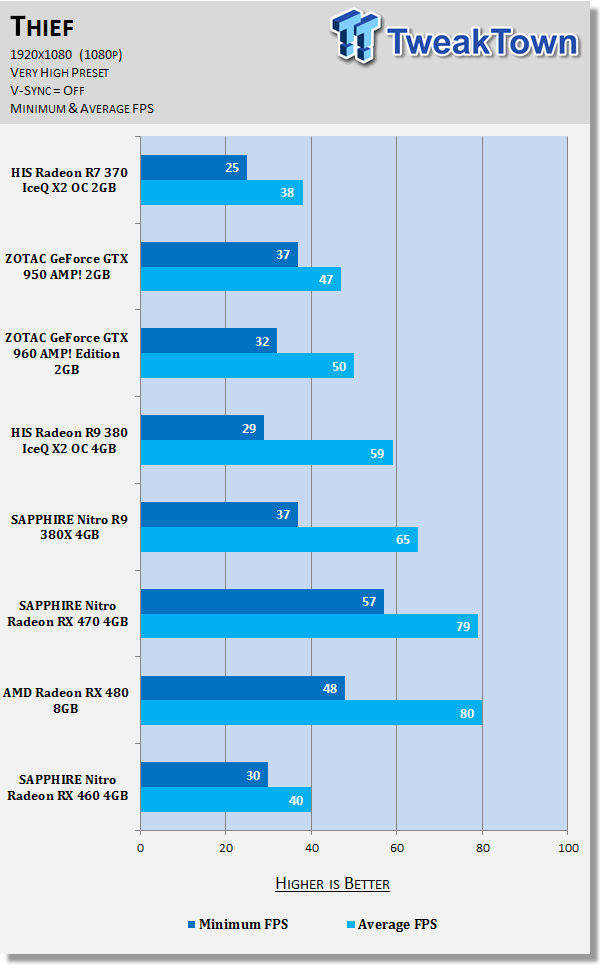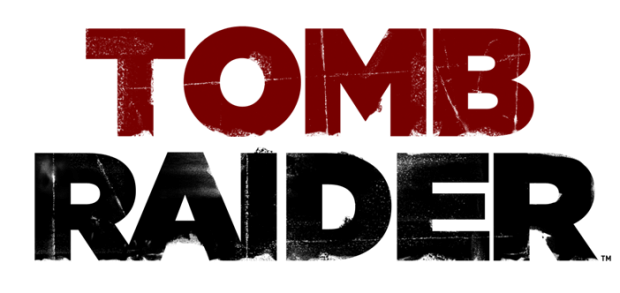 Tomb Raider is still such a gorgeous game, with developer Crystal Dynamics using their own 'Foundation' engine to build Lara Croft into the new world. One of the best parts about Tomb Raider is the absolutely stellar multi-GPU scaling, so this is an important test to see how well our NVIDIA GeForce SLI and AMD Radeon CrossFire setups scale.
You can buy Tomb Raider at Amazon.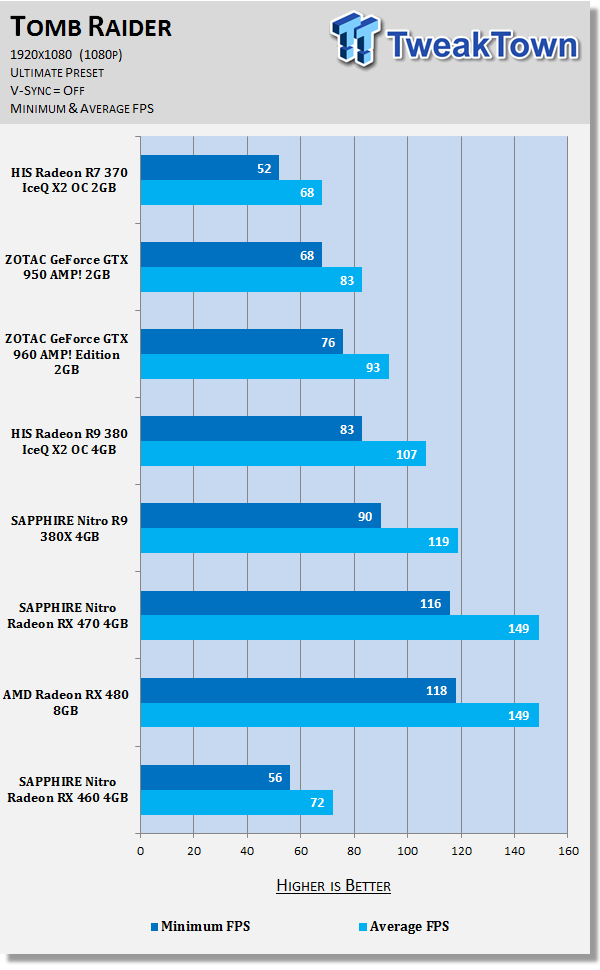 Benchmarks - DX12 & OC Adventures
This is our new section for video card reviews, with DX12 and VR becoming a huge deal over the course of the last 12 months. We have just a handful of DX12 tests right now, so expect this section of the site and our reviews to grow considerably over the coming months.
The same goes for VR, where we have both the Oculus Rift and HTC Vive in house now. We will be testing VRMark for now, which is in Preview form, as well as our thoughts on VR gaming on the HTC Vive with the new GeForce GTX 1080 video card.
DirectX 12 Performance
We have 3DMark Time Spy Ashes of the Singularity and Hitman with DirectX 12, with the NVIDIA Titan X stomping all over every other GPU setup I've tested. Insanity.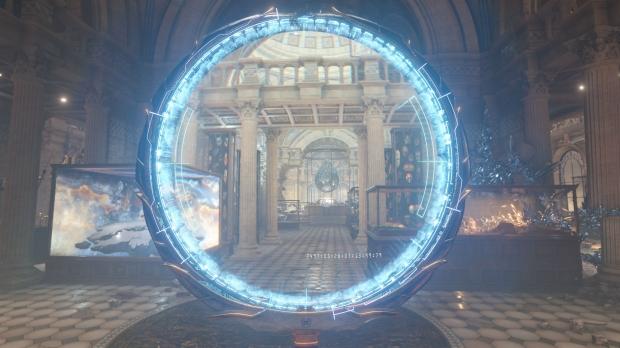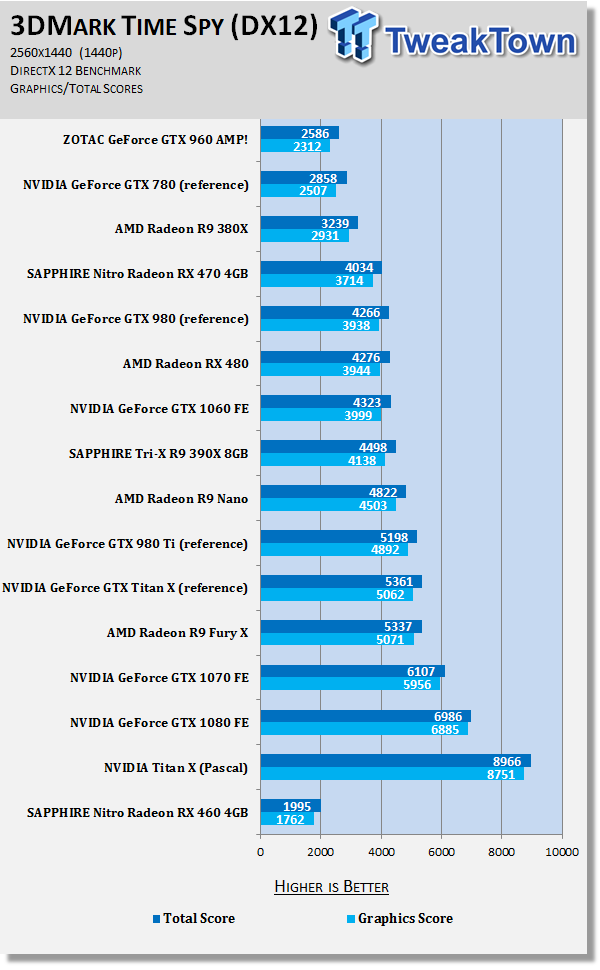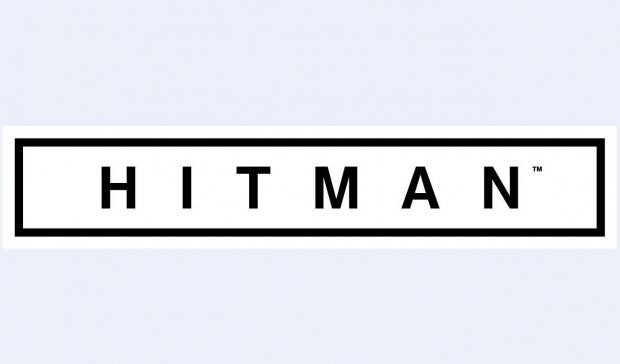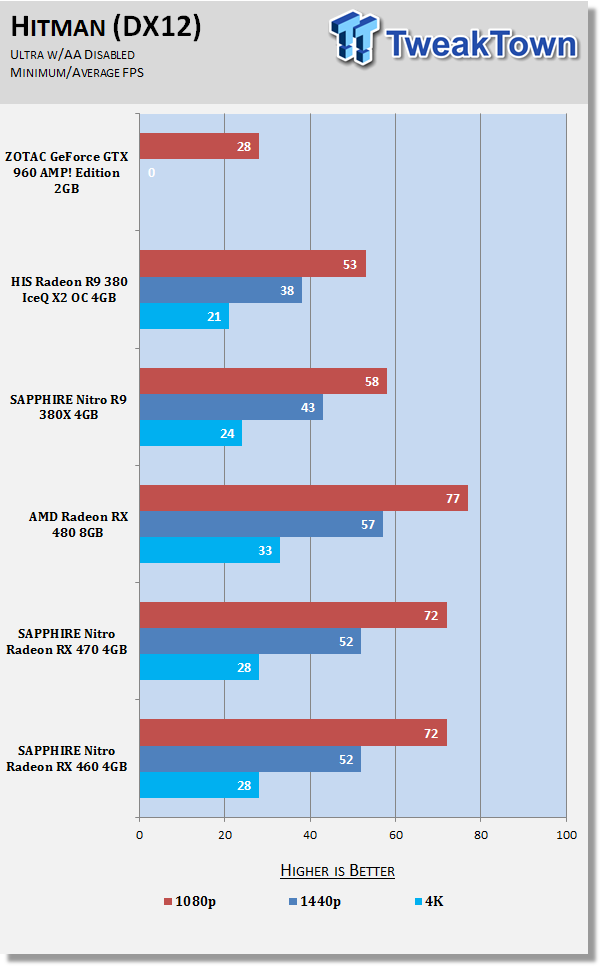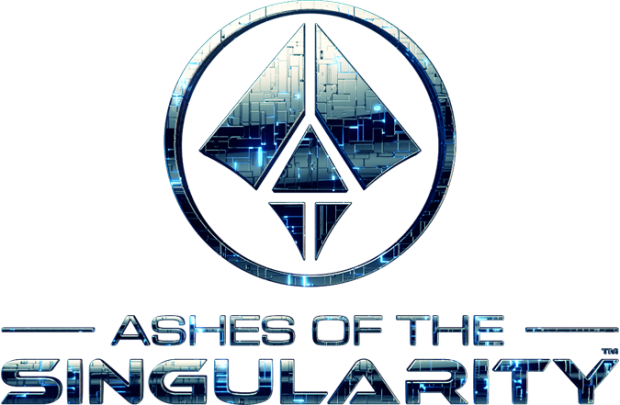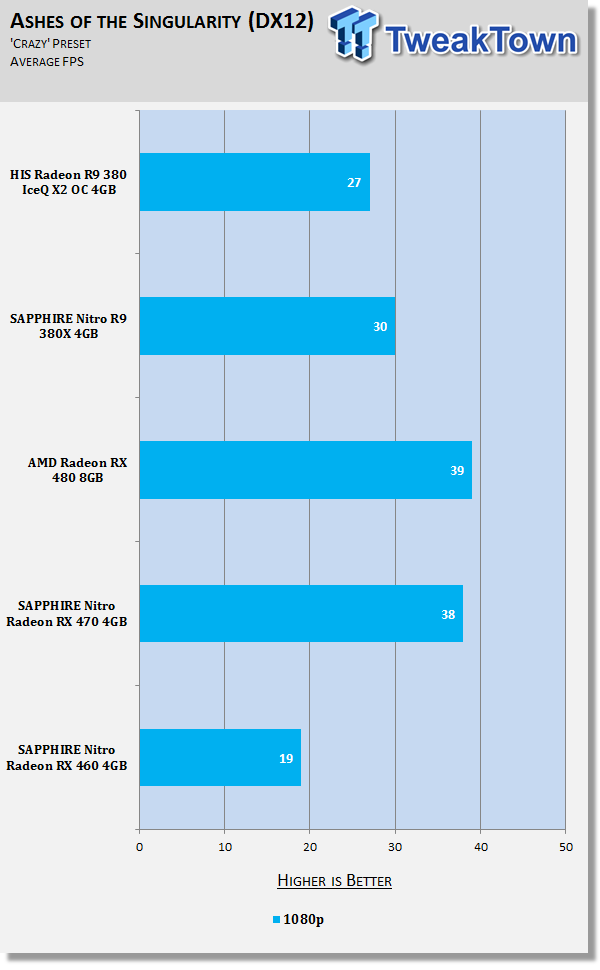 Overclocking Adventures - To Be Continued...
Unfortunately we did not have enough time to run any overclocking tests, but we will get onto this ASAP.
Power, Temperature, & Noise
160W Under Load
I expected better power draw numbers from the card but remember this is a custom graphics card from SAPPHIRE, based on the Radeon RX 460, which is why we have a 6-pin PCIe power connector. The reference design uses less than 75W of power, with all of it coming from the PCIe slot on the motherboard.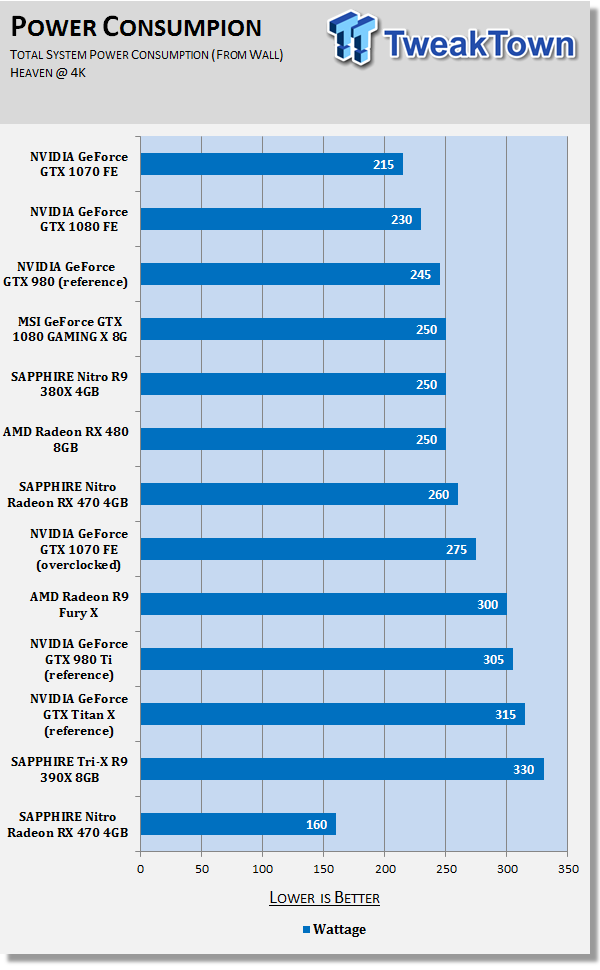 AMD's new Polaris architecture comes into play here with the 160W total system power consumption, a full 100W lower than the SAPPHIRE Nitro Radeon RX 470 graphics card. Both the Radeon RX 460 and the faster RX 470 are aimed at 1080p gamers, with the RX 460 just over half the performance of the RX 470, and consumes nearly half as much power.
At just 160W, you could use the Radeon RX 460 in a system with a good 300W power supply, and be absolutely safe in the system not using anywhere near that much power.
Temperature & Noise
Equipped with the Nitro cooler from SAPPHIRE, the graphics card was silent during all of our benchmarking and gaming sessions. The card operated at around 67C with the card on the default fan profile, which is how it should be like as an out of the box experience.
Performance Summary & Final Thoughts
Performance Summary
AMD has positioned the Radeon RX 460 into the eSports, casual, and 1080p gamers and with performance of around 30FPS average at 1080p, it fits right in. If we look at the target market for the Radeon RX 460, it will be a more mainstream market who won't spend the money on a massive, expensive gaming PC. With games like DOTA 2, League of Legends, and Overwatch not requiring a $400+ graphics card and 250W+ of power, the Radeon RX 460 can adapt to this market who wants a new graphics card.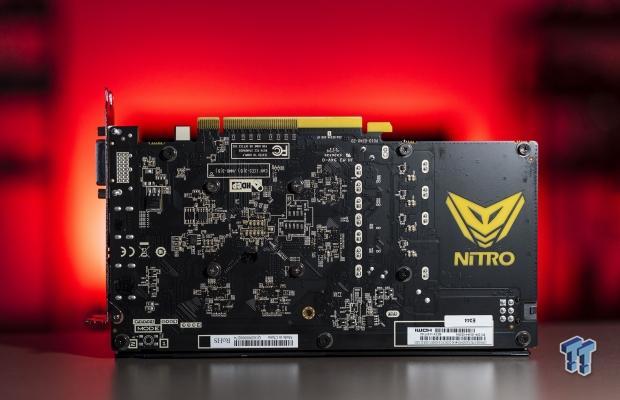 In the world of today's gaming PCs, 1080p 30FPS is a really nice stride to hit at Ultra detail in some of today's games. Changing these details to medium, and you'll easily hit the 60FPS mark which is another tick in the box for the Radeon RX 460, mixed in with it only consuming 160W of power total, that's a win for me.
Final Thoughts
AMD has hit a new price point with the Radeon RX 460 with an entry price of just $109; we're getting some stellar performance at 1080p 30FPS (and 60FPS on medium detail).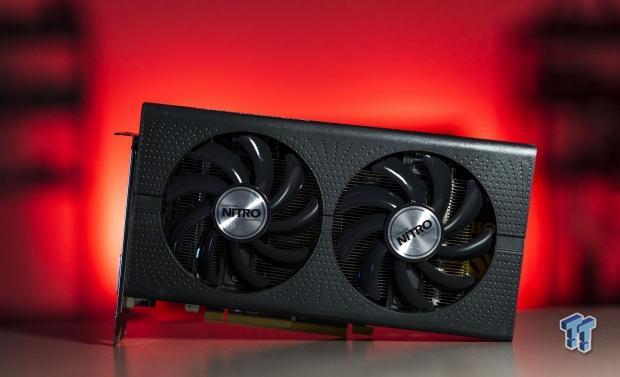 SAPPHIRE's card costs $139, but we have improved cooling and a PCIe power connector that doesn't seem to result in using much more power. The cooler would need some additional power, but we are going to see models released in the near future with 2GB of RAM from SAPPHIRE for just $119.
SAPPHIRE has two models with the RX 460 on the way, with the Nitro and stock models. The Nitro that we have for review is priced at $139 and has 4GB of RAM and is factory overclocked, while the stock model will feature just 2GB of RAM and a price of only $119.
While NVIDIA battles the enthusiast and high-end range all on its own, AMD is taking the battle to the streets with the Polaris architecture. With prices starting at $109, and SAPPHIRE's upcoming stock Radeon RX 460 2GB priced at $119, it's an all-out war for the mid-range market, and AMD is set to take it all.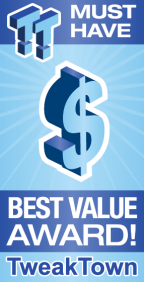 | | |
| --- | --- |
| Performance (overclocking, power) | 80% |
| Quality (build, design, cooling) | 80% |
| General Features (display outputs, etc) | 80% |
| Bundle, Packaging & Software | 80% |
| Value for Money | 90% |
The Bottom Line: SAPPHIRE's new Nitro Radeon RX 460 4GB is priced at just $139, nailing the 1080p gaming scene. With in-game visual settings at medium, hitting 1080p at 60FPS just became a whole lot cheaper.
PRICING: You can find products similar to this one for sale below.

United States: Find other tech and computer products like this over at Amazon.com

United Kingdom: Find other tech and computer products like this over at Amazon.co.uk

Australia: Find other tech and computer products like this over at Amazon.com.au

Canada: Find other tech and computer products like this over at Amazon.ca

Deutschland: Finde andere Technik- und Computerprodukte wie dieses auf Amazon.de
We openly invite the companies who provide us with review samples / who are mentioned or discussed to express their opinion. If any company representative wishes to respond, we will publish the response here. Please contact us if you wish to respond.