ASRock DeskMini 110 Mini-STX Mini PC Review
ASRock's DeskMini 110 Mini PC which was just announced at Computex recently is based on the new Mini-STX form factor. Let's take a close look at it now.
Published Jun 20, 2016 11:20 AM CDT
|
Updated Tue, Nov 3 2020 6:58 PM CST
10 minute read time
TweakTown's Rating: 92%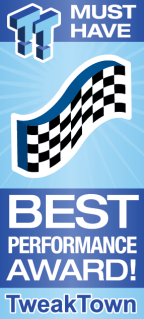 The Bottom Line
ASRock's DeskMini 110 Mini PC is perfect for those who want desktop-level CPU performance in a sleek device with solid storage expansion options.
Introduction, Specifications, and Pricing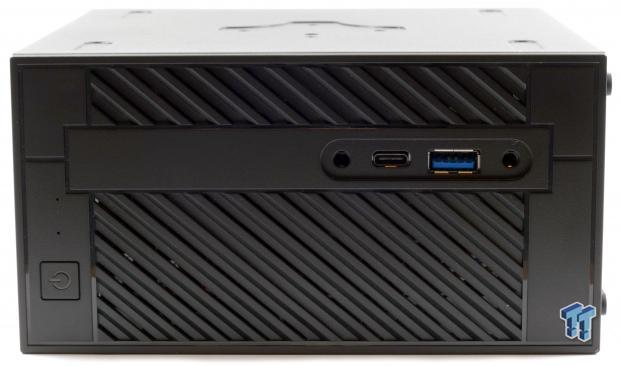 Mini Socket Technology Extended (Mini-STX), also called the 5x5 form factor, was introduced earlier this year as a concept. In the past few months, most major motherboard vendors have come up with custom designs, but the first design I have seen in a final product is ASRock's DeskMini 110. The DeskMini 110 is designed to fill the gap between Mini-ITX and Pico-ITX, and it's only slightly larger than most NUCs. The real advantage of the DeskMini 110 is its ability to utilize desktop "Skylake-S" series CPUs such as the i7-6700, or in our case the i5-6500. Many NUCs and other devices use "Skylake-U" series CPUs such as the popular i7-6500U, but a desktop class i3-6100 is capable of matching the i7-6500U as ASRock shows in its marketing materials and what we have seen in our own benchmarks.
In fact, the performance difference between "Skylake-U" and "Skylake-S" series processors is staggering. My own testing shows roughly double the score in CPU bound benchmarks such as CINEBENCH when comparing an i7-6500U and a desktop i5-6500. The power constraints of the "Skylake-U" processors affect their performance, the benefit being that they produce less heat and thus smaller and quieter devices. The mini-STX form factor aims to mash together a desktop class Skylake CPU with mobile bound memory and storage technologies that utilize little space, providing the best of both worlds. Today I take a look at our first mini-STX based system, the ASRock DeskMini 110.
Specifications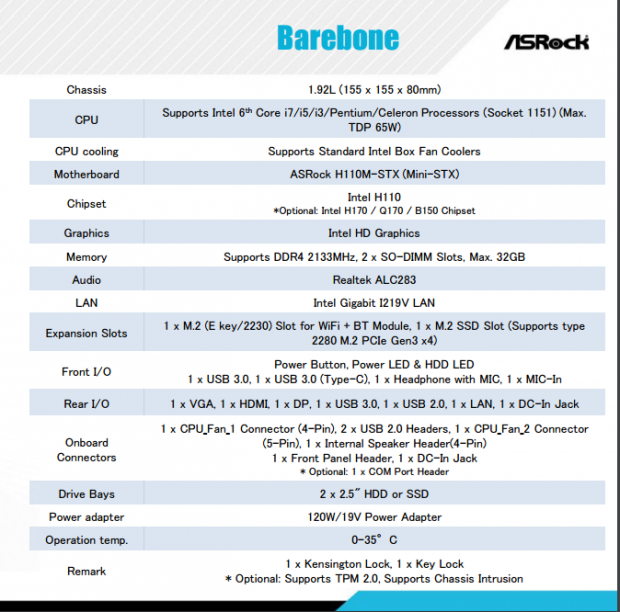 The DeskMini 110 comes as a barebones system with a motherboard, case, and external PSU. Our configuration uses some Kingston HyperX DDR4 SO-DIMMs and an i5-6500. The DeskMini 110 carries a desktop class LGA1151 socket with standard Intel Box Fan mounting holes (and slim-ILM mounting). The motherboard in use is ASRock's H110M-STX, the 5x5/MiniSTX motherboard. There is no PCI-E slot for graphics expansion so you will be using Intel HD graphics. The unit has a wired LAN port and an M.2 slot for a Wi-Fi module.
There is a full sized M.2 slot for storage, and unlike many Z170 motherboards, the M.2 slot is wired to the CPU's PCI-E lanes for better performance. There are two SATA3 (6Gb/s) headers on the backside of the motherboard, which require a special cable that supplies data and power to a standard SATA device. There is room to mount two 2.5-inch SATA devices on the underside of the motherboard tray.
Pricing
ASRock has informed us that the DeskMini will come with two SATA cables, and in some regions a Wi-Fi module will be included. The MSRP for the barebones without Wi-Fi is $130, and with Wi-Fi it is $140.
Packaging and System
Packaging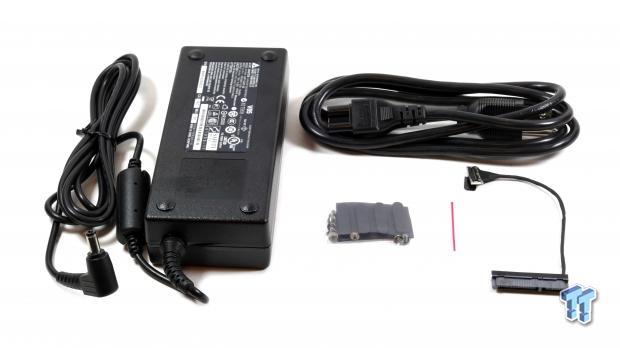 ASRock shipped our unit is a brown box, not in final retail packaging, so we don't know what the final retail box will look like. Everything was packaged well, and I had everything to build the system. Accessories include an AC/DC power brick, an SATA6Gb/s cable (data and power), various screws for mounting, rubber feet, and an AC power cord.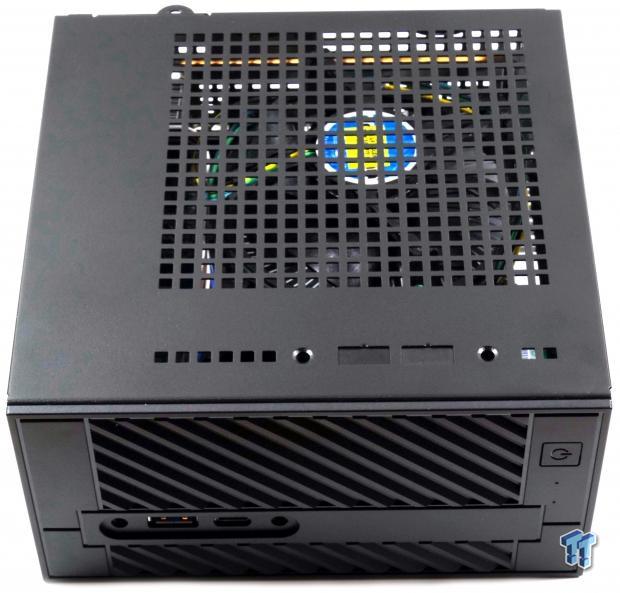 Instead of going with a third-party vendor, such as SilverStone, ASRock decided to design their own enclosure. This enclosure has many openings for good ventilation, which should theoretically allow for cooler temperatures and less fan noise. I think it's cool to be able to see the inside of a computer, and apart from adding a window, the large ventilation holes provide a glimpse into the action inside. You might also notice many openings/cutouts, and these are for customization options such as a COM port or extra USB headers. ASRock is adamant about this case and motherboard being fully customizable.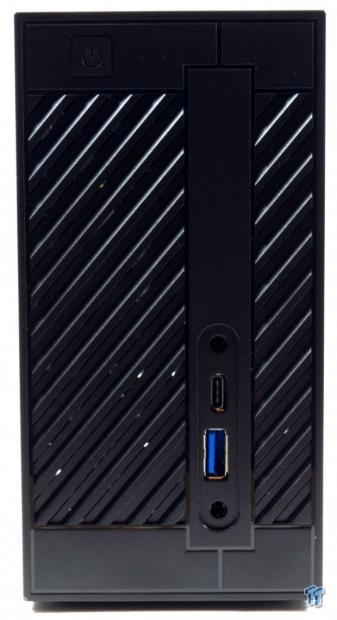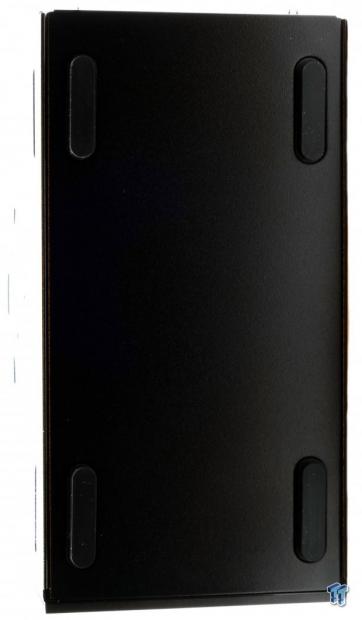 The DeskMini 110 is capable of standing upright or just on its belly. There are indentations for adding the rubber feet to either the belly of the beast or on one of its sides as pictured above. The front of the unit features USB 3.0 type-A, USB 3.0 type-C, headphone jack, and microphone jack.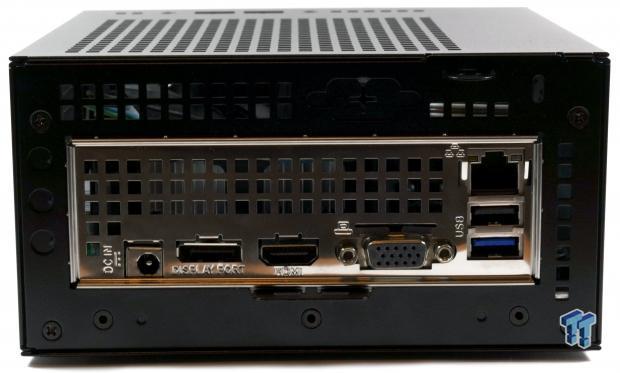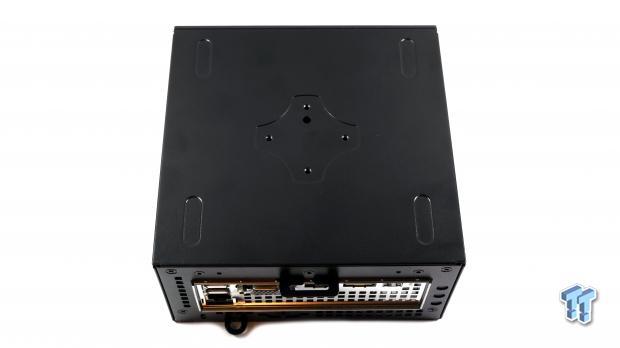 The rear of the unit has a tiny little IO shield. There is a DC power input jack, DisplayPort, HDMI, VGA, USB 2.0, USB 3.0, and an RJ-45 1Gbit LAN port. There is also a Kensington lock tab and some metal flaps that can be removed for the installation of Wi-Fi antennas and a COM port. The unit can be VESA mounted as well.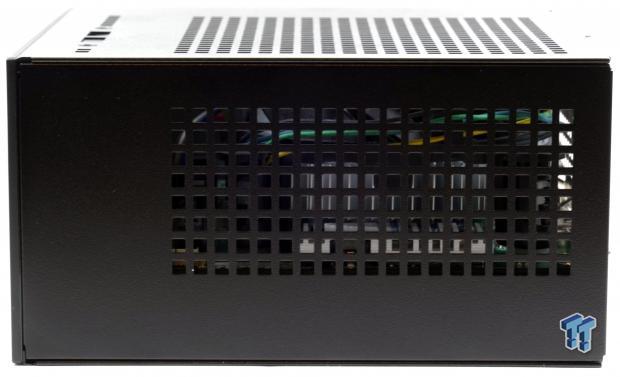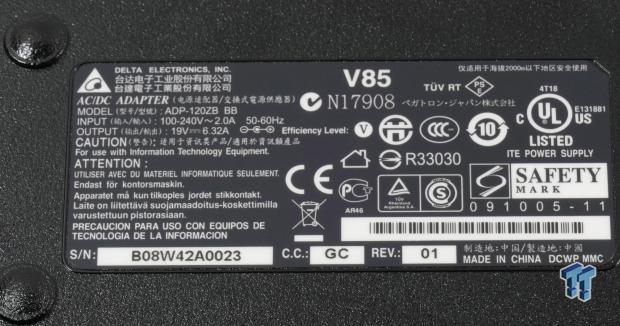 There is another vent on the edge of the unit that doesn't act as a base. The power brick is rated at roughly 120W and is the same DELTA adapter commonly used on more powerful NUCs/notebooks.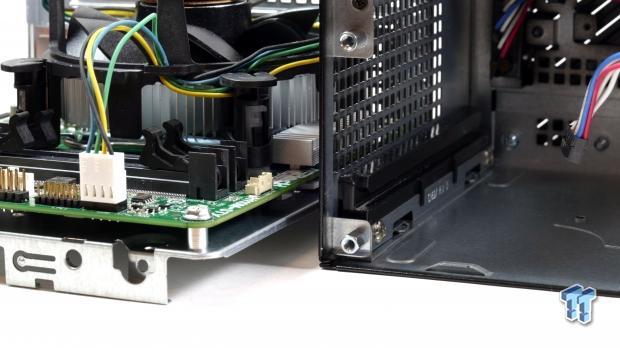 The motherboard tray slides out of the case as if it's a keyboard rack. The movement is smooth, and I didn't have any problem reinstalling the unit in the tray. There is a small ribbon cable used to connect the motherboard to the power button and activity LEDs. The bottom of the unit has enough space for mounting two 2.5-inch drives.
Teardown of the DeskMini 110
The Teardown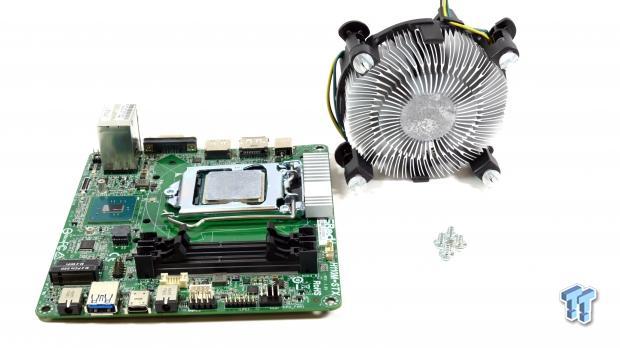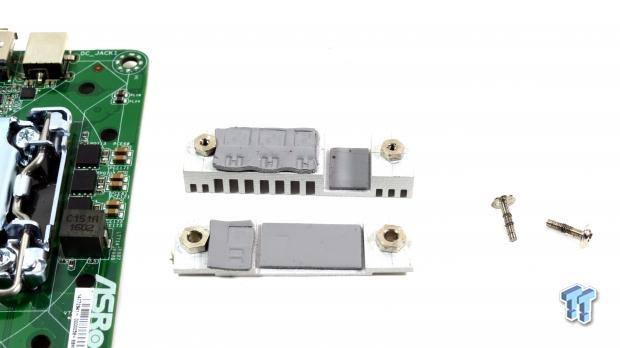 My unit came with an i5-6500 CPU and the Intel box cooler pre-installed. The motherboard is attached to the tray by four screws. There are two heat sinks; one on top of the CPU VRM and the other beneath it. The heat sinks cool off not only the power stage MOSFETs but also the inductors.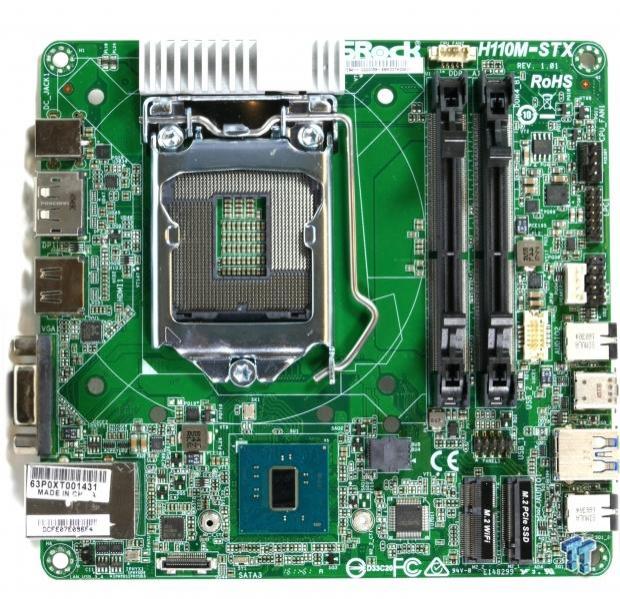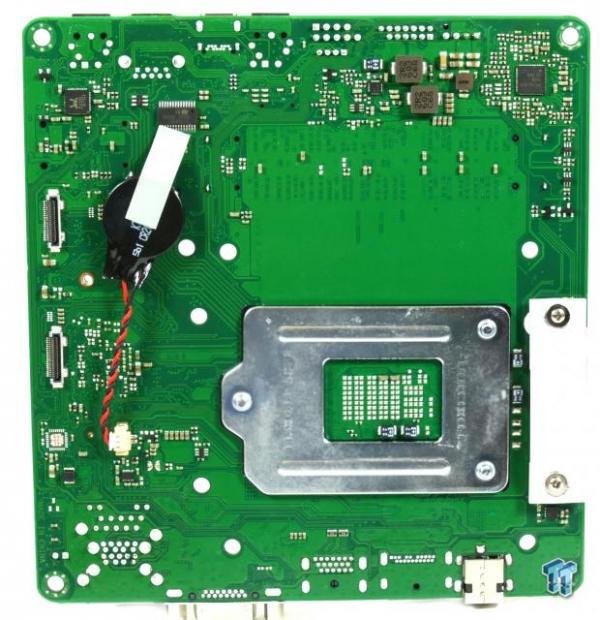 The motherboard is in the 5x5 form factor and is labeled H110M-STX. It has a single fan header and two upright DDR4 SO-DIMMs. The socket is the full-sized desktop LGA1151. There are two sets of mounting holes; one is standard desktop LGA1151 mounting, and the other is for a slim-ILM style cooler for low profile builds. The PCH has no heat sink because of its low TDP. The CMOS battery plugs into the back of the PCB, and there are two SATA6Gb/s connectors located to the left of the battery on the underside of the PCB.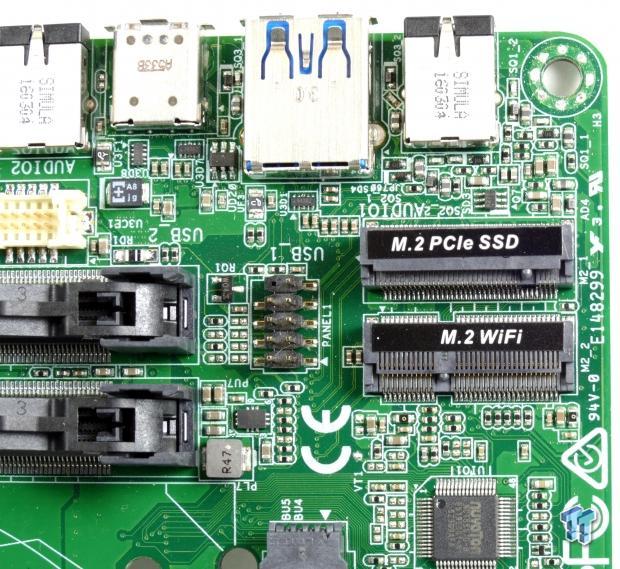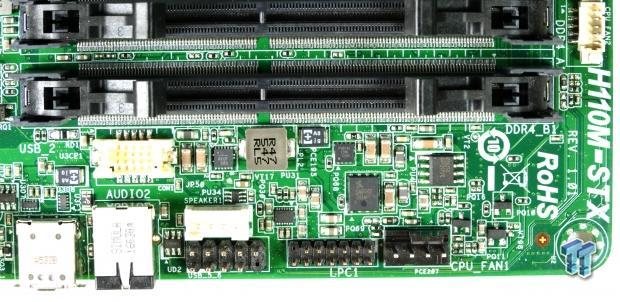 Near an internal USB 2.0 header are the two M.2 slots. One is keyed for storage and the other for a Wi-Fi module. The M.2 drive for storage is directly routed to the CPU's PCI-E lanes, and it should offer superior performance compared to M.2 slots connected to the PCH. The two DDR4 SO-DIMMs are used for vertical mounting of memory. There are many headers for expansion; they include COM, speaker, USB 2.0, LPC, and different types of fans.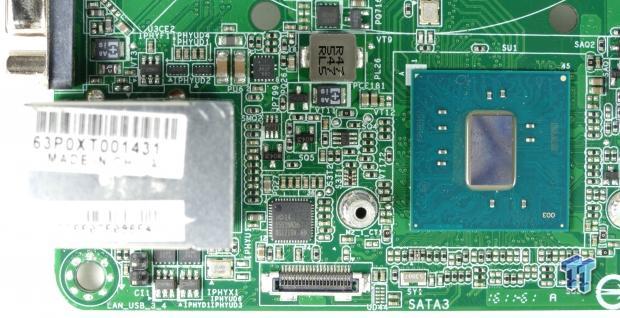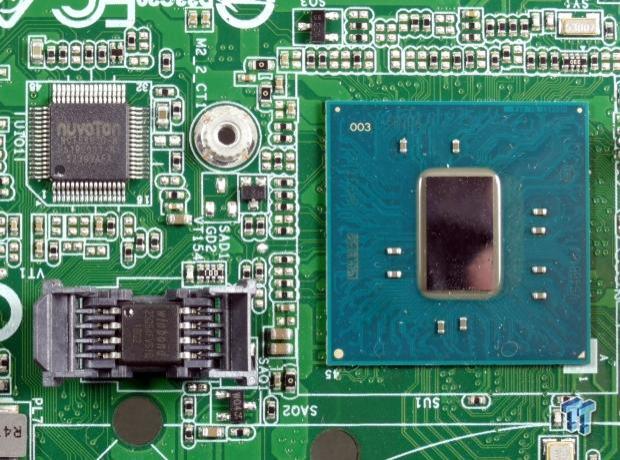 An SATA6Gb/s header for data and power is located at the bottom of the PCB and works with the included cable. The PCH is the H110 chipset which produces a mere 6W of heat. The BIOS sits in a socket that allows its replacement and is a 64Mbit Winbond model. The SuperIO is a nuvoTon NCT5567.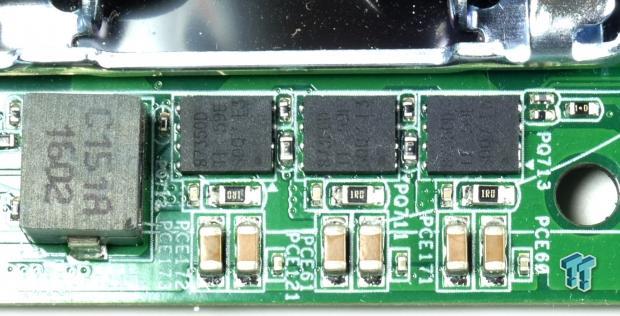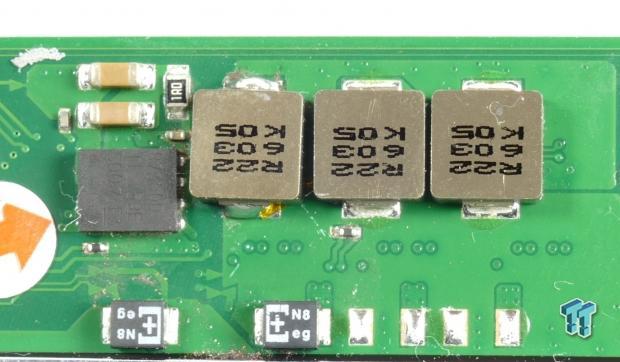 The VRM is using powerful Texas Instruments CSD87350Q5D NexFET power blocks, which include the high-side and low-side MOSFETs in a single package. These NexFETs are rated 40A maximum with 90% efficiency at 25A output. They are commonly found on high-end overclocking motherboards. In the case of this little board, three phases are for the CPU and a single phase is for the iGPU. The heat sinks help cool down the MOSFETs and the inductors.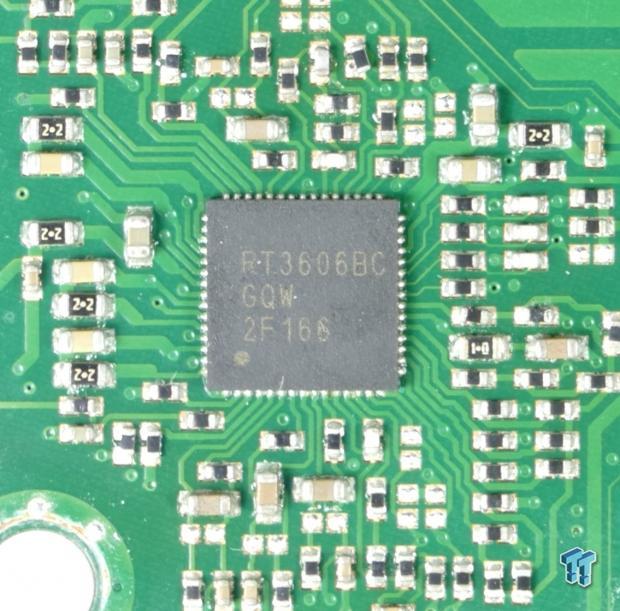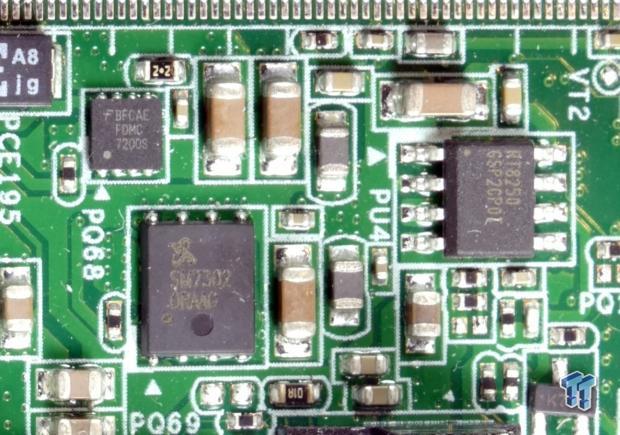 The PWM controller for the VCore and iGPU phases is the Richtek RT3606, which is commonly found in mobile and small form factor devices that use Skylake CPUs. It provides three phases with two integrated drivers for the VCore and a single phase with integrated driver for the iGPU. It's designed for high-efficiency operation. The memory phases are driven by a mixture of Sinopower, Fairchild Semiconductor, and Richtek parts for all voltage rails.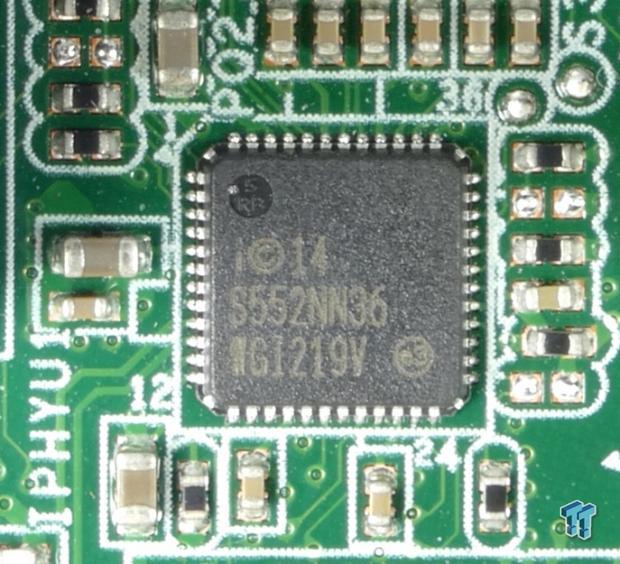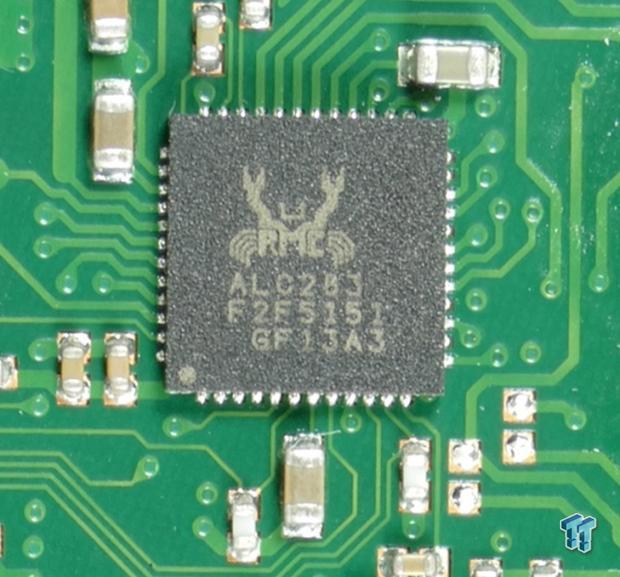 The DeskMini 110 that I have uses the Intel i219V for wired LAN, but for workstation or business users, the i219LM is available which offers more enterprise features. Audio is provided through a Realtek ALC283 codec in the integrated Azalia audio processor in the PCH.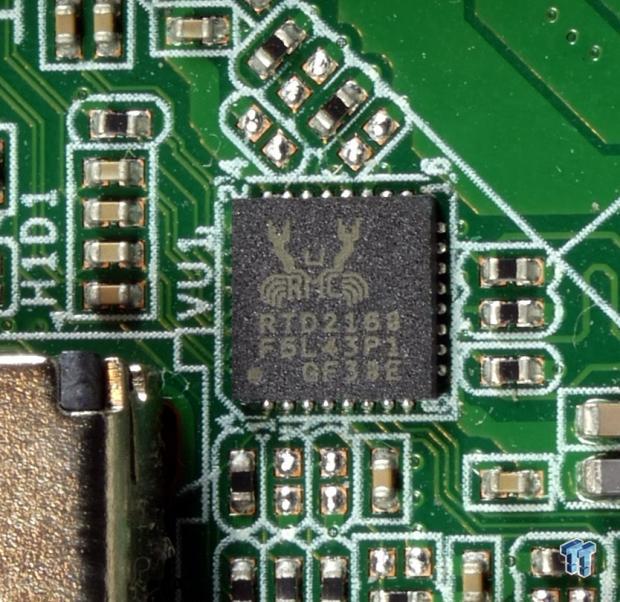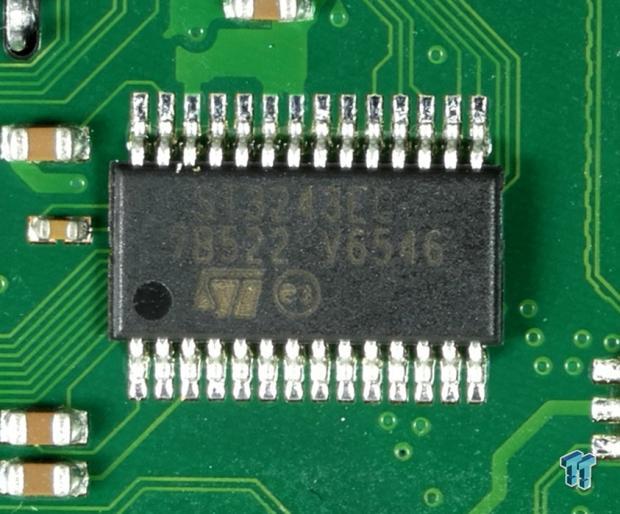 The Realtek RTD2168 provides the VGA/D-SUB port on the rear IO panel because native iGPU output from Skylake CPUs doesn't support this analog protocol. For the RS-232 (COM Port), an ST Micro ST3243EC is utilized.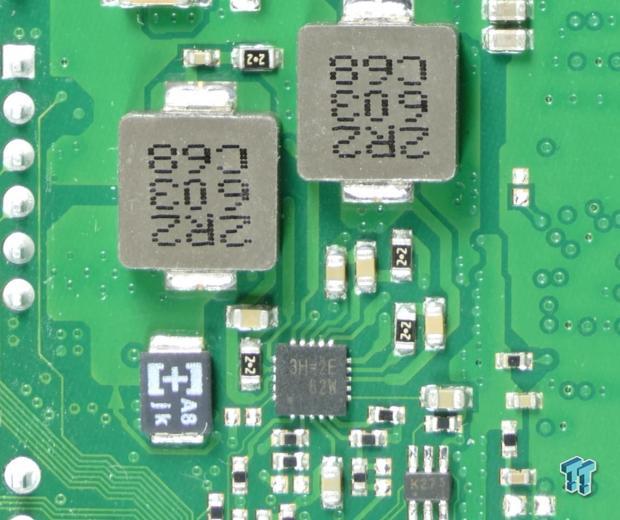 A Richtek RT6585A ("3H=2E") is a dual-channel DC/DC step-down controller with two PWM controllers and two fixed linear regulators. I couldn't find any major chip that would control the DC input and provide lower voltages for the rest of the system, and I think this is the chip that is providing that function. It can handle inputs from 5 to 25v and outputs in the range of 2-5.5v, which is very common for low powered systems such as this.
BIOS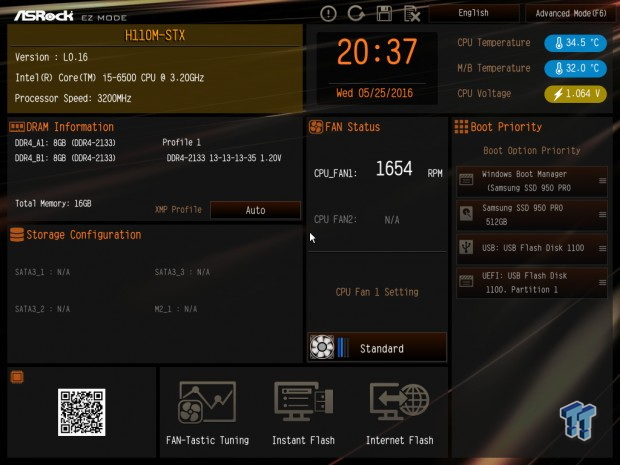 The DeskMini 110 has a UEFI very similar to that of full-sized ASRock motherboards. It has both an EZMode and a more advanced mode for expert users. It even offers pre-built memory OC modes as well as manual tuning for those on the more adventurous side.
The BIOS shows that there is support for three SATA devices and one M.2 drive. I used the Samsung 950 Pro with NVMe, and it worked well and was super simple to setup. The same type of fan tuning on ASRock's full-sized enthusiast motherboards is also present in the DeskMini 110's UEFI. It was a bug-free experience.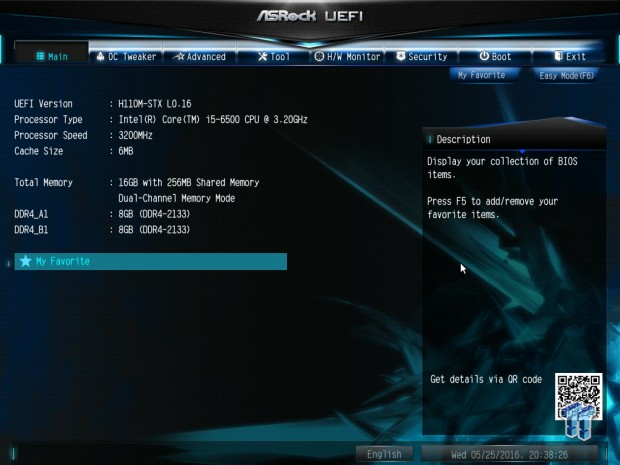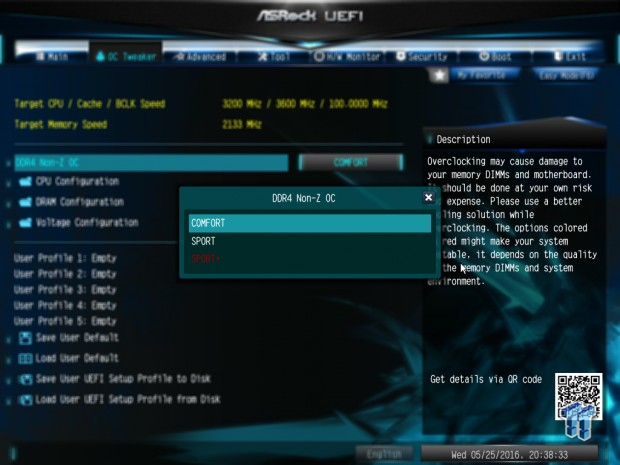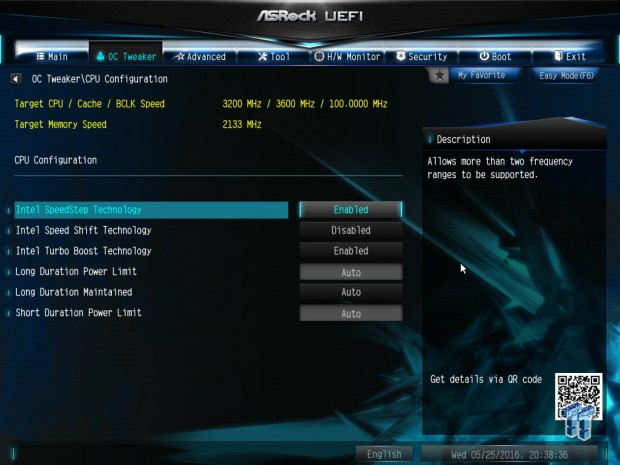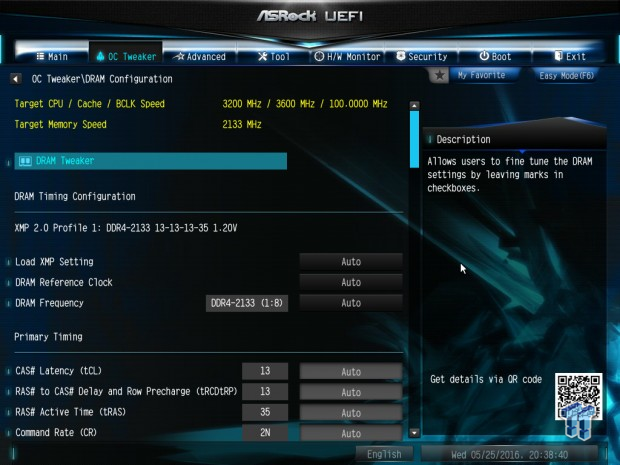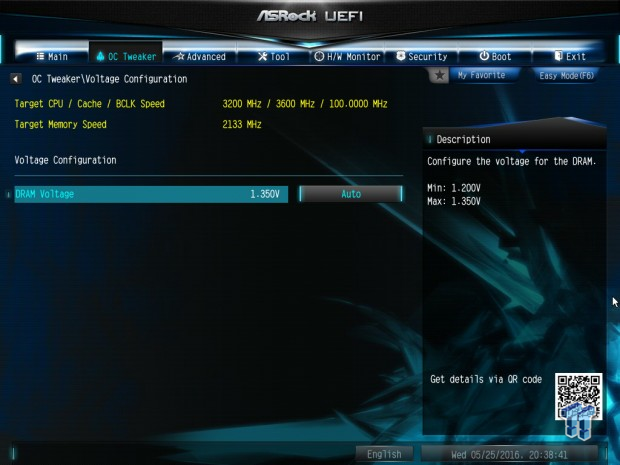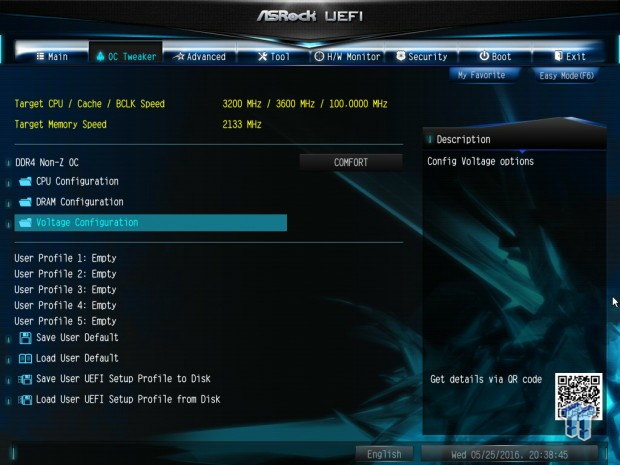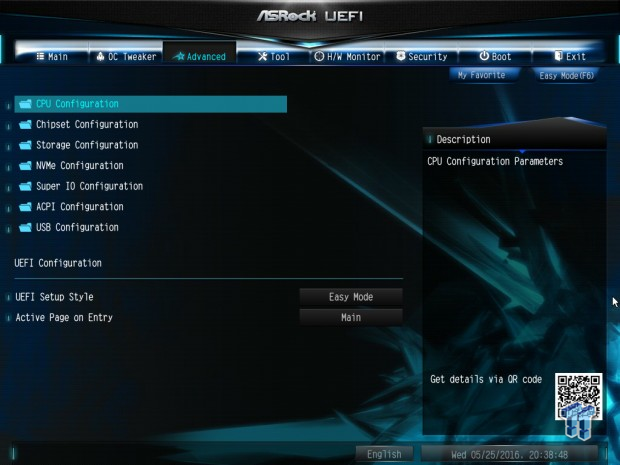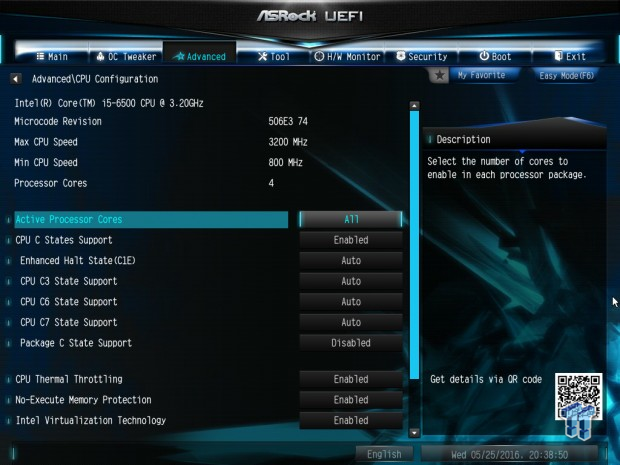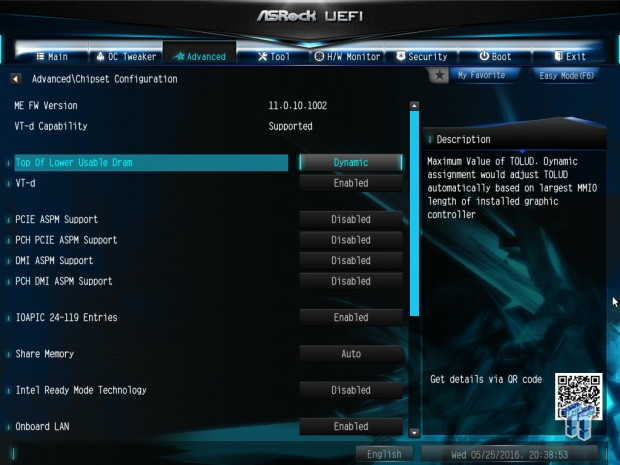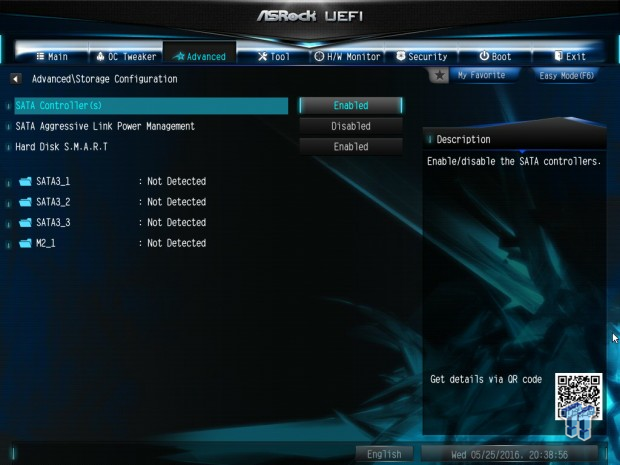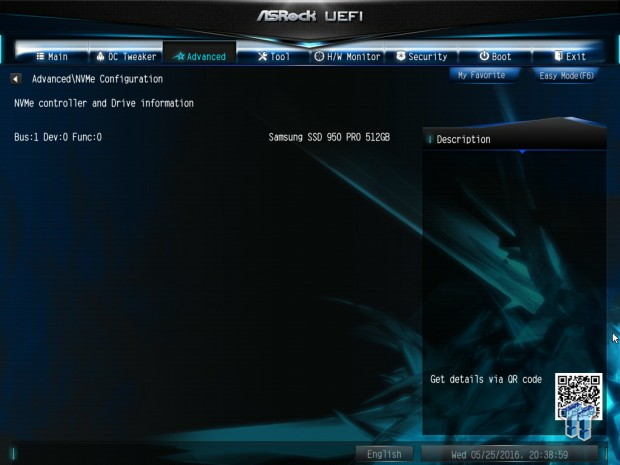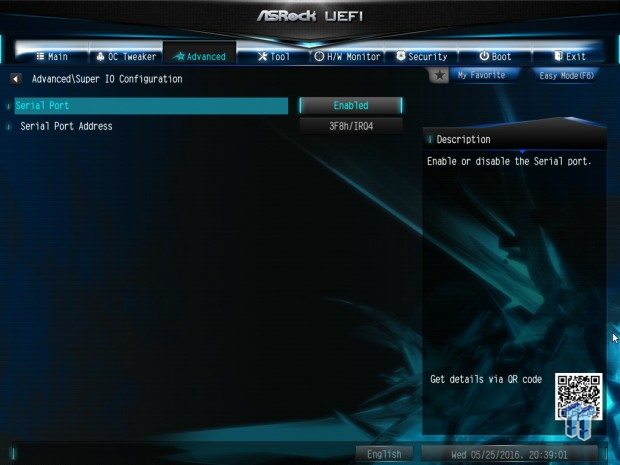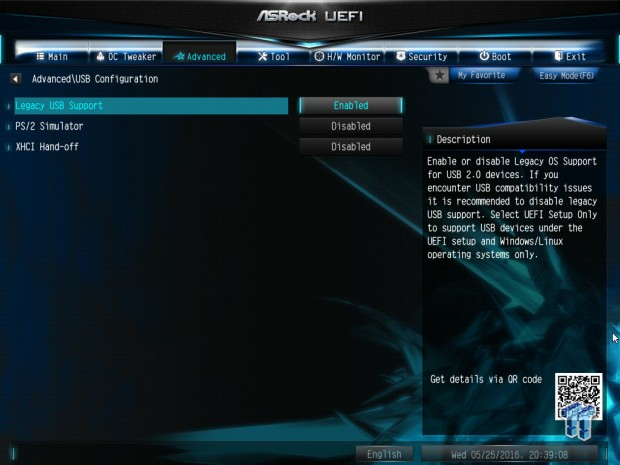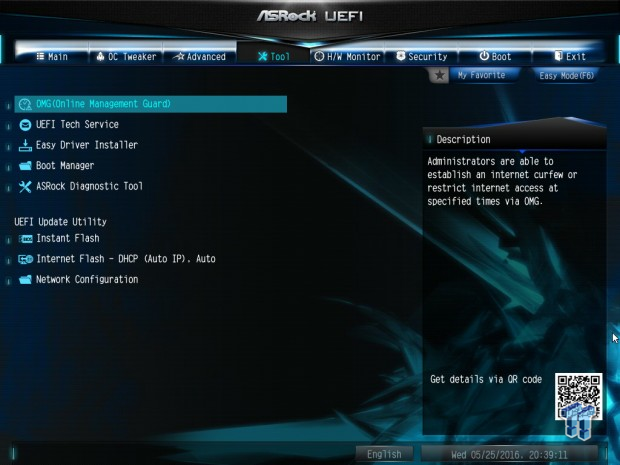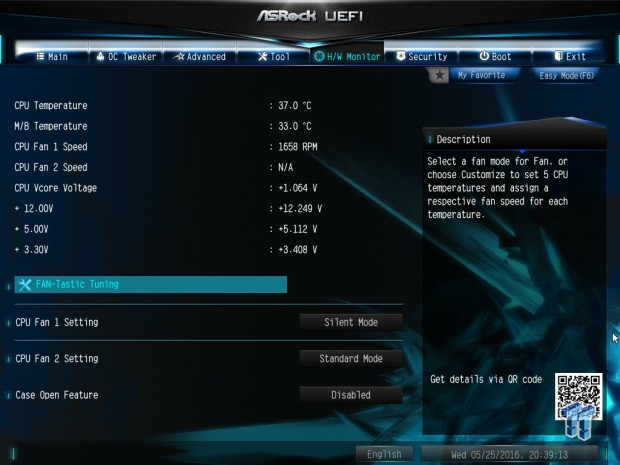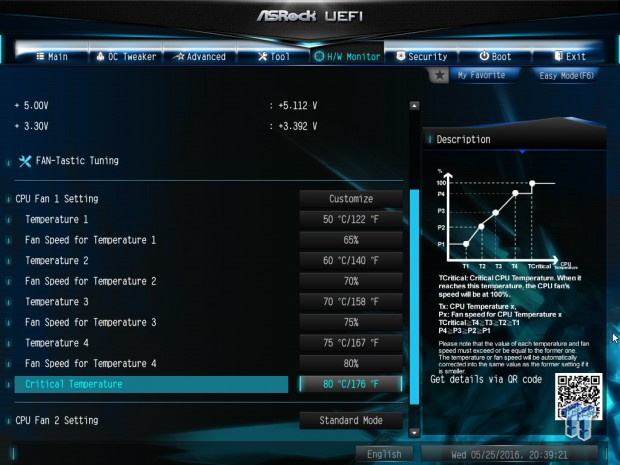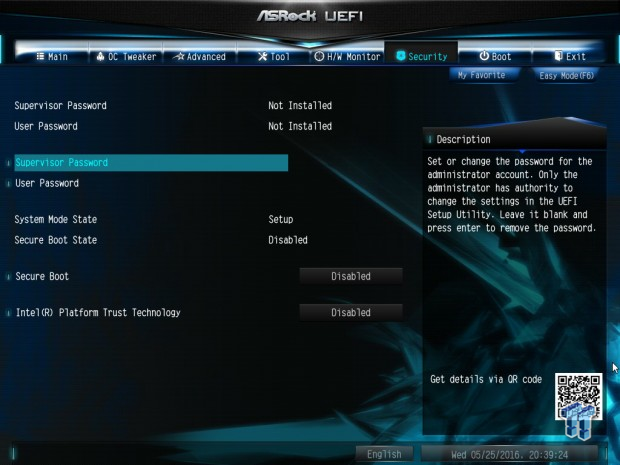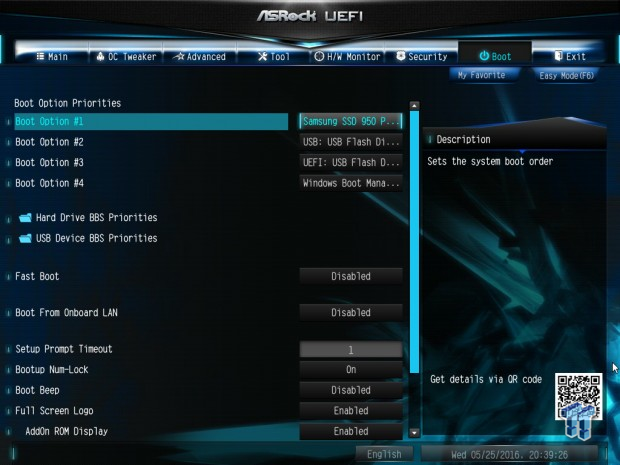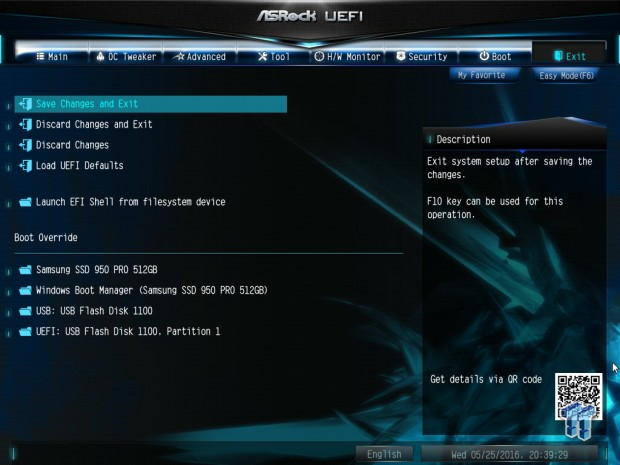 Test Setup and Benchmarks
Test Setup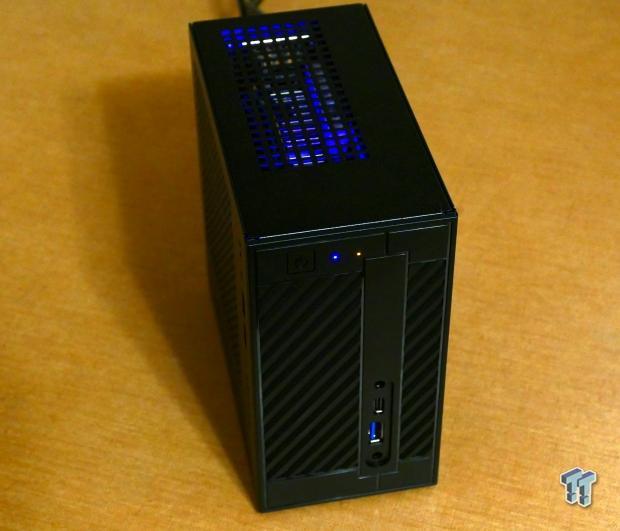 A subtle blue light from inside the system allows you to peek inside while the unit is turned on.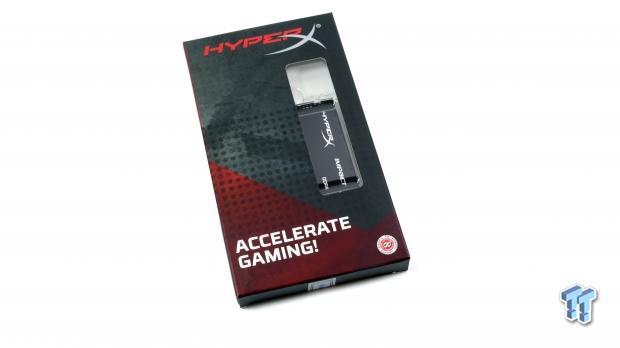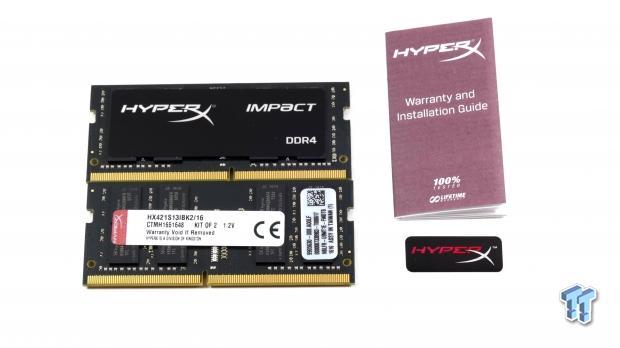 I am using some Kingston HyperX Impact DDR4 SO-DIMMs to test this system. The HX421S13IBK2/16 is a 2133MHz 16GB (8GB x 2) DDR4 SO-DIMM kit that works very well with this system. I used the Samsung 950 Pro as the M.2 drive and an Intel i5-6500 CPU.
CPU, Memory, System, and Graphics Benchmarks
CINEBENCH 11.5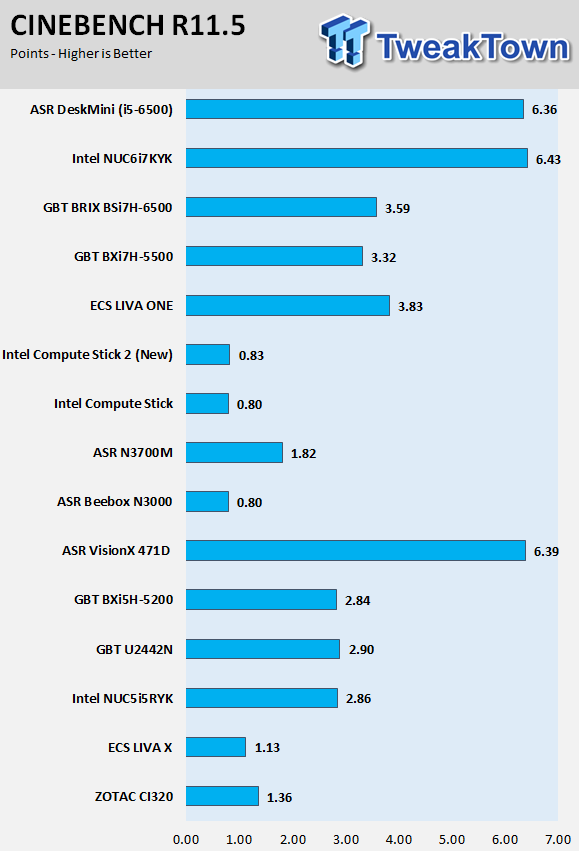 wPrime
AIDA64 AES and HASH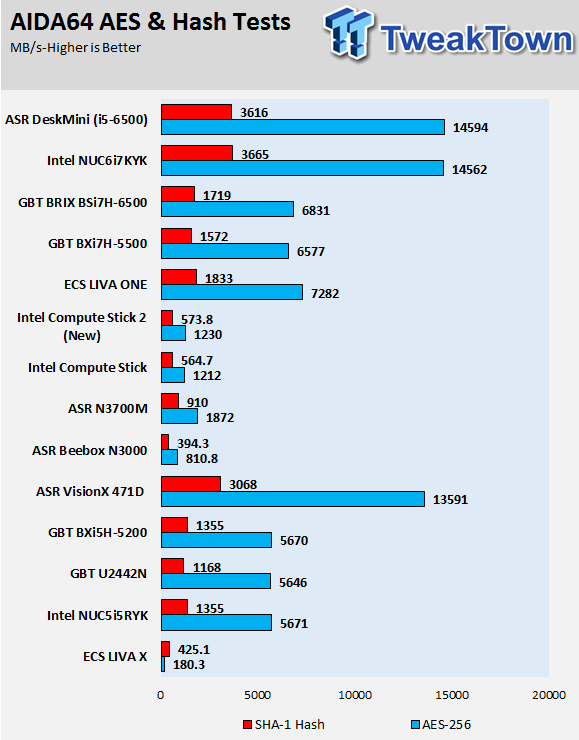 AIDA64 Memory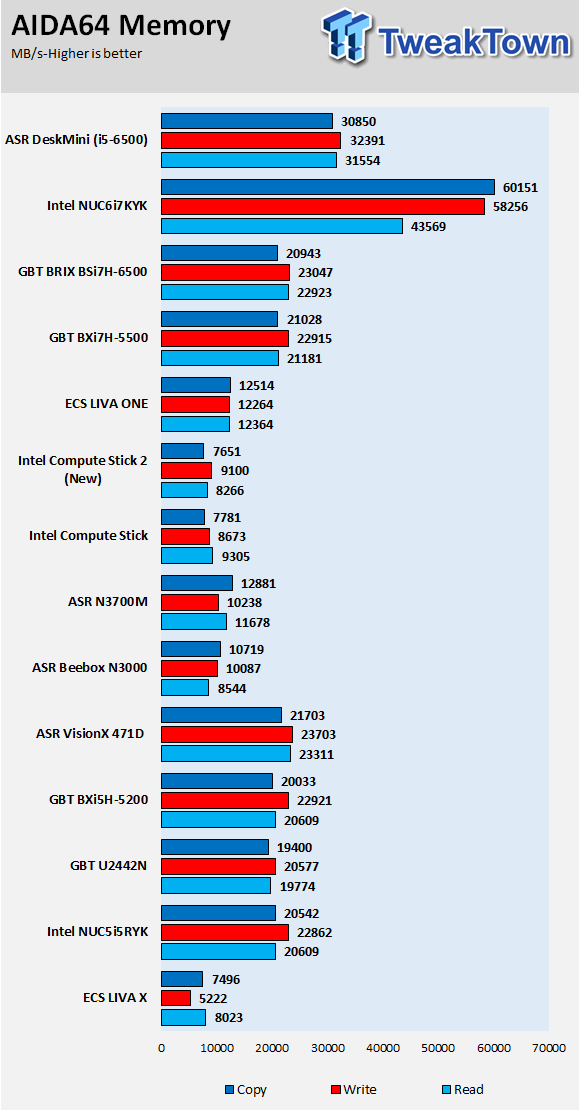 PCMark8 Home Test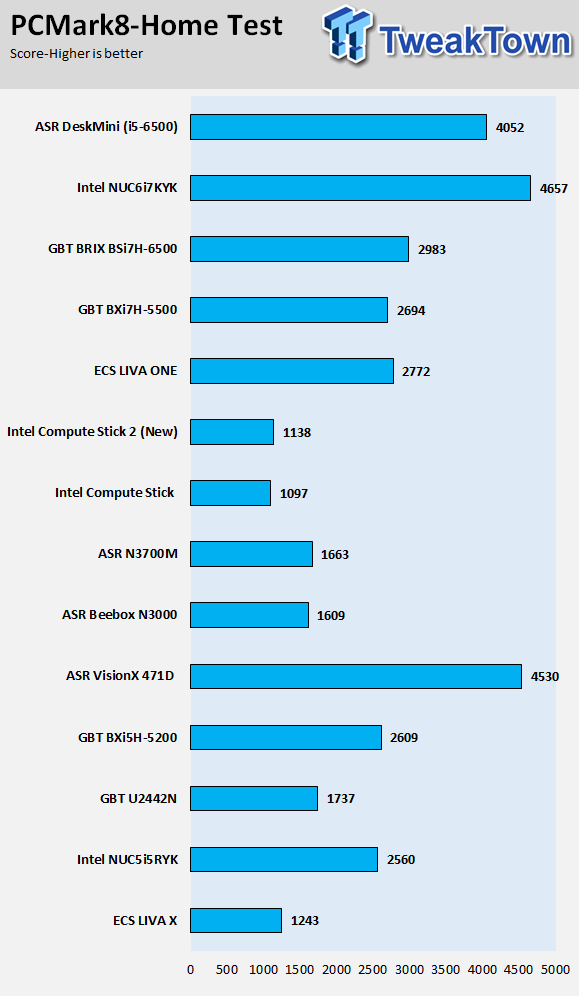 PCMark8 Work Test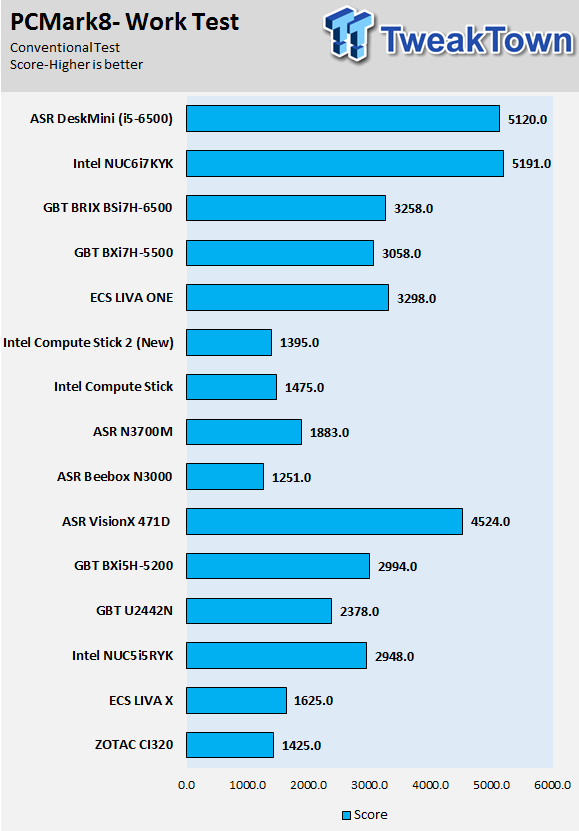 WebXPRT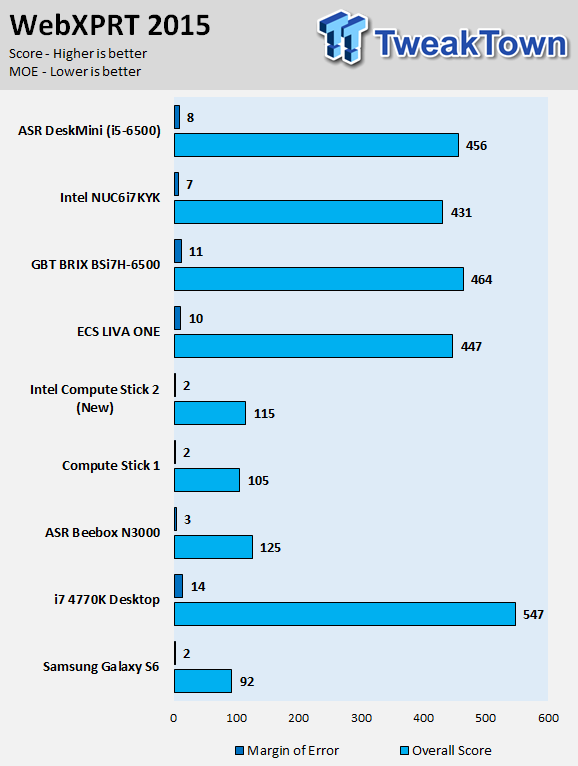 3DMark11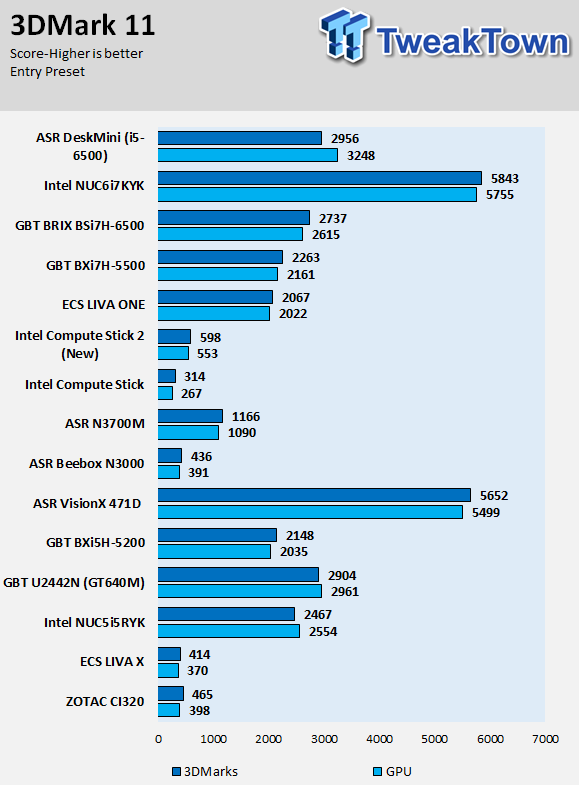 UNIGINE Heaven 4.0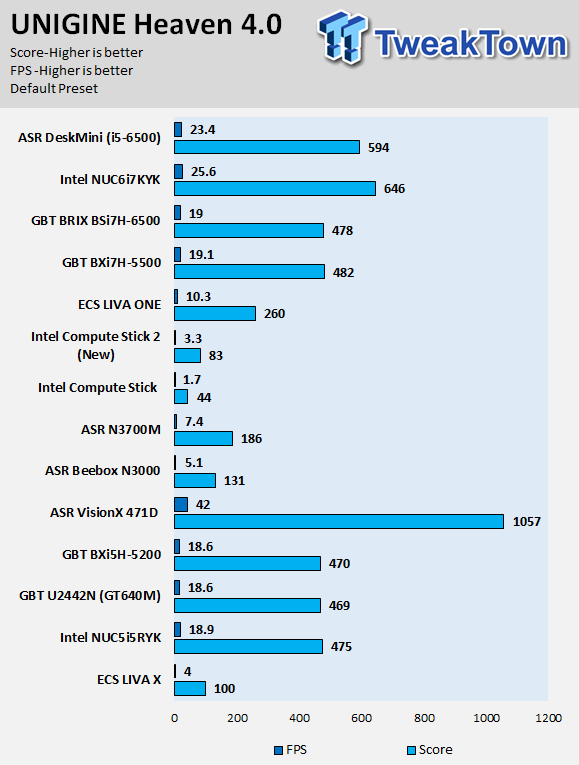 Resident Evil 6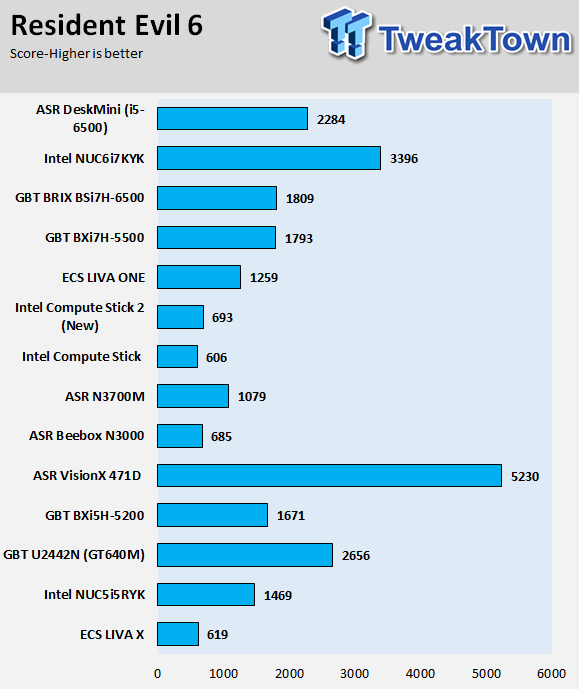 Storage and Network Performance
CrystalDiskBench-Read: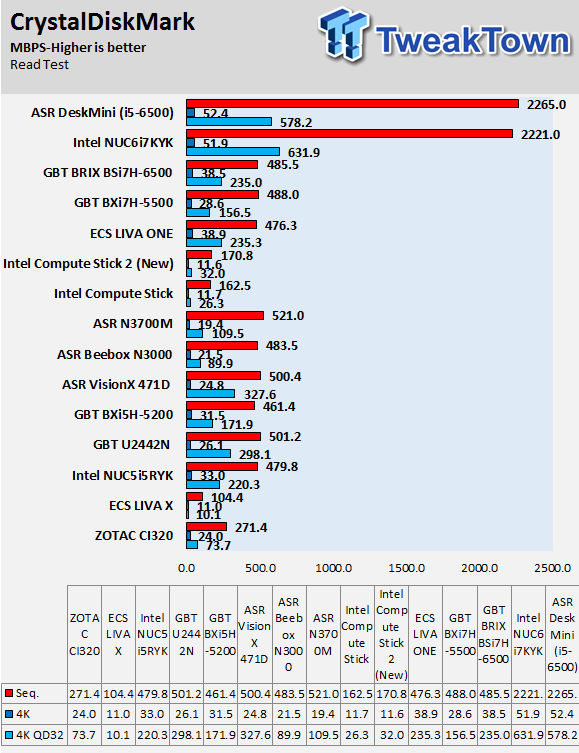 CrystalDiskBench-Write: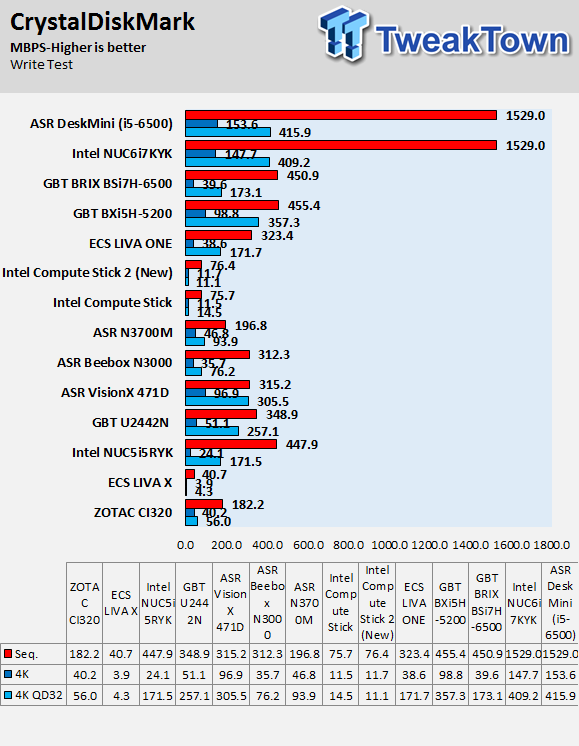 ixChariot Network Throughput: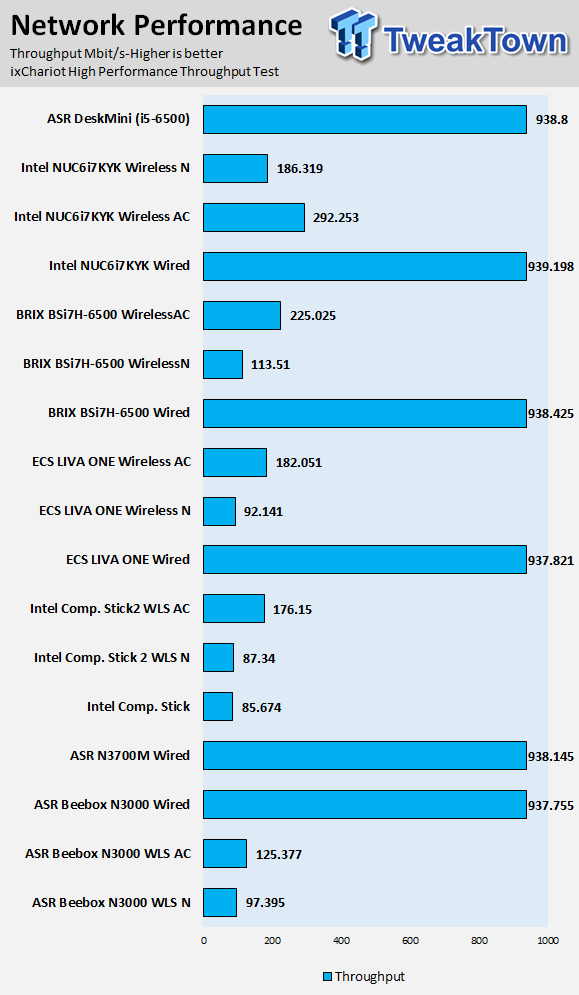 It's obvious that the desktop-class 65W i5-6500 is more powerful than 15W i7-6500U found in many other NUC-style devices. One would assume that they perform the same, or even close, especially considering the high cost of the i7-6500U compared to the i5-6500, but it's all about TDP and heat.
The i5-6500's TPD is almost four times the rated-TDP of the i7-6500U, and performance is roughly twice as good in certain scenarios. It's easy to see that when TDP and heat are on a strict budget, the i7-6500U makes sense, but the DeskMini 110 is capable of dissipating the heat without conjuring up jet engine noise levels, so it can afford the higher TDP and resulting performance bump.
Temperature and Power Consumption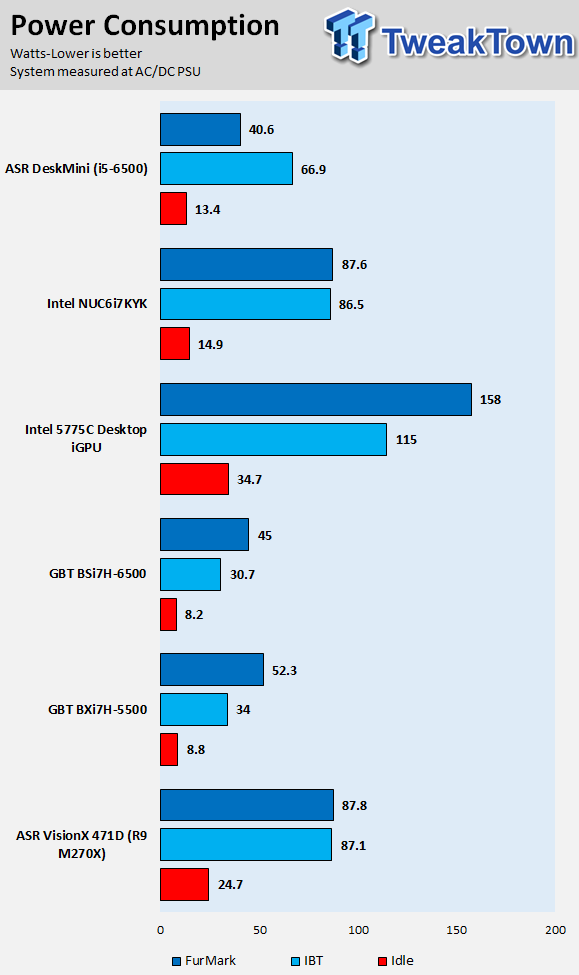 The power consumption of the DeskMini 110 puts it right in between an NUC and a full-fledged desktop, further bridging the gap between the two.
Thermal Testing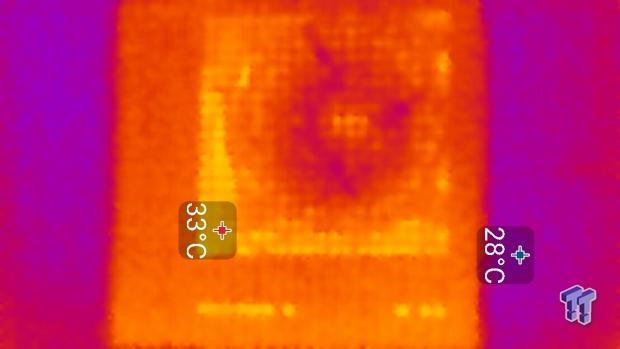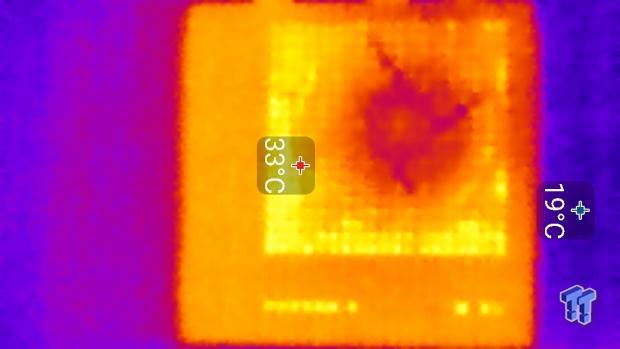 The maximum surface temperature detectable through the vent slots on the unit was 33C both at idle and load. The big difference is that the heat is obviously dispersed throughout the PCB when the system is loaded.
I expected this since I can't measure the surface temperature of the CPU when the heat sink is installed, but I am happy to report that at load the system didn't get very loud.
What's Hot, What's Not & Final Thoughts
Here are key points about the DeskMini 110.
What's Hot
Desktop CPUs in a Tiny Box: While the DeskMini 110 is NUC-sized, it is anything but. With a full-sized LGA1151 socket and even mounting compatibility with Intel's box cooler, the DeskMini 110 can support desktop-class CPUs in a very tiny box. While desktop-class CPUs sport TDPs much higher than the mobile CPUs used in most NUC-style devices, they offer significant performance advantages.
Great Storage Support: ASRock did an excellent job optimizing storage space for two 2.5-inch drives below the motherboard tray. While 2.5-inch drives are just fine, many users want the blazingly fast speeds offered by M.2 drives, and the DeskMini 110 delivers better than most Z170 motherboards by linking the M.2 drive to the CPU. The M.2 slot provides up to 32Gb/s of bandwidth (4x PCI-E 3.0) and supports NVMe/PCI-E based M.2 drives. The board does support up to three SATA devices, but alas, you might be hard pressed to find space for the third 2.5-inch drive.
Unique Case: Many cases optimize aesthetics over cooling, but the DeskMini 110's case does both. The DeskMini 110's case is a vent with a few solid areas. People won't be able to easily access the inside of the device. All the vents provide excellent airflow, so the desktop CPU doesn't overheat, and the fan doesn't get too loud. A bonus of the vents is being able to peek inside the device while it is running.
Heavily Customizable: One aspect ASRock heavily emphasized was the customizability of DeskMini for business or consumer usage scenarios. They offer a model with a different NIC for business users, and there is a healthy amount of COM port support. With the secondary Wi-Fi/BT M.2 slot, you can add in a Wi-Fi/BT card, and there are even three flaps to install up to three antennas in case you go with a 3x3 Wi-Fi option. There are even flaps on other parts of the case to allow for more USB type-A ports.
What's Not
Limited Graphics Options: Without Thunderbolt 3 or any PCI-E expansion port, external or even internal graphics upgrades are not possible. The small size of the device limits users to Intel's integrated graphics solutions. The same limitation applies to almost all NUC-style devices.
SATA Cabling: ASRock isn't using the standard SATA ports we all know and love, but instead some slim cabling found in notebooks. A quick search of Google and I still wasn't able to find what the cable type is called. It provides both data and power through a single connector. My package included one of these cables, and I am unsure of how many the final retail package will include. If you require more of these cables (20-pin on a single side), then Google "Dell Latitude E7220 HH0YC" as I think it's the same cable connector.
Final Thoughts
It's tiny yet vast, it's small yet fast, it's got features of the future and some of the past, it's the DeskMini 110. The DeskMini 110 is almost just a CPU box, it takes the CPU, a highly integrated H110 chipset, and provides great storage capability in a device less than two liters in volume. Most NUCs hover around the 0.7-liter mark, but to be honest; this device doesn't look much larger, although when in hand you can tell it's larger than an NUC-style device. The size increase provides the ability to run a much faster processor, which in turn provides much greater performance. The DeskMini 110 further bridges the gap between high-performance computers and tiny NUCs, and is just the beginning of what we will see from the new mini-STX form factor.

ASRock's initial press release indicated that they worked closely with Intel to develop this device. More recently, Intel has worked hard to ensure that their smaller computers operate at tolerable noise levels, and I can attest that the DeskMini 110 won't blow out your ear drums or provide enough white noise to help you sleep at night.
It does have its downsides; you can't expand upon Intel's integrated graphics and finding more of those SATA cables might be a little difficult. I was thoroughly impressed by the chassis and its ability to help cool down the i5-6500 with Intel's box cooler. There are many people who want a smaller home device, but don't want to give up the performance of a desktop, and for them the DeskMini 110 could be that desktop replacement.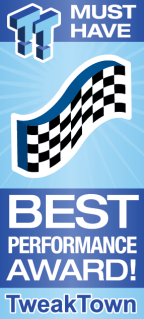 | | |
| --- | --- |
| Performance | 97% |
| Quality including Design and Build | 92% |
| General Features | 93% |
| Bundle and Packaging | 85% |
| Value for Money | N/A |
The Bottom Line: ASRock's DeskMini 110 Mini PC is perfect for those who want desktop-level CPU performance in a sleek device with solid storage expansion options.
PRICING: You can find products similar to this one for sale below.

United States: Find other tech and computer products like this over at Amazon.com

United Kingdom: Find other tech and computer products like this over at Amazon.co.uk

Australia: Find other tech and computer products like this over at Amazon.com.au

Canada: Find other tech and computer products like this over at Amazon.ca

Deutschland: Finde andere Technik- und Computerprodukte wie dieses auf Amazon.de
We openly invite the companies who provide us with review samples / who are mentioned or discussed to express their opinion. If any company representative wishes to respond, we will publish the response here. Please contact us if you wish to respond.