Intel Skull Canyon NUC NUC6i7KYK Mini PC Review
Intel's latest NUC is the Skull Canyon NUC6i7KYK Mini PC and today we fully put it through its paces to see what it can do.
Published Jun 8, 2016 8:15 AM CDT
|
Updated Tue, Nov 3 2020 6:58 PM CST
15 minute read time
TweakTown's Rating: 93%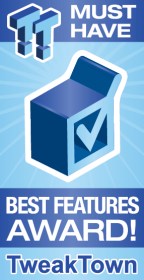 The Bottom Line
Not only is the NUC6i7KYK the fastest NUC Intel has to offer, it's also loaded with a myriad of features such as Thunderbolt 3, 4K capabilities, and the ability to RAID the fastest M.2 SSDs.
Introduction, Specifications, and Pricing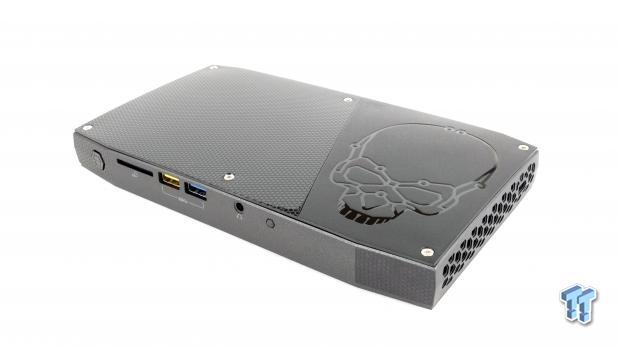 During our meeting with Intel at CES 2016 in Las Vegas, Intel showed off a secret prototype codenamed "Skull Canyon". Skull Canyon was designed to redefine what we consider a "Next Unit of Computing" (NUC); it was designed to change the game. Changing the game is no simple task, and Intel's vision was to cram their latest offerings from multiple fronts into a product that was not only powerful but also versatile and portable. About a week ago, Skull Canyon finally arrived at my doorstep, and since then I have been benchmarking the device to its extremes and even providing friends and family a chance to try out the device to confirm my suspicions about its overall performance and usability.
The NUC6i7KYK is Skull Canyon. It's loaded with the Intel i7-6770HQ quad-core / 8-thread Core i7 CPU and Intel's latest Iris Pro 580 graphics. I believe that Intel held off releasing this processor and iGPU combination model specifically for Skull Canyon. The 6770HQ makes up the core CPU and graphics powerhouse of the device, and is pretty much the latest and greatest Intel has to offer at the target 45W TDP. Intel has divided Skylake processors into four distinct lines, and the H-Series processor line is specifically designed for very fast mobile devices and even mobile workstations.
Intel also made some improvements to its Iris Pro lineup by improving or maintaining performance at lower TDPs, enabling faster integrated graphics to operate inside smaller devices. While the 6770HQ is a very interesting chip, Intel didn't forget to include two M.2 slots operating at 32Gb/s each (and yes, you can RAID two NVMe drives), or their latest Thunderbolt 3 "Alpine Ridge" controller for the latest in connectivity. On paper the Skull Canyon NUC6i7KYK looks to be a formidable desktop replacement, follow me as I test it in real life.
Specifications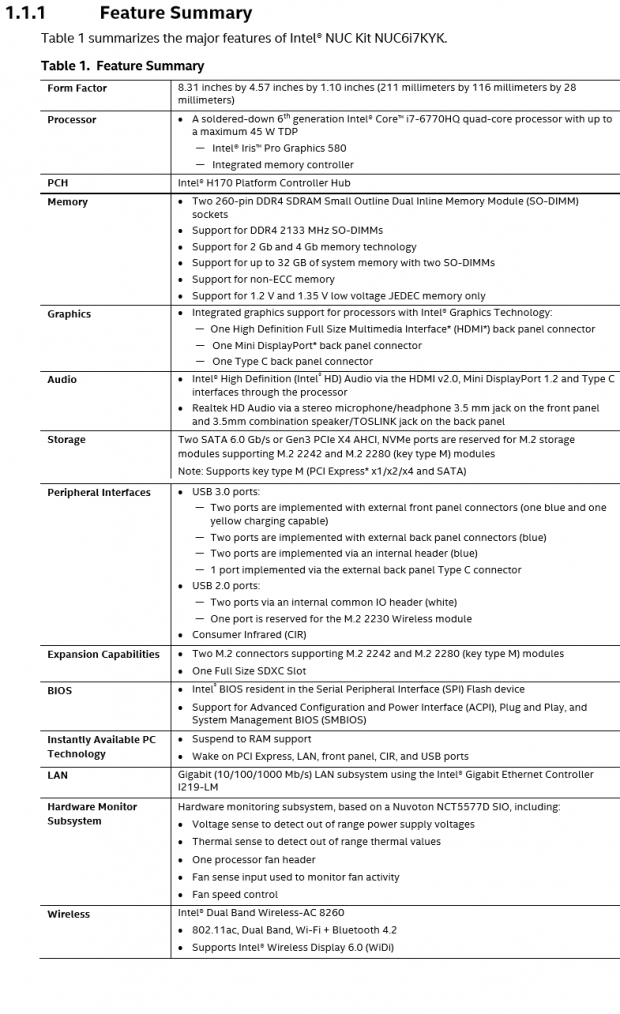 Many NUCs are anywhere from 0.5 to 0.7 liters in volume, and the NUC6i7KYK is just under 0.7 liters. It's longer than other NUCs, but it's also shorter than many of the thicker NUCs. The i7-6770HQ provides up to eight logical processor cores and Iris Pro 580 graphics. The chipset is an H170 chipset, and it provides a lot of PCI-E 3.0 gen 3. Each of the two 32Gb/s M.2 slots gets four PCI-E 3.0 lanes, and can accept SATA, AHCI, or NVMe based drives. The two M.2 slots can RAID not only SATA based M.2 drives but also NVMe based drives (of course you are limited to the 3.5GB/s DMI limit).
All the USB ports on the device are USB 3.0, but there is a header under the front panel that has some type of USB 2.0 output. The single yellow port is a USB 3.0 fast charging port. The device carries a type-C port which can be used for USB 3.1 or Thunderbolt 3 and is USB power delivery 2.0 compliant. While the device does have 2x2 Wireless AC, it also carries a 1Gbit Intel NIC. The device also has two DDR4 SO-DIMMs and supports up to 32GB of RAM.
Pricing
The lowest price we could find for the NUC6i7KYK is $649.99 at Newegg, which isn't too bad considering you will need DDR4 SO-DIMM memory, M.2 drive for storage, and an operating system. To be honest, NUCs are not cheap, and this price isn't too extreme considering the features, but it is pricey. Intel's goal was to have system configurations stay below $1000, which is very possible.
Packaging and System
Packaging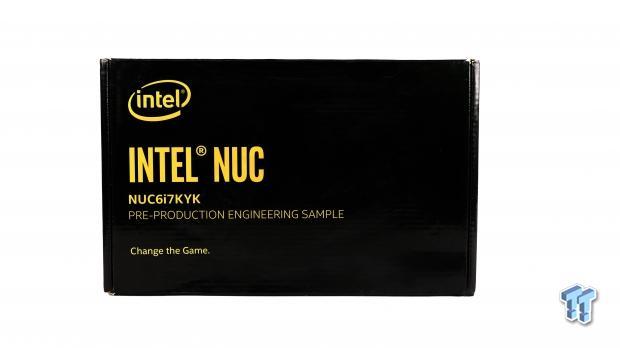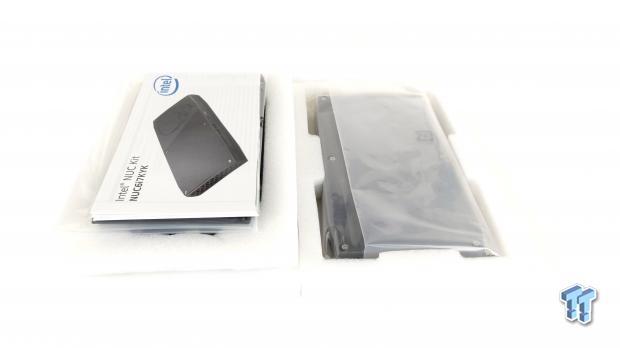 Intel's retail box looks different than the engineering sample box I received, but the retail box should have a similar black and gold aesthetic. Packaging is interesting; there are many layers inside the box, but everything is extremely well protected.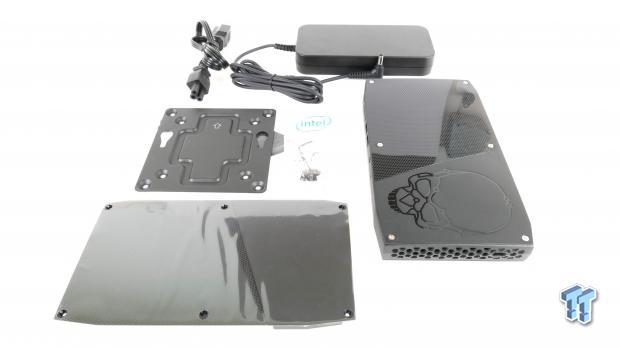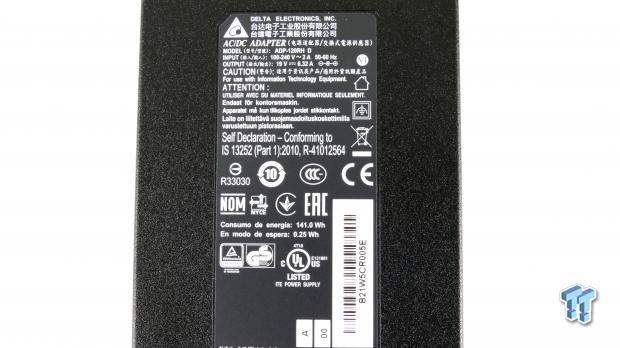 Accessories include an AC/DC power adapter, non-Skull top cover, Allen-wrench for changing the cover, manual, and a VESA mounting plate with required mounting screws. The AC/DC converter is made by Delta and outputs 19v/6.32A which is roughly 120W max.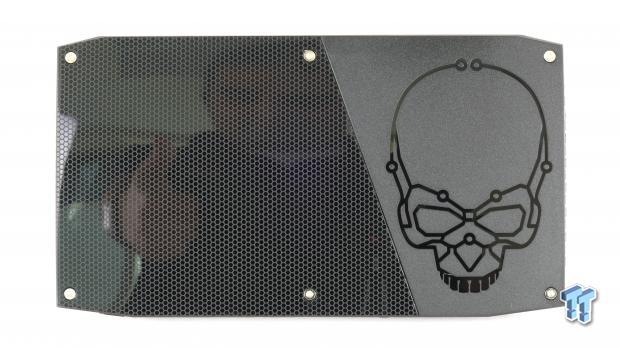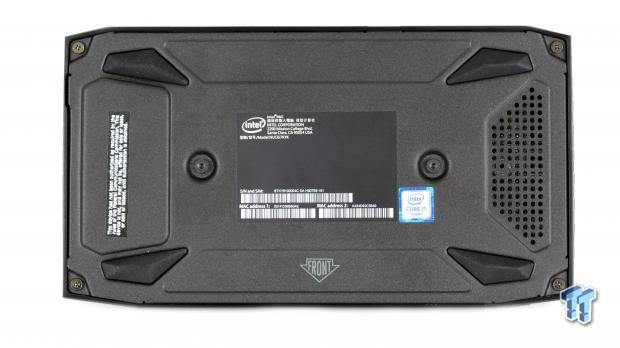 Many NUCs and other tiny PCs have glossy finishes that easily pick up fingerprints. In this case, Intel is using a hexagonal texture on the glossy part making fingerprints less noticeable. The skull is quite nice in my opinion, but for those of you whose co-workers might be offended by the skull, Intel provides a plain top sans-skull. The six hexagonal bolts add to the aesthetic appeal of the product. The device has four large rubber feet to stabilize the unit on slippery surfaces. There is also an air intake vent on the bottom of the unit, and it's imperative that the bottom is replaced in the proper orientation for cooling, so Intel has indicated which direction is the front of the device.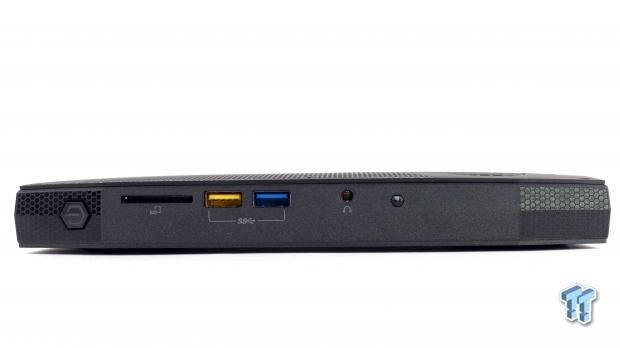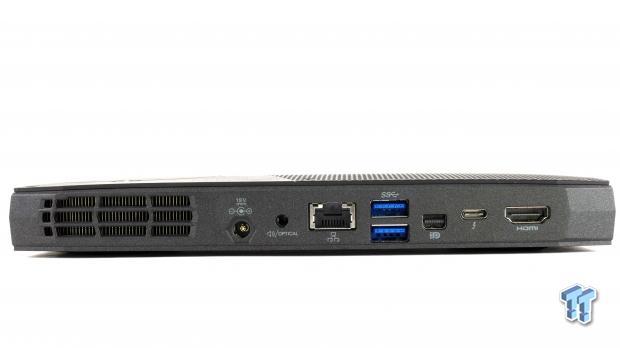 The front of the NUC has a power button, SDXH card slot, two USB 3.0 ports (yellow is fast charging), headphone jack (L+R+mic), and consumer infrared (CIR) sensor. The rear of the NUC has a blower fan exhaust vent, 19v DC power jack, headphone/optical audio jack (L+R+TOSLINK), RJ-45 Gbit Ethernet port, two USB 3.0 ports, mini-DP 1.2 (supports 4K), HDMI 2.0 (supports 4K), and Type-C USB 3.1/Thunderbolt 3 port.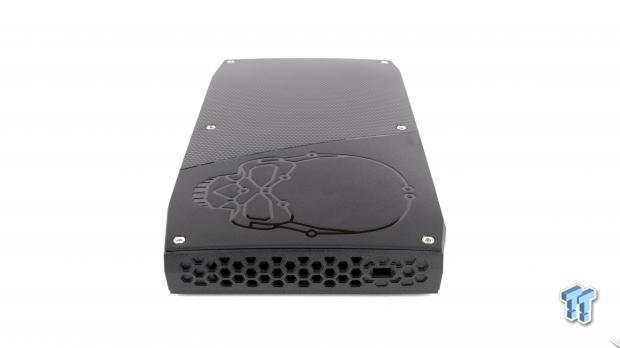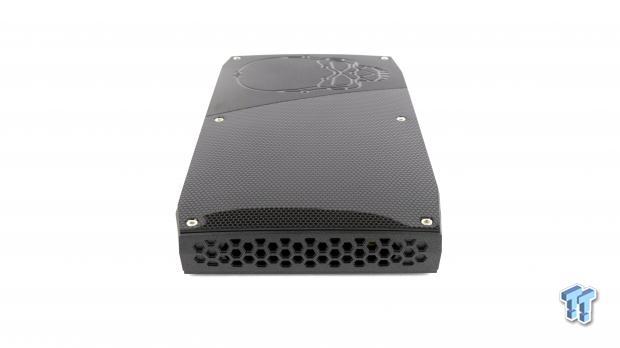 While the ends of the device look similar, they are not, the air intake is only from one end. On the side closest to the Skull there is a Kensington lock hole, and on the other end is an air intake vent.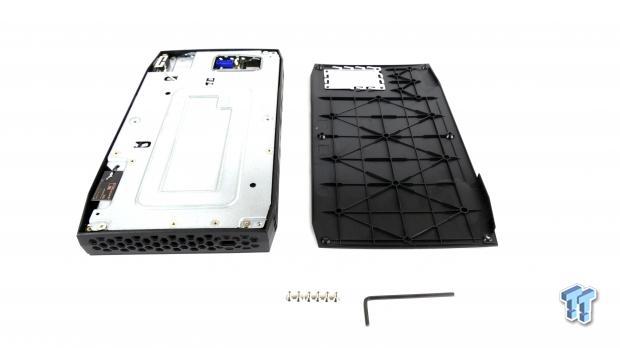 When you remove the lid of the device to change it to the plain lid, you will notice a cut away with three ports. The details of these ports can be found in the product data sheet online. One port is for NFC expansion, one is for USB 3.0 expansion, and one is a general purpose port. In the future, I wouldn't be surprised to see the NUC used as a base station for a device that is secured on top. Of course, we have already seen the external GPU units that use Thunderbolt 3, so the NUC6i7KYK is already a base station of sorts.
Teardown of the NUC6i7KYK
The Teardown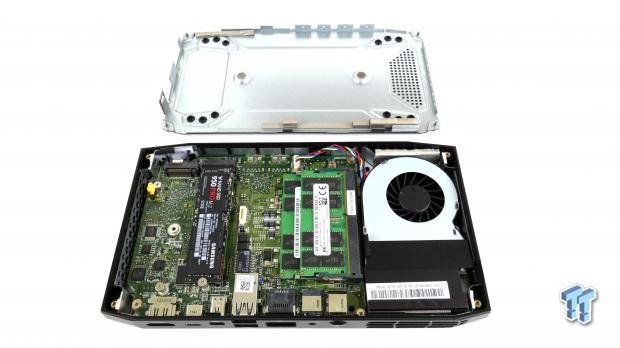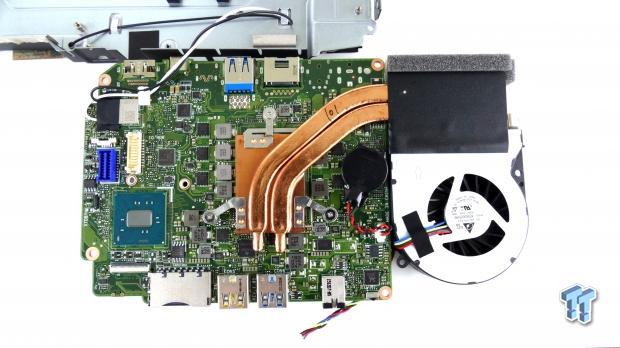 To install your storage and memory, you must remove the bottom of the NUC by unscrewing four Phillips head screws. You won't lose them as they are designed to stay attached to the lid even when it is removed. While the blower fan is clearly visible from the bottom of the device, the copper part of the device and SoC are hidden, and it was tough to remove the PCB from the metal frame.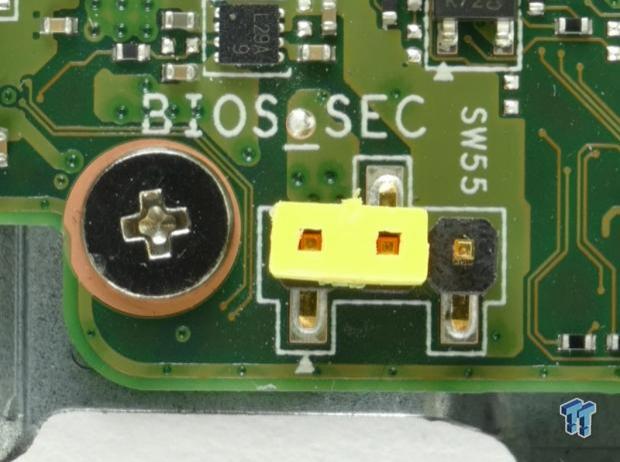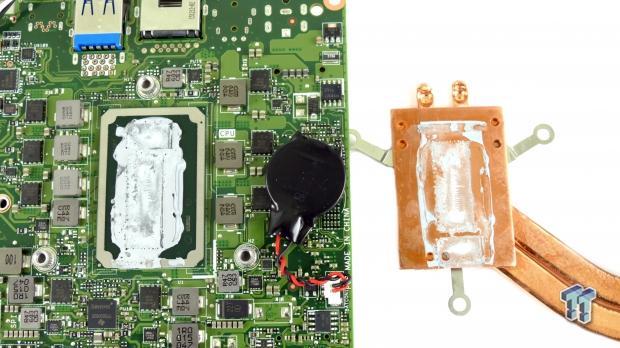 The BIOS security jumper does quite a bit when it comes to locking down the device. In the default position, it allows the system to operate normally. With the jumper moved to the last and center pin BIOS access and the Power Button menu (a special menu to reset the device or perform other tasks) is locked down. If the jumper is removed, the device goes into a failsafe mode to find and update the BIOS from a file on a USB drive. There is no real way to clear the CMOS easily, but you can unplug the CMOS battery and plug it back in, and that would clear it. The mounting of the heat sink on the CPU/iGPU SoC is quite good, and Intel used enough thermal paste.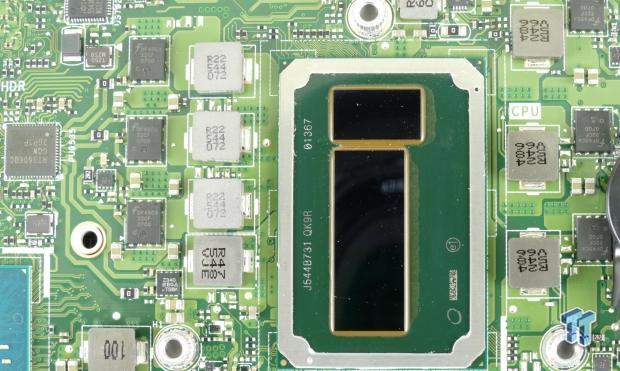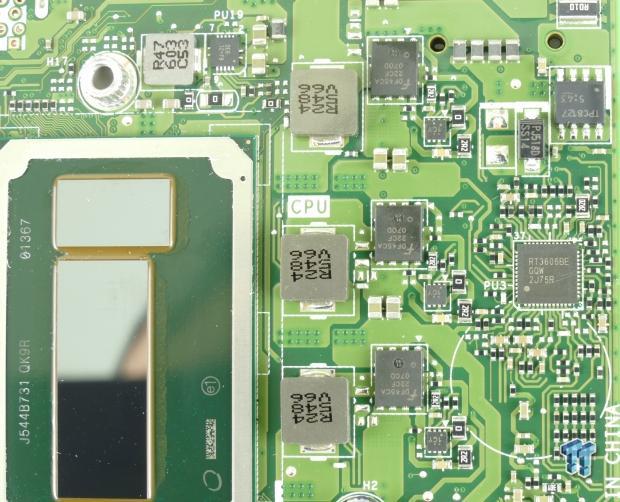 Cleaning up the SoC reveals the bare dies, from what I can gather the second smaller die is the eDRAM for the Iris Pro 580 graphics. The 6770HQ's Iris Pro 580 has 128MB of eDRAM (22nm), but instead of the eDRAM acting like L4 cache as it did on Iris Pro 6200 graphics (i7-5775C), it instead serves as system memory which should allow better graphics performance. Some of the power delivery can also be found on either side of the SoC. Two Richtek RT3606BC (dual output integrated PWMs) control six Fairchild Semiconductor FDMS3660S (highly integrated dual N-Channel PowerTrench MOSFETs) that provides the multiple power rails for the CPU and iGP on the 6770HQ SoC.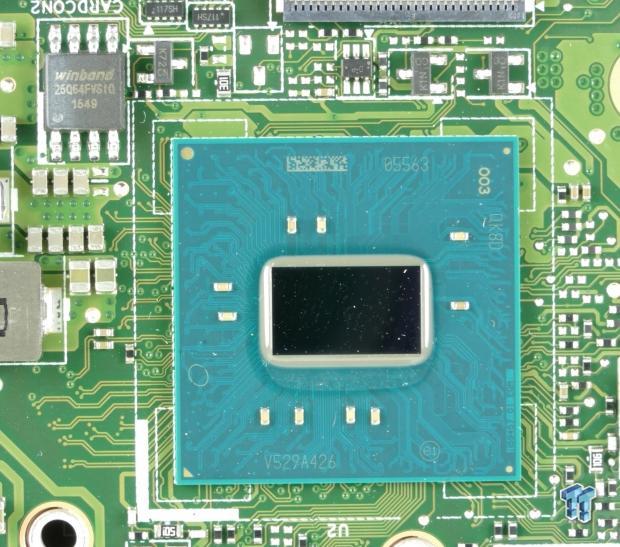 The IO of the device is well equipped and is provided by the H170 chipset. In fact, this little device requires 15 PCI-E 3.0 lanes, four USB 3.0 ports, two USB 2.0 ports, and a variety of other connections to support all of its features. Much of the connectivity is directly routed to the PCH, and there are no hubs or switches. A single Winbond 64Mbit BIOS ROM is located nearby.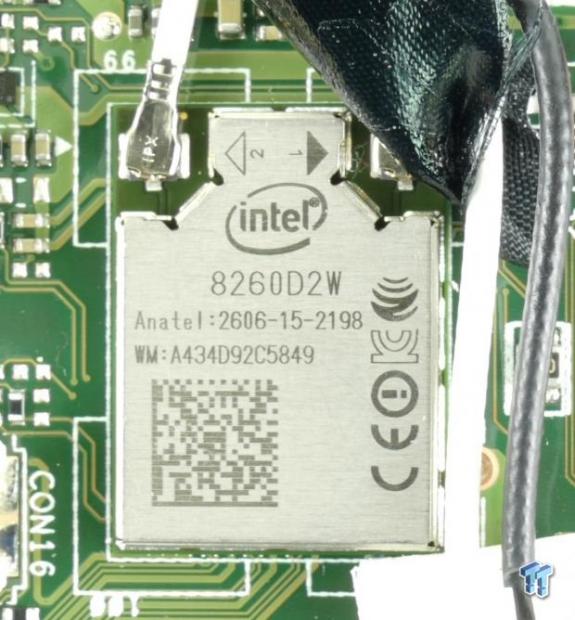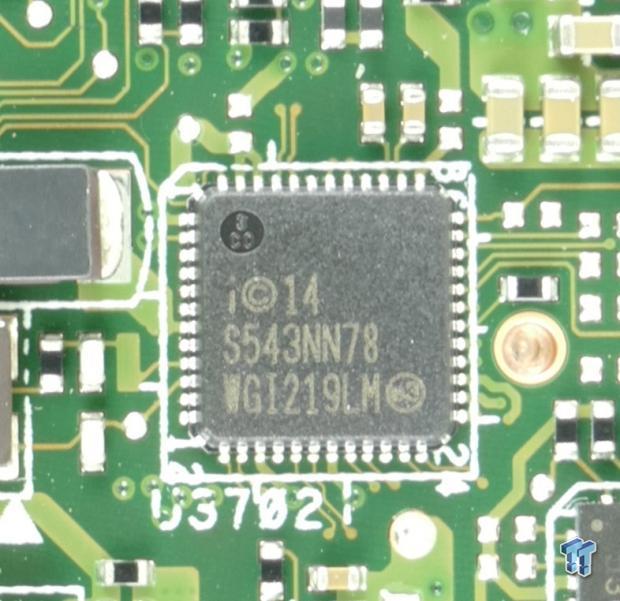 The 2x2 wireless AC (867Mbps) and Bluetooth 4.2 originate from the Intel Dual Band Wireless-AC 8260 Controller. Intel is using the workstation/server grade i219LM over the i219V for Gbit LAN.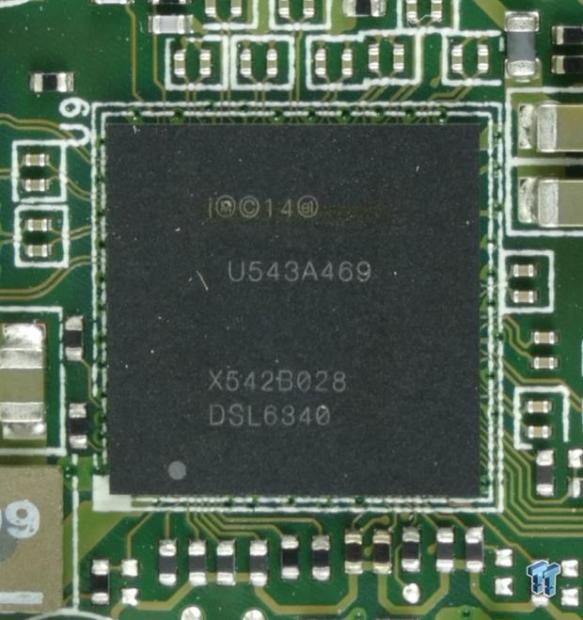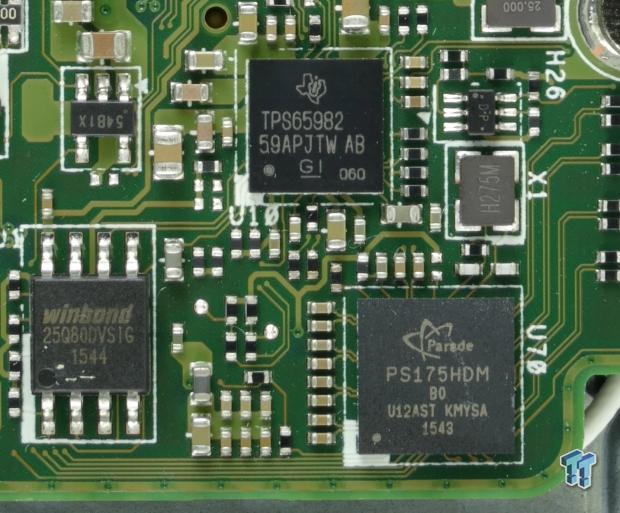 Intel is using their DSL6340 "Alpine Ridge" Thunderbolt3/USB 3.1 controller for the Type-C port on the back. For proper Thunderbolt 3/USB 3.1/Type-C connector support, Intel is using a Texas Instruments TPS65982, which is a Type-C/USB Power Delivery controller. The controller can support up to 20V at 3A depending on the connection. A Parade PS175HDM converts DisplayPort 1.2 to HDMI 2.0.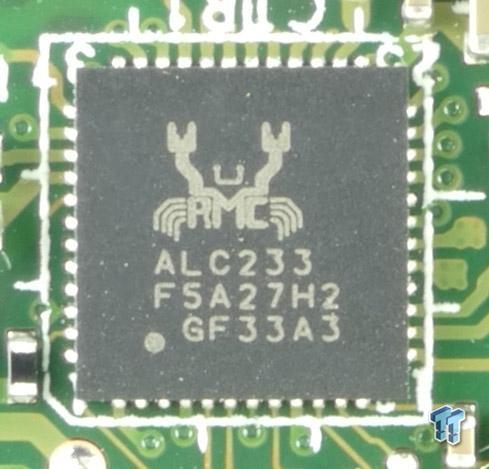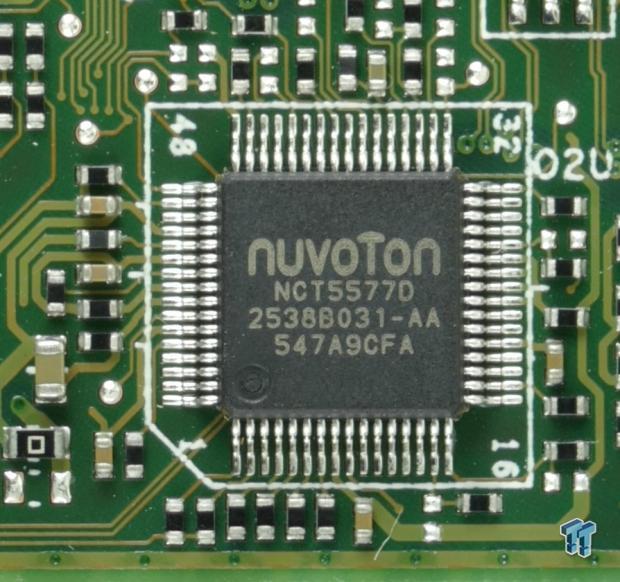 A Realtek ALC233 is used as the audio codec for the NUC. A nuvoTon NCT5577D acts as the SuperIO and does all the hardware monitoring and fan control, and also acts as the consumer infrared controller.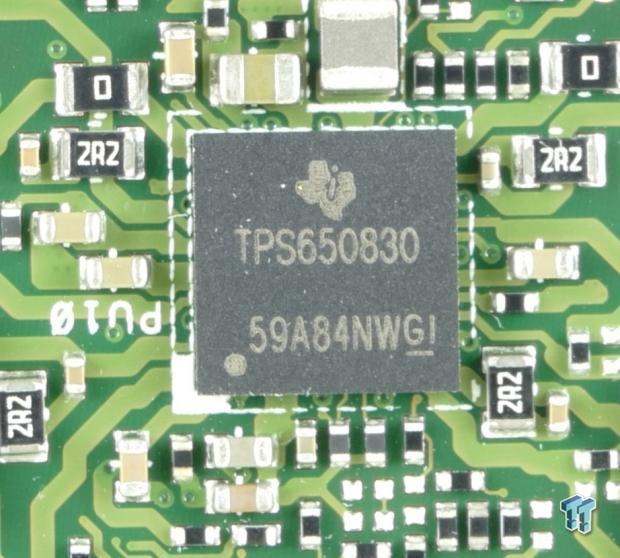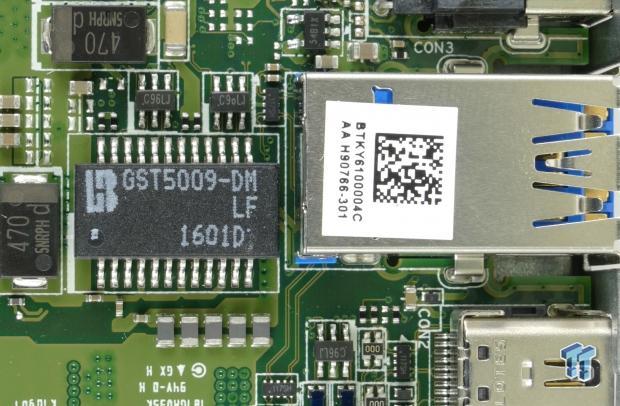 The TPS650830 from Texas Instruments is the Power Management IC (PMIC). It is specifically designed to take in the DC input to mobile Skylake devices and produce five separate voltage rails for use by different devices. For proper magnetic coupling of the RJ-45 Ethernet jack a Bothhand GST5009 magnetics module is used and provides IEEE 802.3ab compliance.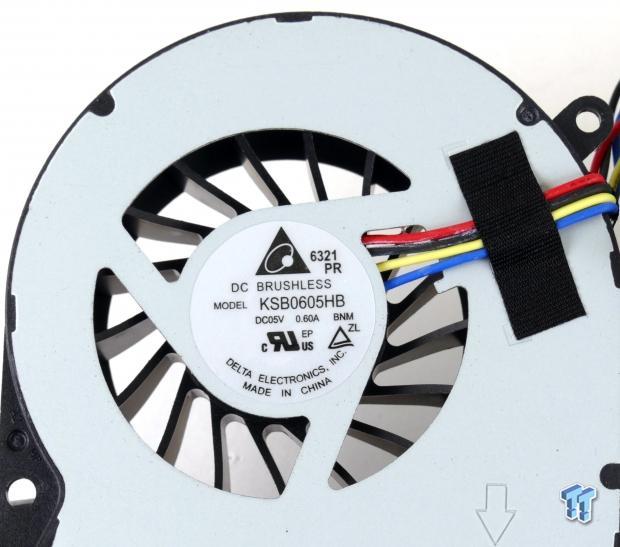 Intel is using a Delta Electronics KSB0605HB blower fan to dissipate all the heat from the unit. The fan works quite well, but what works even better is Intel's default cooling curve, which allows for silent operation of the device.
BIOS
The NUC6i7KYK's UEFI is based on Intel's Visual BIOS platform common to its other NUCs. The BIOS provides a wide range of settings you would find in any motherboard UEFI. Intel's cooling fan settings are quite effective, but I found that the stock profile works quite well.
For the cooling fan profile, you select a temperature to want to stay below as well as the duty cycle that will determine how quickly the fan will ramp up or down. There are also overclocking settings available, but I wasn't able to overclock the CPU or iGPU, but memory tweaking should work.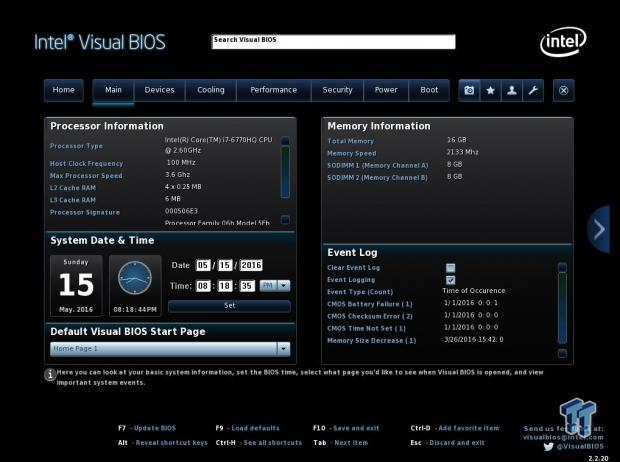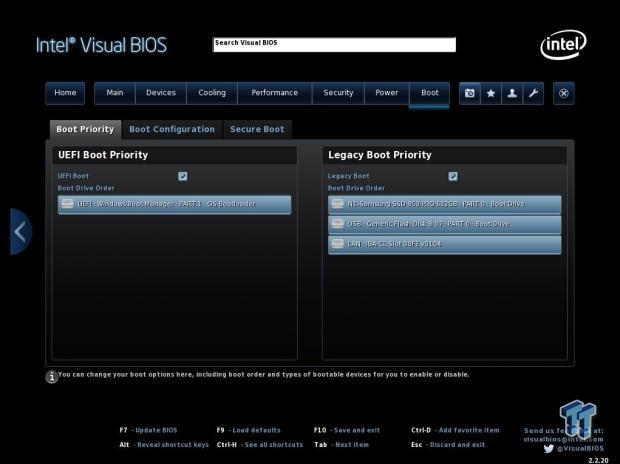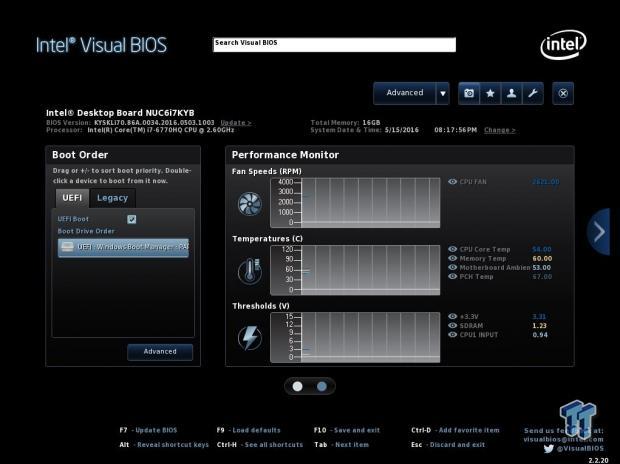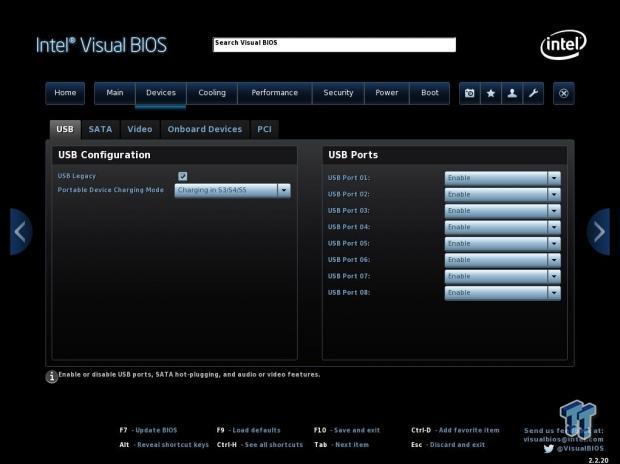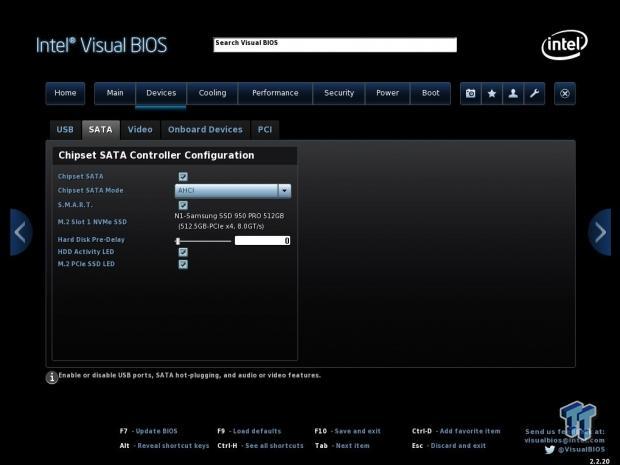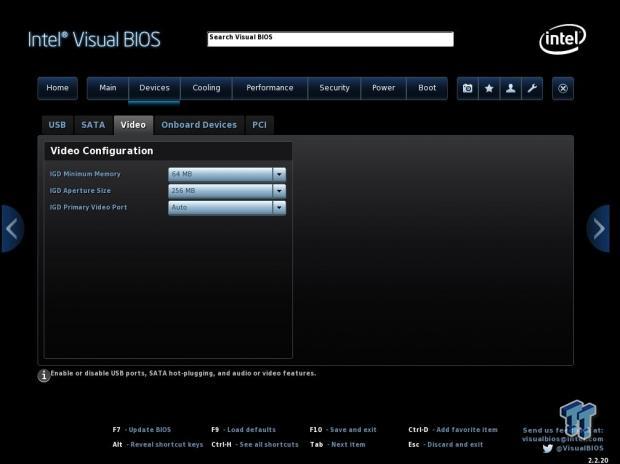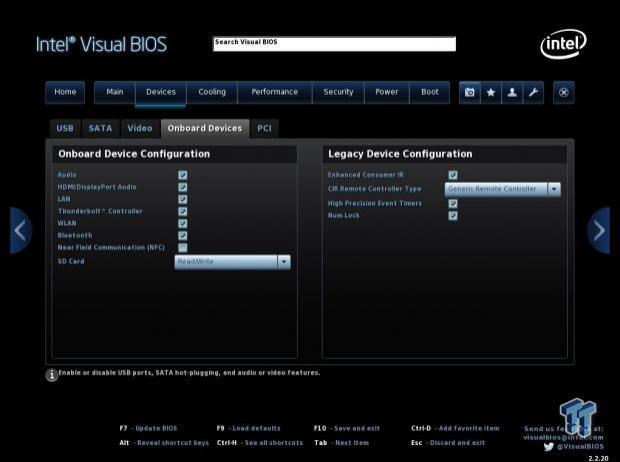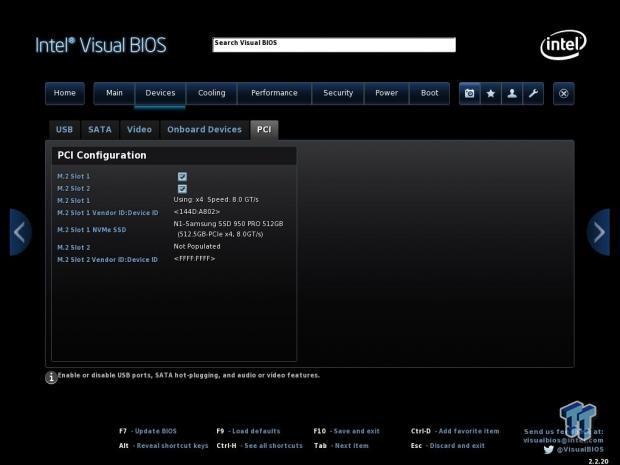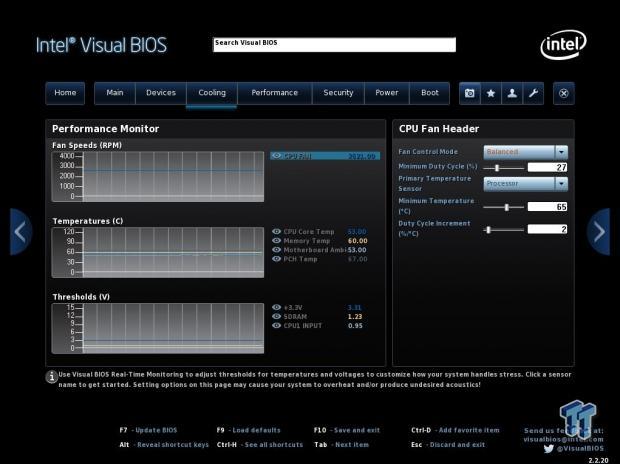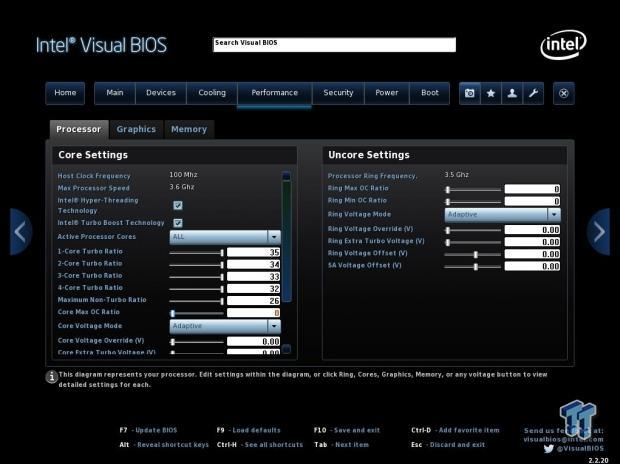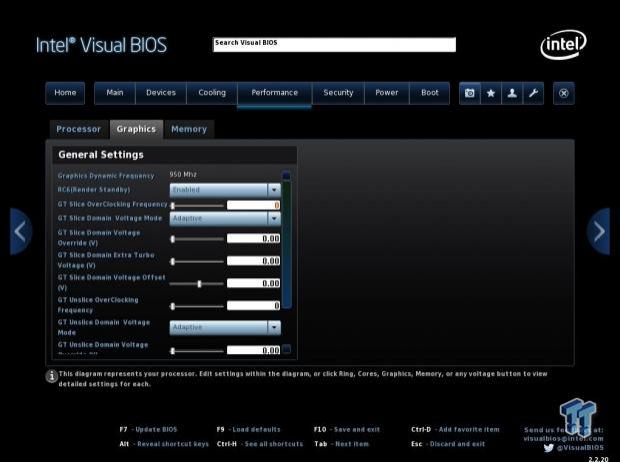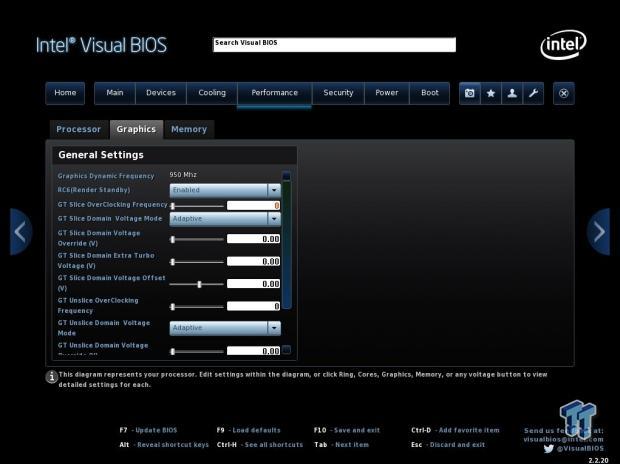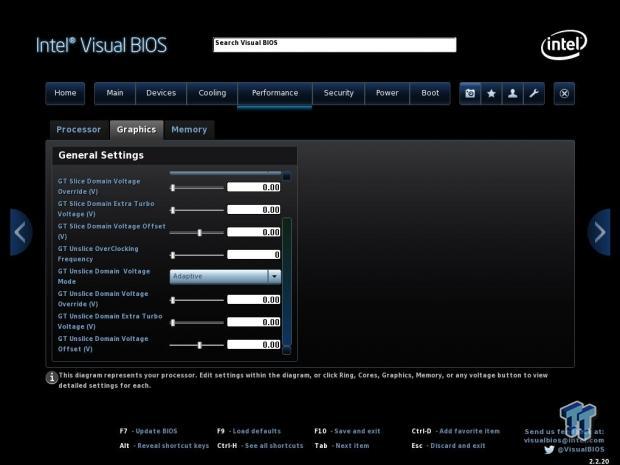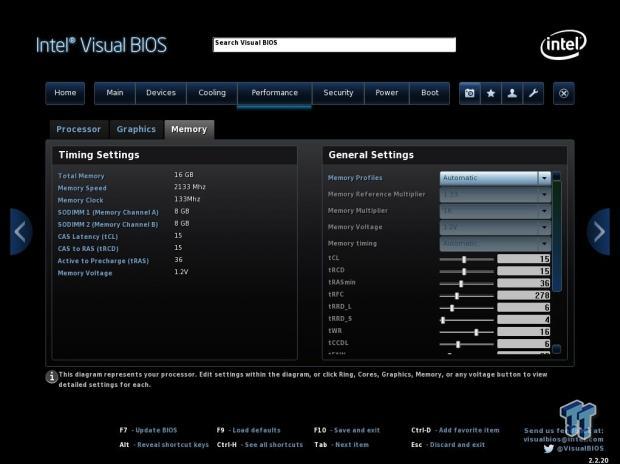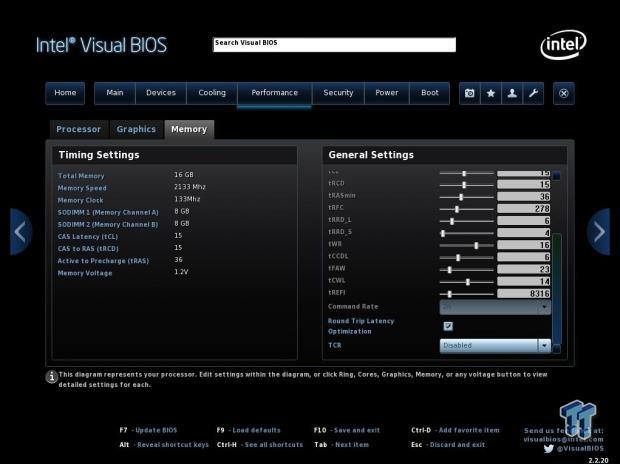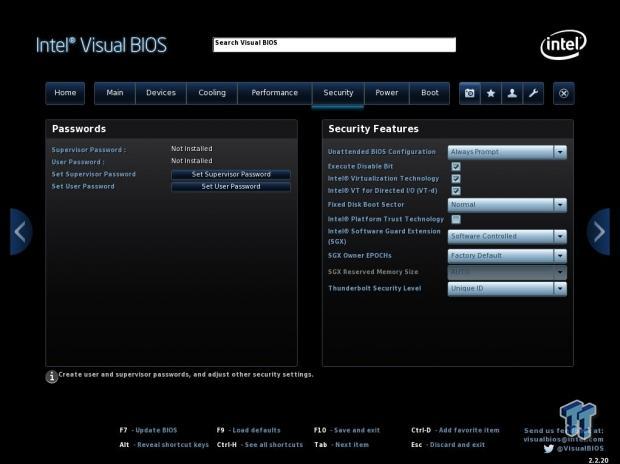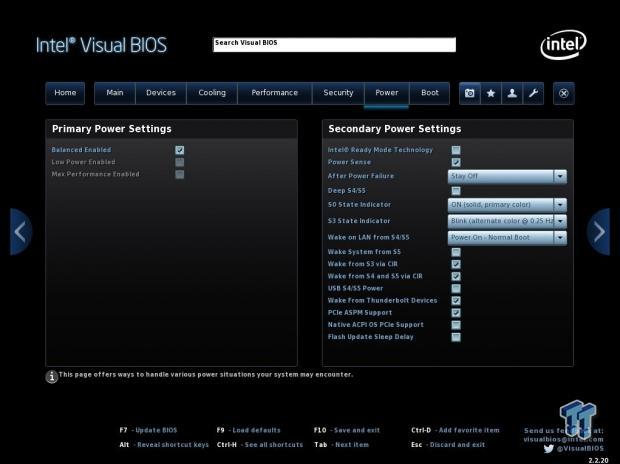 Test Setup and Benchmarks
Test Setup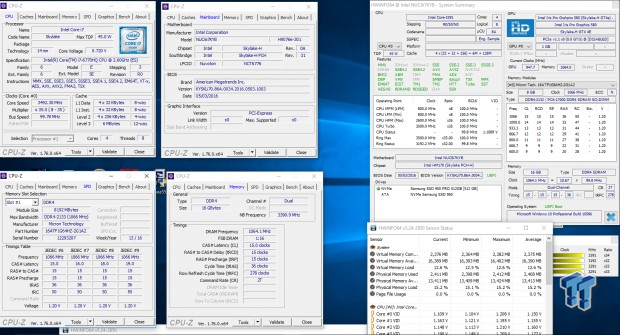 Some shots of CPU-Z and HWINFO are provided in case you are curious about the exact setup.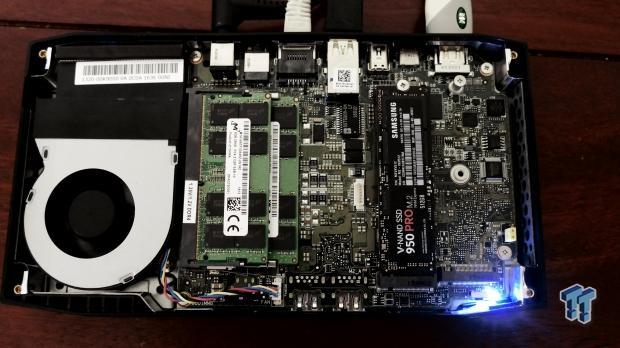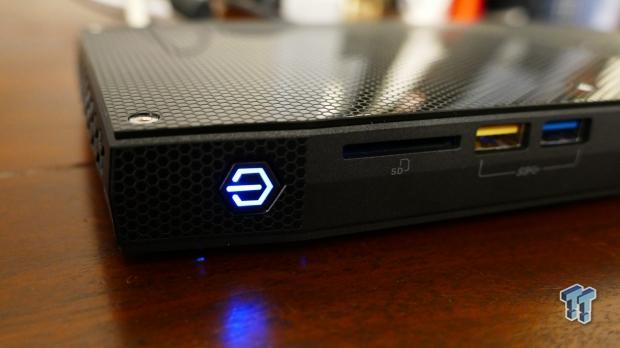 Installing the M.2 drive and DDR4 SO-DIMMs is a straight forward process. The power button is easy to locate since it is lit up blue.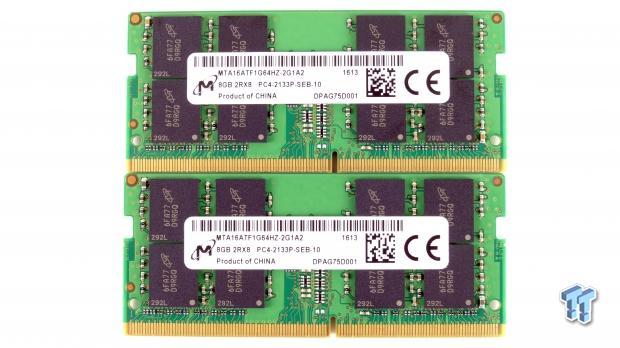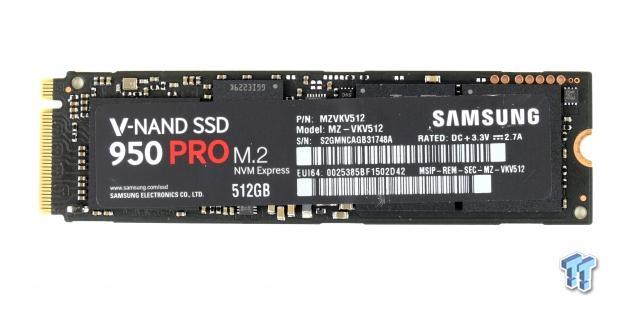 My configuration uses a Samsung 950 Pro 512GB NVMe M.2 drive and 16GB of Crucial DDR4 SO-DIMMs at 2133MHz (standard).
CPU, Memory, System, and Graphics Benchmarks
Since the NUC6i7KYK has Intel's latest Iris Pro 580 graphics, I decided to add in some tests and retest some gaming benchmarks as well as run some benchmarks with the previous Iris Pro 6200 graphics on the 5775C.
One major difference between the two Iris Pro graphics is that their eDRAM configurations are different, as can be seen through the AIDA64 Cache and Memory benchmark. The Iris Pro 6200 had its eDRAM act as L4 cache, but the Iris Pro 580 has its eDRAM added into the system memory; Intel says this new eDRAM method increases memory performance for the iGPU as you will see later on in this section.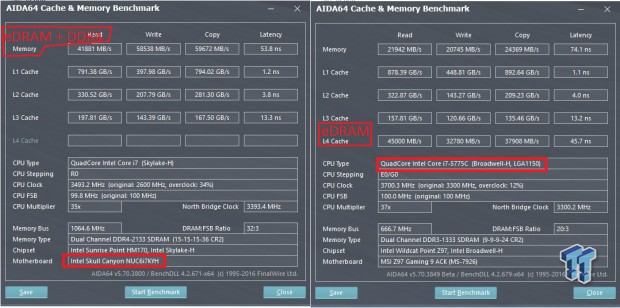 CINEBENCH 11.5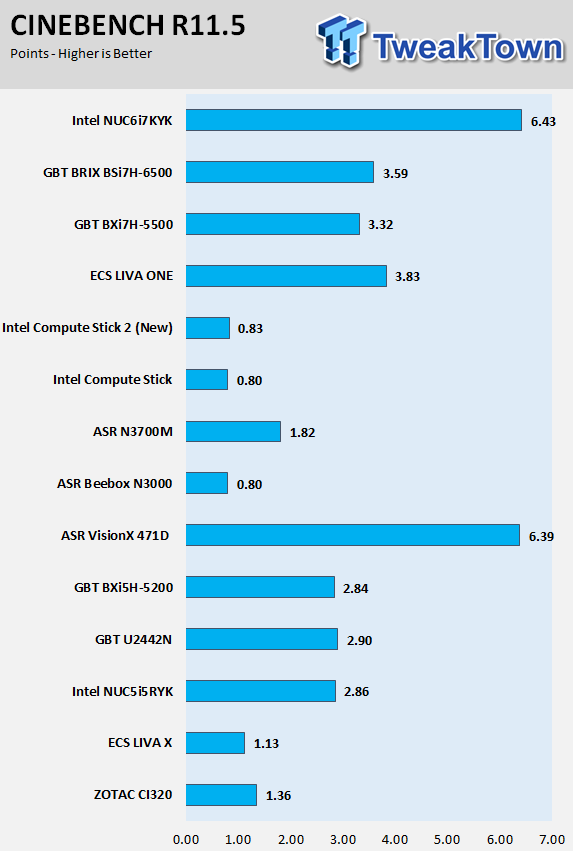 wPrime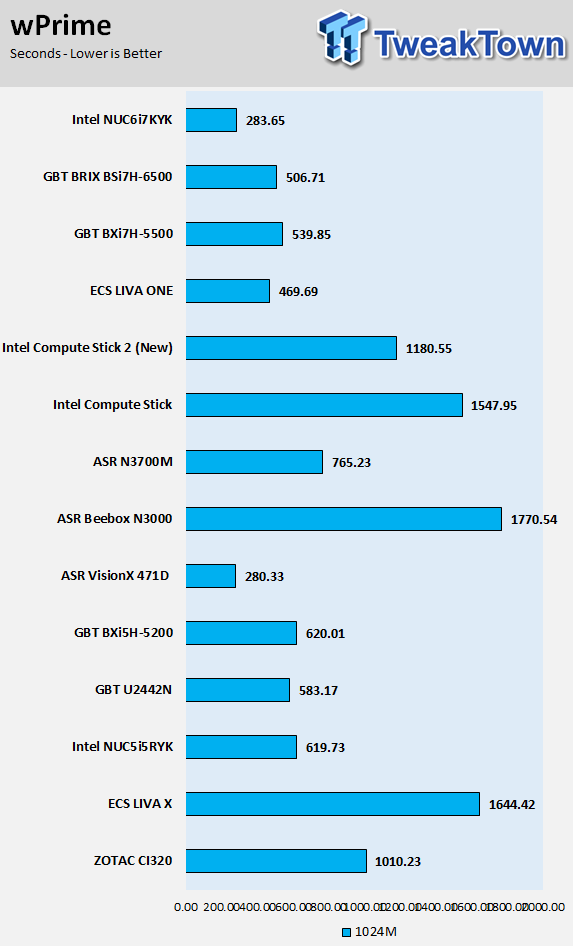 AIDA64 AES and HASH
HandBrake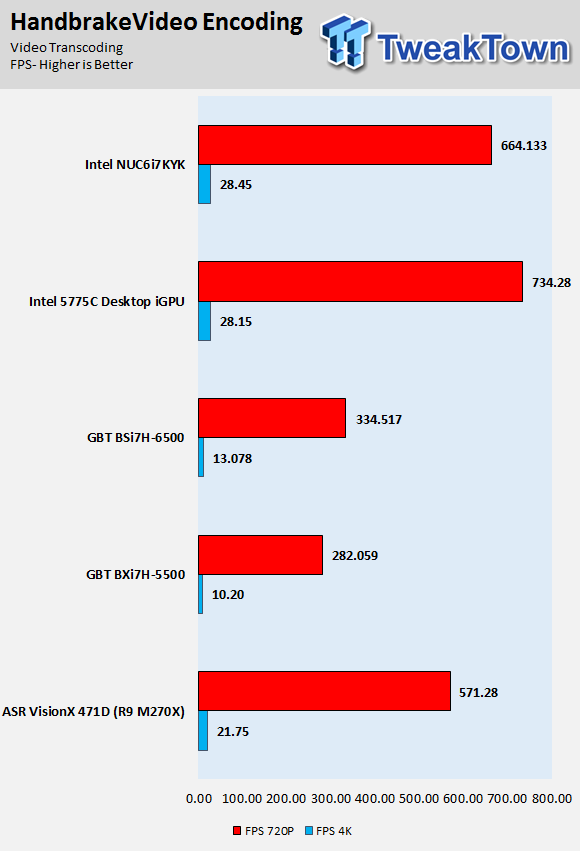 AIDA64 Memory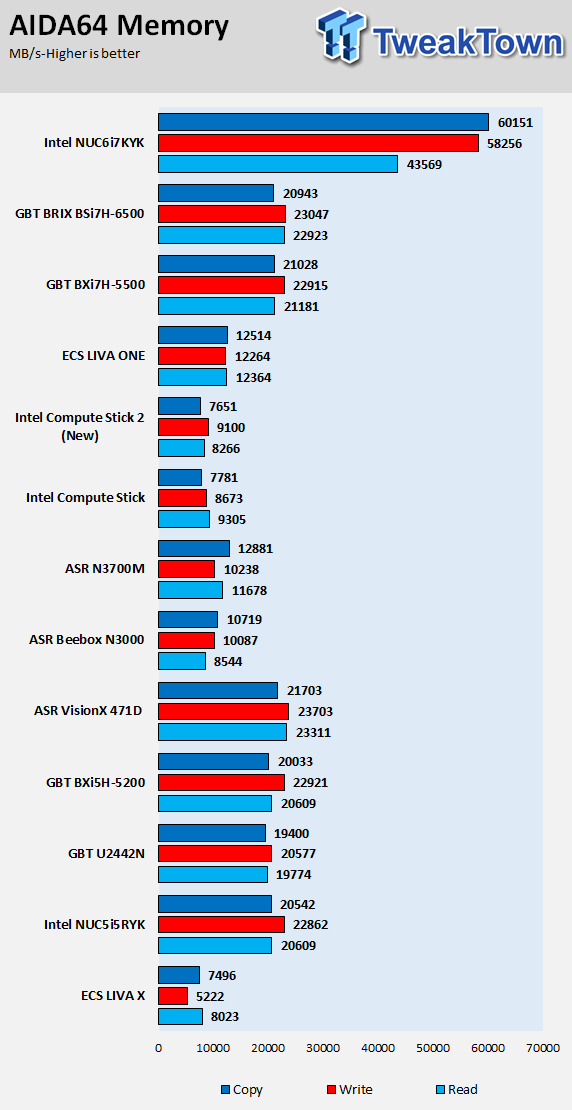 Graphics Benchmarks
Gaming Benchmarks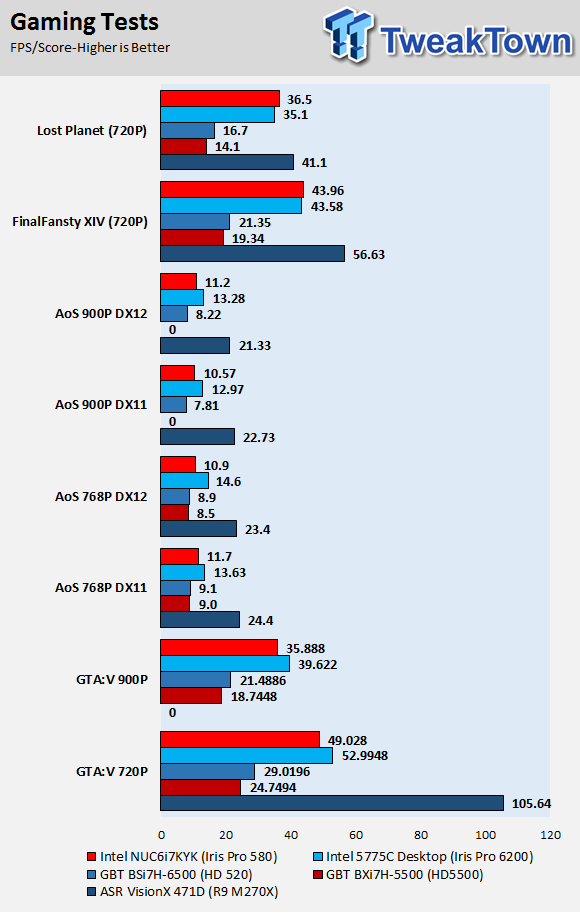 3DMark11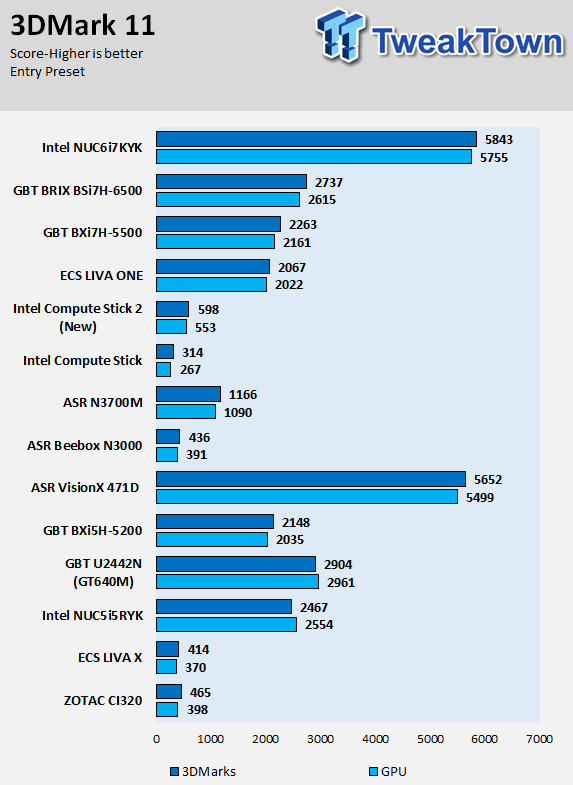 UNIGINE Heaven 4.0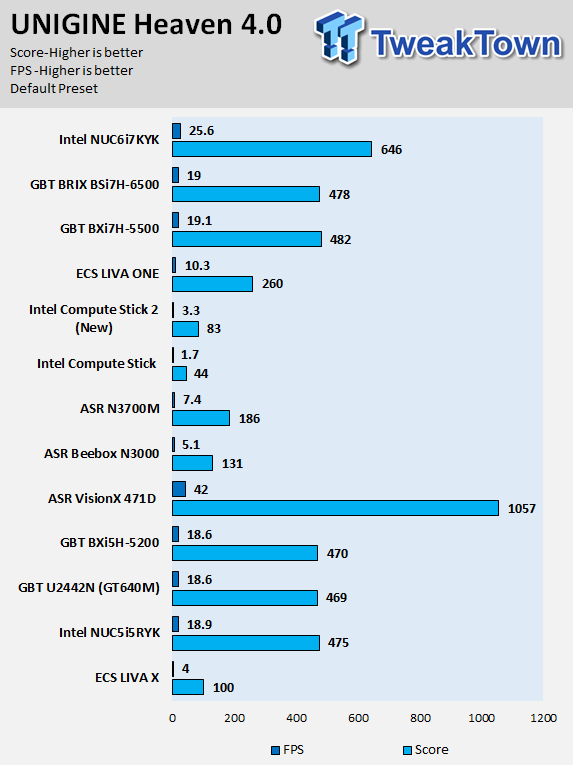 Resident Evil 6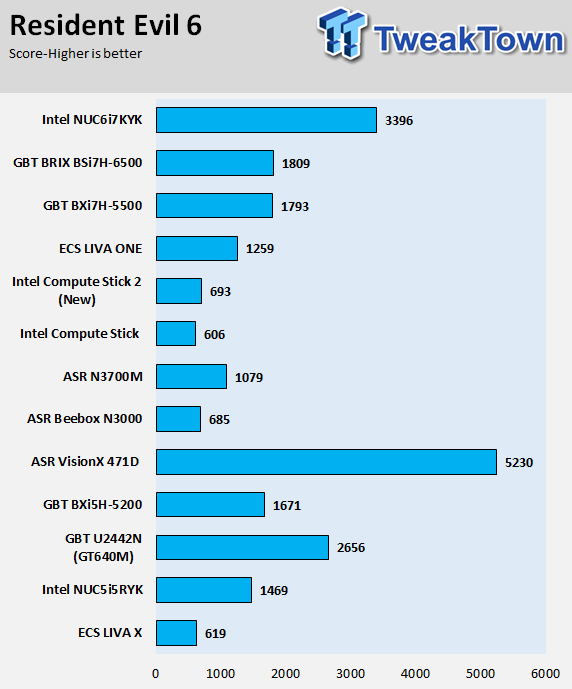 3DMark CloudGate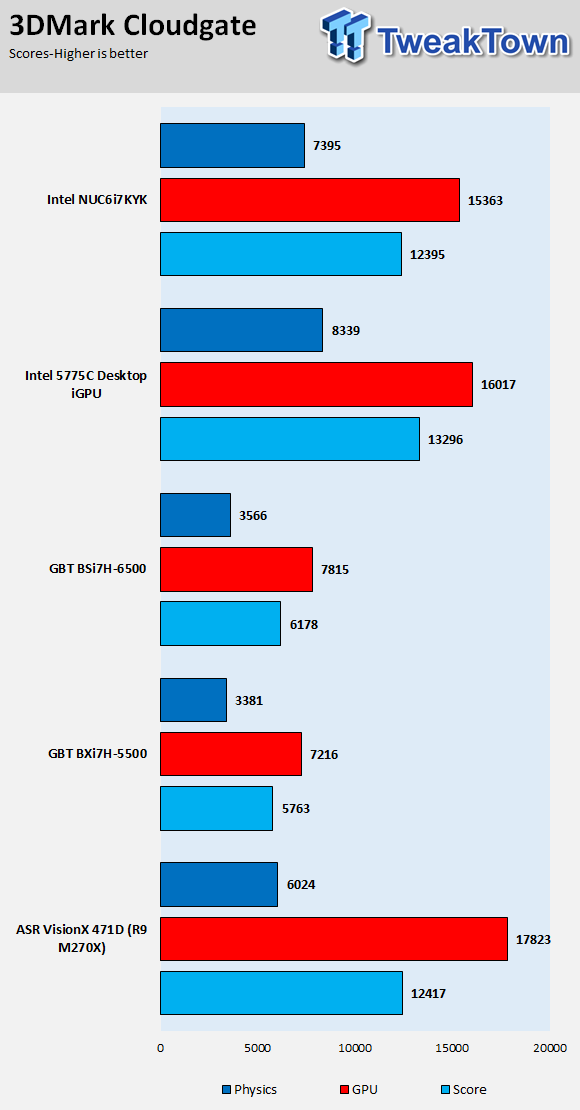 3DMark FireStrike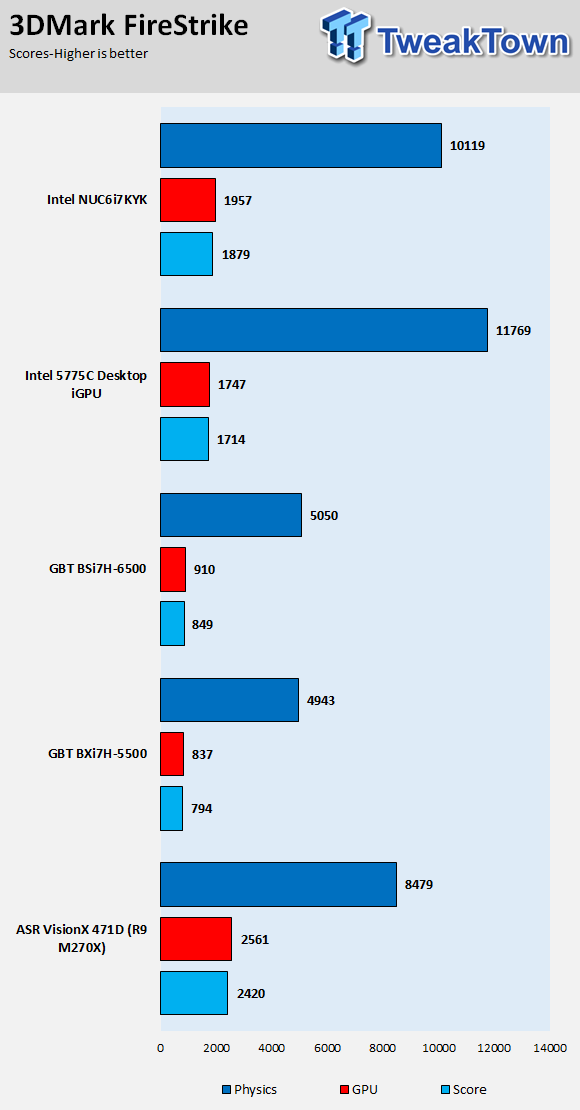 AIDA64 GPGPU Memory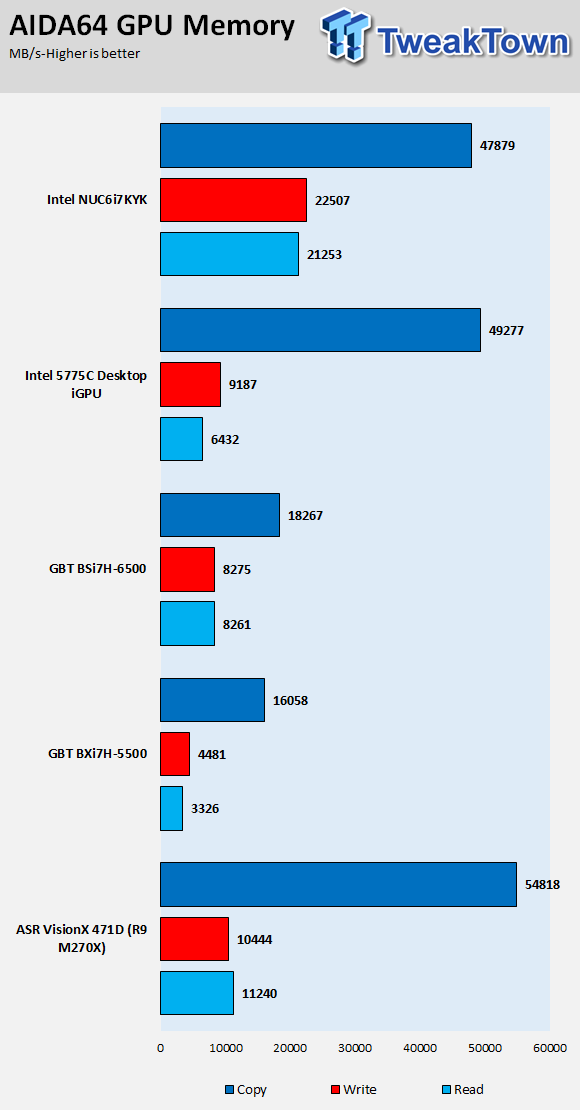 Overall, compared to other NUCs, the NUC6i7KYK is very fast. It's only real competitor in the CPU front is the VisionX 471D (which is a mini PC and not an NUC form factor PC). We also have to take into account that the NUC6i7KYK is running DDR4 at spec while almost all the other competitors are running DDR3L at much lower latencies. Overall, the benchmarks are what I expected, but I was impressed with the Handbrake results dealing with 4K video.
The new Skylake SoCs have dedicated units for 4K. Even playing 4K video (such as that from a camera that can record 4K) is very difficult for many systems, but the NUC6i7KYK handles them very well and doesn't show any stuttering or lag when playing the video back.
Obviously, the NUC6i7KYK isn't a gaming PC, and you would have to be quite gullible to believe it's a true gaming PC replacement, but when it comes to integrated graphics and TDP, the Iris Pro 580 holds its own. When I tested the 5775C, it was crowned as the fastest integrated GPU solution. Taking into account that the 5775C is a desktop series CPU, is quite pricey, and has a TDP roughly 20W higher, I would say that the 6770HQ is quite formidable regarding the iGPU.
While I wouldn't call this NUC a gaming PC, there are many people out there who play games on integrated GPUs, and the 6770HQ's performance shows some progress in terms of integrated mobile gaming solutions. I found that the 6770HQ has a nice balance of CPU and iGPU power.
System and IO Benchmarks
System Benchmarks
PCMark8 Home Test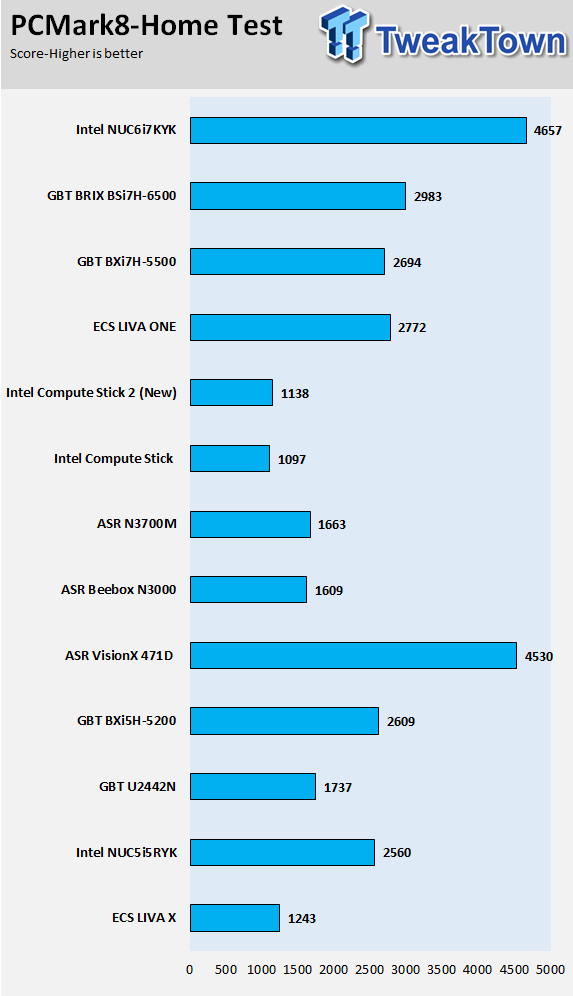 PCMark8 Work Test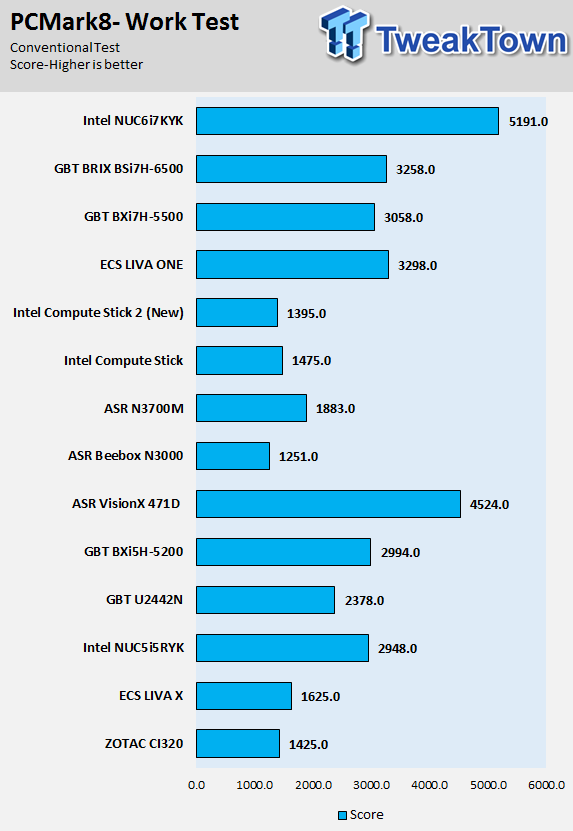 WebXPRT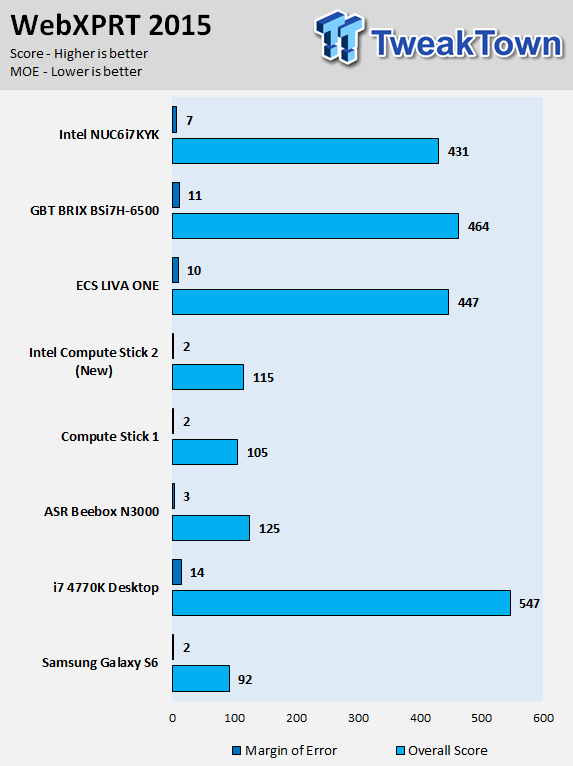 Storage and Network Performance
CrystalDiskBench-Read: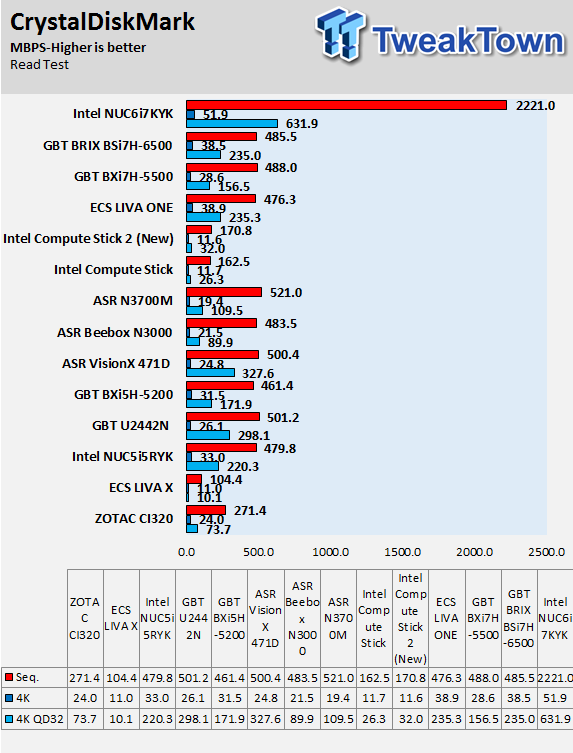 CrystalDiskBench-Write: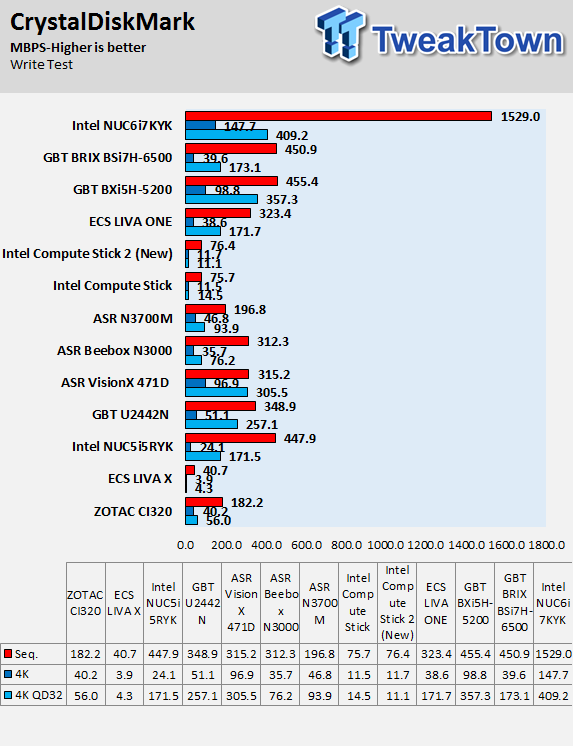 ixChariot Network Throughput: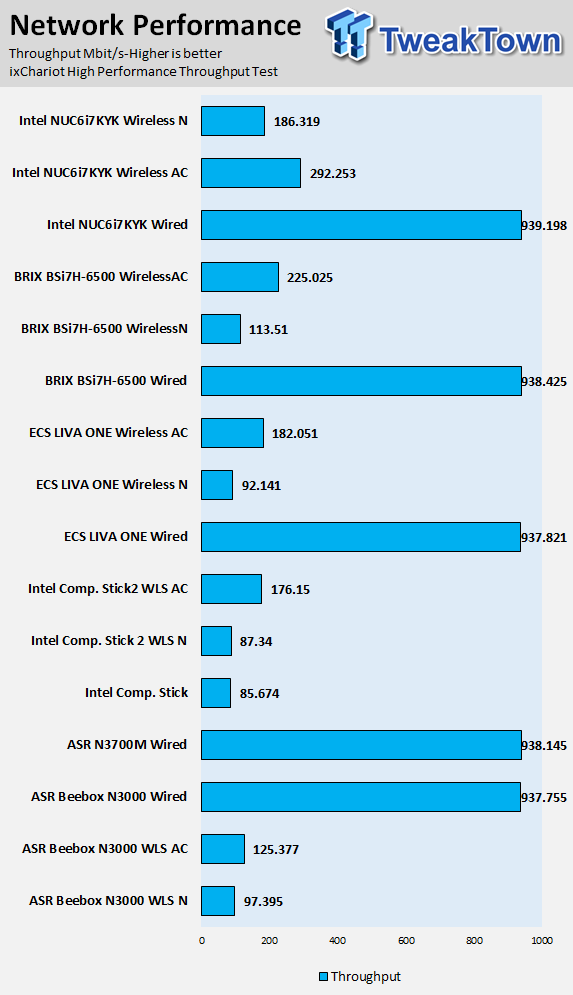 The two M.2 slots each running at 32Gb/s makes the NUC6i7KYK the performance king in many respects, but I should note it's the only unit in the storage tests using an NVMe PCi-E 3.0 4x drive. However, even if you tossed the same SSD into other units, you still couldn't RAID two of them like you can on the NUC6i7KYK.
Both wired and wireless network performance are quite good.
Temperature and Power Consumption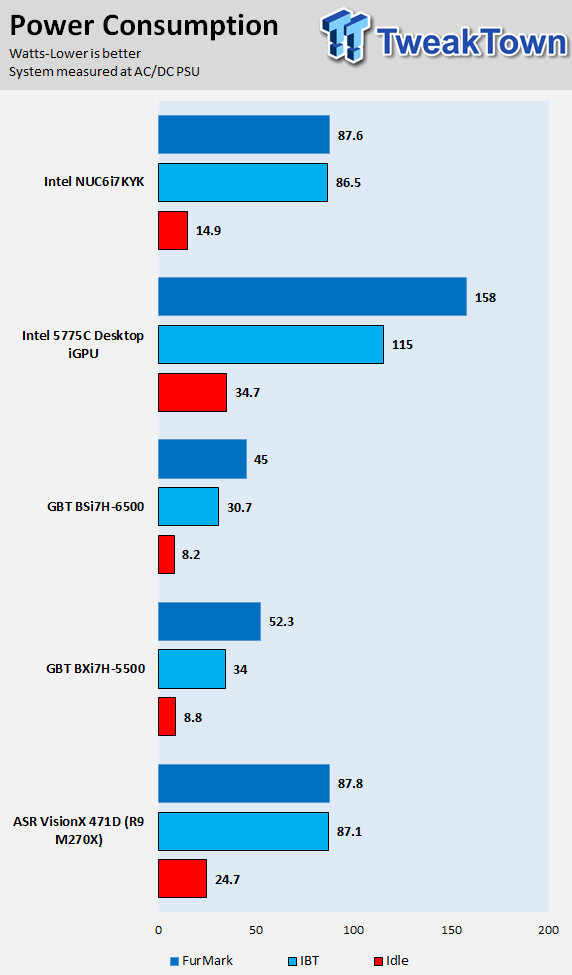 The power consumption of the NUC6i7KYK is right in between that of a desktop and your typical dual-core NUC, but the NVMe SSD sure doesn't help idle power. The power brick that comes with the unit is quite big (almost as big as the unit), and it should support up to roughly 120W.
Thermal Testing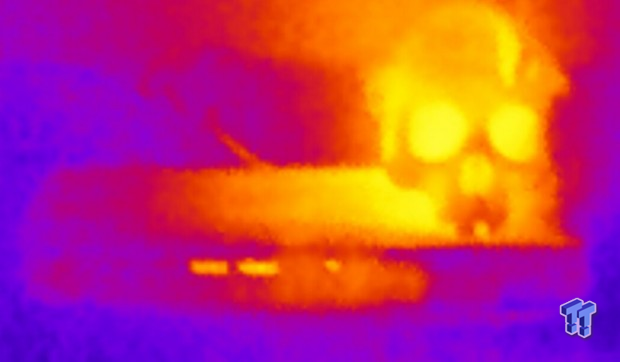 The thermals of the NUC6i7KYK are quite interesting. The exhaust can get quite hot, but with Intel's standard cooling curve, the unit stays very quiet and doesn't howl like many devices when they are stressed to their limits.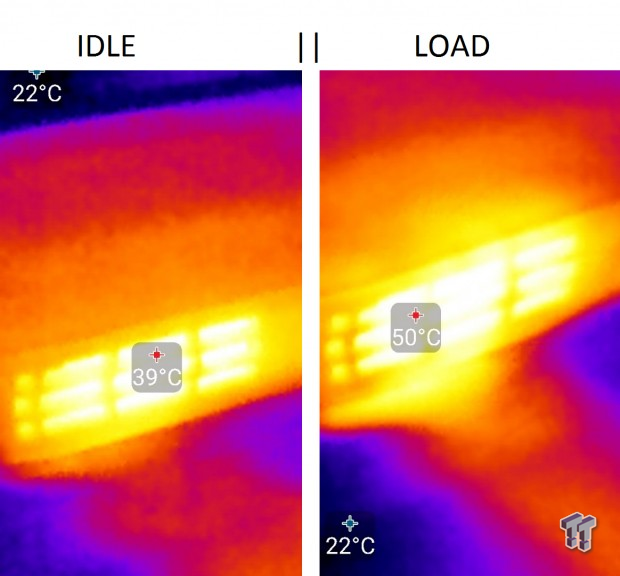 The unit has a single exhaust located at the back of the unit on the left-hand side (if facing the rear of the unit), at load, the temperatures didn't increase over 50C.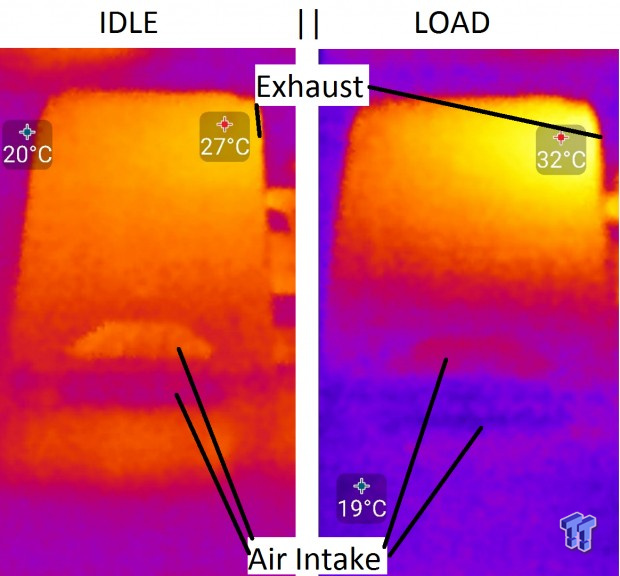 Here we can see that at idle the exhaust section is warmer than the intake area on the right-hand side (if facing the rear of the unit). Air is pulled across the internals of the unit and out through the exhaust. We can see this thermal gradient increase when load increase since the internal air vacuum effect is more pronounced when fan speed is increased.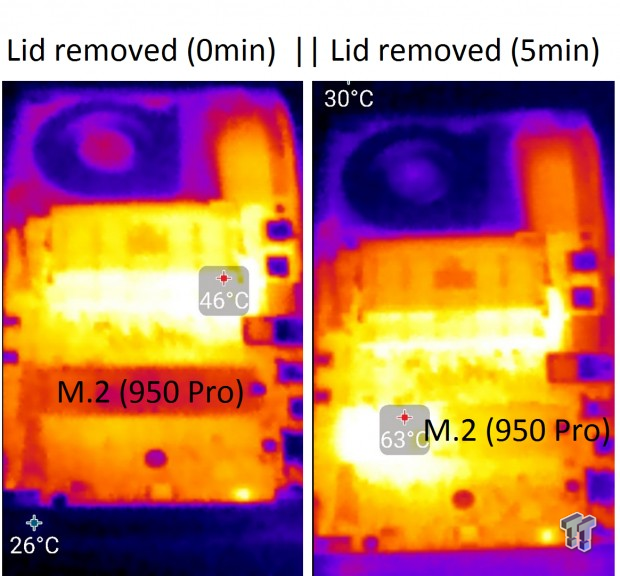 We can see that if the lid is removed, the M.2 SSD becomes very hot after five minutes. It's because the unit depends on the blower fan creating a vacuum where the air is pulled across the entire unit. This effect cools down the M.2 SSD so well that no thermal pad is required (as long as you keep the lid on), and it's another reason that the H170 PCH doesn't require a heat sink.
What's Hot, What's Not & Final Thoughts
Here are key points about the NUC6i7KYK.
What's Hot
This is the fastest NUC: The NUC6i7KYK is the fastest NUC form factor PC I have ever tested, and I have tested many. Nothing I have tested in the sub 1-liter category has even come close in terms of raw CPU horsepower or even integrated graphics power, and that is because they all use dual-core processors with lower TDPs.
Iris Pro 580 with eDRAM and dedicated 4K Units: With the 128MB eDRAM not used as L4 cache, but rather part of system memory, overall GPU memory bandwidth has been increased. Intel's Skylake processors also support RAW 4K through fixed function 4K units in the iGPU. The new iGPU is designed to support real-time 4K applications. New codec support includes HEVC decode with MFX (4K60P at 240Mbps), HEVC 10-bit decode, HEVC encode (4K30P and 60P), and VP8 and JPEG encode support. All of this means that with the Iris Pro 580 the 6770HQ can handle 4K video, and it can support up to three 4K displays through the HDMI 2.0 port, DP 1.2 Port, and the Thunderbolt 3 (to DisplayPort) port simultaneously.
Underlying Workstation/Business Features: The NUC6i7KYK forgoes the typical i219v found on many Z170 motherboards for the i129LM, which is a workstation class PHY. For proper magnetic coupling of the RJ-45 Ethernet jack a magnetics module is used and provides IEEE 802.3ab compliance, allowing the unit to connect to a wider variety of networks. When a Kensington lock is attached to the unit, you cannot easily access the BIOS security jumper. The BIOS security jumper, when put into the non-default position, will not only lock out access to the BIOS, but it will also lock users out from accessing the power button menu (which is the only external way to reset system settings). Apart from the obvious extra non-skull lid, it's obvious Intel did have more than just home users in mind when designing the unit.
Damn Quiet: Intel stated that they worked hard to improve the noise levels of this NUC. I have personally experienced the howls of all types of PCs when I play games, render 4K video, or even in some cases play 4K video, but the NUC6i7KYK doesn't howl nor does it roar. The noise the unit makes is very low compared to its size and horsepower, and this is due to the way Intel took their 0.7L requirement and designed a device to optimize cooling rather than stick to a cube form factor. Of course, the exhaust gets very hot, and if you apply crazy amounts of load, the SoC will throttle, but even the units that roar will throttle under the same scenarios (IBT + Furmark at the same time). You can change the fan operation and make the unit roar, but it won't out of the box.
You Can Scratch That Itch: Let's say I am traveling or at work and I really have to play some GTA:V, and I don't care about maintaining the ultra-high graphics levels my SLI GTX 980 rig provides, then the NUC6i7KYK might work out. I would say that in most cases this is possible, at least with older titles that are more heavily CPU bound. I was able to play GTA:V with enough FPS that it was playable. I even let others try it out, and they were impressed by the playability of such a tiny device.
Dual M.2 and DDR4 SO-DIMMs: I would have never expected to find an NUC with dual M.2 slots each supporting 32Gb/s with RAID capabilities, but the NUC6i7KYK provides it along with a proper design that allows your drives to run cool. There are many Z170 motherboards without this capability. While DDR4 latencies are usually higher than DDR3, there are power savings benefits along with higher density kits in the DDR4 arena. A quick search of Newegg will result in many affordable two-stick 32GB DDR4 SO-DIMM kits, but there are only a few two-stick 32GB DDR3 SO-DIMM kits, and they cost almost double that of their DDR4 counterparts.
What's Not
It's definitely not a Gaming PC Replacement: Let's be honest, if you were expecting the NUC6i7KYK to outperform a real gaming rig (I am talking GTX 960 and above) then I really don't know what to tell you, I mean, the PCB in this thing is smaller than that of most small dedicated GPUs. The integrated graphics in the 6770HQ are state of the art, but integrated graphics have yet to get to the level of a mid-ranged dedicated GPU, but progress is being made.
It Isn't Cheap: Any device that carries Intel's top-tier Iris Pro graphics (in this case the Gen9 Iris Pro 580 GT4/e), and Thunderbolt 3 will cost you a pretty penny, and the NUC6i7KYK is no exception. What makes the unit, and other NUCs, expensive is the fact that you still need to source RAM, storage, and an OS.
The Power Brick is Big: The AC/DC PSU on this device, and most NUCs is external. If you are going to carry the device around you will also need to consider the size and weight of the power brick.
Final Thoughts
The NUC6i7KYK is a niche device. It's designed to not only be a decent desktop replacement for those who might need extra horsepower in an elegant form factor in a constrained space, but also those who might need to take advantage of its portability. I can toss it into my bag and hook it up to one of the many monitors and TVs in the world we live in. With its wireless display technology, you can even stream to a TV when a long enough cable isn't available. The only real competitor to this NUC regarding gaming or raw CPU horsepower was the ASRock VisionX 471D, which is not only more expensive than a fully configured NUC6i7KYK, but also almost four times its volume and still uses a comparable external AC/DC adapter.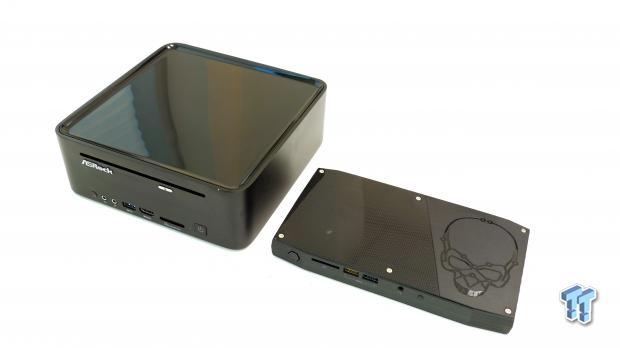 The NUC6i7KYK's ability to handle 4K video is impressive; not only is the CPU/iGPU combo able to handle it, but the storage system of the device is perfect for quick work. When I go to play back video I just recorded on a PC older than two years, the video not only stutters causing me to believe the shot I captured was bad, but the PC usually roars as if I am torturing it. That isn't the case with the NUC6i7KYK; playback was smooth, and it could render video without crashing.
Gaming was possible, but obviously not preferable to a real gaming PC. What we forget as a community is that the worldwide PC gaming community is not only about AAA titles and dedicated video cards, in fact, many people play their games on their CPU's integrated graphics. For those people, this could be an upgrade, but for the rest of us, it's just the basics (which also has its place in the ecosystem). When I was working with the NUC6i7KYK, I would often freak out when I glanced over and realized I was working on an NUC and not a full-fledged desktop.
The NUC6i7KYK really does change the game for the NUC; it brings cutting edge desktop-class features to the NUC, adding a new genre to the NUC library.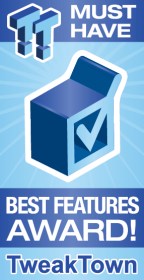 | | |
| --- | --- |
| Performance | 93% |
| Quality including Design and Build | 95% |
| General Features | 98% |
| Bundle and Packaging | 90% |
| Value for Money | 87% |
The Bottom Line: Not only is the NUC6i7KYK the fastest NUC Intel has to offer, it's also loaded with a myriad of features such as Thunderbolt 3, 4K capabilities, and the ability to RAID the fastest M.2 SSDs.
PRICING: You can find products similar to this one for sale below.

United States: Find other tech and computer products like this over at Amazon.com

United Kingdom: Find other tech and computer products like this over at Amazon.co.uk

Australia: Find other tech and computer products like this over at Amazon.com.au

Canada: Find other tech and computer products like this over at Amazon.ca

Deutschland: Finde andere Technik- und Computerprodukte wie dieses auf Amazon.de
We openly invite the companies who provide us with review samples / who are mentioned or discussed to express their opinion. If any company representative wishes to respond, we will publish the response here. Please contact us if you wish to respond.