ECS LIVA ONE Review - A SFF PC with Muscle
Looking for a SFF PC as a desktop replacement in places where space is of concern? You might want to check out the ECS LIVA ONE.
Published
10 minute read time
TweakTown's Rating: 91%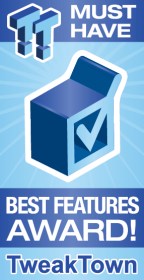 The Bottom Line
The ECS LIVA ONE is a super slim mini-ITX based solid NUC-alternative SFF PC with the horsepower of a desktop at a reasonable price.
Introduction, Specifications, and Pricing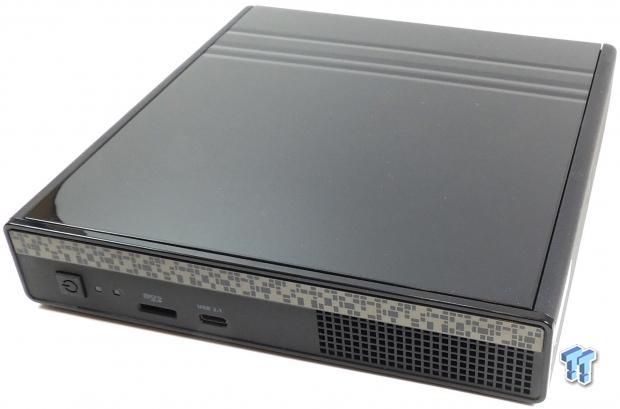 Filling the gap between HDMI dongles and the traditional desktop is becoming easier as CPU TDPs drop while maintaining desktop level performance. Intel's 6th Generation Core family of processors ushered in CPUs ranging in TDPs from 35W to 91W, which expands the possibilities of desktop processors. The Core iX 6XXXT series of processors, such as the Core i3 6100T used in the LIVA ONE, are 35W counterparts of their non-T versions.
The big difference between the "T" and "non-T" other than the TDP is a reduction of clock speed. The 6100T clocks in at 3.2GHz, while the 6100 can run at 3.7GHz with a 47W TDP. These new lower power counterparts allow for much shorter, slimmer, and hopefully, quieter machines. Let's see if the LIVA ONE can lead the way.
Specifications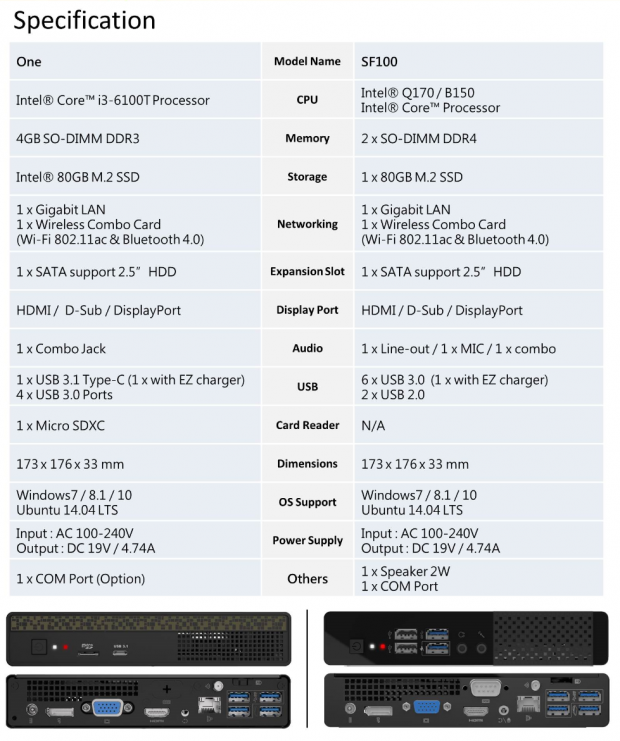 The LIVA ONE is a pre-built PC without an OS while the SF100 is a barebones version of the LIVA ONE. The LIVA ONE comes with an i3-6100T which is a 2core/4thread 3.2GHz CPU, a single 8GB DDR3 SO-DIMM (there is a second open slot), and an Intel 80GB M.2 SSD.
The unit has available space for a 2.5-inch drive in case you want to expand storage. Unlike many other SFF PCs, the LIVA ONE's USB Type-C port is a USB 3.1 port instead of USB 3.0 or USB 2.0. The device also supports both a 1Gbit LAN port and Wireless AC/BT 4.0.
Pricing
The LIVA ONE costs $450 while the barebones version will cost roughly $170.
Packaging and System
Packaging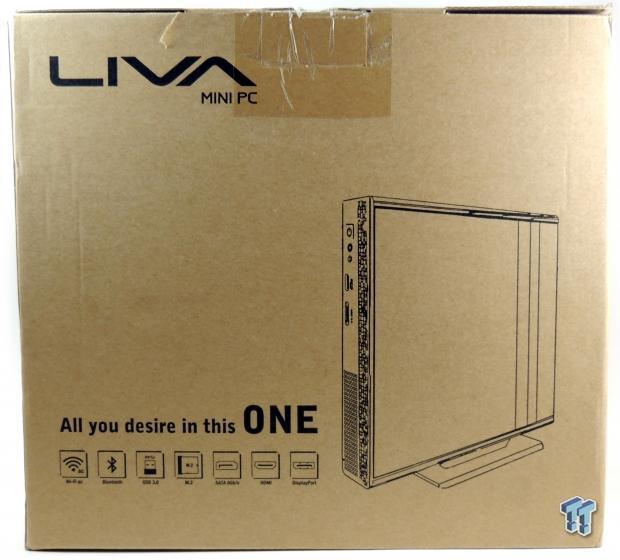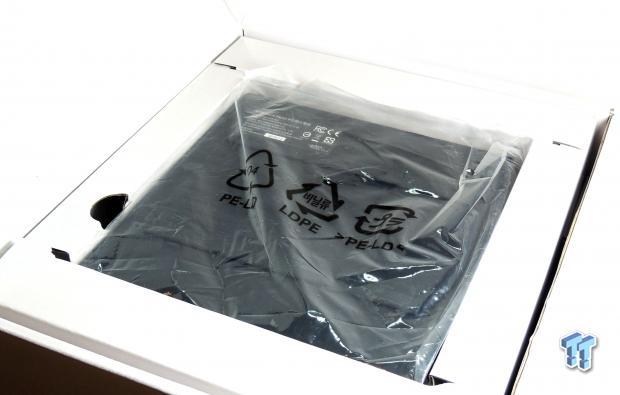 ECS's box is very discrete and straightforward, just like the device itself. Packaging is very well done, the LIVA ONE is very well protected as are the accessories.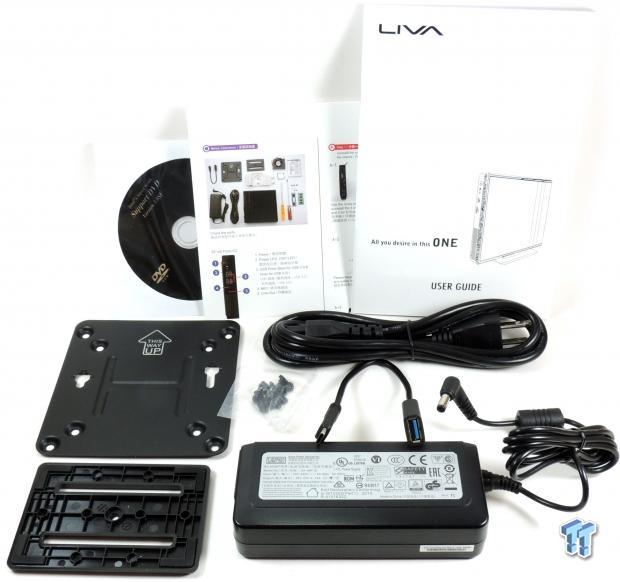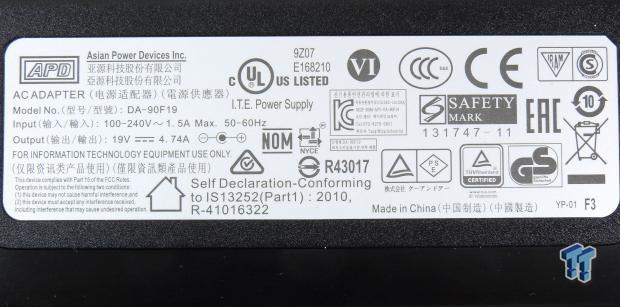 Accessories include a VESA mounting bracket and screws, a stand, AC/DC adapter, USB 3.1 Type-C to Type-A converter cable, driver DVD (a bit odd considering the computer has no optical drive), and some manuals. With these SFF PCs, the AC/DC adapter can tell you a lot about how much power the device will draw. The LIVA ONE's adapter is rated for roughly 90W.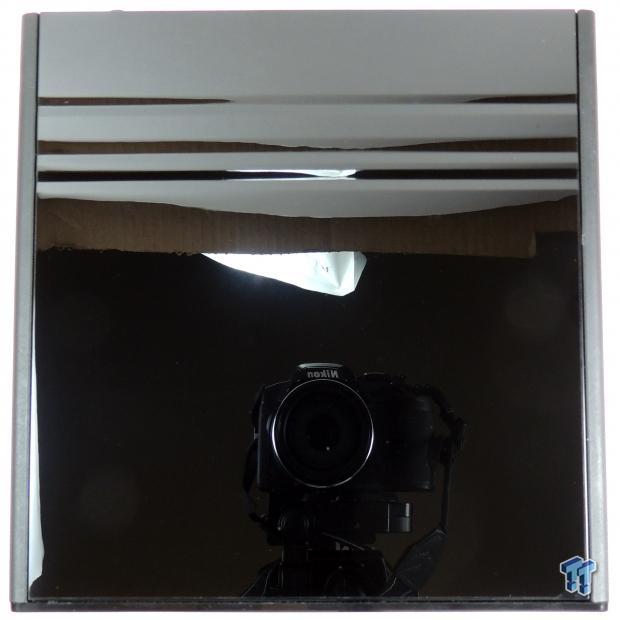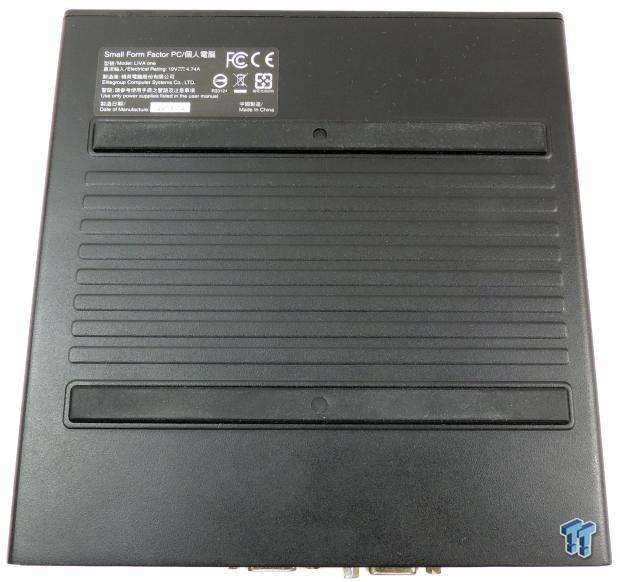 The top of the unit is made up of a glossy plastic shell, it will pick up fingerprints but should be relatively easy to clean. The plastic top is re-enforced with aluminum underneath and is the only part of the chassis that is removable so that you can change out the parts if you want. The bottom of the unit has two long rubber strips for grip, and like the rest of the body is anodized aluminum.


The front of the unit has a decorative bar, a power button, USB 3.1 Type-C port (with the adapter you can use Type-A devices), a micro SDXC slot, and an air-intake vent. The back of the unit has all the other goodies: DC input jack, DisplayPort, VGA(D-SUB), COM, HDMI, combo audio port, RJ-45 1Gbit LAN, 4x USB 3.0 ports, and a Kensington lock slot. One of the four USB 3.0 ports on the back is boxed individually from the rest; this port supports 2.6A output for external optical drives.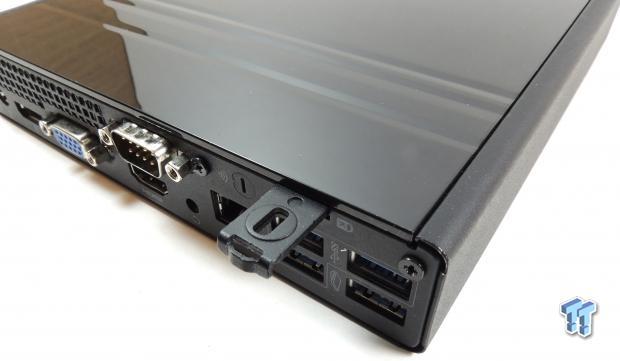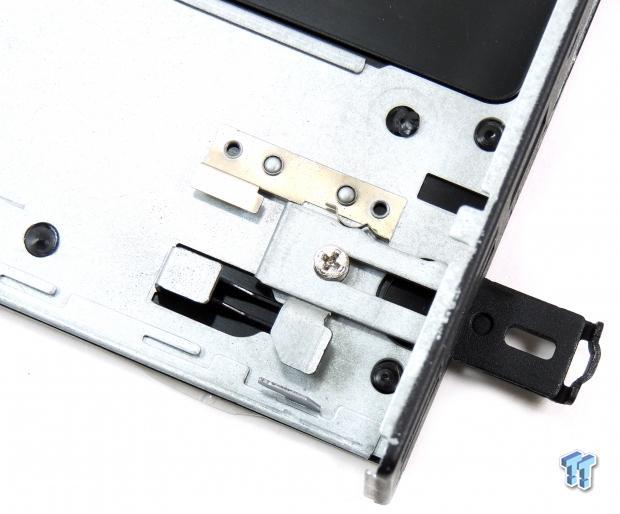 Most of the time when I see these Kensington lock slots I am unimpressed, but ECS did a solid job with exterior security. I am moving a bit into the teardown part of the review, but I wanted to show how the locking mechanism not only prevents theft of the unit but also of the interior hardware.
You will not be able to open the unit if the lock port is extended, which is simple to do with many different types of locks. The unit itself is encased within a strong aluminum body. There is also an open case switch which is well implemented through the UEFI.
Teardown of the LIVA ONE
The Teardown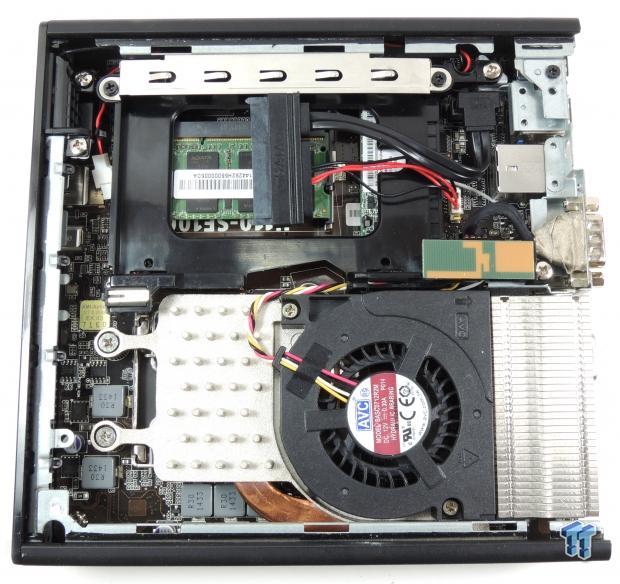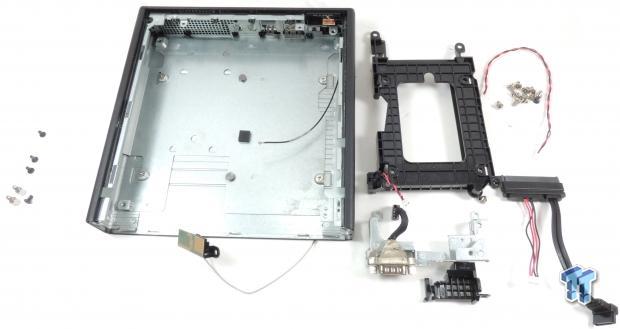 The first time I opened the LIVA ONE, I was impressed with how ECS has made use of all the space provided. The unit itself is the size of a standard hardcover book. It's also only 33mm thick, so you don't expect too much regarding horsepower, but ECS stuffed in everything they possibly could including a 2.5-inch drive bay. The bottom enclosure is a single piece adding to hardware security, and it's not very easy to fully disassemble and reassemble, so I am going to do that for you.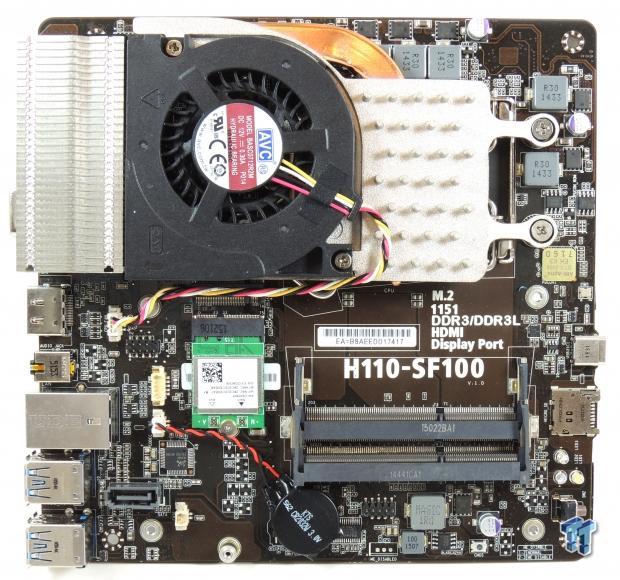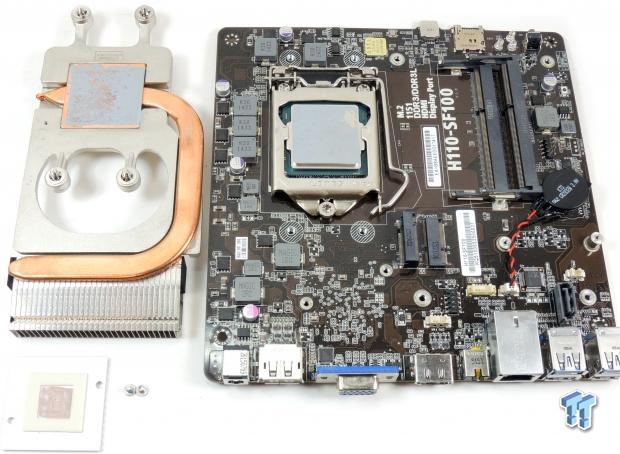 Removing the motherboard from the enclosure and taking out the M.2 SSD and RAM reveals that cooling is primarily focused on the CPU. I was kind of shocked to find that ECS provides a socketed 6100T; I thought they might be using a BGA CPU like an NUC-style device might.
The LIVA ONE is serviceable if you know what you are doing. The heat sink makes excellent contact with the CPU, beware that it doesn't use standard LGA1151 mounting, but rather a slim socket mounting (like the ILM for LGA2011).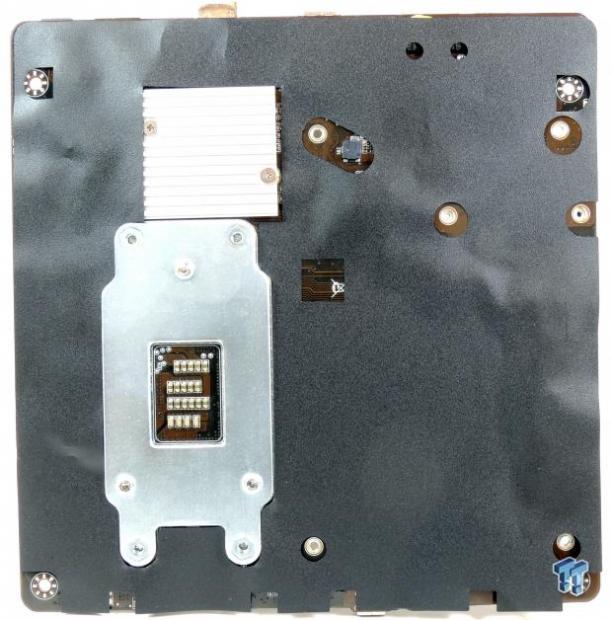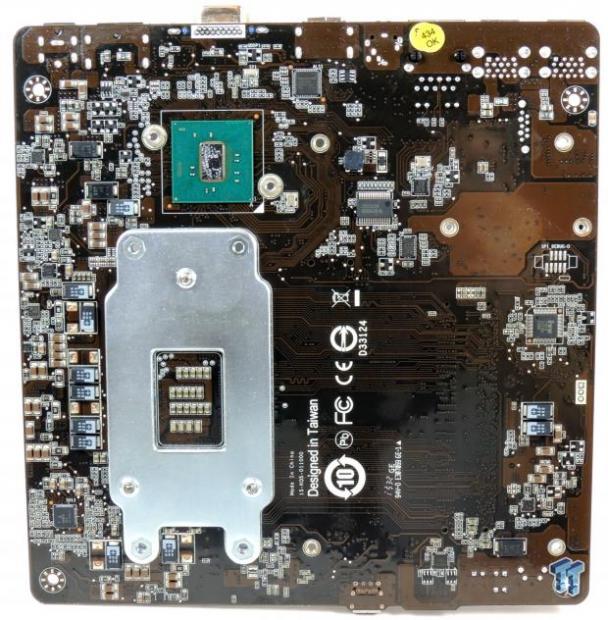 If you couldn't tell, I applaud attention to detail. ECS made sure to cover the backside of the PCB with a barrier so that nothing would short, and left openings around the buzzer and the PCH heat sink. Removing the large sticker/barrier reveals many interesting chips that provide many non-standard features.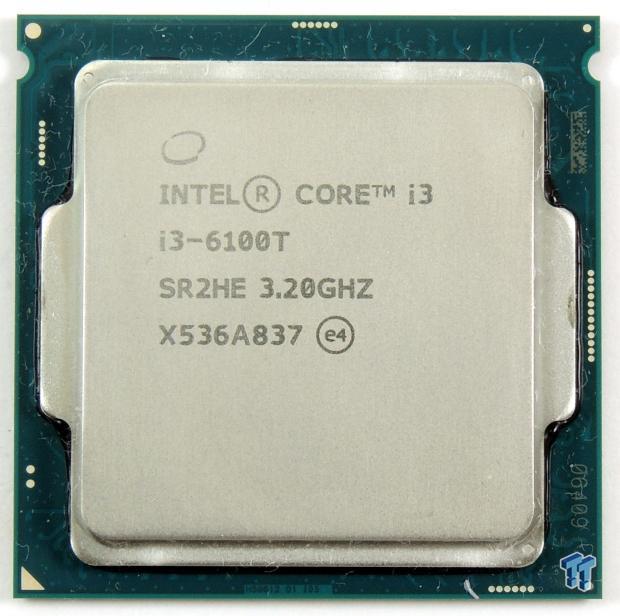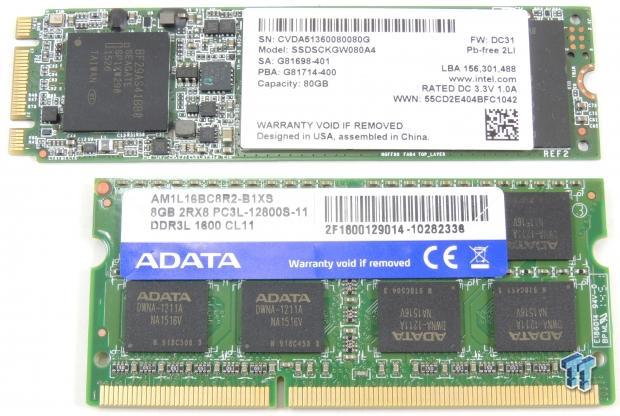 The Intel Core i3-6100T not only provides processing power but also provides graphics through the integrated Intel HD Graphics 530. It supports 4K displays through DisplayPort. For storage, the LIVA ONE uses an Intel 530 M.2 80GB SSD (SSDSCKGW080A4), and RAM is DDR3L from ADATA. A single ADATA 8GB stick runs at 1600MHz C11 by default. You can upgrade as well since there is an extra unoccupied SO-DIMM.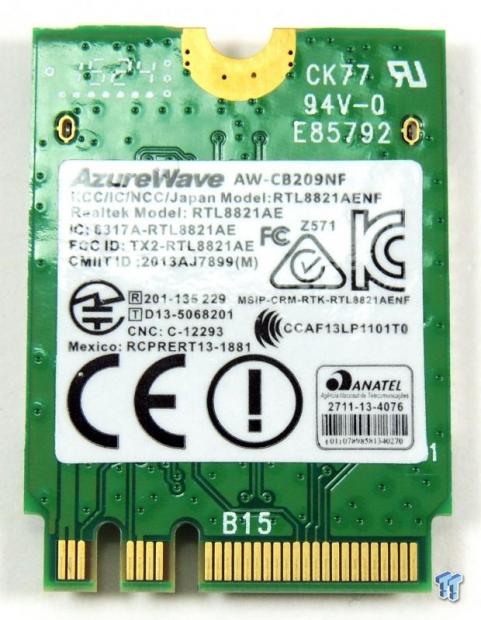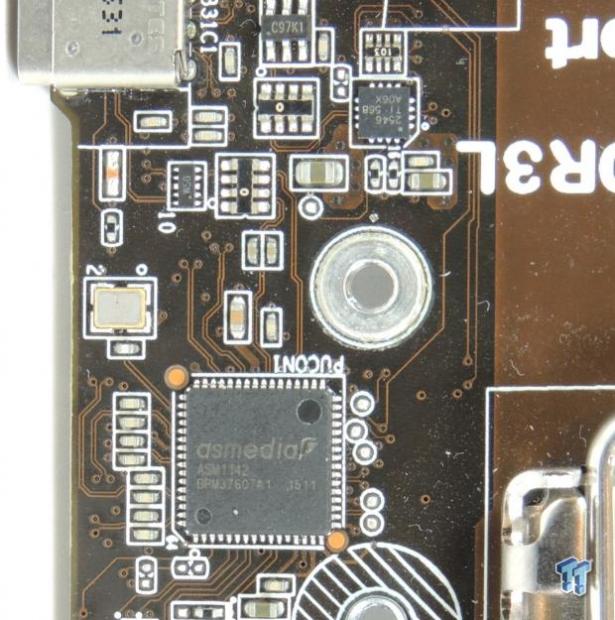 WirelessAC/BT 4.0 comes from an AzureWave M.2 WIFI module that uses a Realtek RTL8821AE. USB 3.1 is provided by the very common ASMedia ASM1142 and a Texas Instruments TPS2546 fast charging chip.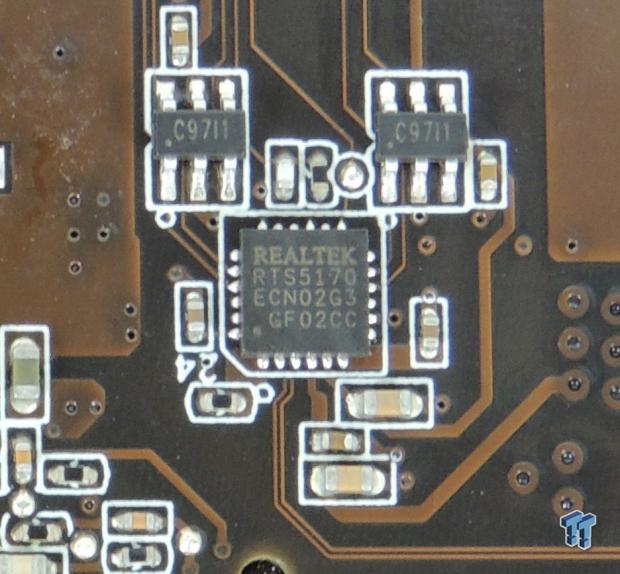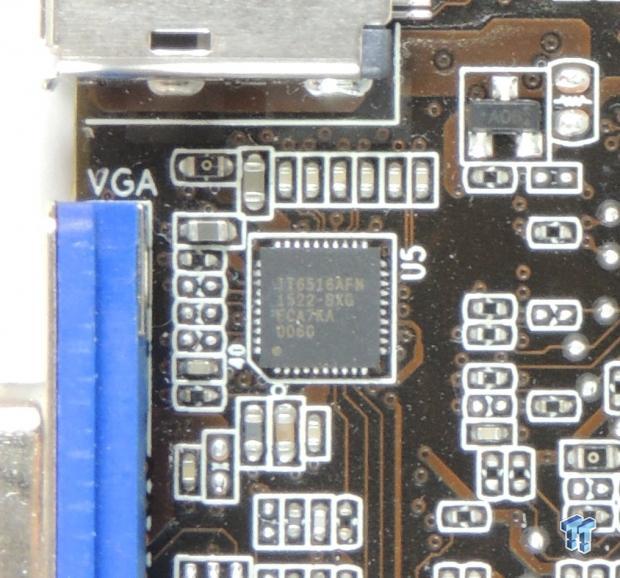 The Realtek RTS5170 is the microSDXC card reader controller for the front microSDXC port. When Intel introduced the 100 series chipset, they also removed VGA output from the built-in integrated graphics. If you want VGA (D-SUB) on a 100 series computer, you will need an extra controller. Here it seems that an IT6516AFN is used to provide VGA/D-SUB.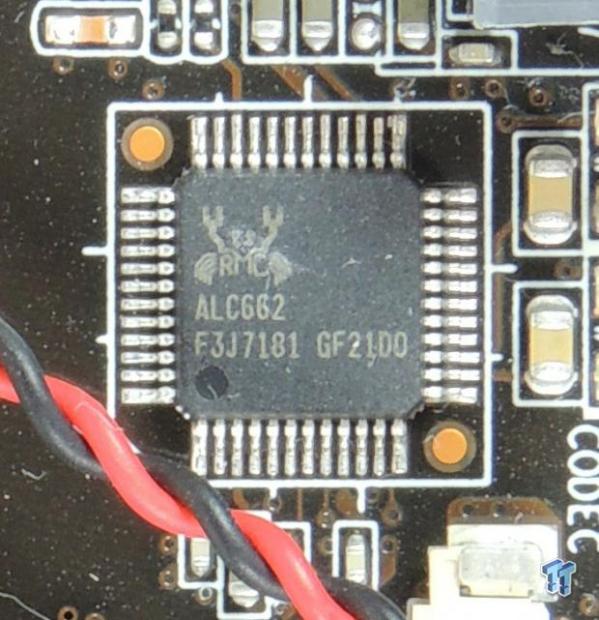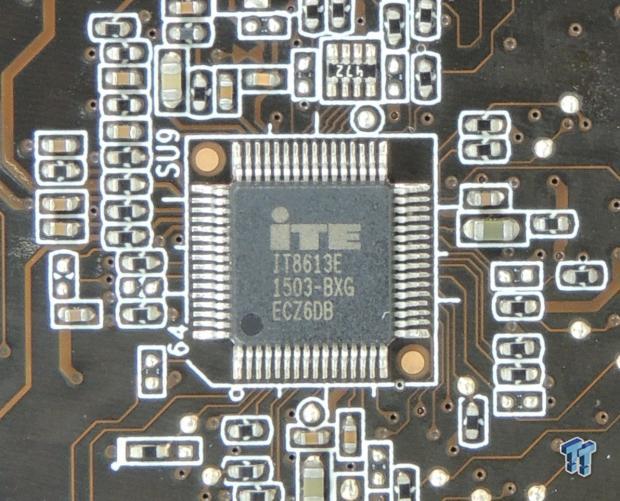 A Realtek ALC662 provides audio capabilities through a combo jack. An iTE IT8613E is the Super IO for the system.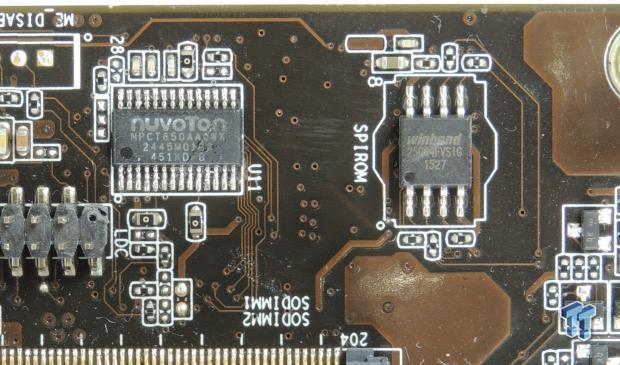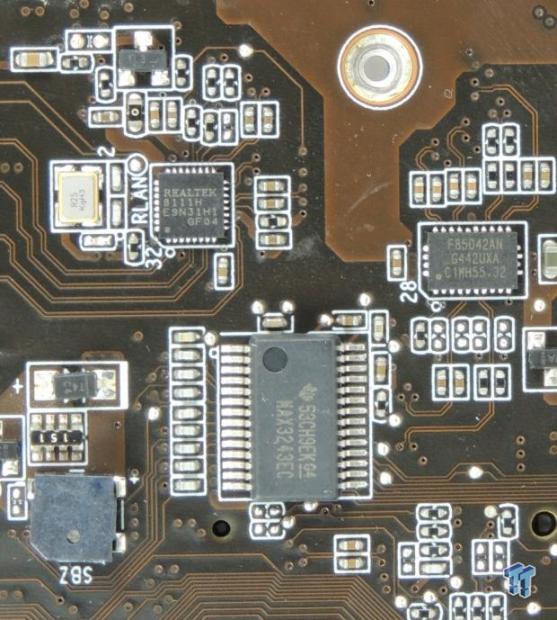 Here is where things get a bit more interesting. If you want to use security entities like BitLocker, then you need to have a Trusted Platform Module installed which has a burnt in RSA encryption key that cannot be accessed by software. ECS is using the nuvoTon NPCT650A TPM module located to the left of the 64Mbit BIOS ROM. Wired Gbit LAN is provided by a Realtek RTL8111H and a COM port from a Texas Instruments MAX3243EC.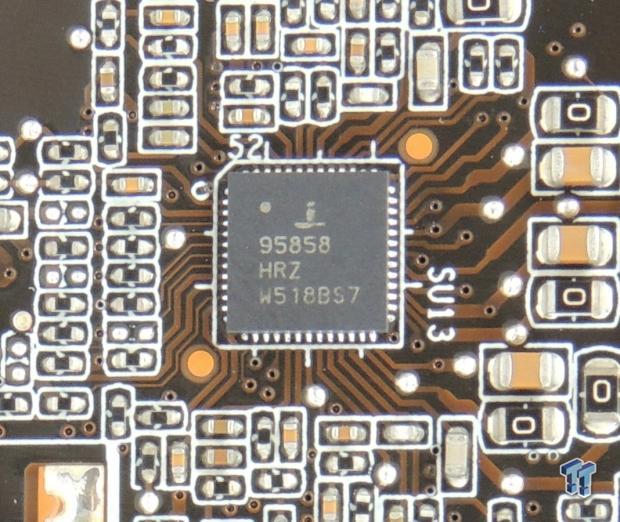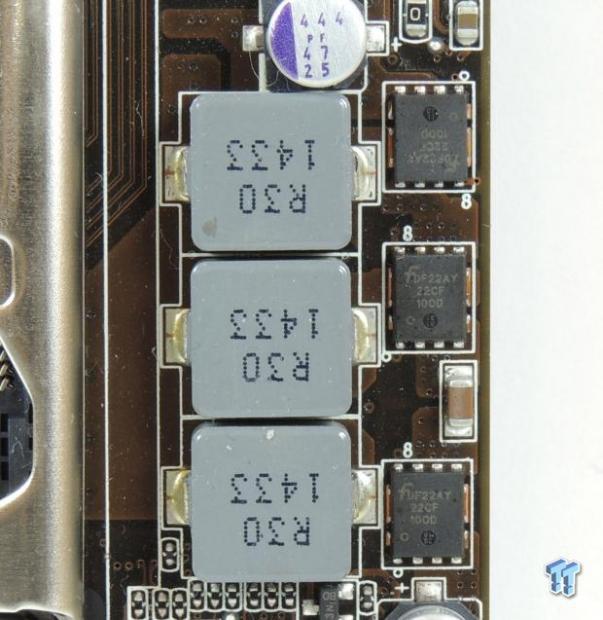 For CPU power delivery, an Intersil ISL95858 hybrid-digital PWM is being used along with Fairchild Semiconductor dual-N channel MOSFETs. These dual N-Channel MOSFETs are high quality and fairly integrated; I have seen them on X99 motherboards and even Z170 mini-ITX boards in 3-phase configurations like the one on the LIVA ONE. ECS supports 35W CPUs in the socket, but I would not be surprised if higher TDP CPUs worked.
The BIOS
BIOS
The LIVA ONE's UEFI is similar to that of ECS motherboards; mouse control is present, and there are two modes. The first mode is an easy mode for novice users where they can use the mouse, and an advanced mode is provided.
The UEFI has a futuristic look, and there is a slew of settings for changing everything from the OS (Windows 7, 8.1, 10, and Ubuntu) to the detailed TPM settings. However, the UEFI provides no control over the blower fan or any overclocking settings, which is to be expected as this is an almost finished PC (just missing the OS). The lack of fan control is not a big issue because the unit is very silent, even using stress tests I could not get the unit to scream.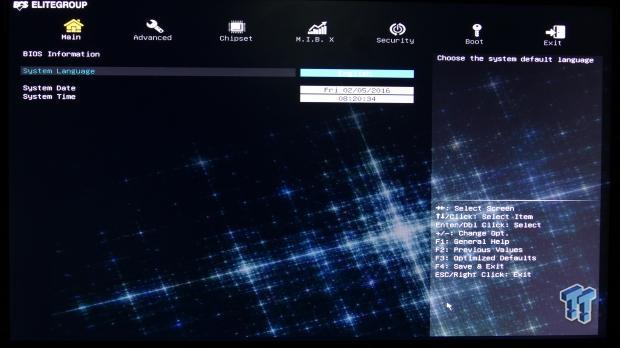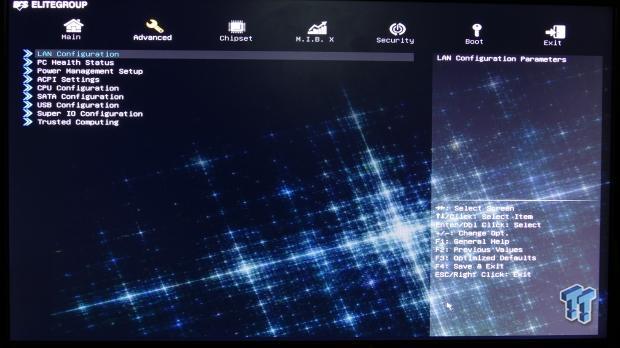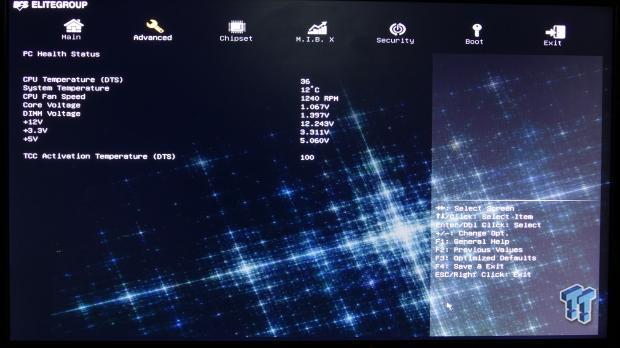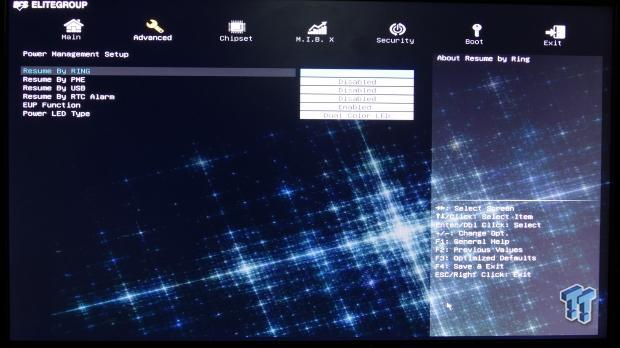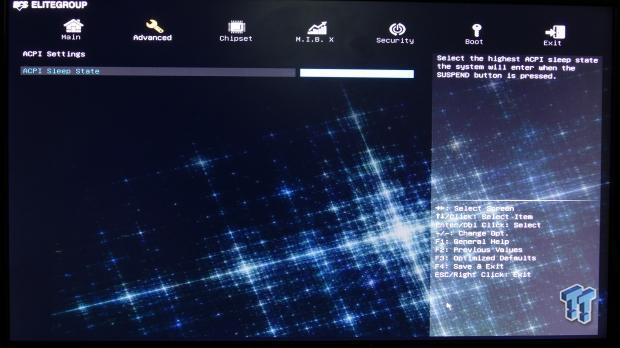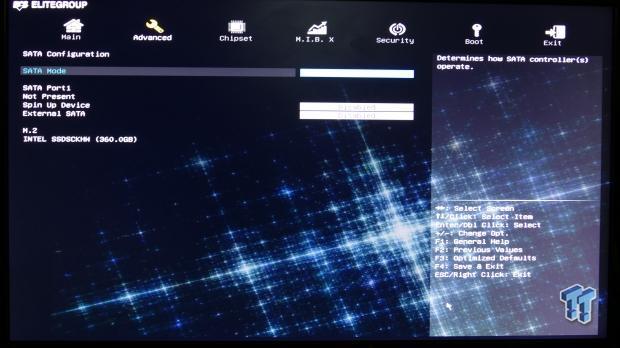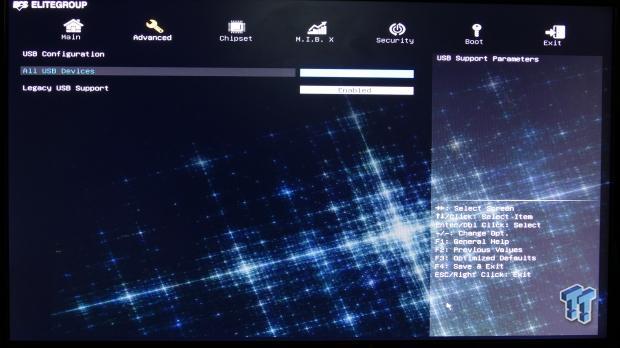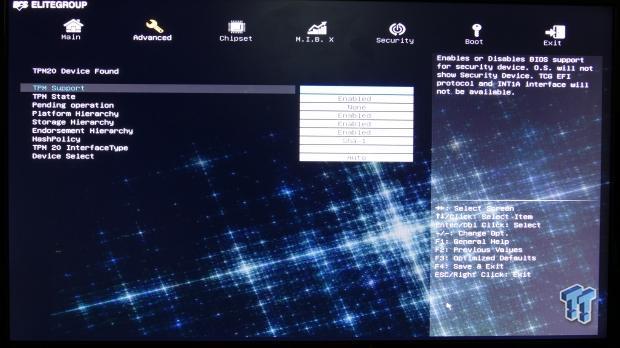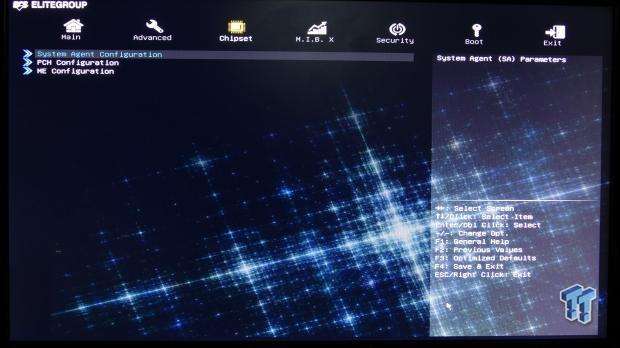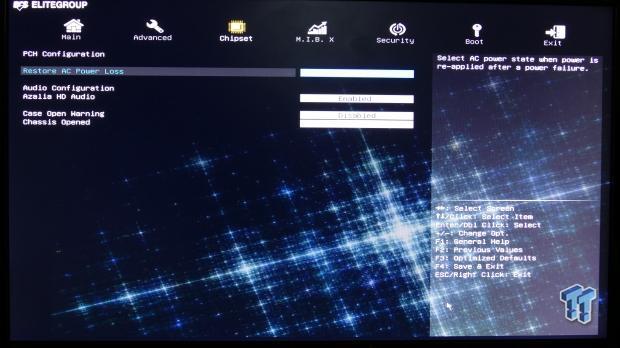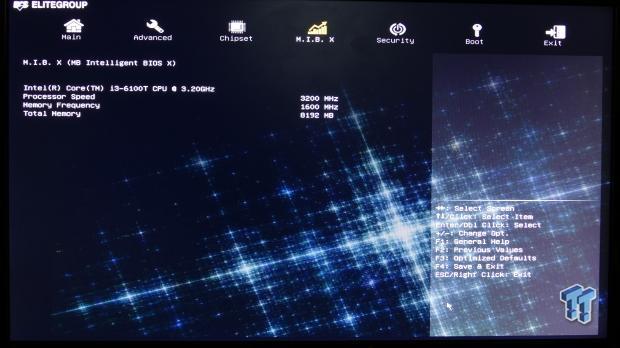 Test Setup and Benchmarks
Test Setup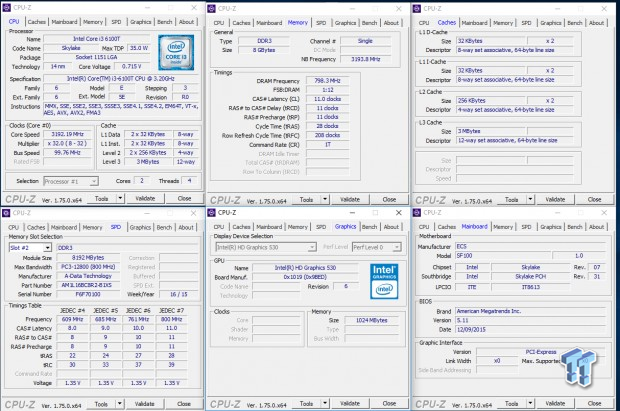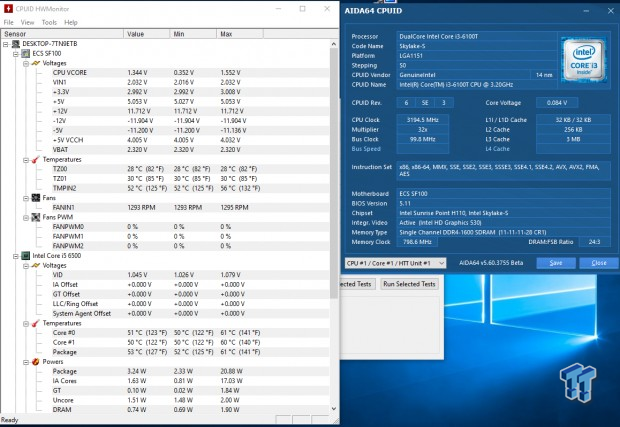 CPU-Z and CPUID results are shown above. I set my power plan to "high performance" and the CPU clock did indeed get to 3.2GHz.
The DDR3 memory is running at 1600MHz and CAS 11 as expected. Some of the sensor readings are bugged, especially voltages.
CPU, Memory, System, and Graphics Benchmarks
CINEBENCH 11.5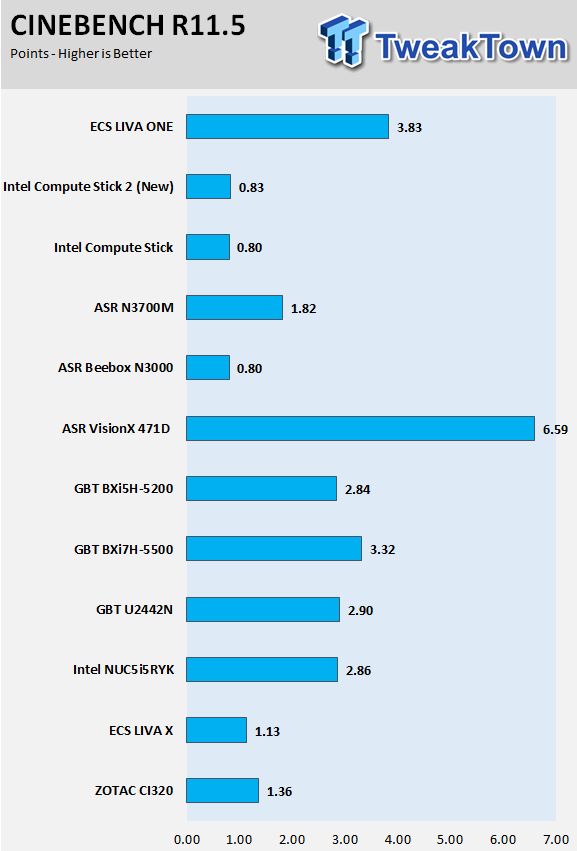 wPrime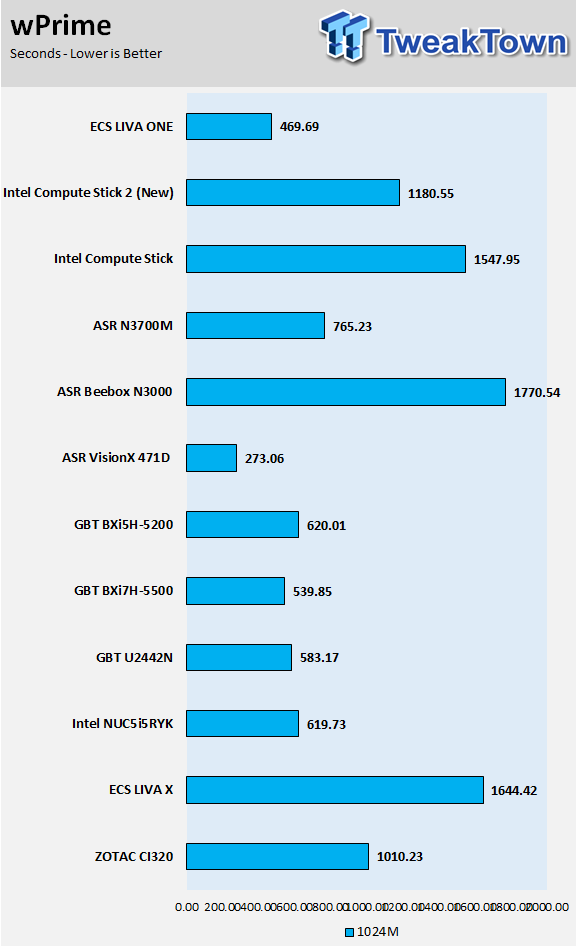 AIDA64 AES and HASH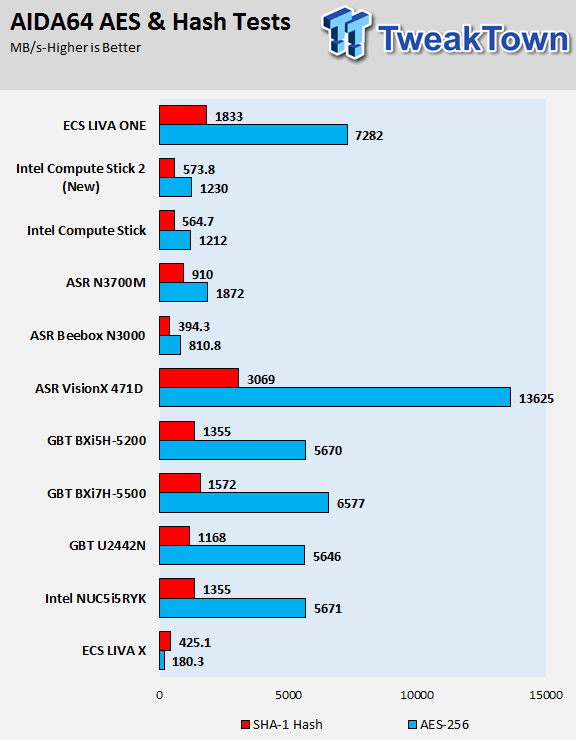 AIDA64 Memory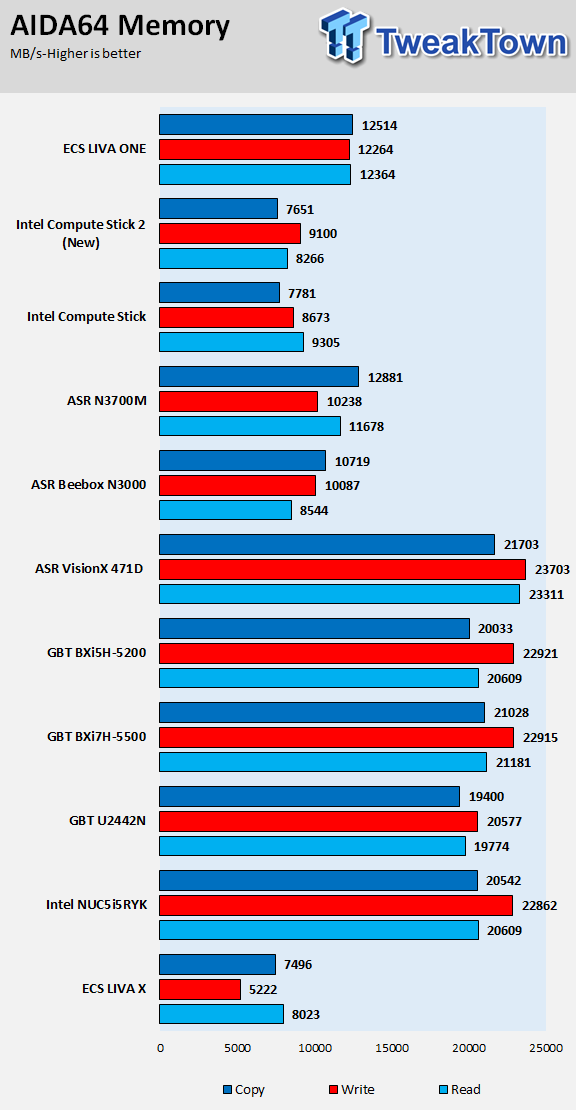 Graphics Benchmarks
3DMark11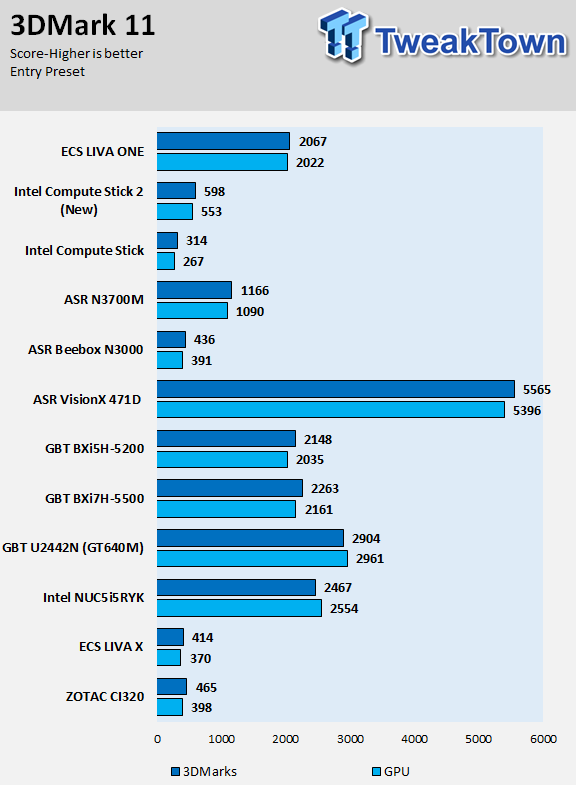 UNIGINE Heaven 4.0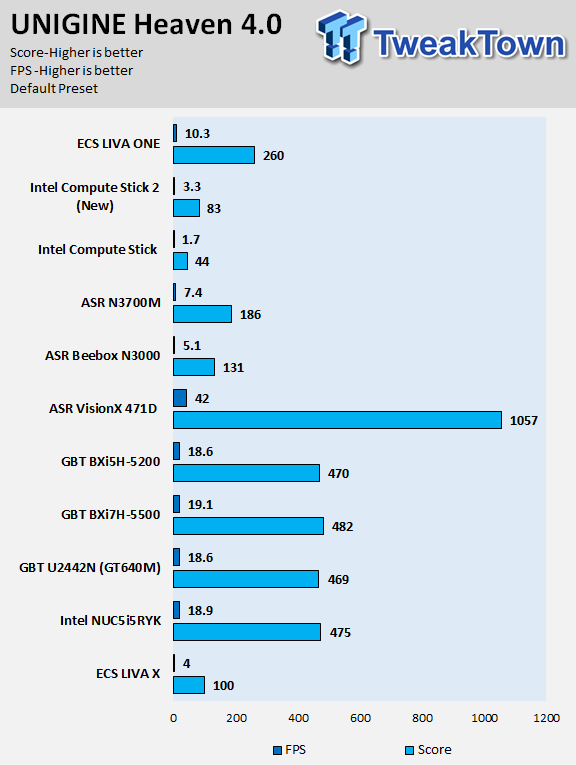 Resident Evil 6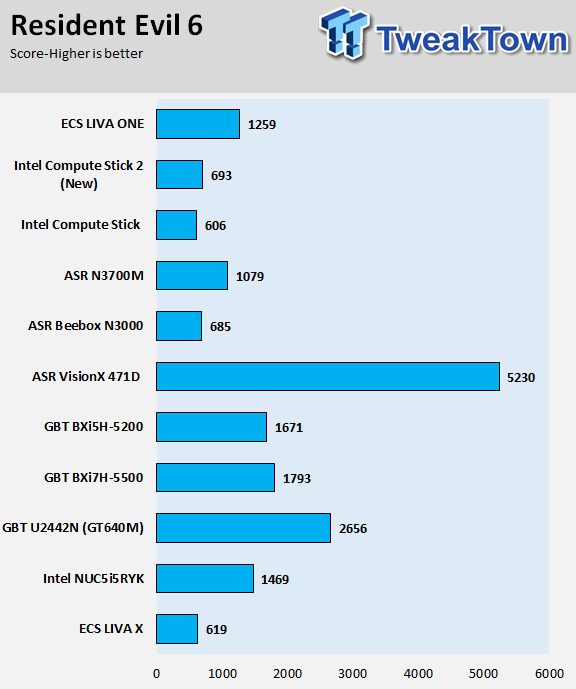 I think I should clarify some of the competitors, mainly the VisionX and the NUC form factor SFF PCs. The ASR VisionX costs more than double that of the LIVA ONE and comes with a 4core/8thread Haswell-based mobile i7. The BRIX and NUCs either have an i5 or i7 processor, use Broadwell, and cost roughly the same (or more) than the LIVA ONE, but don't come with memory, storage, or OS.
The LIVA ONE is only using a 2core/4thread i3, but regarding raw performance power, it does quite well, especially compared to some of the 5th generation CPUs in the BRIX/NUCs.
Memory performance is a bit lower because the LIVA ONE comes with a single channel solution, but you can upgrade it to dual channel. Graphics performance is where it should be relative to generational improvements and cost to performance ratios that are common in Intel's tiered Core family.
System and IO Benchmarks
System Benchmarks
PCMark8 Home Test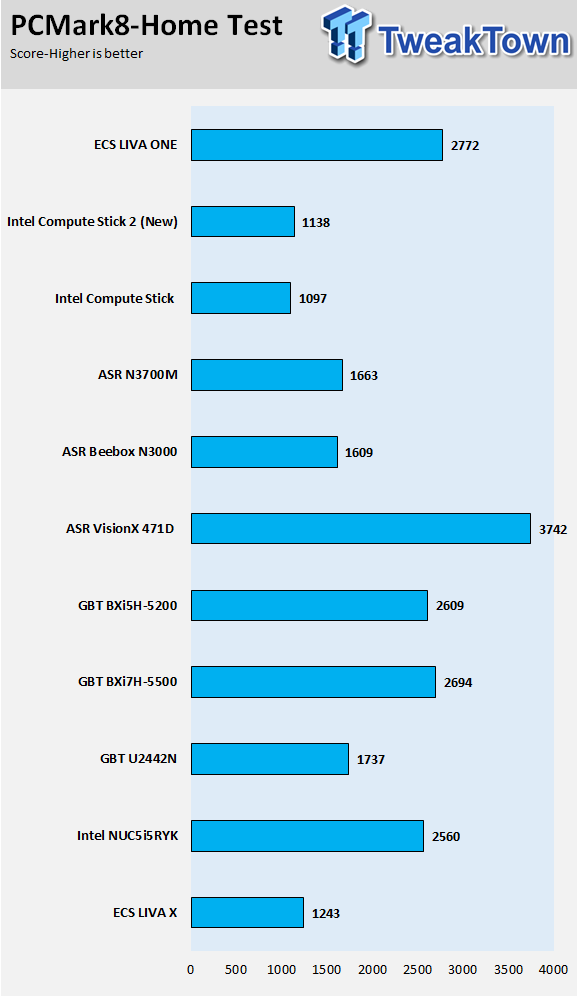 PCMark8 Work Test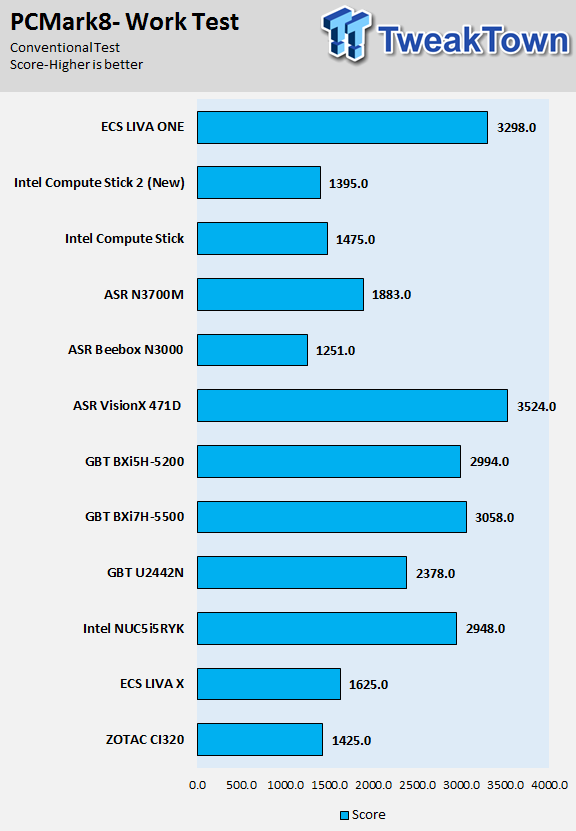 WebXPRT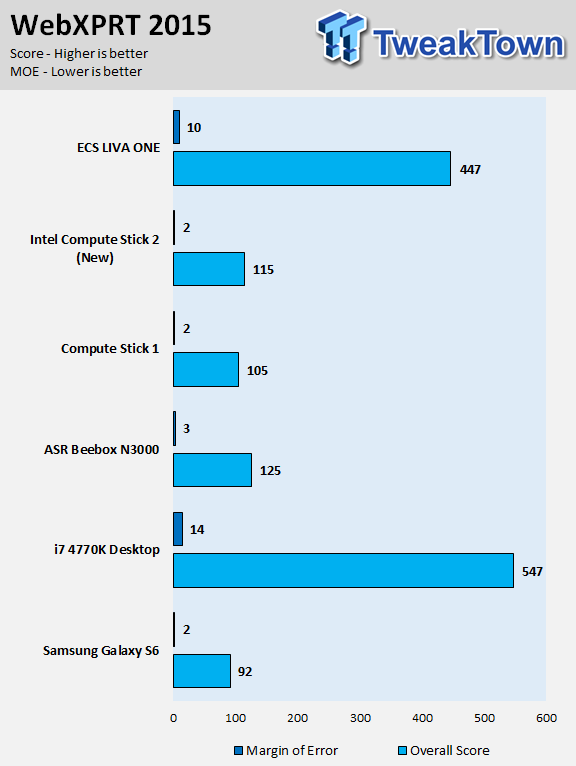 Storage and Network Performance
CrystalDiskBench-Read: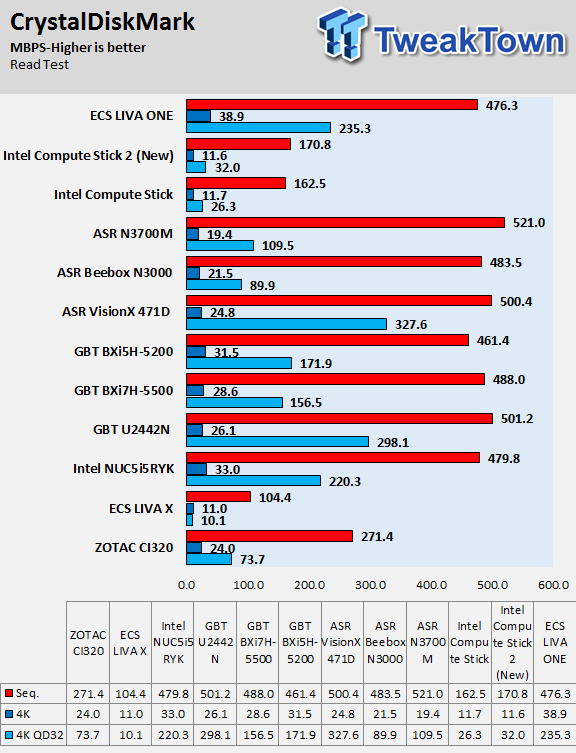 CrystalDiskBench-Write: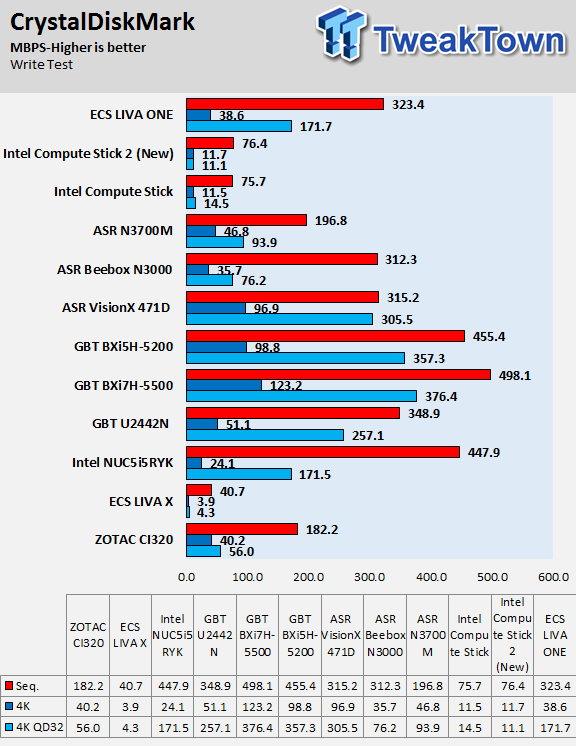 ixChariot Network Throughput: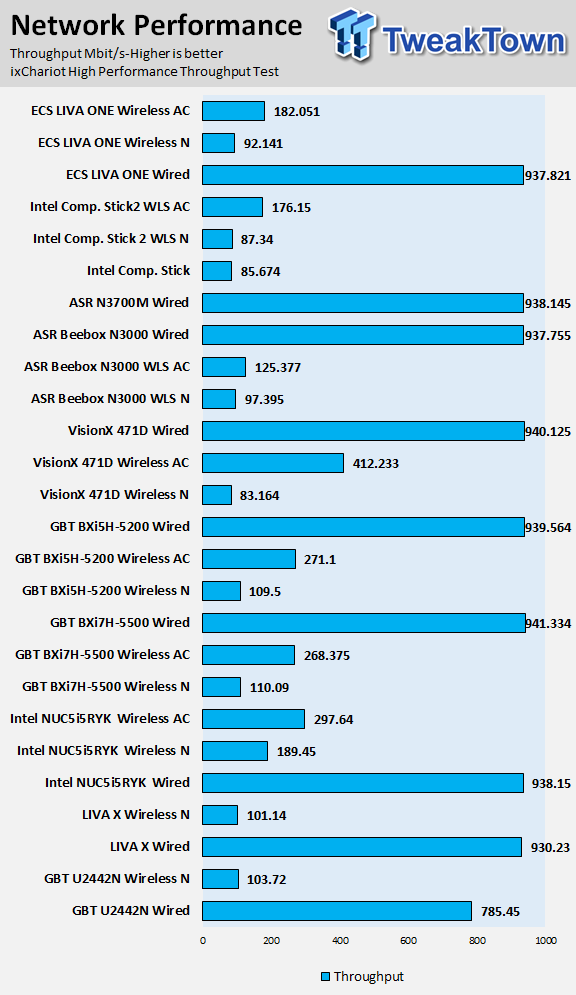 Whole system performance is very strong. The LIVA ONE is an excellent contender as a desktop replacement. It doesn't feel like most very low power SFF PCs; the system is quick, and it has a fair amount of horsepower. The improvements in CPU performance are quite strong for this silent i3 machine, putting it ahead of many previous generation SFF PCs.
The SATA performance is where it should be, but network performance is not the fastest. The LIVA ONE uses the same Realtek Wireless AC controller as the ASRock BeeBox, which is a much more compact and low power device.
Temperature and Power Consumption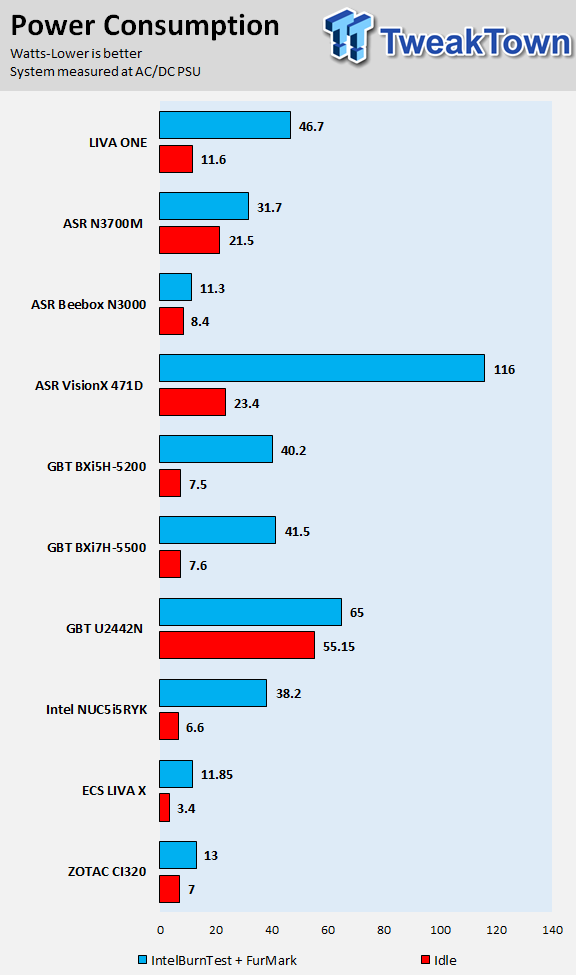 Power consumption is much lower than I expected. With IBT and FurMark running at the same time, I was not able to break the 50W mark.
This 50W number is quite good considering the adapter can provide close to double that. The extra headroom could allow for higher wattage CPU operation.
Thermal Testing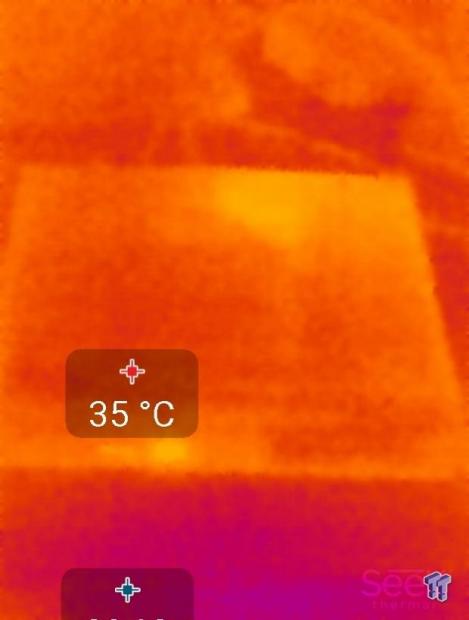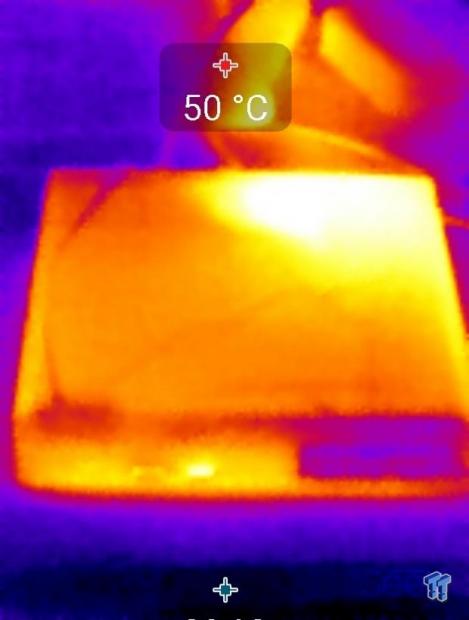 The thermals reveal that the front vents are air intake while the rear vents act as exhaust. The blower fan runs very well; ECS's curve is setup correctly.
At idle or low load, the fan runs at low speed and is silent. I wasn't able to get the fan into audible range except when I loaded IBT and FurMark at the same time.
Overall this is a very quiet unit. You could keep it on your desk without discomfort from fan noise.
What's Hot, What's Not & Final Thoughts
Here are key points about the LIVA ONE.
What's Hot
Speedy Yet Slim: The LIVA ONE is about a liter, NUC style devices range anywhere from half a liter to three-quarters a liter, and performance is about on par when we discuss the volumes of the devices.
The LIVA ONE's height is what makes it impressive. It's on par with the thinner NUC style devices. The LIVA ONE is slim enough to fit behind a TV, or, like ECS likes to advertise, in between books. The power of the device is also impressive, even with an Intel Core i3 and all of the supported features, ECS managed to build an ultra-slim Mini-ITX system. You can carry out any business or home task without much effort, with the exception of gaming.
Very Low Noise Operation: Since ECS isn't trying to shape the LIVA ONE like a cube, they were able to fit in a beefy heat sink and blower fan. The 35W i3-6100T isn't much of a match for this cooling solution, resulting is very low noise levels even with heavy load. You can place the LIVA ONE on your desk or behind your monitor, and it won't distract you.
Security is Strong: Many businesses these days utilize technologies such as BitLocker to help secure computers, and a Trust Platform Module makes that possible. The LIVA ONE might look like it's marketed towards home users, but it does have the right hardware for a business environment.
ECS uses a nuvoTon branded TPM module. While your data is digitally secured, there is still the possibility of sticky fingers finding their way into your computer. The LIVA ONE's Kensington Lock is not only securely attached to the aluminum chassis, but it also securely locks the only way in (the cover) when it is attached. I would say discretely getting at the internals of the LIVA ONE (especially the M.2 drive) is a challenge, especially when it is locked.
Even if you happen to get in, ECS has a case-open switch situated at the very top of the internals, it is very hard not to trip, and the UEFI won't stop screaming about it upon restart (there is a built-in buzzer speaker).
Extra Storage Option: A full sized 2.5" bay sits under the cover allowing for data expansion if needed. ECS also designed the unit so that installing an extra drive is simple and easy.
USB 3.1 Type-C with Type-A Capabilities: A few SFF PCs have come my way with USB Type-C ports, but they usually aren't USB 3.1 ports. Sometimes manufacturers will route USB 2.0 or USB 3.0 to a Type-C port. ECS added a USB 3.1 controller and added a Texas Instruments chip for proper fast charging. Don't have a Type-C device? No problem, ECS provides a Type-C to Type-A cable so you can plug in your normal Type-A USB devices.
What's Not
You still need an OS: The LIVA ONE is fully built on the hardware side, but you will still need to install the operating system (not included).
80GB is a bit low: 80GB might be enough for the OS and some programs, but many PCs require more than 80GB of storage. The price of the LIVA ONE isn't prohibitive, so you should take advantage of the 2.5" drive bay.
Wireless AC isn't the fastest: I have seen the same Realtek Wireless AC controller in much lower powered devices. Performance is decent, but I don't see the LIVA ONE on a strict power budget, so ECS could have used a higher power (and faster) Wireless AC solution.
Final Thoughts
My first experience with an ECS SFF PC was with the LIVA X, and while it's a good value, it still had ways to go before I would consider it a good desktop replacement. The whole point of having a desktop is to increase productivity through faster processing power, larger screens, and expanded connectivity.
The LIVA ONE pretty much hits the nail on the head. The Intel Core i3 6100T might seem weak, but it's quite fast with Intel's latest Skylake microarchitecture and 3.2GHz clock speed. The LIVA ONE has enough RAM and fast enough storage to be considered an upgrade for the majority of desktop users.
One obvious downside of the LIVA ONE is that it cannot accept a graphics upgrade unless perhaps it is integrated onto a new CPU, but in many use scenarios this lack of a dedicated graphics adapter isn't such a big issue.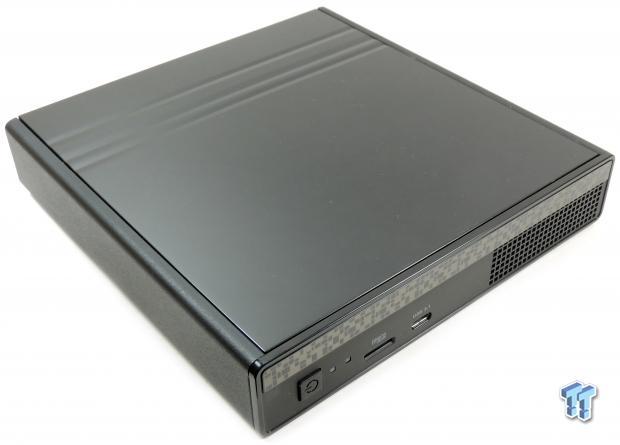 I see the LIVA ONE as being quite good in a business setting. The price of the LIVA ONE is also competitive and because of the design, you won't have to replace the whole device if something happens to the CPU, memory, or storage. There are some competitors in the same price range with operating systems and similar specifications, but most of them have mechanical drives. If I needed slim and secure systems with enough power so my employees could not complain about waiting on their computer, I would probably pick the LIVA ONE for my business. LIVA ONE's feature set and slim form factor provide it the versatility to fit the role of a home, business, or discrete desktop.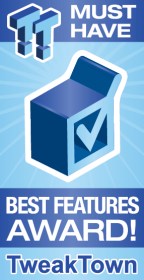 | | |
| --- | --- |
| Performance | 90% |
| Quality including Design and Build | 92% |
| General Features | 94% |
| Bundle and Packaging | 89% |
| Value for Money | 90% |
The Bottom Line: The ECS LIVA ONE is a super slim mini-ITX based solid NUC-alternative SFF PC with the horsepower of a desktop at a reasonable price.
PRICING: You can find products similar to this one for sale below.

United States: Find other tech and computer products like this over at Amazon.com

United Kingdom: Find other tech and computer products like this over at Amazon.co.uk

Australia: Find other tech and computer products like this over at Amazon.com.au

Canada: Find other tech and computer products like this over at Amazon.ca

Deutschland: Finde andere Technik- und Computerprodukte wie dieses auf Amazon.de
We openly invite the companies who provide us with review samples / who are mentioned or discussed to express their opinion. If any company representative wishes to respond, we will publish the response here. Please contact us if you wish to respond.