Vertagear Racing Series S-Line SL4000 Gaming Chair Review
Vertagear has a super-comfy gaming chair with its Racing Series S-Line SL4000 gaming chair. Here's our full thoughts on it.

Published Mon, Jan 18 2016 3:10 PM CST
|
Updated Tue, Nov 3 2020 6:58 PM CST
Introduction, Quick Specs, and Availability & Price
Up until I received my Vertagear gaming chair in the mail, I had used office chairs that I thought were comfortable. Oh, how I was wrong. Vertagear reached out to me asking if I'd like to review their Racing Series S-Line Gaming Chair, so I agreed.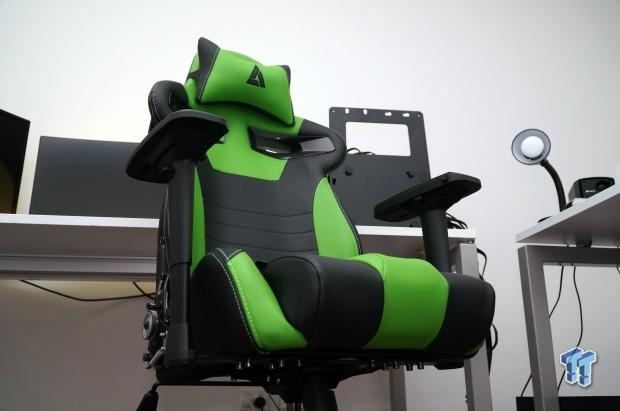 I sit on a chair for eight hours or so a day, nearly 5-6 days a week and a few hours here and there on top of that, depending on my workload for the given week. For ten years before I started TweakTown, I had a day job of sitting on a chair all day in a small computer store in Adelaide, South Australia where I wish I had an SL4000 chair delivered to me from the future.
Well, here we are - with the SL4000 that Vertagear says "brings unparalleled level of comfort and adjustability, with high-density padding and contoured backrest", which Vertagear says is "allowing for longer and extremely comfortable gaming".
Quick Specs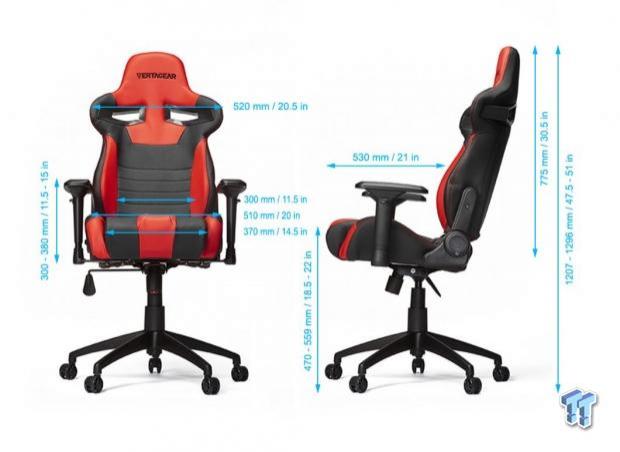 As you can see, the Vertagear SL4000 gaming chair is a tall, and decently wide chair with a nice decline for your butt to fall into. We'll talk more on how it feels soon.

Detailed specifications see that Vertagear has used a steel frame on the SL4000, with "high densed resilient foam", PVC leather, and an aluminum alloy foot. The gas lift used is 'Class 4', the weight of the chair itself comes in at 20kg (or 44lbs), and it can handle up to 150kg (or 330lbs).
Vertagear provides a decent two-year warranty on the Racing Series S-Line SL4000 gaming chair.
Availability & Price
Gaming chairs aren't cheap, with the Vertagear Racing Series S-Line SL4000 Gaming Chair ringing in at $339.99 on Amazon, down from its list price of $479.99. It's expensive, but your posture and comfort is worth it - if you can afford it, that is.
Taking a Look Around the Vertagear SL4000
Packaging
Vertagear shipped the SL4000 in a huge box, which arrived nice and safe - sans some travel marks. I think the chair was used before I received it, as there were a couple of things missing (this is a review sample - it happens).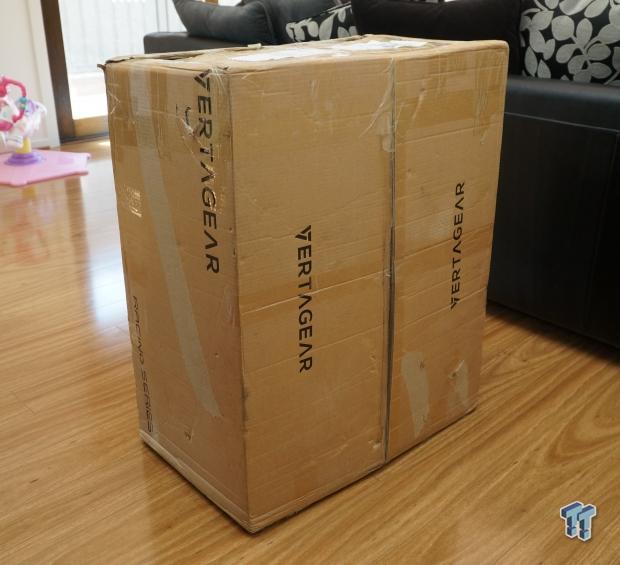 It wasn't packaged how I would like, but again this is down to it being a review sample. The chair itself wasn't damaged, which is the most important thing.
Detailed Look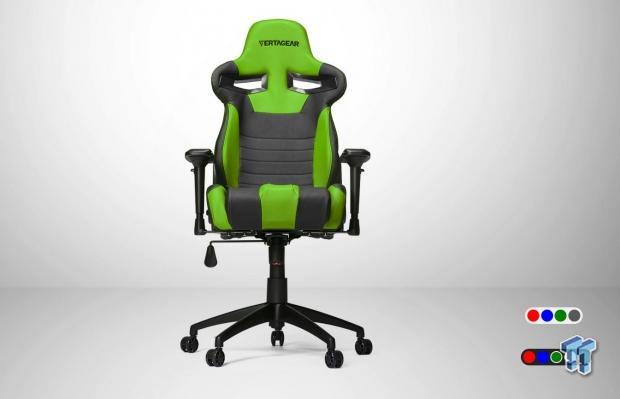 The sample we received was a slick green-and-black theme, but Vertagear ships the SL4000 chairs in varying colors. You can start with a main color of red, blue, black and green and then add red, blue, green, white or black accents. Full customization is something you want when spending this type of money on a chair.
Starting with the seat adjustments, we have an adjustable tilt with an impressive locking system. Vertagear's adjustable tilt tension mechanism allows you to adjust the tension by turning the knob to match your body weight. It might not sound like much, but this enables you to roll around without pushing with too much force.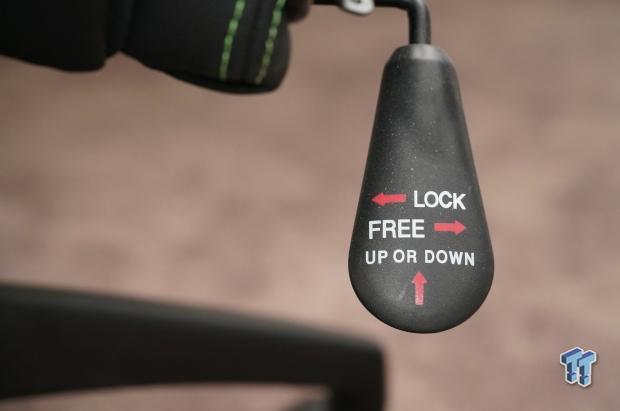 The SL4000 seat and height adjustment is great, with a great range of adjustability that lets you find the perfect spot to sit at your desk. It all goes a very long way, as you won't get sore sitting in the SL4000 for those whole-night-long gaming sessions.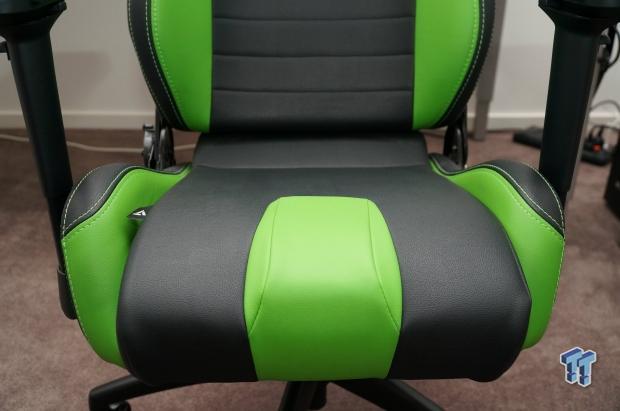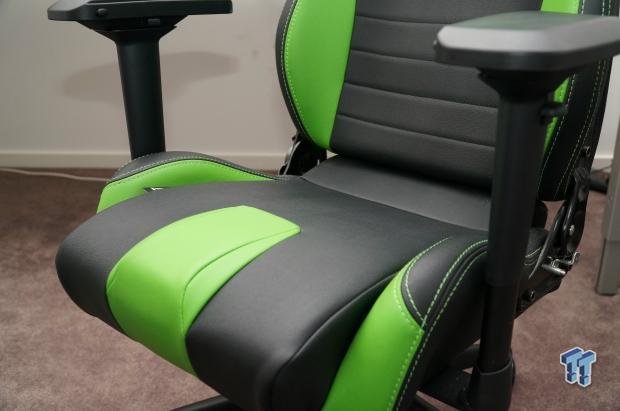 One of the best parts of the Vertagear SL4000 is that you fall into it - that is, the seat isn't flat. You fall into it so that you're not 'falling out' of it - or ready to get out of the chair easily, anyway. It's a little touch, but it's something that made me fall in love with it.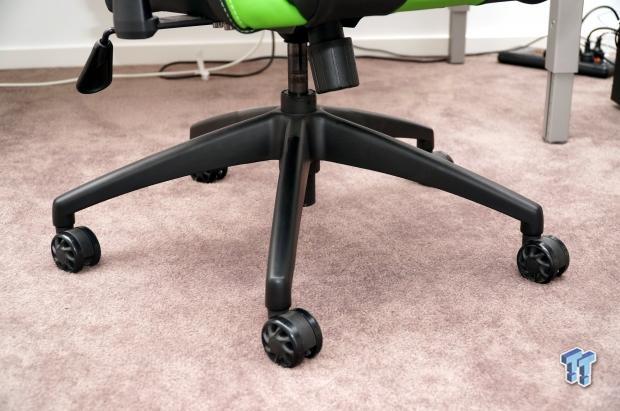 Vertagear has also used soft-glide wheels, which were created for quieter operation (I didn't hear the SL4000 make a noise during my months with it) and greater resistance to foreign objects and debris. The 5-star base is super-solid, making you feel nice and safe - in other words, the chair won't break with your weight on it.
Butt, What's It Like to Sit On?
My Butt Has Never Felt Better
I was coming in from a standard office chair when the Vertagear SL4000 rolled into my office and since that day, my life has changed for the better. The Vertagear Racing Series S-Line SL4000 Gaming Chair is absolutely amazing. It's so comfortable, and that's the best thing about it. Everything else is gravy.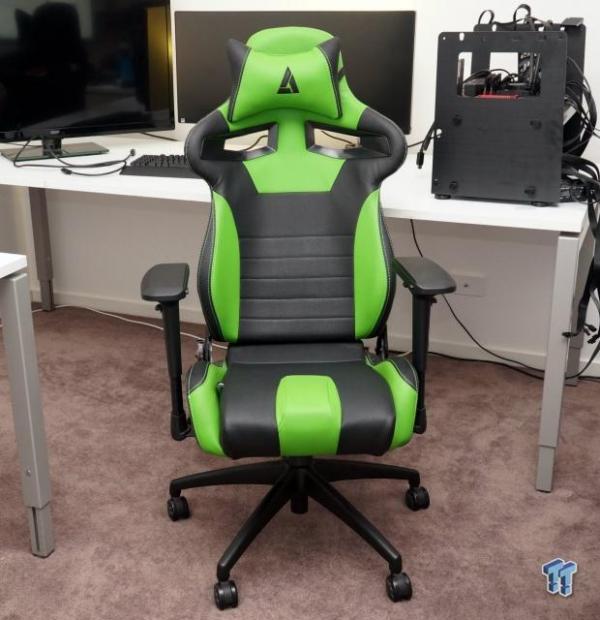 I found that I didn't need the included cushions for my back or neck, but they're included in the box.
After sitting in the Vertagear Racing Series S-Line SL4000 Gaming Chair for a few weeks before Christmas, and then after the craziness that was Christmas and NYE - and then CES and post-CES - the Vertagear Racing Series S-Line SL4000 Gaming Chair became my new best friend.
I found that slipping into the chair was comfortable, as my legs weren't just dangling down - they were supported by the bottom of my body, and the SL4000.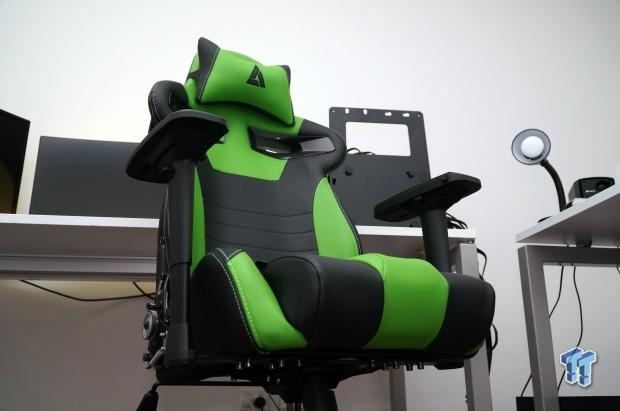 As for the armrests, I'm not much of a fan of them, only using them when I was sitting back watching something on YouTube or Netflix. I'd roll the Vertagear SL4000 back and use the armrests, but I wish I could fold them out of the way.
Scooting around on my carpeted floor in my office on the Vertagear SL4000 was fine, it was actually quite a lot smoother than my previous office chairs - something I didn't anticipate when I first started using the SL4000.
What's Hot, What's Not & Final Thoughts
What's Hot
Comfort Levels = 1000%: I've sat in a bunch of office and gaming chairs, and so far - the Vertagear Racing Series S-Line SL4000 Gaming Chair is the most comfortable for me. I fall into it, and never want to get out of it.
Stylish Gaming Chair: Vertagear provides plenty of customization when ordering your SL4000 gaming chair, which goes a very long way in shaping your gaming experience. The gaming chair is just as important as your desk - without considering your PC and monitor, of course.
Allows For Longer Gaming Sessions: With my previous office chair, I couldn't stand sitting in it for long periods of time. Anything over an hour or so and I'd have to get up and move around, but with the Vertgear SL4000, I could sit in it for a few hours writing away (like writing this review, for example) without being uncomfortable.
What's Not
Kinda Useless Armrests: I wish I could fold away the armrests, but I can't. The Vertagear Racing Series S-Line SL4000 Gaming Chair has everything else going for it - except in the armrest department.
Final Thoughts
Coming into the review, I didn't think a "gaming chair" could make a big difference in my life - but they do. My previous office chair was actually something quite comfortable, costing me $399 just two years ago now. But the Vertagear SL4000 is damn comfortable, and worth its weight in gold - especially if you're like me, and sit in front of your PC for hours upon hours per day.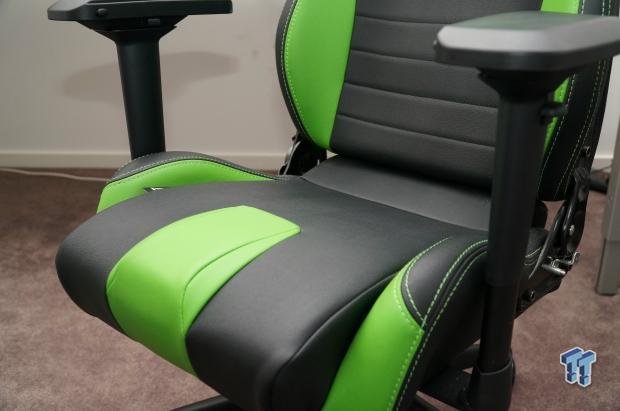 When it comes to the gaming side of the chair, it looks great - which is about all that the "gaming" side of the Vertagear - or any gaming chair - can say. It's comfortable for those super-long gaming sessions, with your back and butt thanking you later.
I found myself so much more relaxed after sitting in the Vertagear SL4000 after a few hours per day, for a few weeks during the review, compared to my previous chair - which is now lonely, sitting on the other side of my room, unused since the SL4000 arrived.
I've sat on a few other gaming chairs in the past few months, but I have fallen head over heels in love with the Vertagear Racing Series S-Line SL4000, simply because - as I explained before - I fall 'into' the chair - and not just sit 'on' the chair.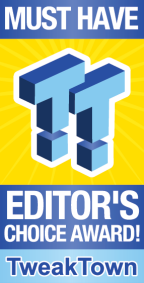 | | |
| --- | --- |
| Comfort (how it feels) | 95% |
| Quality (design, build quality, etc) | 95% |
| General Features (arm rests, adjustments) | 80% |
| Ease of Setup | 90% |
| Value for Money | 90% |
The Bottom Line: The Vertagear SL4000 gaming chair has changed my life. It's so comfortable for those hours at your desk, whether it's productivity or gaming. Get one, now!
PRICING: You can find products similar to this one for sale below.

United States: Find other tech and computer products like this over at Amazon.com

United Kingdom: Find other tech and computer products like this over at Amazon.co.uk

Australia: Find other tech and computer products like this over at Amazon.com.au

Canada: Find other tech and computer products like this over at Amazon.ca

Deutschland: Finde andere Technik- und Computerprodukte wie dieses auf Amazon.de
We openly invite the companies who provide us with review samples / who are mentioned or discussed to express their opinion. If any company representative wishes to respond, we will publish the response here. Please contact us if you wish to respond.