Cooler Master NovaTouch TKL Barebone Premium Keyboard Review
How would you feel about getting a keyboard without a keycap in sight? That's the exact bold move Cooler Master made with its NovaTouch TKL Barebone.

Published
9 minute read time
TweakTown's Rating: 90%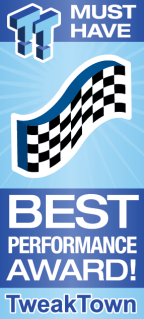 The Bottom Line
Not the most affordable option, but the NovaTouch TKL Barebone Premium keyboard sets a new trend for the masses! This is the first we have ever seen a keyboard ship without keycaps, and allows customers to make it theirs in a completely custom way.
Introduction, Specifications, and Pricing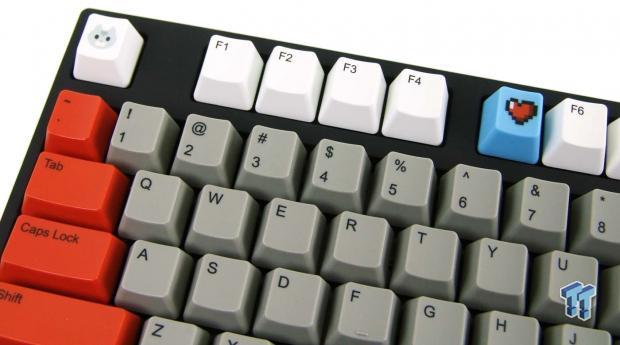 Cooler Master sent us an email some time ago asking if we would have any desire in looking at a new keyboard they are offering, but there was one special note attached. The keyboard we were asked to look at shipped without any key caps of any form. That's right, internal components, a frame, and switches, Topre switches to be exact, but not a single key cap on the keyboard. Why would they do such a thing, you might ask? First you have to realize that there is an enormous mechanical keyboard subculture, and within this group, customizing your keyboards is the same to them as say putting lighting in a chassis or spraying some paint or cutting holes. In the end, it is just another outlet for personal expression.
We accepted the opportunity, as we have had an interest in trying this sort of thing out for ourselves. There is one issue though for us right out of the gate. Aside from the Thermaltake MetalCaps, we did not have any key caps on hand, and frankly, the Thermaltake set would not cover our needs entirely. At this point, we went to someone we had visited many times in the past for damper sets we purchased over the years and asked WASD Keyboards to help us out. They agreed to help us out without a blink of an eye, and the next thing we knew, we were pointed at a configurator tool for TKL keyboards. Then we were picking colors, fonts, placement of the font, and were even sent a few of their one-off custom key caps to use as we wished.
Without WASD there would be no review, so we want to send out huge thanks to them for stepping up and helping us out with this review. That said and out of the way, this is really about the NovaTouch TKL Barbone Premium keyboard from Cooler Master. Now before you start to think that the NovaTouch has been out a while, and you may even own one with key caps on it from the factory. As you will see, this CM Store exclusive product does sport a one digit difference in model number, and of course, yours was not identified as 'Barebone' either. This may be a short and sweet review, more down and dirty, but we do like that even mainstream customers can buy just what you need, not paying extra for caps you plan to replace.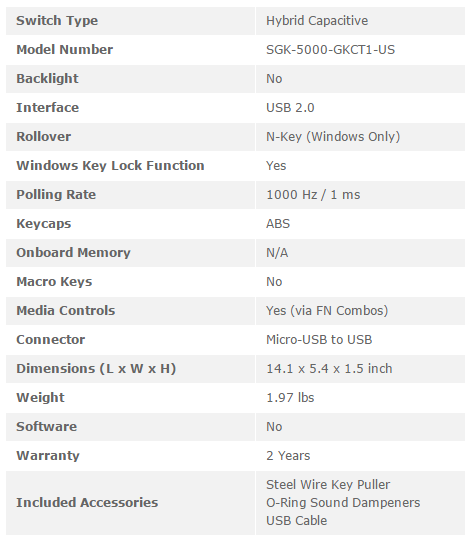 We are using the more conventional NovaTouch TKL chart as the store does not provide one, and we will identify any changes that this chart may show that differs from our version. We have the SGK-5000-GKCT2-US keyboard from Cooler Master, but both versions are backed with Topre hybrid capacitive switches. There is no backlighting in this design, so solid laser etched caps are a valid option. Via USB 2.0 these do offer NKRO support and functional anti-ghosting, as well as offering Windows lockout capabilities. The Barebone does still offer 1ms polling, but as we addressed, there are no ABS key caps included.
This simpler keyboard does not offer any onboard memory, as it does not offer Macros or Profiles. There are, however, many functions it does offer like Multimedia support, Windows lockout, and an adjustable repeat rate on-the-fly. You can reference the included guide to find where they are located. The connection, dimensions, lack of software and the two-year warranty all applies to this model, but the weight is a tad less without the weight of eighty-seven key caps in our sample. The accessories included in the Barebone version of this TKL are the steel wire key puller, the USB cable, and a spring for the space bar.
What seems most tragic about this entire deal is the cost. Currently, the CM is down for changes, so we had to look at the latest cached version of their listing. There we found that there was a reduction in the cost of $30 from their MSRP, but even with it included, the CM Store was last charging $149.99 for this NovaTouch TKL Barbone. Without that deal, this will set you back $179.99, and you still need to think about the cost of the key caps, which our set from WASD Keyboards retails for another $47 with customizing options included for the 87 key set. So all told, if you did not make it for the deal on the NovaTouch TKL Barebone before the holidays, you would need to be prepared to shell out almost $230 to get where we are.
Chad's Peripherals Test System Specifications
Packaging, Accessories, and Documentation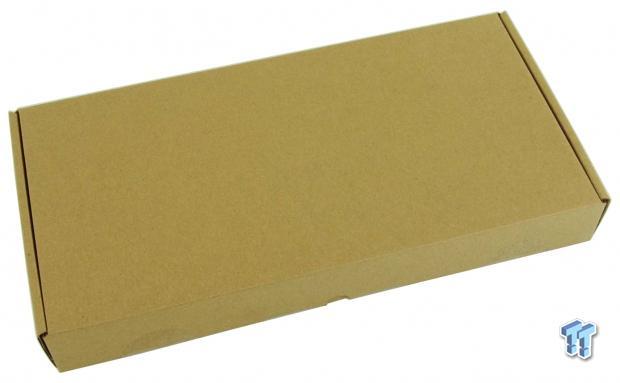 Not only are the key caps gone, but so is anything fancy on the packaging. The NovaTouch TKL Barbone Premium keyboard comes in a plain, unassuming box.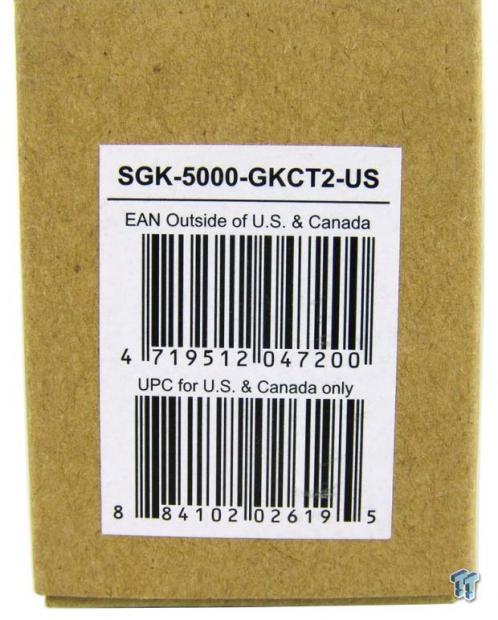 The only thing on the box that identifies it at all is found on one of the shorter ends of the box, and that is the product sticker with barcodes. Rather than the normal GKCT1, we indeed were sent the SGK-5000-GKCT2-US variation.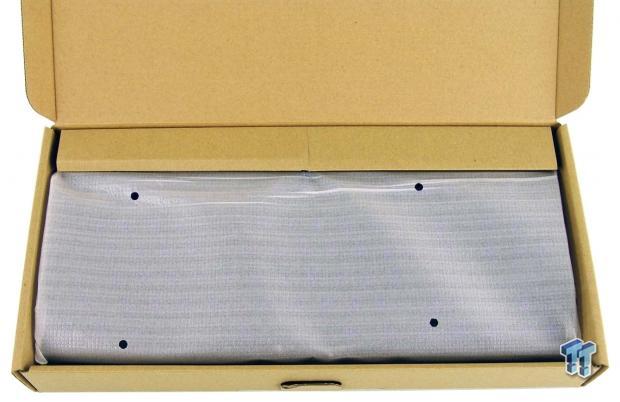 Even when you first open the box, nothing seems out of order with anything. The foam liner covers the fact that the caps are not there, and the extras that come along with the keyboard are tucked in under the cardboard at the back.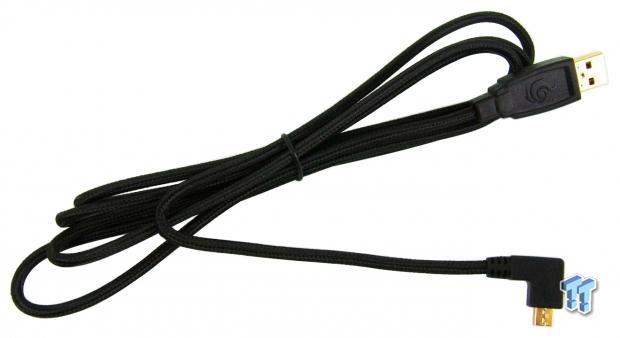 From that space behind the keyboard, we first removed the 1.8 meters of braided cable. At one end is a small gold plated connection that plugs into the back of this keyboard, and at the other end is a gold plated USB 2.0 connection for the PC.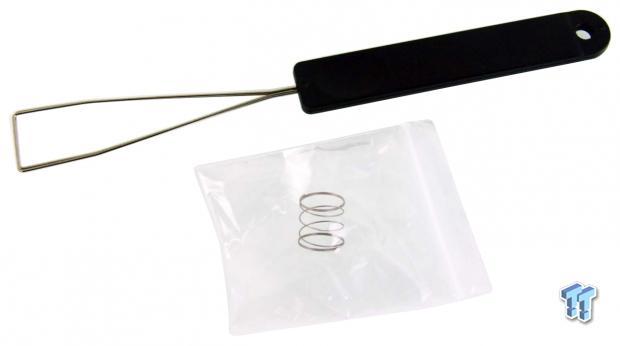 Cooler Master also sends a steel wire key puller that grabs under the corners of the caps to lift them off and do not tend to scratch the keys like the usual plastic key pullers do. They have also sent a single spring in the bag for the center switch of the space bar.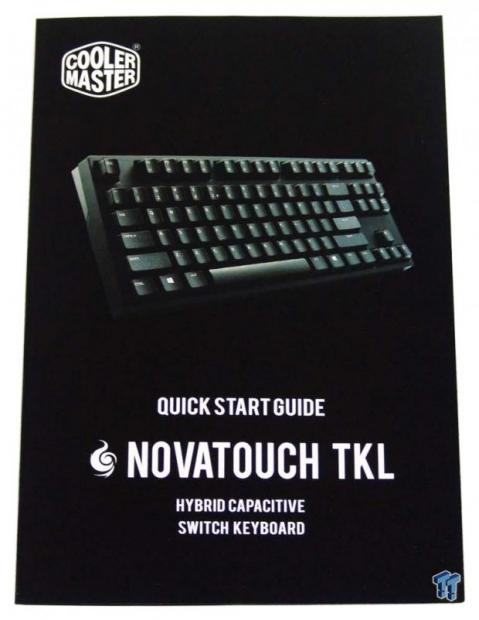 This guide starts out with a list of specifications inside. After that section, we are explained that you can change the repeat rate by holding the Function key and using F1 through F4 for 1X, 2X, 4X, or 8X rates respectively. The F5 through F12 keys offer you play/pause, stop, last track, next track, Windows lockout, mute, volume down, and volume up. Beyond that, the guide states these are 45-gram Japanese switches and covers the terms of the warranty on the back.
Cooler Master NovaTouch TLK Barebone Premium Keyboard
Cooler Master NovaTouch TKL Barebone Premium Keyboard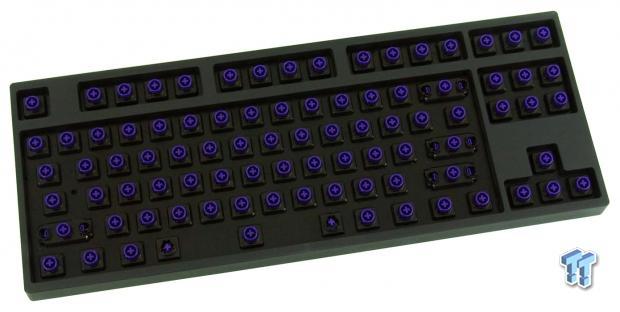 Fresh out of the box and out of the foam liner, as expected, we find a solid plastic frame surrounding eighty-seven Topre hybrid capacitive switches. Each switch is also made with stems that fit any keycaps made for Cherry MX switches so that selecting where to buy them and which will match is made much easier.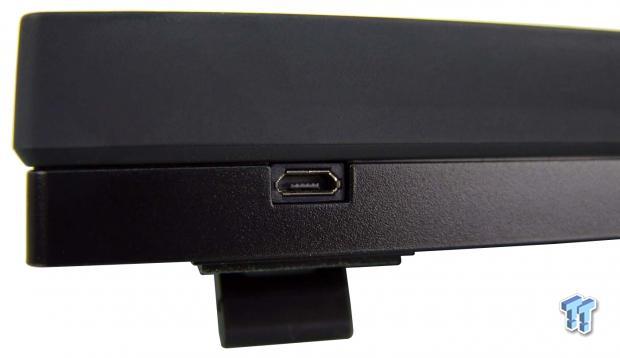 Rather than peek at every angle of the NovaTouch TKL Barebone, we stopped for the important bits. Since all of the sides look the same with the thick upper half and the thinner lower section, we stopped when we saw the connection for the cable.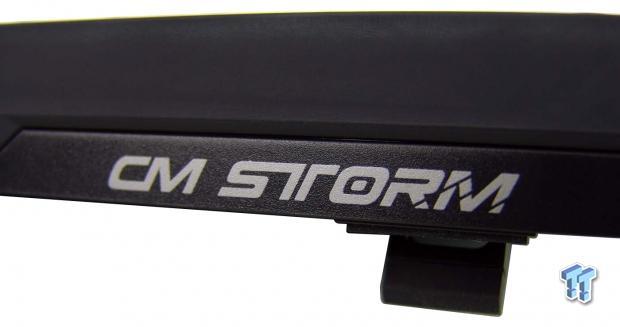 Outside of that connecting point on this keyboard, the only other thing worth mentioning is this CM Storm name painted on the other end of the back side.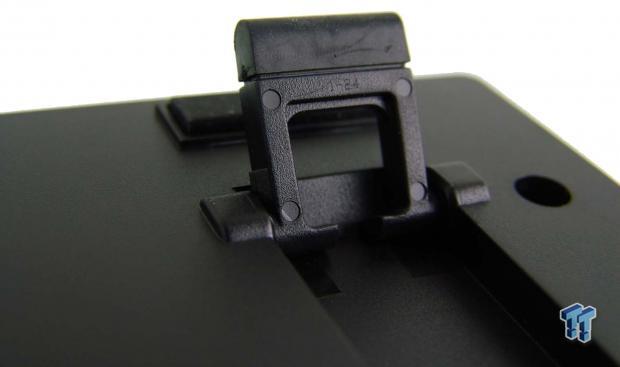 We did not stop to take a look at the bottom of the keyboard either, as there are just a few screw holes, these flip out feet with rubber at the end, and four feet to grab when these feet are not extended. Otherwise, the entire thing is a flat expanse of textured plastic.
WASD Keyboards 87-Key Custom Cherry MX Keycap Set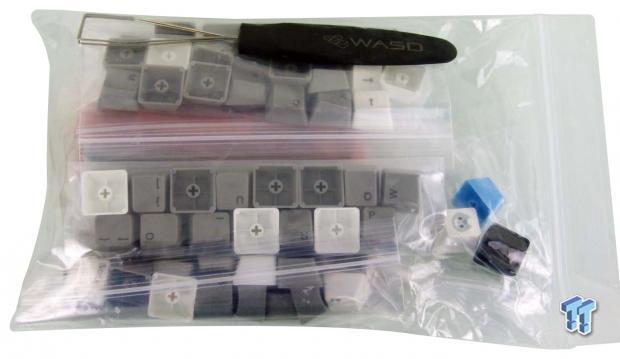 This zip locked bag jammed full of keycaps is what we chose to be sent from WASD keyboards. Along with the layout of our choice, as well as the font and location, we are given caps molded in a solid color, have the legends applied to them, and then is UV coated to seal it all in. In the large bag, each row of the keyboard is broken down into a separate bag, and they also include a steel wire key puller, and have also included a few of their Printed Keycap Singles.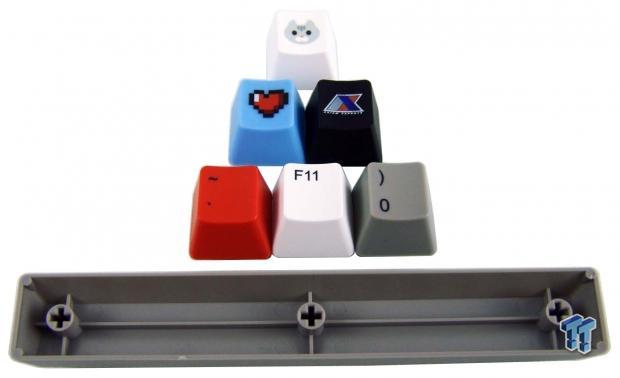 Looking into the space bar at the bottom, we see that the color is the cap, these are not white and painted, and these may not be great for backlit keyboards, but this is not one. We chose a bright red for the sides, white to go across the top, and gray for the main layout of keys. They also sent the Singles, and we see they can print and do print just about anything on them, and we also get to see their light blue caps as well as the black to the right of it.
Again, these key pullers are a step above the usual suspects, and even if you do not get one from WASD Keyboards, after using this style for the first time on this keyboard, we will never go back to using the plastic versions ever again.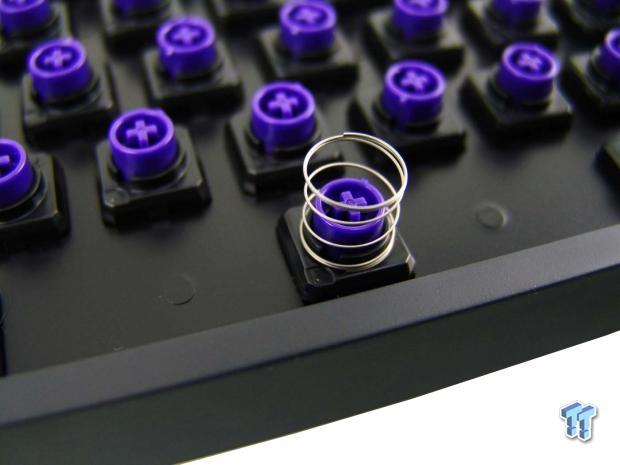 We can't forget about that included spring. There is nothing complicated about using it. You simply locate the middle switch of the three for the space bar, and then set the spring around the switch. It stays in place when placing the key cap, and did not bind on us at all.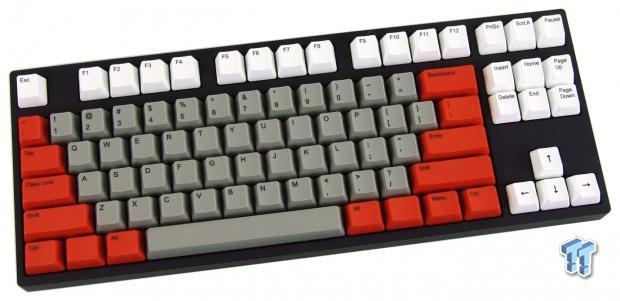 Keep in mind, the layout of caps you are seeing is fully customizable. You could have a rainbow of colors, you can have printed caps or blanks, you can even grab enough of the custom caps and put aliens, smiley faces, troll faces, there are plenty to choose from. Either way, we are very pleased with our results.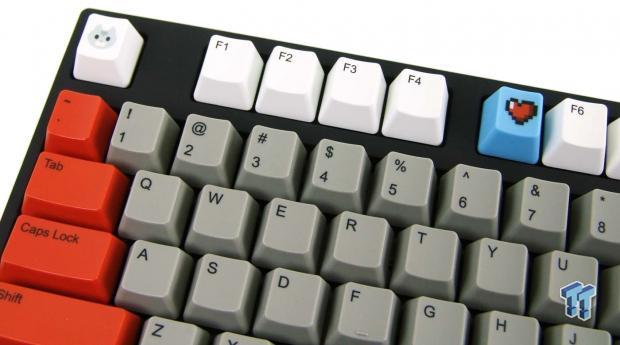 Of course, we also had to use the Singles. We dropped the heart of the refresh key or F5, and we also find that kitties always seem to try to escape the house, so we thought it was fitting that our kitty can escape too.
Final Thoughts
We like the feel of Topre switches still, and it does bring us back to when we looked at the Type Heaven. We understand that Topre switches are limited, and that drives up pricing, but also consider that Type Heaven is $30 cheaper now. That being said, our only valid complaint is the pricing of this NovaTouch, we just feel that $180 is asking a bit too much for everything it does. Never mind the cost of the custom caps, as you would eat that cost customizing any keyboard. We love the feel and honestly going from mechanical to this is an easy transfer and users will feel right at home. We also like that they were sure to define the secondary functions of the F-keys, because, without keycaps to tell you, many might not even realize they are there.
We have quite a few reviews under our belt with the NovaTouch TKL Barebone keyboard, and we have to say that we have not run into any issue with typing speed or the anti-ghosting not doing its job and locking keys out of use. This is a simple design without a bunch of bells and whistles, but it is very solid and has been a pleasure to use. This is also in large part to WASD Keyboards and their 87-key custom set they offered us. It also proves the statement that these Topre switches are in fact capable of using Cherry MX keycaps because this set from WASD is exactly built for Cherry switches.
As much as we love the idea of offering this sort of option to the mainstream user, and when something is first of its kind, it does tend to be expensive. You have to love Topre switches and the Cooler Master brand to go this route, though. Even accounting for almost $50 in caps, there are many more affordable options out there with minimal options and no backlighting or software.
In the end, as much as we would like to push you towards this sort of an option in keyboards, it just is not cost effective enough at this time to get our full recommendation on grabbing the NovaTouch TKL Barebone Premium keyboard. The key caps, completely worth it. Also, even though we currently have reservations, as time goes on, this is very well to be the way to go in the future.
Chad's Peripherals Test System Specifications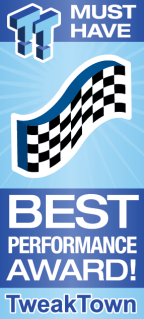 | | |
| --- | --- |
| Performance | 95% |
| Quality including Design and Build | 96% |
| General Features | 85% |
| Bundle and Packaging | 93% |
| Value for Money | 79% |
The Bottom Line: Not the most affordable option, but the NovaTouch TKL Barebone Premium keyboard sets a new trend for the masses! This is the first we have ever seen a keyboard ship without keycaps, and allows customers to make it theirs in a completely custom way.
PRICING: You can find products similar to this one for sale below.

United States: Find other tech and computer products like this over at Amazon.com

United Kingdom: Find other tech and computer products like this over at Amazon.co.uk

Australia: Find other tech and computer products like this over at Amazon.com.au

Canada: Find other tech and computer products like this over at Amazon.ca

Deutschland: Finde andere Technik- und Computerprodukte wie dieses auf Amazon.de
We openly invite the companies who provide us with review samples / who are mentioned or discussed to express their opinion. If any company representative wishes to respond, we will publish the response here. Please contact us if you wish to respond.