Mushkin Redline Ridgeback DDR4-2666 16GB Dual-Channel Memory Review
Mushkin's Redline Ridgeback DDR4-2666 16GB dual-channel RAM kit gets tested today as we see just what it can do and how far we can push it.

Published Fri, Dec 11 2015 12:48 PM CST
|
Updated Tue, Nov 3 2020 6:59 PM CST

We have to confess. It has been since our P55 chipset days when we last had our hands on a set of Redlines or Ridgebacks of any kind. What we do recall is with the GIGABYTE UD6 and UD7 motherboards, they loved those older PSC based kits and took us to clocks we never imagined on that system. After a little conversation with Mushkin, we mentioned our past experiences, and they stepped up to offers us the latest of that genre.
Redlines, of course, are their own series that normally ship with what is called the Frost heat spreaders. Within that same series, Mushkin offers one step up, and these are called Ridgebacks, and as the name implies, the spreaders have a ridge along the back or the top of the stick as it is technically. All we can say is that the aesthetics of the Ridgelines is pleasing, and to us slightly more refined than the older Frost style of heat spreaders, making for a very sleek looking set of memory that fit into any black and red theme.
Of course it has been quite some time since last we overclocked with a P55 chipset, so we have no idea what to expect with their DDR4. Hopefully, we find a lot in common with what our memories are bringing back, and this Redline Ridgeback 2666MHz 16GB kit turns out to be just as impressive as we recall. Keep in mind, though, this kit is brand spanking new, so much so that you will not even find this 997200T kit listed on their site.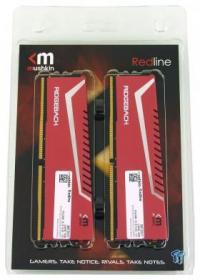 The packaging is pretty standard using a plastic snap together assembly that is form fit to the sticks inside of it. There is a cardboard insert that backs the sticks, offering the company and product name at the top, and at the bottom it says, "Gamers, Take Notice. Rival, Take Notes."

Fresh out of the plastic, we find some nice looking heat spreaders on top of the black PCBs. There is an angle across the top of the spreaders, and rather than just a ton of red on the sides, natural aluminum stripes are used at odd angles to break it up and take these to a higher level than the basic Redlines.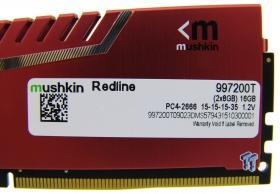 Flip the stick over and look to the right end and you will locate the product stickers. It offers the 997200T kit name, shows it is a 16GB kit, and that it runs with the XMP profile of 2666MHz with 15-15-15-35 2T timings at 1.2V of power.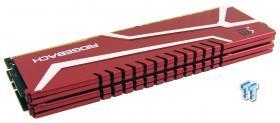 Instead of falling back on older designs, the DDR4 Ridgebacks get a new top design as well. We already covered the angle they have, but across the top are thirteen grooves, and with sticks close together it does make an attractive pattern to see day to day.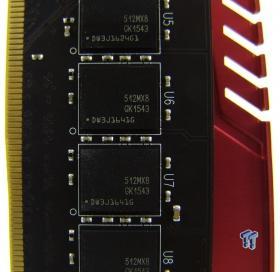 The ICs chosen for this kit are SK Hynix, and when checked with software, we find the SPD has been wiped of this information. It is the DW3... that tipped us off as to the maker.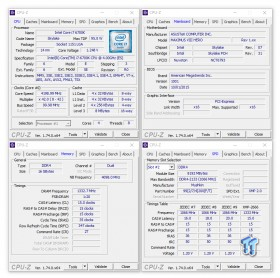 Our initial boot with the XMP profile enabled delivered us everything Mushkin says this kit will do. 2666MHz with straight 15 timings, all at 1.2V is exactly how this kit posts.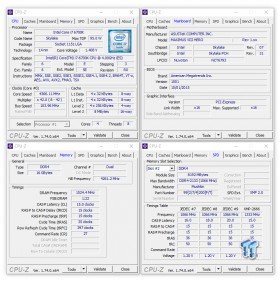 At 2666MHz speeds, the timings did not drop at all, but moving the VDIMM to 1.35V allowed us to post these sticks at 3050MHz with XMP timings. Almost a full 400MHz jump in speed; that is nothing to laugh at.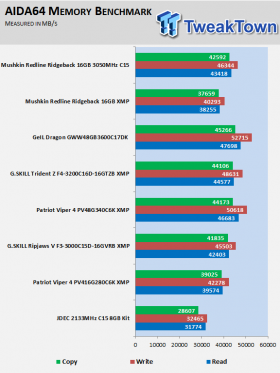 As expected, the Mushkin kit falls between the JEDEC run at the bottom and the 2800MHz kit of Patriot sticks, and that is fine for XMP. Once overclocked, they jump into the middle between the Ripjaws and 3400MHz Patriot RAM - right where it should be.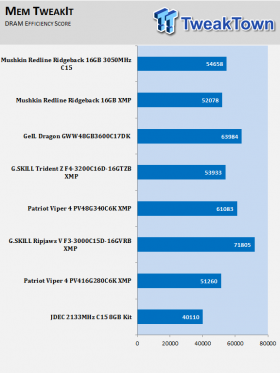 Mem TweakIt liked these Ridgebacks at 2666 MHz more than it liked the faster 2800MHz Patriot RAM, and once we bumped that speed up again, it performed better here than the Trident Z RAM did.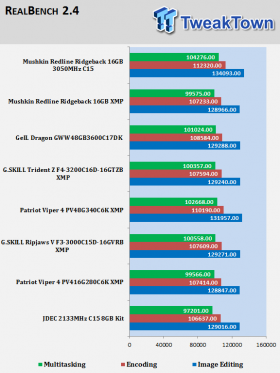 RealBench does not show so much of an advantage, and the XMP testing falls right in as it should near the bottom with the lower speed kits. Again, though, once overclocked, this kit can perform better than expected, and better than some faster kits on the chart.
Mushkin and this set of Redline Ridgeback RAM have brought us back to years gone by, and still to this day offer an impressive kit to play with. Set to the XMP profile, this kit sips power and delivers 2666 MHz with straight 15 timings, and is pretty snappy. What we like about this kit is that it was not handpicked for us to use for review, we got a retail kit and are still able, with just a love tap to the VDIMM, get near 400MHz more from this kit, and that ups its value in our minds.
Aesthetically, we still favor the Trident Z kit, and it is a hard kit to beat when it comes to looks. Mushkin though can deliver some bright red sticks, the top offers some design, so you are not bored with that view. Hopefully, you get a side view as well as that is where all of the better-looking bits of the spreaders are found. Also being built on top of black PCBs helps, as we know a lot of customers won't touch green PCBs with a ten-foot barge pole.
Keep in mind this kit is so new that it is hard to find, not only on the Mushkin site but shopping for them as well. What we have found is confusing. We did locate this kit on Amazon priced at $200 and Mushkin listed as the seller. However, we did also see the 3000MHz version of this kit at Newegg for just a touch over $100. If you like this kit and want to obtain one of your own, we suggest you wait until more stock is available and pricing calls down. Even with 400MHz of overclocking headroom, at $200, that is a huge horse pill to have to take.
Chad's DDR4 Dual-Channel Test System Specifications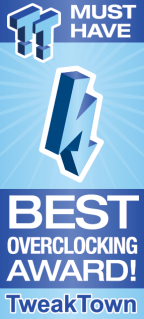 | | |
| --- | --- |
| Performance (including Overclocking) | 97% |
| Quality including Design and Build | 95% |
| General Features | 93% |
| Bundle and Packaging | 90% |
| Value for Money | 75% |
The Bottom Line: Considering the only location selling these at the moment wants a small fortune, there is a bit of a shadow over this kit. However, the Redline Ridgebacks work as promised, look damn good, and offered us near 400MHz of room to grow.
PRICING: You can find products similar to this one for sale below.

United States: Find other tech and computer products like this over at Amazon.com

United Kingdom: Find other tech and computer products like this over at Amazon.co.uk

Australia: Find other tech and computer products like this over at Amazon.com.au

Canada: Find other tech and computer products like this over at Amazon.ca

Deutschland: Finde andere Technik- und Computerprodukte wie dieses auf Amazon.de
We openly invite the companies who provide us with review samples / who are mentioned or discussed to express their opinion. If any company representative wishes to respond, we will publish the response here. Please contact us if you wish to respond.