Pan (2015) Cinema Movie Review
'Welcome to Neverland!'

Published
2 minutes & 37 seconds read time

Pan (2015)
In an era of skyrocketing budgets and risk-averse studio execs, franchises, reboots and sequels and literary remakes have become more important than ever. This is precisely why we now have our second reboot big-budget feature film based on J.M. Barrie's family classic 'Peter Pan' in a little over a decade.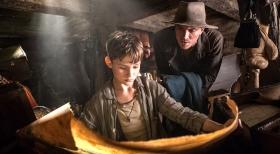 Abandoned as an infant with a mysterious necklace around his neck, Peter Pan (Levi Miller) grows up in a repressive orphanage in London under the cruel watch of Mother Barnabas (Kathy Burke). As London is attacked, Peter is spirited away to the mystical Neverland on a floating pirate ship where he's quickly thrown into the middle of a war waged between the tyrannical pirate Blackbeard (Hugh Jackman) and his downtrodden slaves forced to mine the land for the precious Pixum and the native tribe lead by Tiger Lily (Rooney Mara) who believe the child is the "chosen one" prophesied to defeat Blackbeard and restore balance to the land.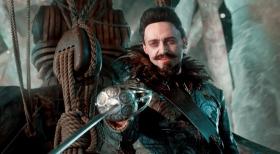 Most audiences know at least a little of the 'Peter Pan' legend, be it from the J.M. Barrie's original story, the 1953 Disney animation, Steven Spielberg's disappointing Hook, the real-life Johnny Depp drama Finding Neverland to name just a few adaptations. Keen to quickly distance itself from everything that's come before it, from its opening frame Pan throws juxtaposing dashes of drama, music, theater and fantastical elements at the audience that do more to confuse than excite. After a while Pan settles into a more conventional groove - and when it does it becomes a reasonably entertaining family-friendly adventure, albeit a wholly forgettable one.
What sets Pan apart from other adaptations is the sumptuous and dreamlike production design, thanks to huge leaps in CG technology that truly mimic a storybook come to life. Naturally, the normal laws of physics and reality don't apply here, but the film's schizophrenic shifts in tone are pretty confusing for the audience to grab a handle on. For example, in the span of twenty minutes you have the bombing of London, a Cirque du Soleil-style child kidnapping from the bow of a floating pirate ship and Hugh Jackman leading a cast of thousands in a bizarre rendition of Nirvana's 'Smells Like Teen Spirit'. Perhaps it might have been better advised to ease gently audiences into the world before dunking them in head first. Still, it's hard to accuse Pan of lacking in ambition.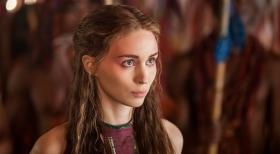 The true star of the film isn't the top billed Hugh Jackman, nor Garrett Hedlund (who based on their performances I can only assume have been directed to act in an overtly over-the-top manner), but newcomer Levi Miller, who with no prior big-screen credits to his name makes the film his own with a nuanced performance that assists in weighting the film's core and more outlandish setups. Rooney Mara does her best with the geisha-like Tiger Lily, but sadly her character is woefully underdeveloped, serving as little more than a reactionary character contractually bound to appear by virtue of Barrie's manuscript, rather than one that justifiably propels the plot forward.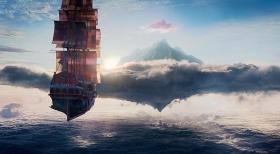 Better known for period pieces such as Pride & Prejudice, Anna Karenina and Atonement, Director Joe Wright brings the same level of visual acuity, unencumbered with the historical shackles of those productions. Still, as good as the film looks, I can't ignore the fact that Pan lacks in heart and its attempts to craft an emotional narrative of a boy and his long-lost mother fail to resonate in the manner that it should.
While Warner Bros. are clearly hoping that Pan will be a franchise starter with a well-established universe that keeps the door well ajar for more, ultimately audiences will decide its fate when the worldwide box office is tallied. Unfortunately, I'm not entirely confident the $150m production will make a financial return, let alone fly again in the future. It's a shame, but ultimately Pan doesn't live by the sword - it dies.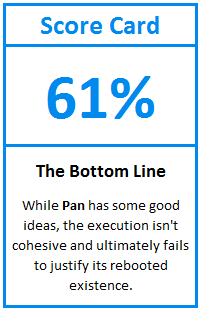 PRICING: You can find products similar to this one for sale below.

United States: Find other tech and computer products like this over at Amazon.com

United Kingdom: Find other tech and computer products like this over at Amazon.co.uk

Australia: Find other tech and computer products like this over at Amazon.com.au

Canada: Find other tech and computer products like this over at Amazon.ca

Deutschland: Finde andere Technik- und Computerprodukte wie dieses auf Amazon.de
We openly invite the companies who provide us with review samples / who are mentioned or discussed to express their opinion. If any company representative wishes to respond, we will publish the response here. Please contact us if you wish to respond.