TweakTown's Rating: 91%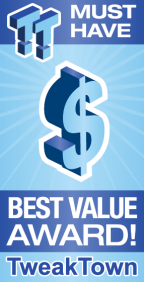 The Bottom Line
AMD's A10-7870K APU proved to be an excellent value part, offering exceptional integrated graphics and decent CPU performance at a very fair price.
Introduction, Specifications, and Pricing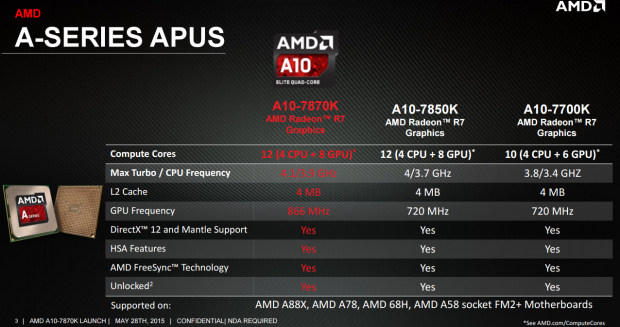 The A10-7870K is AMD's top Kaveri refresh SKU replacing the A10-7850K with higher base and turbo CPU and GPU clocks. If you are wondering what an APU is, it is basically a CPU with a GPU on the same die, and AMD's HSA (Heterogeneous System Architecture) aims to utilize the CPU and integrated GPU in the most efficient way possible. GPUs and CPUs were designed to work independently, but HSA offers the ability for more parallel processing using both the GPU and CPU more efficiently. This HSA technology is what AMD hopes to be a game changer, allowing for the CPU and GPU to work together on the same tasks, instead of tasks being independently scheduled, and AMD has designed their latest generation of APUs to optimize this ability at the hardware level.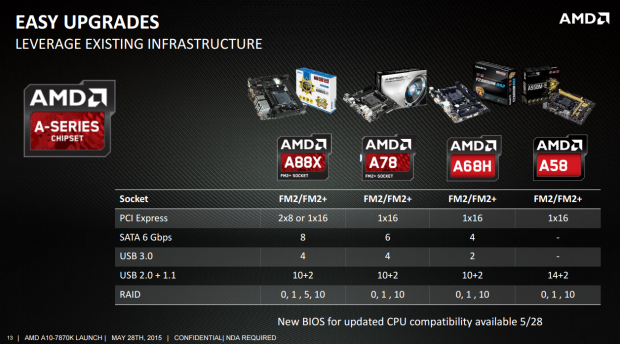 AMD's APUs are meant to be a great value buy with a lot of upgrade ability, and AMD still maintains their enthusiast FX lineup of chipsets and CPUs without integrated graphics. AMD has done a great job of keeping with the same socket design for a long period of time, and has caught up with the competition in regards to the chipset IO. The A88X chipset features 8x SATA 6Gb/s ports, 4x USB 3.0, and the ability to run 2-way discrete graphics with PCI-E 3.0. While the APU might come with its own integrated graphics, AMD also provides the ability to use both the integrated and discrete graphics at the same time, but most applications won't take advantage of both unless they are designed too, such as with DX12's multi-adapter technology.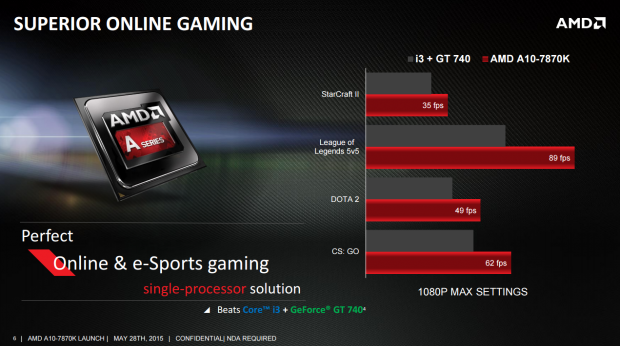 Gaming is one of the biggest markets that CPU manufacturers are targeting because there are millions maybe even billions of gamers worldwide. Most of these gamers aren't playing hardcore PC games like GTA:V or Battlefield 4, instead they play more mainstream online titles like League of Legends, CS:GO, or DOTA 2. These titles still require graphics processing, but not as much as it required by a game like GTA:V. AMD's APUs are able to render these games with playable FPS, and AMD likes to compare their integrated graphics to a comparable priced Intel CPU with a low-end discrete video card. In essence, the APU is designed to remove the need for cheaper GPUs, and with its low price, it can in fact make them obsolete.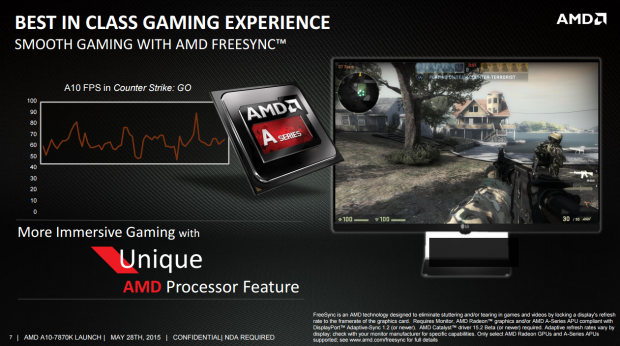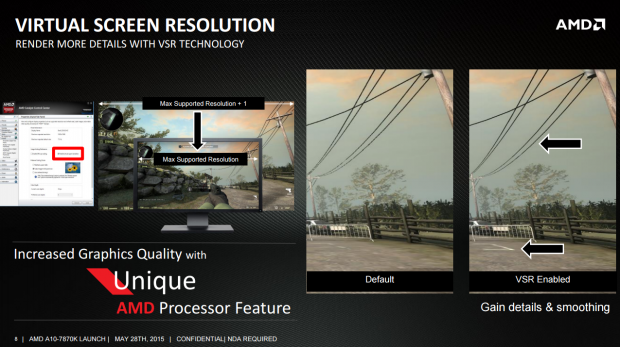 AMD is pushing their FreeSync technology, which works on the latest 7870K APU, and I had the ability to test it out for myself. I made a video which is displayed later on in the review. FreeSync requires both a compatible graphics adapter and monitor, and once they are paired, FreeSync will get rid of tearing while maintaining smooth game play. AMD also supports Virtual Screen Resolution aimed to increase the quality of the image.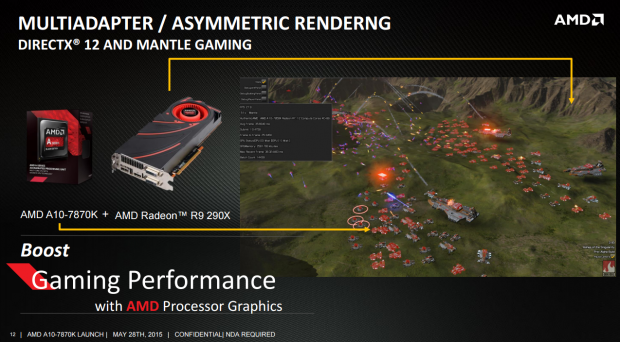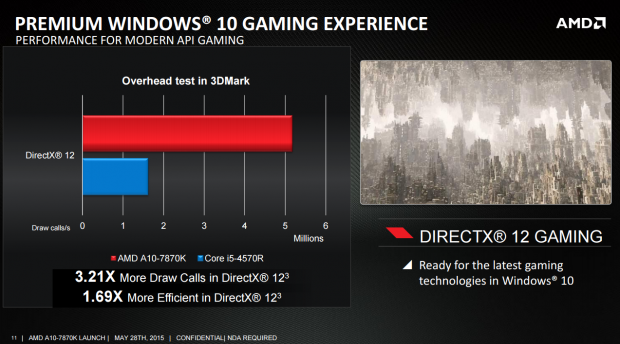 Did you download Windows 10 recently? If you did then DirectX 12 titles are only months away, and AMD is DX12 ready with their new 7870K. While AMD did show off multi-adapter technology, I have yet to get a demo where I can see it in action. It seems like a great technology that would allow the integrated and discrete GPUs to work together on the same frame, allowing you to utilize all graphics adapters in the system for the same game. AMD is also saying that its performance in 3DMark's DX12 API overhead test is very strong, and I will test this claim.
Specifications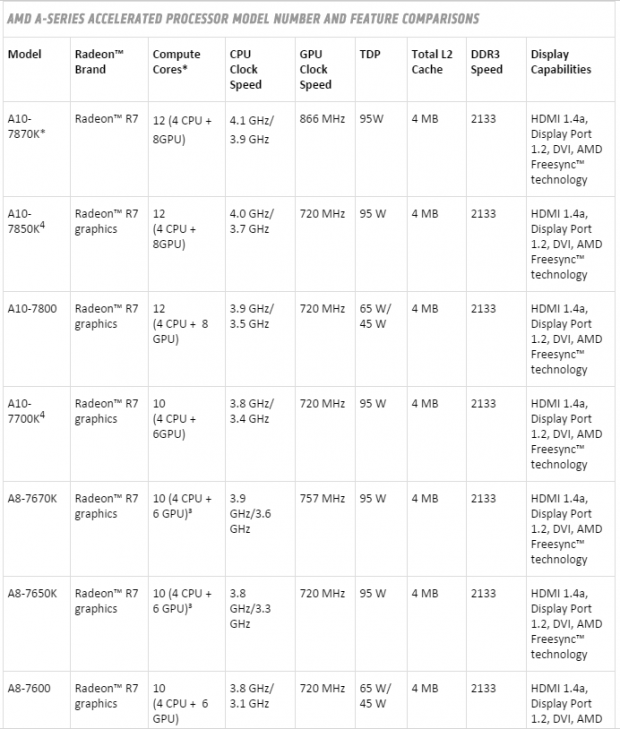 The A10-7870K features 12 processing cores, of which 4 are CPU cores and 8 are R7 GPU cores. The TDP of the 7870K is 95W with a supported DDR3 speed of 2133MHz.
Pricing
The A10-7870K was launched a few months ago and its price comes in around $140 depending where you purchase it. This price makes it an extremely aggressive CPU for integrated graphics gaming, especially when compared to similarly priced Intel offerings.
CPU and Test Setup
The AMD A10-7870K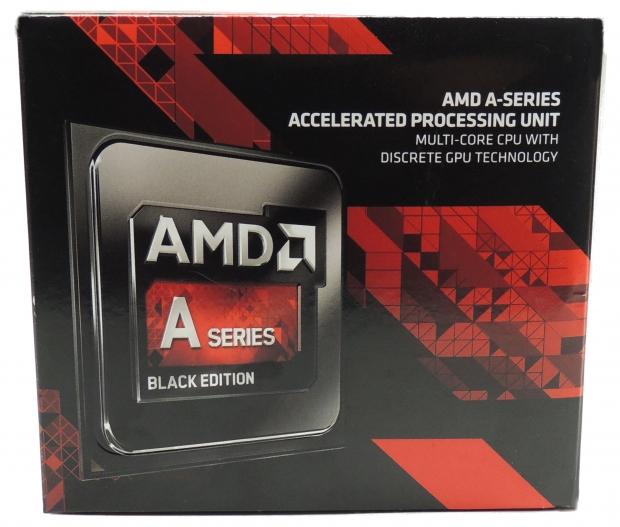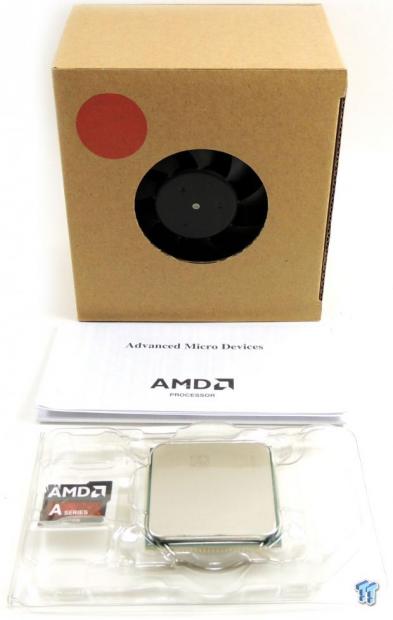 AMD's boxed APUs com with a boxed cooler, warranty information, sticker, and the APU.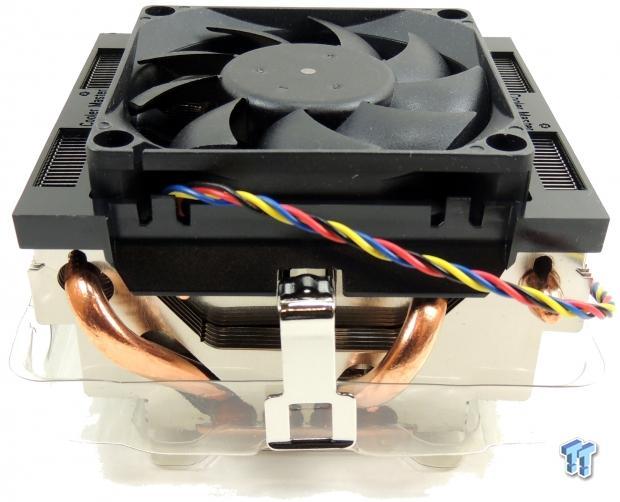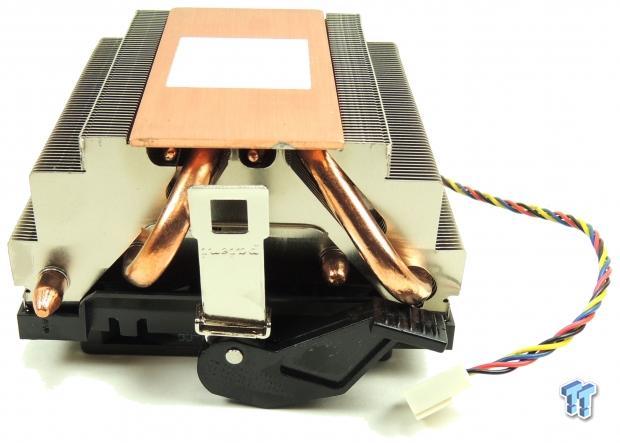 The boxed cooler is actually a very good value considering the final price of the product. It can support some minor CPU overclocking. While AMD's competitors provide an all-aluminum cooler, AMD went with a copper base and four heat pipes. I used the stock cooler for the stock testing, but at 4.7GHz, I decided to use an AIO water cooling unit.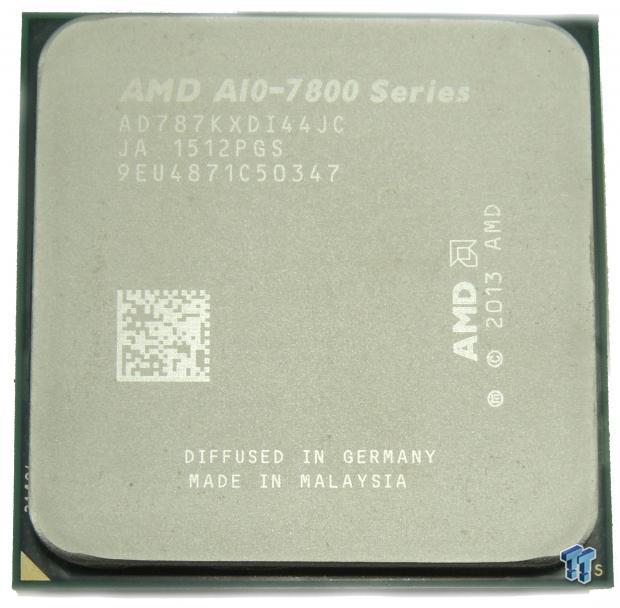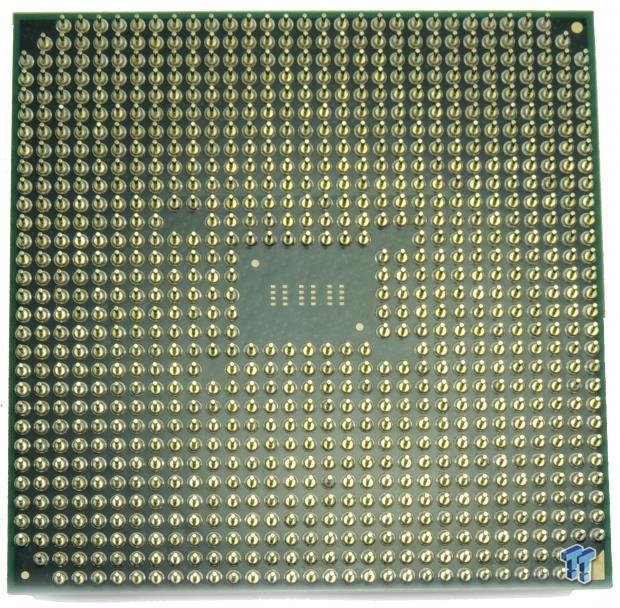 This is the top and bottom shots of the APU.
Test Systems
I decided to include three other CPUs in testing. The Intel Pentium G3258 is a pretty low-cost Intel CPU which is a very popular value CPU, the Intel 4770K is a considerably expensive CPU compared to the A10-7870K at more than double its price, but it has a similar number of cores and graphics, and then I included the Intel 5775C only for integrated/discrete graphics tests in Windows 10, as the 7870K and 5775C both are the top integrated graphics from both AMD and Intel, I thought it would be interesting to see how their gaming performance compares in Windows 10.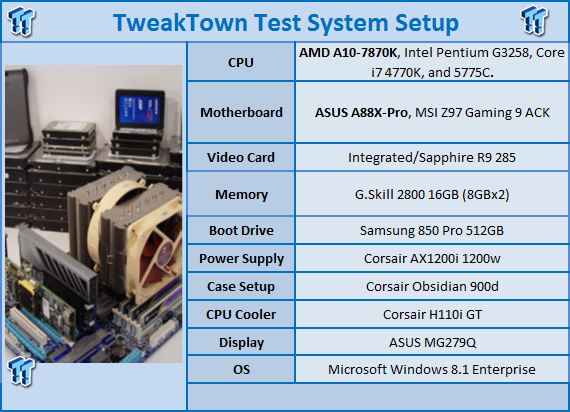 I used the ASUS A88X-Pro and I used 16GB of DDR3 memory from G.Skill.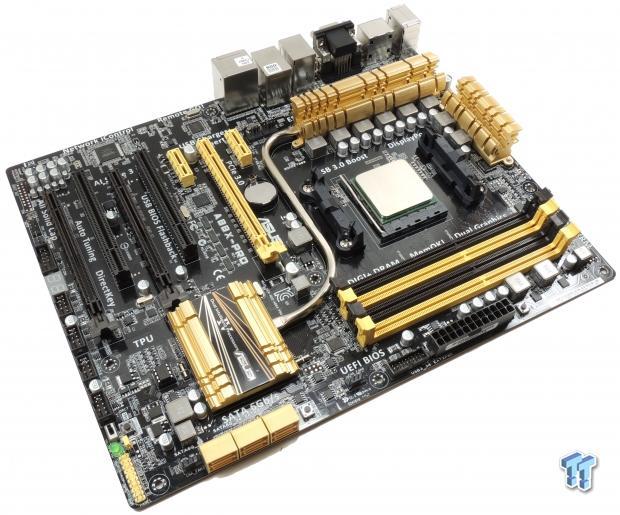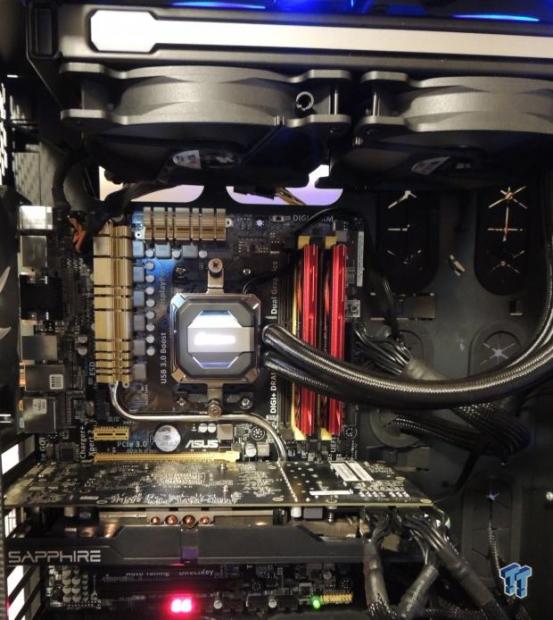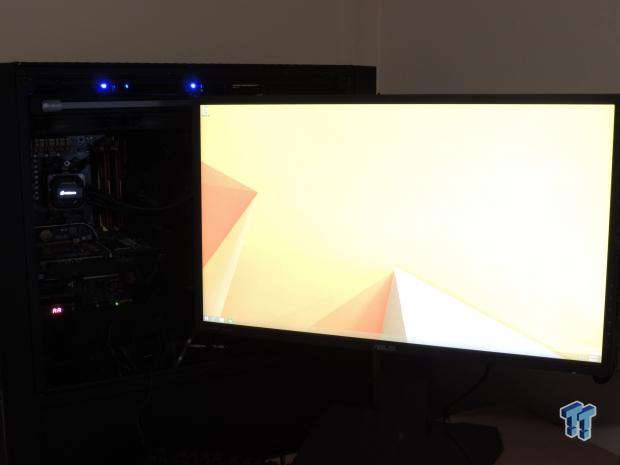 I also used a Sapphire R9 285 for discrete GPU tests and an ASUS MG279Q, a 144Hz 1440P IPS gaming monitor which supports AMD's FreeSync technology. I made a video of the technology which will be shown later in the review.
For the benchmarks, I decided that out of the box performance was just as important as clock for clock performance. I decided to test all the CPUs at stock, but I also gave the A10-7870K a 4.7GHz CPU overclock and a 2400MHz memory overclock, as these two were very easy to attain on the APU. I will cover how I overclocked the APU later on in the review.
Out of the Box Performance: CINEBENCH, PCMark 8, wPrime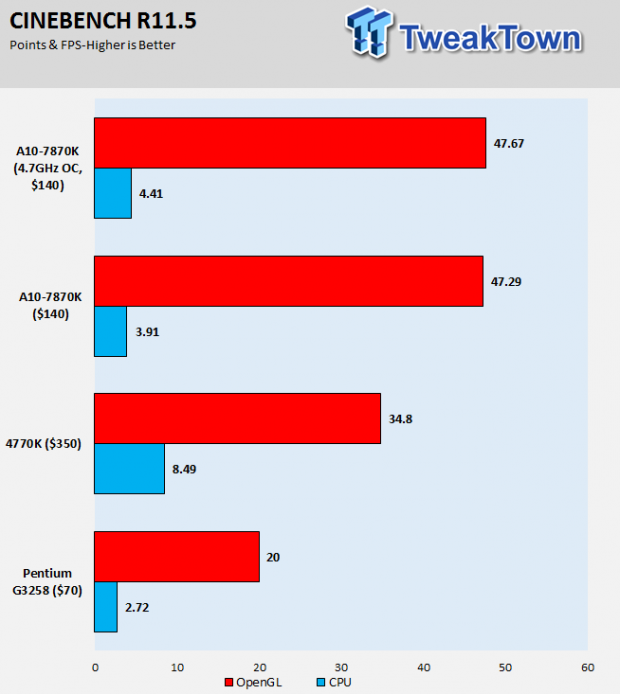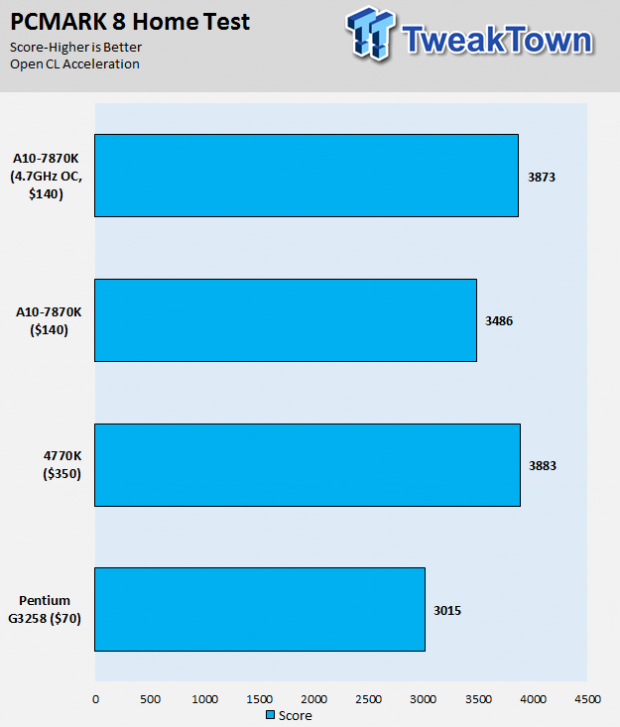 PCMark 8 : Microsoft Office Test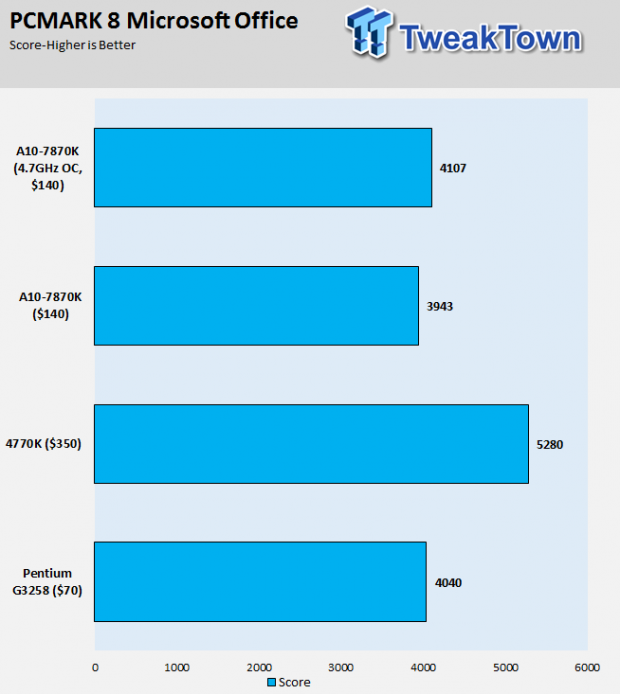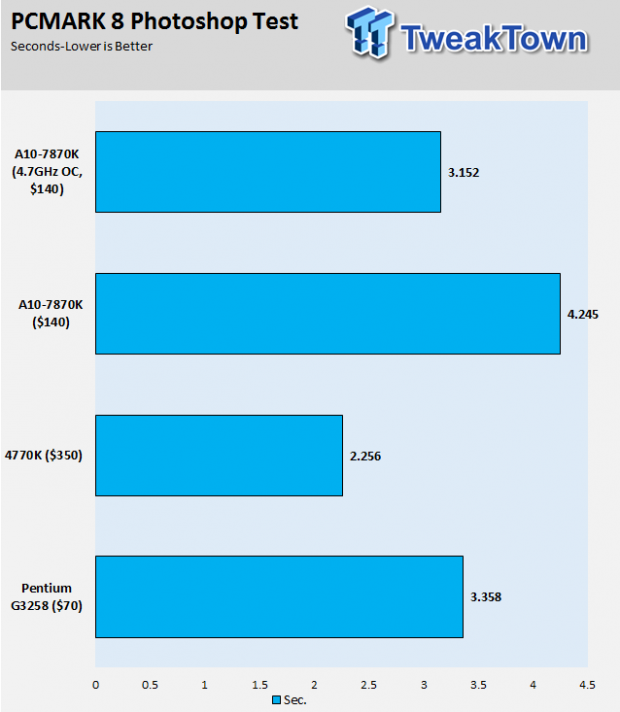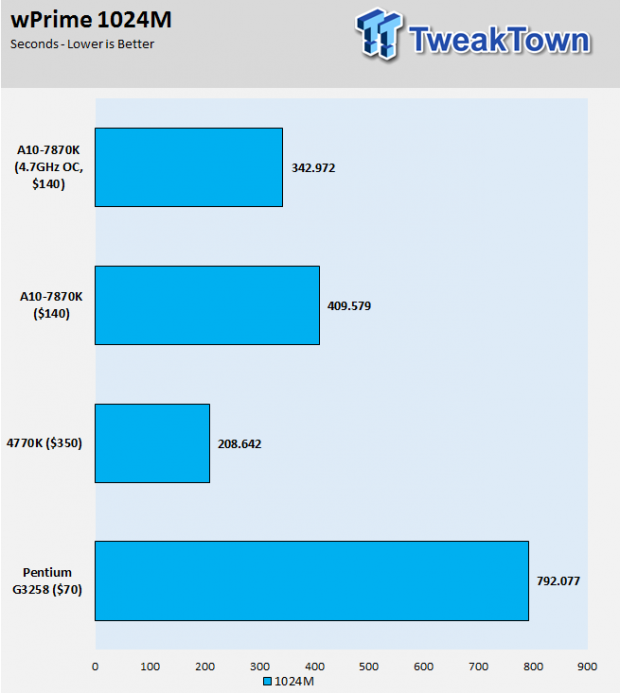 CINEBENCH's OpenGL tests show how strong the integrated graphics in the 7870K are, but in the CPU tests it also shows one of the 7870K's weaknesses, its CPU performance. While its CPU performance is comparable to Intel Pentium/i3 CPU's around the same price point, you have to go to the AMD FX series to get comparable performance to a Core i7. In PCMark the 7870K holds its own against the i7, and overclocking does provide noticeable gains.
Out of the Box Performance: AIDA64 EE AES, FPU, GFLOPS, GIOPS, PhotoWorxx, and Memory
AIDA64 Engineer Edition AES and Hash Tests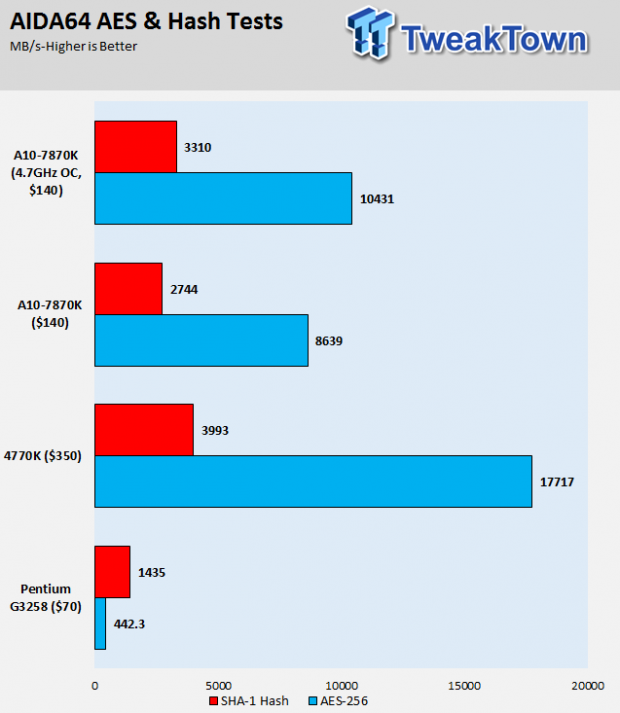 AIDA64 Engineer Edition GFLOPS and GIOPS Test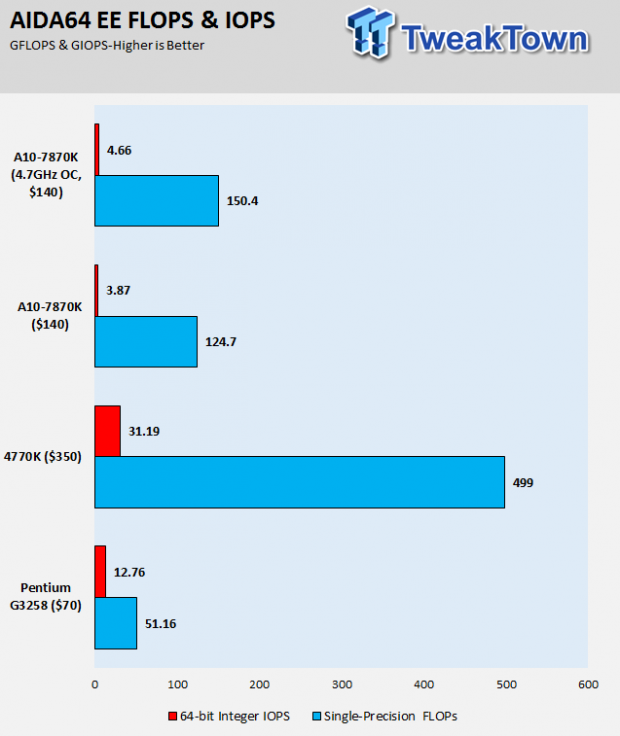 AIDA64 Engineer Edition FPU Tests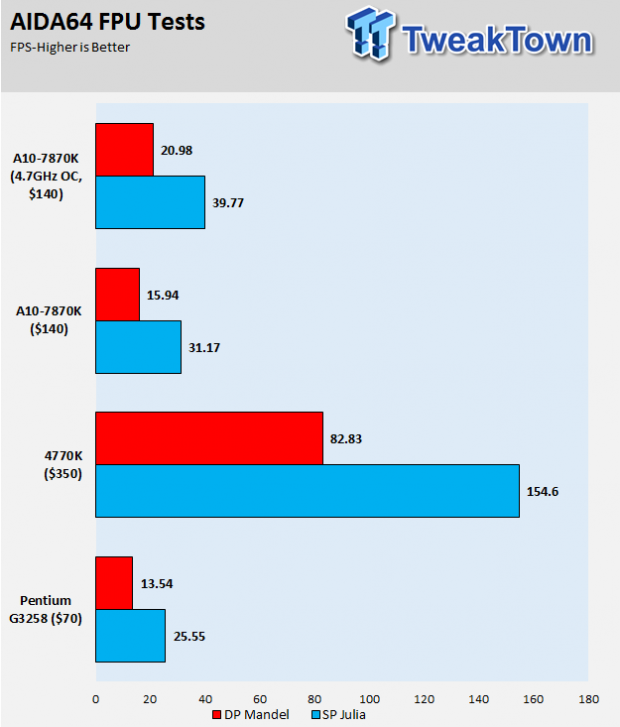 AIDA64 Engineer Edition PhotoWorxx Test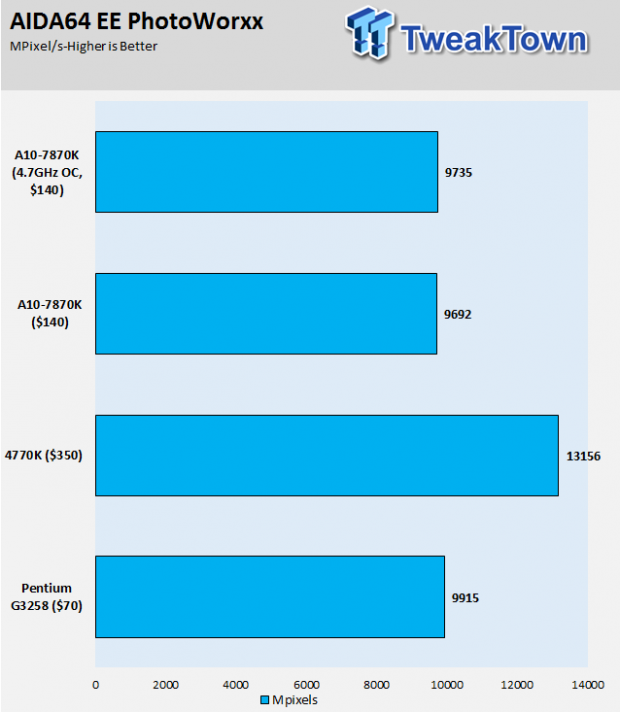 AIDA64 Engineer Edition Memory Bandwidth Test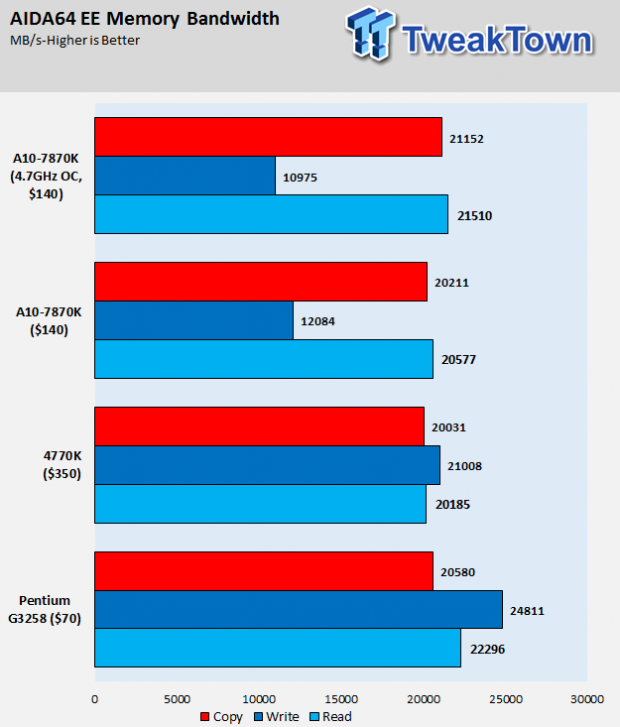 AIDA64's tests show decent CPU performance compared to the i7 and much better performance than the Pentium. The 7870K falls where one would expect if you judge the performance based on price, but sometimes it will surprise with performance closer to the i7, while its price is closer to the Pentium.
Out of the Box Performance: Handbrake and Hybrid Video Transcoding, ScienceMark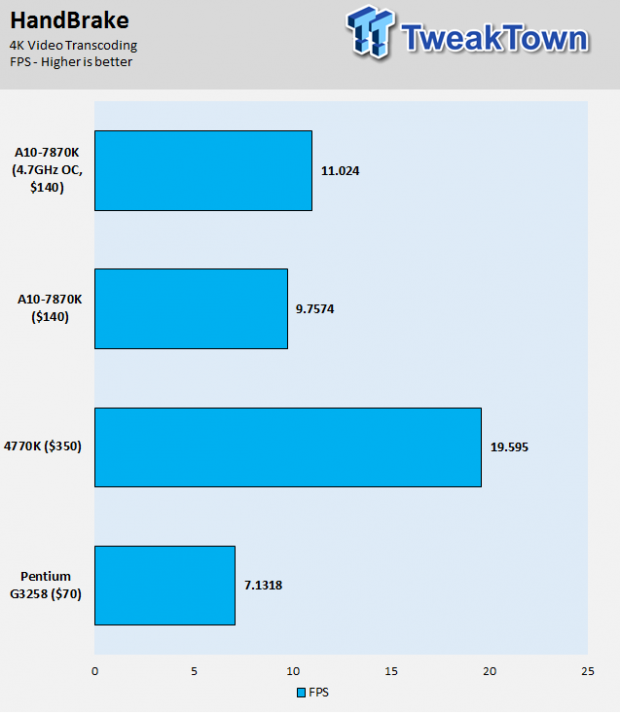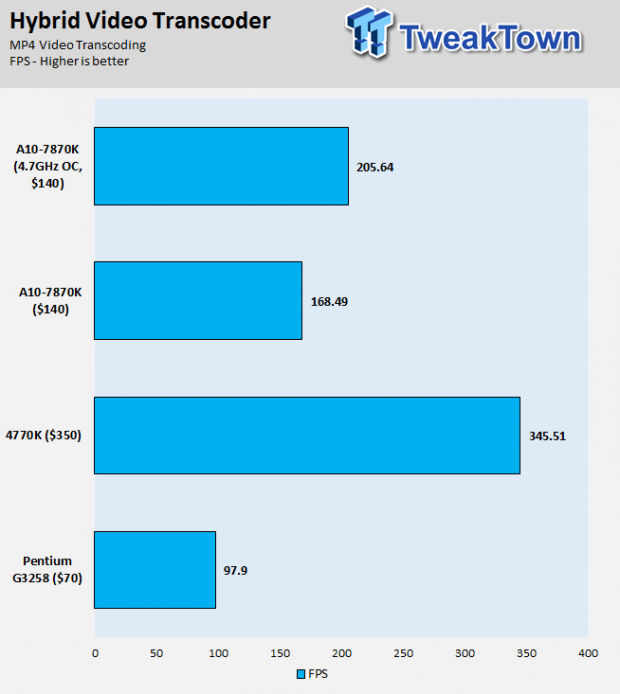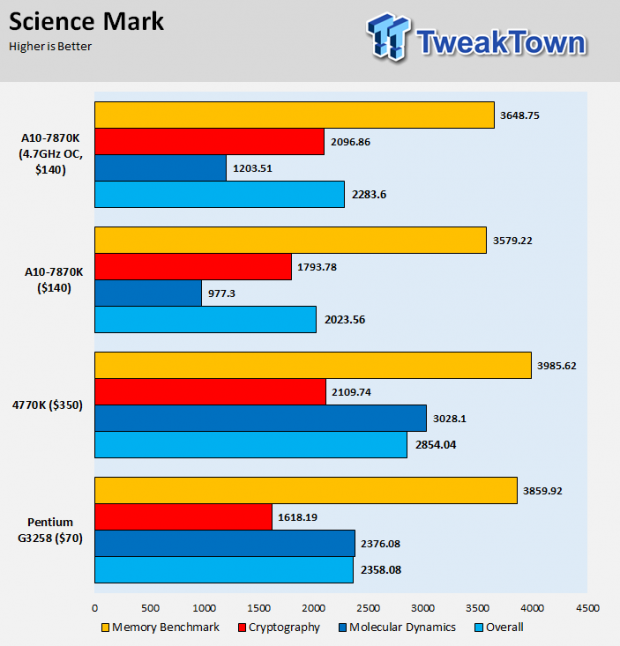 HandBrake and Hybrid show that the quad-core performance of the 7870K is actually quite good, especially considering the low price of the 7870K compared to the 4770K.
Out of the Box iGPU Performance: GPGPU Memory, UNIGINE, ResidentEvil, LostPlanet, 3DMark
AIDA64 Engineer Edition: GPGPU Memory Bandwidth Test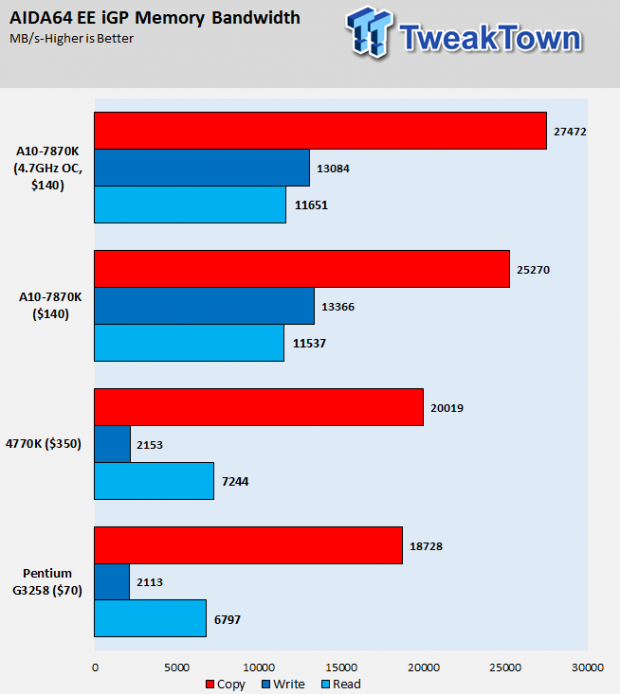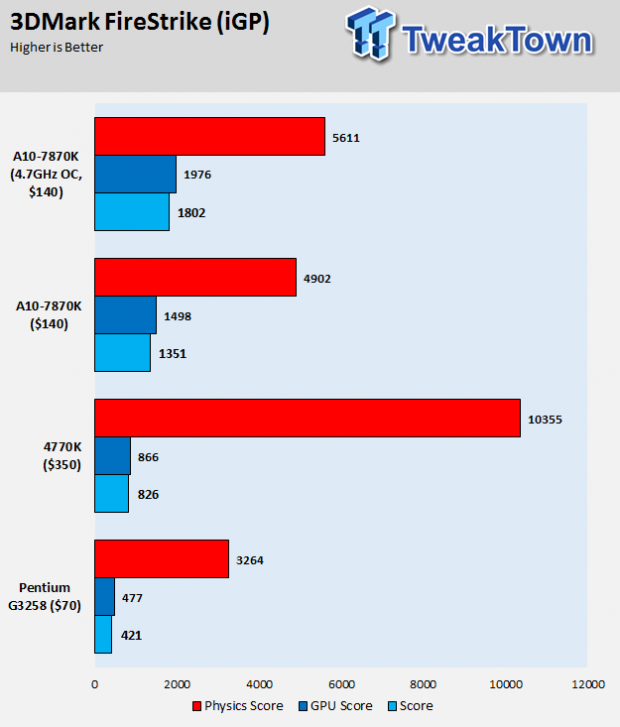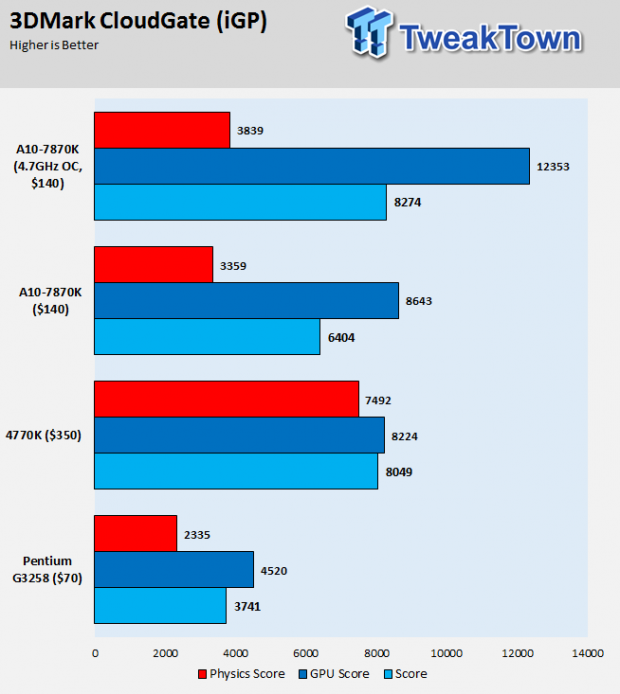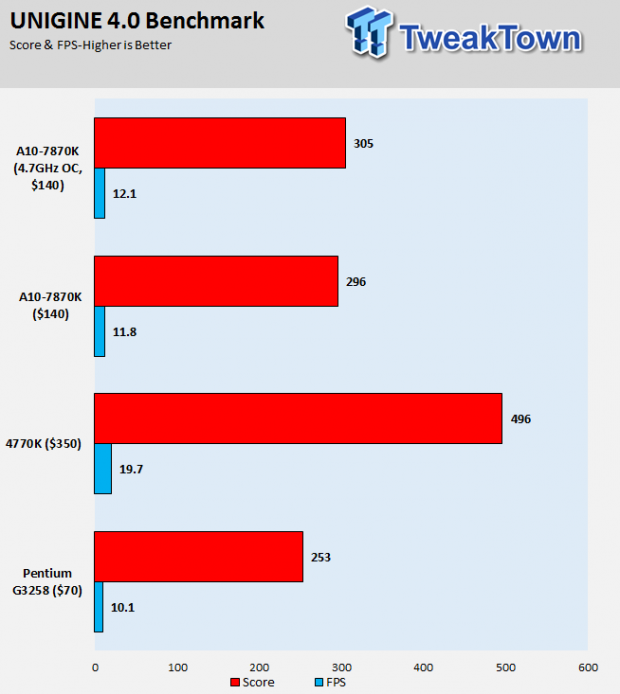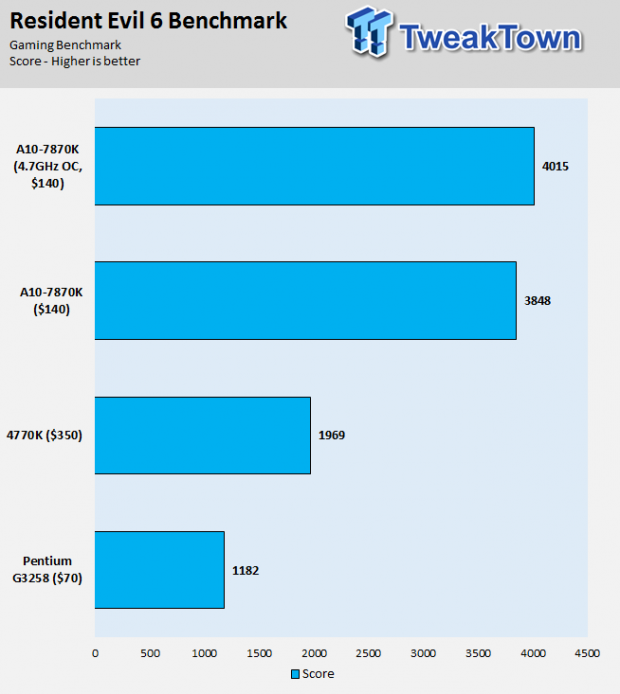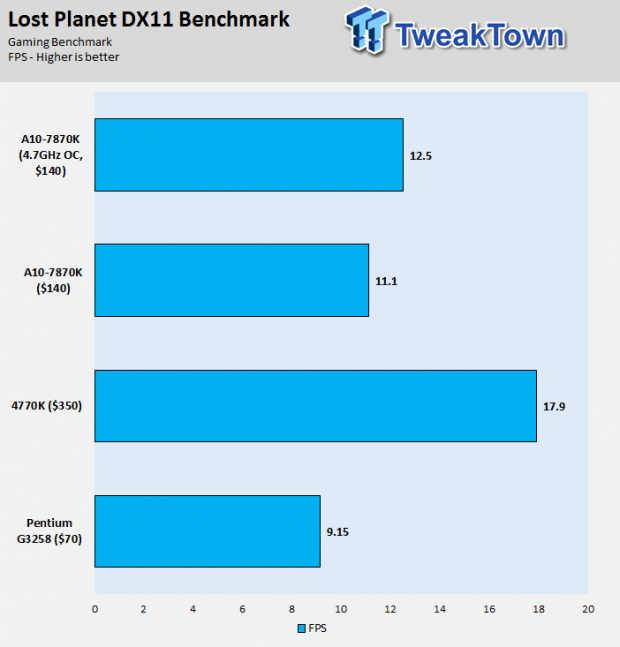 3DMark's FireStrike test is heavily GPU dependent while CloudGate is CPU dependent, and this comes through in the benchmarks. The 7870K clearly has better integrated graphics than both the other contenders, and it shows in the benchmarks, but when the CPU is very important to the score, the 4770K can take the lead. In games such as Resident Evil where the GPU does most of the rendering the 7870K beats the 4770K, and when the CPU is used a lot like in Lost Planet, then the 4770K takes it, but the Pentium is no match for the 7870K.
Windows 10 Discrete GPU Performance and DX12 API Overhead
Windows 10 Discrete GPU Performance
For the Windows 10 section I switched out the i7 4770K for the i7 5775C, and then increased the resolutions for all tests to 1440P, so increase the chances for graphics bottlenecks by the CPU, this way I can see how much CPU processing power effects scores.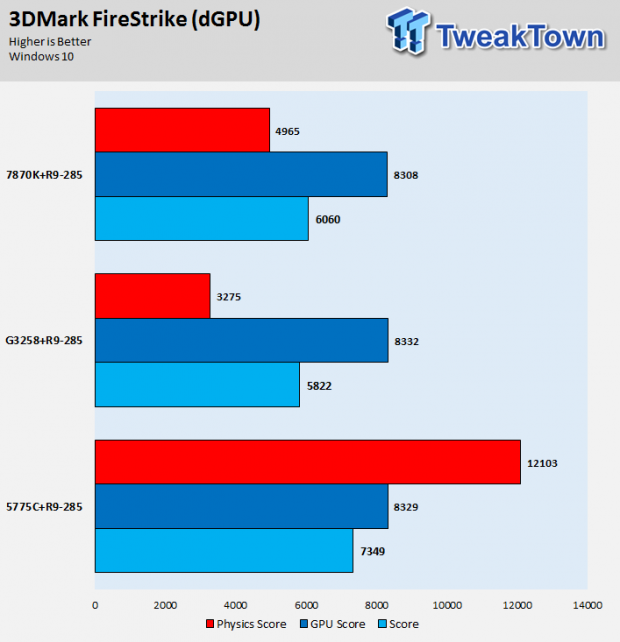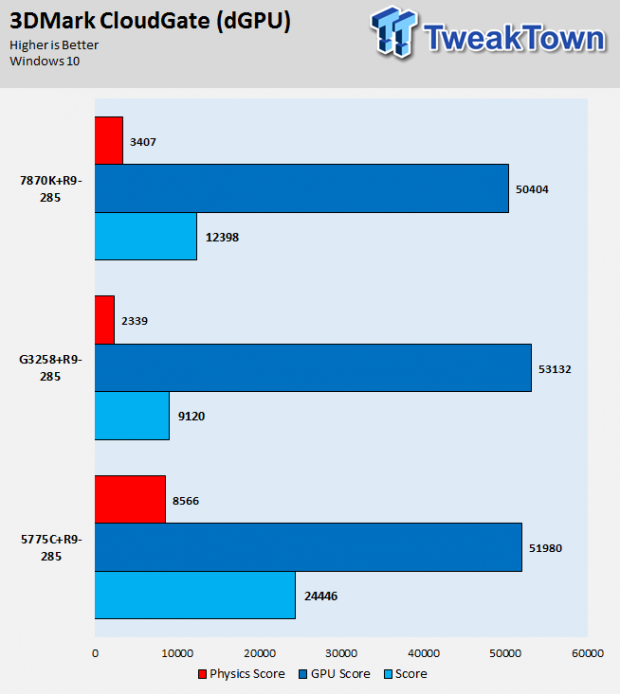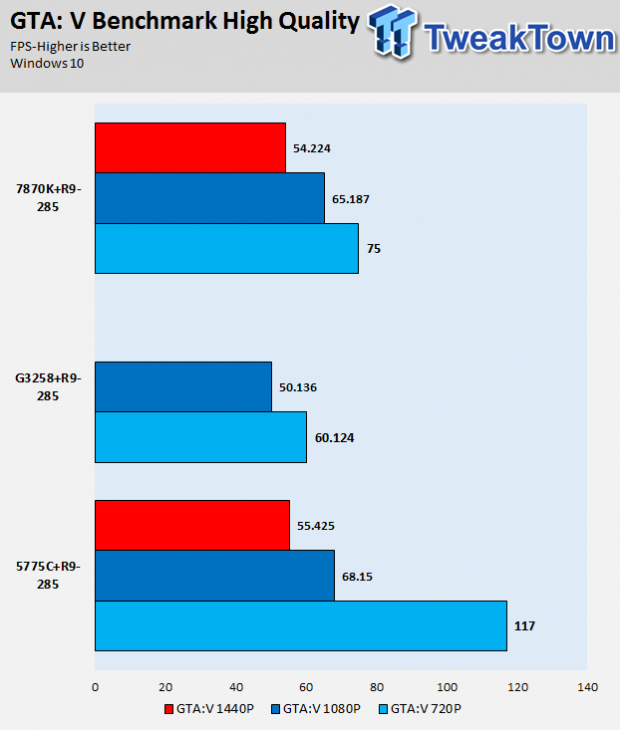 DirectX 12 3DMark API Overhead
DirectX 12 3DMark API Overhead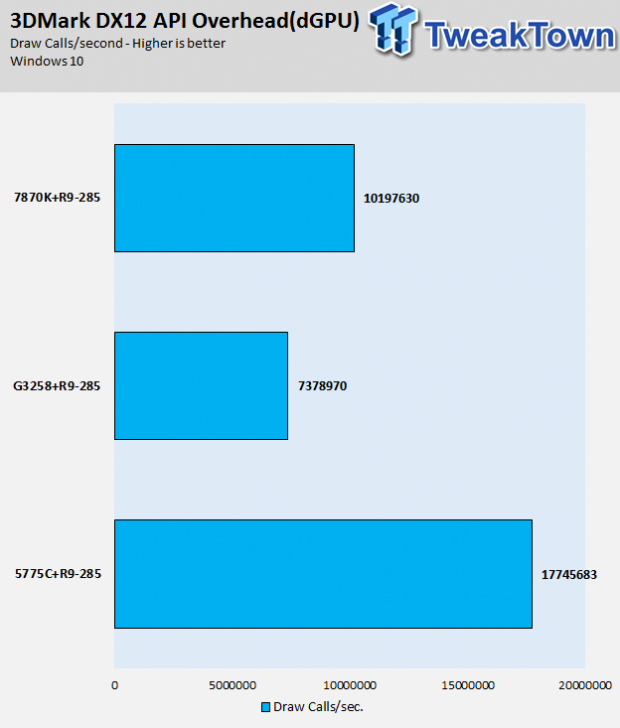 There are a few surprises to be seen. First is that in GTA:V with discrete graphics, the GPU is more of a bottleneck than the CPU, and so frame rates between the 4770K and 7870K are quite close in 1080p. In the Draw Cell test in 3DMark the 5775C does considerably better than the 7870K, which is basically the opposite when there is no discrete card.
Windows 10 Integrated GPU Performance and DX12 API Overhead
Windows 10 Integrated GPU Performance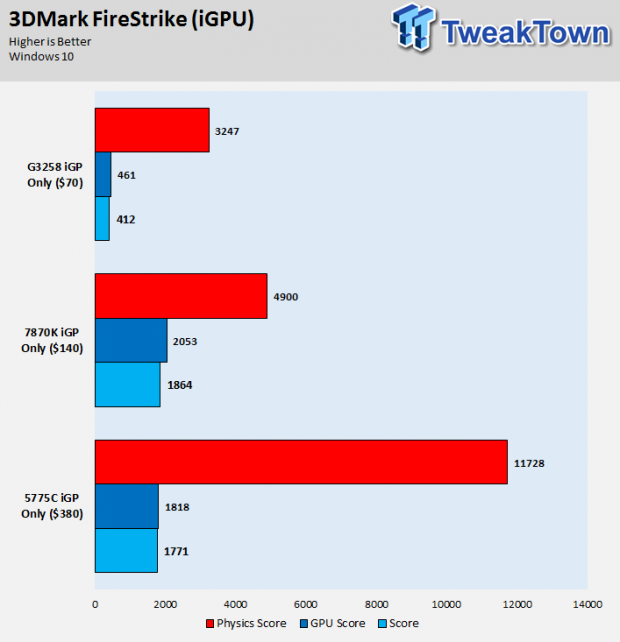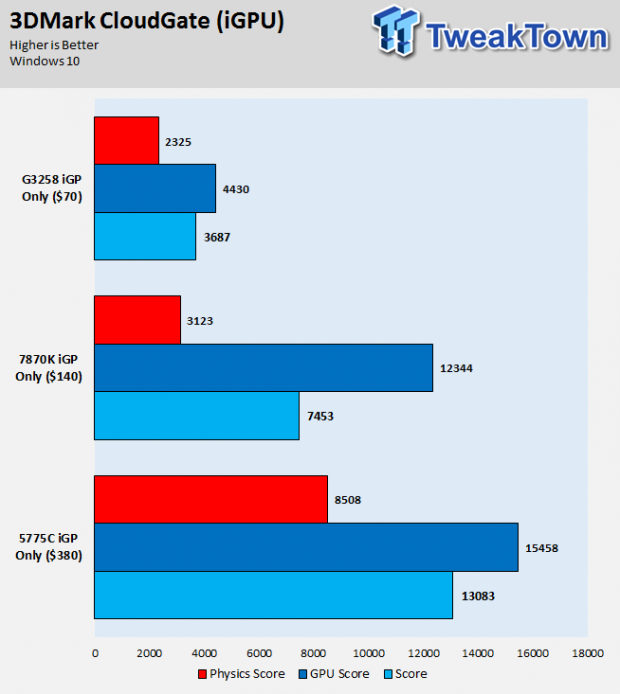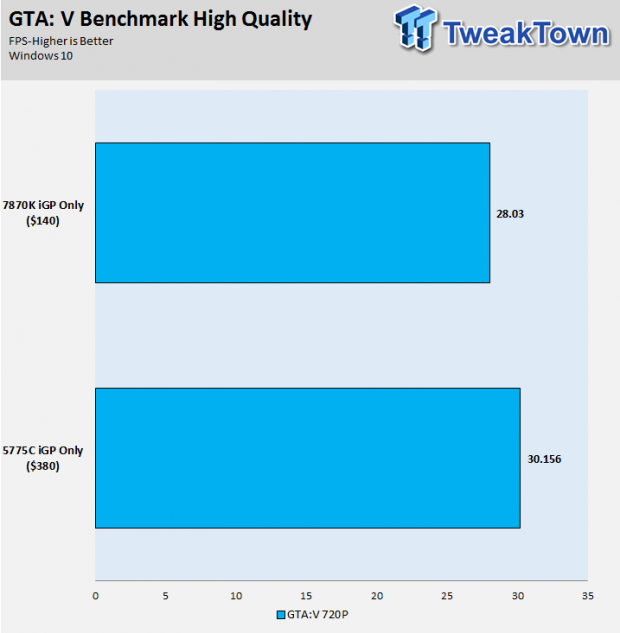 DirectX 12 3DMark API Overhead
DirectX 12 3DMark API Overhead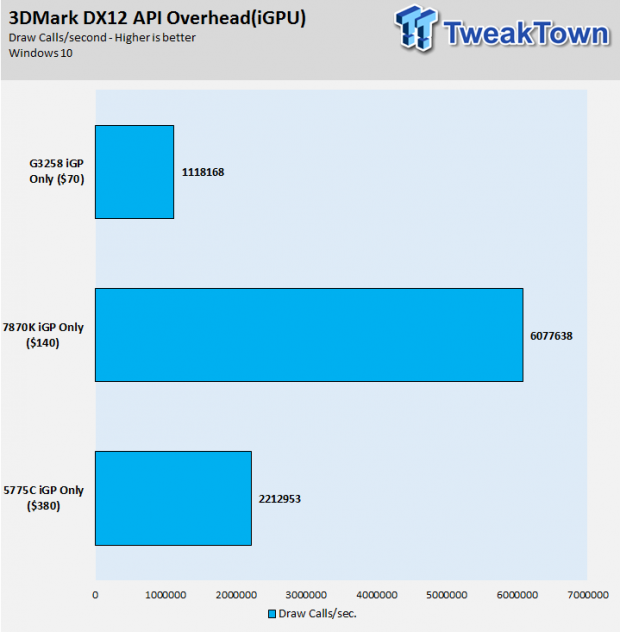 If we go with FireStrike and DX12 API results then the 7870K has a better iGP than the 5775C, but if we go with CloudGate and GTA:V then the 5775C beats out the 7870K. When you take the price difference between the 5775C and the 7870K into account, then the 7870K shows its strong value.
AMD FreeSync Technology
AMD's FreeSync technology is meant to reduce on-screen tearing while maintaining smoother gameplay than V-Sync. I used an ASUS MG279Q gaming monitor and Sapphire's R9 285 both support FreeSync.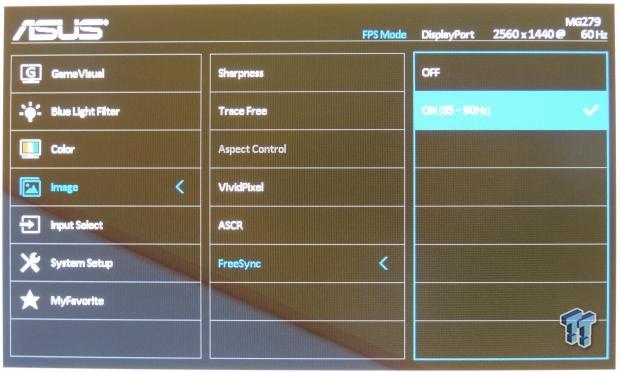 The first step to setup FreeSync is to enable it through the monitor's built in OSD menu, you have to use DisplayPort to use FreeSync.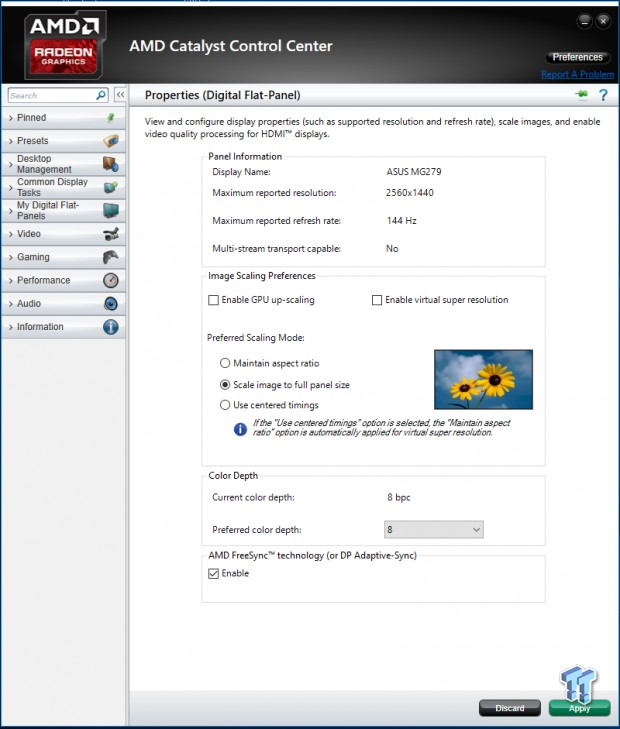 As soon as you enable it AMD's Catalyst Control Center will detect and notify you to enable FreeSync in its menus.
I used AMD's FreeSync demo which is designed to increase tearing, and I made the video above. The benefits of FreeSync are more noticeable in person, and it really does reduce tearing, and it provides smoother video than V-Sync alone. I think it's a pretty cool technology, and if you have a capable monitor and graphics adapter, you should definitely give it a shot.
Overclocking the A10-7870K and Power Consumption
Overclocking the A10-7870K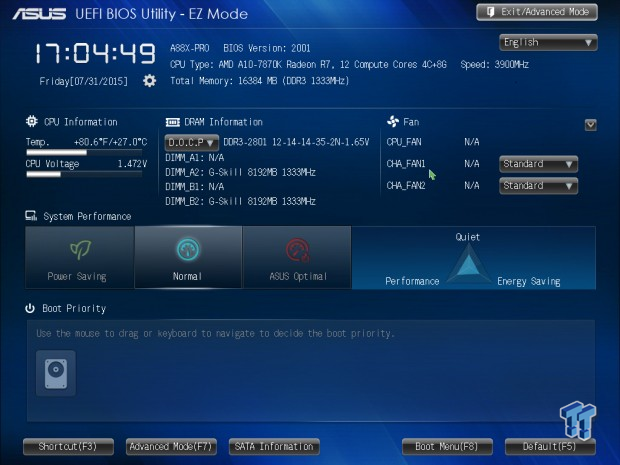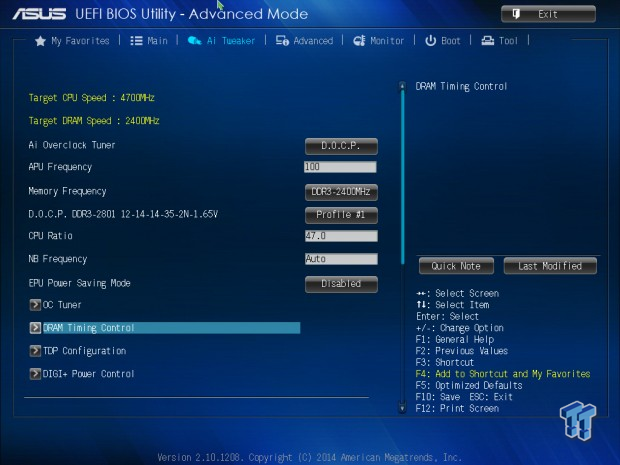 You can overclock through AMD's Overdrive software in Windows, but I decided to use BIOS level overclocking for more consistent results. ASUS's UEFI is easy to use and there is already a built-in preset which will overclock your APU to 4.2GHz. I decided to overclock the memory with D.O.P.C, which once enabled will input the correct timings for your memory. I then went into ASUS's advanced mode and reduced the BLCK to 100MHz and set the memory divider to 24.00X and increased the CPU multiplier to 47x.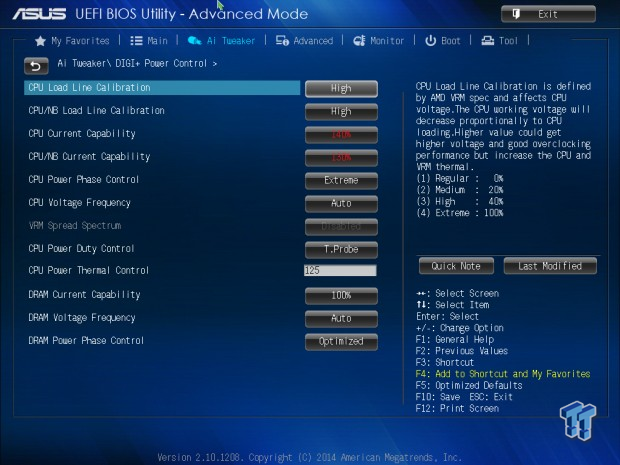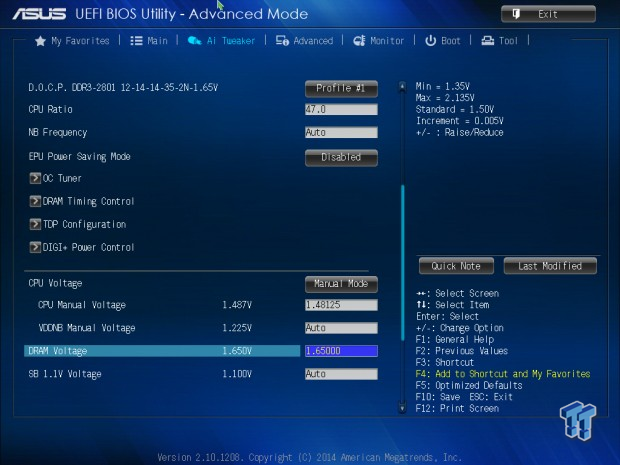 I did go into the DIGI+ Power Control menu to increase power limits, I increased most of them to their maximum just to make sure I didn't hinder power to the CPU. I set the CPU voltage to 1.48125, but you might chose a lower voltage if your cooling can't handle it. Many CPUs might not like higher voltages, but this CPU seemed to become more stable as I increased the voltage. I didn't touch the NB frequency or other voltages (DRAM voltage was automatically set by D.O.P.C), but you can tinker with those if you like. You are supposed to maintain a specific ratio between the NB and DRAM frequencies, so keep that in mind when overclocking.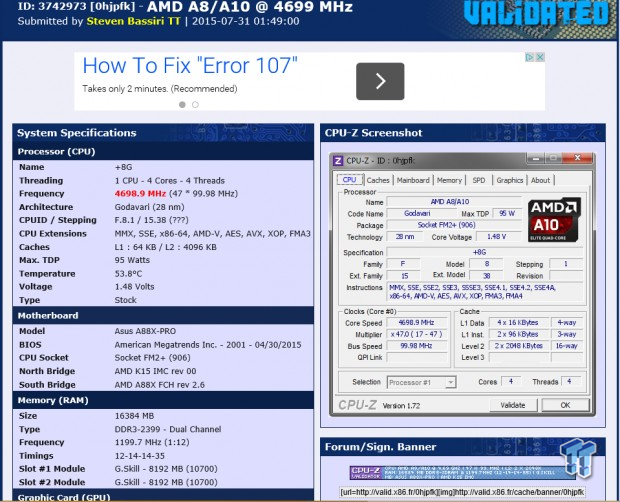 This is the CPU-Z validation of the 4.7GHz/2400MHz overclock, I used this setup for the overclocking tests in the previous benchmarks.
Power Consumption
The TDP of the 7870K is 95W.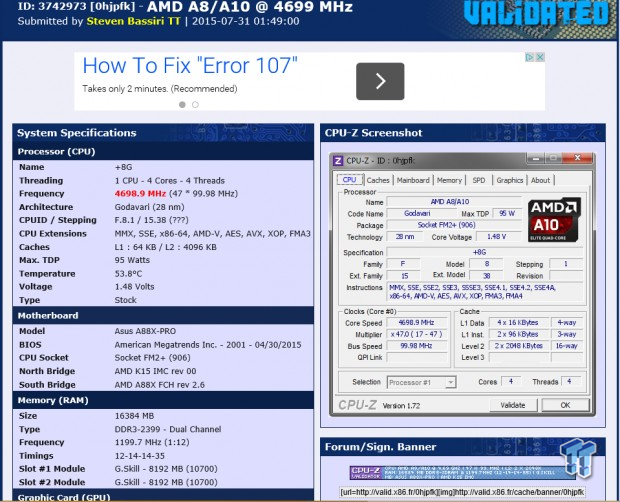 At stock, the power consumption at idle and at load are right where they should be, and overclocking the CPU doesn't prove to increase power consumption to crazy levels.
What's Hot, What's Not & Final Thoughts
This is where you can fast forward to the final section of the review, and get a quick recap and points on the AMD A10-7870K.
What's Hot
Excellent Value: Great Integrated Graphics: There is no denying the fact that at $140 the 7870K provides excellent integrated graphics performance along with 4 CPU cores which provide reasonable performance. For the price of the APU, especially compared to Intel's offerings in the sub $200 range, AMD provides excellent value. When compared to the integrated graphics in Intel's mainstream CPUs, the eight R7 cores help the 7870K win most gaming tests. When compared to Intel's Iris Pro graphics in their latest i7, the 7870K does struggle a bit, but the Iris Pro part is considerably more expensive at three times the cost meaning you could buy the 7870K and a decent discrete card for the same price.
Great Windows 10 and DX12 Performance: For DX12 and Windows 10, AMD came prepared. There were many reports of NVIDIA GPUs causing problems with Windows 10 installations, but I had no issues with the latest AMD drivers. Both the APU alone and discrete card worked perfectly. What really surprised me is how strong the 7870K's iGP was in the 3DMark in Windows 10. In both FireStrike and the DX12 Draw Cell test, the 8x R7 cores in the 7870K beat out the Iris Pro graphics in the 5775C, something I wasn't expecting. AMD has heavily optimized their performance to take on Windows 10 and DX12, and I await more DX12 tests to confirm this more.
AMD's FreeSync: I spent a few hours tinkering with FreeSync and in the end I can say that there is a noticeable difference between nothing, V-Sync, and FreeSync. FreeSync is better than V-Sync, it offers the same anti-tearing technology, while providing a smoother picture.
Easy Overclocking: I found overclocking the 7870K to be extremely simple and easy. One trick to use with memory overclocking is to enable the D.O.C.P. and then change the DRAM ratio and BLCK to what you like, as those timings are extremely important to system stability and performance. While there are options to change much more than the CPU voltage and frequency, which is all I needed to do to boost the CPU to 4.7GHz, and it was stable enough to pass all my benchmark tests, including video rendering and wPrime.
What's Not
CPU Performance could be stronger: While the quad-core AMD 7870K's CPU is fast enough to undertake most every task thrown at it, it still isn't as fast as Intel's quad-core Core i7 or i5 offerings in their mainstream lineup. That being said, the top of the line 7870K APU is at least half the price of comparable Intel processors (core count and clock frequency), making the APU a great value.
Final Thoughts
It had been a while since I had used an AMD APU system, the last time I wrote an article on an APU was back when AMD had launched their Trinity APUs, and they have come a long way since then. The support for the latest DX12 API and Windows 10 is quite good, and I had no problems loading up the OS and running benchmarks. Most people aren't prepared to dish out $300 on a CPU and then spend another $200 on a motherboard and $100 on memory just to have to spend another $200-$300 on a decent GPU to play even the most basic of games, and that is why the AMD APU can be very appealing. When it comes to their APUs, AMD offers a very affordable alternative with focus on graphics processing and efficiency. AMD's APUs provide the ability to play less intensive games at acceptable frame rates, and the cost savings that come with an APU make investing in a dedicated video card less burdensome.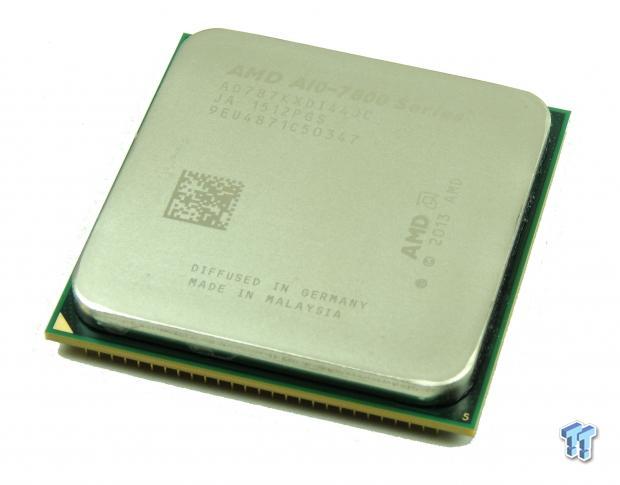 Together with the discrete card, the 7870K offers pretty good gaming performance, the 7870K doesn't bottleneck the R9 285 as much as you might think. In fact, at 1080p, the 5775C and 7870K offers roughly the same acceptable FPS in GTA:V, with the discrete GPU hindering things more than the CPU. If 3DMark's DX12 Draw Cell tests are any indication, then DX12 titles should do very well on AMD's integrated graphics compared to Intel's, as AMD seems to have made significant strides to optimize their compatibility with the new OS and DX12.
Overall, I found that the AMD A10-7870K proved to be an excellent value product, offering exceptional integrated graphics and decent CPU performance at a very fair price.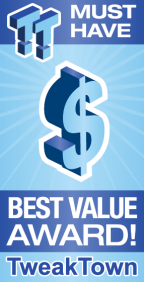 | | |
| --- | --- |
| Performance (including Overclocking) | 84% |
| Quality including Design and Build | 90% |
| General Features | 93% |
| Bundle and Packaging | 94% |
| Value for Money | 96% |
The Bottom Line: AMD's A10-7870K APU proved to be an excellent value part, offering exceptional integrated graphics and decent CPU performance at a very fair price.
PRICING: You can find products similar to this one for sale below.

United States: Find other tech and computer products like this over at Amazon.com

United Kingdom: Find other tech and computer products like this over at Amazon.co.uk

Australia: Find other tech and computer products like this over at Amazon.com.au

Canada: Find other tech and computer products like this over at Amazon.ca

Deutschland: Finde andere Technik- und Computerprodukte wie dieses auf Amazon.de
We openly invite the companies who provide us with review samples / who are mentioned or discussed to express their opinion. If any company representative wishes to respond, we will publish the response here. Please contact us if you wish to respond.