TweakTown's Rating: 92%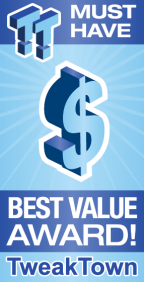 The Bottom Line
GIGABYTE's BRIX s BXi5H-5200 support for an mSATA or standard 2.5 inch SATA drive makes it a very cost effective and versatile machine, which can handle almost any normal task thrown at it, at a great price.
Introduction, Specifications, and Pricing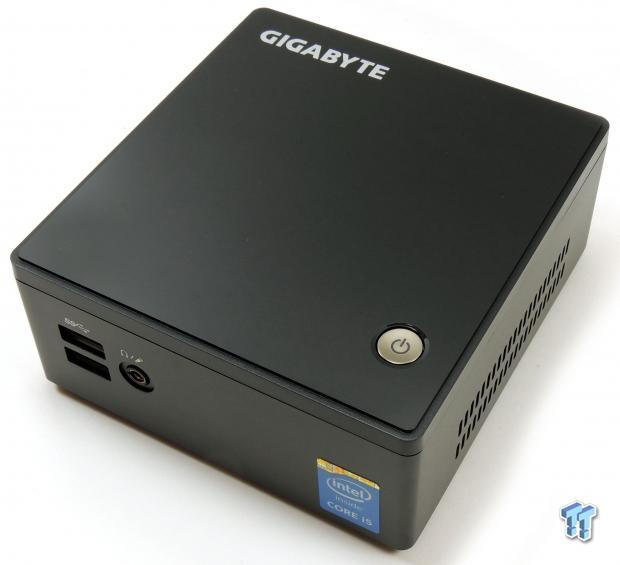 A few years ago, GIGABYTE launched a new type of product into the market, a small form factor PC (SFF PC) called the BRIX. They teamed up with Intel to basically design and produce a desktop PC that you could hold in the palm of your hand. To achieve this, you need an extremely integrated system on chip (SOC), a separate CPU and chipset would require too much PCB space, and Intel's Broadwell microarchitecture is perfect for this very use.
The BRIX is smaller than a brick, yet much more interesting. The BRIX s BXi5H-5200 carries some of the latest technologies such as Wireless AC, yet also provides a limited but strong backbone for storage and connectivity. Today, I venture into GIGABYTE's latest iteration of their BRIX product line by taking a look at the BXi5H-5200. Let's get started.
Specifications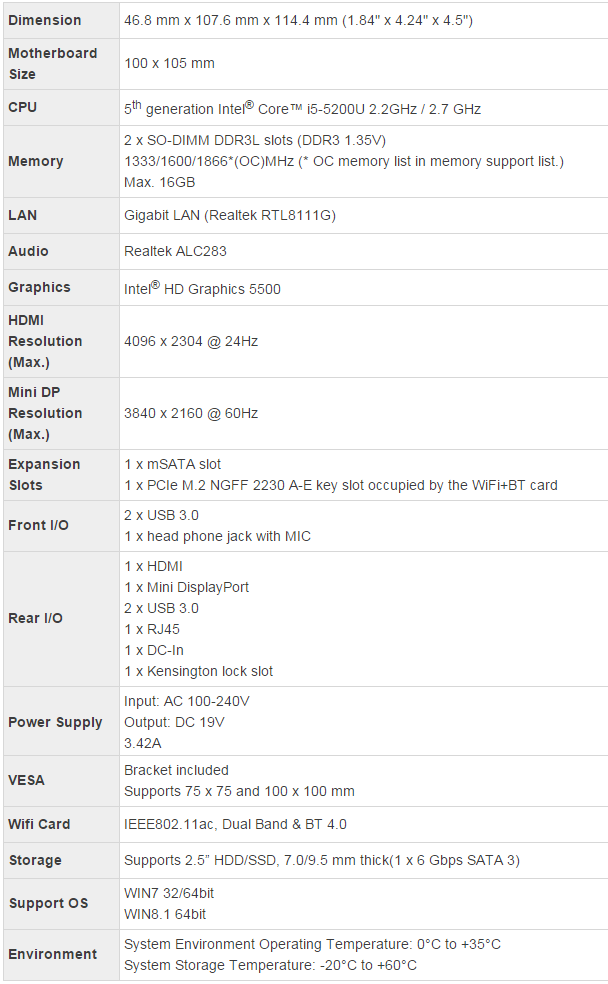 GIGABYTE is utilizing Intel's latest 5th generation Core i5 processor, the i5 5200u, which features 2 cores/4 threads and a 2.7GHz turbo clock all at only a 15W TDP. It supports 16GB of DDR3L at 1600MHz and uses Intel's HD5500 graphics with a boost frequency of 900MHz with DirectX 11.3 support.
GIGABYTE has added a wired NIC, provided support for mSATA, and even provided the ability to fit a 2.5-inch SSD or HDD for much larger storage. There is also a wireless AC card in a smaller M.2 slot that also supports Bluetooth 4.0. The BRIX s has four USB 3.0 ports, mini DisplayPort, and a HDMI port that supports 4K.
Pricing
The BRIX s BXi5H-5200 comes at $364.99 at Newegg at the time of writing. There is also the BXi5-5200 which costs $350, but doesn't have the extra space and SATA connector; meaning it lacks the support for a 2.5-inch storage device.
Packaging and System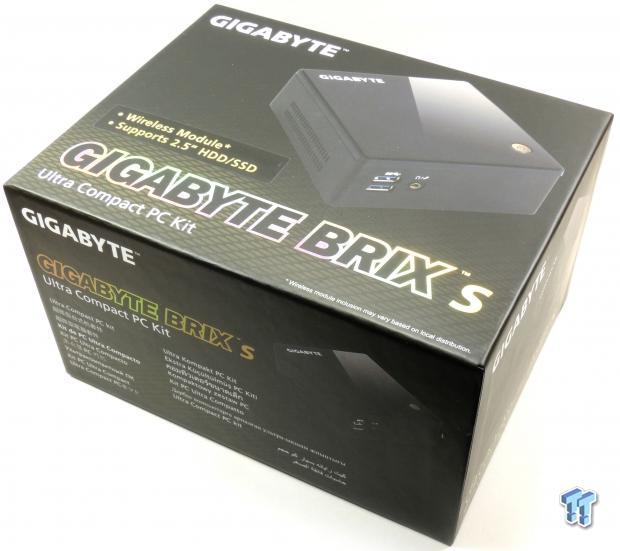 The box has a simple design, yet is quite flashy with the lettering. There aren't too many specifications on the box since the model has a different configuration in each region; however this model has an M.2 wireless module installed and room for a 2.5-inch SATA drive.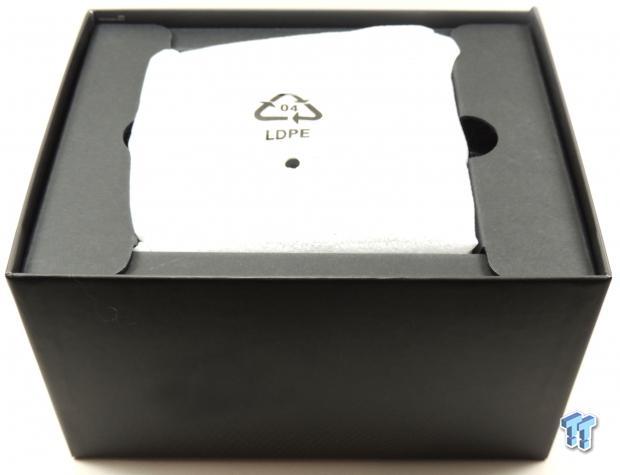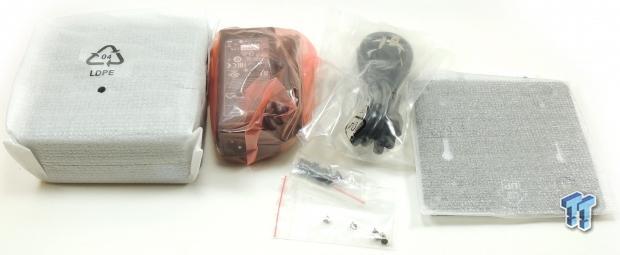 The BXi5H-5200 is well protected from the elements and the accessories are all packaged in a way so that everything is protected from the elements.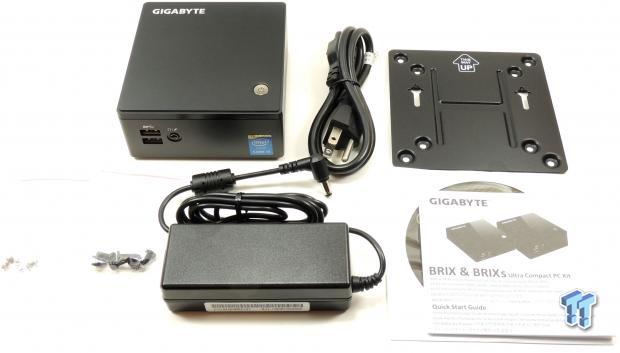 Accessories included are the VESA mounting bracket and screws, AC/DC PSU and cable, an NFC tag, and a driver DVD.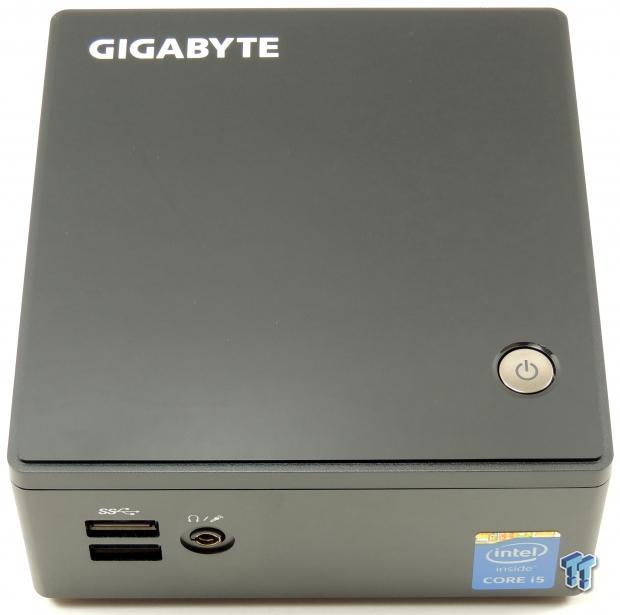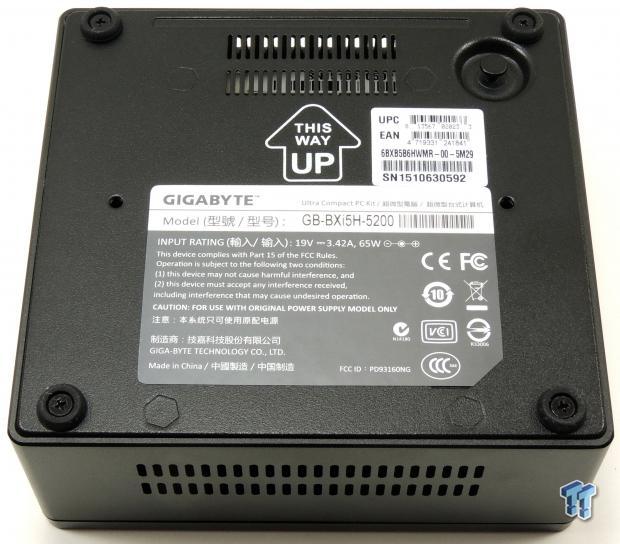 The top of the unit sports a single power button. The bottom has the screw holes for the VESA mount and four rubber feet to secure the BRIX on a table.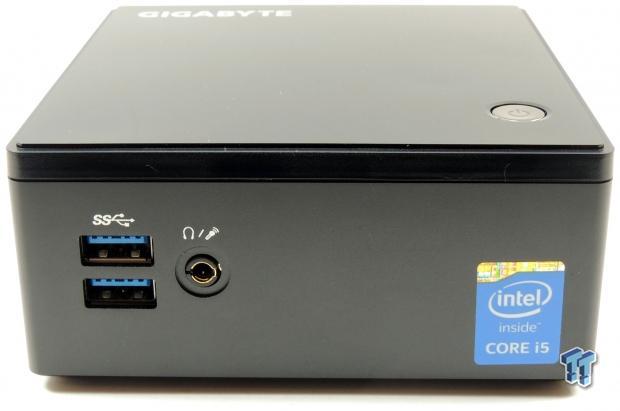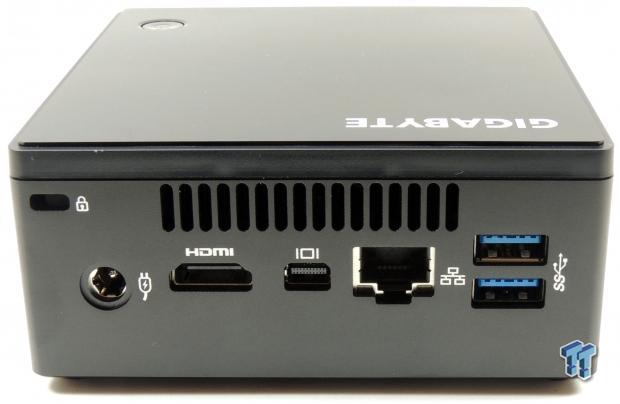 The front has two USB SuperSpeed ports and a headphone/microphone jack. The back features a Kensington lock port, the PSU power port, HDMI, mini-DisplayPort, an RJ-45 LAN port, and two USB 3.0 ports.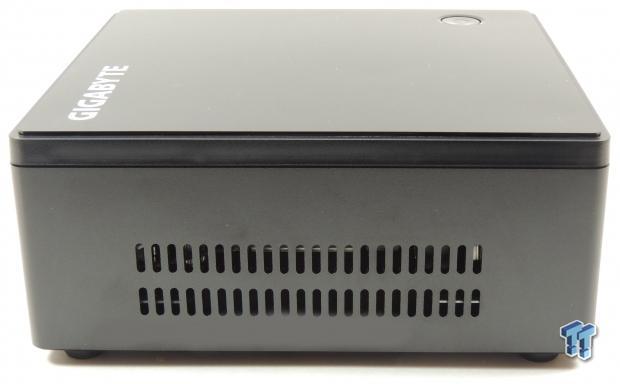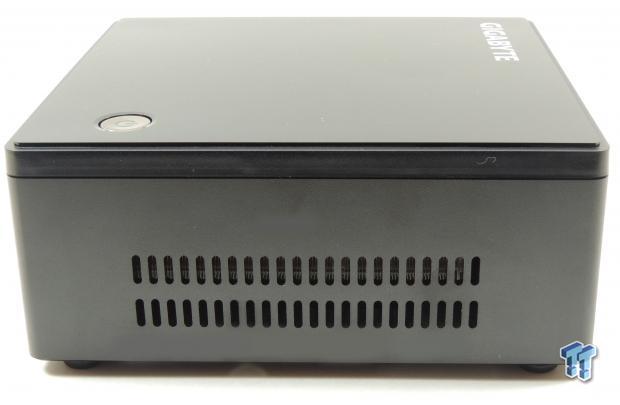 The sides just have vents for airflow.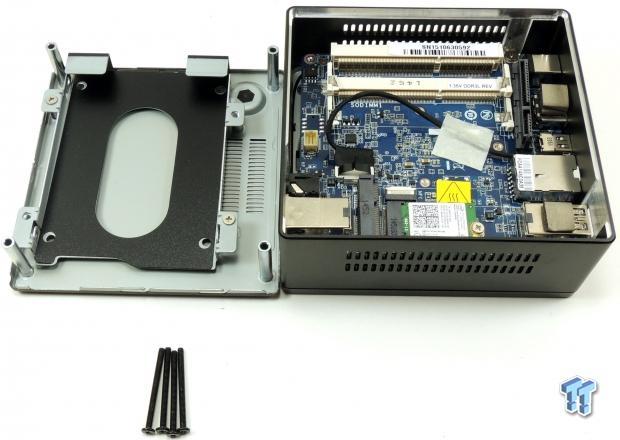 Removing the top is pretty simple and requires only a standard Phillips head screwdriver.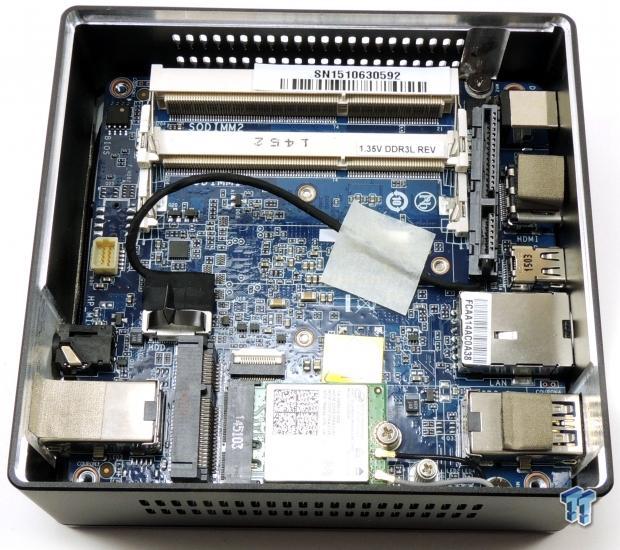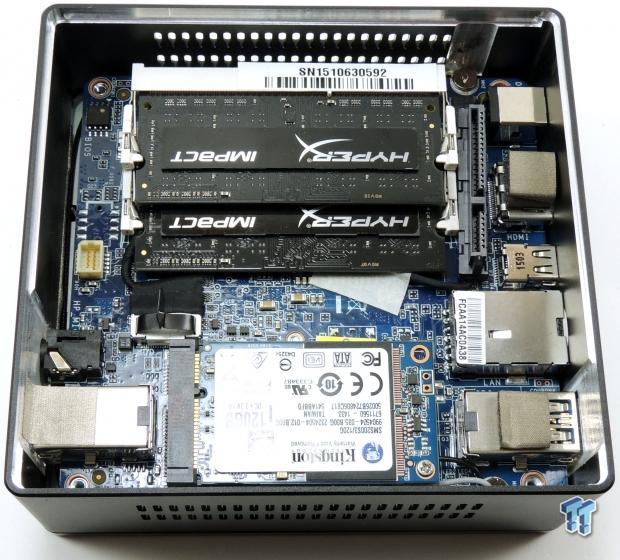 Installing the memory and mSATA drive are pretty simple, you can add in a dedicated 2.5-inch drive as well, which is one of the main selling points of this model.
Teardown of the BRIX s
The Teardown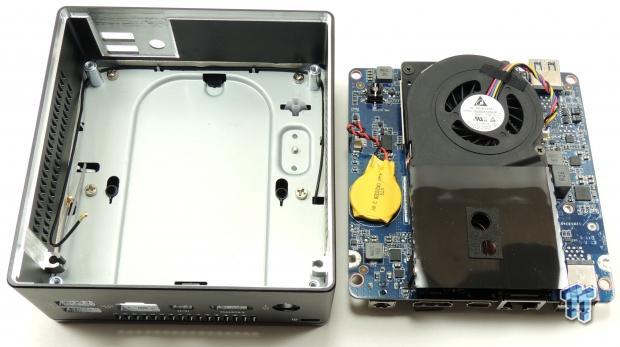 Removing the PCB from the case is quite simple; however, there is no need to do this to install memory or storage.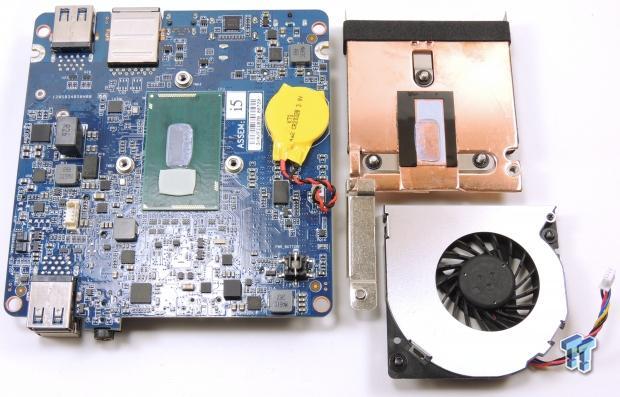 Here you can get a glimpse of the blower fan and the fan removed from the PCB. This setup is basically identical to the Intel NUC and GIGABYTE BRIX BXi7H-5500 I reviewed a few months ago, all of these models have 15W TDP CPUs.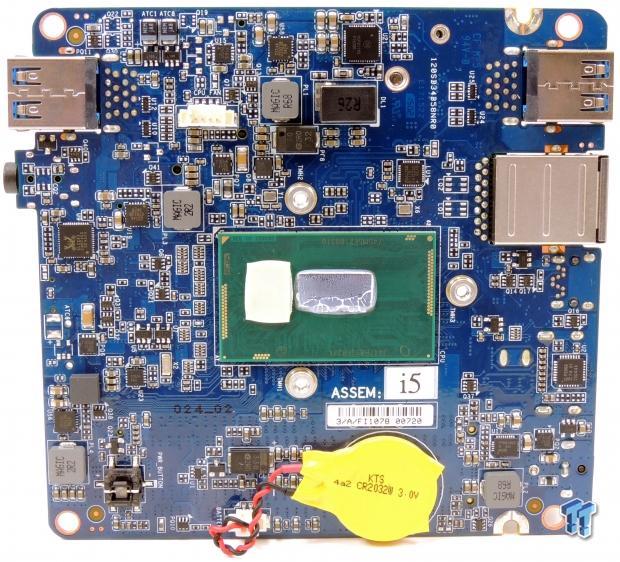 Intel's i5 5200U is an interesting chip with Intel's latest Broadwell microarchitecture. It can turbo to 2.7GHz, it has 2 cores with 4 threads from hyper threading, two HD graphics cores (Intel HD5500), and its PCH supports four USB 3.0 and a few SATA 6G ports.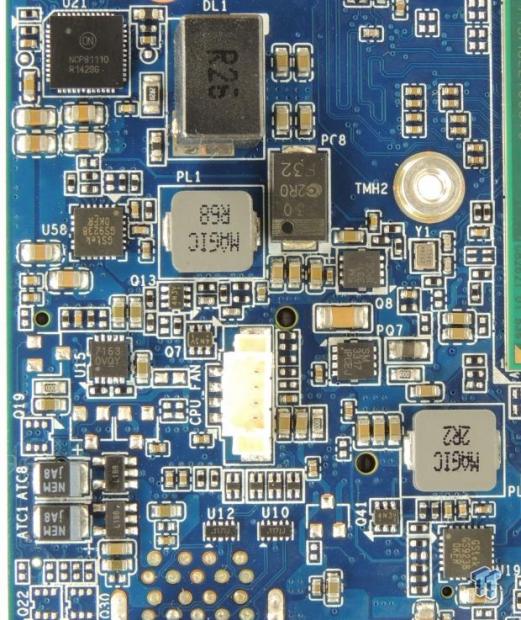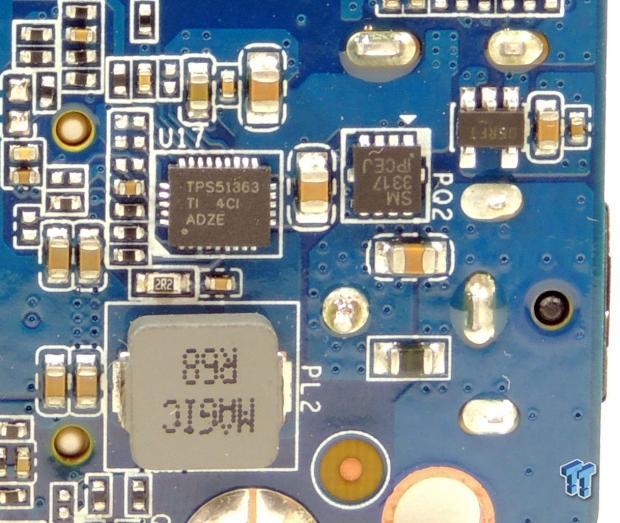 On the left are a bunch of chips used to provide power to the onboard devices like the CPU and memory. The NCP81110 is a single phase PWM+drivers+MOSFETs with the VRD12.6 standard for Broadwell, it powers the CPU. There are three GSTek GS9238 (2 shown here), which are 8A buck converters used to power the memory and PCH. On the right, we have the Texas Instruments TSP51363 which is a 22v at 8A DC/DC converter responsible for handling all the power that comes into the BRIX, this is a critical part when it comes to power delivery, and the choice of the Texas Instruments part is a sound one.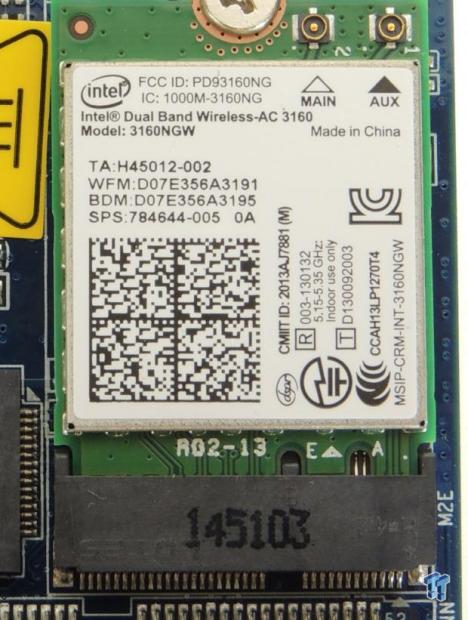 This is Intel's Wireless AC 3160 Dual Band Wi-Fi/BT card that supports Wireless AC to 867Mb/s. It is in the small M.2 form factor and we will see how it performs later on.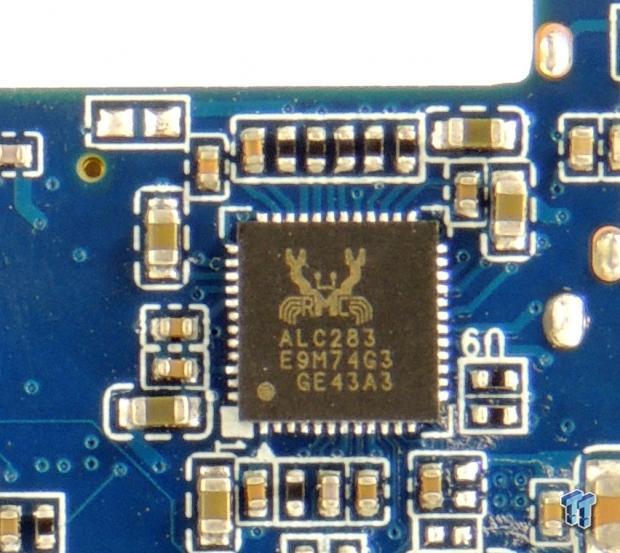 The Realtek ALC283 is used for audio.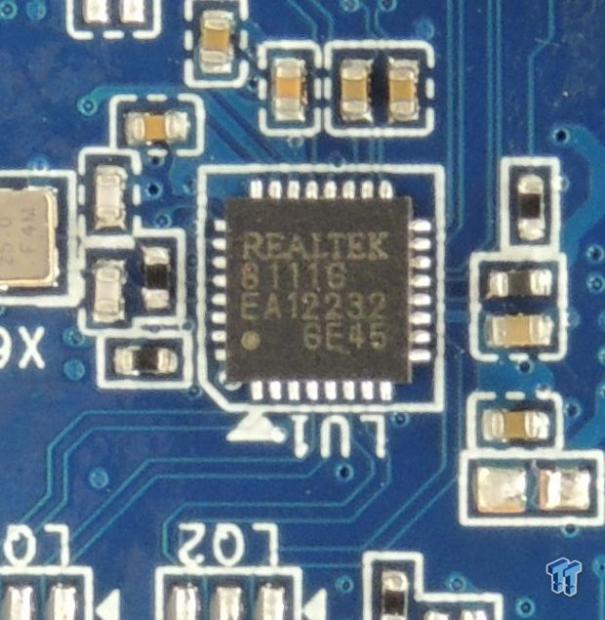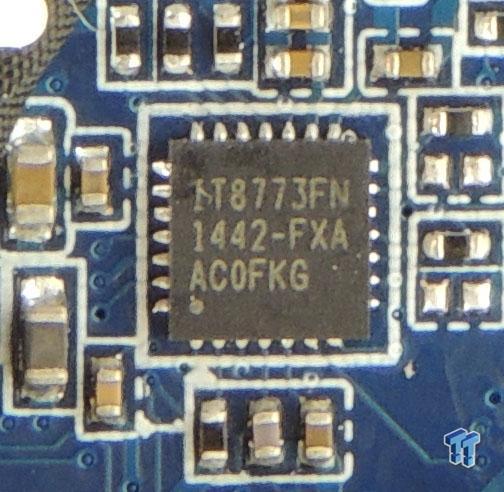 The Realtek RT8111G is used for the GBit LAN port and the IT8773FN is the SuperIO in charge of monitoring and control of temperature, voltage, and the fan.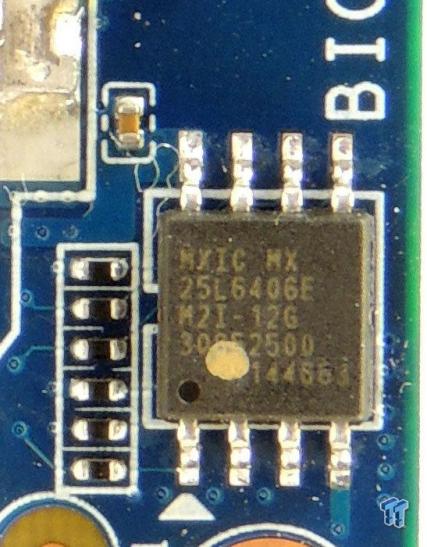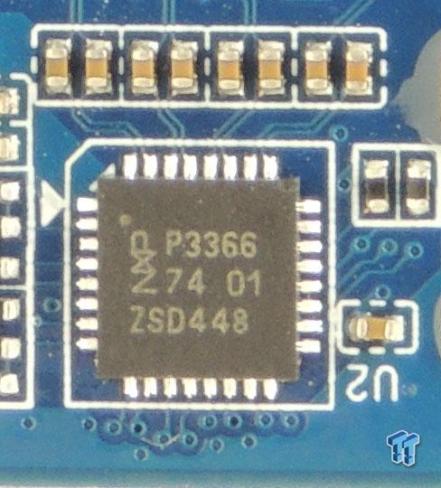 A single 64Mbit/8MB BIOS ROM is used for the UEFI, and this NXP P3366 is a level shifter for the HDMI port.
BIOS
GIGABYTE's UEFI allows you to use the mouse; however, there is no fancy GUI.
You don't really need one considering you won't be tuning anything really, the CPU can't overclock and you just set things up once and get out.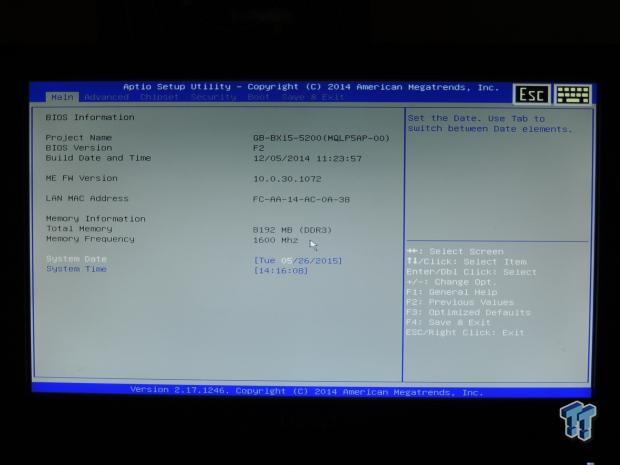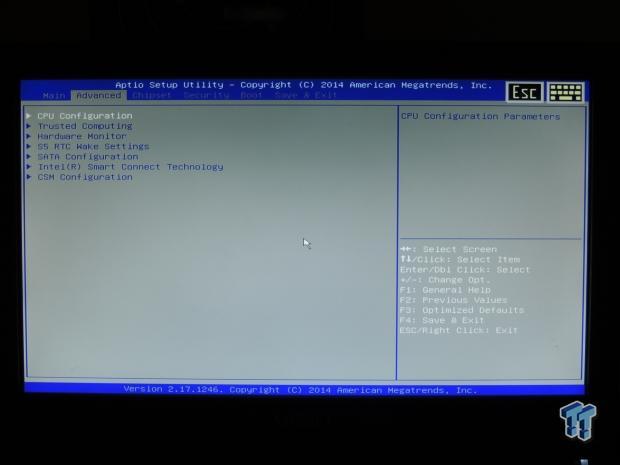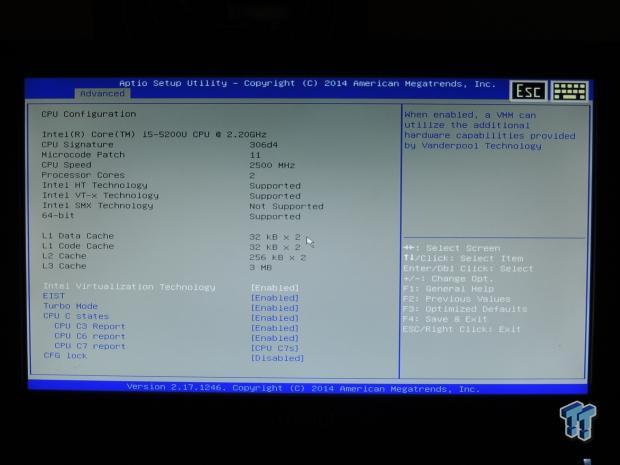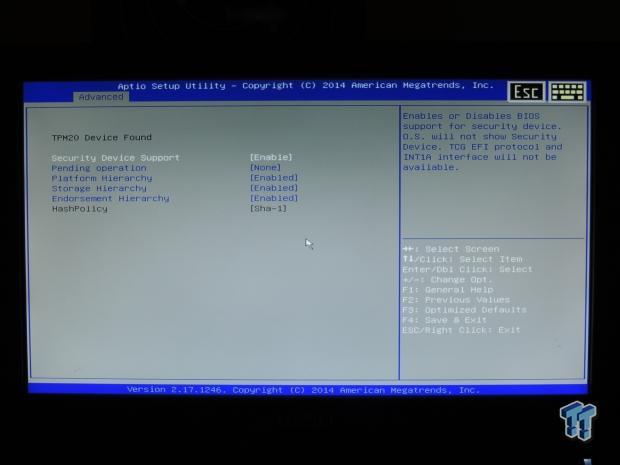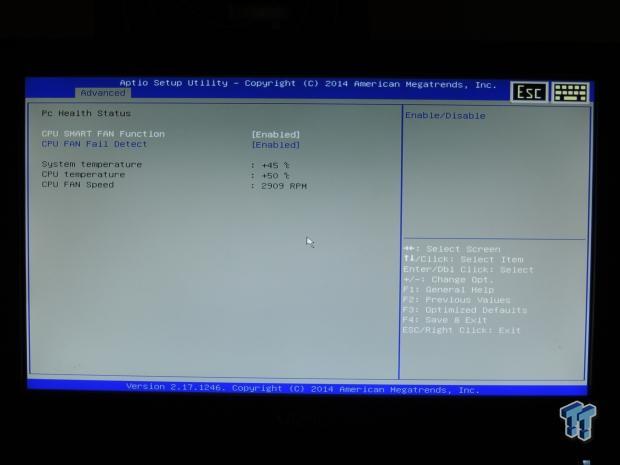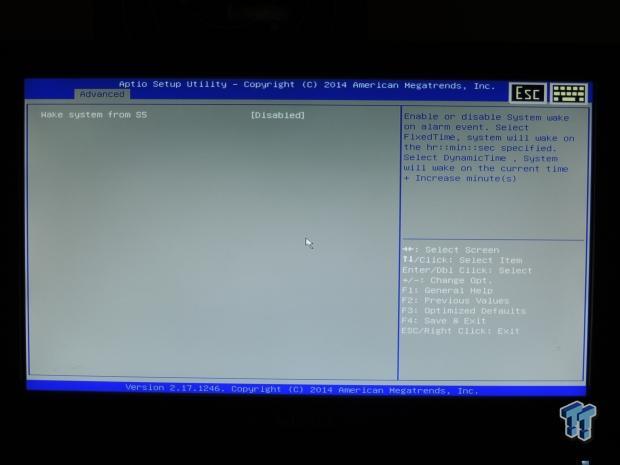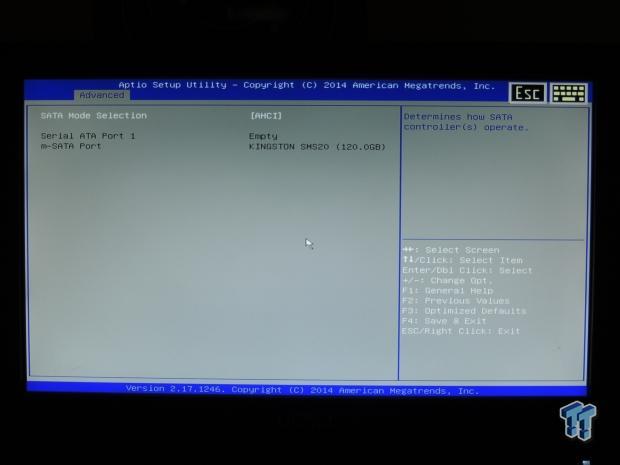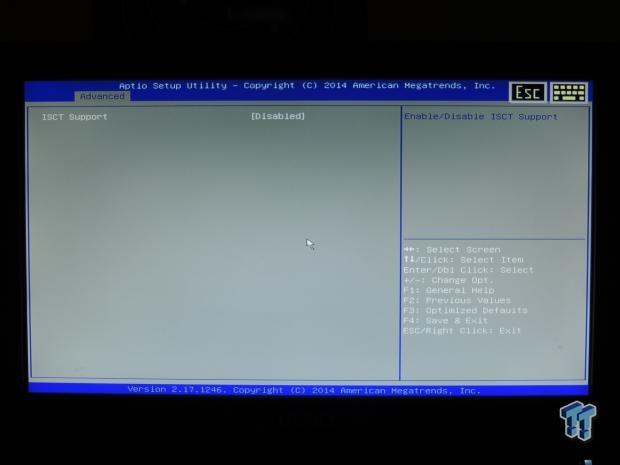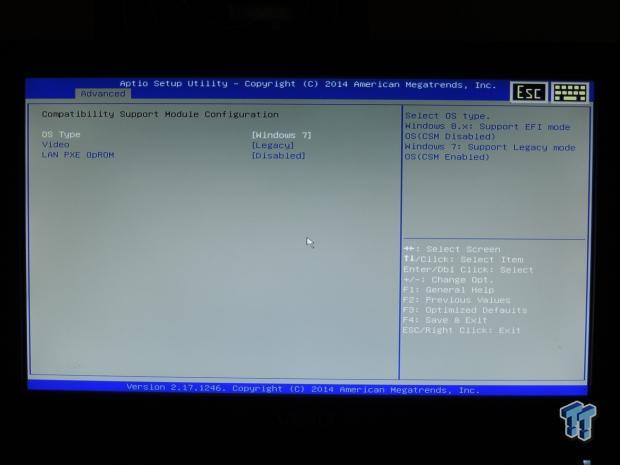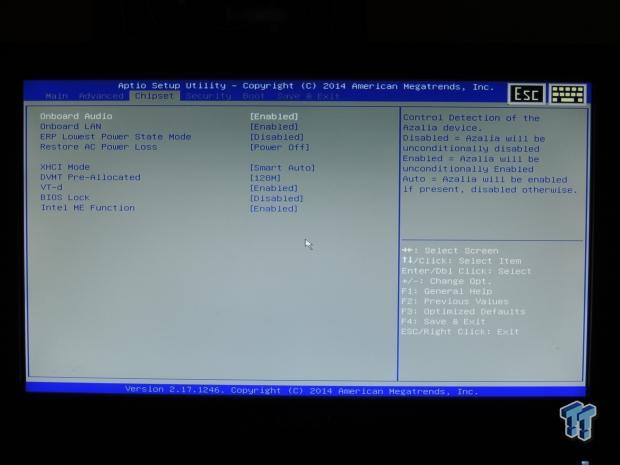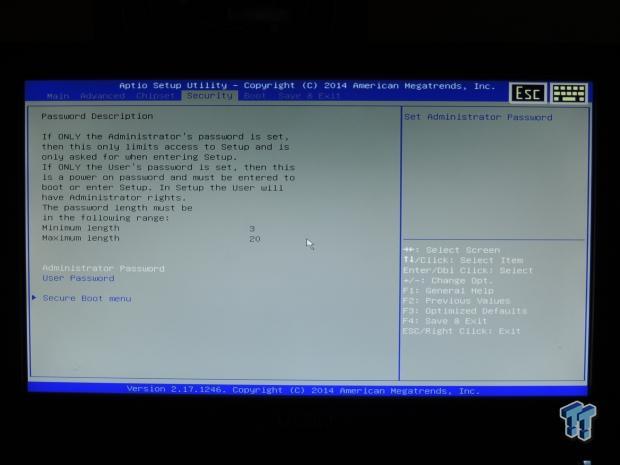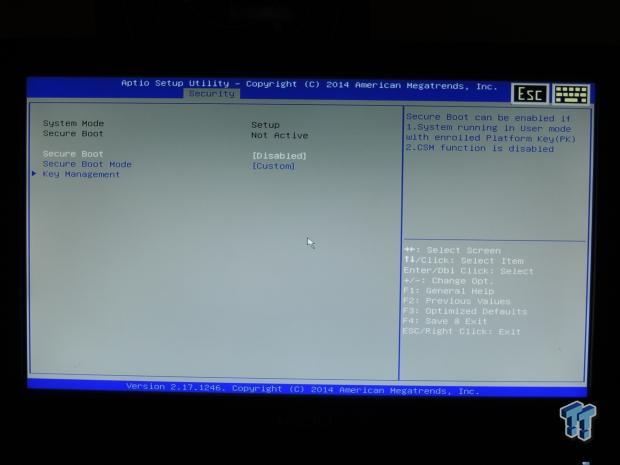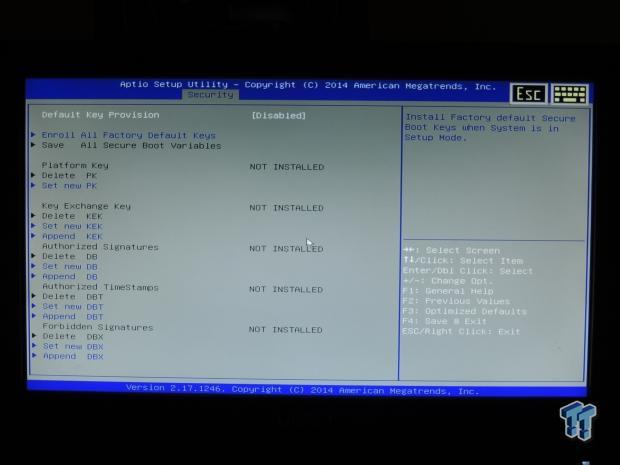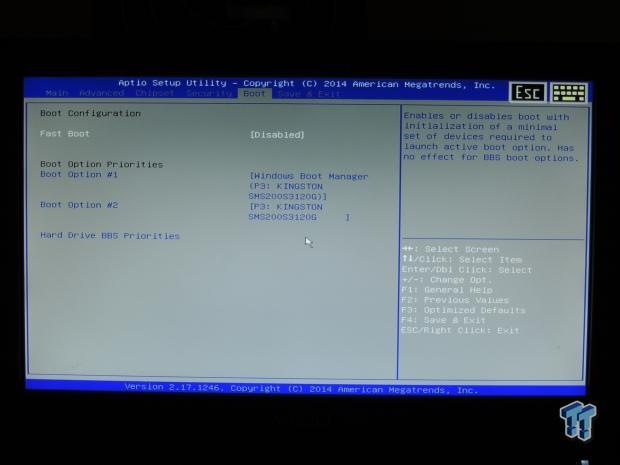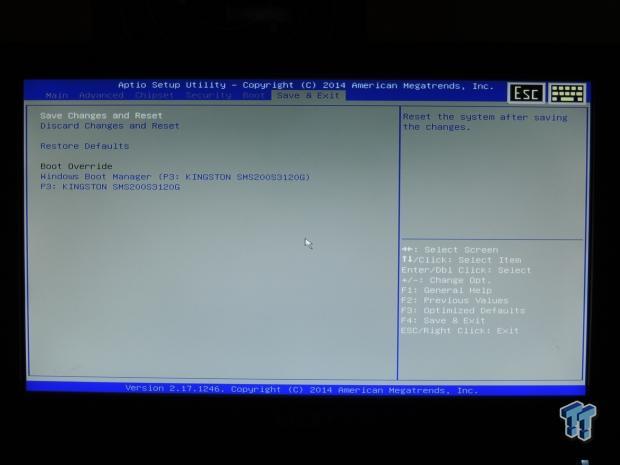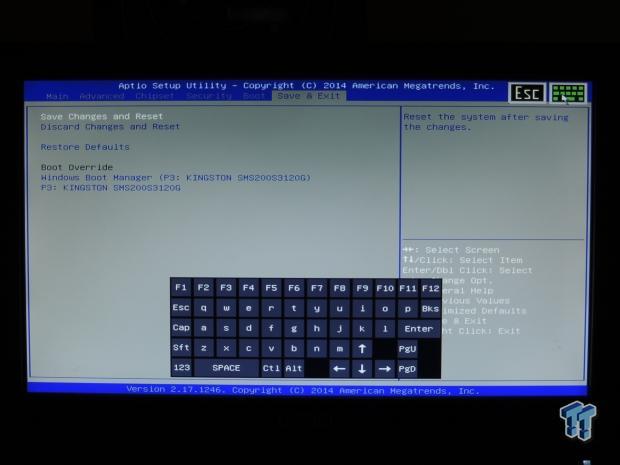 Test Setup & CPU, Memory, and System Benchmarks
Test Setup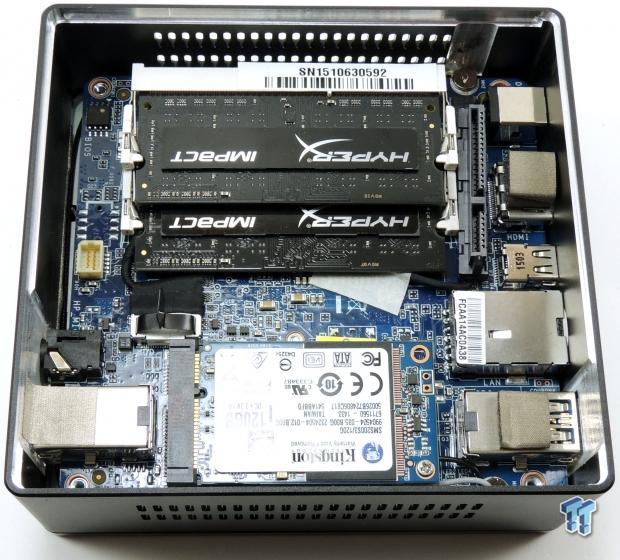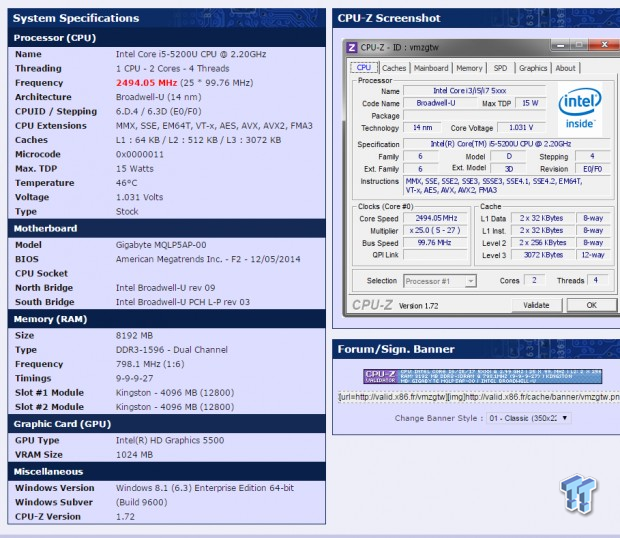 There isn't much to put into the setup other than a drive and some DDR3L. I used some Kingston HyperX Impact 8GB (2x4GB) rated at 1600MHz and a Kingston 120GB mSATA SSD.
CPU, Memory, and System Benchmarks
CINEBENCH 11.5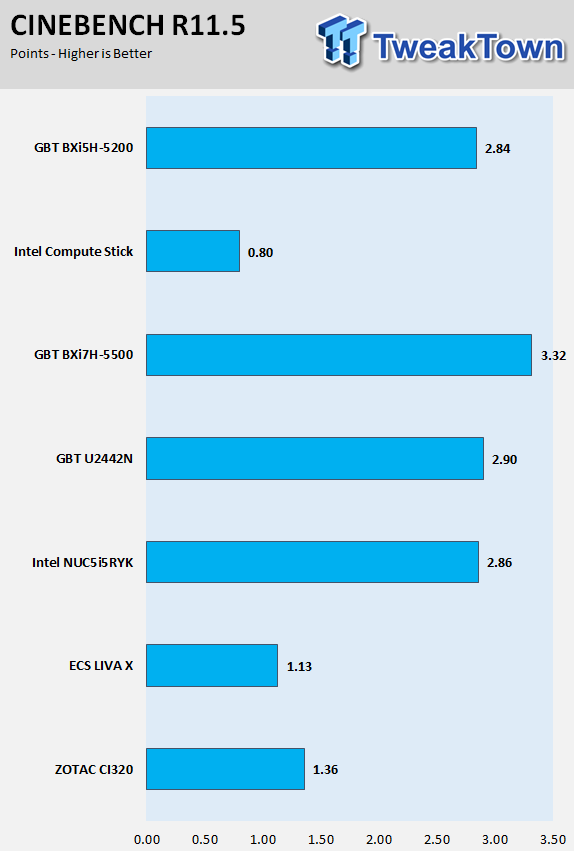 AIDA64 AES and HASH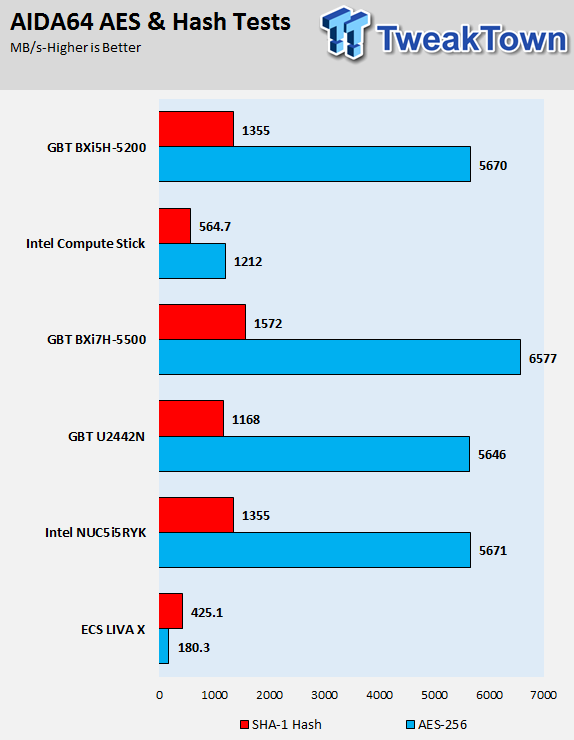 wPrime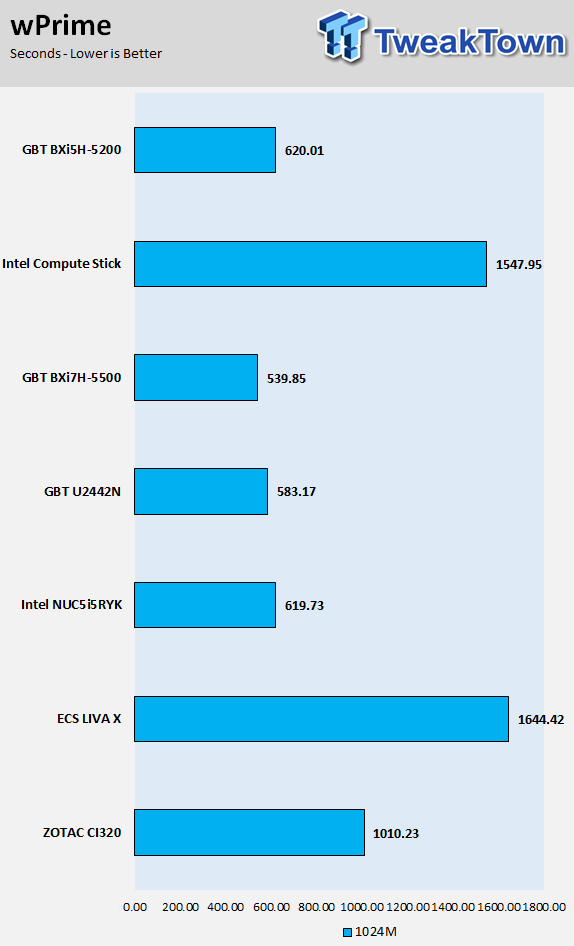 AIDA64 Memory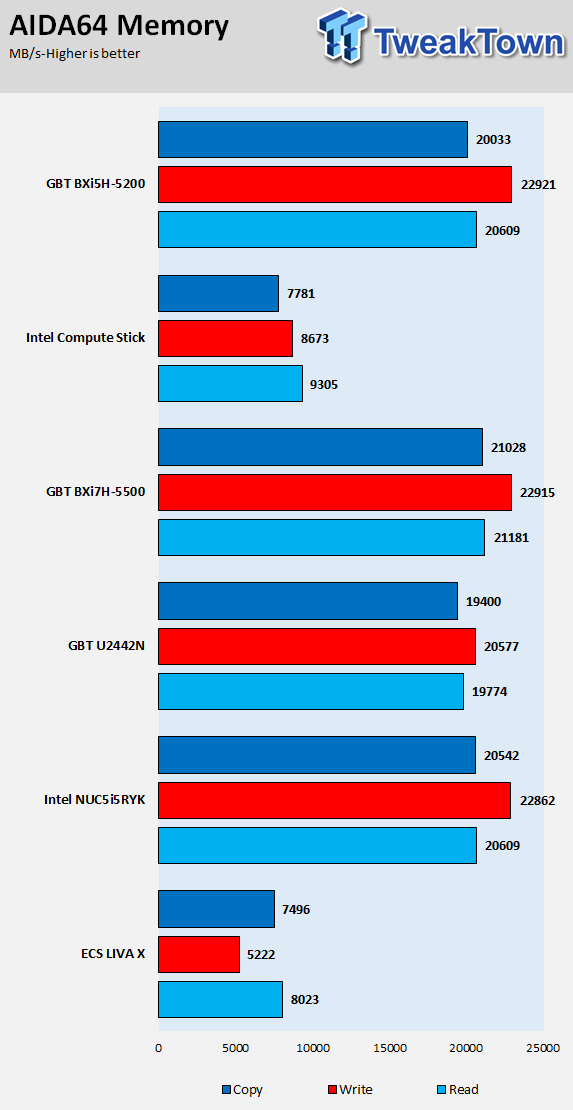 PCMark8 Home Test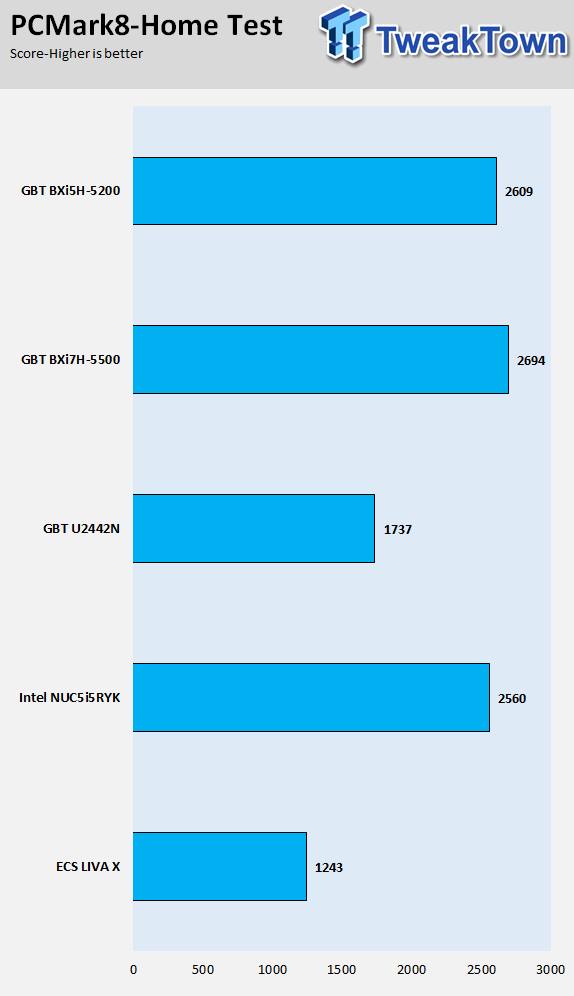 PCMark8 Work Test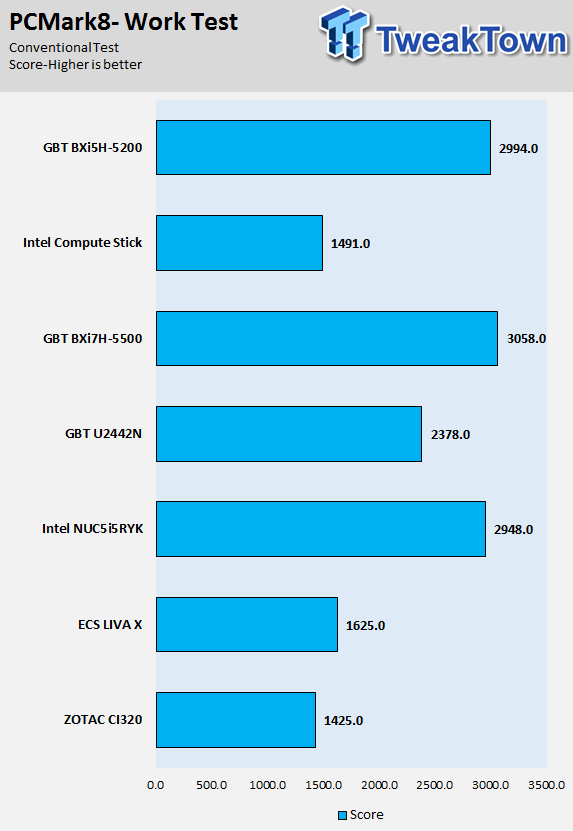 Graphics Benchmarks
3DMark11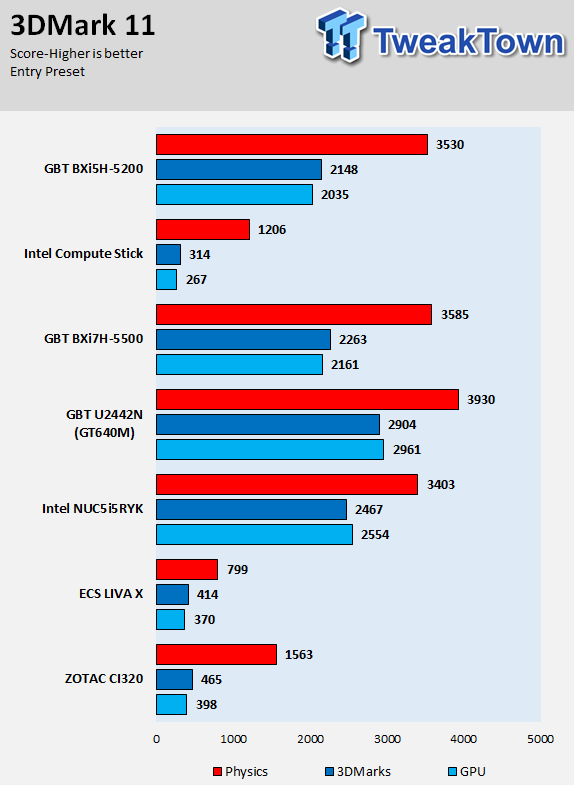 UNIGINE Heaven 4.0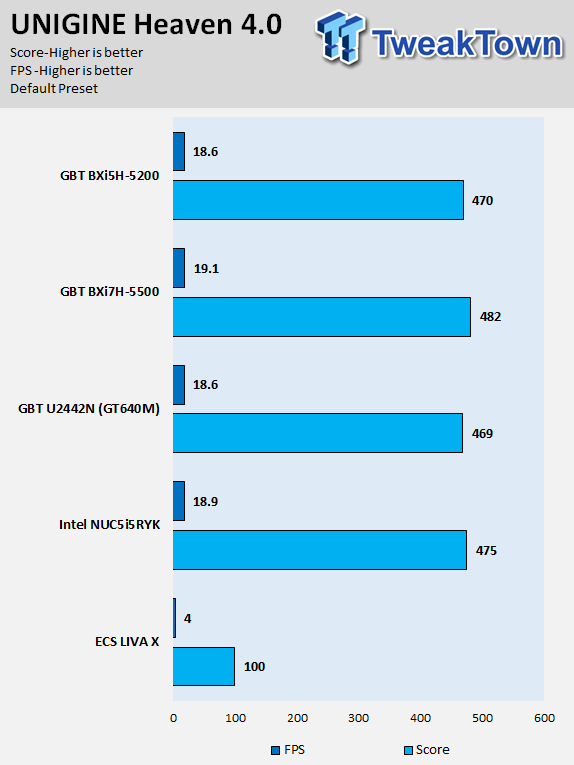 Lost Planet 2 DX11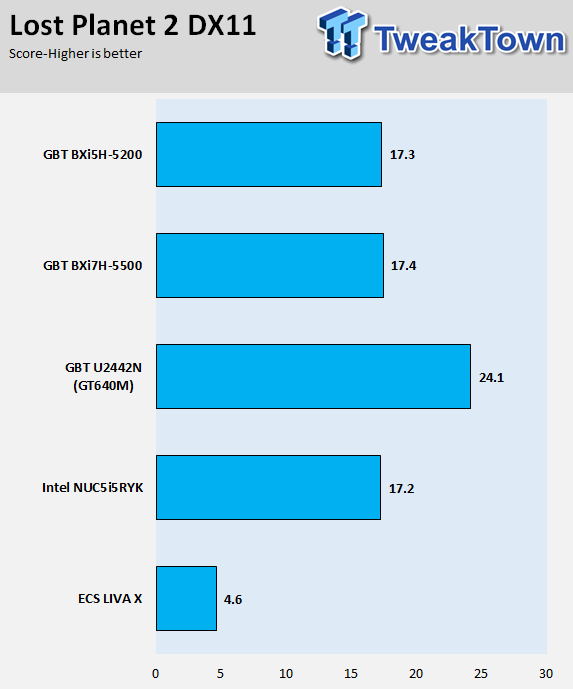 Resident Evil 6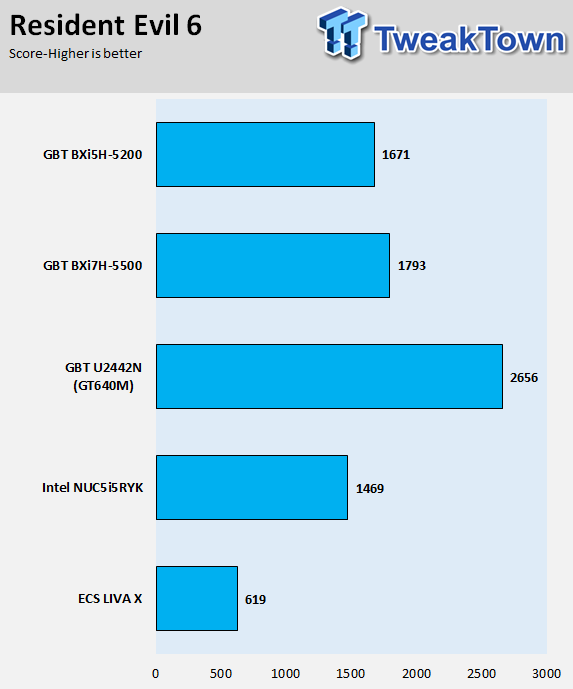 Comparing the i5 BRIX to the i7 BRIX is very straight forward, the only major differences between the two models is NFC and a faster clock speed on the i7 BRIX. The faster CPU clock speed does give the i7 BRIX advantages; however, the i5 based BXi5H-5200 isn't slow by any means. It gets a bit more interesting comparing the i5 5250U in the Intel NUC against the i5 5200U in the BRIX.
The BRIX with the i5 5200U has a higher base CPU clock (2.2GHz versus 1.6 GHz on the NUC), same 2.7GHz turbo as the NUC, a lower configurable TDP (7.5W versus 9.5W on the NUC), lower memory speed (1600MHz max versus 1866MHz max), and a slightly lower GPU clock (HD 5500 (900MHz) in the i5 BRIX versus HD6000 (950MHz) in the NUC).
While in CPU tests the NUC and the i5 BRIX are basically tied, in memory and GPU tests, the NUC has a slight advantage. The i5 5200U in the BRIX performs at higher clocks during lesser CPU workloads like in 3DMark because of its higher base CPU clock, and unless the CPU is at full speed such as in CINEBENCH, the i5 BRIX performs a little better than the NUC CPU wise. The i5 BRIX is a tiny bit better CPU wise, while the i5 NUC is a tiny bit better GPU wise.
System IO Benchmarks
Storage and Network Performance
Crystal DiskBench-Read: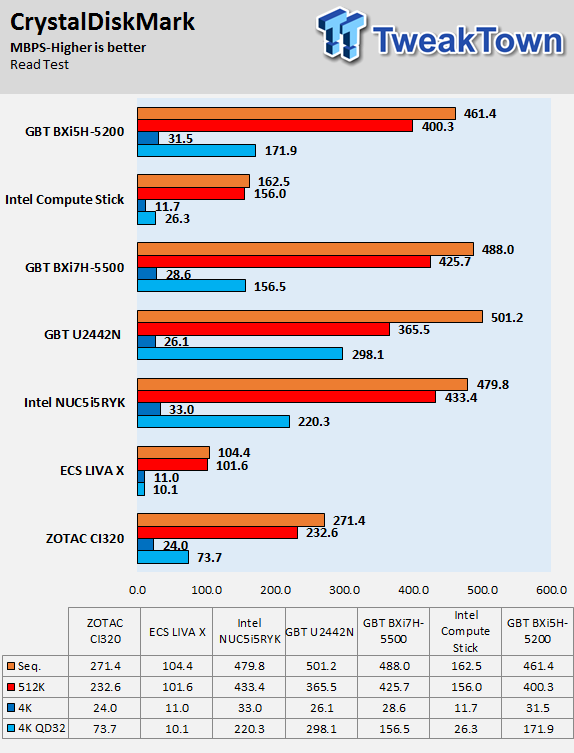 Crystal DiskBench-Write: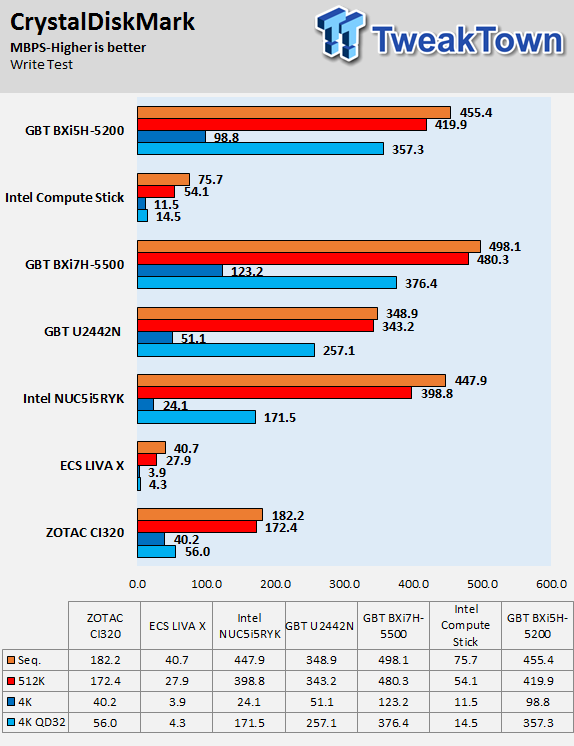 Diskbench USB 3.0 Speed: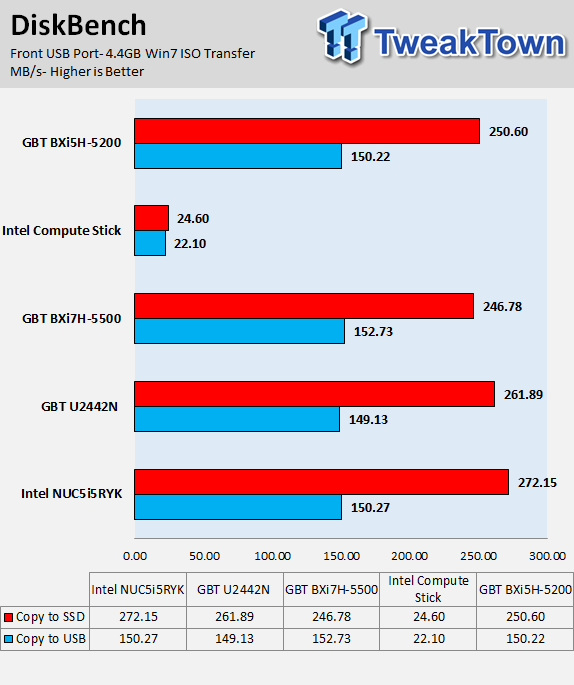 ixChariot Network Throughput: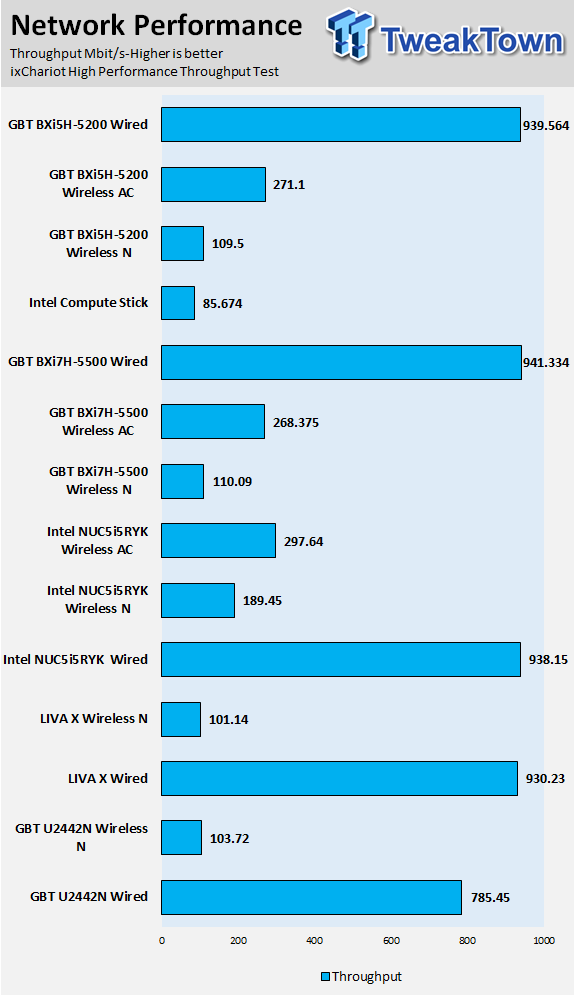 I did expect these numbers for the mSATA of the NUC. In network and USB tests, the results were what I expected because I tested the i7 BRIX before which has almost identical hardware. The performance is solid, but nothing ground breaking.
I was a little surprised that the network and storage performance of the i5 BRIX wasn't as good as that in the i7 BRIX, considering they use the same WIFI/BT module.
Temperature and Power Consumption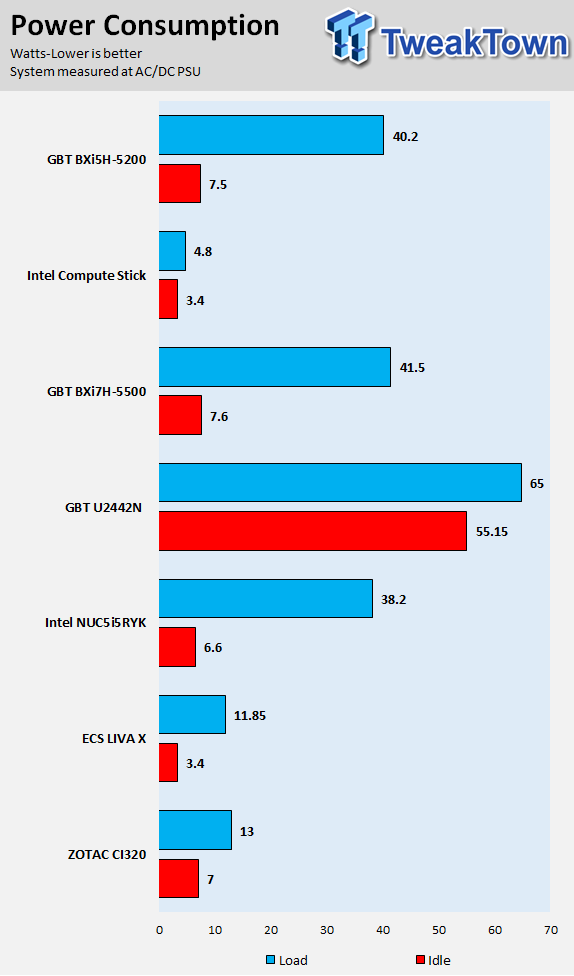 While the NUCs and both BRIX have CPUs of the same TDP (15W), the i7 BRIX I tested a month ago draws a bit more power because of its higher clock speeds compared to the i5 BRIX. The huge delta that I liked seeing on previous small form factor PCs is also present on the i5 BRIX as the CPU really throttles down at idle.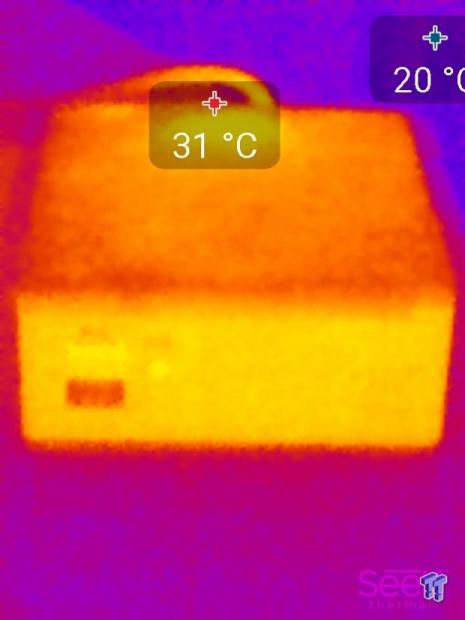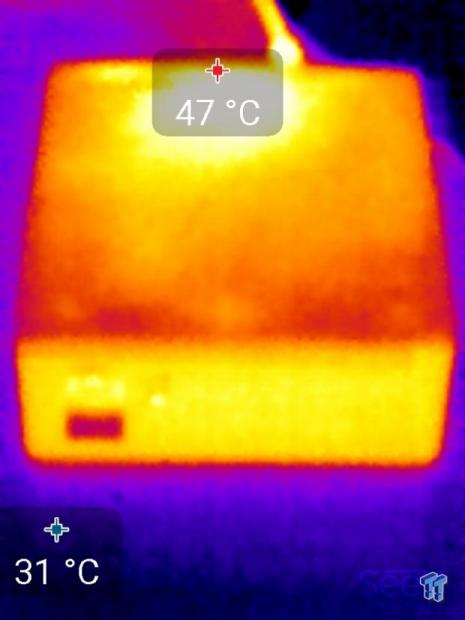 Shots of the BXi5H-5200 idle and load. I ran AIDA64 stability test at the same time as 3DMark Vantage to load the CPU, memory, and graphics.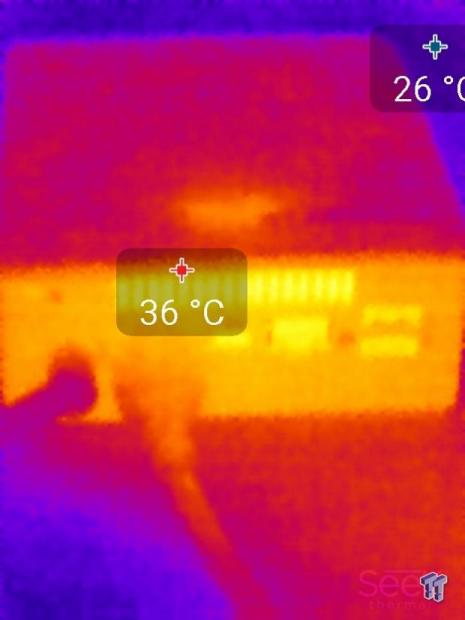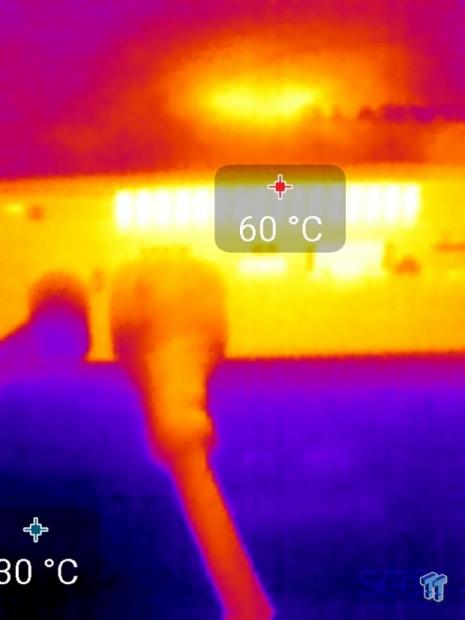 Shots of the back of the unit where the exhaust fan blows.
Final Thoughts
These small form factor PCs that I have been testing really do have solid performance when it comes to everyday tasks such as web browsing and streaming. I think most would agree that their performance is overkill for those tasks. As in any computer system, the slowest component is the one which limits overall performance for any given task. For tasks like rendering and editing, it's the CPU and memory, for gaming, it's the CPU and GPU, and for general workloads, it's the storage and connectivity.
The BRIX s BXi5H-5200 tackles all of those tasks with ease except intense 3D gaming. Its storage options, especially with the 2.5-inch SSD/HDD drive bay coupled with mSATA, are very expansive and provide a wide range of possibilities. The thing you can't really do is play the latest 3D games, but for its size and price, you really shouldn't be expecting a gaming machine.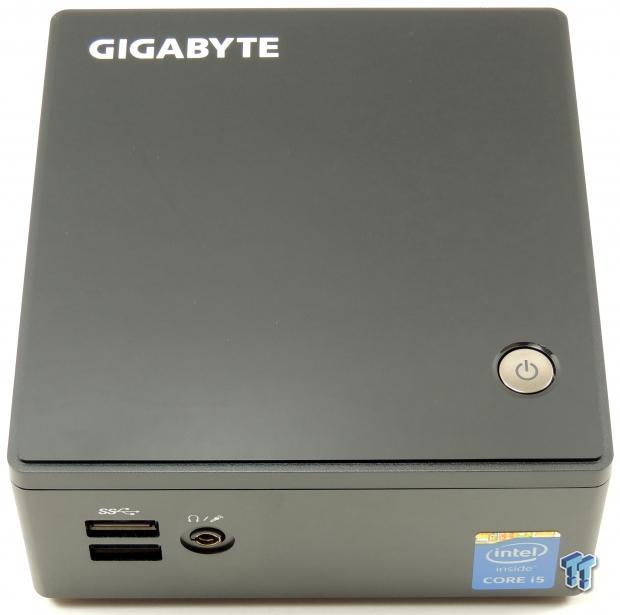 At the time of writing, the cost of the BRIX BXi5H-5200 is about $100 less than the BRIX BXi7H-5500 and $5 less than the Intel NUC5i5RYK previously reviewed. The Intel NUC doesn't have the capability to house a large 2.5-inch drive like the BRIX, and while it offers slightly better gaming performance, you still need to take into account the cost of storage and memory. The BRIX BXi5H-5200's support for an mSATA or standard 2.5 inch SATA drive makes it a very cost effective and versatile machine compared to those SFF PCs which only support M.2.
Overall, the BRIX BXi5H-5200 has a fast CPU, good memory support, and great storage support bundled into a tiny packaged which is excellent for most tasks a sub $500 PC needs to execute. The price of the BRIX BXi5H-5200 and its support for 2.5-inch drives makes it an excellent value buy in the small form factor PC arena.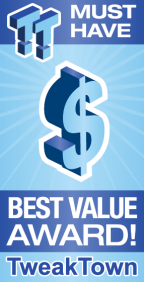 | | |
| --- | --- |
| Performance | 89% |
| Quality including Design and Build | 96% |
| General Features | 88% |
| Bundle and Packaging | 94% |
| Value for Money | 94% |
The Bottom Line: GIGABYTE's BRIX s BXi5H-5200 support for an mSATA or standard 2.5 inch SATA drive makes it a very cost effective and versatile machine, which can handle almost any normal task thrown at it, at a great price.
PRICING: You can find products similar to this one for sale below.

United States: Find other tech and computer products like this over at Amazon.com

United Kingdom: Find other tech and computer products like this over at Amazon.co.uk

Australia: Find other tech and computer products like this over at Amazon.com.au

Canada: Find other tech and computer products like this over at Amazon.ca

Deutschland: Finde andere Technik- und Computerprodukte wie dieses auf Amazon.de
We openly invite the companies who provide us with review samples / who are mentioned or discussed to express their opinion. If any company representative wishes to respond, we will publish the response here. Please contact us if you wish to respond.