TweakTown's Rating: 87%
The Bottom Line
TRENDnet's TEW-828DRU is a solid router, with minor performance issues that could certainly be fixed in future updates. Adding to the package is an AC3200 platform with an industry leading warranty at a decent price point.
Introduction

Within the last year, we have seen many wireless router solution come through the lab. We have seen everything from the mainstream RTA15 from Amped to the next generation Wave 2 solutions from ASUS, Linksys and Netgear. As the market stands right now, nearly every vendor has an AC3200 solution on the market. In past reviews, such as the Nighthawk X6 and the Linksys EA9200, we had a chance to put these monsters of wireless technology through their paces. Adding to our charts today, we have the latest solution from TRENDnet in the lab, the TEW-828DRU.
As far as wireless routers are concerned, AC3200 solutions allow the best mix of old and new technologies to coexist on the same network. As many of you know, when connecting legacy devices to a modern network, those devices can often bring the entire network to a halt. With AC3200 solutions bringing three band Wi-Fi to the table, users can safely connect older devices to the legacy 2.4GHz 802.11n network, along with having a second option on the 5GHz band. This leaves an entire band for modern 802.11ac solutions, and as a bonus, many solutions like the TRENDnet in the lab today, often have some sort of "Smart" option for combining the two 5GHz bands and allowing the router to choose what network your devices are dispersed on by signal strength and performance.
The TRENDnet TEW-828DRU shares the same platform characteristics found in both the Linksys and Netgear solutions. This means we have a dual-core 1GHz processor covering six 802.11ac streams and three 802.11n streams, no mention is made about the amount of RAM or flash included on this model, but as the previous two tested platforms have confirmed, we should have 256MB of memory and 128MB of flash.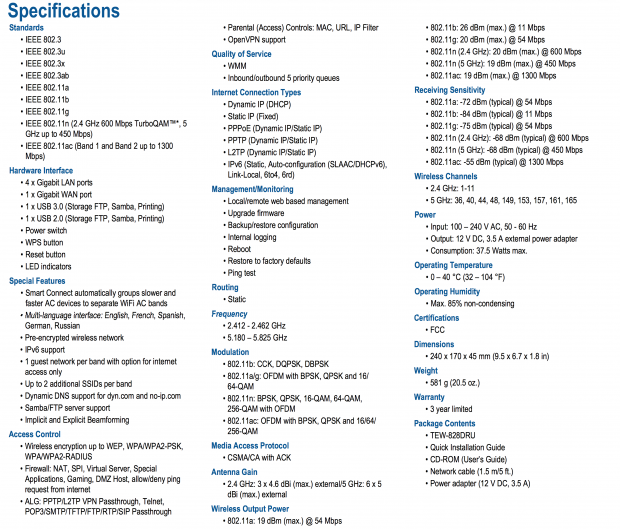 Looking over the specifications, we find the TEW-828DRU housing four gigabit LAN ports next to a single gigabit WAN. A single USB 3.0 along with a USB 2.0 port allow FTP, Samba and printer access over the network. The wireless bands are split into a single 2.4GHz 802.11n network capable of 600Mbps via TurboQAM, while both of the 5GHz bands are capable of 1300Mbps.
The TRENDnet TEW-828DRU carries a MSRP of $309.99 with a market leading three-year warranty.
TRENDnet AC3200 Wireless Router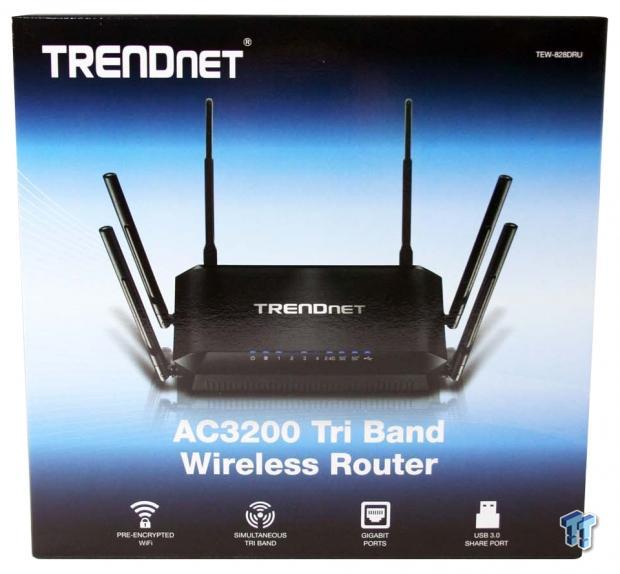 Packaging for the TEW-828DRU is rather simple, with an image of the router centered and marketing information listed below.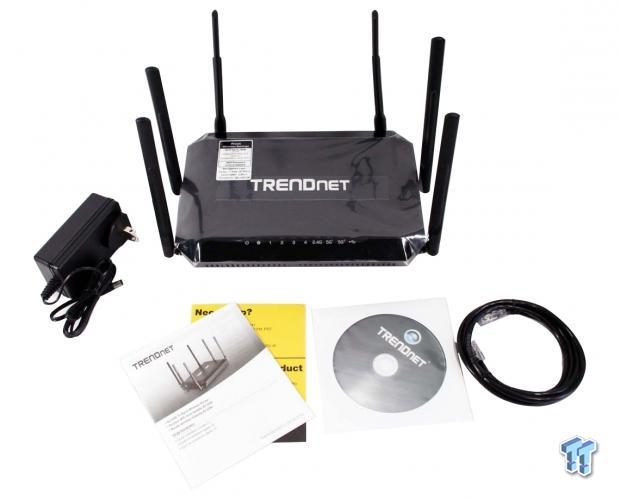 Scope of delivery includes the router, power adapter, Ethernet cable, and reading materials.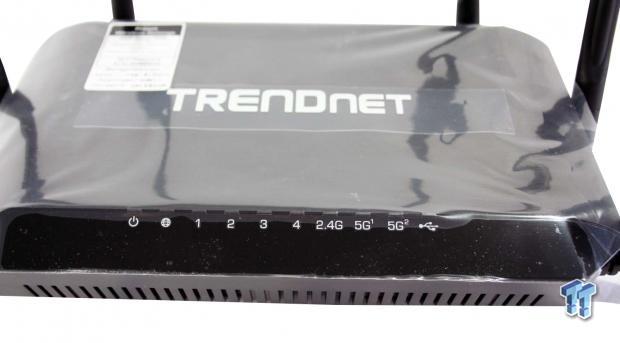 The front of the router houses a lineup of activity LEDs. As you can see above, everything from the LAN to WLAN ports are included, as well as the USB port.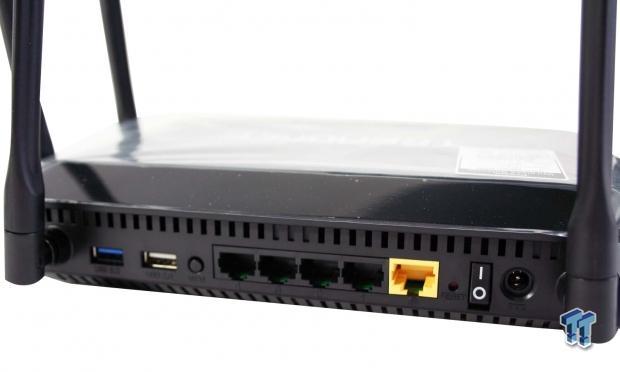 The rear of the router houses the four gigabit LAN and single WAN port to the right, to the left are the USB ports and WPS button.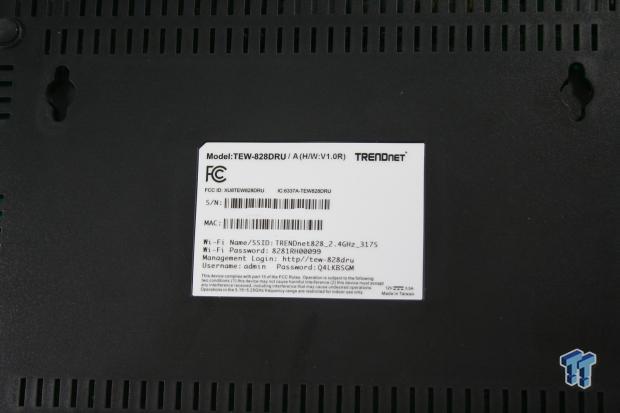 The bottom of the router carries the sticker with serial number and Mac address listed. Further down, you will find the default settings for the router.
Management GUI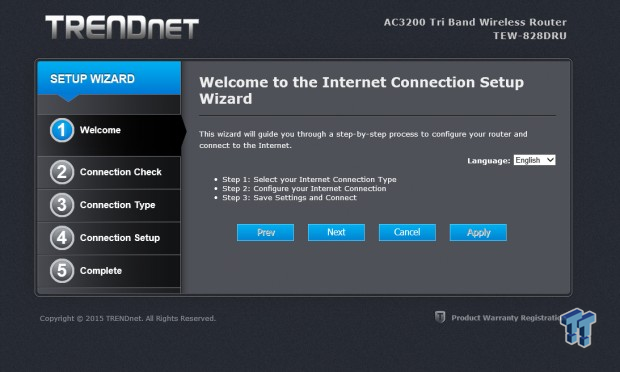 The TEW-828DRU uses similar firmware as found on the 818 we reviewed last year. Upon first setup, the router deploys a wizard to guide you through setup.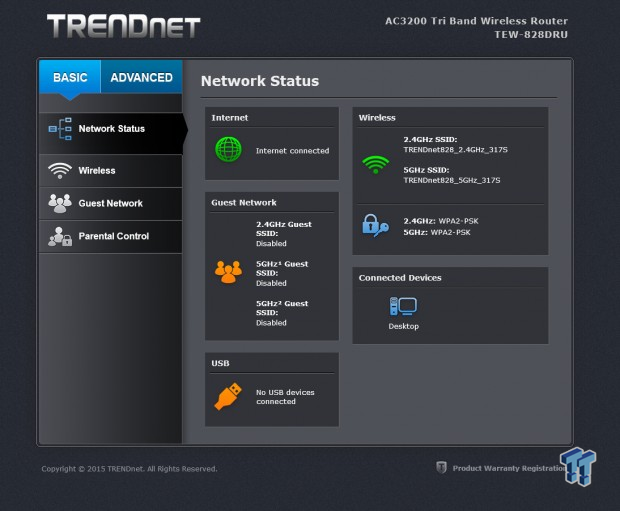 The main menu offers a glimpse at the overall status of the router. As you can see above, we have Internet, Wireless and USB tabs, along with a connected devices area that shows what PCs are connected to the router.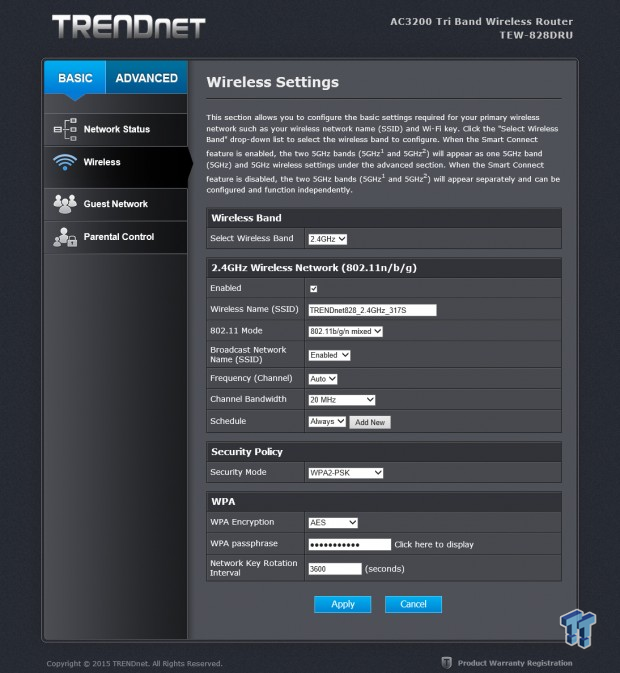 Within the wireless settings you will find a drop down box allowing you to select which network you want to configure. Here you have access to SSIDs, channel width and security settings.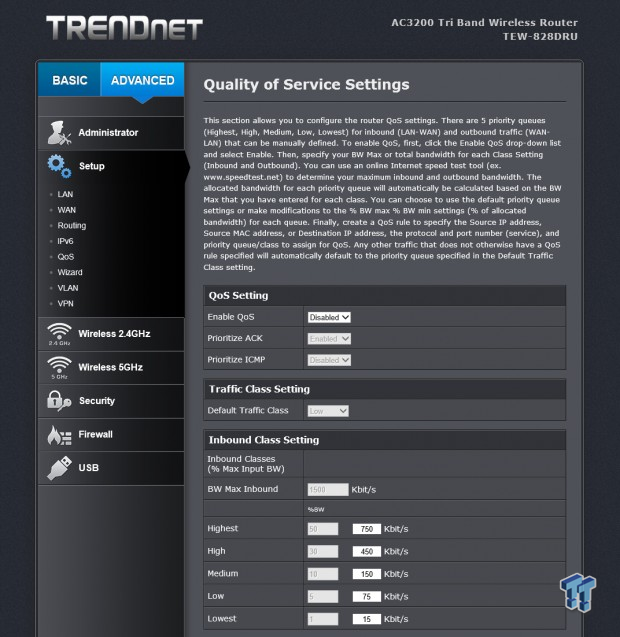 QoS is a big selling point for every router, as it enables the router to prioritize traffic enabling a smoother experience. By default, this feature is disabled but does allow you to set your internet throughput manually along with five levels of QoS.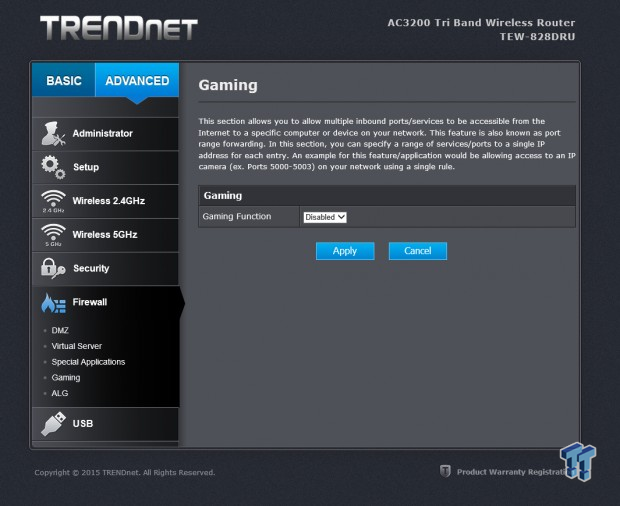 The 828DRU is the first we have seen to label the port range forwarding as "gaming".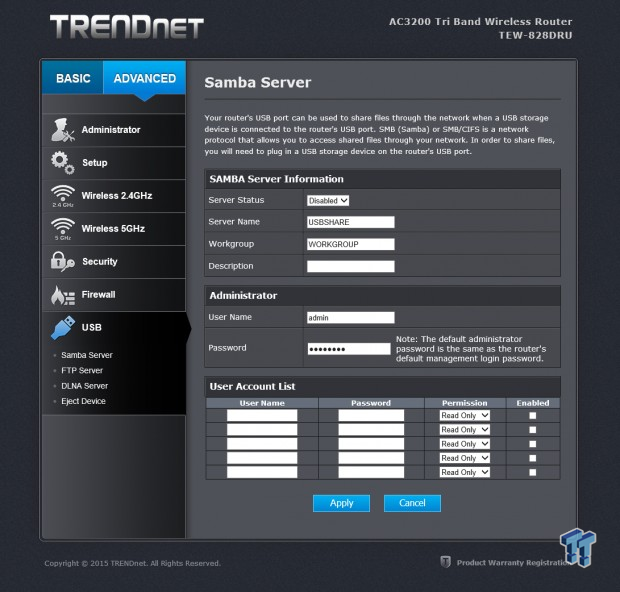 Above, we have the settings for the USB storage. Within this menu, you can enable the SMB server, create users for it along with additional options such as FTP and DLNA.
Test System Setup and Transfer Performance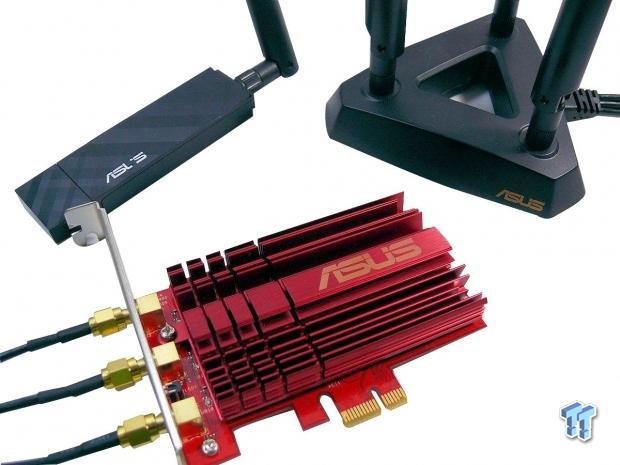 Wireless throughput is tested using the ASUS PCE-AC68 PCI Express Network Adapter. Range is tested with a Late 2013 MacBook Pro.
We perform all tests in a real-world environment. You may get better range and throughput results in a spacious facility with few internal walls or outdoors. Our tests provide a benchmark for estimating the range and throughput of wireless networking devices in an indoor setting, with some obstacles.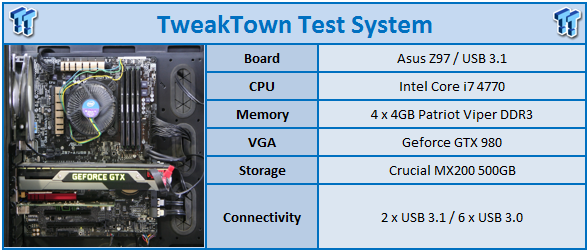 Transfer Performance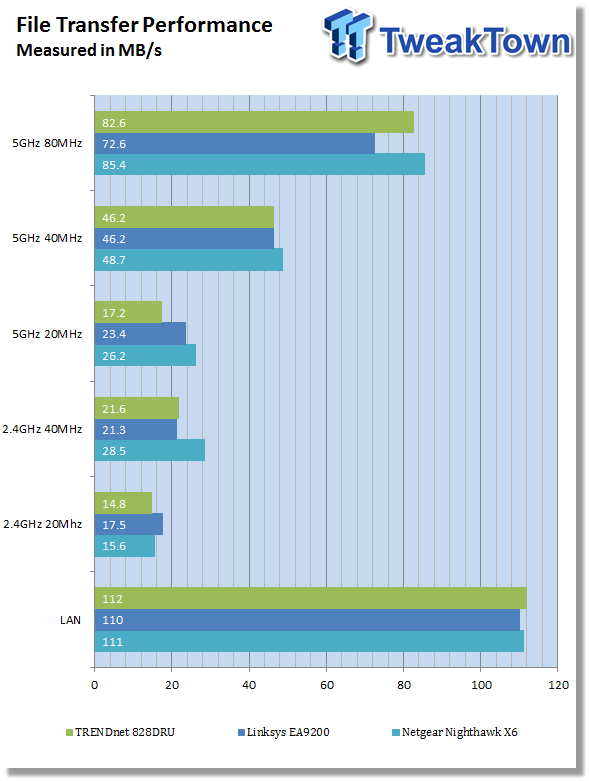 In the chart above, we have all three of the tested AC3200 solutions. All three solutions share similar performance through LAN and 2.4GHz testing, but as we enter 5GHz testing, the TRENDnet and Netgear solutions pull away.
Benchmarks - Wired and Wireless Throughput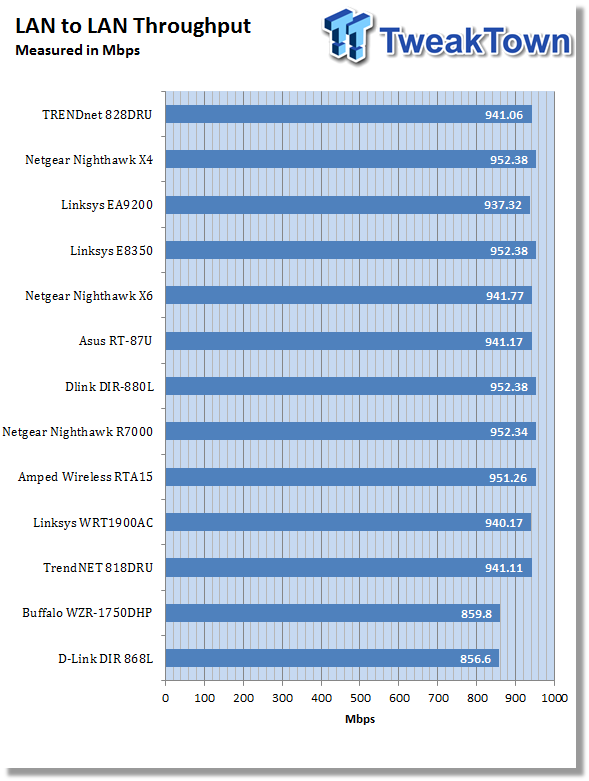 LAN-to-LAN throughput landed the TEW-828DRU on par with most solutions in our chart. Comparing it to other AC3200 solutions, it was slightly quicker than the Linksys solution, and nearly identical to the Netgear device.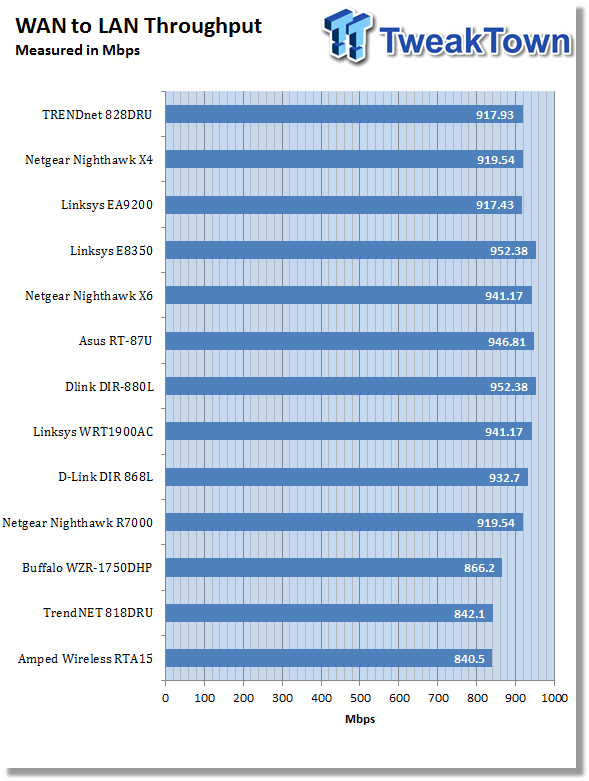 WAN to LAN throughput reached a peak of 917 Mbps, similar to what we found with the Linksys solution.
Benchmarks - Wireless Throughput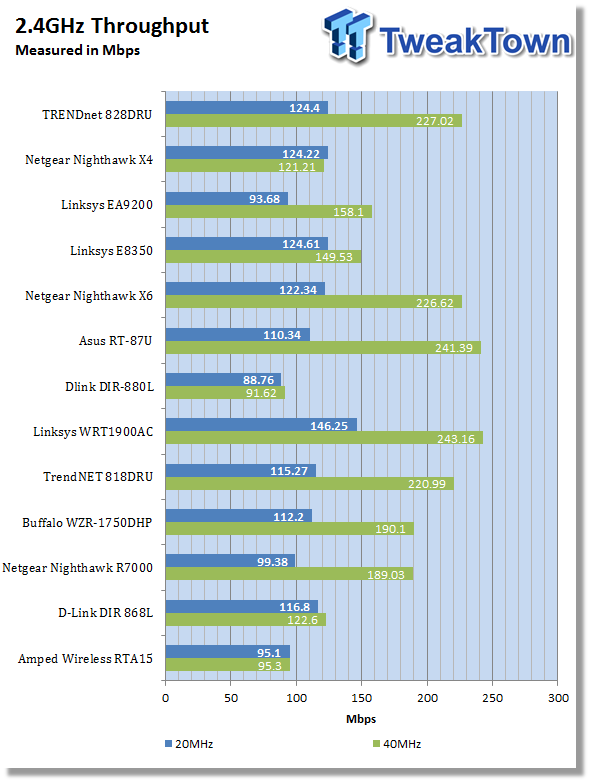 Moving over to wireless throughput, both the 20MHz and 40MHz channels had the TRENDnet TEW-828DRU leading the pack within AC3200 solutions. With 20MHz, the router reached 124 Mbps, while 40MHz produced 227 Mbps.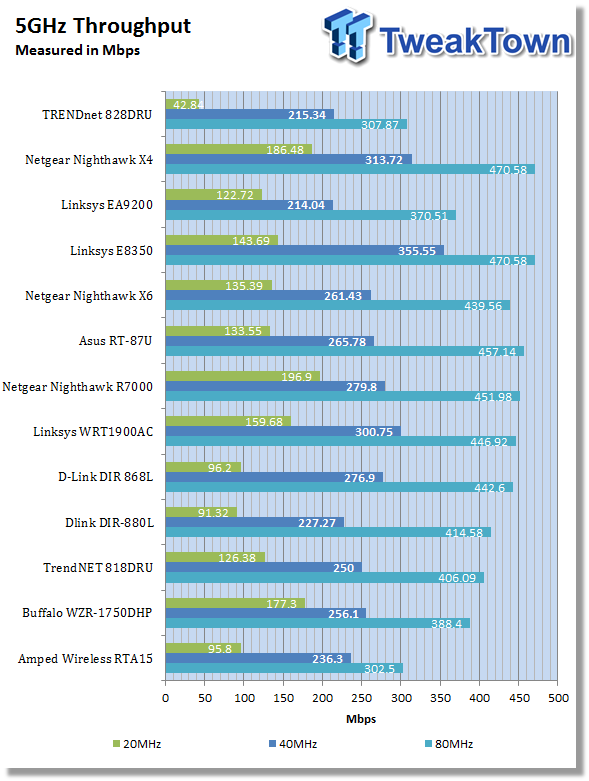 5GHz performance was a bit up and down. With the 20MHz band, we reached 42 Mbps, while the 40MHz band picked up quite a bit landing at 215 Mbps. The 80MHz band was a bit of an underperformer as we found no way within the firmware to force the router to stay at 80Mhz. With that said, we did reach 307 Mbps during testing.
Benchmarks - External Storage Test & Final Thoughts
External Storage Testing
In our external storage performance test, we map the USB 3.0 storage port on each router as a network drive, then run ATTO Disk benchmark and record the best results over three runs.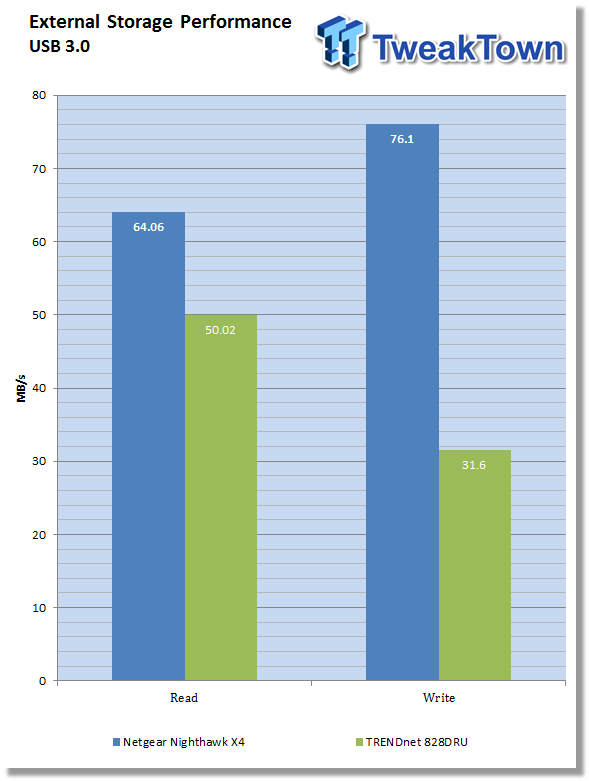 External storage performance for the TEW-828DRU was decent and while we didn't reach top tier results, we did manage 50 MB/s read and 31 MB/s write, which makes it a good enough solution for transferring files across the network and even streaming to any DLNA capable device.
Final Thoughts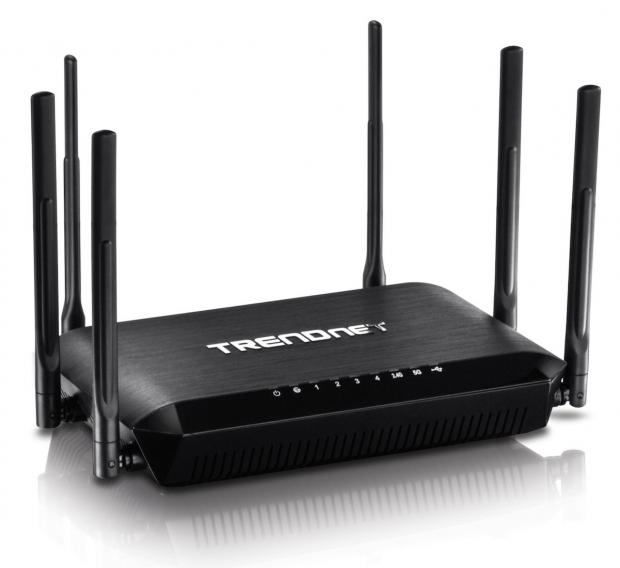 With so many routing solutions available in today's market, finding the perfect solution can at times be difficult. Since the release of 802.11ac technology, vendors have been producing solutions from the low-end budget friendly AC1200 all the way up to AC2400 Wave and AC3200. While many of these share the same platform underneath, your decision will largely depend upon product support, firmware and reliability.
In testing the TEW-828DRU, I found this particular solution to offer a good deal of build quality along with aesthetic appeal. The plastics used are durable and fit together tight, while the piano black appearance gives the unit some class, even if it does attract fingerprints.
Performance of the TEW-828DRU was quite impressive as well. In my testing, we found this solution to be in the top tier when it came to LAN throughput, while WAN performance was on par with many solutions in our charts. Wireless throughput for the 2.4GHz band was close to being the best we have seen with the 20MHz band reaching 124 Mbps and the 40MHz band touching 227 Mbps. 5GHz performance did drop off slightly due to not having the ability to lock the 80MHz band, but did reach 215 Mbps at 40 MHz and 307 Mbps at 80 MHz.
As stated in the past, performance may not be everything to everyone and as such the TRENDnet does offer a very easy to use interface for managing this solution. The main menu gives a glimpse of the status of the router and digging into the settings gives plenty of options for configuring your network or setting up additional network storage. With that said, even with the 5GHz performance issues that could possibly be cleaned up with future firmware revisions, the TRENDnet TEW-828DRU solution does offer the best warranty when it comes to AC3200 solutions at three years.
| | |
| --- | --- |
| Performance | 84% |
| Quality including Design and Build | 87% |
| General Features | 89% |
| Bundle and Packaging | 85% |
| Value for Money | 90% |
The Bottom Line: TRENDnet's TEW-828DRU is a solid router, with minor performance issues that could certainly be fixed in future updates. Adding to the package is an AC3200 platform with an industry leading warranty at a decent price point.
PRICING: You can find products similar to this one for sale below.

United States: Find other tech and computer products like this over at Amazon.com

United Kingdom: Find other tech and computer products like this over at Amazon.co.uk

Australia: Find other tech and computer products like this over at Amazon.com.au

Canada: Find other tech and computer products like this over at Amazon.ca

Deutschland: Finde andere Technik- und Computerprodukte wie dieses auf Amazon.de
We openly invite the companies who provide us with review samples / who are mentioned or discussed to express their opinion. If any company representative wishes to respond, we will publish the response here. Please contact us if you wish to respond.