Netgear Nighthawk X6 R8000 AC3200 Wireless Router Review
Today Tyler gives us a close look at the new Netgear Nighthawk X6 R8000 AC3200 wireless router. It costs a bit, but includes loads of features - read on.

Published Thu, Sep 18 2014 4:10 PM CDT
|
Updated Tue, Nov 3 2020 6:59 PM CST
Introduction & Pricing, Availability and Specifications
A few months ago, we took a look at the Netgear Nighthawk R7000. We came away quite pleased with the features that were put into that solution, along with its build quality and performance. After that review, not a month later, I caught the release of the Netgear Nighthawk X6 (R8000), and today we finally get the chance to get our hands-on this rather unique spin on 802.11ac.
The Netgear Nighthawk X6 (or R8000) is the first Tri-Band Wi-Fi router that I have ever seen. Remarkably, Netgear went to the drawing board and designed a solution that takes into account the many devices we already have that depend on legacy network infrastructure. This means with the R8000, you can connect your legacy 2.4GHz 802.11b/g/n devices, along with your 5GHz 802.11n devices, and still have an entire 5GHz band left over for just 802.11ac devices. This means no network bottleneck and no slowdown because you have legacy devices on an 802.11ac 5GHz band.
Going over the Wi-Fi connectivity of the R8000, the 2.4GHz band is capable of 600Mbps via 256QAM modulation, and then we have both 5GHz bands that can do 1300Mbps each. On the back of the unit, we have 4-gigabit LAN ports, along with a single gigabit WAN port.
A dual-core 1GHz processor and three offload processors powers the X6, along with 256MB of DRAM, and 128MB of flash memory. Additionally, as with most routers these days, the R8000 deploys two USB ports on the back of the unit of which one carries the faster USB 3.0 specification.
Pricing, Availability and Specifications
Along with the specifications we went through above, the R8000 is the first router to come through the lab to utilize Broadcom's 5G Wi-Fi XStream. Broadcom's 5G Wi-Fi XStream is a MIMO platform for home routers that includes six 802.11ac streams and three 802.11n streams that run simultaneously, the platform deploys this through what Broadcom calls "Penta" core processing. Using the dual 5GHz bands along with the single 2.4GHz band and the dual-core main processor, the R8000 has a combined 2.96GHz of processing power to maximize network capacity.
MSRP of the Netgear Nighthawk X6 wireless router is listed at $299.99 with a one-year warranty. Availability of the router is quite high at this point in time with nearly every retailer having stock.
Netgear Nighthawk X6
Netgear Nighthawk X6 Wireless Router
The product packaging for the X6 is quite extravagant. As you can see, the box employs a hologram like material around the 3.2Gbps marketing, which is sure to catch your eye in a retail setting.
The back of the box carries a few more marketing detail about the X6, along with use scenarios.
Scope of delivery includes an Ethernet cable, power adapter, and reading materials.
The X6 quite honestly is a massive router, slightly larger than the R7000, and around the same size as the WRT1900AC from Linksys.
Here we have deployed all six antennas on the unit.
The back of the router houses four gigabit LAN connections, next to the single WAN port. We also have a USB 3.0 port and a USB 2.0 port.
Management GUI
For the most part, the R8000 uses the same interface as the original Nighthawk. Here we start with the Genie setup wizard.
The basic menu system for the X6 lays everything out in a simple manner.
Moving over to the advanced menu system, we get a larger view of everything going on within the router.
Looking over the wireless menu, we find all three bands displayed on one page. Here you can change all the settings you would ever really need.
External storage menu allows you to setup and configure USB storage and the READYshare printer service.
Over on the attached device menu, you can see all the wireless and wired devices connected to the router, intruders included.
Next, we have the traffic meter a great feature for those that have metered connections.
Last, we have the option to setup the R8000 as a wireless access point.
Test System Setup and Wireless Range
As wireless networking has proliferated in homes and offices around the world, and network vendors keep releasing new devices on a regular basis, you now have so many options that it's hard to make a choice. The truth of the matter is, regardless of how many features a wireless router or access point has, the two most important things about it are its speed and its range.
We test throughput in a dual-node network environment consisting of a Custom PC with a GIGABYTE Z77UP5 TH, Intel Core i5 3570K Processor operating at 3.3GHz with 16GB of DDR3 featuring the Startech.com ST1000SPEX42 quad port gigabit network adapter. The second system features a GIGABYTE x58 OC Mainboard with an Intel Xeon L5639 Six Core CPU, 48GB of DDR3 from ADATA and the StarTech.com ST1000SPEX42 NIC.
Wireless throughput is tested using the ASUS PCE-AC68 PCI Express Network Adapter. Range is tested with a HP ProBook installed with an ASUS USB-AC56 adapter via USB 3.0.
We perform all tests in a real-world environment. You may get better range and throughput results in a spacious facility with few internal walls or outdoors. Our tests provide a benchmark for estimating the range and throughput of wireless networking devices in an indoor setting, with some obstacles.
Wireless Range
For wireless range, we need to refer to the Network Infrastructure chart above. Each chart herein is based on the locations on the table. To make it simple, Location 1 is the closest and within Line of Sight, while Location 4 is the furthest away with many walls in between. Location 5 tests the router's ability to generate enough signal strength to penetrate to the second floor of a home.
In our 2.4GHz testing, the X6 performed quite well. In fact, range was similar to the RT-AC87U from ASUS.
5GHz range was quite similar to what we found with the Nighthawk R7000 a few months back.
Benchmarks - Wired and Wireless Throughput
Benchmarks - Wired Throughput
LAN to LAN throughput peaked at 941.77 Mbps for the Nighthawk X6.
WAN to LAN came in at 941.71 Mbps slightly better than the R7000 at 919.54 Mbps.
Benchmarks - Wireless Throughput
In our 2.4GHz testing, the Nighthawk X6 performed quite well. The 20 MHz channel allowed 122 Mbps while the 40 MHz channel netted 226 Mbps. This is quite an improvement over the R7000 tested a few months back.
5GHz performed pretty well. As you can see above, the X6 came in at 135 Mbps and 261 Mbps for the 20 and 40 MHz channels, while the 80 MHz "AC" channel came in at 439 Mbps.
Benchmarks - File Transfer Test & Final Thoughts
File Transfer Speeds
In our file transfer test, we use a single 4GB ISO file and transfer it from test system one to our second test system via the network. To eliminate any bottlenecks, each system is utilizing a Corsair Neutron 256GB SSD.
File transfer testing went quite well for the Nighthawk X6.
LAN-to-LAN transfers came in at 111 MB/s, while the 2.4GHz band was able to produce 15 MB/s and 28 MB/s, respectively. Over on the 5GHz band, we touched 85 MB/s with 802.11ac, while the 20 and 40 MHz bands came in at 26 MB/s and 48.7 MB/s, respectively.
Final Thoughts
The Netgear Nighthawk X6 R8000 wireless router is quite a beast. In fact, the normal shelf I set my router on didn't have enough room to deploy the antennas fully when setting it up. Not that it's a bad thing, but do make sure you have enough room wherever you plan to setup the X6.
Build quality of the X6 was fantastic, and like the R7000, it's quite heavy. All the plastic feel strong and the activity LEDs, while being a bit bright at night can be shutoff via a switch on the back of the unit.
Performance of the router was on par with expectations, in most of our testing the router performed right with solutions tested previously, while being a step ahead of the previous R7000 in most situations. LAN to LAN and LAN to WAN allowed the router to reach full potential of gigabit Ethernet, while 2.4GHz wireless carried a good amount of range, while besting the performance of the original Nighthawk.
5GHz while having two bands performed great, we had range on par with most routers on the market, and throughput was right with the top routers in our charts.
Perhaps the best feature of the X6 is the dual 5GHz bands. While most of us enjoy having legacy devices, it's great to know your network won't have to suffer. The Nighthawk X6 is what I call a transition router, with legacy 2.4GHz devices having their very own band, and then having two separate 5GHz bands, allowing you to use 5GHz 802.11n, at the same time with 802.11ac, without bottlenecking the AC devices.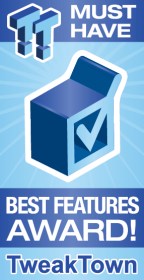 | | |
| --- | --- |
| Performance | 90% |
| Quality | 90% |
| General Features | 90% |
| Bundle and Packaging | 80% |
| Value for Money | 80% |
The Bottom Line: Netgear's Nighthawk X6 is a great solution for users with many devices, each using different wireless technologies. This router will give you the best of all worlds in one package, without sacrificing performance.
PRICING: You can find products similar to this one for sale below.

United States: Find other tech and computer products like this over at Amazon.com

United Kingdom: Find other tech and computer products like this over at Amazon.co.uk

Australia: Find other tech and computer products like this over at Amazon.com.au

Canada: Find other tech and computer products like this over at Amazon.ca

Deutschland: Finde andere Technik- und Computerprodukte wie dieses auf Amazon.de
We openly invite the companies who provide us with review samples / who are mentioned or discussed to express their opinion. If any company representative wishes to respond, we will publish the response here. Please contact us if you wish to respond.
Related Tags