ASRock Fatal1ty X99 (Intel X99) Professional Motherboard Review
ASRock's Fatal1ty X99 Professional motherboard comes decked out with loads of features for gamers and at a good price. Is it for you?
Published Thu, Apr 30 2015 9:08 AM CDT
|
Updated Thu, Jul 30 2020 4:20 PM CDT
Rating:

92%
Manufacturer: ASRock
Introduction, Specifications, and Pricing
ASRock is a company focused on bringing performance motherboards to the market, and with the Intel X99 chipset, they have done just that. For the X99 chipset, ASRock has three major series; Extreme, Overclocking, and Gaming. Each series carries differentiated features aimed at maximizing the potential user experience for each of the categories. In the case of the Fatal1ty X99 Professional, ASRock has equipped the board with premium gaming features.
Like most of ASRock's high-end X99 lineup, the Fatal1ty X99 Professional has a 12 phase 1300W capable VRM, 12K Nichicon Japanese capacitors, Purity Audio 2, and huge heat sinks to cool everything down. The board boasts all of ASRock's premium features followed by a very long list of gaming features.
Specifications
This board is one of few ASRock X99 motherboards to carry 4-Way SLI/CrossFireX capabilities, dual M.2 connectors (4x PCI-E 3.0 and 4x PCI-E 2.0), mini PCI-E, and dual NICs. The board also has a wide variety of overclocking features just like the X99 OC Formula, as well as a slew of gaming features such as a special mouse port with adjustable polling rate from 125 to 1000 Hz.
Pricing
The Fatal1ty X99 Professional is $326 on Newegg at the time of writing which is in the high-end price range when it comes to X99 motherboards. The board does carry a ton of features for the price, and the quality is in line with other offerings in the same price category.
Packaging and the Fatal1ty X99 Professional
Packaging and the Board
The box advertises the gaming features of the board as well as some noteworthy features such as the 12 phase VRM. ASRock tends to strap the boards to anti-static foam inside and anti-static bag, and this method gets the job done when it comes to protecting the motherboard.
Accessories are plenty; 6x SATA6G cables, 3x 2-Way SLI bridge (1 long and 2 short), 3-Way SLI Bridge, IO Shield, SATA saver power connectors, screws for M.2, manuals, case badge, and driver DVD. There is also a key for 3-months free XSplit Broadcaster for broadcasting your game play, so if you have wanted to try out a streaming service this might benefit you.
I have circled the fan headers on the board. The headers circled in blue are 4-pin PWM headers and the four headers circled in red are 3-pin voltage mode headers. Extensive fan control is available through the UEFI and Windows. The heat sinks are very red, almost a shade of crimson, which blends well with the slots. It's a lot of red, meaning you should probably go with a red themed build for this board if you care about color coordination. The back of the board is pretty bare, with the exception of a slim heat sink for half the VRM power MOSFETs which are located on the backside of the PCB. The isolation of the audio circuitry is visible as well, but there are no LEDs to light up the divide.
The back panel IO features a 2x1GBit NIC (1x Intel and 1X Killer), 6x USB 3.0 ports, 2x USB 2.0 ports, PS/2 keyboard and mouse, a 7.1 TOSLINK for audio with S/PDIF out, and a Clear CMOS button.
The PCI-E layout on this motherboard is done so the red slots are meant for GPUs, while the black slot can be used for a GPU if you don't use the Ultra M.2 port as that is where the Ultra M.2 slot gets its 4x PCI-E 3.0. With a 40-lane CPU, 8x is routed to the black slot providing the GPUs a total of 32x lanes. This means that 3-way and 4-way SLI/CF are at 8x/8x/16x/0x and 8x/8x/8x/8x respectively (starting with the topmost red slot). With a 28-lane CPU 4x is routed to the black slot and 24x is left for 2-way and 3-way SLI/CF at 16x/0x/8x/0x and 8x/8x/8x/0x respectively (starting with the topmost red slot). This is one of the better slot allotments I have seen allowing Ultra M.2 and 4-Way SLI/CrossFireX to work at the same time.
Purity Sound 2 is ASRock's upgraded ALC1150 implementation with high quality Nichicon electrolytic audio capacitors, dual amplifiers, and PCB isolation. The Killer NIC also gets its own EMI shield, and you can also catch a glimpse of the mini PCI-E slot meant for a WIFI/BT card. An extra PCI-E power port is located below the audio section, which is for extra PCI-E power for 4-way multi-GPU configurations.
There are 10 SATA6G ports from the PCH. S_SATA3_3 shares its bandwidth with the M.2 slot that uses 4x PCI-E 2.0 (not the Ultra M.2 slot). This trade of bandwidth is to allow for SATA based M.2 drives to work in the slot, as the Ultra M.2 supports PCI-E only M.2 SSDs.
Here are the Ultra M.2 and M.2 slots, the Ultra has PCI-E 3.0 from the CPU while the other M.2 slot has PCI-E 2.0 from the PCH and SATA based M.2 SSD compatibility.
This board has a lot of handy OC features including PCI-E disable, LN2 Mode, and Slow Mode switches for extreme overclocking. Voltage read points, on-the-fly multiplier and voltage control buttons, Dual BIOS selector switch, DirectKey button, and POST code display are also included. To top things off ASRock provides the expected power, reset, and backpanel Clear CMOS buttons as well.
There are two USB 3.0 front panel headers as well as an internal USB 3.0 header for an open air test bench.
The 12 phase VRM is advertised to be capable of boasting 1300W, and this large heat sink cools it all down.
These are the heat sinks, all of them use screws and contact looks great on the VRM and PCH.
Fatal1ty X99 Professional Circuit Analysis
Circuit Analysis
The VRM on this board consists of 12 phases. ASRock has focused on power density by utilizing lower profile 60A inductors and more integrated phases. The output filter consists of 8x 560uF solid 12K Nichicon Platinum capacitors at 4480uF. The VRM is made up of 24 dual N-Channel MOSFETs, 12 are located on the front of the PCB and 12 on the back of the PCB.
The PWM controller is an Intersil ISL6379 Digitally Controlled Hybrid 6 phase PWM. There is no datasheet, but I would venture to guess that it is a 6+1 phase PWM. ASRock uses 6x Intersil ISL6611A which are phase doublers with integrated dual drivers to double 6 phases to 12 phases. ASRock is using 24x FDMS3660S which are dual N-Channel MOSFETs from Fairchild Semiconductor in the PowerTrench package. They have very good thermal and current ratings at 13A/30A (high/low side) at only 2.5W, which is excellent.
Each memory VRM is like a two phase version of the CPU VRM, using two extra ISL6379 PWMs and the same dual N-Channel PowerTrench MOSFETs for a total of three ISL6379 on the board. The memory DIMM's main MOSFETs need drivers and four tiny ones are found on the back of the board. The drivers are Intersil ISL6208. An MPS MPQ8632 is used for the VPP power for each set of the four DIMMs.
The PCH VRM is made up of a single phase PWM with drivers, the Anpec APW8720, and a Texas Instruments NexFET dual N-Channel MOSFET, the CSD87588N.
The audio is powered by an ALC1150 which compliments the Intel Azalia processor in the PCH and two Texas Instruments NE5532 are used to amplify the backpanel and front panel audio outputs. Eight Nichicon gold 100uF electrolytic audio capacitors are used for the analog domain and the audio circuitry is isolated to reduce noise.
The Fatal1ty X99 Professional has two wired NICs, one utilizes Intel's i218v and the other is a Killer e2200.
To expand the USB 3.0 from five Intel USB 3.0 ports to 11, ASRock uses two ASM1074 USB 3.0 hubs which take in one USB 3.0 signal and output four. Two USB 3.0 ports on the backpanel and the single connector located on the PCB are directly wired to the PCH.
ASRock is using two nuvoTon SuperIOs to facilitate all the extra overclocking features and basic SuperIO functions like fan control and temperature monitoring. A nuvoTon NCT6683D handles more complex and specialized tasks such as OC features, while the more common nuvoTon NCT6791D handles basic SuperIO functionality.
Here are either PCI-E 3.0 quick switches each switch two lanes. The first set switch 8x from the first slot to the second, while the second set switch 8x or 4x to and from the Ultra M.2 slot and the black PCI-E 16x slot. Finally a single PCI-E 3.0 quick switch is responsible for switching S_SATA3_3 bandwidth to the PCI-E 2.0 4x M.2 slot (not the Ultra M.2).
Dual Winbond 128Mbit (16MB) BIOS ROMs are located in DIP sockets for easy replacement, and a BCD AZ75232 in the image on the right is a drivers and receivers IC for the COM port.
BIOS and Software
BIOS
ASRock's UEFI it's quite extensive and provides a large variety of options for tweaking. If you are a novice overclocker there are also many profiles in the UEFI for high speed CPU and memory overclocks.
A trick that another editor at TweakTown taught me is to go into the storage configuration and set each drive to SSD mode if it's an SSD, because by default the ports are set to HDD mode for compatibility. Changing the drive mode to SSD will improve SSD performance.
I found by manual measurement that LLC level 3 gives the least deviation from the set voltage. The BIOS was easy to work with and I didn't encounter any major issues that need to be reported.
Software
ASRock's Rapid OC works on the X99 OC Formula and on the Fatal1ty X99 Professional. It allows for on-the-fly overclocking through the onboard buttons. ASRock also provides their Timing Configurator which neatly displays all the important DDR4 timings.
ASRock has consolidated a lot of its software into F-Stream (otherwise known as A-Tuning), which will let you set up functions like Good Night LED and Dehumidifier while allowing you to overclock the CPU in real-time. You can also choose operation modes such as performance or power saving.
Here is ASRock's XFast LAN, which is similar to CFOS, for the Intel port. ASRock also provides XSplit.
Test Setup and Overclocking
Test Setup
A big thanks to Corsair for sponsoring the case, fans, SSD, USB drive, and PSU!
A big thanks to Seek for sponsoring the Thermal Camera. You can find my review of the camera here.
This is the new test bench, and it is designed to test every aspect of the motherboard and IO. I have designed it so that the motherboard sits in a case and is cooled by fans always on at a constant rate to keep the conditions similar for all tests. I have cut out part of the case behind the motherboard so I can get thermal images of the back of the PCB where the VRM heat spreads. System and CPU power measurements are now digitally logged.
I am also using a Netgear Nighthawk X4 AC2350 for our network (including wireless AC) tests. The latest M.2, SSD, and USB technologies are also being utilized to test the maximum potential of the motherboards that are being tested.
Overclocking Results
In this section, I will go through overclocking this board.
CPU Overclocking
Max CPU Overclock is found by setting the VCore to 1.5v, Input voltage to 2.1v, cache voltage to 1.15v, booting with a CPU multiplier of 45x and disabling any features that would result in CPU frequency fluctuation. I then proceed into Windows and use software to increase the multiplier; in this case I opted to use RapidOC.
5.0GHz is the maximum of our CPU on this board and other X99 Motherboards. It is clear that CPU overclocking is pretty good for high frequency.
Maximum AIDA64 Stable Overclock (BIOS settings below for this):
I was easily able to pull off 4.5GHz on the CPU with 3.3GHz cache and a 2400MHz overclock on my memory manually tuning the UEFI.
CPU, Memory, and System Benchmarks
CINEBENCH 11.5
wPrime
AIDA64 AES and HASH
AIDA64 FPU
AIDA64 Memory
PCMark8 Home Test
3DMark: Cloud Gate
3DMark: Fire Strike
Resident Evil 6
Overall, the Fatal1y X99 Professional holds its own against other top of the line X99 motherboards.
It has surprisingly fast memory performance; otherwise it doesn't stand out much. These benchmarks are mostly to make sure there isn't any issue with an aspect of overall system performance, and there isn't any issue here, just a good performing motherboard.
System IO Benchmarks
Anvil SATA6G:
Anvil M.2:
Diskbench USB 3.0:
ixChariot Network Throughput:
IO performance is pretty good, but nothing out of the ordinary; overall solid storage and network performance.
Audio RMAA 5.5:
I disable all audio features, set the correct bitrates, and then test the audio with a loopback test.
Sound Judgment by Ear: Very Good.
There are 5 ratings for audio: 1. Problems, 2. Okay, 3. Acceptable, 4. Very good, 5. Excellent
Temperature and Power Consumption
System power usage is measured at the AC/DC PSU (the Corsair AX1200i) which I have connected to another system to measure the test system and as a backup I have a wall meter to verify. The CPU power is measured through the 8-pin connect which is hooked up to a hall effect IC which measures current and puts out a voltage in proportion to the current. That voltage is logged by a National Instruments ADC which logs the DC voltage level, which I then convert into current.
Note on Thermal Images: In the temperature section, we use our Seek thermal imaging camera to capture the surface temperatures of major components on the board; I look at the VRM and then all other things that light up the screen. If there is something to worry about then I will state it, otherwise I will just show the hotter running parts of the board for fun. Unless some component is over 80-90C then there really isn't anything to worry about.
All systems will act differently, so I will look for commonalities, such as how far from the VRM the heat spreads through the PCB and the difference in temperature between the front side and backside of the PCB. Keep in mind that the majority of the heat from the VRM goes into the PCB as it is a giant soldered on copper heat sink. A smaller difference in temperature between the back and front of the PCB points towards a more effective heat sink.
Thermal Testing at Stock Speeds:
The image on the left is always at idle and the image on the right is at load.
Full frontal.
Up-close of the front of the VRM.
Up-close of the back of the VRM.
Thermal Testing at 4.5GHz Overclocked Speeds:
Full frontal.
Up-close of the front of the VRM.
Up-close of the back of the VRM.
The VRM on the Fatal1ty X99 Professional is built for overclocking. Its 12 phases do an excellent job of providing adequate power during overclocked scenarios. Furthermore, the heat sink does an excellent job of keeping the heat away from the backside of the PCB. Even though there are backside MOSFETs, the temperature on the back of the PCB is almost always lower than the front side, indicating that the heat sink is working.
Temperatures never exceeded 50C, which indicates excellent thermal performance, even with a 300W 4.5GHz 5960X CPU load.
Final Thoughts
Quality on the Fatal1ty X99 Professional is top notch; from the 8 layer/2oz copper PCB to the 12K Nichicon capacitors, ASRock is giving users great quality components. I was initially under the impression that this board carries the same VRM as the X99 Extreme6, but I was mistaken. The Fatal1ty X99 Professional carries double the amount of MOSFETs, and it shows in the thermal testing.
Overall temperatures are much lower when the system is under the same load and overclock, however, idle temperatures are a bit higher (because of more switching components), but I would take lower load temperatures over lower idle temperature almost every time. I was impressed with power consumption numbers considering the increased amount of MOSFETs, and with the VRM as a whole.
The Fatal1ty X99 Professional is a high-end X99 motherboard at a reasonable price. The board has a crazy amount of features including 11x USB 3.0 ports, dual 4x M.2 slots, 4-Way SLI/CrossFireX capability, all the OC features one might want, and dual LAN. There are boards that boast the same amount of features, but their price tags are closer to $400, if not higher. Many of these boards also don't offer the proper 4-Way SLI/CrossFireX spacing the Fatal1ty X99 Professional has, and carry an Ultra M.2 port at the same time. However, you are making a trade-off and losing some PCI-E lanes for 4-Way SLI/CrossFireX when you have an Ultra M.2 slot with this configuration.
What is impressive is that ASRock isn't sharing much bandwidth; you can get away with running almost every port/slot at the same time. While it has a ton of features, performance is average, but with X99, "average" is well above the norm. If you are a gamer looking for a plethora of the latest features and technologies, and don't want to break the bank, then the Fatal1ty X99 Professional might be the right choice for you.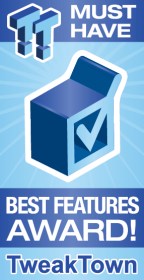 | | |
| --- | --- |
| Performance (including Overclocking) | 87% |
| Quality including Design and Build | 93% |
| General Features | 96% |
| Bundle and Packaging | 89% |
| Value for Money | 94% |
The Bottom Line: If you are a gamer looking for a plethora of the latest features and technologies, and don't want to break the bank, then the Fatal1ty X99 Professional might be the right choice for you.
PRICING: You can find products similar to this one for sale below.
United States: Find other tech and computer products like this over at Amazon.com
United Kingdom: Find other tech and computer products like this over at Amazon.co.uk
Australia: Find other tech and computer products like this over at Amazon.com.au
Canada: Find other tech and computer products like this over at Amazon.ca
Deutschland: Finde andere Technik- und Computerprodukte wie dieses auf Amazon.de
We openly invite the companies who provide us with review samples / who are mentioned or discussed to express their opinion. If any company representative wishes to respond, we will publish the response here. Please contact us if you wish to respond.
Related Tags