TweakTown's Rating: 93%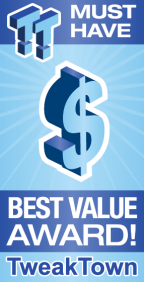 The Bottom Line
EVGA has done a great job with the X99 microATX market, and the X99 Micro won't disappoint; it combines great performance, solid overclocking, and quality hardware into a tiny package with a great value.
Introduction, Specifications, and Pricing

EVGA is a well-known company specializing in NVIDIA video cards and consumer motherboards. Over the years, EVGA has delivered some of the most-anticipated motherboards, and they have recently stepped up their game in bringing consumer motherboards to market. EVGA is prepared to launch an X99 line-up with three models: the X99 Classified, X99 FTW, and X99 Micro.
EVGA has developed a fairly large fan base thanks to great customer service and overall reliability. To meet the needs of their ever-expanding fan base, EVGA is aiming to deliver products of the highest quality matched with the latest features at an affordable price. Personally, I am excited to see how this little Micro-ATX board performs.
Specifications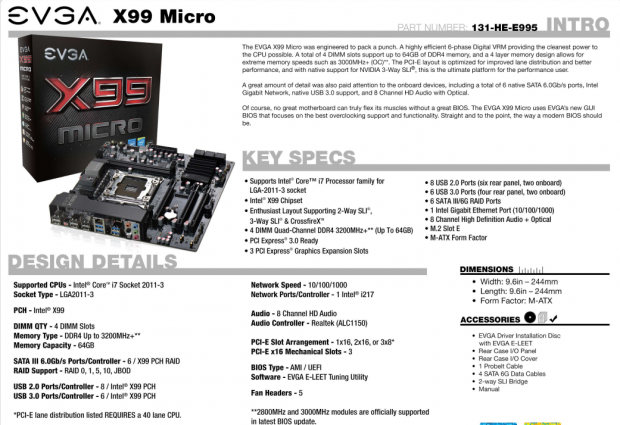 The specifications from EVGA's website are a little vague; however, the board does carry many of the features I am interested in, like M.2 and a ton of backpanel USB ports. EVGA decided not to add many third party ICs to expand SATA and USB, which is a good thing in my opinion, especially on a Micro-ATX board where things can get tight. All of the connectivity comes from Intel controllers, with the exception of the audio, which uses a Realtek codec that works with the integrated Intel audio.
Pricing
At just $245 (on Amazon.com), the X99 Micro is extremely competitive in price, especially since it's one of only a handful of Micro-ATX X99 motherboards available.
PRICING: You can find the X99 Micro for sale below. The prices listed are valid at the time of writing, but can change at any time. Click the link to see the very latest pricing for the best deal.
United States: The X99 Micro retails for $244.99 at Amazon.
Packaging and the X99 Micro
Packaging and the Board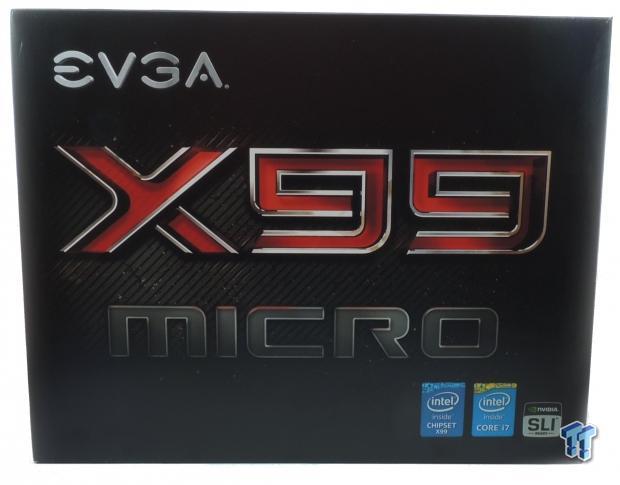 The box is simple yet effective.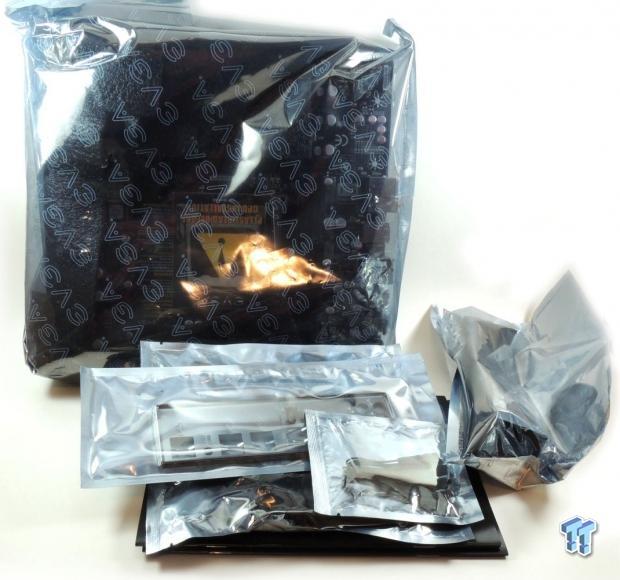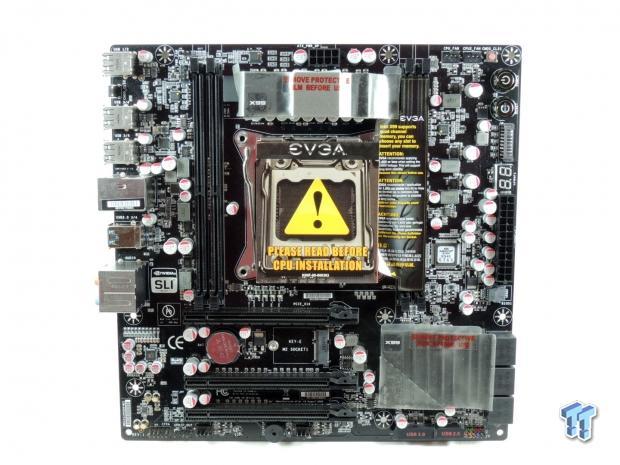 EVGA always does an excellent job with packaging. EVGA boards are always well protected, and the accessories are always individually sealed in anti-static bags; even a single screw for the M.2 slot is sealed in an air-tight bag. The board is labeled with stickers to ensure novice users don't mess up the installation process.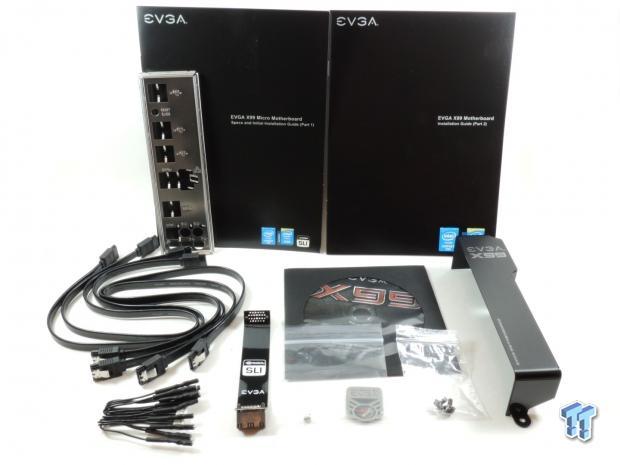 The included accessories are as follows: four SATA6G cables, one two-way SLI bridge, one I/O shield, one I/O bracket (with screws), one voltage read point adapter, one M.2 screw, one driver DVD, manuals, and a case sticker.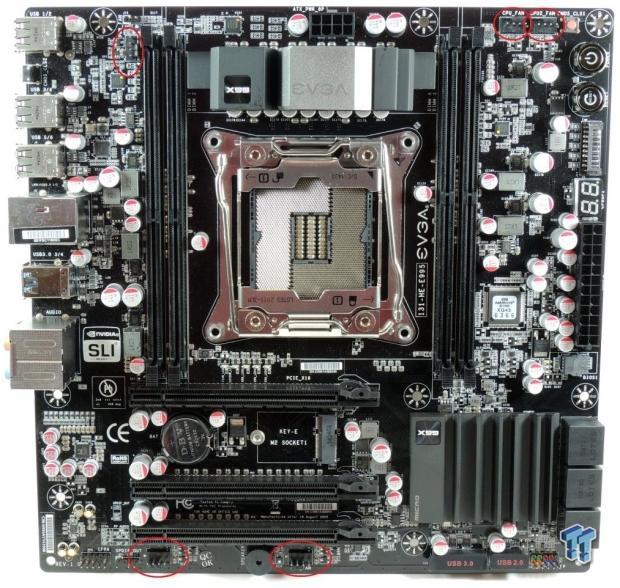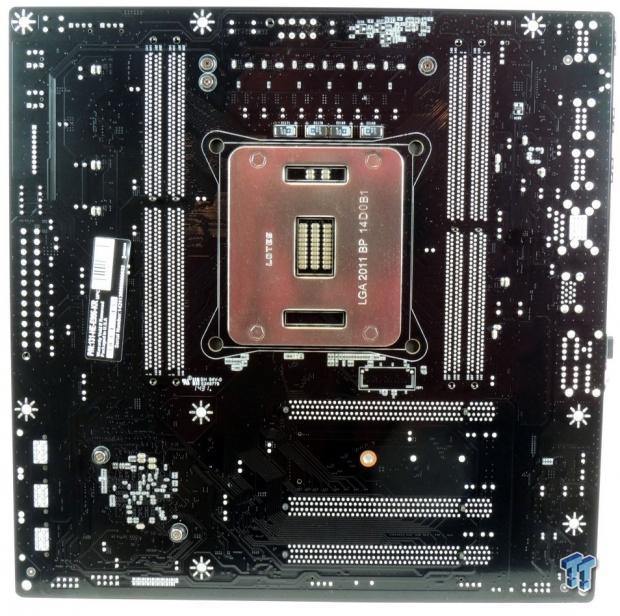 I have circled the fan headers on the board, and there are a total of five. You might notice that there are only four DIMMs in total. Most X99 motherboards have eight DIMMs; however, it is difficult to fit all eight in the Micro-ATX form factor. EVGA has chosen to use high-quality Lotes SATA ports, and even provides dust protector inserts. There are no back-side components, which is a good sign.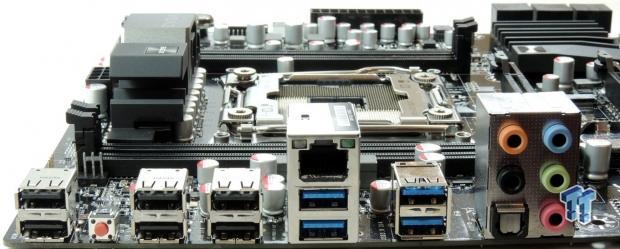 The back-panel I/O features a 1GBit NIC, four USB 3.0 ports, six USB 2.0 ports, a clear CMOS button, and a 7.1 TOSLINK for audio with S/PDIF out.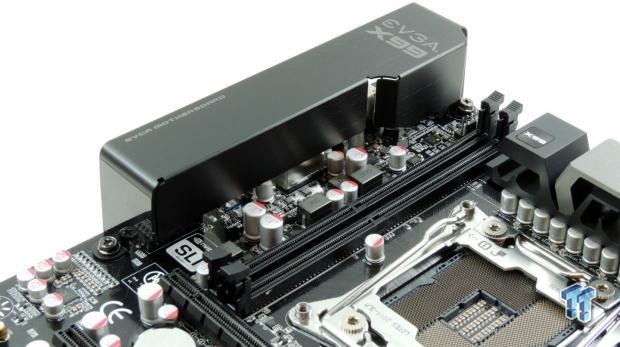 EVGA includes a fancy brushed-aluminum shield to improve aesthetics.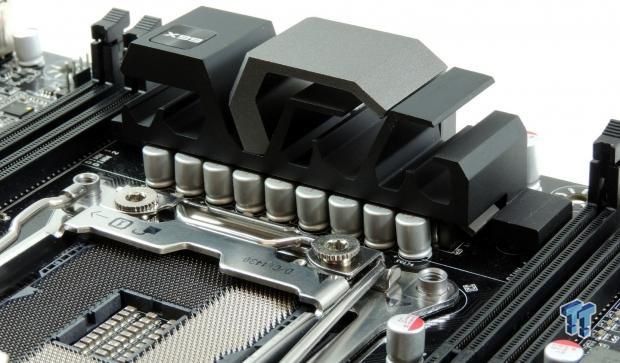 The VRM is cooled by a dense heat sink that also seems to cool the inductors, which can get very hot.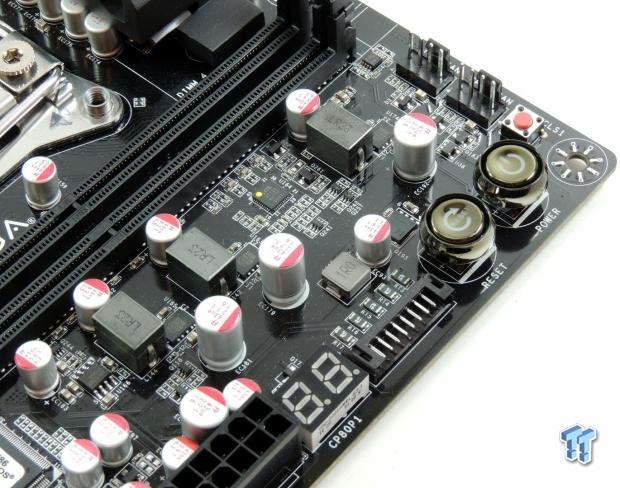 I was surprised to find these OC features on this board. The X99 Micro has a POST code display, power, reset, clear CMOS, and voltage read points. The POST code display doubles as a temperature readout for the CPU after the system finishes POST.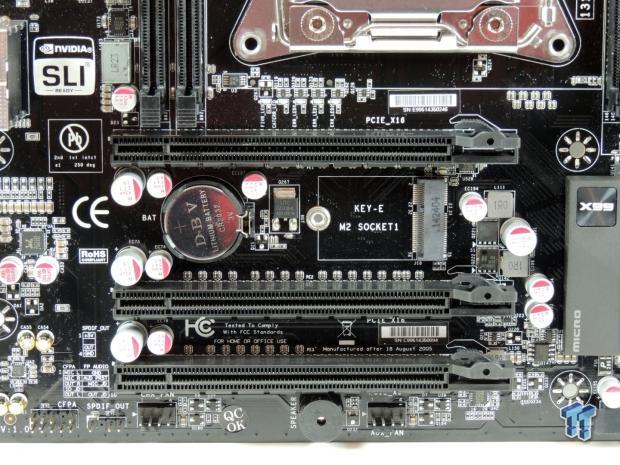 The PCIe layout is straight forward. The top two 16x slots are full 16x slots, and the third is an 8x slot. A small M.2 connector is also present; however, it can't facilitate longer M.2 drives like my Samsung XP941.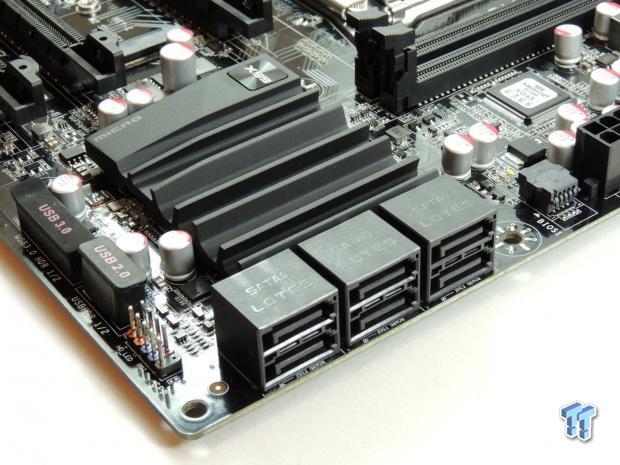 The SATA ports are all high quality, and there is even a socket for the BIOS ROM that allows you to replace the BIOS ROM if needed.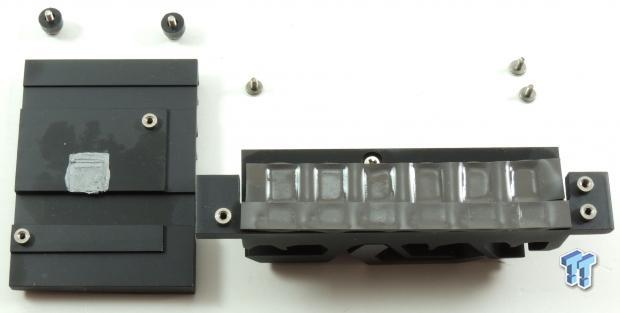 Screws hold down all the heat sinks, and the VRM heat sink even cools the chokes.
X99 Micro Circuit Analysis
Circuit Analysis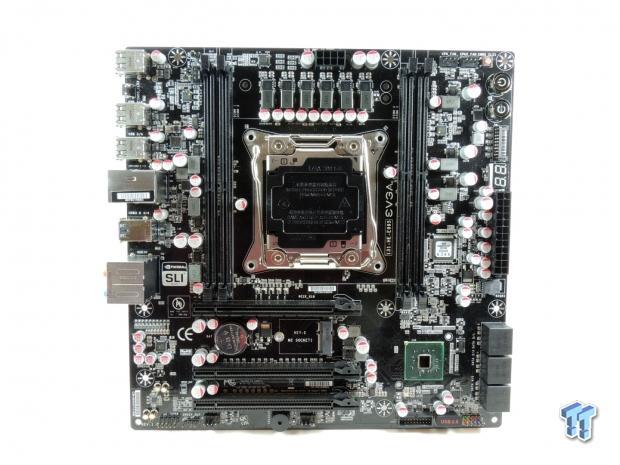 This section will begin with a look at power regulation, and then shift into general circuit component selection and implementation.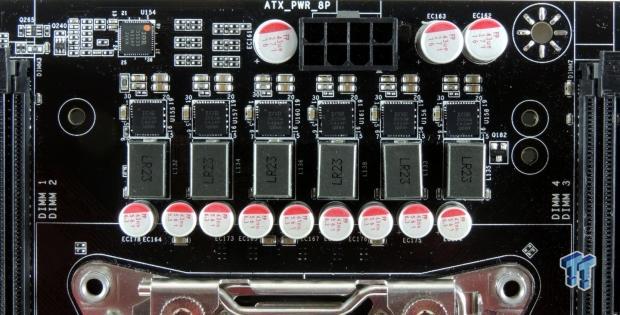 The VRM on this board is powered exclusively by International Rectifier, which is one of the preferred manufacturers for overclockable VRMs. An IR3563B is an eight-phase digital PWM, and while only six of the eight PWM channels are utilized, it still is more than enough to get the job done. Each phase gets an IR3550 power stage, which are rated at 60A. These are extremely high-quality VRM components, and they are a wise choice considering the limited nature of Micro-ATX PCB real estate. There are nine 560uF solid-polymer capacitors for a total of 5040uF.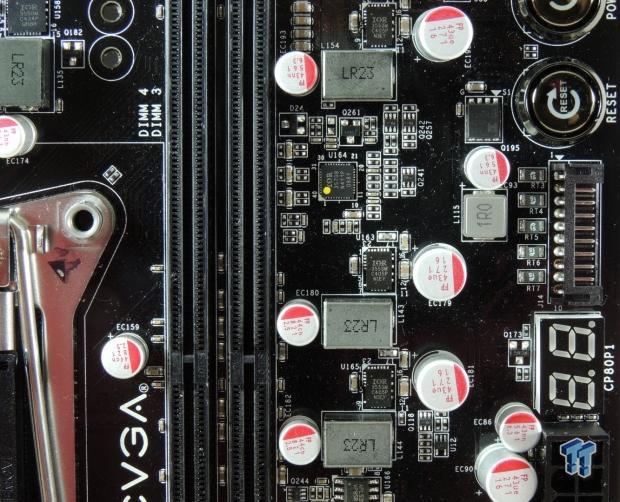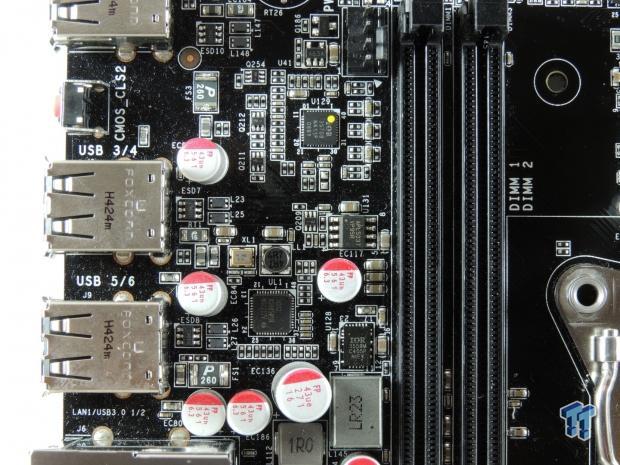 EVGA is doing an excellent job with the memory VRMs. Two IR3570 power both VRMs for both sets of DIMMs. The IR3570 is a 3+2 phase digital PWM, and they are being used as 2+1 phase PWMs in this case. There are three IR3553, which are 40A integrated power stages for each set of two DIMMs. Each set of two DIMMs gets two phases for the main DDR4 voltage, and a single phase for the VPP. This is one of the better-equipped memory VRMs designed for high overclocks.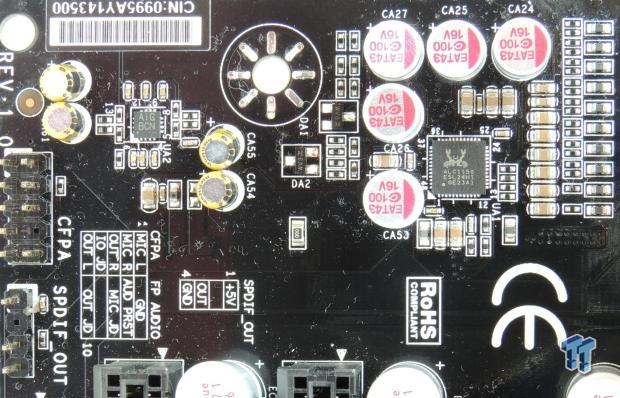 The audio is powered by an ALC1150 with an unknown chip labeled "AIG BCN." It could be an operational amplifier, or it could be some type of chip to enhance the performance of the ALC1150 - most likely for the front-panel audio header. There are specialized audio capacitors as well.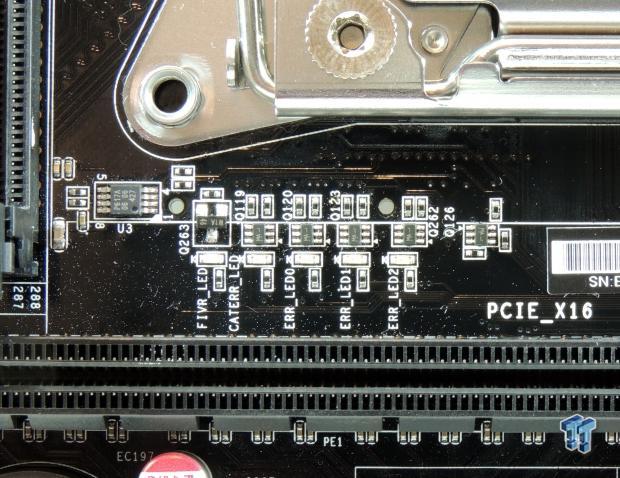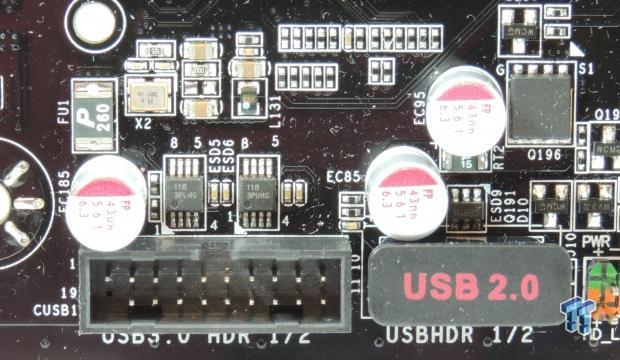 These LEDs help diagnose any issues you might encounter. I am also focusing on the USB headers since their implementation is worth noting. EVGA provides inserts to protect the ports from the elements, and even provides ESD protection ICs (diodes) to protect against deadly ESD.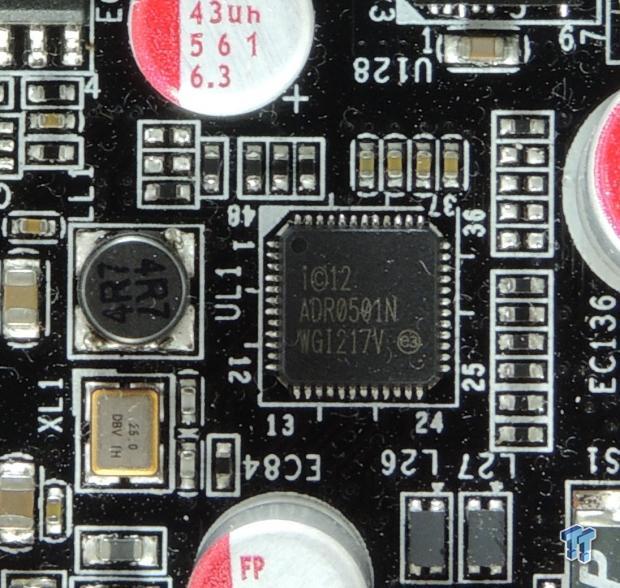 The X99 Micro has a single NIC powered by an Intel i217v.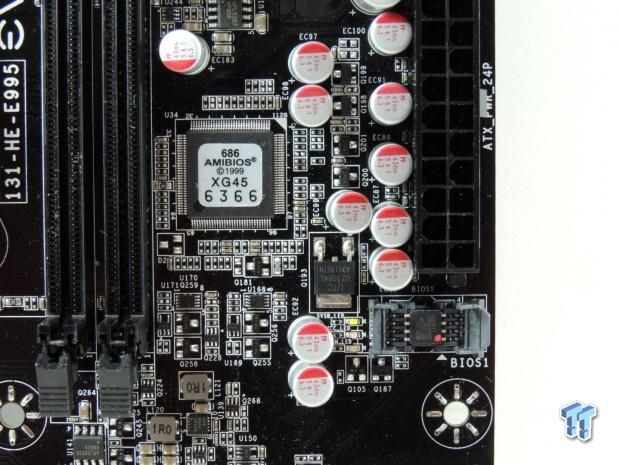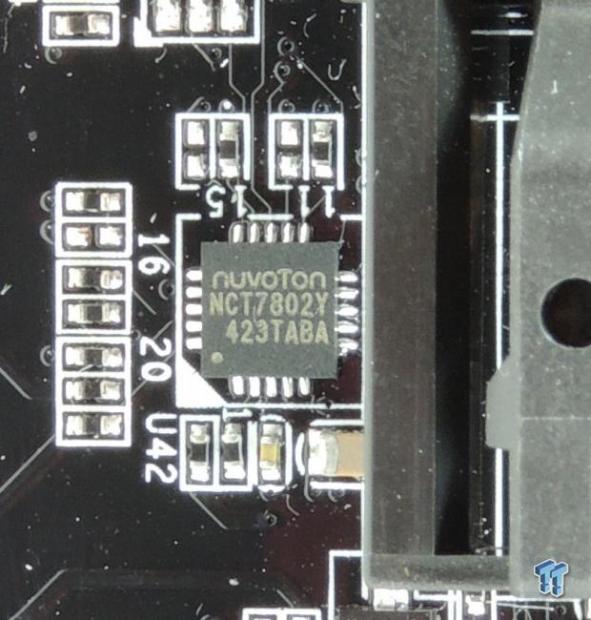 The BIOS ROM is a 128Mbit part, and the sticker is covering up a Fintek F71889A, which is the main Super I/O. It should handle the majority of monitoring and controls; however, there is also a Nuvoton NCT7802Y that provides extra SIO capabilities.
BIOS and Software
BIOS
This was my first experience with the EVGA X99 BIOS, and I have to say it is a major improvement from the BIOS on their Z77 motherboards. The UEFI is supposed to resemble a car with cool little graphics. Overall, my experience with the UEFI was positive. The settings worked, and it didn't feel buggy. All of the settings are there, and I like how most of the OC settings aren't too expanded. Usually, you find a lot of useless settings, like Turbo power settings, that can be intimidating to novice users (and should just be maxed out). However, this UEFI is simplified, and it should offer a straight-forward overclocking experience.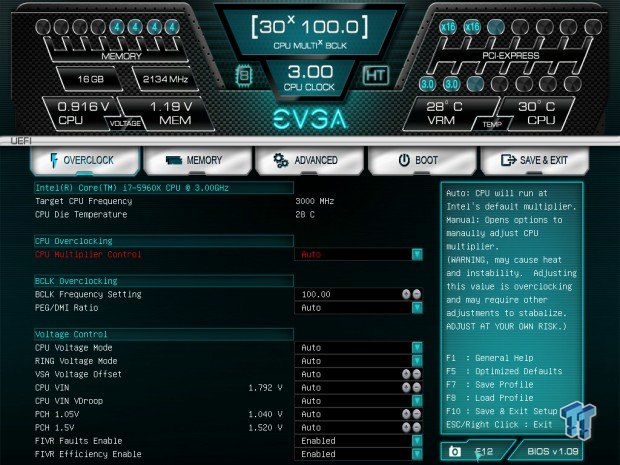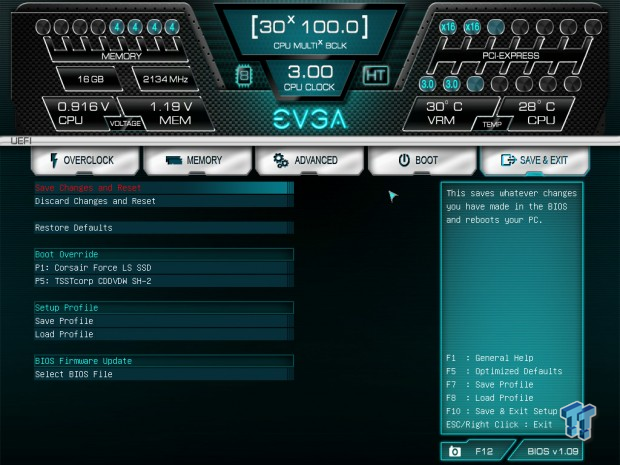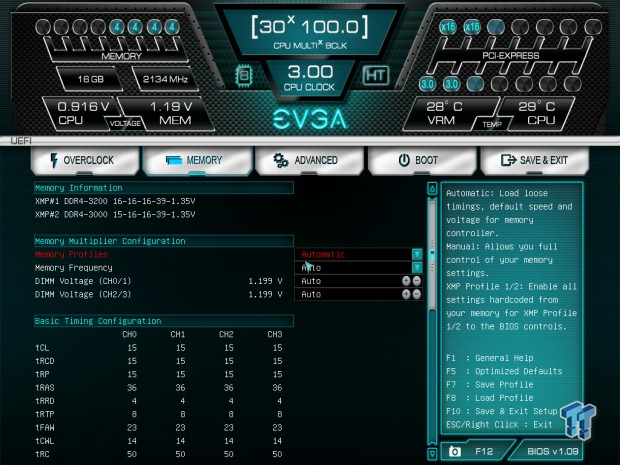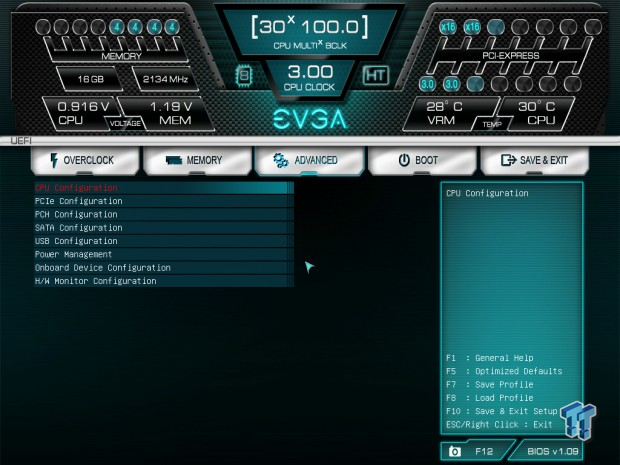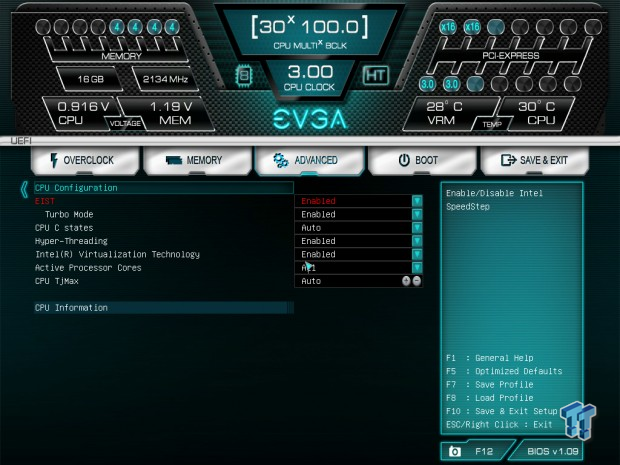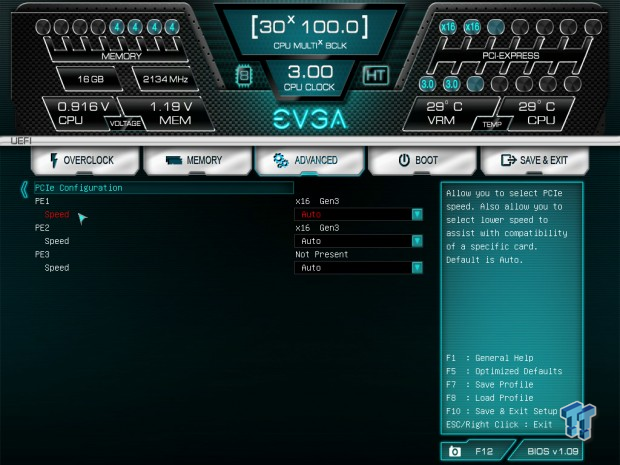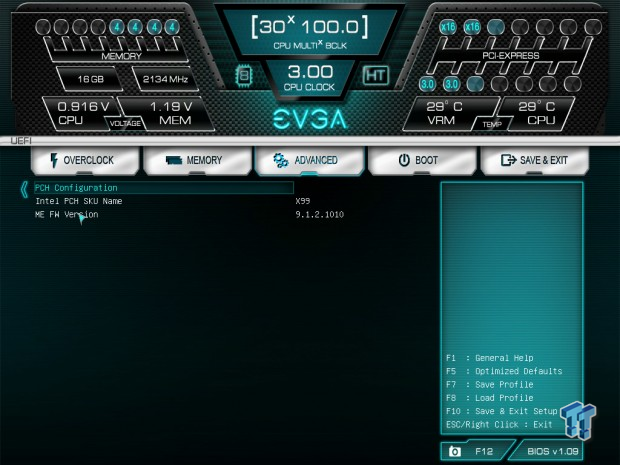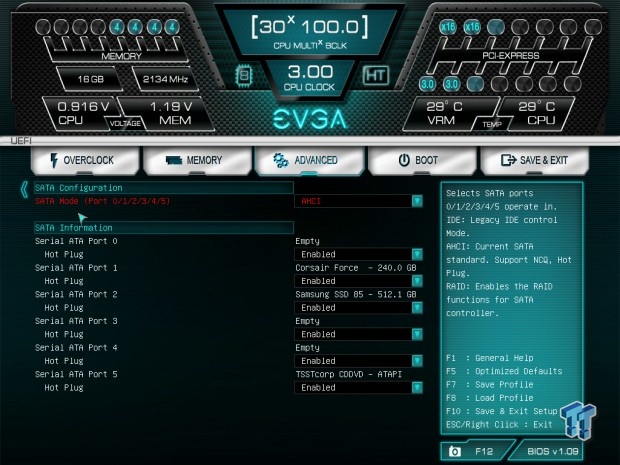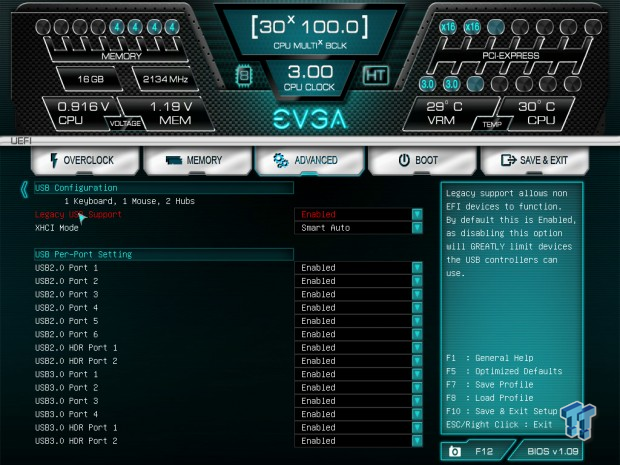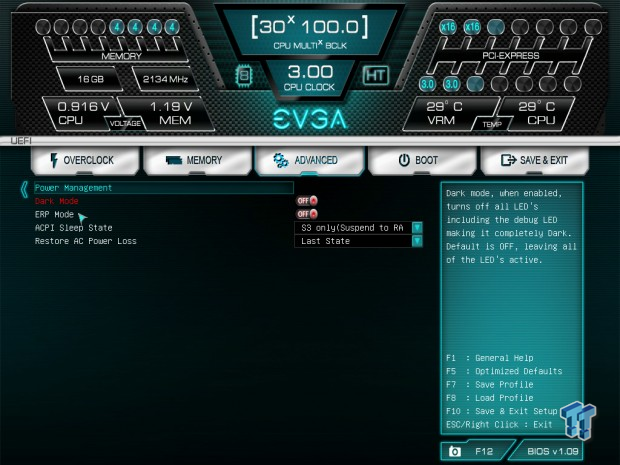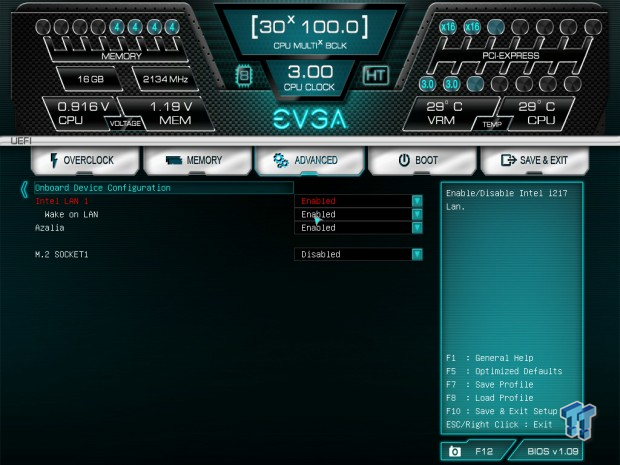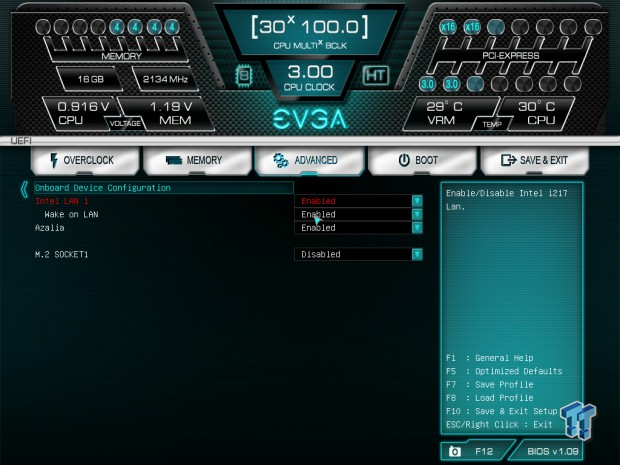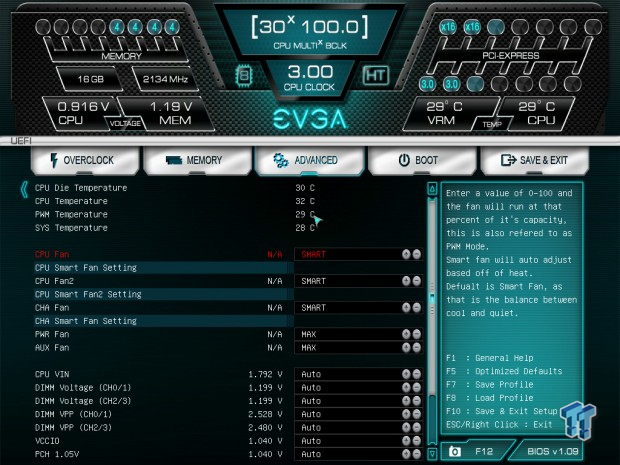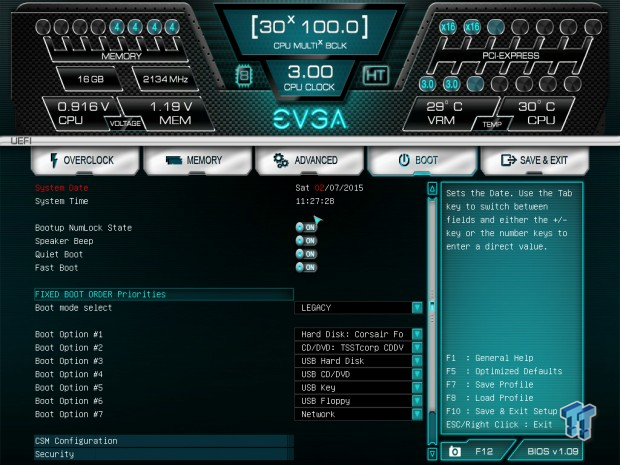 Software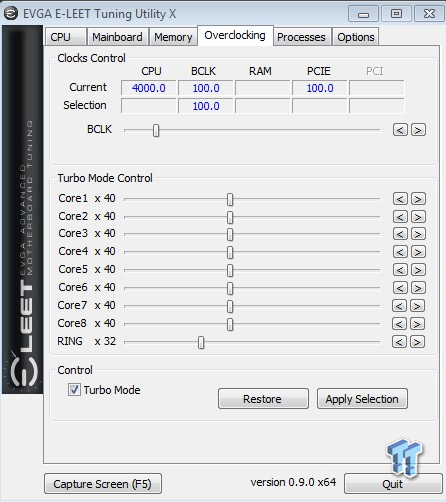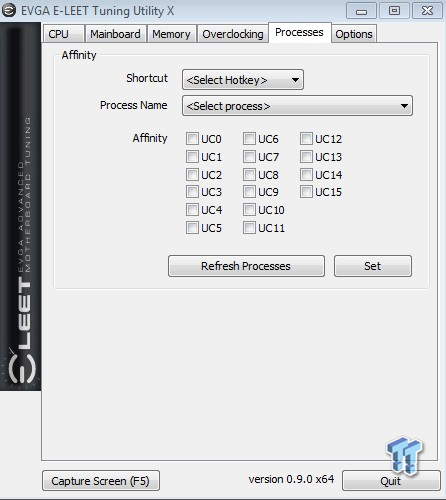 EVGA doesn't provide much software, but they do have an E-LEET utility for overclocking. Unfortunately, I was disappointed in the fact that you have to register to download the beta software, and even so, I ended up using Intel XTU to tune the board in Windows.
Test Setup and Overclocking
Test Setup
We would like to extend a big thank you to Corsair for sponsoring our case, fans, SSD, USB drive, and PSU!
We would also like to extend our gratitude to Seekfor sponsoring the Thermal Camera. You can find my review of the camera here.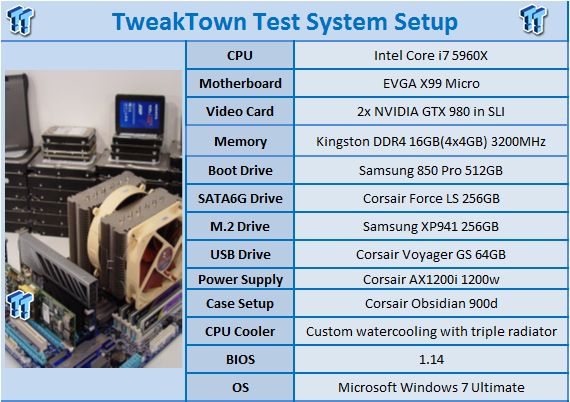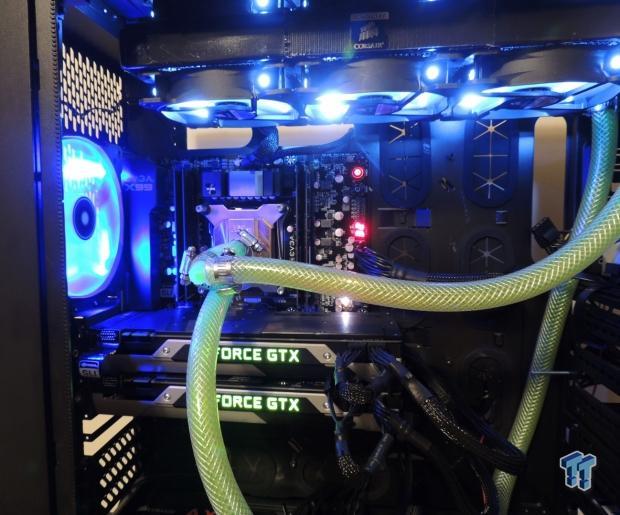 This is the new test bench, and it is designed to test every aspect of the motherboard and I/O. I have designed it so that the motherboard sits in a case and is cooled by fans that are always on at a constant rate to keep the conditions similar for all tests. I have cut out part of the case behind the motherboard so I can get thermal images of the back of the PCB where the VRM heat spreads. System and CPU power measurements are now digitally logged.
I am also using a Netgear Nighthawk X4 AC2350 for our network tests, including wireless AC. The latest M.2, SSD, and USB technologies are also utilized to test the maximum potential of the motherboards that are being tested.
Overclocking Results
In this section, I will explore the overclocking process and results of this board.
CPU Overclocking
Max CPU Overclock is found by setting the VCore to 1.5v, input voltage to 2.1v, and cache voltage to 1.15v; booting with a CPU multiplier of 45x; and disabling any features that would result in CPU frequency fluctuation. Then, proceed to Windows and use software to increase the multiplier; in this case I opted to use Intel's Extreme Tuning Utility since it is the only software that can overclock this board in Windows.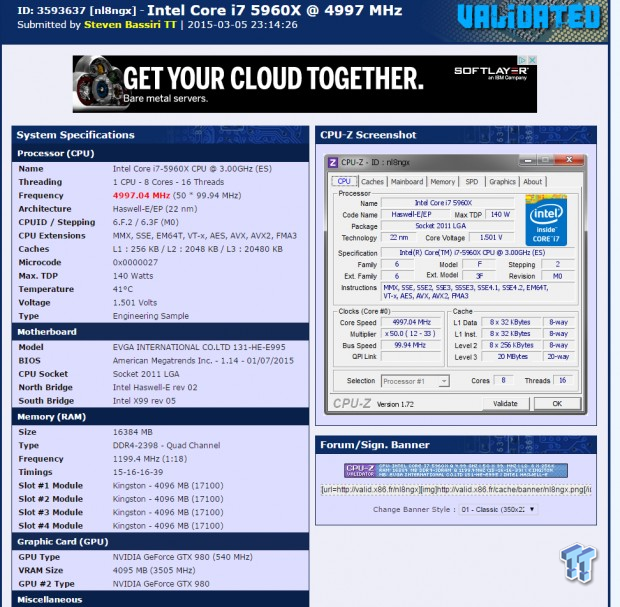 The maximum of our CPU on this board, and other X99 motherboards, is 5.0GHz. It is clear that CPU overclocking is pretty good for high frequency.
Maximum AIDA64 Stable Overclock (BIOS settings for this are below):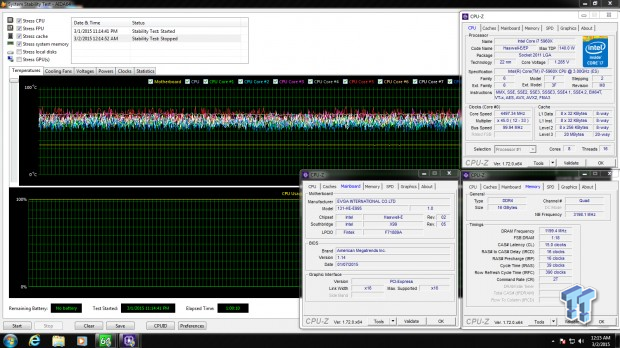 I was easily able to pull off 4.5GHz on the CPU with 3.2GHz cache, and a 2400MHz overclock on my memory by manually tuning the UEFI.
CPU, Memory, and System Benchmarks
CINEBENCH 11.5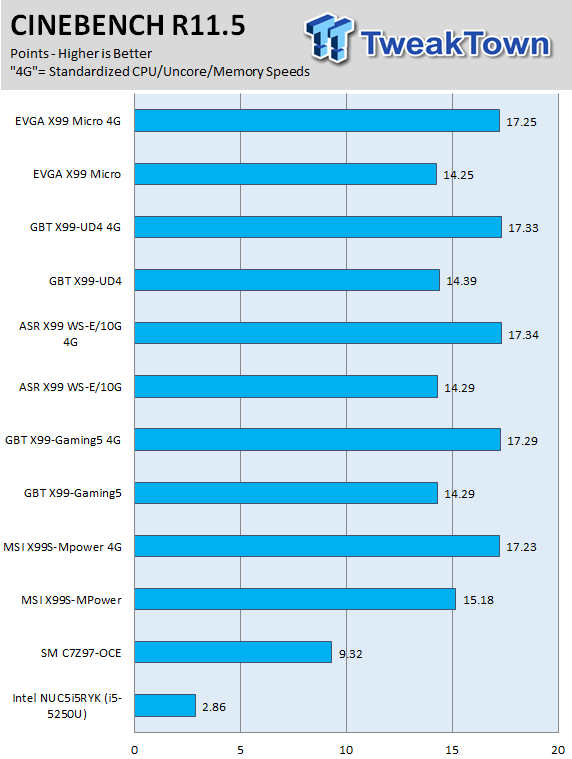 wPrime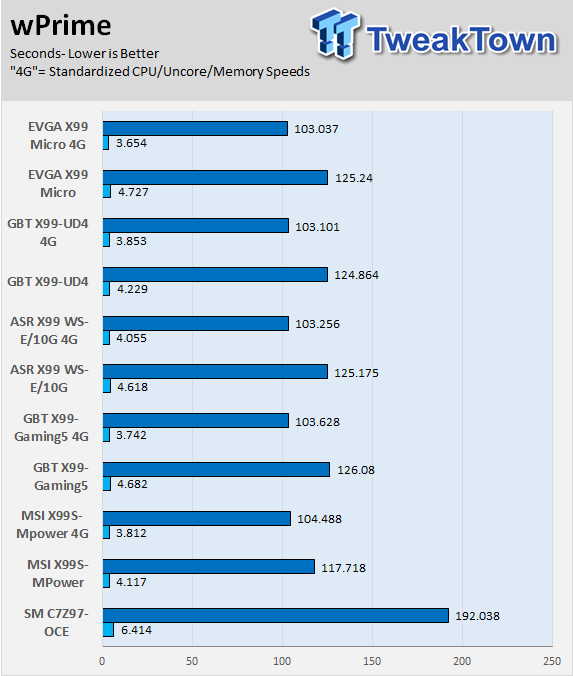 AIDA64 AES and HASH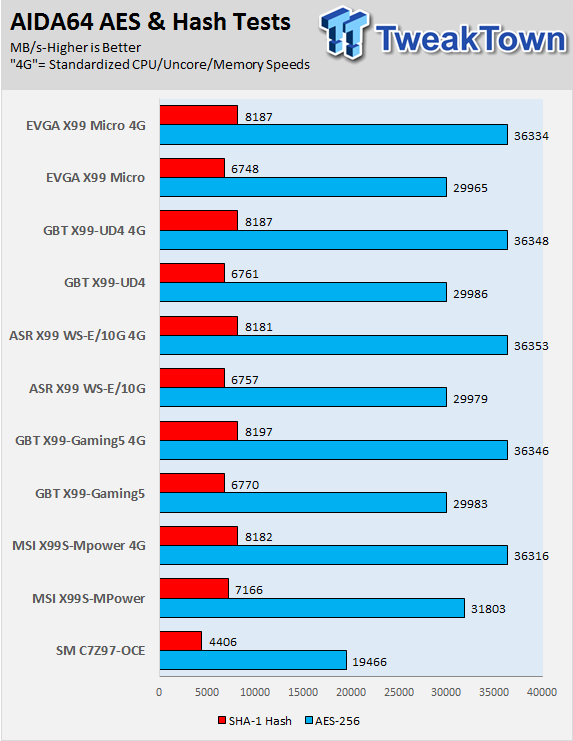 AIDA64 FPU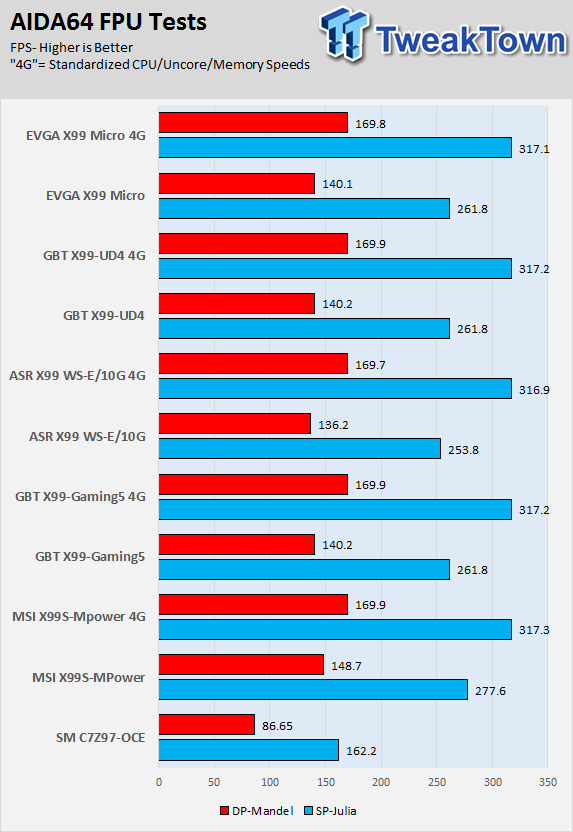 AIDA64 Memory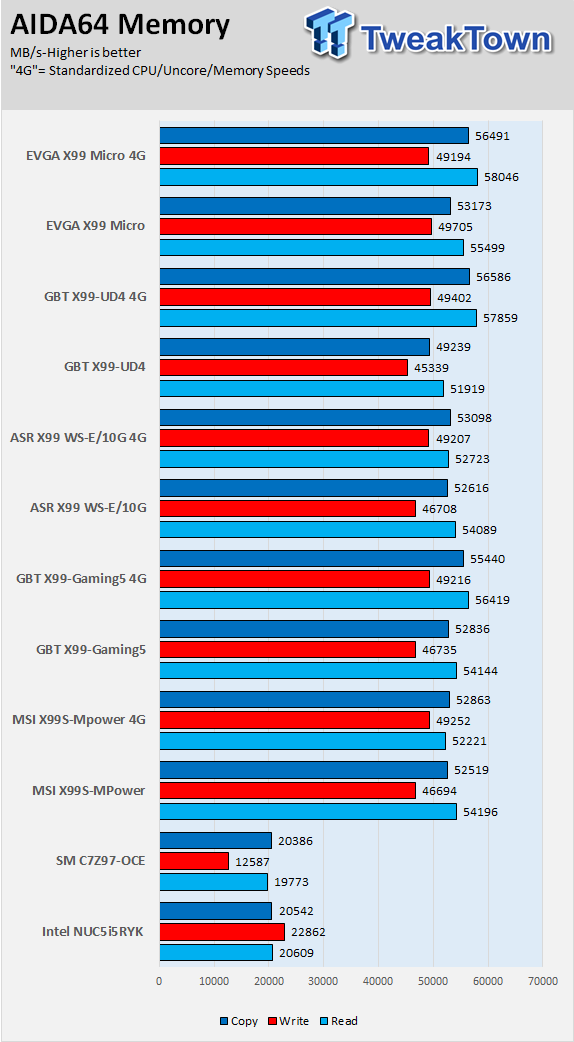 PCMark8 Home Test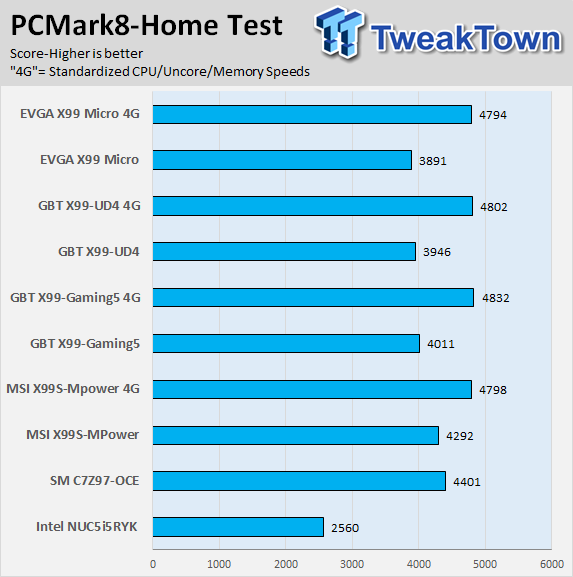 3DMark: Fire Strike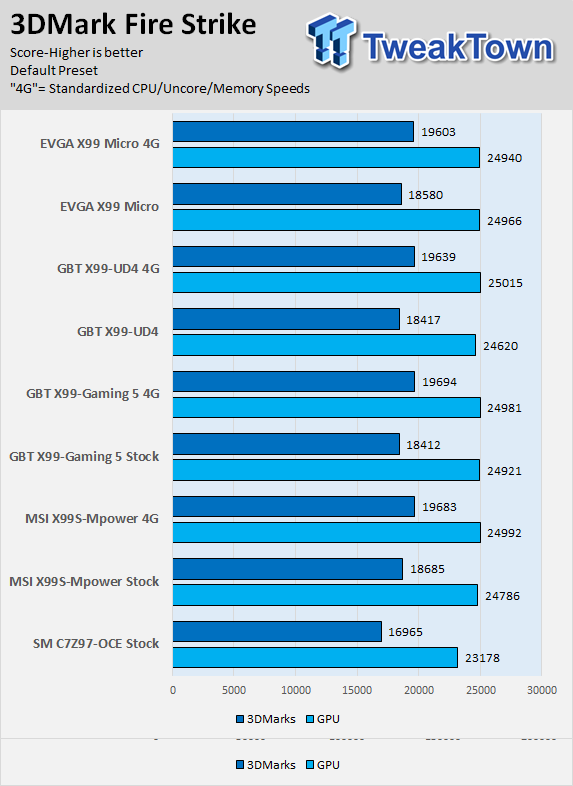 3DMark: Cloud Gate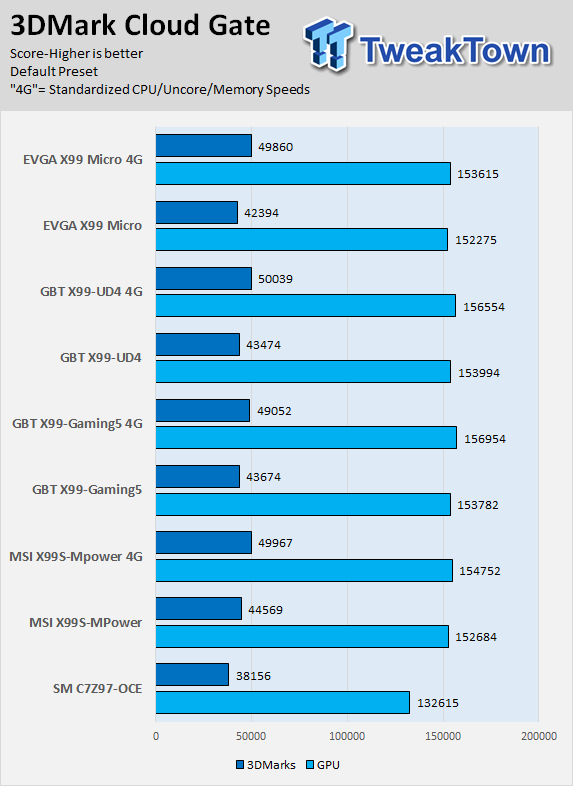 Resident Evil 6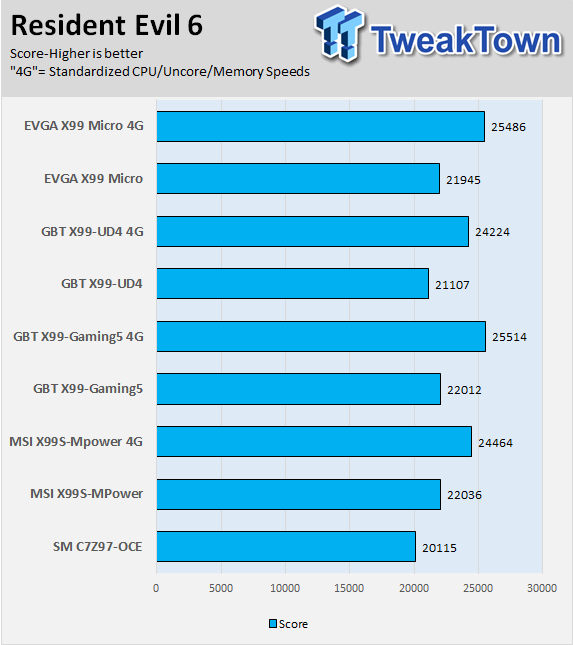 Overall, performance is quite strong, especially in the memory department, where the motherboard's memory read is the strongest I have seen so far. The four DIMMs could be the reason for this increase in performance since trace length is shorter. In the rest of the benchmarks, the X99 Micro does reasonably well, with the exception of wPrime, where it is the clear winner.
System IO Benchmarks
Anvil SATA6G: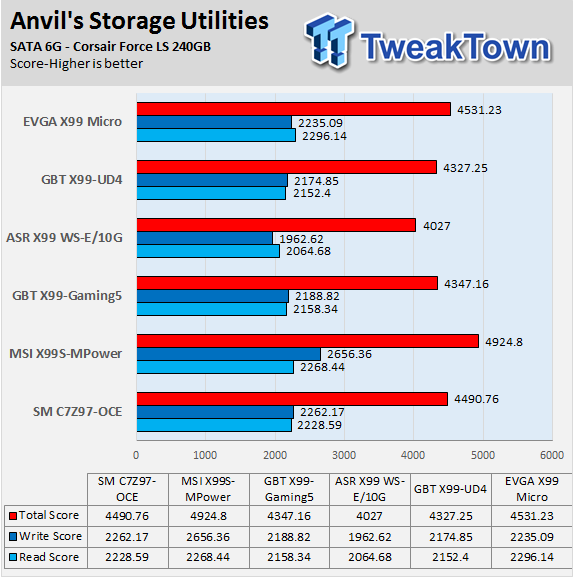 Anvil M.2:
Sadly, our M.2 drive is too long to fit into the allotted space on the motherboard.
Diskbench USB 3.0: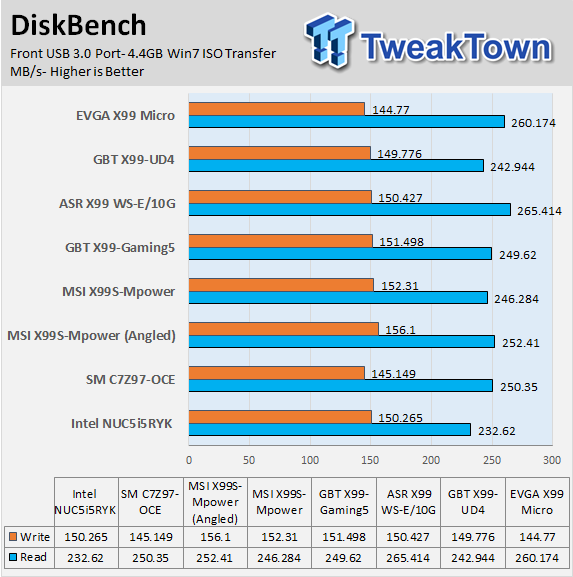 ixChariot Network Throughput: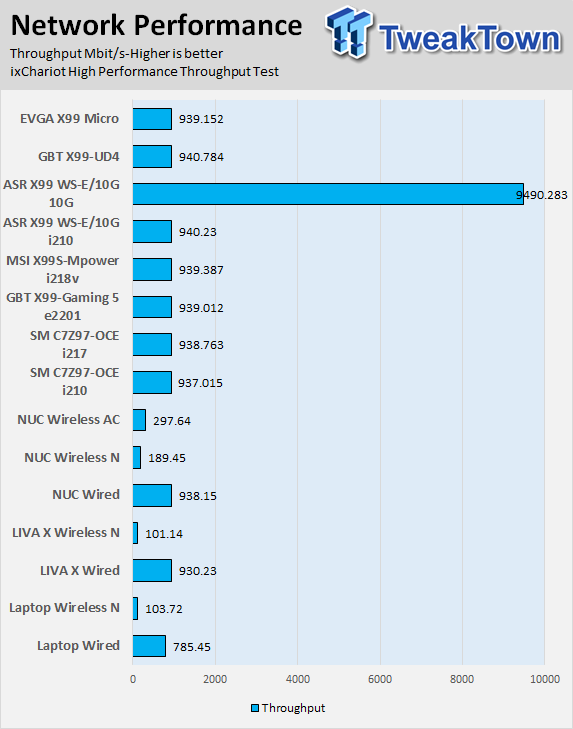 I/O and Network testing show that the X99 Micro doesn't sacrifice any performance even though it is in the Micro-ATX form factor. It should handle all the I/O and provide good performance without issue.
Audio RMAA 5.5:
I disabled all audio features, set the correct bitrates, and then tested the audio with a loopback test.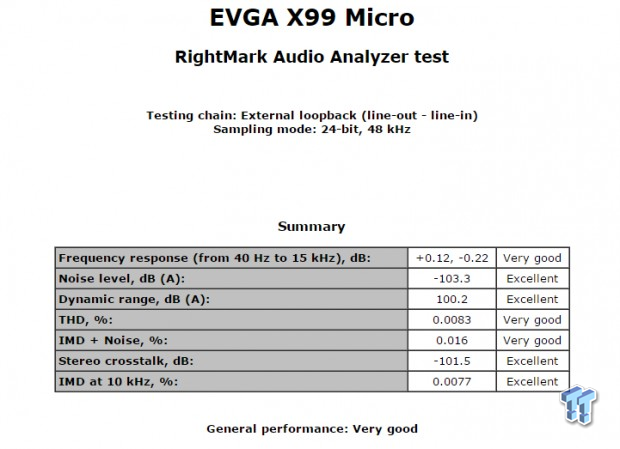 There are five ratings for the audio: 1. Problems, 2. Okay, 3. Acceptable, 4. Very good, 5. Excellent
Judging by ear, the sound is very good.
Temperature and Power Consumption
System power usage is measured at the AC/DC PSU (the Corsair AX1200i), which I have connected to another system to measure the test system, and I have a wall meter as a backup to verify. The CPU power is measured through the eight-pin connection, which is hooked up to a hall effect IC that measures current and puts out a voltage in proportion to the current. A National Instruments ADC logs that voltage; afterward, I convert that into current.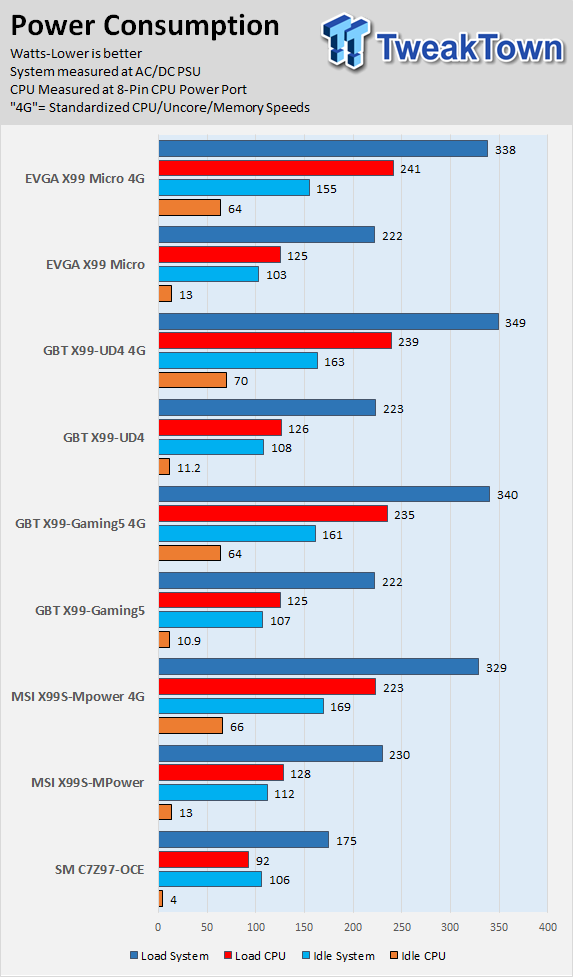 Note on Thermal Images: In the temperature section, we use our Seek thermal imaging camera to capture the surface temperatures of major components on the board. I look at the VRM, and then all other things that light up the screen. If there is something to worry about, then I will state it; otherwise, I will just show the hotter running parts of the board for fun. Unless a component is over 80-90C, then there really isn't anything to worry about.
All systems will act differently, so I will look for commonalities, such as how far from the VRM the heat spreads through the PCB, and the difference in temperature between the front side and backside of the PCB. Keep in mind that the majority of the heat from the VRM goes into the PCB as it is a giant soldered-on copper heat sink. A smaller difference in temperature between the back and front of the PCB points towards a more effective heat sink.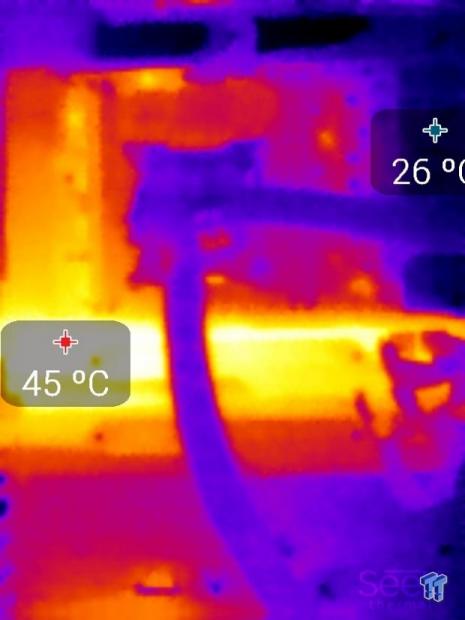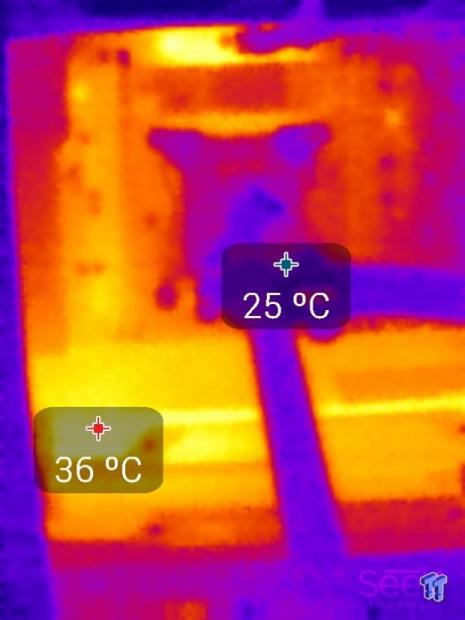 Here the board is idle on the left, and full CPU/Memory load is depicted on the right (Intel Burn Test). You will notice that the VRM runs pretty cool on the topside. The inductors are cooled well, which reduces the chances of the VRM being the hot spot on the front side of the PCB.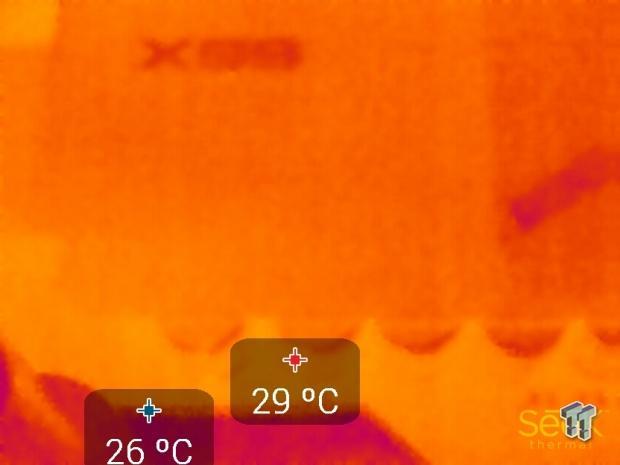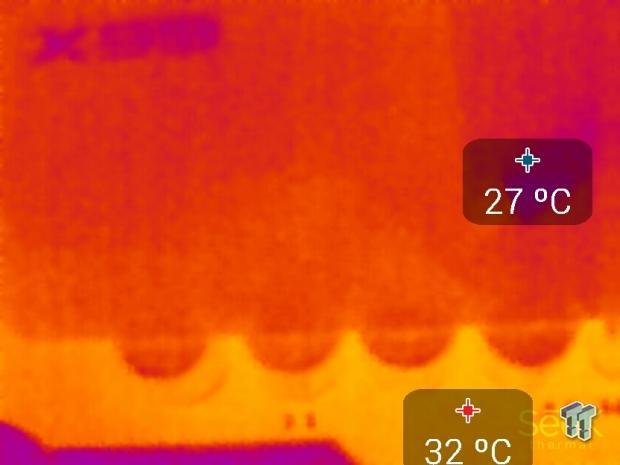 There is only a 3C increase in temperatures near the chokes from idle to load.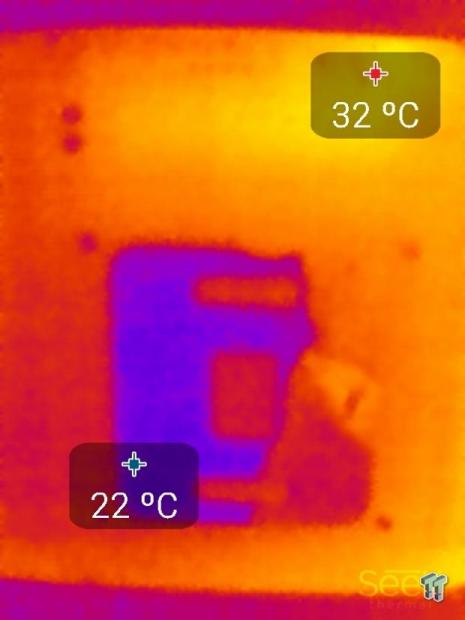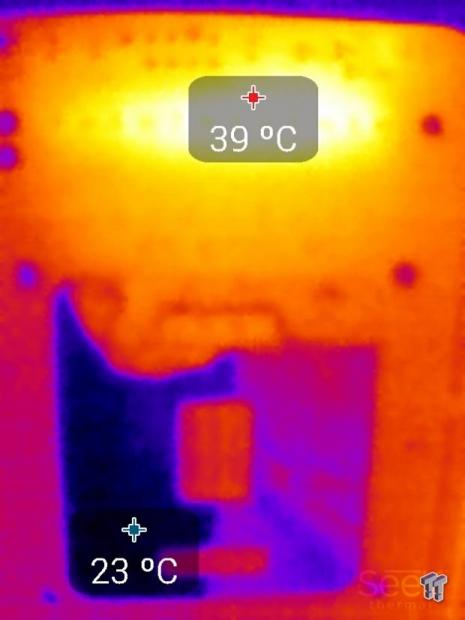 There is a 7C increase on the back of the PCB, which isn't bad either. These temperatures are among the averages we see on full ATX boards with even more phases; this is because of the IR3550's great temperature characteristics.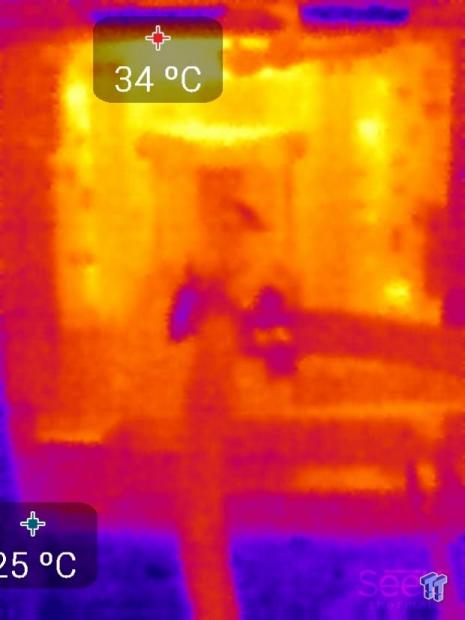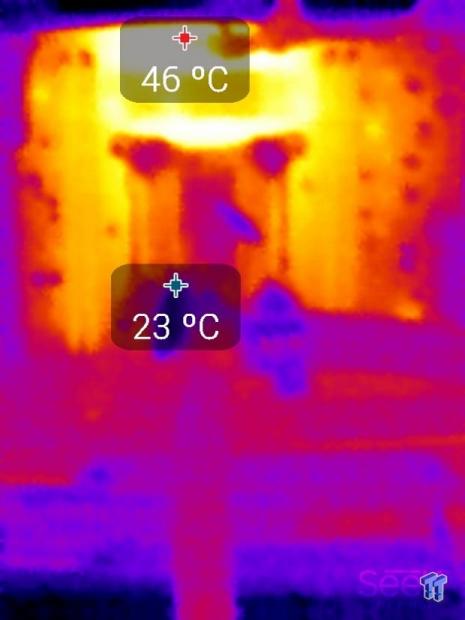 Here the system is overclocked to 4.5GHz. On the left are idle shots, and on the right are load shots. You can see the PCB gets warmer with an overclock, but this is normal behavior.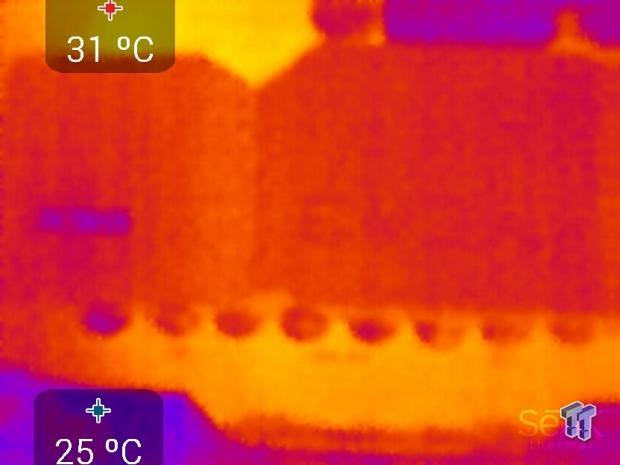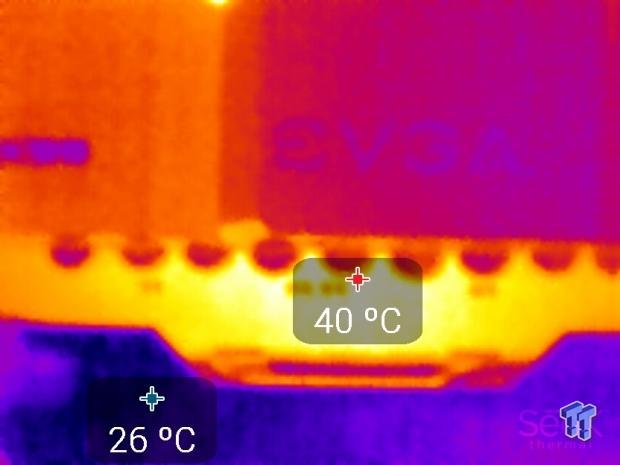 There is a pretty big increase in temperature here, but at 40C on the front side of the PCB, this is actually one of the cooler running VRMs I have tested.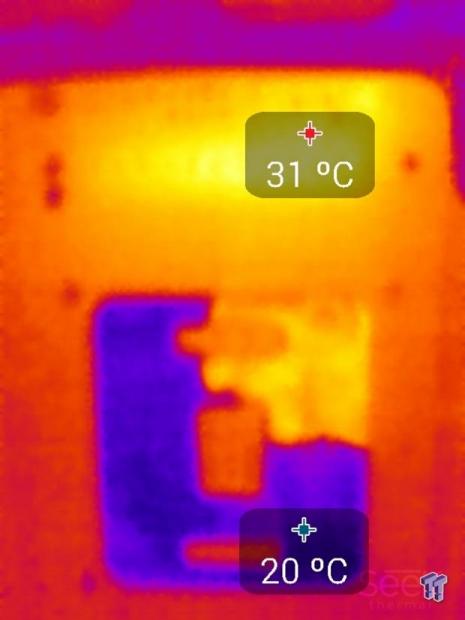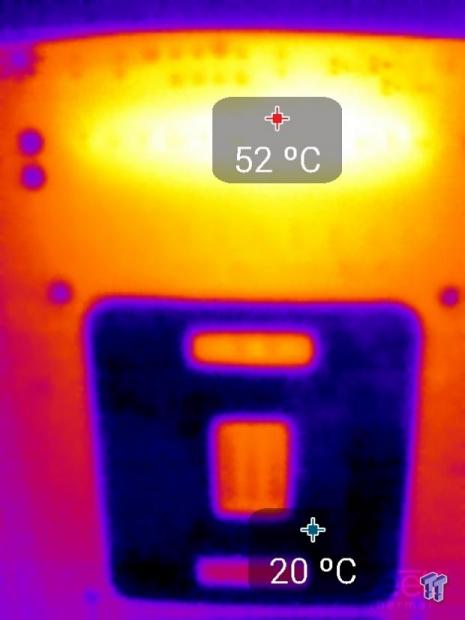 This board was designed with an eight layer PCB, which is totally overkill, but serves as a great heat sink. You can see that the PCB absorbs a lot of the heat; however, it is designed to do so. Overall, this VRM performed better than I thought it would since it is only six phases and in such a small space. It competes with those big VRMs you see on full sized ATX boards.
Final Thoughts
EVGA has impressed me with their X99 Micro. While it is a small board, it packs in a lot of value. The X99 Micro has very high-quality components implemented in a way that allows it to compete with the larger boards when it comes to overclocking. The thermal tests prove that this board can handle a high overclock without issue, and the results are in line with other X99 motherboards.
Many users are really invested in the Micro-ATX market. Some want a smaller PC with the features and performance of a full sized tower. The X99 Micro provides the ATX experience in a smaller form factor. It is true you can't use eight DIMMs, and you really can't do more than two-way SLI with double slotted cards, but those are more form factor limitations. I got away with two-way SLI GTX 980s with ease.
EVGA even provided OC features on this board, such as the POST code, which I think is critical. However, there are still a few things that could be improved, such as the length of the M.2 slot, but it was problem free overall.

The X99 Micro is a board that is built to perform, and it does. Its memory performance is one of the best I have seen, and its I/O performance is strong overall. EVGA has done a great job with the X99 Micro-ATX market, and the X99 Micro won't disappoint. The X99 Micro combines great performance, solid overclocking, and quality hardware into a tiny package with a great value.
PRICING: You can find the X99 Micro for sale below. The prices listed are valid at the time of writing, but can change at any time. Click the link to see the very latest pricing for the best deal.
United States: The X99 Micro retails for $244.99 at Amazon.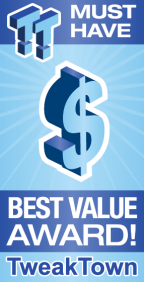 | | |
| --- | --- |
| Performance (including Overclocking) | 94% |
| Quality including Design and Build | 93% |
| General Features | 89% |
| Bundle and Packaging | 94% |
| Value for Money | 95% |
The Bottom Line: EVGA has done a great job with the X99 microATX market, and the X99 Micro won't disappoint; it combines great performance, solid overclocking, and quality hardware into a tiny package with a great value.
PRICING: You can find products similar to this one for sale below.

United States: Find other tech and computer products like this over at Amazon.com

United Kingdom: Find other tech and computer products like this over at Amazon.co.uk

Australia: Find other tech and computer products like this over at Amazon.com.au

Canada: Find other tech and computer products like this over at Amazon.ca

Deutschland: Finde andere Technik- und Computerprodukte wie dieses auf Amazon.de
We openly invite the companies who provide us with review samples / who are mentioned or discussed to express their opinion. If any company representative wishes to respond, we will publish the response here. Please contact us if you wish to respond.