TweakTown's Rating: 92%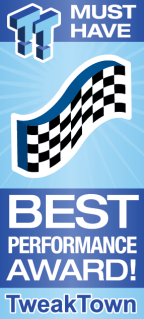 The Bottom Line
If you are looking for a motherboard with features and design practices used in high quality server boards with outstanding performance and the ability to overclock, then the C7X99-OCE is the right board for you.
Introduction, Specifications, and Pricing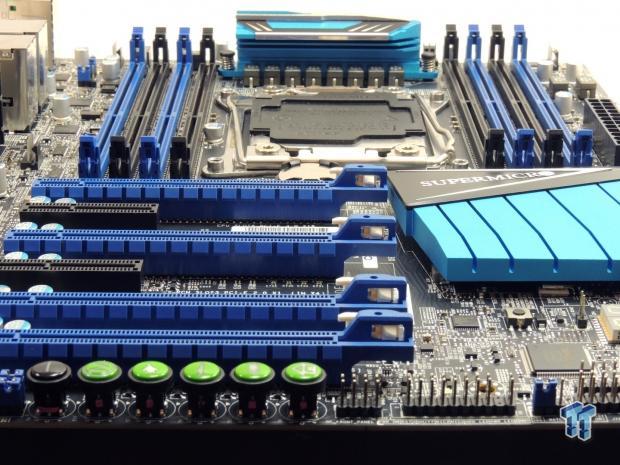 Supermicro is a well-known company with a solid reputation for reliability and performance in the server ecosystem. Recently, Supermicro has brought to market a few consumer workstation boards that can overclock. The C7X99-OCE is one of these boards, and it is designed to fulfill the needs of consumers who need a server grade motherboard in a desktop or workstation. Supermicro is using their server design techniques and components to retrofit a single socket motherboard that supports both the Xeon and Core i7 families at the same time.
What is interesting about the C7X99-OCE is that it can also overclock. If you toss in a 5960X, the board will accept the CPU and unlock its overclocking features. The motherboard also features a UEFI with a GUI similar to that of the C7Z97-OCE board I reviewed a few months ago. So, let's see what happens when you use server design practices on a motherboard designed to overclock.
Specifications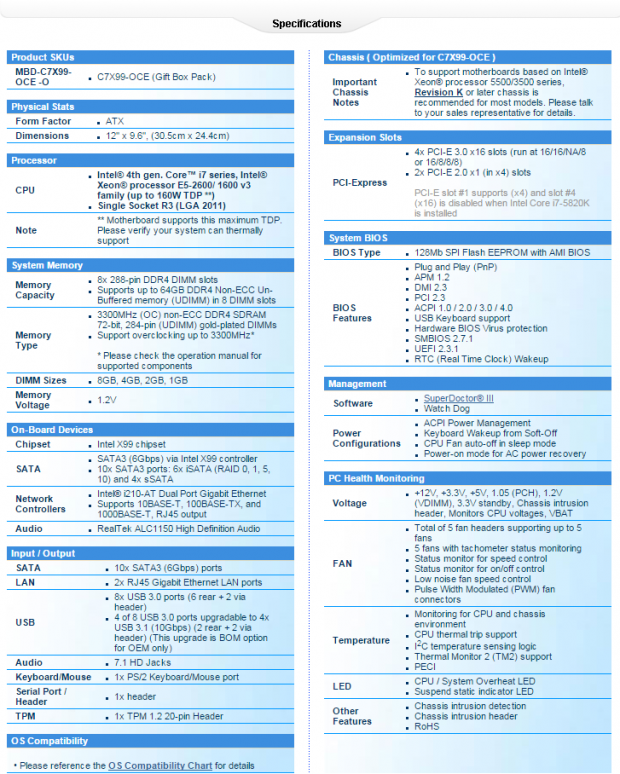 Here are the manufacturer specifications. The first board I saw with some sort of USB 3.1 claim was the C7Z97-OCE, and it used an ASMedia ASM1042 that could accept 2x PCI-E for 10Gbps of bandwidth for USB 3.1. Not only does Supermicro carry this practice over to their X99 motherboard, but they also used the chip twice for internal and back-panel USB 3.1 support (in the future, of course). While there aren't many USB ports on the back, there are dual Intel NICs and six USB 3.0 ports.
Pricing
There are two versions of the C7X99-OCE, the C7X99-OCE and the C7X99-OCE-F. At the moment, the C7X99-OCE is $304 on Amazon, and the C7X99-OCE-F is $340. The "-F" version carries a VGA port that supports Supermicro's IPMI. However, most users using this board might only grab this motherboard for its build quality and design, so the VGA port with IPMI might not be useful to them.
PRICING: You can find the C7X99-OCE and C7X99-OCE-F for sale below. The prices listed are valid at the time of writing, but can change at any time. Click the link to see the very latest pricing for the best deal.
United States: The C7X99-OCE retails for $304.00 at Amazon, and the C7X99-OCE-F retails for $340.99 at Amazon
Packaging and the C7X99-OCE
Packaging and the Board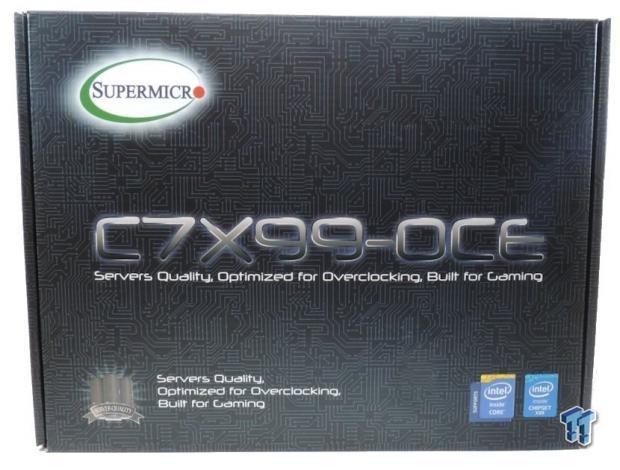 When Intel left the motherboard market, we were left with very few U.S. based motherboard firms that used circuits to market their products; Supermicro's box brings back those memories of Intel's circuit design marketing.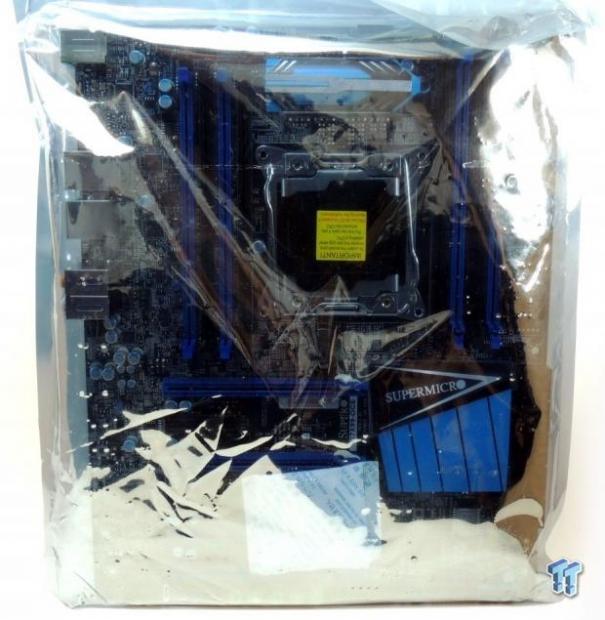 Supermicro did a decent job with packaging; they used an anti-static bag with some foam at the back.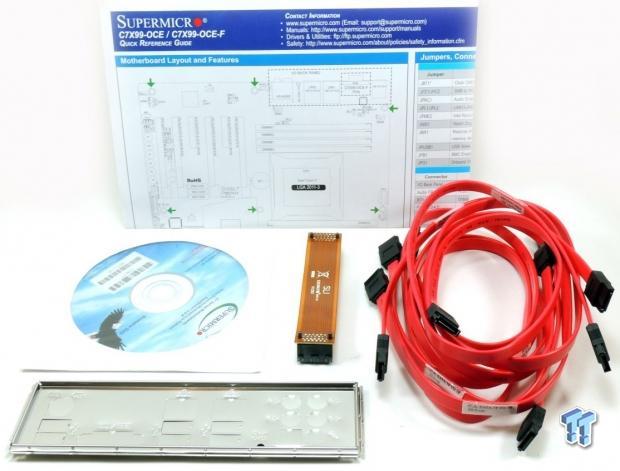 The included accessories are as follows: four SATA6G cables, one 2-way SLI bridge, one I/O shield, one driver DVD, and a folded diagram of the board.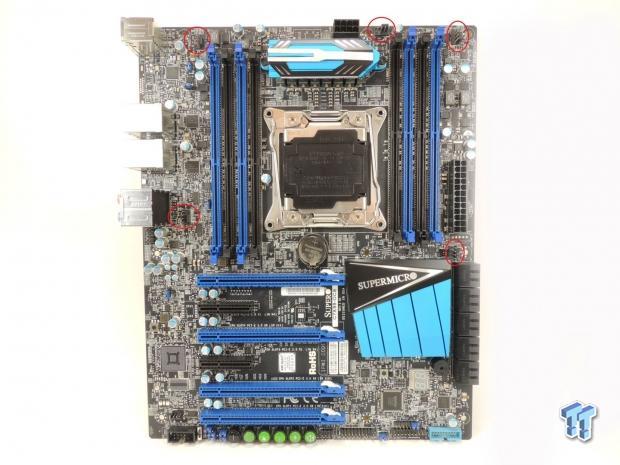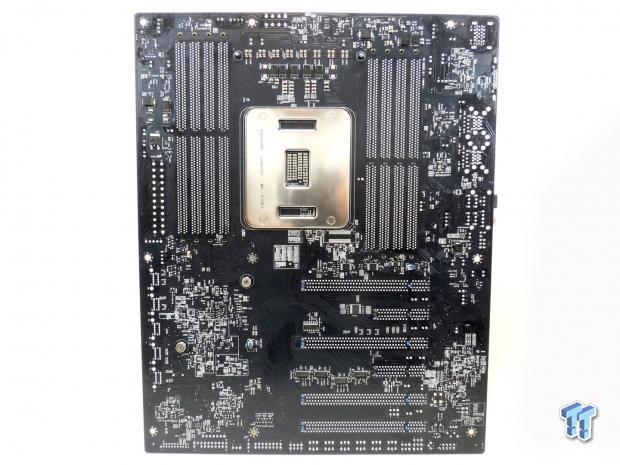 I have circled the fan headers on the board; there are a total of five, and it seems that they are all on the top half of the motherboard. These headers are controlled through the BIOS, and control is not very extensive. However, there are three presets for all the headers.
Interestingly, this board has a much better layout and design than the C7Z97-OCE I reviewed a while back. For starters, the buttons aren't scattered in odd locations (with the exception of the clear CMOS button), and the color scheme is actually quite nice. The board looks like a high-performance overclocker, and its parts all appear to be high quality. Also, there is a lack of major components on the back of the motherboard, and that is a good thing. There are a few chips that are worth noting, and we will do so later on in this review.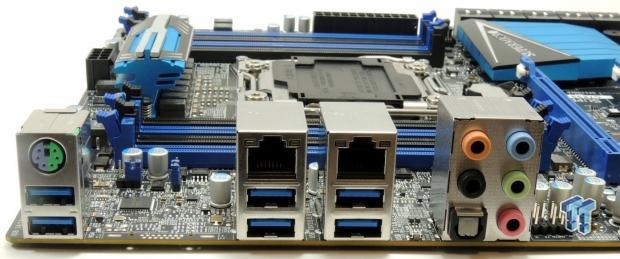 The back-panel I/O features two 1GBit NICs, six USB 3.0 ports, a PS/2 keyboard or mouse, and a 7.1 TOSLINK for audio with S/PDIF out. That huge gap in the I/O is a bit disappointing, but everything you need is present.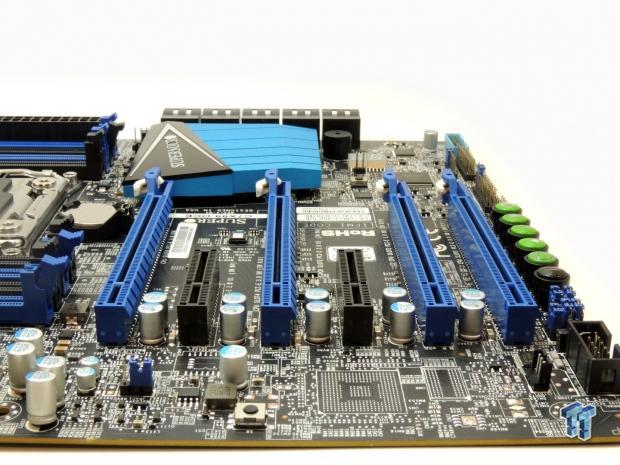 The PCI-E layout for the blue 16x slots is interesting. The first and second PCI-E 16x slots can both run at 16x, and if you want to do 3-way you use the first, second, and last slot for 16x/16x/0x/8x. If you run 4-way, it is at 16x/8x/8x/8x, but you will need to figure out how to fit a card in the third blue slot. This spacing moves the first 16x slot down a bit to give some clearance for larger CPU coolers. There is a little button at the edge of the board, and that is the clear CMOS button.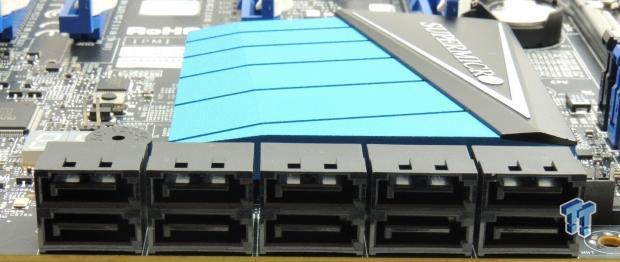 Sadly, there is no M.2 or SATA Express support; however, Supermicro made sure all ten SATA6G ports are available.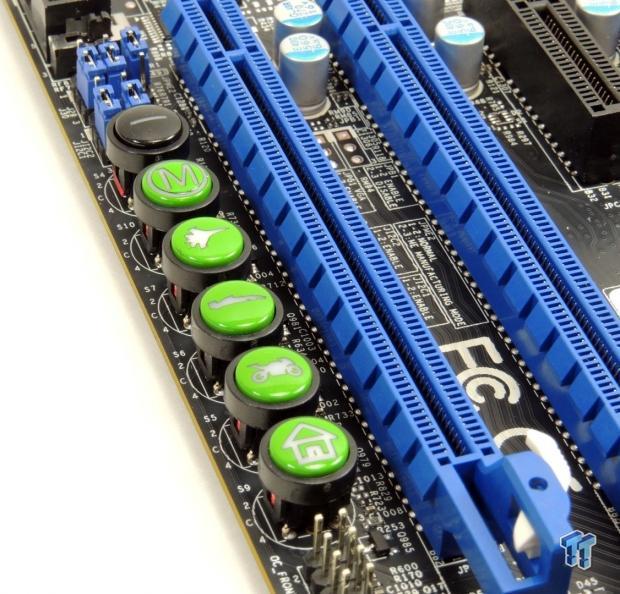 There are so many colorful buttons! Starting from the top, we have a black power button, a memory OC button, three preset auto OC buttons (one of which you can program in the UEFI), and a home button that will reset the CMOS settings to default. A small switch located behind the jumpers is for BIOS recovery options.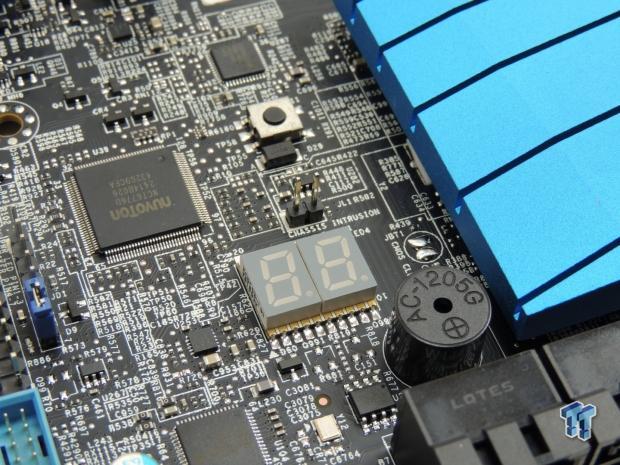 Supermicro integrated a speaker and a POST code display with a BIOS recovery button near the PCH heat sink. If you run 2-way SLI/CrossFireX, you can still see the POST code.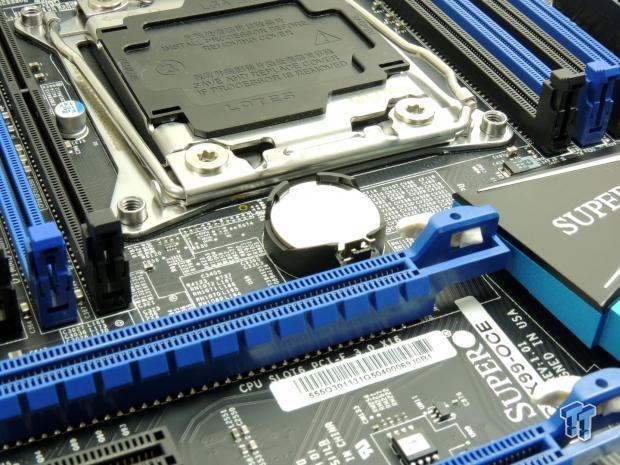 The positioning of this button battery for the CMOS is actually quite good. You are able to remove it without removing any GPUs.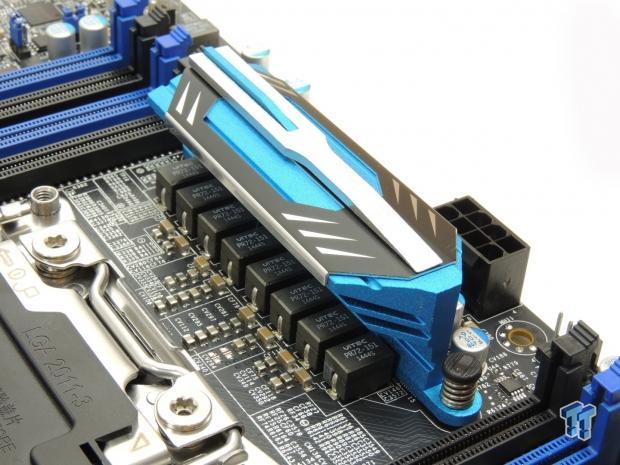 The CPU VRM is made up for eight phases; I will cover this in greater depth in the next section.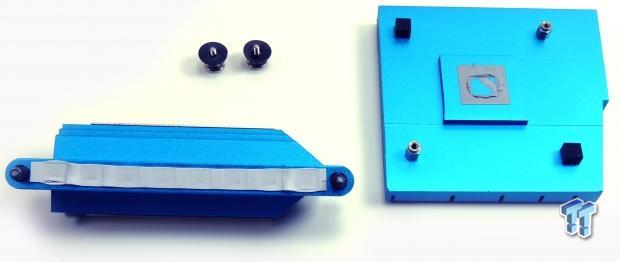 While the PCH heat sink is screwed to the motherboard, the CPU heat sink uses plastic push-pins. Although it does use plastic pushpins, there is a lot of pressure in the springs, and contact is excellent between the VRM power stages and the heat sink.
C7X99-OCE Circuit Analysis
Circuit Analysis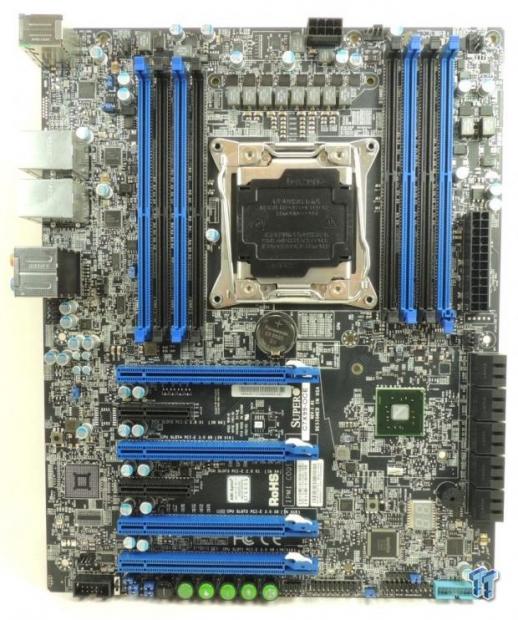 In this section, I will start off with the voltage regulators and then move to other important circuits.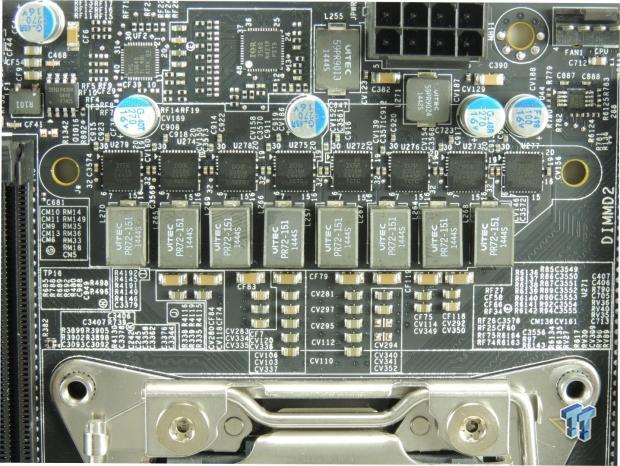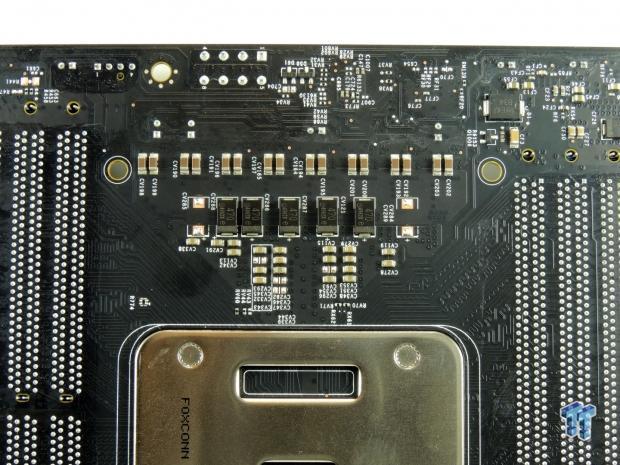 Interestingly enough, this VRM is very reminiscent of other X99 motherboards designed for overclocking. However, there is one major difference: the output filter's capacitors are almost exclusively high-frequency MLCC (multilayered ceramic capacitors) and five 470uF tantalums on the back. I would estimate that the total capacitance is around 3000-4000uF with 2350uF being tantalum and 1000-1500uF of ceramics. The last time I saw this type of output arrangement was with high-frequency Volterra based VRs where the transient response was key. Part of the reason for this is also the characteristics of the inductors and how the LC (inductor and capacitor) circuit works in this case.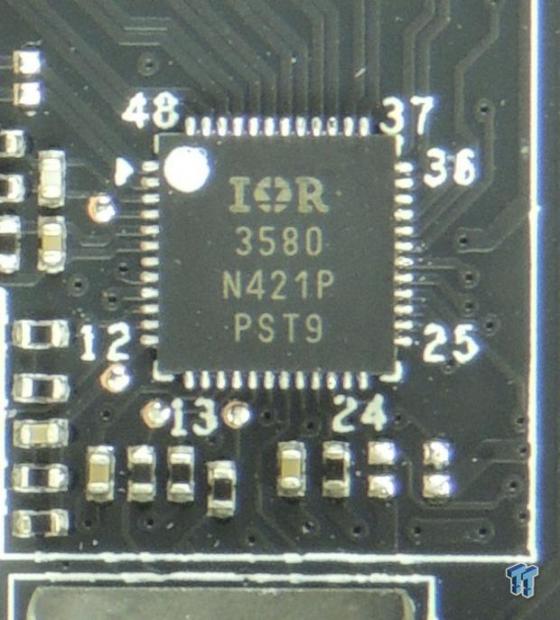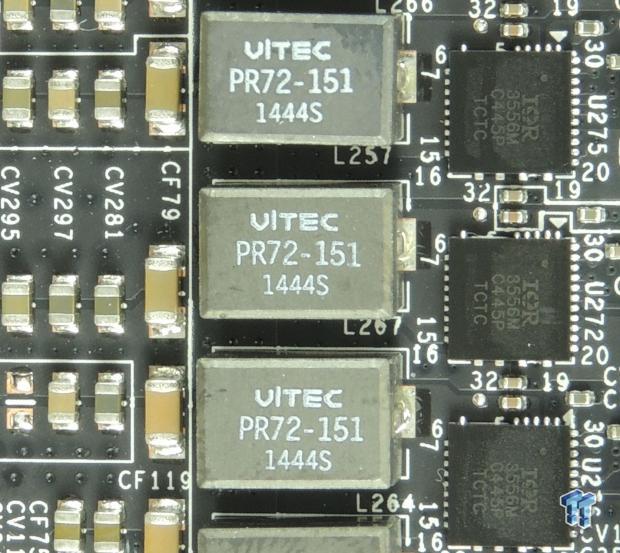 The IR3580 is an eight-phase digital PWM with IR's latest technology built into it. The PWM works well with IR3556, which are 50A integrated power stages. Using all International Rectifier parts allows certain International Rectifier technologies to be utilized, such as the Body-Breaking mode, to turn both internal MOSFETs off to increase overall efficiency. The inductors are server-grade Vitec with 66A saturation current.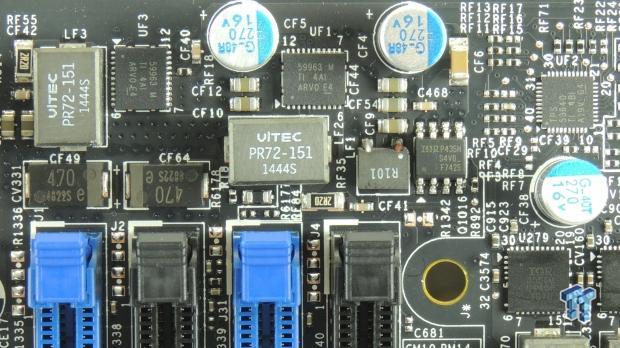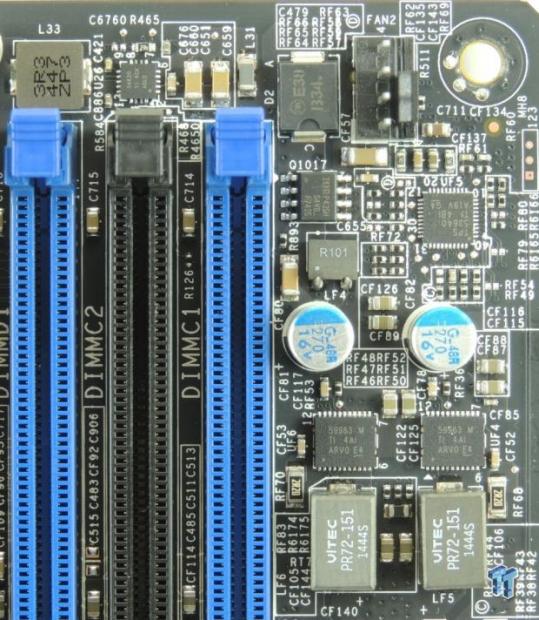 Each set of two DIMMs has its own triple phase Texas Instruments TPS53640 (under NDA). Each set also has their own Texas Instruments TPS54630, which is a 6A step-down converter used for the VPP supply of each set of DIMMs. The power stages used, 59963 (maybe UDP or CSP), are also from Texas Instruments. I would guess it's a 40A or 50A part from its size, and that it has integrated drivers. However, Texas Instruments is kind of tightlipped with their Intel power solutions. Almost everything Texas Instruments for the VR is very high quality and quite expensive compared to other brands.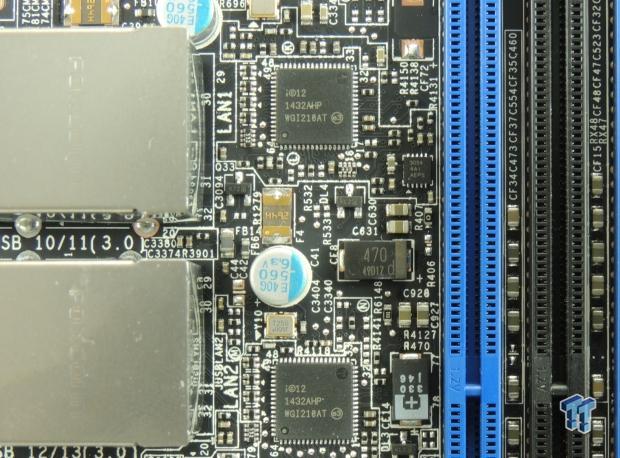 Dual Intel WGI210AT NICs provide dual GBit LAN.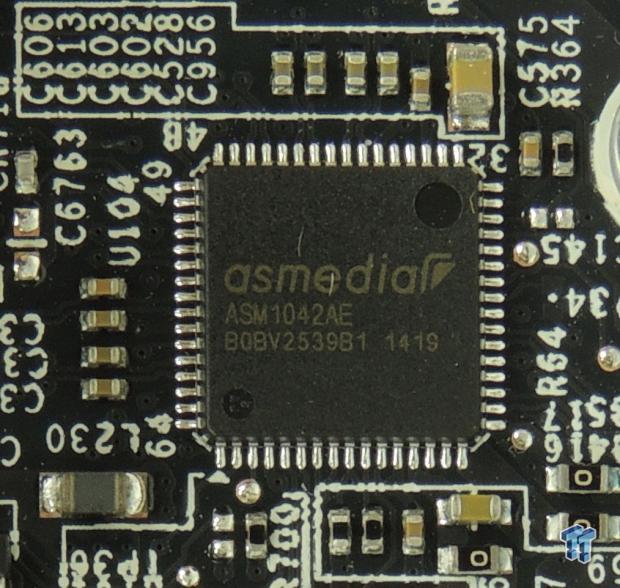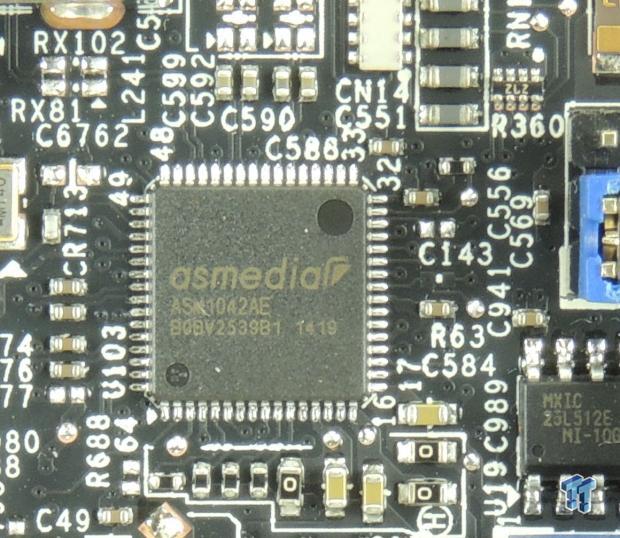 Here are two ASMedia ASM1042AE; one is used for the top two USB 3.0 ports, and the other is for the internal header. Each one can have 2x PCI-E 1x routed to it for USB 3.1. These two controllers are possibly the reason there is no M.2, as it takes 4x of PCI-E 2.0 bandwidth to allow these two controllers to provide USB 3.1 speeds.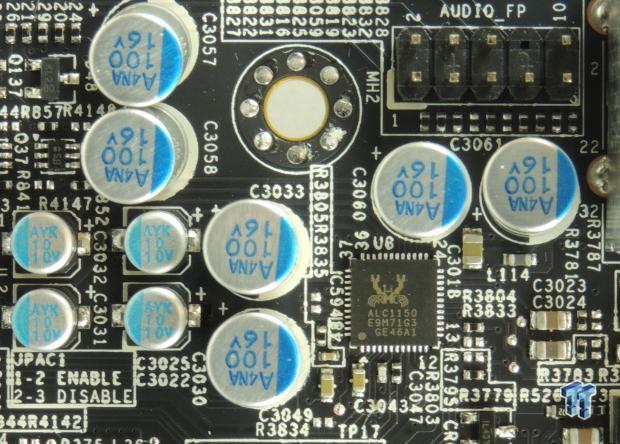 This is the Realtek ALC1150, and it's located right below the TOSLINK audio outputs. There doesn't seem to be any upgrades to the codec.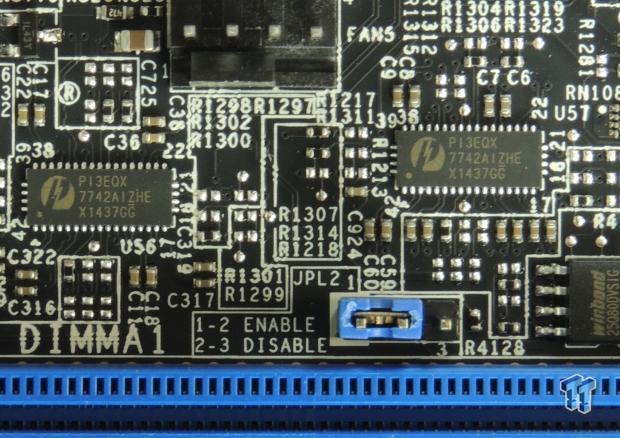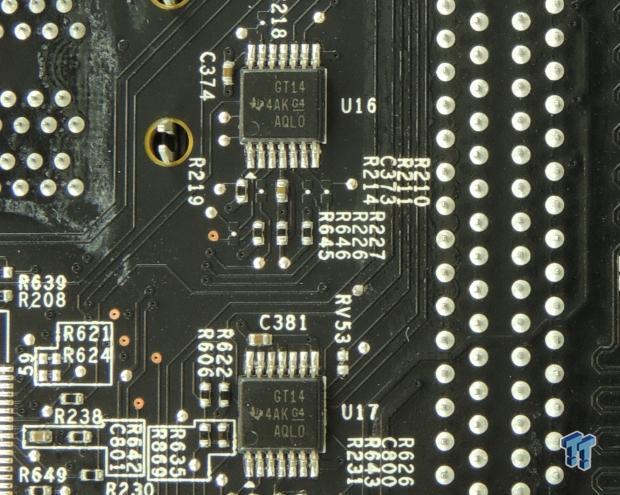 Supermicro has really paid attention to the performance of their ports and overall signaling. First, there are two Pericom PI3EQX77, which are USB 3.0 re-drivers that increase USB 3.0 signaling for the back-panel ports. Next, there are two Texas Instruments SN74GTL2014, which are each four channel transceivers that interface between a Xeon processor GTLs and chipset LVTTL, and they also have ESD protection. These are really only found on server motherboards, and the C7X99-OCE also has them.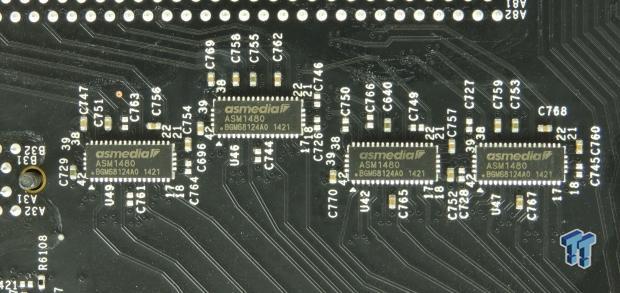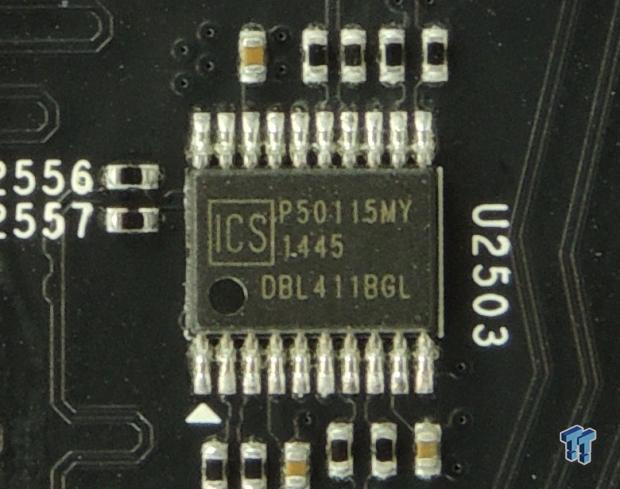 Some ASM1480 PCI-E 3.0 quick switches can switch bandwidth to the second PCI-E slot from the third for 16x/16x SLI/CrossFireX. The ICS 9DBL411, a quad-channel clock generator, provides clocking signals for the PCI-E 16x slots.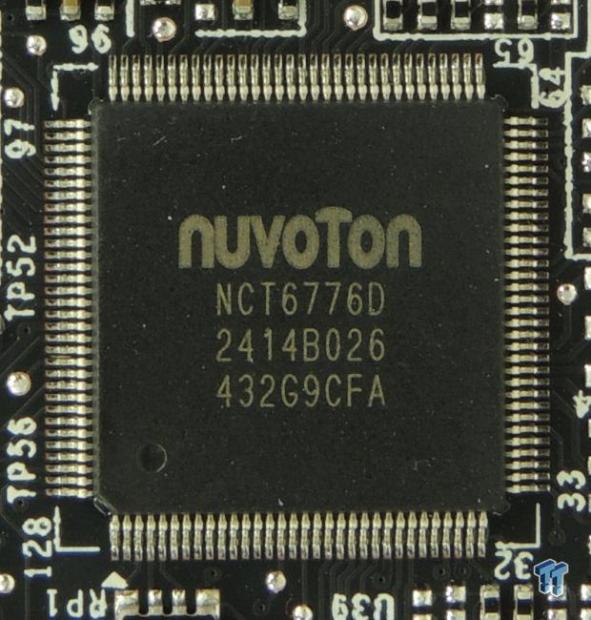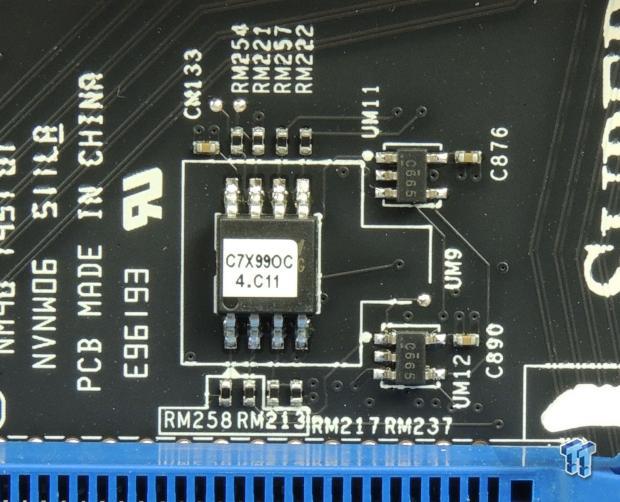 The Super I/O is a Nuvoton NCT6776D, which is quite common for consumer motherboards, and it should provide adequate monitoring capabilities and fan control. There is a single 128Mbit/16MB BIOS ROM for the UEFI.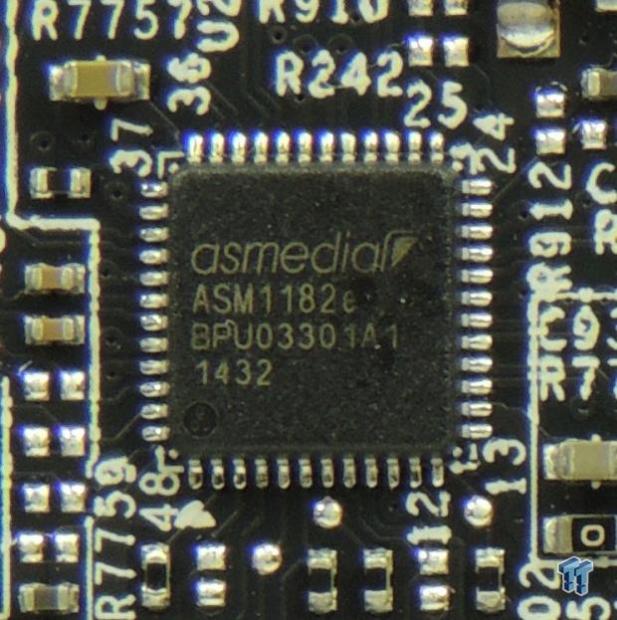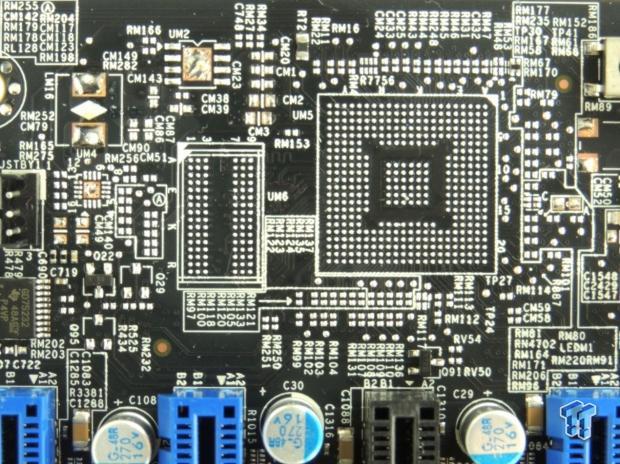 An ASMedia ASM1182E helps expand PCI-E lanes for the black 1x slots. The empty pads you see are for the C7X99-OCE-F model; this is where the VGA adapter that supports IPMI for server management sits.
BIOS and Software
BIOS
The C7X99-OCE actually has a decent UEFI, especially compared to the C7Z97-OCE. The difference is like night and day. The BIOS seems to have had most bugs fixed; it no longer resets all settings after a crash in Windows, OC profiles are present, OC presets aren't crazy, I can actually save normal profiles, and mouse function has been improved.
Fan control has an additional profile as well; however, support could be expanded. With the C7X99-OCE, Supermicro can actually compete with other brands who have had years of UEFI experience. There are a ton of options that one would use for server management, but there is one option missing, and that is the ability to take a screenshot (which is only really useful for sharing settings and doing reviews).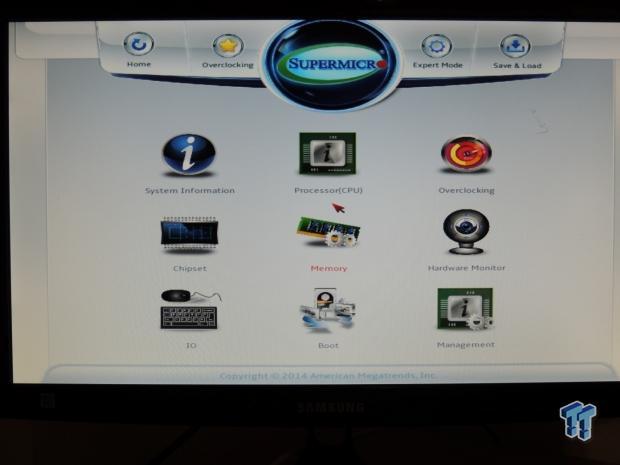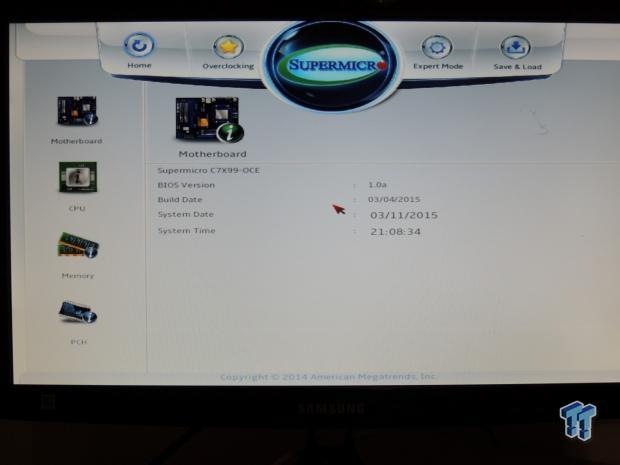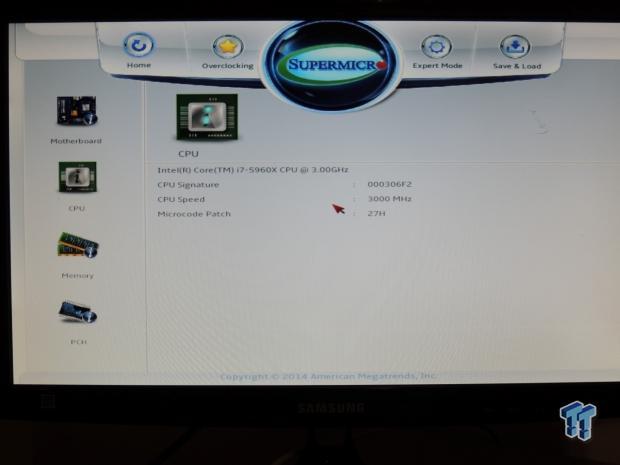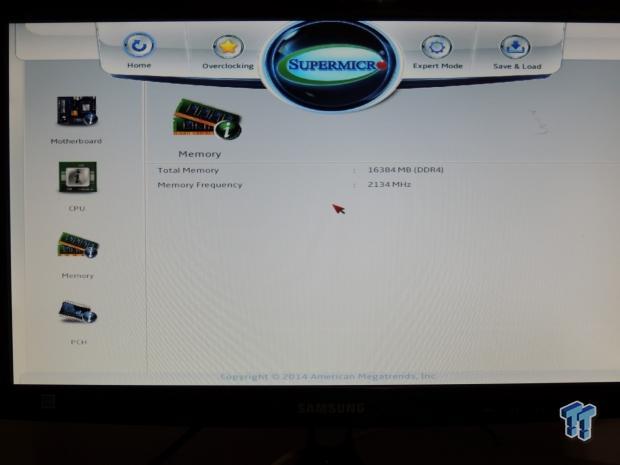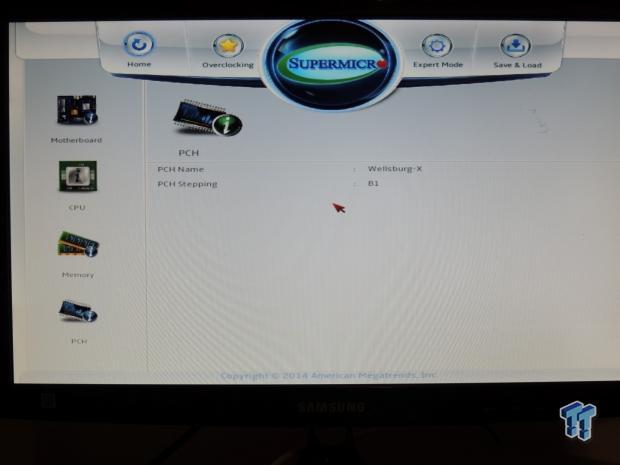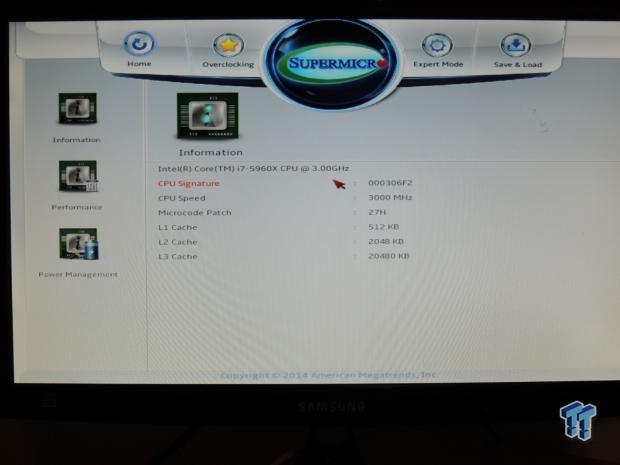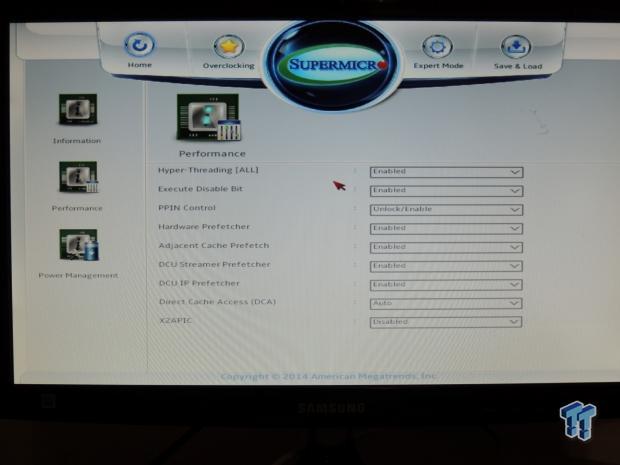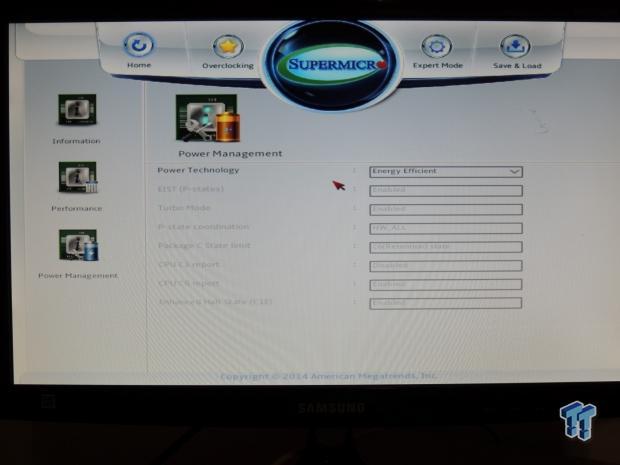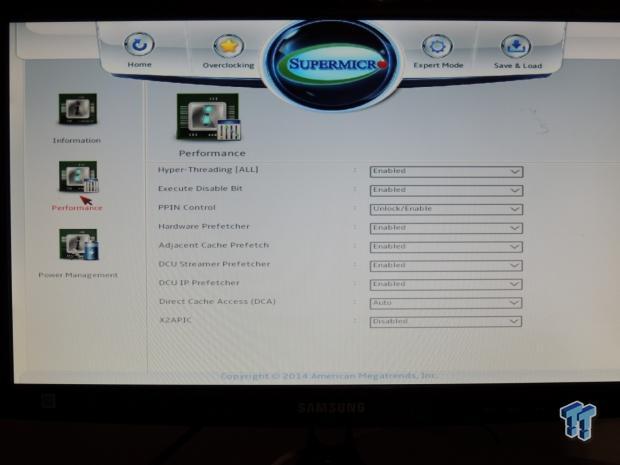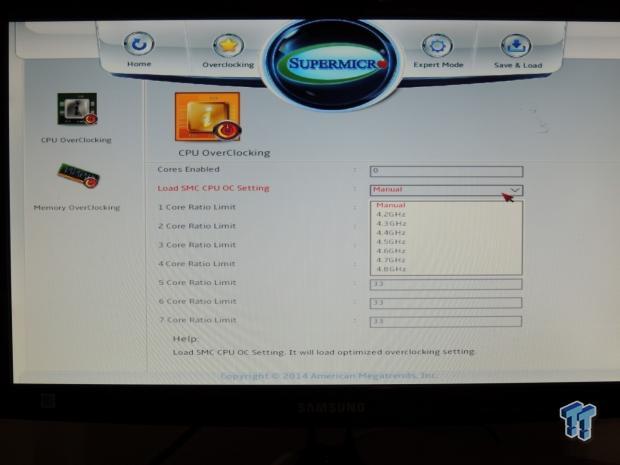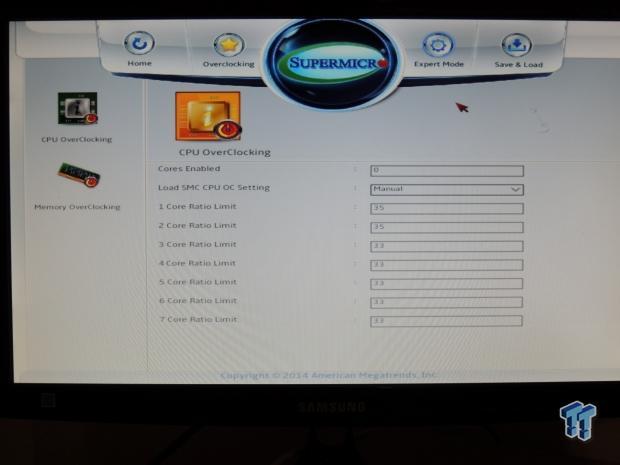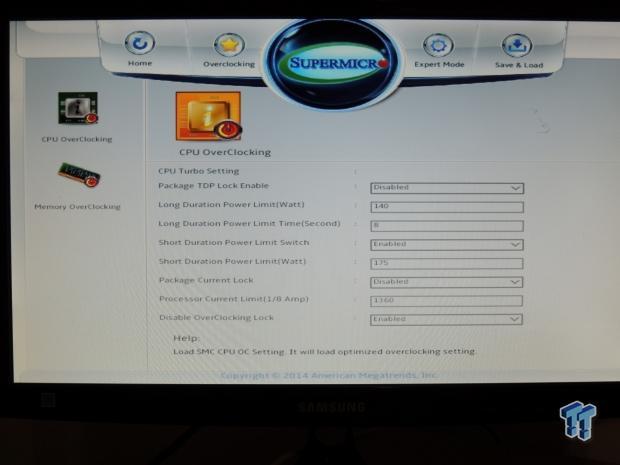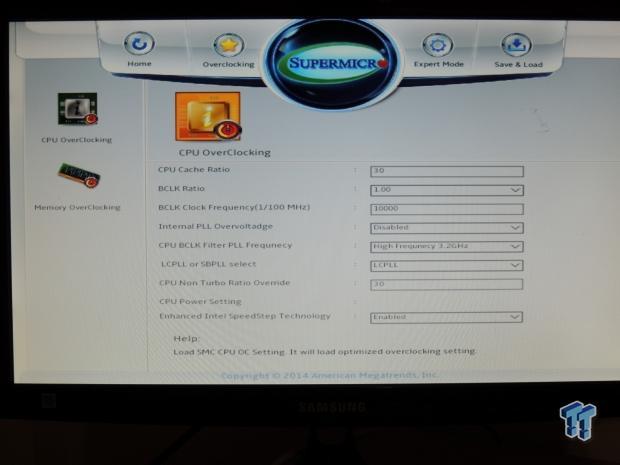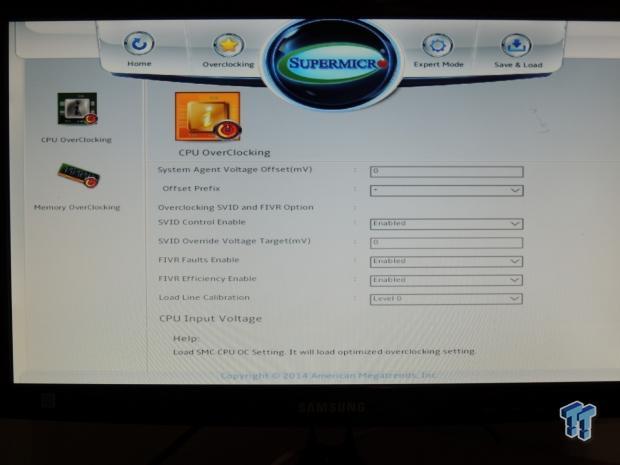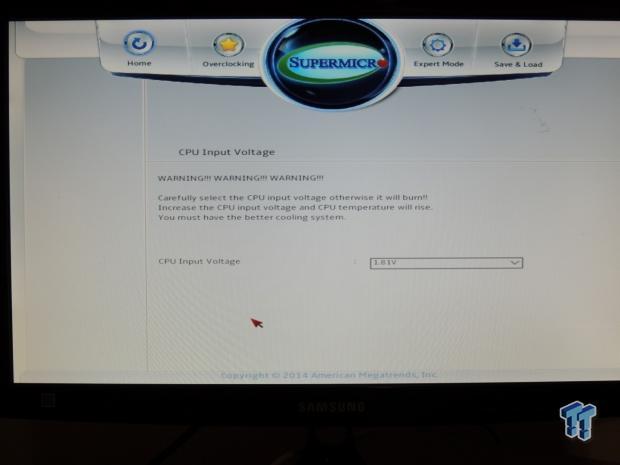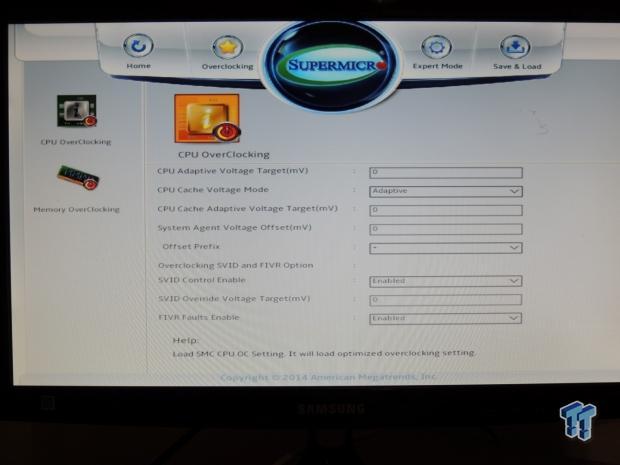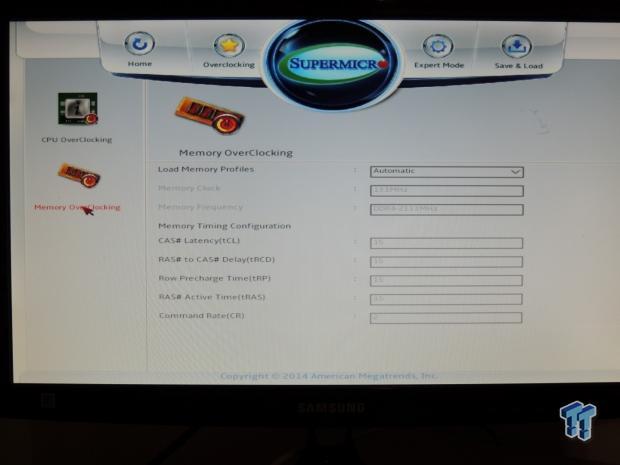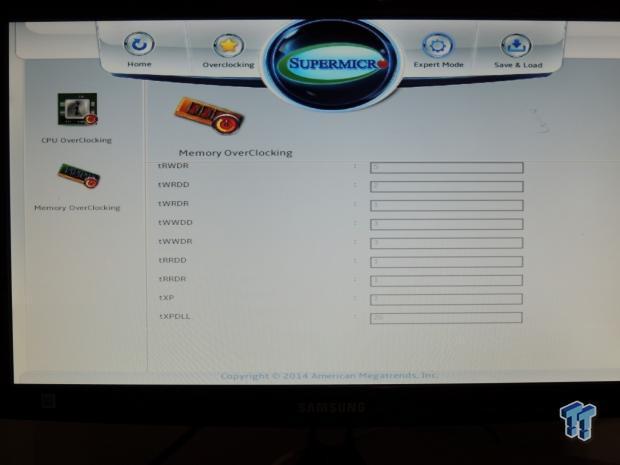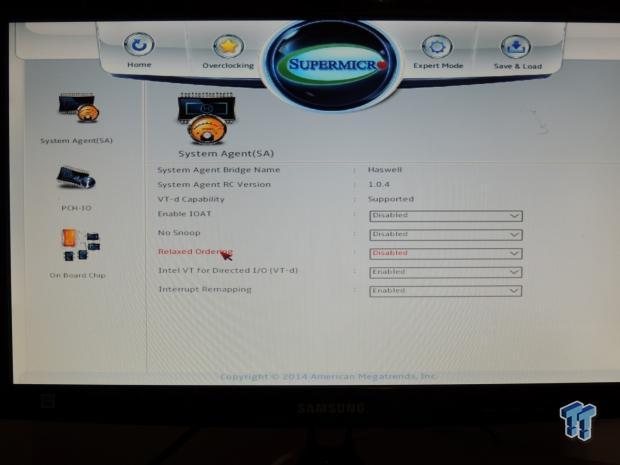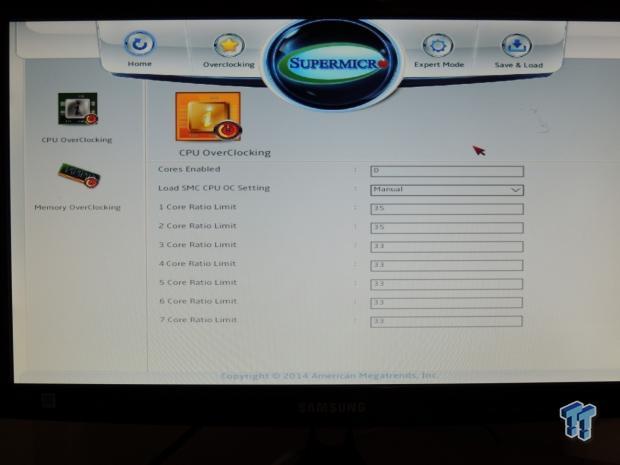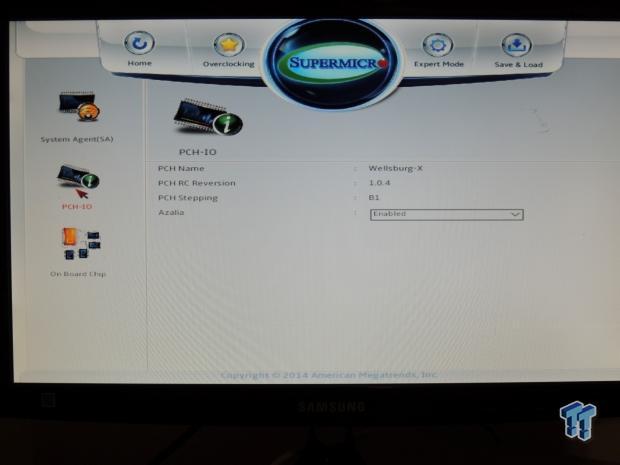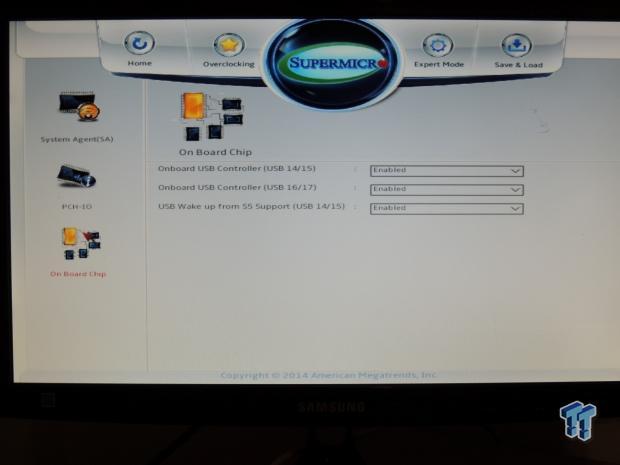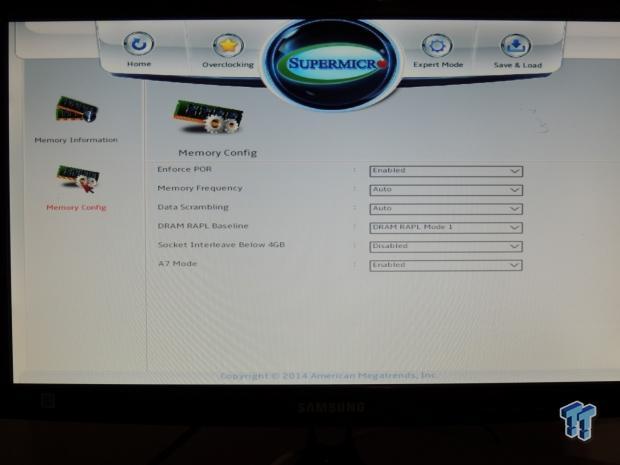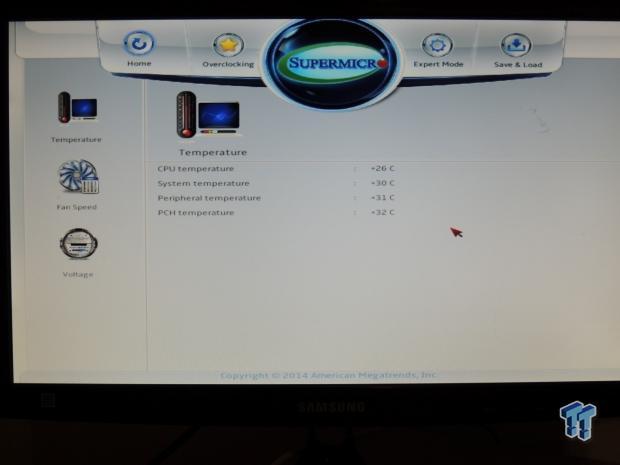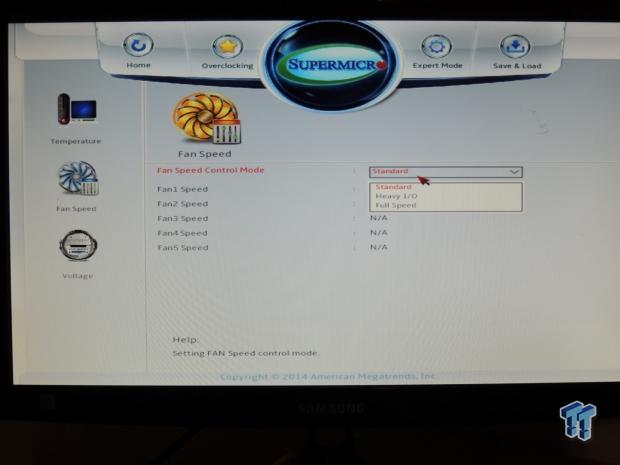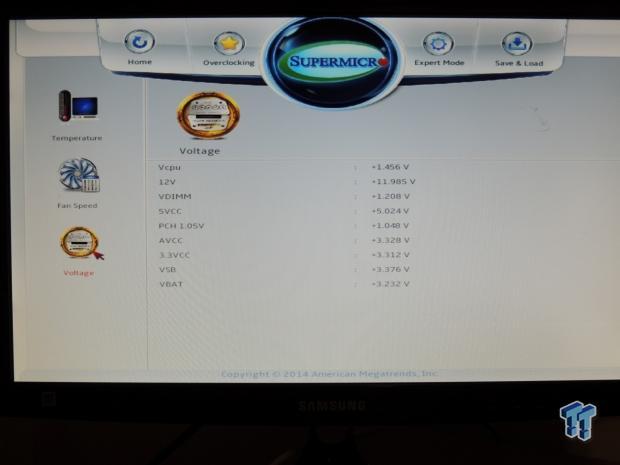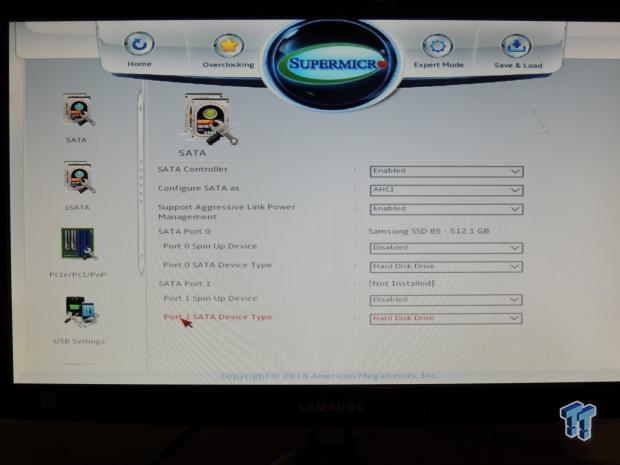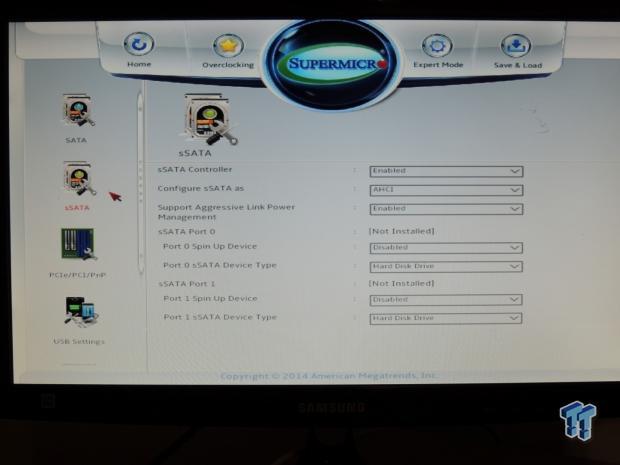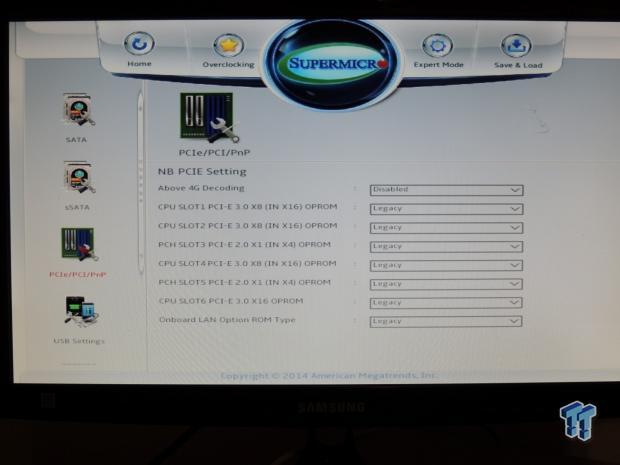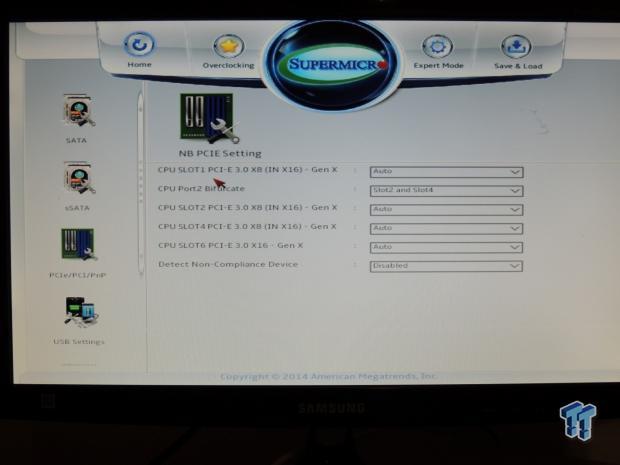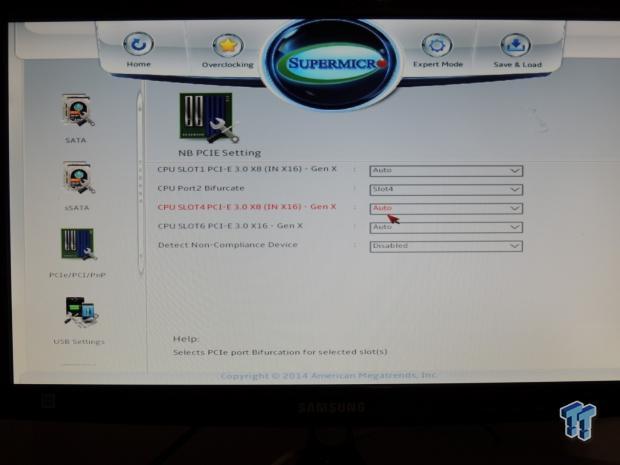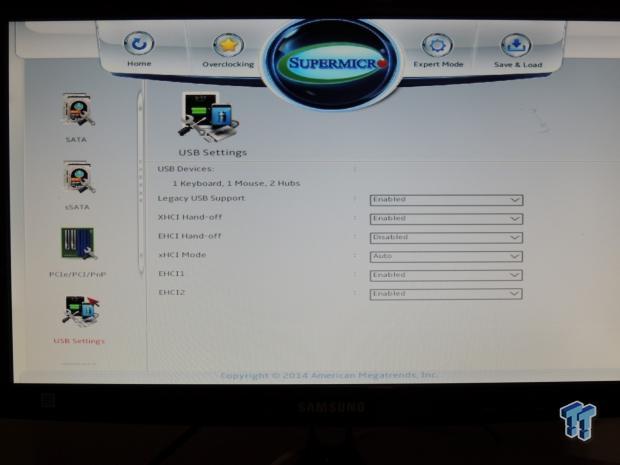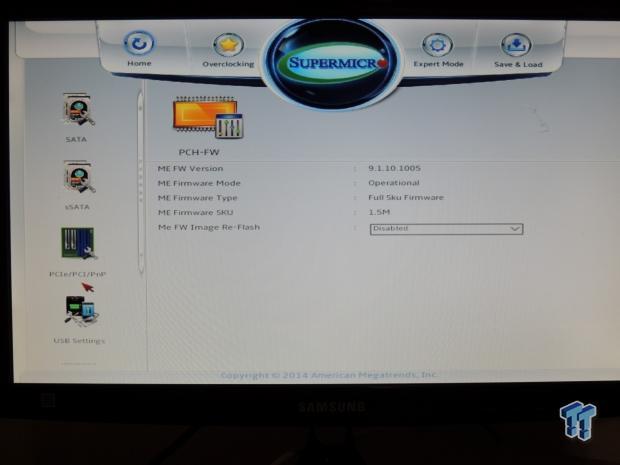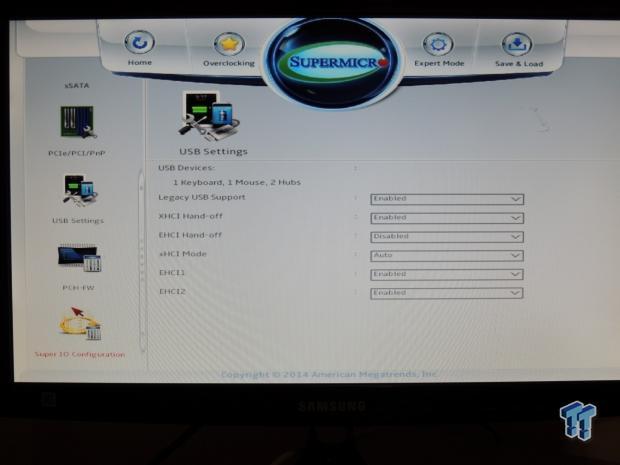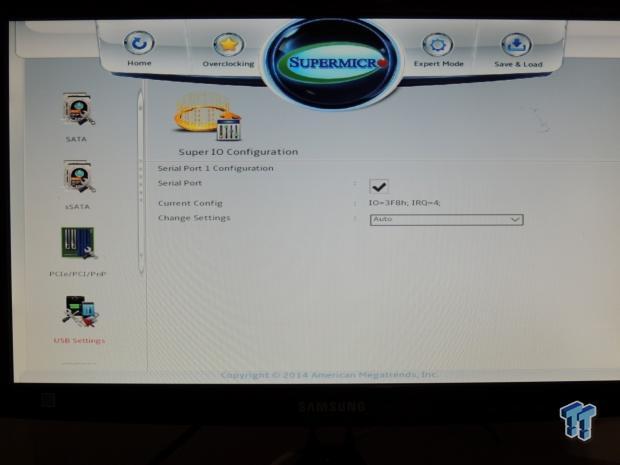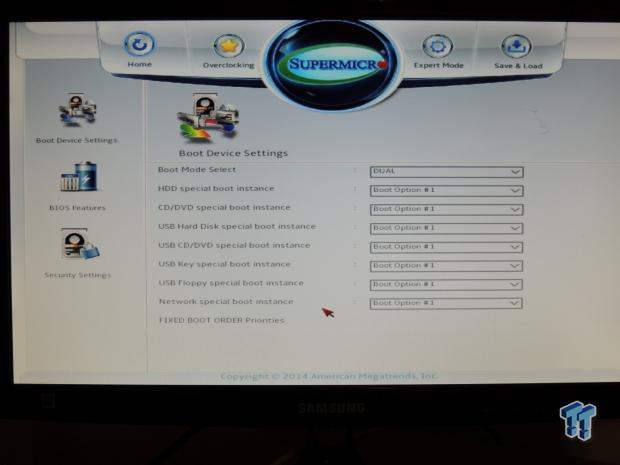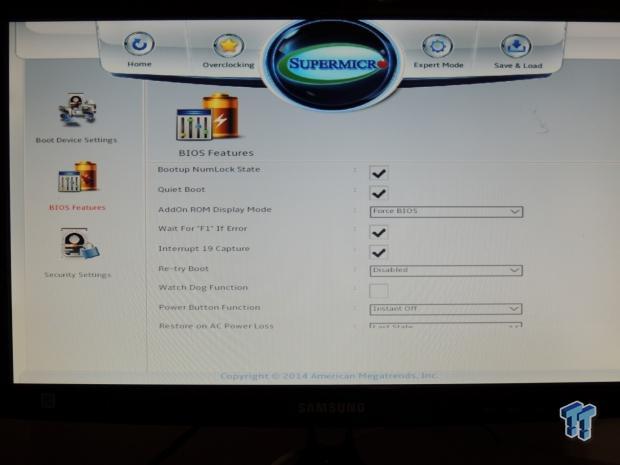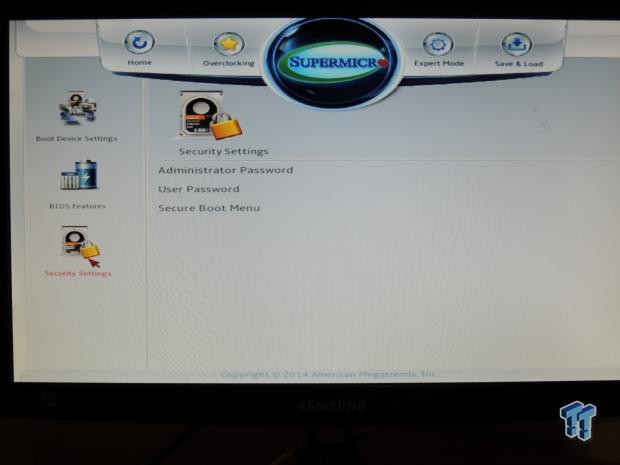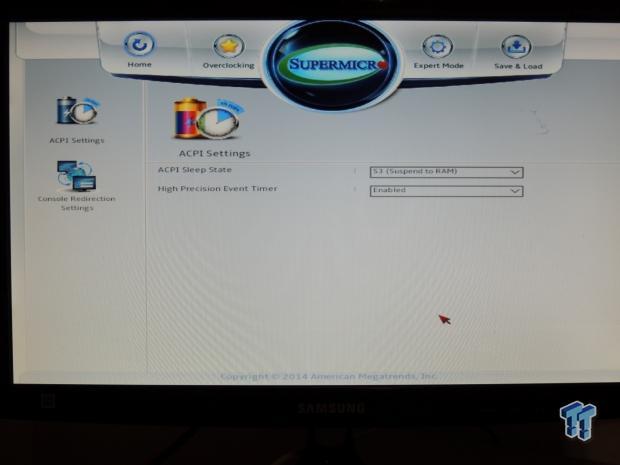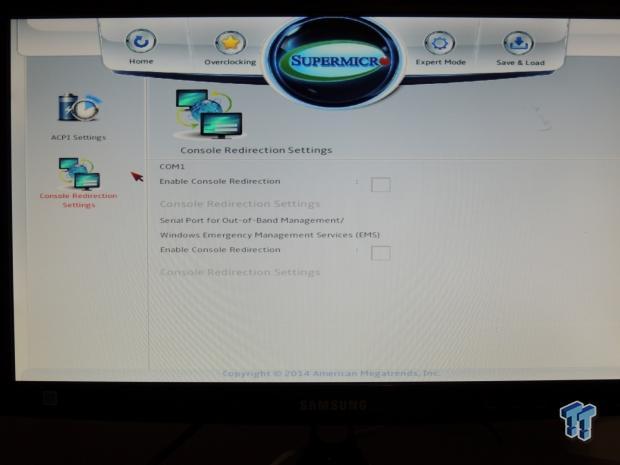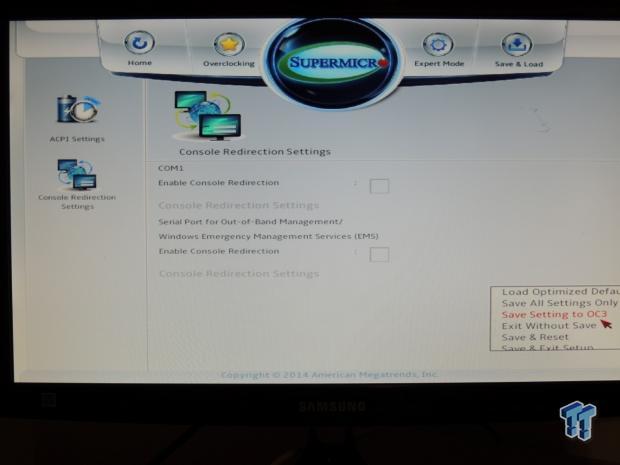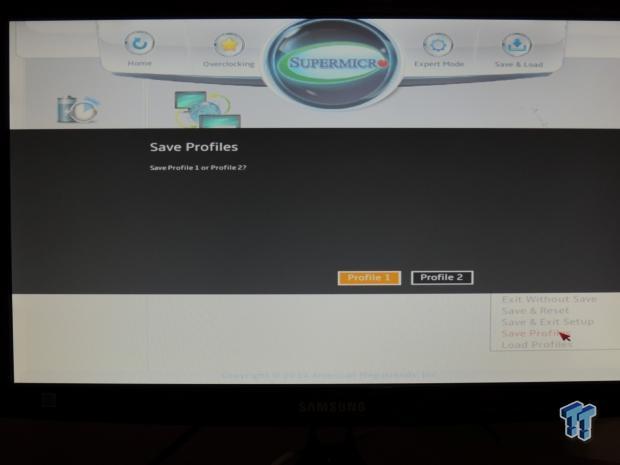 Software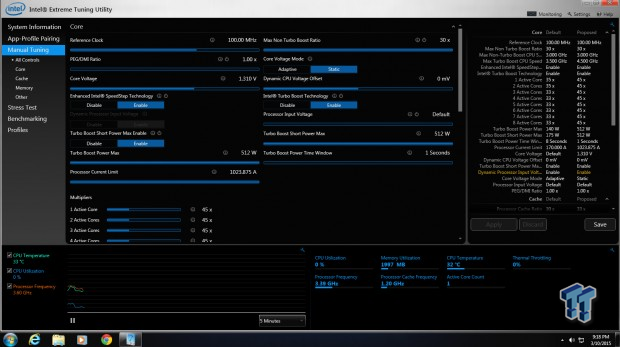 There isn't much software other than Supermicro's server software; Intel's XTU is the only software present for overclocking.
Test Setup and Overclocking
Test Setup
We would like to extend a big thank you to Corsair for sponsoring our case, fans, SSD, USB drive, and PSU!
We would also like to extend our gratitude to Seekfor sponsoring the Thermal Camera. You can find my review of the camera here.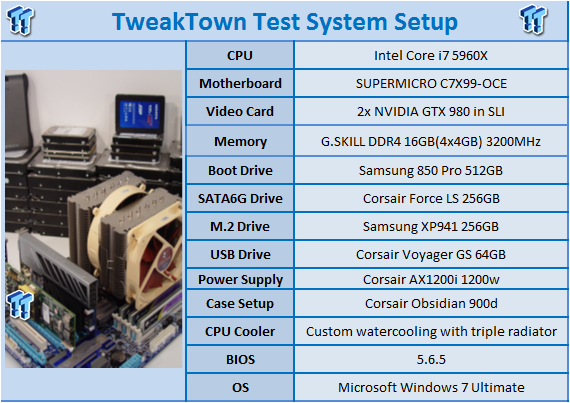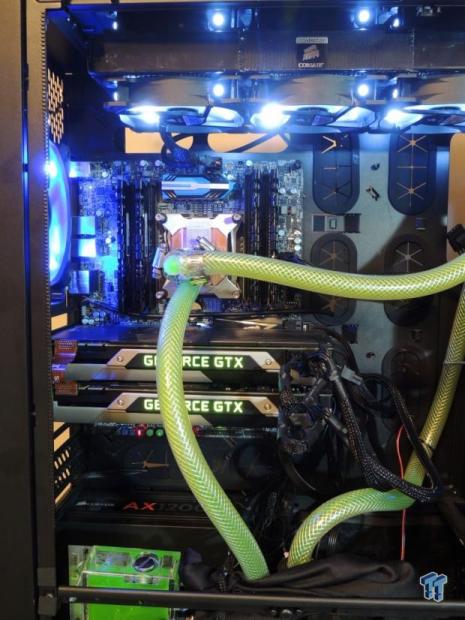 This is the new test bench, and it is designed to test every aspect of the motherboard and I/O. I have designed it so that the motherboard sits in a case and is cooled by fans that are always on at a constant rate to keep the conditions similar for all tests. I have cut out part of the case behind the motherboard so I can get thermal images of the back of the PCB where the VRM heat spreads. System and CPU power measurements are now digitally logged.
I am also using a Netgear Nighthawk X4 AC2350 for our network tests, including wireless AC. The latest M.2, SSD, and USB technologies are also utilized to test the maximum potential of the motherboards that are being tested.
Overclocking Results
In this section, I will go through overclocking this board.
CPU Overclocking
Max CPU Overclock is found by setting the VCore to 1.5v, Input voltage to 2.1v, cache voltage to 1.15v, booting with a CPU multiplier of 45x and disabling any features that would result in CPU frequency fluctuation. I then proceed into Windows and use software to increase the multiplier; in this case I opted to use Intel's Xtreme Tuning Utility.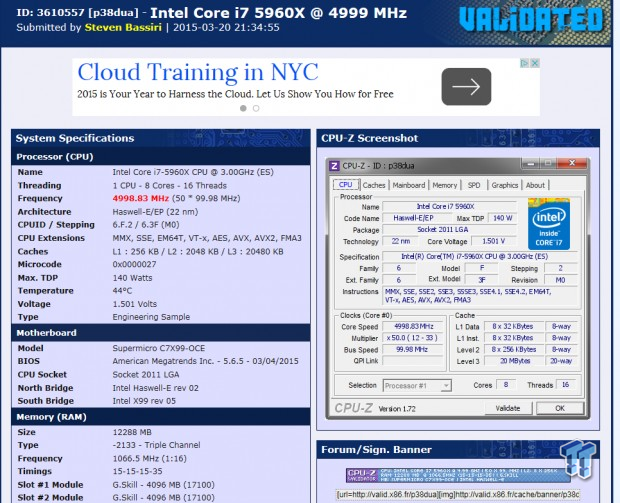 5.0GHz is the maximum of our CPU on this board and other X99 motherboards. It is clear that CPU overclocking is pretty good for high frequency.
Maximum AIDA64 Stable Overclock (BIOS settings below for this):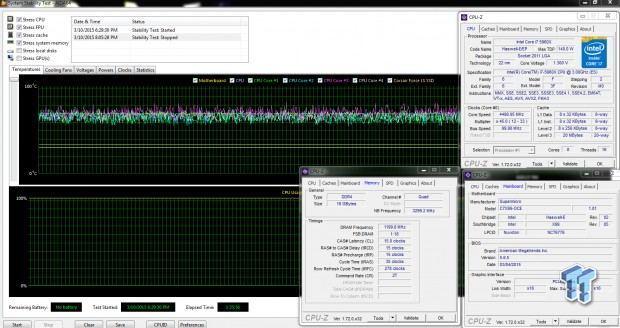 I was easily able to pull off 4.5GHz on the CPU with 3.2GHz cache and a 2400MHz overclock on my memory manually tuning the UEFI.
CPU, Memory, and System Benchmarks
CINEBENCH 11.5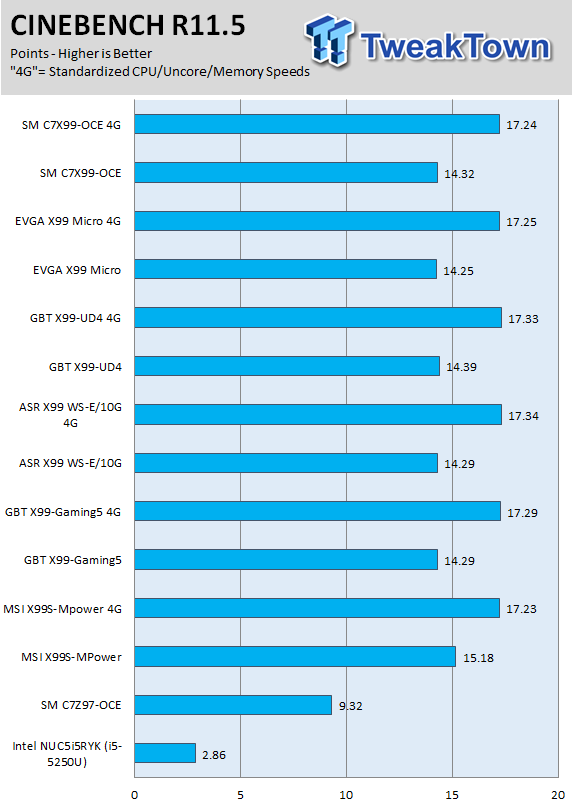 wPrime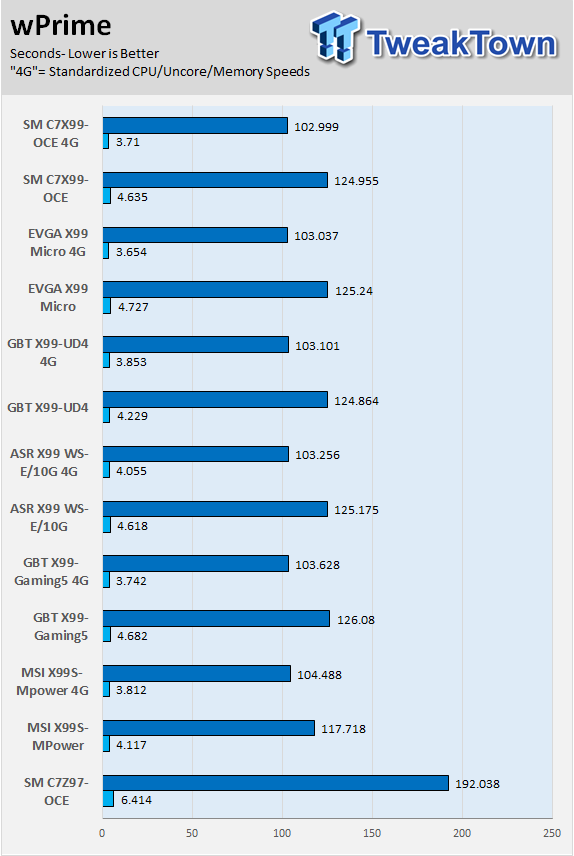 AIDA64 AES and HASH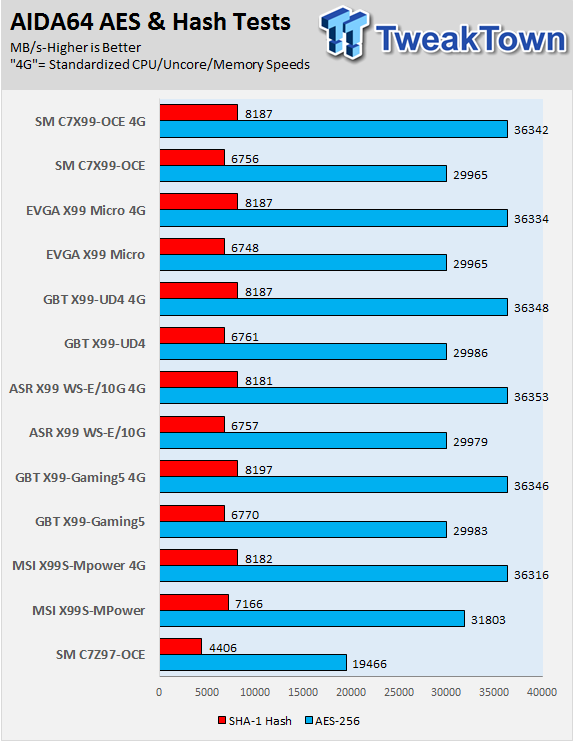 AIDA64 FPU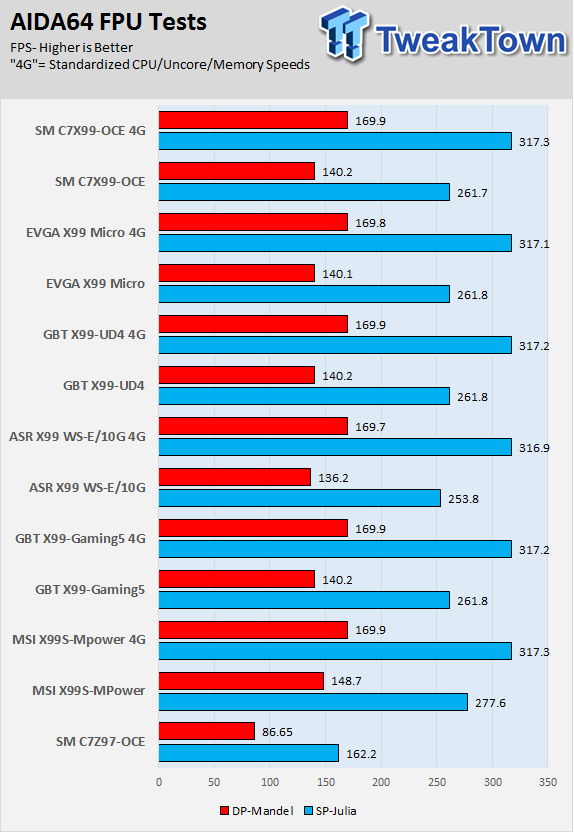 AIDA64 Memory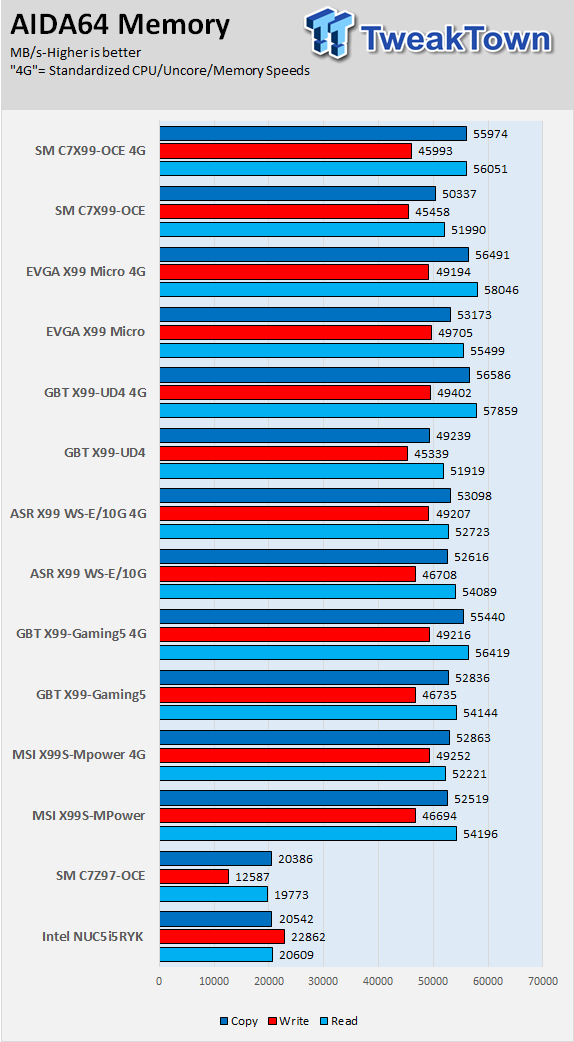 PCMark8 Home Test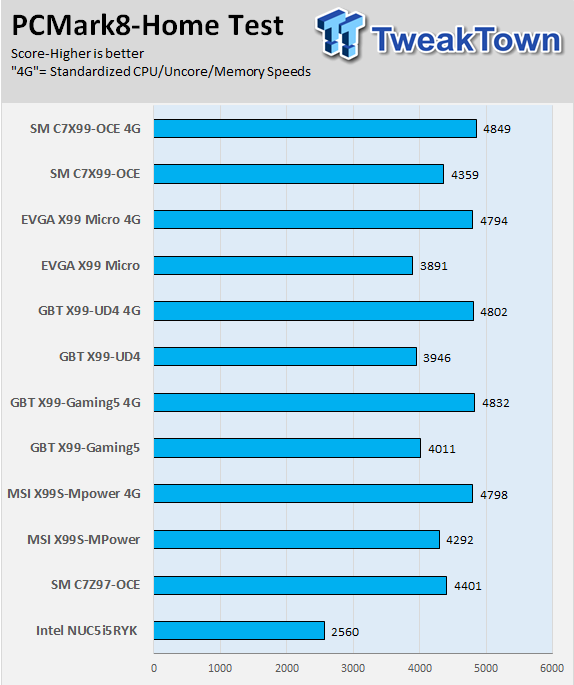 3DMark: Cloud Gate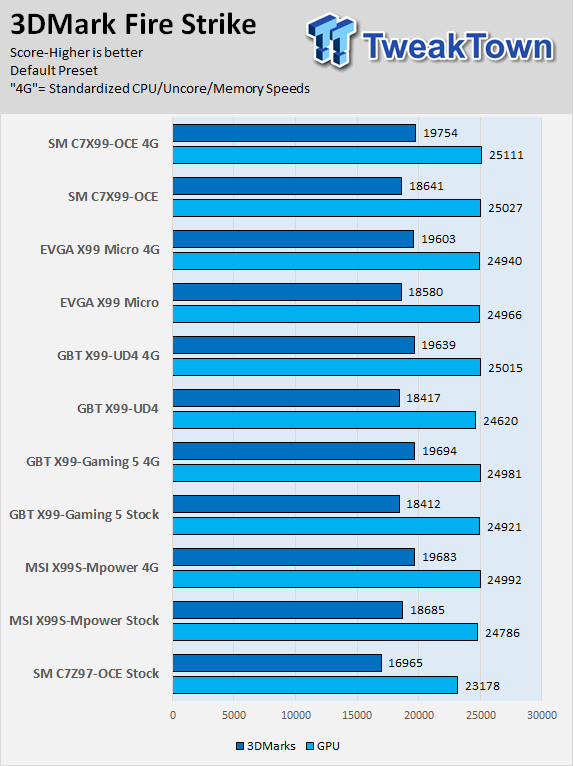 3DMark: Fire Strike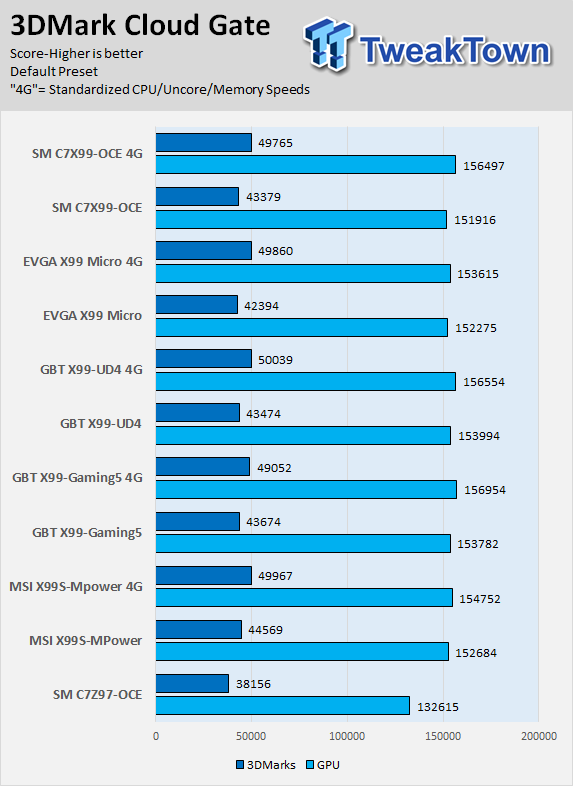 Resident Evil 6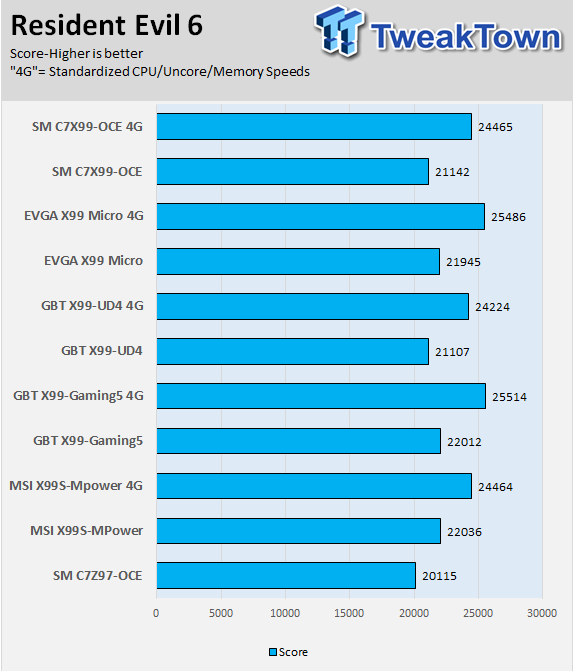 Performance is very strong when it comes to the C7X99-OCE. It not only does very well in CPU benchmarks like CINEBENCH and wPrime, but when the entire system is tested under PCMARK8, it provides the highest score. GPU performance is also high.
System IO Benchmarks
Anvil SATA6G: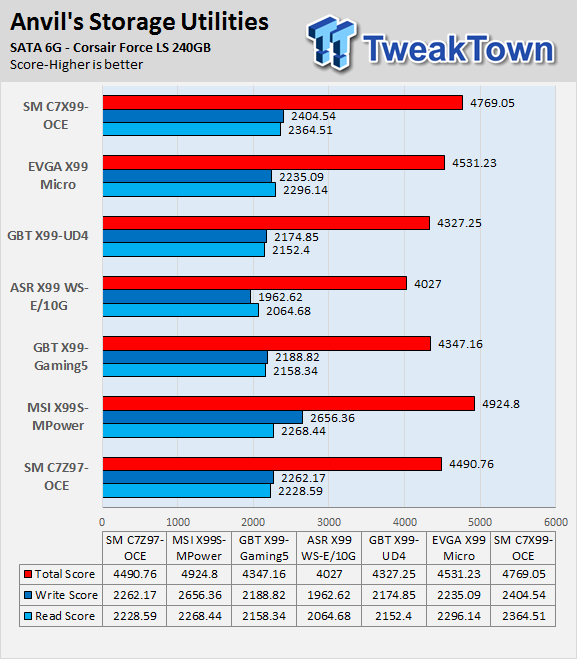 Anvil M.2:
This is not applicable since there is no M.2 slot.
Diskbench USB 3.0: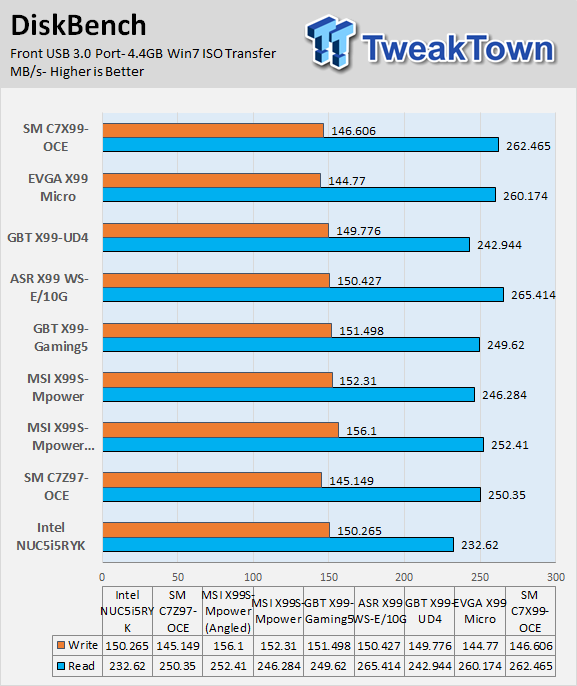 ixChariot Network Throughput: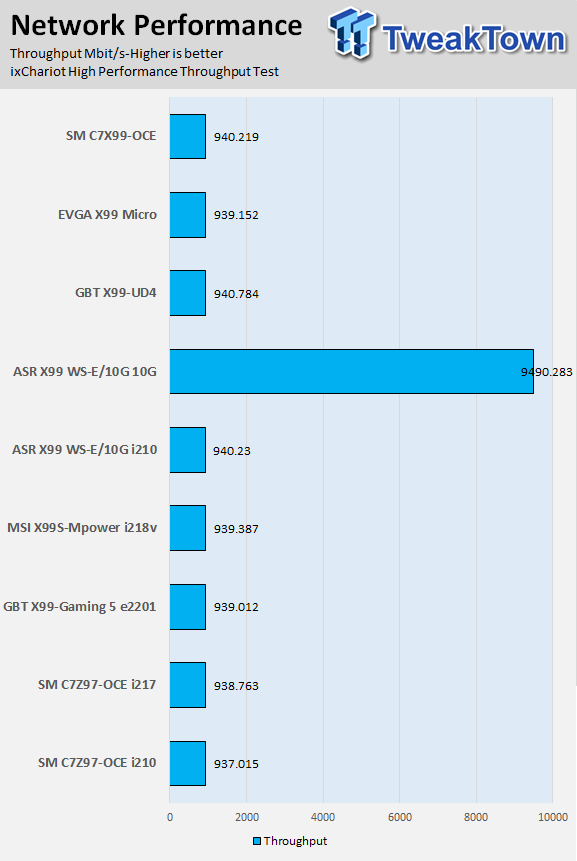 I/O performance is where I expected it to be with an Intel NIC and 4x of PCI-E bandwidth for the M.2 slot. Overall, performance is pretty good.
Audio RMAA 5.5:
Sadly, RMAA didn't seem to jive with Supermicro's implementation; I think it has to do with some setting in the UEFI not allowing the audio to be tested. So, I decided to focus on my ears, and I have to say that the audio isn't bad. It isn't the best I have heard out of a motherboard, but it will do the job just fine.
It's certainly not audiophile grade, but it is server grade, and it's totally acceptable for motherboard audio. The lows were deep enough, and the highs were fine. I listened to some music, played some Battlefield, and watched some Netflix, and it was good enough in the end.
Temperature and Power Consumption
System power usage is measured at the AC/DC PSU (the Corsair AX1200i), which I have connected to another system to measure the test system, and I have a wall meter as a backup to verify. The CPU power is measured through the eight-pin connection, which is hooked up to a hall effect IC that measures current and puts out a voltage in proportion to the current. A National Instruments ADC logs that voltage; afterward, I convert that into current.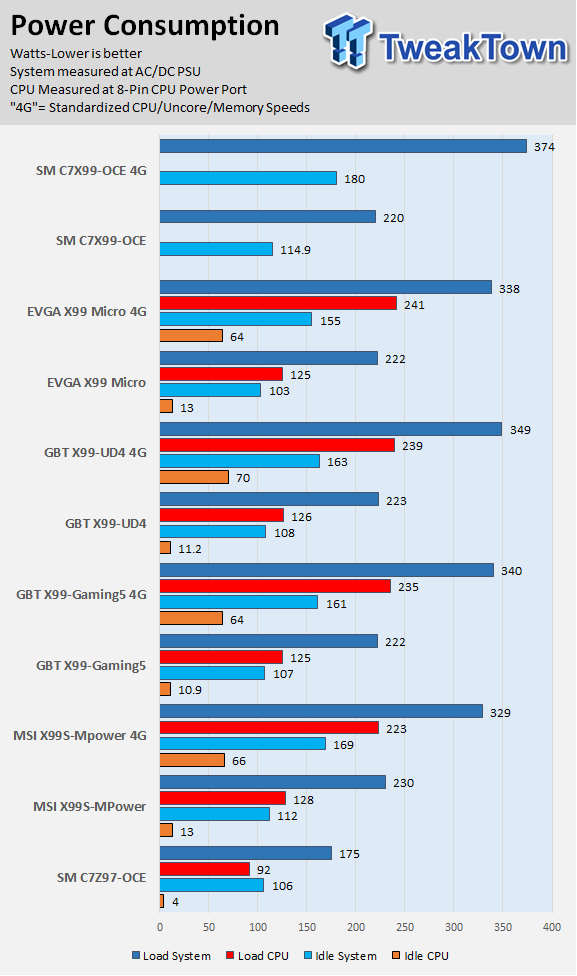 Interestingly, I wasn't able to measure dedicated CPU power, and I believe the reason is that this board doesn't isolate CPU power to the 8-pin connector. To investigate my hunch, I tried running the system without the 8-pin connector, and it worked. However, I do not recommend you do this. Please plug in your 8-pin, or you risk frying your 24-pin. In testing, the 8-pin provided only about 25% of the CPU power, and the rest came from the 24-pin.
Note on Thermal Images: In the temperature section, we use our Seek thermal imaging camera to capture the surface temperatures of major components on the board. I look at the VRM, and then all other things that light up the screen. If there is something to worry about, then I will state it; otherwise, I will just show the hotter running parts of the board for fun. Unless a component is over 80-90C, then there really isn't anything to worry about.
All systems will act differently, so I will look for commonalities, such as how far from the VRM the heat spreads through the PCB, and the difference in temperature between the front side and backside of the PCB. Keep in mind that the majority of the heat from the VRM goes into the PCB as it is a giant soldered-on copper heat sink. A smaller difference in temperature between the back and front of the PCB points towards a more effective heat sink.
Thermal Testing at Stock Speeds:
The image on the left is always at idle, and the image on the right is at load.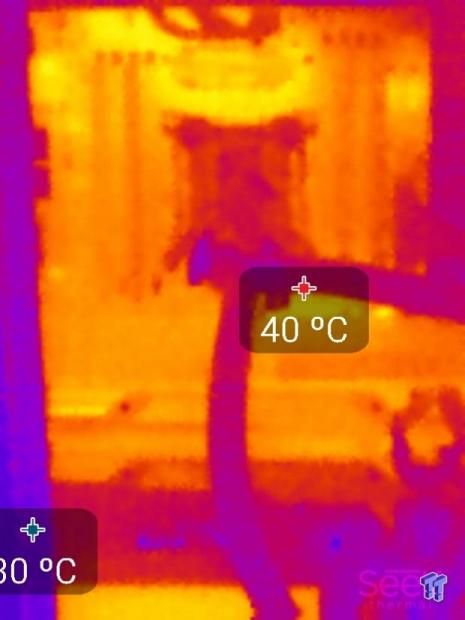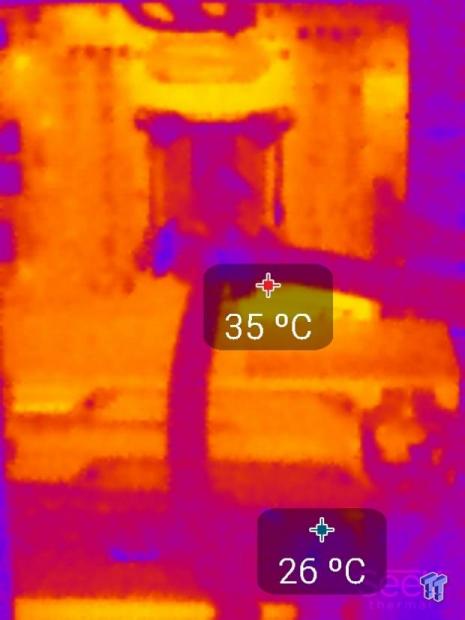 Here is full frontal.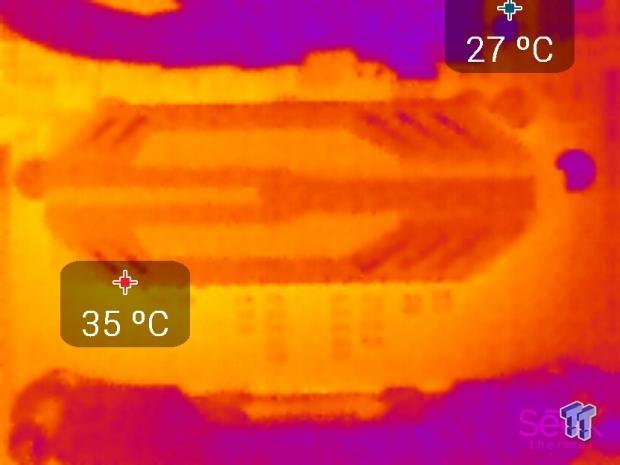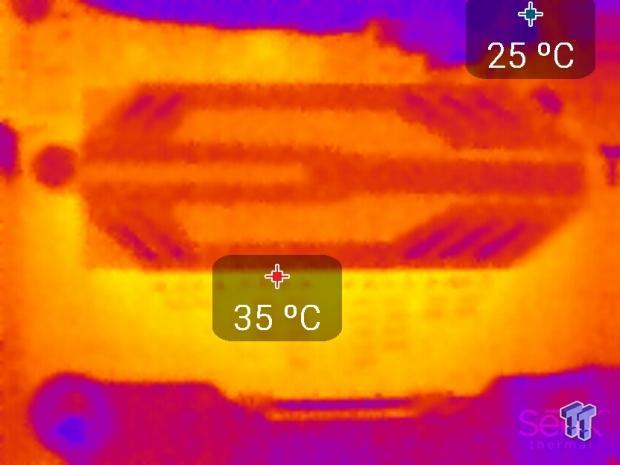 This is up close to the front of the VRM.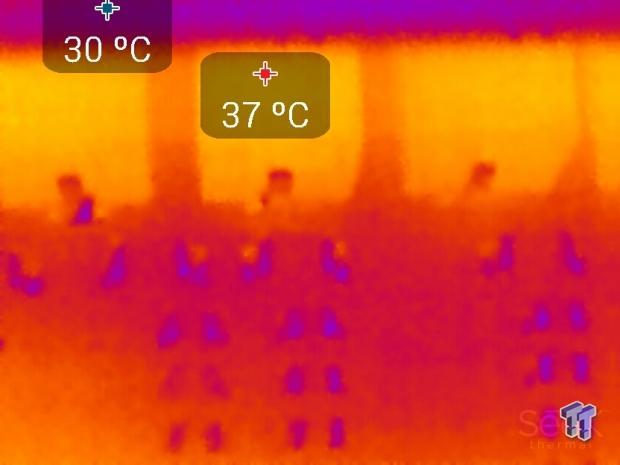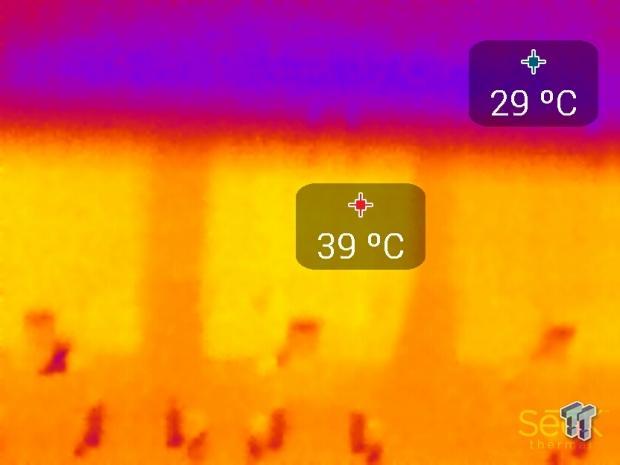 This is up close to the chokes of the VRM.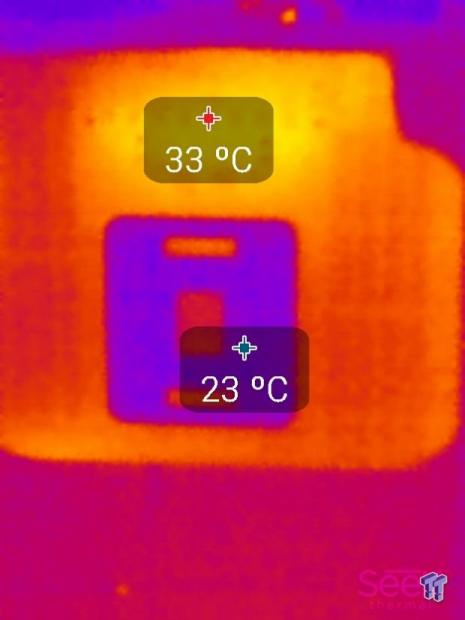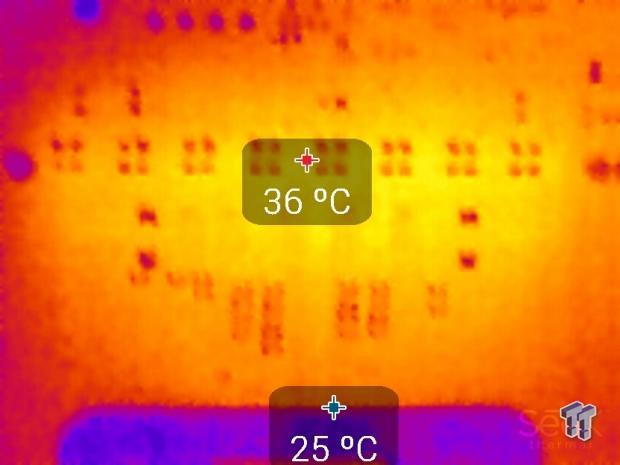 This is up close to the back of the VRM.
Thermal Testing at 4.5GHz Overclocked Speeds: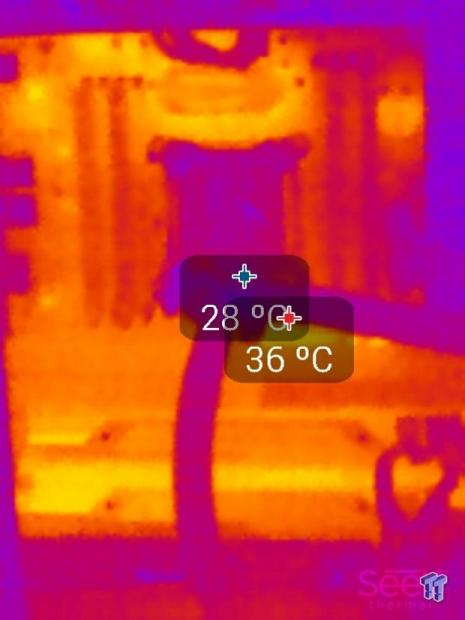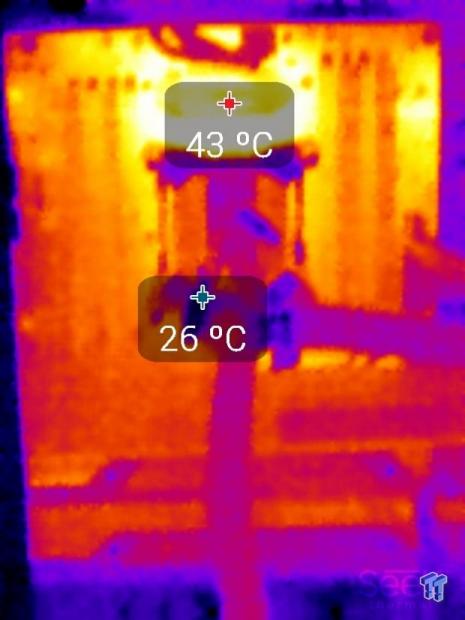 Here is full frontal.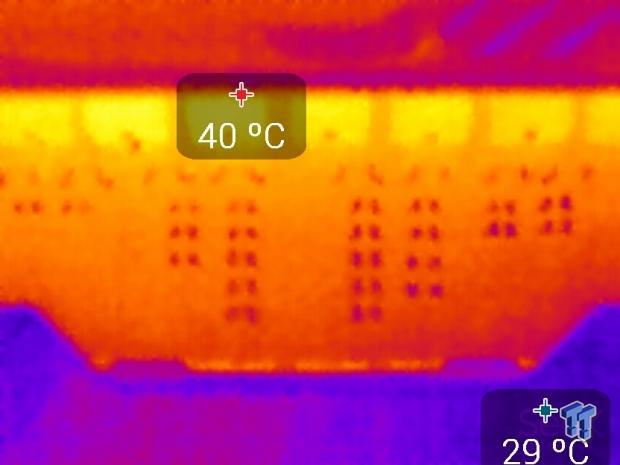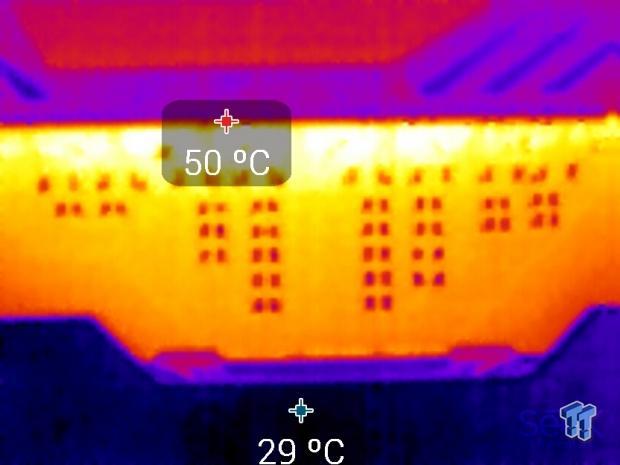 This is up close to the front of the VRM.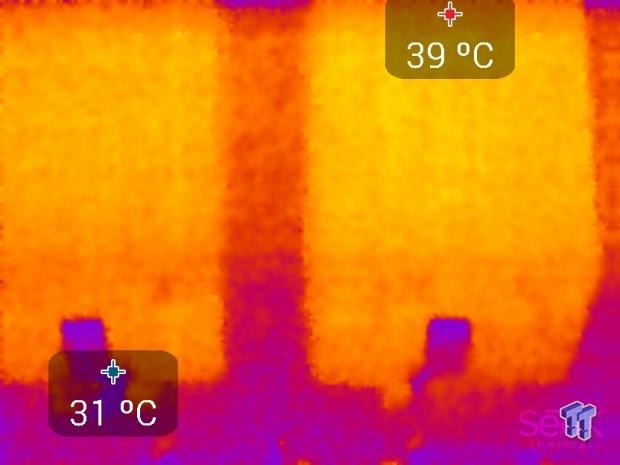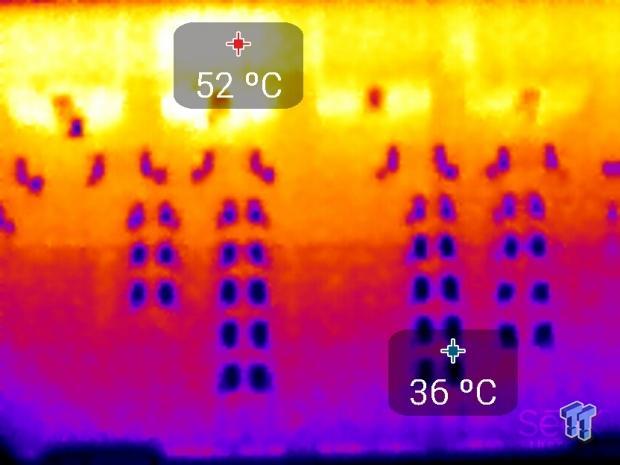 This is up close to the chokes of the VRM.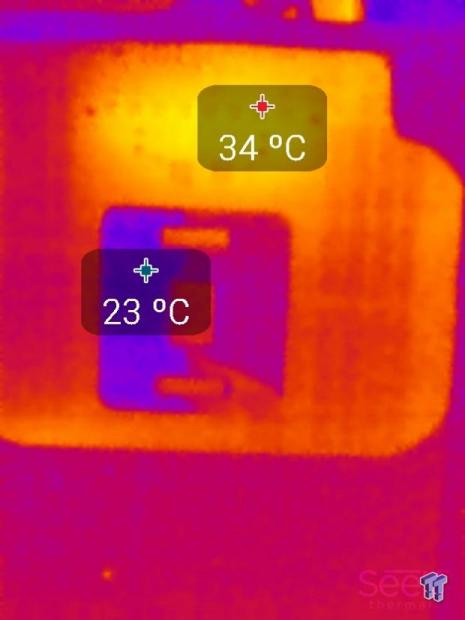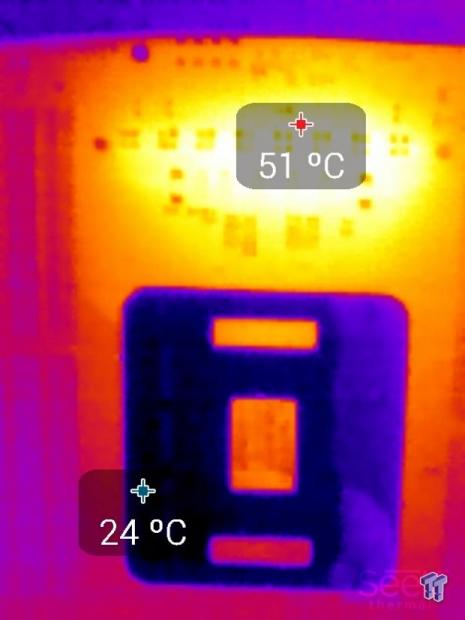 This is up close to the back of the VRM.
It's quite amazing how the results of the IR3556 and IR3580 are pretty similar depending on the quality of the chokes and PCB. This board performs as well as the best overclocking motherboards I have tested when it comes to VRM thermal performance. It is definitely a keeper, and while it has a small heat sink for the VRM, it doesn't get toasty and seems to do its job fairly well.
The temperatures on the front and back seem to be within 1C of each other, which means the heat sink is doing its job and becoming more saturated with heat; this is probably because of the good contact between the VRM power stages and VRM heat sink.
Final Thoughts
Superlative is the right word to describe the hardware on the C7X99-OCE. Since it is capable of supporting CPUs from Xeons to the latest i7, the C7X99-OCE has the right hardware to support server-grade CPUs and overclockable i7s in one package.
Everything from the power components to the re-drivers for USB and the third-party controllers to support USB 3.1 make this motherboard one of the best performing on the market. At $304 USD, you get very high-grade components at an acceptable price tag for a high-performance X99 motherboard.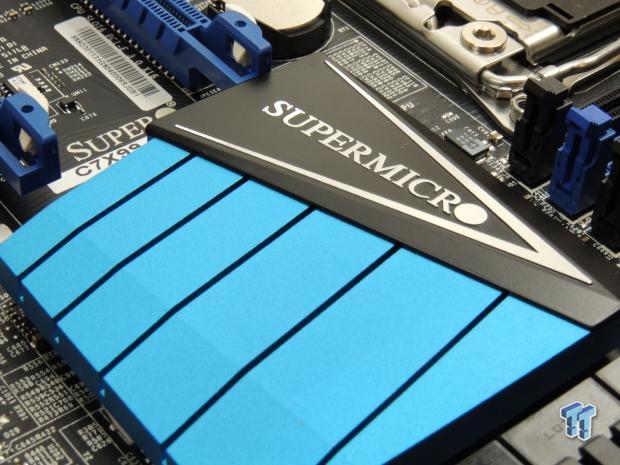 When it comes to overclocking, this board isn't necessarily designed for liquid nitrogen, but I have no doubt it could handle it. Nonetheless, Supermicro could make some changes, like making the clear CMOS button easier to reach and adding in M.2. This board trades M.2 for more USB 3.1, and you should keep that in mind if you are more interested in USB 3.1 than M.2. When it comes to 24/7 overclocking, the board works as great as any other X99 motherboard, and perhaps better than most.
The UEFI has greatly improved, and overclocking is pretty simple and straight forward. CPU performance is very strong, perhaps the strongest I have seen thus far, and total system performance is also very good. If you are looking for a motherboard with features and design practices used in high-quality server boards, outstanding performance, and the ability to overclock, then the C7X99-OCE is the right board for you.
PRICING: You can find the C7X99-OCE and C7X99-OCE-F for sale below. The prices listed are valid at the time of writing, but can change at any time. Click the link to see the very latest pricing for the best deal.
United States: The C7X99-OCE retails for $304.00 at Amazon, and the C7X99-OCE-F retails for $340.99 at Amazon.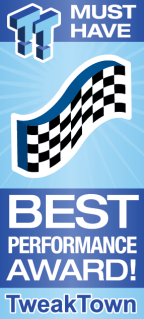 | | |
| --- | --- |
| Performance (including Overclocking) | 96% |
| Quality including Design and Build | 96% |
| General Features | 90% |
| Bundle and Packaging | 89% |
| Value for Money | 90% |
The Bottom Line: If you are looking for a motherboard with features and design practices used in high quality server boards with outstanding performance and the ability to overclock, then the C7X99-OCE is the right board for you.
PRICING: You can find products similar to this one for sale below.

United States: Find other tech and computer products like this over at Amazon.com

United Kingdom: Find other tech and computer products like this over at Amazon.co.uk

Australia: Find other tech and computer products like this over at Amazon.com.au

Canada: Find other tech and computer products like this over at Amazon.ca

Deutschland: Finde andere Technik- und Computerprodukte wie dieses auf Amazon.de
We openly invite the companies who provide us with review samples / who are mentioned or discussed to express their opinion. If any company representative wishes to respond, we will publish the response here. Please contact us if you wish to respond.