Thermaltake Tt eSPORTS METALCAPS 38-Key Set Review
Those looking to customize their mechanical keyboards: look no further. Thermaltake and Tt eSPORTS is offering a sleek and affordable way to do just that.

Published Mon, Sep 29 2014 8:10 AM CDT
|
Updated Tue, Nov 3 2020 6:59 PM CST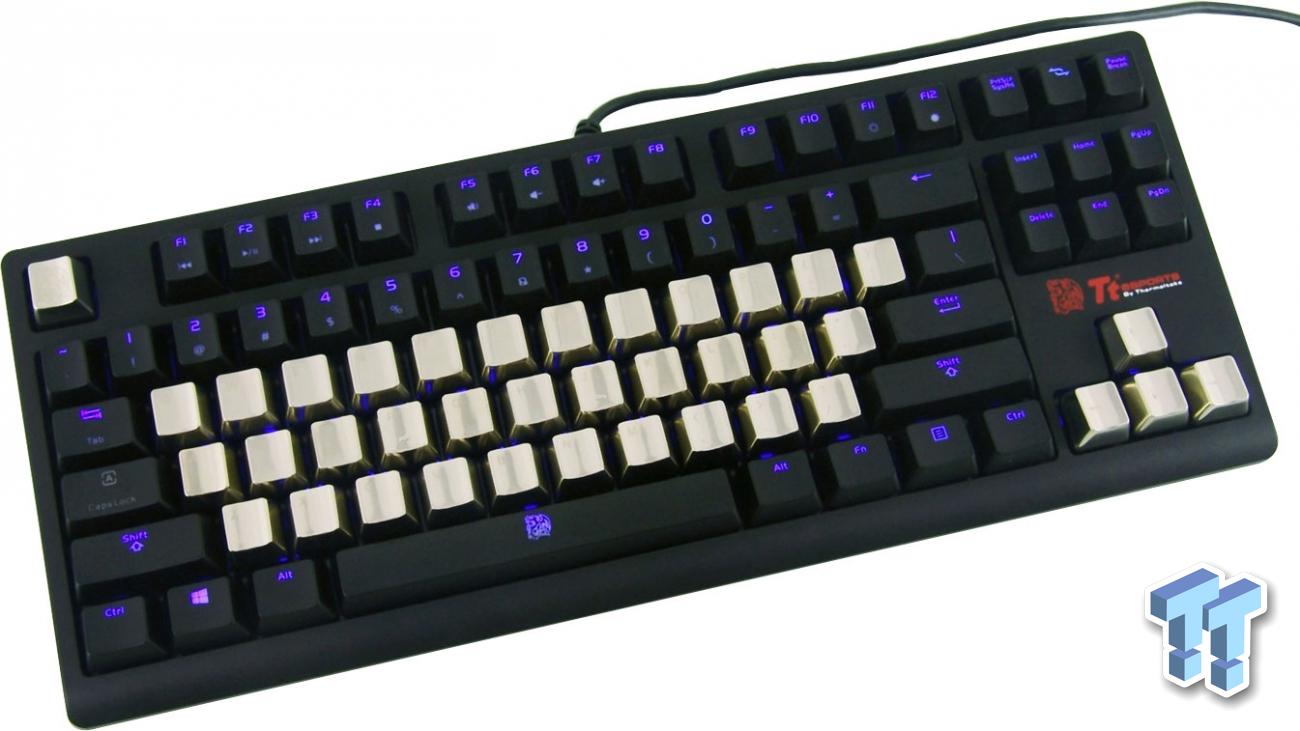 Anyone that is a big fan of mechanical keyboards knows here is a huge community that takes standard mechanical keyboards, and customizes them by adding custom LEDs, painting or using vinyl overlays on the frames, and switching out key caps. There are quite a few locations to buy custom keycaps that allow users to add a personal touch with colored keycaps, customized the symbology on the caps, or even eliminating them all together.
There is one limitation to most of the locations we haunt to find bits to customize our mechanical keyboard: only one location offered something similar to what Thermaltake is bringing forth. So, Thermaltake has set itself apart from even those who have been doing this in plastics for years. Since Thermaltake has had such great success with their Kailh blue switch based mechanical keyboards, they have decided it is time to accessorize them with many options in metallic key caps sets.
Thermaltake is labelling these sets as METALCAPS for obvious reasons, leaving no room to mistake what you are buying. There are four partial sets in total, and we say partial, as none of them will replace every key on the board, but there is one option that fills that need to some extent. In their basic sets, you will find Thermaltake offers a set that is made up of five metal caps that will replace the WASD and Escape keys. A second set covers the QWER and Escape keys, and the last small set offers metal arrow caps, and an Escape cap. However, the set we are looking at today covers all of the letters, as well as the punctuation and Escape keys, in a 38-key pack.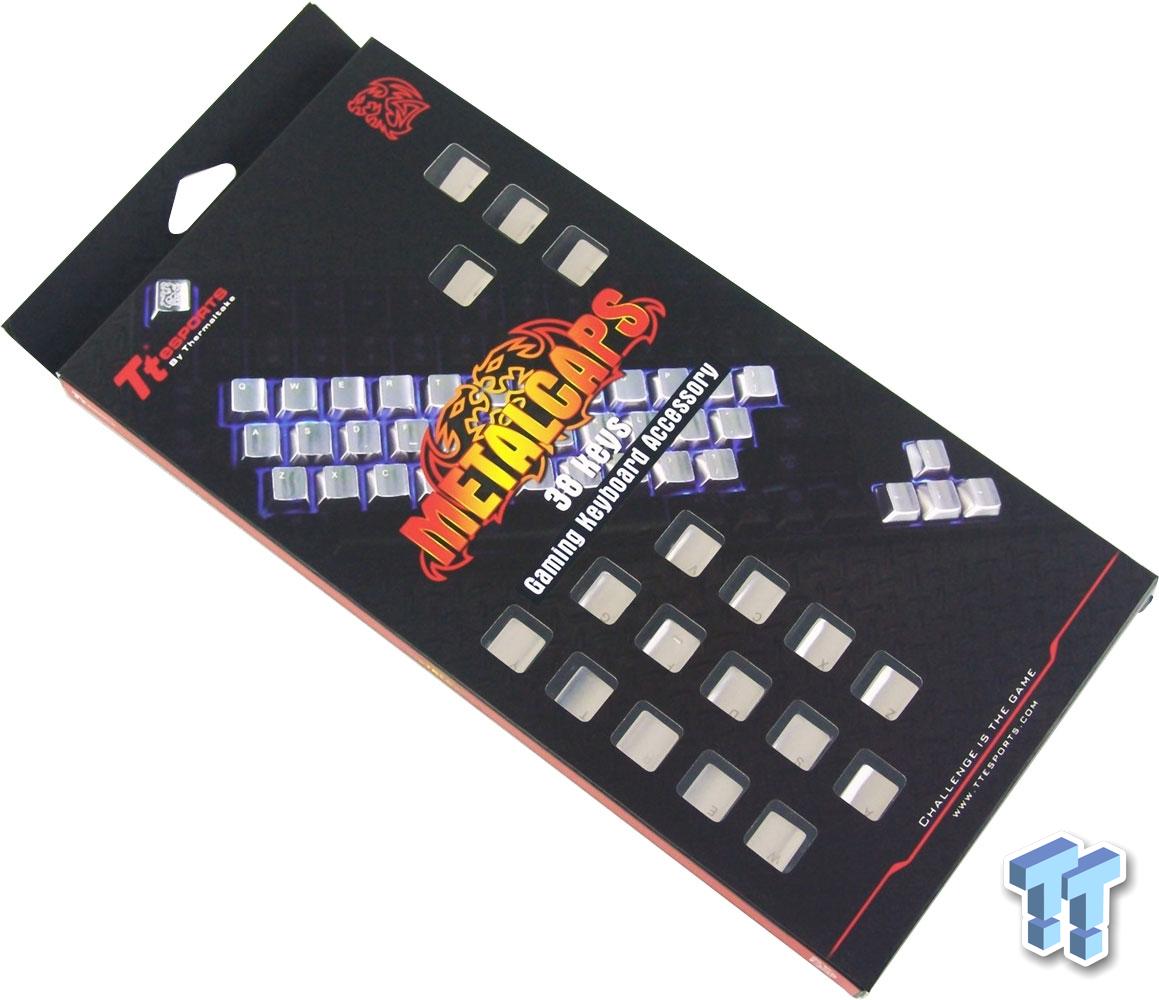 Thermaltake was sure to make the packaging for these key cap sets very attractive, so it will catch your eye as you wander down the aisles at a Fry's, or any other big box store out there. The black packaging with red accents has a diamond plate backdrop to show off the image of this set installed onto a Poseidon ZX. There are also a few cutaway windows to show the caps packed inside the box.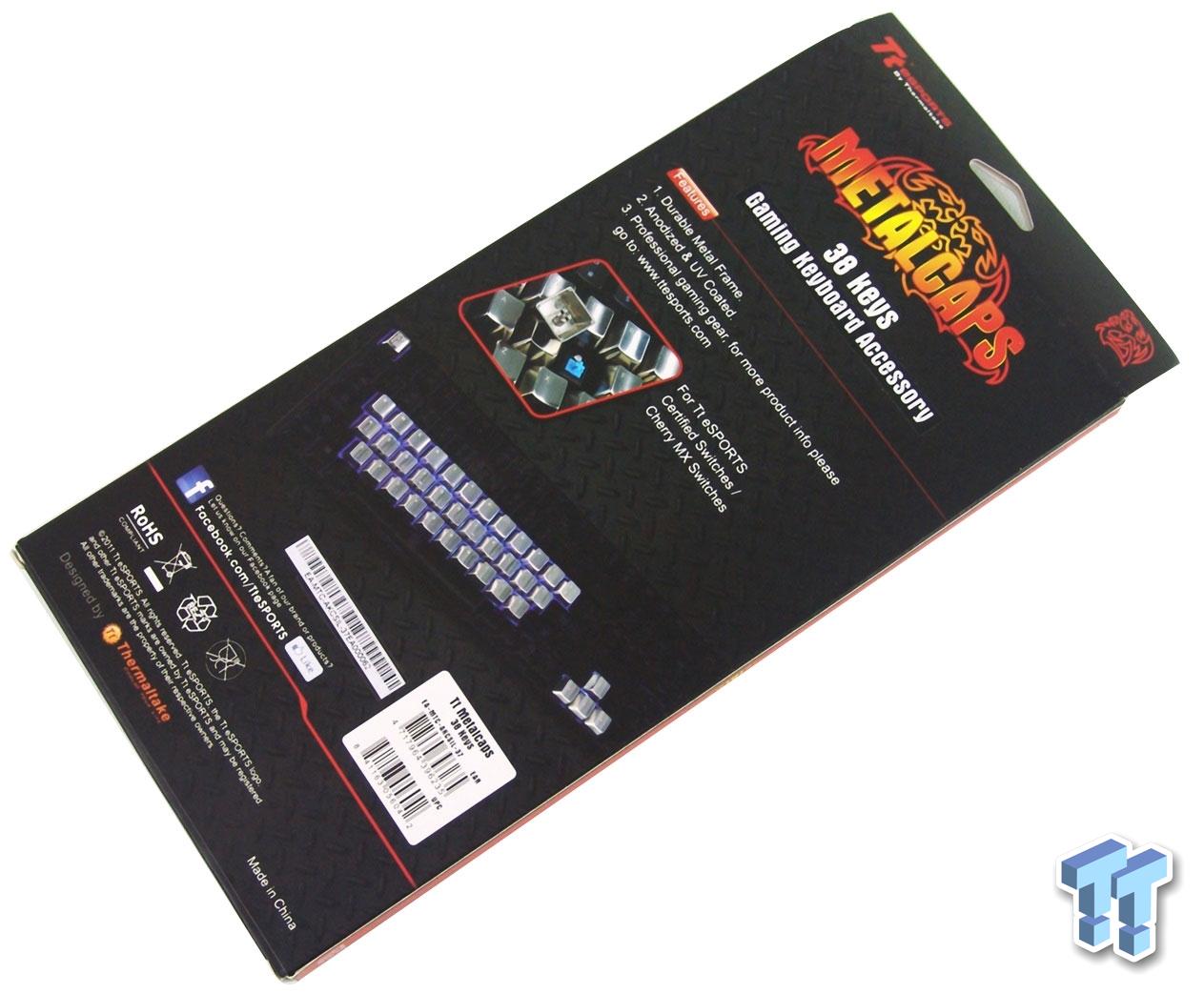 On the back of the box, we again see that this is the 38-Key set, and we also get a features list. This is where we are told about the durable metal frame, and that we have solid zinc alloy caps that have been anodized, and UV coated for longevity. It also informs us that this is professional gaming gear made for Thermaltake eSPORTS certified switches (Kailh blue switches), and the keys are compatible with Cherry MX switches as well.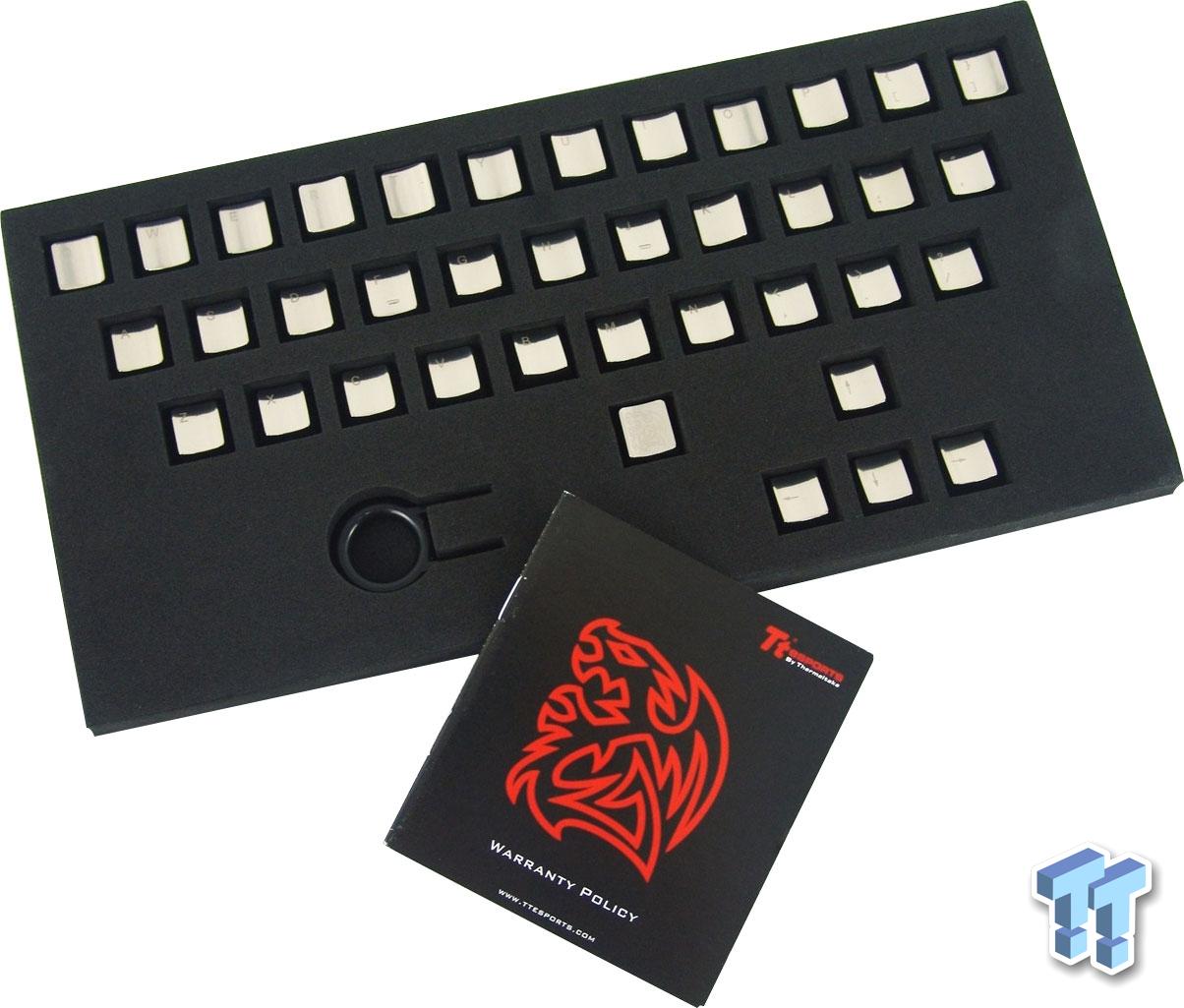 Getting the super dense foam inner packaging out of the box is quite tough, as the fit is very tight. Once out of the box, you get a full view of the 38-Key set that covers the Escape key, the majority of the mail layout, and offers arrow key caps as well. One bonus to this kit is that Thermaltake was sure to provide a key puller, as most manufacturers do not supply them with their keyboards. There is also a warranty insert included, and due to the "accessory" status of this product, they are covered for a period of one year.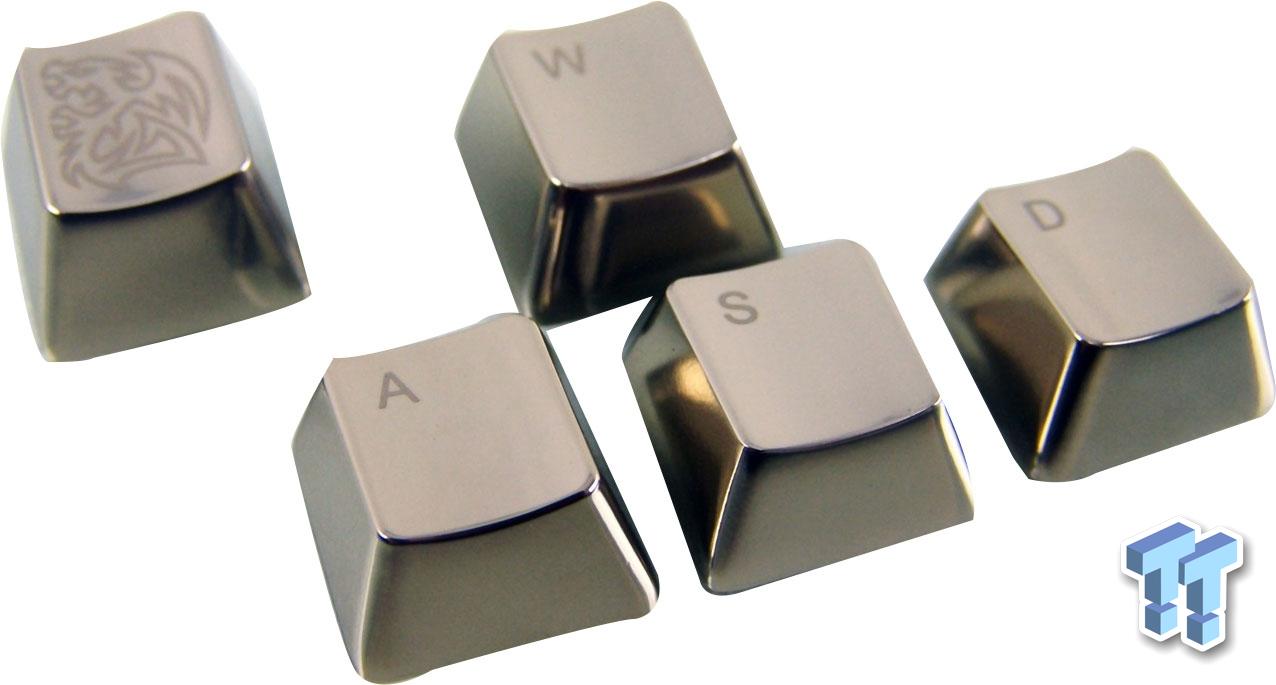 After grabbing a few METALCAPS for their close-ups, what we find is an almost chromed appearance to the anodized zinc alloy. Before the caps are UV coated, the letters and iconography are laser etched into them. The letters are small, and shifted to the top left corner. We have a Battle Dragon logo key cap at the top left, which is intended to replace the Escape key, and is included in all four sets.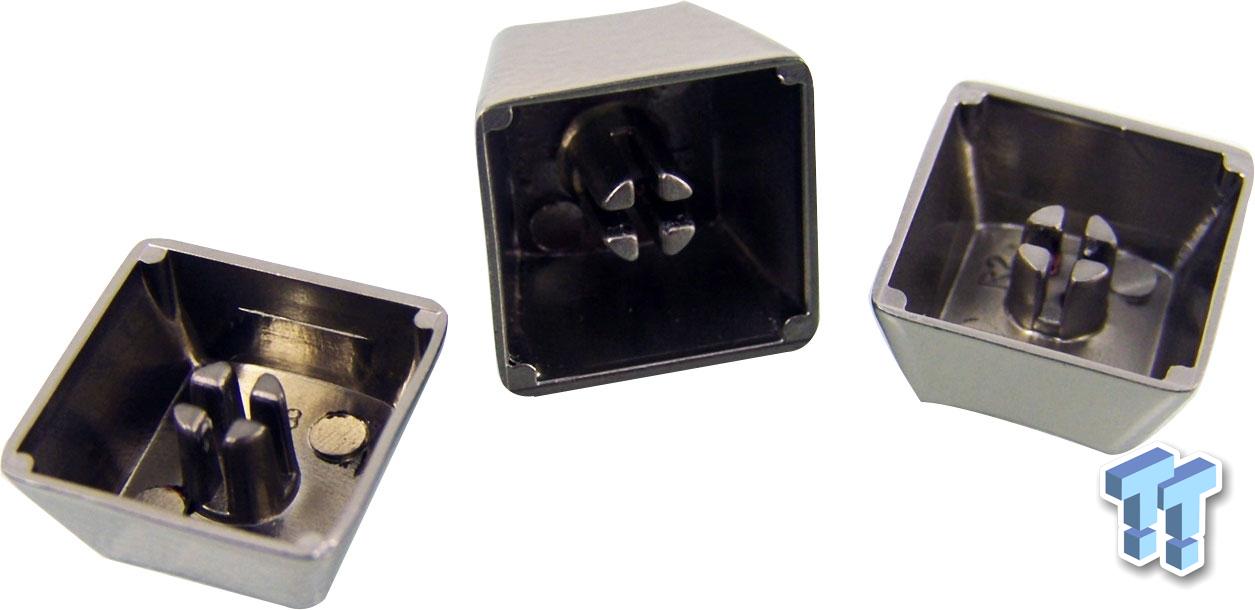 Looking into and across these METALCAPS, we notice two things. First, most key caps are in the 0.7 to 0.8mm thickness on the sides, and we find these are a full 1mm in thickness. The other thing we notice is that the stems on these caps allow for any cross-style post mechanical switch based keyboards. This does leave out hybrids, and a slim few keyboards, but the METALCAPS will fit any Kailh or Cherry MX based offering.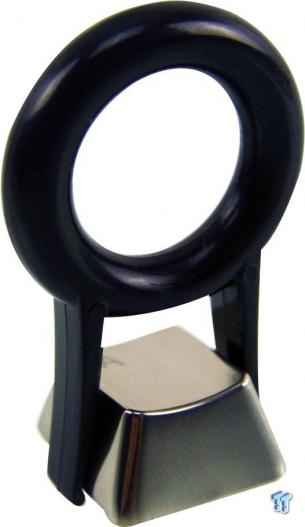 The key puller slides easily over the metal key caps, as we can see here. However, it is still a bit wide for removing the Escape and arrow keys, as it will rub against the frame of the keyboard. Nonetheless, a little sanding to remove the side line on the puller will eliminate clearance issues.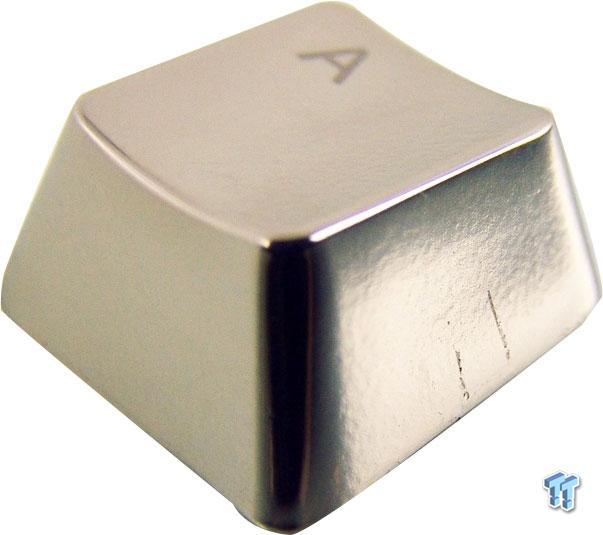 Most plastic key caps we see are single shot in white, and are painted on the outside to allow the LEDs to pass through, so the puller would usually scratch the paint on the frame and the caps if they come in contact. However, what you are seeing here are not scratches, but lines of plastic left on the caps from the puller. If the METALCAPS are tough enough to wear into plastic rather than take damage, then there is very little your fingers could do to wear and tear these key caps.

After about fifteen to twenty minutes of that, we took our Poseidon ZX TKL keyboard, which will be coming soon in its own review, and added the METALCAPS. You can pull all of the keys you are replacing from the keyboard first, as the METALCAPS are packaged in the correct layout in the foam if you are unsure of the order. From this angle, the glare of the reflecting top surface does sort of white out the letters, but once at the usual viewing angle, these are seen as more of a dark grey in contrast to the slightly yellowed chromed finish.

When we powered up the TKL, it was obvious that the METALCAPS blocked the LEDs from view on most of the layout. However, it has been our experience that even the glow of the monitor in games is enough to offer a visual contrast to view the legends. Also, since the caps are highly reflective, there is more glowing effect against the METALCAPS than you see with the stock flat black caps.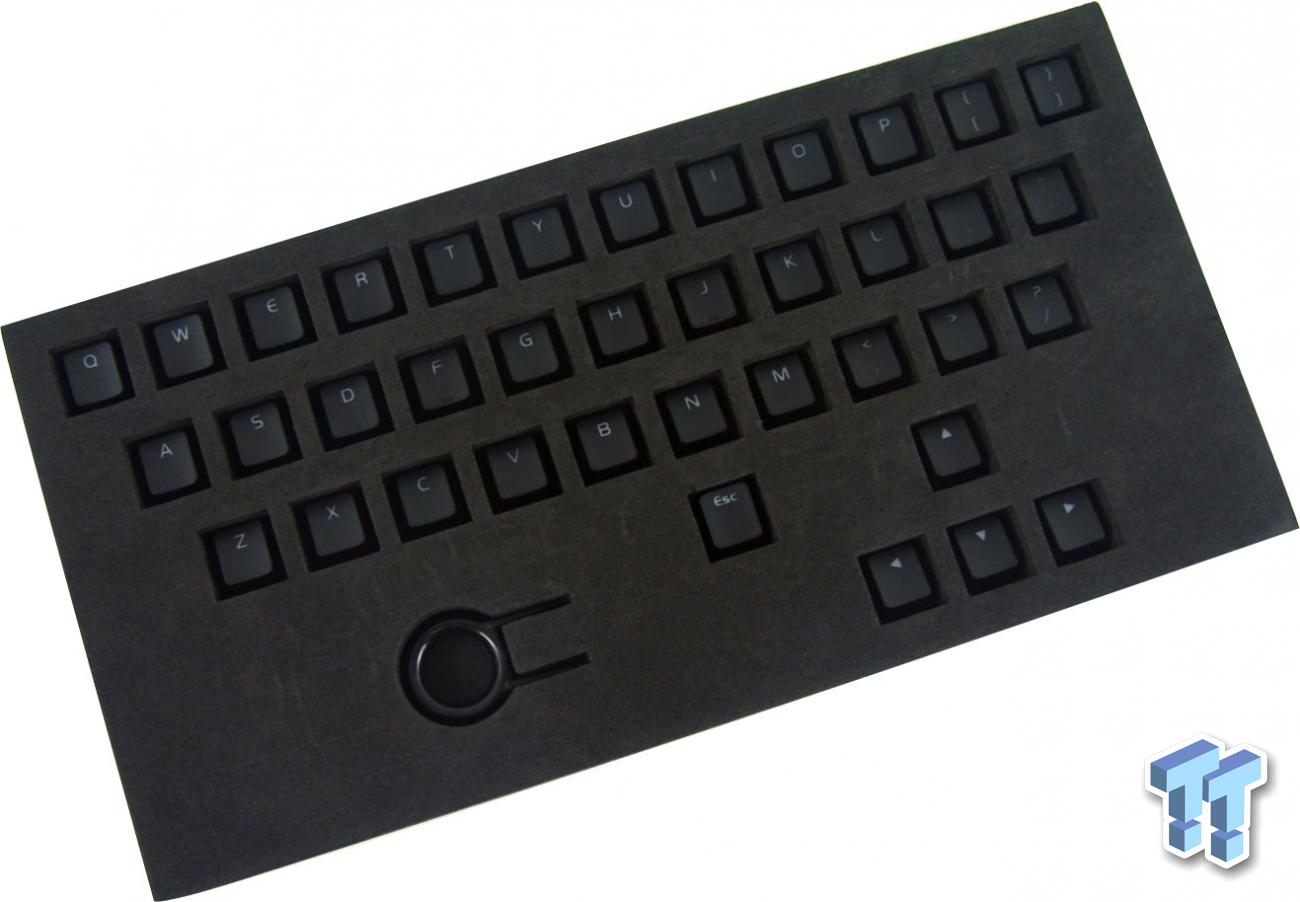 Another handy feature we found is that rather than throwing all the stock caps in a bag, or in a drawer and potentially losing them, you can just pack them into the foam insert and slide them into the METALCAPS' box for safe and secure storage. This is almost guaranteed to eliminate loss or damage.
While we have totally gotten used to the METALCAPS 38-key set, there are a few things to discuss about them that cannot be seen. First, if you are a visual typist, losing the LED backlighting may be an issue you need to strongly consider. Another thing you may not have thought of thus far is the added weight. The standard key caps weigh in at a mere 0.9 grams each, but the METALCAPS are 5.6g each. So, in our installation, we added 178.6 grams to the weight of this Poseidon ZX.
The last thing to consider is feel. Most caps come with a rubberized coating, or texture built into the mold they are made in, but these are much smoother. You can feel the iconography on the cylindrical keys. As for slippage, the caps stay cool since they are metal, so sweat was not an issue. Although, if you get grease or oil on them, they are very slick.
Speaking of "feel," we need to discuss actuation. Due to the heavier key weighting in these Kailh blue switches we used, it takes less force to activate the switches since the cap adds weight to ease the push. Once the key is pressed, and the switch bottoms out, there is a much more solid "clunk" to the METALCAPS, as opposed to the higher pitched "Clack" associated with plastic caps. Another thing we had not considered until now is that with the METALCAPS in play, we also lost vibration, as these caps tend to absorb more than the thinner, lighter plastic caps are capable of.
While we are thoroughly enjoying our METALCAPS 38-Key set, we do have to consider pricing. The smaller five cap sets are set with an MSRP of $19 USD per kit, and the larger set we just looked at is set at $69. That may seem pricey at first if you have never seen the prices custom key cap sets go for. Considering most plastic caps sell in the range of two to three dollars a pop, the cost of this METALCAPS 38-Key set is a very cost effective way to pimp out your Cherry MX, or Kailh based mechanical keyboard.
PRICING: You can find the Thermaltake eSPORTS METALCAPS Key Sets for sale below. The prices listed are valid at the time of writing, but can change at any time. Click the link to see the very latest pricing for the best deal.
United States: The Thermaltake eSPORTS METALCAPS 38-Key Set retails for $69.99 at Amazon, the Thermaltake eSPORTS METALCAPS 5-Key Set (WASD+ESC) retails for $19.99 at Amazon, the Thermaltake eSPORTS METALCAPS 5-Key Set (Arrows+ESC) retails for $19.99 at Amazon, and the the Thermaltake eSPORTS METALCAPS 5-Key Set (QWER+ESC) retails for $19.99 at Amazon.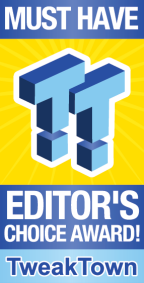 | | |
| --- | --- |
| Performance | 97% |
| Quality including Design and Build | 100% |
| General Features | 94% |
| Bundle and Packaging | 99% |
| Value for Money | 95% |
The Bottom Line: They are stunning to look at, solid and heavy to ease the use of even the heaviest switch type, near indestructable, and offer a very unique user experience at a very solid price point! Themaltake and their Metalcaps prove once again that they are seriously on top of their game.
PRICING: You can find products similar to this one for sale below.

United States: Find other tech and computer products like this over at Amazon.com

United Kingdom: Find other tech and computer products like this over at Amazon.co.uk

Australia: Find other tech and computer products like this over at Amazon.com.au

Canada: Find other tech and computer products like this over at Amazon.ca

Deutschland: Finde andere Technik- und Computerprodukte wie dieses auf Amazon.de
We openly invite the companies who provide us with review samples / who are mentioned or discussed to express their opinion. If any company representative wishes to respond, we will publish the response here. Please contact us if you wish to respond.
Related Tags